The US National Parks are one of the most sought after travel destinations in the United States. This long list of National Park quotes, captions and puns is meant to inspire your wanderlust.
When Mark immigrated to the US in 2019, we made it our goal to visit all of the National Parks by slowly ticking off new parks each year. In each section of this guide, you can also find our popular travel guides.
Our goal is to motivate you to visit many of the US National Parks throughout your lifetime. We promise a visit to just one of these parks is worth it.
We have organized this long list of National Park quotes into manageable sections in case you wanted to search for a particular topic:
Now, let's find the best national park caption for your next trip!
Best National Park Quotes
1). "Within National Parks is room – glorious room – room in which to find ourselves, in which to think and hope, to dream and plan, to rest and resolve." "The trail compels you to know yourself and to be yourself, and puts you in harmony with the universe." – Enos Mills
2). "The establishment of the National Park Service is justified by considerations of good administration, of the value of natural beauty as a National asset, and of the effectiveness of outdoor life and recreation in the production of good citizenship." – Theodore Roosevelt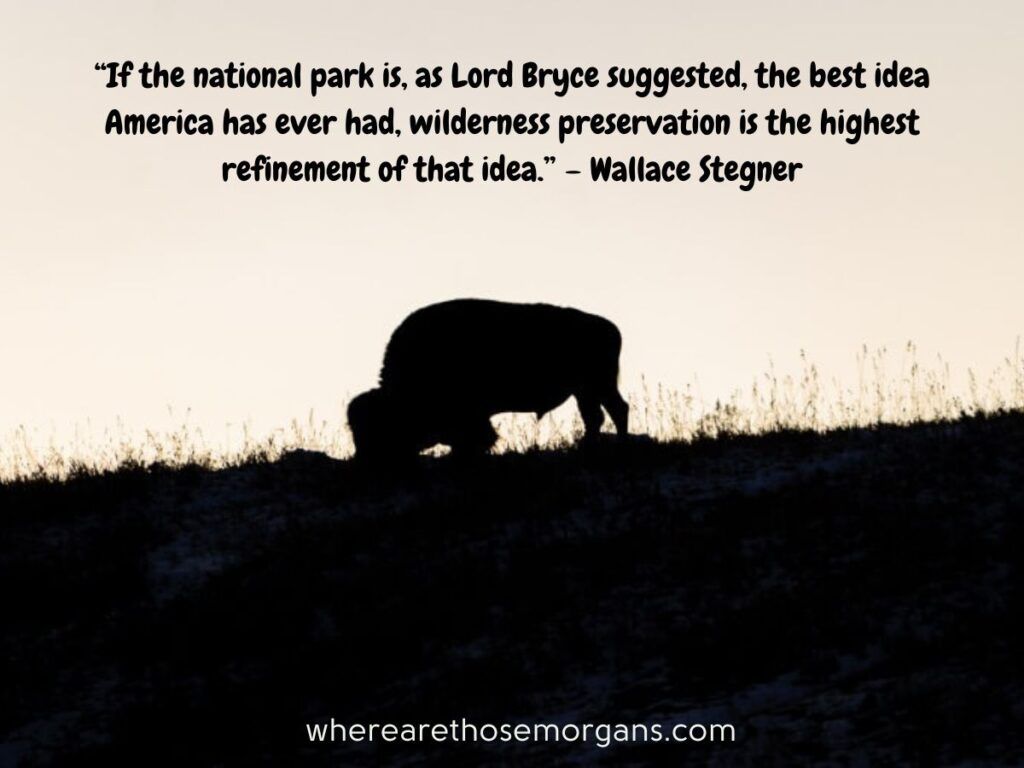 3). "If the national park is, as Lord Bryce suggested, the best idea America has ever had, wilderness preservation is the highest refinement of that idea." – Wallace Stegner
4). "Who will gainsay that the parks contain the highest potentialities of national pride, national contentment, and national health? A visit inspires love of country; begets contentment; engenders pride of possession; contains the antidote for national restlessness…. He is a better citizen with a keener appreciation of the privilege of living here who has toured the national parks." – Stephen T. Mather
5). "There is nothing so American as our national parks…. The fundamental idea behind the parks…is that the country belongs to the people, that it is in process of making for the enrichment of the lives of all of us." – Franklin D. Roosevelt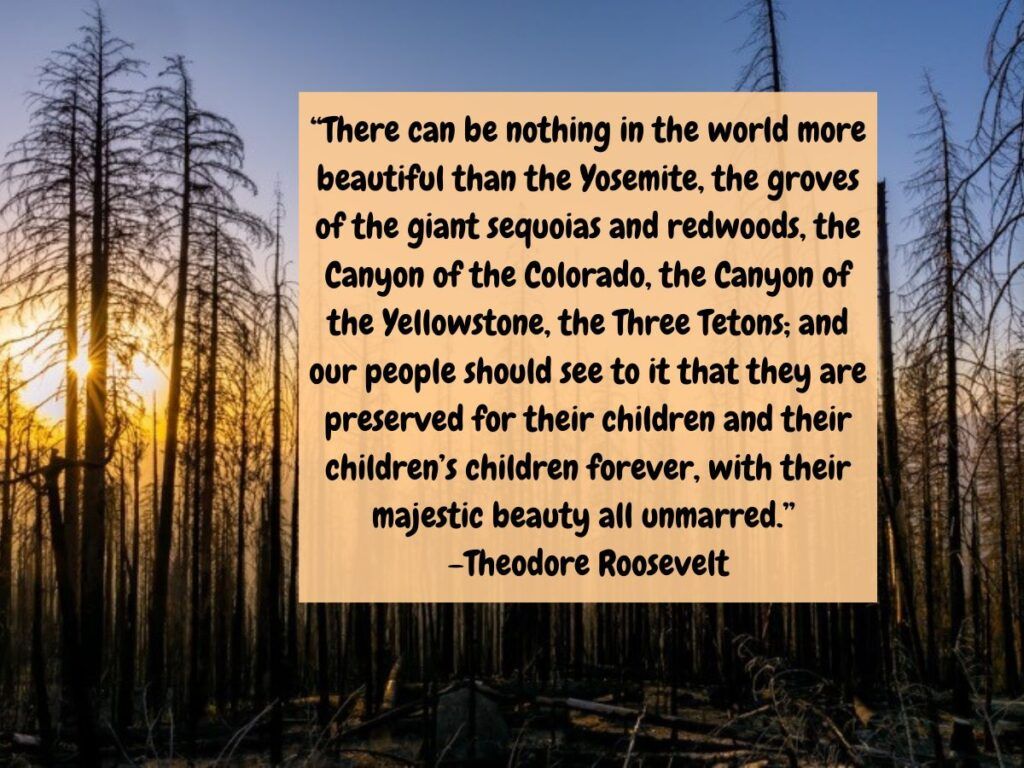 Famous National Park Quotes
6). "Maybe you weren't born with a silver spoon in your mouth, but like every American, you carry a deed to 635 million acres of public lands. That's right. Even if you don't own a house or the latest computer on the market, you own Yosemite, Yellowstone, the Grand Canyon, Golden Gate National Recreation Area, and many other natural treasures." – John Garamendi
7). "There can be nothing in the world more beautiful than the Yosemite, the groves of the giant sequoias and redwoods, the Canyon of the Colorado, the Canyon of the Yellowstone, the Three Tetons; and our people should see to it that they are preserved for their children and their children's children forever, with their majestic beauty all unmarred." –Theodore Roosevelt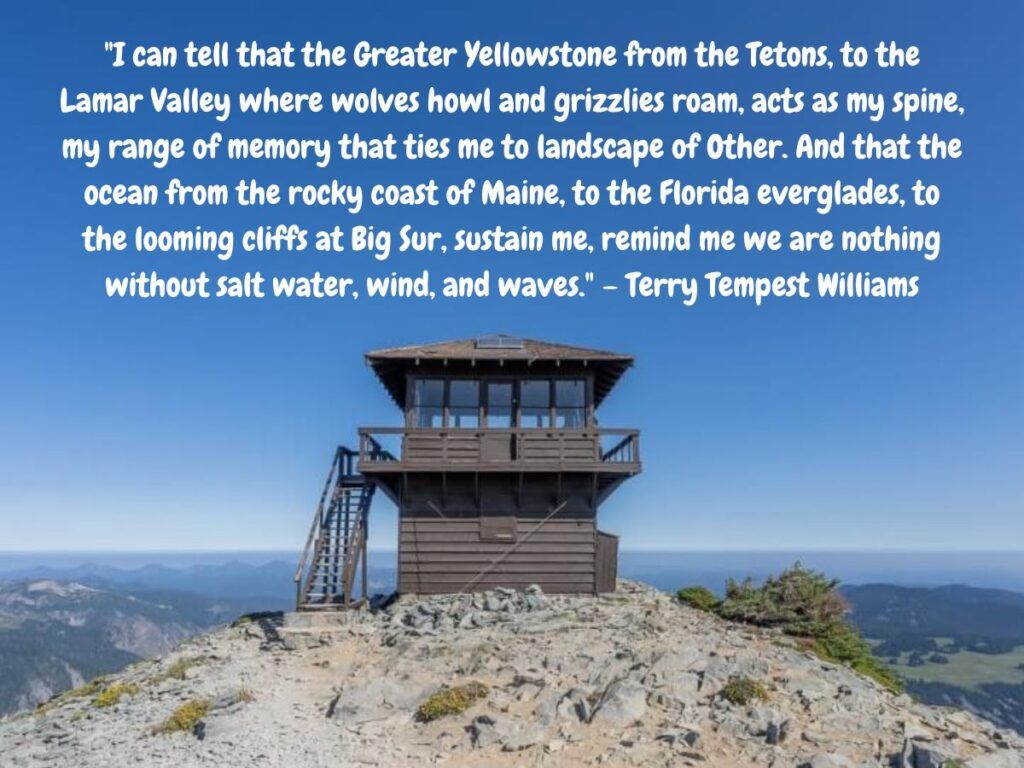 8). "I can tell that the Greater Yellowstone from the Tetons, to the Lamar Valley where wolves howl and grizzlies roam, acts as my spine, my range of memory that ties me to landscape of Other. And that the ocean from the rocky coast of Maine, to the Florida everglades, to the looming cliffs at Big Sur, sustain me, remind me we are nothing without salt water, wind, and waves." – Terry Tempest Williams
9). "Everybody needs beauty as well as bread, places to play in and pray in, where Nature may heal and cheer and give strength to body and soul alike. This natural beauty-hunger is made manifest in the little window-sill gardens of the poor, though perhaps only a geranium slip in a broken cup, as well as in the carefully tended rose and lily gardens of the rich, the thousands of spacious city parks and botanical gardens, and in our magnificent National parks — the Yellowstone, Yosemite, Sequoia, etc. — Nature's sublime wonderlands, the admiration and joy of the world." – John Muir
Short National Park Quotes
10). "I encourage everybody to hop on Google and type in 'national park' in whatever state they live in and see the beauty that lies in their own backyard. It's that simple." – Jordan Fisher
11). "A national park is not a playground. it's a sanctuary for nature and for humans who will accept nature on nature's own terms." – Michael Frome
12). "The farther one gets into the wilderness, the greater is the attraction of its lonely freedom." – Theodore Roosevelt
13). "What a country chooses to save is what a country chooses to say about itself." – Mollie Beattie
14). "That is all the National Parks are about. Use, but do no harm." – Wallace Stegner
15). "Wilderness, like the National Park system, was an American idea." – Stewart Udall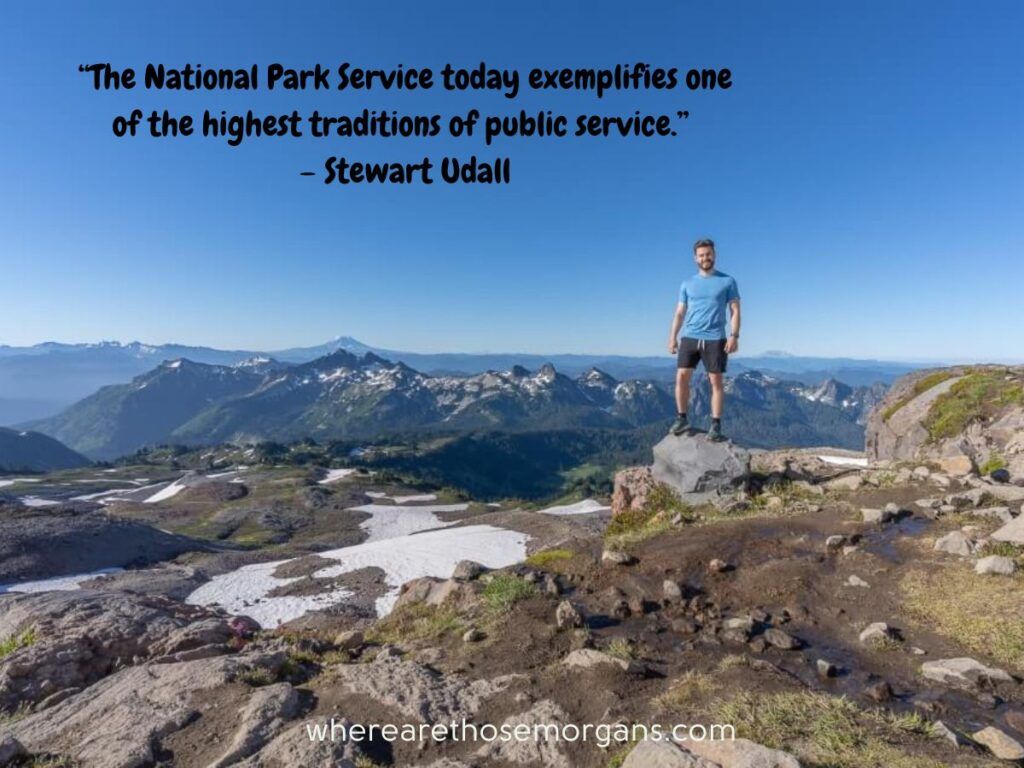 16). "The National Park Service today exemplifies one of the highest traditions of public service." – Stewart Udall
17). "I crave time in Yosemite like I crave food and water." – Tommy Caldwell
18). "The scenic ideals that surround even our national parks are carriers of a nostalgia for heavenly bliss and eternal calmness." – Robert Smithson
National Park Captions
This next section of National Park captions will pair perfectly with those beautiful photos you take during your National park adventure.
19). "Add a national park to your bucket list. I promise you won't regret it."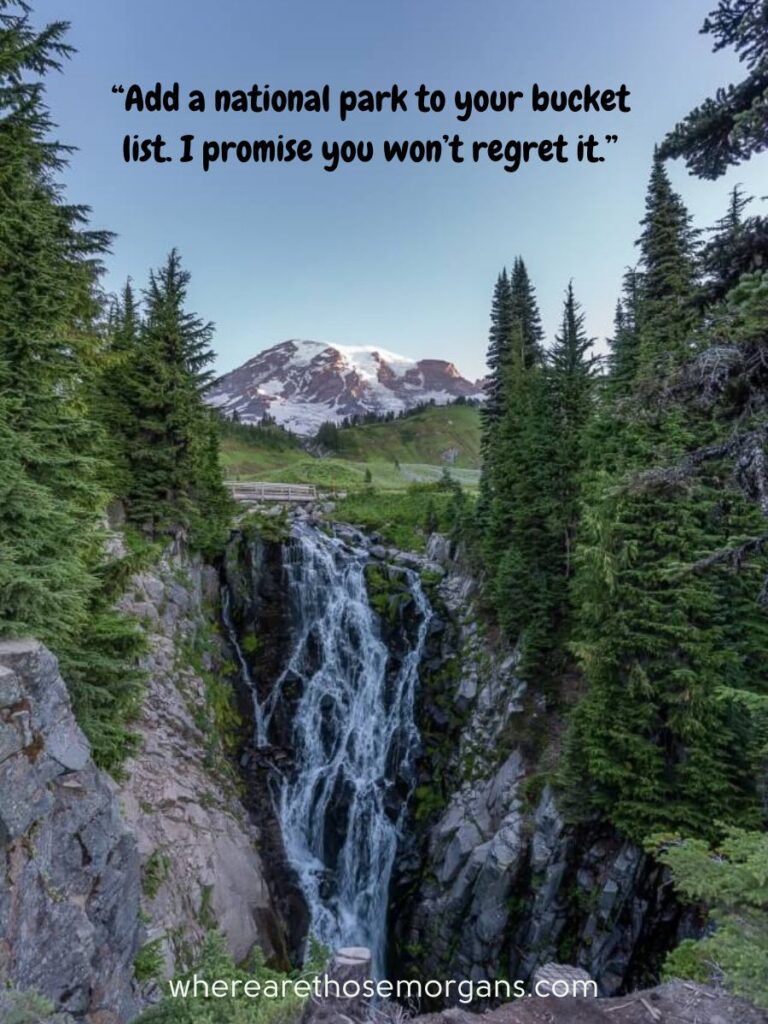 20). "Always say yes to adventure."
21). "Glad I took this time to recharge."
22). "Are we at the next national park yet?"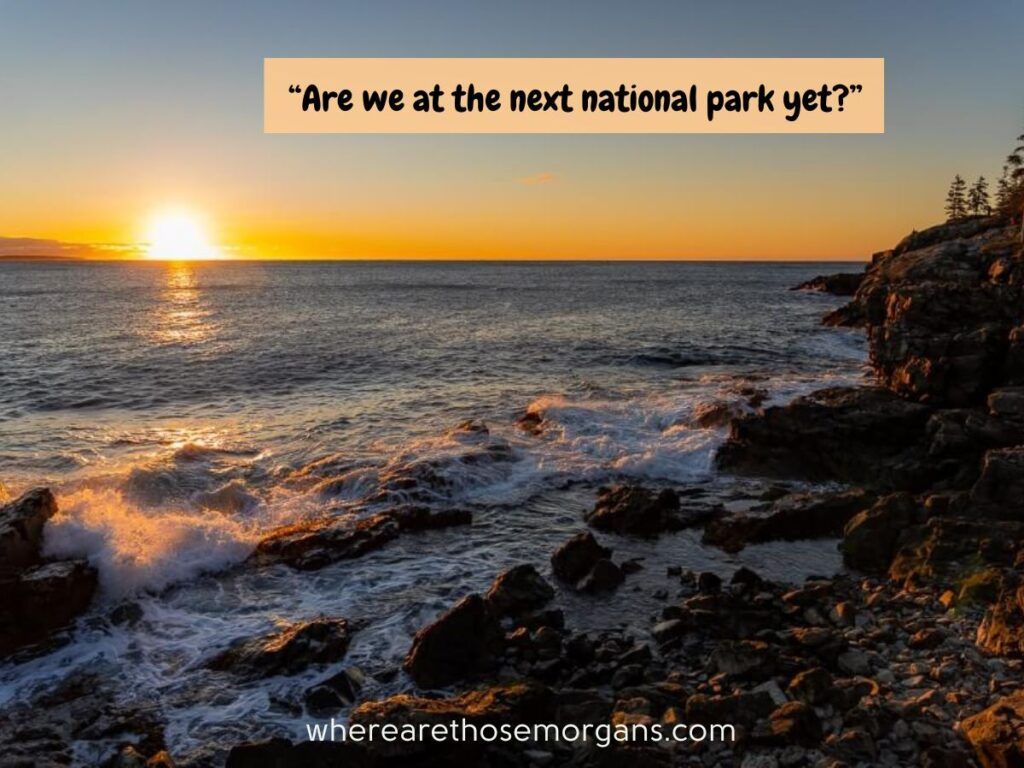 23). "Checking in on my plant friends."
24). "This photo is brought to you by a national park trip."
25). "The mountains are calling and I must go."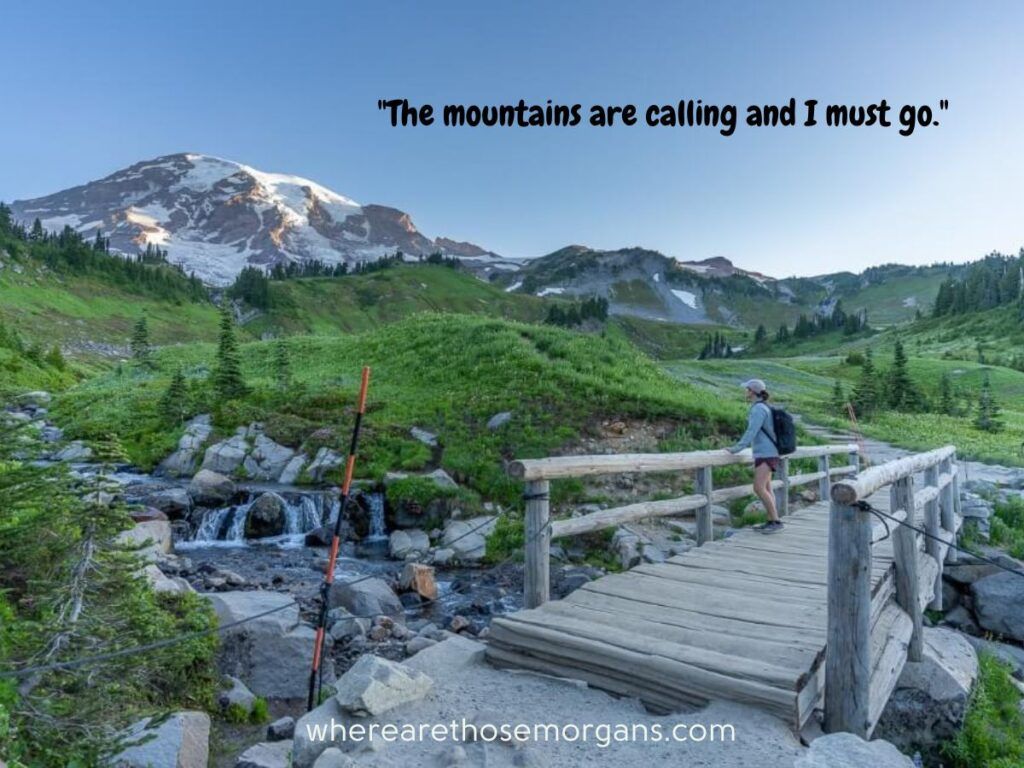 26). "My sneakers aren't white anymore, but the scuffs were so worth the views."
27). "Hike, hike, baby."
28). "Do more outdoorsy things, even if you're not an outdoorsy person."
29). "I took another picture with a cactus. I couldn't help myself."
30). "Today, I had a s'more for breakfast and I think that's a beautiful thing."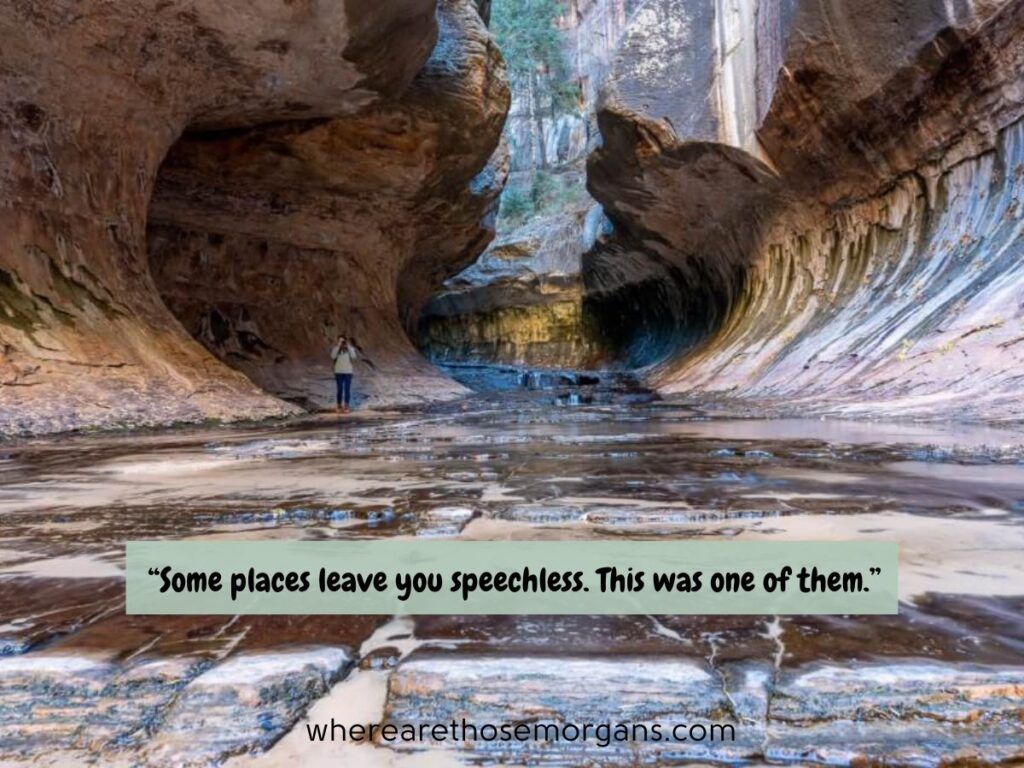 31). "Some places leave you speechless. This was one of them."
32). "A hike a day keeps the bad vibes away."
Looking for some new hiking gear? Check out outdoorsy gifts for women or outdoorsy gifts for men.
Grand Canyon National Park Quotes
33). "The glories and the beauties of form, color, and sound unite in the Grand Canyon" – John Wesley Powell
34). "The Grand Canyon is living evidence of the power of water over a period of time. The power may not manifest immediately. Water can be very powerful, like a tidal wave." – Frederick Lenz
35). "In the Grand Canyon, Arizona has a natural wonder which is in kind absolutely unparalleled throughout the rest of the world." – Theodore Roosevelt
"36). Well, once you've been in the Canyon and once you've sort of fallen in love with it, it never ends… it's always been a fascinating place to me; in fact, I've often said that if I ever had a mistress, it would be the Grand Canyon." – Barry Goldwater
37). "Occasionally we glimpse the South Rim, four or five thousand feet above. From the rims the canyon seems oceanic; at the surface of the river the feeling is intimate." – Barry López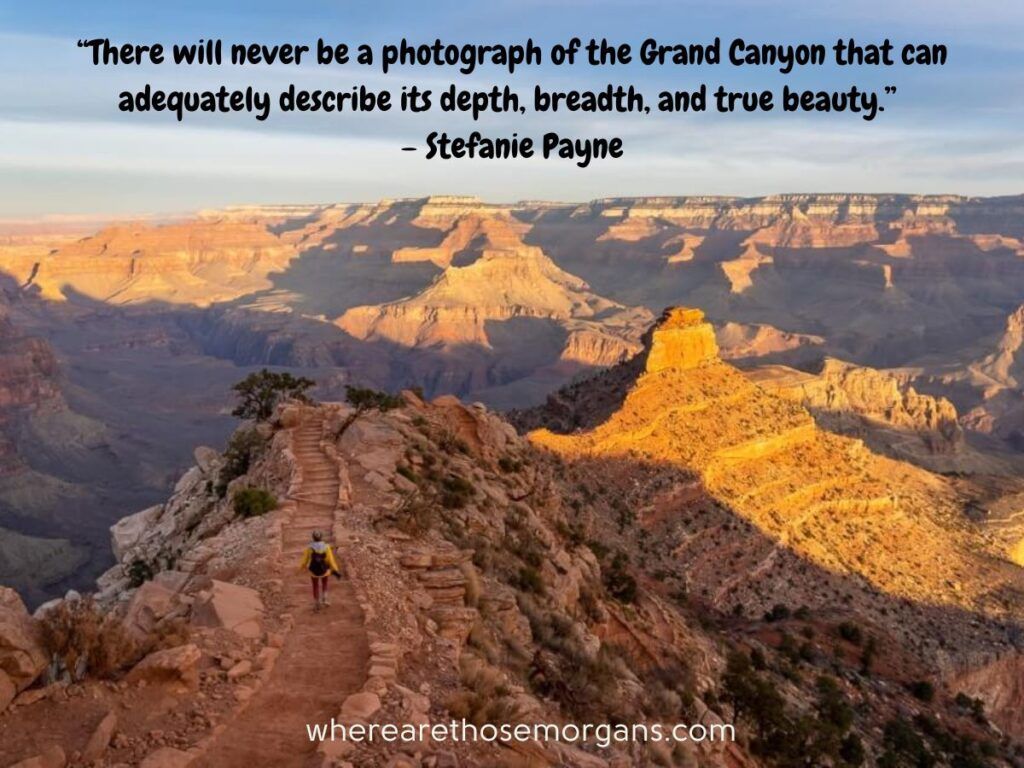 38). "There will never be a photograph of the Grand Canyon that can adequately describe its depth, breadth, and true beauty." – Stefanie Payne
39). "The Colorado River did not form the Grand Canyon. The Grand Canyon was formed as the flood went down." – Kevin Hovid
40). "There's not a single person in Arizona today who would say the Grand Canyon was a mistake." – Stewart Udall
41). "If you are working, almost like with layers of the Grand Canyon, there's history within those layers." – Leonardo Drew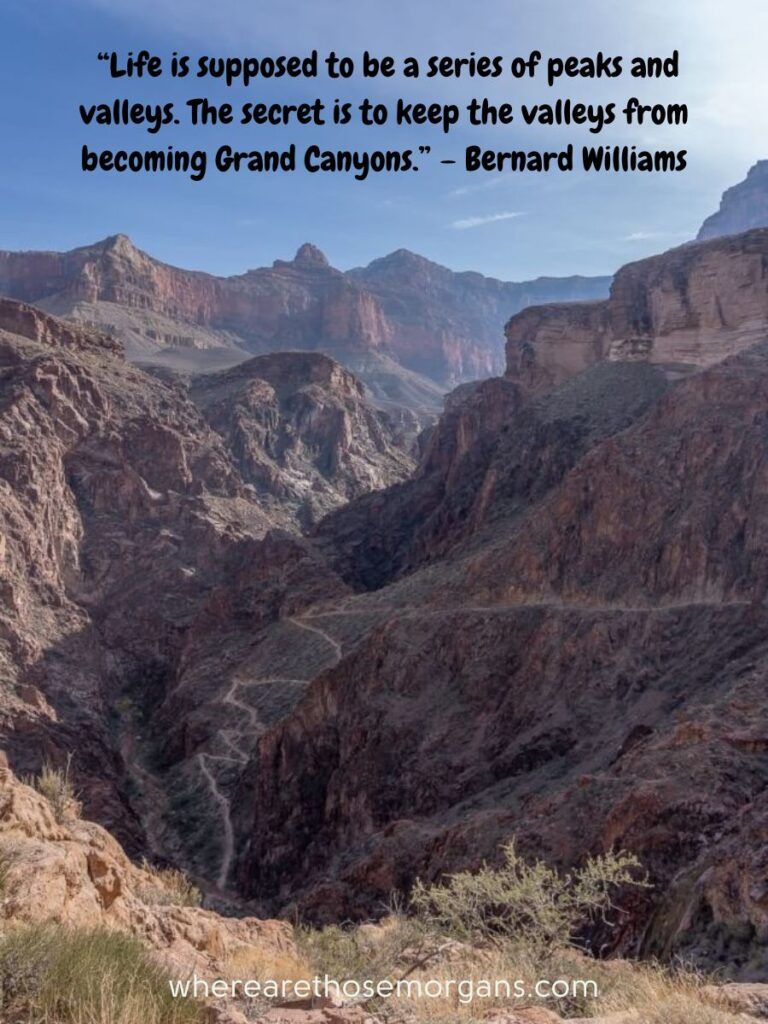 42). "Life is supposed to be a series of peaks and valleys. The secret is to keep the valleys from becoming Grand Canyons." – Bernard Williams
43). "I believe in evolution. But I also believe, when I hike the Grand Canyon and see it at sunset, that the hand of God is there also." – John McCain
Grand Canyon National Park Travel Guides
Heading to Grand Canyon? Don't miss our popular guides for the park:
Yellowstone National Park Quotes
44). "Yellowstone, of all the national parks, is the wildest and most universal in its appeal. Daily new, always strange, ever full of change, it is nature's wonder park. It is the most human and the most popular of all parks." – Susan Rugh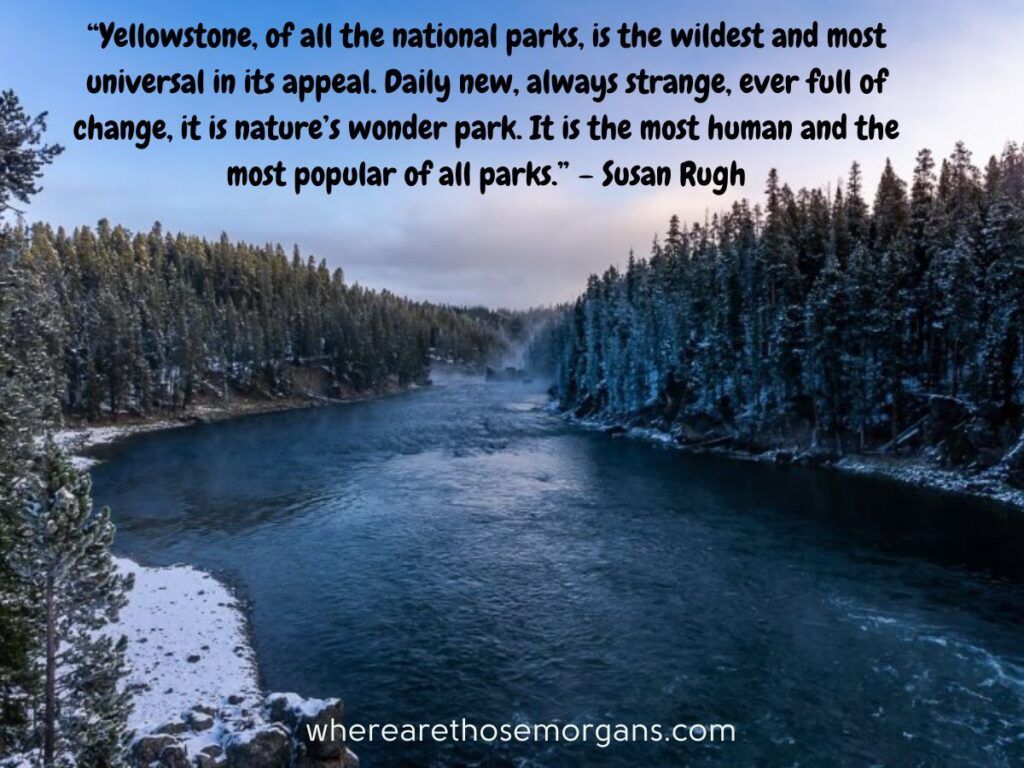 45). "In Yellowstone National Park, there are more 'do not feed the animals' signs than there are animals you might wish to feed." – Natalie Jeremijenko
46). "The grizzly bears that live in and around Yellowstone make up almost half the population in the lower 48 states, and now those bears are at risk." – Lydia Millet
47). "For it is my opinion that we enclose and celebrate the freaks of our nation and our civilization. Yellowstone National Park is no more representative of America than is Disneyland." – John Steinbeck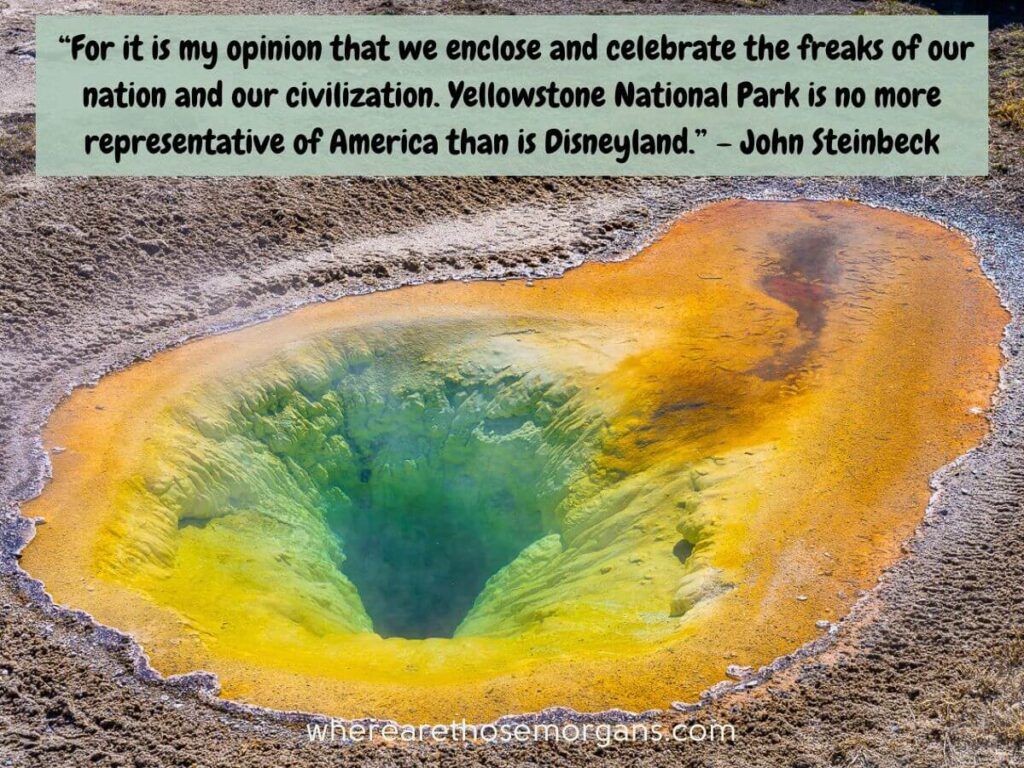 48). "The Yellowstone river is a beautiful river to navigate." – William Henry Ashley
49). "Chicago is a sort of journalistic Yellowstone Park, offering haven to a last herd of fantastic bravos." – Ben Hecht
50). "You know why there are so many whitefish in the Yellowstone River? Because the Fish and Game people have never done anything to help them." – Russell Chatham
51). "Family trips to Yellowstone and to what are now national parks in Southern Utah, driving the primitive roads and cars of that day, were real adventures." – Paul D. Boyer
52). "You can camp in the Yellowstone backcountry. You can take food into the Yellowstone backcountry, and you're surrounded by grizzly bears. And it's – it's a very, very thrilling, peculiar situation. Every sound that you hear in the night, you wonder is this a grizzly bear coming to tear into my tent?" – David Quammen
Yellowstone National Park Puns
53). "I can't keep calm, I'm going to Yellowstone!"
54). "Chasing waterfalls in Yellowstone."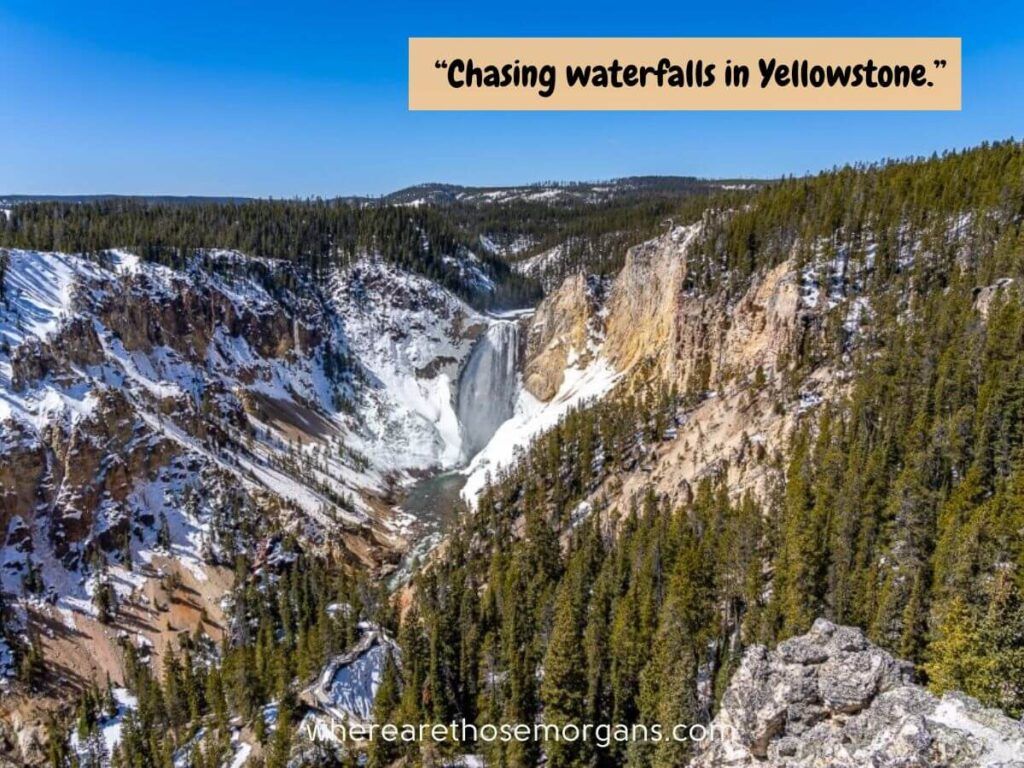 55). "Meet me at Old Faithful."
56). "Whatever you need, you'll find it in Yellowstone."
57). "This Yellowstone view is tree-mendous."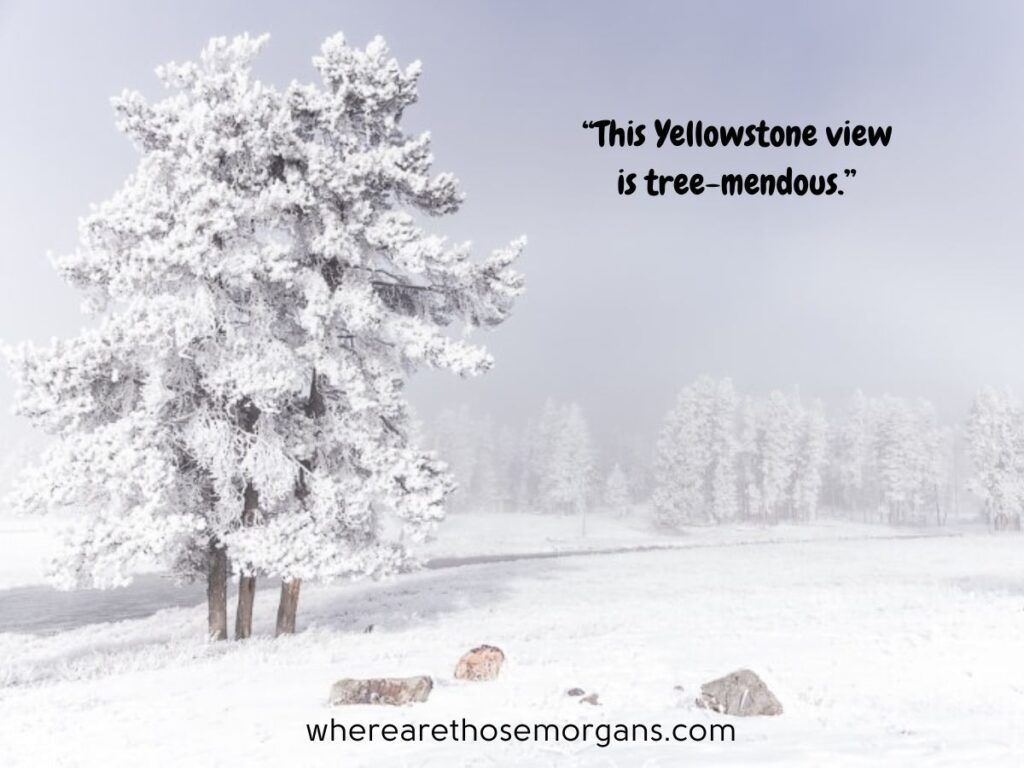 58). "I'd rather be in Yellowstone."
59). "Visiting Yellowstone is like stepping into another world."
60). "There's Yellowstone. And then there's everywhere else."
61). "If lost, return to Yellowstone."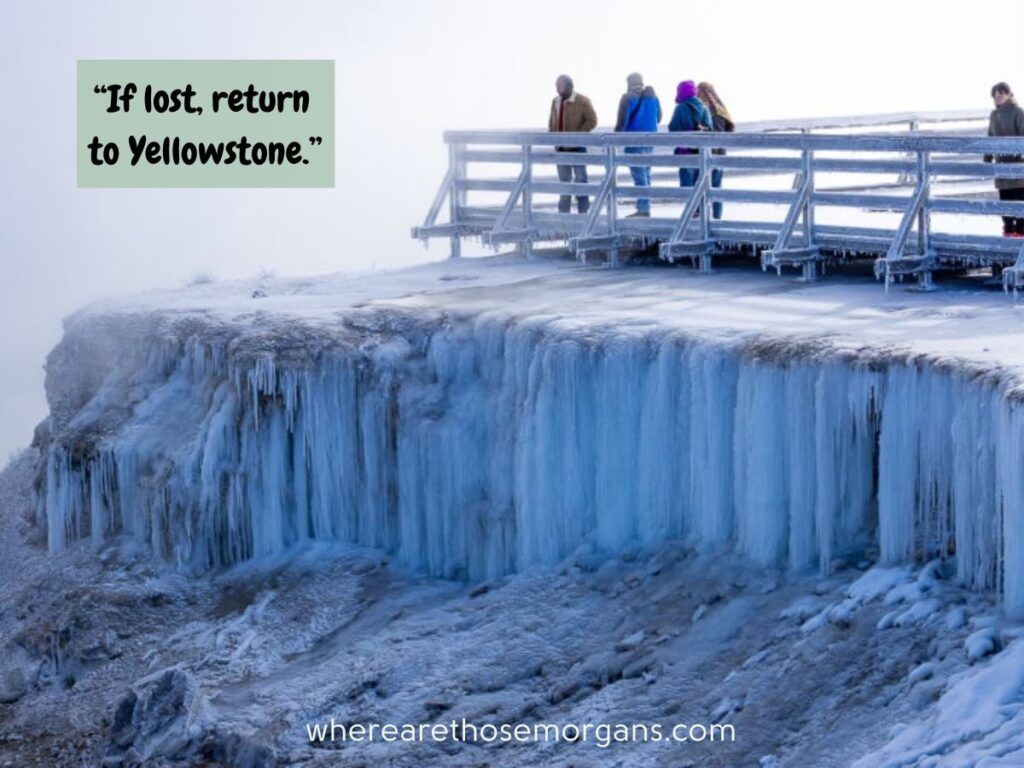 62). "Eat, sleep, travel Yellowstone, repeat."
63). "Living the Yellowstone life."
64). "In a Yellowstone state of mind."
Yellowstone National Park Travel Guides
Heading to Yellowstone? Don't miss our popular guides for the park:
On a road trip? Be sure to read our popular Mount Rushmore to Yellowstone Road Trip, an amazing 10 day itinerary.
Zion National Park Puns
65). "Canyon believe I'm at Zion National Park."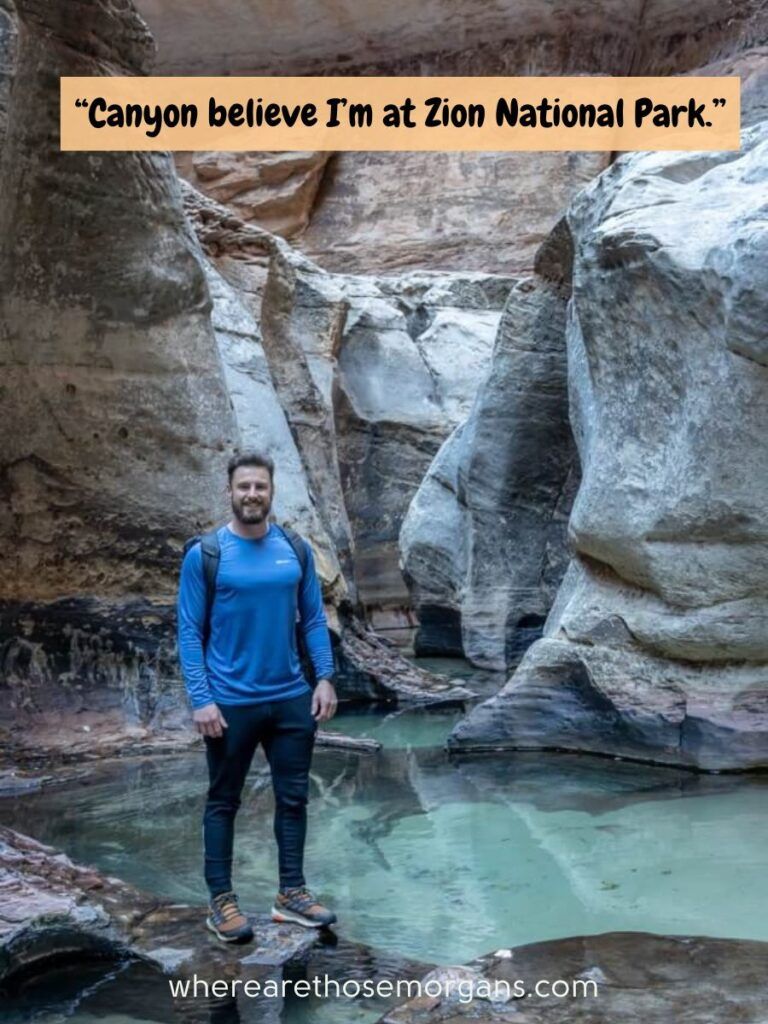 66). "Some call it Zion National Park, I call it heaven."
67). "I think I'll just park myself near this rock and call it a day"
68). "This place rocks!"
69). "Today's forecast: 100% chance of big rocks."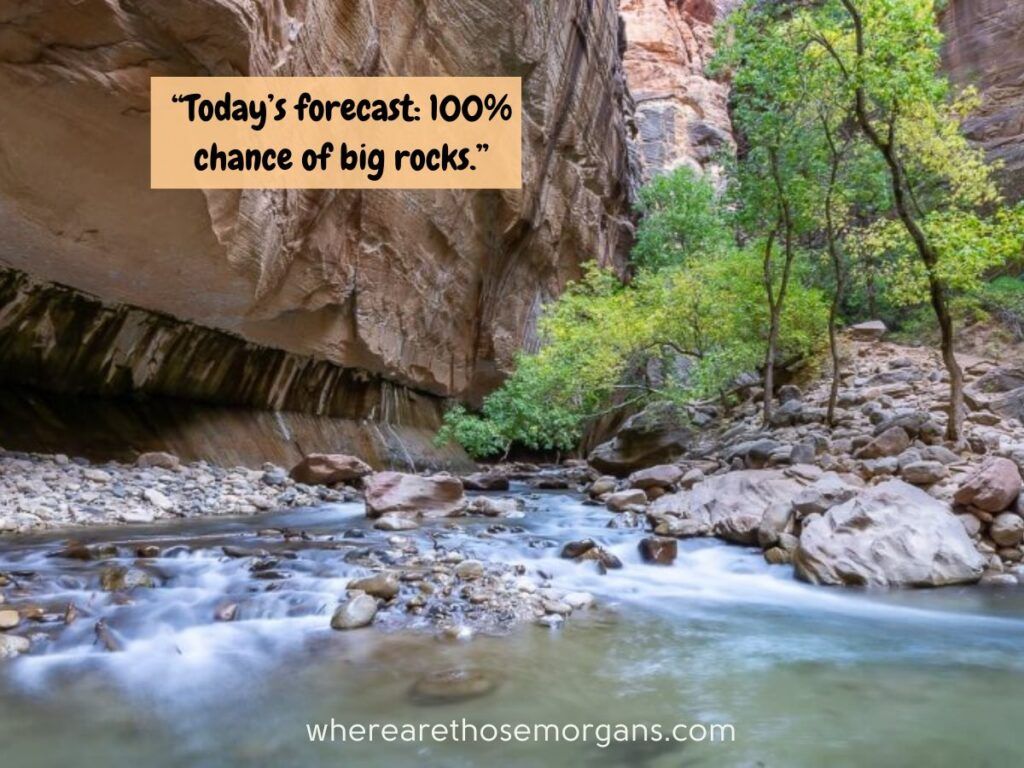 70). "I'm Zion over these views."
71). "Wow this place is ama-Zion."
72). "You better Watchman, Zion sunsets are epic."
73). "Zion National Park, have I told you that U-tah best?"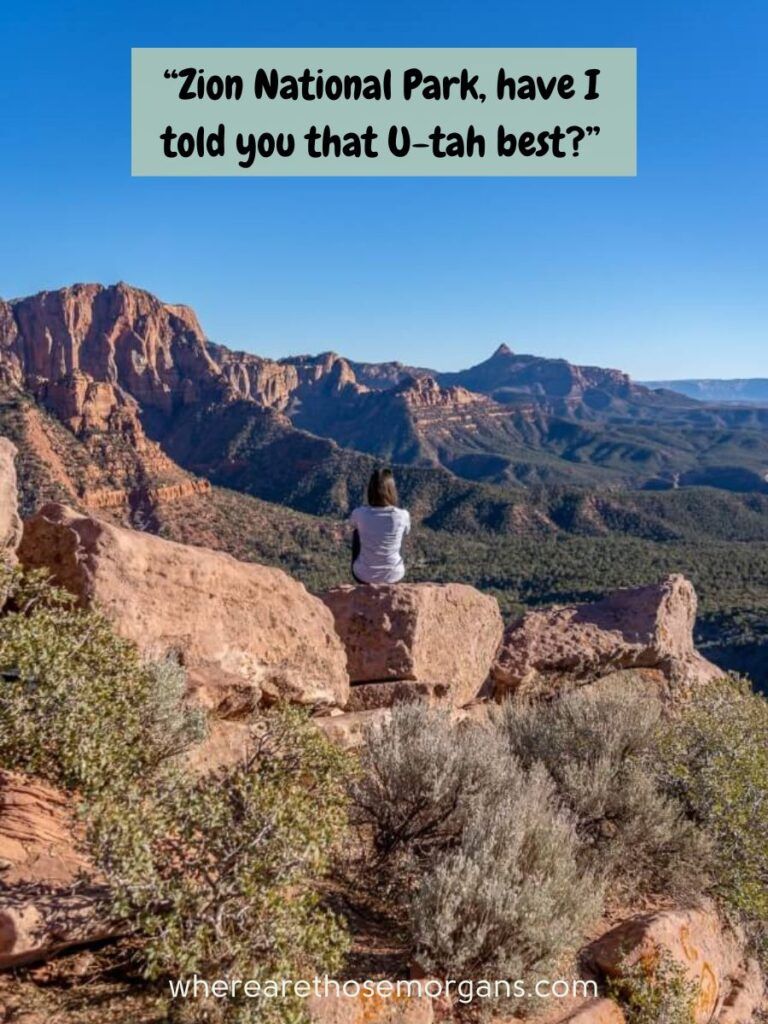 74). "Not leaving anything behind in Zion National Park but my heart."
Zion National Park Travel Guides
Heading to Zion? Don't miss our popular guides for the park:
Acadia National Park Captions
75). "Good morning, Acadia! Morning!."
76). "The view from this cliff is otterly beautiful."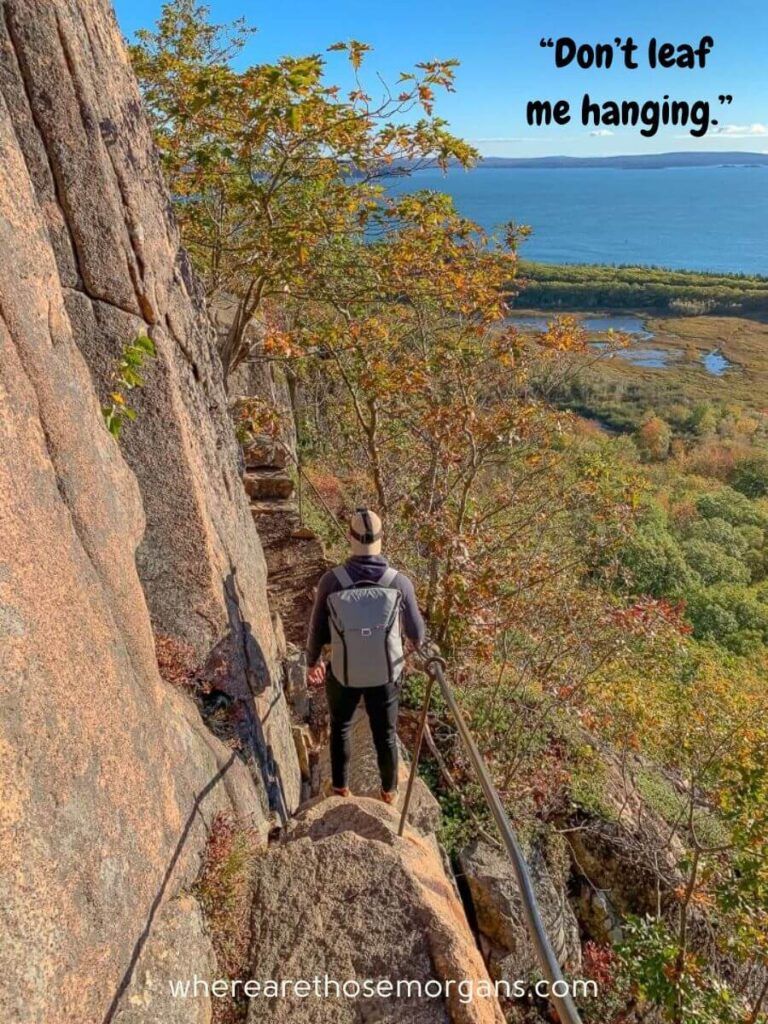 77). "Don't leaf me hanging."
78). "I wood never leaf a hiker behind."
79). "On a tree-mendous hike."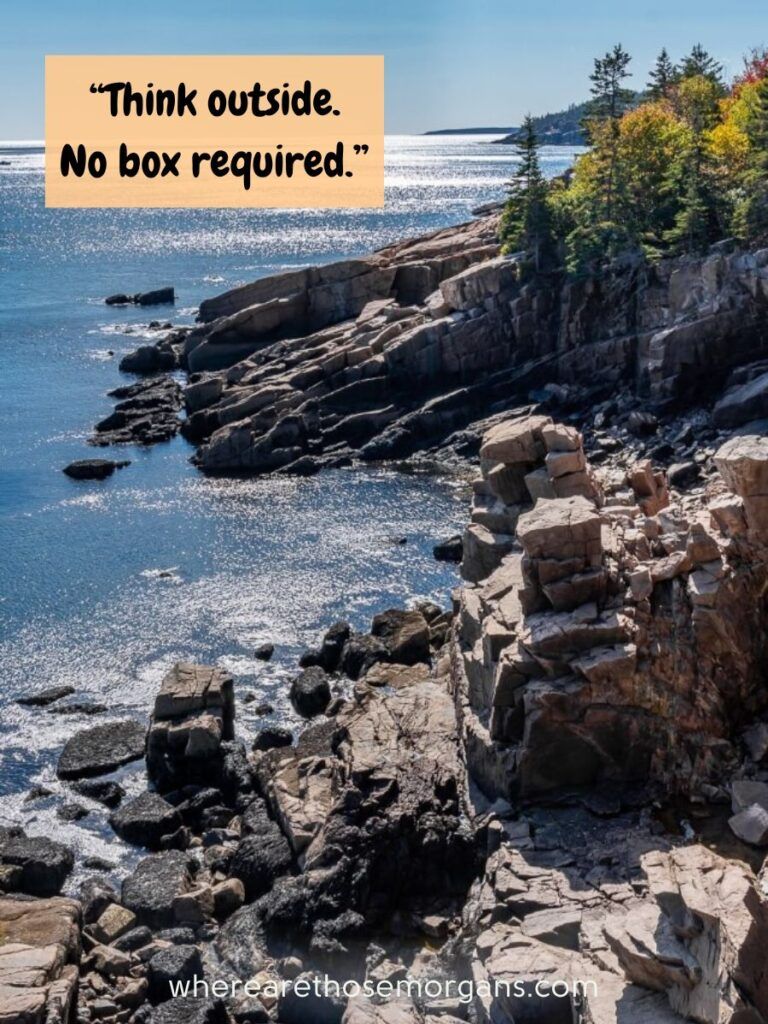 80). "Think outside. No box required."
81). "That's one big Cadillac."
82). "What a view, I've lost my terrain of thought."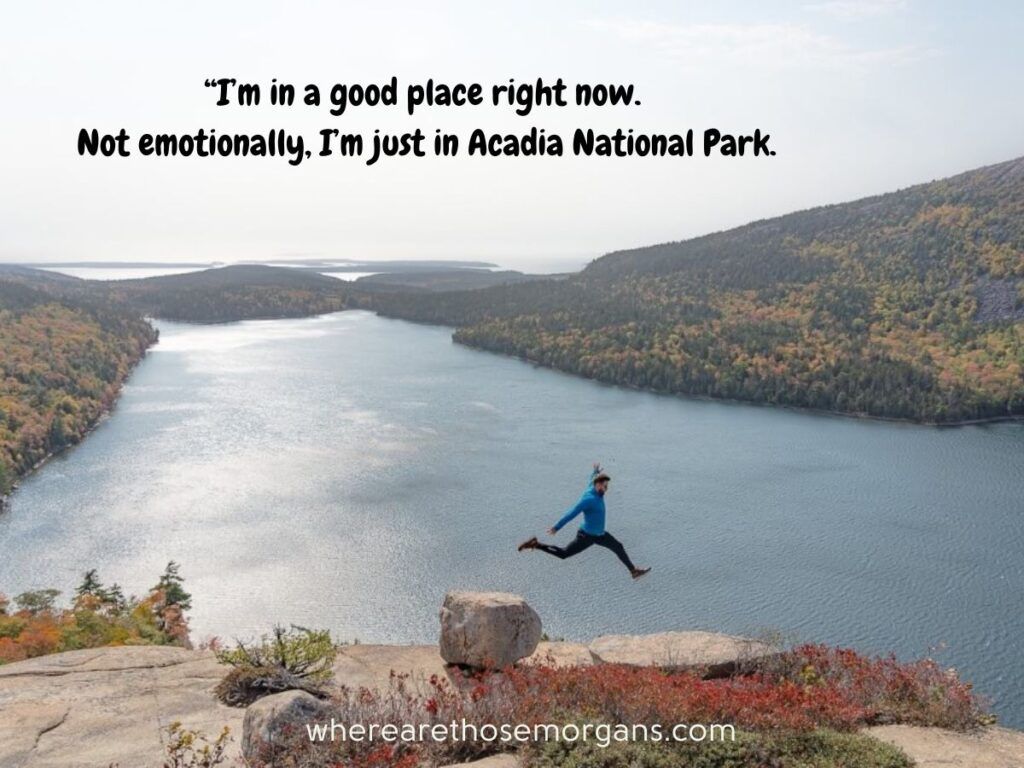 83). "I'm in a good place right now. Not emotionally, I'm just in Acadia National Park.
84). "Let Acadia be a refuge for your mind, body, soul, and spirit." – Julia Pearson
Acadia National Park Travel Guides
Heading to Acadia? Don't miss our popular guides for the park:
Arches National Park Puns, Captions And Quotes
85). "Arch you glad you're at Arches National Park?"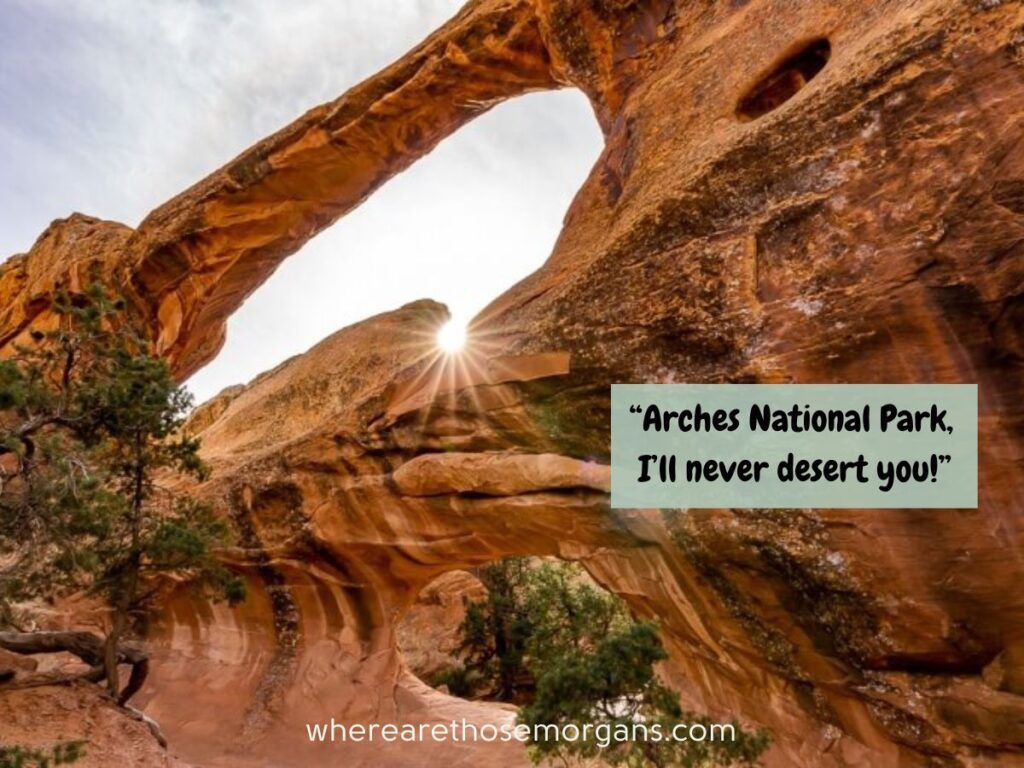 86). "Arches National Park, I'll never desert you!"
87). "Arch enemies."
88). "Arches National Park is be-Utah-ful."
89). "These photos were brought to you by Arches National Park."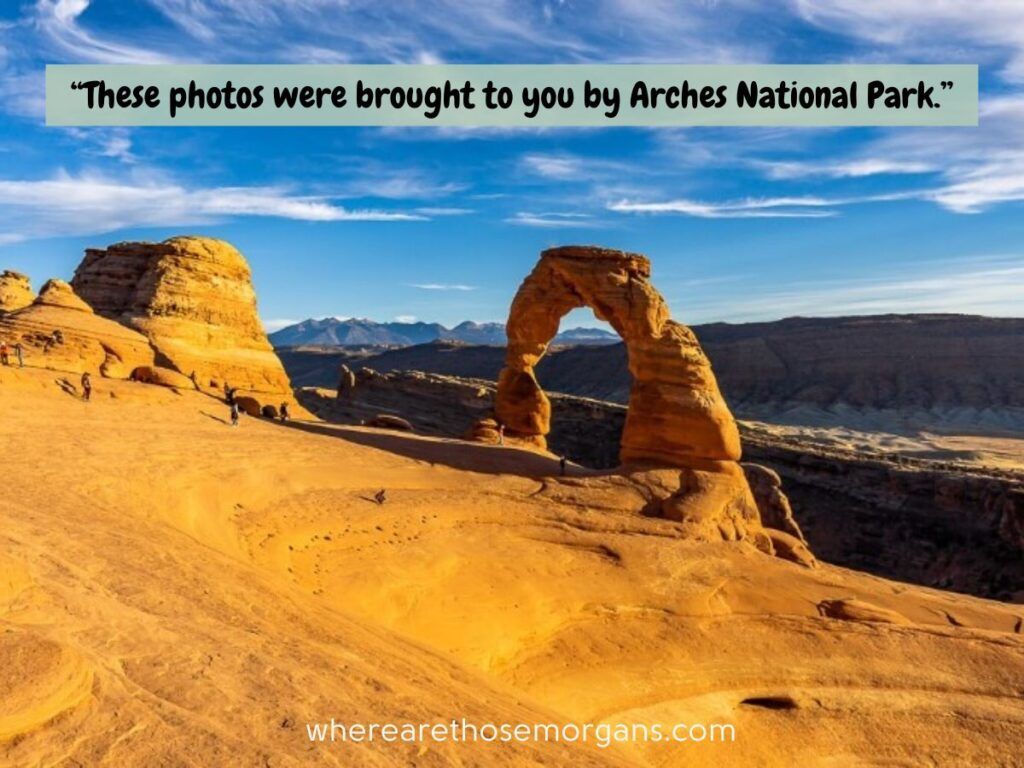 90). "Left my heart in Arches National Park, better go back and get it."
91). "Archway to heaven."
92). "The one where I go to Arches National Park."
93). "It's the lack of Internet connection and beautiful arches for me."
94). "Another day, another National Park."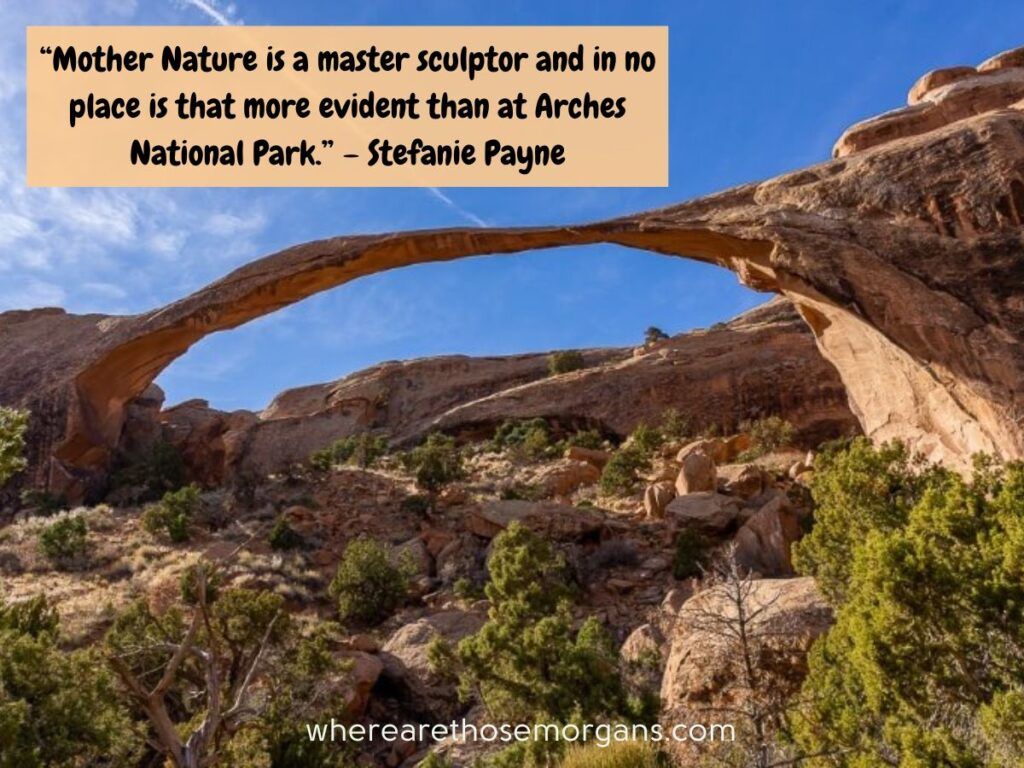 95). "Mother Nature is a master sculptor and in no place is that more evident than at Arches National Park." – Stefanie Payne
96). "Standing there, gaping at this monstrous and inhumane spectacle of rock and cloud and sky and space, I feel a ridiculous greed and possessiveness come over me. I want to know it all, posess it all, embrace the entire scene intimately, deeply, totally…" – Edward Abbey
97). "Sign written on the inside of the outhouse door at the campground in Arches: "Attention: Watch out for rattlesnakes, coral snakes, whip snakes, vinegaroons, centipedes, millipedes, ticks, mites, black widows, cone-nosed kissing bugs, solpugids, tarantulas, horned toads, Gila monsters, red ants, fire ants, Jerusalem crickets, chinch bugs and Giant Hairy Desert Scorpions before being seated." – Edward Abbey
Arches National Park Travel Guides
Heading to Arches? Don't miss our popular guides for the park:
Yosemite National Park Quotes
98). "But no temple made with hands can compare with Yosemite. Every rock in its walls seems to glow with life…as if into this one mountain mansion Nature had gathered her choicest treasures." – John Muir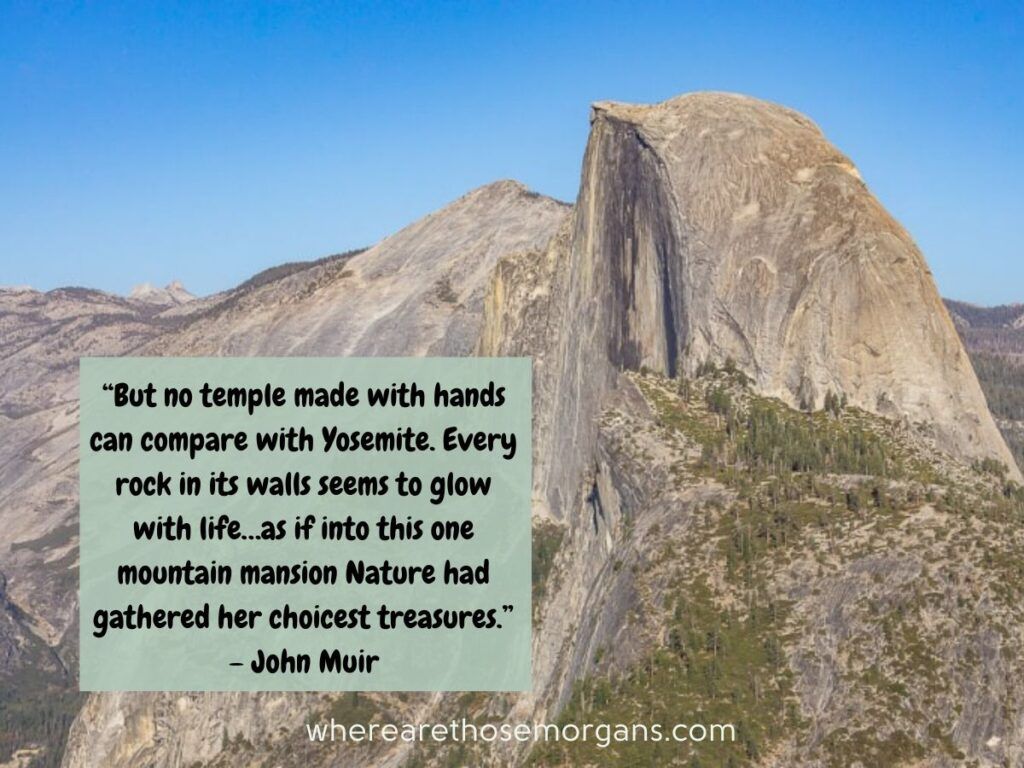 99). "Your legs feel like fried bacon after a day of climbing and descending. It's a roller coaster ride, but no one is pulling you up the mountain. You're headed toward Yosemite more than 4,000 feet of pounding the pedals. You are aware of every movement because your thighs feel tender with a sensation of pain. You push on, toward the final ascent into the valley. In front of you is a monster mountain-El Capitan. Your eyes grow wide. You take a deep breath. Suddenly, you feel only wonder." – Frosty Wooldridge
100). "Yosemite Park… None can escape its charms. Its natural beauty cleans and warms like a fire, and you will be willing to stay forever in one place like a tree." – John Muir
101). "When I was about fifteen, I went to work at Yosemite National Park. It changed me forever. Nature had carved its own sculpture, and I was part of it, not the other way around." – Robert Redford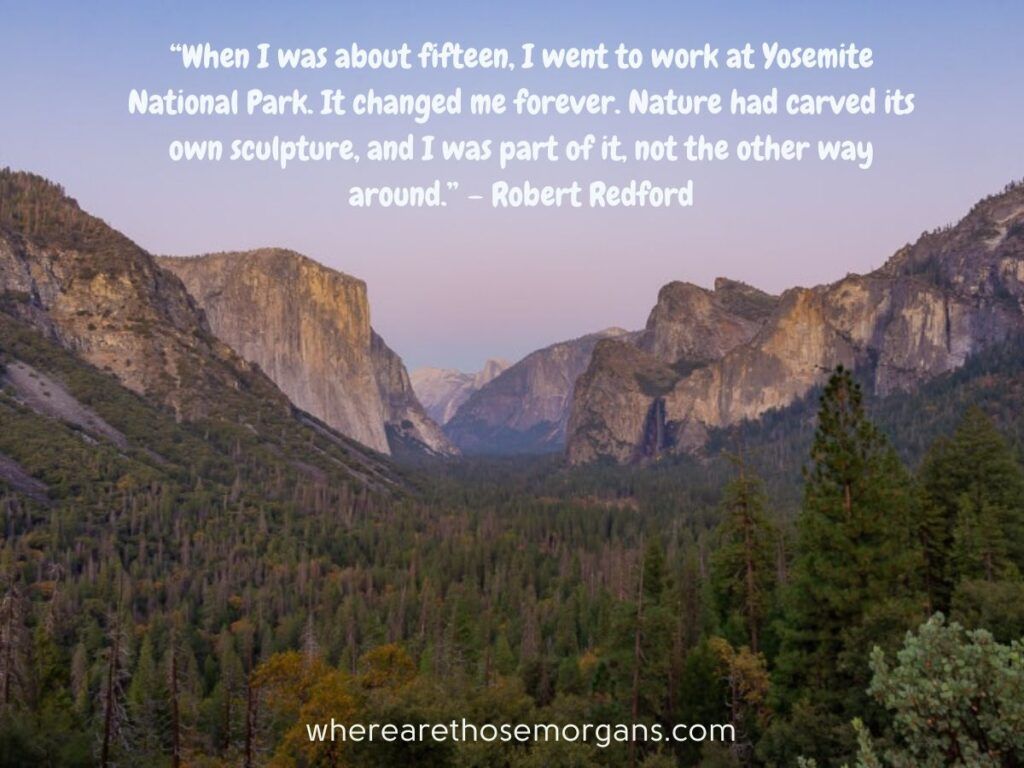 102). "Yosemite Park is a place of rest, a refuge from the roar and dust and weary, nervous, wasting work of the lowlands, in which one gains the advantages of both solitude and society." – John Muir
103). "The story is, a man came up to Yosemite and the ranger was sitting at the front gate and the man said, 'I've only got one hour to see Yosemite. If you only had one hour to see Yosemite, what would you do?' And the ranger said, 'Well, I'd go right over there, and I'd sit on that rock, and I'd cry.'" – Nevada Barr
Ansel Adams Yosemite Quotes
Yosemite National Park has a way of taking your breath away. It is easy to see why conservationists such as John Muir were inspired by this stunning area.
Below are some quote by famous photographer, Ansel Adams who spent much of his life photographing Yosemite and other beautiful places in the US.
104). "The great rocks of Yosemite, expressing qualities of timeless yet intimate grandeur, are the most compelling formations of their kind. We should not casually pass them by, for they are the very heart of the earth speaking to us." – Ansel Adams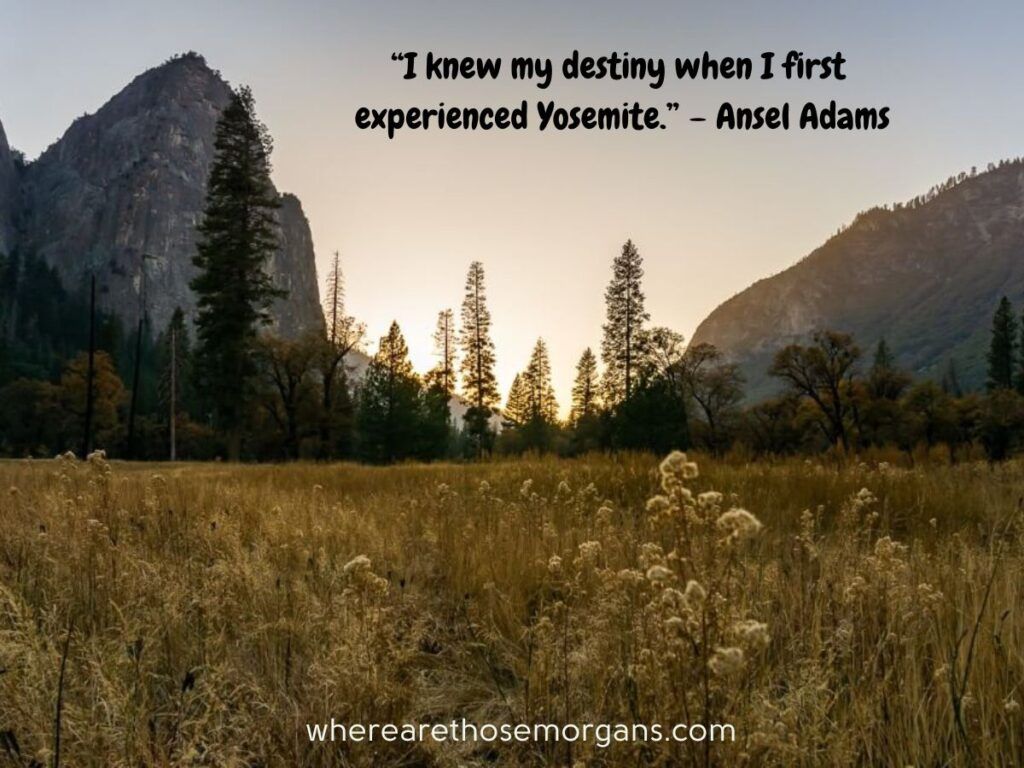 105). "I knew my destiny when I first experienced Yosemite." – Ansel Adams
106). "No matter how sophisticated you may be, a large granite mountain cannot be denied – it speaks in silence to the very core of your being" – Ansel Adams
107). "It is horrifying that we have to fight our own government to save the environment." – Ansel Adams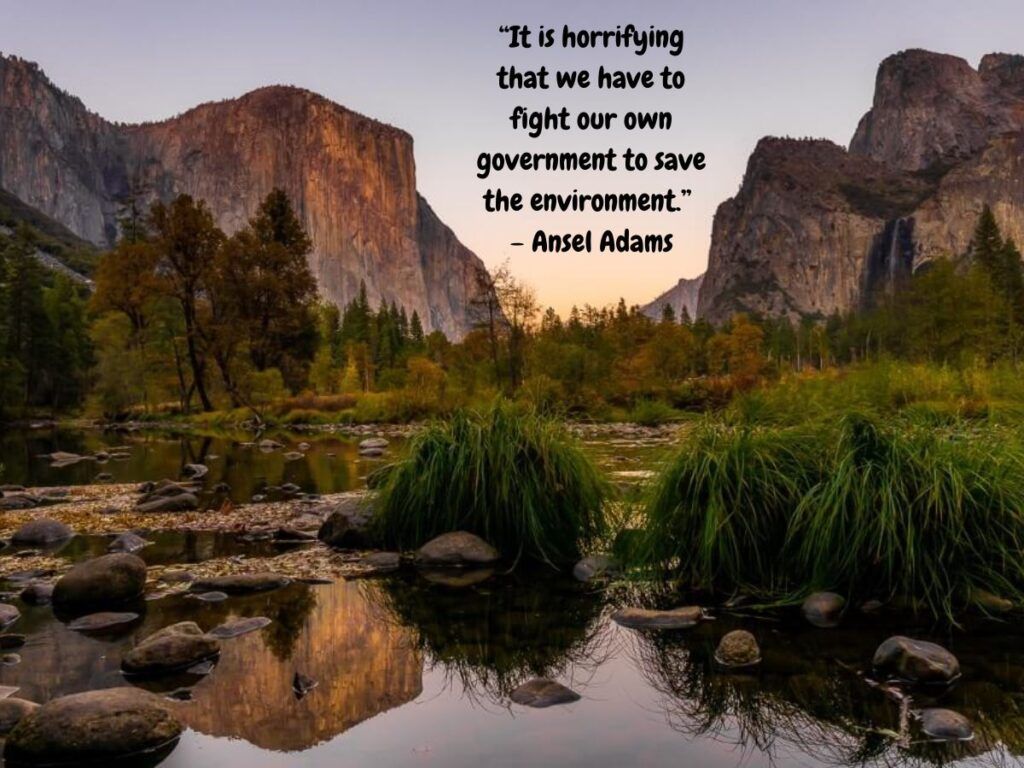 108). "You don't take a photograph, you make it." – Ansel Adams
109). "Sometimes I do get to places just when God's ready to have somebody click the shutter." – Ansel Adams
110). "Landscape photography is the supreme test of the photographer – and often the supreme disappointment." – Ansel Adams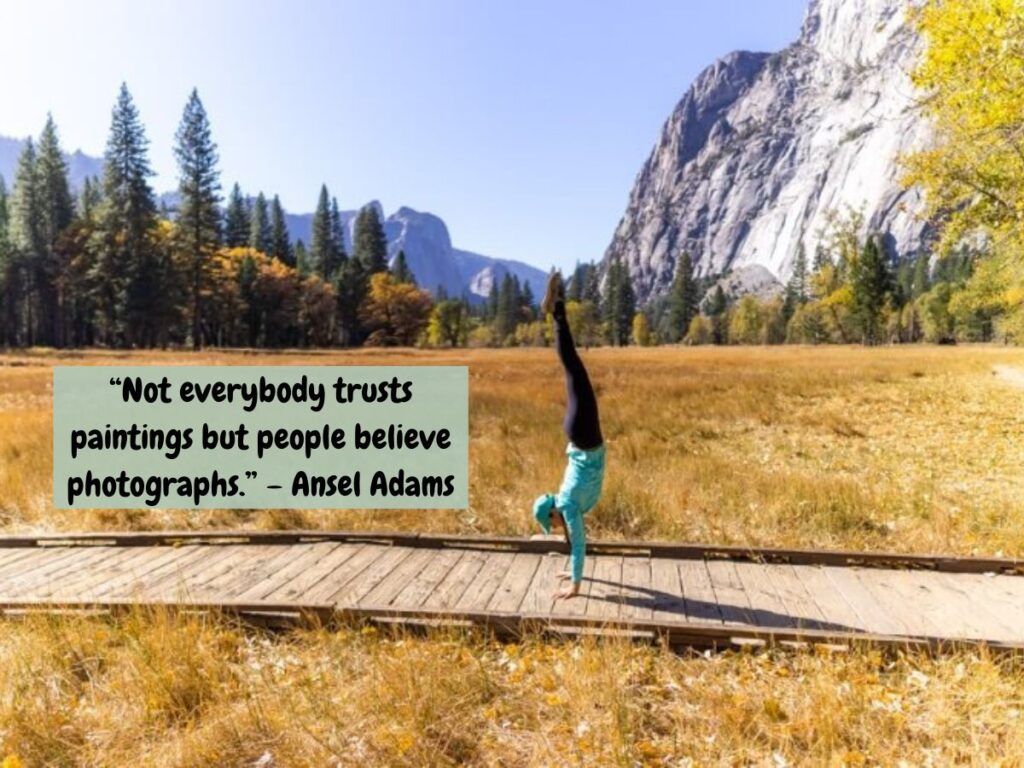 111). "Not everybody trusts paintings but people believe photographs." – Ansel Adams
Yosemite National Park Travel Guides
Heading to Yosemite? Don't miss our popular guides for the park:
Need help planning your trip to Yosemite National Park? Use our Yosemite Guidebook to help every step of the way.
FAQ's About US National Parks
Let's take a look at some of the most frequently asked questions regarding national park quotes and why we love to explore these areas of natural beauty.
What National Park Has The Best Views?
There are many national parks with amazing views, but the best scenic views can be found in Yellowstone, Glacier, Rocky Mountain, Grand Canyon, Zion, Olympic and Great Smoky Mountains National Park.
Why Is It Called A US National Park?
The main purpose of a national park is to protect the natural environment and conserve the biodiversity of the area. US national parks are protected by the federal government.
What Is The Most Unique National Park?
The most unique national parks in the US include Hawaii Volcanoes, Sequoia, Olympic, Dry Tortugas and Death Valley National Park.
What Is The Biggest And Smallest National Park?
The biggest national park is Wrangell-St. Elias in Alaska with over 8 million acres. The smallest national park is Gateway Arch in Missouri spanning 91 acres.
Which States Have The Most National Parks?
The state with the most national parks is California with 9 national parks. Followed by Alaska with 8 national parks, Utah with 5 nationals park and Colorado with 4 national parks.
Our Popular Quotes Guides
Best Of USA Travel
---
We hope this guide to National Park quotes helps with inspiring your next visit to one of these stunning locations!
Please let us know if you have any questions about National Park quotes or any upcoming trip to the National Parks in the comments below.
Happy Exploring,
Mark and Kristen
Enjoy This National Park Quotes Guide? Pin It For Later!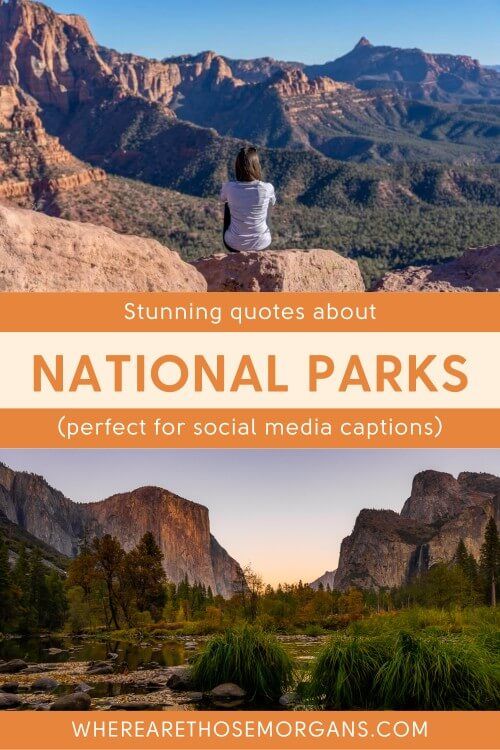 Note: This article contains affiliate links. When you make a purchase using one of these affiliate links, we may earn a small commission at no extra cost to you.
All Rights Reserved © Where Are Those Morgans, LLC. Republishing this article and/or any of its contents (text, photography, maps, graphics, etc.) in whole or in part is strictly prohibited.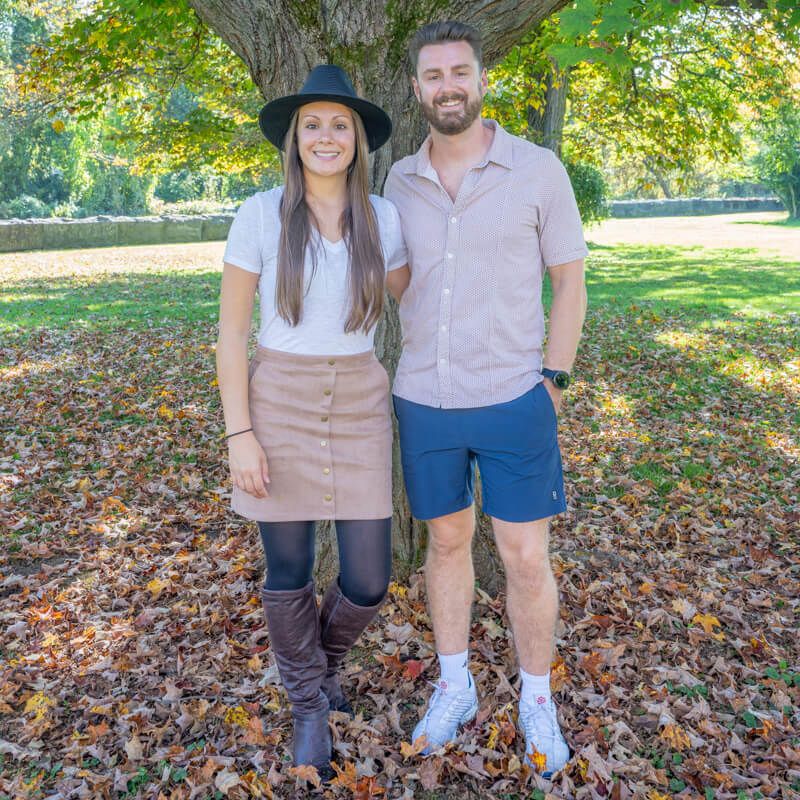 Mark and Kristen Morgan are travel, hiking and photography experts. Over the last 6 years traveling full time, they have explored more than 40 countries and 30 US states.
Their work has been featured in USA Today, Gestalten, Get Your Guide, CityPASS and Condé Nast Traveler along with various other publications.