No two sunset are the same and no two individuals are the same, just as no paths in life in the same. These positive sunset quotes and captions are meant to capture that exact feeling.
As professional photographers, sunsets have become a way of life. We plan our entire day around sunrise and sunset. There is nothing more beautiful than watching the sun go down with your loved one.
With this guide, we hope to inspire you to watch the sunset the very next chance you get.
We have organized this long list of sunset quotes into manageable sections in case you wanted to search for a particular topic.
Explore quotes about sunsets below:
Best sunset quotes
Sunset love quotes
Sunset quotes about life
Inspirational positive sunset quotes
Beach sunset quotes
Short sunset quotes
Sunset puns
Now, let's find the best sunset quotes for your next adventure!
*Please note this post may contain affiliate links. If you click on one, we may earn a small commission at no extra cost to you. Thank you for supporting the free content we provide! Read more in our disclosure policy.*
Best Sunset Quotes
1). "Twilight fell: the sky turned to a light, dusky purple littered with tiny silver stars." – J.K. Rowling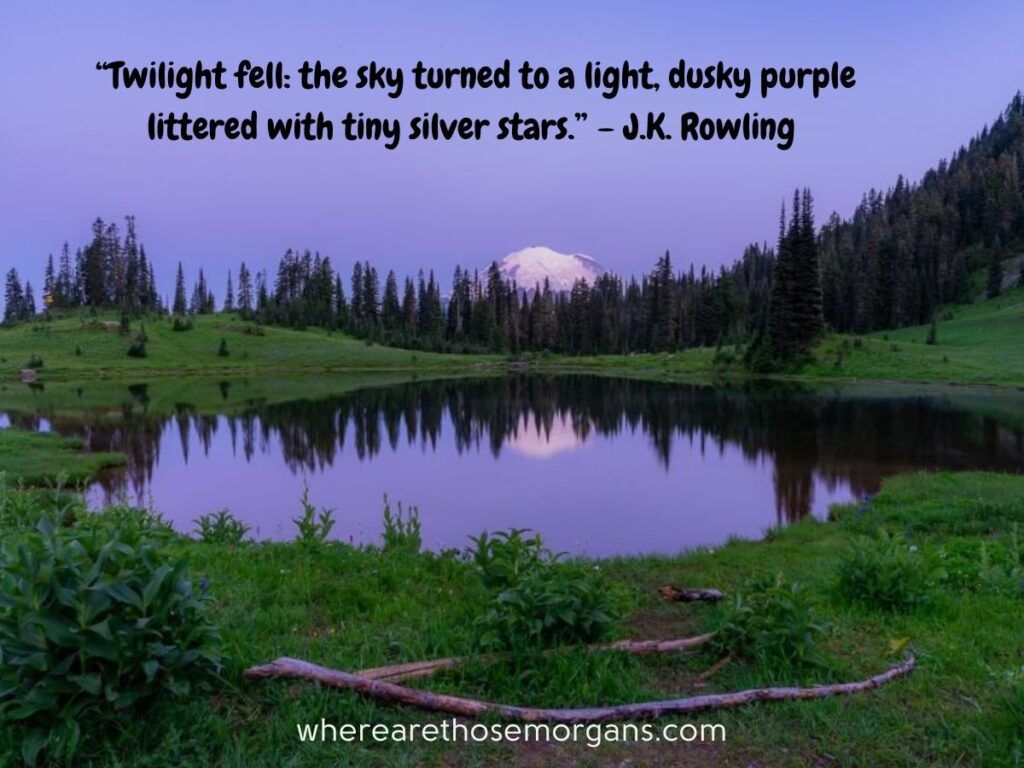 2). "The strange thing about the sunset is that we actually don't want the sun to set, we want it to stay right on the horizon, not below it, not above it, just right on it." – Mehmet Murat Ildan
3). "Can you see the sunset real good on the West side? You can see it on the East side too." – S.E. Hinto
4). "A large drop of sun lingered on the horizon and then dripped over and was gone, and the sky was brilliant over the spot where it had gone, and a torn cloud, like a bloody rag, hung over the spot of its going. And dusk crept over the sky from the eastern horizon, and darkness crept over the land from the east." – John Steinbeck
5). "I love sunrises and sunsets. But what I really love is the space that I have in-between them to do something incredible." – Craig D. Lounsbrough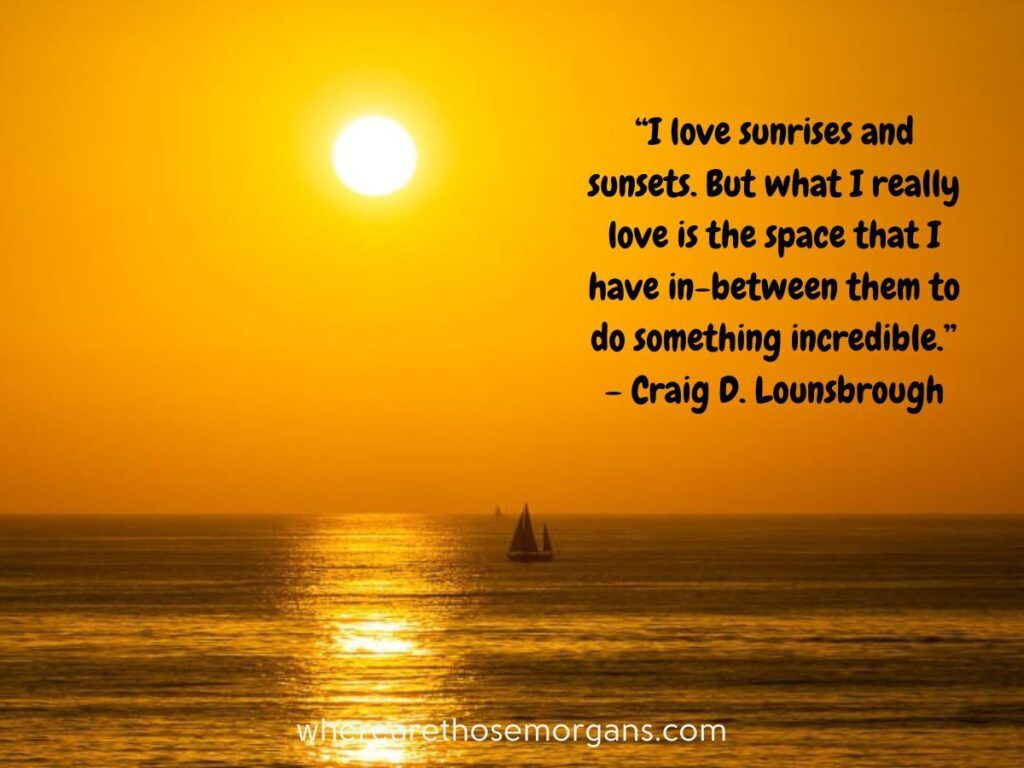 6). "There's always a sunrise and always a sunset and it's up to you to choose to be there for it… Put yourself in the way of beauty." – Cheryl Strayed
7). "You only get one sunrise and one sunset a day, and you only get so many days on the planet. A good photographer does the math and doesn't waste either." – Galen Rowell
8). "The sunset doesn't care if we watch it or not, it will keep on being beautiful even if no one bothers to look at it." – Gene Amole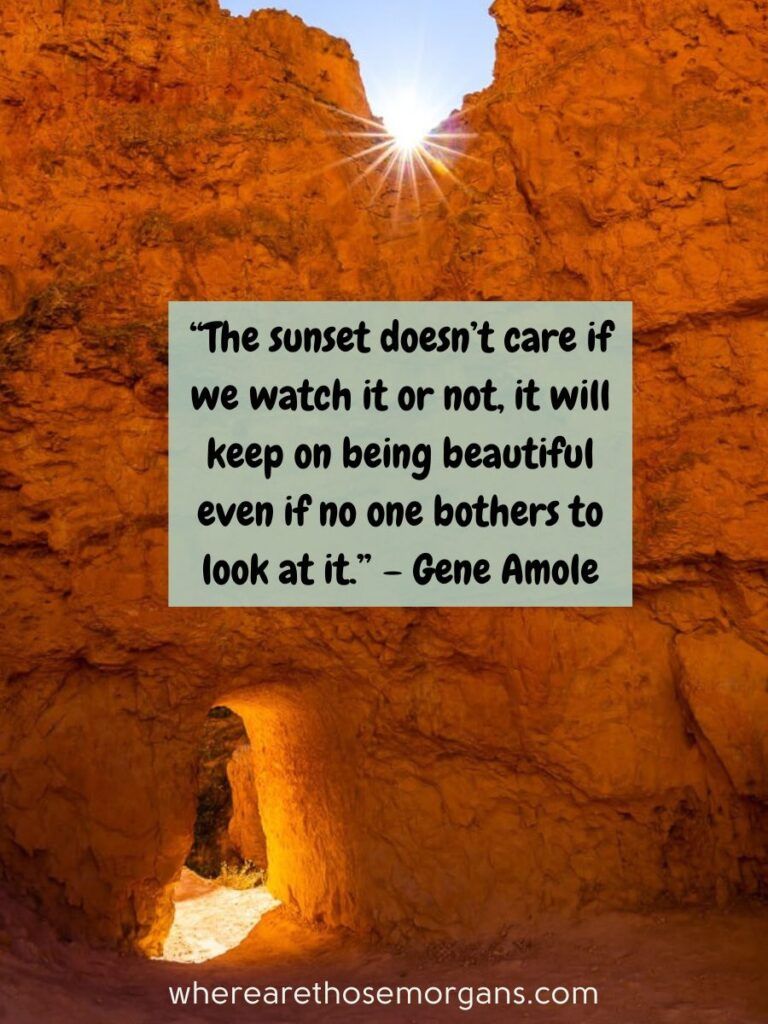 9). "Today I saw a red and yellow sunset and thought, how insignificant I am! Of course, I thought that yesterday too, and it rained." ― Woody Allen
Sunset Love Quotes
10). "I want to see how sunset decorates your hair." – Tyler Knott Gregson
11). "Some days, a beautiful sunset with your best friend can be one of the most peaceful and relaxing mediations of the day." – Charles Schulz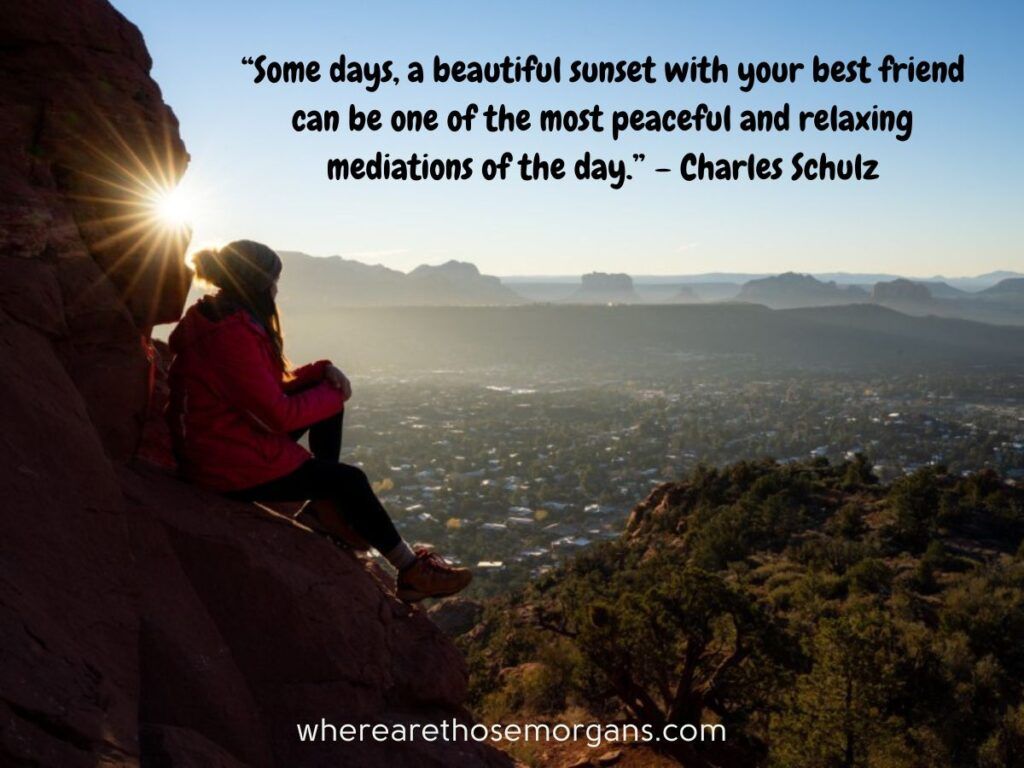 12). "She was a ray of sunshine, a warm summer rain, a bright fire on a cold winter's day, and now she could be dead because she had tried to save the man she loved." – Grace Willows
13). "Sensual pleasures have the fleeting brilliance of a comet; a happy marriage has the tranquillity of a lovely sunset." – Ann Landers
14). "People are just as wonderful as sunsets if you let them be. When I look at a sunset, I don't find myself saying, Soften the orange a bit on the right hand corner.' I don't try to control a sunset. I watch with awe as it unfolds." – Carl R. Rogers
15). "For me, optimism is two lovers walking into the sunset arm in arm. Or maybe into the sunrise – whatever appeals to you." – Krzysztof Kieslowski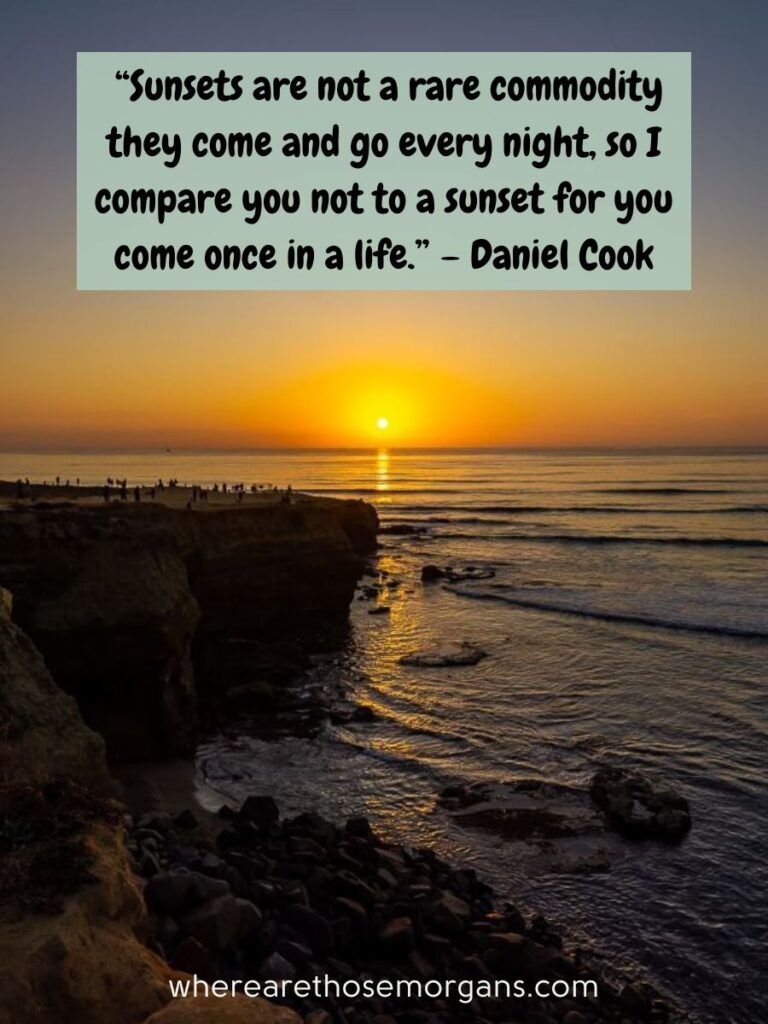 16). "Sunsets are not a rare commodity they come and go every night, so I compare you not to a sunset for you come once in a life." – Daniel Cook
17). "Perfect happiness is a beautiful sunset, the giggle of a grandchild, the first snowfall. It's the little things that make happy moments, not the grand events. Joy comes in sips, not gulps." – Sharon Draper
18). "You'll need coffee shops and sunsets and road trips. Airplanes and passports and new songs and old songs, but people more than anything else. You will need other people and you will need to be that other person to someone else, a living breathing screaming invitation to believe better things." – Jamie Tworkowski
Sunset Quotes About Life
19). "Clouds come floating into my life, no longer to carry rain or usher storm, but to add color to my sunset sky." – Rabindranath Tagore
20). "Science will never be able to reduce the value of a sunset to arithmetic. Nor can it reduce friendship to formula. Laughter and love, pain and loneliness, the challenge of beauty and truth: these will always surpass the scientific mastery of nature." – Louis Orr
21). "Sunsets, like childhood, are viewed with wonder not just because they are beautiful but because they are fleeting." – Richard Paul Evans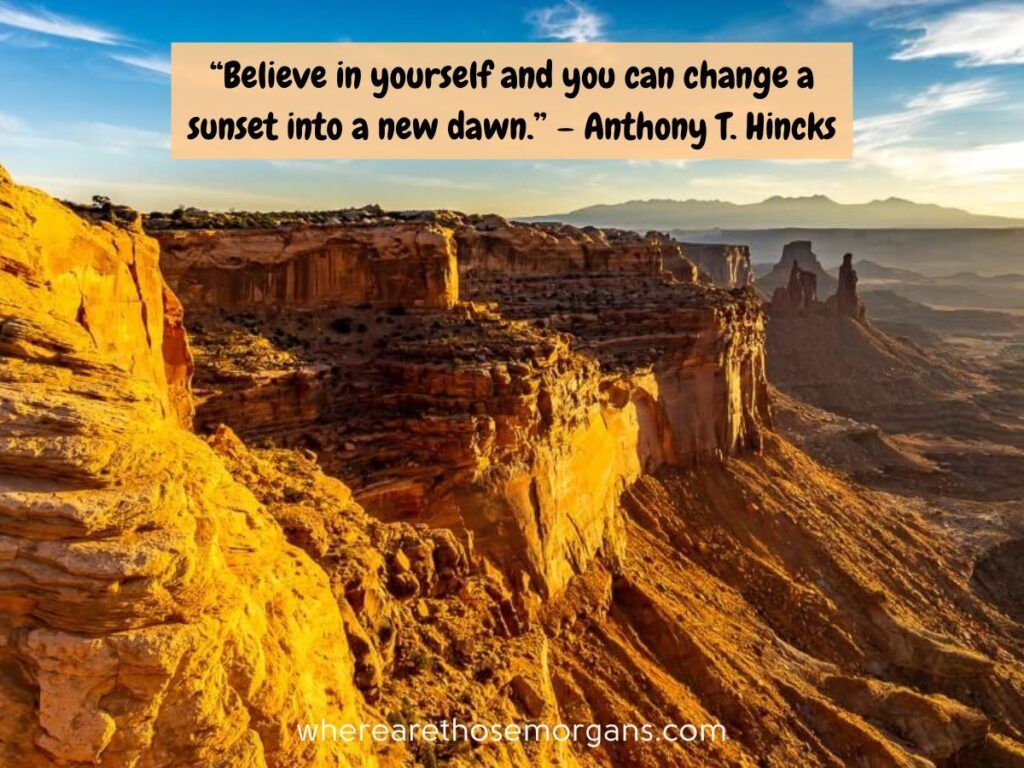 22). "Believe in yourself and you can change a sunset into a new dawn." – Anthony T. Hincks
23). "Admire the efforts of a failure like you admire the beauty of a sunset."- Amit Kalantri
24). "The first stab of love is like a sunset, a blaze of color – oranges, pearly pinks, vibrant purples…" – Anna Godbersen
25). "Allow failure to teach you a supreme lesson. Each sunset is the beginning of a very, very bright and powerful sunrise." – Sri Chinmoy
26). "Life does not come with instructions on how to live, but it does come with trees, sunsets, smiles and laughter, so enjoy your day." – Debbie Shapiro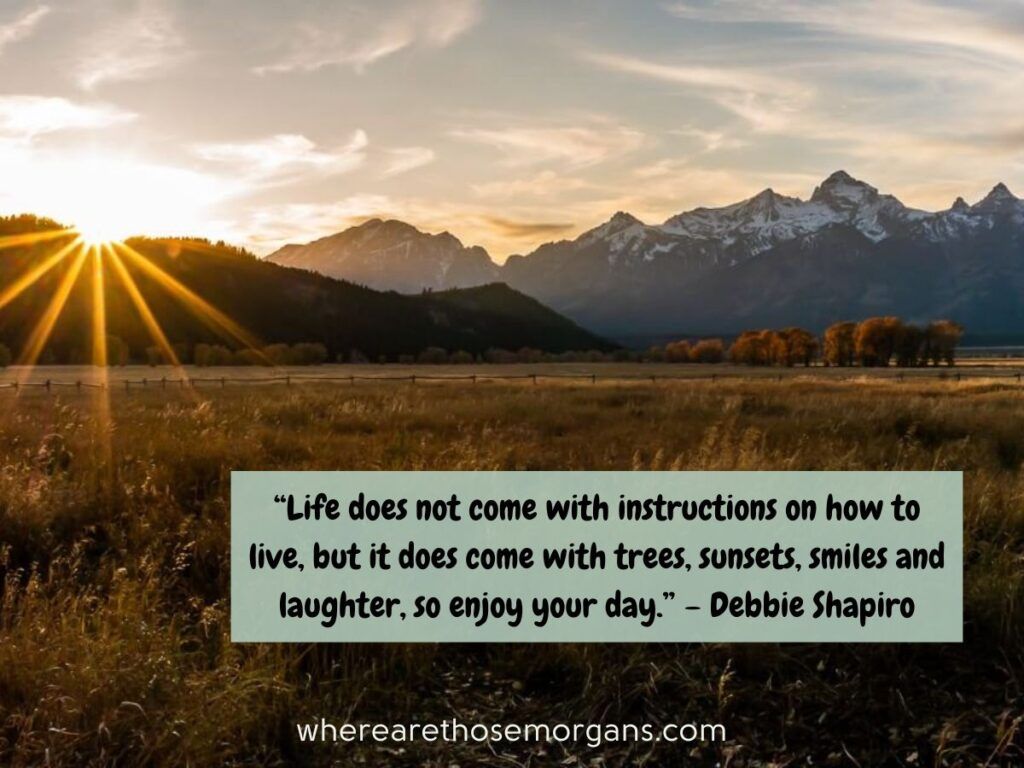 27). "The darkness that follows a sunset is never so dark that it can change the inevitability of a sunrise." – Craig D. Lounsbrough
28). "I believe in evolution. But I also believe, when I hike the Grand Canyon and see it at sunset, that the hand of God is there also." – John McCain
29). "My dream date would be a hike through the woods followed by an outdoor picnic followed by a glass of wine at sunset. Heaven!" – Nina Agdal
Inspirational Positive Sunset Quotes
30). "When your world moves too fast and you lose yourself in the chaos, introduce yourself to each color of the sunset." – Christy Ann Martine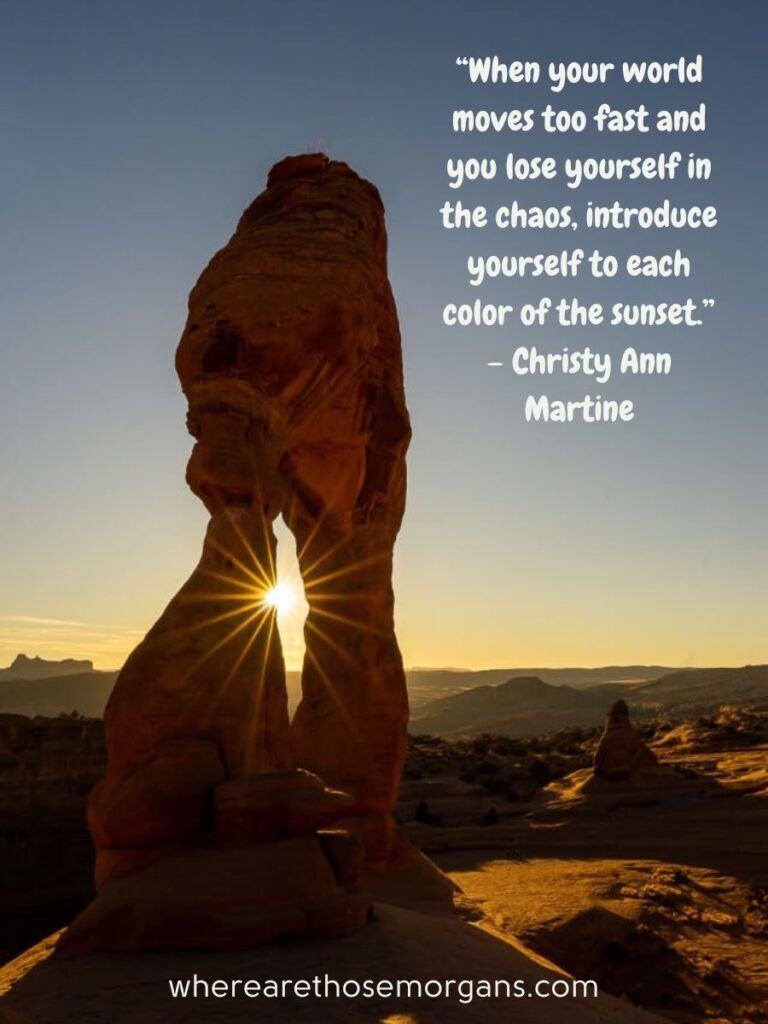 31). "There's a sunrise and a sunset every single day, and they're absolutely free. Don't miss so many of them." – Jo Walton
32). "As long as the sun does not set in your mind, darkness will be nothing but a weak shadow in your life!" – Mehmet Murat ildan
33). "It was sunset that taught me that beauty sometimes lasts but a moment, and it was sunrise that showed me that all it takes is patience to experience it all over again." – AJ Lawless
34). "Never waste any amount of time doing anything important when there is a sunset outside that you should be sitting under." – C. JoyBell C.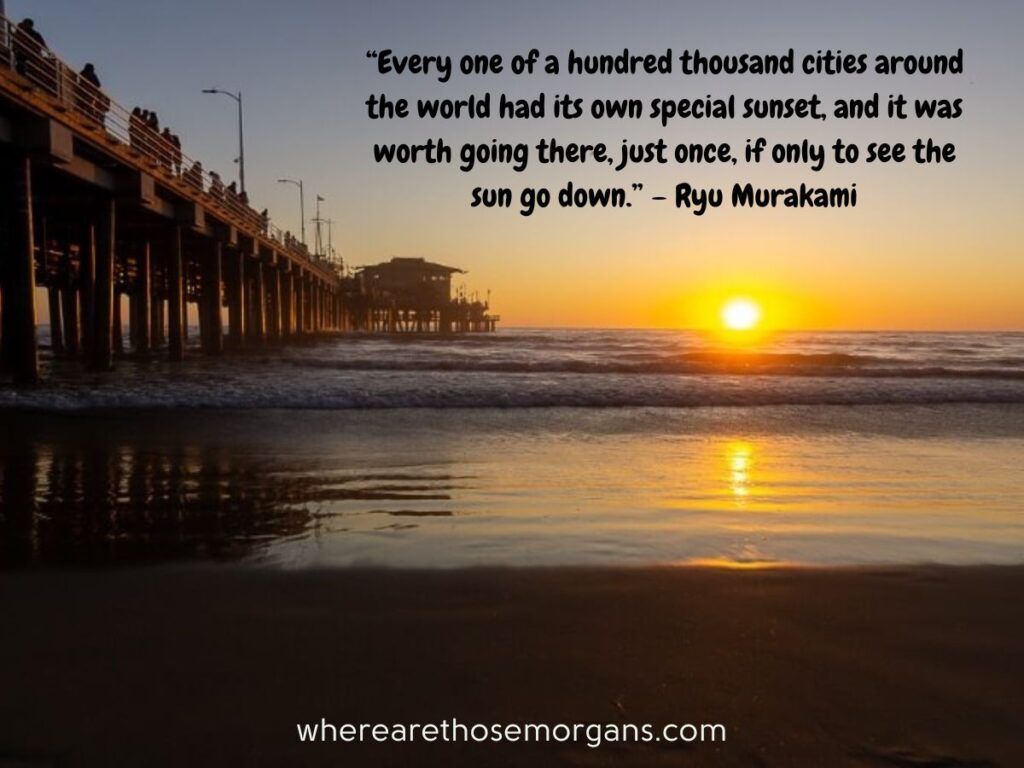 35). "Every one of a hundred thousand cities around the world had its own special sunset, and it was worth going there, just once, if only to see the sun go down." – Ryu Murakami
36). "When the sun is shining I can do anything; no mountain is too high, no trouble too difficult to overcome." – Wilma Rudolph
37). "You have to travel far and wide to see a lot of the world's wonders, but sunsets can be appreciated in every corner of the earth." – Kimmie Conner
38). "Age is irrelevant. Ask me how many sunsets I've seen, hearts I've loved, trips I've taken, or concerts I've been to. That's how old I am." – Joelle
Beach Sunset Quotes
39). "One day, all your worries will set like the sun does and deserved happiness will come gushing like waves at the beach do. All you need to make sure id that your trips to beach never end." – Jasleen Kaur Gumber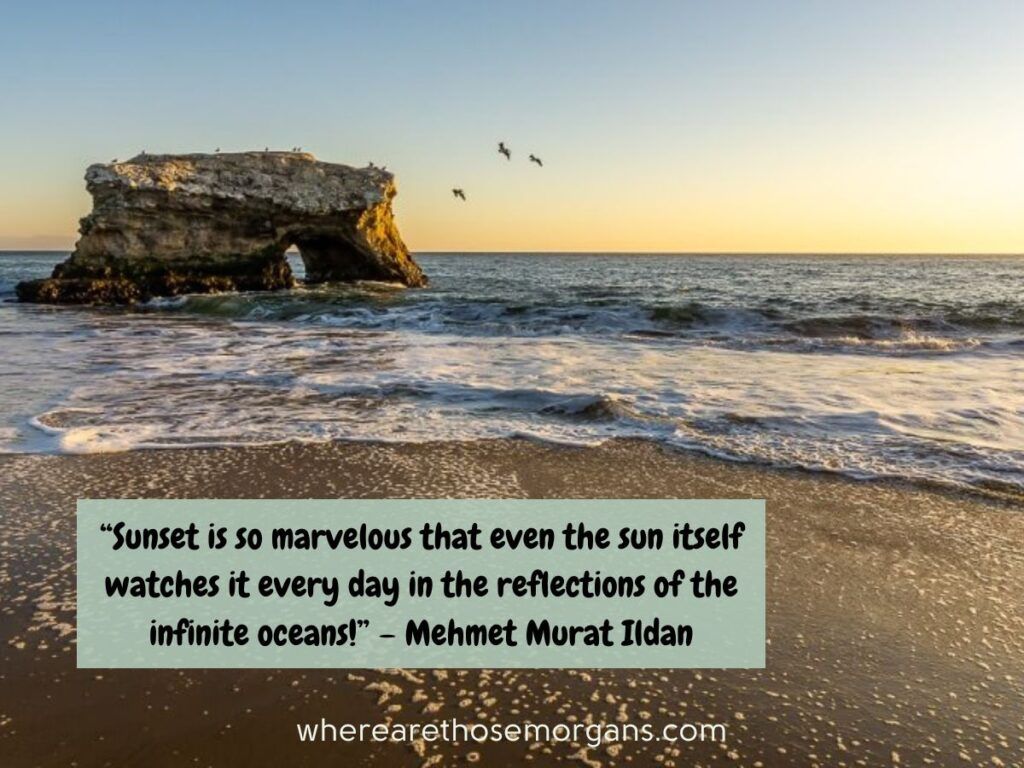 40). "Sunset is so marvelous that even the sun itself watches it every day in the reflections of the infinite oceans!" – Mehmet Murat Ildan
41). "The sun is setting in a burnt orange sky; the cliffs are black silhouettes; the sea, liquid silver." ― Laura Treacy Bentley
42). "The sun was a fiery furnace of gold, but finally it set in the west and the cosmos glittered like a million burning embers, briefly reminding Awa of poetry readings under starry skies in Timbuktu."- Rehan Khan
43). "Let the sea breeze blow your hair, let the sunset bring tranquillity to your heart, let the distant places you travel allow you to explore yourself." – Somya Kedia
44). "To capture a California sunset in South Pasadena is to hold an angel's wings with bated breath." – Ace Antonio Hall
45). "A slight breeze cooled the Hawaiian spring air, swaying the branches of palm trees, which cast black silhouettes against the purple and orange colors of the twilight sky." – Victoria Kahler
46). "When the sun went down, and touches of blue filtered into the fading afterglow, an orange lamp would light up in the knob of the bell and slowly begin to revolve. The beacon always pinpointed the onset of nightfall exactly. Against the most gorgeous sunsets or in dim drizzling mist, the beacon was ever true to its appointed moment: that precise instant in the alchemy of light and dark when darkness tipped the scales." – Haruki Murakami
Short Sunset Quotes
47). "Every sunset brings the promise of a new dawn." – Ralph Waldo Emerson
48). "It is almost impossible to watch a sunset and not dream." – Bernard Williams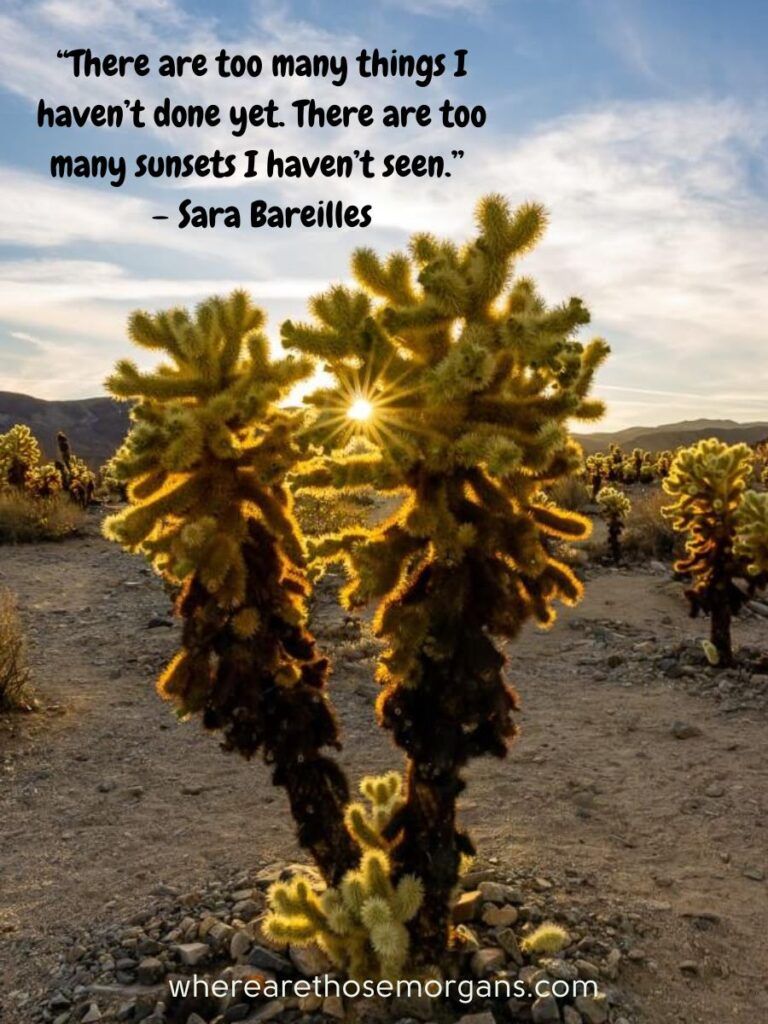 49). "There are too many things I haven't done yet. There are too many sunsets I haven't seen." – Sara Bareilles
50). "If I could lick the sunset, I'll bet it would taste like Neapolitan ice cream." – Jarod Kintz
51). "Not everyone has to ride off into the sunset with a man. Some of us just want a tan." – Mandy Hale
52). "Don't forget, beautiful sunsets need cloudy skies." – Paulo Coelho
53). "As angry as the sky looks, it's still full of the colors of love." – Anthony T. Hincks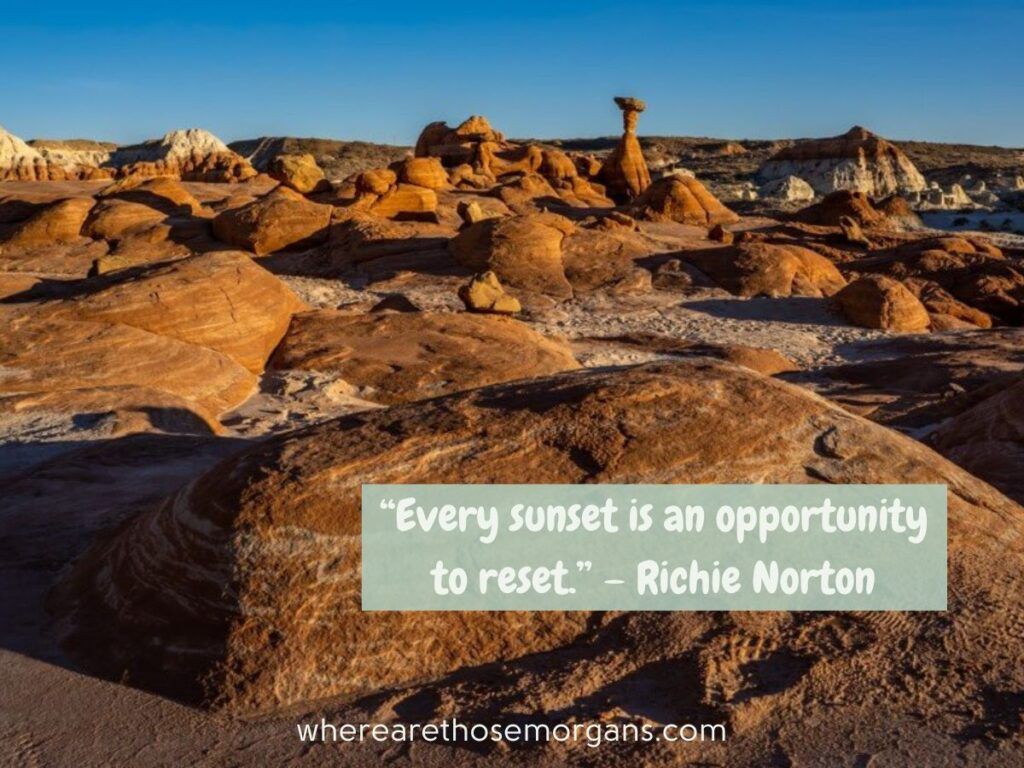 54). "Every sunset is an opportunity to reset." – Richie Norton
55). "Her heart was made of liquid sunsets." – Virginia Woolf
56). "Watching the sunset makes you feel stronger." – Anamika Mishra
57). "Sunset is the opening music of the night."- Mehmet Murat ildan
58). "No sun outlasts its sunset but will rise again and bring the dawn." – Maya Angelou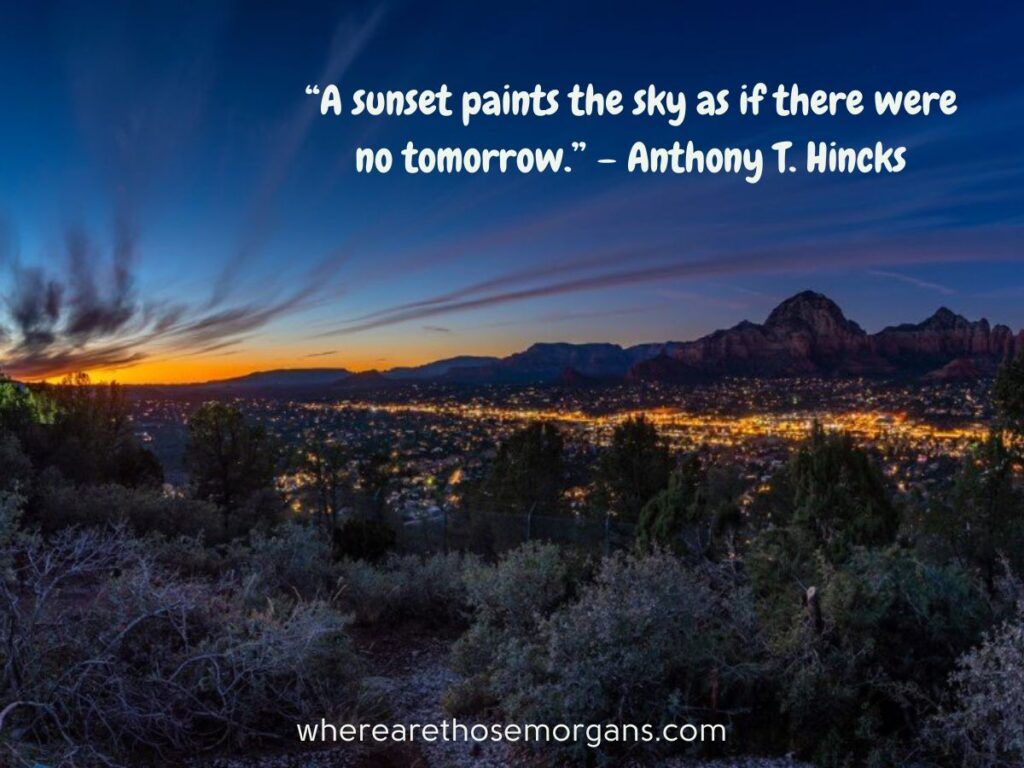 59). "A sunset paints the sky as if there were no tomorrow." – Anthony T. Hincks
60). "Never go too long without watching a sunset." – Atticus
61). "Softly the evening came with the sunset." – Henry Wadsworth Longfellow
62). "When the sun has set, no candle can replace it." – George R.R. Martin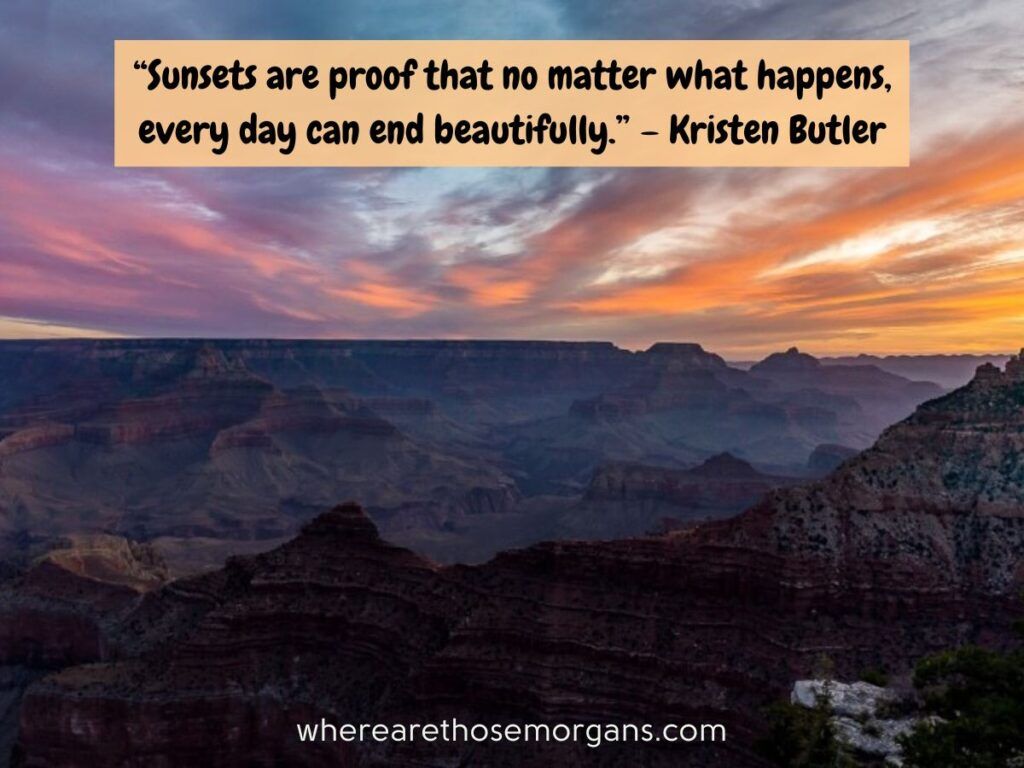 63). "Sunsets are proof that no matter what happens, every day can end beautifully." – Kristen Butler
64). "The sun has gone to bed and so must I." – The Sound of Music
65). "The sun ignites the clouds below it as if they, and the water itself, were on fire." – Anthony T. Hincks
Sunset Puns
66). "Sun's out, puns out."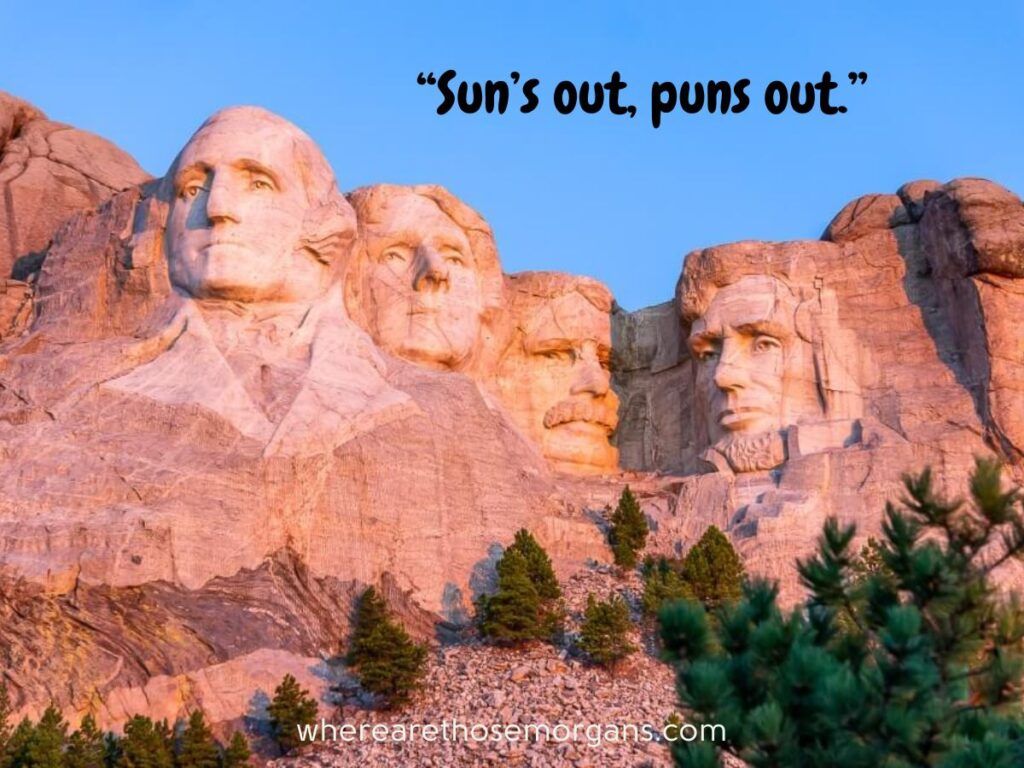 67). "If there's a will, there's a wave and a sunset."
68). "Saying 'shell yeah' for sunsets."
69). "Words cannot espresso how much I love sunsets."
70). "I wanted to see the sunset, but I mist it."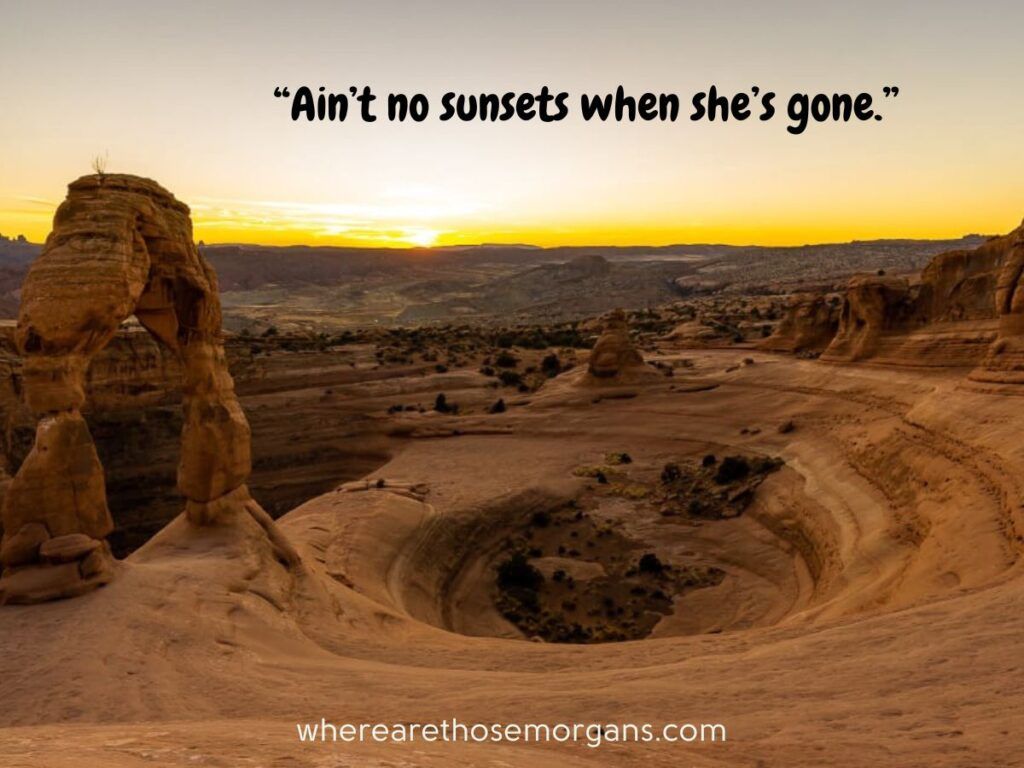 71). "Ain't no sunsets when she's gone."
72). "Want to race to the sunset? I bet I can beach you to it."
73). "It's all sun and games until somebody gets hurt."
74). "Your chances to watch the sunset tonight are getting dim."
Sunset Quote FAQ's
Let's take a look at some of the most frequently asked questions regarding sunset quotes.
What Is So Beautiful About A Sunset?
Sunsets are beautiful because of the cloud layers at both the upper and lower levels. The magnificent colors we can see in a sunset are reflected in the clouds which take on a characteristic red and orange hue.
Why Is Life Like A Sunset?
Life can be compared to a sunset because the sun will go down and rise again the next day giving us a new chance. In life, we are faced with both good and bad situations which we need to experience to both grow and learn. Sometimes we never know what is around the corner waiting to happen.
What Do Sunsets Symbolize?
Sunsets symbolize a new beginning, but they can also represent symbols of peace, harmony and renewal.
Our Popular Quotes Guides
Best Of USA Travel
---
We hope this guide to sunset quotes helps with inspiring your next adventure!
Please let us know if you have any questions about sunset quotes or any upcoming trip in the comments below.
Happy Travels,
Mark and Kristen
Enjoy This Sunset Quote Guide? Pin It For Later!