The Precipice Trail is the most popular, exhilarating and adventurous hike in Acadia National Park. But it is not for the feint of heart.
We are going to walk you through the iron rung ladder climb, narrow cliff edges and stunning scenery as we explore the Acadia Precipice Trail to a spectacular summit panorama.
In our Acadia hiking guide, we will cover:
Best time to hike Precipice
How to be safe on the Precipice Trail
A walk through of the entire hike
Safety and hiking tips for your visit
Our personal Precipice Trail photos
Now, let's climb the Precipice Trail in Acadia, Maine!
Our Acadia National Park Experience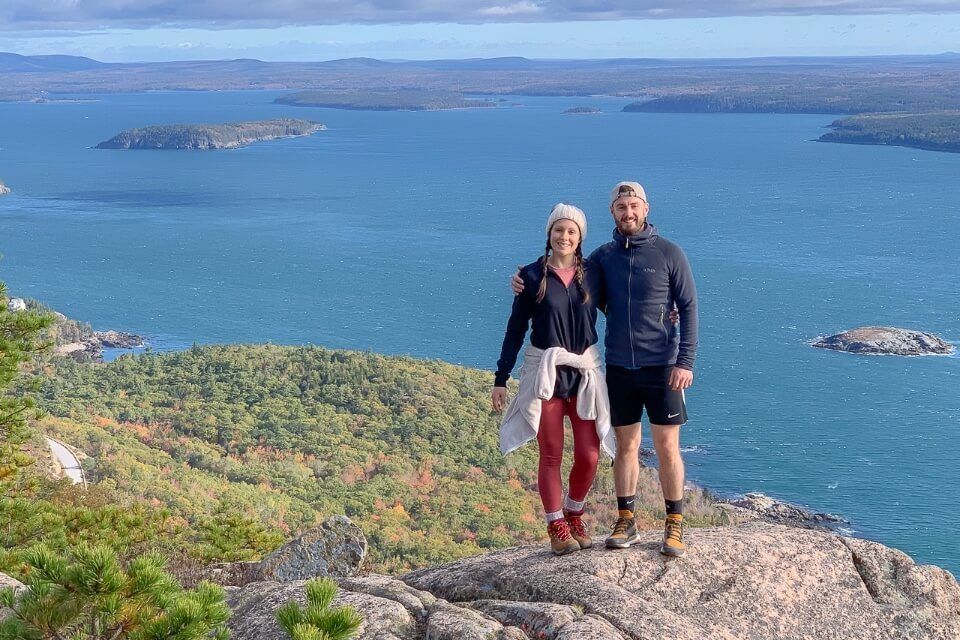 We visited Acadia National Park in October 2020 as part of a larger fall New England Road Trip. During this trip, we personally hiked both the popular Precipice Trail and Beehive Trail in Acadia.
Many of the best hikes at Acadia National Park have very similar trail types, elevation gains and views. But the Precipice and Beehive Trails are some of the two most popular trails in the park due to their ladder sections.
Beehive Trail is essentially a miniature version of Precipice Trail. So, if you have any doubts or concerns after reading this guide, we recommend you hike Beehive Trail first to see how you get on.
If you love it, head straight over to Precipice and prepare to be blown away by an epic climb.
In this guide, we will show you what to expect from hiking Acadia's nerve-racking Precipice Trail including how to climb the iron bar ladders and scale cliff sides to soak up special views over the Gulf of Maine.
What Is The Precipice Trail In Acadia?
The Precipice Trail in Acadia national park is a rugged, non-technical climb over open cliff faces and iron rungs similar to a via ferrata.
After ascending Precipice Trail, hikers will reach the summit of Champlain Mountain and enjoy beautiful views over Frenchman Bay.
Precipice Trail is a thrill-seekers dream come true in Acadia national park. We have even included this unique hike in our popular guide to the 50 best hiking trails in the USA.
There is something special about a heart clapping, adrenaline pumping, butterflies bouncing climb up a sheer rock face.
Acadia's other adventure hike Beehive Trail is named simply because it looks like a beehive. Precipice Trail is exactly what you might expect with the word precipice, meaning a very steep rock face or cliff, especially a tall one.
We can't argue that Acadia's hikes are aptly named!
Precipice Trail Statistics
Hike Distance: 2.3 miles roundtrip (Champlain mountain / Orange and Black)
Type: Loop trail
Difficulty: Hard and strenuous
Hike Time: 2-3 hours depending on crowds and stops
Elevation Gain: 1,050 ft (320m)
Trailhead: Precipice on Park Loop Road
Age: Over 12 recommended
Dogs Allowed: No
Recent Comments: All Trails
Precipice Trail will challenge the average hiker. Not only is it almost a vertical climb, but it also has a penchant for inducing vertigo, hearts in mouths and wobbly knees to those who look down.
The Precipice hike is a test both physically and mentally. As long as you are in a good frame of mind, you will have no problems hiking Precipice.
Precipice Trail Video
After you read this guide, you might like to watch our Acadia Precipice Trail video on YouTube.
This is just a simple capture of raw footage from this exhilarating climb shot with our old GoPro attached to a head strap.
Expect lots of motion, point of view ladder climbs and see the steep drop offs from various parts of the hike. For best quality, click the gear icon and select 1080p resolution.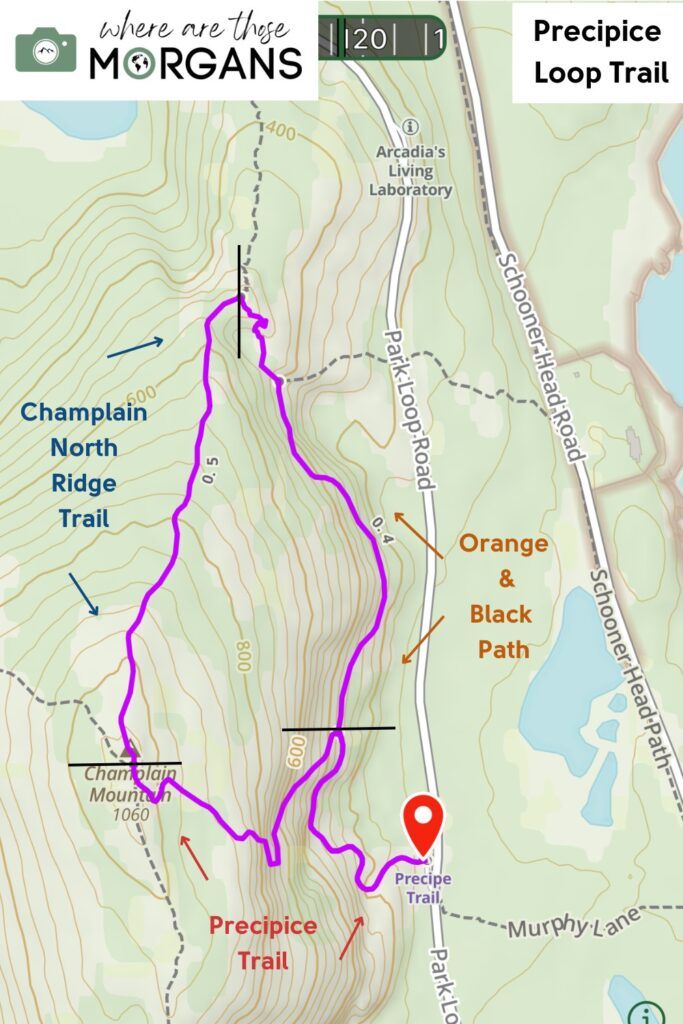 How To Descend The Precipice Loop Trail
Precipice Trail continues to Champlain Mountain summit at which point you have two options on how to descend:
Descend via Champlain N Ridge Trail onto Orange and Black Path then rejoin Precipice near the trailhead.
Take a turn off Orange and Black Path leading back to Park Loop Road, walking back on the main road to the parking lot. Take care of traffic on Park Loop Road.
Do not descend via the Precipice Trail climbing rock face. It is very dangerous to you and everyone else climbing.
Need a hiking app to help you find the right route? Check out the top rated hiking apps for your Acadia trip.
When Does The Precipice Trail Open?
Depending on what time of year you plan to visit Acadia National Park, you may have to consider peregrine falcon nesting season.
Around March 1st, several of Acadia's hiking trails close to protect peregrine falcons from human disturbance. The affected trails typically reopen in August after the chicks have matured.
The best time to hike the Precipice trail is from late summer to early fall so there is a narrow window when you can do this hike.
Here are Acadia hikes that close for recovery of the peregrine falcon:
Beech Cliffs: The area directly below Beech Cliffs Trail but not the trail itself
Jordan Cliffs: The entire Jordan Cliffs trail is closed
Precipice Wall: The Precipice Trails and a section of the Champlain-Orange/Black Path
Valley Cove Wall: Located between Flying Mountain Trail and Man O' Brook Trail
Check trail conditions on the official Acadia NPS website for updates on closures or openings.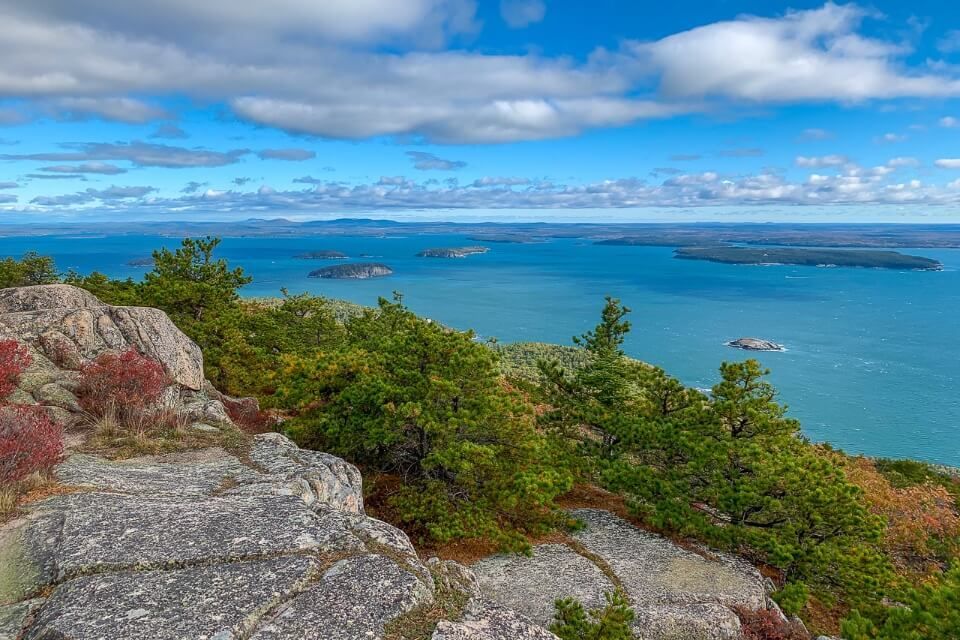 Precipice Trail Safety Tips And Difficulty Explained
With a hike such as Precipice, which is actually more of a climb rather than a hike, it is important to address safety. In this case, safety applies to yourself but also to everyone else who is climbing at the same time.
If you've ever climbed the scary razor thin trail to Angels Landing in Zion, Precipice Trail should be a walk in the park for you. Some of the same attributes are required for this hike in Acadia:
Stamina
Ability to climb uneven ladders
Patience
No fear of heights
Precipice Trail is rated as hard and strenuous on both on All Trails or the NPS.
If you're an experienced hiker, you might find this trail easy from a physical perspective but due to the climbing elements involved, a rating of hard makes sense.
The Precipice climb is not technical, which means you don't need any climbing experience. Personally, we feel as though we have hiked far more challenging hikes labeled with easy and moderate tags.
New to hiking? Don't miss our guide featuring importing hiking tips for beginners.
Safety Concerns
One of the major safety problems you will face on this trail is overcrowding and waiting around on steep ledges. It's not fun when you climb a ladder, wait for 5 minutes, move around a rock face, wait 3 minutes, climb a ladder etc.
Arriving at or near sunrise is the perfect remedy to overcrowding on the Acadia Precipice Trail. Not only will the hike be quieter but you will also get a parking spot.
Another cause for concern on the Precipice Trail hike is inclement weather. Strong winds and rain are going to cause problems for hikers.
Slick rock surfaces and iron bars will become slippery and that is the last thing you want to experience half way up a sheer rock face. The NPS does not recommend the Precipice Trail when it is wet.
Hiking Tip: If you do have a fear of heights, vertigo or claustrophobia, do not attempt to hike Precipice Trail. You will struggle and once you start climbing, it is very unsafe for yourself and others to climb back down.
Directions To Precipice Trail From Bar Harbor
Precipice Trail begins along Acadia Park Loop Road, very close to Bar Harbor. Remember that traffic is going to be chaotic in peak season and in particular, between 10:00am-2:00pm.
The key thing to note is that you don't have to officially enter Acadia National Park to hike Precipice Trail. It's highly unlikely you are visiting the area just to hike this trail and you will pay to enter other areas of the park.
But technically, you can hike this trail without paying the US$ 35 entrance fee per vehicle.
Sieur de Monts Entrance – Drive South on Main Street, turn right onto Sieur de Monts Road and take a right onto Park Loop Road. Follow the road until you reach Precipice trailhead.
Parking is very limited at the Precipice Trailhead and the majority of vehicles will park on the roadside stretching for quite some distance. Early arrivals have a greater chance of parking in the lot or close by.
Here are stats for driving from Bar Harbor to the Precipice Trailhead:
Distance – 4.2 miles
Drive Time – 10 minutes
Planning to visit many national parks? You can enter as many national parks as you like in 1 full year with an America the Beautiful Annual Pass.
Preparing To Hike Precipice Trail
Hiking Precipice Trail is among the very best things to do in Acadia National Park. But what do you need to do in order to prepare for hiking Precipice Trail?
Aside from the obvious fact you should be okay with several steep drop offs, please be aware that this hike is open and exposed on sheer granite rock.
In peak season between 8:00am-4:00pm or between 10:00am-2:00pm in off season, you can expect a degree of waiting around for climbers above.
In summer, sunscreen is a necessity when hiking Precipice. Also consider sunglasses, caps and the usual sun protection gear.
In spring and fall, layers are key for the same reasons. If it's windy, cold or slightly damp, you need a lightweight windproof or waterproof jacket.
Our top recommendation is for hikers to wear a strong and sturdy pair of shoes with good grip. Having a grippy shoe sole is going to help you get traction on the iron rungs and narrow granite rock faces as you climb.
We started out with our camera in hand but quickly packed that up and just used our smartphones. If you have a GoPro, don't forget your head or chest strap.
You need two hands free for climbing Precipice. Pack water in a backpack and try not to take too many things that will distract you, such as loose clothing or cameras.
Not sure what to bring when you hike Precipice? Read our popular guide to the best things to bring on a day hike for important trail packing details.
Our Precipice Trail Hiking Walkthrough
That's all of the important details and logistics out of the way, now let's get onto the fun part!
We're going to walk you through hiking the Acadia Precipice Trail with plenty of images so you can visualize the trail and see what you're up against.
This is one of the most popular hikes in one of the best USA national parks so be sure not to miss it on your visit to Acadia.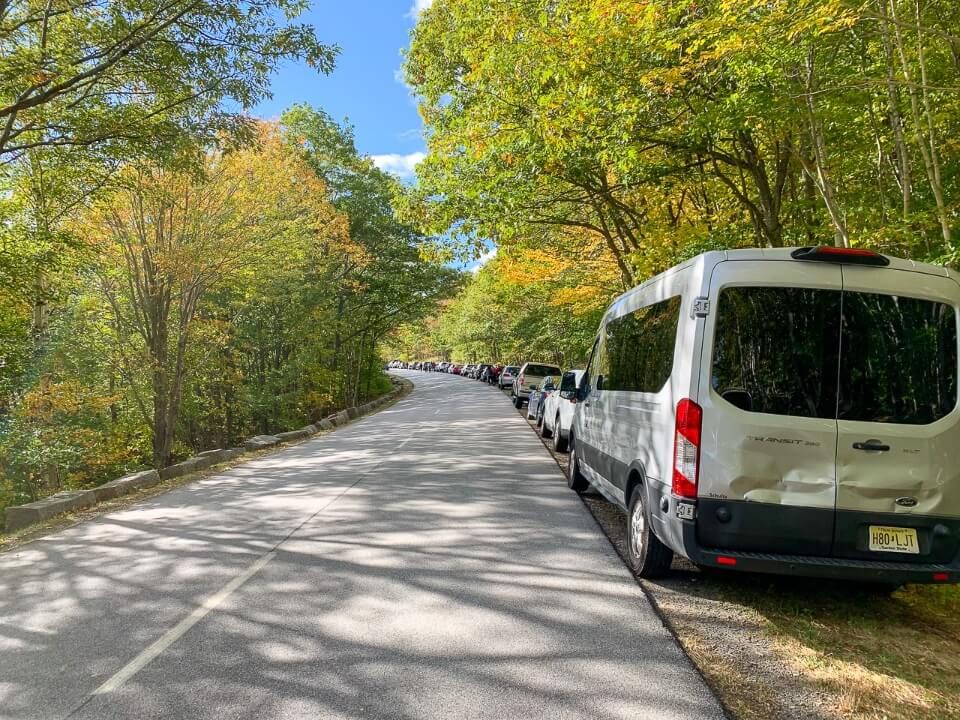 1. Get Parked Up Early
Arriving early is advised for anyone who would prefer to climb Precipice Trail with relatively fewer other hikers around or to have the best chance of finding a parking spot.
We made sure to plan our Acadia itinerary so we could arrive right after a sunrise photo shoot nearby. But there were still so many cars when we arrived to the trail on a weekday in early October.
Even if you are not so bothered by crowds, arriving early gets you a better parking spot so it's still worth the effort. Plus, you get to watch the sun rising low in the sky above an open blue ocean.
By the time we finished the loop trail and arrived back to the parking lot, cars were lining the roadside as far as we could see in both directions.
Remember, if you book a hotel further out from Bar Harbor to save money, you will need to set off earlier for this trail.
See our detailed list of the best hotels in Bar Harbor to find the perfect hotel for your budget.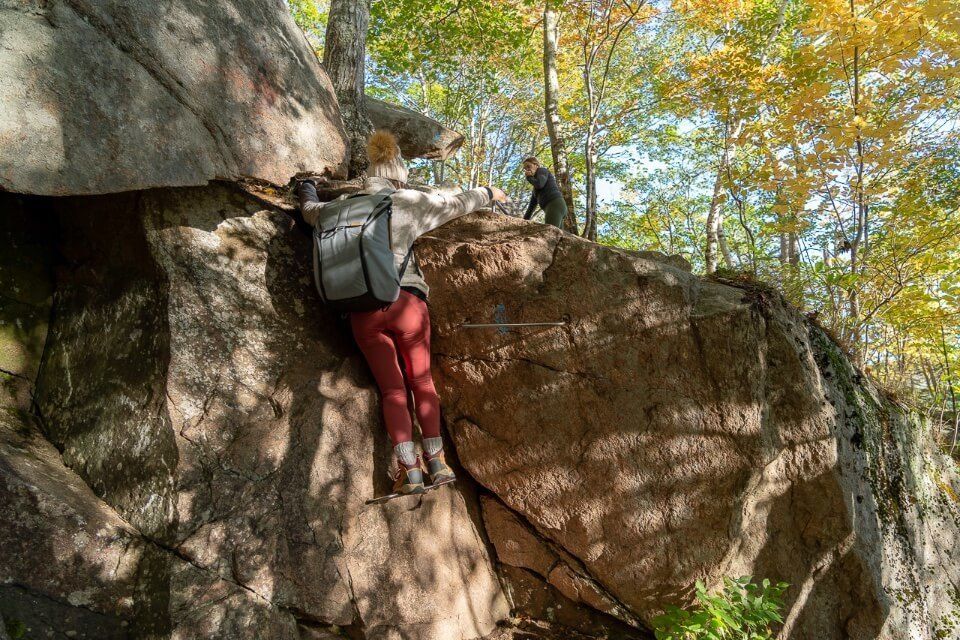 2. Begin The Ascent
The Precipice Trail begins by walking up huge granite rock faces, at times fairly steep but nothing to worry about just yet. Follow blue painted blazes on trees as the trail becomes surrounded by light forest.
A wooden bridge and the first taste of iron handrails are provided to reach the beginning of your ascent.
There is one enormous boulder right near the start of the trail with iron bars (pictured above) and it actually proved to be one of the trickiest sections to navigate on the entire hike.
If you find yourself struggling at this early stage, don't worry, it doesn't get any more difficult technically!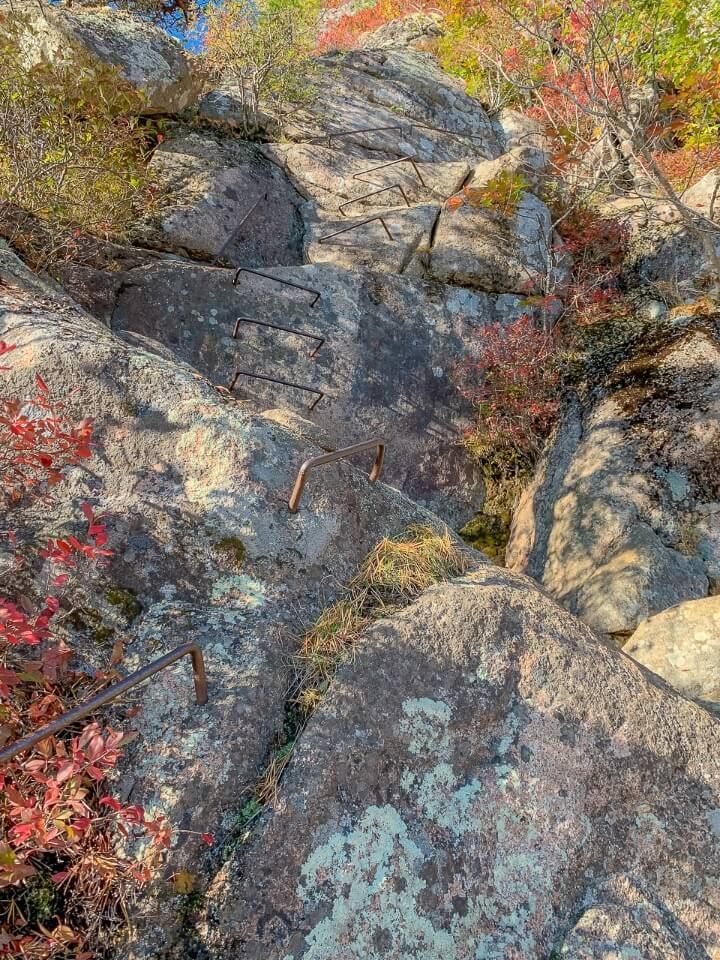 3. The Boulder Field
Now it's time to gain some elevation. After a few fun obstacles and gaps in rocks you can climb through, the trail turns directly upwards via a boulder field.
Just follow the blue painted blazes as you climb vertically.
The boulders are medium to large sized and require a bit of strength to move from rock to rock with larger steps than usual. Hands may need to be used here.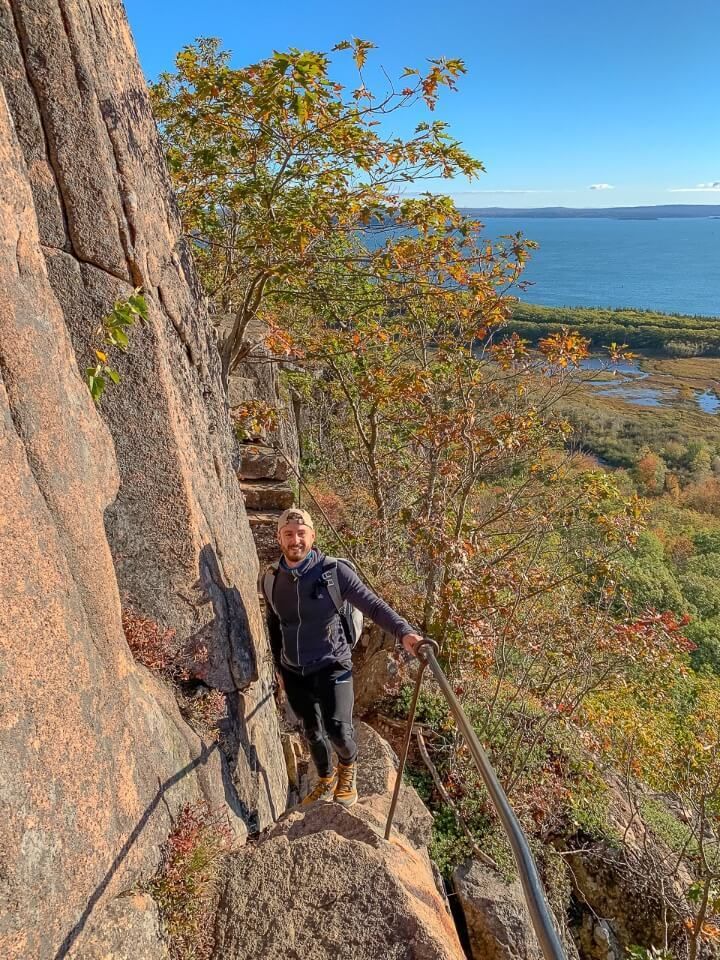 4. Sideways Traverse
Now that your heart rate is raised nicely from the directness of the vertical climb, it's time to level out again. Follow as the blue paint leads away from the boulder field and along a sideways trajectory.
This is where the fun really starts.
You will get your first taste of dramatic drop offs, iron bars at shoe level to push your weight into the rock face and bridges to cross.
Some of this section goes down and some up but it is mostly flat. Views by this point are already amazing but you know they are only going to get better the higher up you get.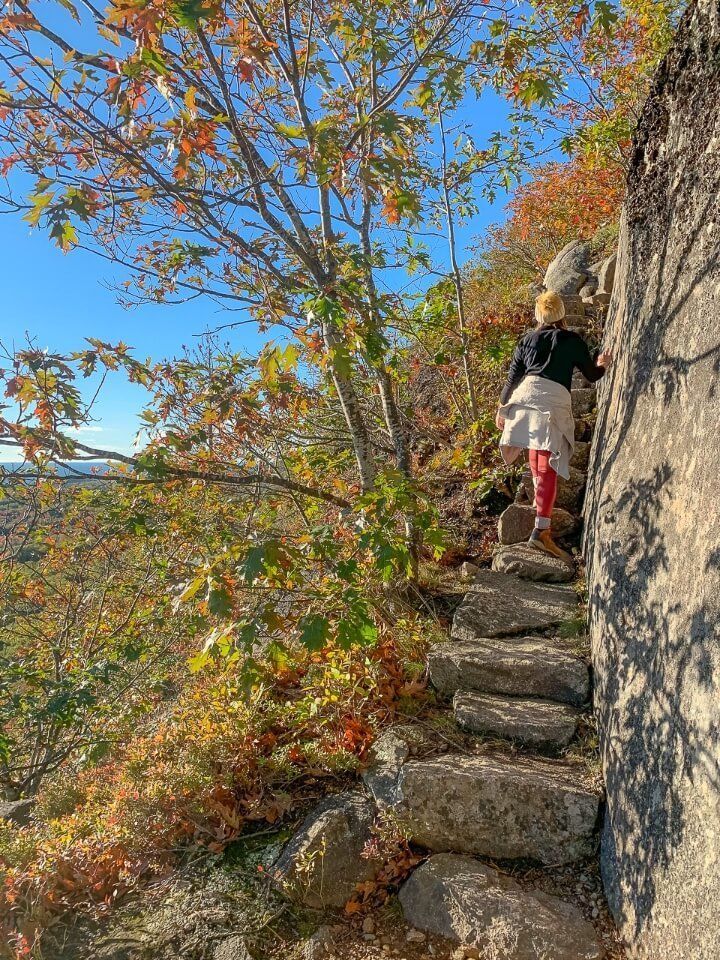 5. Time To Climb
Just like that, the sideways section ends and the trail again turns vertical. However, this time there is no boulder field, but narrow ledges and lots of iron protruding out of rock faces.
This is the point you really begin to heighten your senses, double check footing and pay more attention to gripping bars.
We don't want to scare you or make this sound overly dramatic, but you will feel your heart rate increase at this point.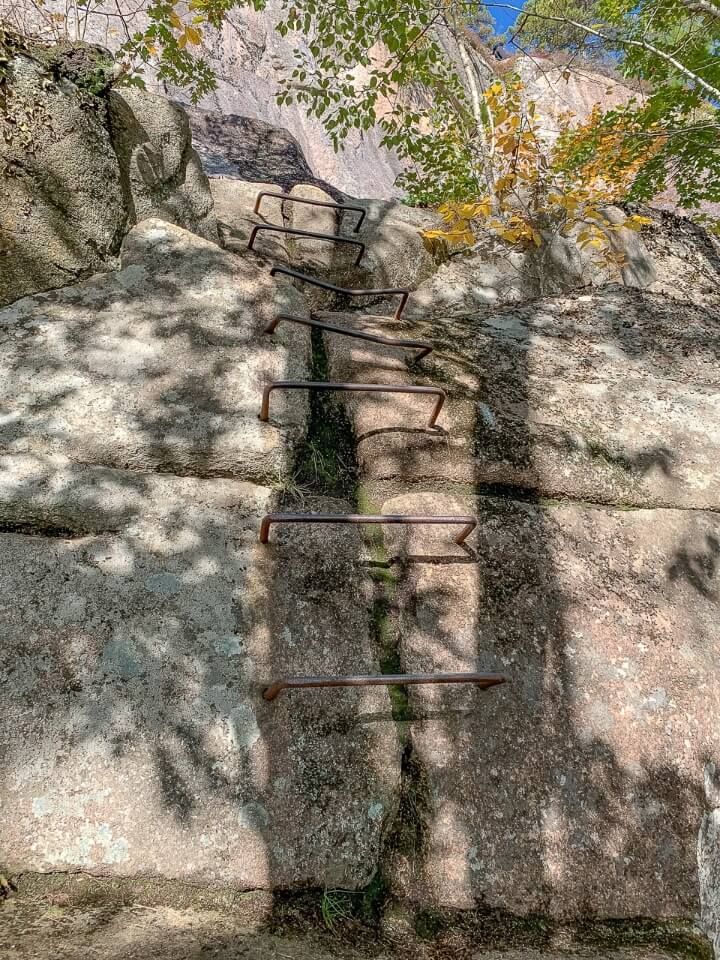 6. Ladders, Ladders, Ladders
The one thing we were most surprised about on the Acadia Precipice Trail was the amount of ladder sections. We expected a handful but they just kept coming and coming, which we couldn't get enough of!
How many ladders? We actually don't know because we were too busy riding the wave of adrenaline and enjoyment at such a unique hike!
Be careful if it is busy, give others space and if people aren't giving you enough space, ask them to back up a little so you feel comfortable. Most hikers will let people pass if they are going much slower.
Some of the sections as you get closer to the top are quite serious. Watch your feet and if you are going to be distracted by the stunning view, make sure you grab hold of the iron rails with two hands!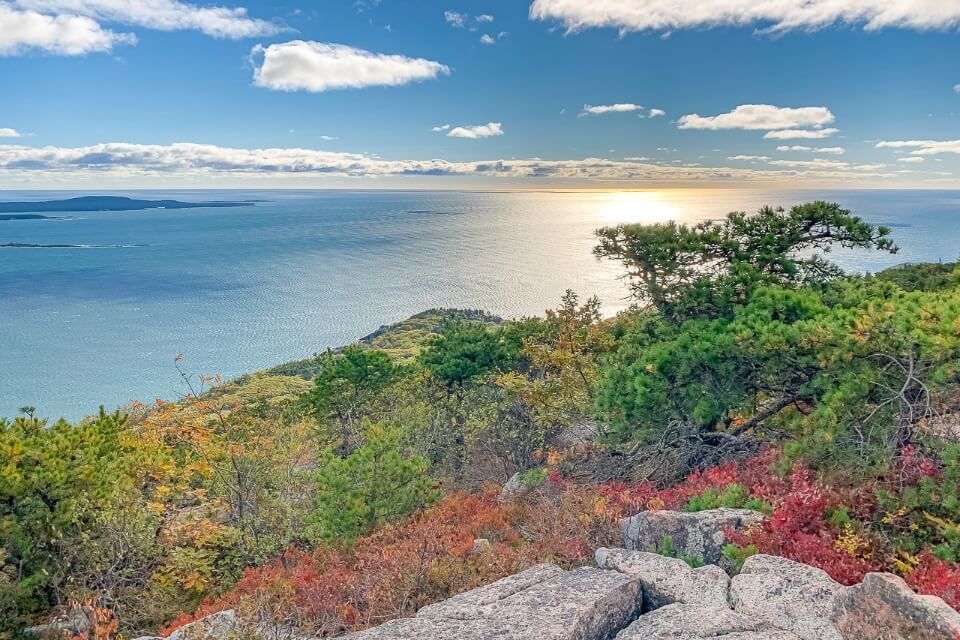 7. Precipice Trail Summit Views
Enjoy every step of this hike because before you know it you'll be standing at the summit wishing you could do it all over again.
Views over Frenchman Bay and the Gulf of Maine are spectacular. Tiny islands floating in the bay, sunlight shimmering on the ocean and a mixed feeling of relief and exhilaration will take a moment to sink in.
Make sure you pack a breakfast or a lunch! This is the time to find a secluded spot, absorb the view and let your blood pressure stabilize.
Once you leave the summit of Champlain Mountain, you will find the descent a breeze. There are some narrow winding staircases but after climbing Precipice, you'll be walking on air.
More Precipice Trail Acadia Photos
We have walked you through exactly what to expect on the Precipice hike in Acadia. But here are a few more photos so you can really understand the trail: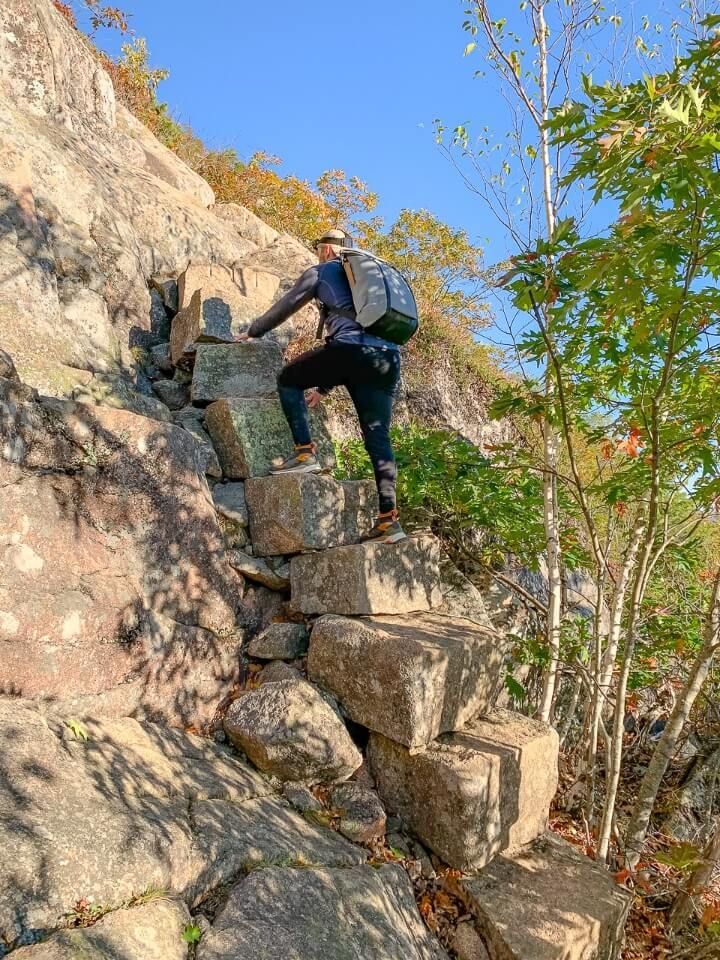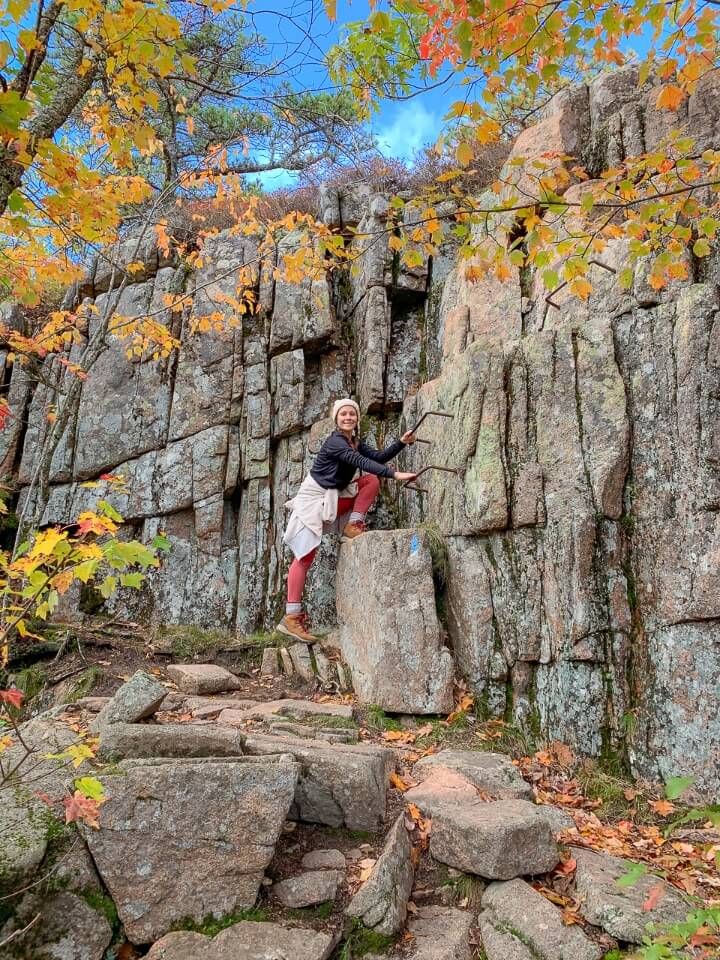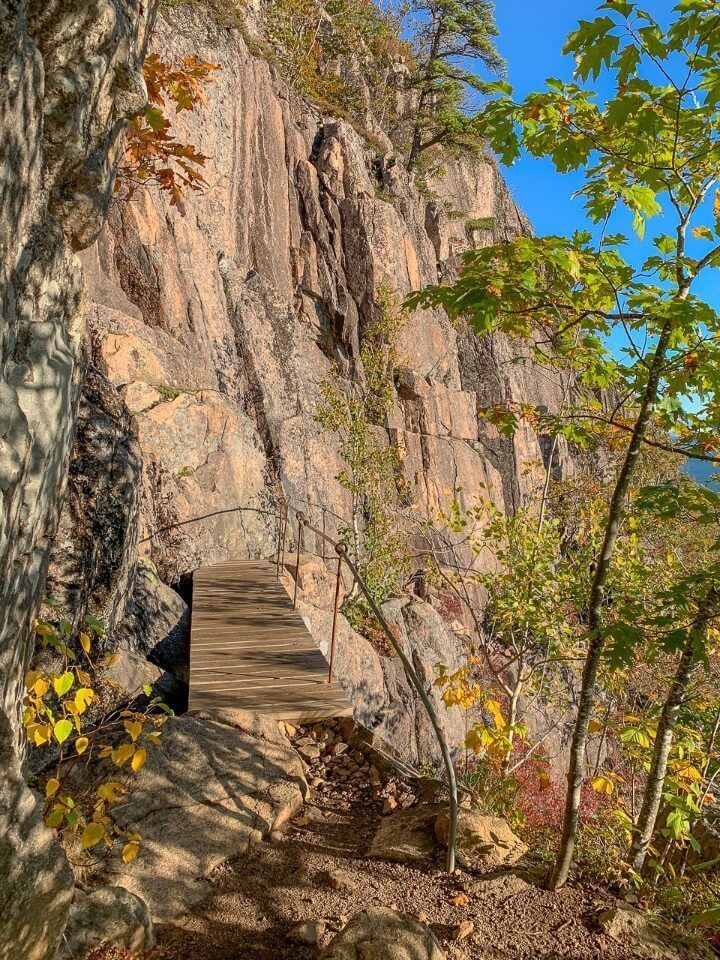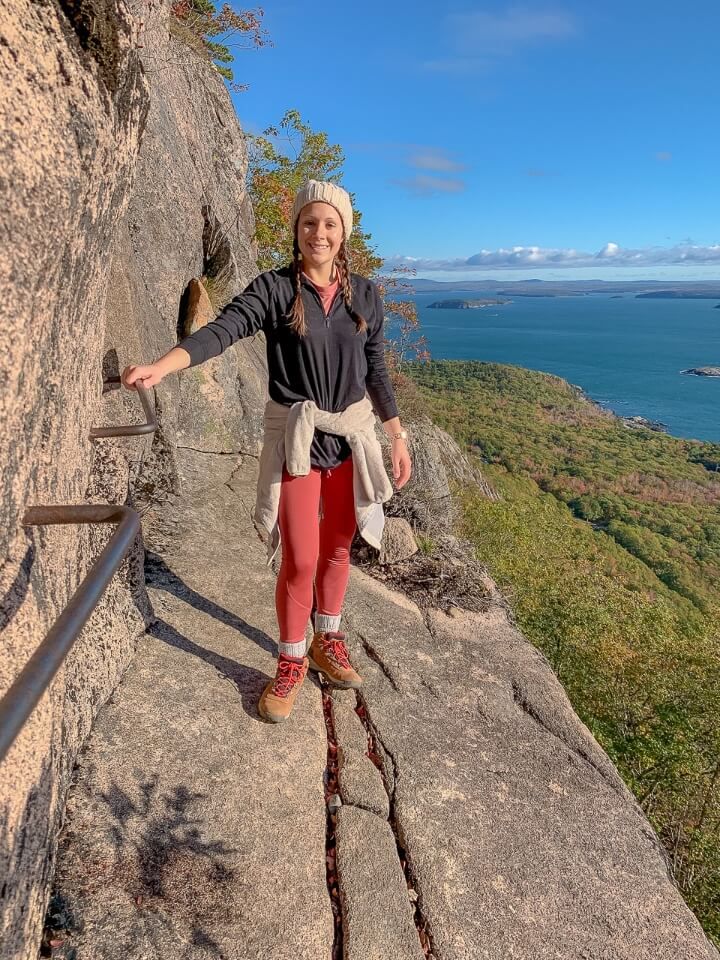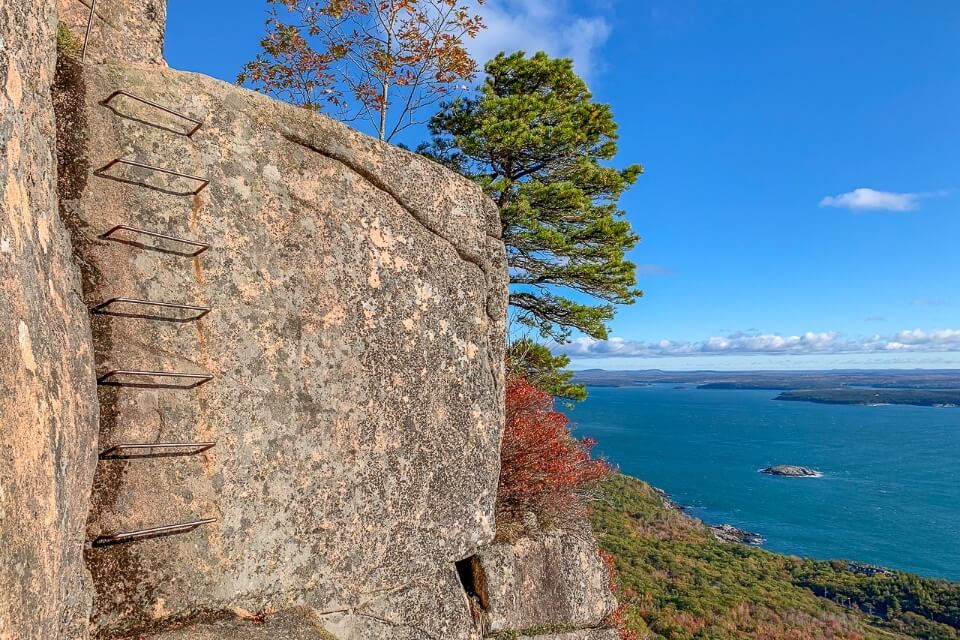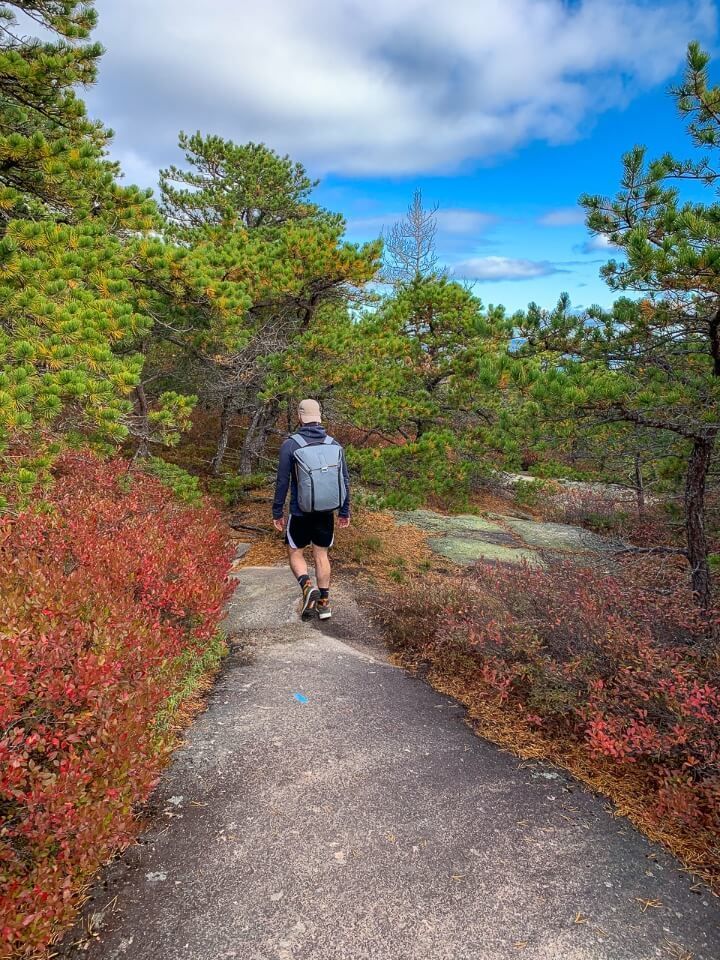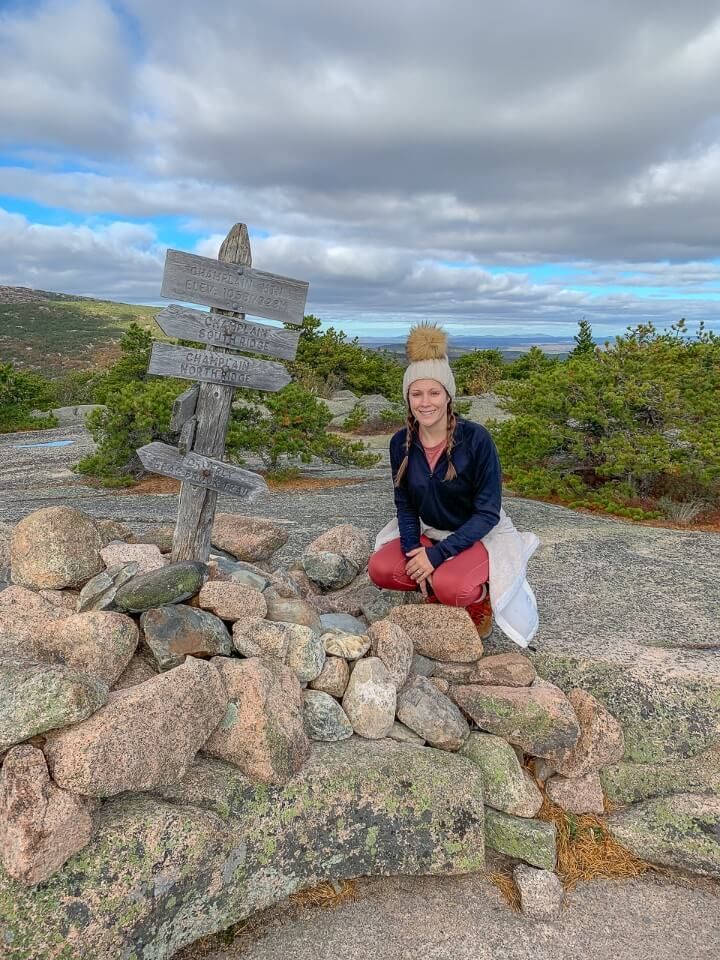 Best Time To Hike Precipice Trail In Acadia
Precipice Trail is best hiked early in the morning before the crowds arrive or later in the afternoon once the crowds have thinned.
For the most experienced hikers, a very early climb to summit for sunrise would be epic and something we will do next time we are in Acadia.
Spring offers a much quieter experience hiking in Acadia versus summer and fall, which are both peak seasons due to the typical summer holidays and fall foliage leaf peeping season.
But keep in mind the Precipice Trail in Acadia is closed around March to August to account for the nesting season of the peregrine falcons. If you want to hike Precipice, visit in late summer to early fall.
Precipice Trail is the most adventurous hike in one of the most popular places to visit in the USA and we hope you have a fantastic time no matter which season you decide to book your trip!
Love the US national parks? Check out this popular national park gift guide.
Precipice Hike FAQ's
Let's finish with the most frequently ask questions about the Precipice Train in Acadia national park.
Should you hike Beehive or Precipice Trail in Acadia?
The Precipice trail is harder compared to the Beehive because it is longer and more exposed. So we recommend you start with the Beehive because if you are comfortable hiking Beehive Trail, you should be able to hike Precipice. The Beehive Trail climbs 500 ft while the Precipice Trail climbs 1,000 ft and you should experience both in Acadia if you are not afraid of heights.
Can kids hike the Precipice Trail?
The NPS does not recommend the Precipice hike for children under 12 due to iron rungs, steep cliffs and ladder elements.
Our Popular Acadia Guides
More New England Guides
Want more Maine content? Head over to our Maine Travel Guides to explore Acadia National Park and beyond.
---
We hope this guide to hiking Precipice Trail helps with planning your visit to Acadia National Park!
Please let us know if you have any questions about Precipice trail parking or the Precipice hike in the comments below.
Happy Hiking,
Mark and Kristen
Find This Acadia Precipice Trail Guide Helpful? Pin It For Your Visit!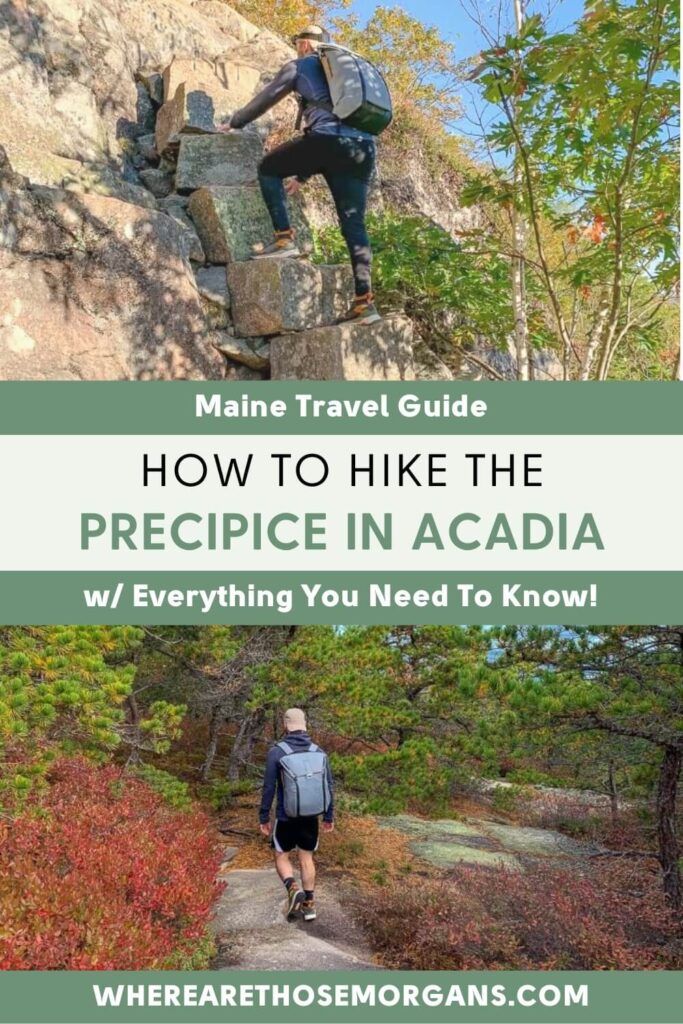 Note: This article contains affiliate links. When you make a purchase using one of these affiliate links, we may earn a small commission at no extra cost to you.
All Rights Reserved © Where Are Those Morgans, LLC. Republishing this article and/or any of its contents (text, photography, maps, graphics, etc.) in whole or in part is strictly prohibited.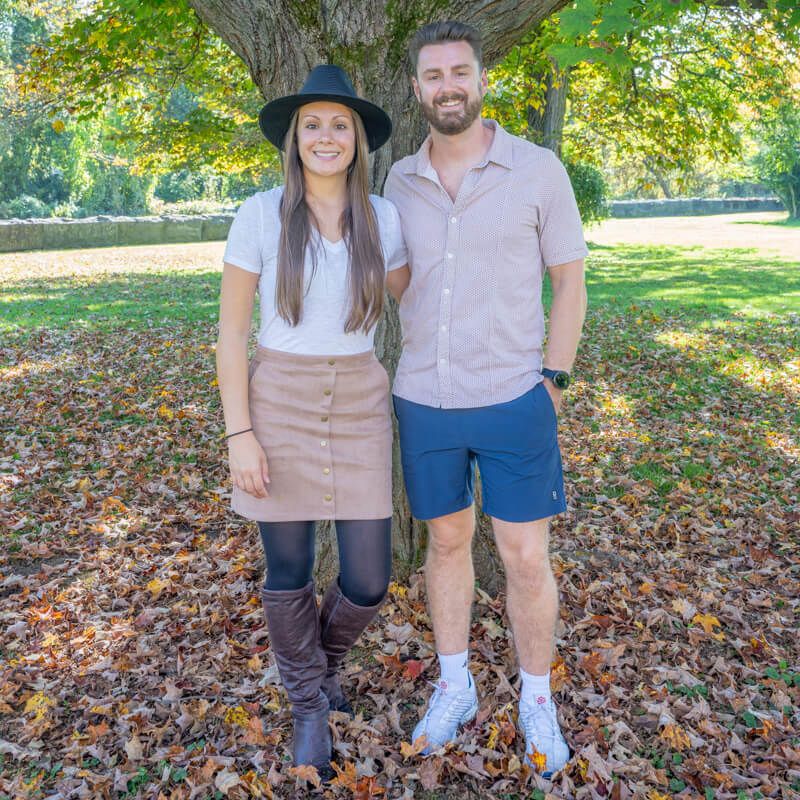 Mark and Kristen Morgan are travel, hiking and photography experts. Over the last 6 years traveling full time, they have explored more than 40 countries and 30 US states.
Their work has been featured in USA Today, Gestalten, Get Your Guide, CityPASS and Condé Nast Traveler along with various other publications.