As photographers, we find ourselves always chasing waterfalls for that perfect picture. There is just something magical about waterfalls and this is why we created a collection of waterfall quotes.
We hope to inspire you to find some waterfalls in your local area and enjoy the serenity nature has to offer. So be sure to slow down and take time to listen to the water as it flows.
In this guide, we have organized a long list of travel quotes into manageable sections in case you wanted to search for a particular topic.
We will show you the best quotes featuring:
Famous quotes about waterfalls
Funny waterfall puns
Short waterfall quotes
Chasing waterfall quotes
Waterfall quotes of life
Nature waterfall quotes
Waterfall Wednesday Instagram captions
Now, let's find the best waterfall quotes!
Famous Quotes About Waterfalls
1). "I can see my rainbow calling me through the misty breeze of my waterfall." – Jimi Hendrix
2). "Water is the most perfect traveller because when it travels it becomes the path itself!" – Mehmet Murat Ildan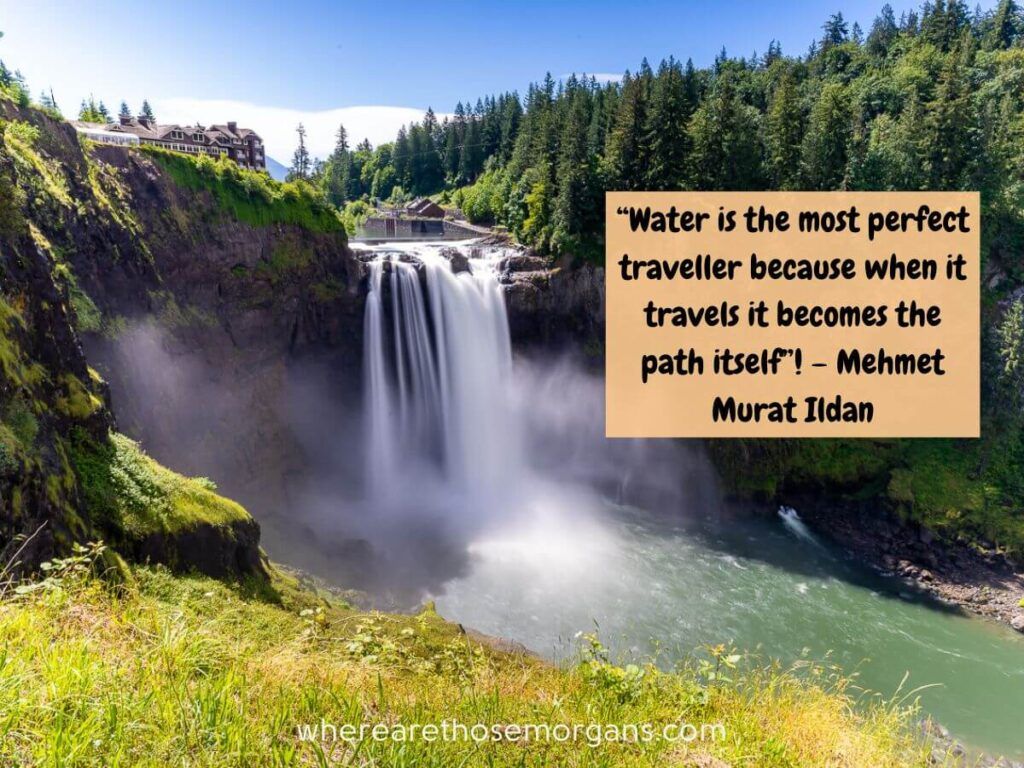 3). "I'm just like a waterfall falling, falling for you again." – Meghan Trainor
4). "You don't have the power to make rainbows or waterfalls, sunsets or roses, but you do have the power to bless people by your words and smiles. You carry within you the power to make the world better." – Sharon G. Larsen
5). "When life places stones in your path, be the water. A persistent drop of water will wear away even the hardest stone." – Autumn Morning Star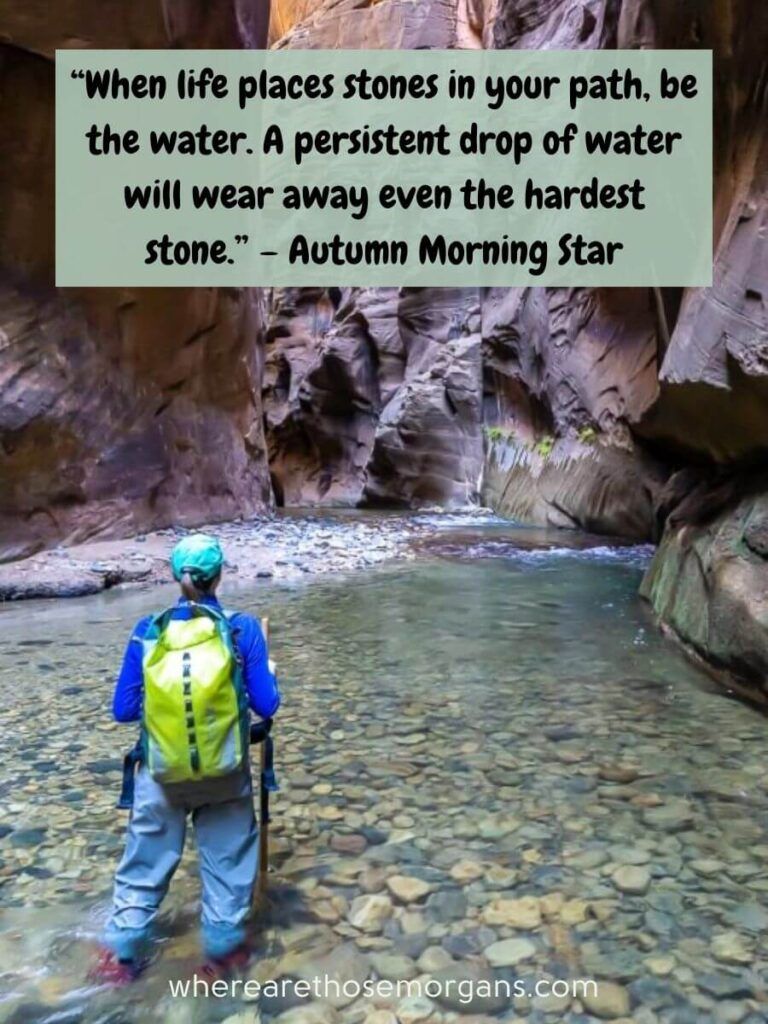 6). "A river cuts through a rock, not because of its power but because of its persistence." – Jim Watkins
7). "Don't go chasing waterfalls; Please stick to the rivers and the lakes that you're used to." – TLC
8). "Run wild and free like a waterfall."- Anamika Mishra
9). "The idea is that flowing water never goes stale, so just keep on flowing."- Bruce Lee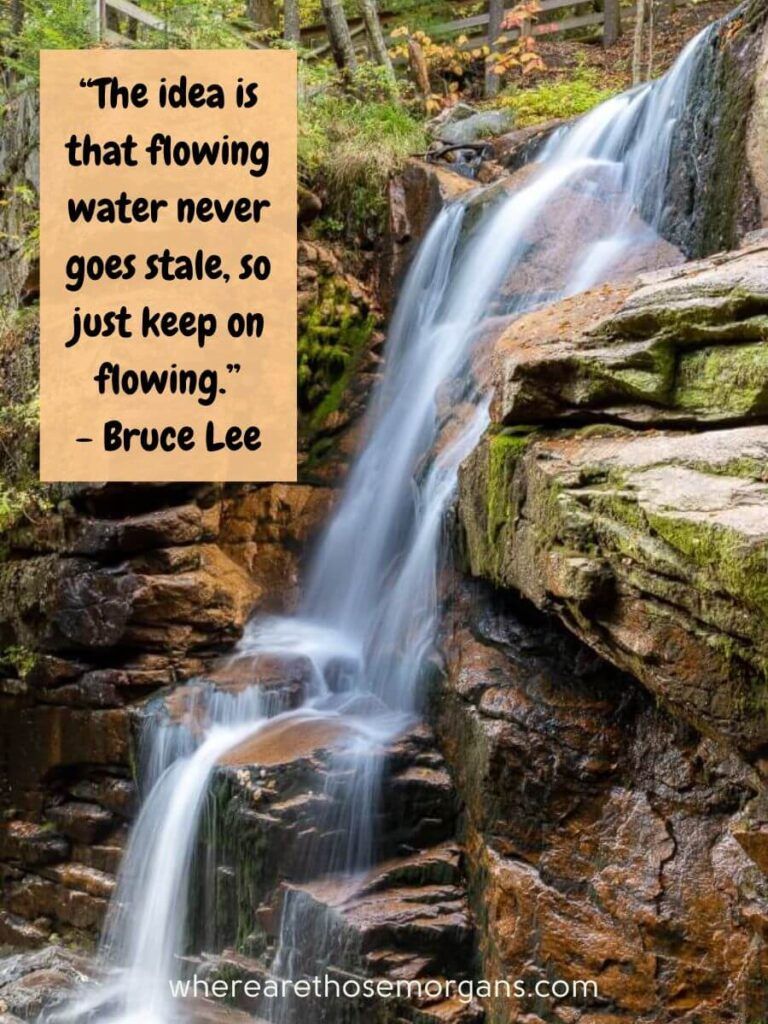 10). "The power of a waterfall is nothing but a lot of drips working together."- Anonymous
11). "There is a hidden message in every waterfall. It says, if you are flexible, falling will not hurt you."- Mehmet Murat Ildan
Funny Waterfall Puns
12). "I would caption this with a waterfall pun but that's too mainstream."
13). "I really mist you."
14). "These waterfalls have me roaring with excitement."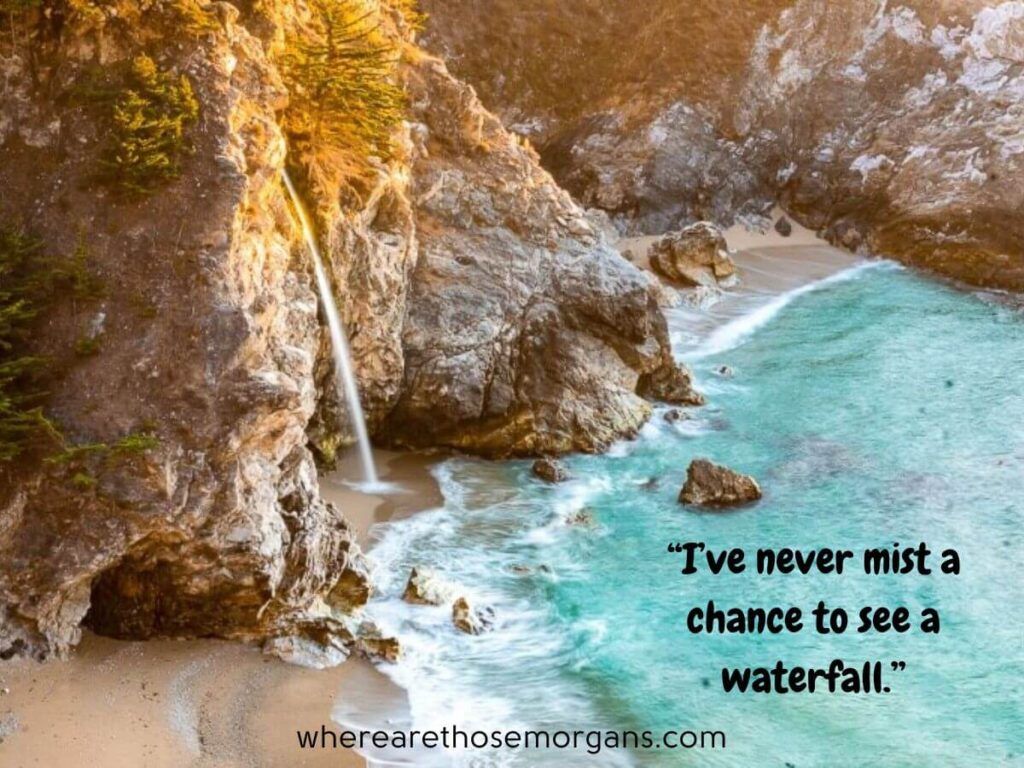 15). "I've never mist a chance to see a waterfall."
16). "Too cool for pool."
17). "Just gushing with joy."
18). "Water you looking at?"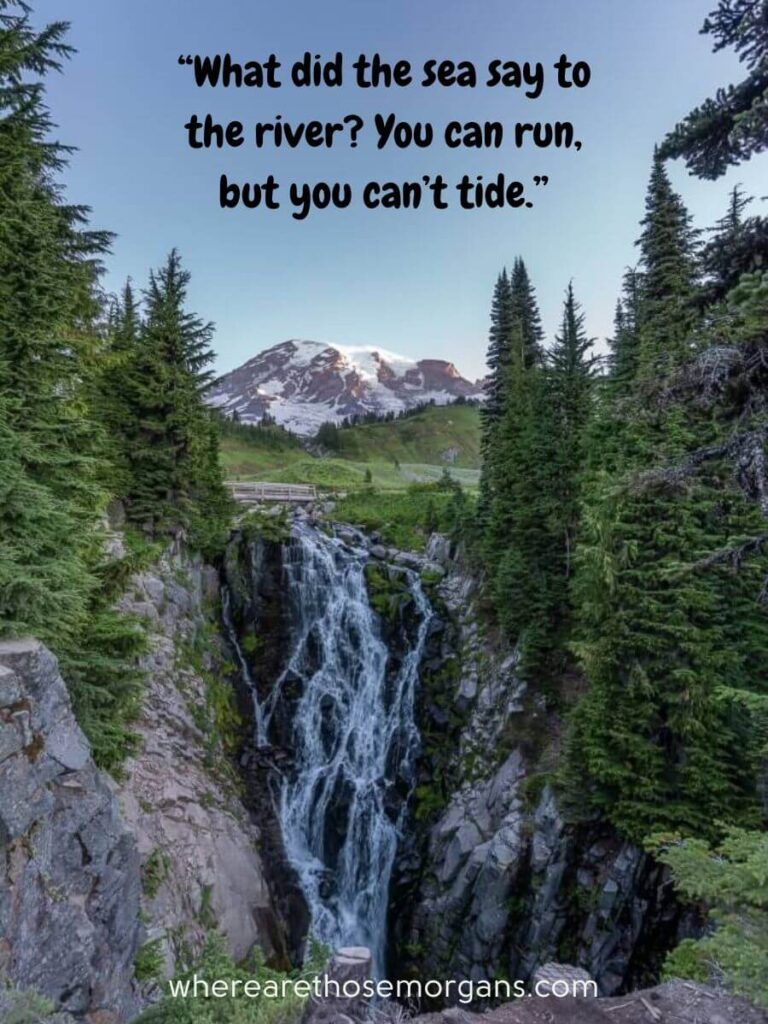 19). "What did the sea say to the river? You can run, but you can't tide."
20). "I just heard a joke about a waterfall. It was a pour joke."
21). "This view is gorges."
Short Waterfall Quotes
"22). Be water, my friend." – Bruce Lee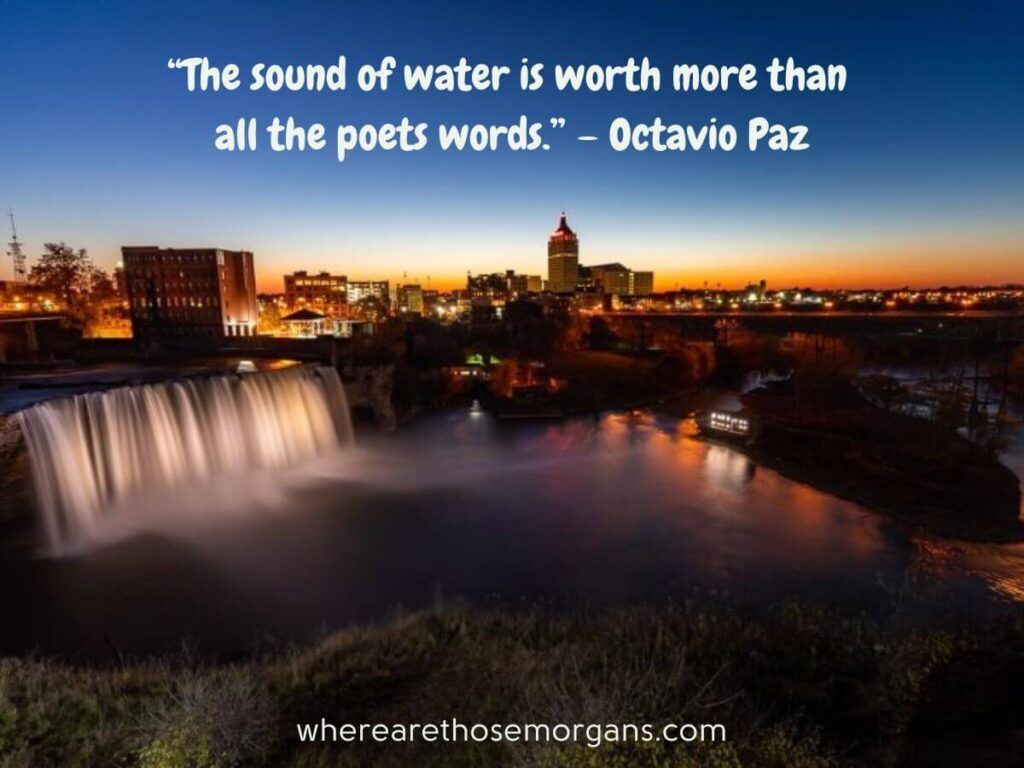 23). "The sound of water is worth more than all the poets words." – Octavio Paz
24). "Drink the waters meant to drown you." – Nelou Keramati
25). "Look with open eyes and you will see the beauty of the waterfall." – Anthony Hincks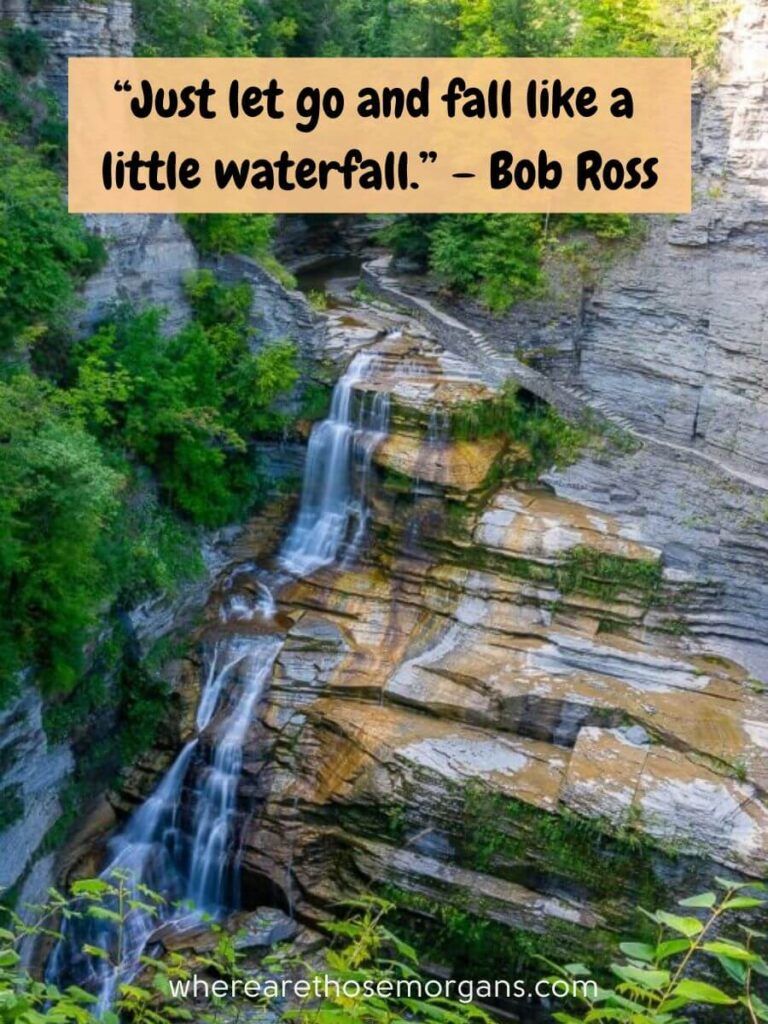 26). "Just let go and fall like a little waterfall." – Bob Ross
27). "Be careful crossing the waterfall, it's a fatal spot."- Karl Meltzer
28). "Run wild and free like a waterfall" – Anamika Mishra
29). "The waterfall is nature's laughter." – Anonymous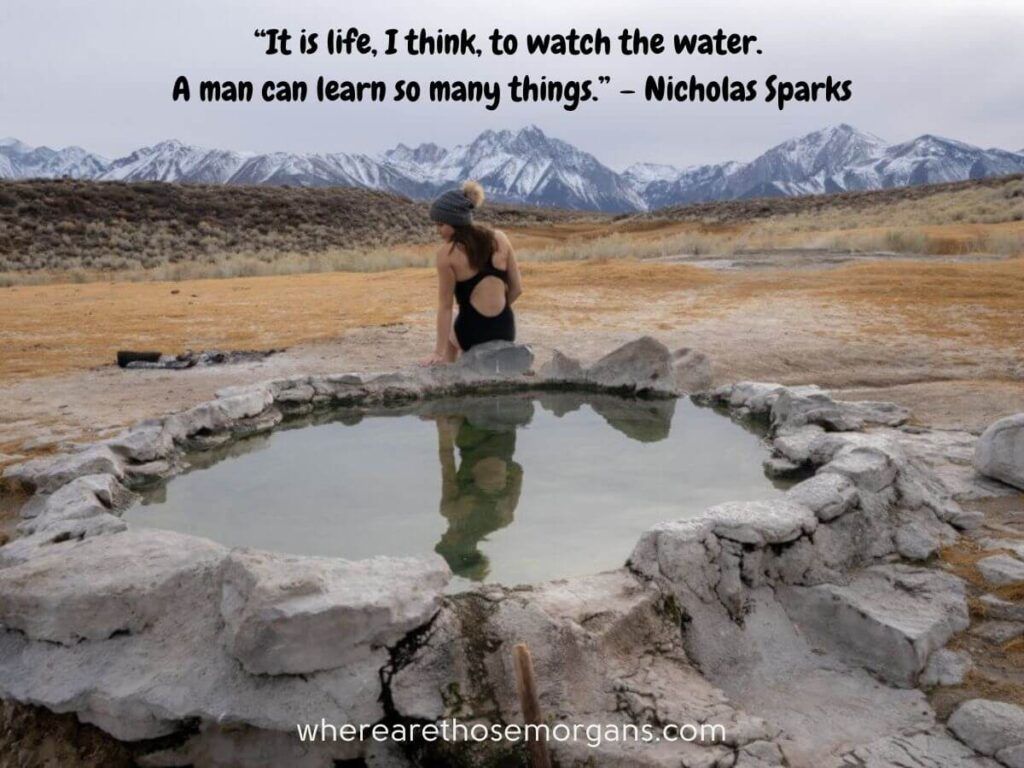 30). "It is life, I think, to watch the water. A man can learn so many things." – Nicholas Sparks
31). "There's hope at the bottom of the biggest waterfall." – Patrick Ness
32). "The waterfall winks at every passerby." – Marty Rubin
33). "I'm not going to water this down for you." – Anonymous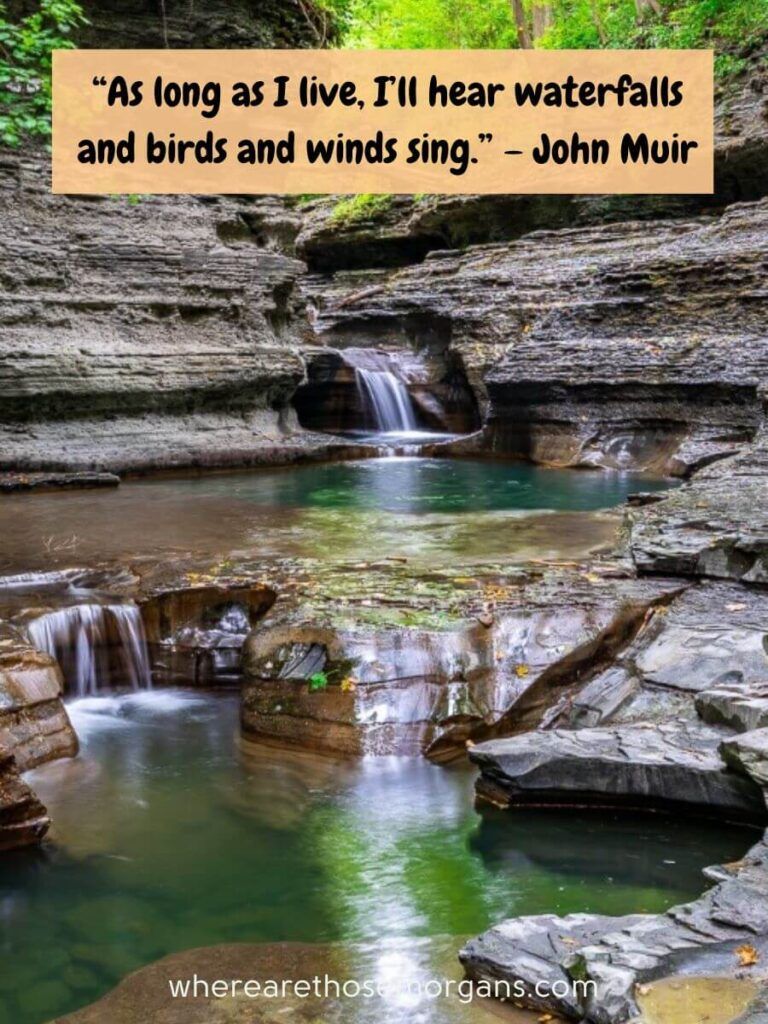 34). "As long as I live, I'll hear waterfalls and birds and winds sing." – John Muir
Chasing Waterfall Quotes
35). "There's no better place to find yourself than sitting by a waterfall and listening to its music." – Roland R. Kemler
36). "When I was walking in the mountains with the Japanese man and began to hear the water, he said, 'What is the sound of the waterfall?' 'Silence,' he finally told me." – Jack Gilbert
37). "Waterfalls are exciting because they have power, they have rainbows, they have songs, and they have boldness and craziness!" – Mehmet Murat ildan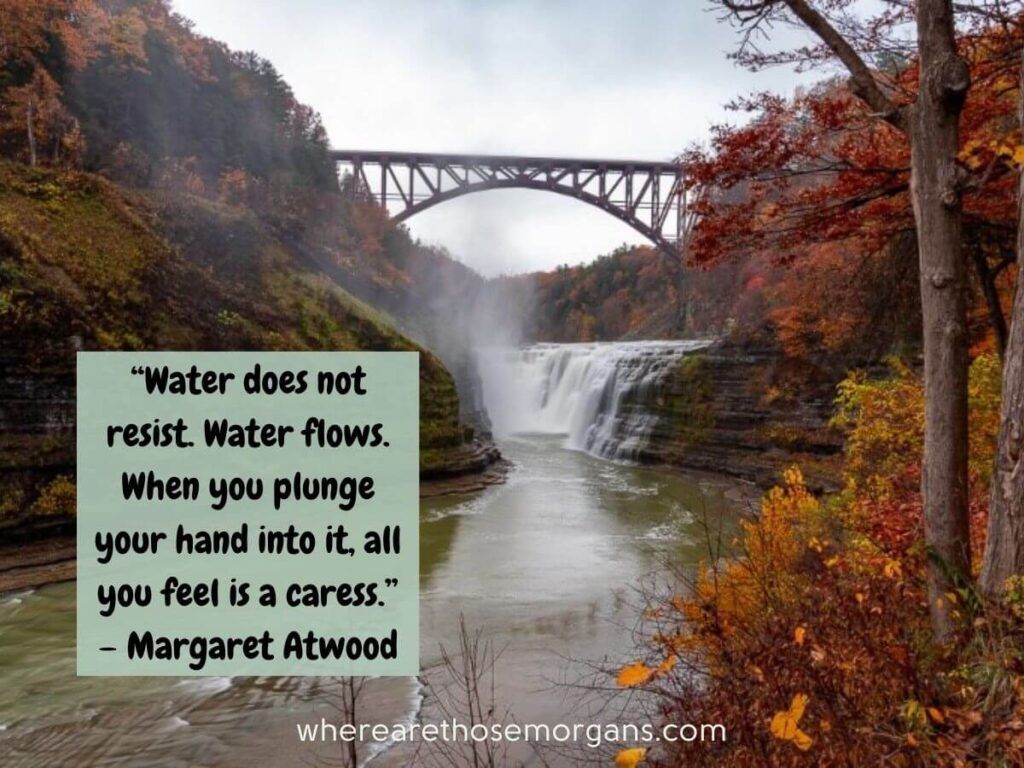 38). "Water does not resist. Water flows. When you plunge your hand into it, all you feel is a caress." – Margaret Atwood
39). "As long as I live, I'll hear waterfalls and birds and winds sing. I'll interpret the rocks, learn the language of flood, storm, and avalanche. I'll acquaint myself with the glaciers and wild gardens, and get as near the heart of the world as I can." – John Muir
Want more waterfall inspiration? Don't miss the stunning Watkins Glen Gorge Trail.
Waterfall Quotes About Life
40). "Sometimes, it's hard to tell how fast the current's moving until you're headed over a waterfall." – Kimberly McCreight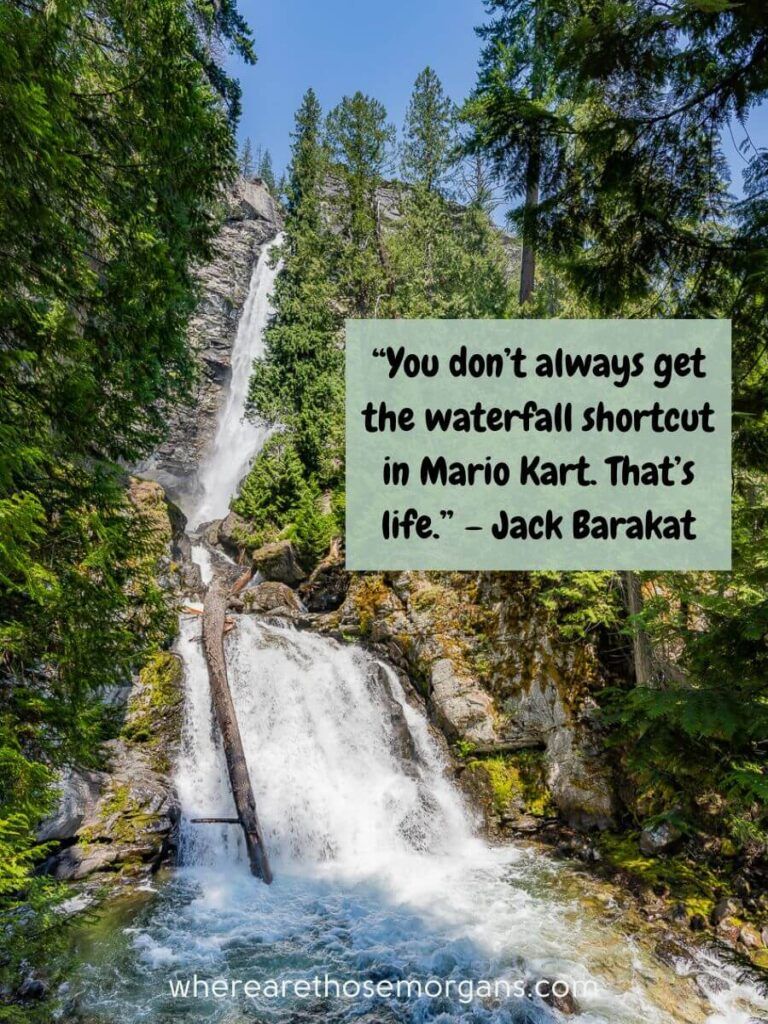 41). "You don't always get the waterfall shortcut in Mario Kart. That's life." – Jack Barakat
42). "Do not feel sad for your tears, as rocks never regret the waterfalls." – Munia Khan
43). "In America, one sure sign of success is the presence of an unnecessary waterfall in a person's yard." – Demetri Martin
44). "When you're young, there's so much that you can't take in. It's pouring over you like a waterfall. When you're older, it's less intense, but you're able to reach out and drink it. I love being older." – Sigourney Weaver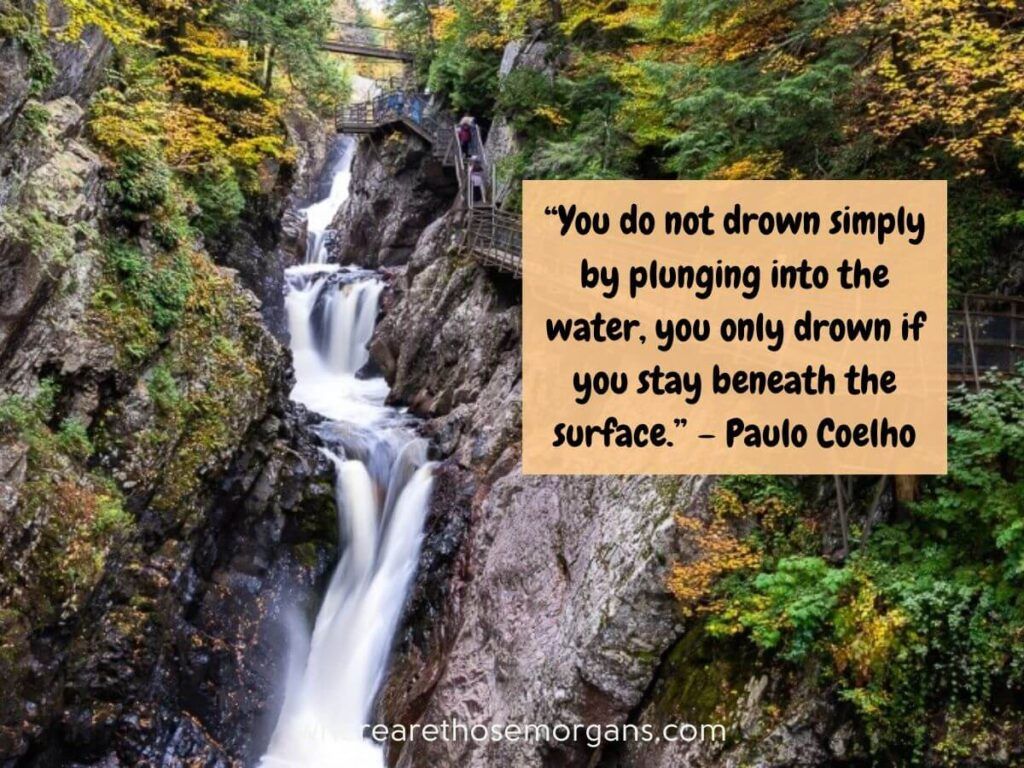 45). "You do not drown simply by plunging into the water, you only drown if you stay beneath the surface." – Paulo Coelho
46). "Waterfalls wouldn't sound so melodious if there were no rocks in their way." – Rishabh Gautam"
47). "There is a waterfall in every dream. Cool and crystal clear, it falls gently on the sleeper, cleansing the mind and soothing the soul." – Virginia Alison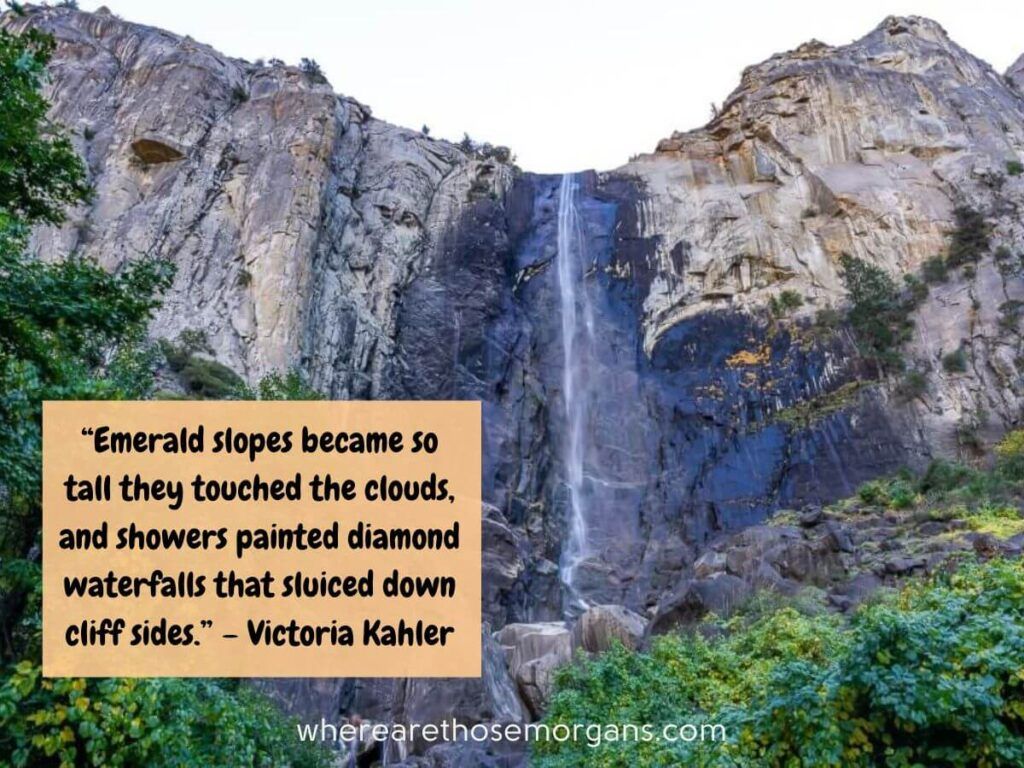 48). "Emerald slopes became so tall they touched the clouds, and showers painted diamond waterfalls that sluiced down cliff sides." – Victoria Kahler
Nature Waterfall Quotes
49). "Mother Nature is the greatest artist and water is one of her favorite brushes." – Rico Besserdich
50). "We are all naturally seekers of wonders. We travel far to see the majesty of old ruins, the venerable forms of the hoary mountains, great waterfalls, and galleries of art. And yet the world's wonder is all around us; the wonder of setting suns, and evening stars, of the magic spring-time, the blossoming of the trees, the strange transformations of the moth." – Albert Pike
51). "As the music played over the speakers and the waterfall in the pool filled the silence around us, I knew that without a doubt I had just been ruined." – Abbi Glines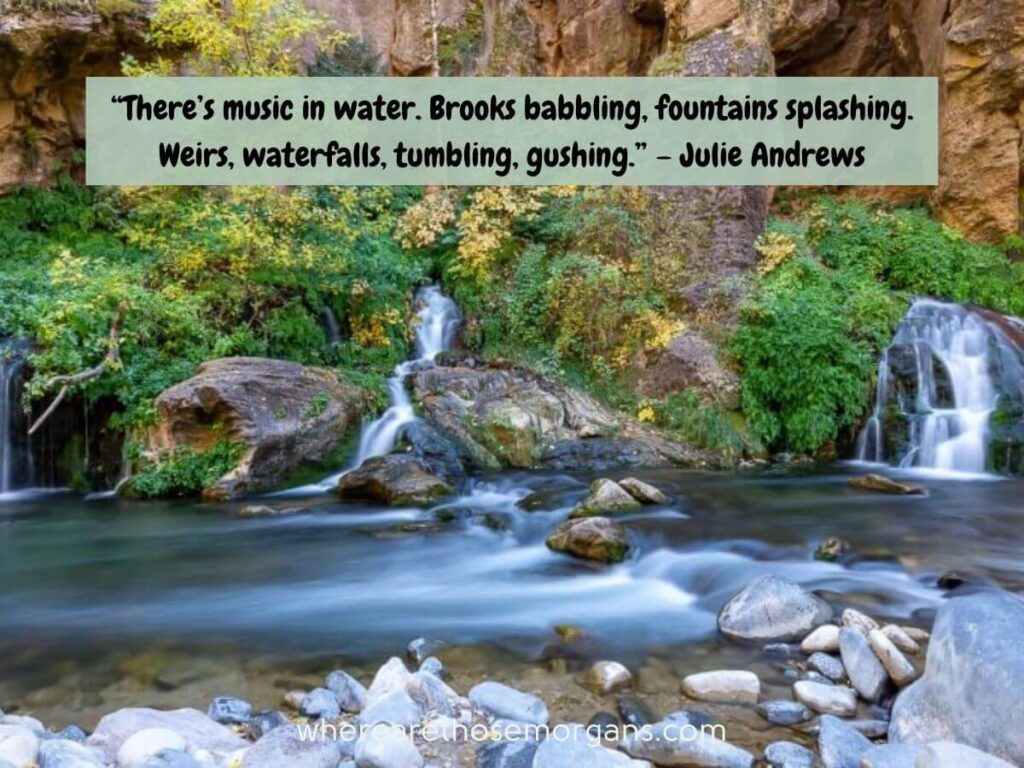 52). "There's music in water. Brooks babbling, fountains splashing. Weirs, waterfalls, tumbling, gushing." – Julie Andrews
53). "Nature is the art of God." – Dante Alighieri
54). "I firmly believe that nature brings solace in all troubles." – Anne Frank
55). "We shall not cease from exploration And the end of all our exploring Will be to arrive where we started And know the place for the first time. Through the unknown, remembered gate When the last of earth left to discover Is that which was the beginning; At the source of the longest river The voice of the hidden waterfall And the children in the apple-tree Not known, because not looked for But heard, half-heard, in the stillness Between two waves of the sea." – T. S. Eliot
56). "By the time we arrived, as evening was approaching, I felt as sore as a rock must feel when the waterfall has pounded on it all day long." – Arthur Golden
57). "Nature is painting for us, day after day, pictures of infinite beauty if only we have the eyes to see them." – John Ruskin
Waterfall Wednesday Instagram Captions
58). "Happiness comes in rushes."
59). "Happily chasing waterfalls."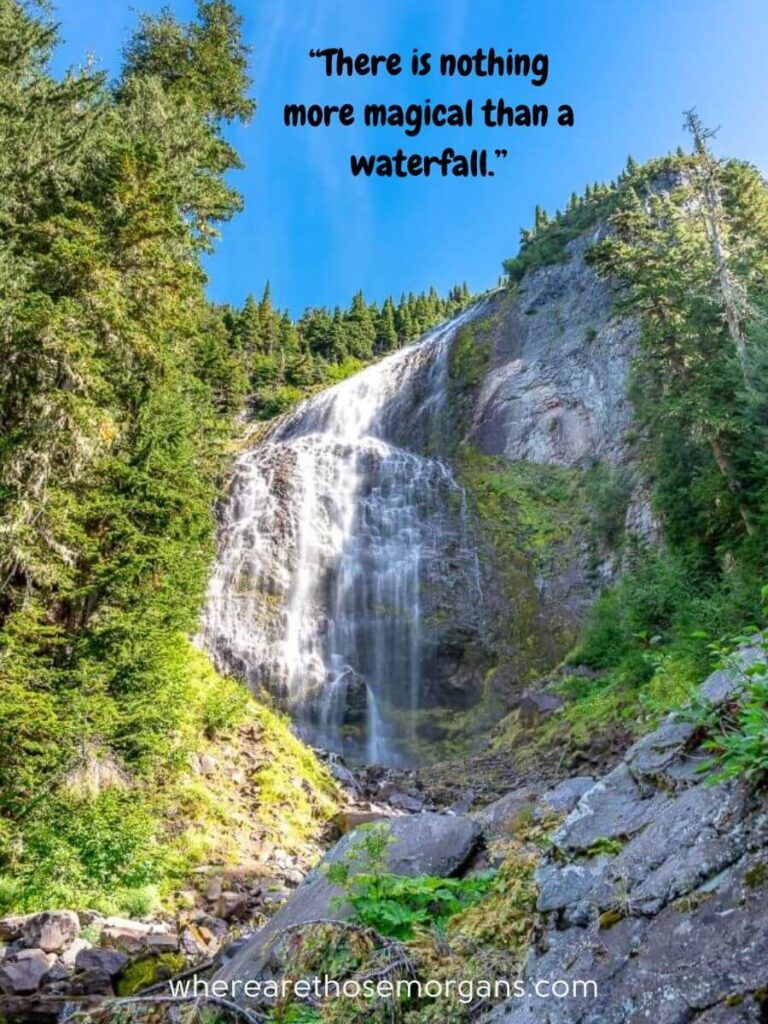 60). "There is nothing more magical than a waterfall."
61). "Lessons from a waterfall – keep moving, and you will eventually get over it."
62). "Good to the last drop."
63). "Advice from a waterfall, make a splash!"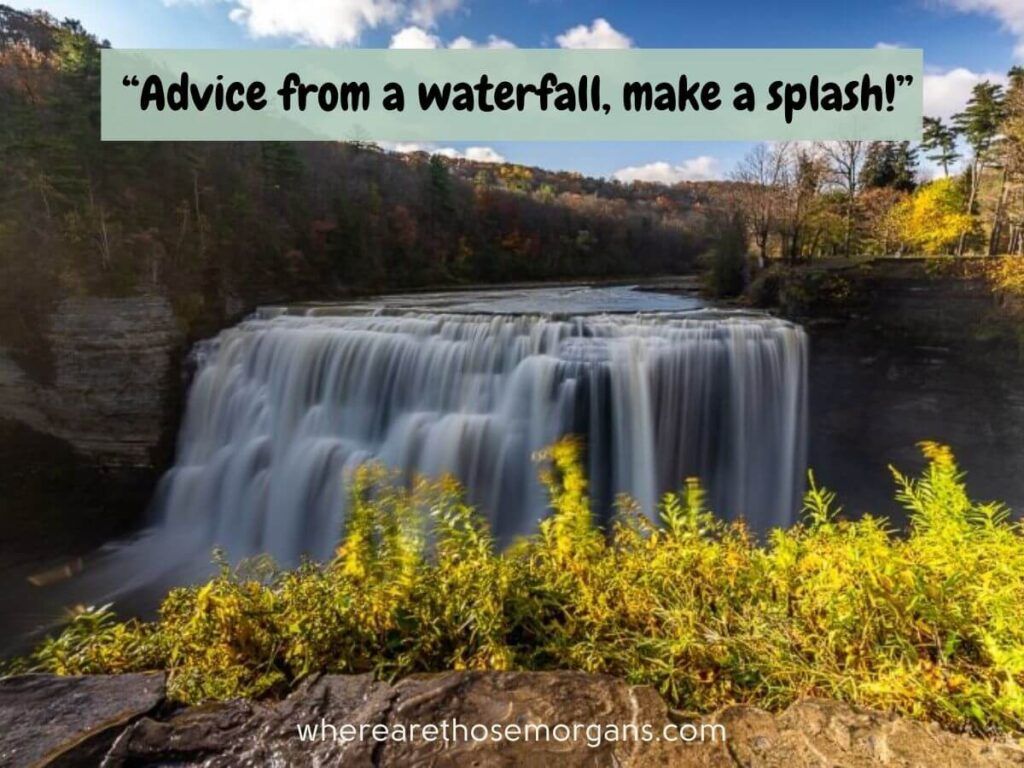 64). "Tripping on skies, sipping on waterfalls."
65). "Gone chasing waterfalls. Be back never."
66). "Just go with the flow."
67). "Live streaming. Literally."
68). "Water your roots so your soul can blossom."
69). "Paradise found."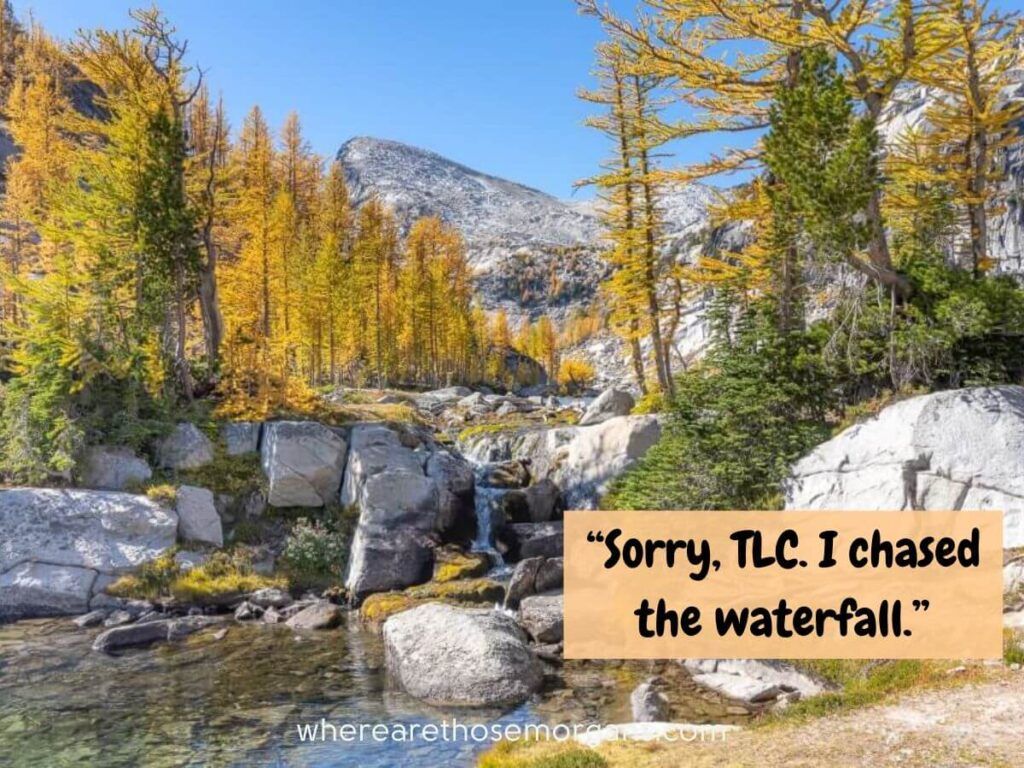 70). "Sorry, TLC. I chased the waterfall."
71). "There's a waterfall of content that you're missing out on."
Looking for stunning waterfalls to visit? Check out the best waterfalls in New York State including nearby hotel and restaurant recommendations.
Waterfall Quote FAQ's
Let's take a look at some of the most frequently asked questions regarding waterfall quotes.
Why Do We Like Waterfalls?
We like waterfalls because they improve our mood and have relaxing properties. The repetitive nature of the water flowing is extremely soothing and is proven to have a relaxing effect on our body.
Why Do Waterfalls Make You Happy?
Waterfalls make us happy because they make us feel serene and relaxed which helps to relive stress and improve our mood. Research has found a link between happiness and those who spend more time outdoors.
What Makes A Waterfall?
Waterfalls are created when the stream of a river flows over different bands of rock. The soft rock erodes quicker compared to hard rock and this process undercuts the hard rock which then creates the waterfall.
Why Are Waterfalls Important?
Waterfalls are important because they increase oxygen in water and can help to turn waste into nutrients. The wildlife and plants around the waterfall then benefit from these processes.
Our Popular Quotes Guides
Best Of USA Travel
---
We hope this guide to the best waterfall quotes helps with inspiring your next outdoor trip!
Please let us know if you have any questions about waterfall quotes or have a favorite quote in the comments below.
Happy Bathing,
Mark and Kristen
Enjoy This Waterfall Quotes Guide? Pin It For Later!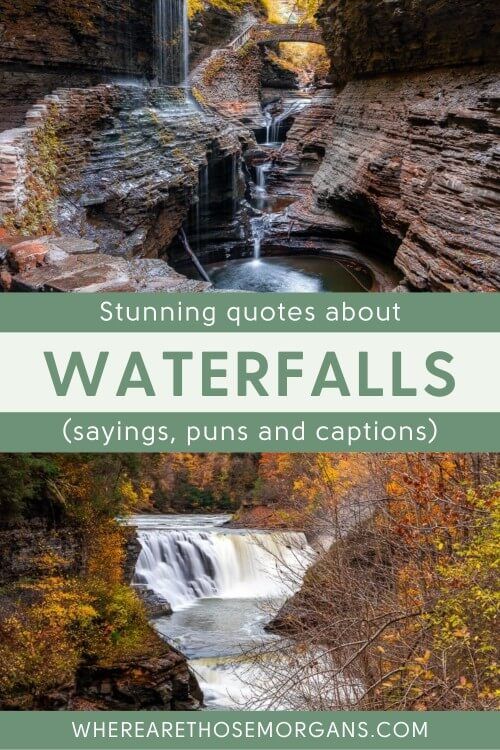 Note: This article contains affiliate links. When you make a purchase using one of these affiliate links, we may earn a small commission at no extra cost to you.
All Rights Reserved © Where Are Those Morgans, LLC. Republishing this article and/or any of its contents (text, photography, maps, graphics, etc.) in whole or in part is strictly prohibited.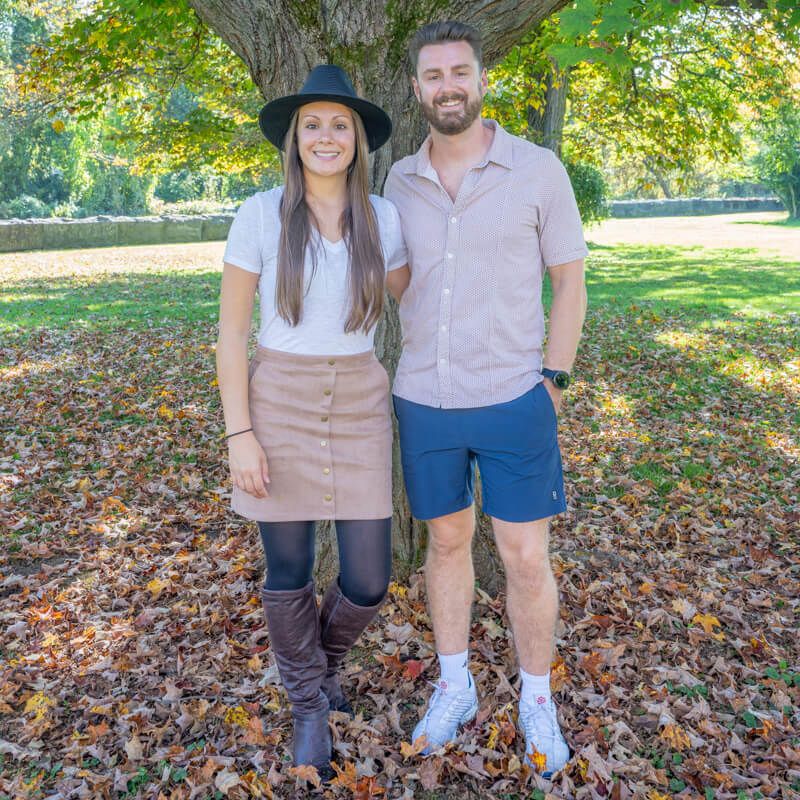 Mark and Kristen Morgan are travel, hiking and photography experts. Over the last 6 years traveling full time, they have explored more than 40 countries and 30 US states.
Their work has been featured in USA Today, Gestalten, Get Your Guide, CityPASS and Condé Nast Traveler along with various other publications.