Yosemite is a treasure trove of beauty and one of the crown jewels among the very best USA National Parks. This Yosemite itinerary will help you plan the most efficient way to spend your time in this spectacular corner of California.
The spellbinding awe of Yosemite's landscapes, smooth domed rock formations and unspeakably majestic valley have to be seen in person to be believed.
We will show you the best way to spend 1, 2 and 3 days at Yosemite to cover day trips, weekend breaks and those fortunate to have an extra day.
No matter how long you spend here, we know you will be swept off your feet – just like the great writers and photographers who immortalized Yosemite before you.
2023 Update: You do not need an advanced reservation to visit Yosemite National Park this year. The only exception is weekends in February for those who want to see Horsetail Fall on fire.
Why Visit Yosemite National Park?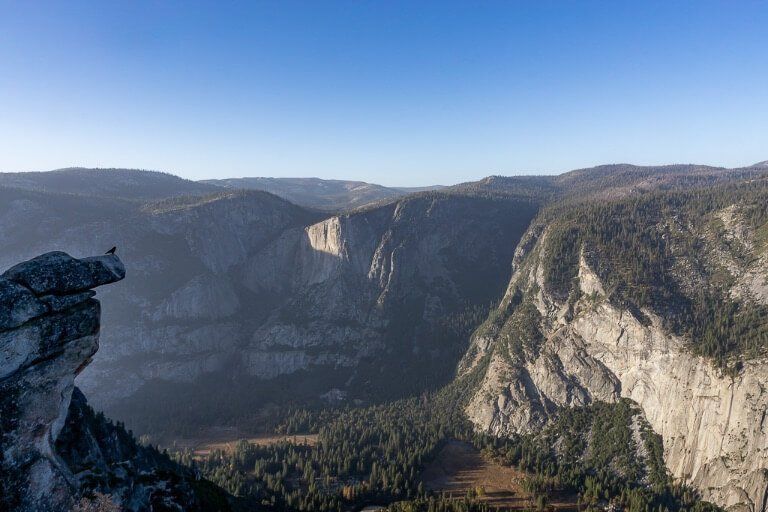 Yellowstone is arguably the King of US National Parks – being the first established and immensely popular – but every King needs a Queen and Yosemite National Park's astonishing grandeur is regal enough for our vote.
The park has something for everyone, from family vacations and couples who love hiking, to expert rock climbers and pro photographers.
Beloved panoramas of sweeping valleys, waterfalls and famous granite monoliths steal the show at Yosemite. Photography enthusiasts will be blown away.
El Capitan and Half Dome are even more impressive than you imagine but simply driving through Yosemite valley is scenic enough to justify a visit.
Various stop-off points around the valley scenic loop road are perfect for the less able or young children.
Yosemite is the gift that keeps on giving. It also happens to be a hikers paradise with hundreds of epic miles of trails with awe-inspiring climaxes to spur you on.
In summary, you should visit Yosemite National Park in California because it is a natural wonder perfect for everyone!
Yosemite National Park Factfile
Address: PO Box 577, Yosemite National Park, CA 95389
Website: nps.gov/yose
Phone: (209) 372-0200

Park Hours: All day, every day
Entrance Fee: US$ 35 Vehicle 7 Day Pass (or free with America the Beautiful Pass)

Campgrounds: Yes, spread across the park (see campgrounds)
Accommodation: Notoriously challenging, some lodging in Yosemite Valley, more in surrounding areas
Backcountry camping: Backcountry Use Permit Required

Top Activities: Hiking, Camping, Rock Climbing, Stargazing, photography
Annual Visitors: 4.5 million
How To Get To Yosemite National Park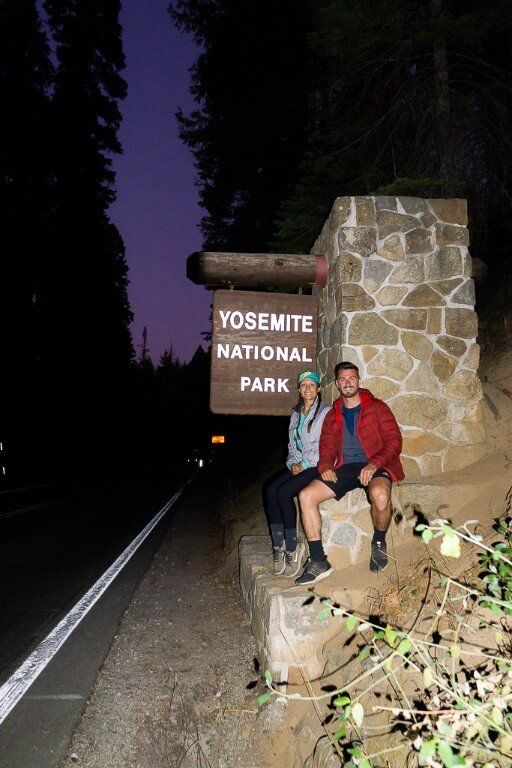 Flying / Closest Airports to Yosemite
Smaller – Fresno-Yosemite International, Merced and Modesto airports are all under 3 hours drive from the National Park.
Larger – San Francisco, Oakland, San Jose, Sacramento and Reno-Tahoe airports are all under 5 hours drive. More flights and of course the only options for those traveling from further afield.
We always use and recommend searching for flights with Skyscanner for best prices, options and user experience.
If you plan to hire a car and drive to Yosemite, compare prices and options with Rental Cars for best value.
Related: Save money with our 15 expert tips on finding cheap flights
Driving Entrances to Yosemite
There are a total of 5 entrances to Yosemite National Park but we will focus on the 4 with access to Yosemite Valley.
Tioga Pass Entrance (East, only open May-October, crosses Sierra Nevada); Big Oak Flat Entrance (Northwest); Arch Rock Entrance (Southwest) and South Entrance (South).
Hetch Hetchy is the 5th entrance to park boundaries but it is a secluded and does not lead to the main Yosemite attractions.
Los Angeles, Sequoia, Kings Canyon, Joshua Tree and San Diego – enter via Fresno and South Entrance

San Jose – enter via Arch Rock entrance

San Francisco and Oakland – enter via either Arch Rock Entrance or Big Oak Flat Entrance

Sacramento (and North to Oregon/Washington) – enter via Big Oak Flat Entrance

Reno, Las Vegas, Death Valley (and East to all US) – enter via Tioga Pass Entrance (May-Oct)
Read about the best things to do in San Francisco, Los Angeles and San Diego to help plan your California road trip.
Public Transport Options to Yosemite
Amtrak offer a train/bus combination from most major cities around California. Be aware there could be a number of transfers and it will take between 5-7 hours from San Francisco.
Alternatively, you can book a greyhound to Merced and hop on a Yosemite Area Regional Transportation System (YARTS).
This would pass though Mariposa, Midpines and El Portal (all places you might be forced to stay in Summer with lack of accommodation options) and enter via Arch Rock.
YARTS also runs services from Sonora (Big Oak Flat entrance), Mammoth Lakes (Tioga Pass entrance) and Fresno (South entrance). More information on YARTS.
Yosemite Valley Shuttle
Yosemite provides a free shuttle bus which loops around the valley regularly, saving on congestion and pollution.
Especially in Summer, you will need to arrive very early and if you are fortunate enough to find a parking space near Yosemite village, do not move your car until you are ready to leave!
Take the shuttle bus that you can hop on – hop off at each stop.
Do you need help planning your visit to Yosemite National Park?

Our popular 50 page Yosemite Guidebook and Itinerary covers every aspect of planning a trip to Yosemite including hikes, hotels, restaurants, getting around, things to do and so much more!
Best Time To Visit Yosemite National Park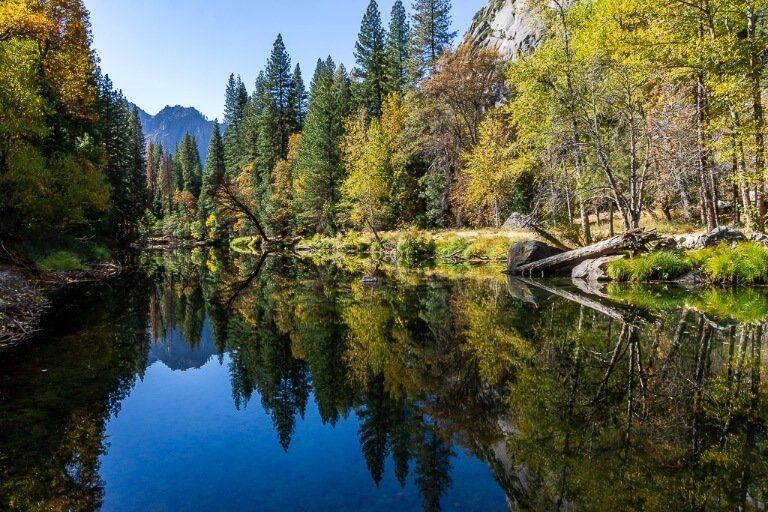 Close your eyes and point to an annual calendar … it doesn't matter which date you choose, Yosemite is going to blow you away. Every season offers its own unique take on the park and you will have to compromise one thing for another.
Summer is renowned for being unbearably packed so we advise if possible to plan your Yosemite itinerary in Spring or Fall.
Spring – The best time to visit for waterfalls in full flow, spring bloom, fewer crowds than Summer, will need layers for hot/cold/hiking.
Summer – Slightly longer daylight hours, warmer weather, overcrowding problem, busy trails, traffic jams, book accommodation way in advance to stand a chance.
Fall – Gorgeous autumnal foliage colors, barely any water flowing, comfortable temperatures and crowd levels, layers required.
Winter – Unique time to visit Yosemite with Skiing, Ice Skating and Snowshoeing very popular. Expect fewer crowds, stunning winter wonderland scenery and cold weather.
We first visited Yosemite National Park in October at the heart of the Fall season and like many places in the US at this time of year, it was beautiful. However, we were (extremely!) disappointed the postcard perfect waterfalls were bone dry.
But hey, that's the trade off. And you can see how pretty the autumnal foliage is in this Yosemite itinerary. Next time we will visit in Spring!
Best Things To Do In Yosemite National Park
The overwhelming majority of best things for you to do on your Yosemite itinerary are within Yosemite Valley itself. However, there are other amazing places to explore away from the valley that are far less crowded.
Here are some of the top highlights for you to consider in Yosemite:
Half Dome Hike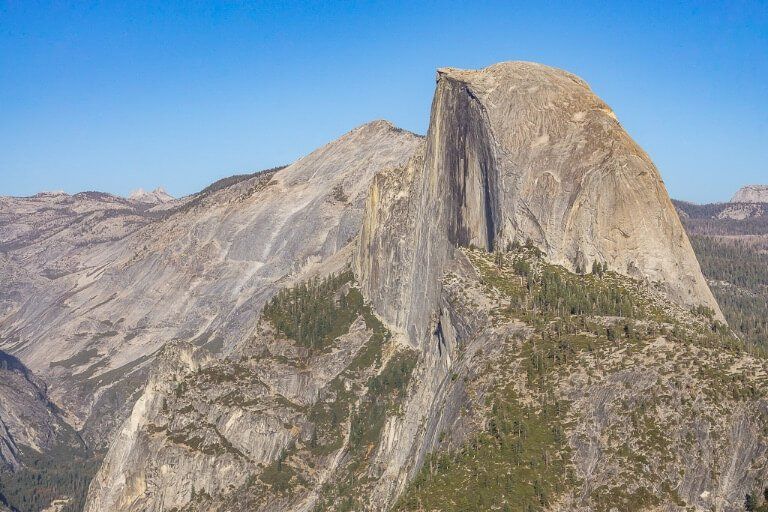 Half Dome is Yosemite's iconic granite dome at the far end of the valley appearing as though a meat cleaver sliced it precisely in half.
Standing proudly at just under 5,000 feet above Yosemite Valley and dominating most nearby viewpoints, Half Dome is one of the most sought after and amazing hikes in the world.
What was once considered inaccessible can now be accessed by multiple rock climbing routes and one hiking path. This hiking path is only open between Memorial Day and Columbus Day (May-Oct) and is not for the feint hearted.
Cables are inserted each May to aid hikers with the final stretch to Half Dome summit and it is steep. Extremely steep.
Many take this hike on and have to be assisted by park rangers each year because they underestimated either its difficulty or they were afraid of heights.
Half Dome Lottery Permit
In order to summit Half Dome, you will need a permit and they are not easy to acquire. To be in with a chance, you have to enter a lottery in March for the upcoming season. Only 300 hikers are permitted to summit Half Dome per day, consisting of 225 day hikers and 75 backpackers.
You can apply for up to 6 people and you can only apply once.
If you are successful, you will become the permit holder and everyone else in your party become alternates. This is important because the permit holder must be present on the day for any of the group to summit.
If you are unsuccessful, you can take your chances by applying for a permit in the daily lottery. You can apply 2 days before the date you want to hike Half Dome.
For example, you apply on Monday to hike on Wednesday. You find out the same day if you are successful. Read NPS guidelines for Half Dome to plan your hike.
Half Dome is one of the best hikes in the world but it isn't easy. To reach the base of Half Dome, you can either take:
John Muir trail (longer but more gradual) at 16.4 miles roundtrip
Mist trail at 14 miles roundtrip (shorter but steeper)
Or a combination of both trails in a loop
Most people take between 10-12 hours total time for this round trip route to Half Dome summit.
Leave at sunrise and give yourself / your group a non negotiable turn around time. For example, if you haven't summited by 2pm, turn around.
Check Yosemite sunrise times before your visit.
The Mist Trail / John Muir Trail Loop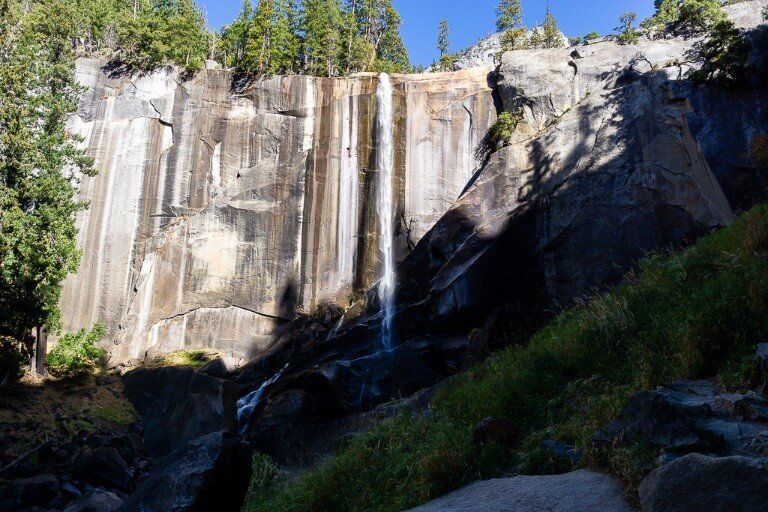 Half Dome is the quintessential Yosemite hike but don't sweat it if you can't get a permit or you visit out of season. Yosemite has a ton of awesome alternatives and here's something to remember:
You can't see Half Dome from the top of Half Dome!!
Mist trail is Yosemite's signature hike and therefore the most crowded trail in the park. You will pass two of Yosemite's rock-star status waterfalls in Vernal Falls and Nevada Falls on this fantastic hike.
Views over Yosemite Valley and the back of Half Dome from Nevada Falls are worth the effort.
Trail Distance: 7 miles roundtrip / 8 miles roundtrip Mist up, John Muir down loop (add on 1.5 miles roundtrip if walking from Curry village and not taking park shuttle to trailhead)
Elevation Gain: 1,900 feet to Nevada Falls
Trail Time: 4-6 hours if loop completed
Trail Difficulty: Moderate / Strenuous
In peak season or weekends through Spring/Fall be sure to set off either very early or later in the afternoon to avoid the mid-morning rush.
Read our complete Yosemite Mist Trail hiking guide to learn more, featuring John Muir Loop, Vernal and Nevada Fall, maps and tips to help plan your hike.
Bridalveil Fall
Bridalveil Fall will be the very first waterfall you see as you enter Yosemite Valley. It is the iconic waterfall to the right of famous valley images taken in Spring when the fall thunders.
During Summer and Fall Bridalveil Fall is wispy and a light spray trickles from 189 meters above a viewing area.
The trail is just 0.5 miles roundtrip close to a car park which makes it perfect for young children or those with less able family members.
Yosemite Falls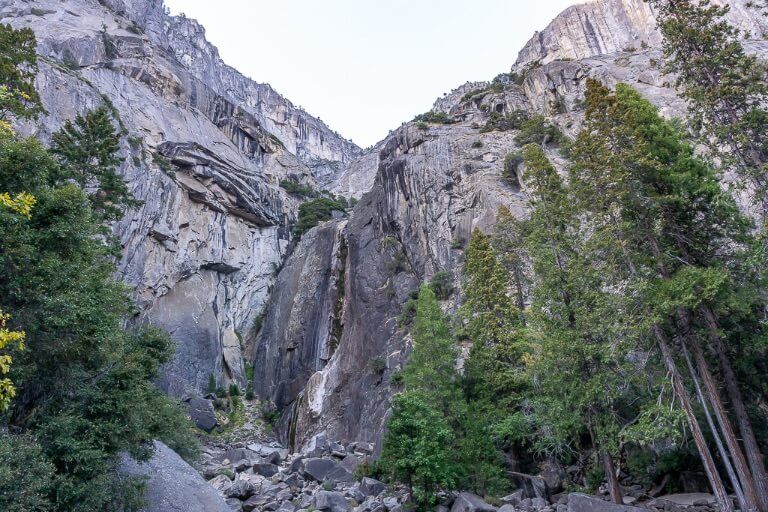 The mighty Yosemite Falls is the tallest waterfall in North America and the fifth tallest in the world.
However, you will only see water here between November and July – as you can see in our photo above taken in October the falls were bone dry.
You can hike to Lower Yosemite Falls, an easy 1 mile flat round trip trail (where the photo above was taken) or hike a strenuous 6-8 hour / 7 mile roundtrip trail to Upper Yosemite Falls.
El Capitan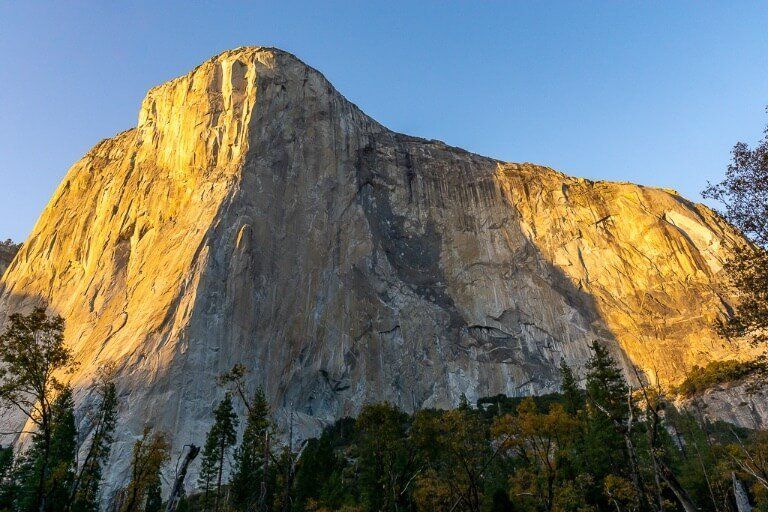 "El Cap" is one of the most impressive and iconic monolithic features in all of Yosemite.
If you hadn't heard of it a few years back, you certainly have now thanks to nail biting television productions bringing extreme rock climbing to a wider audience.
Watch The Dawn Wall and Free Solo before visiting El Capitan.
When you arrive at the base of El Cap after a short easy hike from a nearby car park, look up and you will really appreciate what these climbers achieved!
Aside from its notoriety, El Capitan is a mightily impressive granite feature in Yosemite. It is best viewed from El Capitan Meadow, Tunnel View and Valley View (more on these later).
Sunrise is the most beautiful time to photograph El Cap as the pink rays of first light illuminate its famous wall.
For those with more time in Yosemite who want to say they've walked on the summit of El Cap, you can either climb it or hike a 13.5 strenuous round trip trail beginning close to Yosemite Falls.
Views are not as impressive as at the summit of Half Dome but hey, you're standing on top of El Cap!
Tioga Pass Road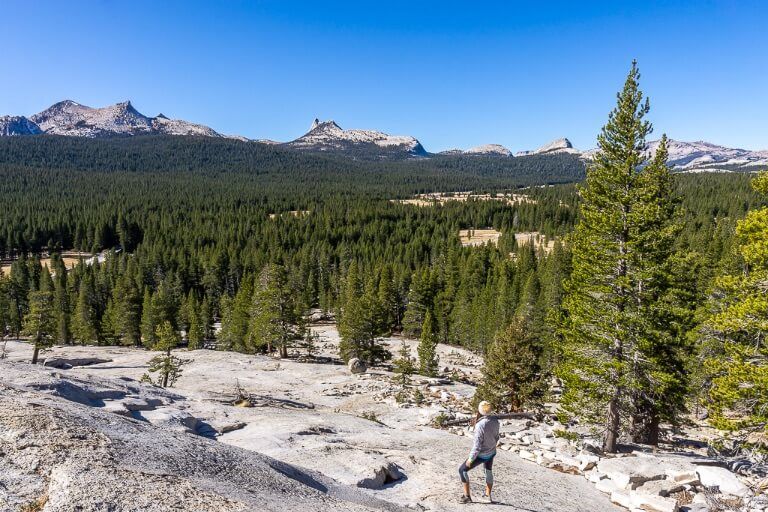 Tioga Pass Road runs from Yosemite's Northeast entrance (near Mammoth Lakes) to Big Oak Flat Road close to Yosemite Valley entrance.
Use this entrance if also visiting Lake Tahoe, Death Valley or the best natural northern California hot springs around Mammoth Lakes.
This road is also known as CA Highway 120 and is incredibly scenic with plenty of awesome stops along the way.
Although the majority of Yosemite's highlights are in the valley, Tioga Pass Road – known as the High Sierra – is a fantastic place to begin/end a 3 day itinerary if you have the spare time.
Here are some recommended highlights:
Hike to Dog Lake and Lembert Dome Summit – 4 mile roundtrip with awesome views.

Cathedral Lakes hike – 7 mile roundtrip and one of the most popular in the area.

Olmsted Point – Fantastic viewpoint featuring huge cracked and smooth boulders.

Others to consider include Tenaya Lake, Gaylor Lakes and Mono Pass (but you can't do them all!).
Note: Tioga Pass Road is only open May-October. You will not be able to cross the Sierra Nevada on this road between November and April.
Sequoia Tree Groves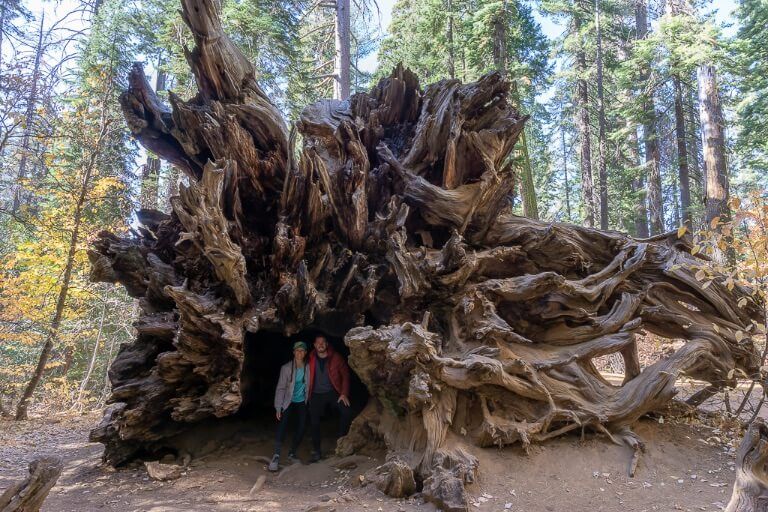 Although not on the scale of Sequoia and Kings Canyon National Park, Yosemite has its own fair share of gigantic Sequoia Trees.
There are three main areas you can walk among Yosemite's Sequoias:
1. Tuolumne Grove – Located at the joining of Tioga Pass Road and Big Oak Flat Road. A 2.5 mile roundtrip trail with a sharp descent to the grove (and sharp ascent back to the car park) is home to around 30 mature Sequoias.
One dead Sequoia has had a tunnel cut through its base so you can pass underneath and appreciate the circumference of these enormous trees.
2. Mariposa Grove – Located near South entrance. This is the largest and best Sequoia grove in Yosemite with over 500 mature giant Sequoias.
Hike the Big Trees Loop trail if short on time, otherwise, hike the 2 mile Grizzly Giant Loop trail. There are longer trails for those with more days.
3. Merced Grove – The smallest Sequioa grove is located further up Big Oak Flat Road on the way in or out of Yosemite. There are only 20 Giant Sequoias but it is by far the least crowded of the three groves.
You know they're going to be massive, everything you see and read tells you that, but when you see one in person you will still be shocked!
Glacier Point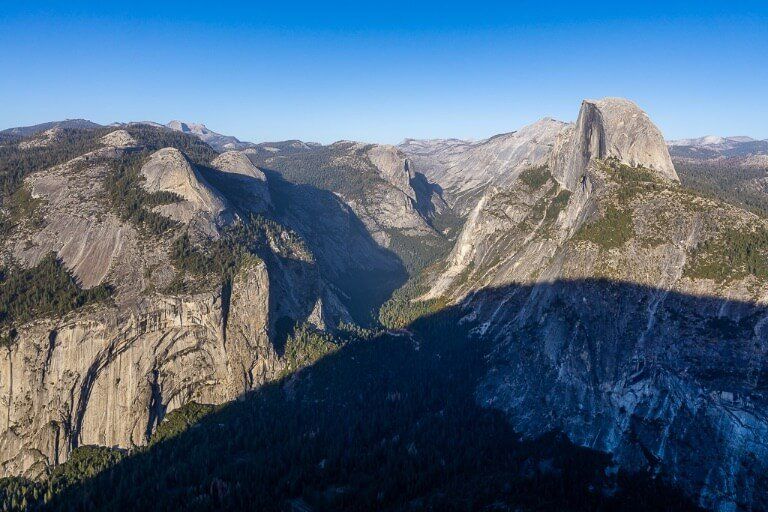 Glacier Point boasts the best panorama in all of Yosemite, arguably on par with Half Dome. However, getting to Glacier Point is not the easiest or most enjoyable.
You have to drive 16 miles up Glacier Point road – a very congested, constantly winding and at times extremely narrow road. That being said, it is without question worth the drama!
Access to this road is 23 miles from South entrance and best driven either at the beginning or end of your Yosemite itinerary.
Magnificent 270 degree views over Half Dome, Yosemite Valley and the Merced River are unbelievable. Glacier Point and nearby Washburn Point are the best places in Yosemite to watch sunset.
There are a number of hikes at nearby trailheads:
Sentinel Dome – 2.2 mile roundtrip, moderate and find Jeffrey Pine (one of the most photographed trees in the world).
Taft Point and the Fissures – 2.2 mile roundtrip, easy and stunning views without guardrails found at Glacier Point.
Four Mile Trail – You can hike to Glacier Point from Yosemite Valley if you take this strenuous 9.6 mile roundtrip trail.
Panorama – This is an extension of Mist/John Muir trail which can be joined close to Nevada Falls and hiked to Glacier Point, but its 8.5 miles one way and strenuous.
One tip for photographers is to consider the time of your visit because huge valley covering shadows appear in the later afternoon. Astrophotography would be perfect at Glacier Point.
Yosemite Valley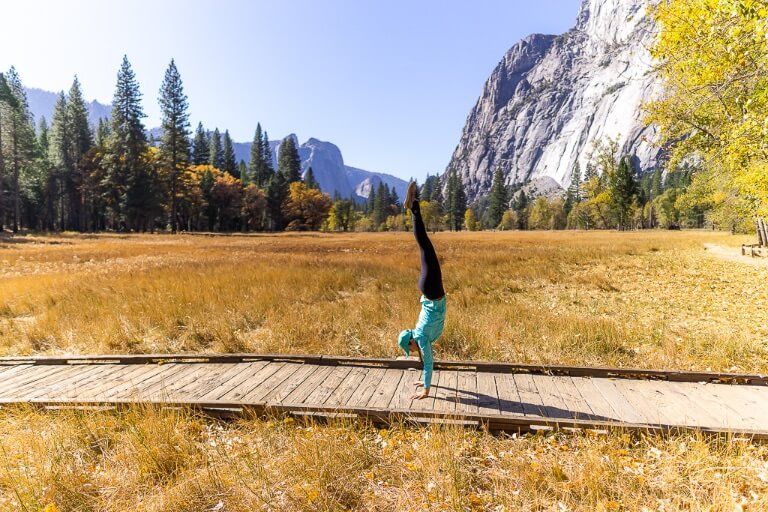 Do not entirely disregard Yosemite Valley in favor of hikes and domes. There are a number of fantastic photography spots around the Merced River, often with reflections of granite monoliths or beautiful autumnal foliage.
Yosemite's one way loop means you can pull the car over as often as you like. It is perfect for families with older or younger members to enjoy the beauty of this National Park.
Some of the notable stops include Cathedral Beach, Sentinel Beach, Swinging Bridge, Sentinel Bridge, El Capitan Bridge and Valley View (the best one).
You can see the likes of El Capitan and the Three Brothers reflect perfectly on still water in Fall.
Yosemite is one of the top places to visit in the US and you will be blown away by the sheer beauty inside Yosemite Valley. Plan to spend a lot of time here.
Best Yosemite Photography Locations
Yosemite national park is a beautiful part of America, the perfect environment for landscape and nature lovers. Photography doesn't get much easier than inside the valley, looking up at waterfalls and towering granite domes.
We truly enjoyed taking photographs around Yosemite and will definitely be back in future for many more.
If you would like to see all of our favorites from the park in more detail, read our complete guide to Yosemite Photography next.
Tunnel View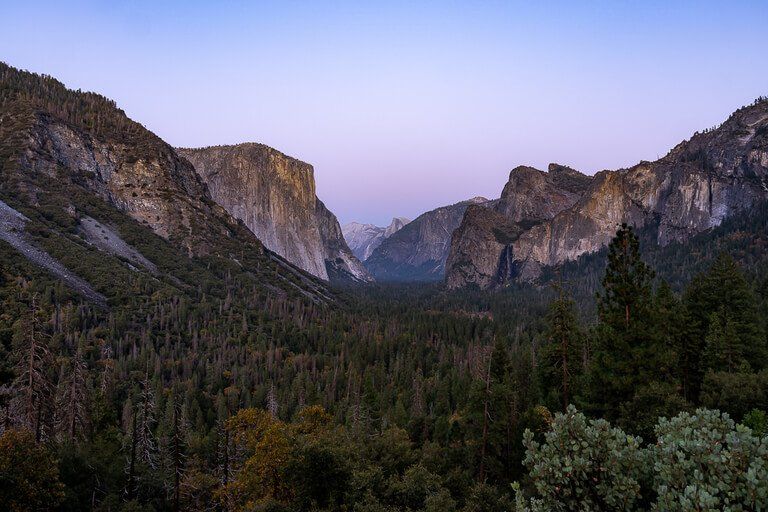 Tunnel View is the quintessential Yosemite photograph made famous by Ansel Adams.
You will see the majestic flat face of El Capitan to the left, straight ahead at the end of the valley is Half Dome on a slight angle and Bridalveil Fall to the right.
Vistas don't get any better than this wobbly-knees-moment anywhere in the world.
Spring is the best time to capture this iconic image at its most powerful. Bridalveil fall takes the photograph to another level and you won't get it in Summer or Fall.
Winter is another excellent time to photograph Yosemite Valley from Tunnel View as it is shrouded in mist and a light sprinkling of snow.
There is no hiking involved, you simply park at one of the lots close to Wawona/Yosemite Tunnel just a few minutes drive from the Valley. Arrive at sunrise to avoid the crowd. Sunset will inevitably be busy, particularly in Summer.
Go to Tunnel View instead of driving to Glacier Point for stars, which would be amazing but a lot of effort.
The Milky Way will appear over the tunnel and you can get a great night shot with the tunnel in your foreground.
Also, if you take a long exposure over Yosemite Valley with a wide angle lens, you will see white streaks on El Capitan – they are rock climbers making a night climb to El Cap's summit. Pretty cool, right?!
Valley View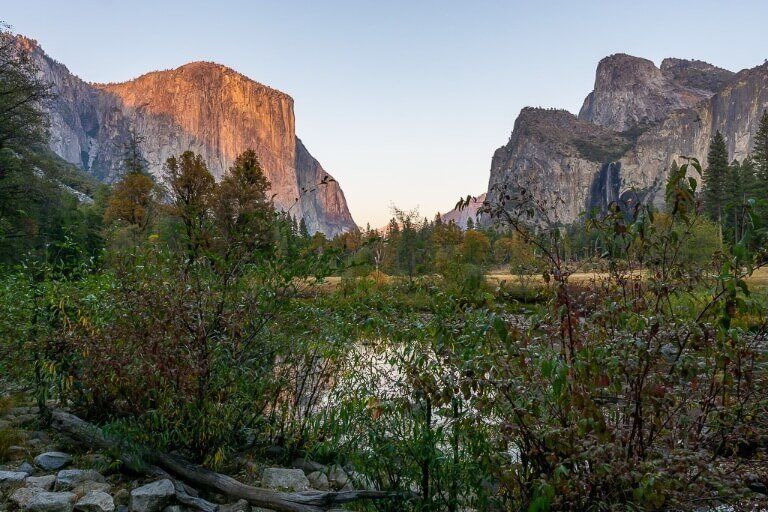 Depending on the type of photography you prefer, Valley View could beat Tunnel View when you consider how much more you can capture in the foreground.
With still water at sunrise, you can compose an image with a reflecting El Capitan glowing red. This place gets busy and there's not a lot of room to park so plan accordingly, particularly around sunset.
Take a sturdy tripod and wade out into the river – if it is safe to do so – for enhanced composition. Maybe even walk out to a rock and get a photo of yourself in the foreground?!
Various Yosemite Valley / Merced River Rest Areas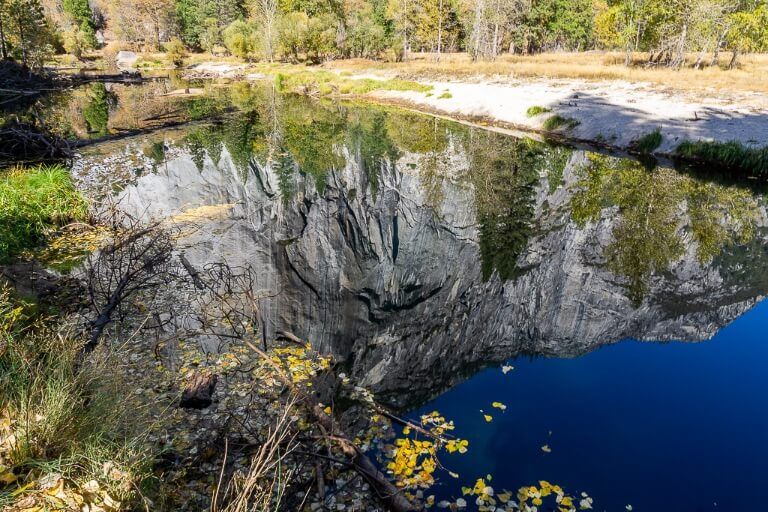 As we mentioned earlier, these Valley floor stop offs aren't to be missed!
You will see plenty of pro photographers at various points of the day wading through the shallow Merced river (in Fall) searching for the best river reflection shots of towering granite rocks.
Yosemite Valley Meadow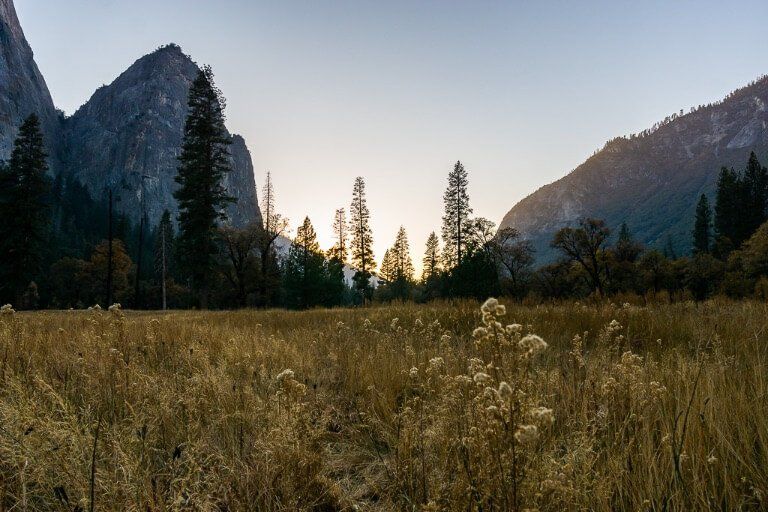 Walk out into the meadows around Yosemite Valley using wooden boardwalks. You will be able to shoot different perspectives of the valley and all of the major features within it.
When we visited in Fall, the meadows had turned yellowy-brown and straw like. Barely anyone will be around and you can get creative with your images.
Yosemite Itinerary Broken Up Into Regions
Phew! That's a lot of information to digest. Yosemite is a big park and it helps to understand the layout.
Above is a map of Yosemite broken into 3 regions: North, Valley and South. You will find each of the 4 entrances labeled to give you an idea of the routes around Yosemite.
Note: This is separate to the Interactive Map at the end of this article on which you can zoom in / out and move around to orientate yourself with Yosemite, accommodation options and itinerary highlights.
How Many Days For The Perfect Yosemite Itinerary?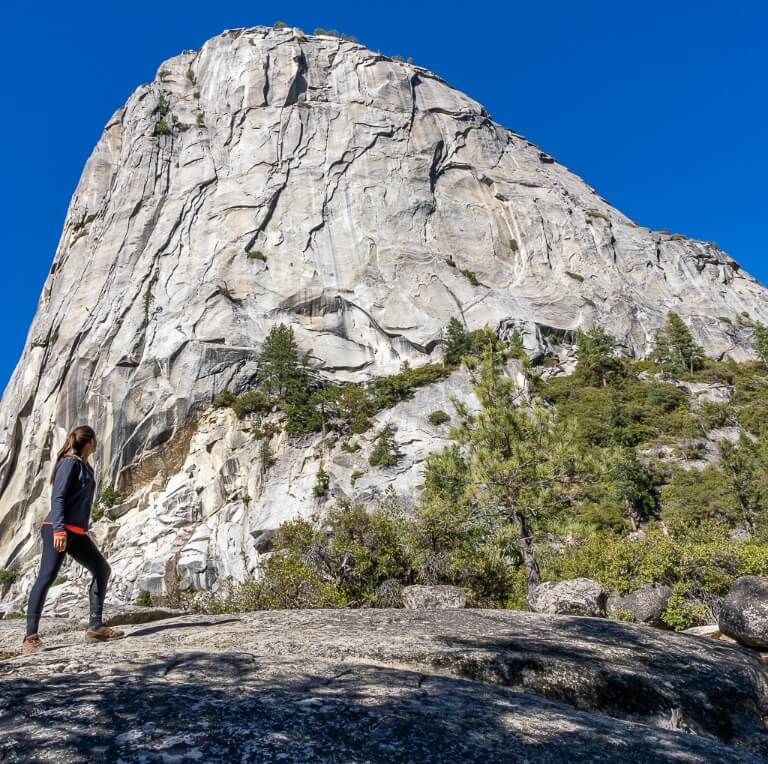 Yosemite is an incredible place, if there's ever been a true 'bucket list' destination, this is it. You could easily spend weeks here and not get bored. However, that is entirely unrealistic for the majority of visitors.
Personally, we believe three days is the perfect amount of time to spend at Yosemite, considering work/life/family commitments and what you can achieve here in 3 days.
However, 2 days will allow you to hit most of the major sights and even in one day you can still get through a big slice of Yosemite pie.
Let's get stuck into the most efficient way to visit Yosemite for each of those timeframes and make the most of your trip.
Yosemite Itinerary Assumptions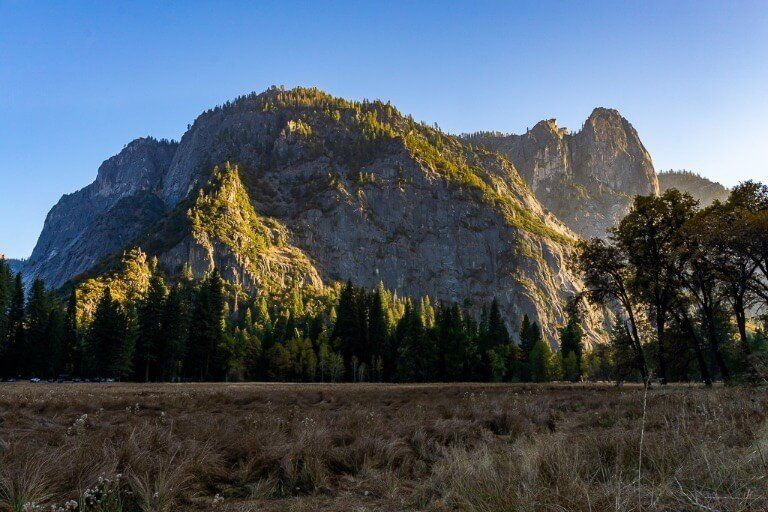 The following itineraries do not include hiking Half Dome. If you are hiking Half Dome it will take one full day but you can pick up the 2 or 3 day itineraries around the big hiking day.
One and Two Day itineraries should begin and end either at Big Flat Oak, Arch Rock or South entrances; a common loop route from San Francisco.
Three day itinerary should begin at East entrance and end at South entrance or vice versa for maximum efficiency, ideally as part of a wider US road trip.
An example route would be Las Vegas – Death Valley – Yosemite – San Francisco.
Yosemite Itinerary Map
We have created a 3 day Yosemite Itinerary map to show you how we would spend 3 days in the park.
Please note the map is based on our 3 day itinerary listed below. Our 1 and 2 day Yosemite itineraries do not feature in this map.
Click into the interactive map, zoom in / out, scroll around and click on any icon to see details of attractions on days 1 -3. Follow the points each day from morning to evening for the most efficient way to see Yosemite.
We always find that spending just a few minutes working out where things are really helps when we arrive.
One Day In Yosemite Itinerary
Morning

–

Day

1
With just one day available, you will need to arrive early and expect to leave late.
Drive straight to Yosemite Valley and watch sunrise at Tunnel View.
Right next to Tunnel View you can park up at Bridalveil Falls trailhead and hike the short trail.
Drive around the one way loop and take the first left as if leaving the park. Stop at El Capitan meadow/bridge to see the impressive granite tower contrast against the shadowy foreground you are standing in.
Continue as though you are leaving the valley and stop at Valley View for the other spectacular viewpoint in the park for photography.
Do not leave the valley, instead drive round in a loop to join back up where you were not long ago. Frustrating to be retracing steps but necessary.
Drive past the turn you made to El Cap and stop at Cathedral Beach or Sentinel Beach to see reflections of trees and granite towers in the Merced River.
Continue to the Visitor Center parking lot and park up. Take the shuttle to Mist/John Muir trailhead.
Afternoon –

Day 1
Hike to Vernal Falls and if you're quicker you can make it up to Nevada Falls. Go down on whichever trail you didn't go up on to complete the loop.
Drive to Lower Falls trailhead and walk the short loop to see the tallest waterfall in North America. You won't have time to hike to Upper Falls.
On the way out of Yosemite Valley, stop at El Capitan and walk to its base so you can appreciate the sheer scale.
Drive through Wawona Tunnel and take Glacier Point Road all the way to the end in time for sunset over Half Dome.
2 Days In Yosemite Itinerary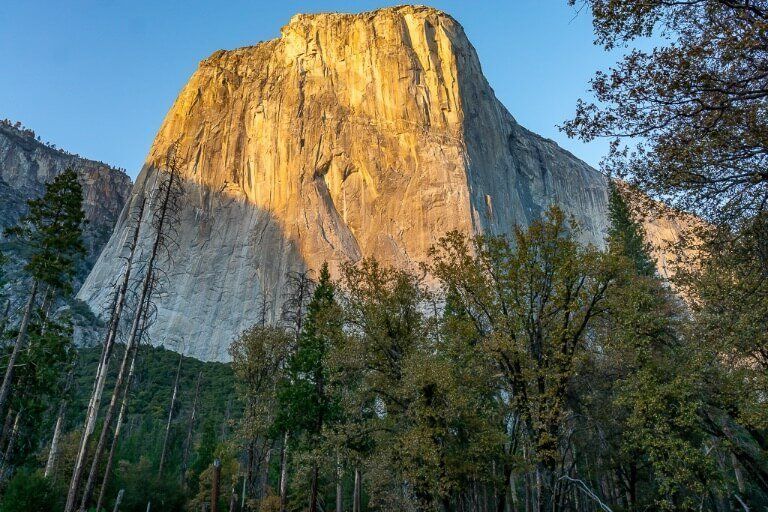 M

orning –

Day 1
Enter via Big Flat Oak entrance before stopping at Tuolumne Grove to see Giant Sequoias.
Drive down into Yosemite Valley, stopping first at Bridalveil Falls, then El Capitan Meadow and Valley View.
Loop around, stop at every turn off along the valley until you reach either your hotel, lodge or campground. From your hotel or campground, make your way to Mist Trail and hike up to Vernal Falls / Nevada Falls.
A

fternoon –

Day 1
Drive the loop, stopping at Cook's Meadow Loop and Lower Yosemite Falls.
Walk to the base of El Capitan, stop once more at Valley View and head up to Tunnel View for amazing vistas.
Head back towards your hotel/campground but stop to watch sunset at either Stoneman Meadow near Curry Village or Sentinal Bridge close to the visitor center. You will have an excellent view of Half Dome at both.
If you want to stargaze or take astro shots, Summer is best and head to Sentinel Dome / Glacier Point (a long drive) Valley View, Tunnel View or Sentinel Bridge (closer).
M

orning –

Day 2
Grab an early start and hike to Upper Yosemite Falls or even further to El Capitan summit. In Spring definitely hike the Falls and only the quicker hikers should continue to El Capitan on the morning of day 2.
That will take up your entire morning!
Alternatively, spend the morning walking around the visitor center, Ansel Adams gallery (we bought an awesome astrophotography book here!) and more time in the meadows/valley floor for amazing photography.
A

fternoon –

Day 2
Drive through Wawona Tunnel (stopping again at Tunnel View – time of day impacts images) and onto Glacier Point Road. Stop at Taft Point / Sentinel Dome trailhead and choose one of them to hike. Both are great choices.
Continue to Glacier Point before the huge shadows of late afternoon arrive for the best photographs of Half Dome. It will be busy up here!
Leave via South entrance but stop at Mariposa Grove to hike the 2 mile Grizzly Giant loop among Giant Sequoia Trees.
Yosemite 3 Day Itinerary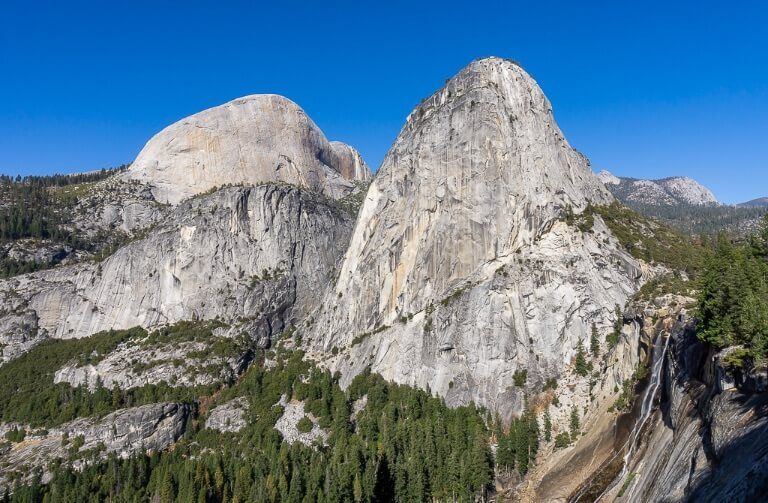 Morning –

Day 1
Enter via South entrance, stop at Mariposa Grove and hike among Giant Sequoias including Grizzly Giant and California Tunnel Tree.
Head North and take Glacier Point Road all the way to the end. Enjoy sweeping views over Half Dome and the 3,000 feet drop to Yosemite Valley. The views are simply stunning.
Hike to either Sentinel Dome or Taft Point for more astounding views.
Afternoon –

Day 1
Drive all the way into Yosemite Valley, stopping at Tunnel View, Bridalveil Fall, El Capitan Meadow/Bridge, Cathedral Beach and Sentinel Beach.
Check in to your hotel or campground before walking around the Visitor Center and Ansel Adams gallery.
Sunset at Sentinel Bridge or Stoneman Meadow with great views of Half Dome and stargaze at any of the places mentioned earlier.
M

orning –

Day 2
Wake up early to hike up Mist trail before the crowds arrive. Vernal and Nevada Falls, Liberty Cap and the backside of Half Dome await you.
Return via the John Muir Trail to complete the loop.
Expect between 4-6 hours of total hiking time.
Afternoon –

Day 2
Walk the Lower Yosemite Falls loop. We saw a mountain lion cub on the loop when we visited. Fortunately we avoided the mother!
A little further round the loop, hike to the base of El Capitan to see how frightening the prospect of free climbing it would be! More than likely there will be climbers on the wall. Take a telephoto lens or binoculars.
Spend the remainder of the afternoon around Yosmite Valley's many meadows, special viewpoints and river reflection spots.
Morning –

Day 3
If you're a big hiker and don't mind early starts – wake up and hike to Upper Yosemite Falls as early as possible. Alternatively, hike Four Mile Trail to Glacier Point.
Both are strenuous and will take a good few hours.
For those who prefer an easier morning / if you missed Mariposa Grove at the beginning of Day 1 – drive to Mariposa Grove at the start of Tioga Pass Road to walk among Giant Sequoias.
A

fternoon –

Day 3
Before lunch both of the above would converge around Mariposa Grove (hikers wouldn't have time for the Sequoias). Begin the drive up Tioga Pass Road.
Stop at Olmsted Point for more awesome views including Half Dome and walk around Tuolumne Meadows.
Choose either Cathedral Lakes trail (7 mile popular roundtrip) or Dog Lake and Lembert Dome(4 mile roundtrip with excellent views from dome summit).
Note: This 3 day Yosemite itinerary can easily be done in reverse (East to South entrances)
Yosemite National Park Map of Key Locations and Accommodation
Spend a few minutes studying our interactive itinerary map of Yosemite National Park and its surrounding areas.
Click on the map, zoom in / out and move around to orientate yourself with the park.
Hotels and Campgrounds in and around the National Park –

Purple Markers

Gas Stations (don't run out!), Entrances, Visitor Center and Car Parks –

Black Markers

Hiking Trails, Domes, Photography Locations, Major Points of Interest –

Orange Markers
Learning the local geography is the best way to save time when you actually arrive into Yosemite.
Where To Stay For Your Yosemite Itinerary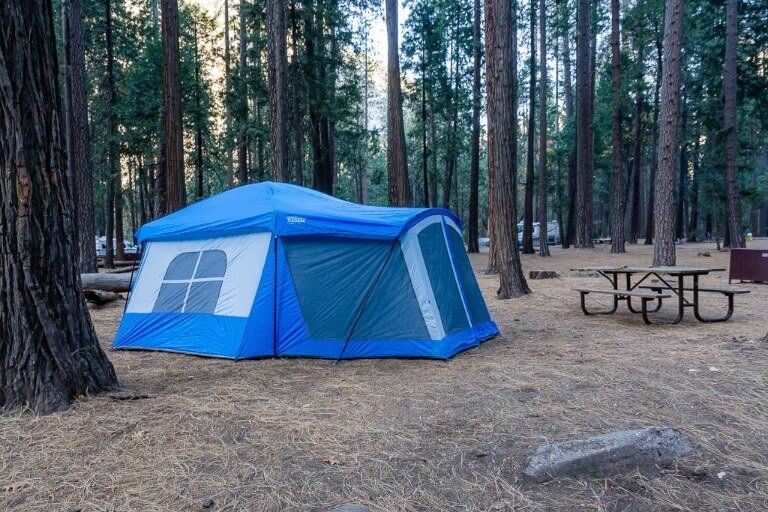 Yosemite's beauty is revered on a global scale but its popularity means finding somewhere to sleep can be a real problem, particularly in peak season.
We've written an extremely popular guide to the best places to stay in Yosemite National Park which we highly recommend as a very useful planning resource.
Campgrounds are notoriously difficult to book and often hotels close to the park charge exorbitant fees.
Whether you prefer camping or hotels, the earlier you know your Yosemite itinerary dates, the better. Be as organized as humanly possible – we're talking months in advance here!
Our example
We visited Yosemite in October and began to look for accommodation around 1 week before but barely anything was available.
We lucked out with a spot at Upper Pines campground on 1 of our 3 nights but no other spaces at any campground opened up for our other nights.
So, we spent a night in one of the top hotels in Mammoth Lakes the first night and began Day 1 very early entering from East entrance.
Night 2 we spent in a less than perfect yurt-like cabin (yes it was very cold!) between El Portal and Incline, and night 3 was in Upper Pines campground.
Compromise
From experience, we can tell you how inconvenient driving in and out of the park is each day. But it will be far cheaper.
Another trade off!
Mariposa is a great place to base yourself to save money. We stayed at Best Western Plus Mariposa on night 4 and enjoyed a pizza at Pizza Factory after a few days of camp food!
Take Home
Book in advance if you don't want to be traveling long distances or moving every night.
Yosemite Campgrounds
If you know your dates early and are certain you want to camp, book immediately. The same goes for backpackers and Half Dome hikers. The earlier the better in all circumstances at Yosemite!
Here are the 4 campgrounds in Yosemite Valley:
Upper Pines – Reservations required, available to book 5 months in advance, 238 sites, US$ 26 / night.
Lower Pines – Reservations required, available to book 5 months in advance, 60 sites, US$ 26 / night.
North Pines – Reservations required, available to book 5 months in advance, 81 sites, US$ 26 / night.
Camp 4 – Late May to early September campsites are only available through a daily lottery one day in advance (information here). September to May is first-come, first-served but fills early and is only US$ 6 / night.
There are more camping options North and South of Yosemite in Wawona and Tioga Pass road. Check NPS for all Yosemite campground information.
Camping Exclusive
Would you like to camp in Yosemite National Park but can't find any campsite availability?
We have teamed up with The Dyrt to offer our readers the chance to take advantage of our exclusive 30 day free trial of The Dyrt PRO, which can help you get reservations at sold out campgrounds in Yosemite National Park by using a fantastic new feature called Dyrt Alerts.
You can create alerts to notify you of any cancelations at campgrounds in Yosemite, which is huge. When a space becomes available, you simply book it right away to snag a near impossible campsite in Yosemite.
You can try The Dyrt PRO for free, no strings attached!
Hotels Near Yosemite
Booking hotels in and around Yosemite takes a bit of perseverance and a lot of patience. Usually, we would say being flexible gives you the best chance of grabbing a good deal.
However, unless you book a long way in advance, you might not have a choice to be flexible.
Your first step should be to take a look at hotels and lodges in Yosemite Valley for availability and prices. These hotels and lodges are booked through the National Park Service.
Availability and prices for your selected dates may not work for you. In that case you will need to find a hotel as close to the park as possible.
Your best bet is to find any hotels that have availability for your travel dates. Here's a complete list of all hotels near Yosemite National Park.
Input your dates
Search by list or better yet by map
Find a hotel (or hotels) in the best regions of the park to suit your itinerary
Cabins / Lodges / Yurts Near Yosemite
A decent compromise between high prices in Yosemite Valley and long drives in/out from the likes of Mariposa is to stay in a yurt, lodge or tent.
There are plenty of these small lodge grounds in places like El Portal, Incline, Yosemite West, Wawona and Fish Camp.
More From Yosemite
More From California
Need Help With Planning Your Trip To Yosemite National Park?
Yosemite is a spectacular landscape and a firm favorite among nature enthusiasts. But it is also one of the more challenging US national parks to plan.
We have created a 50 page guidebook and itinerary filled with key information and expert advice, example itineraries for hikers and non-hikers, and all essential things to know for both planning and when you are on site in Yosemite.
If you want to make the most of your trip to Yosemite, our guidebook is the perfect resource for you.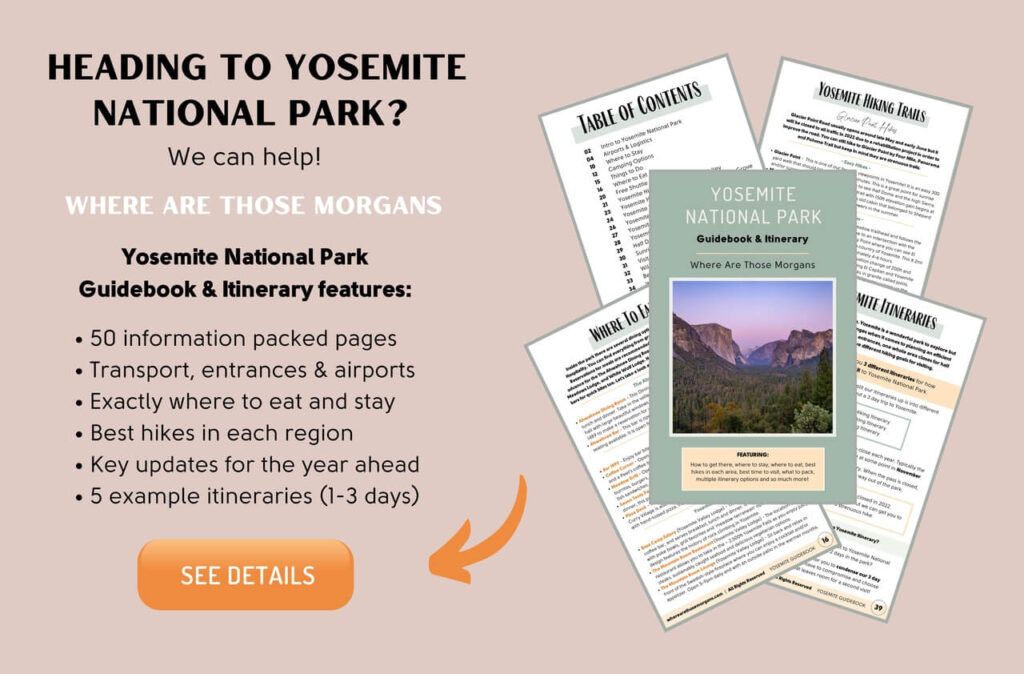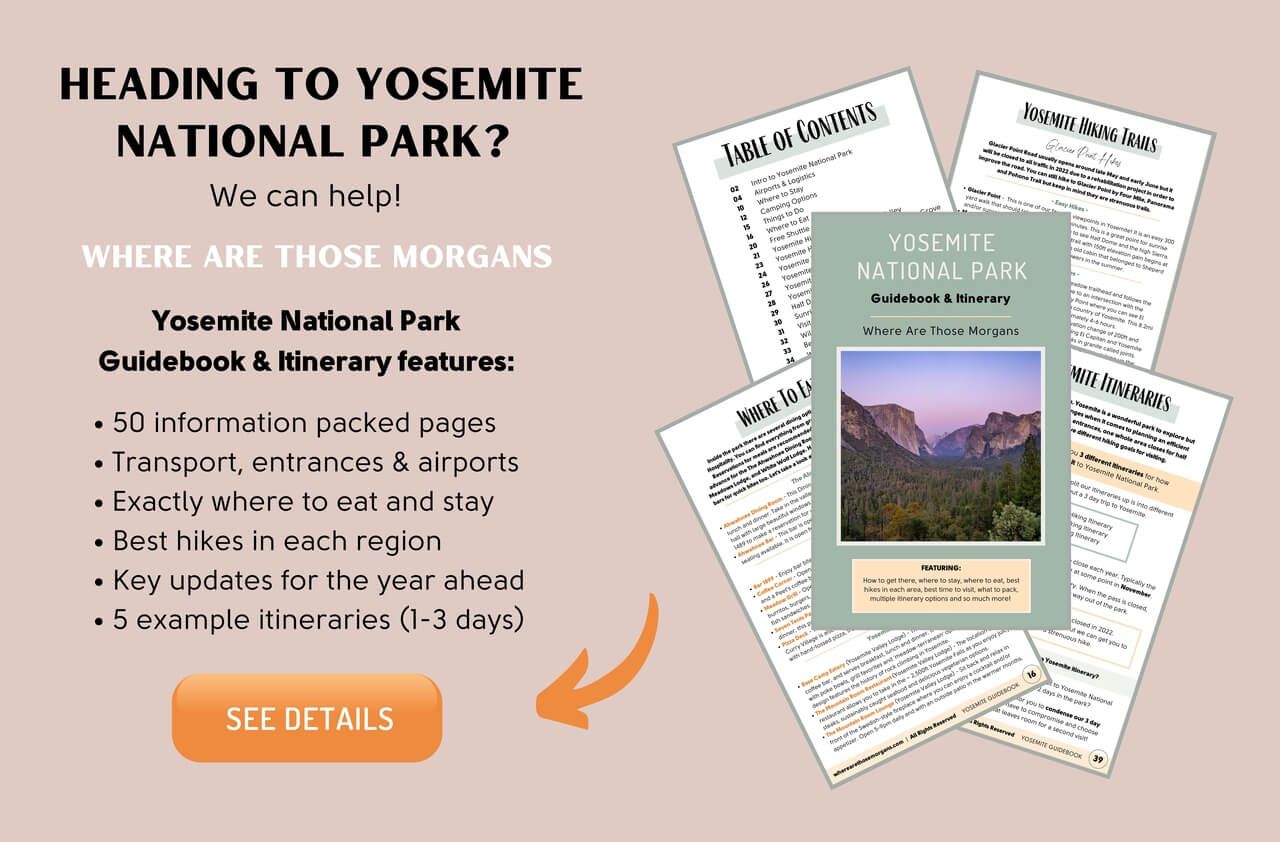 We hope this helped you plan your Yosemite National Park itinerary!
Have you been to Yosemite? What was your favorite part?
Please let us know if you have any questions or need any help planning your visit to Yosemite in the comments below.
Happy Travels,
Mark and Kristen
Was This Post Helpful? Pin It For Your Visit to Yosemite!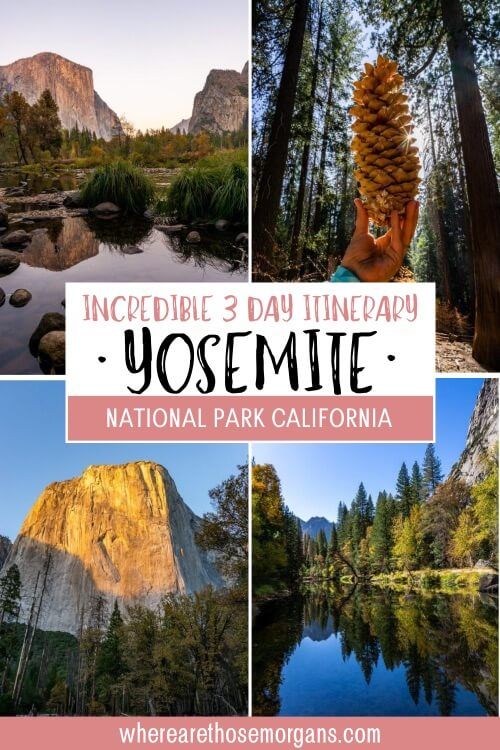 Note: This article contains affiliate links. When you make a purchase using one of these affiliate links, we may earn a small commission at no extra cost to you.
All Rights Reserved © Where Are Those Morgans, LLC. Republishing this article and/or any of its contents (text, photography, maps, graphics, etc.) in whole or in part is strictly prohibited.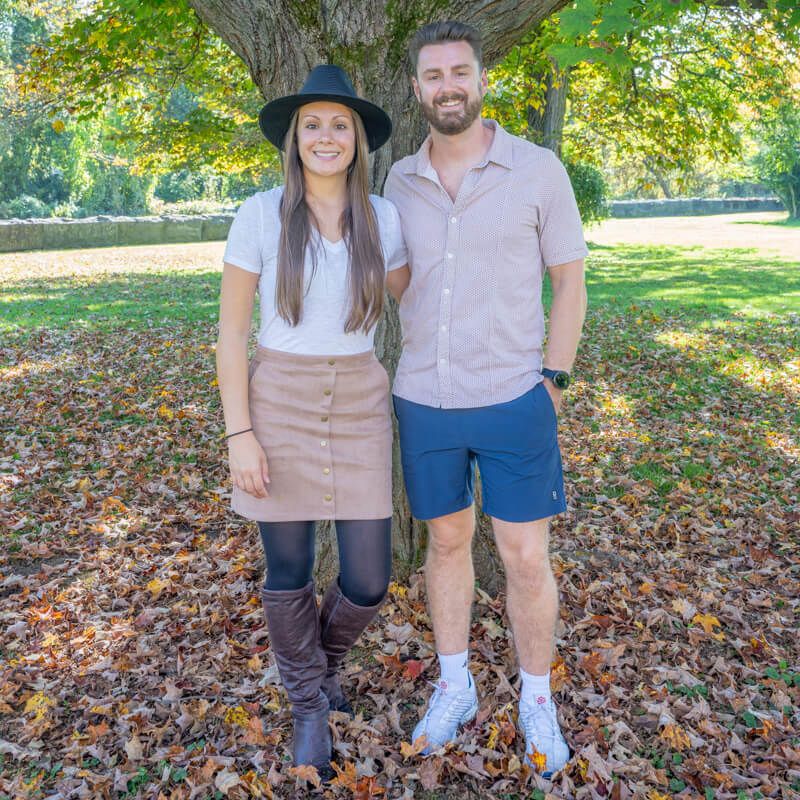 Mark and Kristen Morgan are travel, hiking and photography experts. Over the last 6 years traveling full time, they have explored more than 40 countries and 30 US states.
Their work has been featured in USA Today, Gestalten, Get Your Guide, CityPASS and Condé Nast Traveler along with various other publications.