There is something remarkable about New York City. You can feel it the first time you visit. This extensive post about New York quotes is meant to inspire and motivate you to visit this iconic city.
For us, New York City will always hold a special place in our hearts. New York was the first city we lived in as a married coupled and it was the location of our first 'official' apartment (a big deal for long term travelers).
We moved to NYC during third wave of the pandemic. What we experienced in New York during this time was unique, raw and emotional. There were many days we walked down 5th Avenue… alone.
But we lived in New York City long enough to see the resilience of New Yorkers. NYC is a place that breeds individuals who never give up and look brightly to the future. We witnessed first hand the strength, determination and power this city has to offer.
This comprehensive list of New York quotes is meant to inspire and encourage you to visit one of the most impressive and dynamic cities in the world.
We will show you quotes including:
Famous and greatest quotes about New York City
New York City song quotes
New York quotes from movies
Quotes about New Yorkers
Statue of Liberty Quotes
NYC funny quotes
Puns about New York City
Sex and the City quotes
Now, let's find the best New York quotes for your trip to the Big Apple!
Famous Quotes About New York City
1). "I go to Paris, I go to London, I go to Rome, and I always say, "There's no place like New York. It's the most exciting city in the world now. That's the way it is. That's it." – Robert De Niro
2). "This is the city of dreamers and time and again it's the place where the greatest dream of all, the American dream, has been tested and has triumphed." – Michael Bloomberg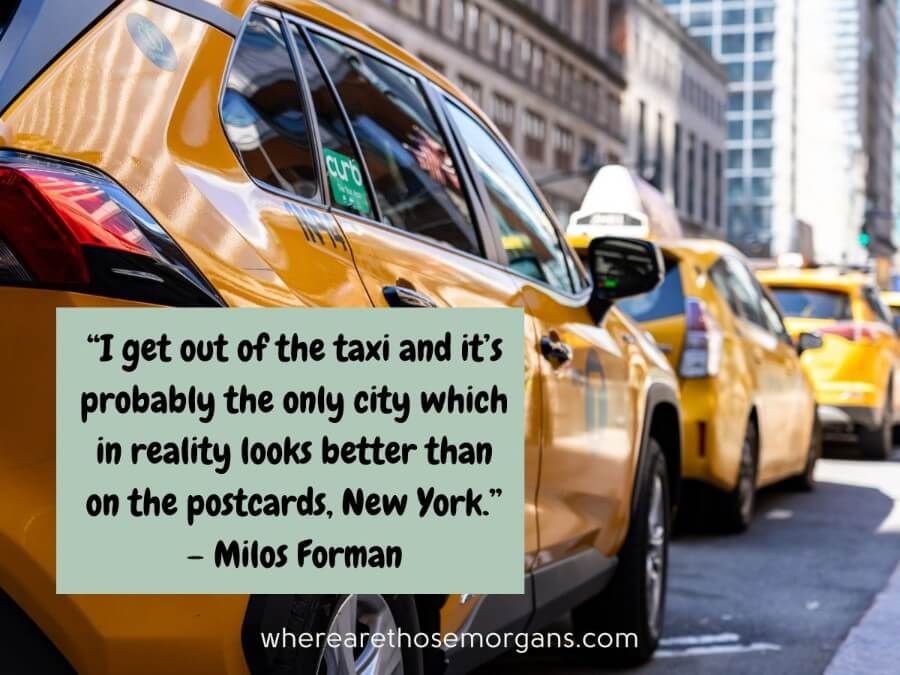 3). "I get out of the taxi and it's probably the only city which in reality looks better than on the postcards, New York." – Milos Forman
4). "Make your mark in New York and you are a made man." – Mark Twain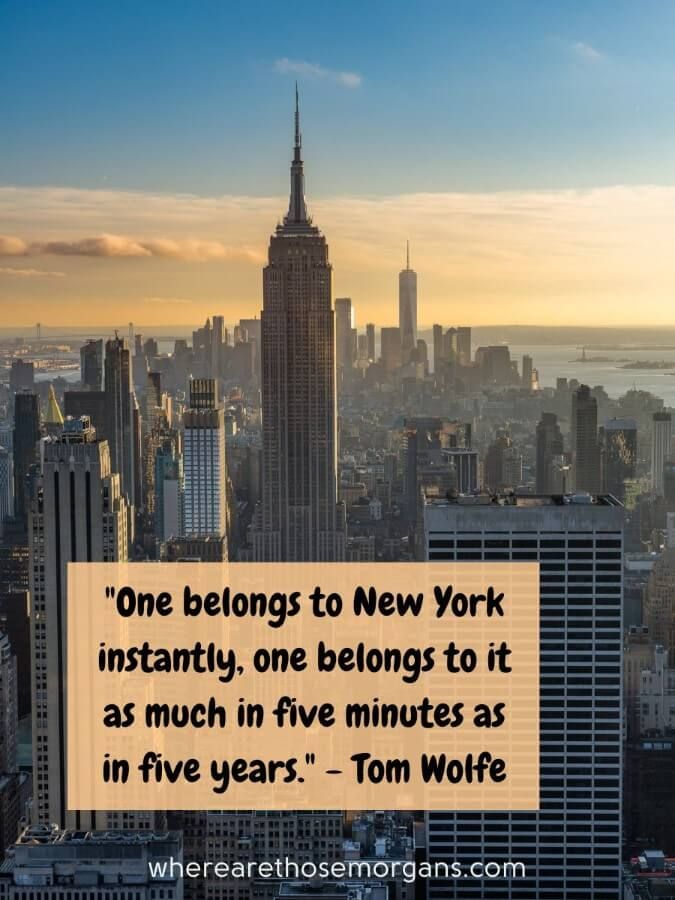 5). "One belongs to New York instantly, one belongs to it as much in five minutes as in five years." – Tom Wolfe
Heading to New York City? Don't miss our popular New York City itinerary to help you plan your trip.
Greatest New York City Quotes
6). "When you leave New York, you are astonished at how clean the rest of the world is. Clean is not enough." – Fran Lebowitz
7). "New York is not a city – it's a world." – Iman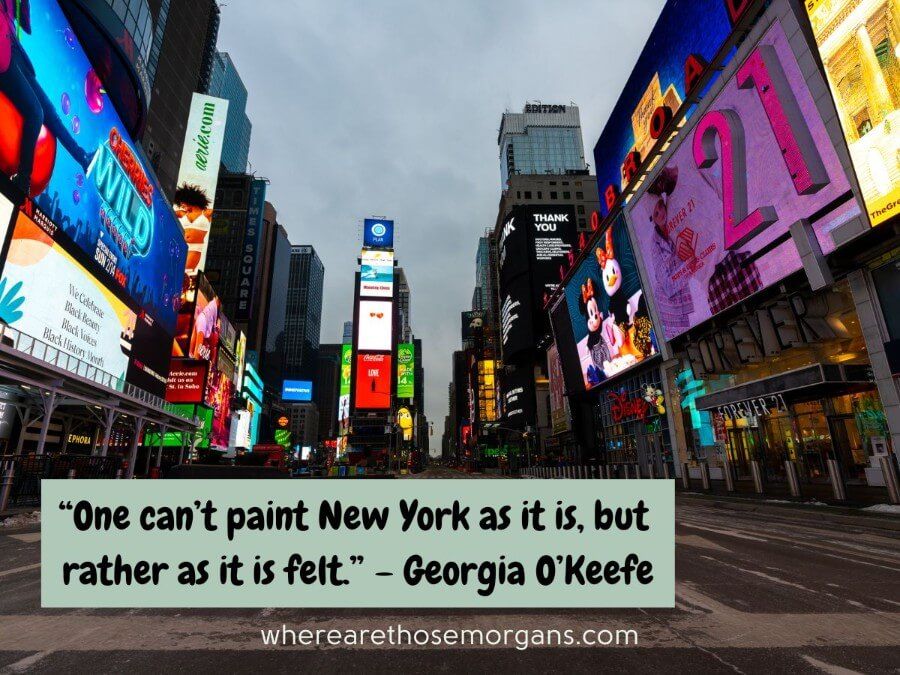 8). "One can't paint New York as it is, but rather as it is felt." – Georgia O'Keefe
9). ''I would give the greatest sunset in the world for one sight of New York's skyline.' – Ayn Rand
10). "I don't like cities. But I like New York. Other places make me feel like a dork." – Madonna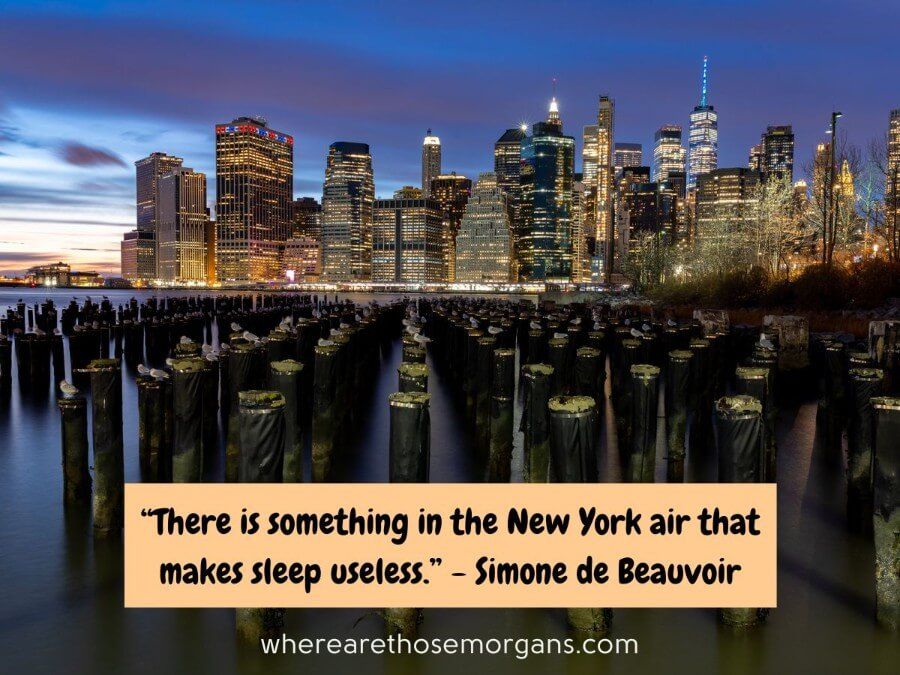 11). "There is something in the New York air that makes sleep useless." – Simone de Beauvoir
12). "I look out the window and I see the lights and the skyline and the people on the street rushing around looking for action, love, and the world's greatest chocolate chip cookie, and my heart does a little dance." – Nora Ephron
13). "If London is a watercolor, New York is an oil painting." – Peter Shaffer
14). "If you want to become a real New Yorker, there's only one rule: You have to believe New York is, has been, and always will be the greatest city on earth. The center of the universe." – Ellen R. Shapiro
15). "The city seen from the Queensboro Bridge is always the city seen for the first time, in its first wild promise of all the mystery and the beauty in the world." – F. Scott Fitzgerald
Need a place to stay during your visit to New York? Read our where to stay in NYC guide broken down by each neighborhood featuring the best hotels.
New York City Song Quotes
16). "Welcome to New York. It's been waiting for you." – Taylor Swift
17). "I want to be a part of it, New York, New York." – Frank Sinatra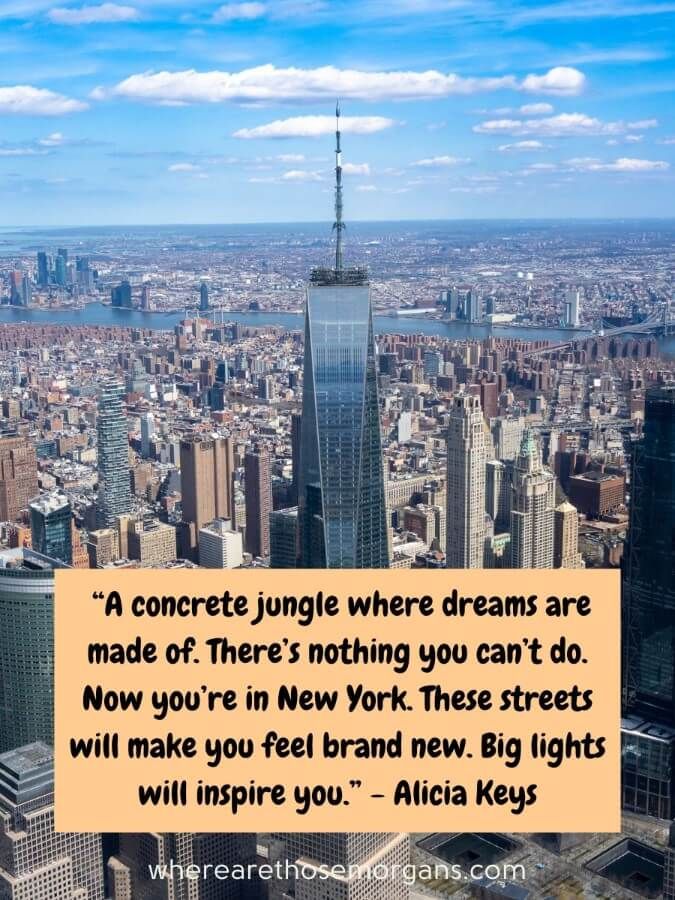 18). "A concrete jungle where dreams are made of. There's nothing you can't do. Now you're in New York. These streets will make you feel brand new. Big lights will inspire you." – Alicia Keys
19). "I'm in a New York state of mind." – Billy Joel
20). "Spread love it's the Brooklyn Way" – The Notorious B.I.G
21). "Times Square can't shine as bright as you." – Plain White T's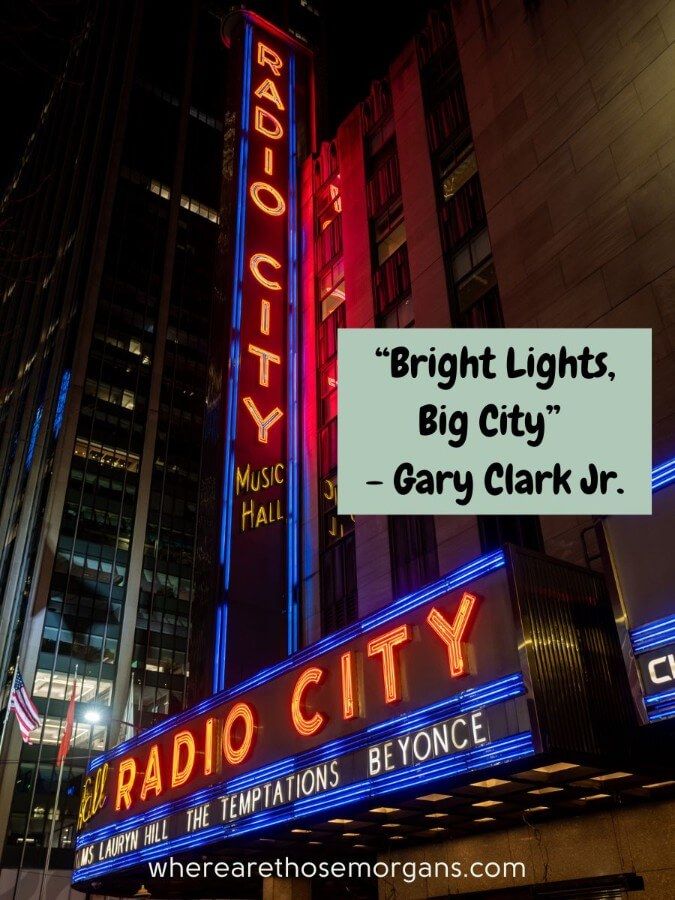 22). "Bright Lights Big City" – Gary Clark Jr.
Considering a NYC observation deck? Don't miss our popular guides to Edge at Hudson Yards and SUMMIT One Vanderbilt.
New York Quotes From Movies
23). "Here we are Marv, New York City, the land of opportunity." – Harry, Home Alone 2: Lost in New York
24). "My father told me we was all born of blood and tribulation, and so then too was our great city." – Amsterdam Vallon, Gangs of New York
25). "Well, like you said there's no friends on Wall Street. Right?" – Naomi Lapaglia, The Wolf of Wall Street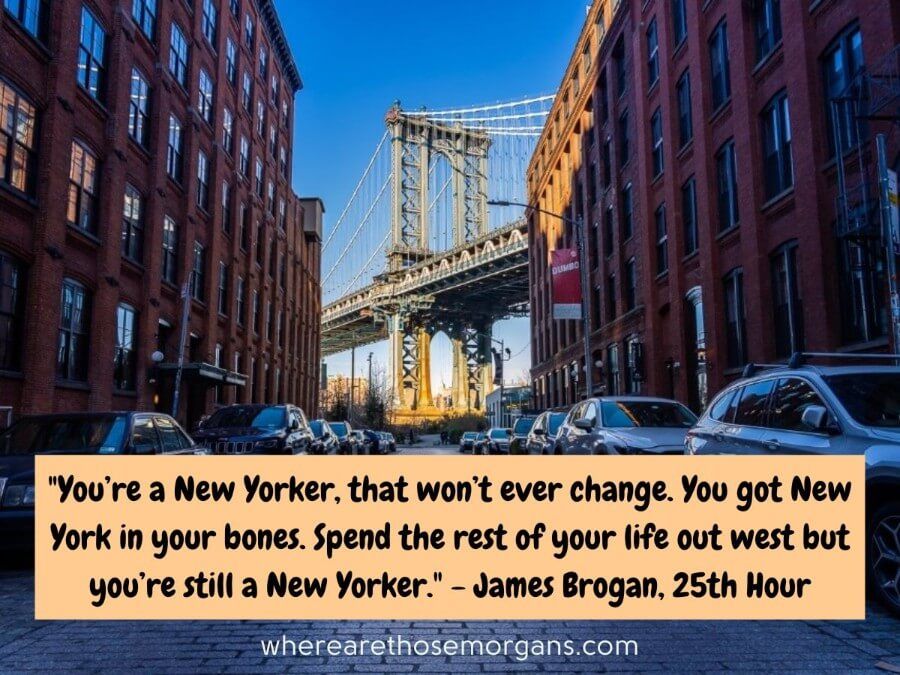 26). "You're a New Yorker, that won't ever change. You got New York in your bones. Spend the rest of your life out west but you're still a New Yorker." – James Brogan, 25th Hour
27). "The only people who can afford to be artists in New York are rich." – Sophie, Frances Ha
28). "And I always heard people in New York never get to know their neighbors." – Paul Varjak, Breakfast at Tiffany's
29). "I always dreamed of going to Madison Square Gardens, see the Knicks play." – Jackie Chan, Rush Hour 2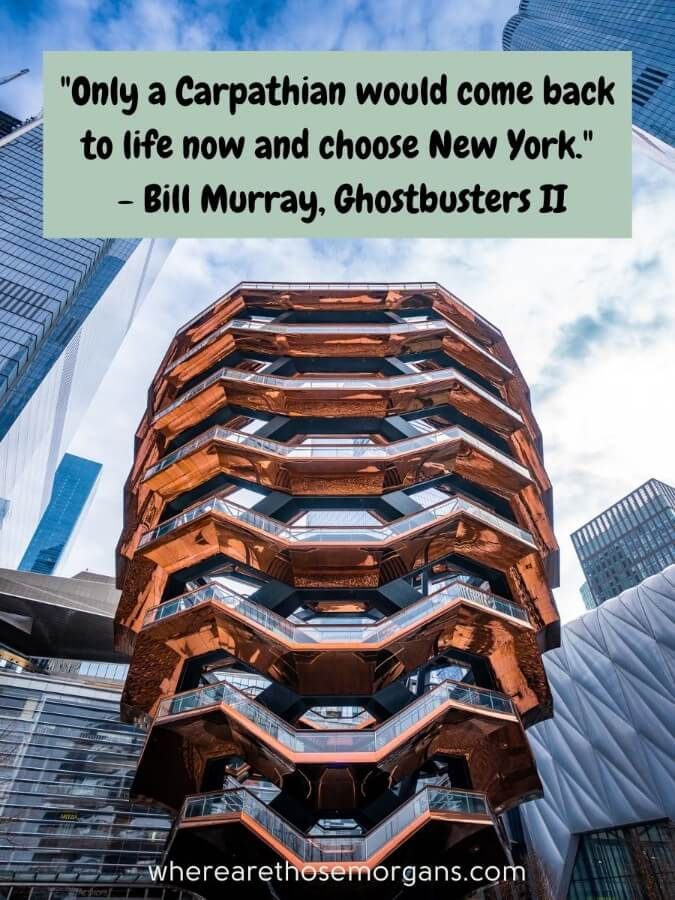 30). "Only a Carpathian would come back to life now and choose New York." – Bill Murray, Ghostbusters II
Quotes About New Yorkers
31). "My favorite thing about New York is the people, because I think they're misunderstood. I don't think people realize how kind New York people are." – Bill Murray
32). "But there is one thing about it—once you have lived in New York and it has become your home, no place else is good enough." – John Steinbeck
33). "New York is the meeting place of the peoples, the only city where you can hardly find a typical American."– Djuna Barnes
34). "New York is made up of millions of different people, and they all come here looking for something." – Lindsey Kelk
35). "When it's 100 degrees in New York, it's 72 in Los Angeles. When it's 30 degrees in New York, in Los Angeles it's still 72. However, there are 6 million interesting people in New York, and only 72 in Los Angeles." – Neil Simon
36). "New York City is one of the greatest places on the planet. You have the best in food, art, theatre, and definitely people-watching." – Matt Bomer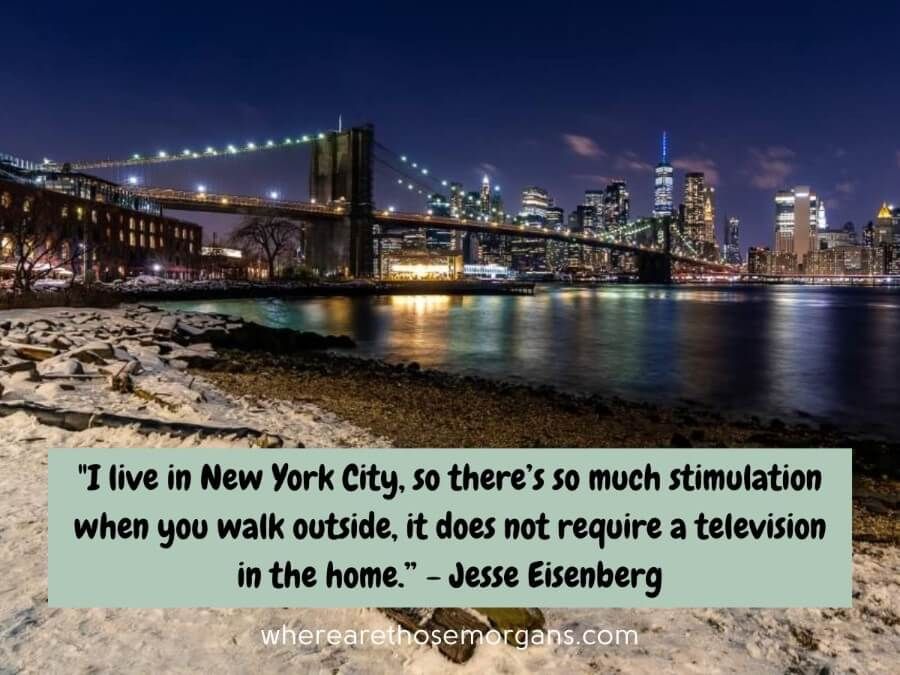 37). "I live in New York City, so there's so much stimulation when you walk outside, it does not require a television in the home." – Jesse Eisenberg
38). "The great city of New York wields more of the destinies of this great nation that five times the population of any other portion of the country." –Malcolm S. Forbes
39). "New York ladies all look immaculate." – Zac Posen
Want the see the top NYC highlights? Read the complete guide to the best things to do in New York City.
Statue Of Liberty Quotes
40). "Living in New York City, I am reminded by the Statue of Liberty that the United States of America has always welcomed those yearning to breathe free and seek a better life." – Charles B. Rangel
41). "And you have to remember that I came to America as an immigrant. You know, on a ship, through the Statue of Liberty. And I saw that skyline, not just as a representation of steel and concrete and glass, but as really as the American Dream." – Daniel Libeskind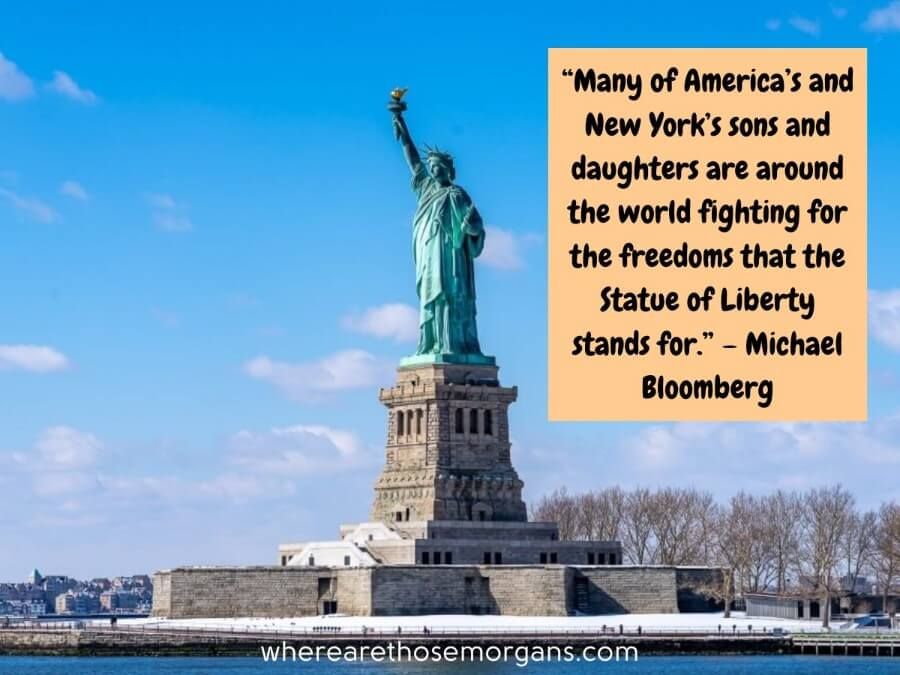 42). "Many of America's and New York's sons and daughters are around the world fighting for the freedoms that the Statue of Liberty stands for." – Michael Bloomberg
43). "The most powerful visual in America today is actually the Statue of Liberty." – Frank Luntz
44). "It's not enough for the torch of liberty to be held up high only by one woman, every human must hold the torch up high in every corner of the world." – Abhijit Naskar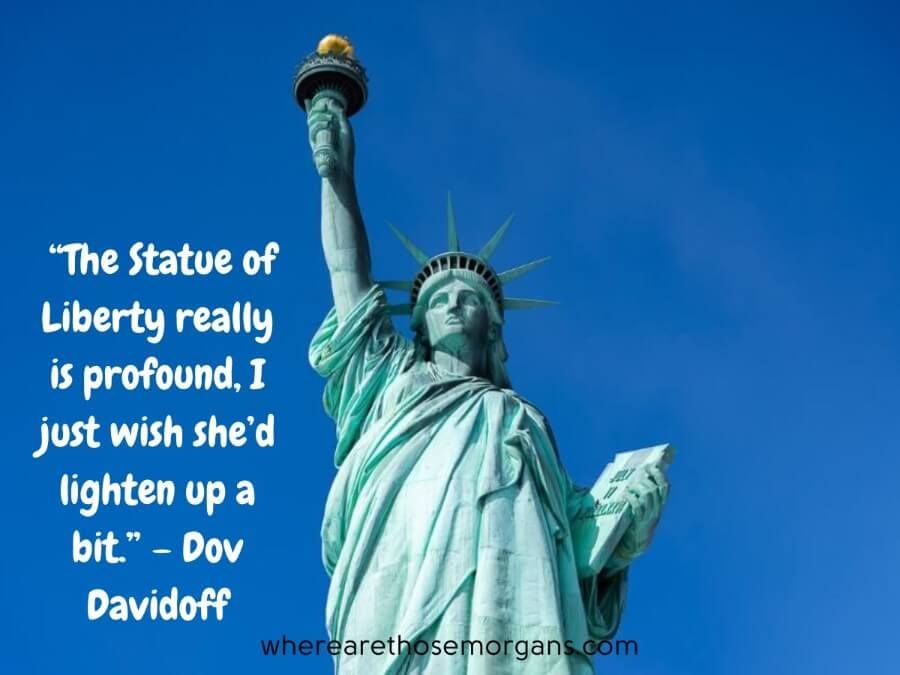 45). "The Statue of Liberty really is profound, I just wish she'd lighten up a bit." – Dov Davidoff
Further Reading: Exactly how to get the Statue of Liberty and Ellis Island ferry.
Funny NYC Quotes
46). "Anytime four New Yorkers get into a cab together without arguing, a bank robbery has just taken place." – Johnny Carson
47). "Being a New Yorker grounds you in every way. Before you walk out of the house, you can dress in the nicest clothes and be whoever you think you are, but when you're on those streets, you're just in the school of fish." – Awkafina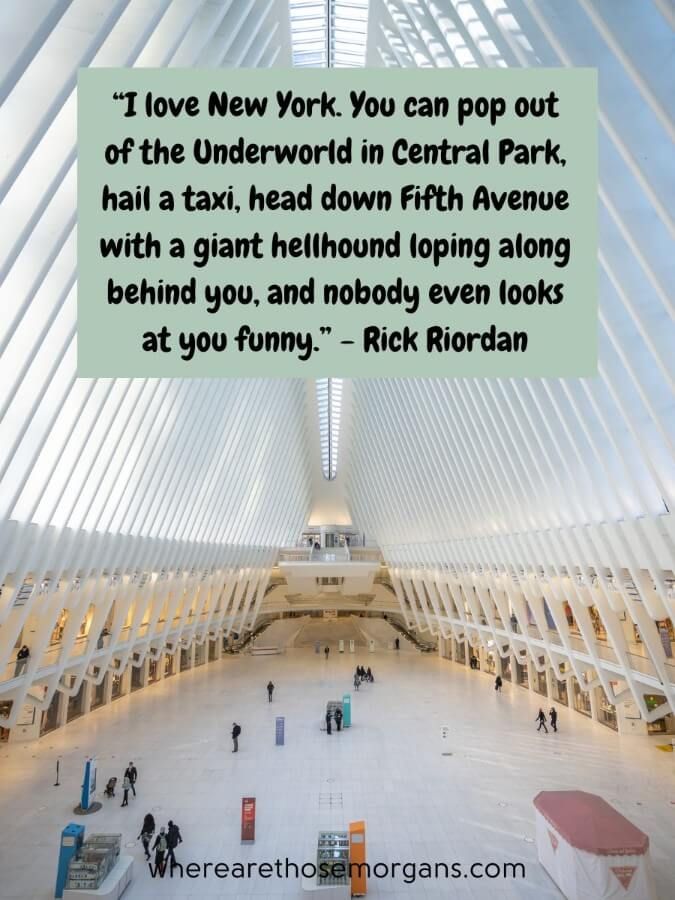 48). "I love New York. You can pop out of the Underworld in Central Park, hail a taxi, head down Fifth Avenue with a giant hellhound loping along behind you, and nobody even looks at you funny." – Rick Riordan
49). "The crime problem in New York is getting really serious. The other day the Statue of Liberty had both hands up." – Jay Leno
"50). On a New York subway, you get fined for spitting, but you can throw up for nothing." – Lewis Grizzard
51). "New York may be overcrowded and overpriced, but it's the only place you can get a good bacon, egg and cheese" – Samantha Oppenheimer
52). "New York is the only city in the world where you can get run down on the sidewalk by a pedestrian." – Russell Baker
Puns About New York City
53). Finally made it to the Statue of Liberty. It's a boat time!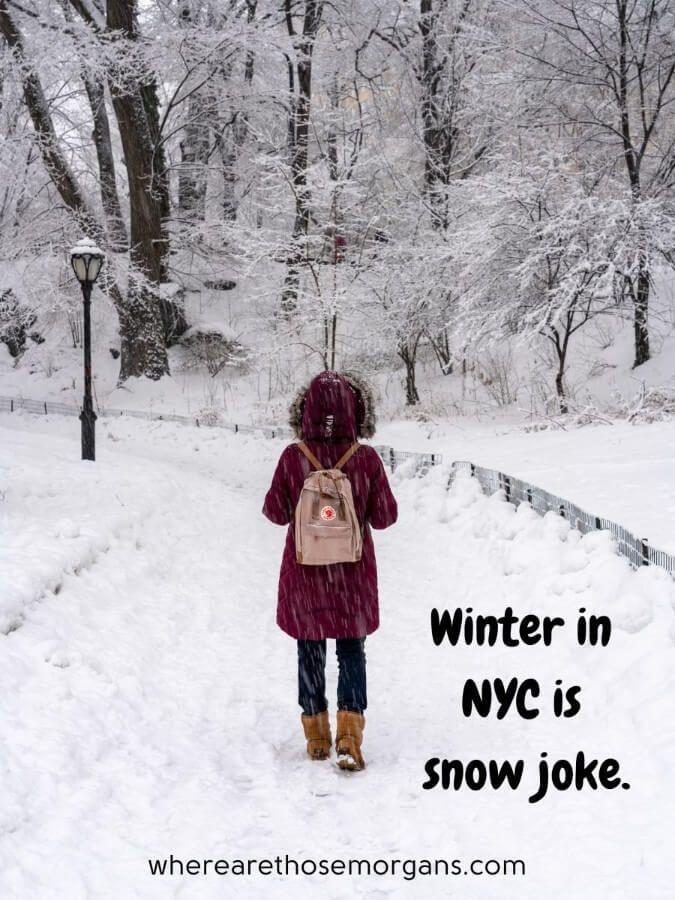 54). Winter in NYC is snow joke.
55). A trip to New York takes quite a bit of dough.
56). I got these Statue of Liberty tickets from my Ferry Godmother.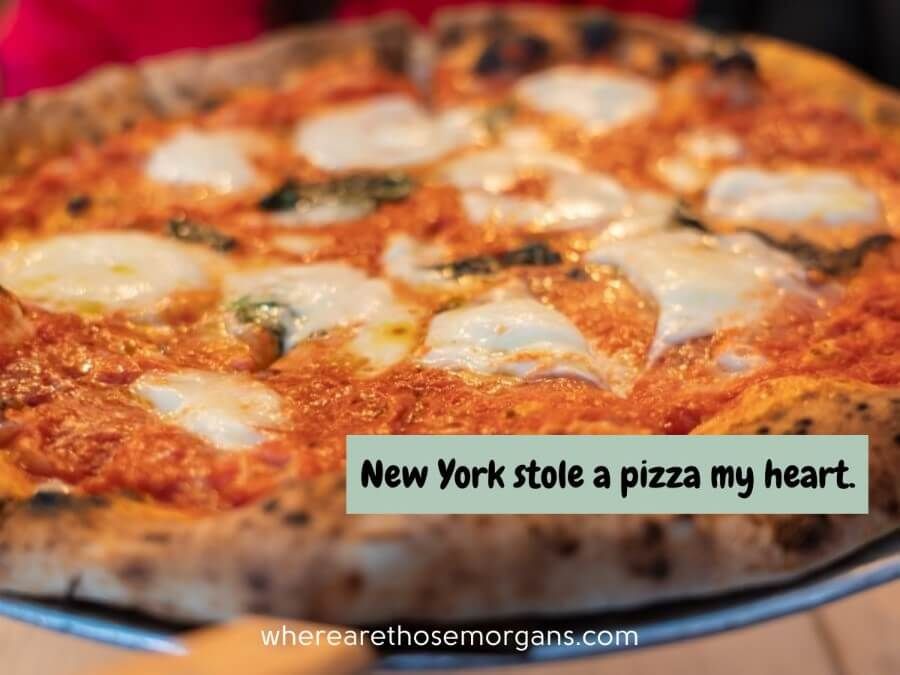 57). New York stole a pizza my heart
58). New York hot dogs are total weiners.
59). After a day of sightseeing, I'm Central Park-ing myself here for the night.
60). Central Park always perks me up.
61). The Statue of Liberty was ahead of her time. You can tell because she already had a tablet.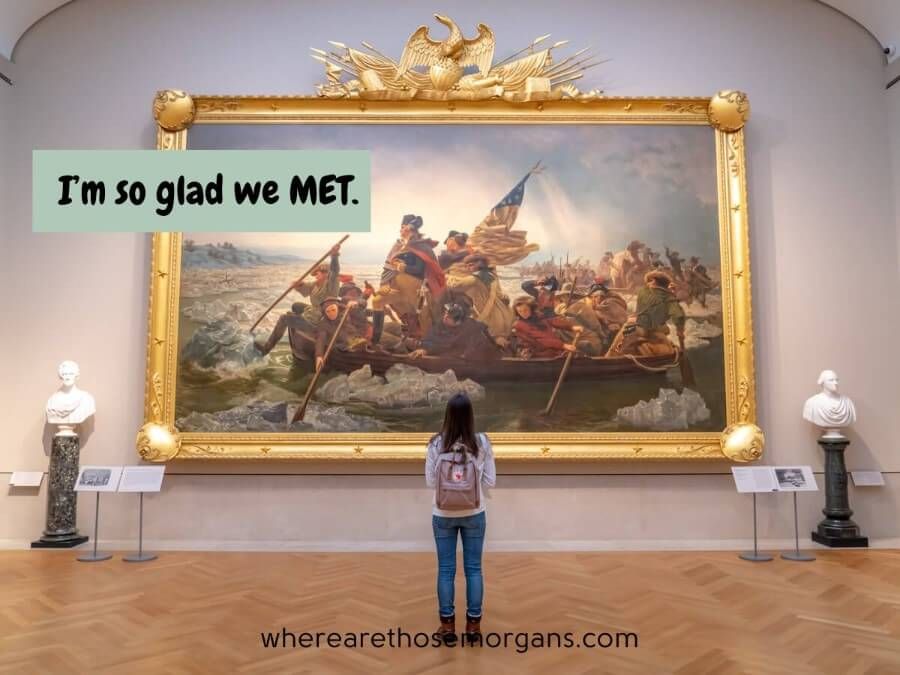 62). I'm so glad we MET.
Interested In New York State? You might like our popular guide featuring the best waterfalls in NY.
Best Sex And The City Quotes
63). "Men in their forties are like The New York Times Sunday crossword puzzle. Tricky, complicated, and you're never really sure you've got the right answer." – Mr. Big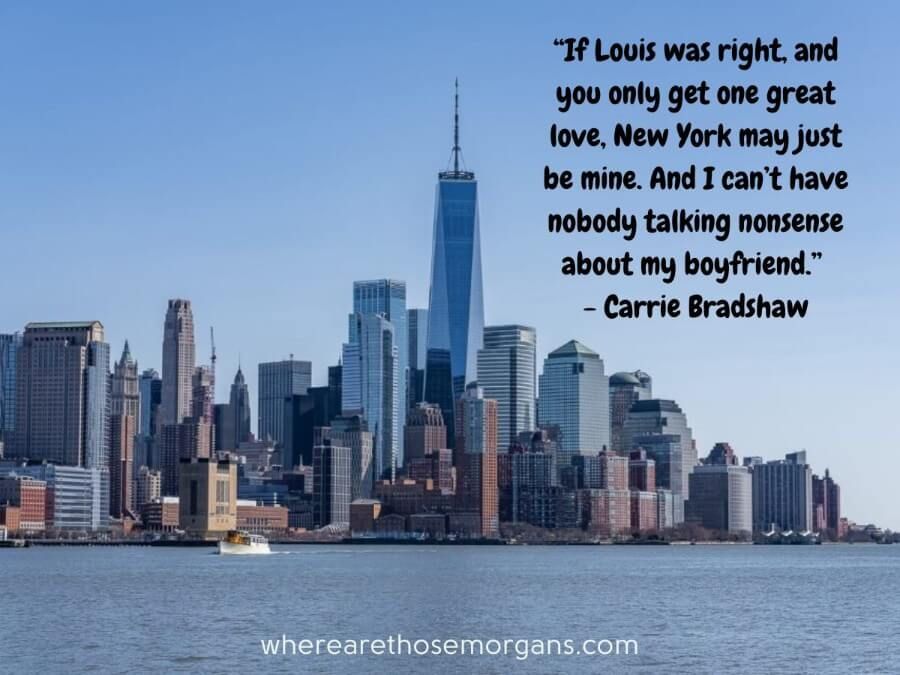 64). "If Louis was right, and you only get one great love, New York may just be mine. And I can't have nobody talking nonsense about my boyfriend." – Carrie Bradshaw
65). "When I first moved to New York, I bought Vogue instead of dinner. I just felt it fed me more." – Carrie Bradshaw
66). "In New York, you're always looking for a job, apartment, or a boyfriend." – Carrie Bradshaw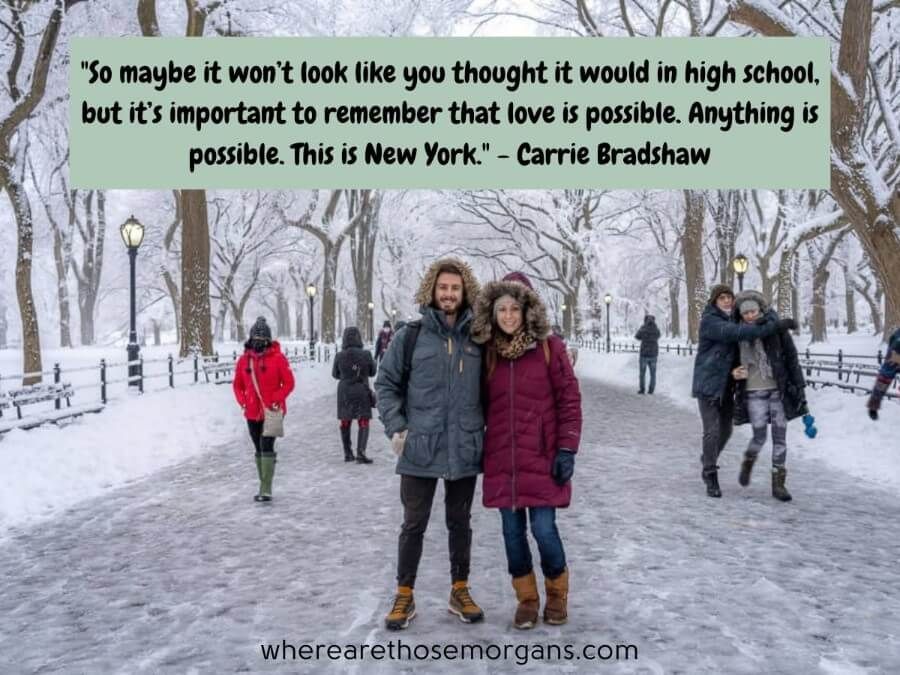 67). "So maybe it won't look like you thought it would in high school, but it's important to remember that love is possible. Anything is possible. This is New York." – Carrie Bradshaw
68). Carrie: "New York Magazine says Brooklyn is the new Manhattan." Miranda: "Yes, but whoever wrote that lives in Brooklyn." – Sex and the City
Visiting NYC in Winter? Don't miss the ultimate guide to visiting New York City in winter.
New York City Quote FAQ's
Let's take a look at some of the most frequently asked questions regarding quotes about New York!
What Should I Caption A New York Post?
The best captions for a New York post include:
-I'm in a New York state of mind.
-Anything is possible. This is New York.
-New York stole a pizza my heart.
-New York is not a city – it's a world.
-Finally made it to the Statue of Liberty. It's a boat time!
Why Is New York The Greatest City?
New York City is one of the greatest cities in the world because it offers an abundance of culture and diversity. With over 8 million people living in New York City and an endless list of things to do, you are spoiled for choice.
What Is New York Known For?
New York is known for its food, culture, art and museums. Popular attractions and locations include:
-Times Square
-Statue of Liberty
-Central Park
-Fifth Avenue
-The Metropolitan Museum of Art
-Grand Central Station
-Empire State Building
-Pizza and bagels
Why Is NYC Called The Big Apple?
The 'Big Apple' nickname in New York became popular in the 1920's when John J. Fitz Gerald wrote horse-racing articles for the New York Morning Telegraph. During this time, prizes or 'big apples' were rewarded at many of the New York City racing courses.
Our Popular Quotes Guides
Best Of USA Travel
---
We hope this guide to New York quotes helps with inspiring your trip to the Big Apple!
Please let us know if you have any questions about New York City quotes or any upcoming trip in the comments below.
Happy Travels,
Mark and Kristen
Enjoy This NYC Quotes Guide? Pin It For Later!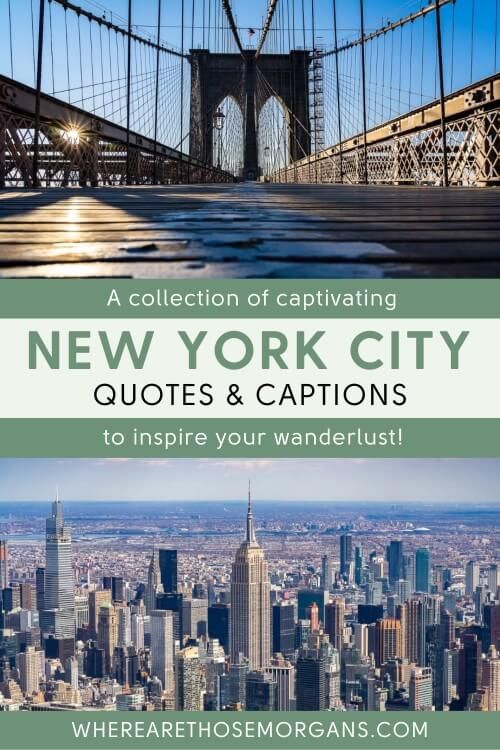 Note: This article contains affiliate links. When you make a purchase using one of these affiliate links, we may earn a small commission at no extra cost to you.
All Rights Reserved © Where Are Those Morgans, LLC. Republishing this article and/or any of its contents (text, photography, maps, graphics, etc.) in whole or in part is strictly prohibited.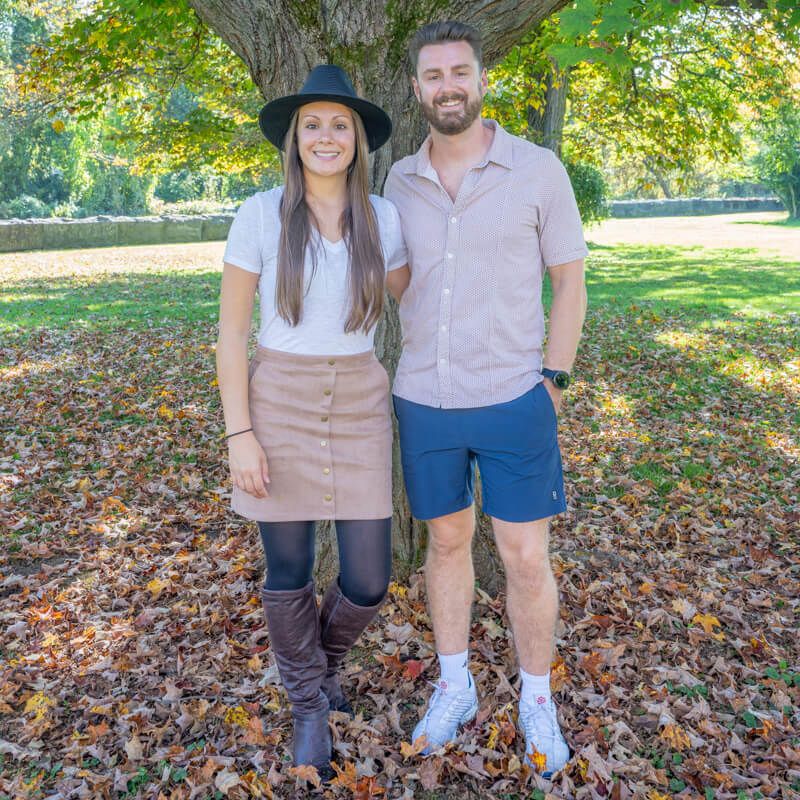 Mark and Kristen Morgan are travel, hiking and photography experts. Over the last 6 years traveling full time, they have explored more than 40 countries and 30 US states.
Their work has been featured in USA Today, Gestalten, Get Your Guide, CityPASS and Condé Nast Traveler along with various other publications.