Mist Trail is the most popular hike at Yosemite National Park and we're going to explain all you need to know about the ultra-scenic ascent passing picturesque Vernal Fall and Nevada Fall, before descending via John Muir Loop Trail.
Mist Trail is a fantastic half day hike taking in spectacular Yosemite scenery. The ascent is demanding but worth the effort and if you visit when water volumes are high, Vernal and Nevada Falls will be in full awe-inspiring flow.
Alternatively, you can choose to hike up John Muir and down Mist Trail or go up and down the same trail. We'll explain the differences but focus on up the best route – up Mist and down John Muir – in this post.
Let's walk through the entire hike so you know what to expect!
2023 Update: You do not need an advanced reservation to visit Yosemite National Park this year. The only exception is weekends in February for those who want to see Horsetail Fall on fire.
Mist Trail vs John Muir Trail
Nevada Fall represents the summit of both Mist and John Muir Trails, but how do you know which is the better trail to ascend and descend?
Well, Mist is the more popular trail because it also passes by Vernal Fall whereas on John Muir you will not be able to enjoy the stunning waterfall.
However, Mist is – by quite a stretch – the steeper of the two trails. John Muir is a longer but more gradually inclining trail to Nevada Fall.
If you prefer an easier climb and don't mind a steeper descent – go up John Muir and back down Mist Trail. Alternatively, if you prefer the harder climb and an easier descent, go up Mist and back down John Muir.
One more thing to consider is how slippery Mist Trail can become when Vernal Fall is in full flow (Spring). Spray and leaves can cause stone stairs to be hazardous.
Personally, we hiked up Mist Trail and enjoyed the gradual descent on John Muir.
You might want to consider tracking your hike using one of the best hiking apps on the market. We always download hiking trails to the offline maps area in Gaia GPS so we can follow our progress and track our stats.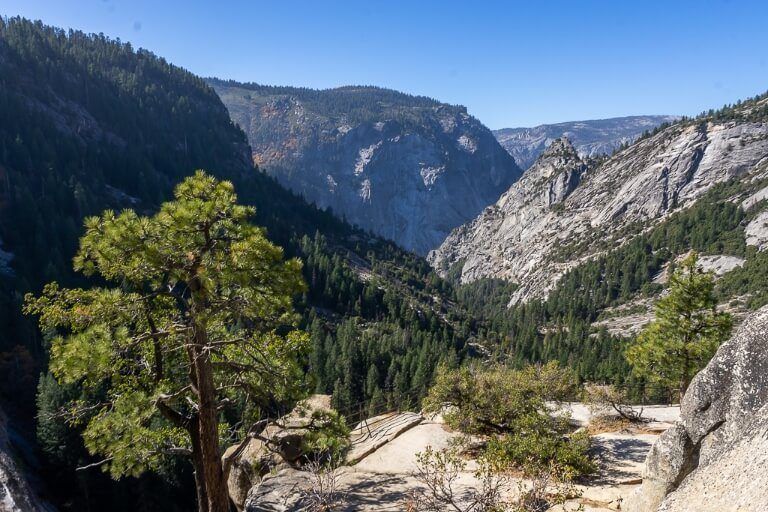 Yosemite Mist Trail / John Muir Trail Details
Trail Distance: Total distance depends on out-and-back or loop as follows.

5.4 miles roundtrip via Mist trail only

OR 8 miles roundtrip if you take Mist up and John Muir down in a loop
ALSO add on 1.5 miles roundtrip if walking from Curry village to the trailhead instead of taking park shuttle to trailhead

Elevation Gain: 1,900 feet to Nevada Falls (highest point of Mist / John Muir Loop)
Trail Time: 4-6 hours full loop
Trail Difficulty: Moderate / Strenuous
A Quick Word On Half Dome
You might be thinking – what about Half Dome? Surely that's the most popular hike?
Yes, there's no doubt Half Dome is the undisputed king of Yosemite and one of the best hikes in the US. Every visitor to Yosemite would love to summit the skyline dominating, imperious granite Half Dome – but only 300 hikers each day are permitted to take on the steep finale.
However, no permits are required to hike the Yosemite Mist Trail. Therefore, when we say Mist is the most popular, that translates to Mist hosts the highest number of hikers per day in Yosemite.
Half Dome can only be hiked between Memorial Day and Columbus day and with a permit. Find more information on Half Dome permits here.
Don't sweat it if you can't get hold of a permit or you visit out of season. Yosemite is a stunning landscape with dozens of incredible hikes and here's something to remember: You can't see Half Dome from the top of Half Dome!
Mist Trail and John Muir loop is more than just a 'second-best' if you couldn't land a Half Dome permit.
Yosemite is one of the best US national parks to visit for a reason, there's still plenty for you to get stuck into.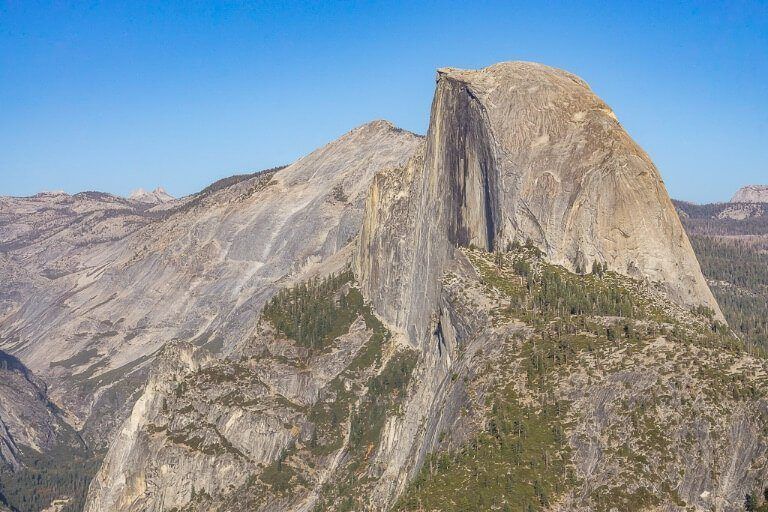 Yosemite Mist Trail / John Muir Loop Hike Overview
We hiked this trail during our visit to Yosemite National Park in October. This time of year has major benefits but also means water levels for the falls are disappointingly low.
This complete walkthrough of the Mist Trail – John Muir Trail loop hike beginning and ending at a parking lot near Curry Village at the furthest point East in Yosemite Valley will help you plan your hike.
If you're not sure about hotels or where to stay yet, read our popular guide about the best places to stay in Yosemite.
The hike is rated as moderate to strenuous but has no technical sections. As long as you are relatively fit, you can hike this trail. Look through our 21 tips for beginner hikers if this is one of your first major trails.
Let's hike!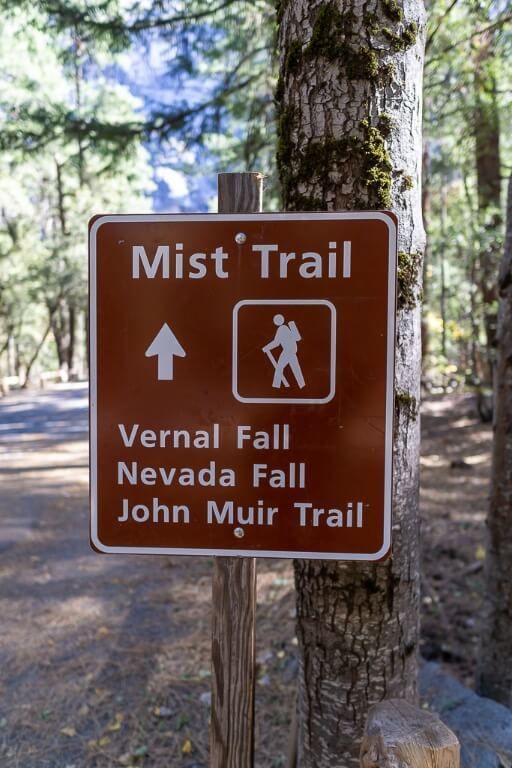 Mist and John Muir Hike Trailhead
Get an early start and park your car at 'Yosemite Valley Trailhead Parking', between Curry Village and Upper Pines Campground. If you're camping at Upper Pines, you can walk to the trailhead directly from your site.
You can either take the Yosemite Valley shuttle to stop 16 – Happy Isles – or walk from the parking lot to the Mist and John Muir Trailhead. If walking, you can either walk along the road or a much more picturesque forest trail running parallel.
Right after you cross Happy Isles Bridge, the trail begins with a sharp right turn, following the Eastern bank of the Merced River.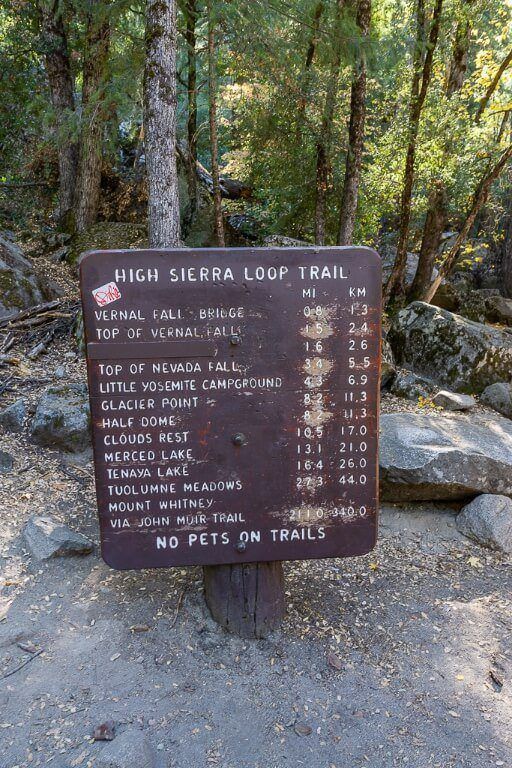 Mist / John Muir Trails Split
The trail is flat and easy to begin but there are some sections with elevation gain. Walking through a forested area with huge boulders to either side is a very picturesque start to your hike.
You will pass a sign showing distances of all routes on the High Sierra Loop Trail and eventually reach a walled area with amazing views of towering granite formations and dense forest to your right.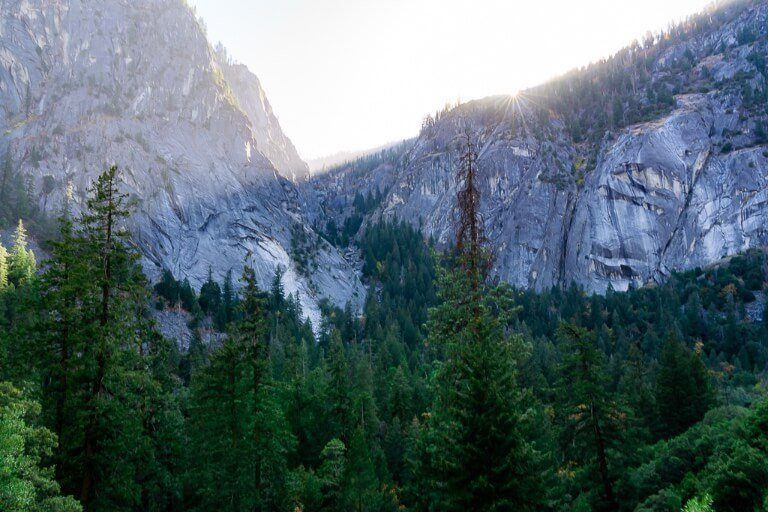 The climb gets steeper from here but the scenery becomes even better. You might see the sun just appearing over the tops of the granite rocks if you hike early to mid morning.
Not long after you cross Vernal Falls Bridge and just one mile after you begin the trail, you will reach the point in which Mist and John Muir trails split.
Hike to Vernal Falls
There is a very obvious split between John Muir trail (to the right) and Mist trail (to the left). Each is signposted with distances to landmarks along the way.
In this hiking guide we will continue up Mist trail to Vernal Falls and Nevada Fall, before descending John Muir and rejoining the trail at this point.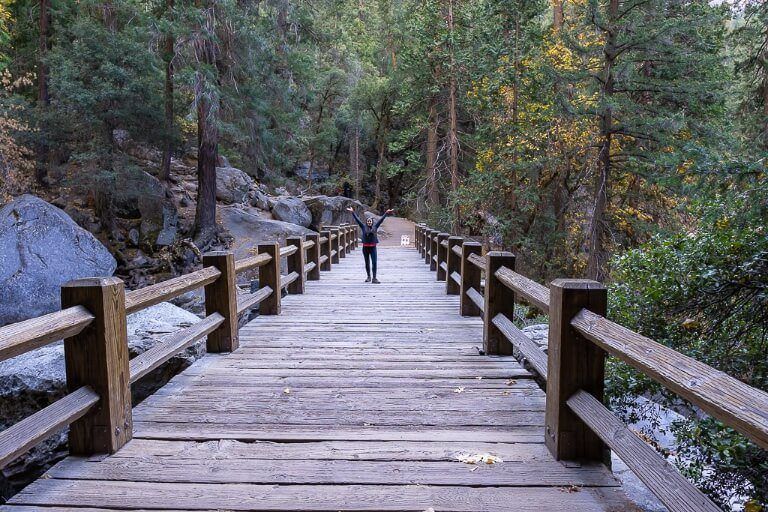 It's roughly half a mile from here to reach Vernal Falls but you can see the waterfall from quite a way back on the 600-step stone staircase trail as you approach.
The steps are relatively steep but you can take as long as you need with breaks in between.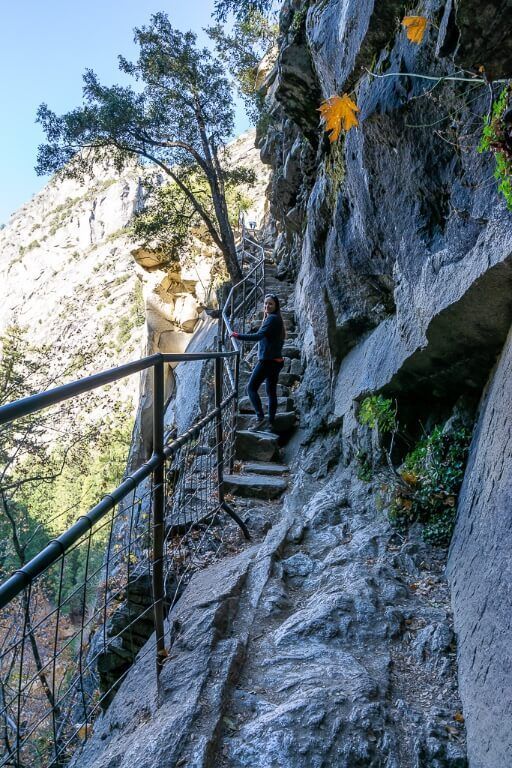 Vernal Falls
At 317 ft tall and against a flat walled backdrop, Vernal Falls is stunning. You might even catch a rainbow in the spray if conditions are perfect as the waterfall lands in a plunge pool.
Unfortunately, we visited in Fall after a Summer with very little rain so the waterfall was running very low. That's the trade off with benefiting from beautiful Fall colors in Yosemite Valley.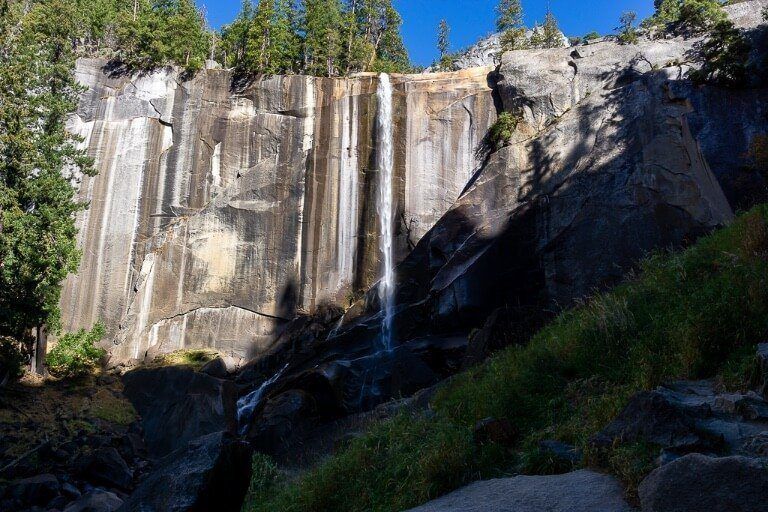 Something for photographers to consider – if you visit in Fall and hike early, deep dark shadows will cause enormous contrast in your images.
But there are dozens of vantage points and overlooks you can stop at to admire Vernal Fall and we suggest this as the ideal place to take a rest to refuel.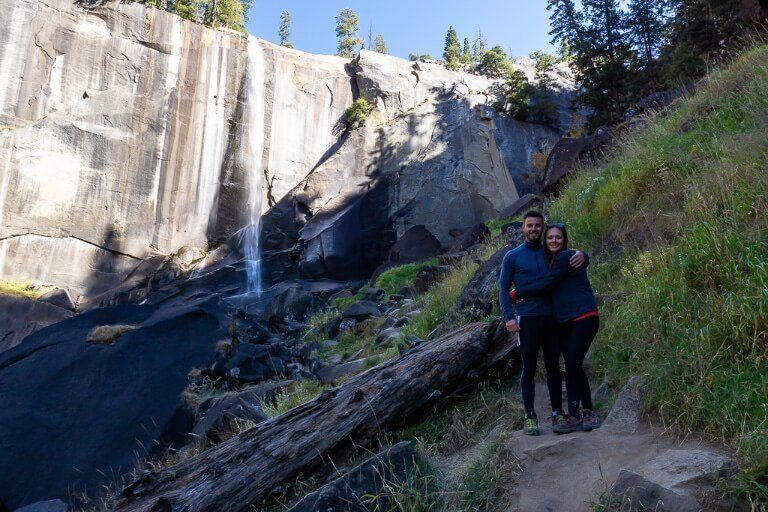 If you do visit in Spring or early Summer with the waterfall crashing over, be careful on the slippery steps and expect it to be extremely busy here. You will also take a considerable soaking here – hence the trail name: Mist!
A little further up you can actually stand right next to the Vernal Fall drop. This is a fenced off area and will be busy but the view is awesome and well worth a quick stop.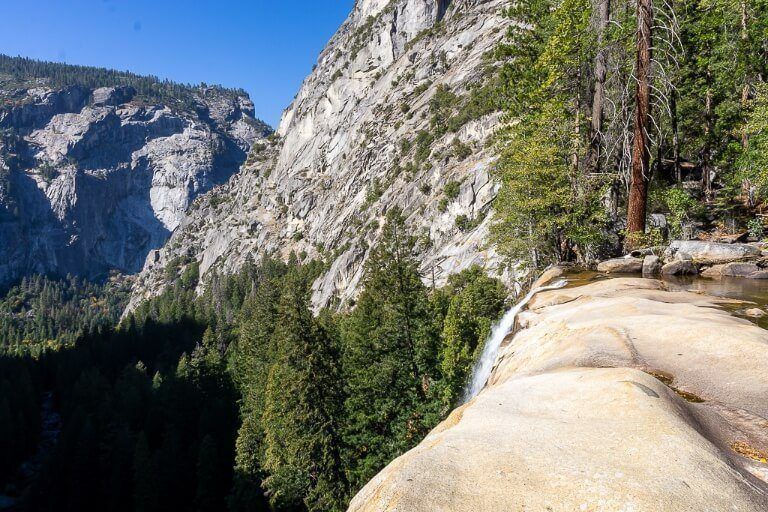 Hike to Nevada Fall
The hike from Vernal Falls to Nevada Falls is just under 1 mile. It is flat for a time before becoming the most difficult and steepest part of the ascent. Many hikers will turn around at Vernal Falls so you can expect this next section of the trail to be slightly less busy.
There is a restroom at the top of Vernal Falls, which we were grateful for on our hike! Not long after leaving Vernal Falls you will reach another small bridge. The river running down this flatter rocky area is called Silver Apron and you can get down close to a small waterfall for photographs.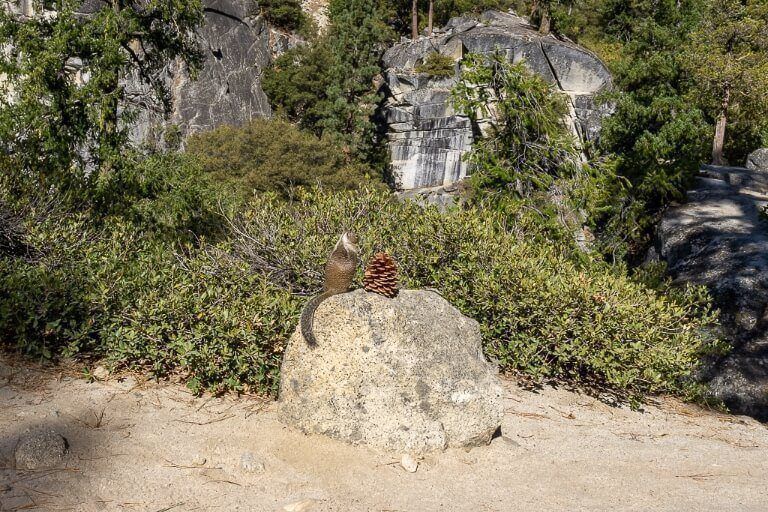 For around half a mile you will walk through an attractive forested area and eventually it opens up to reveal the first awesome shot of 594 ft tall Nevada Fall pummeling down from high above.
This is the summit of Mist trail and it doesn't look very far away. That's because it isn't but you have quite a bit of elevation to gain between here and the top.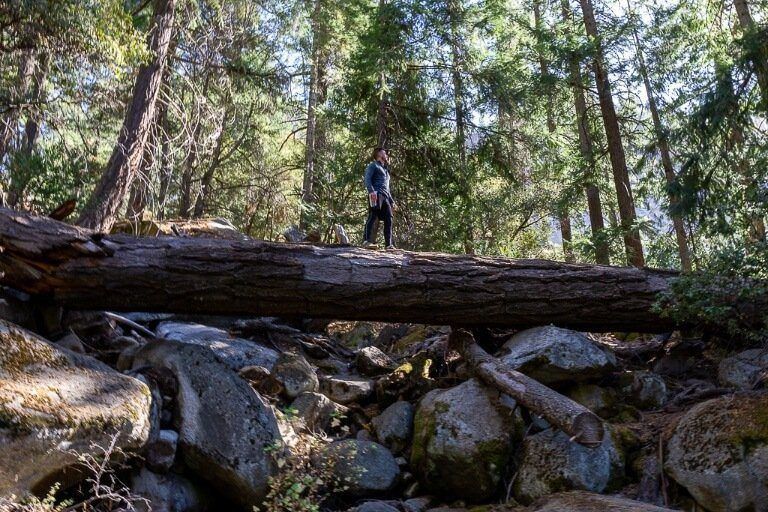 You will continue to climb through gorgeous forest and finally you will appear out of the canopy. From here you have open views of Nevada Fall and of Yosemite Valley behind you.
This next section is exposed and hard work when climbing on a hot day. We hiked at the end of October and it was hard enough with the heat, so in Summer you need to take care.
The last part of Mist trail is a short series of switchbacks to make up the remaining elevation before it ends at a crossroads:
To the left, Half Dome. To the right, Nevada Fall and John Muir trail.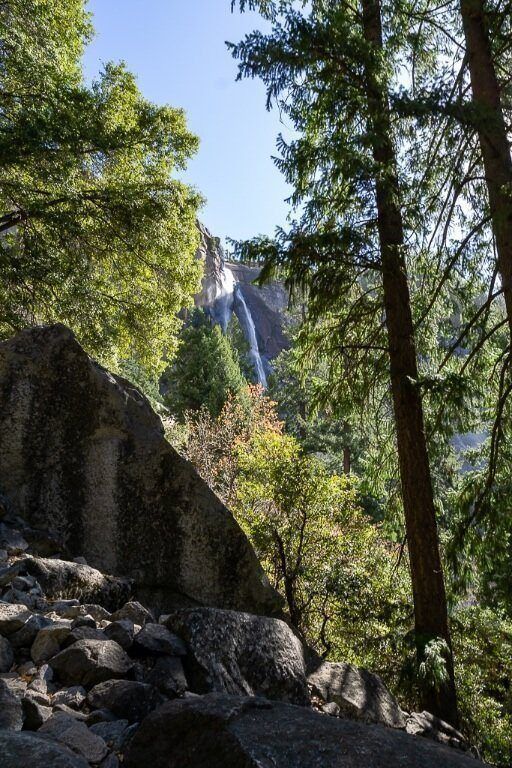 Nevada Fall
If you're 1 of the 300 (hikers, not Spartans) taking on Half Dome, this is where you will turn left to continue. However, for everyone else, this is where you turn right and head for Nevada Fall.
Right at this crossroads you will find another restroom (vaulted toilet).
The trail flattens as you walk across the summit of Mist / John Muir (which is a relief after the sharp final climb).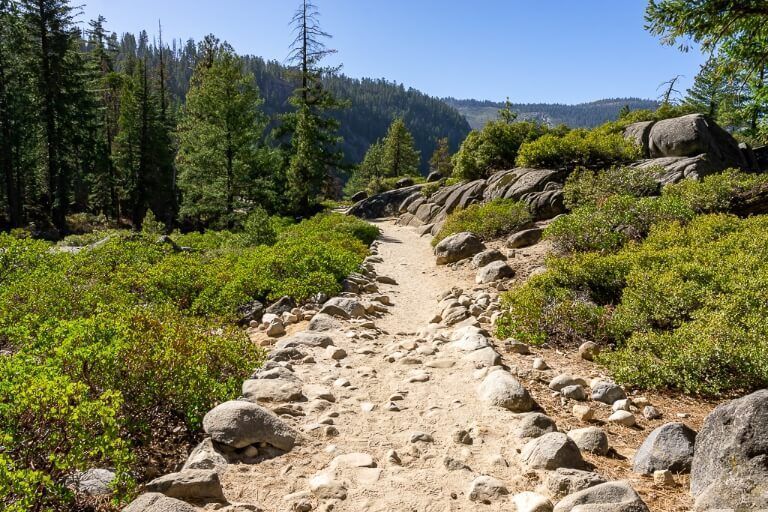 As you come to a wooden bridge spanning the very top of Nevada Fall, views into Yosemite Valley are amazing. But look to your immediate right and you have a monumentally sized granite dome booming into the sky.
That is not Half Dome. It is Liberty Cap.
Liberty Cap is a still a monster and a worthy climax to the effort you just made. The best view from this hike is yet to come…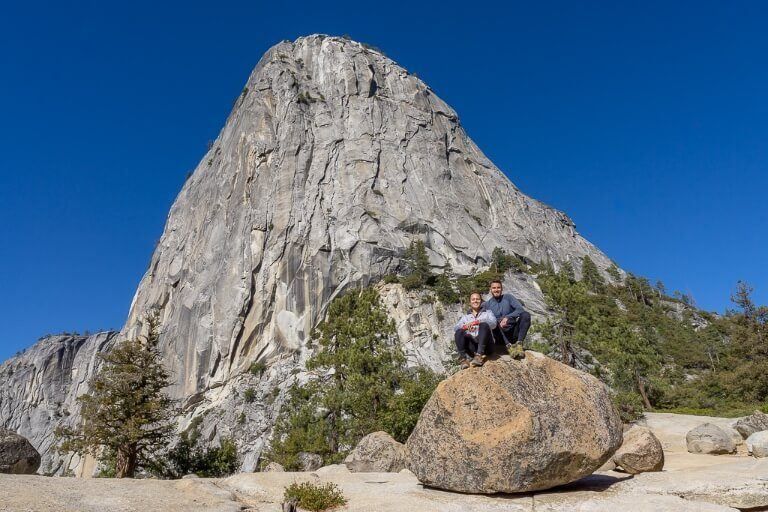 Hike John Muir Trail
Once you've admired the views, had lunch and topped up on electrolytes, it's time to begin your descent back to the valley floor.
John Muir is the slower and more gradual descent but you can go back down Mist trail for a quicker descent and of course another look at Vernal Falls.
Personally, we prefer to loop trail rather than out and back, mostly for a change of scenery.
The trail down begins through light forest and you can catch the occasional glimpse back at Liberty Cap. Around 10 minutes after you leave the top of Nevada Falls, you will reach a walled part of the trail as it narrows next to a cliff edge.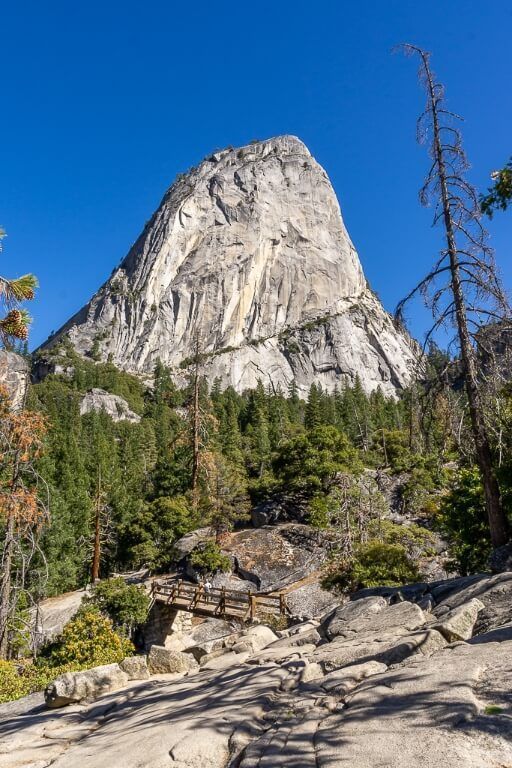 Look to your right and you will get one of the best photographs at Yosemite National Park – Nevada Falls bottom right, Liberty Cap standing proud in the center and Half Dome further back to the left.
That is the curved back side of Half Dome, not the sharp sliced off part.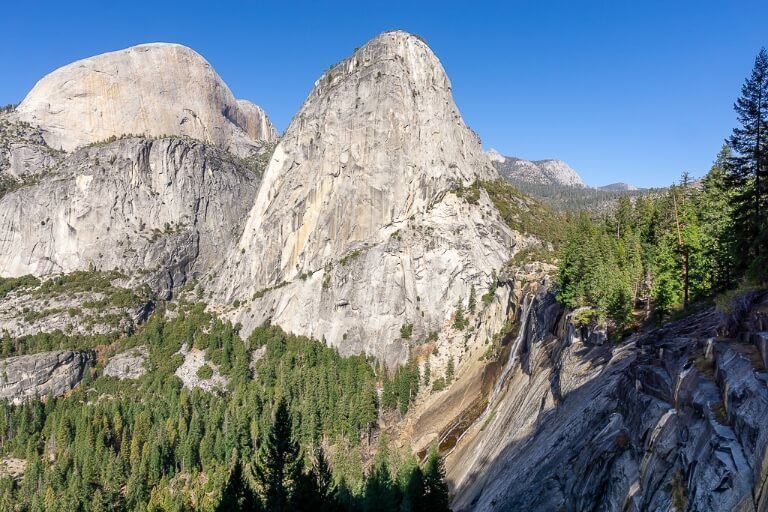 Just short of one mile further down the trail you will reach a fork in the path called Clark Point. Right here would take you back to Mist trail (like a cut through) before Vernal Falls so you could see it again.
Left continues down John Muir for 1 more mile before reaching the very first fork in the path separating Mist from John Muir. Then it's just a case of following the same path back 1 mile to the trailhead.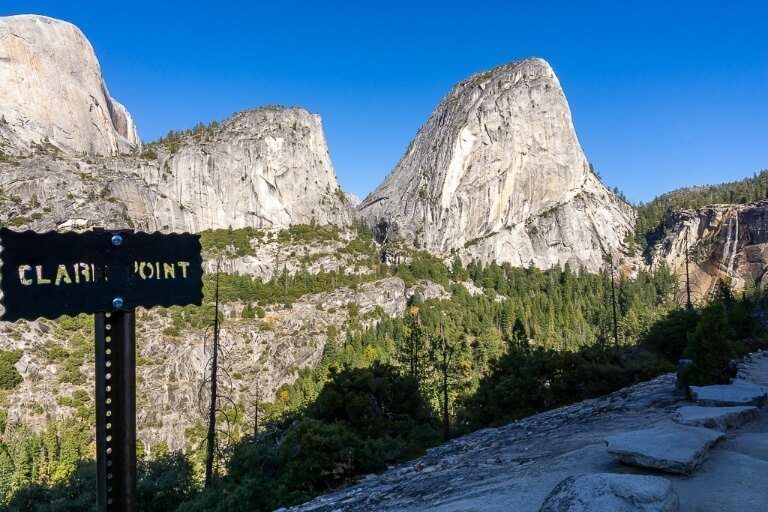 Plan your entire trip with our comprehensive Yosemite vacation planning guide, including the best things to do and photography locations – plus 1, 2 and 3 day itineraries perfect for all visitors.
Yosemite Mist / John Muir Trail Map
The map below shows everything you need to know about hiking the Mist and John Muir loop trail at Yosemite national park.
Follow the dotted orange line from the parking lot, past Vernal Fall to Nevada Fall summit, before descending via John Muir and returning to the parking lot.
In Winter, you must turn up John Muir as far as Clark Point before joining Mist to Nevada Fall and returning the same way.
Key:
Blue

Star – Park here to begin the hike

Orange

Line – Mist Trail to and from Nevada Fall

Purple

Line – John Muir Trail to and from Nevada Fall

Black

Line – Shortcut between trails at Clark Point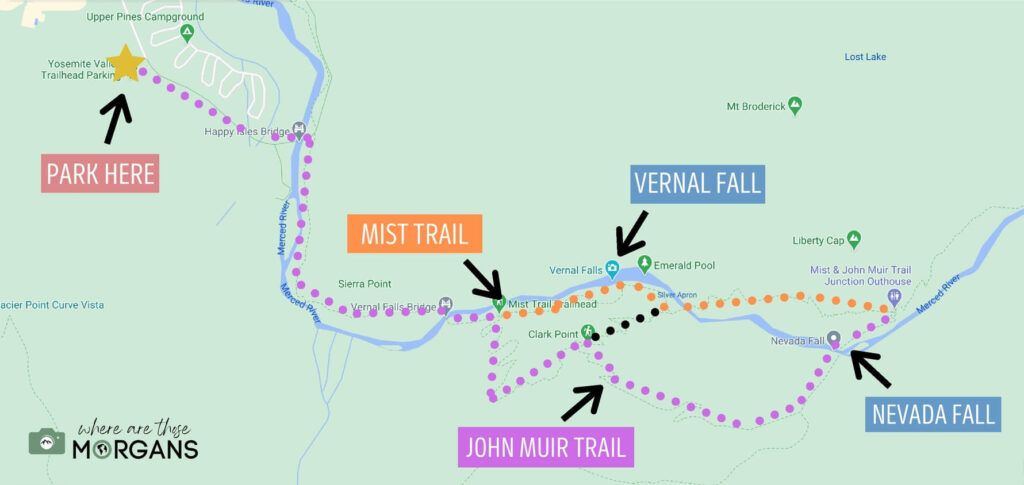 What To Pack For Your Hike
Packing for a mid to long day hike like Mist / John Muir trail requires correct gear and safety equipment, especially in bad weather or out of season.
Read our essential guide to the 10 most important things hikers should bring on a day hike for in depth packing information.
Best Time To Hike Yosemite Mist Trail
Trails to Vernal Fall and Nevada Fall are open all year. However, in Winter only a very specific route is open, with certain parts of the trail closing.
Winter: Far fewer people on the trail but extremely cold and treacherous conditions. If you hike in Winter, you must follow John Muir trail as far as Clark Point, take the cut through to Mist trail and continue up to Nevada Fall. You will miss out on Vernal Fall. Not recommended.
Spring: Spring is the best time to visit for the most powerful waterfalls and fewer people than Summer. Weather is more comfortable for hiking and you will get parked more easily, plus find it easier to get a hotel nearby / into a campground. Recommended.
Summer: Warmest weather and strong water flow for both waterfalls but extremely busy on the trails. Longer daylight hours means you can hike earlier or later in the day.
Fall: Low water levels mean both Vernal Fall and Nevada Fall will be far less impressive than in Spring or early Summer. More comfortable hiking temperatures and not as busy, plus you get to experience the Fall colors.
Read More About Yosemite National Park

…

Are you planning a longer visit to California? After Yosemite, take a week relaxing along one of the most iconic US road trips: the legendary Pacific Coast Highway.
You May Also Like

…
Need Help With Planning Your Trip To Yosemite National Park?
Yosemite is a spectacular landscape and a firm favorite among nature enthusiasts. But it is also one of the more challenging US national parks to plan.
We have created a 50 page guidebook and itinerary filled with key information and expert advice, example itineraries for hikers and non-hikers, and all essential things to know for both planning and when you are on site in Yosemite.
If you want to make the most of your trip to Yosemite, our guidebook is the perfect resource for you.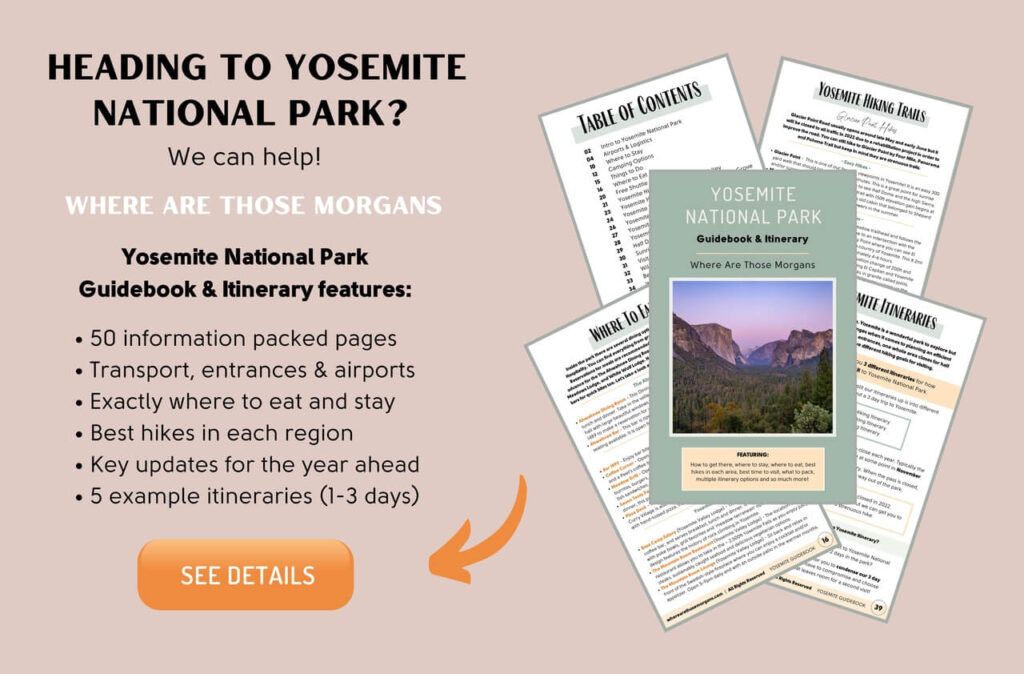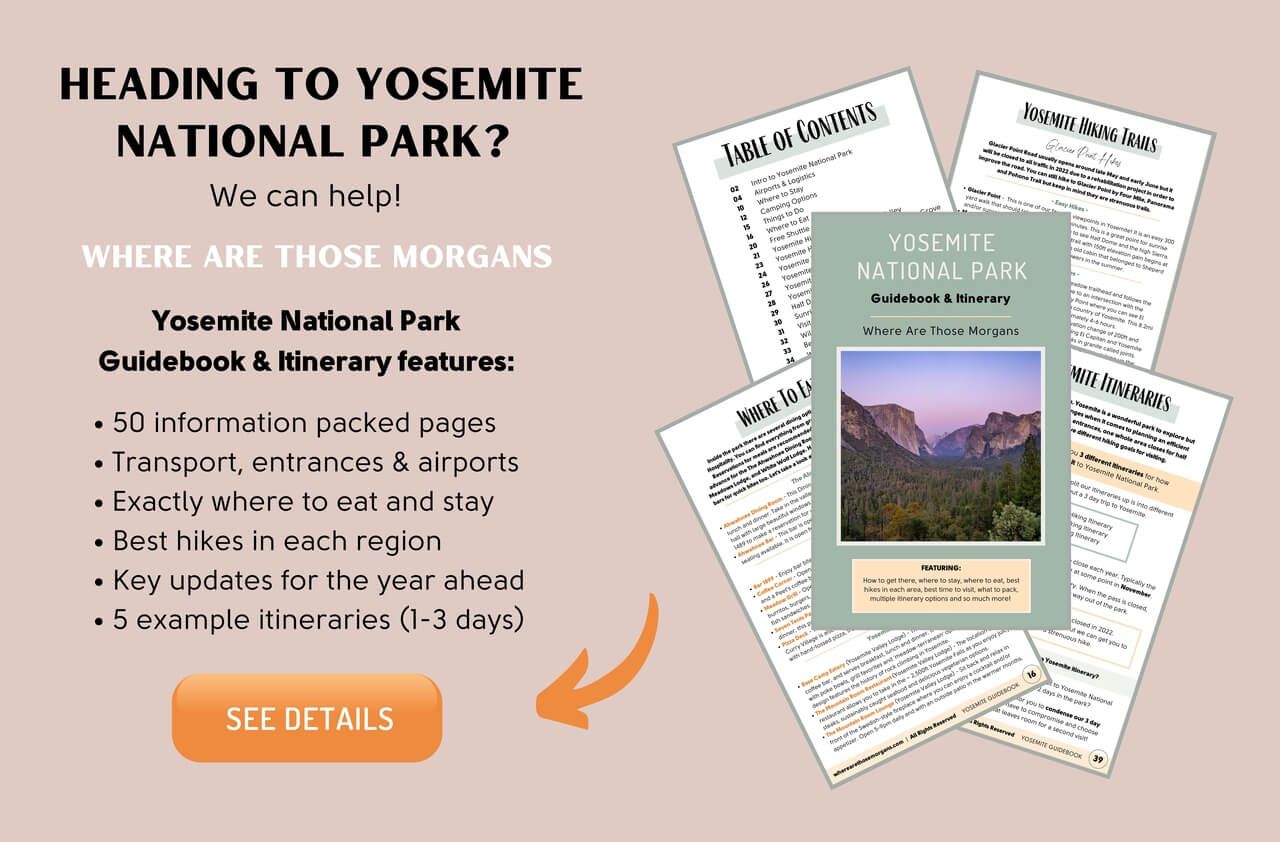 We hope this helped with planning your Mist Trail and John Muir Loop Trail Hike at Yosemite National Park!
Have you been to Yosemite? Which is your favorite hike? Have you summited Half Dome?!
Please let us know if you have any questions or need any help planning your visit.
Happy Hiking,
Mark and Kristen
Was This Post Helpful? Pin It For Your Visit!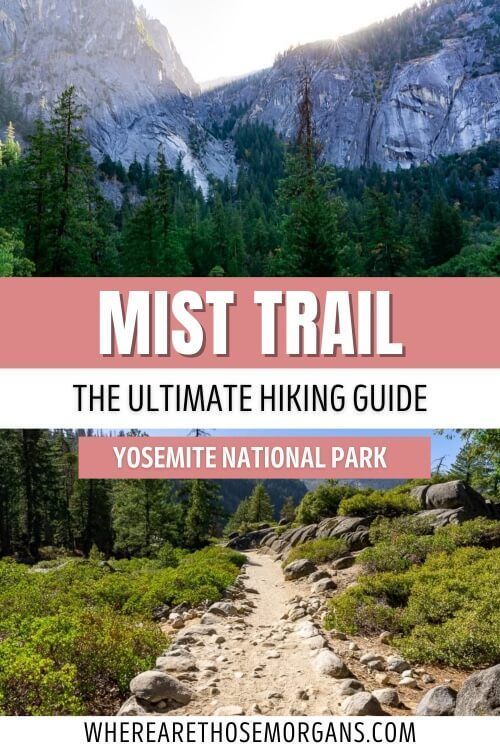 Note: This article contains affiliate links. When you make a purchase using one of these affiliate links, we may earn a small commission at no extra cost to you.
All Rights Reserved © Where Are Those Morgans, LLC. Republishing this article and/or any of its contents (text, photography, maps, graphics, etc.) in whole or in part is strictly prohibited.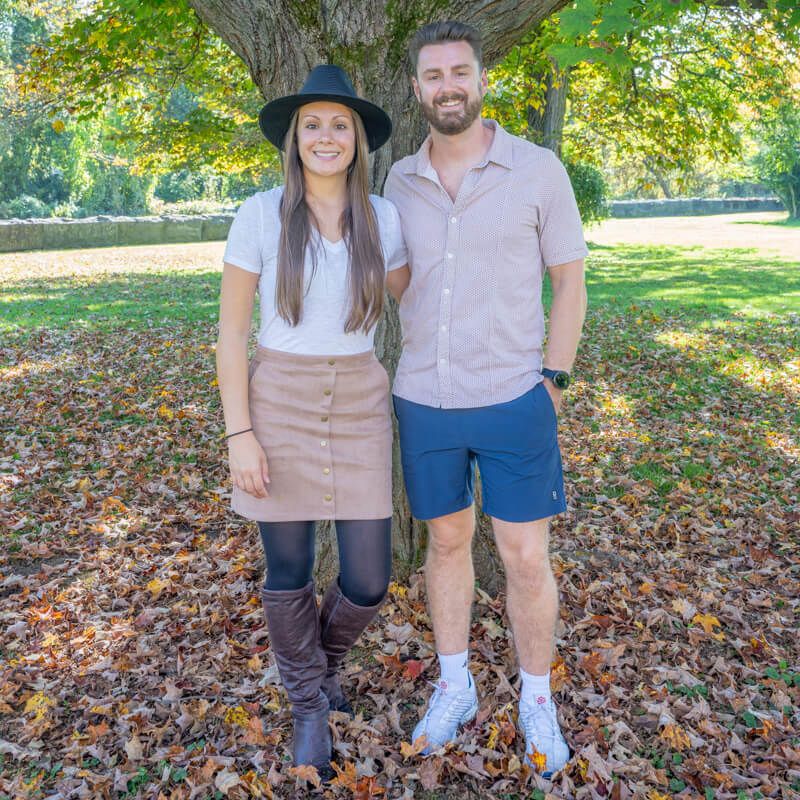 Mark and Kristen Morgan are travel, hiking and photography experts. Over the last 6 years traveling full time, they have explored more than 40 countries and 30 US states.
Their work has been featured in USA Today, Gestalten, Get Your Guide, CityPASS and Condé Nast Traveler along with various other publications.