Planning a visit to Yosemite in October is easier than you might imagine. Yes, there are a small number of negative aspects to contend with, but all things considered, October is one of the very best months to explore spectacularly beautiful Yosemite National Park in California.
We know from first hand experience exactly what it is like to spend 4 days in Yosemite in mid October. Weather, roads, crowds, lodging, hikes and more factors will be covered in this detailed guide so you can prepare for your visit the right way.
There are 10 key things you need to know before you plan your Yosemite Itinerary. We're going to explain everything you need to know with tips, advice and resources to get you ready for all eventualities.
After visiting over 30 US National Parks, we can confidently say that Yosemite is one of our favorites. We want you to have the best possible time during your own visit, so let's get right into the Autumnal action!
2023 Update: You do not need an advanced reservation to visit Yosemite National Park this year. The only exception is weekends in February for those who want to see Horsetail Fall on fire.
*Please note this post may contain affiliate links. If you click on one, we may earn a small commission at no extra cost to you!*
1. Lighter Crowds Are A Breath Of Fresh Air At Yosemite In October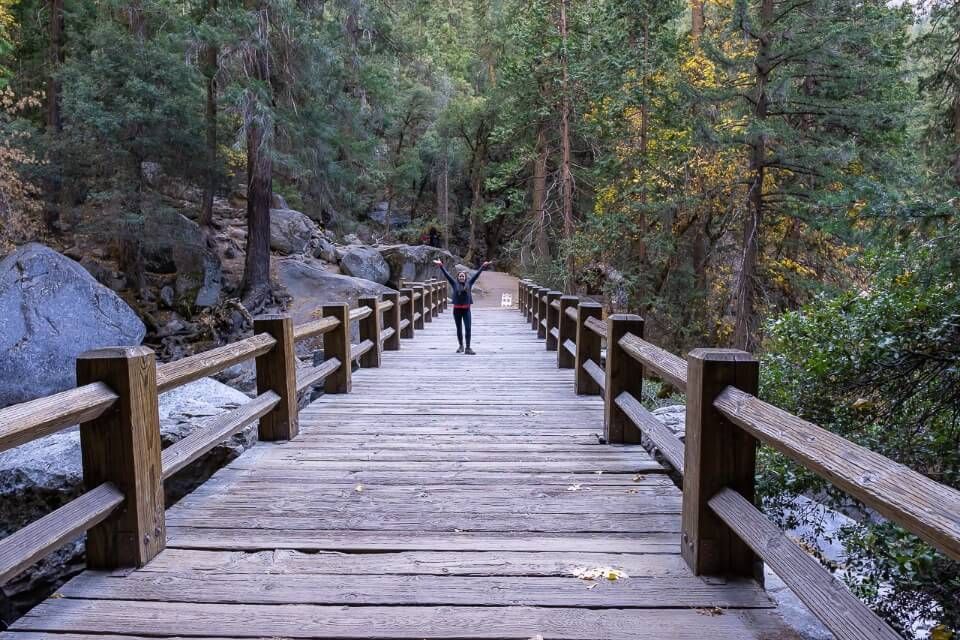 Yosemite is one of the most famous and beloved landscapes in the entire US national park system. And that means it is also one of the top bucket list places to visit in the USA.
In 2019 (2020 statistics are irrelevant due to coronavirus), Yosemite welcomed 4.4 million hikers, photographers and sightseers. That's 400 thousand more visitors than Yellowstone for perspective.
Almost 1.5 million of those 4.4 million visit Yosemite in peak Summer months of July and August. That is an enormous amount of people vying for campgrounds and nearby lodging, hiking trails, photography locations and parking spots.
October sees drastically reduced numbers of tourists exploring Yosemite National Park. That alone is reason enough to consider planning a trip to Yosemite at this time of year.
Visiting National Parks In Summer
Our advice is to avoid Summer in national parks where possible, especially the popular parks like Yosemite. Shoulder seasons are always a more relaxing experience the best USA national parks.
We haven't visited Yosemite in July or August ourselves (and won't unless we really have to!) but we have spent the Summer of 2021 living in Washington and we can tell you that visiting national parks in Summer is hard work.
Getting parked at trailheads is almost impossible after 8am and even when you do get lucky, the trails are extremely busy. Lines at Olympic and Mt Rainier have been 100+ cars deep at times and that's just not fun.
The problem with the Washington parks is that the window of opportunity is very small. July to September is all you get for hikes and attractions to be open.
However, Yosemite has a much wider window and October is a wonderful time to visit the park with access to almost all hikes and attractions as the park remains almost completely open.
Make the most of the lighter crowds and longer open seasons, you won't regret it!
How Does A Fall Visit Benefit You?
Shoulder seasons including the month of October are the optimal time to visit Yosemite if your top priority is avoiding vast crowds but still benefiting from comfortable weather conditions and having access to most of the park.
Here are just some of the reasons you will enjoy the freedom of an October visit to Yosemite:
Getting parked at trailheads is far less frustrating

.

You stand a better chance of booking into a hotel, cabin or campground inside or near the park.

Hiking trails are quieter, which means getting caught in fewer hiker traffic jams.

Popular photography locations are far easier to access.

You will avoid vehicles bottlenecking in Yosemite Valley.
2. Weather Can Vary But Is Generally Better Than Expected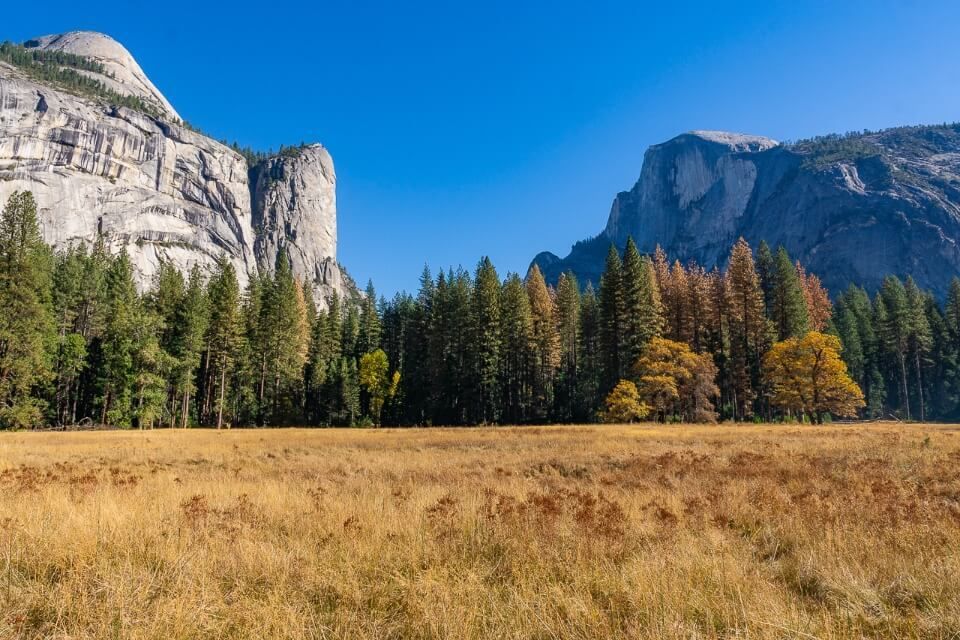 We were pleasantly surprised by the weather in Yosemite during October. At least during the day...
Statistics show that on average Yosemite only receives 4 days of rain in October, which is almost as few as Summer months. Over 75% of rainfall in Yosemite occurs between November and March.
So you know chances are slim for getting a soaking, unless you are really unlucky with your dates. But what about snow?
Well, average snowfall is very low for the month of October with just 0.2 inches. Snowfall doesn't typically begin to increase until November.
Our 4 days in the park were consistently and predictably bright, sunny and warm from mid morning through late afternoon.
Does this sound too good to be true? Well, in a way it is…
Important Note About Weather In Autumn
It gets seriously cold at night in Yosemite Valley during October.
We spent one night in a yurt right outside the park and one night in North Pines campground right in Yosemite Valley, and both nights we were freezing cold.
Average high temperatures in October are around 74 f (23 C), down from a significantly warmer 84 f (29 C) in September. That results in more comfortable hiking conditions throughout the day than Summer, a big plus for Fall.
However, average lows hover around a chilly 38 f (3.5 C) in October. So, if you plan to be out exploring early or late, you need to take plenty of warmer gear. More on packing a little later.
3. All Yosemite Entrance Roads Are Still Open In October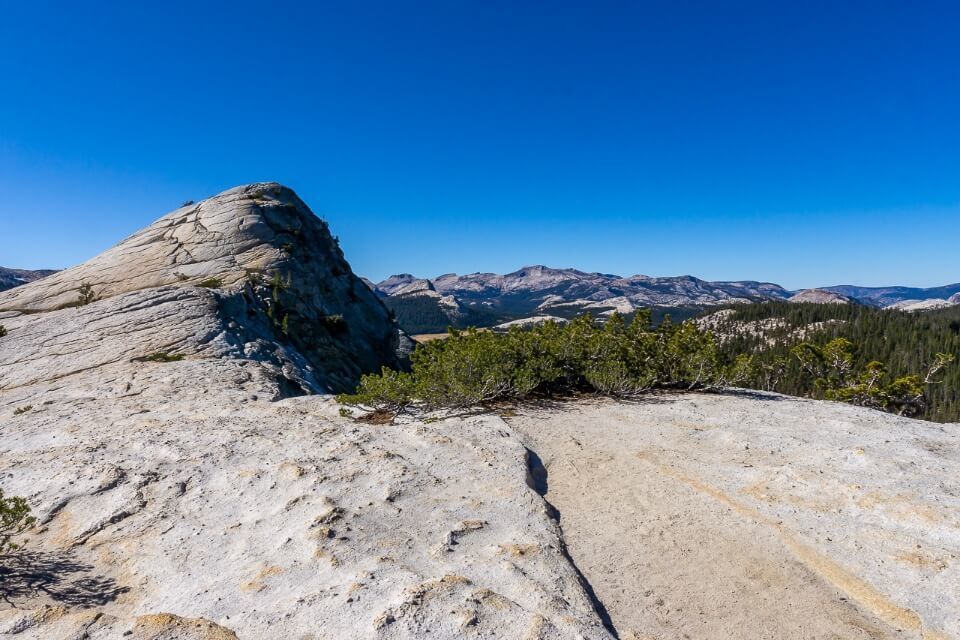 Despite the Winter season approaching, all roads into, around and out of Yosemite remain open throughout October.
The only road that has a small chance of closing before the end of October is the Tioga Pass Road, which serves as Yosemite's East entrance.
Tioga Pass Road leads to Death Valley, Lake Tahoe and some of the best northern California hot springs near Mammoth Lakes.
However, this road historically closes anytime from the beginning to the end of November so you should be fine in October.
Having access to all of Yosemite's entrances and roads means you won't miss out on any attractions, hikes or photography locations. This is not something to take for granted. It means you can plan the best USA road trip possible around the Sierra's.
Tioga Road is an incredibly picturesque stretch of the park and also provides access to Tuolumne Grove, one of three giant sequoia regions in the park.
When we visited Yellowstone in October, the park was completely shut down due to a huge snowfall. No cars in or out. But that is extremely unlikely in Yosemite, even in late Fall.
Important Note: Glacier Point Road will be closed throughout the entirety of 2022. This road leads to a fantastic Half Dome viewpoint but will only be accessible by hiking to Glacier Point summit in 2022.
Logistics Tips
4. It Is Easier To Book Yosemite National Park Accommodation In October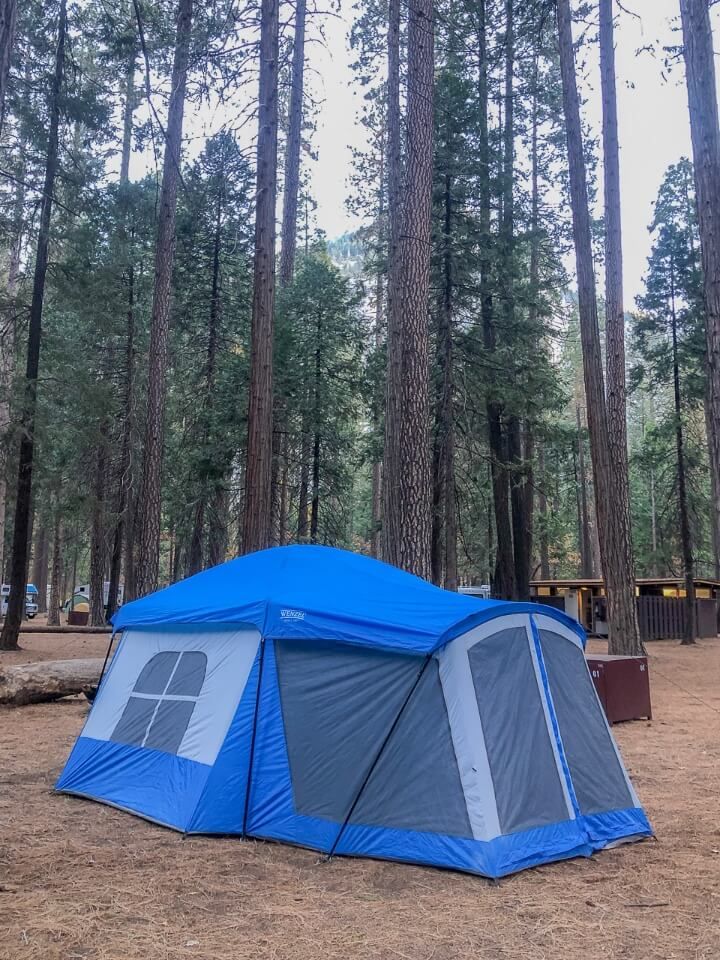 Lodging is notoriously difficult to find and book in the more popular national parks like Yosemite. If you've been having trouble finding an affordable place to stay in a good location, you are not alone!
We've written a detailed guide to booking accommodation in Yosemite if you would like a more in depth explanation about finding lodging around the park.
With that said, October is one of the best months of the year for standing a chance of grabbing a room at one of the official national park lodges or yurt-style tents.
Even last minute bookings can be made if you visit this late in the year because the three major park hotels are still open until the end of November; the Ahwahnee, Wawona Hotel and Yosemite Valley Lodge.
If you left things late in Summer you would have no chance getting a room inside the park. Plus, even if you do manage to get a room inside the park, they can be eye wateringly expensive. Fall prices are a little lighter on the wallet.
You can search for lodging inside the park here through Yosemite Hospitality.
Similarly, you would do well to grab a room in any of the small towns and villages near the park entrances if you visited in Summer. But in October, you can grab a hotel room in a nearby town for a reasonable price.
Booking in advance is still recommended to guarantee a place to sleep near a park entrance. There's nothing worse than having to drive an hour in and out of the park each day.
Top Rated Accommodation Options Near Yosemite Entrances
If national park hotels are too expensive or fully booked during the dates you plan to visit Yosemite in Autumn, you will either have to camp or stay in a hotel in a town nearby.
Staying either to the West or South provides easier access to the main park entrances. However, hotel availability is surprisingly sparse, so we do suggest getting booked up as soon as you have dates.
Groveland, Mariposa and Oakhurst provide the three best options for staying outside the park. Anything closer to the park is a bonus and should be strongly considered.
Here are some of the top hotels we see travelers book located to the West and South of Yosemite (with guest ratings as per Booking.com):
If you're booking last minute, try all of the hotels listed above as they are within striking distance of the park. Hopefully you can find a good value room available for October!
Camping In Yosemite
If you thought getting a hotel room was tough near Yosemite, you should try booking a campsite.
Thanks to small-mid sized travel companies block booking out campsites as soon as they open, visitors like you and us are left with very little chance of getting a spot.
We did manage to get one night out of the three we spent in and near Yosemite at North Pines campground. It was a cancellation, so if you are struggling for a place to stay near the park, be aware that you can grab a spot at the last minute if you're lucky.
Bear in mind this is October and not July we're talking about. Our best advice if you plan to camp is to explore the NPS website about camping and be on the booking site the second sites open.
Remember, if you end up sleeping in your car, you will need to exit the national park boundary.
Do you need help planning your visit to Yosemite National Park?

Our popular 50 page Yosemite Guidebook and Itinerary covers every aspect of planning a trip to Yosemite including hikes, hotels, restaurants, getting around, things to do and so much more!
5. You Do Not Need To Make Reservations To Enter Yosemite In October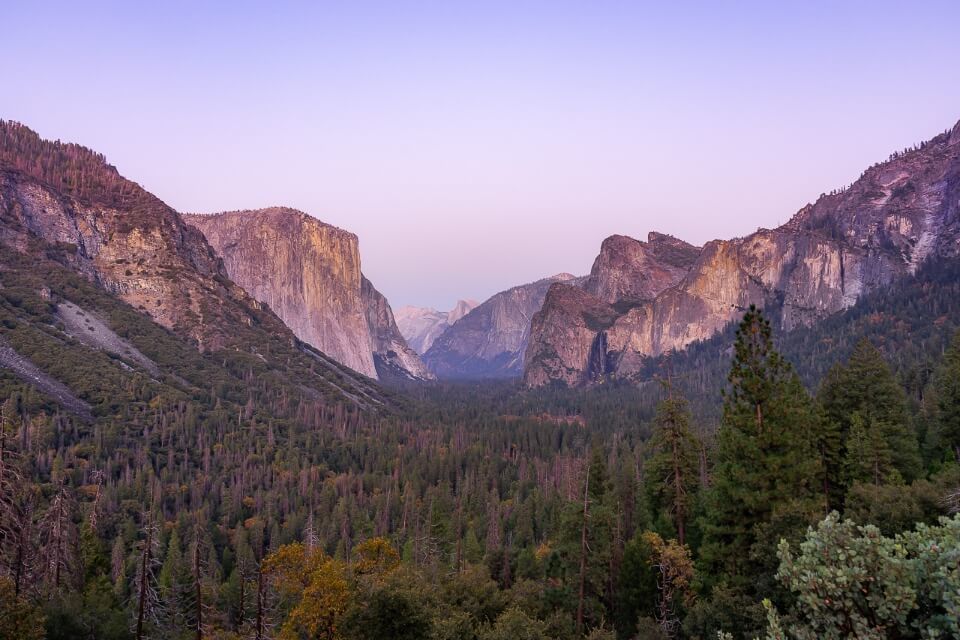 In 2020, a handful of the busiest US national parks began trialing a new reservation system to limit the amount of vehicles and people from visiting a single attraction or park at once.
We know first hand how frustrating the reservation system can be because we were in Acadia National Park in Fall 2020 and they first introduced it for access to Cadillac Mountain.
We never made it up Cadillac Mountain for sunrise as a direct result of this because tickets sold out instantly, despite both of us clicking the buy now button at exactly the time of release. (Yes, we may still be a little bitter!!).
However, we can completely understand why the like of Acadia, Zion and Yosemite are trialing these new methods to control and regulate traffic. These parks do get out of control at times during Summer months.
Visiting Yosemite in October means you do not have to reserve an entrance slot for the park. The reservation system begins in May and ends on September 30.
In Yosemite, the reservation is not just for one single attraction, it is for the entire park. You can not get through an entrance without a reservation between May and September.
Although getting a reservation may not be difficult in September, it is still an extra step you need to take and you may have to switch days around if the park is sold out on any given day. "Sold out" makes it sound like a theme park, but that's exactly how these places of natural beauty are becoming in Summer months.
Just another reason to visit Yosemite in October!
6. Yosemite Valley Turns Golden And Mild Fall Colors Are A Picturesque Bonus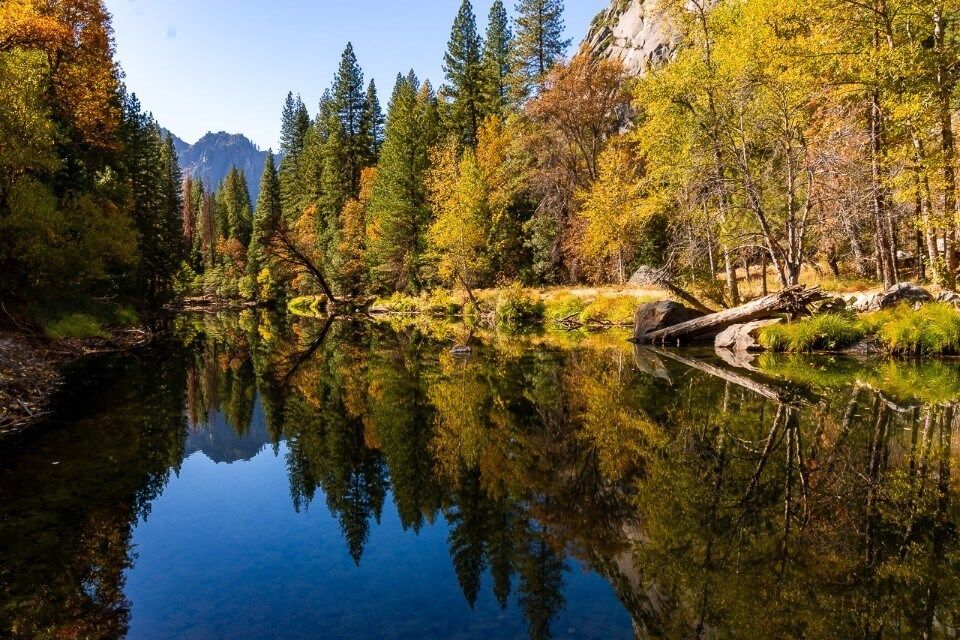 Autumn is our favorite time of the year for travel, hiking and photography. Cooler temperatures, fewer crowds and better value are the obvious benefits.
But it is the fresh smells and intense colors of the Fall season that really bring it to life. Now, Yosemite's colors are not even close to what you will see on a New England Fall Road Trip, but the leaves do change and the park becomes even more picturesque.
Dogwood, cottonwood and black oak tree leaves turn darker shades of red, orange and yellow among a sea of evergreens. Trees hugging the Merced River reflect perfectly in the still low level waters in Autumn.
But our favorite Fall colors in Yosemite are found in the valley among the meadows, where long grass turns a golden yellow hue. Yosemite Valley looks stunning when sunlight illuminates its meadows at dawn and dusk.
7. October Is The Perfect Month For Hiking in Yosemite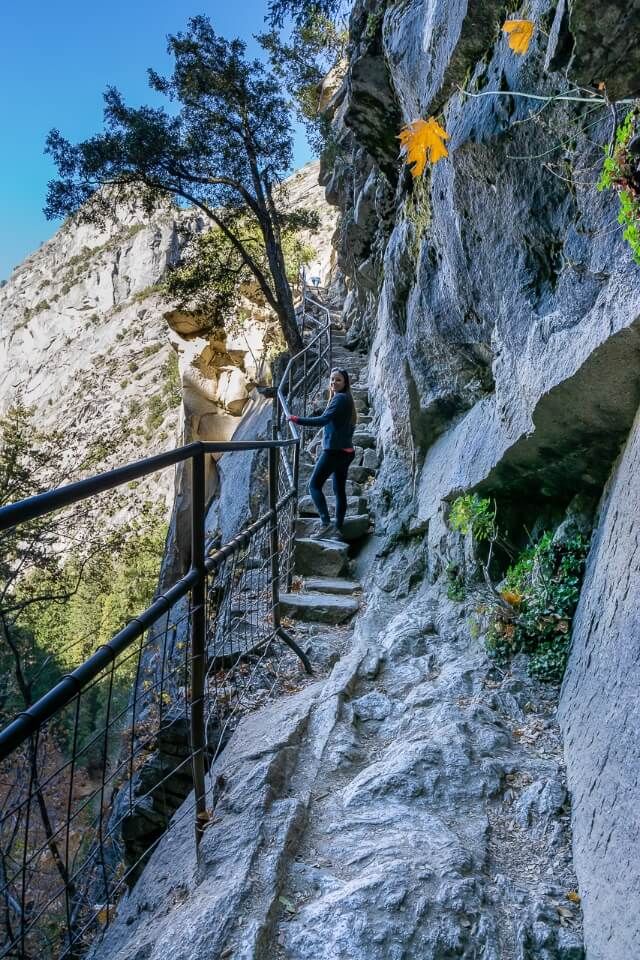 Yosemite is overflowing with truly awesome hiking trails. But they are renowned for being overcrowded in Summer months. Enter, October and traffic free trails.
You might be thinking it's a bit late in the year, so the Half Dome cables are probably down for the season. We did too. But they're not. The cables and permits for Half Dome are open until Columbus Day, the second Monday in October.
Therefore, you do still stand a small chance of getting a permit for one of the most iconic hiking trails in the US and even the world.
See more information about how to get a Half Dome permit.
But all hope is not lost if you are unable to get a Half Dome permit. There are still plenty of amazing hikes you can do, including the most heavily trafficked trail in the park – Mist Trail.
Colder October mornings will require early rising hikers to consider base-to-mid layering appropriately, but usually by mid morning you will be fine in light layers.
Personally, we would rather hike in 65 to 70 degrees than 80 or 90 degrees in Summer months. We hit a ton of Yosemite trails and enjoyed the comfortable temperatures.
8. Yosemite Waterfalls Are Almost Dry In October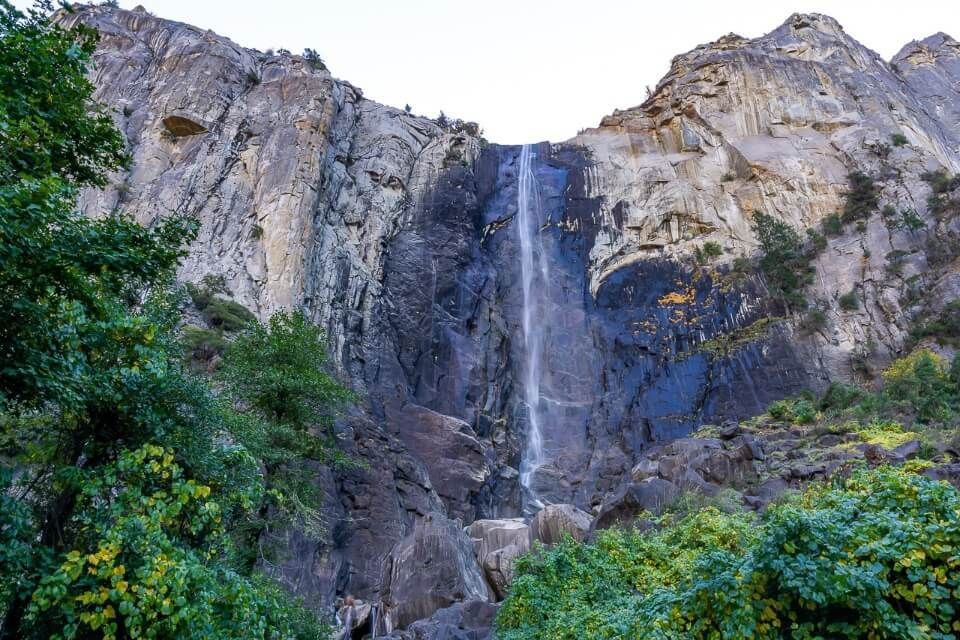 It is safe to say waterfalls are not at their impressive best throughout the Fall season. Yosemite is famed for its mighty waterfalls, but you will see no more than a trickle cascading from the most popular falls.
Bridalveil Fall, which looks spectacular from Tunnel View overlook during Spring and early Summer, is reduced to the wispy waterfall you can see in the image above.
Yosemite Falls was completely dry when we visited in October, not a single drop of water to be seen. The hike to Upper Yosemite Falls is a favorite among visitors, but it is a lost cause in Autumn when water levels are non-existent.
Perhaps the most disappointing is Vernal Fall on the Mist Trail hike because you can see it from below and almost touch it from the top. Awesome when it is roaring in Spring but not so much fun in Fall.
This is one of only a very small number of negative aspects we can think of to visiting Yosemite in October. Well, waterfalls and cold nights.
9. Pack For Winter, Hope For Fall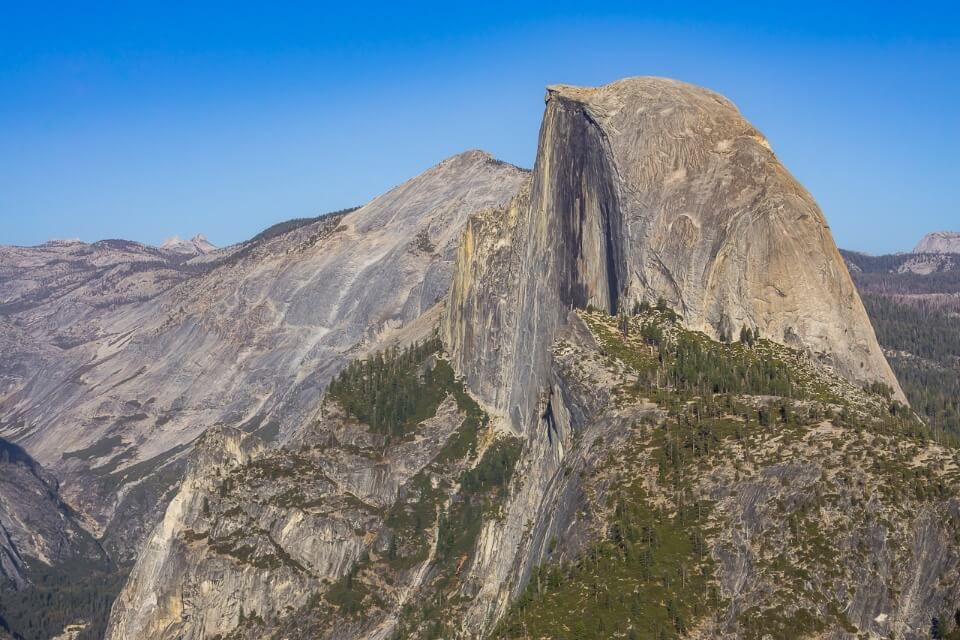 We always say "Plan for the worst, hope for the best". In other words, pack for all eventualities but hope for warm days and mild nights. Now, you might get lucky with both, but chances are slim.
If you are planning an early hike, a night hike, an astro photography shoot, or even just watching the sunrise and sunset somewhere in Yosemite Valley, you are going to need to pack accordingly.
Here are some of the packing tips we would suggest for October in Yosemite National Park:
Wear breathable base layers for hiking until it warms up.
We wouldn't go as far as ski jackets and pants, but certainly fleece layers, down jackets and waterproofs.
Robust hiking shoes or boots, waterproof and windproof would be ideal.
Gloves, hats, scarves and buffs are perfect for keeping extremities warm, particularly if you will be camping.
You might want to reconsider camping or staying in anything other than a hotel room.
If you are planning a longer trip, read our tips on how to pack for a road trip.
Don't forget plenty of food, water, coffee and even a stove to cook hot food on cold days. But there are also a couple of places to eat around the Visitor Center in Yosemite Valley if you don't have food in the car.
You will need sunglasses but you will not need to worry about bug spray in October. Sunscreen is a must on sunny days because you are at 4,000 ft in Yosemite Valley and UV exposure is much stronger at altitude.
10. Yosemite Is Incredibly Photogenic In October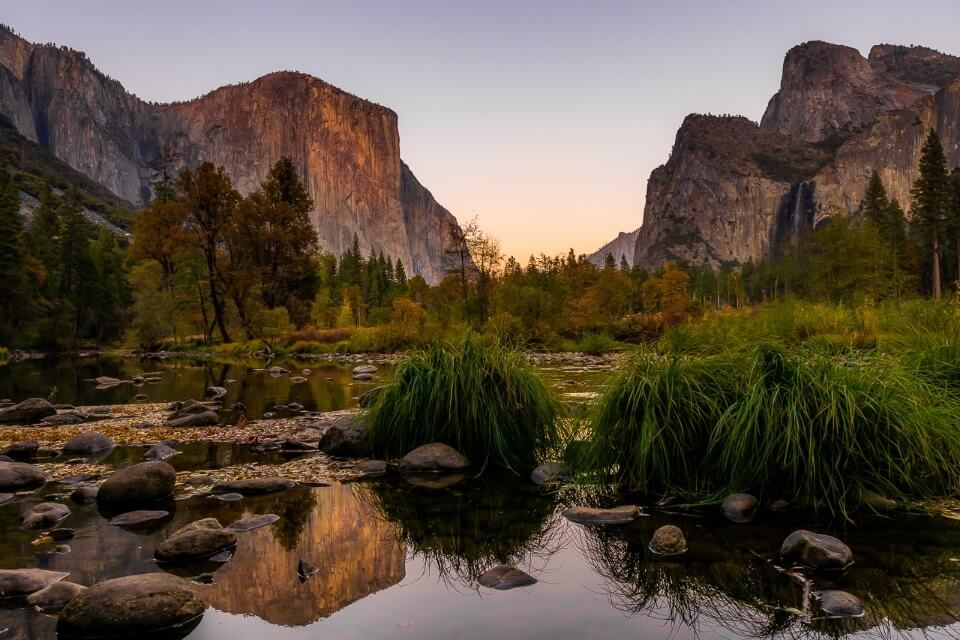 Let's close out this list of important things to know about visiting Yosemite in October with photography.
Yosemite is one of the most photogenic national parks any time of year, but October with its mild Fall colors gives it a uniqueness only found at this exact time of year.
You might not get the famous Firefall of a February visit to Yosemite, but you do get these perks:
Sunrise is later in the morning and sunset is earlier in the evening than the Summer months. That means less agonizing alarms in the AM and earlier nights in the PM.
The Milky Way bursts perfectly out of the horizon not long after sunset in Autumn, so if you're into astrophotography, there's no need to be walking around the park at 2am hoping for a clear night!
In October, the most famous of all photography locations in Yosemite will be relatively crowd free.
Expect to share the likes of Valley View and Tunnel View with just a small number of other photographers. Whereas in Summer, we imagine these areas would be a battleground for prime tripod real estate.
Photography Equipment
When we fist visited Yosemite we only had our beginner photography equipment. When we revisit, we will be going with an entirely updated arsenal of photography gear.
Here's what you should consider taking to Yosemite:
Camera – Entry level or professional, it doesn't matter, Yosemite is a perfect arena for learning or perfecting skills.
Lenses – Ideally, you will have a wide angle lens (16-35mm for example) and a 'walk around' lens (24-70mm or 24-105mm for example). There's not much need for a super telephoto because wildlife is rare and Yosemite is a landscape paradise.
ND Filter – In October, waterfalls are either dry or wispy at best, so again, don't sweat it too much if you don't have one. However, you can still smooth out the water of the Merced River if you do use an ND Filter.
Tripod – Goes without saying, always carry a tripod or something that you can improvise as a tripod. Sunrises, sunsets and astro are low light and require a tripod for stability.
We will also carry our Zhiyun Weebil S gimbal during our next visit as we intend on making a video for the park. It allows us to capture video with our Sony A7R IV and 16-35mm GM lens seamlessly.
Read our guide to the best photography locations in Yosemite National Park so you know exactly where to go for the classic and iconic photos of this stunning park in California.
Read More About Yosemite National Park
Need Help With Planning Your Trip To Yosemite National Park?
Yosemite is a spectacular landscape and a firm favorite among nature enthusiasts. But it is also one of the more challenging US national parks to plan.
We have created a 50 page guidebook and itinerary filled with key information and expert advice, example itineraries for hikers and non-hikers, and all essential things to know for both planning and when you are on site in Yosemite.
If you want to make the most of your trip to Yosemite, our guidebook is the perfect resource for you.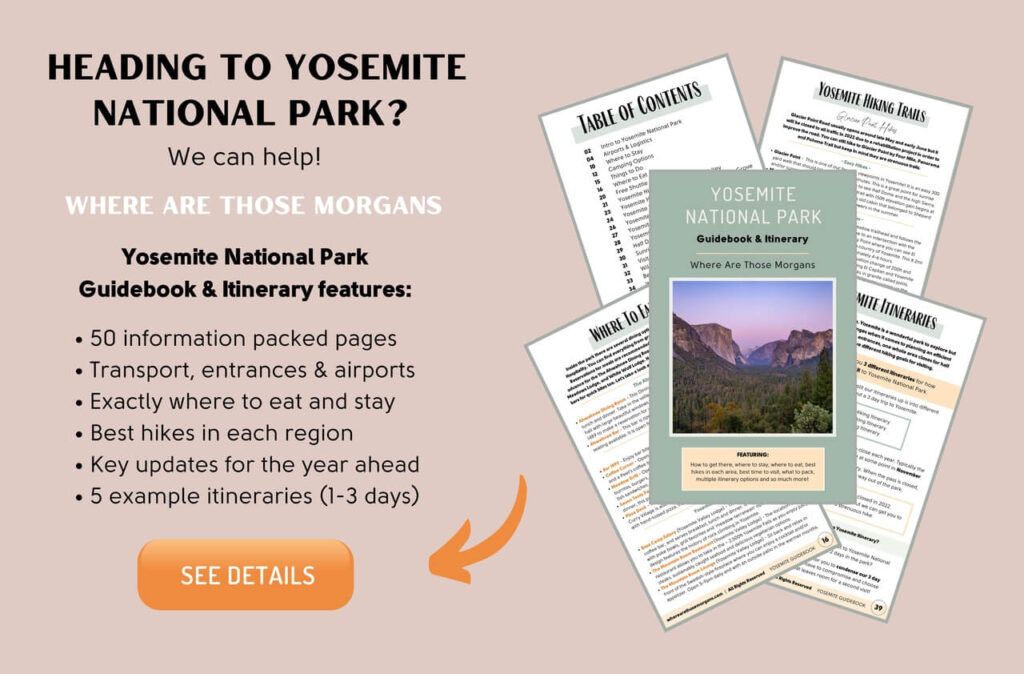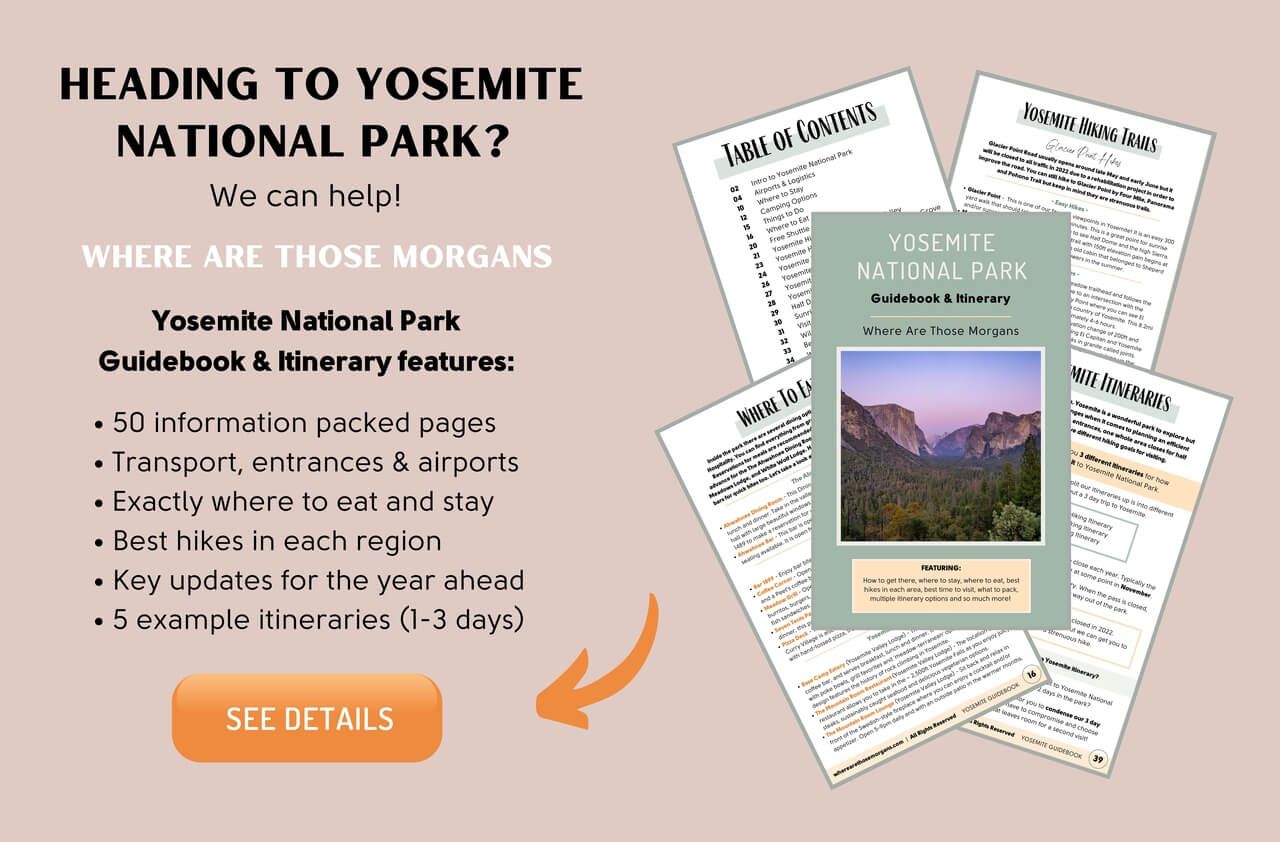 We hope this guide helps you plan your visit to Yosemite National Park in October!
Have you been to Yosemite? Which is your favorite season to visit?
Please let us know if you have any questions or need any help planning your visit.
Happy Travels,
Mark and Kristen
Was This Post Helpful? Pin it For Your Visit!