Planning the perfect Yellowstone itinerary comes with a diverse set of challenges, no matter the time of year you decide to visit. But April might just be the most unusual month of the entire year to explore the vast and unique volcanic landscape in northwest Wyoming. We're going to explain 10 important things you need to know about visiting Yellowstone National Park in April.
We found ourselves torn during our mid Spring visit to Yellowstone, sat right in the middle of the fence, asking ourselves "Is April a good time to visit the park?"
Well, it may just be the best month of the year to visit for certain types of visitor, but certainly not for all. In fact, we think you might be surprised by some of the tips, advice and facts we're about to walk through.
You know what to expect in Summer. But visiting Yellowstone in October and in April means you are right on the fringes of the open season. That raises certain questions about how easy it is to plan and explore Yellowstone.
We will discuss 10 key topics, including crowds, weather, roads, attractions and lodging. Each will play a pivotal role in your visit to Yellowstone, so let's find out if April is the perfect month for you!
Is April A Good Month To Visit Yellowstone?
April is a fantastic month to explore Yellowstone when the park is quiet, wildlife is abundant and lodging options are affordable.
You are going to sacrifice parts of the park being closed due to snow. Popular hiking trails and roads to the Southeast will remain closed until May.
However, you are going to gain so much more in return.
The significance on your overall experience as a direct result of a lack of crowds in Yellowstone during the month of April should not be underestimated.
Consider that a lack of crowds means animals are more likely to be in close range to the roads. You can see bison birthing calves and bears emerging from Winter dens during April.
Accommodation is notoriously expensive and difficult to book in Summer. But in April you will find rooms available and they won't break the bank.
Let's get stuck into the pros and cons to an April visit in Yellowstone National Park.
1. Crowds – Yellowstone Is Almost Entirely Crowd Free In April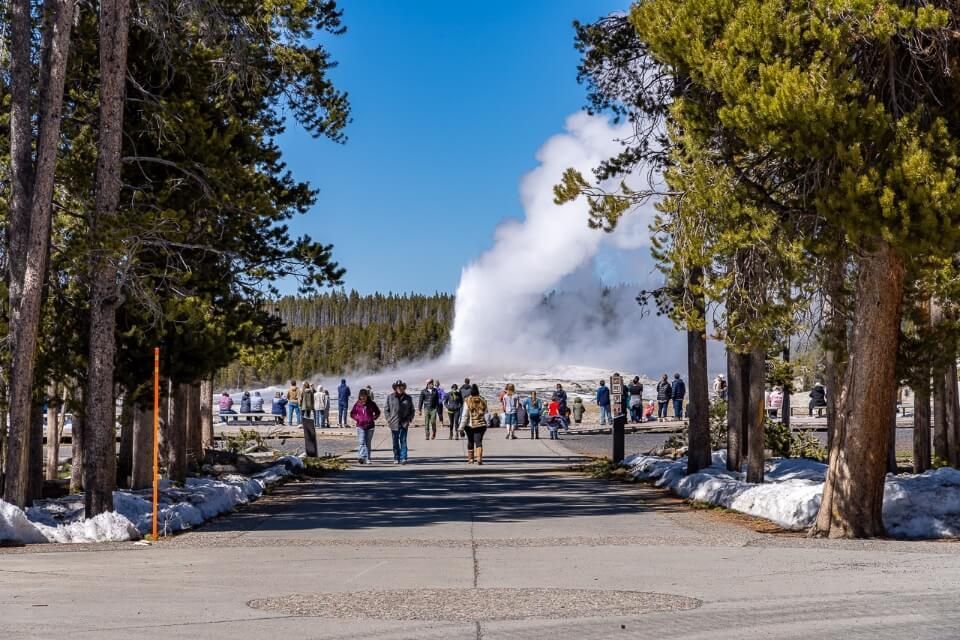 The month of April is something of an anomaly at Yellowstone National Park. Let's say that April, May, September and October are the classic 'shoulder seasons' for travel.
Here are the pre-covid Yellowstone visitation numbers for each of those months from 2019 (according to these Yellowstone statistics):
April – 48,150
May – 434,385
September – 693,119
October – 171,339
What is the first thing that you notice? Surely there's a 1 missing from before the 48 in April?!
No, April really is that quiet at Yellowstone National Park. Some quick math tells us that 48,150 / 30 = just 1,605 visitors per day.
However, there is more to this story, which we will discuss further in the 'Roads' section.
Yellowstone is a seriously huge park with multiple regions, each hosting a variety of attractions and hikes.
With just 1,605 people in a park this big, you are going to have some of the most famous features in Yellowstone all to yourself.
During our visit, we met a guy at Steamboat Geyser and asked him why he chose to visit in April.
He said "Well, you two and myself are making up the only 3 people in the whole of Norris Geyser Basin right now". And he was right.
We'll get into the important reasons as to why this number is so low throughout this guide to visiting Yellowstone in April.
But by far the most overwhelming advantage to planning your trip to the volcanic caldera at this time of year is lack of crowds.
You just have to look at photos on the internet to see how crazy busy the park gets in Summer months. For reference, July 2019 saw 936,062 people visit the park.
At that point, it becomes like a theme park.
So, when we said April would be the perfect month for some visitors, we meant anyone who wants to avoid crowds at all costs.
How will fewer visitors benefit you?
All attractions (even Old Faithful) will be free from overcrowding.
You stand a much better chance of booking a good value room in a hotel near the park.
You will not see a single tour bus throughout the park.
Photography will be much easier at the star attractions.
The roads won't be backed up every time you try to get anywhere.
You will be able to get parked at everything you want to see.
Fewer people and vehicles means better wildlife spotting opportunities.
Remember, Yellowstone is one of the top bucket list places to visit in the USA for both domestic and international travelers. April gives you the opportunity to see the best of Yellowstone stress free.
2. Weather – Cold And Sunny With Snow On The Ground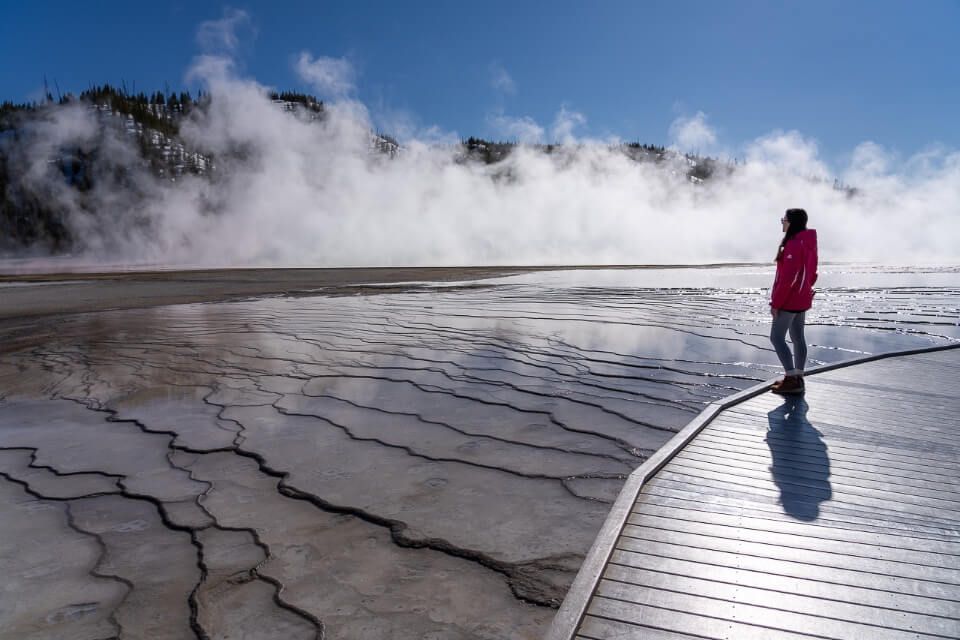 Weather conditions are a mixed bag at Yellowstone National Park in April.
Here are the important factors:
Early April – Much higher chance of snow, much lower chance of rain
Late April – Much higher chance of rain, much lower chance of snow
The length of day increases from 12h 48m on April 1 to a much longer 14h 13m by April 30.
April is the transition month, whereby almost all snowfall for the season ends.
Temperatures (both highs and lows) increase by as much as 10 degrees between the beginning and end of April, which is quite a difference.
April 1 – Average highs of 40f and average lows of 20f
April 30 – Average highs of 50f and average lows of 29f
Having visited the park in both April and October, we can tell you that it can be seriously cold in the morning. This is something you should consider if planning to visit at either time of year.
The thing about weather is even today with all the technology we have, it is still unpredictable.
But here's one thing we can predict – even if it doesn't snow during your visit, it is very likely that compact ground snow will still be scattered throughout the park.
Wooden boardwalks transport people through most geyser basins at Yellowstone.
Some had already been cleared or melted but many of these boardwalks were completely covered in ice and snow when we visited in April.
Norris Geyser Basin was challenging to navigate, as was walking to Morning Glory Pool at Upper Geyser Basin. The snow had turned to ice and slush but it was deep in parts and slippery in others.
What does all this mean for your visit?
Pack for Winter but hope for Spring.
Bring Winter coats, warm pants, under layers

/ base layers and robust footwear.
Make sure you have survival gear in your car, just in case you get stuck.
Have a backup plan in case roads in, around or out of the park close unexpectedly.

It happens.
Need help organizing your visit to Yellowstone? Our popular 60+ page Yellowstone Guidebook can help you with planning every aspect of your trip.
3. Roads – Most Roads In, Around And Out Of Yellowstone Are Not Open Until Mid April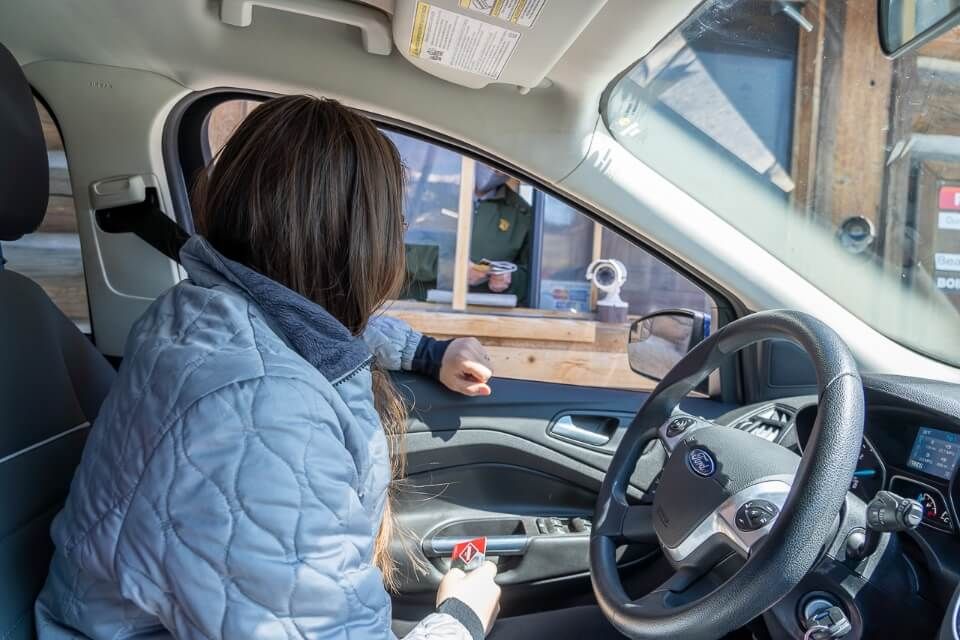 Here comes the most important news: Yellowstone only opens up certain roads for the Summer season around the middle of April. This is the main reason overall visitation numbers are so low in April.
Technically the April visitor number we mentioned above (48,150) is primarily made of up visitors in the park between the middle and end of the month once the roads open to more popular attractions.
Yellowstone National Park has 5 entrances: North (Gardiner), Northeast (Cooke City), East (Cody), South (Jackson) and West (West Yellowstone).
North Entrance (Gardiner) is the only Yellowstone entrance road open to vehicles year round.
2022 Winter closing dates are between March 6 to March 15, which is when snowmobiles and snow coaches can no longer travel throughout Yellowstone.
After March 15, cars can drive back into Yellowstone, but only around Mammoth, across to Tower and up Lamar Valley to Cooke City.
It is important to remember that Northeast entrance at Cooke City is impassable until later in Spring, so you can't enter or exit the park this way.
Roads Opening In Mid April
Then here's what happens on April 16, 2022 (and typically the third Friday of April each year):
West Yellowstone entrance opens to vehicles
Mammoth Hot Springs to Old Faithful opens to traffic
Norris Geyser Basin to Canyon opens to traffic
We created the infographic below to show you exactly what that means for your visit.
Certain Yellowstone attractions are already accessible at the beginning of April but many of the most popular sites only become available once the roads open in the middle of April.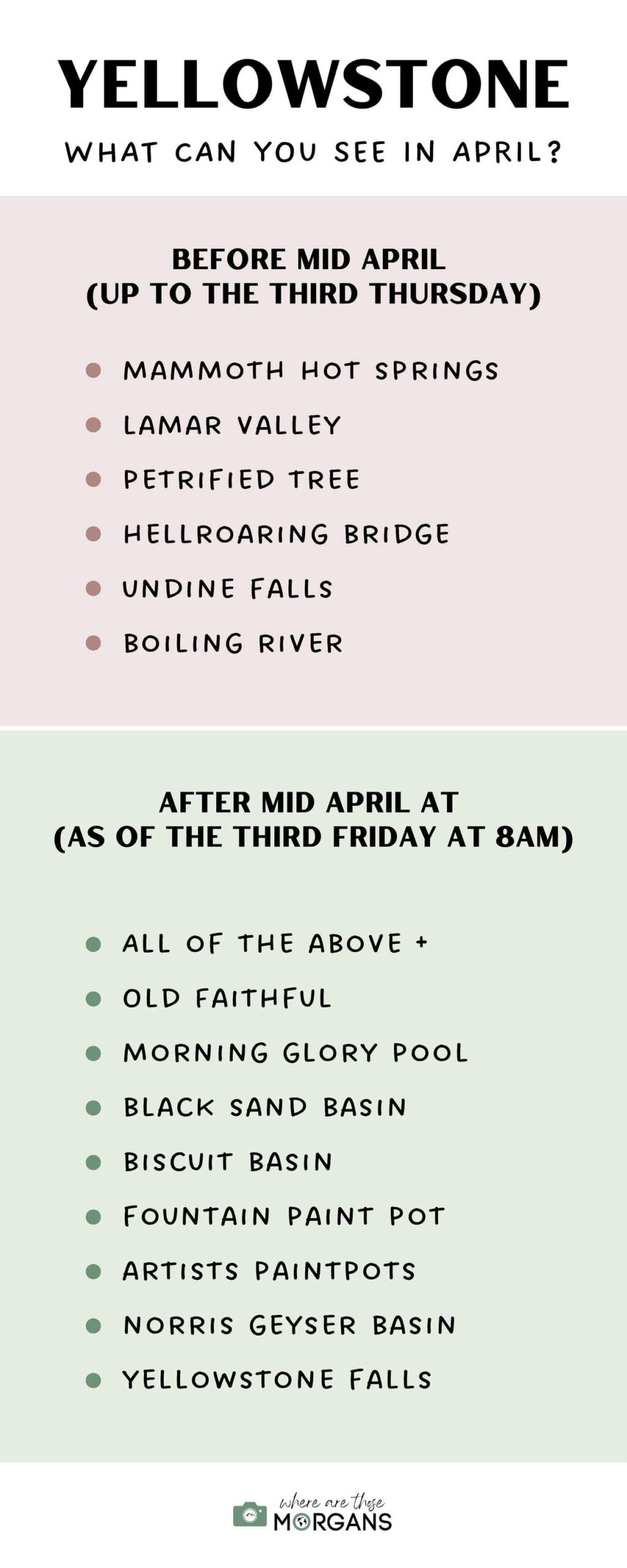 Please bear in mind that even once these additional routes open in April only some of the park is accessible. However, most of the top attractions open at this point.
Here are the regions open and closed after the middle of April:
Open – Lamar Valley, Mammoth, Norris, Canyon and Old Faithful.
Closed – Hayden Valley, Lake Yellowstone, Tower to Canyon and West Thumb.
There will be quite a bit of driving back on yourself as you explore the park in the second half of April.
Grand Loop Road is shaped like the number 8. But you can't complete either the top or bottom loop of the 8 because the Northeast and Southeast portions are closed.
The good news is that the park only just opening keeps the hordes at bay.
And that means you should never encounter any traffic jams (at least made up of other cars!) during your visit.
Planning to fly into Yellowstone? Read our in depth guide on the best airports near Yellowstone to help plan your visit.
What can you do to prepare?
The exact date of roads opening will change each year. It is vitally important you check the dates if planning to visit around the middle of April. You can see a current road status report and map here.
This also shows ongoing national park projects which also keep certain areas closed (not just in April but all year in some instances).
Add a day or two of fudge around your itinerary if possible in case you can't get in our out of the park

due to bad weather.
Enter via North or West entrance after opening. Northeast entrance (Cooke City) is unreliable due to a small section of road remaining closed near the town, even after the park itself opens.
Have a backup plan for entering the park. For example, West entrance closes, so you will enter via North entrance instead.
5. Grand Teton – Inaccessible Via Yellowstone South Entrance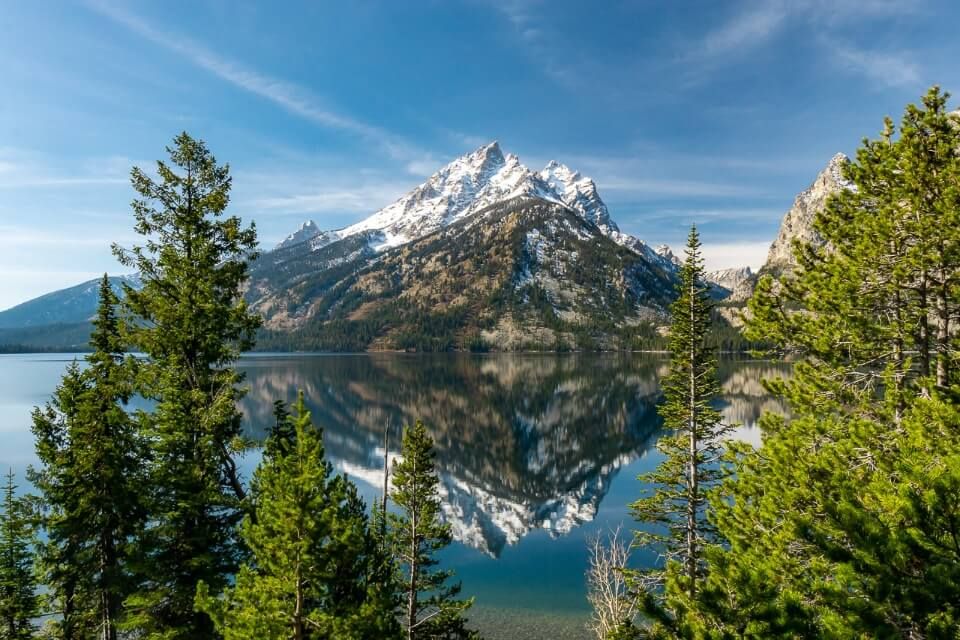 Almost all visitors to Yellowstone spend at least 1 day in nearby Grand Teton National Park. And rightly so, they should come as a pair.
Grand Teton is one of our personal favorite national parks and we highly recommend you visit both. Exploring the best of Yellowstone and Grand Teton easily ranks among the most fun things to do in Wyoming.
Unfortunately, we were unable to visit Grand Teton during our April visit to Yellowstone.
On a road trip from New York to Washington which had a timeframe commitment, we were disappointed to learn that the South entrance to Yellowstone and connecting road through to Grand Teton remained closed until mid May.
We considered driving out of West Yellowstone and looping round through Jackson, but we discovered that Teton Park road is also closed until April 30.
Jenny Lake, String Lake, Signal Mountain and many of the best day hikes are along this stretch of road.
So, if you have plans to visit both parks in one hit, it would be prudent to wait until later in May. Alternatively, plan your trip for September or October instead.
5. Lodging – Yellowstone Park Hotels Are All Closed In April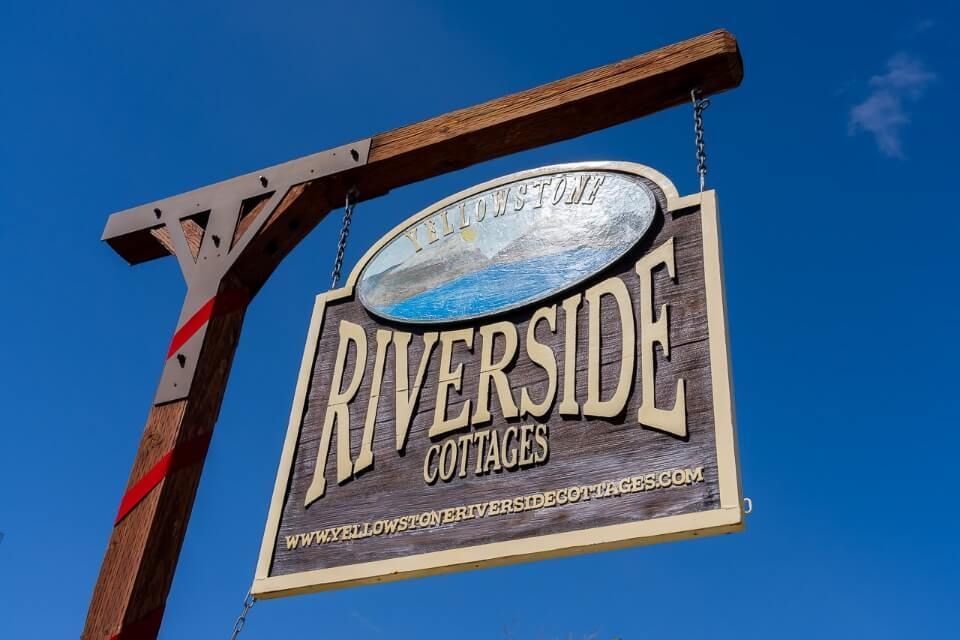 You have three options for lodging when you visit Yellowstone:
Stay at a national park lodge, cabin or hotel within the boundaries of Yellowstone.
Book a room in a non-national park hotel outside the boundaries of Yellowstone.
Camp or park an RV in a campground within or outside of the park boundaries.
Important: All official Yellowstone national park lodging is closed through April (not opening until May) with the exception of Mammoth Hot Springs and Old Faithful Snow Lodge. Both open on April 28th in 2023, so unless you are visiting right at the end of April, they won't factor into your plans.
Here's a full list of all Yellowstone accommodation opening/closing dates for the year ahead.
Tent camping in Yellowstone in April will be cold but it might suit some visitors. Even RV camping could be cold unless you have a good heating system in place.
As a result, that means almost all of the 48,150 visitors to Yellowstone in the second half of April have to fight for hotel rooms in either West Yellowstone or Gardiner.
They are the two closest built up towns to the park and they both offer a wide range of hotel options.
Camping Exclusive
Are you planning to brave the elements and camp in Yellowstone National Park in April?
Take advantage of our exclusive 30 day free trial of The Dyrt PRO to get reservations at sold out Yellowstone campgrounds with no extra booking fees, and gain access to free dispersed camping locations around Yellowstone National Park. You can try The Dyrt PRO for free, no strings attached!
Top Rated Accommodation Options In West Yellowstone And Gardiner
Back to hotels, let's take a quick look at your two best options during a visit to Yellowstone in April.
West Yellowstone is the larger town with more hotel and dining options. It is the most sought after place to stay near Yellowstone thanks to its central location, which makes access to more areas of the the park much more convenient.
Just 5 miles from the North entrance to Yellowstone you will find the town of Gardiner. This town is smaller and has fewer amenities but is perfectly located for Mammoth and Lamar Valley (top wildlife viewing).
In an ideal world, you will be able to book a night or two in each town to help split up the park and leave yourself with less driving time inside the park.
Read our popular guide about the best places to stay inside and near Yellowstone to help with booking your accommodation.
Our detailed breakdown has helped thousands of visitors to Yellowstone work out the best place to stay.
Alternatively, if you'd rather see a summary, here are the top two hotels we see visitors book for both West Yellowstone and Gardiner (with guest ratings as per Booking.com):
West Yellowstone:
Gardiner:
We have written extensively about the top rated hotels around Yellowstone on our sister site Best Hotels Anywhere. You can read our helpful guides below:
6. Wildlife – April Is One Of The Best Months To See Animals At Yellowstone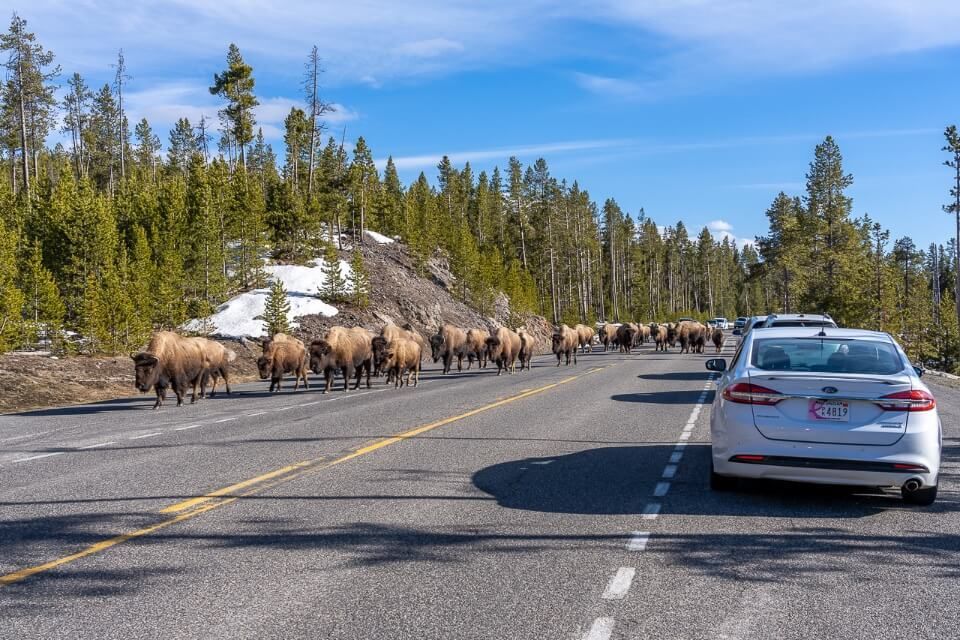 Yellowstone is widely regarded as one of the very best US national parks for wildlife spotting. In two visits, we've seen a multitude of animals in situations you seldom see outside of a zoo setting.
If you've never been before, you will immediately realize that many people are in the park for nothing other than to see animals like bears and wolves roaming around in a natural habitat.
April is a wonderful time to plan your visit to Yellowstone if you are primarily interested in seeing wildlife.
It is much quieter than the Summer months in terms of people and cars, so animals tend to be widespread throughout the park.
Much of the park is covered in snow through March, but April is when animals begin to resurface from dens and shelters after a long Winter.
Bear cubs, baby moose, baby elk and most famously baby bison will stretch their legs for the very first time in April.
Grizzly spotting is common around Yellowstone Lake in later Spring, but it is closed in April. You may see a bear defending a food source, such as the carcass of an animal that couldn't survive the Winter.
Wolves are commonly seen around both Lamar Valley and Hayden Valley in Spring, but then again, you could see one anywhere else in the park.
If you see a bunch of people with telescopes or heavy duty binoculars, chances are they are looking at something worth stopping for.
However, that doesn't mean abandoning your car and making loads of noise. On the contrary, be respectful and quietly approach.
7. Hiking – You Will Be Disappointed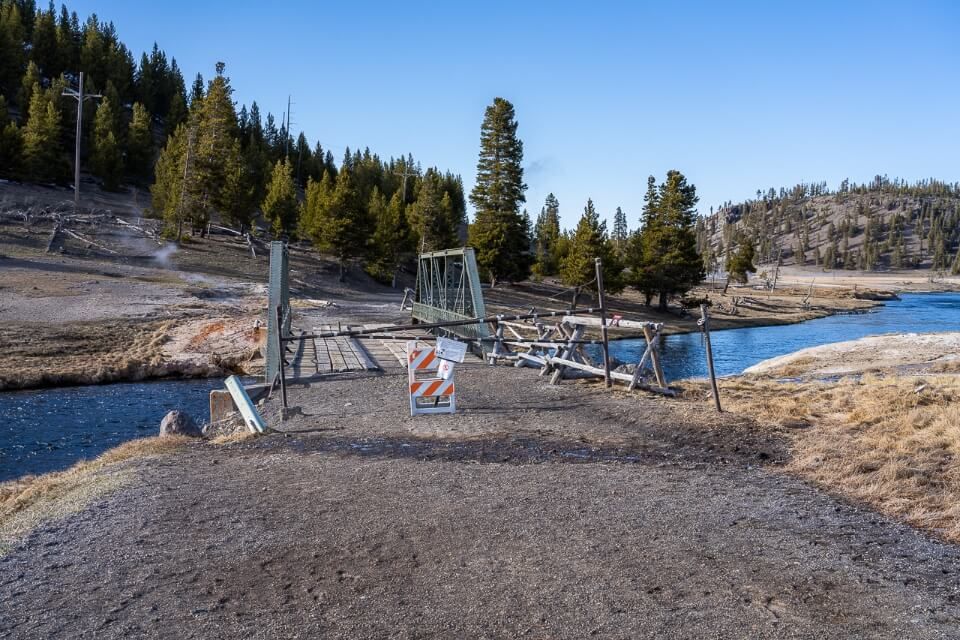 Avid hikers may want to look away now! April is not the month to visit Yellowstone if you want to hit the trails.
Not only is the most popular Yellowstone hike – Mt Washburn – closed until at least May of 2022 as part of road construction between Tower and Canyon (read more here), but most other hikes are closed in April.
Why are the major trails closed?
Snow – Many trailhead signs are sticking out from a foot or two of snow. You can clearly see when trails are inaccessible, even along North and South Rim drives at Grand Canyon of the Yellowstone, it just doesn't look safe.
Bears – Yes, Yellowstone's grizzly bears are awake and they are hungry. Certain hiking trails are closed where bear activity is high, the snow is still an issue and there are very few people around.
We would say the single most frustrating part of our visit to Yellowstone in April was the closure of Fairy Falls trail, which after a mile or so provides the classic aerial view over Grand Prismatic Spring.
But we also didn't fancy meeting a hungry grizzly face to face, so we adhered to the rules, they are in place for a reason.
If you enjoy hiking like we do, you will become sick of seeing 'trail closed' signs, or barricaded trailheads.
With that said, you can still walk around almost all of the wooden boardwalk trails in the Geyser Basins. Some will have snow on and will require careful footing but they are at least open.
Our top recommendation is to fully explore the geysers and hot springs in Upper Geyser Basin.
Walk behind Old Faithful and follow boardwalks to pass by a diverse range of geysers, hot springs and bubbling pots.
8. Waterfalls – Powerful Falls After Winter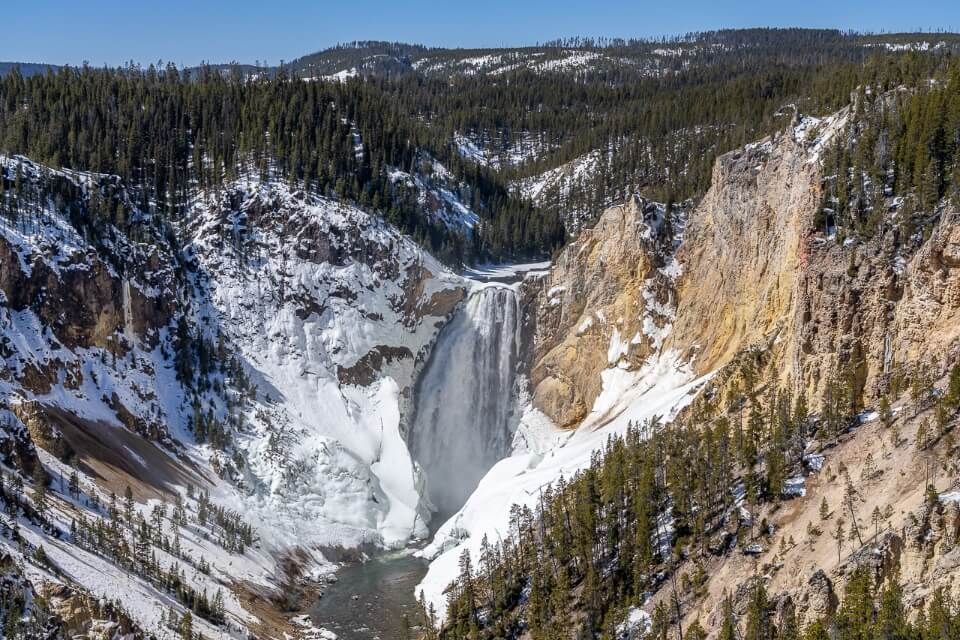 Waterfalls in the US are best seen in Spring and early Summer for full flowing, powerful falls. When frozen snow begins to melt after a long Winter season, Yellowstone's waterfalls are a joy to behold.
In truth, waterfalls in Yellowstone remain worth seeing throughout the year, even in Autumn when water levels are low.
By comparison, visiting Yosemite National Park in October would mean you see little to no water cascading from its most famous waterfalls.
So the likes of Union Falls, Fairy Falls, Gibbon Falls, Firehole Falls, Tower Falls and Undine Falls will be in full flow by April.
The problem is whether or not you can actually see them due to closed trails at this time of year.
Grand Canyon of the Yellowstone with its Upper and Lower Falls is one of Yellowstone's most magnificent and most beloved highlights.
The canyon is awesome to look at during any season but seeing the majestic Lower Falls from Artist Point in Spring is special.
Don't forget your ND filter if you plan to photograph waterfalls in the park.
Bright sunny days with clear blue skies on cold days are common in April. So you'll need the ND filter and a tripod to capture waterfalls with silky water.
9. Yellowstone Geysers and Hot Springs – April Is Not The Best Time Of Year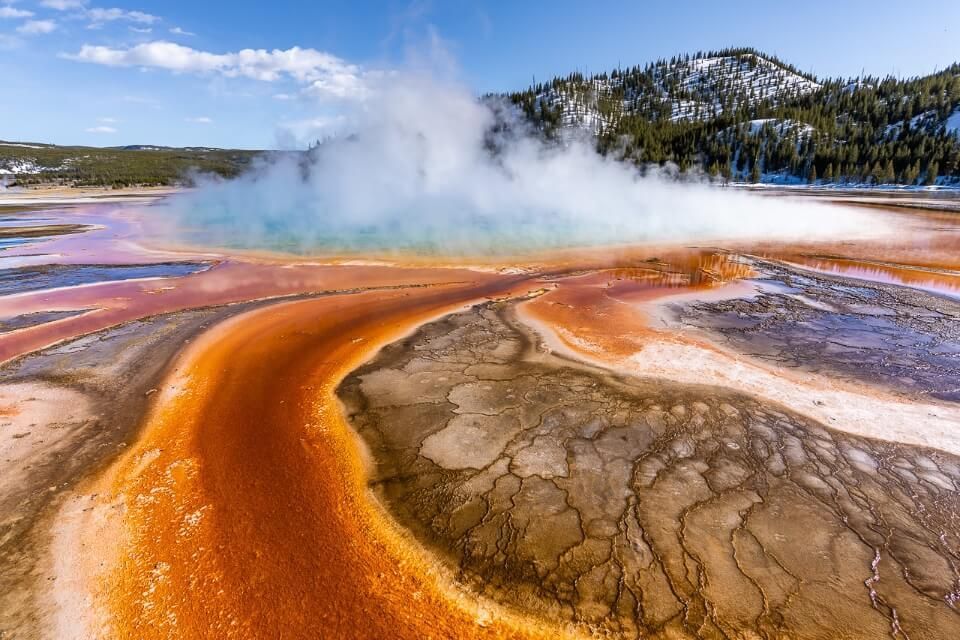 Warm air surrounding hot springs, hot geysers and hot mud pots means very little steam is created. However, warm air is hard to come by in April.
Therefore you can expect to see billowing steam exiting Yellowstone's most famous geothermal features.
Add in ground snow still covering some of the vibrant colors of the park's unique springs and you have yourself a slightly underwhelming result.
Grand Prismatic Spring is arguably the most strikingly attractive hot spring in Yellowstone.
It is the largest and one of the most colorful, but you can't see it all in April. Nor can you walk to the GPS overlook on Fairy Falls (as mentioned in hiking).
However, the Yellowstone classic Old Faithful remains unaffected by weather or time of year. It will blow almost right on schedule and it will have the same feel whether in Spring, Summer or Fall.
But, again, you will not be able to hike to the Old Faithful overlook for an elevated view of its eruption. The trail is closed to due to snow and yes, you guessed it, bears.
Snow covering the ground at Norris Geyser Basin doesn't affect the geysers too much. But spur roads like Firehole Drive are closed, which means you will miss out on seeing a handful of geysers.
Similarly, the short road to Artists Paint Pots is closed in April.
This relatively unknown area is one of our personal favorites, thanks to unique springs and gloopy bubbling mud pots.
To summarize, you can see the most famous geysers and hot springs in April. But many are not at their best and you will also miss out on some of the lesser known geothermal features.
10. Photography – Good But Lots Of White Backgrounds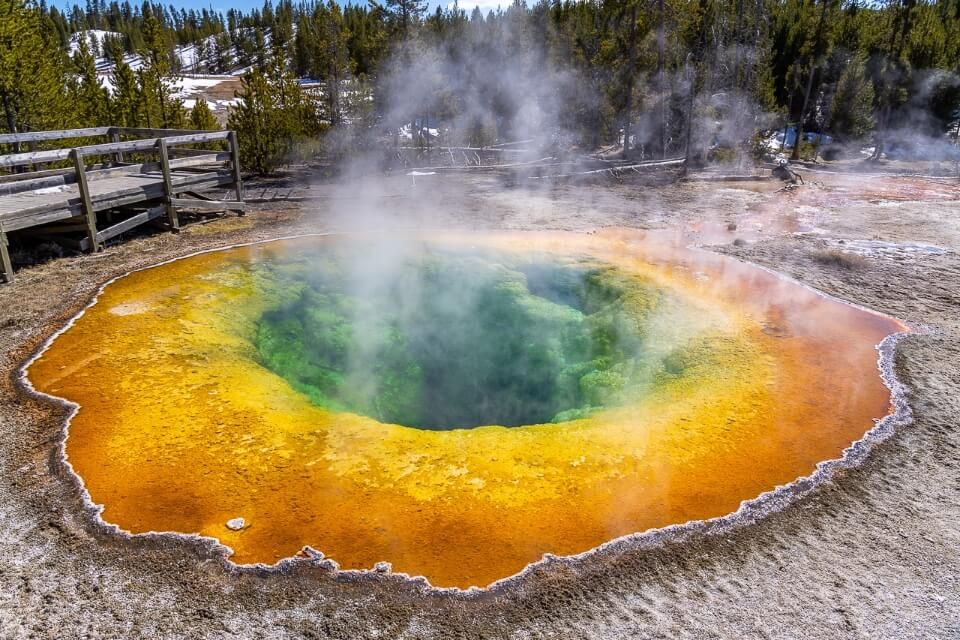 If you want to visit Yellowstone and nearby Grand Teton for photography in April, you might want to reconsider.
Both parks are spectacular and extremely photogenic, but not this early in the year … if you only want to shoot landscapes.
As mentioned above, much of Grand Teton is still closed with no direct access from Yellowstone.
Plus, almost every photograph you take inside Yellowstone will have a white background, with so much snow still left over from Winter.
Sunrises and sunsets will be freezing cold, so if you do intend to photograph the park at these times, take plenty of layers.
However, with all that said, if your interest is more geared towards wildlife (and you have a super-telephoto lens), the second half of April might be one of the best times of year for photography.
Fewer people and cars in the park mean animals are more likely to be closer to built up areas.
Wildlife will be abundant as they come out of hibernation after a long Winter. You have a good chance of seeing bears and wolves, particularly at dawn, dusk and night.
We were fortunate enough to see a wolf near Grand Prismatic Spring.
Plus, you can all but guarantee to see dozens of bison wandering around various parts of the park. We saw far more bison in April than we did in October.
Changeable weather in April means you might be able to shoot the park in snow, sun, rain, fog, heavy clouds or no clouds.
Ideally, you will carry a wide angle lens for landscapes and a super-telephoto lens for wildlife.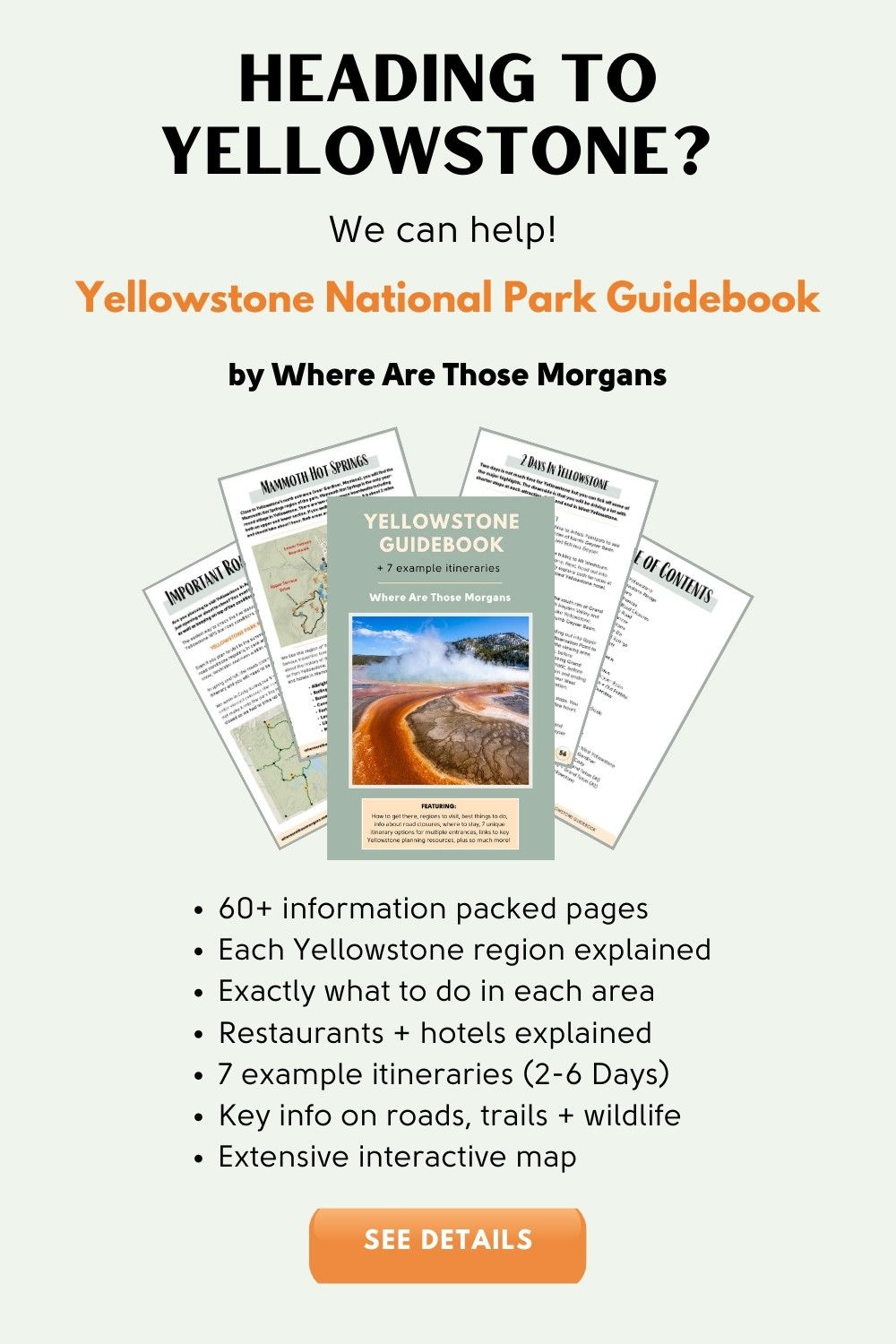 Our Popular Yellowstone + Grand Teton Guides
Our Popular Seasonal Guides
---
We hope this guide helps you plan your visit to Yellowstone National Park in April!
Have you been to Yellowstone? Which is your favorite season?
Please let us know if you have any questions or need any help planning your visit.
Happy Travels,
Mark and Kristen
Was This Post Helpful? Pin It For Your Visit!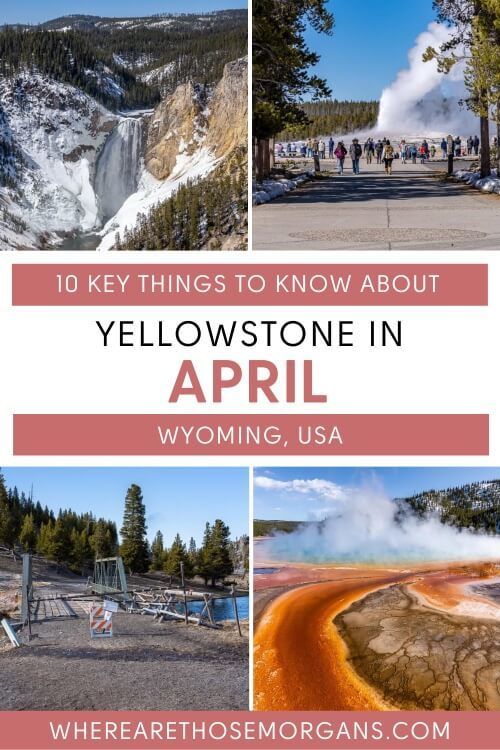 Note: This article contains affiliate links. When you make a purchase using one of these affiliate links, we may earn a small commission at no extra cost to you.
All Rights Reserved © Where Are Those Morgans, LLC. Republishing this article and/or any of its contents (text, photography, maps, graphics, etc.) in whole or in part is strictly prohibited.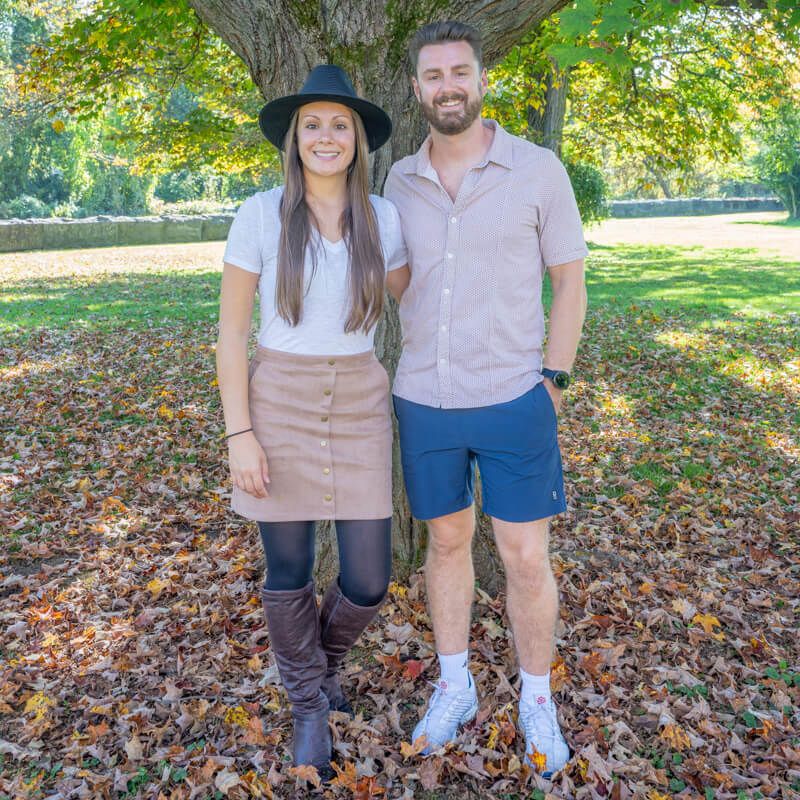 Mark and Kristen Morgan are travel, hiking and photography experts. Over the last 6 years traveling full time, they have explored more than 40 countries and 30 US states.
Their work has been featured in USA Today, Gestalten, Get Your Guide, CityPASS and Condé Nast Traveler along with various other publications.