What are the best gift ideas for women who love nature, hiking and the great outdoors? Well, we're going to dazzle you with the perfect list of outdoorsy gifts for the adventurous woman in your life. We're confident you will find that special something to make her next trip even more amazing!
We've broken this varied list of outdoorsy gifts for women down into sections to make it easier for you to find exactly what you need. First up are items to keep your loved one warm and cozy, followed by outdoor gifts for the campsite, hikers and special luxurious extras.
Last but not least we have included a few outdoor gifts for men because … well, they need things too!
More Gift Ideas: Outdoorsy people are often lovers of travel and photography. We rounded up the best gift ideas and created two perfect gift guides – Gifts for Travelers and Gifts for Photographers – be sure to check them out for more useful ideas!
*Please note this post contains affiliate links. If you click on one of them, we may earn a small commission at no extra cost to you! We recommend only products we use and as always, all ideas or opinions expressed in this post are entirely ours. Thank you for the support and happy travels!*
Best Outdoorsy Gifts to Keep Women Warm and Cozy
Let's start this list with the comforts of home because there is nothing like bringing a little bit of those home comforts to the outdoors. Whether it's sitting around the campfire or cozying up in a tent, these comfy gifts will transform an outdoor living space into a home away from home.
Pendleton Blanket
This camp blanket is on our personal wish list this year! Sustainably-made from machine washable wool in the Pacific Northwest, these camp blankets were originally used by shepherds to brave the elements. This slice of history makes a perfect outdoorsy gift. The neutral color combined with the colorful vertical stripes will also add a little extra pop to a campsite, perfect for photo opportunities!
Buff
Buffs are one of the most versatile pieces of gear we own. They can be worn so many different ways and are the best kept secret for sun protection. We like this brand because it is made out of 95% recycled material and is available in several different colors.
Pom Beanie
Kristen never travels anywhere with out her Pom Beanie and owns several ones in various colors. This beanie is fleece lined and has full coverage of both ears to ensure a cozy fit. The best part is they are also available in many colors so you have tons of choice for your outdoorsy friend, partner or loved one!
Warm Slippers
Hear us out… a pair of warm comfy slippers are just what the doctor ordered after a long hike! They will help you relax and reminisce over a hard days work. These babies will make you feel like you are walking on a cloud and the hard sole can be worn either indoor or outdoor.
Fleece Lined Leggings
If there is one item on this list to purchase, this is it! Fleece lined leggings add the extra bit of insulation needed when the temperatures begin to drop. The breathable and soft fabric is also sweat wicking which make them ideal for any outdoor activity.
Merino Wool Base Layer
Base layers are the most important part of your outdoor gear. Merino wool is the perfect material to sit against your skin because it traps your body heat in air pockets around your body to help keep you warm. We both always use merino wool base layers, especially if we know we will be exposed in the outdoors for long periods of time.
Best Outdoorsy Gifts for Women at the Campsite
Okay, now we are getting to the good stuff, the campsite gifts. We had to reign it in when making this list because we kept finding many things we would love to add to our very own wishlist.
As a result of extensive research, we have included only the items we personally use and would recommend to a friend. Camping can be a lot of fun, but with the wrong gear, it can flat out suck.
So here we go with our favorite camping gifts:
1 or 2 Person Hammock
This lightweight and compact hammock is amazing because we can take it everywhere! We also love being able to pack it back up in the small carrying bag. Personally, we own the two person hammock, but if your looking for a single this would be a great option too. The parachute nylon material is extremely durable and you can choose from several different colors.
Campfire Coffee Mug
Who doesn't love a cute mug to enjoy a warm drink by the fire?! This must-have will hold about 12 oz of your favorite hot or cold drinks. It's made of ceramic so it is both dishwasher and microwave safe making it a perfect addition for just about any occasion.
Stanley Adventure Water Jug
The number 1 rule of the outdoors is to leave no trace which is why we love this container. We fill it with water for every camping trip and we have found the two gallon size to be perfect for group trips. The double walled foam insulation also keeps drinks cold for hours!
Jetboil Camping Stove
We have two options for camping stoves on this list and it will depend on the trip you will be taking. The Jetboil is small and compact which makes it perfect for multi-day hikes in the backcountry. Another awesome feature is the FluxRing technology which boils water in just over two minutes!
Two Burner Camp Stove
This is our top recommendation for a permanent camp stove set up. While the Jetboil above is wonderful for longer trips, this stove is perfection for your everyday campsite. The push button ignition makes cooking a breeze and we absolutely love the wind-blocking panels. The two burner system sold it for us because we can finally cook two things at once!
Helinox Ultralight Camping Chair
This ultralight compact camp chair made of aluminum alloy weighs a mere one pound making it an ideal candidate for travel. This beauty also packs down into the size of a 32-ounce water bottle and can hold up to 265 pounds itself. Strong and compact, get one!
Camp Sleeping Pad
This sleeping pad will give a whole new meaning to outdoorsy gift because you are giving the gift of a great night sleep! These waterproof pads are made from camping grade ripstop nylon fabric which also carry a lifetime replacement.
Cast Iron Skillet
A cast iron skillet can be used over a campfire, in an oven or even for slow-cooking foods. The best part about cooking with cast iron is that it evenly distributes heat to the entire pan. This thoughtful outdoorsy gift is pretty much indestructible and will last for generations!
Collapsible Cutting Board, Strainer and Dish Tub
If you're tight on space, this versatile and compact item is the perfect solution. We purchased one of these after our very first camping trip because it can be used to many ways! We have used it to cut veggies/fruits, ice beverages, strain pasta, hold items and wash our dishes.
Bear Resistant Food Canister
No one wants a visit from a bear at night. Approved by the National Park Service, keep your food stored properly with this bear canister. This size will store about 4 days worth of food – perfect for a couples weekend or a few days solo trek.
Yeti Rambler
Mark is British which means he pretty much always has a tea in hand. The rambler has double-wall vacuum insulation which keeps his tea nice and hot. We always take this for sunrise photography to keep us going in the morning. It's available in several colors and is also dishwasher safe.
Best Outdoorsy Gifts For Women Who Love To Hike The Trails
As avid hikers, we savor every second on the trails. We imagine the hikers in your life do the same, which is why we hand-picked these outdoor gifts to enhance hiking experiences.
When we started out hiking, we couldn't afford to buy everything at once so we started with a few things and just kept adding to our gear. We compromised and bought more things when we could.
If your loved one is anything like us, they are easily pleased. Outdoor lovers tend to enjoy the simple things and will be happy with any of these hiking gifts.
LED Headlamp
All hail the gift of light! The special part about this LED headlamp is the red LED option. Red lights help to preserve night vision so you can have no interruptions when exploring the outdoors. This lightweight lamp also has an easy adjustable beam angle which also gives the best visibility.
Solar Powered Crush Light
With 60 lumens of light and a 35 hour run time, this portable light is pretty unbeatable. Fold it to save space, charge it with the built in solar panel, and choose from the chroma or white option. To add some extra ambiance, there is also a candlelight flickering mode!
Columbia Hiking Boots
These lightweight Columbia hiking boots are Kristen's go to boots for the trails! She's worn them on both day hikes and multi day hikes without a single problem. We love the mountain red / elk color but you can choose from many other options. Your outdoorsy friend will be sure to get some compliments on these boots!
Solar Power Bank
Give the gift of safety! Nowadays everyone uses apps on their phone for trail maps. But what happens if your phone dies? You would certainly be in a pickle. Luckily, this rugged charger offers the ability to charge wirelessly or through USB. The flashlight and compass also add some extra safety features if needed.
Osprey Hiking Backpack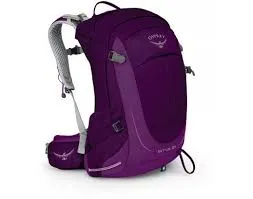 Never skimp on a backpack! This is one of the most important pieces of outdoor gear besides your clothes. It's much better to save and buy a more expensive backpack than try to save a little bit of money with a cheap one. Osprey has traveled with us for years and we can back up it's strong durability. The Sirrus is created with the woman in mind so you can be sure of a great fit.
If the person you are buying a gift for also happens to be into photography, another option would be the incredibly versatile and innovative Peak Design Everyday Bag. This bag has plenty of room for both outdoor adventures and photography gear!
Read our in depth review of the awesome Peak Design Everyday Backpack here.
Best Luxurious Outdoorsy Gifts For Women
Most of the gifts on this list are pretty budget friendly, but maybe you wanted to splurge a little or maybe you are also shopping for yourself?!
Here a few luxurious extra to truly transform an outdoor living space into the perfect getaway.
Garmin Venu Fitness Watch
Mark got this watch half way through 2020 and it's one of his favorite items to date. He uses it for workouts, runs and swims to monitor his distances / times, heart rate and breathing. It also keeps a record of our hikes and provides GPS if we need it. We can guarantee this will be a well loved present!
Inflatable Stand Up Paddle Board
This beast is on our very own wish list – at 10 feet tall, 6 inches thick and 32 inches wide, the board inflates in minutes and we are completely sold! The price includes every accessory you will need for your outdoor adventure.
Belt Buckle Fedora Hat
Okay maybe this isn't the most luxurious gift, but this definitely isn't the first thing we would pack for our next trip. With that being said, this beautiful hat is perfect for taking your photos to the next level. So buy one for yourself and one for your friend to up your Insta game.
Yeti Cooler
We bought this cooler before our first cross country road trip! While it set us back a little bit in funds, we made it back easily with the food costs we saved on the road. We were able to keep food and drinks cold for days in the desert without ever having to worry about spoilage.
BioLite Firepit
This firepit can be used as a smokeless grill, a BBQ or just for ambience around the campsite. You can burn either charcoal or wood which gives you plenty of options! The rechargeable power pack also means you can power your fire for a full 24 hours.
Best Outdoorsy Gifts for Men
Yes, this is a list of gift ideas for outdoorsy women but we aren't ones to discriminate! Here are just a few items for men, in case you feel they deserve something special or might feel left out!
Flannel Lined Shirt Jacket
When you venture into the great outdoors, you will be tight on space. This double lined flannel is the perfect solution for layering and extra warmth. It's rugged on the outside so it can stand up to the harsh elements but then has an extremely soft inside to keep your man comfortable.
Addidas Terrex Hiking Shoes
When Mark came across the Adidas Terrex, he just had to try them. These are the perfect combination of hiking boot and running sneakers which make the ideal candidate for a hiking shoe. They are now Mark's go to hiking companions! Spray them with a little bit of water proofer before hitting the trails for extra protection.
Carhartt Hat
Available in several colors, always warm and comfortable, this hat will quickly become a favorite. Carhartt is known as a tough durable brand which is exactly what you need in a hat.
We hope this helped you pick out the best outdoorsy gifts for all of the adventurous women in your life!
Please let us know if you have any questions about any of the ideas listed above, we'll be happy to help.
If you're not exactly sure which gift your outdoorsy friend, send them a link to this webpage and let them choose!
-Happy Shopping-
Was This Gift List Helpful? Pin It For Later!
Valuable Resources For Your Next Trip