Planning the perfect Yellowstone vacation requires research, organization and at times even a spot of good fortune. You want to plan your trip around geysers, hot springs and major attractions, but in the end your Yellowstone itinerary will be adapted to fit around hotels and where you can stay inside or near Yellowstone National Park.
In this guide you will learn about the best nearby towns, park villages, hotels, cabins and lodges to stay inside and near Yellowstone, across each region of the 2.2 million acre national park.
For convenient but expensive and in demand accommodation inside the park, we will break Yellowstone down into North, Central and South regions.
For the 5 entrances into Yellowstone, we will walk you through the top rated places to stay in or near each gate on the compass.
Are you flying into an airport near Yellowstone? It is likely you'll spend a night in a town near the park after landing or before leaving to catch your flight.
With so many options and caveats for such a huge park, this can be a difficult vacation to plan. But we're going to get your vacation off to the best possible start by helping you organize your hotel rooms early.
Let's start identifying your Yellowstone lodging!
*Please note this post may contain affiliate links. If you click on one, we may earn a small commission at no extra cost to you!*
Tips For Booking Yellowstone Hotels
Similarly to lodging at Yosemite national park, booking accommodation is the most challenging part of planning a Yellowstone vacation. Once your rooms are booked, the rest of your plans will fall into place.

We can't stress enough the importance of booking in advance for Yellowstone.

Expect to find accommodation fully booked in peak season and be prepared with backup options.

Hotel, lodge and cabin opening times differ across each area of Yellowstone. You need to be aware of exactly when each accommodation is open and closed.

The

best things to do in Yellowstone National Park

are spread out across the entire park.

To visit Yellowstone most efficiently, you may need to sleep in a new place each night.

Alternatively, book your entire stay in one accommodation but be prepared to drive back on yourself often.

Booking rooms inside Yellowstone can only be done through the official site and not through search engines.

Remember there are campgrounds and RV parks inside Yellowstone if hotels are fully booked.

We will show you the best places to stay outside the park incase all accommodation is fully booked.
Our top tip: If you can only book one hotel inside the park, make it Canyon. Then you can plan your other hotels outside Yellowstone for the nights around your stay in Canyon.
Remember, Yellowstone is one of the best places to visit in the USA but it is only fully open between April and October. You'll stand a better chance getting booked up earlier or later in the season.
Best Places to Stay In and Near Yellowstone
Travel budget, time, season and most importantly 'availability' will play a factor in how you decide where to stay when you visit Yellowstone national park.
We will explain how you can plan based around a tight budget later in the guide but for the most part, we will focus on vacation efficiency.
What do we mean by efficiency?
Well, Yellowstone is a big old park and there's an enormous amount to see in a short space of time. If you don't move hotels throughout your stay, you will spend hours driving the same roads each morning and evening.
Here is a summary of the best places you can stay in and near Yellowstone depending on which direction you enter and leave the park:
Inside Yellowstone
North Yellowstone: Mammoth Hot Springs

Central Yellowstone: Canyon Village

South Yellowstone: Old Faithful
Outside Yellowstone
North Entrance: Gardiner, MT

Northeast Entrance: Cooke City, MT

East Entrance: Cody, WY

South Entrance: Jackson, WY

West Entrance: West Yellowstone, MT
How Many Nights and Hotel Rooms?
Yellowstone is an extraordinary geothermal landscape with dozens of unmissable attractions. In our opinion, 4 days is the perfect amount of time to spend in Yellowstone for a first time visit.
Read our popular Yellowstone itinerary detailing how to spend 4 days hitting all the highlights.
In an ideal world, you would fly in, spend a night near the park, stay one night in Mammoth, Canyon and Old Faithful, then spend another night near the park and fly out the next day.
Total of 5 nights and 5 hotels.
But in truth, very few visitors will be able to book the perfect rooms in the perfect order.
Yellowstone loop road is longer than you might imagine, which means greater driving times and going back on yourself if staying in the same places for more than one night.
And that is why Yellowstone can be difficult to plan.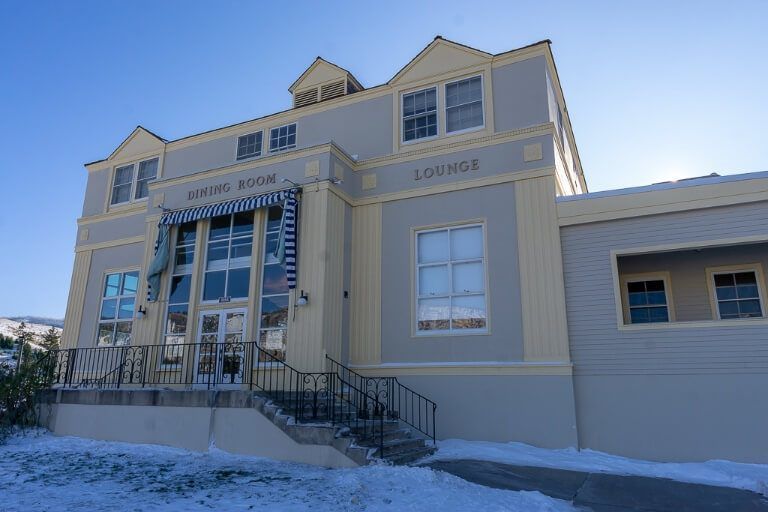 Successful Yellowstone Vacation Planning
The key to successful Yellowstone vacation planning is to be as organized as you possibly can be. What we mean is book your hotels, cabins or campgrounds the minute you have concrete travel dates.
Accommodation is expensive in the most popular Yellowstone villages, so you will have to decide if budget or convenience is more important.
Using an example of a typical 4 day itinerary visiting from North to South, here is the most efficient way to visit Yellowstone:
Night before Day 1: Outside the park (Cody WY, Gardiner MT or Cooke City MT)

Spend Day 1 in Lamar Valley, Tower-Roosevelt and Mammoth

Day 1 Night: Stay at Mammoth Hot Springs

Spend Day 2 in Mammoth, Norris Geyser Basin, Mt Washburn and Canyon

Day 2 Night: Stay at Canyon Village

Spend Day 3 in Canyon, Hayden Valley, Yellowstone Lake and West Thumb

Day 3 Night: Stay at Old Faithful

Spend Day 4 in Lower, Midway and Upper geyser basins, drive through Grand Teton

Day 4 Night: Stay in Jackson, WY
(Optional but recommended) Spend Days 5 and 6 in stunning Grand Teton National Park
By staying outside of Yellowstone the night before your first full day and the night you leave the park, you will save a lot of money versus booking more park hotel rooms.
If you're visiting on a budget, the example above is the most cost effective plan if you want to stay inside the park. You can choose to spend each night in a town outside the park to save further.
But if budget isn't too much of a concern for your vacation, you have more flexibility to spend additional nights at Mammoth, Canyon and Old Faithful.
Season Will Play a Huge Role in Availability
Yellowstone is one of the best and most popular national parks in the US. If you're planning to visit in Summer, you will have to book a long way in advance to grab a room at a hotel inside the park.
Anyone who wants to take a spontaneous trip to Yellowstone in Summer will have to fight for hotel rooms in towns near the park entrances.
Shoulder seasons give you a little more flexibility and from experience we can tell you it is possible to pick up a hotel room if booking closer to your dates of travel.
We personally think May and October are the best months to visit Yellowstone to see the park completely open but with far fewer crowds.
Accommodation in the park opens in May and begins to close in October for the Winter season.
Are you planning a visit to Yellowstone in Spring or Fall? Here are two important reads for you:
But we still strongly recommend you book as far ahead as possible to guarantee a room and eliminate risk (and stress!).
Winter offers a completely different experience at Yellowstone, where only Mammoth Hot Springs has year round accommodation availability.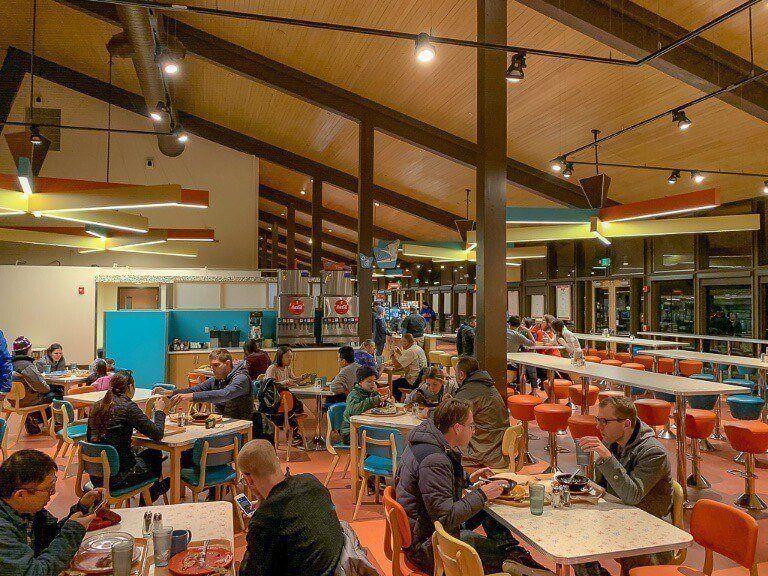 Staying Inside vs Outside Yellowstone
If you follow our money saving suggestion of spending the night before and last night of your visit outside of Yellowstone park hotels, you can then decide whether staying in park hotels or non park hotels works best for the nights of your Yellowstone itinerary.
If you decide to stay outside the park, here are drive times from each park entrance to the nearest town for you to consider:
Mammoth – 15 minutes to Gardiner, MT (North)
Tower Roosevelt – 45 minutes to Cooke City, MT (Northeast)
Yellowstone Lake – 1 hour 45 minutes to Cody, WY (East)
West Thumb – 2 hours to Jackson, WY (South)
Firehole Drive – 20 minutes to West Yellowstone, MT (West)
As far as convenience is concerned, staying at the park hotels is a clear winner.
For example, staying at Mammoth instead of Gardiner or Old Faithful instead of West Yellowstone means you have Yellowstone's best attractions quite literally on your doorstep.
However, by staying at the park hotels, you are a limited by amenities and you will pay more not only for your hotel / cabin but also for eating in village restaurants and food courts.
If you choose to drive back to Gardiner or West Yellowstone, you can spend the night in a hotel suiting your budget with far greater options for breakfast and dinner.
Either way has its pros and cons, we'll leave it up to you to decide on priorities.
Where To Stay Inside Yellowstone National Park
Now onto the important details, the best places you can stay if you decide to spend your nights in the national park hotels.
Each of the lodging options can only be booked through an official national park accommodation booking channel. You have no flexibility over prices and they will not change, so waiting for last minute deals is not a good idea.
Let's kick off proceedings with North Yellowstone.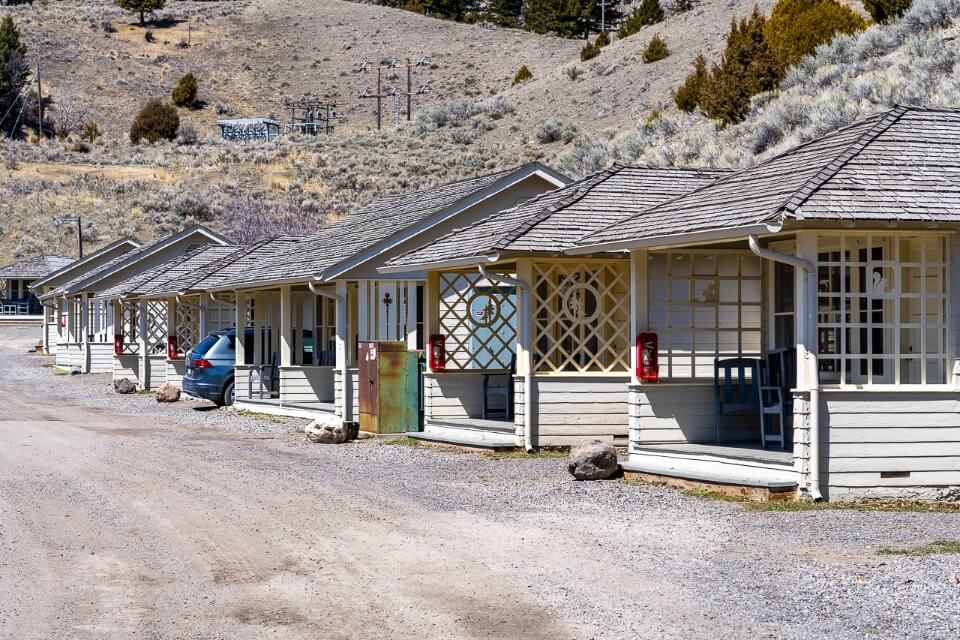 North Yellowstone – Mammoth Hot Springs
Mammoth Hot Springs is the major hub for Northern Yellowstone national park. You will find famous Hot Spring terraces, the boiling river, hikes and plenty of wildlife in this region.
Mammoth Hotel and Cabins is the only accommodation open all year inside the park. You can choose between a hotel style room inside the main building or a semi-detached frontier cabin nearby.
Mammoth Campground and Indian Creek Campground are both in this region.
There is a huge dining hall serving all meals throughout the day and the area has a small village feel.
Mammoth Hotel and Cabins Booking Options:
Central Yellowstone – Canyon
Canyon Village is Yellowstone's most popular accommodation region with over 500 guest rooms spread across 5 hotel-style lodges and 100+ basic cabins.
Nearby attractions include Grand Canyon of the Yellowstone, Upper and Lower Yellowstone Falls, Mount Washburn (hike) and Hayden Valley (wildlife).
A canteen style dining room offers various cuisines for meals throughout the day and a place to relax by a huge fire.
Canyon accommodation is open from mid May to mid October. Exact dates change each year so be sure to triple check these dates if you plan to visit in May or October.
Canyon Lodge and Cabins Booking Options: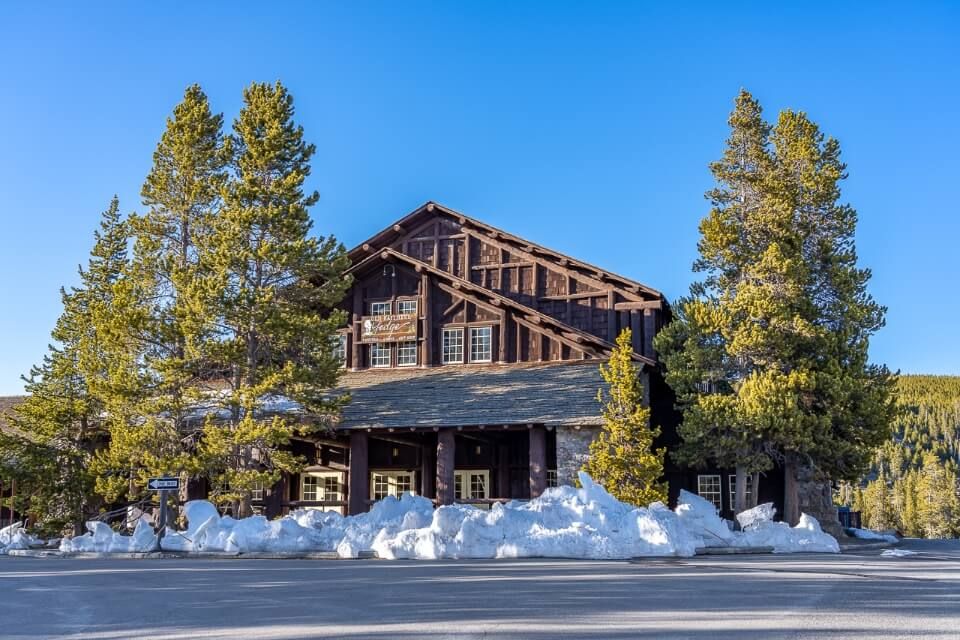 South Yellowstone – Old Faithful
Old Faithful is quintessential Yellowstone and you have 3 choices for accommodation within the same village area. Those 3 choices are Old Faithful Inn, Old Faithful Lodge Cabins and Old Faithful Snow Lodge.
Old Faithful Inn
Old Faithful Inn is listed as a national historic landmark and as a result is the most requested lodging option in all of Yellowstone. Which means you need to get in even earlier for this one!
The Inn was built in 1903-1904 from materials sourced around the park and is labelled the largest log structure in the world. You will find a lounge, restaurant and spectacular lobby area with stone fireplace.
Opening dates are from early May to mid October.
Booking Options:
Old Faithful Lodge Cabins
Old Faithful Lodge Cabins is your budget option within the Old Faithful village. You can pick up a frontier cabin or cabin without bathroom if you prefer to save money on accommodation.
Views of Old Faithful are prime time from the lobby and you have access to a cafeteria style food court.
Opening dates are from mid May to early October.
Booking Options:
Old Faithful Snow Lodge
Quite confusingly, Old Faithful Snow Lodge is not open for Winter, it just has slightly longer opening dates than the other accommodation options around Old Faithful village.
The Snow Lodge is the newest of all accommodation offerings at Yellowstone. Completed in 1999, you can choose between western cabins, frontier cabins and premium lodge rooms.
Opening dates are from end April to end October.
Booking Options:
---
Where To Stay Outside of Yellowstone National Park
You have far more flexibility over choosing your own hotels outside of Yellowstone.
Inside you are limited by price and availability, so it's refreshing to be back in control of your options.
Whichever compass direction you approach and leave from, booking a night either side of your Yellowstone itinerary to allow more full days inside the park is a great way to save initially.
To give you our example, we approached from South Dakota and stayed in Cody, WY before leaving via Grand Teton and Jackson Hole, WY.
We saved money on hotels in Cody and Jackson vs paying 2 more nights in park hotels.
However, you can save further by staying outside the park for your entire vacation. Yes, you will have more driving but you also have more amenities and can tailor to your budget.
Hotels in the small towns around Yellowstone are all competing with one another so prices can be driven down and deals do exist.
Booking Hotels
We're going to take all the hard work out of searching for best hotel deals in each of the towns near Yellowstone entrances. The hotel recommendations below are based on highest guest rating vs price ratio so you only see the best available options.
All of our recommendations are through Booking.com, a hotel booking service we use every single time we travel.
Our advice is to click on the hotels to check prices for your dates, use those prices as a reference and see if you can beat them.
If you haven't already, sign up for a free membership with Booking and you'll benefit from their rewards program – Genius. Just head over to the Booking.com homepage and sign up.
But before you book anything, read our in depth guide about ways you can save money on hotels every time you take a vacation.
Let's now take a look at best hotel options in towns near each Yellowstone entrance: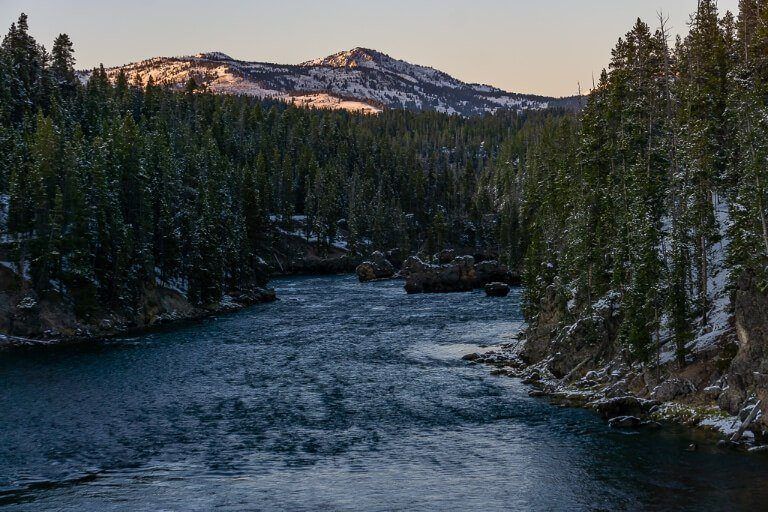 North Entrance – Gardiner, MT
Gardiner, MT is the gateway to Northern Yellowstone and just 15 minutes drive from Mammoth Hot Springs. This is the perfect alternative town to stay in if there is no availability in Mammoth or you want to book a cheaper night.
You will find an array of hotel options here, plus a variety of cafes and restaurants.
Here are the top rated hotels for low and mid range budgets:
Budget:
Mid Range: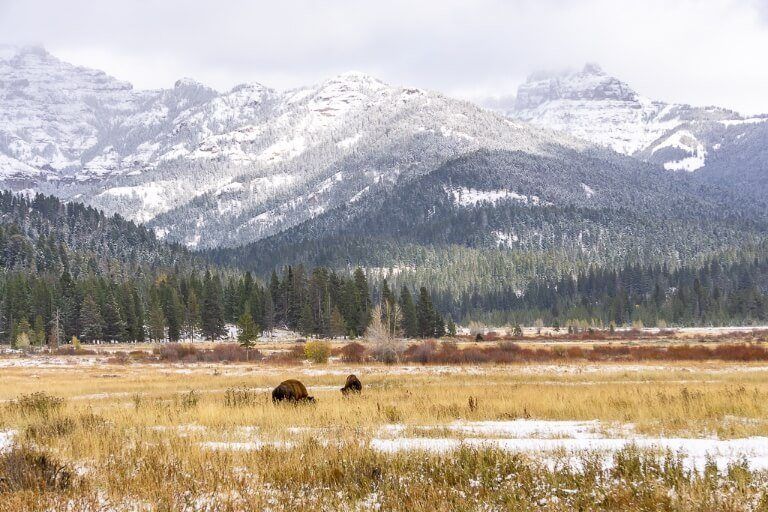 Northeast Entrance – Cooke City, MT
Cooke City is a tiny village at the Northeast entrance to Yellowstone, perfect for exploring Lamar Valley on the way into the park. Lamar is widely regarded as the best wildlife spotting region in Yellowstone.
Hotel options are limited and distance to the loop road is 45 minutes, but you will find a number of highly rated eateries in Cooke City.
Here are the lodges with highest guest reviews in Cooke City:
Budget:
Mid Range: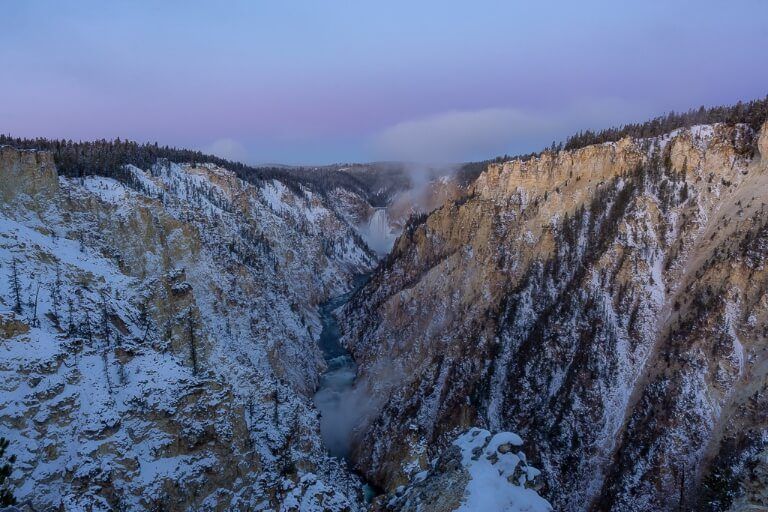 East Entrance – Cody, WY
Cody, WY is a much larger town with a host of hotel and dining options on offer. You will have far greater control over your stay in Cody and you can visit the Buffalo Bill Center of the West Museum, which is really interesting.
We spent 2 days in Cody (thanks to a monster snowstorm!) and have recommendations. Rawhide Coffee is great for a morning coffee and Fat Racks BBQ joint is awesome for dinner.
Cody is 1 hour and 45 minutes from East entrance and even longer if you enter via Northeast entrance as we had to due to road closures.
Therefore, we don't recommend you use Cody as a place to stay between days inside Yellowstone. The night before or the night after, Cody works perfectly.
Cody is the perfect place to spend a night on a road trip from Mount Rushmore to Yellowstone. Spend a night here, wake up early and enter via East entrance.
Let's take a look at your top hotel options in Cody, WY:
Budget:
Mid Range: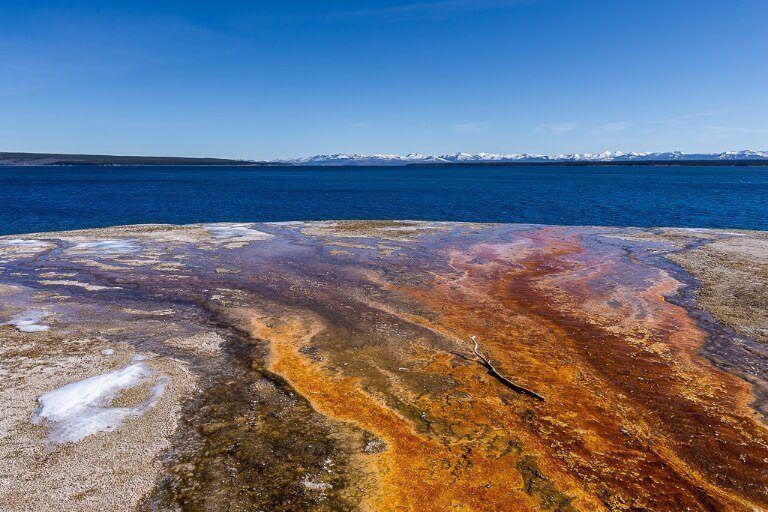 South Entrance – Jackson, WY
Jackson Hole is a cool ski resort town perfectly located just 15 minutes drive from Grand Teton and 2 hours from Yellowstone loop road.
Like Cody, Jackson is not the place to stay between days in Yellowstone. However, it is the ideal place to spend a few nights before or after Yellowstone, so you can enjoy the stunning beauty inside Grand Teton national park.
You will not struggle to find accommodation options in hugely popular Jackson, nor struggle to find any type of food in town. Our top recommendation if you like pizza is Hand Fire Pizza, a fantastic pizza place inside an old cinema / theater.
As for hotels, here are just a few of the top rated places covering all price brackets:
Budget:
Mid Range:
Luxury: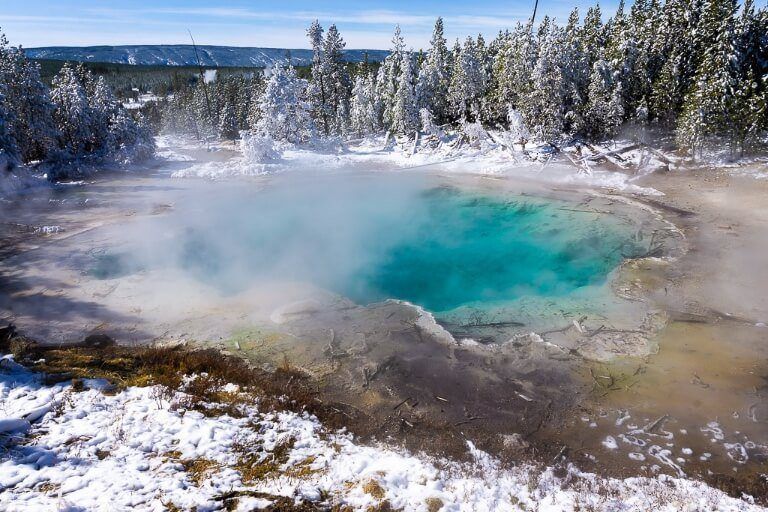 West Entrance – West Yellowstone, MT
West Yellowstone can be likened to a resort town right on the boundary of the national park.
It is the closest major town to the Yellowstone loop road with dozens of hotels and restaurants, serving as the perfect base for visiting the park for those who were unable to book hotel rooms inside.
It is the closest town to the park boundary and is central, which means less driving time than if you stayed in any other small town near the park.
You would enter Yellowstone in between Norris geyser to the North basin and Lower / Midway / Upper geyser basins to the South.
Downside is a lot of driving time to explore the entirety of Yellowstone. Upside is you won't have to deal with checking in and out of hotels every morning and evening.
The resort town of West Yellowstone even has its own airport, although Salt Lake City airport provides the only flight route and they aren't cheap!
Here are some of the top rated hotels in West Yellowstone spanning all budgets:
Budget:
Mid Range:
Luxury:
Hotels Update For The 2022 Yellowstone Season
We have new photographs and information following a second visit to Yellowstone in 2021.
This time we spent 3 nights right outside the park boundaries:
1st night – Roosevelt Hotel in Gardiner MT
2nd night – Yellowstone Cottages in Gardiner MT
3rd night – Kelly Inn in West Yellowstone MT
Roosevelt Hotel, Gardiner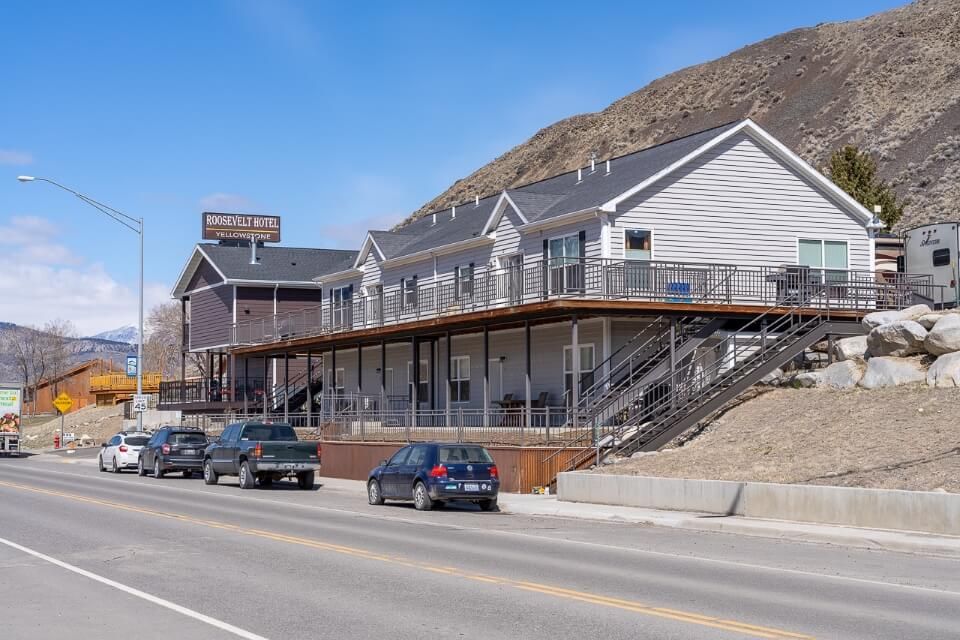 Roosevelt Hotel is the newest addition to a growing list of lodging options in Gardiner at the North entrance to Yellowstone. It looks a little bleak in the photo above due to the time of year but the hotel was great.
Parking is at the rear, complimentary coffee, patio and oversized bathrooms were the standout features when we stayed. It is quietly located at the far northwest of town.
Book a room at Roosevelt Hotel.
Yellowstone Riverside Cottages, Gardiner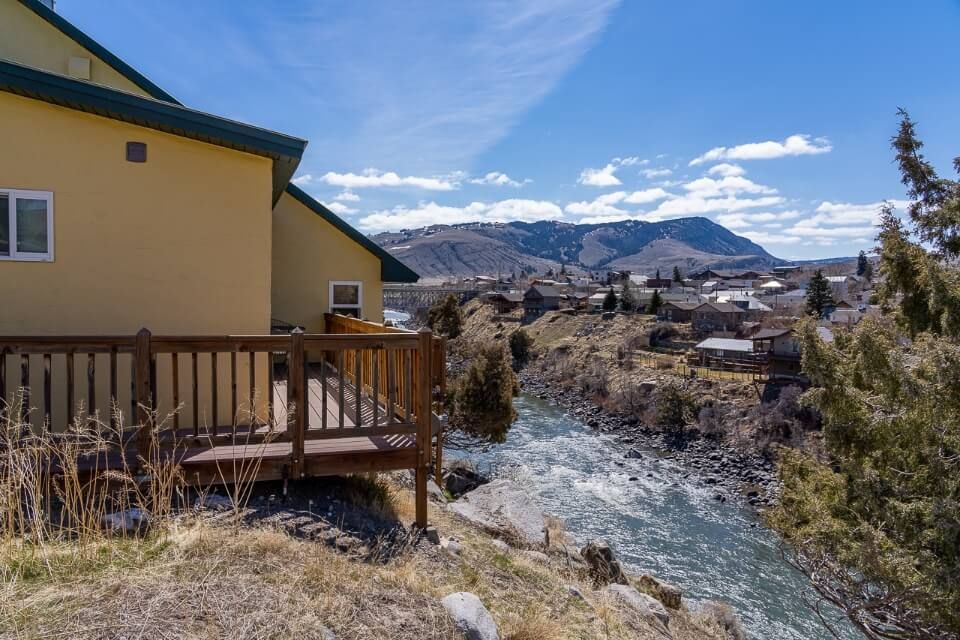 Yellowstone Riverside Cottages offer highly rated rooms with balconies alongside the Yellowstone River. Even without a balcony, there is a huge deck open to all in the center directly overlooking Roosevelt Arch and Yellowstone National Park.
Also located on the quieter side of Gardiner, the cottages were relaxing and the sound of running water soothing after a long day in the park. This one cost us a little more but it was worth it.
Book a room at Yellowstone River Cottages.
Kelly Inn, Montana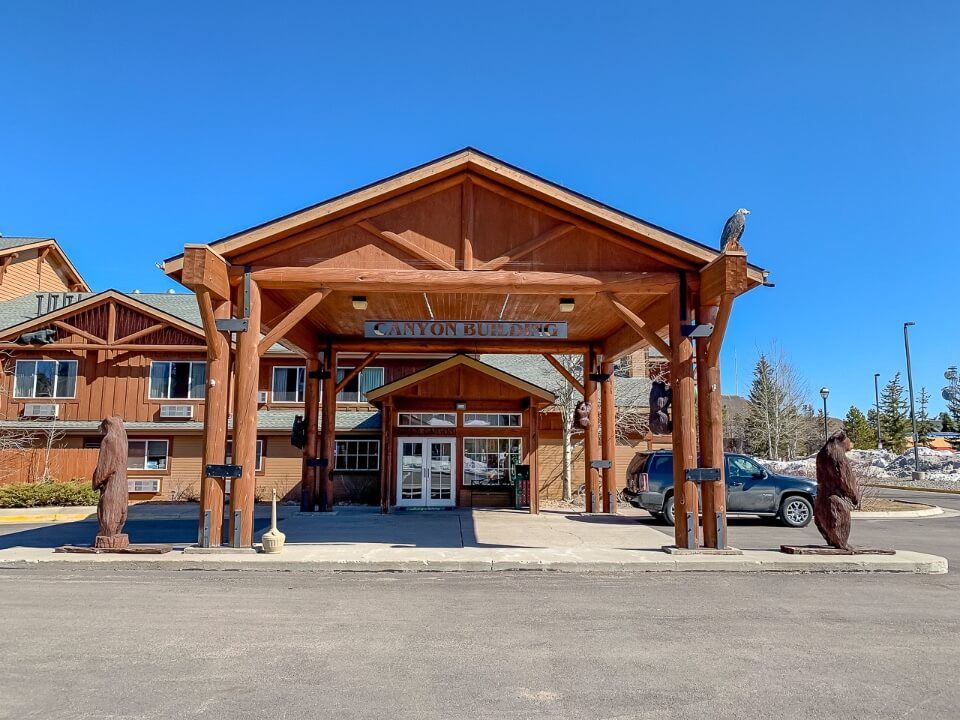 Kelly Inn is one of the most popular hotels to stay in around Yellowstone National Park. It is pretty much always full during Summer months and we squeezed a night in during our most recent stay.
The room was huge and quiet, plus breakfast was serve serve buffet-style and there's even a pool. It is close to West Yellowstone entrance and all the amenities in town.
Book a room at Kelly Inn.
Where to Stay in Yellowstone on a Budget
Here's an example of how you could stay in Yellowstone if you're traveling on a low to mid range budget but don't want to sleep in a tent (we hear you!):
Fly to Salt Lake City or Bozeman and drive to Gardiner.

Choose a budget hotel like Yellowstone Basin Inn for night 1.
Explore the entire park spending nights 2, 3 and 4 in a West Yellowstone budget hotel such as Kelly Inn.
Check out of the hotel, drive to Jackson to stay in a budget hotel like Elk Country Inn and explore Grand Teton.
Fly out of Jackson, Salt Lake City or Denver. Alternatively, continue South on an epic Utah Road Trip!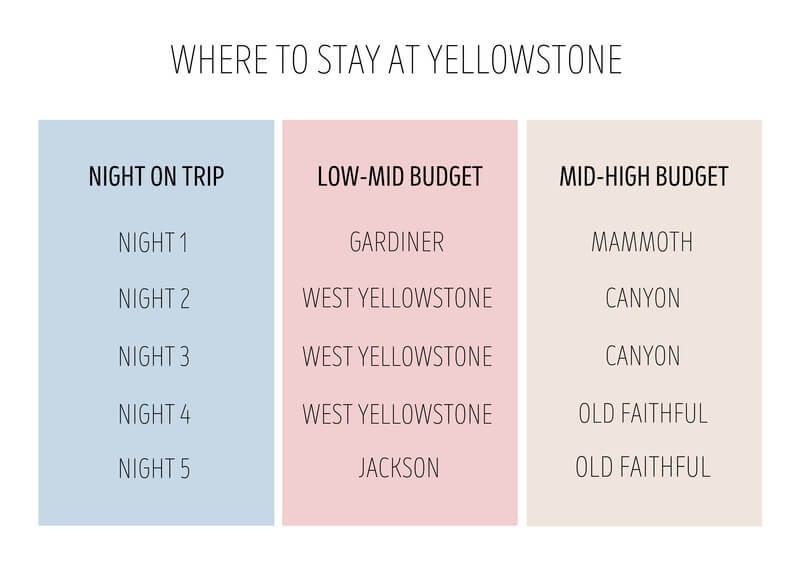 In summary, use the guide above as an example of the places to book your hotels in or near Yellowstone based on a low-mid range and mid range-high budget.
Finally, no matter where you end up sleeping, we hope you have the most amazing vacation to Yellowstone National Park.
Read More About Yellowstone and Grand Teton
Salt Lake City is the perfect place to begin an unforgettable road trip to Yellowstone and Grand Teton national parks. Our ultimate 7 day SLC to Yellowstone road trip itinerary will help you plan an epic vacation.
More Where To Stay In …
---
We hope this where to stay in Yellowstone guide helps you plan your visit to the park!
Have you been to Yellowstone? Which was your favorite place to stay in the park?
Please let us know if you have any questions or need any help planning your visit.
Happy Planning,
Mark and Kristen
Was This Post Helpful? Pin It For Your Visit!