Extraordinary natural landscapes and iconic landmarks make Yosemite one of the most popular and best USA national parks. However, such popularity creates a common challenge for those planning a vacation to the park – where are the best places to stay at Yosemite?
More to the point, what types of lodging are available? And how far in advance should bookings be made?
Well, we can tell you from experience that booking hotels, campgrounds and lodges at Yosemite will require you to be organized, adaptable and flexible.
Unlike Springdale for Zion or Bar Harbor for Acadia, there are no handy towns right on the doorstep offering an array of convenient hotel and restaurant options.
On the contrary, lodging at Yosemite is similar to lodging at Yellowstone.
Both parks are enormous and the only alternatives to official national park service accommodation are cabins, lodges and hotels in small villages or towns within striking distance of the park.
We're going to walk you through all major accommodation options inside Yosemite, plus the best hotels, lodges and cabins in ideally located places near Yosemite. We will also include details for Yosemite's famously 'always full' campgrounds.
Let's get your Yosemite lodging booked early and your vacation off to the best possible start!
Important 2022 Update: Yosemite National Park now requires reservations May 20th through September 30th, 2022. This will apply to anyone driving into the park between 6am and 4pm. For more information and to make a reservation, visit the NPS website.
*Please note this post may contain affiliate links. If you click on one, we may earn a small commission at no extra cost to you!*
Your Vacation Itinerary
Read our ultimate guide to Yosemite national park for more information about the best things to do and how to spend 3 days in the park efficiently.
Time of year and your exact travel plans will both play vital roles in where you end up staying when visiting Yosemite national park.
Here are two examples:
Example 1 – You want to spend 3 nights in the park on a weekend in the middle of Summer.
You will need to be very organized and get your bookings in as soon as you know dates, months in advance. Seriously, the minute you have dates, start booking.
Example 2 – You plan to spend 2 weekday nights in Yosemite during late Spring or early Fall.
You have more flexibility and stand more chance of picking up a room closer to the time. You'll stand a better chance of booking a continuous 2 night stay over a 3 night stay, plus the weekday nights will make life much easier.
Yosemite is a huge park, traditionally separated into 3 areas – North Yosemite, Yosemite Valley and South Yosemite. We think 3 full days is the perfect amount of time for a first visit to Yosemite, 1 day for each of the areas.
Do you need help planning your visit to Yosemite National Park?

Our popular 50 page Yosemite Guidebook and Itinerary covers every aspect of planning a trip to Yosemite including hikes, hotels, restaurants, getting around, things to do and so much more!
Start and End Points For Your Trip
Are you visiting Yosemite on a roundtrip from San Francisco? Maybe you're driving a California road trip or even a longer Western US road trip?
Either way, your route will impact on where to stay for most efficiency.
For example, if you start in Las Vegas and visit Death Valley on the way to Yosemite, you can spend a night in a budget hotel just outside the park in Mammoth Lakes.
That way you can spend your first full day visiting North Yosemite and spend your second night in the valley.
Remember, you don't have to book the same hotel, cabin or campground for your whole trip. You could spend 4 nights in different accommodations if it makes sense for your visit.
Our Yosemite Accommodation Experience
Yosemite is in such high demand that accommodation inside the park is notoriously difficult to secure, particularly during peak season.
We visited Yosemite in October as part of a 3 month Western US road trip. We were booking a week or two in advance due to regular changes to our itinerary.
Having left Death Valley late afternoon, we stayed in Mammoth Lakes and began day 1 in North Yosemite.
No lodges, hotels or cabins were available or feasible inside the park for any of our nights at the park. Some had closed for the season and others were fully booked or too expensive for our budget.
So, we tried the campgrounds. Only Upper Pines had 1 night free out of the 3 nights we wanted to stay in Yosemite. We booked that 1 night at Upper Pines but needed to sort 2 more nights.
Ideally, we didn't want to be based too far from the park. Therefore, we looked for hotels, lodges and cabins near Yosemite Valley and fortunately found a canvas-cabin with 1 night available.
All that was left was to find a hotel for the night after we finished our final day in Yosemite. It didn't matter about distance from the park as we wouldn't be going back the next day and we found a great hotel in a nearby town called Mariposa.
The take home is that you can book into as many different places as you need to make your trip work.
Both nights in the campground and canvas-cabin night were freezing cold at the end of October. If you visit in Spring or Fall, be aware of plummeting temperatures at night.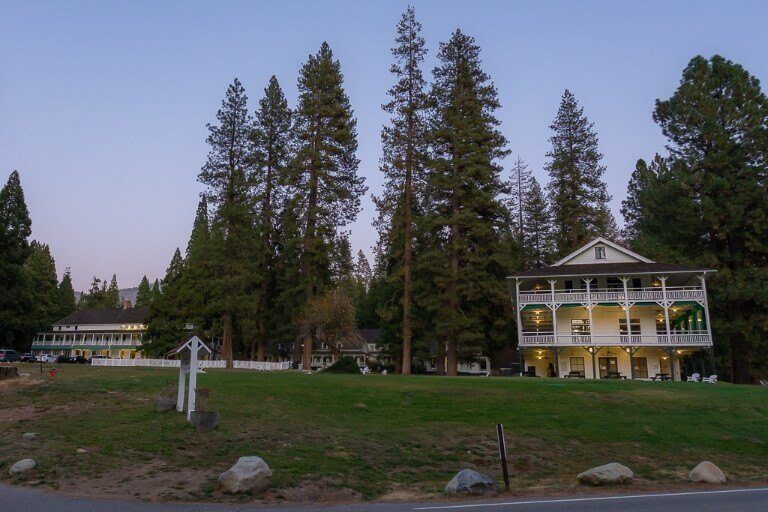 Yosemite National Park Lodging
Now onto the important part, let's take a look at all of the accommodation options you have inside Yosemite national park.
Remember, Yosemite is one of the most popular places to visit in the US so you'll need to be organized and plan ahead if you want to stay at a hotel inside the park.
The benefit of staying in the park is of course that you wake up and have no driving at all. But you will pay for the considerable convenience and every bed in the park will fill up way in advance.
1. The Ahwahnee
Yosemite's historic crown jewel and upscale hotel, the Ahwahnee is arguably the best place to stay in all of Yosemite.
Its location is perfect, close to the Yosemite Valley visitor center and surrounded by granite domes. You have access to a heated swimming pool, stunning dining hall and lounge / bar.
However, you also need a seriously healthy travel budget. You'll be looking at somewhere around US$ 500 per night.
Consider staying here in the middle of your Yosemite itinerary, as long as you have the budget.
The Ahwahnee is open all year.
Booking Options:
2. Wawona Hotel
Wawona Hotel is a Victorian style hotel located 29 miles South of Yosemite visitor center and takes around an hour to drive. This is the only other traditional hotel accommodation inside the park boundary.
The historic hotel has a seasonal outdoor pool, a 9-hole golf course and quaint dining hall for guest to eat at each mealtime throughout the day. Expect to pay around US$
Due to its location in the South of Yosemite, consider staying here a night either at the beginning or end of your itinerary as you enter or leave the park.
Wawona Hotel is open all year, but due to renovation will open in June 2021.
Booking Options:
3. Yosemite Valley Lodge
Yosemite Valley Lodge is a fantastic place to stay if you can grab a room. It bridges the gap between location and cost, being located a stones throw from Yosemite Falls and at half the price of the Ahwahnee.
For US$ 200 -300 a night you will find an outdoor pool, quaint rooms and a food court with amazing 'Mountain Room' dining hall. For an overall price vs location ratio, this is where to stay for most families, couples and larger groups – if you can find availability.
Yosemite Valley Lodge is open all year.
Booking Options:
4. Curry Village
Curry Village is located at the base of Glacier Point, not far from Upper Pines Campground and the trailhead for Mist Trail to Half Dome, which is a fantastic location in the valley.
At Curry Village you can find heated / unheated canvas tents, lodges and standard rooms. Tents have better availability and cost between US$ 100 – 150 per night.
There are amenities on site such as coffee shop, grill, pizza place, bar and seasonal outdoor pool. Again due to central location, it's better to spend a night or two here in the middle of your itinerary.
Curry Village is typically open April – October.
Booking Options:
5. Other Lodging Inside Yosemite Park Boundary To Consider
Housekeeping Camp – Similar to glamping, you can stay in three sided concrete rooms with canvas roof in bunk bed style accommodation. On site camp store provides food for you to cook at night and location in the valley is prime time. Great in Summer. More information or check Tripadvisor price.
White Wolf Lodge – 30 miles from Yosemite Valley, along Tioga road (perfect location for visiting North Yosemite) is White Wolf Lodge. 24 canvas tent cabins and 4 traditional cabins open between June and September. More information or check Tripadvisor price.
Tuolumne Meadows – 60 miles away from the valley and 30 miles further along Tioga road towards Yosemite east entrance is Tuolumne Meadows Lodge. You will find 69 canvas tent cabins open between June and September. More information or check Tripadvisor price.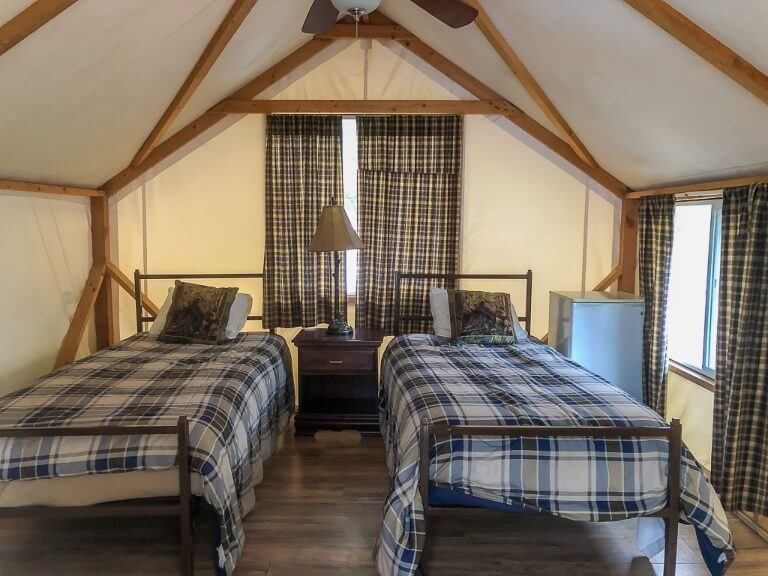 Best Places to Stay Near Yosemite
Once you leave Yosemite national park boundary, you can book rooms in hotels, cabins, tents or anything else you can find using traditional methods.
If you plan to spend a night before and / or after visiting Yosemite in a hotel, this section is where you will find the best hotels in all of the most popular areas near the park.
You can choose to stay outside the park for your entire visit to Yosemite to save money, just be aware you will have to drive in and out of the park each day.
In truth, if you book late or want to visit in peak season, you might not have a choice but to stay outside the park in one of the areas below.
Nearby vacation homes, yurts and cabins can be unjustifiably expensive for what you are getting, so our advice is to use our recommendations, research and find the best price vs convenience ratio.
We're going to walk you through some excellent hotel options near each entrance to Yosemite. Each accommodation will include a guest rating out of 10 as per Booking.com.
You might be interested in reading our 15 ways to save money on hotel bookings guide next.
1. Mammoth Lakes
Mammoth Lakes is a lovely ski resort town in Winter with traditional Alpine lodges and a gondola.
It is also the perfect place to stay if you're driving to Yosemite from Las Vegas, Death Valley or anywhere else Southeast of the park.
You can pick up a hotel room to suit any budget, wake up and within 30 minutes you are on Tioga road and Yosemite's North region.
Of course if you are leaving and do this route in reverse, Mammoth Lakes becomes the perfect place to stay on your way to Death Valley or Las Vegas.
Here are the best hotels by guest rating, price and location in Mammoth Lakes:
2. Mariposa
43 miles Southwest of Yosemite Valley is the most built up of the small towns near the park and our top recommendation – Mariposa.
In Mariposa you will find the best selection of hotels to suit all budgets. The only downside is a one hour drive into the park.
We stayed in Mariposa after our last full day in Yosemite, before driving to San Francisco the next day. It has plenty of dining options, including pizza, mexican and chinese food.
Mariposa is a great place to stay the night before or after your itinerary but many do stay here for their entire Yosemite itinerary.
Here are the best hotels by guest rating, price and location:
3. Fish Camp
35 miles to the South is Fish Camp, located just outside South entrance to Yosemite national park. There are a dozen or so vacation rentals and 3 traditional lodges.
Fish Camp is a great place to stay on a first or last night if you are coming from or going South to Fresno and on to Los Angeles or San Diego.
Check prices and availability by clicking on the lodge names below:
4. El Portal
El Portal (15 miles from visitor center) is a tiny area with limited accommodation options but excellent access to Yosemite valley.
You could stay here for each night of your itinerary and only have a short drive in / out each day, so it should be high on your priority list if there's no availability inside Yosemite.
Here are the only 2 accommodation options:
5. Big Oak Flat Road
Big Oak Flat is the road leading to Yosemite from the West. It is the most direct road to take if driving to or from San Francisco, slightly quicker and shorter than driving via Mariposa.
There are a handful of accommodation options along Big Oak Flat road for you to consider, which you can find below.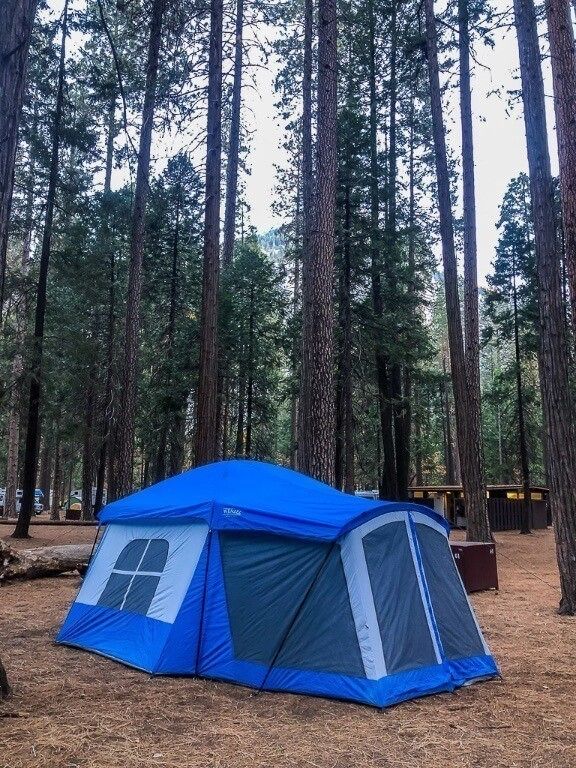 Yosemite Camping
Camping at Yosemite is one of the best ways to experience the beauty of nature inside one of the most amazing landscapes in the United States.
In a way it's the 'proper' way to visit Yosemite. However, if you thought lodges inside the park were difficult to book, Yosemite's famous campgrounds make hotels look like a walk in the park.
We know camping isn't for everyone, but by staying in one of these sites, you have all of Yosemite's best attractions right outside your tent.
If you want to book a campsite at one of the four campgrounds in Yosemite Valley between May and September, you have to book in advance.
Here's a summary of each campground:
Upper Pines – Reservations required, available to book 5 months in advance, 238 sites, US$ 26 / night.
Lower Pines – Reservations required, available to book 5 months in advance, 60 sites, US$ 26 / night.
North Pines – Reservations required, available to book 5 months in advance, 81 sites, US$ 26 / night.
Camp 4 – Late May to early September campsites are only available through a daily lottery one day in advance (information here). September to May is first-come, first-served but fills early and is only US$ 6 / night.
We stayed at Upper Pines, the classic and most sought after campground in Yosemite. Apart from being freezing cold at the end of October, it was great. We had anti-bear storage units, bathrooms and plenty of room for our site among trees.
Our tent was more like a small house made of feathers and it kept being blown down in the middle of the night (it happened at Badlands and Death Valley!) so we were grateful to have so much protection in the trees at Upper Pines.
Read more information about booking campgrounds at Yosemite.
Read More About Yosemite

…

Don't miss these 23 awesome stops along California's legendary Pacific Coast Highway from San Francisco to San Diego.
Read More Where To Stay In …
Need Help With Planning Your Trip To Yosemite National Park?
Yosemite is a spectacular landscape and a firm favorite among nature enthusiasts. But it is also one of the more challenging US national parks to plan.
We have created a 50 page guidebook and itinerary filled with key information and expert advice, example itineraries for hikers and non-hikers, and all essential things to know for both planning and when you are on site in Yosemite.
If you want to make the most of your trip to Yosemite, our guidebook is the perfect resource for you.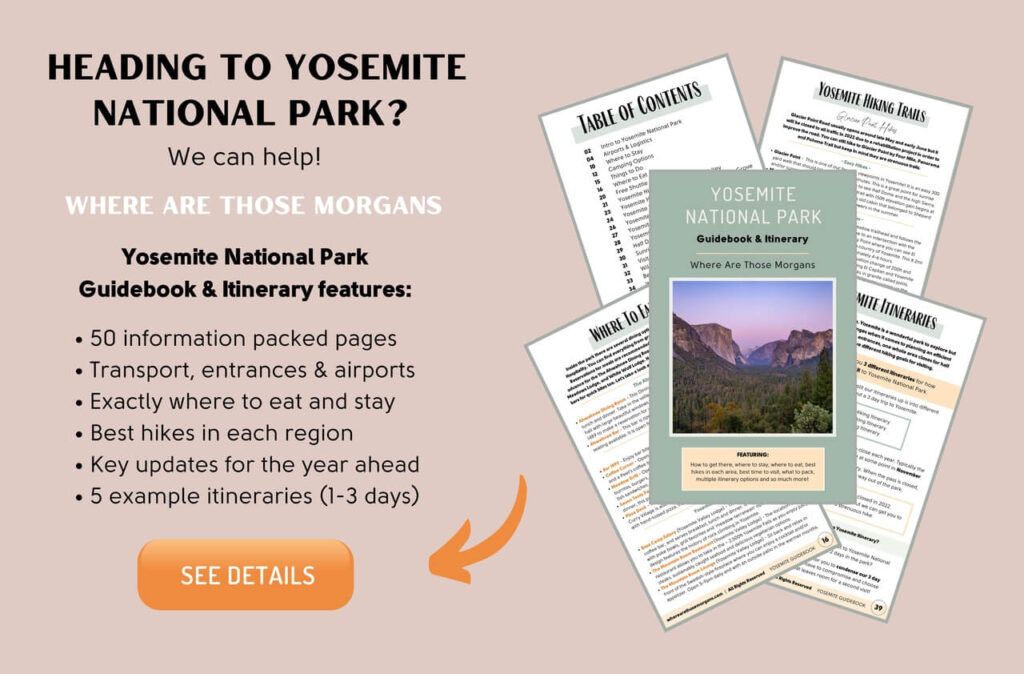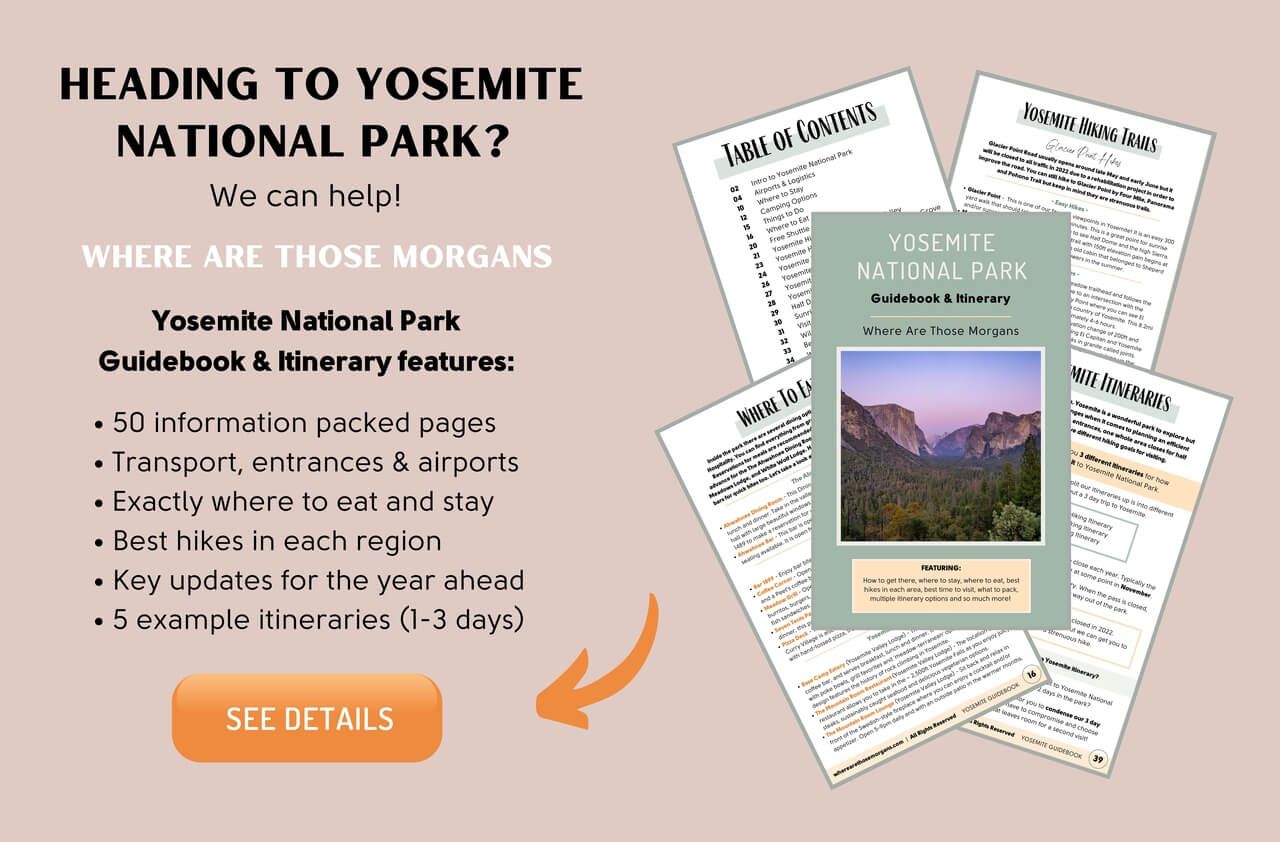 We hope this guide helps you plan where to stay at Yosemite National Park!
Have you been to Yosemite? Where do you think the best places are to stay at Yosemite?
Please let us know if you have any questions or need any help planning your visit.
Happy Planning,
Mark and Kristen
Was This Post Helpful? Pin It For Your Visit!