Acadia is a wildly popular US east coast national park and a wide range of inclusive hiking trails is one of its most appealing assets. We are going to walk you through our top 10 hikes in Acadia National Park, so you can identify which trails you simply can't miss on your visit to Maine's star attraction.
The Acadia hiking arena is perfect for families with younger kids all the way through the spectrum to those seeking an intense adrenaline rush. We will cover hikes suitable for all ages and abilities, spanning the degree of difficulty.
Each of the 10 best hikes in Acadia we discuss below will include trail details and tips.
Personally, we had a fantastic time hiking in this awesome park and we're excited to help you plan which trails are perfect for your visit.
Let's get stuck into the most popular hiking trails in Acadia National Park!
*Please note this post may contain affiliate links. If you click on one, we may earn a small commission at no extra cost to you!*
What Can You Expect From Hikes In Acadia National Park?
Hiking is undoubtably one of the best things to do in Acadia National Park.
What we love most about hiking in Acadia is simplicity. All of the best hikes are short, which means you can easily choose 3 or 4 trails to conquer each day you are in the park.
Let's make one thing abundantly clear – short trails do not mean boring or easy trails. On the contrary, you will be anything but bored by Acadia's diverse selection of trail type.
What do we mean by trail type? Well, here are just a few examples of what you can expect:
Walk a gorgeous family friendly flat loop around Jordan Pond surrounded by vibrant Fall foliage colors.
Take a short but steep hike to Beech Mountain watchtower with beautiful panoramic views over lakes, islands and the Gulf of Maine.
Thrill seekers can even climb iron ladders up vertical granite rock faces on Precipice or Beehive for a BPM explosion.
Not only are the best Acadia hikes short, but they are also ultra-scenic. Views from mountain summits always deliver and leave you wanting more.
Acadia is one of the top bucket list vacation spots in the USA and hiking is at the heart of its draw.
Top tip: Many of Acadia's mountain peaks have trails running between summits. You can set off to hike one peak and easily end up taking on two more "while you're up there".
10 Amazing Hikes In Acadia National Park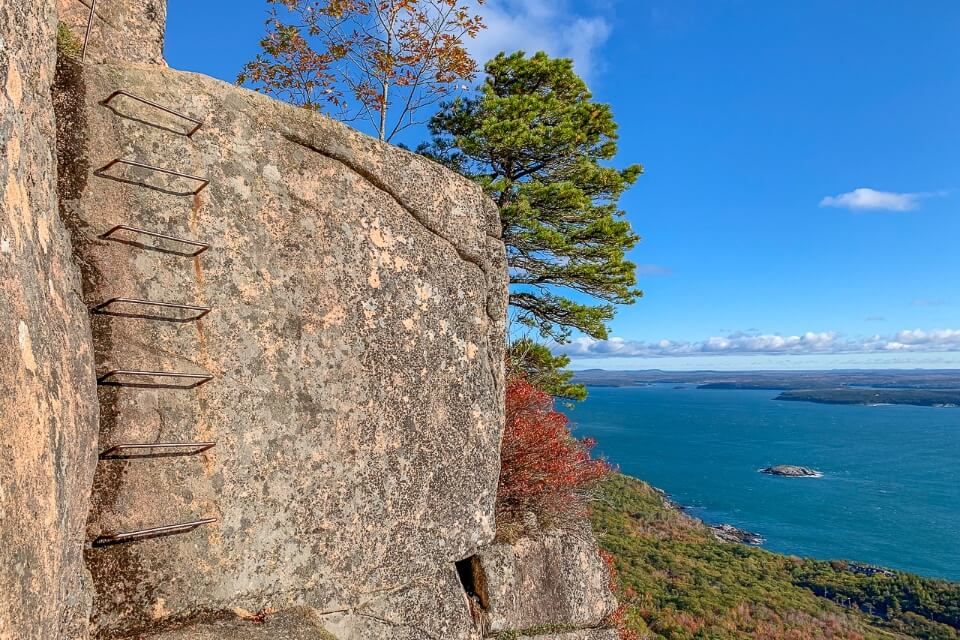 1. Precipice Trail – Most Exhilarating Hike In Acadia National Park
Trail Distance: 2.3 miles roundtrip
Type of Trail: Loop
Trail Difficulty: Hard (due to climbing elements)
Elevation Gain: 1,050 ft
Perfect For: Adventurous hikers, thrill seekers
Recent Comments: All Trails
Precipice Trail is Acadia National Park's best hike … for experienced hikers seeking a thrilling adventure.
Dozens of irregular iron-rung ladders built into granite rocks, plus plenty of steep drop offs and narrow ledges mean this hike is not for the feint of heart, nor for those who have even the slightest fear of heights.
If you've hiked Angels Landing in Zion, this will be a piece of cake for you. But Precipice Trail can still be dangerous, so please do adopt a cautious approach.
Precipice is the most exhilarating but also the most nerve-jangling hike in Acadia National Park.
It is recommended only ages 12 and above attempt this climb.
Remember to consider weather conditions.
Strong winds and high levels of rain create slippery granite rocks and iron ladders.
The trail becomes extremely crowded between 9am-4pm, particularly in Summer and Fall.
If it sounds like we're trying to put you off – we're not! But this is the only hike in Acadia we feel safety should be carefully considered.
Precipice Trail is a thrilling and satisfying climb with spectacular summit views as reward. In fact, we have included this unique trail in our popular guide to the 50 best hikes in the US.
Personally, we thoroughly enjoyed Precipice Trail and would do it again in a heartbeat. But we can tell you there were some very frightened hikers who definitely should not have made the climb.
Once at the summit of Champlain Mountain, continue along Champlain N Ridge before looping back onto Orange and Black trail.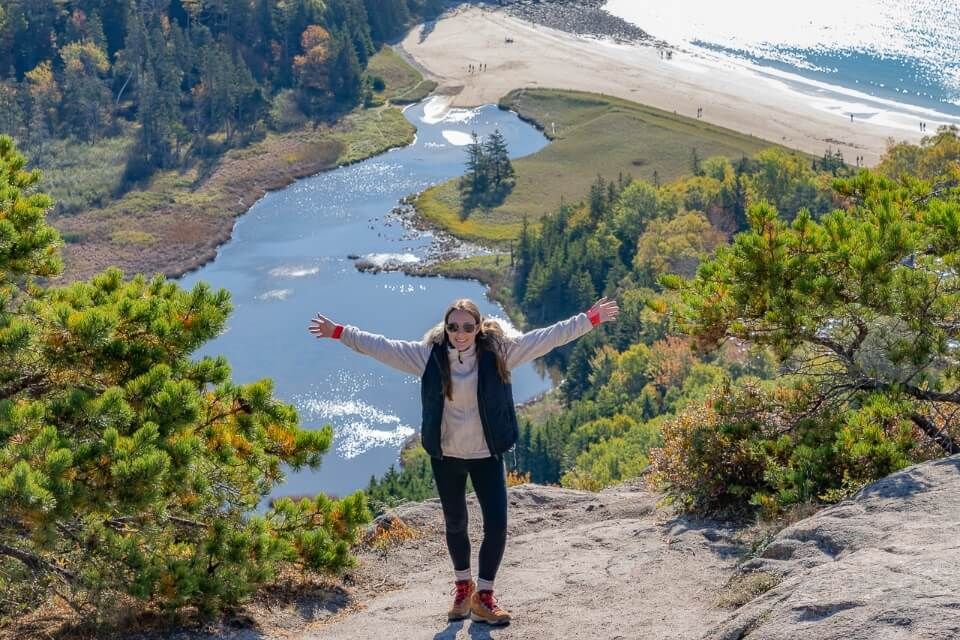 2. Beehive Trail – Most Popular Hike In Acadia National Park
Trail Distance: 1.5 miles roundtrip
Type of Trail: Loop
Trail Difficulty: Moderate / Hard (due to climbing elements)
Elevation Gain: 500 ft
Perfect For: Adventurous hikers, build up to Precipice
Recent Comments: All Trails
Beehive Trail is the most popular hike in Acadia National Park. It is essentially a much less scary and miniature version of Precipice Trail.
So, if you're on the fence about climbing Precipice, you should hike Beehive first to see how you get on with ladder climbs and steep drop offs.
Beehive is much more inclusive and accessible for a wider range of visitors. There are still some heart thumping moments, but nothing on the scale of Precipice.
Acadia is one of the most popular and best USA national parks, and Beehive Trail is an exceptionally busy hike which means you should plan for it being busy unless you begin very early or very late in the day.
Summit views are beautiful and make it worth the climb. If you really don't want to climb the ladder sections, you can still walk to the summit of Beehive by going the back way, following Bowl Trail.
Read: Our complete hiking walkthrough for Acadia Beehive Trail.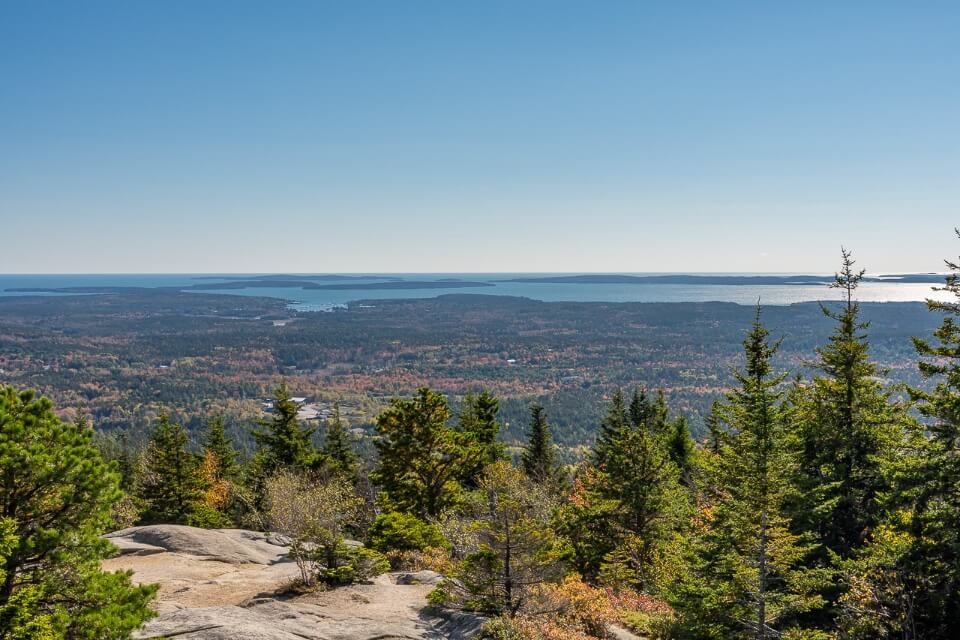 3. Cadillac Mountain via North Ridge Trail – Night Hike For Sunrise
Trail Distance: 4.4 miles roundtrip
Type of Trail: Out and Back
Trail Difficulty: Moderate
Elevation Gain: 1,100 ft
Perfect For: Sunrise and sunset hike, no vehicle ticket availability
Recent Comments: All Trails
Cadillac Mountain is the highest point in Acadia National Park and along the entire eastern seaboard. From the summit, you can be among the first people in America to watch the sun rising over the Atlantic horizon.
Most people drive to the top, but easily the best and most satisfying way to summit Cadillac Mountain is to hike from the loop road.
You can choose either an 8 mile round trip along the more scenic Cadillac South Ridge Trail or a shorter 4.4 mile round trip hike up Cadillac North Ridge Trail.
The quicker North Ridge Trail is more popular, simply because most people hike it during the night to arrive at Cadillac Mountain in time for sunrise. It would be an even more excruciatingly early alarm to hike the longer South Ridge Trail in the dark!
If you want to tick off another summit in Acadia, hike from Cadillac Mountain to Dorr Mountain and back again. That would include around 1.5 miles round trip to your distance.
Top tip: Advanced vehicle reservations are required to drive up Cadillac Mountain between the end of May and the middle of October. If you can't get a sunrise slot, plan to hike either of these trails instead.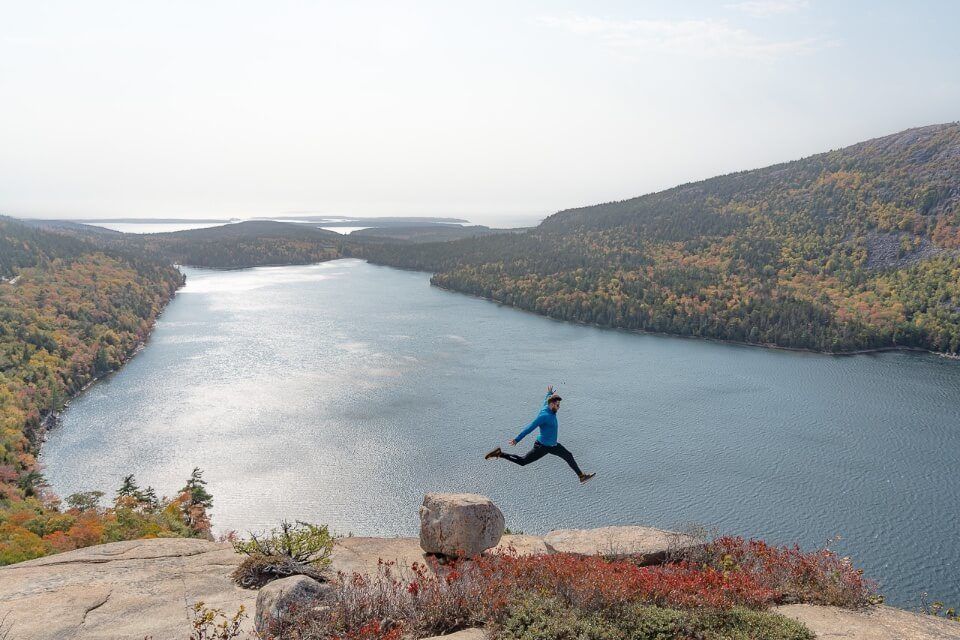 4. North and South Bubble – Stunning Summit Views
Trail Distance: 1.5 miles roundtrip
Type of Trail: Out and back, fork with spur to North and spur to South
Trail Difficulty: Easy / Moderate
Elevation Gain: Roughly 500 ft total for both Bubbles
Perfect For: Family friendly hike with excellent lake views
All Trails: All Trails
The Bubbles are one of our favorite hikes in Acadia National Park.
Why? Because they are short, easy and have some of the best views in the entire park.
We visited Acadia on an abnormally windy October day and a couple were being snapped on a wedding shoot at North Bubble overlook. The backdrop was stunning, but the poor woman's hair was … disheveled, to put it mildly!
Park at Bubbles Divide Trail parking lot if you can grab one of the very limited car parking spots.
Hike 0.2 miles into forest and fork off to North Bubble first.
Enjoy the views and return down the same trail to the fork, before turning right toward South Bubble.
Pass by Bubble Rock, a huge boulder that looks impossibly stuck on the edge of a cliff.
Summit South Bubble to enjoy special views over Jordan Pond and the Gulf of Maine.
Summit views over Jordan Pond from both Bubbles are South facing, which means you will be looking directly into the sun during the day and images will have blown out skies.
You can see in our photo above how hazy and bright conditions cause the background to wash out during the day. Early morning and late afternoon are much better times for photographers to summit the Bubbles.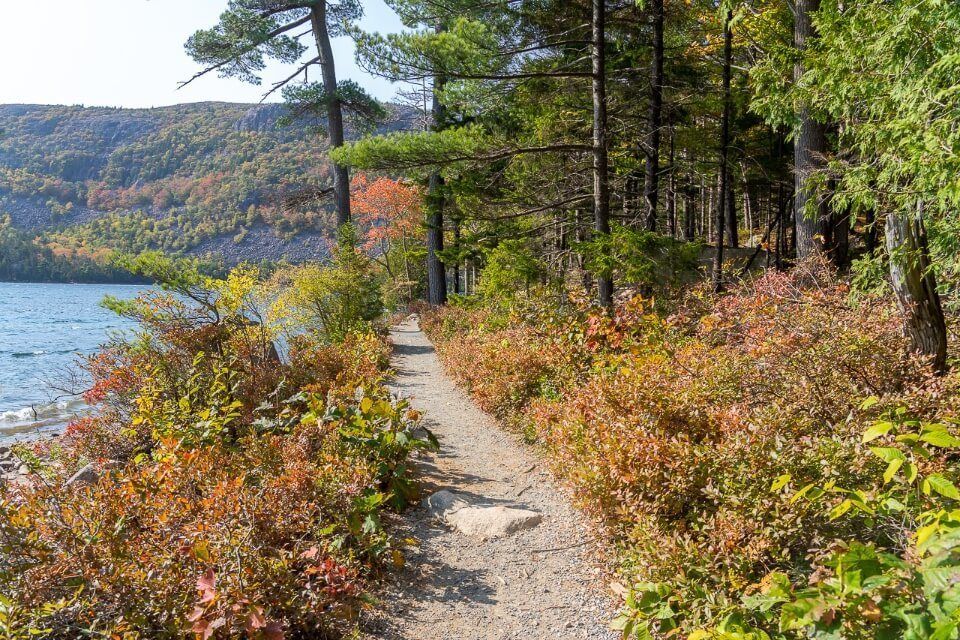 5. Jordan Pond Loop – Picturesque Family Hike In Acadia National Park
Trail Distance: 3.4 miles roundtrip
Type of Trail: Loop
Trail Difficulty: Easy / Moderate
Elevation Gain: Less than 100 ft
Perfect For: Families, scenery, relaxing, fall colors
Recent Comments: All Trails
Jordan Pond is the most scenic water feature in Acadia National Park and its lakeside loop hike is perfect for those who aren't in the mood for steep climbs.
We circumnavigated Jordan Pond surrounded by vibrant autumnal foliage and as you can see in the photo above, it is incredibly picturesque.
At 3.4 miles, this loop isn't one to take on unless you have the spare time. So if you're keen to hit the mountain summits, leave this one until last to avoid missing out.
However, if you're in Acadia to unwind and take things easy with the family, it doesn't get much better than Jordan Pond loop trail.
You have options for where to begin and end this hike:
Jordan Pond House parking lot is the most obvious and keeps things easy.
If you were lucky enough to snag a space at Bubbles Divide parking lot, simply cut through the forest near the beginning of the Bubbles Trail to end up at Jordan Pond's northern side.
Alternatively, from South Bubble summit you can descend via a very steep scramble section directly to Jordan Pond. This one is only an option for experienced and able hikers.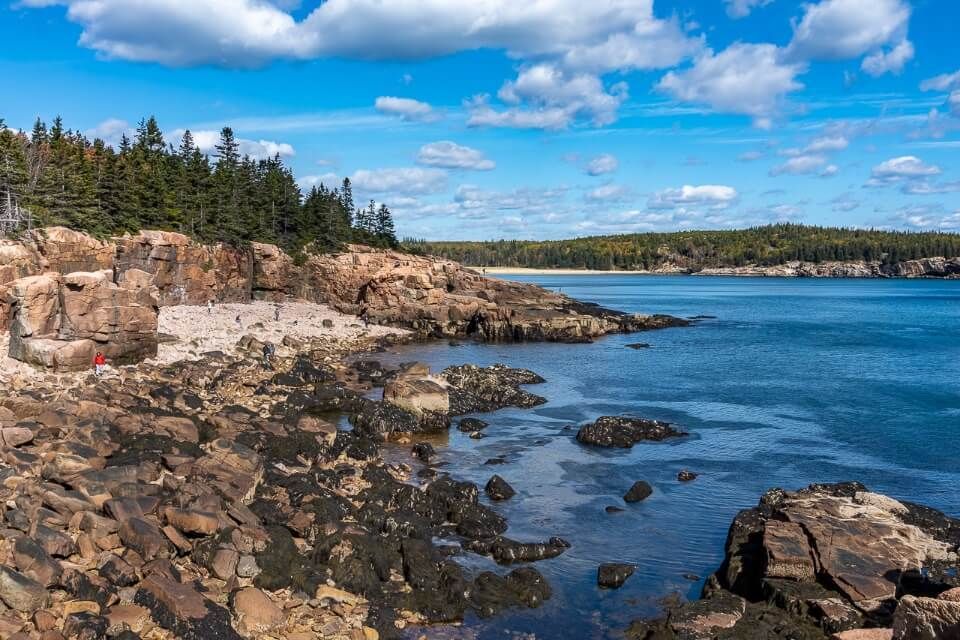 6. Ocean Path – Quintessential Acadia
Trail Distance: 4.5 miles roundtrip
Type of Trail: Out and back
Trail Difficulty: Easy
Elevation Gain: 350 ft
Perfect For: Families, accessibility (half way), relaxing, ocean views
Recent Comments: All Trails
Ocean Path is the most family orientated hike in Acadia, with an accessibility friendly section as far as half way along the trail.
The path begins at Sand Beach parking lot, passes by Thunder Hole and ends at Otter Point.
Only the trail between Sand Beach and Thunder Hole is accessible. After that it turns into a dirt trail with staircases around Otter Cliffs.
What makes Ocean Path one of the best hikes in Acadia?
It is easy, flat, ocean side and provides access to interpretive boulder fields along certain sections. Ocean views are awesome, plus you can stop at Thunder Hole to see water crashing and clapping into an inlet.
You will find hundreds of people taking photographs and selfies along the boulders on Ocean Path. This is the place to grab your quintessential Acadia photo for the scrapbook.
At the far end of the trail near Otter Point, you can look up to see Cadillac and Dorr Mountains in the background.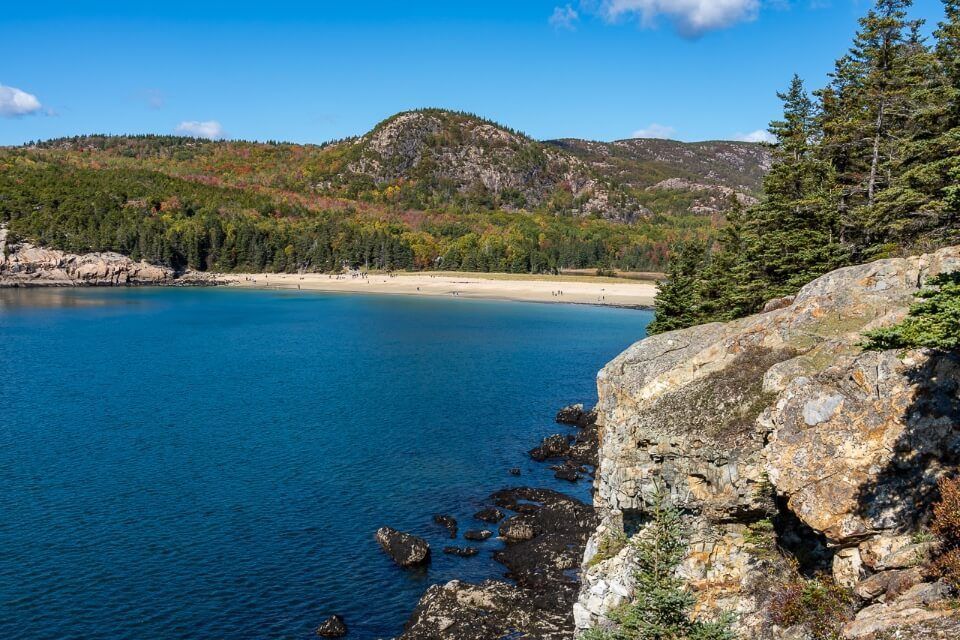 7. Great Head – Escape The Crowds
Trail Distance: 1.6 miles roundtrip
Type of Trail: Loop
Trail Difficulty: Moderate
Elevation Gain: 300 ft
Perfect For: Ocean views, beach views, light scrambling, quieter trail
Recent Comments: All Trails
Great Head hiking trail is a welcome break from the hordes of tourists on Ocean Path and taking on the best mountain summits.
The trail begins right at the back right hand side of Sand Beach and follows a fairly interpretive uneven rocky section. Eventually after a bit of light scrambling you will reach a point along the headland from which you can look back across the beach.
Great Head is a 'great' way to escape the crowds, take a nice stroll through forest and end up with views of Schoodic Point across the narrows.
If you're short on time in Acadia, this is one you can add to your 'maybe next time' list. But if you have enough time, don't miss the escapism.
Top tip: The most efficient way to hike Great Head is right after Beehive Trail. Summit Beehive, descend and walk along the beach before hugging the headland to look back over both Sand Beach and Beehive.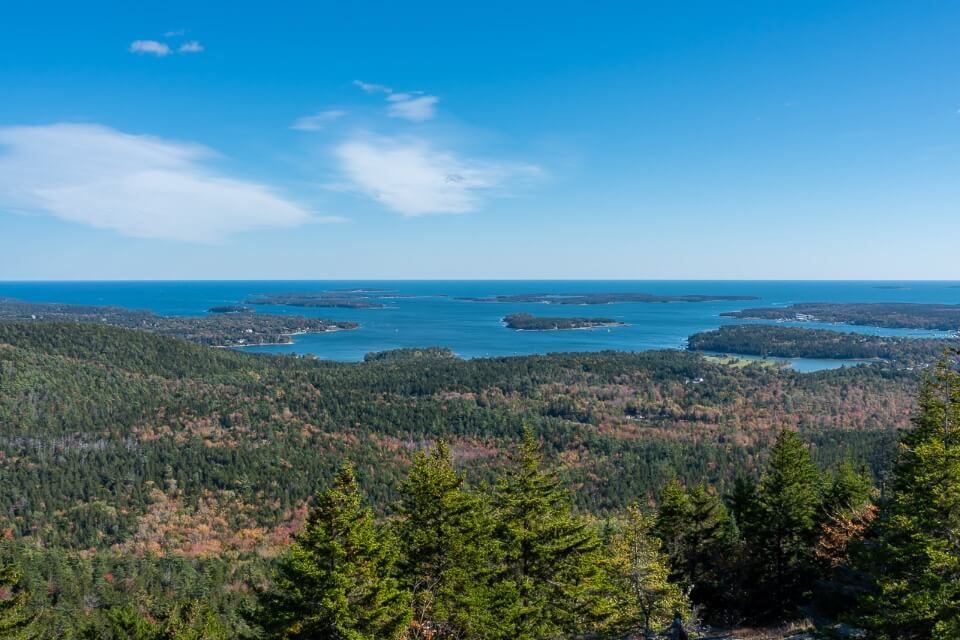 8. Gorham Mountain – More Special Summit Views
Trail Distance: 1.6 miles roundtrip
Type of Trail: Out and back
Trail Difficulty: Moderate
Elevation Gain: 400 ft
Perfect For: Quick steep hike with awesome views, family friendly
All Trails: All Trails
Remember when we said many of the hikes in Acadia are interconnected?
Well, Gorham Mountain is one such summit you can reach from either Ocean Path or Beehive Trail.
If you choose to directly hike the out and back version from Gorham Mountain trailhead to its summit, you will face a 1.6 mile roundtrip steep climb.
The trailhead is located along Ocean Path between Monument Cove and Boulder Beach along Park Loop road.
However, it does make a lot of sense to combine Beehive Trail with Gorham Mountain. Once you summit Beehive, descend either via The Bowl or take the shortcut, then join up with Gorham Mountain Trail.
Views from the summit of Gorham Mountain over Sand Beach and Otter Point are (as always in Acadia!) astounding. It is another extremely popular trail so bear in mind the time of day you plan to visit.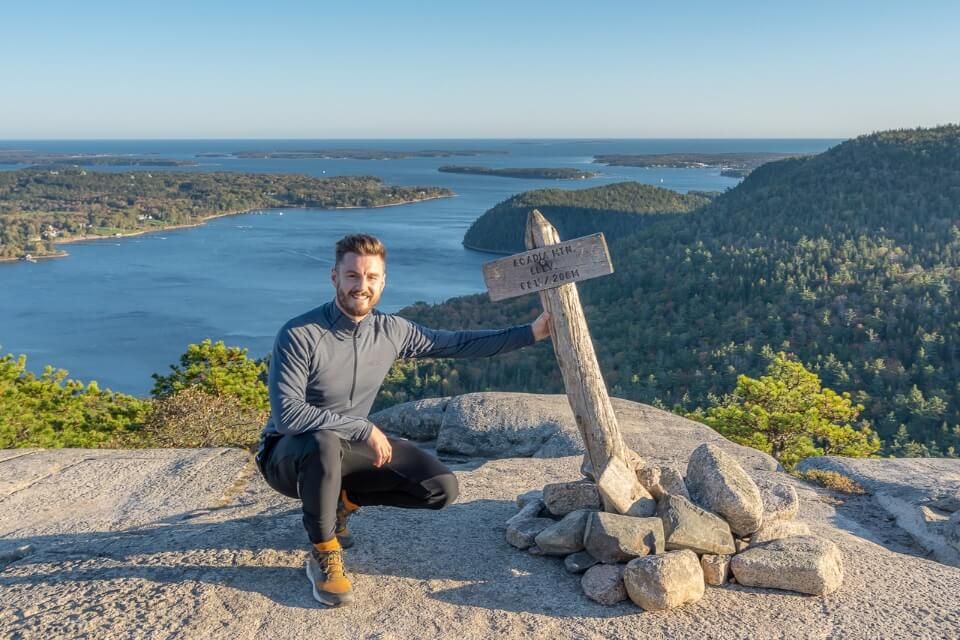 9. Acadia Mountain – Steep Hike, Stellar Views
Trail Distance: 2.5 miles roundtrip
Type of Trail: Loop
Trail Difficulty: Moderate / Strenuous
Elevation Gain: 700 ft
Perfect For: Challenging trail, spectacular summit views
Recent Comments: All Trails
Moving over to the west side of Acadia National Park (left of Somes Sound as you look at a map), there are two unmissable hikes for you to add to your itinerary.
The first is Acadia Mountain, which delivers on more of those awesome views but provides more of a challenge with a steeper ascent.
You can choose to hike from the parking lot directly up to the summit and return via the same trail. Or, you can do a loop to include Man O War brook waterfall, which can be photogenic if you time it right.
Going up clockwise and descending via the east face means a steeper descent. Many people choose to do this hike anti clockwise ie. walk over to Man O War brook and ascend the steeper eastern face, before descending west to the parking lot.
Most of the trail is unexposed through forest until breaking clear of canopy right at the summit. Dogs are well suited to the Acadia Mountain hike.
Parking is strange for this trail. Once you park in the roadside lot, cross the busy road carefully to find three trail options:
Left spur is the quickest route up to Acadia Mountain summit.
Middle spur up the rock slab is the way to Man O War brook waterfall and anti-clockwise loop.
Right spur leads off to Valley Cove and would be a much longer way to do Acadia Mountain.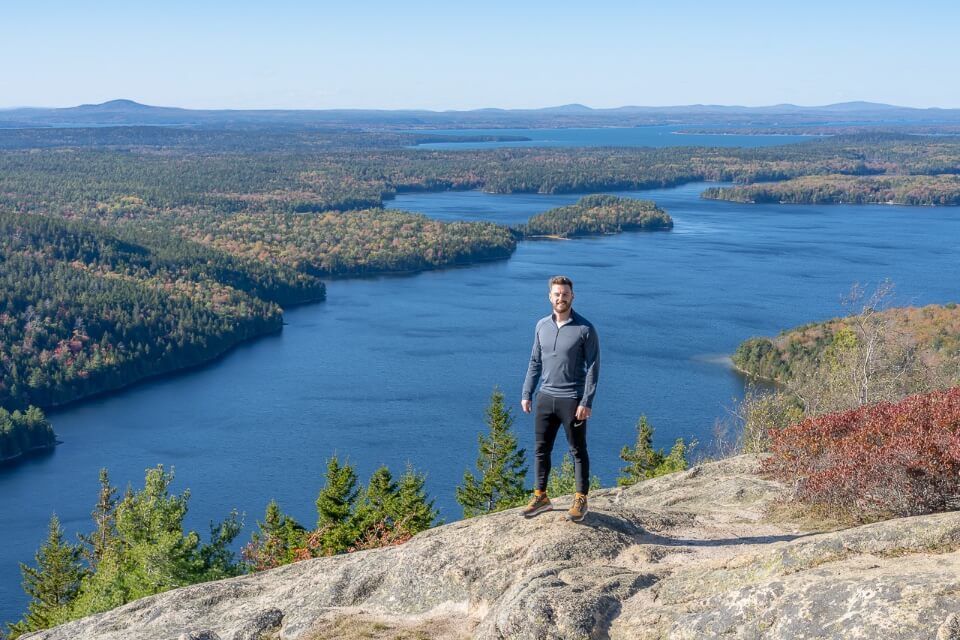 10. Beech Mountain – Acadia's Only Fire Lookout Tower
Trail Distance: 1.2 miles roundtrip
Type of Trail: Loop
Trail Difficulty: Moderate
Elevation Gain: 350 ft
Perfect For: Stunning lake views, watchtower summit, dogs
Recent Comments: All Trails
Beech Mountain turned out to be one of our most unexpected hidden gem hikes in Acadia. We almost missed it as we'd already hiked 3 trails and it was getting late but we're glad we persisted.
The trail splits very close to the parking lot for Beech Mountain to create a true loop. We chose to go clockwise by taking the steep ascent, which left a more gradual descent closer to Long Pond.
At the summit, you are rewarded not only with gorgeous views but also a fire watchtower. Beech Mountain lookout is the only remaining fire tower in Acadia National Park.
However, the best is yet to come if you hiked clockwise as we did.
On the gradual descent, the most amazing views over Long Pond open up to create – in our opinion – one of the single best scenes in all of Acadia.
There are plenty of open rock faces to use for grabbing selfies and photographs of stunning lakes and forested land.
If you would prefer a more gradual climb with a steeper descent, hike Beech Mountain anti clockwise.
Map Of Best Hikes In Acadia National Park
Red markers – Trailheads for each of the 10 best Acadia hikes
Blue markers – Trail summits where appropriate
Click or touch to activate the map, zoom in / out and move around to familiarize yourself with the locations of each trail in Acadia.
Top Acadia National Park Hiking Tips
Track your hikes using offline maps on one of the best hiking apps on the market.
Always start early and finish late if possible.
Avoid 11am-2pm for both excessive crowds and heat in Summer.
Many of the best USA road trips pass through Acadia, make sure you have enough days in your driving itinerary for your visit to the national park.
Group Acadia Mountain and Beech Mountain together for efficiency.
Hike Beehive before Precipice if you are unsure about heights.
Pack lunches and loads of water in your car in case you end up doing more hikes than originally planned.
Read our essential guide to the best things to bring on a day hike for help with packing for Acadia's hikes.
2 Day Acadia Hiking Example Itinerary
If you're in Acadia National Park to hike, hike and hike some more – here's how we would create an efficient 2 days visit:
Day 1
Park at Sand Beach and start with Beehive Trail at 7am.
Continue to Gorham Mountain.
Descend via the opposite end of Gorham onto Ocean Path.
Follow Ocean Path to Otter Point.
Return the entire length of Ocean Path to Sand Beach.
Walk out to Great Head.
Drive to Bubbles Divide and hope you can get a parking spot.
Hike to North and South Bubble.
Descend and walk the Jordan Pond Loop.
Day 2
Check sunrise times and night hike Cadillac North Ridge Trail to arrive before the sun rises.
Right after sunrise, hike back to Park Loop road and drive to Precipice Trail.
Climb Precipice Trail before it gets too busy in the morning.
Drive over to the western side of Acadia.
Hike Acadia Mountain.
Hike Beech Mountain.
More From Acadia
More From New England
Best Hikes In …
---
We hope this list of the best hikes in Acadia National Park helps you plan your visit!
Have you hiked in Acadia? Which were your favorite trails?
Please let us know if you need any help planning your trip to Acadia in the comments below.
Happy Hiking,
Mark and Kristen
Was This Post Helpful? Pin It For Your Visit!