Are you looking for the very best hikes in Arches National Park, Utah? Perfect! We're going to walk you through the 3 unmissable hiking trails at Arches that are perfect for every first time visitor.
What are the best hikes at Arches?
The three top hikes at Arches National Park are The Windows Trail, Devil's Garden Trail and Delicate Arch Trail. Devils Garden and Delicate Arch are included in our popular guide to the 50 best hikes in the US, which means two out of the three popular hikes in Arches are bucket list level trails.
We have personally hiked all 3 of the best trails in Arches National Park and we can honestly say they are among the most uniquely photogenic hikes in America.
Here's what we will show you:
Arches fees, passes and entrances
Best time for hiking in Arches
The 3 best hikes in Arches National Park
Amazing one day Arches hiking itinerary
Let's hike the best trails in Arches National Park, Utah!
*Please note this post may contain affiliate links. If you click on one, we may earn a small commission at no extra cost to you. Thank you for supporting the free content we provide! Read more in our disclosure policy.*
Our Arches Hiking Experience
Why trust us to help with planning your Arches hiking itinerary?
Well, we have spent several days hiking around the orange landscape filled with fascinating sandstone arch formations and we know exactly what should be included on your wishlist.
You may be wondering why we have only included 3 hikes at Arches in this guide?
Most visitors to Arches spend one or maybe two days in the national park. You can only hike a handful of trails in a short space of time and the 3 hikes in this guide are the trails you should prioritize.
The Windows, Devils Garden and Delicate Arch can be hiked in one day if you are visiting Arches National Park on a day trip.
There are other short hikes worth taking on with more time such as Fiery Furnace which requires a guided tour, Balanced Rock which takes no more than 5 minutes and Park Avenue which is the next best hike outside of the 3 in our guide.
What Is The Best Hike In Arches National Park?
All three of the top trails in Arches are excellent in their own unique way. However, we think Devils Garden Trail is the best hike in Arches National Park in terms of the trail itself.
The sunset scene from Delicate Arch with its bowl shaped depression is extraordinarily beautiful. But the actual hike to Delicate Arch is not as adventurous or exciting as hiking Devils Garden Loop Trail.
Both Devils Garden and Delicate Arch are included in our guide to the 25 best hikes in Utah.
When Is The Best Time To Hike In Arches National Park?
Spring and Fall are the best times of year to hike in Arches National Park thanks to comfortable temperatures and fewer crowds compared to the summer months. However, hotel prices in nearby Moab are inflated during spring and fall because of these more favorable hiking conditions.
Summer is a very popular time to hike in Arches. Hotel prices around the park are more affordable but temperatures can be dangerously high. Sunrise, sunset and astrophotography is best suited to a summer visit.
Winter is a fantastic alternative for hiking in Arches National Park as long as you don't mind the cold. Frigid morning and evenings are the downside, but very few crowds and incredibly low prices at nearby hotels make visiting Arches National Park in winter perfect for those traveling on a low budget.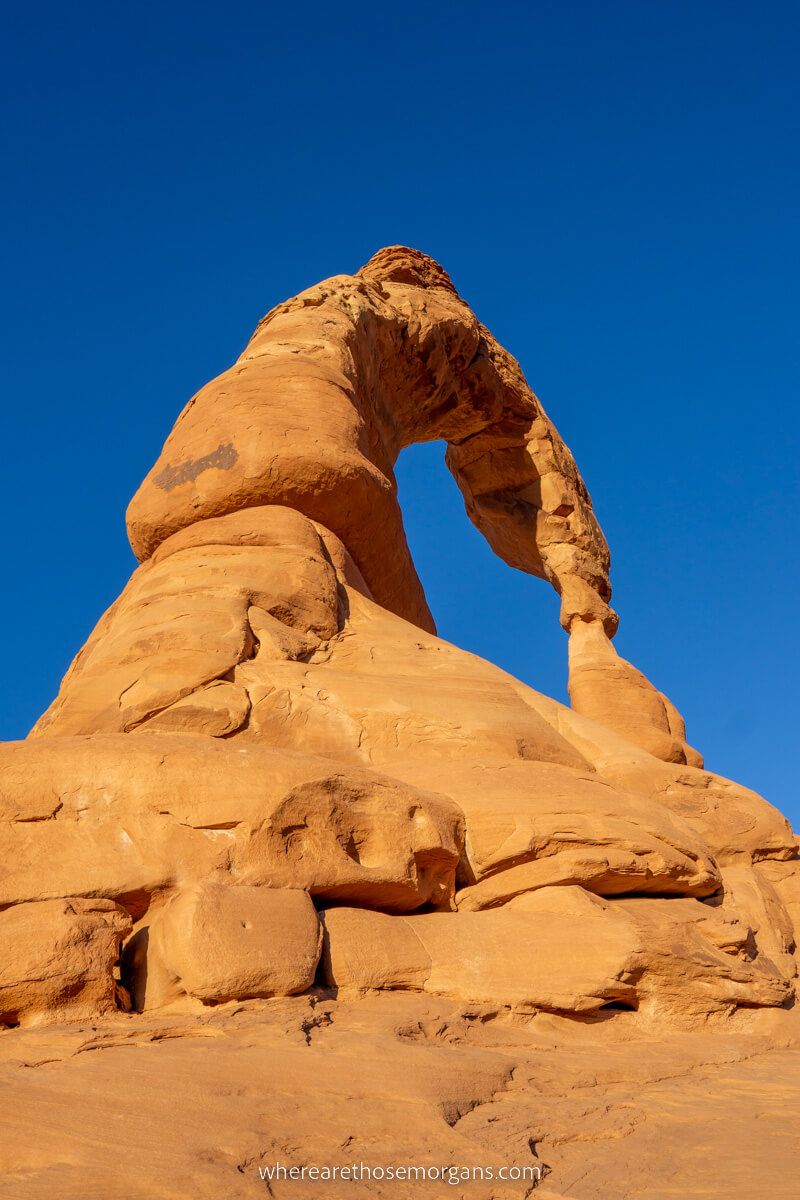 Fees And Passes
In order to hike the best trails in Arches you must pay for entrance to the national park.
Let's take a quick look at entrance fees, passes available and which entrances you can use to access the trails.
Arches Entrance Fee
Here are the prices and fees for entrance into Arches National Park:
$30 – Vehicle with up to 15 passengers valid for 7 consecutive days
$25 – Motorcycles with driver and one passenger valid for 7 consecutive days
$15 – Per person with no car (walk, bicycle) valid for 7 consecutive days
$55 – Southeast Utah Parks Pass valid for 12 months at Arches and Canyonlands National Parks, plus Natural Bridges National Monument
Does America The Beautiful Pass Get You Into Arches National Park?
Yes, you can use your in date America the Beautiful Pass to gain access into Arches National Park.
We buy a new national park pass each year to save on multiple park visits. Read our complete guide to the America the Beautiful Pass to see if you can save money this year.
Do You Have To Pay To Drive Through Arches National Park?
Yes, you have to pay the same entrance fees to drive through Arches National Park as you would if hiking the trails.
Arches National Park Road dead ends at Devils Garden Trailhead, which is the furthest point away from the only entrance to the park. The road is out and back, not a loop.
Here's more information on fees and passes at Arches.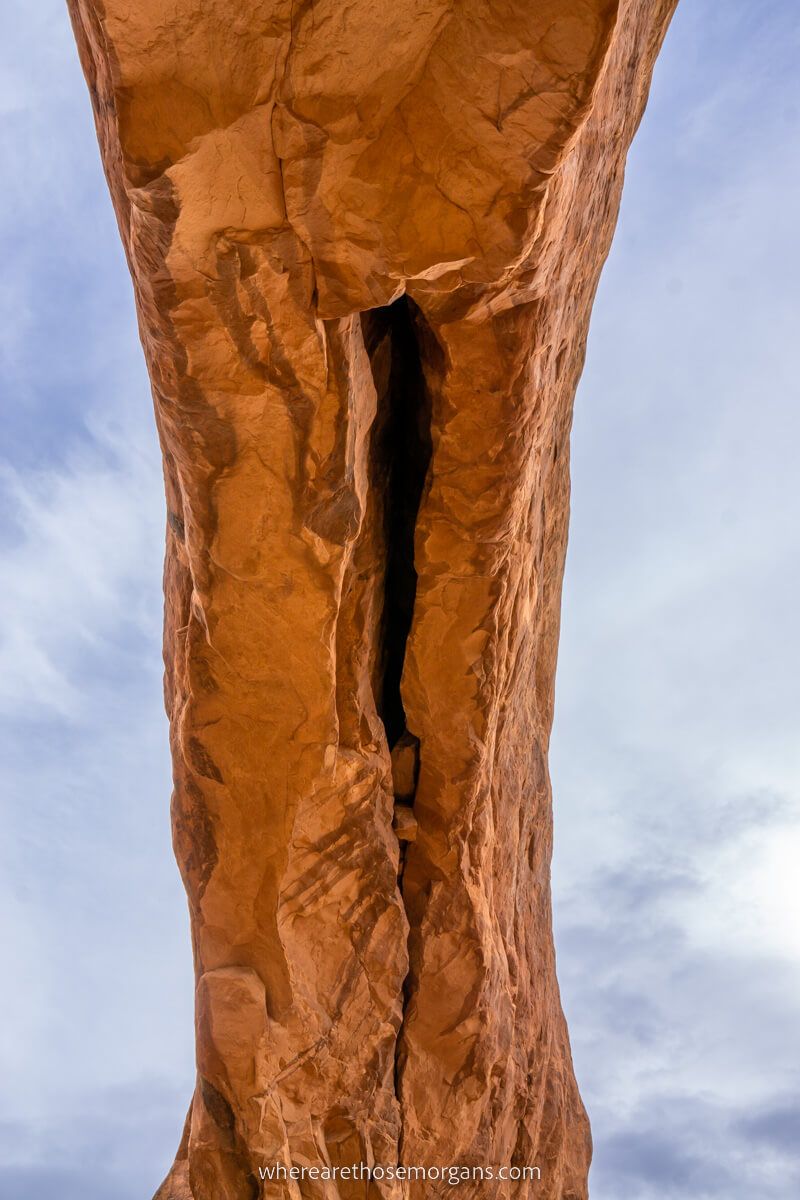 Do You Need A Reservation To Hike In Arches National Park?
Arches National Park will require a timed entry ticket from April 1st to October 31st in 2023. Tickets are required for all visitors arriving to Arches between 7:00am and 4:00pm daily.
Please make sure you get your ticket in advance before visiting Arches. The only way around not having a ticket is to enter before 7:00am or after 4:00pm.
Get your timed entry ticket on the Arches NPS website.
Note: Tickets are not required for those with camping, backcountry, Fiery Furnace, or special use permits.
What Can You Expect From Hikes In Arches National Park?
What we love most about hiking in Arches is never-ending unique sandstone formations.
The 3 best hikes in Arches National Park work perfectly for all types of visitor because The Windows Trail is easy, Delicate Arch Trail is moderately difficult and Devils Garden Trail is challenging.
As a result, beginner hikers through adventure hikers are all covered here at Arches.
Moab is one of the top bucket list vacation spots in the USA and fun hiking trails in Arches are at the heart of its draw.
Top 3 Arches National Park Hikes
OK, let's get into the hikes!
We are going to walk you through everything you need to know about each of the 3 best hiking trails in Arches National Park.
Stay tuned until the end of the guide for a timeline of how you can piece these three hikes together into the perfect one day Arches hiking itinerary.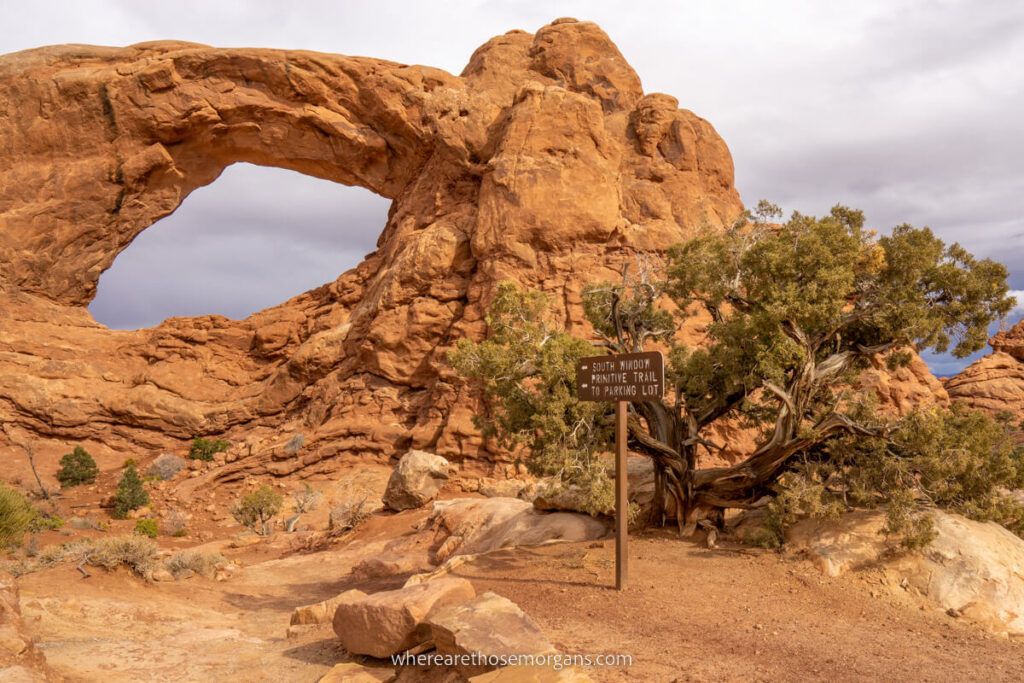 1. The Windows – Best Easy Hike In Arches
Distance: 1 mile roundtrip to Windows, interpretive and primitive hiking option (recommended) and 1/2 mile roundtrip to Double Arch
Difficulty: Very easy
Major Arches: Double Arch, North Window, South Window, Turret Arch
Time: 1 hour 30 minutes
Perfect For: All ages and hiking abilities
Photography: Sunrise and astro are popular at The Windows
Best Time: Any time of day
Recent Comments: All Trails
The Windows is a family friendly hike leading to some of Arches most remarkable formations.
Hiking The Windows Trail is a perfect start to start your Arches National Park day. The flat, easy and short Windows Trail is the one hike at Arches National Park everyone can and should do.
This unique area of the national park has the highest concentration of arches among the 2,000+ scattered throughout the landscape.
To one side of The Windows Road parking lot you can see the enormous free standing individual sandstone formations of North Window Arch, South Window Arch and Turret Arch.
On the opposite side you will find Double Arch, Ribbon Arch and Cove Arch hidden among the labyrinthine Cove of Caves.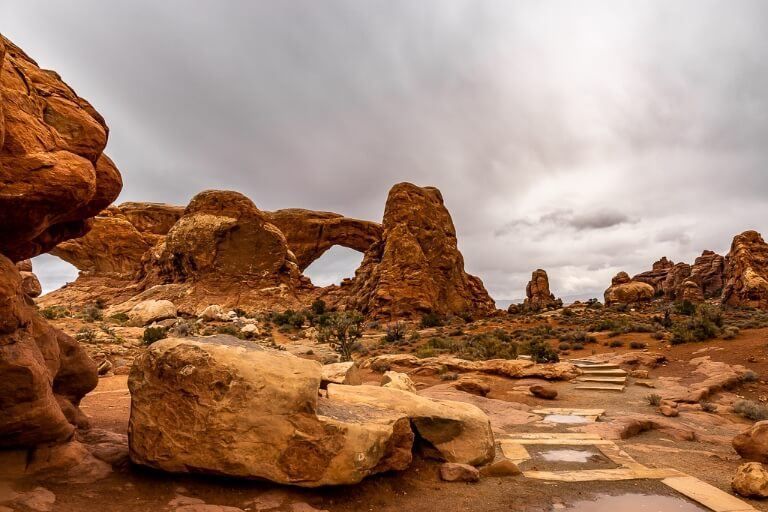 North Window Arch + South Window Arch
North and South Window Arches look just like the cutouts of a Venetian mask made of sandstone rock.
You will follow a path with small steps until reaching North Window, which is one of the most popular photography locations at sunrise and at night for images of the Moon or Milky Way.
Neither arch looks enormous until you are standing inside the abyss looking up at the amazing formations curving high above your head.
North Window has a section to its right side that can be climbed carefully to reveal far reaching views across a flat expanse as far as the La Sal Mountains.
South Window is more difficult to access and photograph because of the terrain surrounding the arch.
In winter and early spring you can frame distant snow capped mountains through both North and South Windows.
Turret Arch
Turret Arch is more striking than both Windows from afar. The oval shaped Turret Arch and adjoining chimney shaped turret are enormous.
Make sure you climb up to stand inside Turret Arch for a perspective photo with the entire arch in frame.
You can also use Turret Arch to frame nearby North and South Window like a multi arch rock tunnel. Just take care when climbing around the rocks as they are uneven and require careful footing.
Once you've finished with the arches in this area, follow a primitive trail looping behind and around The Windows. This trail leads back to the parking area and offers various interesting vantage points of all 3 arches.
Double Arch
Double Arch is the celebrity arch located inside the Cove of Caves, which is a wild and spectacular cluster of Arches entwined like shoots in a dense bramble bush.
To find Double Arch, simply look for two huge arches sharing the same foundation pillar. The two arches form a V shape approximately 45 degrees apart.
When the two are combined, Double Arch becomes the second longest arch in Arches National Park (after Landscape Arch). It also takes the crown for tallest arch in the national park.
A gravel path to the popular viewing point below Double Arch is flat and very easy to hike at around 0.6 miles roundtrip. However, the impressive maze of arches inside the Cove of Caves can easily be seen from your car at the parking area.
You can see all you need from the car if you are short on time or the weather is not playing ball!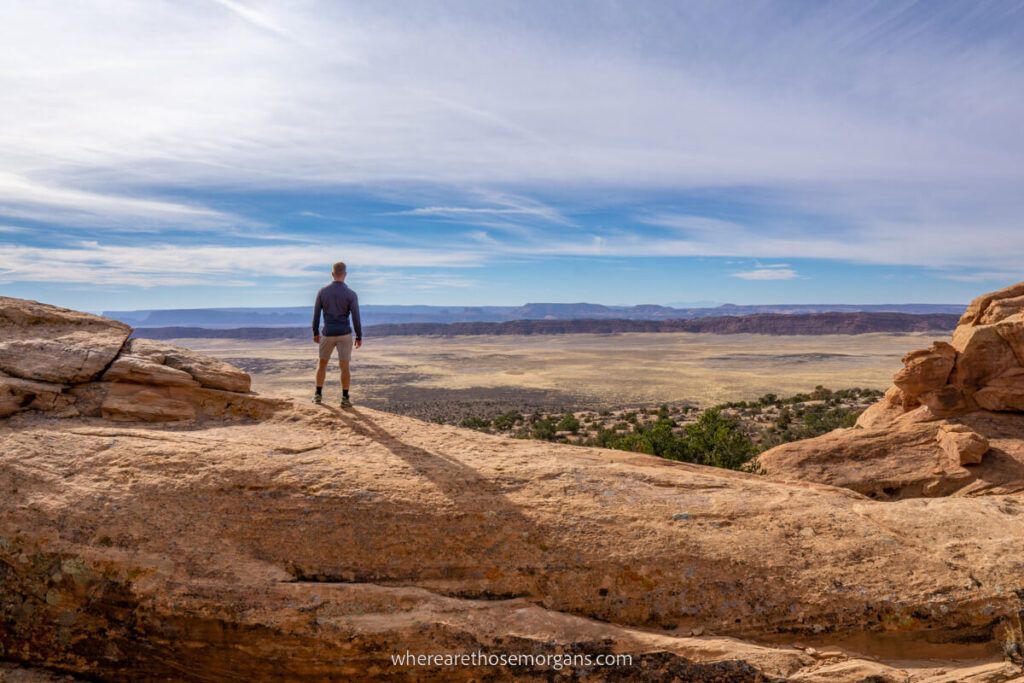 2. Devils Garden Trail – Best Adventure Hike In Arches
Distance: 7.8 miles in total with full primitive loop included, trailhead to Landscape Arch return is 1.9 miles, trailhead to Double O Arch return is 4.1 miles.
Difficulty: Moderate to strenuous
Major Arches: Tunnel Arch, Pine Tree, Private Arch, Double O Arch, Partition Arch, Navajo Arch, Landscape Arch
Time: 3-5 hours full loop, 1 – 1.5 hours Landscape Arch only, 2 – 3 hours Double O Arch only
Perfect For: More experienced hikers, adventure seekers
Photography: 7 arches and 1 spire, fantastic scenery throughout
Best Time: Early morning
Recent Comments: All Trails
Devils Garden Trail is the best adventure hike in Arches National Park.
We love the stunning view from Delicate Arch but Devils Garden Trail is just so much more exciting to explore.
After traveling extensively throughout the Beehive State, we firmly believe hiking Devil's Garden Trail is among the most fun things to do on a visit to Utah.
Hikers will follow clear paths for parts of the Devils Garden Trail, but the majority of this hike is off-trail. You need to be prepared for forging your own path and navigating uneven terrain.
Trail Options
Devils Garden Trail can be hiked as an out-and-back to various arches close to the trailhead. But the most popular and best way to hike the trail is to take on the full loop.
Here are arches and spire you will pass in order by hiking the full loop clockwise:
1. Landscape Arch
2. Partition Arch
3. Navajo Arch
4. Double O Arch
5. Dark Angel Spire
6. Private Arch
7. Pine Tree Arch
8. Tunnel Arch
You can reach Tunnel Arch and Pine Tree Arch as an out and back hike on a maintained trail. In addition, you could hike to Landscape Arch and back on a separate maintained trail.
However, you will have to hike the loop trail if you want to collect every arch and the spire.
Allow for anywhere between 3-5 hours depending on your hiking speed and how many photos you will take.
Devils Garden Trailhead is the furthest point from the entrance to Arches National Park. The 17 mile drive takes around 30 minutes.
Let's get into the walkthrough for the best hike at Arches National Park!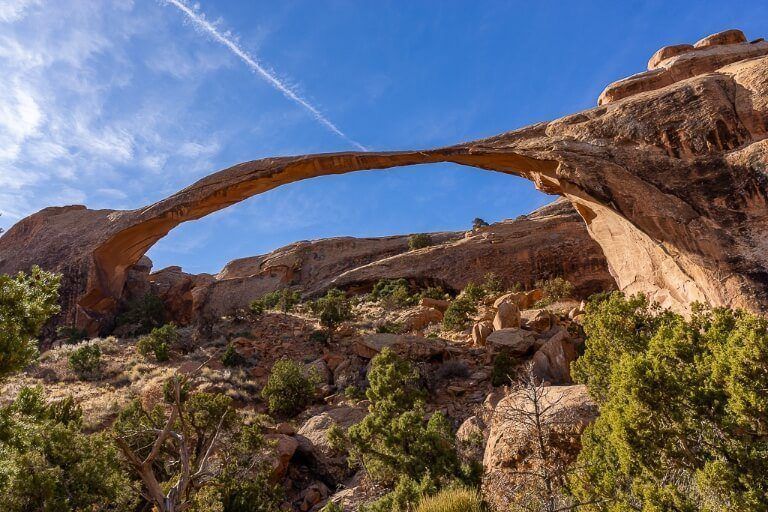 1. Landscape Arch
Landscape Arch is the longest natural arch found anywhere in the world outside of just 4 longer arches all located in China.
The staggering 93 meters long Landscape Arch is just 1.8 meters in diameter at its smallest. This certainly makes it worthy of a fragile sticker!
The Landscape Arch observation area is way below and slightly to the right of the formation. You are not permitted pass the barriers in place in order to get closer to the arch.
The stone could collapse at any moment and you don't want to be the person underneath it when the arch eventually does fall through.
Landscape Arch is the most popular and easiest to access arch on the Devils Garden Trail in Arches National Park.
We recommend hiking the full Devils Garden loop in a clockwise direction, which means Landscape Arch is the first arch you will see on the trail.
Distance from Devils Garden Trailhead to Landscape Arch: 1 mile.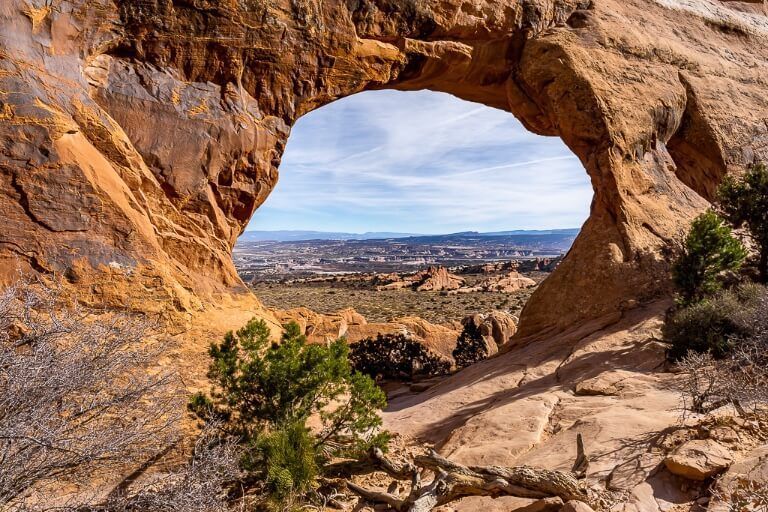 2. Partition Arch
Devils Garden Trail becomes primitive as soon as you leave Landscape Arch. You will know when you see a sign post explaining the hike becomes difficult if you continue.
Hop over the natural sandstone wall and begin hiking in Arches National Park wilderness!
As you traverse the sandstone 'fins' and gain elevation, stop to check the view behind you opening up. This is where Devil's Garden trail gets exciting.
After some light scrambling over uneven surfaces you will find a sign pointing left to Partition and Navajo Arches. Take this left spur trail and then another left to Partition Arch.
You will go back on yourself for 0.4 miles roundtrip to reach Partition Arch, which is more like a window than a traditional arch. However, the view through Partition Arch stretches as far as the horizon and is well worth the effort.
Distance from Devils Garden Trailhead to Partition Arch: 1.4 miles.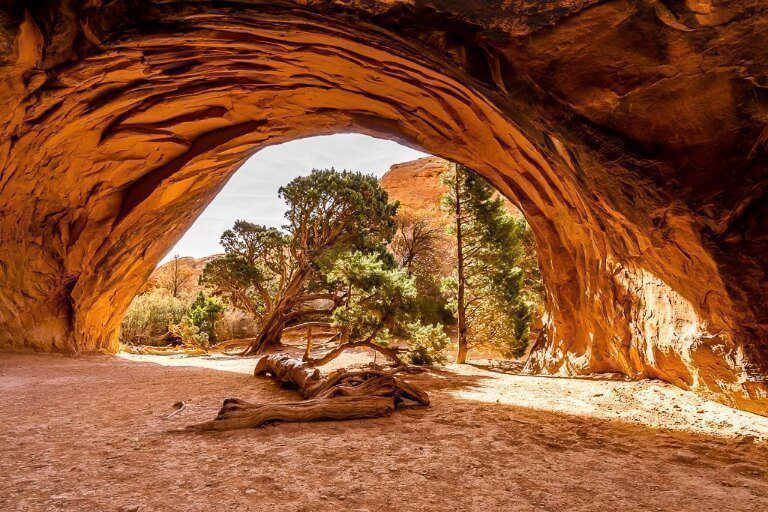 Track back to the point you turned into Partition Arch and turn left toward Navajo Arch. A further 0.4 miles roundtrip will lead you to a very different type of arch.
Navajo Arch is a thick set and dense tunnel like arch. It feels a bit like you've walked into a secret desert lair owned by a comic book villain.
Trees with twisted roots on the ground in the tunnel create stunning photography frames, especially if the sun is illuminating Navajo Arch with deep orange hues.
Distance from Devils Garden Trailhead to Navajo Arch: 1.8 miles.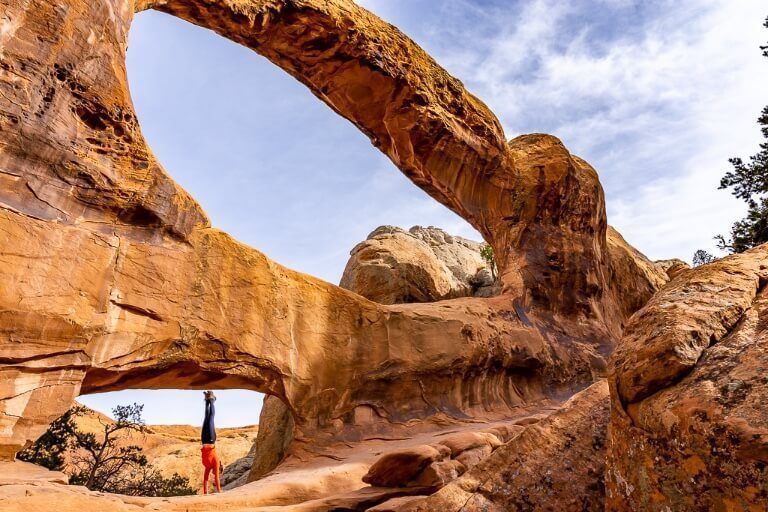 4. Double O Arch
Double O Arch is the second most popular arch along Devils Garden Trail after Landscape Arch. In some ways we think it is even more impressive.
You must hike 1 more mile along rough terrain with narrow fins and steep drops to reach Double O Arch.
What makes Double O Arch so photogenic is the smoothness of both its larger and smaller arches stacked on top one another.
The geology in Arches National Park is unique and really allows you to appreciate the forces of nature.
Distance from Devils Garden Trailhead to Double O Arch: 2.8 miles.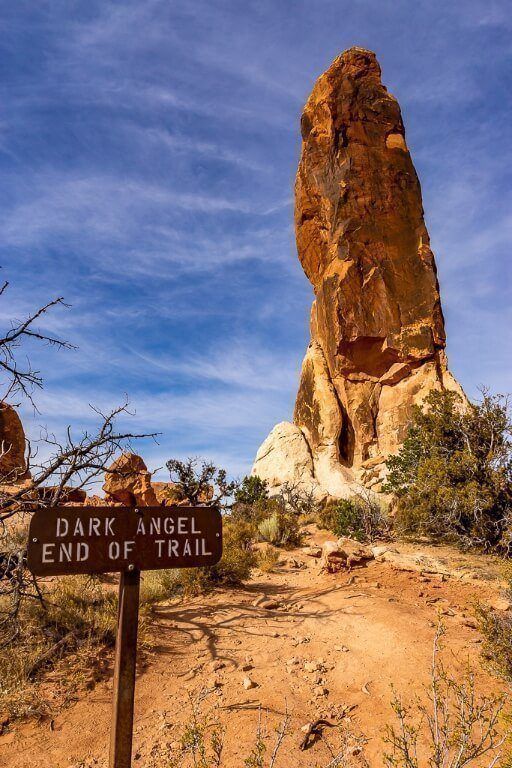 5. Dark Angel Spire
On the north side of Double O Arch you will find a spur trail leading toward a solitary sandstone rock formation bursting into the sky.
This is Dark Angel Spire, a 150 ft tall tower standing sentry over Arches National Park. The path dead ends at the spire, so you have turn back to rejoin Devils Garden Trail.
If you're running short on time or want to conserve energy, this is the most obvious part of Devils Garden Trail to give a miss.
You can cut out the best part of 1 mile by avoiding Dark Angel Spire. There is no shame in missing it if you need to get back in time to hike up for sunset at Delicate Arch.
Distance from Devils Garden Trailhead to Dark Angel Spire: 3.6 miles.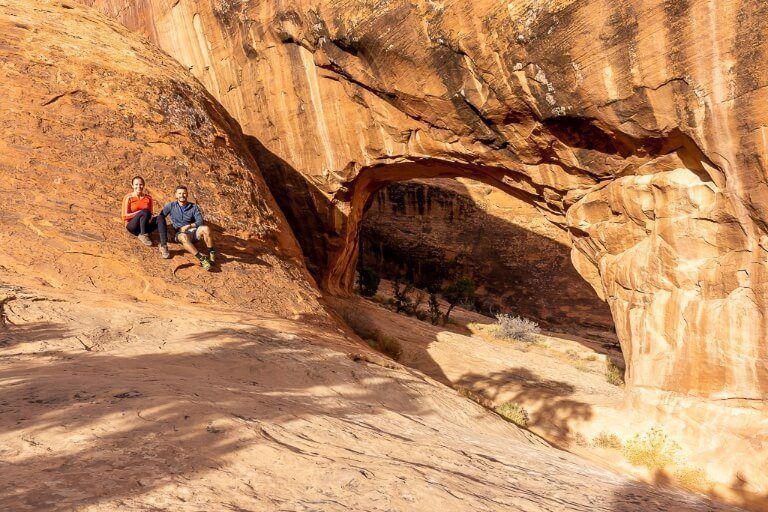 6. Private Arch
Continue hiking clockwise in a loop away from Double O Arch once you rejoin Devils Garden Trail from Dark Angel Spire.
After 0.4 miles you will reach a sign pointing right to Private Arch.
The hike to Private Arch is a cool spur trail following a gorge-like path which cuts through tall rock walls to either side of a small canyon.
You will reach Private Arch around 10 minutes later to discover it isn't the most exciting arch climax. However, it is still a part of the Devils Garden Trail hike and to complete it fully you will need to take this spur!
Similarly to the spire, Private Arch is one to miss if you are running low on time or energy.
Distance from Devils Garden Trailhead to Private Arch: 4.6 miles.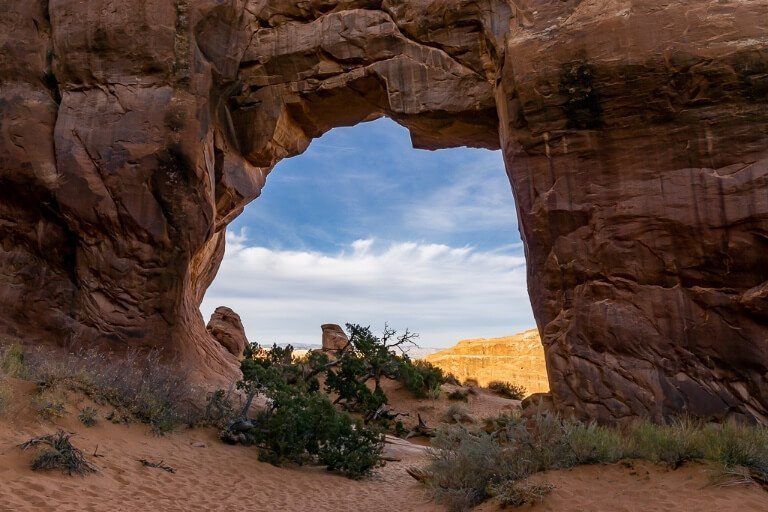 7. Pine Tree Arch
Rejoin Devils Garden Trail and hike 2.2 miles without stopping until you reach Pine Tree Arch.
This section of trail is the most exciting and adventurous hiking area in all of Arches National Park. You will carve your own path over boulders and drop down into sandy beds.
Despite this part of the trail being open to your own interpretation, you will still find plenty of obvious path blocking objects to keep you on a 'rough' trajectory.
Be aware that you may have to use your hands to climb up or down boulders and there are some fairly significant drops.
Anyone with a fear of heights might want to consider giving this section a miss and turning back at Double O Arch instead.
It is important not to underestimate how long the hike between Private Arch and Pine Tree Arch can take. There will be times when you have to track back and work out a more suitable path ahead.
Eventually the trail flattens out and you walk on a deep sandy path until you rejoin the main trail. Take the left spur to Pine Tree Arch, which is one of the least impressive arches on this hike.
Distance from Devils Garden Trailhead to Pine Tree Arch: 6.8 miles.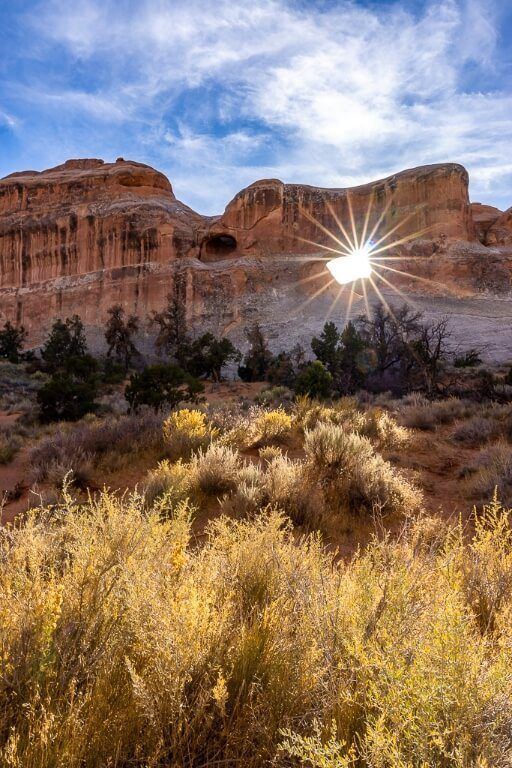 8. Tunnel Arch
The final stop on Devils Garden Trail is Tunnel Arch, which is located just a few hundred meter from Pine Tree Arch.
Tunnel arch is a gaping hole half way up a gigantic slab of rock. If you're here around late afternoon, you can get a big starburst right through the tunnel.
Distance from Devils Garden Trailhead to Tunnel Arch: 7 miles.
You now have 0.8 miles walk back to Devils Garden Trailhead for a total of 7.8 miles roundtrip.
Devils Garden Hiking Tips
Let's take a quick look at our top tips for hiking Devils Garden Trail.
1. You will see warning signs about primitive hiking on Devils Garden Trail but it really isn't too difficult as long as you don't mind a bit of scrambling on uneven rocks.
2. Only take on the full Devils Garden Loop Trail if you have enough time and don't start too late in the day.
3. If visiting Arches in summer or on a particularly hot day, begin hiking Devil's Garden trail as early as possible to beat the heat of midday. You will avoid crowds at the same time.
4. Devils Garden Trail may be dangerous to hike in winter due to lingering ice. You will need crampons and trekking poles around the winter months.
5. Track your hike with an offline map using one of the best hiking apps like Gaia GPS or All Trails.
3. Delicate Arch – Best Hiking Vista In Arches
Distance: 3 miles roundtrip
Difficulty: Moderate but steep ascent
Major Arches: Delicate Arch
Time: 2 – 4 hours depending on photography
Perfect For: Everyone
Photography: Sunset and astro are magnificent
Best Time: Any time of day but best around sunset
Recent Comments: All Trails
Delicate Arch Trail is by far the most popular hike in Arches National Park.
The remarkable Delicate Arch is a world famous geological feature and it is also the symbol of Utah. Look at the license plate on a vehicle registered in Utah and you will see Delicate Arch!
Hold on, let's pump the breaks for a minute.
Yes, we all know Delicate Arch is a striking sandstone formation. But what about the hiking trail you have to climb in order to reach Delicate Arch?!
The Trail
At just 3 miles roundtrip, the Delicate Arch hiking trail is relatively short. But it is steep and does not follow a maintained path.
Instead, you will effectively walk straight up a surprisingly challenging slick rock face for most of the ascent. Some hikers zig zag up the rocks, whereas others go more directly in a straight line.
It is important to wear shoes with good tread for the hike to Delicate Arch, particularly in winter and spring when the trail could be treacherous.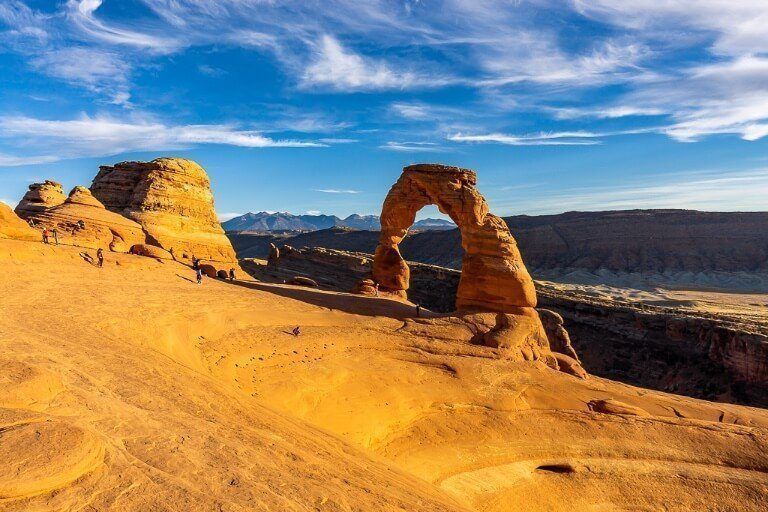 You will pass by an old homestead from the 1900's called Wolfe Ranch early in the hike. Otherwise it is just a case of slogging up to the top.
Close to the summit you will climb an unexpected narrow path hugging tightly to a wall flanking the right side of the trail.
This section of trail twists around like a corkscrew until all of sudden you are standing inside the most amazing arch and bowl landscape in Utah.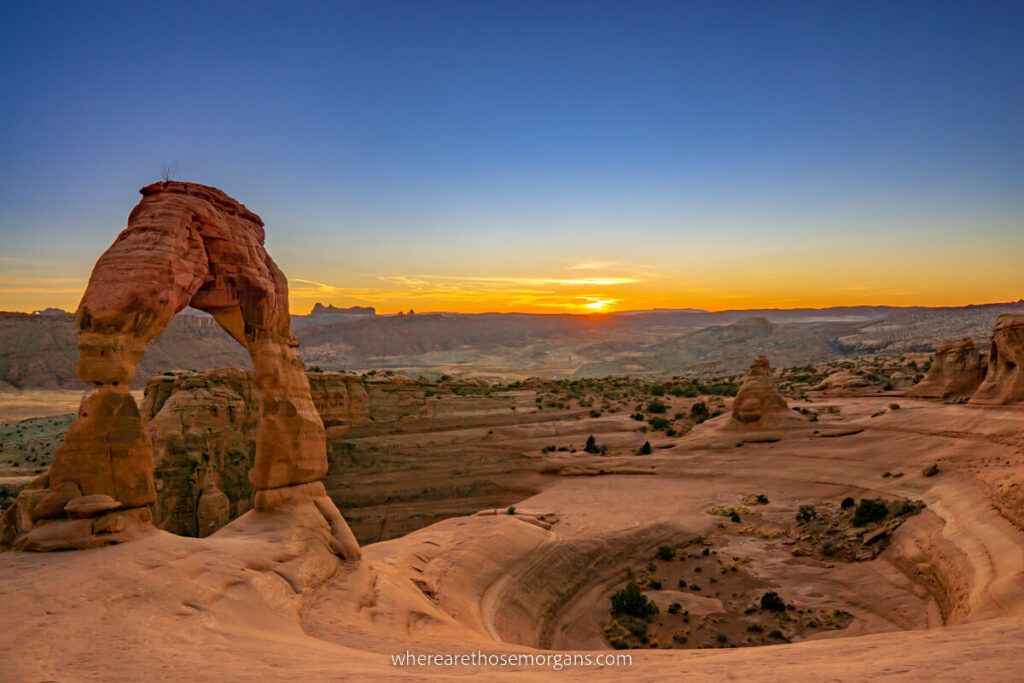 Delicate Arch At Sunset
Sunset at Delicate Arch is one of the most beautiful things we have seen on the road in America. The mind-blowing scenery extends as far as the horizon and the sun sets directly behind Delicate Arch.
This serene sunset event is one of the major reasons Arches is considered one of the best US national parks.
You are free to hike around the deep bowl depression and Delicate Arch. Please take care not to fall inside the bowl depression as others have fatally fallen in the past.
Our advice is to arrive at Delicate Arch at least one full hour before sunset. This way you will have time to soak up the explanation defying landscape from various angles and perspectives before dark.
Be sure to stick around for a stunning Milky Way display an hour or two after sunset.
We know everyone wants to take home a selfie or instagram photo from Delicate Arch, but please remember to be courteous to others.
You will notice a group of professional photographers clustered around the top of the bowl looking west at Delicate Arch.
Many of these guys have traveled from around the world to take sunset photos of Delicate Arch and they don't want you stood underneath the arch during the sunset!
Want to hike Delicate Arch? Read our complete guide to hiking Delicate Arch at sunset in Arches National Park to see exactly what is in store for your visit.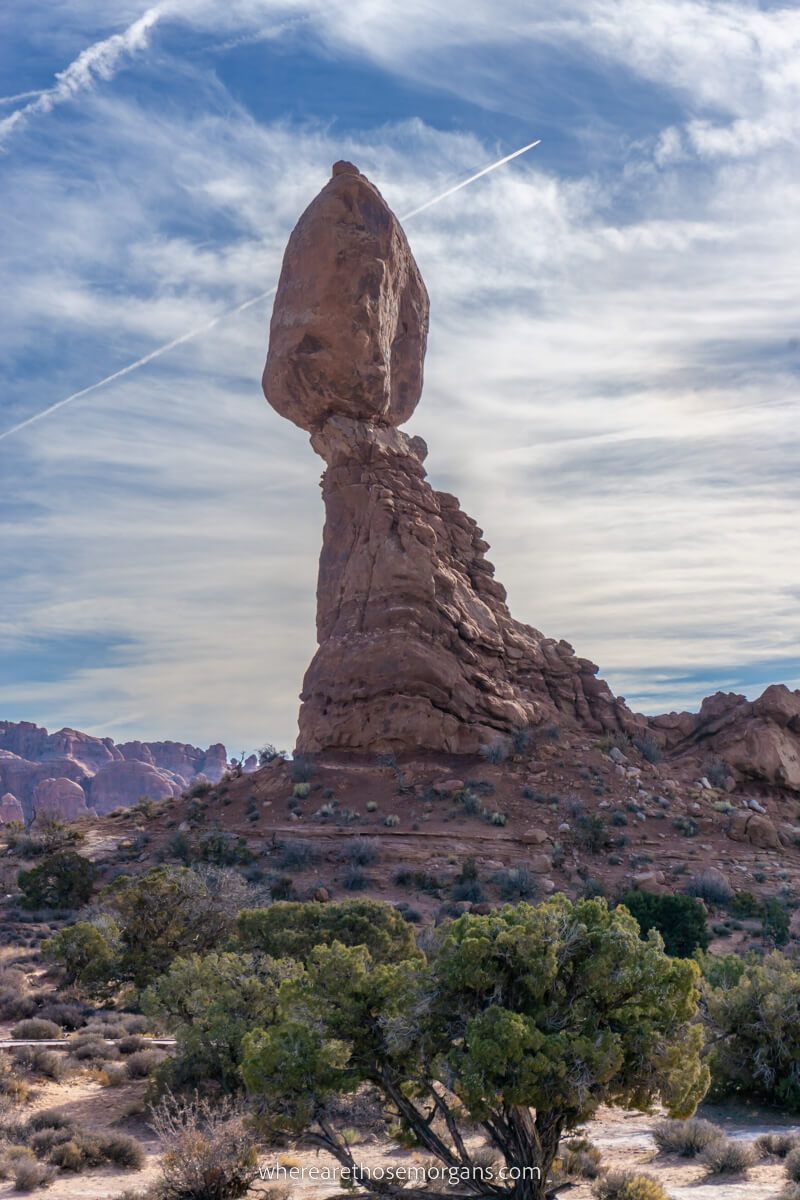 More Hikes At Arches National Park
Are you a return visitor to Arches looking for something different? Well, there are a handful of alternative hiking options available for you.
Here are some of the other hikes worth considering at Arches:
1. Courthouse Wash – This is a long, unmaintained wash trail in which you will have to relocate the path after several river crossings. Hikers rate this hike at 3.7 / 5 at time of writing in early 2023.
2. Balanced Rock – This isn't a hike, it is a very short walk. Balanced Rock is very impressive but you can see it just as well from the car and the trail around it cannot be considered a 'hike'.
3. Park Avenue – This is the only other hike we would recommend including at Arches for those who have more time. The trail leads to a viewpoint looking through a canyon and photogenic sandstone formations.
4. Fiery Furnace – This is a ranger led or permit only hike in Arches. The hike looks fun but you must obtain a permit in advance to access this Arches trail.
Arches Hiking Map
Click or touch to activate the map. Scroll around, zoom in and out, orientate yourself with the geography at Arches and get an idea about distances to travel between trails.
We have included hiking directions between trailheads and summits or points of interest along the trails.
Map key:
Blue – The Windows Trail
Green – Devils Garden Trail
Orange – Delicate Arch Trail
What To Pack For Hiking At Arches National Park
Let's take a quick look at a basic safety packing list to remember when hiking the trails in Arches.
Food – Loads of snacks, sandwiches, energy bars, chocolate, gummy's, anything else compact
Water – Keep loads of water in your car and take smaller bottles out to each trail
Water Bottle – We use these Nalgene Tritan water bottles for hiking
Survival – Don't forget this handy mini first aid kit for hikers
Headlamps – Use these LED hiking headlamps for descending Delicate Arch after sunset
Footwear – Wear shoes with good tread for hiking in Arches National Park
Where To Stay Near Arches
Moab is the perfect place to stay near Arches National Park. It is a great little town with plenty of hotels and restaurants. New hotels are opening all the time in Moab and it is only growing in popularity.
We have stayed in Moab ourselves for exploring Arches and Canyonlands National Park. Our top foodie recommendation is Thai Bella.
Need a hotel near Arches? Read our popular guide to the best hotels in Moab UT on our sister site Best Hotels Anywhere for the top rated cheap, mid range and luxury hotels available.
Need a campground near Arches? Take advantage of our exclusive 30 day free trial of The Dyrt PRO to get reservations at sold out campgrounds like Devils Garden in Arches National Park by using a fantastic new feature called Dyrt Alerts. You can create alerts to notify you of cancelations at the most popular campgrounds around the US, including Arches. Try it for free today!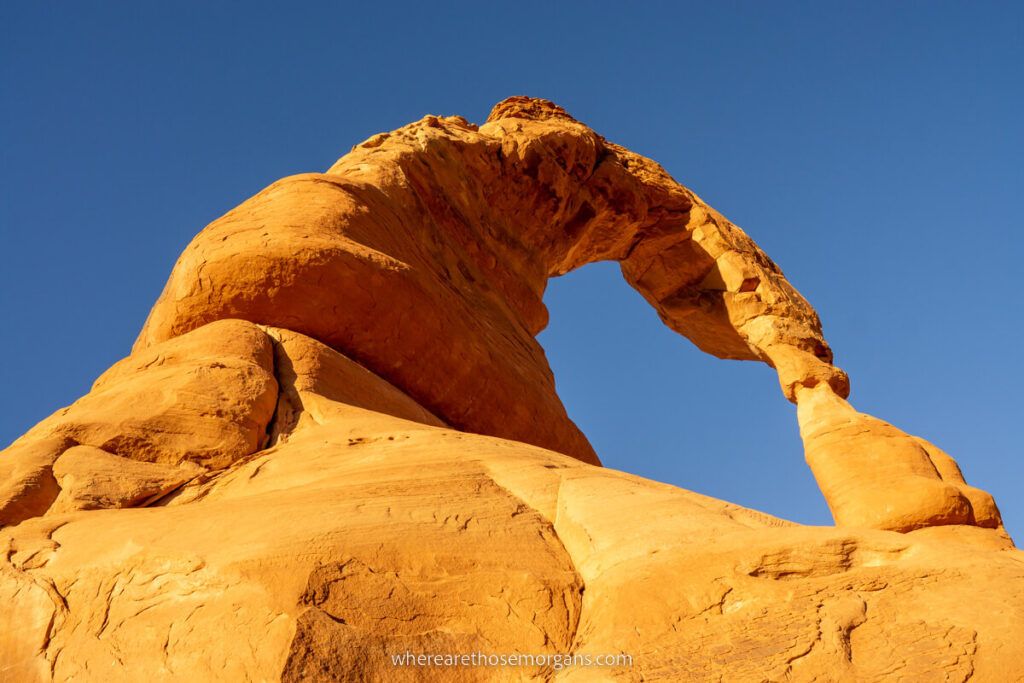 One Day Arches National Park Hiking Itinerary
Now you know everything about the best hikes in Arches National Park, but how do you piece them all together in just one day?
Fortunately, the best time of day to hike each trail coincides with the most efficient way to visit Arches National Park.
Here's exactly how to visit Arches and hike all three trails on a day trip:
8:00am – 9:30am: The Windows Trail
Get an early start and begin with hiking The Windows, Turret Arch and Double Arch.
Enjoy the gentle trails before eating a substantial mid-morning meal. You are going to need the energy for your next hike.
10:00am – 3:00pm: Devils Garden Trail
Head over to the awesome Devil's Garden Trail and plan to take on the full loop.
Allow 5 hours for this hike but if you're a quick hiker you can expect to complete the entire loop in around 3 hours 30 minutes.
Be sure to leave enough time to get to Delicate Arch an hour before sunset. This may mean skipping Dark Angel Spire or Private Arch on Devils Garden Trail.
3:30pm – 8:00pm: Delicate Arch Trail
After some serious snacking and refueling following completion of Devils Garden Trail, aim to summit Delicate Arch at least one hour before sunset.
Check sunset times for Arches and allow yourself the chance to explore Delicate Arch before it gets dark.
Expect huge crowds for sunset, but watch how quickly people thin out as soon as the sun disappears. Very few will stay at Delicate Arch for stars but we promise it is well worth sticking around.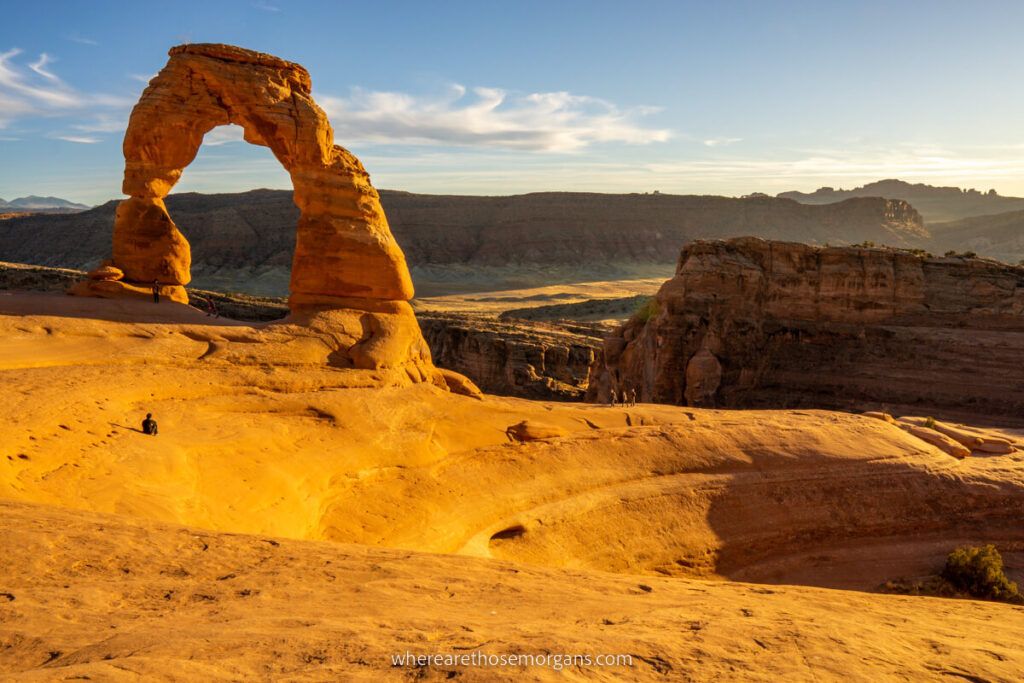 Best Hikes In Arches National Park FAQ's
Let's finish with some of the most asked questions about hiking in Arches.
How Many Hikes Are In Arches National Park?
The Windows Trail, Devils Garden Trail and Delicate Arch Trail are the 3 major hikes in Arches National Park. They are the only 3 trails every first time visitor to Arches should consider hiking.
Is One Day Enough In Arches?
Yes, you can hike the popular trails and visit the best photo spots at Arches National Park in one day. Try to spend one full day in Arches so you can watch sunrise at The Windows and sunset at Delicate Arch.
Our Popular Moab Guides
Our Popular "Best Hikes" Guides
Want more Utah content? Head over to our Utah Travel Guides to explore the Mighty Five National Parks and beyond.
---
We hope this guide to the best hikes in Arches National Park helps with planning your visit to Moab, Utah!
Please let us know if you have any questions or need help planning your hiking itinerary for Arches in the comment below.
Happy hiking,
Mark and Kristen
Find This Guide Helpful? Pin It For Your Visit To Arches!