Are you looking for the very best hikes in Arches National Park, Utah? We're going to walk you through three unmissable hiking trails at Arches that are perfect for every first time visitor.
The three top hikes at Arches National Park are The Windows, Devil's Garden and Delicate Arch. We have included both Devils Garden and Delicate Arch in our popular guide to the 50 best hikes in the US, which means two out of the three hikes in Arches are bucket list level trails.
The Windows is easy, flat and suitable for all ages and abilities, Devil's Garden trail is adventurous with optional primitive section for more experienced hikers and the Delicate Arch hike is short but steep with a magical climax.
We will show you the most efficient way to hike each trail and enjoy the best of this remarkable landscape. At the end we will give an example one day hiking itinerary at Arches National Park, focused on getting you to the right place at the right time.
Let's hike the best trails in Arches, Utah!
*Please note this post may contain affiliate links. If you click on one, we may earn a small commission at no extra cost to you!*
1. The Windows

– Best Easy Hike In Arches
Distance: 1 mile roundtrip to Windows, interpretive and primitive hiking option (recommended) and 1/2 mile roundtrip to Double Arch
Difficulty: Very easy, flat, no climbing
Major Arches: Double Arch, North Window, South Window, Turret Arch
Time: 1 hour 30 minutes total
Perfect For: Everyone, all ages and hiking abilities
Photography: Sunrise and astro are popular here
Best Time: Any time of day but best sunrise and for stars
Recent Comments: All Trails
The Windows hike is a perfect place to start your visit to Arches National Park. It is flat, easy, short and ideal for all ages and hiking abilities. This is the one hike at Arches everyone can and should do.
The Windows area has the highest concentration of arches among the 2,000+ at Arches National Park.
To one side you can see the enormous free standing individual sandstone formations of Windows and Turret Arch. On the other side Double Arch, Ribbon Arch and Cove Arch contribute to the labyrinthine Cove of Caves.
After entering Arches, drive 9 miles along the scenic drive and take a right onto The Windows road. Continue until you reach a loop in the road with parking spaces.
This parking lot is the trailhead for Double Arch, Turret Arch and The Windows.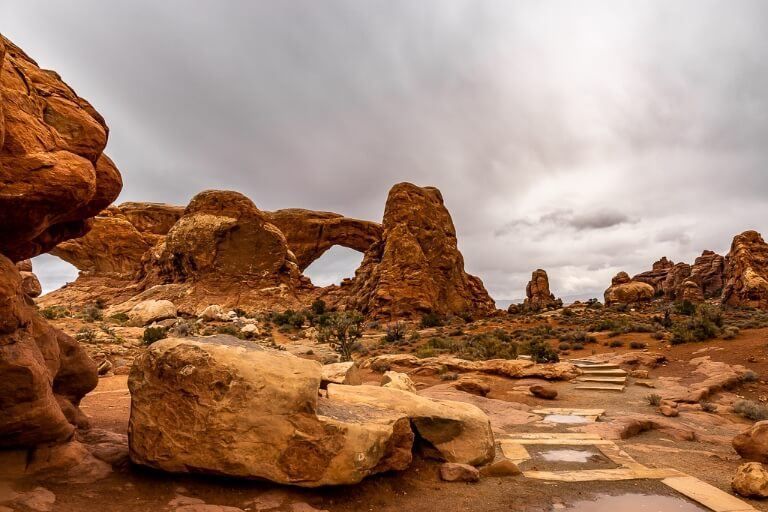 North and South Windows
To give you an idea of the North and South Windows shape – imagine two eyes behind a Venetian mask. North Window in particular is a hugely popular photography location both at sunrise and for night sky images including the Moon and Milky Way.
Neither look particularly large openings until you're standing inside the abyss. North Window has a section to its right side that can be climbed carefully to reveal fantastic views across a flat expanse as far as the La Sal Mountains.
If you time it right in Winter or Spring, you will be able to photograph snow capped mountains. This is the place to remember your telephoto / super telephoto lens for epic compression images.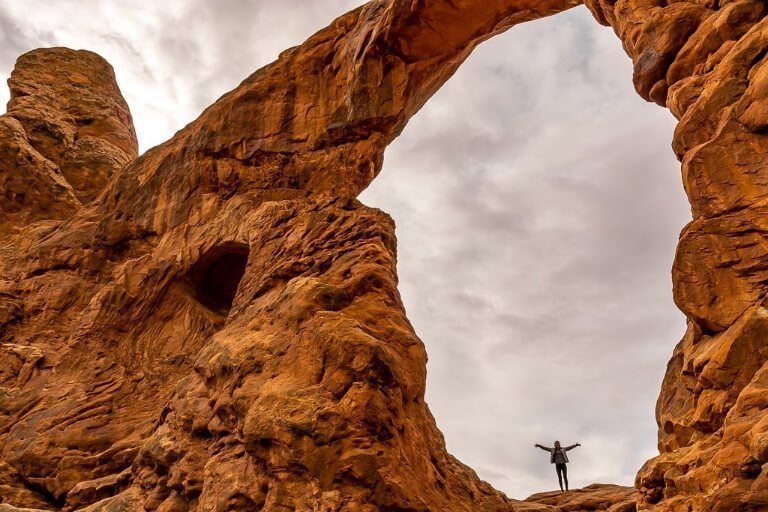 Turret Arch
Turret Arch is more striking than both Windows from afar, as it stuns with an oval shaped Arch and adjoining chimney shaped turret.
If you don't mind a bit of climbing on rocks, you can find some cool perspectives by using Turret Arch to frame North Window. The terrain between Turret Arch and The Windows is flat but uneven, which requires careful footing.
Once you've finished with the arches in this area, follow the primitive trail looping behind and around The Windows. This trail leads back to the parking area and offers various interesting vantage points of all 3 arches.
Double Arch
Double Arch is the celebrity among the Cove of Caves – a wild and spectacular cluster of Arches entwined like shoots in a dense bramble bush.
Imagine two huge arches sharing the same foundation pillar with the arches forming approximately 45-50 degrees apart, creating a V shape.
When the two are combined, Double Arch becomes the second longest arch in Arches National Park (after Landscape) and takes the crown for tallest arch in the park.
The gravel path to a viewing point below Double Arch is flat and very easy at around 0.6 miles roundtrip. However, the impressive Cove of Caves maze of Arches can easily be seen from your car at the parking area.
If the weather is unfavorable or you're short on time, you can see all you need from here.
2. Devil's Garden Trail

– Best Adventure Hike In Arches
Distance: 7.8 miles in total with full primitive loop included, trailhead to Landscape Arch return is 1.9 miles, trailhead to Double O Arch return is 4.1 miles.
Difficulty: Moderate to strenuous
Major Arches: Tunnel Arch, Pine Tree Arch, Private Arch, Double O Arch, Partition Arch, Navajo Arch, Landscape Arch
Time: 3-5 hours for full loop, 1 – 1.5 hours Landscape Arch, 2-3.5 hours Double O Arch.
Perfect For: More experienced hikers, adventure seekers, good to moderate stamina and fitness.
Photography: 7 Arches and 1 spire, fantastic scenery
Best Time: Early to mid morning begin hiking
Recent Comments: All Trails
Devil's Garden Trail is our favorite hike in Arches National Park. Delicate Arch has a the most amazing climax but Devil's Garden is for adventurous hikers who enjoy the thrill of going off the beaten path.
Devil's Garden is a fantastic trail that can be hiked either as an out-and-back or loop trail depending on how much time you have spare. Hiking Devil's Garden Trail is among the most fun things to do on a visit to Utah.
There are a total of 7 Arches and 1 Spire to discover on the Devil's Garden Trail:
Lanscape Arch

Partition Arch

Navajo Arch

Double O Arch

Dark Angel Spire

Private Arch

Pine Tree Arch

Tunnel Arch
However, only 3 Arches can be seen without hiking on primitive trails. Tunnel Arch, Pine Tree Arch and Landscape Arch can all be reached by flat and easy trail suitable to all ages and abilities.
If you want to complete the set and see all arches along the trail, make sure you have 3-5 hours spare on your Arches itinerary. Time will depend on your fitness levels.
Parking for Devil's Garden trail is the furthest point from the entrance to Arches National Park at 17 miles – which will take around 30 minutes to drive.
Devil's Garden Trail Hiking Tips
Landscape Arch is the star of the show along Devil's Garden and is the easiest Arch to reach on this trail.

Even if you only hike to Landscape Arch before returning, it is worth it to see the longest free standing arch in the United States.

There are warning signs about primitive hiking on this trail but it in truth – the hike is not difficult as long as you don't mind a bit of scrambling on uneven rocks.

Only take on the full primitive loop trail if you are fit enough and have enough time.

The primitive trail is not designated which means at times you have to use intuition and have the ability to navigate in a loop.

If visiting in Summer or on a particularly hot day, begin hiking Devil's Garden trail as early as possible to beat the heat of midday. Plus, you'll avoid crowds at the same time.

In Winter, the trail is dangerous with ice and people regularly have emergencies. Only hike in Winter if experienced and with the right gear (crampons and trekking poles).

You might want to track your hike with an offline map using one of the best hiking apps like Gaia GPS or All Trails.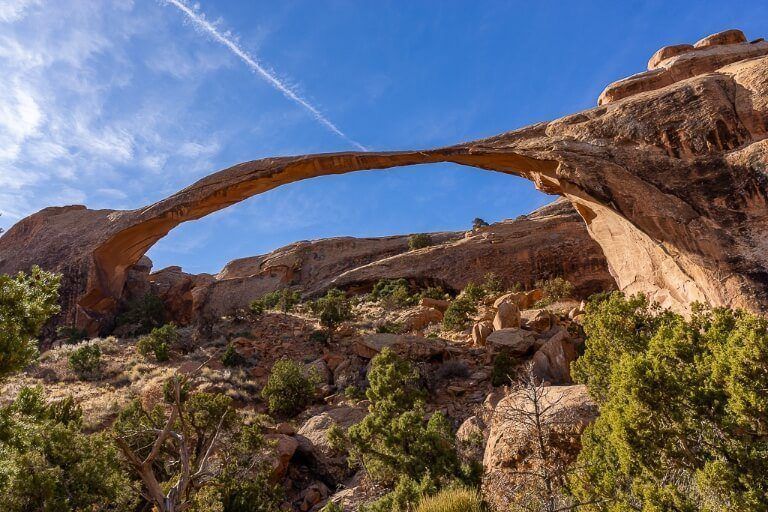 Landscape Arch
Landscape Arch is the longest natural arch anywhere in the world outside of 4 longer arches all found in China. It is a staggering 93 meters long and as little as 1.8 meters in diameter, which makes it worthy of a fragile sticker.
The Landscape Arch observation area is way below and slightly to its right. You are not permitted pass the barriers in place to get closer to the arch – simply because it could collapse at any moment and you don't want to be underneath it when it eventually does fall through.
Landscape Arch is the most popular and easiest to access arch on this trail. We recommend hiking the full loop in an anti clockwise direction, which means Landscape Arch is the first arch you will see on Devil's Garden trail.
It is unique arch formations such as Landscape Arch that make Arches one of the most popular and best national parks in the USA.
Distance covered from trailhead: 1 mile.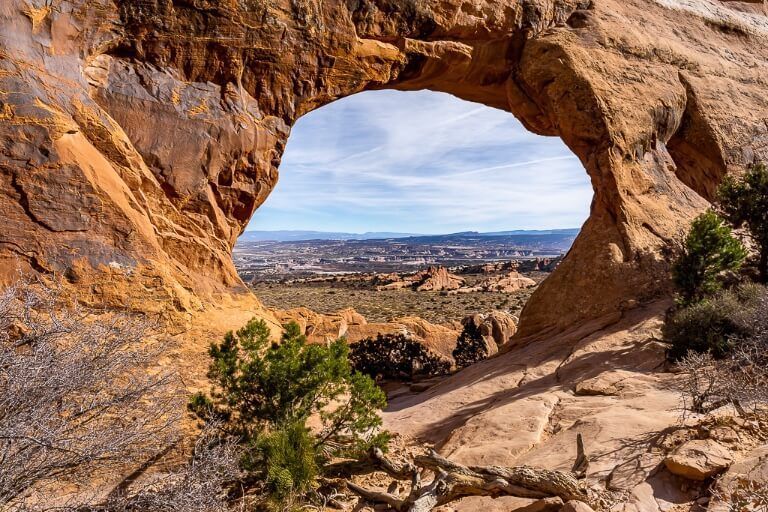 Partition Arch
The trail becomes primitive as soon as you leave Landscape Arch. You will know when you see a sign post explaining the hike becomes difficult if you continue.
Well, hop over the natural sandstone wall and let's get hiking!
As you traverse the sandstone 'fins' and gain elevation, stop to check the view behind you opening up. This is where Devil's Garden trail gets exciting.
After some light scrambling over uneven surfaces you will find a sign pointing left turn to Partition and Navajo Arches. Take the left spur trail and take another left to Partition Arch.
You will go back on yourself for a 0.4 miles roundtrip to reach the arch. Partition is more like a window than a traditional arch but the view through Partition arch stretches as far as the horizon and is worth the effort.
Distance covered from trailhead: 1.4 miles.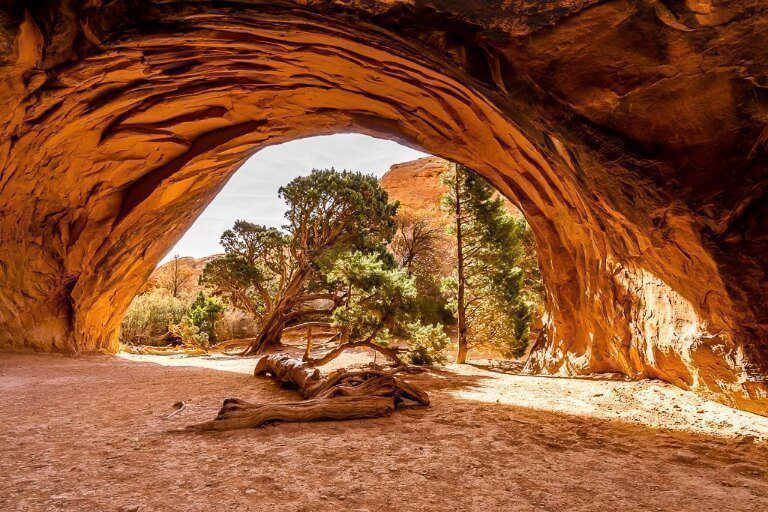 Walk back to the point you turned into Partition and take the next left turn into Navajo Arch. A further 0.4 miles roundtrip will lead you to a very different type of arch.
Navajo is a very heavy and dense tunnel like arch and it feels a bit like you've walked into a secret desert lair owned by a comic book villain.
Trees with twisted roots can be found on the ground in the tunnel and behind to make stunning photography opportunities – especially if the sun is illuminating Navajo arch deep orange hues.
Distance covered from trailhead: 1.8 miles.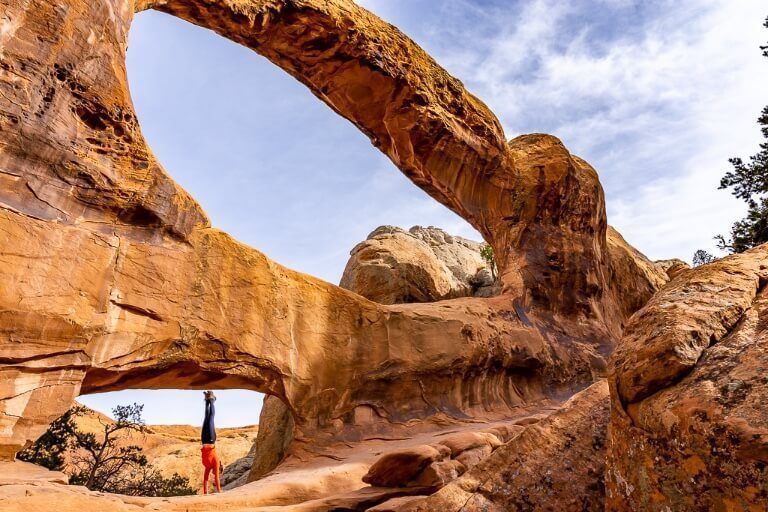 Double O Arch
Double O Arch is the second most popular arch to see after Landscape Arch and in some ways is even more impressive. You must hike 1 more mile along rough and random terrain, with narrow fins and some steep drops to reach Double O Arch.
What makes this arch impressive is the smoothness of both the larger and smaller arches stacked on top one another. The geology in Arches National Park is unique and really allows you to appreciate nature's forces.
Photographers will enjoy this arch because there are plenty of ways to gain elevation near either one of its two arches to get a starburst effect.
Distance covered from trailhead: 2.8 miles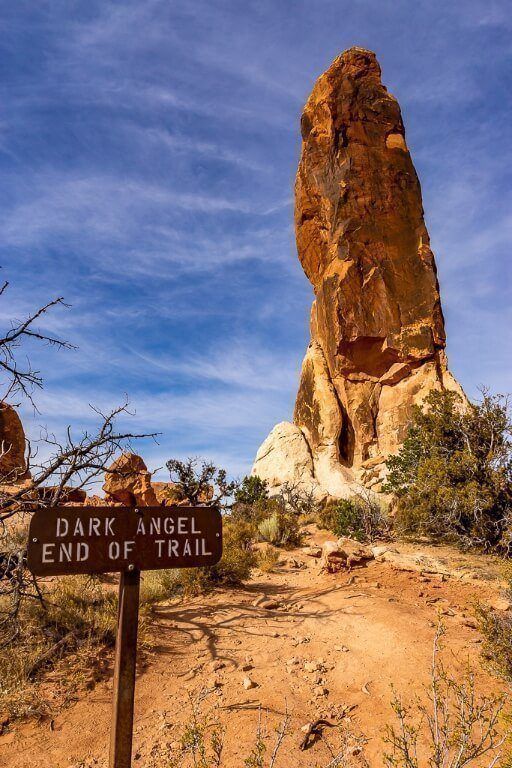 Dark Angel Spire
On the North side of Double O Arch you will find a short spur trail leading towards a solitary sandstone rock formation. This is Dark Angel Spire, a 150 ft tower standing sentry over Arches National Park.
If you're running short on time or want to conserve energy, this is the most obvious part of Devil's Garden trail to give a miss. You will cut out the best part of 1 mile here, no shame in missing it if you need to get back in time for sunset at Delicate Arch.
Distance covered from trailhead: 3.6 miles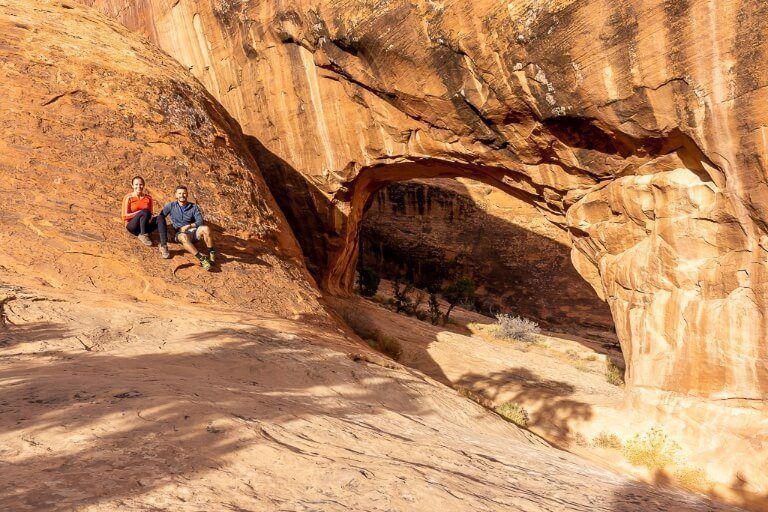 Private Arch
Continue around in a loop direction away from Double O Arch when back from Dark Angel spire. After 0.42 miles you will reach a sign pointing right to Private Arch.
This is a cool spur trail following a gorge-like path cutting through tall rock faces either side and after around 10 minutes you will reach Private Arch. In truth, it's not the most exciting arch climax but it is still a part of the hike and to complete it fully you will need to take this spur!
However, this 0.52 miles roundtrip is another of the spur trails you can give a miss if running low on time or energy.
Distance covered from trailhead: 4.6 miles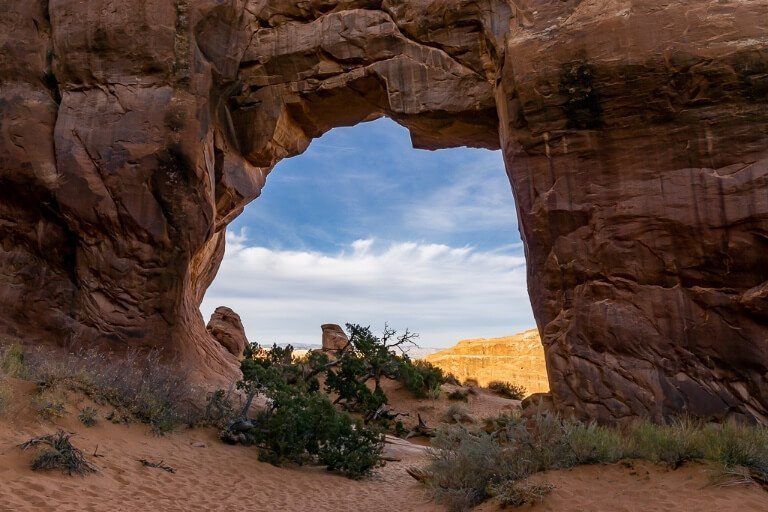 Pine Tree Arch
From the spur trail of Private Arch back to the spur trail for Pine Tree and Tunnel Arch you will hike 2.2 miles without stopping.
This is the most exciting and adventurous part of the trail for those who enjoy carving their own routes through wild land.
However, as open as this part of the trail is to your own interpretation, you will find plenty of obvious path blocking objects to keep you on a 'rough' trajectory. This section does include some use of your hands to climb up / down boulders and there are some fairly significant drops.
Anyone with a fear of heights might consider giving this section a miss. instead turning back at Double O Arch.
Don't underestimate how long this section will take. There will be times where you have to track back and work out a more suitable route forward.
Eventually it flattens out and you are walking on a very sandy trail until you reach the main trail and spur to Pine Tree Arch, which it has to be said is one of the least impressive arches on this hike.
Distance covered from trailhead: 6.8 miles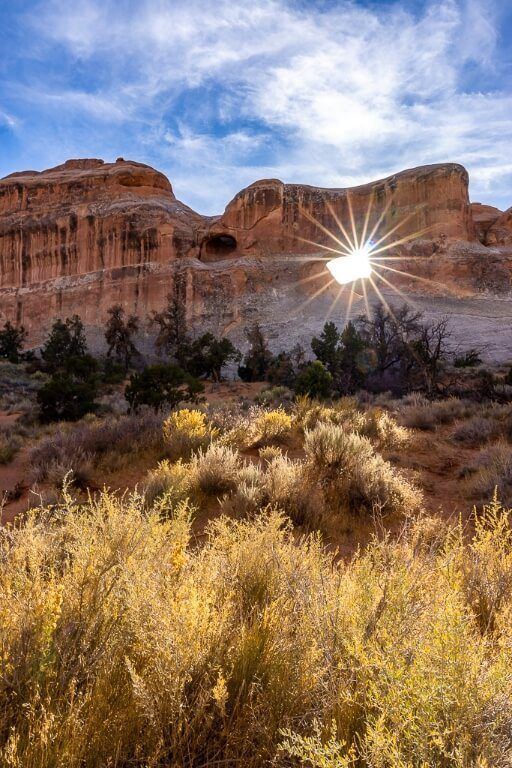 Tunnel Arch
The last stop on Devil's Garden trail is Tunnel Arch just a few hundred meters from Pine Tree Arch.
Tunnel arch is in fact a gaping hole in a gigantic slab of rock in front of an observation area. If you're here around late afternoon, you can get a big starburst right through the tunnel.
Distance covered from trailhead: 7 miles (+ 0.8 miles back to the trailhead = 7.8 miles total)
3. Delicate Arch – Best End To A Hike In Arches
Distance: 3 miles roundtrip
Difficulty: Moderate to strenuous, steep ascent and no designated path
Major Arches: Delicate Arch
Time: 2-4 hours depending on photography
Perfect For: Everyone but requires good to moderate fitness and stamina
Photography: Sunset and astro are magnificent
Best Time: Any time of day but best sunset and for stars
Recent Comments: All Trails
Delicate Arch is the centerpiece of Arches National Park and by a distance the most popular hike. We're talking about a world famous geological feature and symbol of Utah.
The actual hike to Delicate Arch is often disregarded in favor of what awaits visitors at the summit but the hike itself is a really fun trail.
At 3 miles roundtrip, this is a relatively short hike, but the trail is steep and has no designated path to follow.
You are effectively walking straight up a slick rock face for most of the ascent and that spells danger in Winter or heavy rain.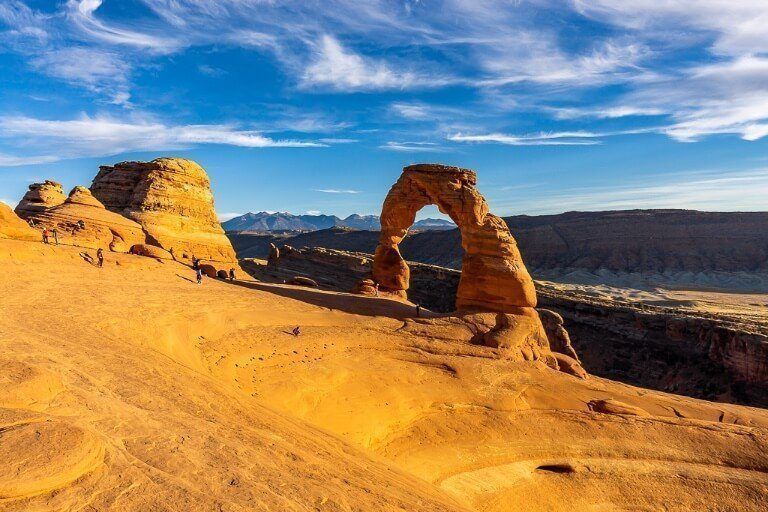 You will pass by Wolfe Ranch, an old homestead from the 1900's and close to the top there's an unexpected narrow path hugging a big rock to its right flank.
This section of trail twists around like a corkscrew and all of a sudden you are inside the most amazing arch-and-bowl landscape.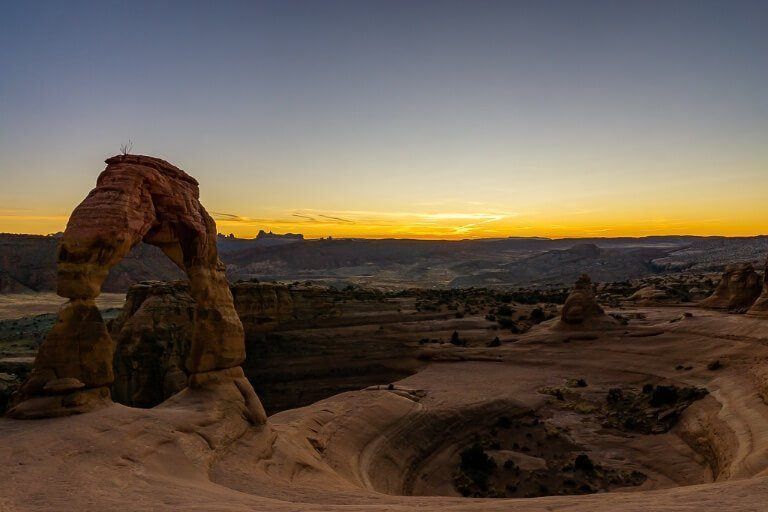 Delicate Arch Sunset
Once at the top, you can hike around the bowl (but be careful not to fall in – people have) and see the explanation defying Delicate Arch from various angles / perspectives.
If you arrive early enough before sunset, grab some instagram worthy photographs underneath Delicate Arch.
However, please remember that photographers have traveled from around the world to take sunset photos of Delicate Arch and they won't want you stood underneath the arch during the sunset!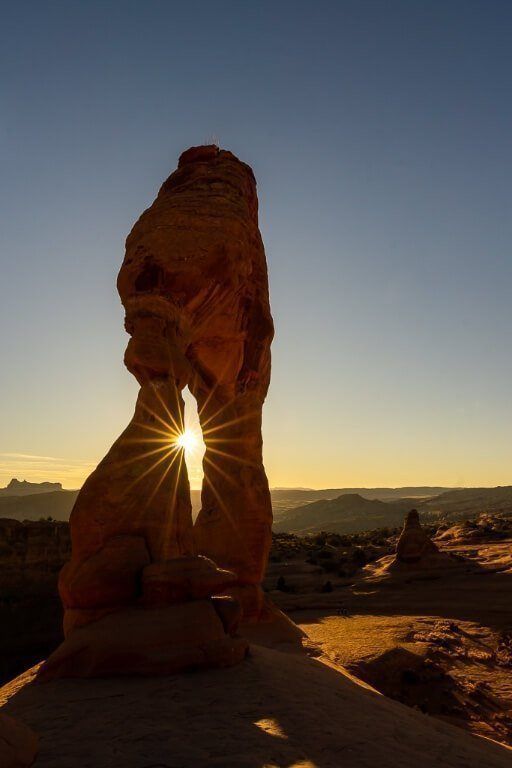 Summiting the Delicate Arch hike is one of the most unforgettable memories we have from our time in Utah.
The mind-blowing scenery extends as far as the horizon and the sun sets directly behind Delicate Arch from a 'viewing terrace'. Be sure to stick around for a stunning Milky Way display an hour or two later.
The turn off for Delicate Arch is 11 miles from the entrance to Arches National Park.
Read our in depth guide to hiking and photography of Delicate Arch at sunset including tips for best place to watch sunset and staying for the amazing stars display.
The Best One Day Arches National Park Hiking Itinerary
So you know the best hikes in Arches National Park but how do you see them all in one day and what is the best order to see them?
Fortunately, the best time to hike each trail coincides with the most efficient way to visit Arches National Park.
Here's exactly how to visit Arches and manage all three hikes:
8am – 9.30am
The Windows, Turret Arch and Double Arch – After you arrive into Arches, spend the first few hours around the Windows area and enjoy the gentle trails before eating a substantial mid-morning meal. You'll need the energy for your next hike.
10am – 3pm
Devil's Garden Trail, Landscape and Double O Arch – Allow 5 hours for this hike but if you're a quick hiker you can expect to complete the entire loop in around 3 hours 30 minutes to 4 hours. Be sure to leave enough time to get to Delicate Arch an hour before sunset.
3.30pm – 8pm
Delicate Arch (depending on sunset time) – After some serious snacking and refueling, aim to summit an hour before sunset (check sunset times for Arches) to give you enough exploring time before it gets dark. Expect it to be very busy for sunset, but watch how quickly people thin out as soon as the sun disappears. Very few will stay for stars but we can guarantee it is well worth waiting for.
What To Pack For Hiking At Arches
Map of the Best Hikes in Arches National Park
Click into the map to see the locations of the best hikes in Arches National Park. When you click on the blue icons, click 'details' to see more information about each trail.
Zoom in and out to see the park entrance, distance to Moab and even check on Mesa Arch in Canyonlands if you can make it there for sunrise.
The map shows the following hikes:
1: The Windows – hike this trail first (easy and flat for everyone)

2: Devil's Garden Trail – hike this second (primitive but awesome)

3: Delicate Arch – finish your day here (spectacular final hike)
Best Time Of Year To Hike At Arches National Park
Winter: Cold and potential for ice but far less crowded and unique photography opportunities with dustings of snow on orange rock. Dress warmly, especially for Delicate Arch sunset / stars. Learn more about the benefits of visiting Arches National Park in Winter.
Spring: Comfortable weather for hiking, not as busy as Summer which means easier parking and fewer people on the trails. Cold mornings and evenings.
Summer: Hot and extremely crowded both on the trails and roads – getting parked will be a problem. Harder to get into the campgrounds and hotels in Moab. However, more daylight hours and warmer weather makes hiking all three trails easier, plus more comfortable for photography at sunrise, sunset and night.
Fall: Perfect time to hike in Arches National Park. Excellent hiking weather, far fewer tourists than Summer (makes a big difference to your overall experience) and best time to photograph the Milky Way at Delicate Arch – it rises early (8-9pm) in Fall throughout Utah. Be aware of cold mornings.
Where To Stay Near Arches
Moab in Utah is the best place to base yourself for a visit to Arches and Canyonlands. It is just 5 miles from the entrance to Arches and it is filled with hotel and restaurant options.
Basing yourself in Moab allows you to explore the best of Arches and Canyonlands easily.
Entry Tickets To Hike In Arches National Park
Arches National Park will require a timed entry ticket from April 3rd to October 3rd in 2022.
Tickets are not required for those with camping, backcountry, Fiery Furnace, or special use permits. Get your timed entry ticket on the Arches NPS website.
Read More About Arches and Canyonlands National Parks

…

Are you planning a trip to Utah? Our Ultimate Utah Road Trip Planner covers all of Utah's Mighty 5 National Parks, plus crosses into Northern Arizona to complete the most amazing loop route.
Best Hikes In

…
---
We hope this helped you plan your hikes at Arches National Park!
Have you been to Utah? Which is your favorite National Park?
Please let us know if you have any questions or need any help planning your visit to Arches.
Happy Hiking,
Mark and Kristen
Was This Post Helpful? Pin It For Your Visit!