Yellowstone National Park is an extraordinary and unique landscape. After visiting the park in both April and October, we know how challenging but rewarding planning the best Yellowstone National Park itinerary can be. We're going to share all of our knowledge about Yellowstone National Park here, including an amazing 4 days itinerary example.
Above ground, Yellowstone can be described by every synonym of the word breathtaking. But lurking just below the surface is a super-volcano known as Yellowstone Caldera.
As hot magma rises from Earth's Mantle toward the Crust, pressurized heat escapes in the form of thermal geysers, creating a spectacle worthy of millions of tourists each year.
This ultimate Yellowstone National Park Itinerary explains how to get to Yellowstone, all the best things to do, where to stay and of course walks you step-by-step through 4 amazing days ticking off everything that makes this place so special.
Let's get stuck into planning your Yellowstone itinerary!
Why Visit The World's Original National Park?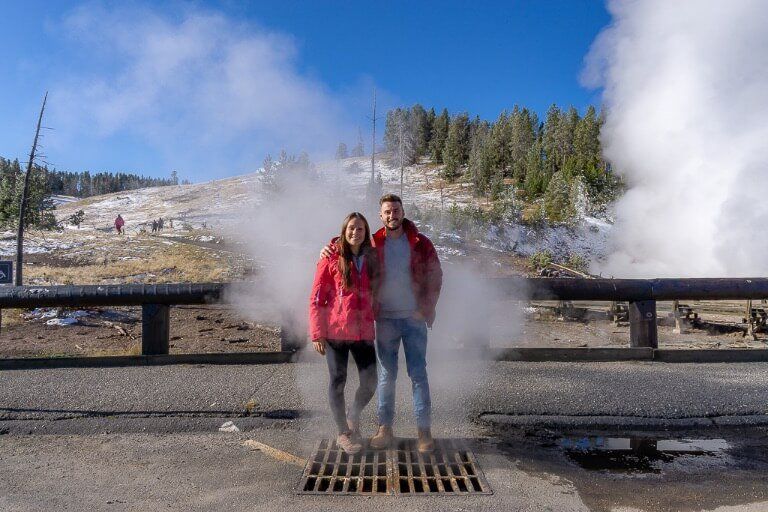 What is the fist thing you think of when you consider Yellowstone National Park? Probably super heated geysers blowing steam high into the sky, right?
We'd seen geysers before high up in the Chilean Altiplano and they were the one thing we knew for sure we would see here at Yellowstone.
However, the billowing plumes of pressurized steam had stiff competition for our favorite aspect at the park.
Spotting wildlife immediately becomes more exhilarating than looking at steam, the Grand Canyon of Yellowstone is immeasurably more awe-inspiring than steam, and the sheer scale of the world's very first National Park blows the mind more than steam.
Now, that's not to say we weren't impressed by the gigantic geothermal caldera and all of its features, trust us, we were. It's to let you know Yellowstone is far more than simply clouds of hot, sulfuric acid smelling steam.
Yellowstone is one of the most immense USA national parks and it covers a total of 2.2 million acres of land. Yes, it's a little bigger than your back yard!
So in a nutshell, why should you visit Yellowstone National Park?
Beautiful scenery throughout the entire park, plenty of wow-factor moments

Some of the best wildlife spotting in America – including Grizzly Bears

Fantastic hiking opportunities surrounded by nature at its finest

Majestic waterfalls with multiple viewpoints cascading into deep canyons

And of course Geysers, Hot Springs, Steaming Rivers & Bubbling Mud-Pots
Why 4 Days Itinerary For Yellowstone National Park?
For us personally, Yellowstone National Park had been sky high on our travel bucket list since – well, forever! Who hasn't always wanted to visit one of Earth's most unique and natural marvels?!
But we made one mistake the first time we visited. We only gave ourselves 3 days to explore this vast volcanic landscape. We needed 4.
Needless to say we never made the same mistake again second time we visited Yellowstone and planned a full 4 days itinerary.
If you've already been to the park before and this is a second or third visit, you might not need as many days. However, if you are planning for a first visit to Yellowstone, plan for 4 days.
Here's why:
With 3 days in Yellowstone you aren't going to have enough time to see and do everything. You'll spend a lot of time driving, and you'll rush some of the most popular attractions. Plus, you will have to compromise on some things.
With 5 days in Yellowstone you are going to find you have already seen and done everything. You will spend a lot of money on accommodation and you should instead drive down to Grand Teton if you do have this spare time.
You will strike the perfect balance between costs, attractions, drive time and being efficient if you plan a 4 days in Yellowstone National Park itinerary.
Grand Teton: Combine Yellowstone with the stunning Tetons for the ultimate 6 or 7 day vacation. Our extensive Grand Teton National Park travel guide covers the 7 best things to do and an ultra scenic 2 day itinerary.
Park Statistics And Factfile
Address: PO Box 168, Yellowstone National Park, WY 82190
Website: nps.gov/yell
Phone: (307) 344-7381
Park Hours: All day, every day
Entrance Fee: US$ 35 Vehicle (free with America the Beautiful Annual Pass)
Backcountry camping: Permitted, you will need a backcountry permit
Accommodation: Hotels, Lodges, Cabins and Campgrounds
Annual Visitors: 4 million
Peak Season: July-August
Size: 2.2 million acres
Yellowstone Caldera: 45 by 30 miles
Last Eruption: 640,000 years ago
Geothermal Features: 10,000
Geysers: 300
How To Get To Yellowstone National Park
Okay, we're talking about Yellowstone and 3,500 square miles of wilderness here! The park has several entrance and exit points, so getting to Yellowstone will depend entirely on where you begin your journey.
There are no fancy names for the entry points, simply the direction they bring you into the park from. But we have included the nearest town to each entrance for reference:
North – Gardiner, MT

Northeast – Cooke City, MT

East – Cody, WY

South – Jackson, WY

West – West Yellowstone, MT
Once inside the park, getting around is easy thanks to a well maintained 142-mile figure of 8 road network known as 'Grand Loop Road'.
Be aware this road will be almost unbearably busy if you visit in Summer, we even experienced some traffic flow issues in snowy October!
Here's a factor to consider that will impact your 4 days in Yellowstone National Park itinerary:
Are you visiting only Yellowstone, from point A with a plan to return to point A afterwards in a loop?

Or is Yellowstone part of a wider road trip?
For example, on our first visit we drove West from South Dakota to Yellowstone, before heading South.
We visited Badlands, Custer State Park and Mount Rushmore, and stopped at Devils Tower National Monument on the way across Wyoming. We then took the South exit out of Yellowstone to Grand Teton National Park.
Therefore, we entered and exited Yellowstone at different entrances. That meant we had to work out how to efficiently see the park on both loops of the figure 8 road without driving back on ourselves.
Consider which entrance you plan to use on the way in and out when planning your visit.
Important Note: When we visited Yellowstone in October after a heavy snowfall, many of the roads in / out of the park were closed. Please be sure to check current road conditions before setting off.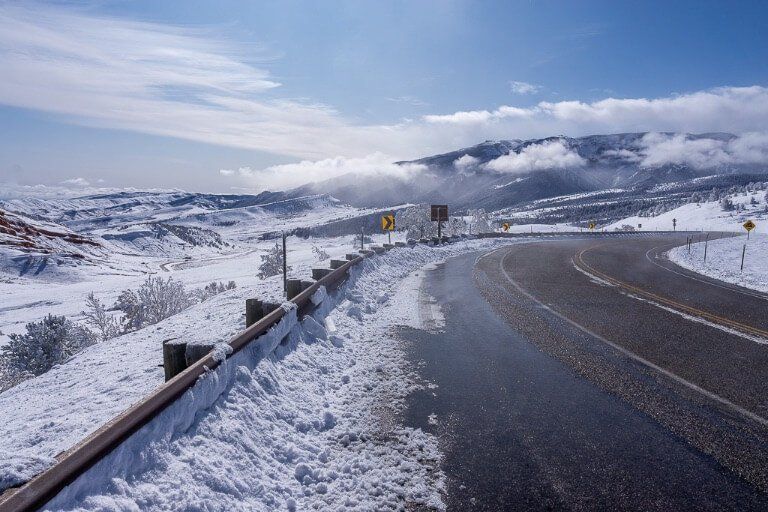 Popular Yellowstone National Park Road Trips
Salt Lake City to Yellowstone
Option 1: Take I-15 North to Idaho Falls, then 20 to Yellowstone West entrance (320 miles / 4h 45m).
Option 2: Take I-80, 16 and 89 to Jackson, WY and Grand Teton before entering Yellowstone South entrance (330 miles / 6 hours).
The route via Jackson is far more scenic but takes much longer once you factor in driving through Grand Teton.
Read our amazing 7 day Salt Lake City to Yellowstone and Grand Teton road trip itinerary for more information.
Denver to Yellowstone
Option 1: Take I-80, 287 and 26 to 191 which is the link road between Grand Teton and Yellowstone South entrance (500 miles / 8h 30m).
Option 2: Take I-25, 26, 20 to Cody, WY and 14 into Yellowstone East entrance (545 miles / 8h 30m).
South Dakota to Yellowstone
From Mt Rushmore, drive through Spearfish Canyon and take I-90W towards Buffalo, WY.

Scenic Byway US-16 from Buffalo to Ten Sleep (Cloud Peak Skyway) is awesome.

Take 31, 20 and 14 to Cody, WY and then on to Yellowstone East entrance (440 miles / 8 hours).
Read our popular 10 days road trip itinerary from Mount Rushmore to Yellowstone for a day by day break down of best things to do.
North Dakota / Billings to Yellowstone
Take I-94 to Billings, I-90 briefly and US-212 (known as Bear Tooth Highway).

This is the route we eventually took first time as we were forced to enter Yellowstone via its Northeast entrance due to road closures.

Bear Tooth Highway is one heck of a scenic drive – particularly when covered in snow (150 miles / 3 hours).
Jackson, WY / Grand Teton to Yellowstone
Take US-191 scenic road (John D Rockefeller Jr Road) all the way to Yellowstone South entrance (80 miles / 1h 45m).
Need help organizing your visit to Yellowstone? Our popular 60+ page Yellowstone Guidebook can help you with planning every aspect of your trip.
Best Airports To Use For Yellowstone
Yellowstone is enormous and if you're traveling from further afield in the US or internationally, you will of course need to fly.
Our in depth guide to the 6 best airports near Yellowstone will help you plan exactly which airports to arrive into and depart from near the park.
Pro-tip: Remember, you can fly into one airport and leave from another.
There are a dozen or so airports ranging in size close to the park, here's a summary of the best airport options along with which entrance you would enter Yellowstone:
Bozeman, MT (North entrance)

Cody, WY (East entrance)

Jackson, WY (South entrance)

Yellowstone airport, MT (West entrance – seasonal)

Salt Lake City, UT (South entrance)

Denver, CO (East entrance)
International travelers can fly directly into SLC or Denver and either drive or take a connecting flight to on of the smaller regional airports listed above.
For US based travelers, check prices for all airports from your closest origin airport. The smaller and closer airports are far more expensive than SLC or Denver. You will pay for convenience!
Resources
What Are The Best Things To Do At Yellowstone National Park?
Yellowstone is blessed with having an endless amount of amazing things to do for visitors to include on a 4 days itinerary. You could spend a month here and still not see or do everything this incredible place has on offer.
The only way to plan effectively is by structuring the park into regions. Therefore, in this guide we will break down each region of the park and explain some of the best things to do in each.
Read our ultimate list of the 30 Best Things To See And Do In Yellowstone National Park next for a detailed overview of the most popular geysers, waterfalls, hikes and wildlife spotting areas.
There's a lot of information coming your way but we will organize it and clearly display everything on a map!
First up, let's take a look into what makes Yellowstone National Park one of the most sought after landscapes in the world, before we break the park down into 6 distinct regions.
Yellowstone National Park Wildlife Spotting
Wildlife spotting is one of the biggest drivers of tourism to Yellowstone National Park and it has to be a major part of your 4 days itinerary.
This is one of the best places in America to observe a wide range of wild animals in their natural environments.
You have the opportunity to see Grizzly Bears – seldom seem in the lower 48 US States – if that is of interest to you. Personally, we didn't mind NOT seeing a grizzly!
However, Grizzlies are just the beginning. If you are lucky you might also see Black Bears, Wolves, Elk, Pronghorn, Bighorn Sheep, Moose, Antelope, Mule Deer, Coyotes, Lynx, Mountain Goats, Cougars and Bald Eagles.
It is extremely difficult to predict exactly where these animals are going to be at any given time. But you can give yourself the best shot at seeing wildlife by visiting the right places at the right times of day.
That being said, if these particular areas become busy with humans, animals are likely to move to quieter areas. In truth, we saw more wildlife when we didn't go looking for it, instead we waited for them to come to us.
Top-tip: If you see small gatherings of people with professional looking photography / telescopic equipment, there's a good chance of spotting wildlife. However, be polite, don't make a lot of noise. You might even get a chance to look through their equipment.
Wildlife Respect & Safety
Something vitally important to remember is respect for wildlife. Keep your distance, don't try to feed them and don't intimidate the wildlife.
Our number one disappointment with Yellowstone was other tourists. Yes, it can be exciting to see an animal, but that doesn't mean slamming on your brakes and abandoning your car in the middle of the road so you can take a picture.
More than once, we witnessed altercations between tourists who wanted the best angle from their car window. Be civil toward each other, as well as animals and the environment.
We use the word safety and that's not for the animals, its for you.
Each year, Yellowstone National Park has to deal with injured tourists who thought they could get close to animals, but they were wrong. Bear in mind (pun intended!) that some of these animals can become dangerous if threatened.
Yellowstone Geyser Basins & Hot Springs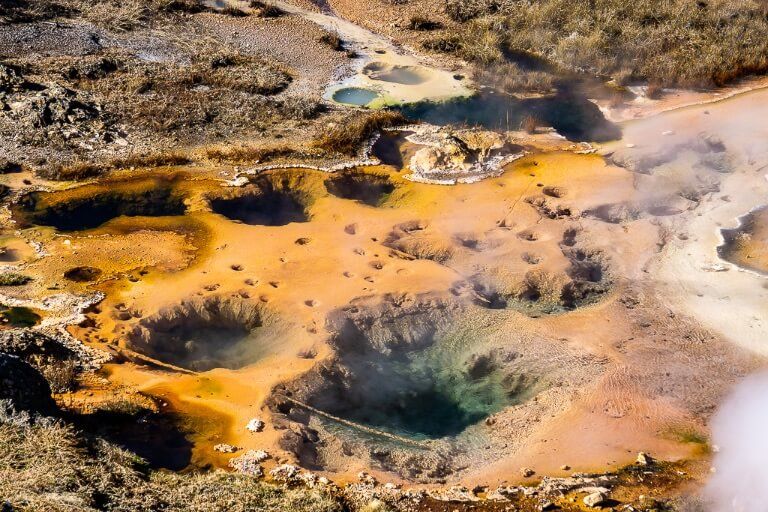 There are over 10,000 geysers and hot springs within the 2.2 million acres of Yellowstone National Park, making this the largest geyser field on the planet.
Almost all geysers and hot springs throughout the park can be viewed from safe distances along wooden boardwalks. It is important to stay on designated board walks, otherwise you may lose a toe or two!
We will cover Yellowstone's most famous geysers and hot springs within each region of the park below.
You will either have to visit the lesser known basins or plan your visit outside of high season (more on seasons later) if you're looking for a less crowded experience
Remember there are also bubbling mud pools, smaller colorful geysers and lesser known hot springs. If Old Faithful and Grand Prismatic Spring are too busy, try again early or late in the day.
Yellowstone Hiking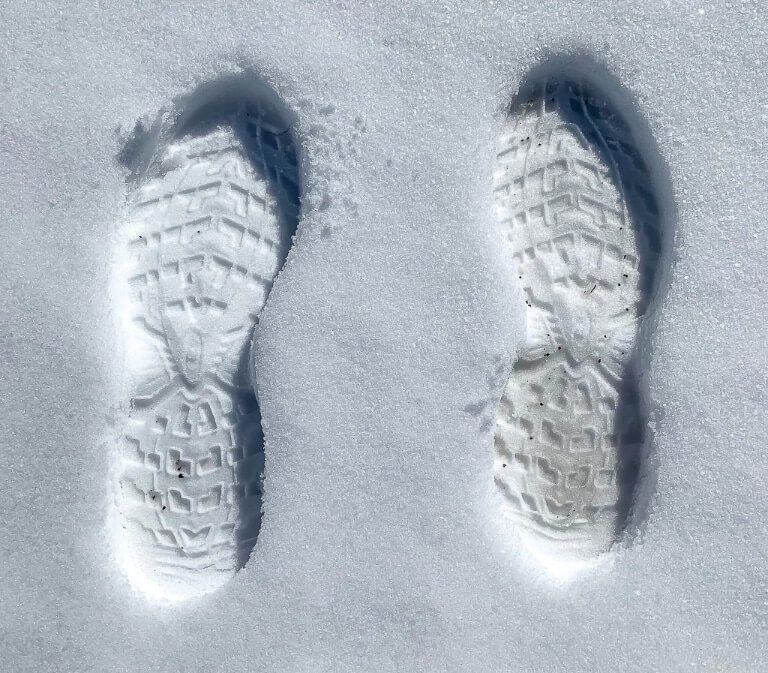 Hiking is less synonymous with Yellowstone than geysers and wildlife, however, you should not overlook this aspect of visiting the park.
Did you know there are over 900 miles of hiking trails here? The problem is, how do you choose which trails to hike?!
To begin with, err on the side of caution by checking Yellowstone's backcountry situation report – particularly if you intend to hike away from major trails.
This live updated report will inform you of bear activity, trail closures, rising water levels and depth of snow among other important aspects.
Hiking is the best way to escape crowds and see Yellowstone's best sites from different (and quieter) perspectives. Plus, you drastically increase your chances of spotting wildlife away from roads and hordes of tourists.
The downside to hiking at Yellowstone National Park is how much time you will lose from an already tightly packed itinerary. Can you really afford to lose a day hiking a 10 mile trail?
That depends on what your goals are and how you like to explore new places.
There are a number of shorter hikes well worth your time, but the longer hikes / backcountry hiking should be reserved only for those who are more interested in hiking than sightseeing.
Is this your second or third vacation to Yellowstone? Try hiking more on this visit if you've visited the famous geysers on previous trips.
Grand Canyon of Yellowstone / Yellowstone Upper and Lower Falls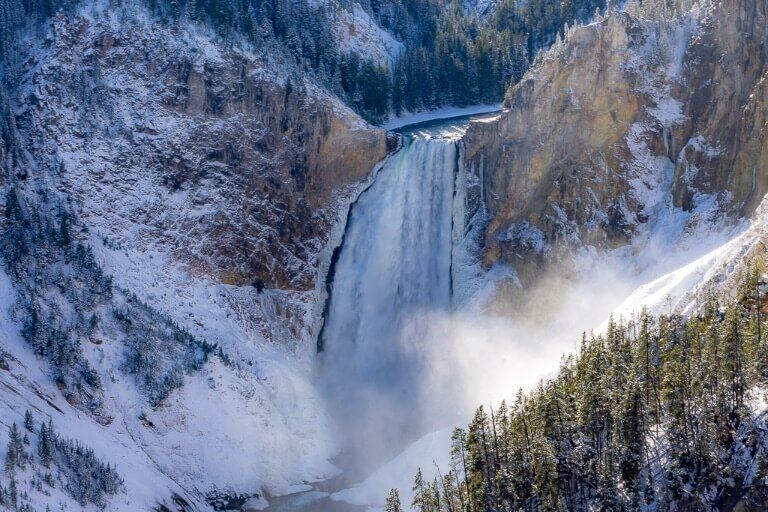 The Grand Canyon of Yellowstone has allured avid photographers to the park for decades. Upper Falls is an impressive spectacle but Lower Falls is the major draw and has to be included on your 4 days in Yellowstone itinerary.
The Yellowstone River crashes into a stunning canyon from 308 ft (twice the height of Niagara Falls), making Lower Falls a paradise for lovers of dramatic scenery.
The best part?
There are various viewing platforms along both the North and South Rim drives running adjacent to the river. Each observation point offers its own perspective of the mighty falls, plus the chance to escape big crowds.
Our top recommendation is to visit the falls on more than one occasion and preferably at sunrise (for more special sunrises see our guides to Sunrise in the Grand Canyon and Mesa Arch in Utah).
Although temperatures were below zero in mid-October, we witnessed a gorgeous sunrise over Lower Falls with just a handful of others.
Let's Break The Park Down Into Regions
As we mentioned earlier, it's hard to apply a typical list of 'best things to do' list for a place like Yellowstone, then expect to turn up and tick them off easily. It is simply too vast a landscape.
Many of the 'must visit' sites are spread out across the National Park, meaning planning your visit can become a little overwhelming (one of the reasons we recommend your Yellowstone itinerary to be 4 days and not 3 days).
Therefore, we will break down the park into regions. Take a look at the image below depicting the 6 major regions of Yellowstone:
Mammoth Hot Springs (North)

Tower-Roosevelt (Northeast)

Canyon / Grand Canyon of Yellowstone (Central / East)

Norris Geyser Basin (Central / West)

Old Faithful / Upper Geyser Basin (Southwest)

Yellowstone Lake / West Thumb (Southeast)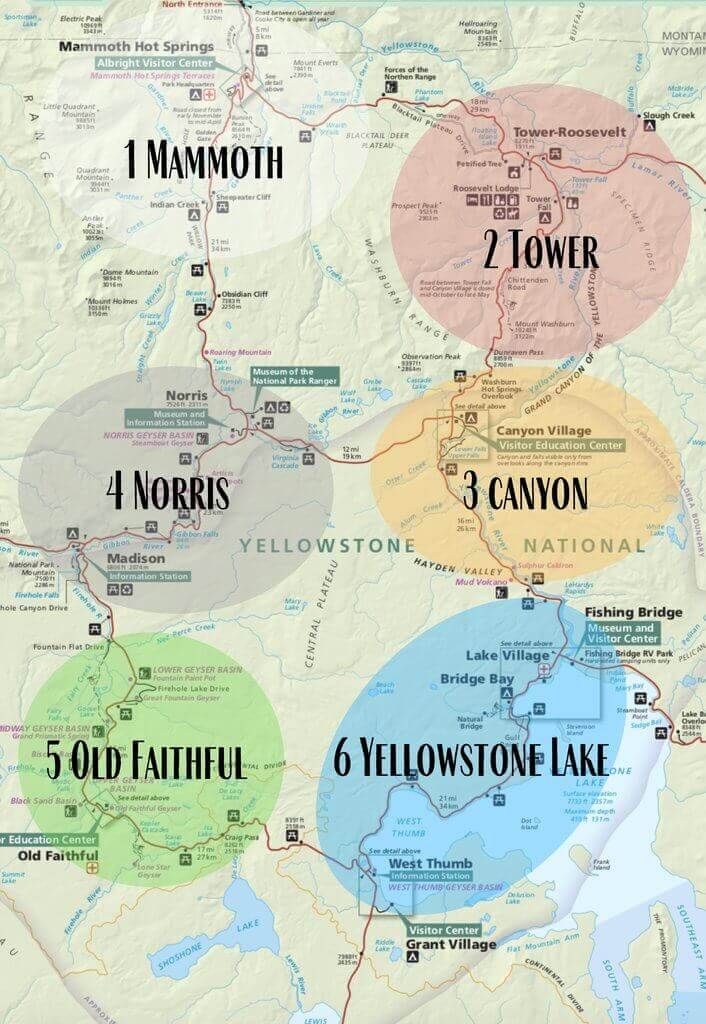 Within each region, we will discuss the following where appropriate:
Most prominent Geysers / Hot Springs

Best hiking trails

Wildlife spotting opportunities

Must visit miscellaneous attractions

Lodging / Camping
Note: At the end of this section, study the interactive map showing all accommodation and sites of interest. The map will give you an idea about which regions will be top of your wishlist.
1. Mammoth Hot Springs (North)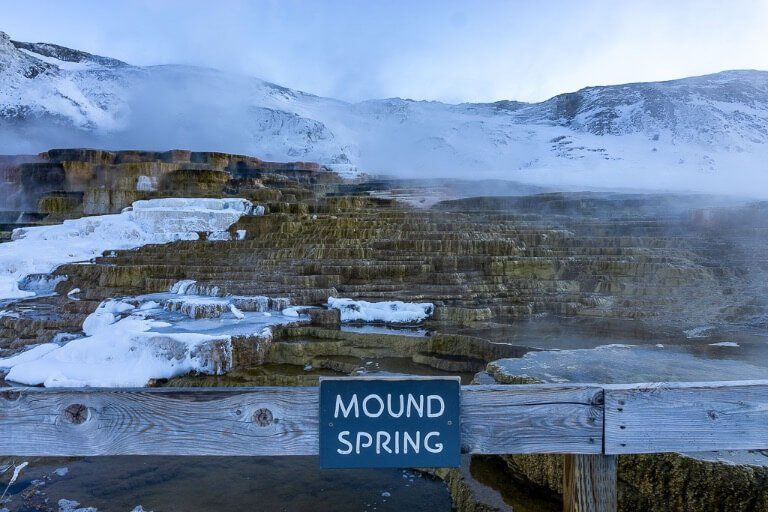 Mammoth is one of the more built up areas inside Yellowstone National Park and is located just 5 miles from the North entrance.
You will find a hotel, cabins, a grand dining hall, post office, gas, campground, shopping and Albright Visitor Center. Nearby attractions are all within a stones throw of Mammoth village.
Mammoth Geysers and Hot Springs
A spectacular complex of terraces formed by calcium carbonate (travertine) dominates a hillside just minutes from Mammoth village.
By far the busiest attraction in Mammoth, these terraces are best seen at sunrise to avoid crowds and enjoy the first light of day burn through hazy steam in the morning.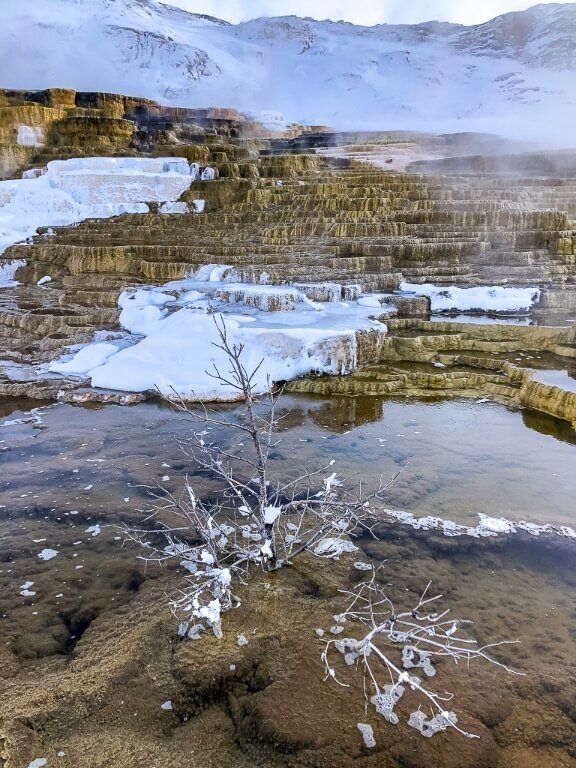 Mammoth Hiking Trails
Mammoth isn't known for epic hikes and we would recommend not using up any time on your 4 days in Yellowstone itinerary with a hike here.
That being said, if you have extra time in the area, there are 2 shorter trails worth looking into:
Boiling River – a popular short hike (1 mile roundtrip) and don't forget your swimwear!
Lava Creek – mid-distance (7 miles round-trip) passing by Undine Falls – 60 ft waterfall.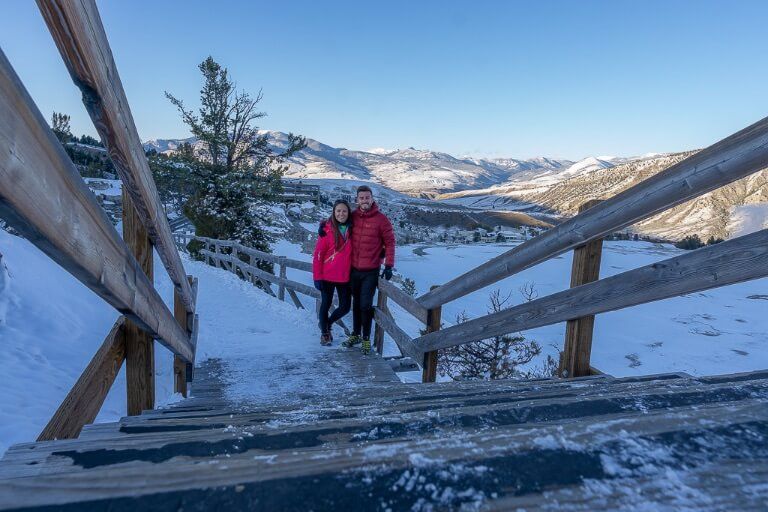 Mammoth Wildlife
Although this area is not usually regarded as prime wildlife spotting territory, we saw our fair share around Mammoth. There were around 30 or 40 bison walking through Mammoth village during our second visit in April, which was really cool to see.
You will more than likely see mule deer wandering the hotel and dining hall car park when you arrive. We also saw pronghorn and elk but bison are well known to be regular visitors to the area.
Black bears can be found around Mammoth. If you want to find one, look in forested areas around less busy areas away from the travertine terraces.
But if you want to avoid bears (particularly if you head up to the terraces for sunrise) is to make noise, talk and clap intermittently.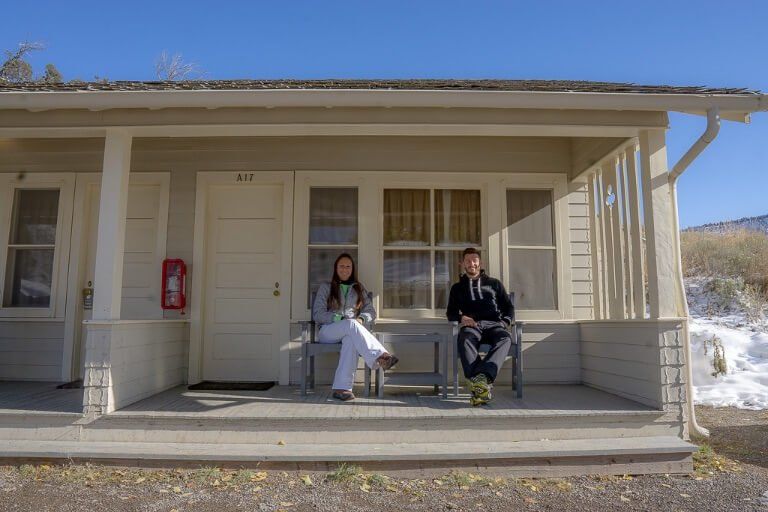 Mammoth Accommodation
Campgrounds – Mammoth campground is the only campground open all year at Yellowstone. This is a first come first served site and costs US$ 20 per night. More information.
Hotel and Cabins – Mammoth offers a Frontier Cabin, Hot Tub Cabin, Suite, Premium Hotel Room and Cabin without bath. We stayed in a Frontier Cabin and it was perfect with a wonderful hot shower. More information.
2. Tower-Roosevelt (Northeast)
Tower-Roosevelt is located to the Northeast of Yellowstone and is one of the lesser built up areas of the park. You can find gas, primitive lodging and camping here.
This region is best used as a gateway for wildlife spotting in Lamar Valley and hiking Mt Washburn before continuing on to another region for accommodation.
Unfortunately, the section of road between Tower and Canyon has been completely closed for the entirety of both our visits.
Therefore we are yet to hike Mount Washburn or see Tower Fall. There's always the third time, right?!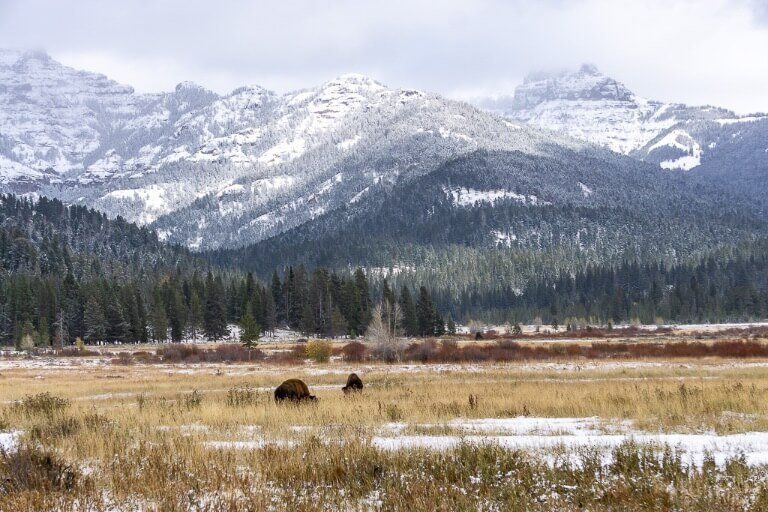 Tower Hiking
Mount Washburn is one of the most popular hikes in Yellowstone National Park and one of the most iconic hikes in the US thanks to its panoramic sweeping views stretching as far as Grand Teton on a clear day.
At 10,243ft (3,107m) and with just a 2.5 mile one-way hike from Chittenden or 3 mile on-way hike from Dunraven Pass, the rewards are more than worth your efforts!
Specimen Ridge is a long point to point hike beginning just after turning onto the road into Lamar Valley. It is the perfect trail for those searching for wildlife who want to get away from the main road filled with tourists.
You can hike for 10 minutes or an hour before turning around but you can expect to see wildlife, particularly early in the morning.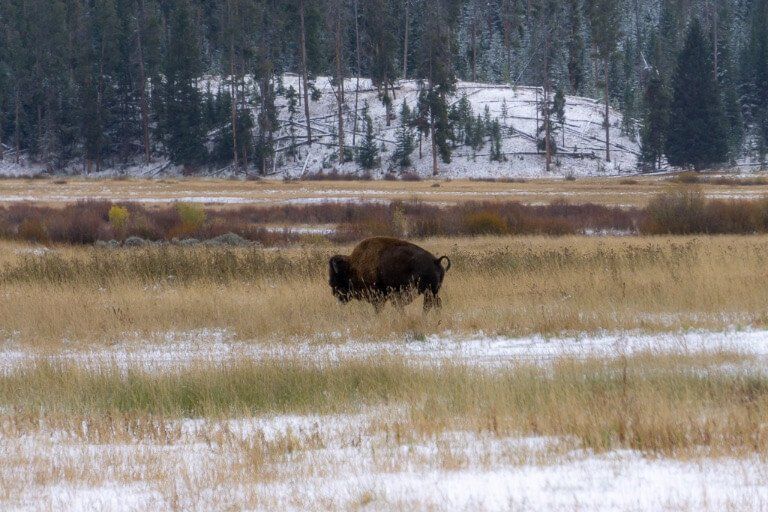 Tower Wildlife
Tower Junction is where Yellowstone's top rated wildlife viewing area ends, as US-212 reaches grand loop road from the Northeast entrance.
This area is known as Lamar Valley and it is the place to be if you are visiting Yellowstone for wildlife observation.
We strongly recommend you visit early or late if you want a real chance of seeing abundant wildlife. You're all but guaranteed to spot Bison roaming but you can see much more if you time it right.
We entered Yellowstone via the Northeast entrance and drove the entire way through Lamar Valley but it was right before midday (and snowy!) so we didn't see many animals.
Note: If you are visiting Yellowstone primarily for wildlife spotting, Tower Fall campground is the closest accommodation to Lamar Valley.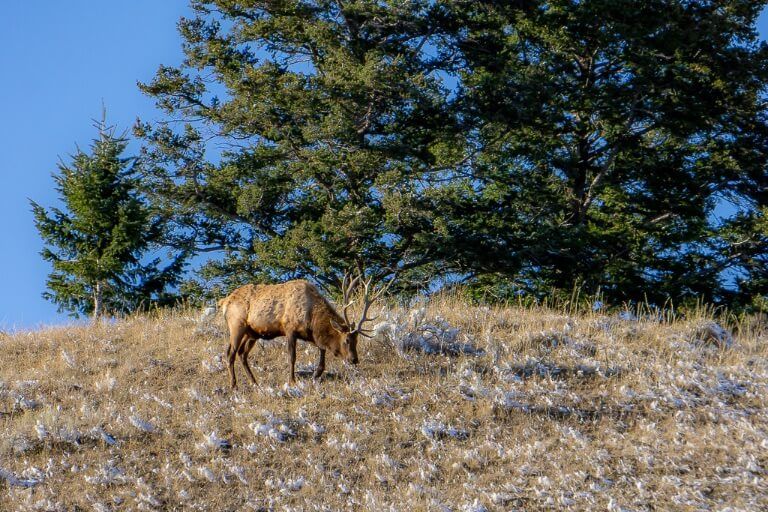 Tower Attractions
Yellowstone River Overlook and Tower Falls are the two major attractions around Tower-Roosevelt region.
Tower Falls is a 132 ft narrow needle-like waterfall. A 4 mile roundtrip trail allows you to see the Yellowstone River flowing powerfully through a gorge.
The trail is family friendly but there are steep cliffs for children to be aware of.
3. Canyon (Central / East)
Canyon is one of the most popular places to set up base in Yellowstone thanks to its central location and volume of accommodation, with over 500 rooms available.
You will also find a good selection of food at Canyon Lodge Eatery, which is more like a canteen than restaurant.
Canyon is your best choice if you prefer to stay at just one place for your entire Yellowstone visit. Right around the corner is Yellowstone Falls.
Grand Canyon of Yellowstone and Yellowstone Falls
Prepare to be blown away!
This is one sight you will not forget from your Yellowstone National Park itinerary. We encourage you to visit each and every viewpoint along both North and South rim drive – and do that more than once.
For the best photographs, arrive before sunrise to Artist Point. We couldn't get enough of these dramatic views as the Yellowstone River pounds its way through the breathtaking canyon.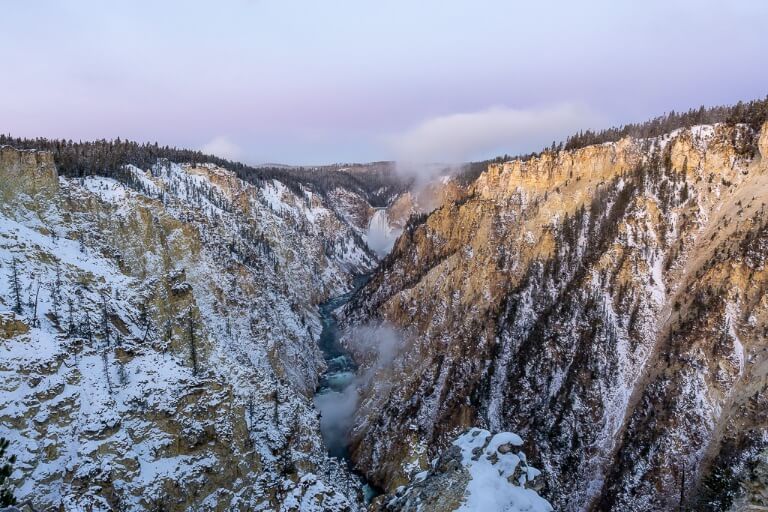 Canyon Hiking
There are no hikes worth mentioning around Canyon for a Yellowstone itinerary only lasting 4 days. With more time, maybe!
We don't consider each of the small trails along North and South Rim roads to Yellowstone falls viewing platforms as hikes.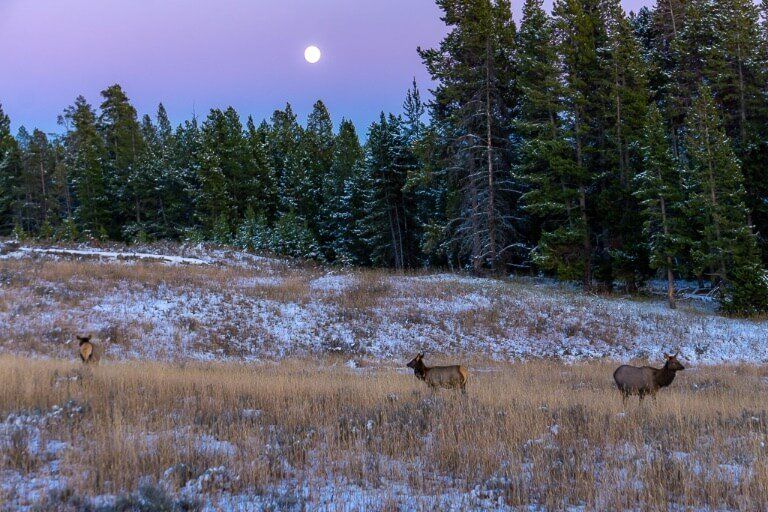 Canyon Wildlife
Just South of Canyon Village and Yellowstone Falls, you will find Hayden Valley, regarded as the second best part of the park for wildlife spotting.
This is the place we saw by far the most wildlife including coyotes, mule deer, bison and our first ever bald eagle. We saw bald eagles here again the second time we visited so you do stand a good chance of seeing one soaring around this area.
Again, it is best to arrive early or late to increase chances of spotting animals but be warned – Grizzlies roam alongside Yellowstone River. We never saw a grizzly, but we did see a lone Grey Wolf from afar, which was awesome.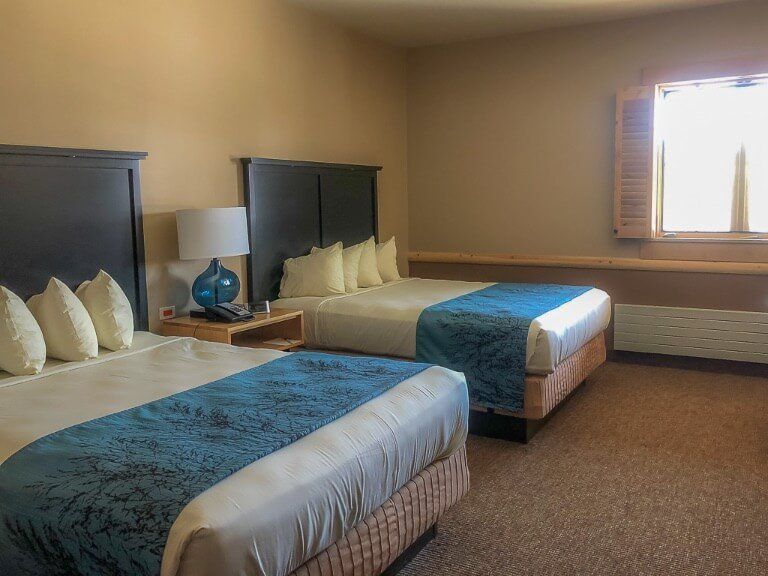 Canyon Accommodation
Campgrounds – Canyon campground is open late May to Mid Sept. There are 273 reservable sites at a cost of US$ 32 per night. More information.
Hotel and Cabins – Canyon offers the most accommodation by far at Yellowstone. It is open from the beginning of June until early October.
You can choose between a Western Cabin, Standard Lodge Room, Superior Lodge Room, Premium Lodge Room and Suite.
We snagged a free upgrade to Premium Lodge Room (from Western Cabin) which was a welcome escape from the cold nights! More information.
4. Norris Geyser Basin (Central / West)
Norris is the oldest and hottest of Yellowstone's thermal regions, with the highest recorded temperature measuring a whopping 459 f (237 C) just over 300m below the surface.
This region is where your Yellowstone geyser hunting experience springs to life and you can witness the tallest active geyser in the world.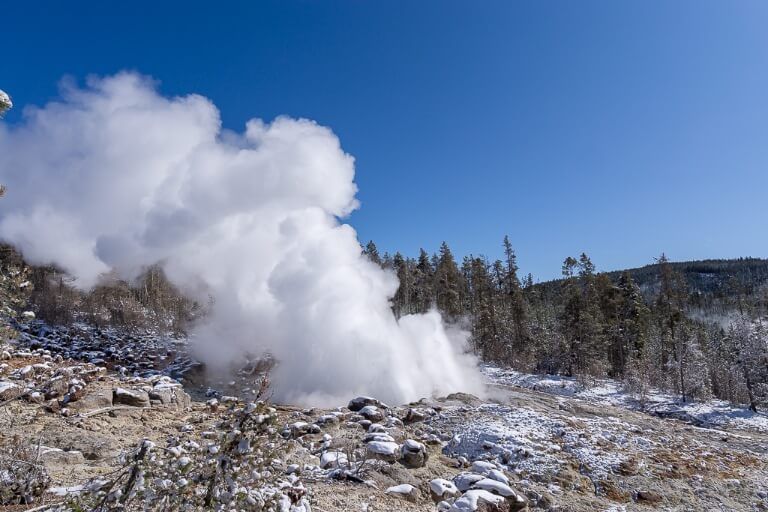 Norris Geysers and Hot Springs
At Norris geyser basin you will find several thermal geysers in very close proximity. The area is easy to explore via boardwalk and has to rank as one of the must visit regions on your 4 days in Yellowstone National Park itinerary.
Waters around Norris basin are acidic, rather than alkaline, which means bacteria creates those colorful patterns you associate with Yellowstone.
Steamboat geyser – the world's tallest at 300ft – went years with barely any activity but in 2019 there were 48 eruptions.
But there's no guarantee boiling hot water will erupt the day you visit and you could be standing around a long time waiting. We saw it blow a few times but not to it's maximum height.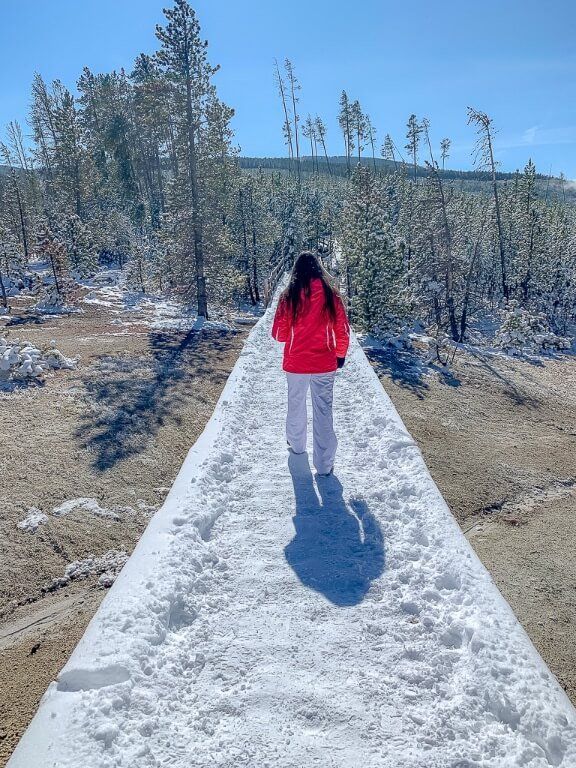 Norris Hiking
Artist's Paint Pot – This 1 mile hike beginning just South of Norris Geyser Basin is definitely worth a quick stop off.
After a short walk through a forest you will come across a small open area featuring thick grey mud bubbling pools and blue/grey/brown colored holes in the ground.
Highly recommended easy hike.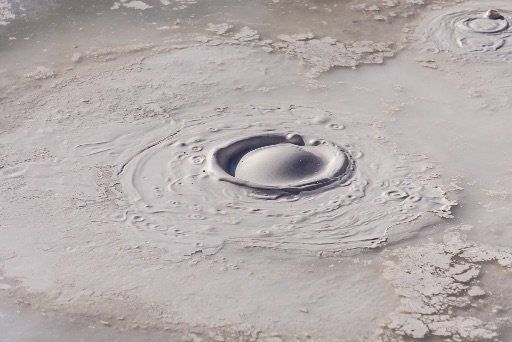 Norris Region Campgrounds
Norris campground – Open late May to late September and just to the North of Norris Geyser Basin. There are 111 first come first served sites at a cost of US$ 20 per night. More information.
Maddison Campground – Located 14 miles Southwest of Norris and open late April to mid October. Longer opening times and central location make this one of the most popular campgrounds at Yellowstone. There are 278 reservable sites for tents and RV's at US$ 27 per night. More information.
5. Old Faithful (Southwest)
Old Faithful is the iconic Yellowstone geyser everyone knows about before visiting the park.
But the Old Faithful region has much more on offer, including perhaps the most eye catching feature of all: Grand Prismatic Spring.
This region contains Lower, Midway and Upper Geyser Basins – which means a lot of geyser hunting. You can find almost all amenities here, except a campground.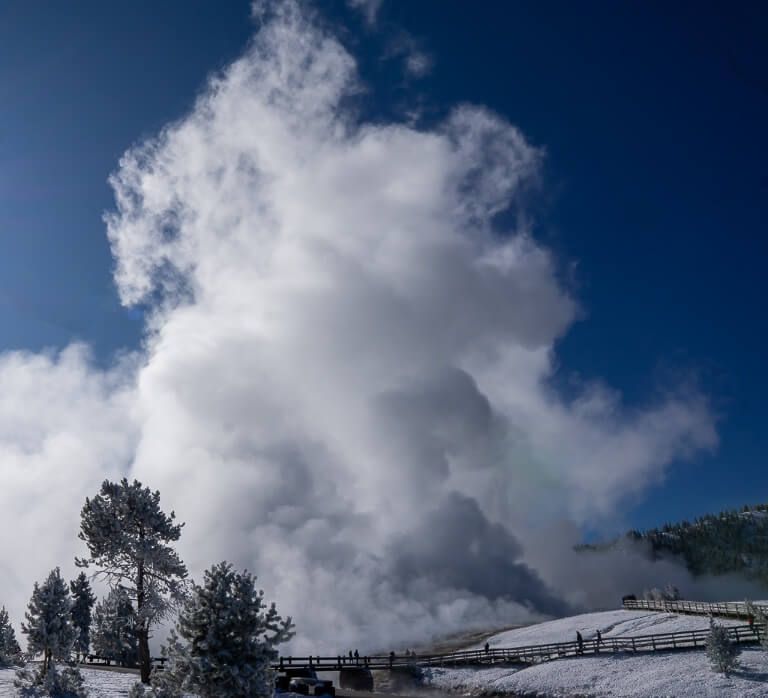 Old Faithful Region Geysers and Hot Springs
Lower Geyser Basin – Fewest geothermal features in the region but one of the most sought after spots for sunset in Great Fountain Geyser along Firehole Lake Drive (closed in Winter).
Midway Geyser Basin – Smaller in area but possibly the most rewarding in terms of natural beauty.
The vibrant colors of Grand Prismatic Spring are difficult to appreciate from its boardwalk, so you will need to climb Fairy Falls Trail for that postcard perfect view.
Excelsior Geyser can not be overlooked as it's on the same boardwalk and produces an enormous amount of hot steam, often shrouding the Firehole River.
Upper Geyser Basin – The crown Jewel, Old Faithful is located here along with the highest density of geothermal activity in the park.
Old Faithful erupts once every 35-120 minutes for anywhere between 1-5 minutes. This isn't the most spectacular of geysers, it's just the most regular and predictable.
Don't miss Morning Glory Pool at Upper Basin.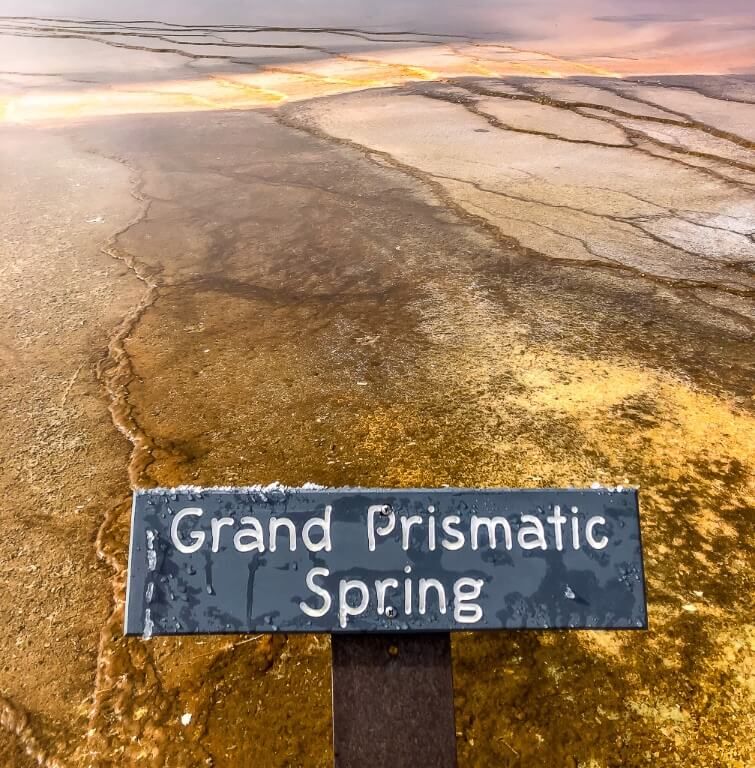 Old Faithful Hiking
Fairy Falls – Begin at Fairy Falls Trailhead for an easy 5 mile roundtrip to one of Yellowstone's most spectacular falls. This trail also offers postcard-perfect views over Grand Prismatic Spring.
Observation Point – If you want to escape the crowds (knows as 'the bleachers') sitting in a half circle around Old Faithful, take this moderate 1.5 mile roundtrip hike.
You will be rewarded with a much more tranquil viewing platform.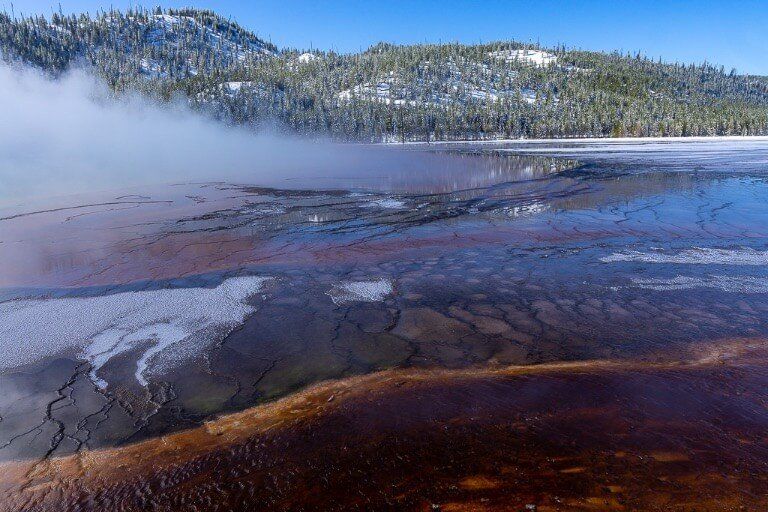 Old Faithful Accommodation
Old Faithful Lodge – Simple Frontier Cabins are more affordable and offer views over Old Faithful. More information.
Old Faithful Inn – 327 rooms and open from early May to mid October, but get in early as this is the most requested lodge in Yellowstone. More information.
Old Faithful Snow Lodge – Open mid December to end of February, only accessible by over snow vehicles. Wide range of rooms available at various prices. More information.
6. Yellowstone Lake / West Thumb (Southeast)
One thing you probably don't know about – and certainly won't appreciate until you see it – is the sheer scale of Yellowstone Lake. It is enormous!
We've combined West Thumb Geyser Basin and Grant Village with Fishing Bridge and Lake Village into the one region here.
They all hug the lake edge in Yellowstone's Southeast corner. All amenities can be found at both locations on the lake.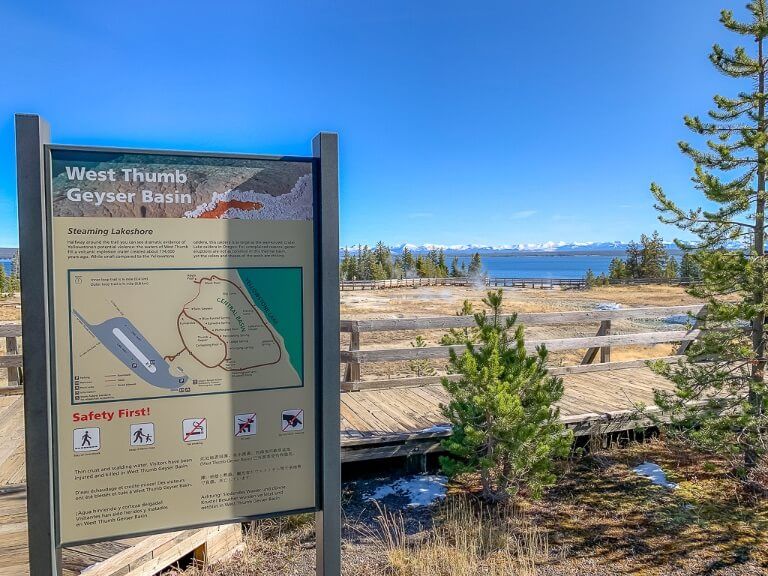 Yellowstone Lake Geysers & Hot Springs
At the Southern end of Yellowstone Lake you will enter West Thumb Geyser Basin. What makes this place unique is stunning views of Yellowstone Lake and snow capped mountains behind geothermal features.
A boardwalk loops around West Thumb Basin allowing you to see the most impressive features while enjoying some of the best views in the park.
Look out for Fishing Cone and Big Cone Geyser in the lake.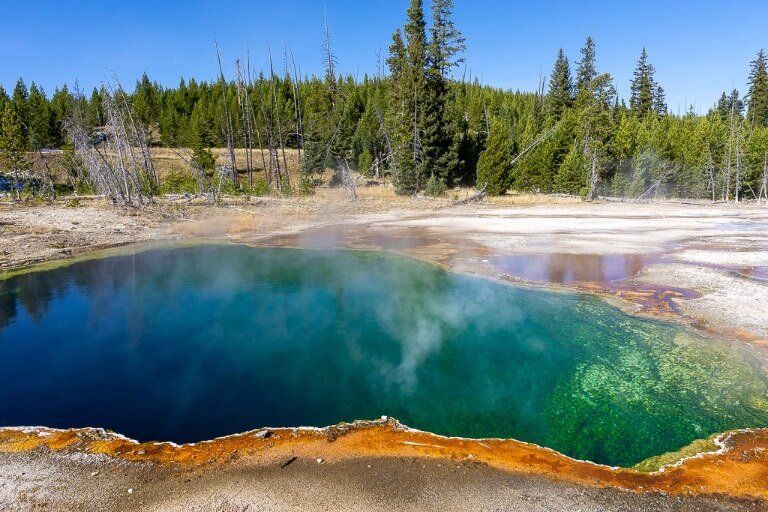 Yellowstone Lake Hiking
Yellowstone Lake isn't the place to visit if you're looking for serious hiking trails on your 4 days itinerary. However, there are two easy going walks ending with excellent views over the lake and West Thumb.
Lake overlook – Easy to moderate 1.5 mile roundtrip hike from West Thumb parking lot for elevated views over West Thumb Basin.
Storm Point – Easy 2.5 mile roundtrip beginning close to Fishing Bridge for close up views over Yellowstone Lake.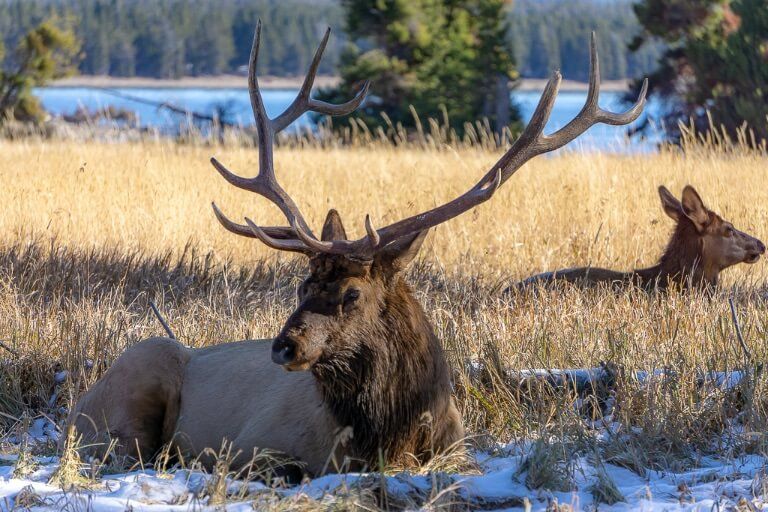 Yellowstone Lake Wildlife
The Northern part of Yellowstone Lake is where Yellowstone's East entrance (from Cody) arrives into the park.
Areas surrounding East entrance road are known to be a favorite of the Grizzly Bear, but you can also expect to see a wider variety of wildlife in this region.
We saw coyotes and mule deer (pictured above) around Lake Lodge during our visit.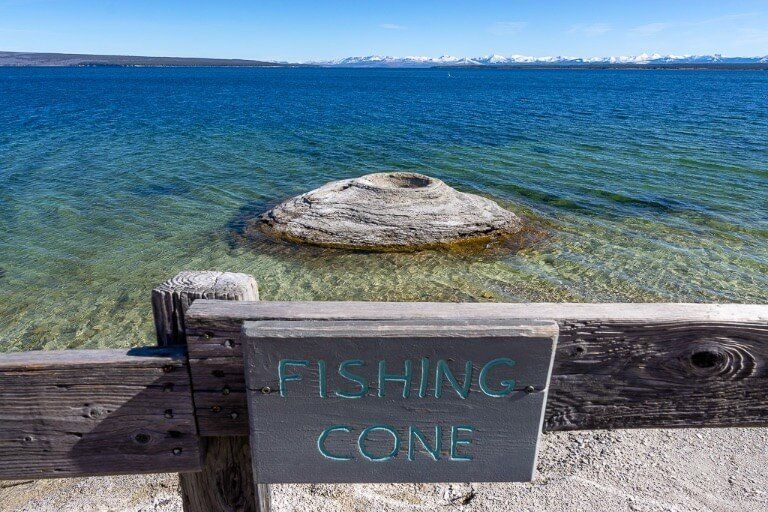 Yellowstone Lake Accommodation
Campgrounds
Bridge Bay has 432 reservable sites at US$ 27 per night. It is open late May to early September (more information).
Grant Village has 430 reservable sites at US$ 32 per night. However, this one is only open mid June to mid September (more information).
Fishing Bridge RV Park has 310 RV only electrical hookup sites at US$ 79 per night. The RV park is open early May to mid September (more information).
Hotel and Cabins
Lake Yellowstone hotel offers a wide variety of rooms from basic to extremely expensive (more information).
Lake Lodge Cabins – Consisting of 186 Frontier and Western cabins at much more budget friendly prices (more information).
Example Of A Perfect 4 Days Yellowstone National Park Itinerary
You can begin to construct your plans now you have an idea about each region inside the park.
The following example itinerary is 4 days long, which means you can relax and take things slowly but still see and do the best of Yellowstone National Park.
Our biggest frustration when first visiting with 3 days was only having enough time to visit each attraction once and having to rush through. If a geyser or waterfall viewing area was crowded, or if the weather wasn't playing nicely – well, that was just tough luck.
But with that extra fourth day, it means you can re-visit any place you missed, was too busy or you enjoyed the most.
Best Entrance To Begin 4 Days in Yellowstone Itinerary?
You can start your itinerary at any entrance. The figure 8 road inside the park makes it easy to adapt this itinerary to suit beginning from any direction.
The most popular entrance into the park is West Entrance / West Yellowstone and the second most popular in North Entrance / Gardiner / Mammoth.
However, we will begin this itinerary as though you are entering from Northeast Entrance / Cooke City and exit on Day 4 via South entrance to Jackson and Grand Teton.
This is the most efficient way to visit because you can drive through Lamar Valley early on your first morning for the best chance of seeing abundant wildlife, see the park and leave without driving back on yourself too much.
If you are staying in West Yellowstone or Gardiner for the duration of your visit, or are entering via any other entrance, simply move around the days as we list below. The same things to do still apply, you can just adjust the itinerary to fit.
Driving Distances Between Major Yellowstone And Grand Teton Regions
One final thing to touch on before we get into an example Yellowstone itinerary is driving distances between major areas in the park.
We have mentioned it's a big park and there can be a lot of driving, but we thought it would be more helpful to show you in numbers.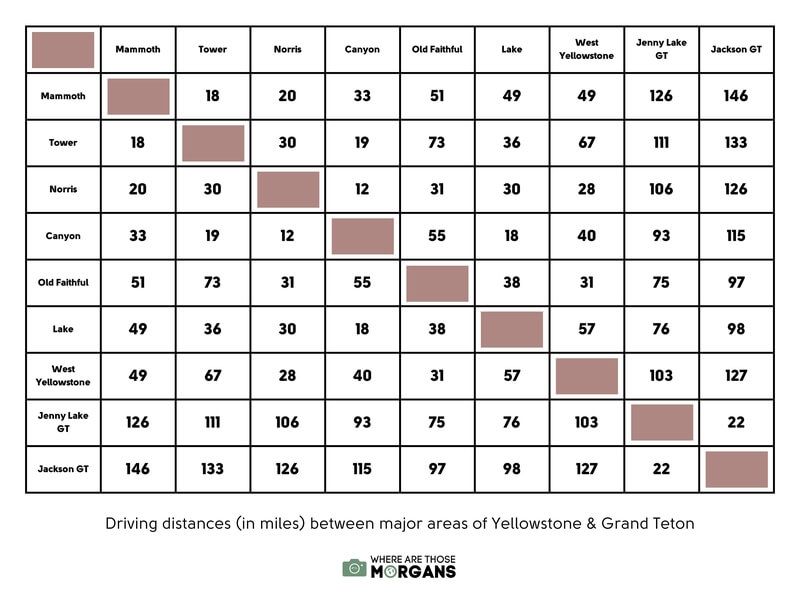 Use the distances to gauge how far you might travel on any given day during your Yellowstone itinerary.
This is a Yellowstone guide but many visitors will also want to see Grand Teton either before or after, so we included Jackson and Jenny Lake for reference.
We have also included West Yellowstone because a lot of people stay here for their entire visit to Yellowstone and it helps to see how far it is to each major region.
OK, let's finally get stuck into our 4 days in Yellowstone itinerary example!
Yellowstone Itinerary Day 1 – Lamar Valley, Tower-Roosevelt and Mammoth Hot Springs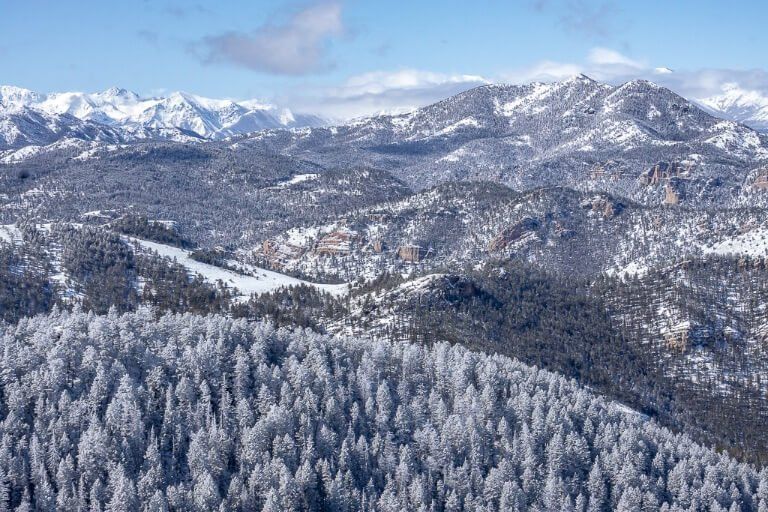 Lamar Valley
Entering via Northeast entrance isn't always reliable in Spring or Fall, but North entrance is always open. If you can't enter via Cooke City, it's easy enough to enter at Gardiner and drive straight to Lamar Valley early in the morning.
Approaching from Northeast / Cooke City – As you draw closer to Grand Loop Road you will pass through Lamar Valley, widely regarded as the best wildlife spotting in Yellowstone.
Try to arrive early morning for the best shot as seeing Bison and other animals. Spend an hour or two stopping at various pull-offs. Remember, if you spot any serious gear, that's where you need to pull out your binoculars.
Just before Grand Loop Road you will find Specimen Ridge Trail, hike this trail if you didn't see a lot of wildlife in Lamar Valley, you want to see even more wildlife or you just love hiking.
Tip: By getting away from the road you give yourself a much better chance at seeing animals in the wild.
When you arrive at Tower Junction turn left and drive a few miles to see Tower Fall and if time allows, hike to Yellowstone River Overlook.
Turn around and head back the same way but pass US-212 and continue on Grand Loop Road towards Mammoth.
Your next stop is Yellowstone's Petrified Tree. Now, this gated tree stump isn't the most wow-factor attraction you will see on this 4 days Yellowstone itinerary.
But it is around 50 million years old, which means it is in fact, mightily impressive.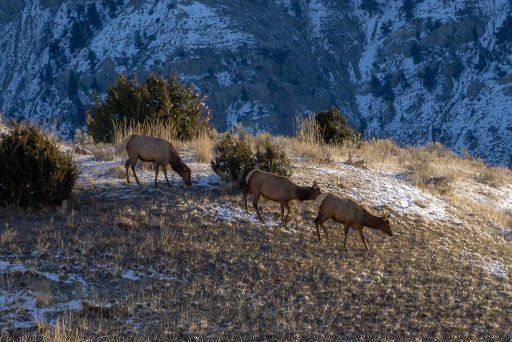 Mammoth Hot Springs
There's not much else between Tower and Mammoth with the exception of Lava Creek hiking trail. If it's earlier than you expected, hike this trail past Undine Falls, but if it's already getting on, it's time to check in at your Mammoth accommodation.
You're likely to see mule deer and / or bison wandering around the car park so drive carefully.
You need to check in inside the hotel whether you're staying in the hotel or a cabin. Mammoth dining hall is directly across the car park ready for once you're all settled in to your room.
Alternatively, Gardiner is the best place to stay outside of the park boundaries on this first night.
After dinner (depending on light and time of year), drive a couple minutes up to Mammoth Hot Springs for a quick look around the area.
Don't forget your camera because these terraces are extremely photogenic. It's a shame the sunset is directly behind a huge hill but you'll be back here at first light.
Yellowstone Itinerary Day 2 – Mammoth Hot Springs, Norris Geyser Basin, Mount Washburn and Yellowstone Falls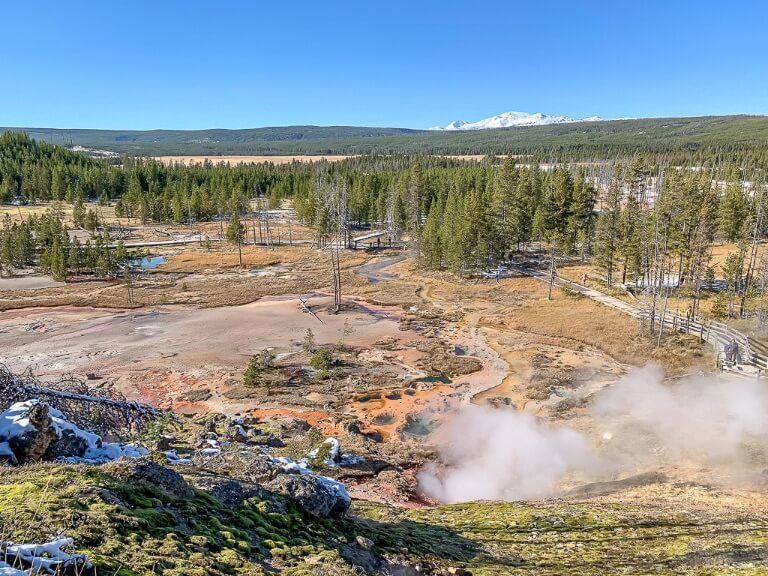 Norris Geyser Basin
Wake up early. If you're animal mad, head back out to Lamar Valley at sunrise, otherwise make your way over to see the vibrant colors of Mammoth Lower and Upper Terraces and dense steam penetrated by soft rays of morning light.
We've seen Mammoth at sunrise and in midday. Sunrise in October was in the snow and stunning but we didn't last long. Midday is busy but allows you spend more time walking the boardwalks comfortably and better chance to see the radiant springs.
Return to your cabin or the dining hall for breakfast, check out and get on the road heading South towards Norris Geyser Basin. Scenery along the way is gorgeous, stop if you see anything you like the look of but not for too long.
There's a lot to see today!
Park up at Norris, be sure to look around the educational Visitor Center before spending the next few hours wandering the Geyser Basin boardwalks.
You have plenty of geysers to take in throughout two loops of boardwalks. Don't miss Steamboat geyser – it was extremely active when we visited.
There are dozens of springs and geysers in all colors and varieties here, just keep following the boardwalks and the crowds.
Echinus geyser is a popular stop, however, this once prolific steam sprayer has become far less inclined to blow its top in recent years.
A few minutes drive South you will find Artist's Paintpots trail. We highly recommend this quick 1 mile roundtrip hike where you can see deep earthy colors surrounding small hot springs.
In addition, you have an opportunity to get up close and personal with boiling mud bubbling in grey molten clay-like pools. Don't miss this hidden gem.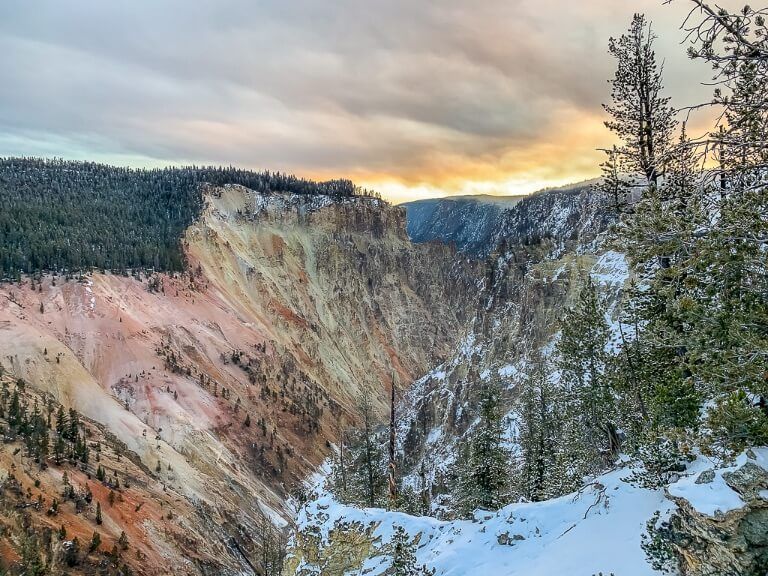 Grand Canyon of the Yellowstone
Take Norris Canyon road due East towards Canyon without stopping before checking in at your Canyon accommodation. If you're not staying inside the park tonight, book a hotel room in West Yellowstone.
Drive a few miles North from Canyon and park up at Dunraven Pass, before setting off on the most popular hike in Yellowstone National Park – Mount Washburn. Panoramic views from the summit will be worth the time and effort.
Closure: This is the hike we unfortunately couldn't access and unfortunately it is still scheduled to be closed in 2022 as the road between Canyon and Tower is under works.
If the road and hike are open, it will be late afternoon / early evening by the time you finish your hike.

If not, head straight down to Grand Canyon of the Yellowstone.
Drive back past Canyon and turn onto one-way North Rim Drive.
Your first time seeing the powerful Yellowstone Lower Falls is from Lookout point, which is awesome, but less awesome than some of the other viewpoints coming up.
Continue driving round to Grand View, before either driving or hiking (if time allows and you're not too tired) to Inspiration point – the best observation area along North Rim Drive. It shouldn't be long until the sun sets directly behind Lower Falls.
At dusk, on the way back to Canyon, drive slowly and look out for wildlife. We saw Bison and a lot of Mule Deer on this stretch with a stunning deep purple sky sunset and moonrise over the plains.
Yellowstone Itinerary Day 3 – Yellowstone Falls, Hayden Valley & Yellowstone Lake
Hayden Valley
Another early start and this one is non-negotiable!
Check out and leave at least 30 minutes before sunrise (check times here) so you can get parked, walk the very short trail to Artist Point.
Get your camera set up before the sun rises and illuminates the Grand Canyon of Yellowstone. It's worth waking up for this iconic Yellowstone sunrise.
On the way back out of South Rim, stop off at Upper Falls View and hike down Uncle Tom's Trail for an amazing close up vantage point of Lower Falls.
The steep staircase trail descent was not open when we visited so be sure to check trail closures and current conditions before you visit.
Once the sun has risen and you've marveled enough at the wonderful canyon, jump back in the car and drive South towards Hayden Valley.
This is Yellowstone's second major area for seeing animals and if you're early enough, you'll have a high probability of spotting wildlife.
The key is not to go looking for the animals, but to park up where nobody else is parked along the Yellowstone River and wait for them to come to you.
You might see a multitude of amazing wildlife, or you might not see any animals at all, it all comes down to chance. Be prepared for both eventualities.
Next up as you head South is Mud Volcano. There's a short circular boardwalk here covering a number of caldrons and springs, most notably Dragon's mouth spring.
No need to spend long here and you'll be hungry by now. Grab lunch at Fishing Bridge / Lake Yellowstone.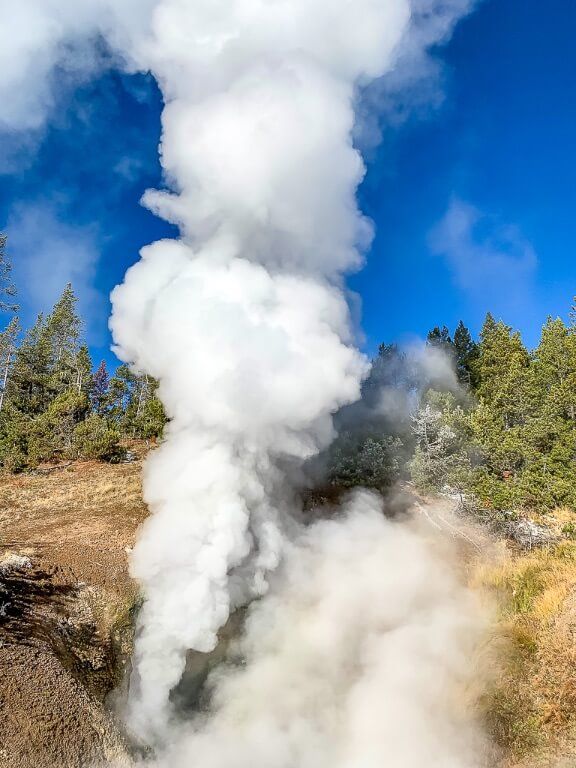 Yellowstone Lake and West Thumb Geyser Basin
Remember that just because an area isn't recognized as a wildlife 'hotspot' it doesn't mean you won't see any animals.
We spotted a gang of Elk and more coyotes right on the lake edge around Lake Yellowstone lodge. Explore the area before following the Lake South to West Thumb Geyser Basin.
Spend the remainder of the afternoon walking around West Thumb Basin, taking in the likes of Abyss Pool, Black Pool, Big Cone Geyser and Fishing Cone.
Don't forget you can take the short Lake Overlook hike right from West Thumb parking lot.
Drive West to Old Faithful and check in to your final accommodation. Again, if you're not staying inside the park on night 3, book a hotel room in West Yellowstone.
Depending on the time, you can either stick around Old Faithful for sunset or drive 11 miles North to Great Fountain Geyser, which has a magnificent sunset.
Yellowstone Itinerary Day 4 – Lower, Midway and Upper Geyser Basins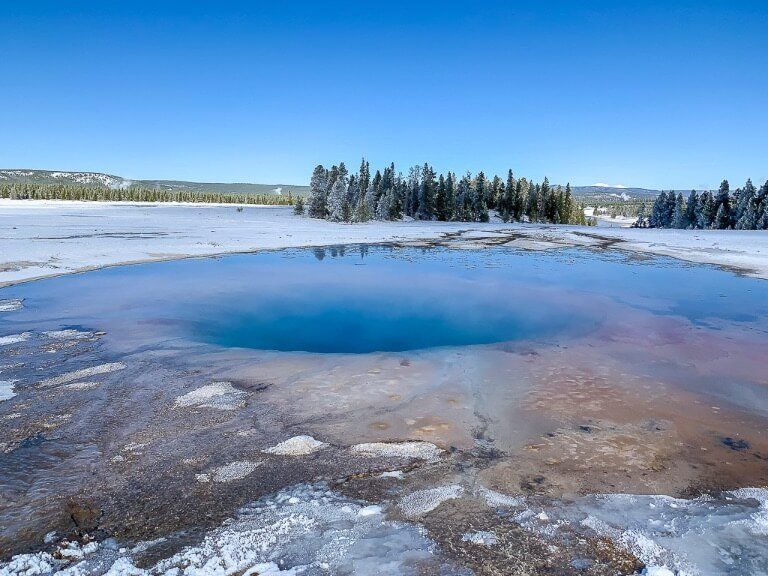 Grand Prismatic Spring
You get to sleep in a little (finally!) on your last day. No rush this morning, you'll be driving up to Lower Geyser Basin and working your way back down to Old Faithful. Slowly does it today.
It is important to note here – if you want to get photographs of one particular area such as Grand Prismatic Spring, it might be worth beelining straight there first thing in the morning.
Start the day by entering one-way Firehole Lake drive – where you can now visit Great Fountain Geyser if you didn't the night before.
Opposite the one-way exit from Firehole Lake road, park up at Fountain Paint Pot trailhead and walk the very short trail.
If you missed swimming in Boiling River at Mammoth due to closure, you could drive a few miles North to Firehole swimming area.
Otherwise, heading South once more, your next stop is one of Yellowstone's finest geothermal features: Grand Prismatic Spring.
Firehole River will likely be engulfed in a cloud of steam as you walk towards Grand Prismatic, giving off an eerie effect. This huge heated cloud is produced by Excelsior Geyser, which was once the tallest geyser at Yellowstone.
Without question, the place will be packed with tourists, so try to be courteous as you walk the relatively narrow boardwalks.
Stop off as much as possible on the looped boardwalk to soak up Yellowstone's largest hot spring and one of its most iconic features.
If you would like to see Grand Prismatic Spring's colors in all their glory from above, you will need to drive a few minutes to Fairy Falls Trail and hike a 1 mile round trip trail to GPS overview.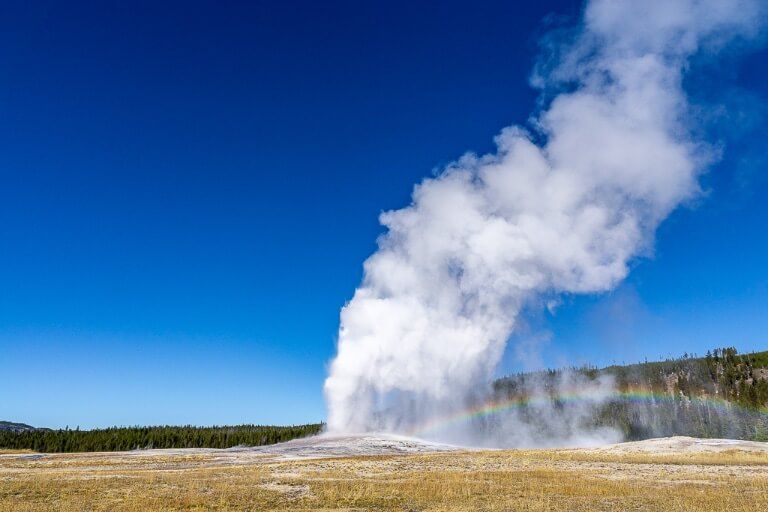 Old Faithful
Finish your 4 days in Yellowstone itinerary back where you started this morning at Old Faithful.
What better place to sign off an incredible experience than its most iconic feature. Check times of eruptions, noted all around Old Faithful area including the dining halls. Plan to arrive 10-15 minutes before the predicted eruption.
The bleachers will be busy so be sure to walk around and behind Old Faithful, before taking the Observation Point trailhead to a much better vantage point.
The crowds will cheer once Old Faithful begins to erupt and you will have finally seen the most famous geyser in the world spurt its hot steam into the deep blue sky above!
Don't forget that you are in Upper Geyser basin, the most active of all geothermal areas within Yellowstone and more than a one trick pony.
Behind Old Faithful – past the trailhead for observation point – you can follow a path leading to multiple hot springs and geysers.
Geysers: We highly recommend you do spend time walking behind Old Faithful as far as incredibly vibrant Morning Glory Pool, one of our favorites in the entire park.
Exit Yellowstone via the South entrance towards Grand Teton National Park. If you like to kayak, Lewis Lake on the way out of Yellowstone is the best place in the park to paddle.
There's plenty of time left on Day 4 to make it down to Jackson, WY with a few detours along the way in Grand Teton.
It's almost like you planned it that way!
Best Time to Visit Yellowstone National Park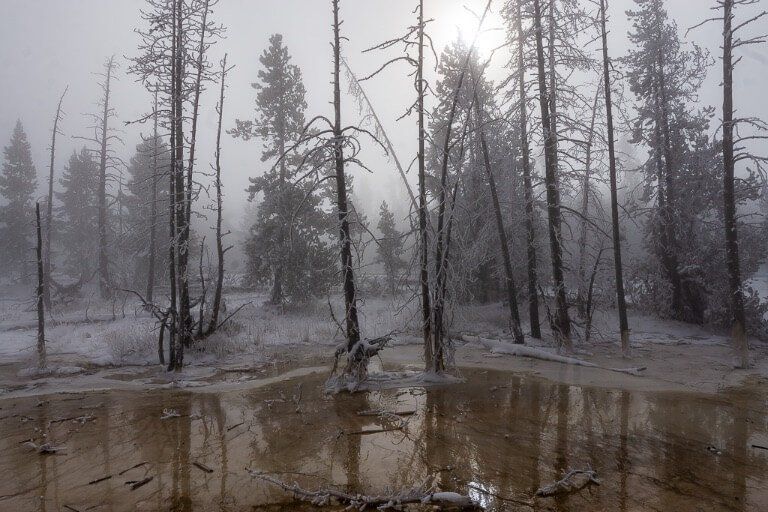 Spring
Animals are very active as they come out of hibernation, grizzlies are very grizzly so care must be taken. Snow melting causes waterfall volumes to increase and the weather begins to warm slightly. May and June are excellent months to visit Yellowstone before it gets too crowded.
April in Yellowstone is interesting, you will have attractions almost to yourself but road access is limited and no park lodging is open.
Summer
Summer in Yellowstone is jam packed with tourists, which personally isn't our cup of tea. However, you get more daylight and warmer temperatures which means perfect conditions for crushing hikes, sightseeing and comfortable camping.
Of 4 million annual visitors to the park, over half visit in July and August. Not only will every attraction be busy but getting a camping spot or hotel room would be tough going.
Fall
When we visited Yellowstone in October it had snowed heavily just a few days before our arrival. The scenery was staggeringly attractive, with glittering ice and snow dancing under sunlight.
It was the first big snowfall of the year so we just missed those beautiful rustic fall colors. September would be a fantastic alternative if you prefer to avoid crowds and enjoy cooler temperatures.
Yellowstone in Winter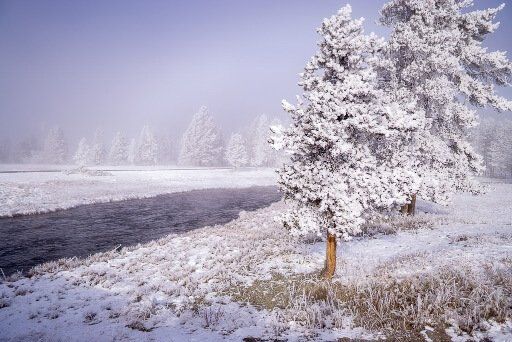 Although we didn't technically visit in Winter, both April and October had a ton of snow and cold temperatures. Most of the park shuts down in Winter and access can only be achieved by snowmobiles.
Our photographs will give you an idea of what Yellowstone would look like if you were to visit in Winter. We were blown away by the 'Winter Wonderland' scenery and felt fortunate to have visited when we did.
Following a huge snowfall, the temperature stayed below zero for 3 days but the sun was shining brightly from a deep blue clear sky every day.
On our second morning in October we woke up to a thick mist and fog which left Yellowstone feeling positively spooky!
Yellowstone Accommodation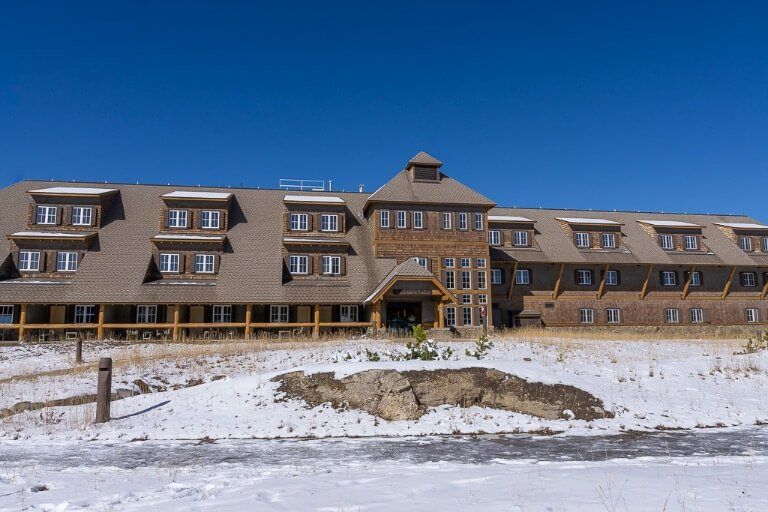 Certain US National Parks can be notoriously difficult to secure accommodation. Yellowstone is one of those parks.
There are options inside the park (as we listed in each region earlier) but they are in high demand and can be out of many visitors' budget range. You can instead stay at hotels near the park boundary.
Either way, you need to be as organized as possible when it comes to booking your Yellowstone lodging. Start booking as soon as you have dates to avoid missing out on rooms inside the park or at good value near the park.
We think booking hotels, lodges or cabins is the most difficult and important part of planning this vacation. Once rooms are secured, you can begin to plan your Yellowstone itinerary.
Resources and Tips
Lodging – We have written an extremely popular where to stay in Yellowstone guide to help you figure out the best places to stay for your visit. It has helped thousands of visitors to find lodging around the park.
Hotel tips – If you decide to stay outside the park in hotels, you have control over budget. Read our ultimate guide to booking cheap hotels to learn about ways you can save money.
Booking platform – We always use and recommend booking hotels with Booking.com for best value and most options to suit your budget.
Camping – Take advantage of our exclusive 30 day free trial of The Dyrt PRO to get reservations at sold out Yellowstone campgrounds with no extra booking fees, and gain access to free dispersed camping locations around Yellowstone National Park. You can try The Dyrt PRO for free, no strings attached!
The earlier you book, the more chance you have of securing the exact locations you prefer. Be flexible and adaptable if planning your vacation last minute.
Suggested Lodging for this 4 Day Itinerary
Note this is a North to South route. If your entrance and exit points will be different, plan your accommodation accordingly.
If you want to take a much closer look at the top rated hotels around Yellowstone, head over to our sister site Best Hotels Anywhere to see the best hotels in West Yellowstone, Gardiner, Cody and Jackson.
You can only book accommodation inside the park using Yellowstone National Park lodges service, which means set prices and limited availability.
Expect to pay handsomely for hotel rooms if you stay inside the park, it is Yellowstone after all!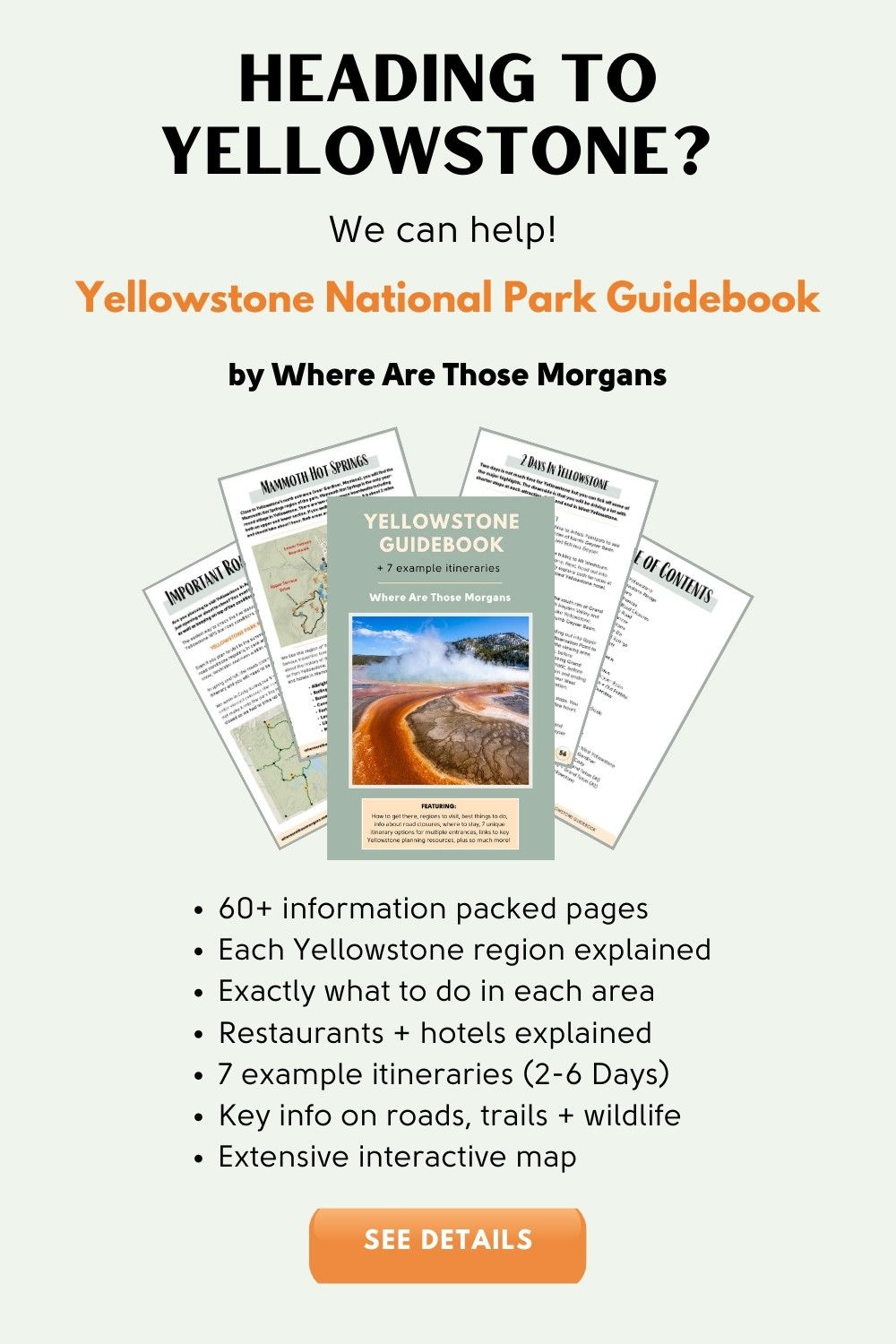 Read More About Yellowstone and Grand Teton

…

Yellowstone Road Trips:
More Incredible US National Parks

…
---
We hope this guide helped with planning your 4 Days Yellowstone National Park Itinerary!
Yellowstone is one of the very best places to visit in the USA and we sincerely hope you have the most amazing vacation to this special part of the world.
Please let us know if you have any questions or you need any help planning your Yellowstone trip, we'll be happy to help.
Happy Travels,
Mark and Kristen
Was This Post Helpful? Pin It For Your Yellowstone National Park Itinerary!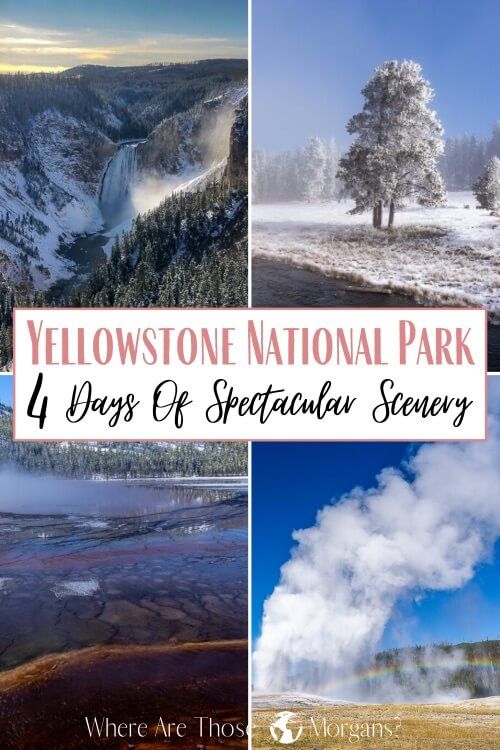 Note: This article contains affiliate links. When you make a purchase using one of these affiliate links, we may earn a small commission at no extra cost to you.
All Rights Reserved © Where Are Those Morgans, LLC. Republishing this article and/or any of its contents (text, photography, maps, graphics, etc.) in whole or in part is strictly prohibited.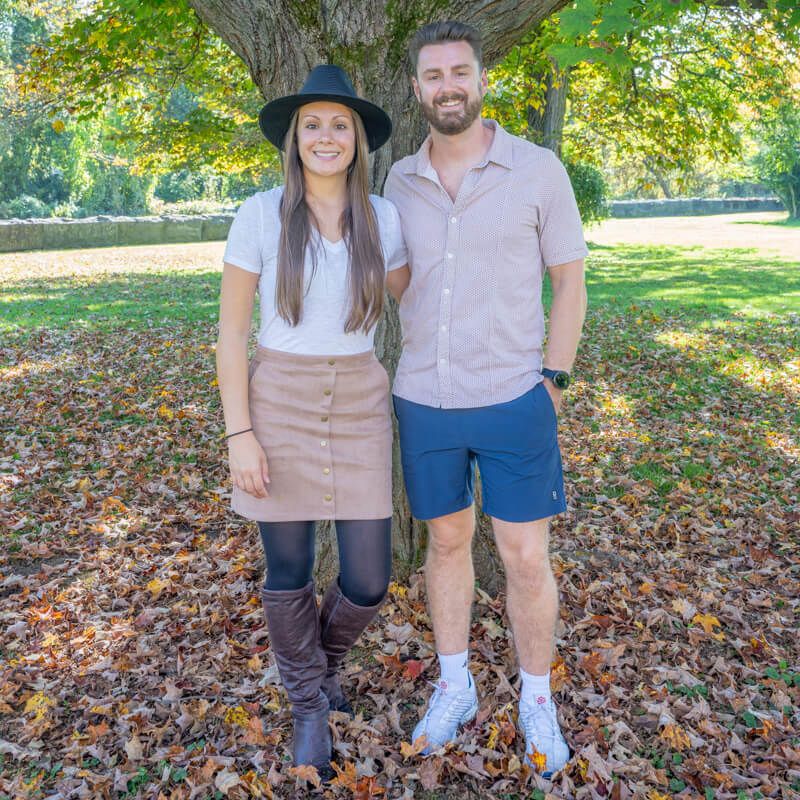 Mark and Kristen Morgan are travel, hiking and photography experts. Over the last 6 years traveling full time, they have explored more than 40 countries and 30 US states.
Their work has been featured in USA Today, Gestalten, Get Your Guide, CityPASS and Condé Nast Traveler along with various other publications.