In this extensive guide we are going to show you the 20 best things to do in Sedona, AZ with tips and examples so you can start planning the perfect visit to northern Arizona today.
Eight amazing days of hiking from sunrise to sunset, finding secret caves, driving thrilling 4WD Jeep trails, drinking delicious wine and exploring historic landmarks instantly put Sedona near the top of our best places to visit in the USA list.
Buy does Sedona really live up to the hype?
Oh yes, Sedona is worth the hype! We fell head over heels in love with Sedona during our 8 day visit in December 2021.
The spectacular red rock landscape is like an adventure playground for all ages and all types of visitor. Sedona will not just live up to your expectations, it will surpass them.
Here is what we will show you:
The 20 best things to do in Sedona
Useful links, lists and tips within each activity
Map of the best things to do in Sedona
Our own photos from every attraction
Let's get stuck into the most fun things you can do on a visit to Sedona, Arizona!
What Is The Most Popular Thing To Do In Sedona?
Hiking is by far the clear winner of the most popular thing to do in Sedona. A sprawling network of fantastic hikes from easy through hard cuts through canyons and climbs onto mesas.
But even the hikers need other things to do around hitting the trails and Sedona has so much more in its adventure arsenal.
The beauty of visiting Sedona lies within its inclusivity. Kids, teens, young adults and older adults will all find countless fun things to do in Sedona.
It doesn't matter if you are a hiker or a history buff, a golfer or a wine lover, you can create the perfect Sedona itinerary with ease.
Let's explore Sedona!
1. Hike Sedona's Amazing Trails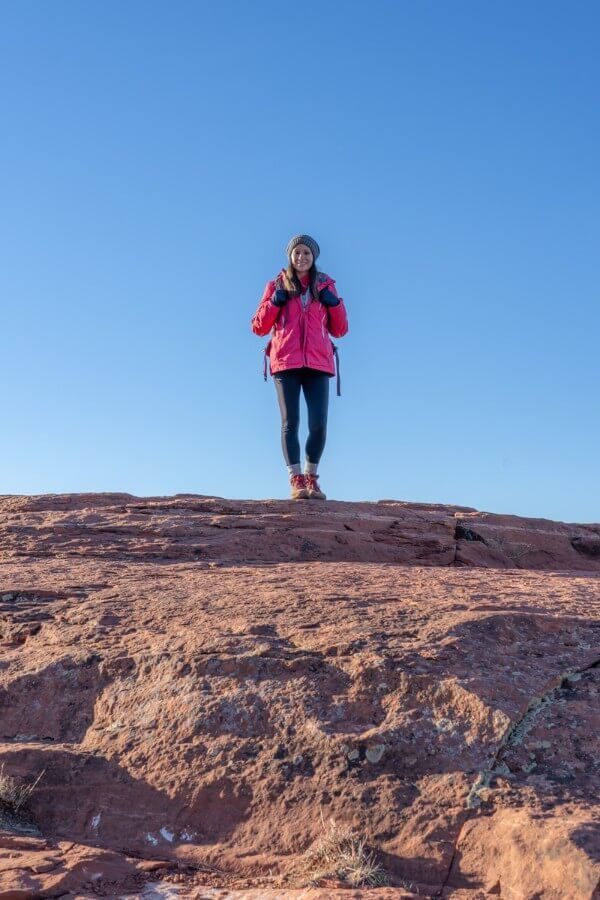 Encircling the small urbanized area of Uptown and West Sedona is a maze of magnificent hiking trails. Think of Sedona's hikes like it is a ski resort with easy, moderate and challenging trails all intertwined.
Why Hike In Sedona?
Almost every hike in Sedona carves through picturesque canyons or leads to a sweeping vista. Within minutes of leaving downtown Sedona, you can be walking through stunning red rock wilderness.
Hiking is by far the best way to explore the famous landmarks and hidden secrets of Sedona's rugged landscape. If you only do one thing on your visit to Sedona, we highly recommend hitting beautiful the trails.
In fact, we would even say hiking in Sedona is among the best things you can do on a visit to Arizona. Remember, hiking isn't going to cost you a thing!
What Are The Best Hikes In Sedona?
You are utterly spoiled for choice when it comes to hiking in Sedona. We spent the majority of our time in Sedona hunting the most famous hikes but also finding hidden less traveled gems.
Here are the top hikes in Sedona:
Sedona Hiking Tips
You will be blown away by the hiking experience in Sedona but there are some things you need to know:
1. The trails are always busy but parking is going to be your major concern. Prioritize a handful of trails (think Devils Bridge and Cathedral Rock) and plan to arrive at parking lots around sunrise to guarantee a space.
2. If you visit Sedona between Thursday and Sunday anytime of year you can use the Sedona Shuttle Bus. Use this park and ride service to access Sedona's busiest trailheads from 8am – 5pm.
3. Avoid weekends, holidays and the two peak seasons of Spring and Fall for the best chance of escaping the crowds on Sedona's trails.
Want to know the best trails? Our popular guide to the 20 best hikes in Sedona covers the most amazing trails from easy through hard.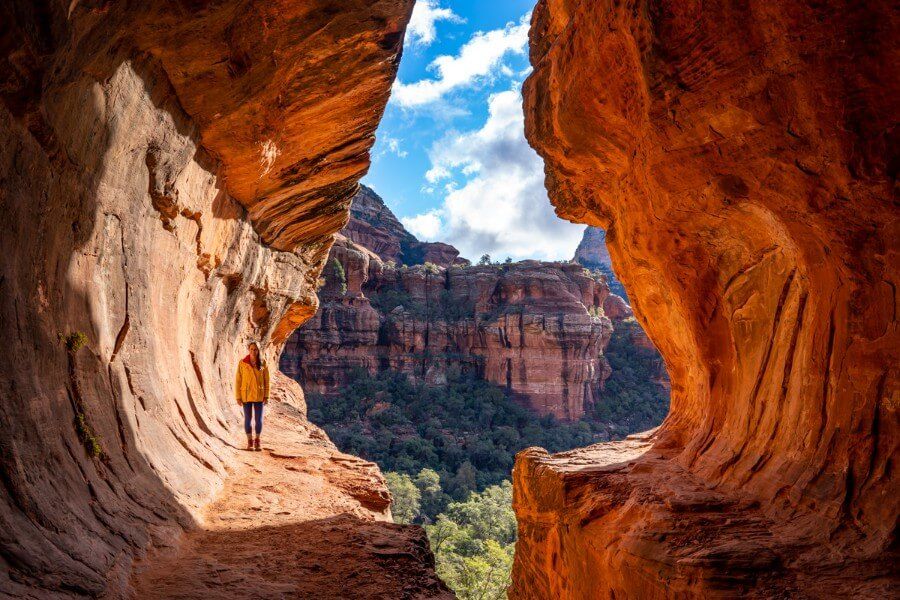 Did you know there are several secret caves scattered throughout Sedona's red rock mountains? We hiked to 7 very different caves during our visit to Sedona and they turned out to be some our favorite days of the trip.
Why Hike To Caves In Sedona?
Sedona's caves are unique, photogenic and adventurous. First you have to find the caves (which are on public land but are not signposted), then you have to access the cave openings which can require climbing.
How often do you get to climb inside caves with striking photo opportunities? Finding caves is easily one of the best free things to do in Sedona.
What Are The Best Caves To Find In Sedona?
Here are the 7 caves you can find in Sedona:
Want to explore caves? Our complete guide to visiting the best caves in Sedona covers how to find and access each cave.
3. Drive Thrilling Jeep Trails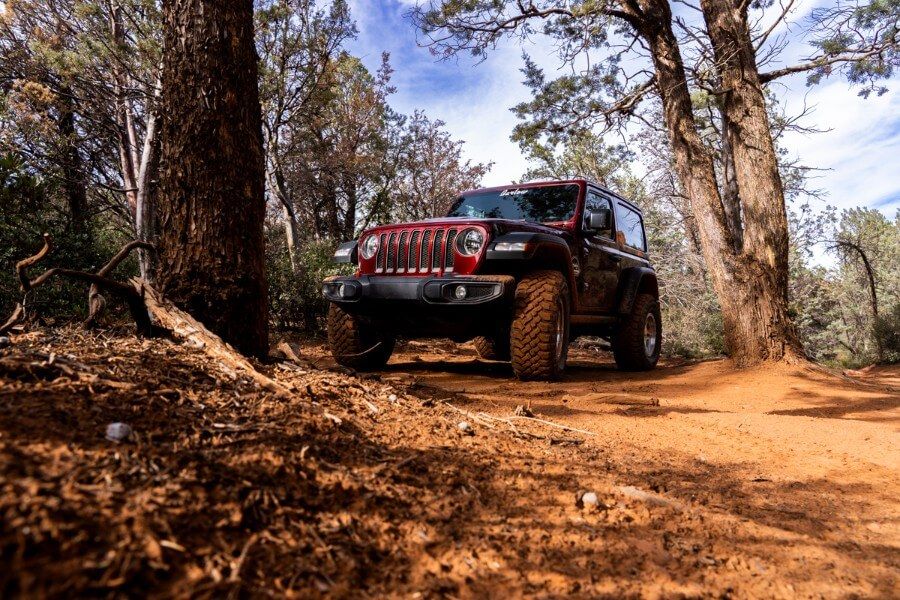 Have you ever driven a Jeep Rubicon off road? Sedona was the first place we tried it and what an incredible experience we had.
If you are new to driving a jeep off road, we would recommend you start with some of the easier trails first. Once you are comfortable, you can then advance to more technical and exhilarating off roading trails.
Why Rent A Jeep In Sedona?
Renting a Jeep was the best decision we made during our visit to Sedona. Our jeep allowed us to explore far and wide, access popular hiking trailheads and of course drive thrilling off road 4WD trails.
It isn't cheap to rent a Jeep in Sedona but it is a game changer. Use your Jeep to access Soldier Pass Trail as well as Devil's Bridge Trail on 4WD high clearance only roads.
Drive out to Sedona's heritage sites on rough gravel roads and spend at least one full day taking on awesome 4WD trails.
What Are The Best Jeep Trails In Sedona?
Here are the 9 best Jeep trails you can drive in Sedona:
Broken Arrow Trail – The most famous Jeep trail with thrilling technical elements
Diamondback Gulch – Drop 300 ft and climb 400 ft out of a V shaped ravine
Schnebly Hill Road – Climb 1,800 ft to a stunning viewpoint east of Sedona
Soldier Pass Road – Gain exclusive access to all landmarks on the hike (requires permit)
Dry Creek Road – Gain exclusive access to Devils Bridge trailhead and more
Robbers Roost – Drive all the way to within 0.5 mile of Hideout Cave
Mystic Vista – Short Jeep trail leading to hidden sunrise vista
Outlaw – Fun, long and open trail in rural countryside
Ranch Loop – Perfect easy flat trail for beginners to gain confidence
Want to hire a Jeep? Our popular guide to the best Jeep trails in Sedona covers 9 amazing off road trails you can explore.
4. Drink Along The Verde Valley Wine Trail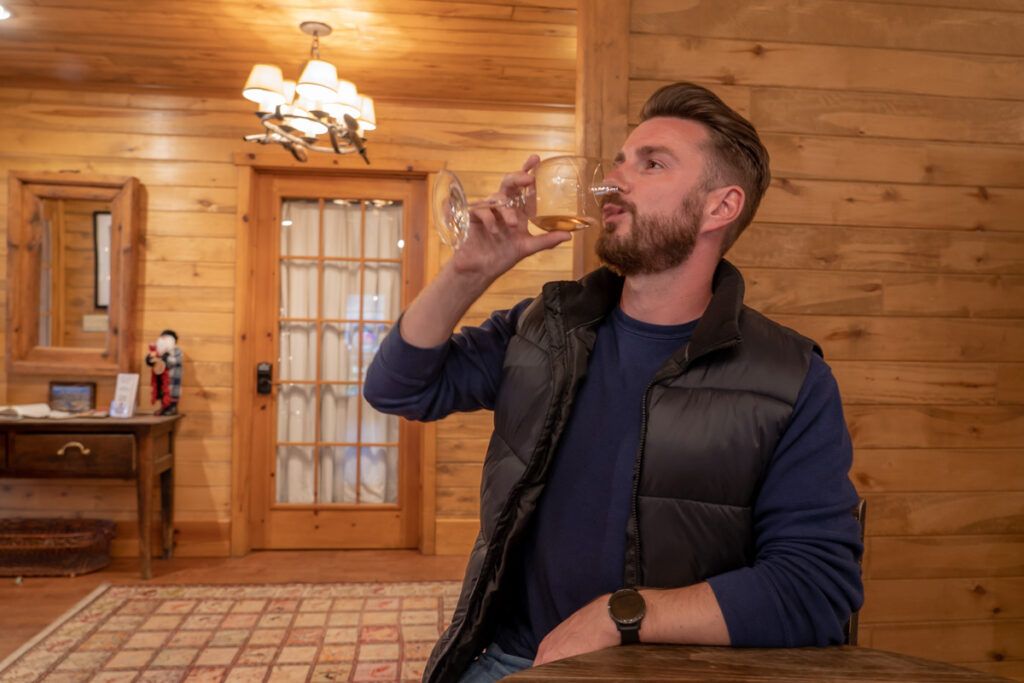 You might not think of northern Arizona as a popular wine region, but consistent sunshine combined with low overnight temperatures and volcanic soil means all you need is a good water source for grapes to thrive.
Both Oak Creek and Verde River provide that invaluable water source, creating a wonderful grape growing region.
Why Taste Wine On Your Visit To Sedona?
If you're into your reds, whites and roses, indulging on a wine tour is something you won't want to miss on your visit to Sedona. You can drive through tiny towns spilling over with wineries, or you can visit estate wineries for tastings in a more peaceful setting.
If you'd prefer not to drive so you can really get stuck into tasting the best wines in the region, you have several tour options including transport by limo, Jeep or minibus.
Wine tasting is a big deal around Sedona and it was one thing we didn't want to miss out on ourselves. So we jumped in the car, played rock paper scissors to determine who would be dd and hit the wine trail!
Where Are The Wineries Along The Verde Valley Wine Trail?
Here are the 6 areas of Sedona's Verde Valley Wine Trail with each of the 25 wineries offering flights and tastings:
Downtown Sedona – Winery 1912.
Clarkdale – Bodega Pierce, Chateau Tumbleweed, Southwest Wine Center.
Page Springs / Cornville – DA Ranch, Javelin Leap, Oak Creek Vineyards, Page Springs Cellars.
Cape Verde – Alcantara Vineyards, Salt Mine Wine, Clear Creek Vineyard.
Jerome – Caball Cellars, Caduceus Cellars, Four Eight Wine Works, Passion Cellars, The Original Jerome Winery.
Cottonwood – Arizona Stronghold, Burning Tree Cellars, Carlson Creek Vineyard, DA Vines, Merkin Vineyards, Pillsbury Wine Co, Provisioner Wines, Tantrum Wines, Winery 101.
Planning to taste wine? Our complete guide to the best Sedona wineries includes details on all 25 places you can visit to sip on delicious wines.
5. Take The Verde Canyon Railroad
The famous Verde Canyon Railroad is a must visit for train lovers, history buffs and anyone who wants to spend half a day slowly rolling through Arizona's "other Grand Canyon".
You will spend 4 hours on a refurbished vintage train cutting through deep canyons, around sharp bends with towering red rock formations in touching distance, passing through dark tunnels and crossing old wooden bridges on this historic journey from Clarksdale to Perkinsville and back.
What Do You Need To Know About The Verde Canyon Train Ride?
Each passenger is provided with a tasty selection of meats, cheeses and fruits.
Seats are living room style leather sofas next to panoramic windows.
Alcoholic drinks are available on board at extra cost.
Between each seating carriage is an open aired carriage with guide explaining landmarks and offering stories of historic importance.
If the weather is fine, plan to spend as much time in the outdoor carriage as possible.
Remember sunscreen and sunglasses on warmer days, but also consider a coat in Winter.
Don't forget your camera, this is a very photogenic train ride through northern Arizona.
The cost of booking Verde Canyon Railroad is $109 per person during peak seasons in Spring and Fall or $99 per person in Summer and Winter.
Here's the official website for the popular train ride in Clarksdale.
Want to ride the train? Our complete guide to riding the Verde Canyon Railroad explains everything you need to know including photos from the journey.
6. Visit Palatki And Honanki Heritage Sites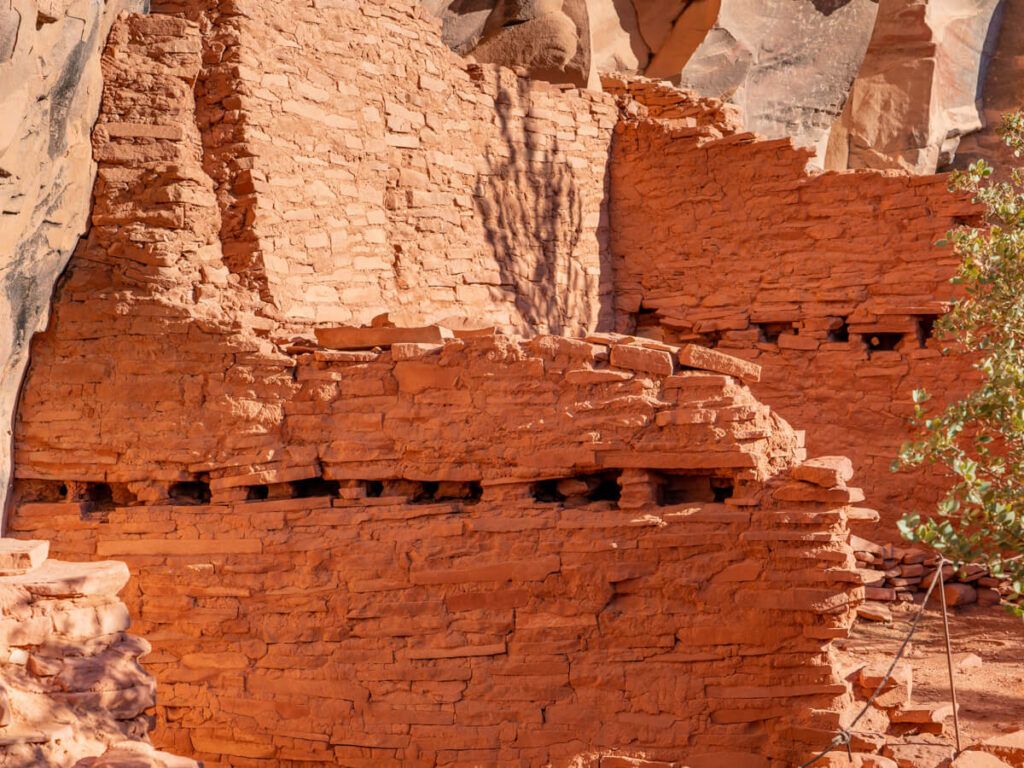 Palatki and Honanki sites were the largest Sinagua cliff dwellings and rock art sites of the Red Rock Country between AD 1150 – 1350. They are very popular places to visit in this region.
The Sinagua people lived at the base of enormous cliff walls in two separate locations to the northwest of Sedona which are known as Palatki and Honanki today.
What Do You Need To Know About The Heritage Sites?
You can see the remains of 900 year old dwellings and an abundance of rock art at both sites.
Palatki Heritage Site requires reservations to be made in advance here at recreation.gov.
You can only see Palatki as part of a small group tour lasting around 1 hour 30 minutes.
Honanki Heritage Site does not require reservations but it can only be accessed by rough gravel roads.
Many choose to visit Honanki in a Jeep or ATV, or as part of a tour.
You must display either a Red Rock Pass or America the Beautiful Pass to park at either site.
Want to visit heritage sites? We've written detailed visitor guides to both Honanki Heritage Site and Palatki Heritage Site if you would like to learn more about each place.
7. See Montezuma Castle And Tuzigoot National Monuments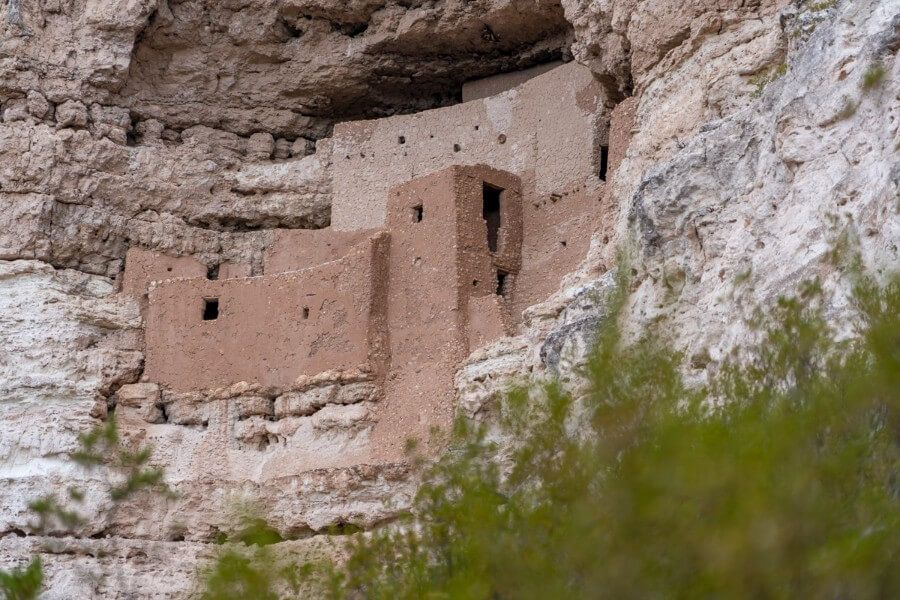 Montezuma Castle and Tuzigoot National Monuments are two of Arizona's best kept 1000 year old Sinaguan dwellings. Both are located within 30 minutes drive of Sedona and both are very popular stops to make in the area.
Visitors will see a stunningly preserved cliff dwelling built half way up a vertical rock face at Montezuma Castle. Tuzigoot is more of a pueblo style village with much of its foundations preserved.
You can buy a multi ticket entrance to both Montezuma sites and Tuzigoot for $10.
What Do You Need To Know About The National Monuments?
Montezuma Castle entrance combines the major cliff dwelling site with Montezuma Well, a separate entity nearby with more dwellings built into a sinkhole filled with water.
Tuzigoot is a standalone ruin covering considerably less area. It is easy to combine Tuzigoot with the Verde Canyon Railroad just a few miles away.
Planning to visit monuments? Here's our complete guide to visiting Montezuma Castle National Monument and to visiting Tuzigoot National Monument for more information.
8. Watch An Unforgettable Sedona Sunrise
Sunrises are simply sensational in Sedona, Arizona. You just have to get yourself in the right place before first light and mother nature will do the rest.
Remember, if you are hiking to a sunrise viewpoint you will need to set off in good time so you don't miss the sun rising half way up your hike. See below for our top recommendations.
Why Wake Up Early For Sunrise?
You know the old expression "the early bird gets the worm"? Well, we've never been to a place where that rings so true. Sunrise is the only time of day you will have hiking trails and photo spots to yourself.
If you're looking for a calm and peaceful time of day to be out and about with your camera in Sedona, set that early alarm.
Where Are The Best Sunrise Spots In Sedona?
Here are some of our favorite sunrise spots in Sedona:
Doe Mountain Summit
Chimney Rock Summit
Little Sugarloaf Summit (Hidden Gem)
Cathedral Rock Summit
Pullover at the top of Red Rock Loop Road near Sedona high school
Lover's Knoll
Interested in dawn and dusk? Our guide to the 15 best sunrise and sunset photography locations in Sedona covers the most famous places but also includes our hidden gem spots very few know about.
9. See The Sunset At Airport Mesa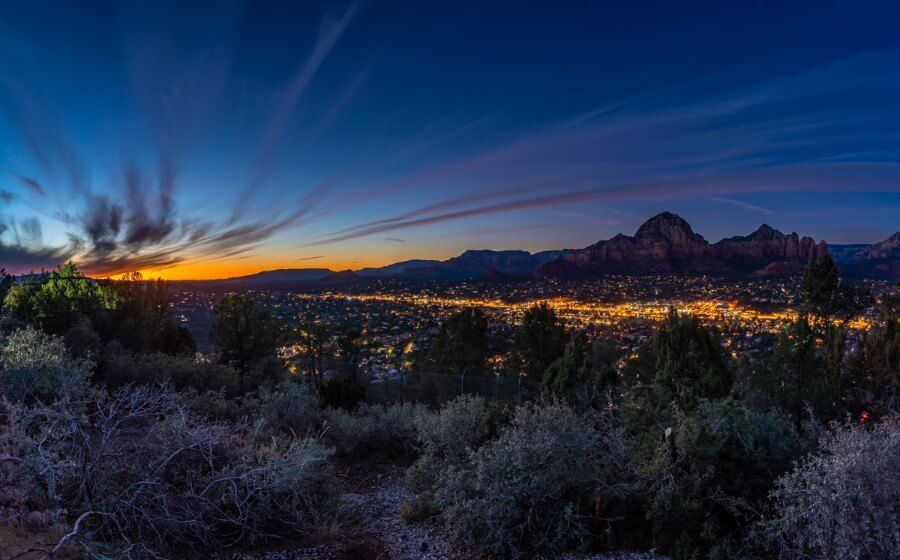 Soft light, textured clouds and red rocks glowing at dusk make sunset one of the most photogenic times of day to be standing at an expansive vantage point around Sedona.
Watching the sunset from Airport Mesa is one of the best things to do in Sedona. Anyone can do it, the view is awesome and it is just 1 mile away from highway 89A running through town.
Why Airport Mesa?
Well, it is incredibly easy to access by car, $3 parking is plentiful and the high elevation has a fantastic vista overlooking the bright lights of town as the sun sets behind.
Most other sunset spots in Sedona require hiking or driving 4WD roads, which adds to the popularity of Airport Mesa.
Why Stay Out For Sunset?
You could go up to Airport Mesa any time of day for the same view but sunset is by far the best time of day up near the town's runway. The sunset itself can be spectacular and the viewing area is always busy around dusk.
Top Tip – Arrive to Airport Mesa 1.5 hours before sunset, park in the $3 paid lot at the top of the hill, hike Sedona View Trail down to the vortex site for more stunning views, then head back up to the main vista for sunset.
Arrive early to claim tripod space if you want to capture the sunset with a pro camera. The best part is it takes 5 minutes to get back into town after the sunset event.
10. Feel The Energy At A Sedona Vortex Site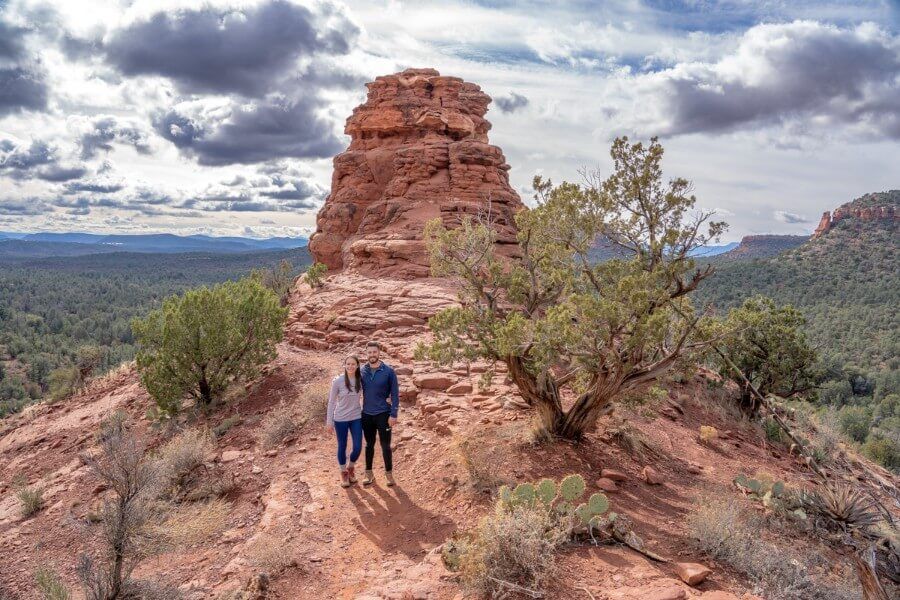 The vortexes of Sedona have drawn people to the red rock area for hundreds of years. These vortex sites are filled with mystical forces and are said to have an up flow, down flow or combination energy effect.
Many hiking trails in Sedona also have vortex sites nearby and you will often see people practicing yoga in these energy hot spots.
Where Are The Main Sedona Vortex Sites?
Sedona is considered to be one great big vortex site, but there are 4 main sites within Sedona said to contain the highest levels of energy.
The four major vortex sites are:
Cathedral Rock
Bell Rock
Airport Mesa
Boynton Canyon
With that said, you will find other places which feel as though they should be included in this list. Birthing Cave and Red Rock Crossing are both places that could be added.
We also found a place that is off the beaten path for now but it won't stay that way for long – Pyramid Mountain. Go down and check out the amazing views over Cathedral Rock in total solitude.
Want to visit the vortex sites? Our complete guide to visiting the Sedona Vortexes covers everything you need to know about the energy and vortex locations.
11. Relax In Amitabha Stupa And Peace Park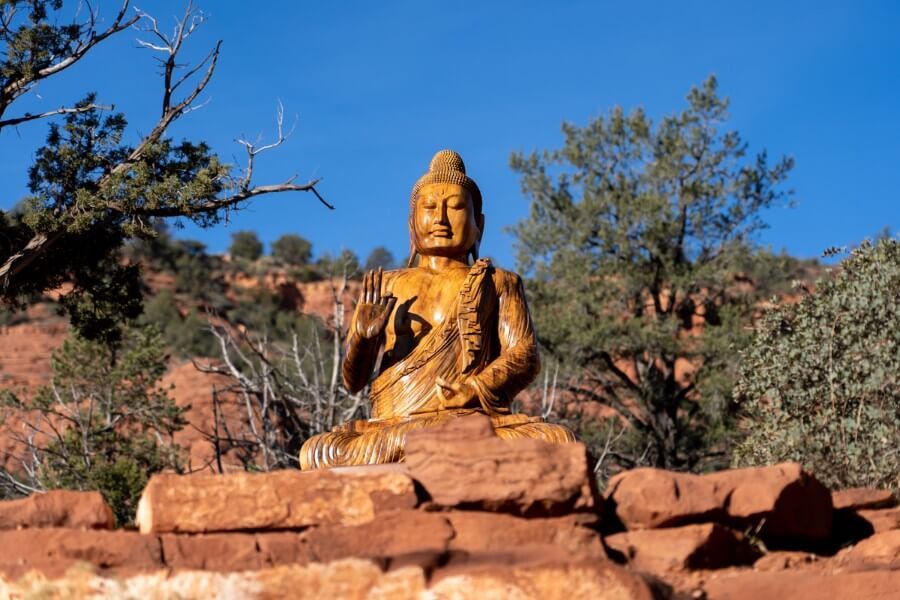 For those seeking spiritual enlightenment in the area, you can't miss a visit to Amitabha Stupa and Peace Park, an outdoor prayer and meditation area for all faiths to enjoy.
Walk the grounds, feel the spiritual energy and meditate in a quiet corner of the park in peace. Look out for small colorful flags flapping in the wind, a Native American medicine wheel and of course the 36 ft tall Buddhist shrine.
What Do You Need To Know About Visiting Amitabha Peace Park?
Entrance is free but donations help to support and maintain the park.
Parking is off Andante Road near town.
The park is open every day from dawn 'til dusk.
You can access the peace park from Thunder Mountain Trail after hiking the awesome Chimney Rock Little Sugarloaf Loop.
Dogs are allowed but must be well behaved and on leash.
12. Explore Tlaquepaque Arts And Shopping Village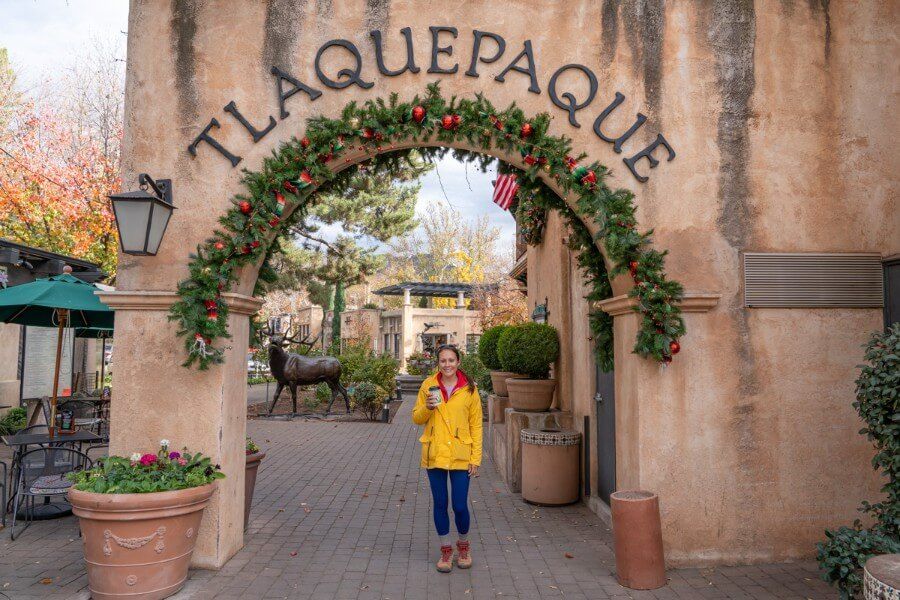 Sedona is home to several small shopping centers featuring independent stores and art galleries. But Tlaquepaque is the most popular and best place to shop for jewelry, clothes, pottery, boutique items and gifts.
The arts and shopping village is split into two by highway 179 and both sides are well worth visiting. Tlaquepaque is modeled after the city of Tlaquepaque near Guadalajara in Mexico and the name means "the best of everything".
Why Visit Tlaquepaque?
Get lost in the maze of alleys and courtyards featuring intricate stucco walls, cobbled streets and grand arches inside the Colonial Spanish architecture inspired village.
Visit over 50 unique shops, cafes and restaurants in beautiful surroundings. If you visit Sedona in December you must visit Tlaquepaque when it lights up exquisitely with Christmas decorations.
Here's the official Tlaquepaque website for more information.
13. Play A Round Of Golf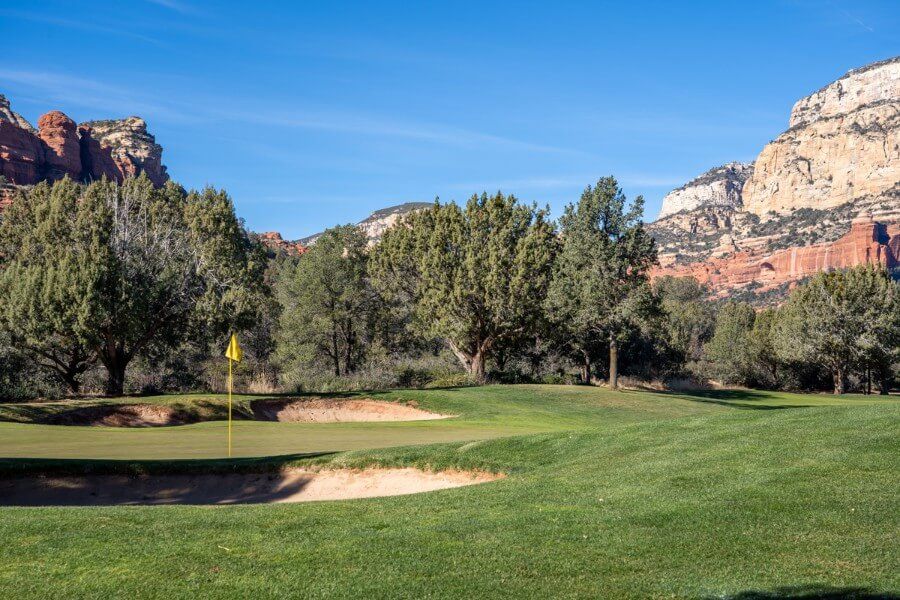 Sedona is home to 4 golf courses – Canyon Mesa Country Club, Oakcreek Country Club, Seven Canyons and Sedona Golf Resort. Each golf course is surrounded by immense red rock formations in stunning settings.
Why Golf In Sedona?
The climate is perfect for year round golfing. So no matter when you decide to visit northern Arizona, you know you can pack your clubs and not be disappointed.
Lush green rye grass fairways contrast staggeringly against the red rock landscape. Views from golf courses may not be as important as your score to par but these views might go some way to dampening any disappointment!
All courses are located on or close to resorts with pools, spas and restaurants. That means the golfers can golf and the non-golfers can relax instead.
14. Take A Scenic Drive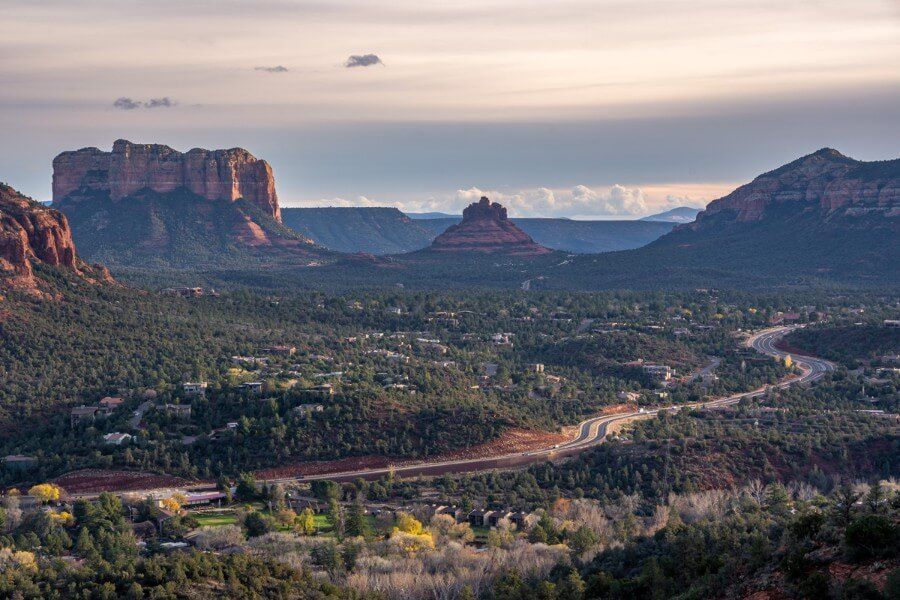 The entire area surrounding Sedona is scenic. Even driving through town you can look around and see towering red rocks. However, there are two very easy drives you can take which allow you to see some of the best sights without leaving the comfort of your car.
Red Rock Loop Road and Highway 179 are accessible, quick and offer fantastic views of the landscape. Even if you're just driving through Sedona as part of a wider USA road trip route, you will be blown away by the landscape.
Why Drive The Scenic Roads In Sedona?
Red Rock Loop Road – This very quiet loop road to the west of Sedona is seldom visited by tourists. You can watch a stunning sunrise and sunset from a pullover near Sedona high school or from Lover's Knoll. The drive is picturesque and it also leads to Red Rock State Park, where you can find wildlife roaming.
Highway 179 – This stretch of highway between Uptown Sedona and Village of Oak Creek passes by Cathedral Rock, Bell Rock and Courthouse Butte which affords close up views of the skyline dominating formations. Drive this if you are short on time or you won't be hiking the trails.
15. Visit Chapel Of The Holy Cross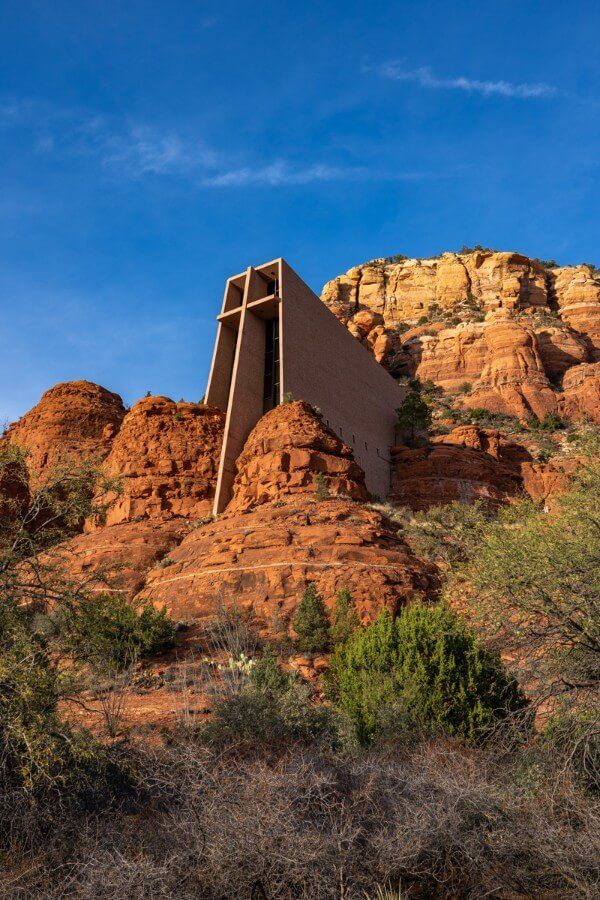 Chapel of the Holy Cross is one of Sedona's most recognizable buildings. Visiting the striking Roman Catholic Church built into red rock buttes should be on every first timers itinerary.
The chapel was completed in 1956 after 18 months at a cost of $300,000. Inside you will find a 90 ft tall iron cross made from steel with tall translucent glass windows behind letting in a huge amount of light.
Sculptor Marguerite Brunswig Staude took inspiration from the iconic steelworks on the Empire State Building and after a failed attempt in Budapest due to WWII she took her idea home to Arizona.
Why Go To See The Chapel?
The unique exterior is incredibly photogenic but it is the views from either side of the entrance to Chapel of the Holy Cross that you can't miss.
From the entrance you have a direct line of sight to Cathedral Rock, Bell Rock and Courthouse Butte, making this one of the top sunset spots in town.
16. Go Mountain Biking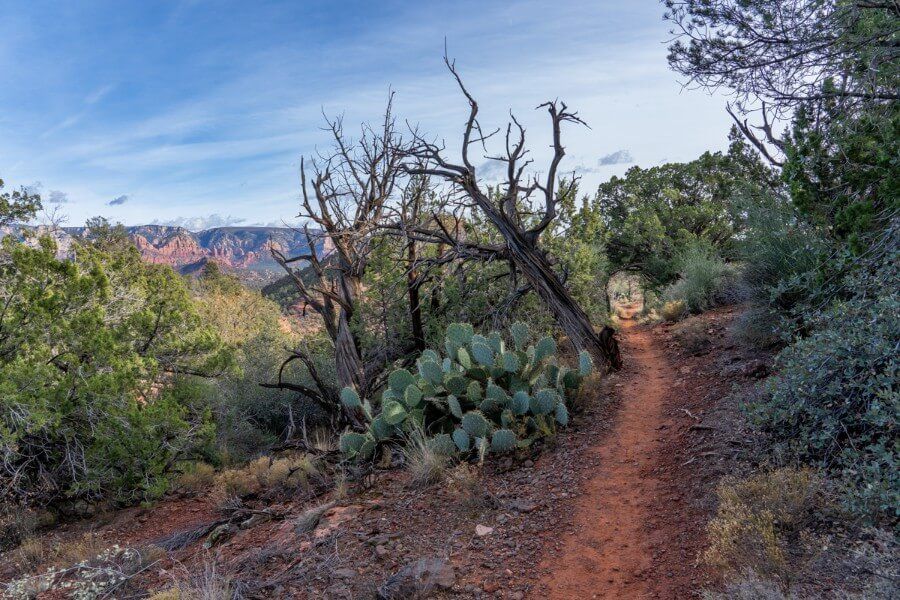 Sedona's rugged red rocks aren't just great for hiking, they are perfect for mountain bikers looking for adventurous trails. Similarly to hikes, there are bike trails dotted all over town ranging from easy to challenging in difficulty.
You will see far fewer bikers than hikers, but that can only be good news for those on two wheels. Spring and Fall will be busiest on bikes during the most comfortable temperatures of the year.
There are a handful of places in town you can rent a mountain bike at daily rates:
Where Are The Top Mountain Bike Trails?
Here are just some of the places you can ride a mountain bike around Sedona:
Chicken Point (technical with narrow ledge)
Scorpion / Pyramid Mountain Loop
Hangover Loop on Schnebly Hill Road
Chuck Wagon / Mescal Loop
17. Cool Off In Slide Rock State Park
Slide Rock State Park is one of the top attractions along Oak Creek Canyon to the north of Sedona. Within the state park is a 0.5 mile section of Oak Creek consisting of swimming holes and a natural sandstone 80 ft long slippery slide.
Why Visit Slide Rock?
Are you visiting Sedona in Summer? Slide Rock could provide the perfect place to cool off on a hot day in northern Arizona. You can slip and slide down algae covered slick red rocks at a 7% incline.
The only downside is a steep cost of either $20 or $30 per vehicle depending on season. Find more information at the official state park site.
18. Explore Art Galleries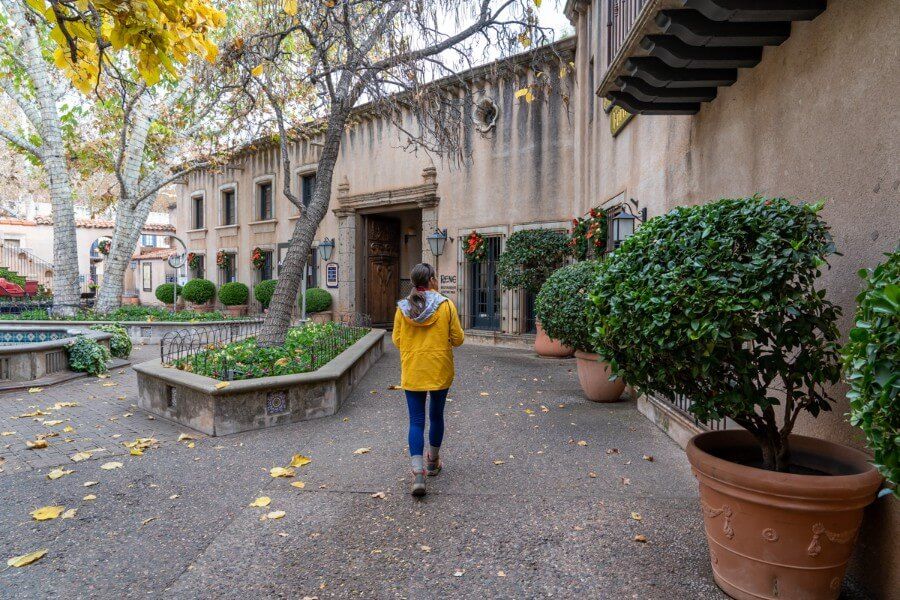 Imagine how easily you would find inspiration to paint in Sedona with that extraordinary landscape on your doorstep?! Couple that with a growing bohemian arts culture in town and you have quite the collection of art on offer.
Are you looking as a collector or for a gift? Either way, you have so many galleries at your disposal it will be impossible not to find what you're looking for.
Where Are The Art Galleries?
There are several art galleries found right around Uptown and West Sedona, which means almost all are walkable and within a pedestrian friendly area.
Here are some of the top galleries in town:
Honshin Fine Art
Bearcloud Art Gallery
Sedona Artist Market
Exposures International Gallery of Fine Art
Goldenstein Art
Mountain Trails Gallery
Sedona Arts Center
Tlaquepaque Arts & Shopping Village (several)
19. Fly High In A Hot Air Balloon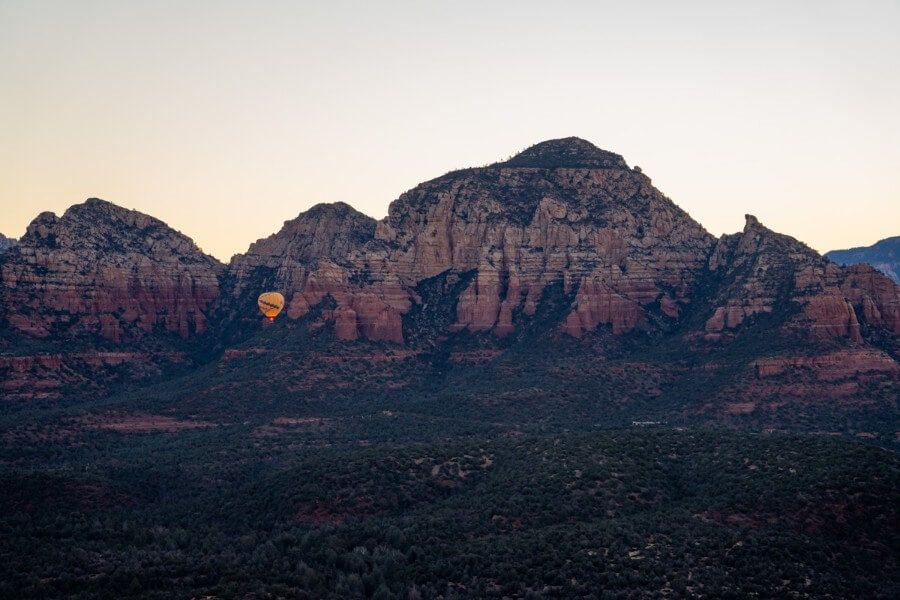 See Sedona's remarkable landscape from above by taking a sunrise hot air balloon flight and soaring into the yellow dawn skies. We saw several hot air balloons gliding around the rugged red rocks of western Sedona almost every morning.
Why Take A Balloon Ride?
If you've never been in a hot air balloon before, Sedona could be the perfect place to take your first flight. Views are far reaching in all directions and there are plenty of balloons going up every morning so you wouldn't be alone.
A 1.5 hour Sedona hot air balloon ride will cost around $300, so it's not exactly a cheap thing to do. However, this would be a unique experience and not many others can say they've done it!
The two companies offering hot air balloon rides in Sedona are:
20. Take A Tour In Sedona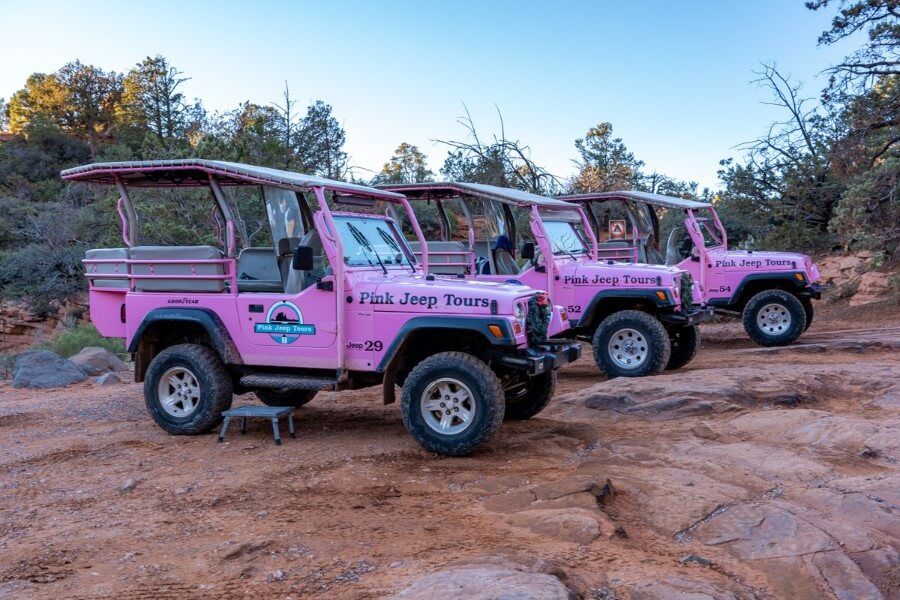 We would typically avoid including 'take a tour' as a thing to do in any city but Sedona is different. This place is like a theme park and there are a number of very popular tours which will let you access certain areas you otherwise might not be able to reach.
You will notice more tour groups in Sedona than you are used to seeing in other places, including popular day trip tours to nearby Grand Canyon South Rim.
Why Take A Tour?
Tours in Sedona are the perfect way to see and do some of the best things but in small doses and without the stress of figuring it all out yourself.
What do we mean?
Well, here's an example:
You can take a Jeep tour of the Scenic Rim (Schnebly Hill) as a standalone activity. That would be much cheaper than renting a Jeep yourself for a day. It also means you can sit back and enjoy the trail without having to drive it yourself.
Similar tours give you access to the heritage sites or vortex sites and these types of tours are perfect for those with less time to spend in Sedona.
What Are The Most Popular Tours?
Here are some of the most popular and top rated tours for you to consider booking during your visit to Sedona, Arizona.
Tours within Sedona:
Day Trips:
Want to take a tour? Our complete roundup of the 18 best Sedona tours including day trips and the top rated local activities.
Map Of The Best Things To Do In Sedona, Arizona
Here's a link to our interactive Google Map for the best things to do in Sedona AZ.
Click or touch the map to open in a new window, zoom in and out, scroll around and familiarize yourself with the area. Alternatively, you can click any activity or place you are interested in via the left column.
You will find icons at the exact locations of all things to do in Sedona mentioned in this guide.
Map key (icons):
Purple Hiker – The most popular hikes in Sedona
Dark Orange Museum – Sedona's Heritage sites and National Monuments
Red Cave – Sedona's best caves to explore
Dark Blue Car – The best Jeep trails in Sedona
Yellow Glass – Sedona's Verde Valley wine trail locations
Maroon Camera – Our top sunrise and sunset locations in Sedona
Brown Vortex – The major Sedona vortex locations
Light Green Golfer – Sedona's golf courses
Dark Grey Car – Scenic Drives
Dark Green Bike – Mountain Bike Trails
Light Grey Train – Verde Canyon Railroad
Turquoise Shopping – Tlaquepaque Arts & Shopping Village
Black Tree – Amitabha Stupa & Peace Park
Blue Cross – Chapel of the Holy Cross
Purple Tree – Slide Rock State Park
Planning Your Sedona Itinerary
It can be challenging putting together your itinerary for visiting Sedona when there are so many fun things to do in town.
First, pick out your top priorities from this list of things to do. Next, you can begin to form a rough idea about what you want to do when you visit Sedona.
Remember, hikers will need to be organized and up early for the most important trails on each day. While photographers should plan to be out early in the morning and later in the day.
Wine tasting, the railroad, renting a Jeep, going up in a hot air balloon, Palatki Heritage and basically any tour should be booked in advance during peak seasons.
How To Get Around In Sedona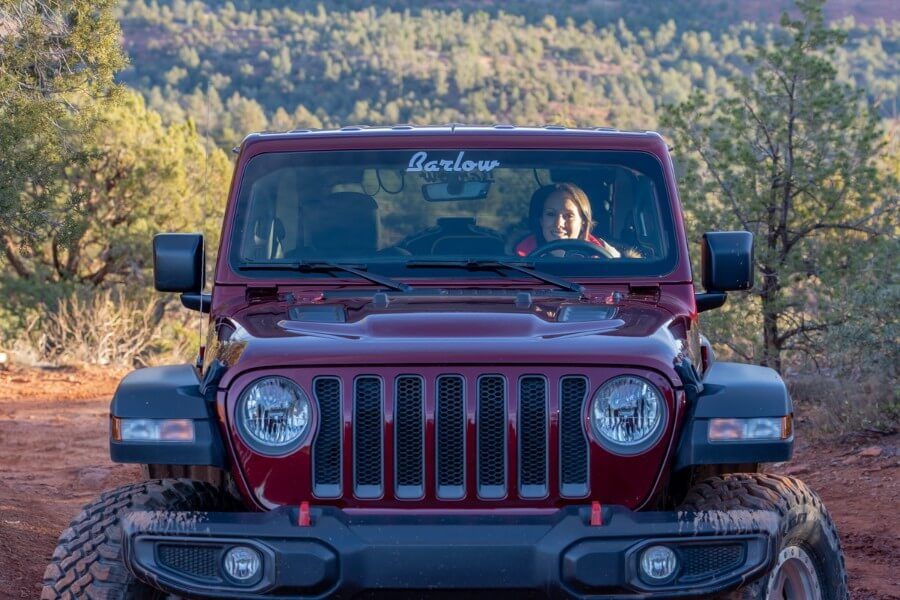 Sedona is a small city but you'll need a car to access the best hikes to the north and south of town. If you want to get to the hard to reach places like the heritage sites and viewpoints to the east, you should rent a Jeep.
Uptown and West Sedona are walkable pedestrian friendly areas but you really do need a car to do just about any activities. Restaurants and bars can be accessed in Uptown by foot so you can have a drink if you stay nearby.
Where To Stay In Sedona
Accommodation is expensive in Sedona, but there are plenty of very high quality places to stay. There are 5 main areas you can choose between, and each area has its own pros and cons.
Here are a handful of our top choices:
Want the best Sedona hotels? Our incredibly detailed guide on exactly where to stay in Sedona is based on the 5 main areas and every travel budget to help you book the perfect hotel.
Best Time To Visit Sedona
Spring and Fall are the most comfortable seasons to visit Sedona. But these months also come with a higher price tag and there is a real overcrowding issue.
March, April, May, September and October are the busiest months in Sedona. You will find every thing to do in this list will be crowded or hard to book, plus hotel prices will be inflated.
Summer months are hot in this region which does reduce the crowds and costs a little. However, Winter is a fantastic time to avoid both.
We visited Sedona in December and highly recommend it as a perfect time to visit.
Top 10 Things To Do In Sedona
If this is your first time to Sedona, here is a summarized list of the top 10 things to do in Sedona:
Watch and photograph a stunning sunrise at Doe Mountain summit
Hike the iconic Cathedral Rock trail
Drive Broken Arrow Jeep trail
Visit the wineries on the Verde Valley Wine Trail
Ride the Verde Canyon Railroad
Watch a colorful sunset at Airport Mesa
Find and explore as many striking caves as possible
See the famed Chapel of the Holy Cross
Fly high in a hot air balloon at sunrise
Shop for art and unique items in Tlaquepaque
FAQ's For Things To Do In Sedona, Arizona
Let's take a quick look at some of the most frequently asked questions about must see things to do in Sedona.
What Is Sedona Best Known For?
Sedona is best known for hiking, off roading jeep trails, vortex sites, the Verde Canyon Railroad and the Verde Valley Wine Trail.
What Is So Cool About Sedona?
Sedona is considered a cool place to visit because it is home to wineries, heritage sites, national monuments, jeep trails, natural arches, hidden caves, spectacular canyons and some of the most amazing hiking trails in the US.
What Is There To Do In Sedona Other Than Hiking?
There is so much more to Sedona other than hiking. Visitors can drive off road jeep trails, ride the Verde Canyon Railroad, visit monuments or heritage sites, sample delicious wines along the Verde Valley Wine Trail and discover energy vortex sites.
What Are The Top Attractions To Visit In Sedona?
The top attractions in Sedona include Cathedral Rock, Devils Bridge, Chapel of the Holy Cross, the Sedona vortex sites, off road jeep trails and the 25 wineries along the Verde Valley Wine Trail.
Our Most Popular Sedona Guides
Hotels – Comprehensive roundup of the best places to stay in Sedona based on location and your budget, from cheap to luxury in the 5 most popular areas.

Hiking – Start planning your hiking itinerary with our popular guide to the 20 best hikes in Sedona, including easy to hard trails, cave hikes and hidden gems.

Photography – Our collection of the 15 best sunrise and sunset photography locations in Sedona includes the perfect mixture of iconic and secret spots.

Ruins – Read an overview about the 5 famous ruins near Sedona, including national monuments and heritage sites.

Caves – Find and explore the 7 best caves in Sedona with our detailed guide on how to access every cavern in the red rock wilderness area.

Jeep Trails – Are you thinking of renting a Jeep? Here's our comprehensive guide to renting an off road vehicle and the 9 best Jeep Trails in Sedona.
Our Most Popular "Best Things To Do" Guides
Grand Canyon – Start planning your trip to the Grand Canyon with our guide to the best things to do at Grand Canyon South Rim.

Kanab – Visiting nearby Kanab in Utah? Our roundup of the best things to do in Kanab covers every attraction in the area.

NYC – Planning a trip to New York City anytime soon? Our popular guide to the best things to do in NYC includes the top free and cheap attractions in town.

Mount Rushmore – Our extremely popular guide to the best things to do near Mount Rushmore will help you plan the perfect trip to South Dakota's Black Hills.

Acadia – Heading to New England soon? Our comprehensive list of the best things to do in Acadia National Park covers hiking, photography, landmarks and more.

Yellowstone – Visiting Yellowstone and Grand Teton in the near future? Here's our guide to the very best things to do at Yellowstone National Park.
Want more Arizona content? Head over to our Arizona travel guides to explore the best of Grand Canyon, Sedona and beyond.
---
We hope this guide listing the best things to do in Sedona helps with planning your visit to northern Arizona!
Please let us know if you have any questions about visiting Sedona below in the comments and have a great trip.
Happy Travels,
Mark and Kristen
Enjoy This Things To Do In Sedona Guide? Pin It For Later!
Note: This article contains affiliate links. When you make a purchase using one of these affiliate links, we may earn a small commission at no extra cost to you.
All Rights Reserved © Where Are Those Morgans, LLC. Republishing this article and/or any of its contents (text, photography, maps, graphics, etc.) in whole or in part is strictly prohibited.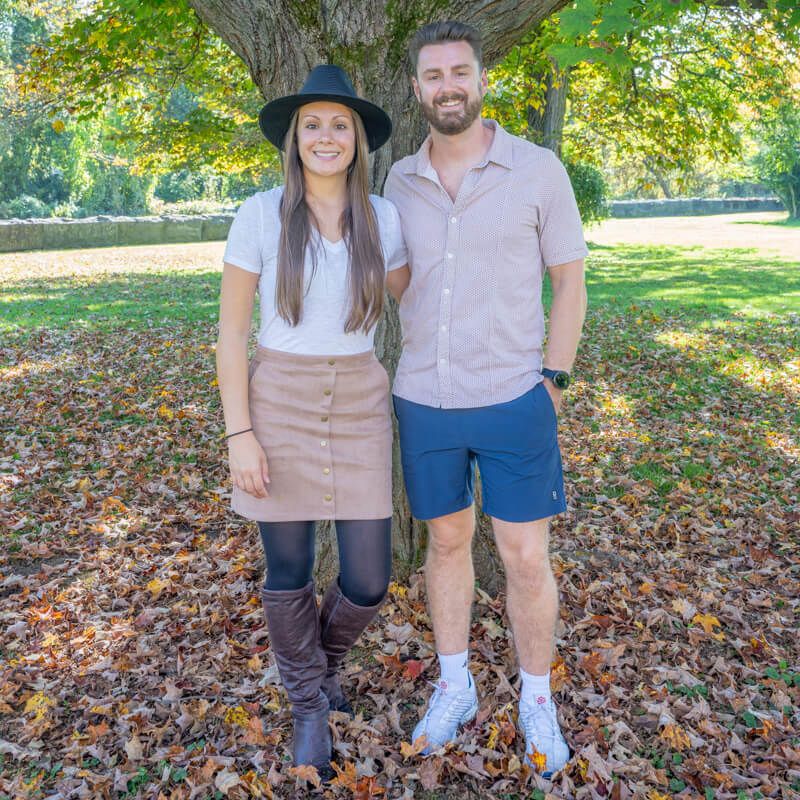 Mark and Kristen Morgan are travel, hiking and photography experts. Over the last 6 years traveling full time, they have explored more than 40 countries and 30 US states.
Their work has been featured in USA Today, Gestalten, Get Your Guide, CityPASS and Condé Nast Traveler along with various other publications.