In this guide we are going to show you 15 stunning sunrise and sunset photography spots in Sedona, Arizona. By the end you will know exactly where to go for the best Sedona sunrises and sunsets each day during your visit to this spectacular red rock landscape.
Is it worth waking up early for sunrise and staying out late for sunset in Sedona?!
Absolutely! Sedona is exceptionally photogenic by day and night, but soft light and colorful skies around sunrise and sunset elevate the already spectacular Sedona landscape to whole new level.
Here's what we will show you:
Sedona photography tips to get the best possible images
15 stunning sunrise and sunset locations in Sedona
The perfect blend of popular spots and hidden gems
Our own photos from each place in the list
How to access each Sedona sunrise or sunset photo spot
Bonus alternative Sedona sunrises and sunsets
Let's get into creating your wishlist for the best sunrise and sunset spots in Sedona, Arizona!
Top Tips For Sedona Photography
Before we jump into the list of best photography locations, we're going to share our top tips for taking sunrise, sunset and daytime photos in Sedona to help you make the most of your Sedona itinerary.
Parking – Sedona is wildly popular and as a result it can be a challenge getting parked almost everywhere. You will have no problems at sunrise because you will beat the crowds, but you will need to be organized and arrive early if you want to make it in time to a specific sunset spot.
Hiking – Discount sunset at all photography locations that also double as famous Sedona hikes. However, you can easily get parked at popular trailheads for a sunrise shoot.
Alternatives – We will list some bonus alternatives to many of the more well known photography spots in Sedona. But you can also do your own scouting during the day to see if you can find a hidden gem of your own.
Weather – Many of the best photography locations in Sedona require hiking to reach a climactic viewpoint. Carefully consider weather in Summer and Winter when temperatures can be extreme. We needed heavy coats to keep warm at sunrise and sunset during our visit to Sedona in December.
Gear – You will be shooting sunrises and sunsets in low light, so you will need a tripod at a minimum. Consider using a graduated ND filter for exposure, a shutter release control / countdown timer in camera and a wide angle lens to capture as much of the Sedona landscape as possible in one frame. Clear your SD cards and bring a spare battery, you're going to need it!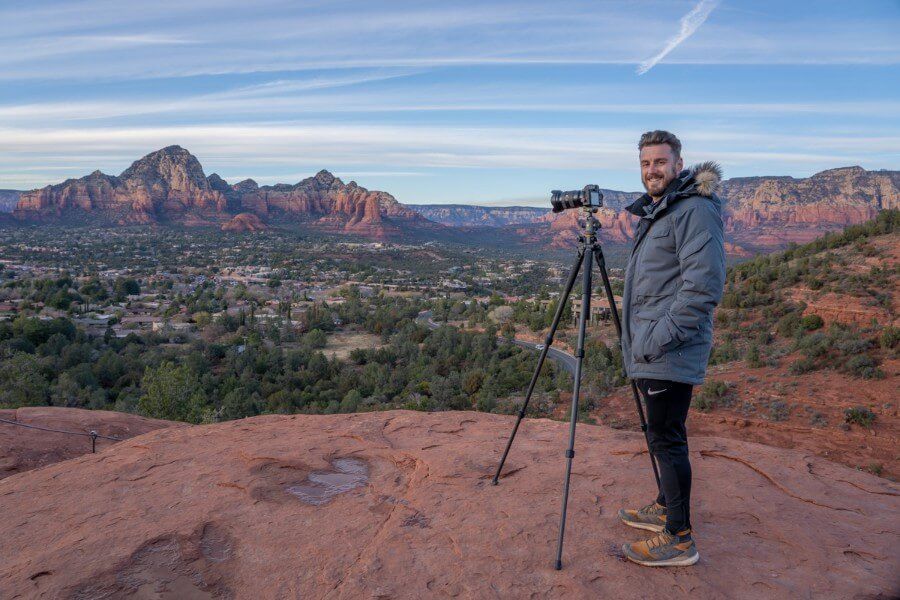 Sedona Sunrise Photography
Sedona is one of the most popular places to visit in the USA and sunrise is by far the best time to be out exploring the special red rock landscape with your camera.
There are very few people around during sunrise in Sedona.
Once you've seen how overcrowded every hiking trail and photography spot becomes during the day, you will appreciate those early mornings even more.
The small city of Sedona emits a relaxing and calm aura in the hours around sunrise.
Plus, you might have even the most popular Sedona sunrise photography locations entirely to yourself as vibrant colors and thick clouds erupt from behind dramatic red rocks.
The same cannot be said for sunset in Sedona.
Getting An Early Start
What is the major benefit to prioritizing sunrise over sunset in Sedona?
Well, getting parked is the biggest challenge everyone faces when visiting Sedona. But you will be able to park almost anywhere you want if you arrive before first light.
As a result, you will not have issues photographing any of the best sunrise spots in Sedona covered in this guide. Conversely, getting parked at sunset is almost impossible.
Whether you are going exclusively on a photography trip or you are combining hiking with photography in Sedona, we cannot stress enough how much easier you will make it on yourself if you set that early alarm.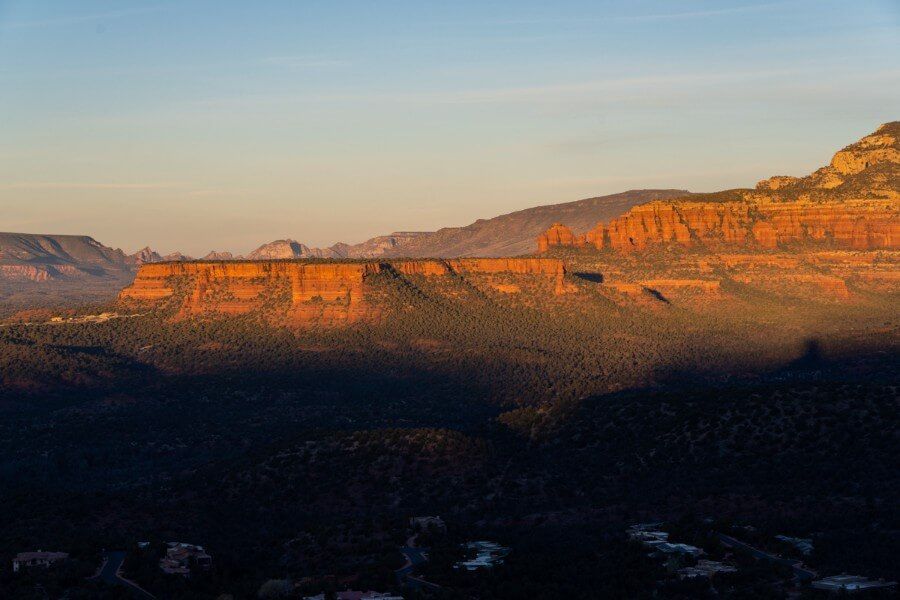 Sedona Sunset Photography
Sunset is another wonderful time of day in Sedona. City lights begin to dazzle, colorful clouds swirl above and softening light cools the majestic red rock walls as day transitions into night.
But like sunset in most other tourist heavy destinations, the best spots are naturally going to be busy. And it gets worse. Sedona is all about being a photogenic natural landscape, so you can imagine what happens at dusk!
If you plan to shoot sunset photography at a prominent Sedona icon such as Cathedral Rock, you will need to plan accordingly by arriving hours before and having a backup parking plan.
The good news is we have a handful of off the beaten path Sedona sunset photography spots that will beat the crowds.
Map Of The Best Sunrise And Sunset Photography Spots In Sedona, Arizona
Here's a link to our interactive Google Map showing the exact locations of each sunrise or sunset photo spot in Sedona.
Click or touch to activate the map, zoom in and out, scroll around and familiarize yourself with the area. Having a better understanding of the Sedona region will help when you arrive.
Orange icons – Each of the best Sedona sunrise and sunset locations
Blue icons – Alternative options close to the main spots
Top 15 Places To Photograph Sunrise And Sunset In Sedona
Photographing both a Sedona sunrise and Sedona sunset are featured in our popular guide on the very best things to do in Sedona.
We hope you enjoy the stunning red rock landscape as much as we do.
So without further ado, let's get stuck into the best locations for shooting sunrise and sunset photography in Sedona!
Note: Within each photo spot we will include pertinent information on parking, hiking and photography.
1. Devils Bridge – Busiest Photography Location In Sedona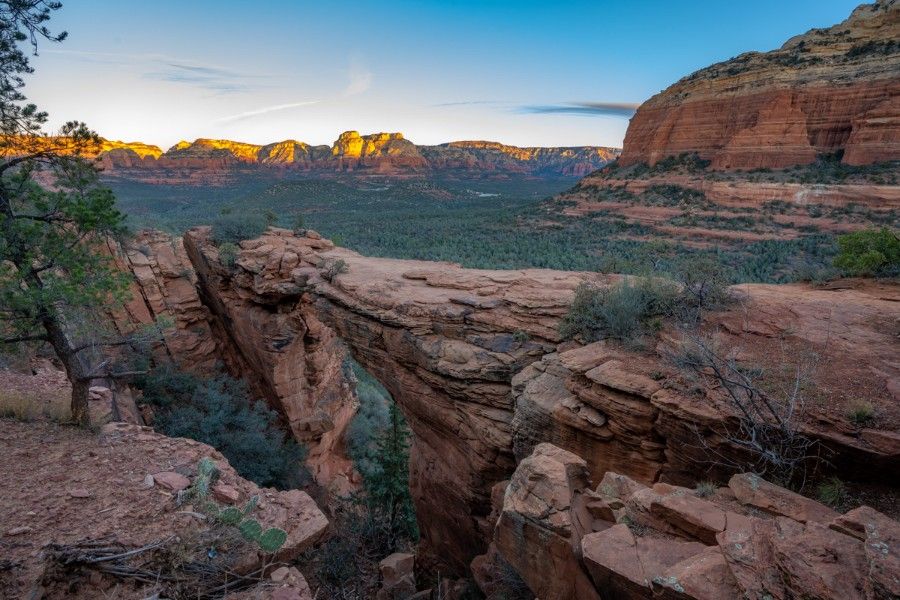 Where better to start than the busiest and most chaotic photography location in Sedona. Devils Bridge is the famous in-demand instagram shot everyone just has to have in their feed.
We hiked to Devils Bridge in time for sunrise and we have to say it was a little underwhelming.
There were already around 15 people at the bridge, the formation is much smaller than it looks and the sunrise itself was flat.
Parking – The only time you can guarantee getting a parking spot at Dry Creek Trailhead or Mescal Trailhead (both lead to Devils Bridge) is before or around sunrise. After 8am the lots are non stop full.
Hiking – The hike to Devils Bridge is relatively easy, with two or three steeper climbs on uneven rocks near the bridge. If you hire a Jeep in Sedona you can drive Dry Creek Road and park at Devils Bridge Trailhead, cutting out over half of the hike.
Photography – Sunrise is the best time to shoot Devils Bridge in Sedona. Not just because you can park and beat the bulk of the crowds, but also because the sun rises from directly behind the classic bridge viewpoint. There's a tall mountain to your back, so the sun takes longer to reach Devils Bridge.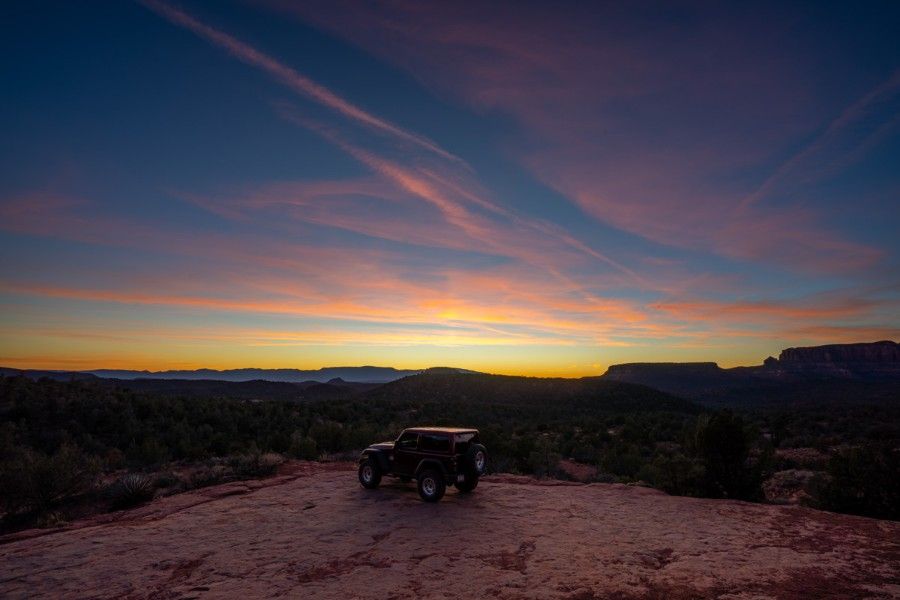 Very few know that right behind Dry Creek Trailhead there is a secret and secluded spot perfect for both sunrise or sunset.
You will have expansive and close up views of Sedona's western red rock canyon walls, which either illuminate brightly at sunrise or sit directly underneath the sun at sunset.
We watched a serene and colorful sunset here after driving our Jeep over boulders and into the Dry Creek Vista area.
Parking – Park at Dry Creek Trailhead or drive your Jeep over rocks into the vista area. Sunrise will be quiet but sunset will likely be busy in the lot, so you may have to find alternative parking.
Hiking – There is no hiking involved to reach Dry Creek Vista. Simply head over to the northwest side of Dry Creek parking lot, pass by the boulders and walk for 1 minute.
Photography – The best part of this spot is how close you are to towering canyon walls, which will glow orange and yellow at sunrise. Sunset is attractive, but you need a bit of luck with clouds and colors in the sky. Without those it could be an underwhelming place to watch sunset compared to others in this guide.
3. Cathedral Rock – Most Iconic Formation In Sedona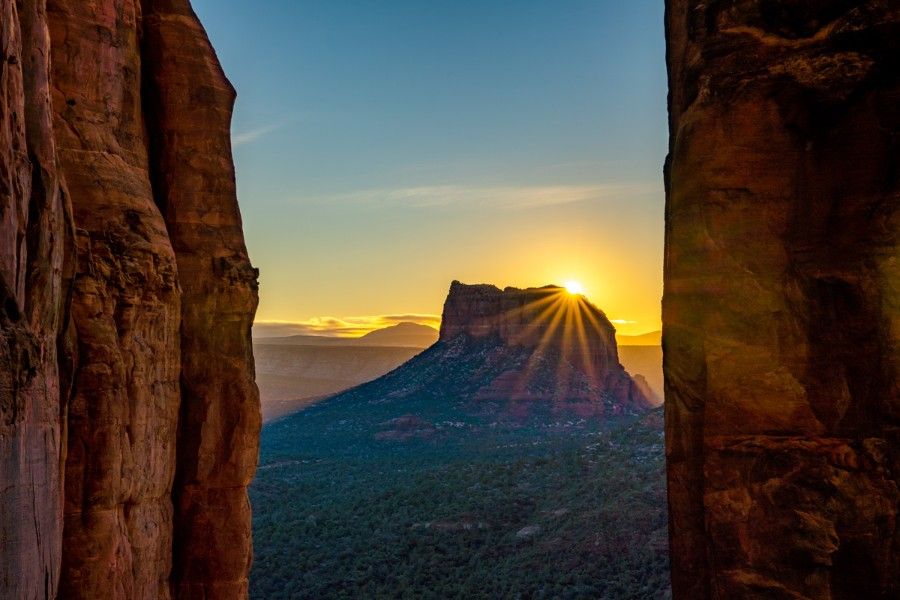 Cathedral Rock is the epicenter of Sedona's remarkable red rock landscape. The hoodoo-like spires atop the dome shaped mound of Cathedral Rock draw the eye from all other parts of the Sedona area.
We hiked Cathedral Rock for sunrise and it was amazing.
From behind giant finger shaped spires found at a hidden second summit of Cathedral Rock, we watched the sun rising from behind the enormous formation of Courthouse Butte.
Parking – Getting parked at Cathedral Rock trailhead is near impossible all day after 9am. Sunrise is the only time you will be able to park here without a waiting in a long line. If you want to do sunset, plan to park at either Baldwin, Red Rock Crossing, Yavapai or Bell Rock.
Hiking – The hike to Cathedral Rock in Sedona is short but very steep and on slick rock. It should take around 45 minutes to summit but you need solid shoes with good traction. Don't miss the second summit at the top.
Photography – Cathedral Rock images are typically less instagram and more pro photographer. Framing the surrounding landscape below from Cathedral Rock summit at sunrise or sunset is great, but in truth, we preferred shooting photos of Cathedral Rock from afar.
4. Bell Rock – Sedona Sunset Alternative To Cathedral Rock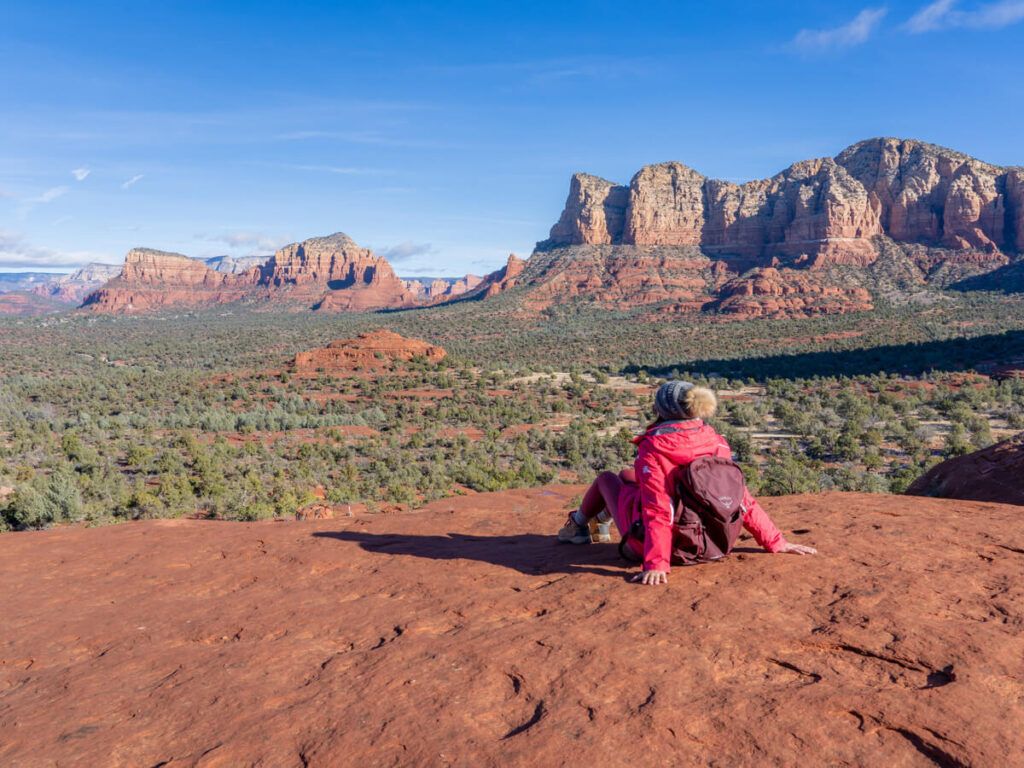 Bell Rock is another iconic formation found not too far from Cathedral Rock. It is twinned with Courthouse Butte and together they dominate the southern Sedona skyline.
We would suggest Bell Rock as an easier alternative to Cathedral Rock at sunset.
Bell Rock is one of the 4 main energy vortex sites in Sedona and sunrise or sunset would only enhance the uplifting atmosphere.
North facing views from half way up Bell Rock overlooking Chicken Point and Submarine Rock on the famous Broken Arrow Jeep trail are spectacular.
Parking – Bell Rock is hugely popular and parking is limited. You'll have no problems if you head out to shoot sunrise at Bell Rock, but sunset will be extremely crowded. Park at Yavapai as an alternative.
Hiking – The Bell Rock and Courthouse Butte Loop Trail is flat and easy but will take a few hours. Climbing straight up Bell Rock will only take 30 minutes and the elevation provides a much better photography vantage. Take care on the slick rock.
Photography – Bell Rock is another one we preferred taking photos of, rather than from. However, views from the base of the bell (near the top) are far reaching and open up the eastern Sedona mountains exquisitely. We would choose to do sunset over sunrise from Bell Rock.
5. Schnebly Hill Vista Overlook – Highest Vantage Point To Watch Sunset In Sedona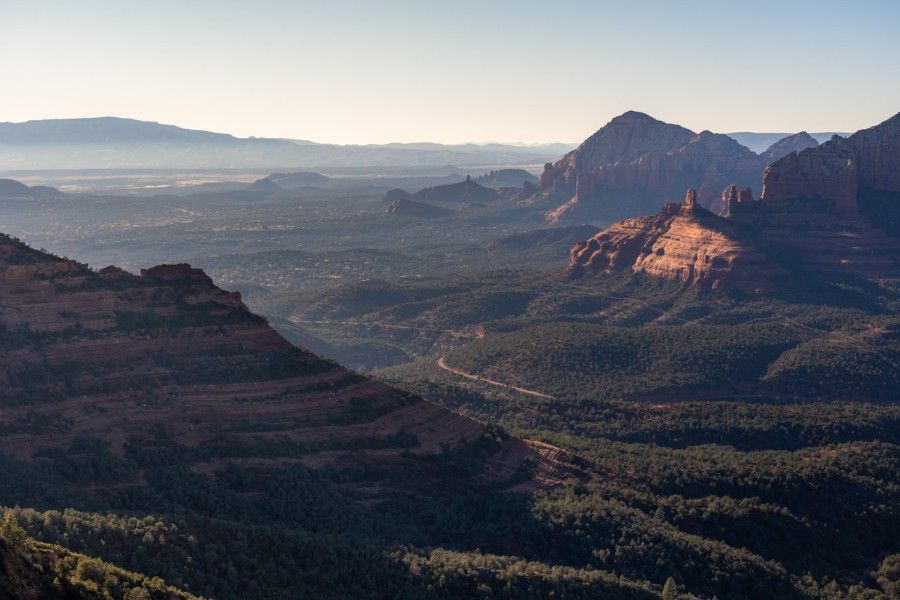 Schnebly Hill Vista Overlook is way up near the top of the enormous eastern mountains flanking Sedona. The west facing view looking down over town and the landscape is sensational.
We drove our Jeep up Schnebly Hill Road in late afternoon but didn't want to drive the 4×4 road back down in the dark. So we missed the sunset, but even the early evening view was mightily impressive.
Parking – Only 4×4 vehicles can drive up to the overlook directly from Sedona. However, we did see several campers parked up that had come up the back way from I-17. Those guys would have enjoyed both sunset and then sunrise from the comfort of bed.
Hiking – You can hike Casner Canyon Trail to Schnebly Hill vista overlook but it is unmaintained and hard to follow. We would recommend hiking to Merry Go Round (next on this list) instead.
Photography – The west facing view over Sedona from Schnebly Hill vista overlook is magnificent. You are at 6,000 ft, overlooking the town below at 4,350 ft with red rock formations and desert vegetation stretching as far as the eye can see. Both sunrise and sunset would be awesome from this viewpoint.
6. Merry Go Round – Jeep Tour Favorite Sedona Sunset Spot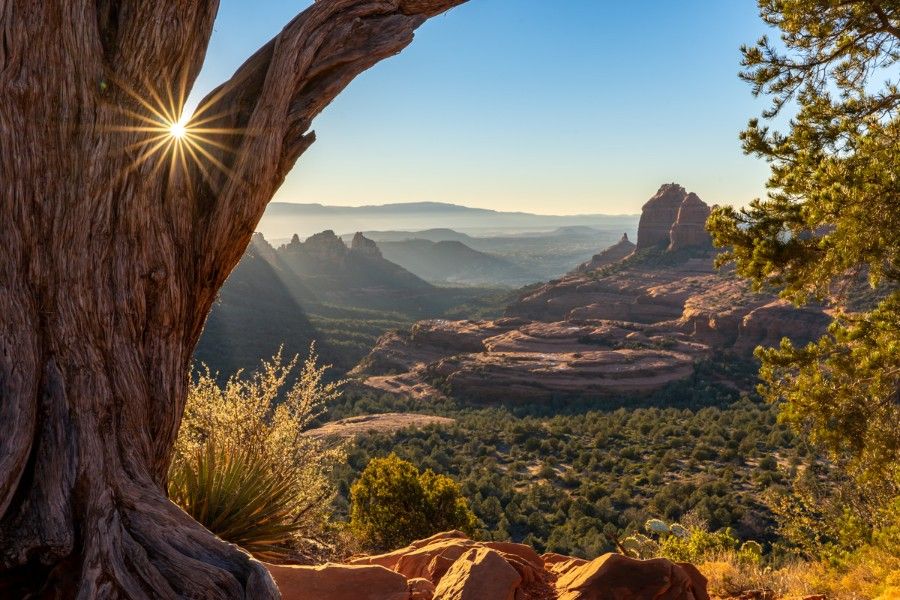 Merry Go Round is a fun rock formation that can be climbed, plus it is a popular wedding photo location in Sedona.
The rocky observation deck is located just 2 miles down Schnebly Hill from the vista overlook, but that 2 miles makes a huge difference when you're trying to get down ahead of the dark at sunset.
After leaving the vista, we stayed at Merry Go Round until very close to sunset. There were 3 other Jeeps full of tours snapping photos until the last possible second with us.
Parking – If you drive your Jeep or 4×4 vehicle up Schnebly Hill, you can park it on the side of the road right at the Merry Go Round formation.
Hiking – One of the best Sedona hikes to escape the crowds is called Munds Wagon Trail. You can hike Munds Wagon up to Merry Go Round for either sunrise or sunset. Just be sure to carry a headlamp and backup light source.
Photography – Merry Go Round is popular among Pink Jeep Tours, people hiring Jeeps and wedding shoots. The view is almost as expansive as the vista but here you can frame a wonderful photo using trees or rocks in your foreground. Sunset is the more likely option unless you want a unique sunrise hike.
7. Chapel Of The Holy Cross – Easy Access Panorama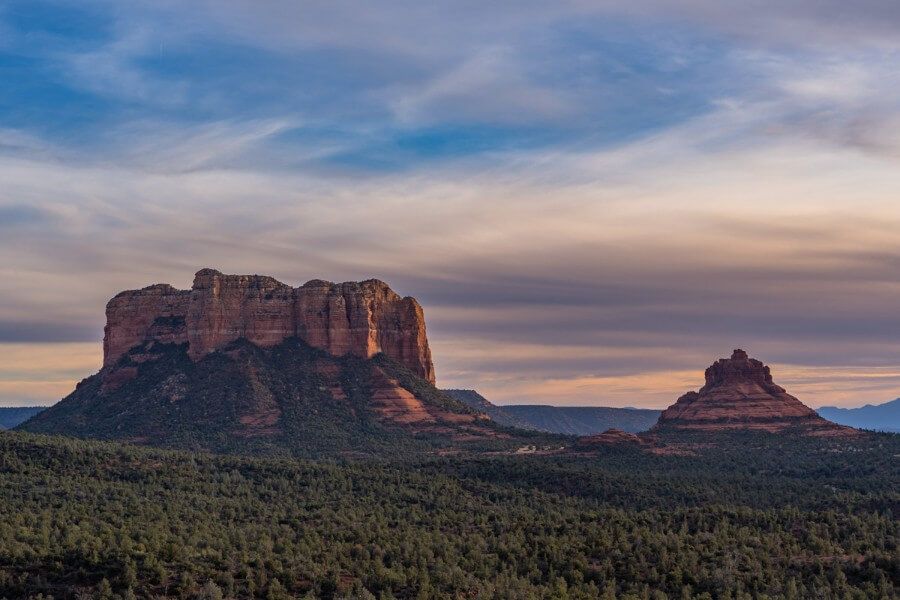 The stunning and unique Chapel of the Holy Cross is a classic photography subject in Sedona but it is also a surprisingly excellent sunrise or sunset vantage point.
To one side you have clear views of Bell Rock and Courthouse Butte, and to the other side a direct line to Cathedral Rock.
We never expected the view to be so far reaching and extensive from Chapel of the Holy Cross. Getting to a higher elevation for photographing landscapes doesn't always have to involve a hike or Jeep trail!
Parking – There are plenty of parking spaces both at the bottom of and close to the top of Chapel of the Holy Cross. Even around sunset when it is busiest you should have no issues.
Hiking – You do not have to hike at all to reach Chapel of the Holy Cross. This makes it a perfect Sedona sunrise or sunset photography location for those with accessibility concerns.
Photography – Don't worry if you haven't got a wide angle lens at Chapel of the Holy Cross. You will be better off with a walk-around lens such as a 24-105mm so you can shoot the famous formations at varying focal lengths.
8. Doe Mountain – Unmissable Sedona Sunrise Photography Location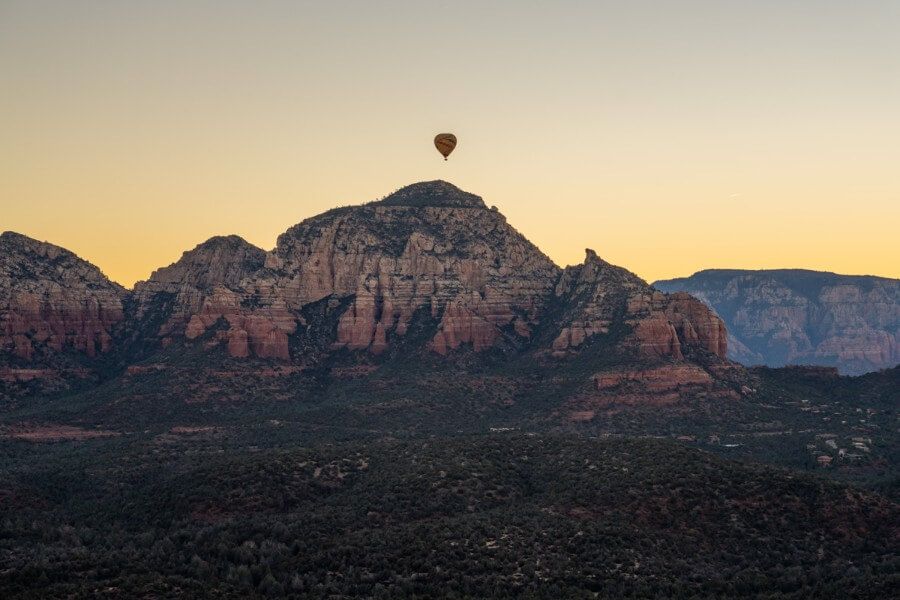 Doe Mountain is up there with the very best sunrise photography spots in Sedona, Arizona. A short but steep hike leads to a table top mesa with spectacular southeast facing views over Sedona and hot air balloons taking to the yellow dawn sky from the canyon below.
Watching a stunning sunrise from the cliff edges of Doe Mountain was one of our favorite mornings during our first visit to Sedona. We only saw two other couples up at the summit all morning.
Sunrise spectacles like this one from Doe Mountain in Sedona are among the very best things to do in Arizona.
Parking – Doe Mountain shares a parking lot with Bear Mountain, which is one of the most popular hard hikes in Sedona. The lot isn't huge, but it will be empty for sunrise. Sunset is another story and you might have to park at nearby Fay Canyon trailhead which has far more spaces.
Hiking – The hike to Doe Mountain summit is very short but it is steep. It should take around 30 – 40 minutes to reach the mesa and another 5 minutes on flat land to reach the viewing area.
Photography – Sunrise is a phenomenal spectacle from Doe Mountain. Sunset wouldn't be as impactful because the view is southeast facing.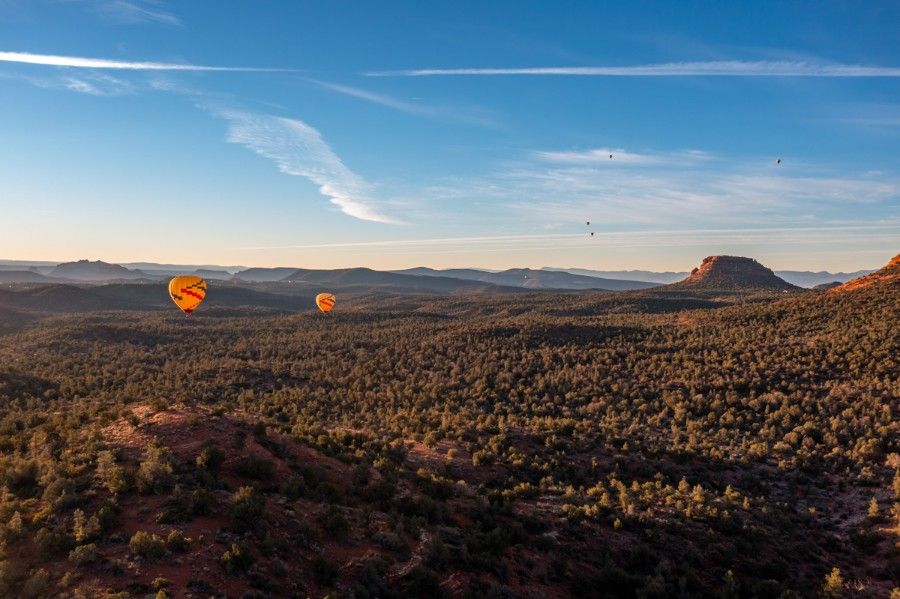 We bet you've never heard of Mystic Vista. It is not even on Google Maps or our Gaia hiking app, but it does exist.
This slightly elevated rocky platform is located very close to Fay Canyon trailhead at the end of 4×4 Forest Service Road 9587.
Similarly to Doe Mountain, Mystic Vista in Sedona is mostly south / southeast facing which means it is best at sunrise. You will almost certainly have this amazing photo spot to yourself at dawn or dusk.
Parking – Park at Fay Canyon and walk down the road unless you hire a Jeep or drive your own 4×4 vehicle to Sedona.
Hiking – At the end of the road keep heading south until you climb a small mound, which opens up the hidden view.
Photography – Mystic Vista is perfectly suited to sunrise as the sun rises behind a range of red rocks directly ahead of the viewpoint. Hot air balloons taking off will come into view on your right side.
10. Chimney Rock – Wonderful Sunrise And Sunset Spot Close To Sedona Town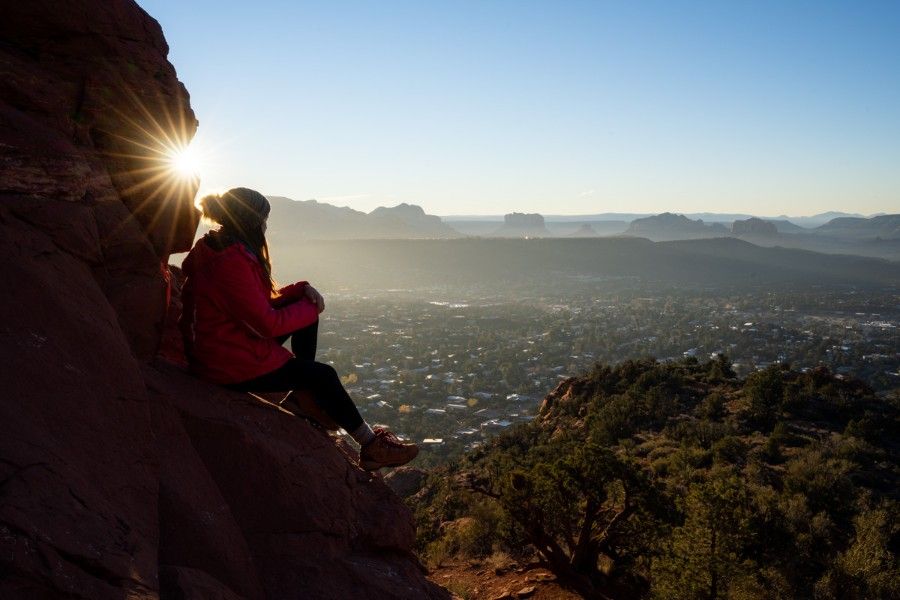 You will see the unique submarine shape of Chimney Rock formation from several hiking trails and photography locations around Sedona.
But when you stand at the base of the chimney spires, you will discover a special view over Sedona opens up to your camera and lens.
We hiked to Chimney Rock for sunrise on our last morning in Sedona and it didn't disappoint. The trail is unmaintained and steep but well worth the effort for the sunrise display.
Parking – Chimney Rock is relatively unheard of and lightly trafficked, despite being on the outskirts of town. Park at Andante trailhead or Thunder Mountain trailhead for access.
Hiking – A loop connects Chimney Rock and Little Sugarloaf Trail, which we get into next. Chimney Rock is a short trail but has a fairly challenging climb during the upper portion as you approach the spires.
Photography – Both sunrise and sunset are wonderful from the base of Chimney Rock's spires. Lines of sight are from east to northwest, which covers both dawn and dusk. Your expansive view is downtown Sedona, Airport Mesa and the western canyons.
Want more sunset inspiration? Don't miss our popular roundup featuring the most beautiful sunset quotes.
11. Little Sugarloaf – Sedona Sunrise And Sunset Goldmine (Writers Top Pick)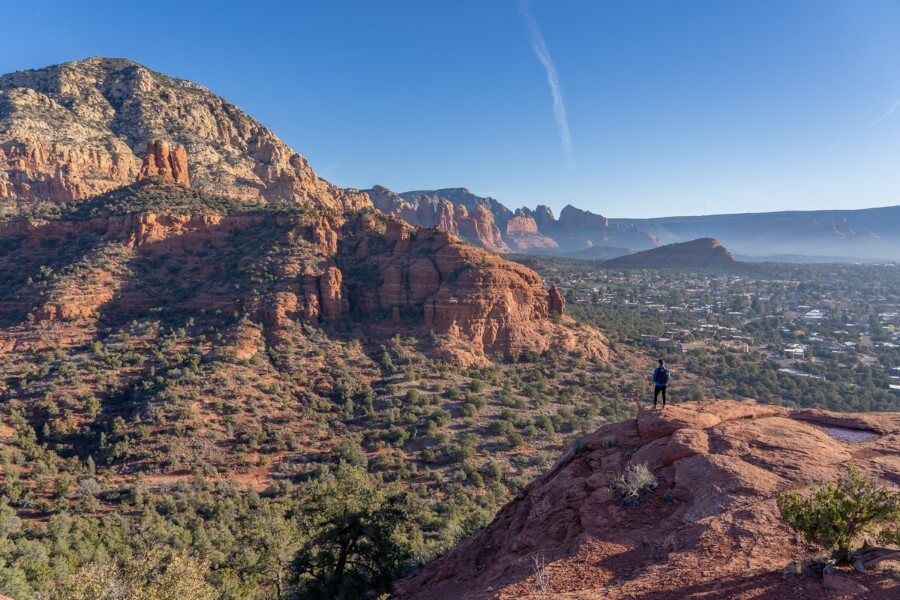 Little Sugarloaf is our top recommendation for best sunrise and sunset photography location in Sedona.
Taking into account location, ease of access, view and crowds, this vantage point is hard to beat. Little Sugarloaf is located very close to Chimney Rock, but it is lower, flat topped and away from towering cliffs.
We have to admit we had no idea about Little Sugarloaf until we stood at the base of Chimney Rock moments before sunrise.
Once we made our way over to the table-top of Little Sugarloaf and realized it has a 360 degree unobstructed panorama over Sedona, we knew it was the one.
Unfortunately, it was our last day in Sedona!
Parking – Same as Chimney Rock, you can park at Andante trailhead or better you can park at Thunder Mountain trailhead. You'll have no issues parking for sunrise but sunset may be busier in the small lots.
Hiking – Where Chimney Rock has a difficult final section, Little Sugarloaf does not. It shouldn't take longer than 25 minutes to summit Little Sugarloaf from Thunder Mountain trailhead.
Photography – The open and flat topped Little Sugarloaf is almost unheard of, so you'll likely have the place to yourself. Plus, staggering 360 degree views give you the freedom to shoot into or away from the sun at both sunrise and sunset. And you can easily use people as subjects with all the room up there.
12. Airport Mesa Scenic Vista – Most Popular Sedona Sunset Location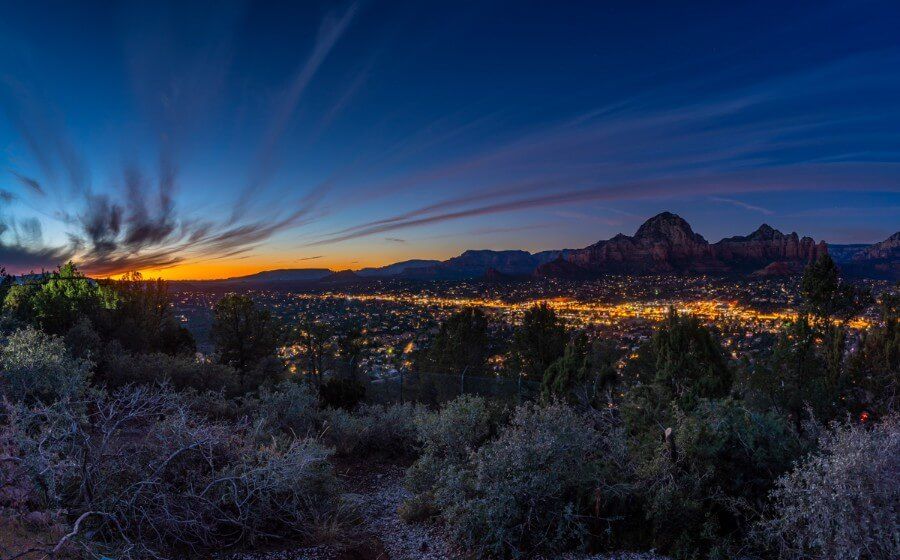 Airport Mesa is the most well known sunset photography location in Sedona.
Sedona airport is located atop a narrow ridge and this ridge provides an astounding vista overlooking the town below. This Sedona photography location won't be news to you, but it is one we couldn't leave off this list.
We're not usually big fans of the obvious or popular photography locations but the view of Sedona from Airport Mesa at sunset is fantastic.
Make sure you stay until after the sunset for the best colors in the sky over downtown Sedona.
Parking – Airport Mesa vista is easily accessible for all visitors with a huge parking lot right next to the viewpoint. You do have to pay $3 for the pleasure, but it's well worth a few bucks for the view.
Hiking – Absolutely no hiking required to enjoy the famous Airport Mesa view overlooking Sedona.
Photography – Airport Mesa's popularity is justified. Sparkling lights of downtown Sedona are your middle-ground, towering red rocks are your background and a colorful sky backdrop compliments the frame perfectly. The viewpoint is crowded at sunset so plan to arrive early to claim your tripod space.
13. Airport Mesa Vortex Site – Unique Views Over Bell Rock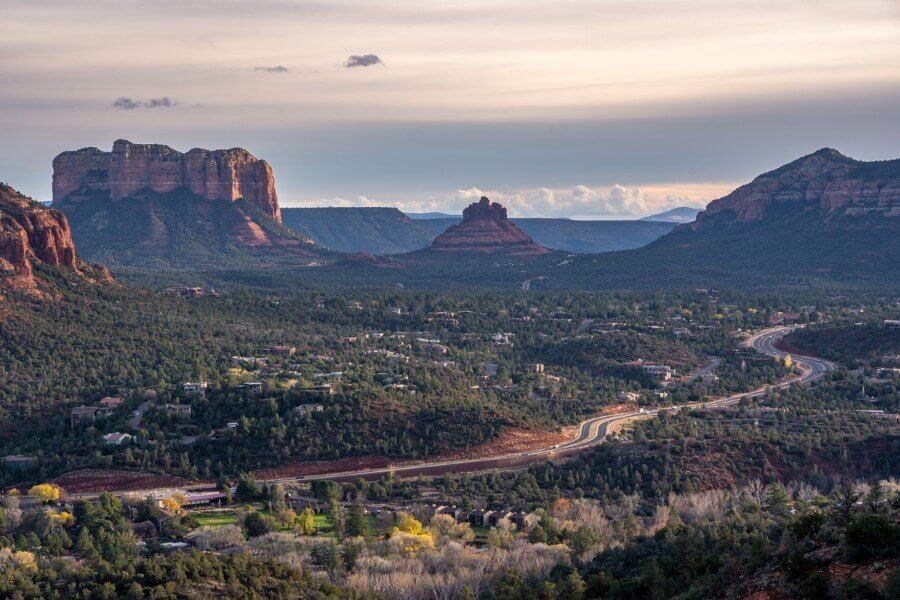 Airport Mesa vista is at the top of the ridge, but at the bottom of the ridge you will find a flat topped rocky observation deck known as Airport Mesa vortex site.
This vantage has partially obstructed views of town but it has stunning views of Bell Rock and Courthouse Butte, as well as Sedona's eastern mountains.
We hiked down Sedona View Trail from the vista to the vortex site and didn't expect such amazing views to the east and southeast.
Airport Mesa vortex site is a fantastic Sedona sunset alternative if you're not a fan of the city view up top.
Parking – You can park in a roadside lot at the base of the viewpoint but there are limited spaces and high demand around sunset. You might have to park at the paid lot near the vista and walk down.
Hiking – A very short hike up uneven steps is required to access the vortex site viewpoint from the parking area. Sedona view trail will take around 20 minutes to hike down from the vista.
Photography – Sunset is the best time to shoot here as sunrise would be obstructed. With a zoom lens you can capture the main road cutting through the landscape toward the Village of Oak Creek.
14. Lovers Knoll – Magnificent Cathedral Rock Views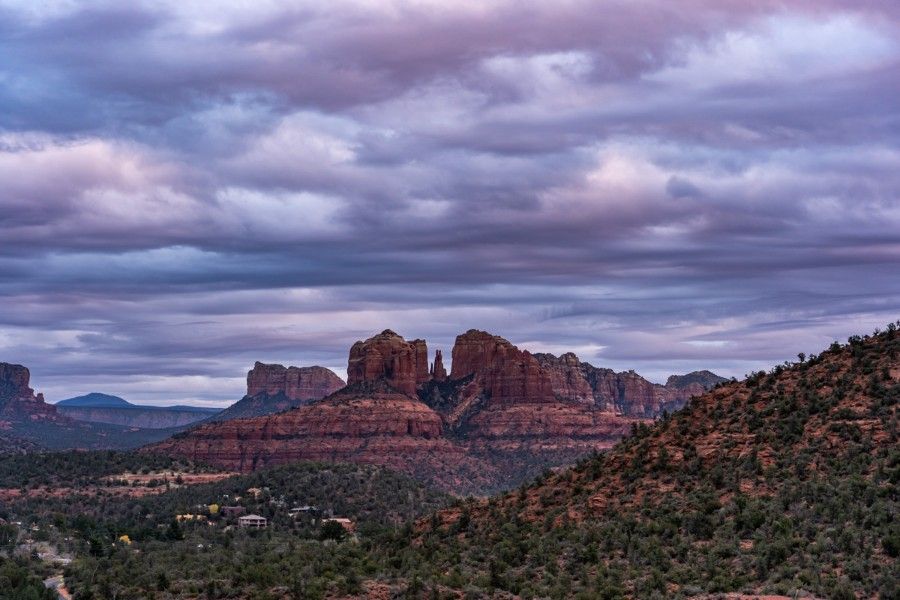 Let's shift focus to the forgotten southwest side of Sedona.
Barely anyone ventures down Red Rock Loop Road and that is a shame because we found arguably the best view of Cathedral Rock on this side of town from Lovers Knoll.
Lovers Knoll is a simple roadside pull-off with stunning east facing views over magnificent red rock country in Sedona and it shouldn't be missed.
We experienced a very purple, dark and mysterious Sedona sunset at Lovers Knoll. Our preference would have been Cathedral Rock illuminated by the sun but we were happy for the textured clouds as a consolation.
Parking – Pull off the loop road into a dusty gravel parking area. You won't have problems getting parked up at Lover's Knoll at sunrise or sunset.
Hiking – A very short walk up a small hill is required but it will take you 2 minutes at the most.
Photography – Sunrise and sunset would both work here. Sunrise you'd be looking at the sun with Cathedral Rock below, and sunset you can see Cathedral Rock glow a fiery red. Get creative by using trees and desert vegetation to frame Cathedral Rock.
15. Red Rock Loop Road Scenic Vista – Secret Spot For Pro Photographers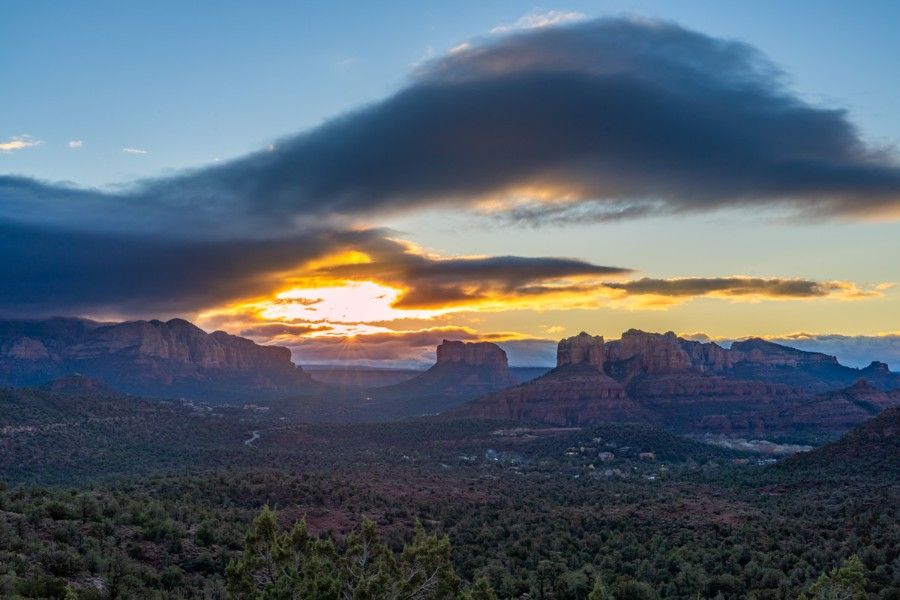 Even closer to town right at the top of Red Rock Loop Road you will find an inconspicuous scenic vista pullover with no signs or markings.
Park here and walk beyond the small juniper trees to reveal an immaculate Sedona vista overlooking Cathedral Rock at sunrise or sunset from a higher elevation than Lovers Knoll.
We were blown away by the view at this discreet Sedona location during sunrise and fortunately the sky played ball.
We had thick clouds and colors exploding from the horizon, which turned out to be a fantastic morning for photography in Sedona.
Parking – The scenic vista is easy to miss because it is right on a bend in the road. You might pass it and have to turn around. Only 2 or 3 cars will fit into the gravel and rocky pull off. If you are staying on the west side of Sedona, this overlook is incredibly easy to access.
Hiking – The vista is right on the bend so no hiking is required.
Photography – Both sunrise and sunset work equally as well here. At sunrise you can use the sun center frame and at sunset you could be lucky with the red rocks glowing or clouds for texture.
Cave Photography In Sedona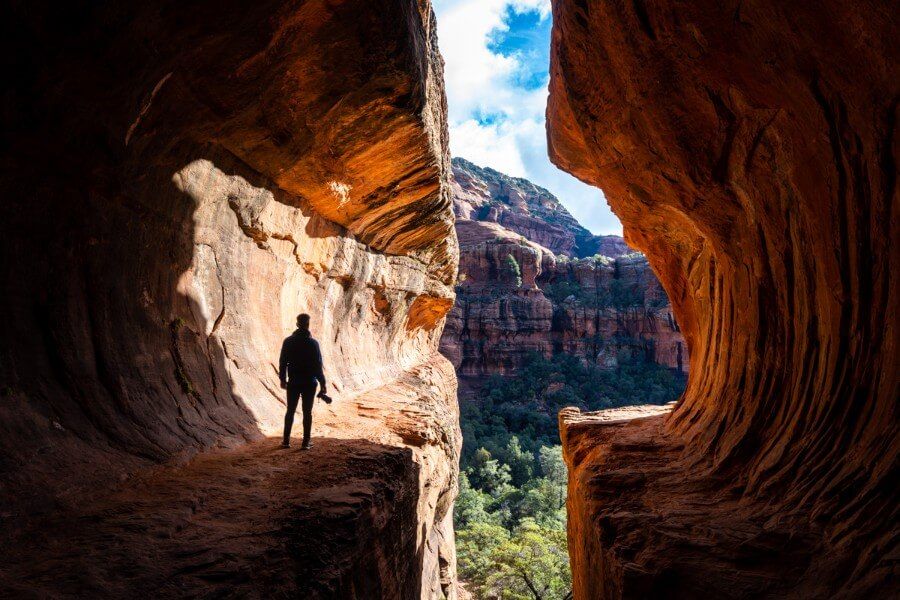 Did you know about the small collection of exceptionally photogenic caves hidden away in Sedona's red rock wilderness?
Whether your answer is yes or no, we highly recommend you include at least one or two caves on your Sedona photography itinerary.
We've written a detailed guide to the 7 best caves in Sedona, which includes details on where to park, which trails to hike and how to gain access to each cave.
None of the caves we visited make this list of best sunrise or sunset photography locations in Sedona.
There are three reasons for this:
The caves are almost entirely enclosed with no view
Cave openings do not face east or west for sunrise or sunset
Certain caves involve hiking and / or climbing which would be dangerous before sunrise and after sunset in the dark
However, with that said, you will have plenty of time between shooting sunrise and sunset locations found within this guide. So from mid morning to late afternoon you can go cave hunting.
The best caves to visit for photography in Sedona are as follows:
Best Time Of Year To Photograph Sedona, Arizona
Let's take a quick look at the seasons in Sedona and any impacts on photography.
Spring and Fall – Busiest periods in Sedona which means more chance sharing the best photography locations with others, having issues with parking and paying more for hotels. However, these seasons have the most comfortable temperatures, especially around sunset. Sunrises aren't too early and sunsets aren't too late.
Summer – Slightly less busy than Spring and Fall, with cheaper accommodation options and fewer people fighting for parking spaces. However, temperatures can be dangerously high during the day, sunrise is very early and sunset is very late.
Winter – Off season in Sedona but it is still busier than you might imagine. Cheapest hotel options, best chance of getting parked and quieter photography spots. However, mornings and evenings can be very cold so you need to wrap up for sunrise and sunset photography shoots around Sedona.
More From Sedona
More Photo Spots
Want more Arizona content? Head over to our Arizona travel guides to explore the best of Grand Canyon, Sedona and beyond.
---
We hope this guide to the best sunrise and sunset photography spots in Sedona, Arizona helps with planning your visit!
Please let us know if you have any questions about sunrise, sunset or photography locations during your trip to Sedona in the comments below.
Happy Snapping,
Mark and Kristen
Was This Article Helpful? Pin It For Your Hike!
Note: This article contains affiliate links. When you make a purchase using one of these affiliate links, we may earn a small commission at no extra cost to you.
All Rights Reserved © Where Are Those Morgans, LLC. Republishing this article and/or any of its contents (text, photography, maps, graphics, etc.) in whole or in part is strictly prohibited.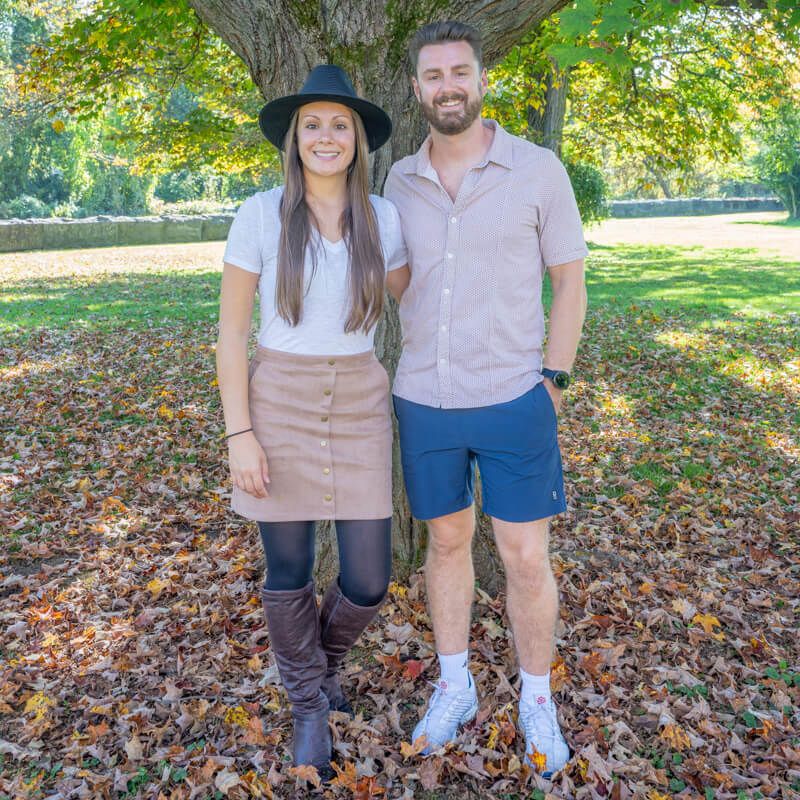 Mark and Kristen Morgan are travel, hiking and photography experts. Over the last 6 years traveling full time, they have explored more than 40 countries and 30 US states.
Their work has been featured in USA Today, Gestalten, Get Your Guide, CityPASS and Condé Nast Traveler along with various other publications.