The thrilling hike to Keyhole Cave in Sedona is not marked on any map, there are no trail signs and the cave entrance climb is challenging. Keyhole Cave is definitely the most adventurous of the hidden caves in Sedona.
In this guide, we'll explain everything you need to know about hiking the Sedona Keyhole Cave Trail and show you exactly how to get into the enormous Keyhole Cave based on our own experiences.
Let's begin.
Our Keyhole Cave Experience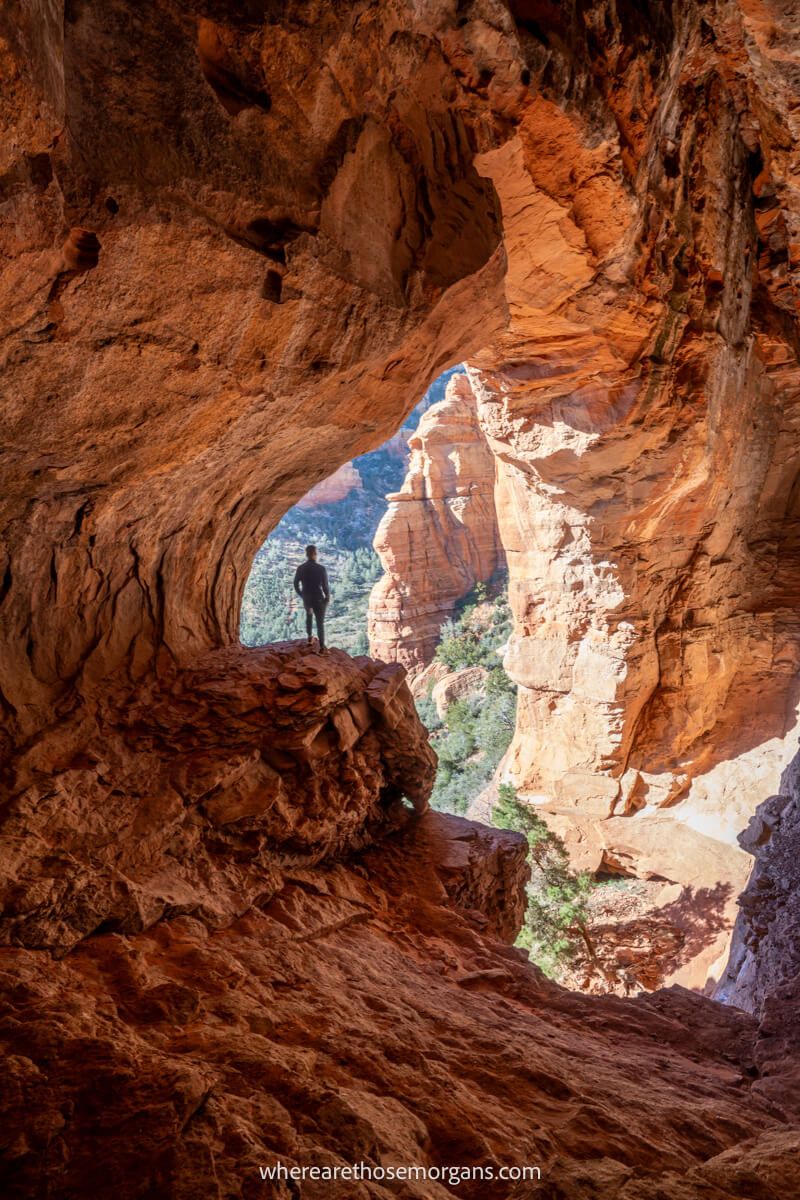 We hiked the exciting Keyhole Cave Trail during our week long visit to Sedona at the end of 2021. It took us almost 3 hours to carefully plot our route both ways through rough desert vegetation along with climbing in and out of the cave.
What we can tell you after hiking almost all of the best trails in Sedona is that Keyhole Cave is one for the more experienced hiker. We would not recommend trying this trail if you are new to hiking or have a fear of heights because the cave access requires some climbing.
Hiking Statistics
Trail Distance: 2.3 miles roundtrip
Elevation Gain: 500 feet
Hike Difficulty: Moderate but cave access is hard
Time Required: 3 hours
Trailhead: Teacup Trailhead / Sugar Loaf Trailhead
Best Time: Mid morning to mid afternoon
We clocked 2.3 miles roundtrip on our Gaia GPS map when hiking Keyhole Cave.
However, it is important to know that there is no designated path and you will be effectively forging your own route both ways.
So if you take a more direct path you can probably hike this trail in 2 miles, but if you take a less direct path you could end up clocking in at around 2.5 miles.
Sedona Keyhole Cave Map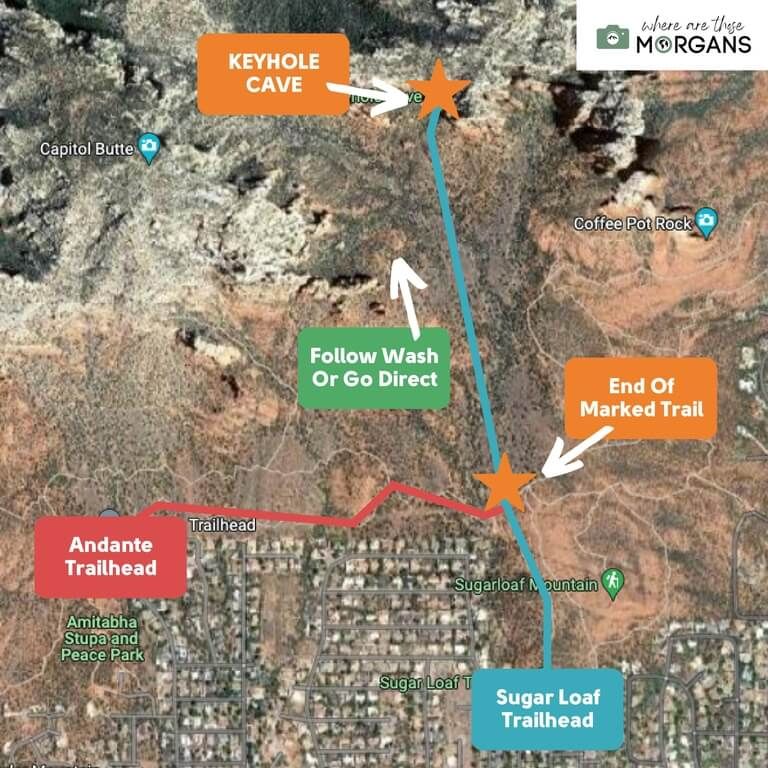 The trail map we created above shows parking lots and route options for hiking to Keyhole Cave in Sedona.
Park at Sugar Loaf Trailhead and follow the blue line directly to Keyhole Cave for the quickest route.
Map key:
Blue Line – Most direct route to reach Keyhole Cave
Red Line – Andante Trail backup parking area
Orange Stars – Trail is not marked between stars
How Do You Get To The Keyhole Cave In Sedona?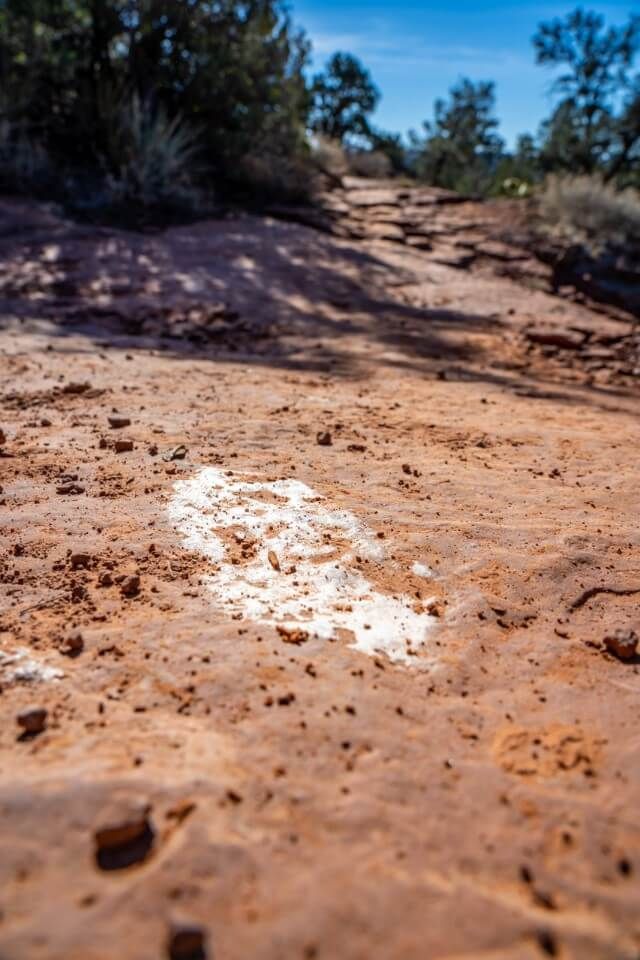 You will just about be able to see Keyhole Cave in a distant collection of red rocks when you park at Sugarloaf Trailhead. It looks like a circle with one leg on the left side, a bit like the shape of a P. Make a mental note of this obvious grouping of red rocks, which are due north.
Once you leave the designated trail and begin walking off-trail, just keep heading north for those same red rocks. The gigantic Keyhole Cave entrance will become apparent around two-thirds into the hike.
You might end up having to track back or reconsider how you advance at times, but you will eventually reach the cave entrance without getting lost.
Hiking Tip: When exploring outdoors, be sure to always practice the seven principles of Leave No Trace to preserve natural beauty so others can enjoy the same environments. This is especially important on the hike to Keyhole Cave because it is unmarked. You must be responsible and take extra care of this area.
Hiking Walkthrough
Let's get into the Keyhole Cave hiking walkthrough. We are going to show you the entire trail step-by-step so you know exactly what to expect.
Don't forget you can use our photos below throughout your hike to keep track of where you are.
1. Park At Sugar Loaf Trailhead
Keyhole Cave is southwest facing so you can park at Sugar Loaf Trailhead anytime between mid morning and late afternoon for the best light once you reach the cave.
There aren't many parking spaces at Sugar Loaf Trailhead. If it's full, either come back later or park at Andante Trailhead instead.
Don't forget you need to display either an America the Beautiful Pass or a Red Rock Pass. If you don't have either, buy a 1 day or 7 day pass at the ticket machine or online at recreation.gov.
2. Take Teacup Trail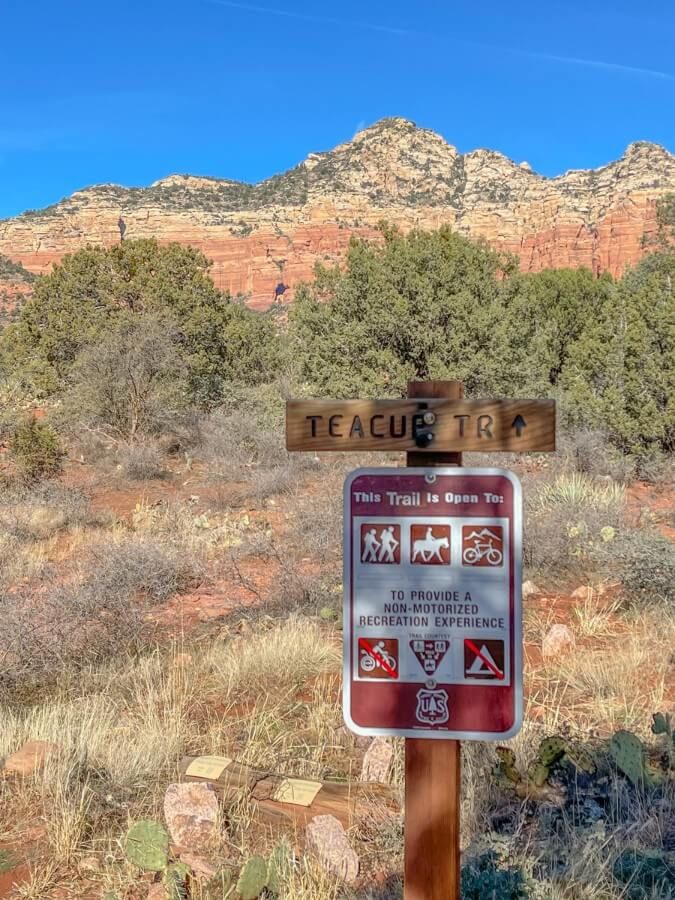 Despite the parking area being called Sugar Loaf Trailhead, you begin the hike to Keyhole Cave on the Teacup Trail.
Look at our photo above. You can see Keyhole Cave shaped like a P in between the trees above the wooden Teacup Trail marker. From this point you will walk directly towards the P shaped cave.
3. Stop At Thunder Mountain Trail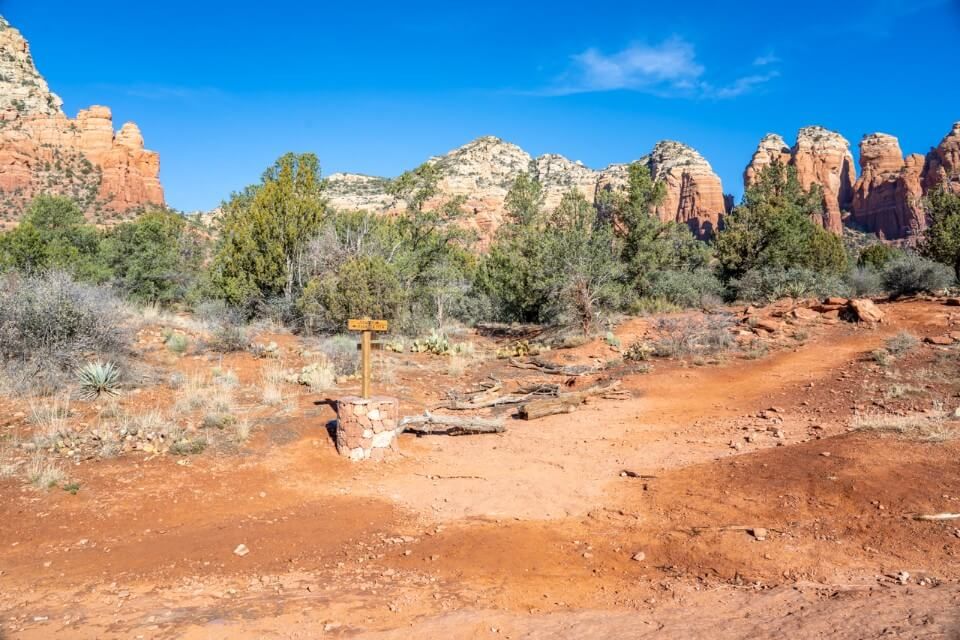 Follow small white painted lines on the rocks along Teacup Trail for 0.4 miles until you reach a T-junction crossroads with Thunder Mountain Trail.
Sugarloaf Mountain looms tall to your right side. To the left is the route to Andante Trailhead, so if you parked at the backup lot, this is where you will rejoin the walkthrough.
4. Go Off-Trail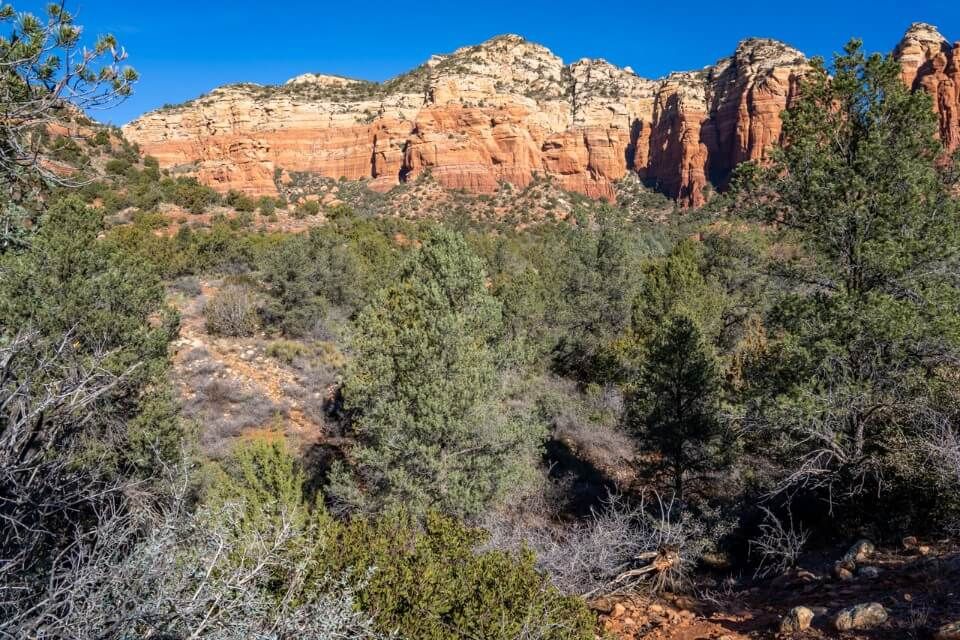 The wooden sign trail sign will show you Teacup right and Thunder Mountain left. You will not take either direction.
Instead, you are going to hike directly straight ahead beyond the wooden sign as though you are heading for the red rock formation on the horizon.
Now, it is vital that you are respectful of the natural environment the second you cross into the unmarked wilderness area.
There are no designated trails leading to Keyhole Cave. However, you will find several lightly beaten paths all leading north to the red rocks.
5. Find Your Preferred Route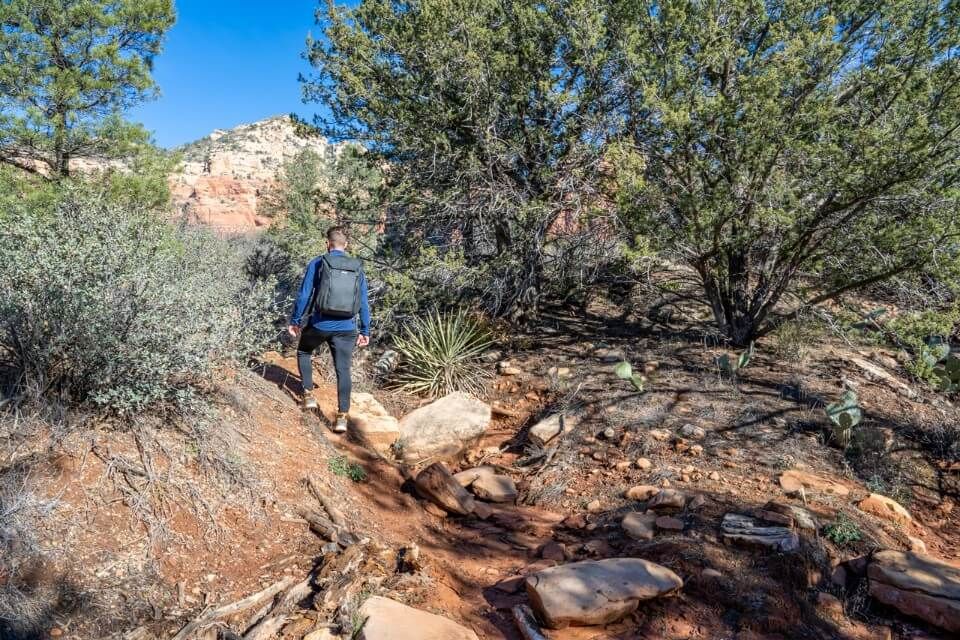 It is important to know that you will be forging your own route to Keyhole Cave.
From our experience, we think there are three ways you can hike this trail:
Find and hike the very obvious deep and winding wash.
Stay high above the wash and go more direct to the cave.
A combination of both the wash and going direct.
It doesn't matter how you hike to Keyhole Cave as long as you keep heading north for the red rocks.
The wash will take longer because it slaloms like switchbacks but it is easier to navigate. Going more direct will lead you through aggressive desert vegetation and plenty of trail blocks requiring a rethink.
On the way to Keyhole Cave we ended up doing a bit of both, but on the way back we stayed out of the wash because we knew the best route.
6. Approach Keyhole Cave Entrance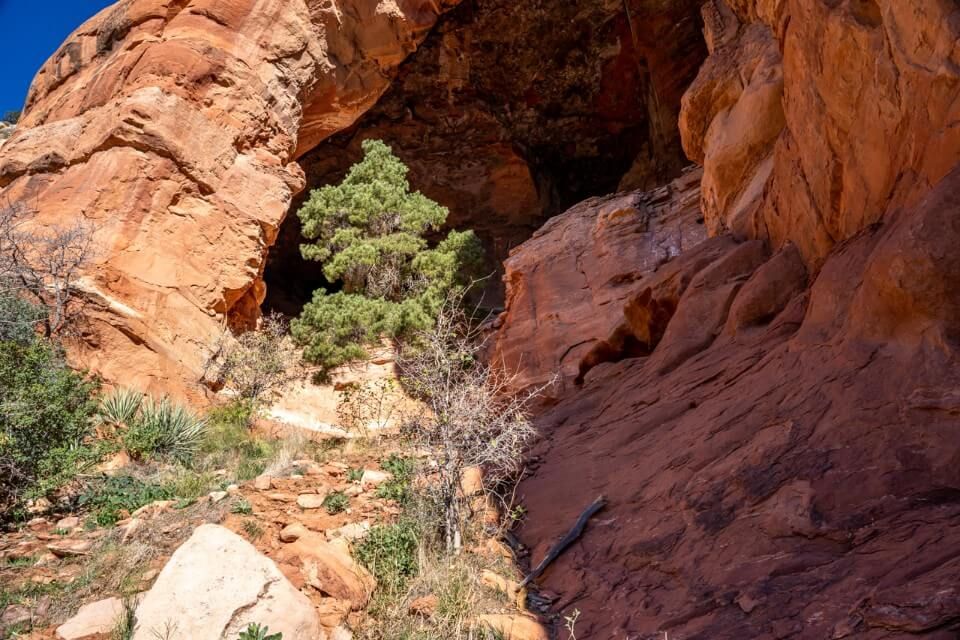 Up to now the trail has been adventurous because you are forging your own path. However, for the first time you will now find the terrain turning steeper on your final approach to Keyhole Cave.
The very last section to the cave entrance is very steep with loose stones and small rocks so take extra care.
Once you are at the massive cave entrance you can finally see the impressive and vast interior chambers of Keyhole Cave. Now you have to get up there!
7. Look For Rope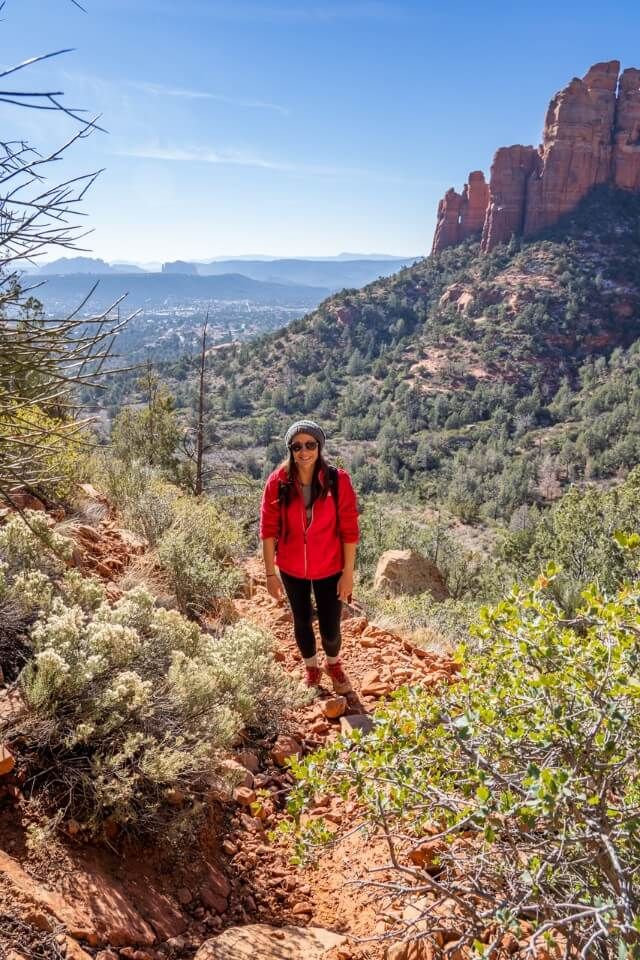 There may be hikers already inside Keyhole Cave who used rope to make the climb easier. Or there may be rope left over from recent hikers who have left it in place for others to use.
It is important not to rely on being able to use rope. If you don't take your own rope, you will have to climb with your hands and feet to access the cave.
When we hiked Keyhole Cave there was a couple already inside who had rope and dropped it down for us to use just in case. In the end we didn't need it, but it was nice to have the option!
8. Climb Into Keyhole Cave
You can climb either the left side or right side to access the upper chamber of Keyhole Cave.
Personally we went for the right side both up and down, but we saw others taking the left route instead.
Here's the left approach into Keyhole Cave: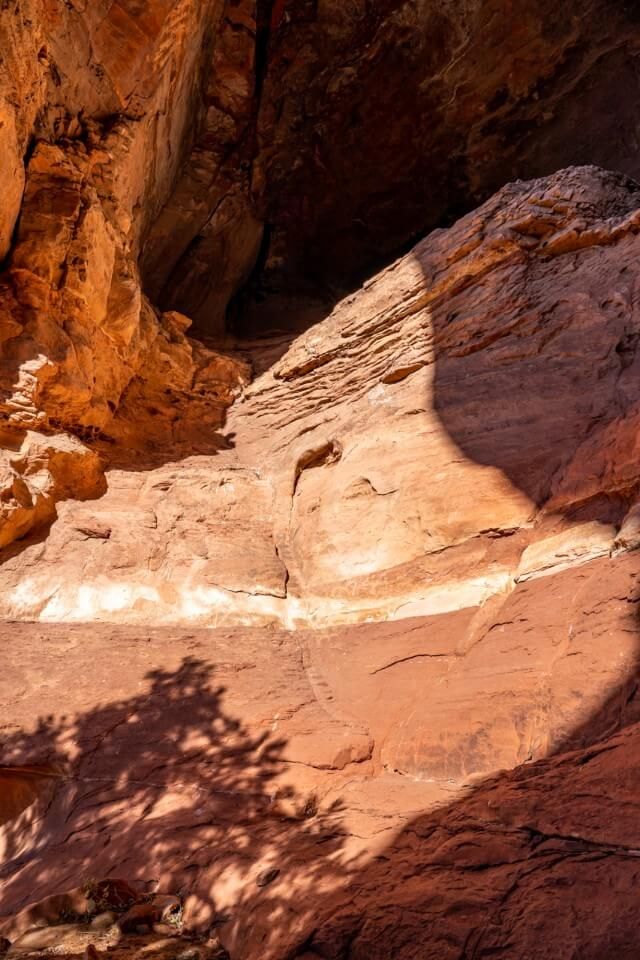 The bottom section of the left approach is very smooth and steep which makes it hard to climb.
However, it does get easier once you reach the sharper rocks closer to the top because you can grip with your hands and feet.
Here's the right approach into Keyhole Cave: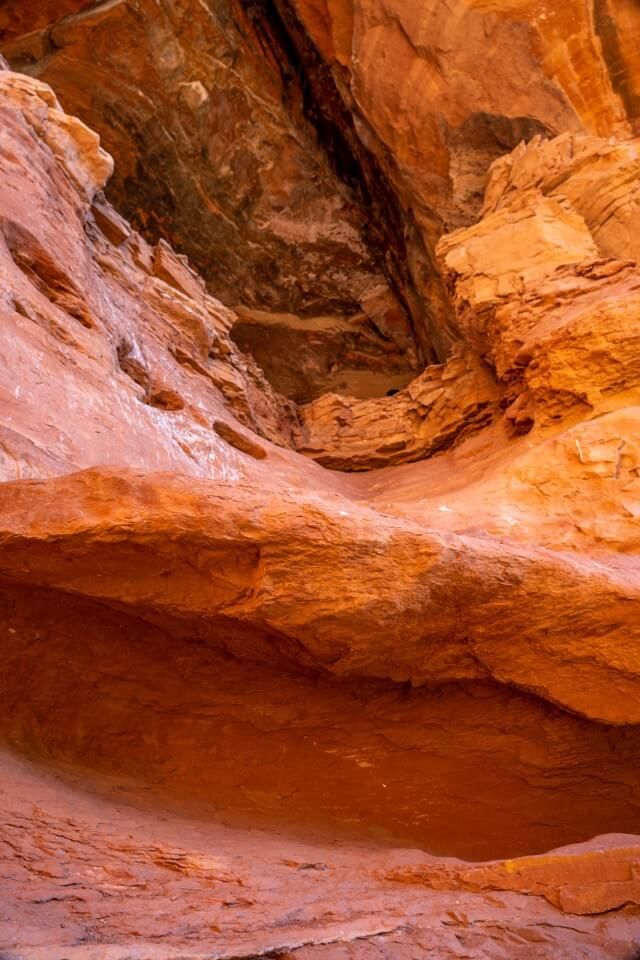 The right approach looks worse than it is. Once you climb up onto the lower ledge you've done the hard part. Stronger climbers can support other hikers up to the ledge.
From the top of the ledge you can more easily walk up the gradient with plenty of hand and foot placements. We're not climbers and we don't have any experience with ropes but we made it up the right side easily enough.
9. Enjoy The Views
After the adrenaline pumping climb into Keyhole Cave, you will find yourself in a UFO shaped upper chamber. Now you can walk around in a semi circle (like a crescent moon) from one side of the cave to the other.
But what can you see?
Let's take a look through our Keyhole Cave photos showing the views looking out as we walked around the cave from left to right.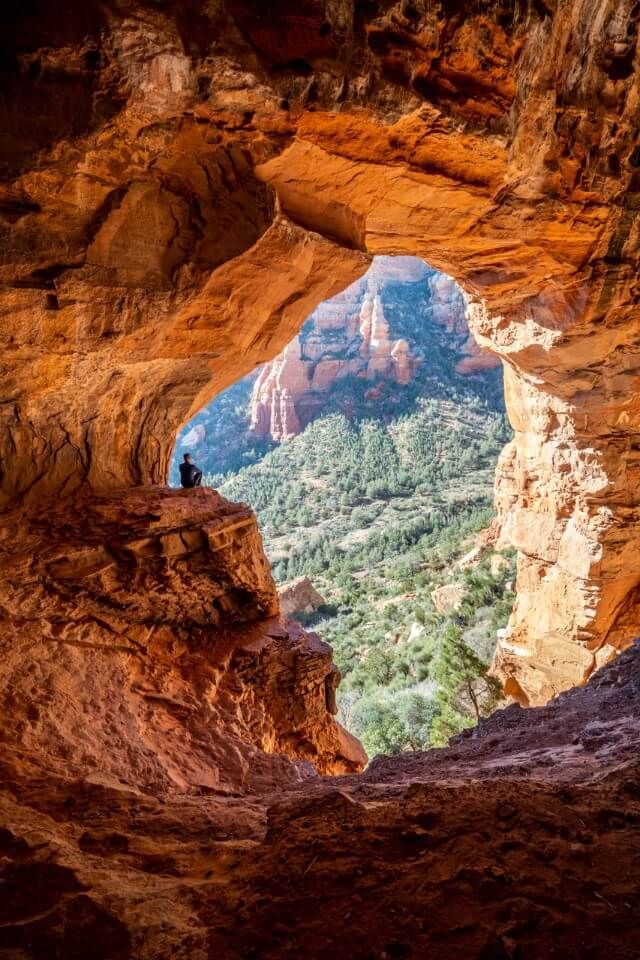 If you climb up the right approach into Keyhole Cave you will summit at the exact place where the most popular instagram photo is taken.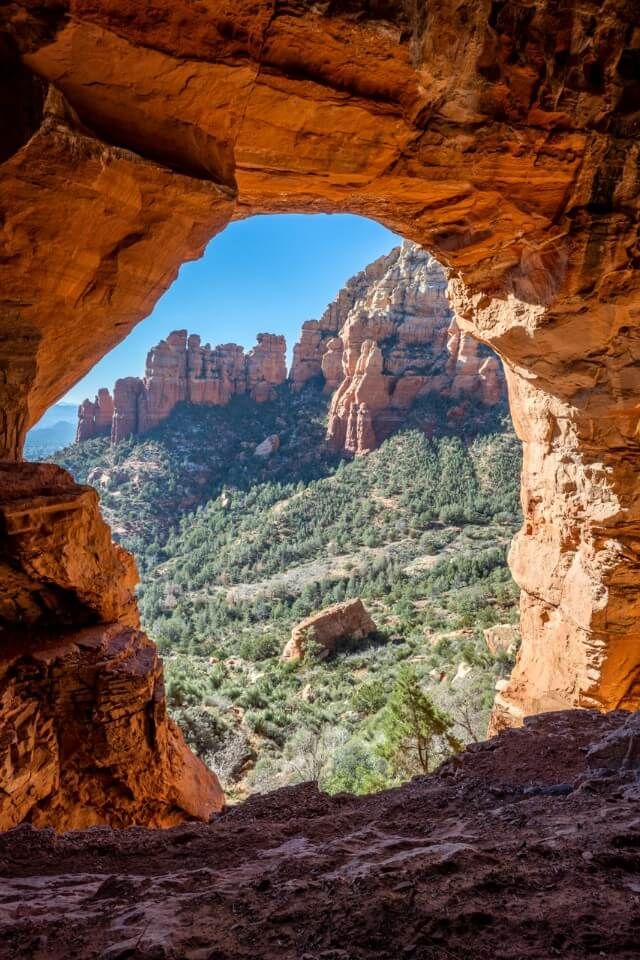 As you move around Keyhole Cave you will begin to see red rock spires coming into view in the middle distance.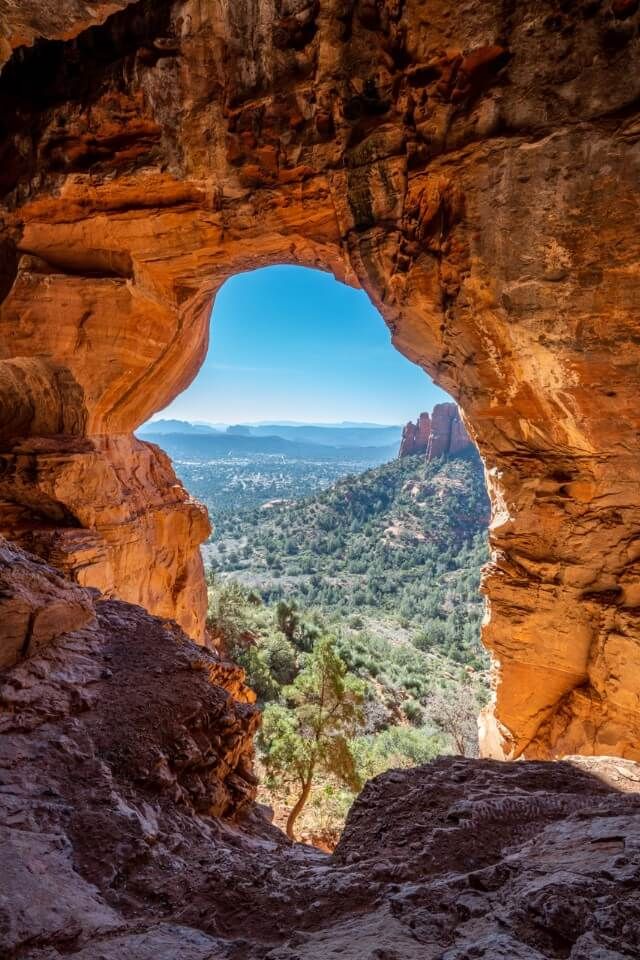 Continue moving around the cave and you will open up the cleanest view through the entrance. This angle looking straight ahead is exactly where you started the hike to Keyhole Cave.
Finish at the far end of the cave after entering. You can see some of Sedona's most iconic formations including the conical shaped Sugar Loaf Mountain, Airport Mesa and even Courthouse Butte in the distance.
10. Hike Back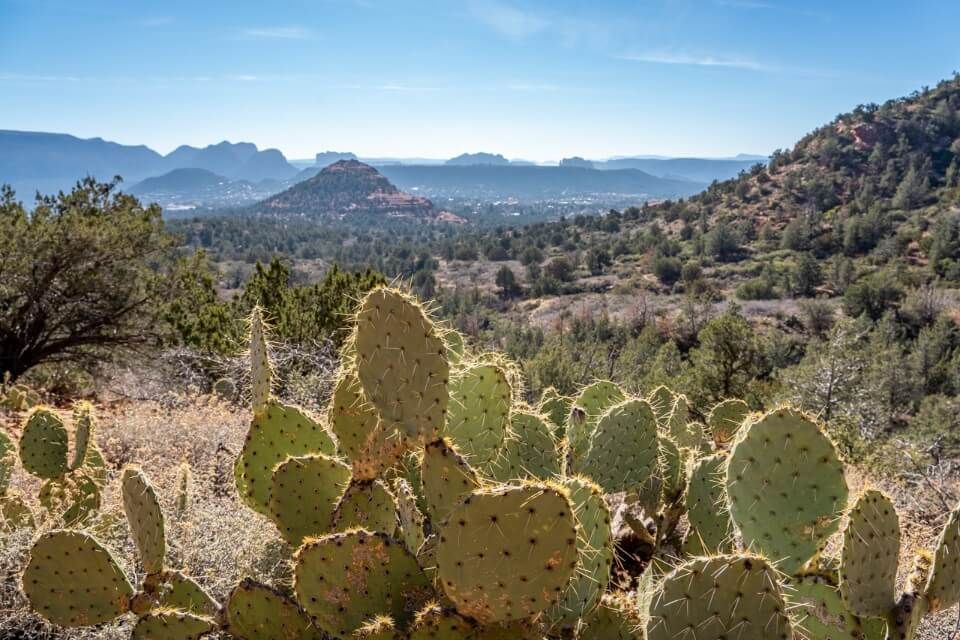 Take care when descending out of Keyhole Cave. The hike back is much easier because you already know the terrain and you can use Sugar Loaf Mountain as your landmark.
Aim for the right side of Sugar Loaf Mountain and follow the lightly beaten trails or wash back to the trail crossroads. Then you can either hike up Sugar Loaf Mountain or return to the parking lot.
Looking for hiking inspiration? Read our popular guide to the 50 best hikes in the USA next!
The Wash VS The Direct Route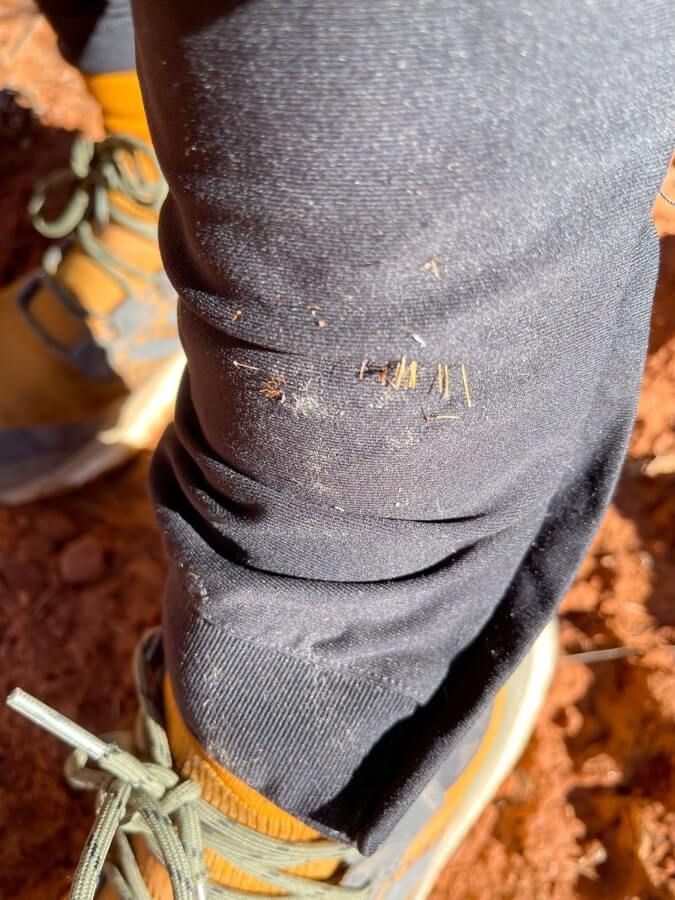 Should you hike through the wash or take the more direct route to Keyhole Cave?
Here's what you can expect from the two route options:
1. The Wash Route
Exclusively hiking the wash to Keyhole Cave will add on quite a lot of distance because it meanders like a zig-zag approach.
However, the wash is flatter, more consistent and you won't have to go back on yourself at any point.
Hiking tip – Instead of going directly behind the sign at the Teacup and Thunder Mountain Trail intersection, turn left onto Thunder Mountain Trail and walk 150 feet until you see a dry bed to your right side.
2. The Direct Route
Going direct to Keyhole Cave means you have to contend with short but steep hills covered in cacti and other harsh vegetation with sharp dagger-like needles that can seriously tear up your feet, ankles and legs.
The lightly beaten paths can be hard to follow and often run out or are blocked by thick vegetation. But going direct is undoubtably the more exciting way to reach Keyhole Cave.
Hiking tip – Mark had to stop at one point to remove around 30-40 razor thin prickles that had penetrated through pants and a hiking boot as you can see in the photo above. Wear thick socks and boots to prevent issues.
Keyhole Cave Trail Pros And Cons
Pros:
One of the most impressive caves in Sedona
Adventurous off-trail hike
Not many know about this cave
Cons:
Parking is very limited
Rough vegetation can hurt
Accessing the cave isn't easy
Keyhole Cave Trailhead Parking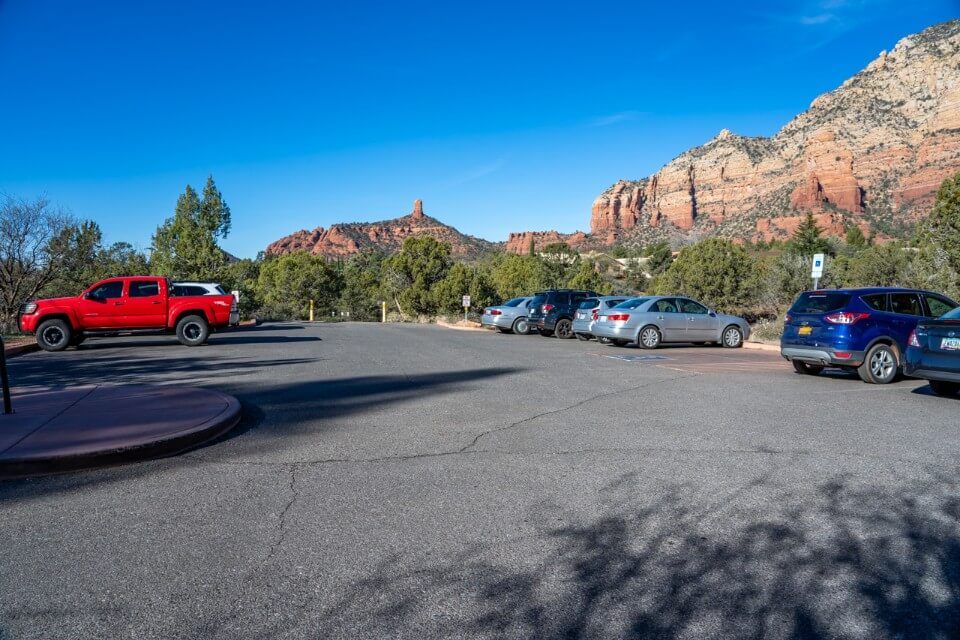 The best parking lot to use for the Keyhole Cave hike in Sedona is Sugar Loaf Trailhead. This parking area is also known as Teacup Trailhead and it's located in a residential area on Buena Vista Drive.
Sugar Loaf parking lot has just 12 spaces. It's often full and there are no places you can park on the residential streets nearby.
Please do not park in or near the driveways of local residents. Instead try a backup parking area such as Andante Trailhead.
Here's the Sugar Loaf Trailhead parking Google Maps location.
Do You Need A Parking Pass?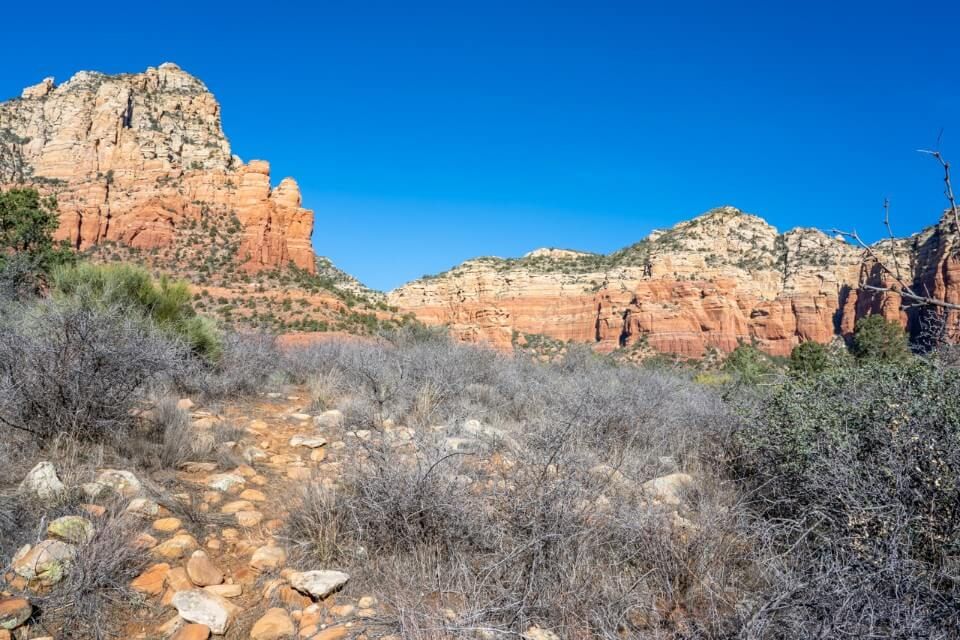 Yes, you need to display either a Red Rock Pass or America the Beautiful Interagency Pass on your vehicle dashboard to park at Sugar Loaf Trailhead and hike to Keyhole Cave in Sedona.
You can buy a Red Rock Pass at this recreation.gov page in advance, or you can buy a pass at a ticket machine when you arrive in person.
Red Rock Pass options include:
1 Day Red Rock Pass – $5
7 Day Red Rock Pass – $15
Red Rock Annual Pass – $20
Do you have an America the Beautiful National Parks Pass? You can use it instead of a Red Rock Pass at these trailheads in Sedona.
Best Time To Hike Keyhole Cave Trail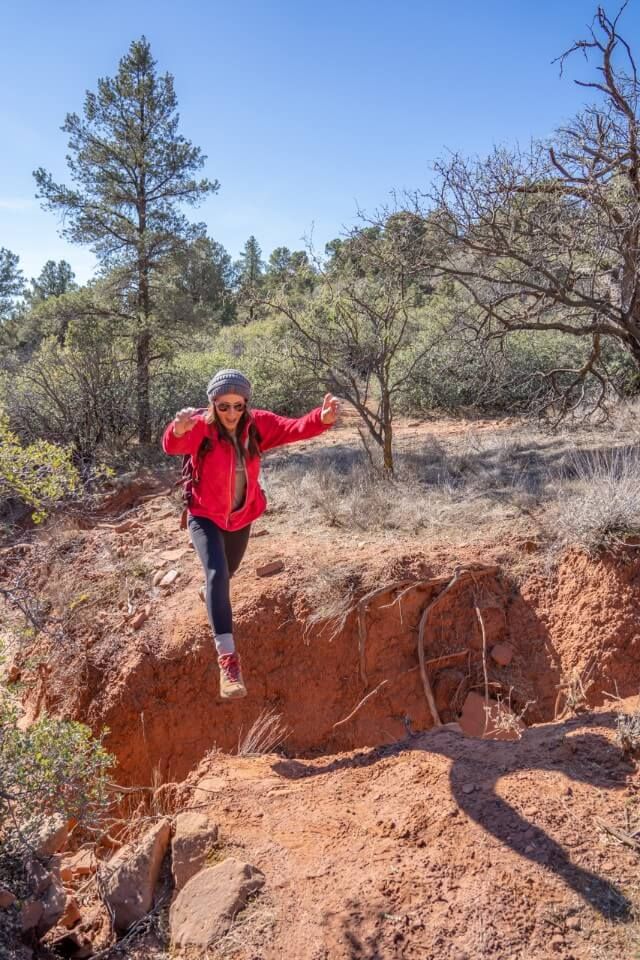 The ideal time to hike Keyhole Cave Trail would be mid afternoon on a weekday in spring or fall. This way you can benefit from perfect hiking and light conditions.
But it's not always that simple!
Best Season
If you visit Sedona in spring or fall during peak tourist season, you simply have to be out early at trailheads or you'll have problems getting parked.
Winter and summer to a lesser extent offer quieter periods in Sedona. During these seasons you have more chance getting parked at trailheads without issue.
We visited Sedona in December and it was surprisingly busy in town but we were able to park for the Keyhole Cave hike.
No matter which season you visit, try to avoid weekends, holidays and the 10:00am-1:00pm rush.
Best Time Of Day
The best time of day to hike Keyhole Cave is mid afternoon. The cave is southwest facing, which means it will flood with more light in the afternoon.
Early morning and early evening the sun will be too far to either side of the cave entrance and it will mostly be in deep dark shadows.
What To Pack For The Hike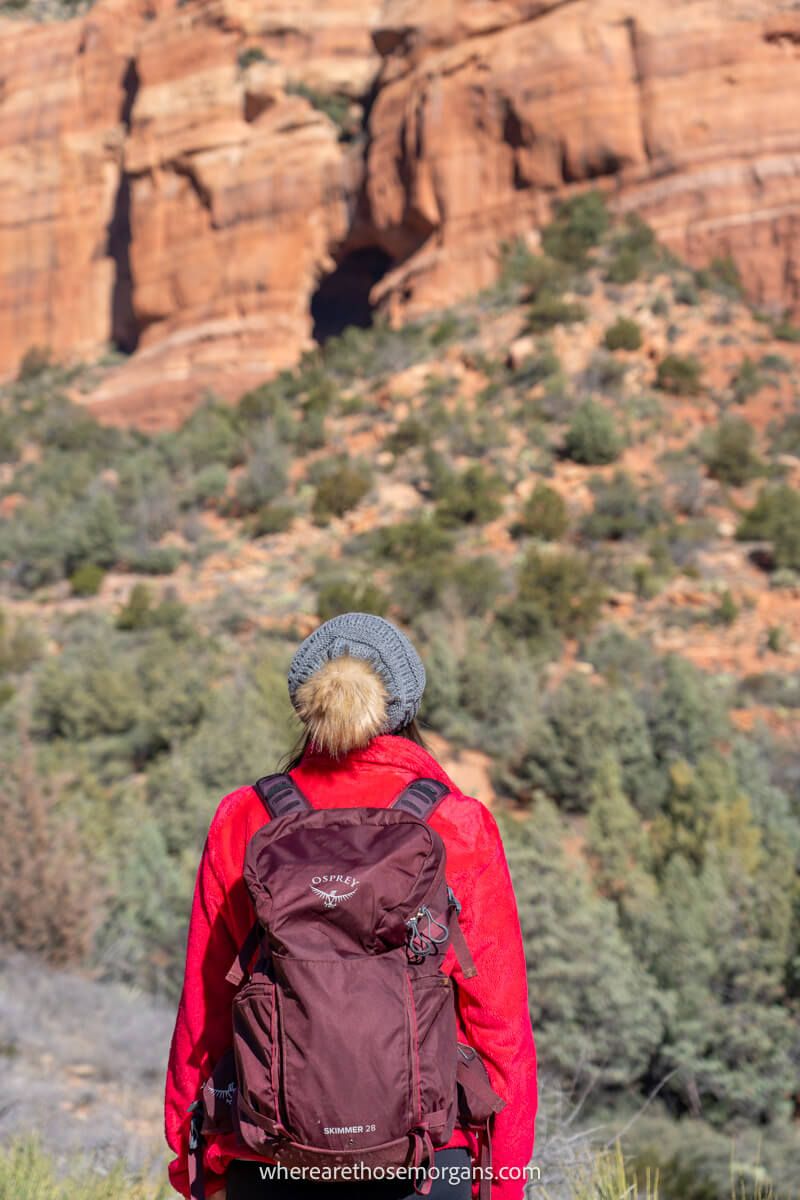 Footwear – Footwear with good grips and traction are going to help you on the unmaintained trail and help you climb into Keyhole Cave. Shoes with strong outer shells would help deter spiky plants sticking into your feet.
Water – Keyhole Cave is a 3 hour round trip hike and it is completely exposed. Carrying plenty of water is essential. Summer months require more water and even electrolyte drinks.
Sun protection – Sunglasses, sun hats, long layers and sunscreen are vital if you are visiting Sedona in summer. Almost all of the trail is exposed and rough so it might pay to wear longer pants and top layers for protection against the sun and vegetation.
Our Top 5 Tips For Hiking Keyhole Cave Trail
Try parking at Andante if Sugar Loaf Trailhead parking is full
Go direct to the cave to save time vs hiking the wash
Take rope if you're not confident of climbing into Keyhole Cave
Keyhole Cave has the best light between lunch and late afternoon
Use one of the best hiking apps like Gaia GPS for navigation
Is Keyhole Cave In Sedona Worth It?
Yes! Keyhole Cave is the biggest and most adventurous cave you can hike to in Sedona. The huge cave opening provides striking views over Sedona and the trail is very quiet in comparison to other trails in town.
If you're looking for an escape from the heavy Sedona hiking crowds, head out responsibly into the wilderness and climb into Keyhole Cave.
More Sedona Hikes
More From Sedona
Want more Arizona content? Head over to our Arizona Travel Guides to explore the best of Grand Canyon, Sedona and beyond.
---
We hope this guide to hiking Keyhole Cave Trail helps with planning your visit to Sedona, Arizona!
Please let us know if you have any questions about how to find the Keyhole Cave in the comments below.
Happy Hiking,
Mark and Kristen
Was This Hiking Guide Helpful? Pin It For Your Visit To Sedona!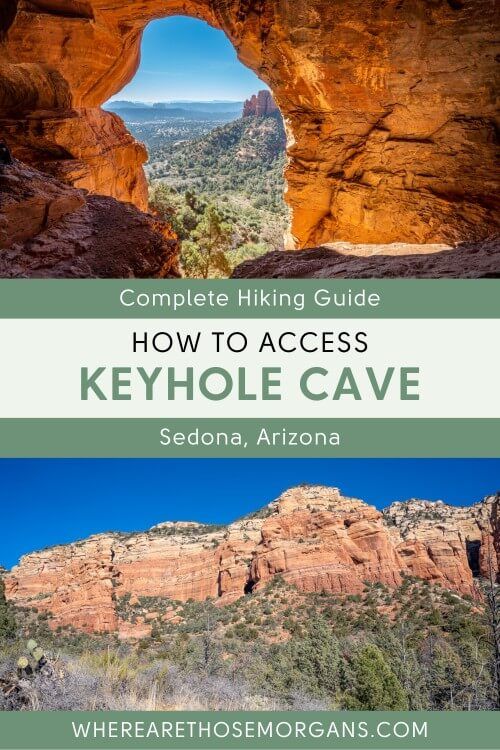 Note: This article contains affiliate links. When you make a purchase using one of these affiliate links, we may earn a small commission at no extra cost to you.
All Rights Reserved © Where Are Those Morgans, LLC. Republishing this article and/or any of its contents (text, photography, maps, graphics, etc.) in whole or in part is strictly prohibited.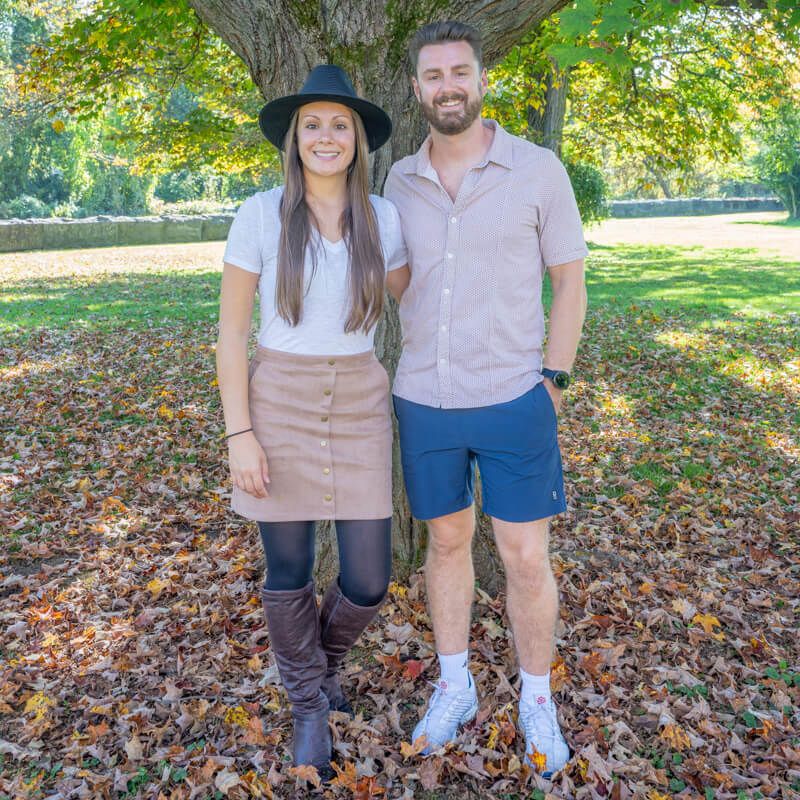 Mark and Kristen Morgan are travel, hiking and photography experts. Over the last 6 years traveling full time, they have explored more than 40 countries and 30 US states.
Their work has been featured in USA Today, Gestalten, Get Your Guide, CityPASS and Condé Nast Traveler along with various other publications.