West Fork Trail is a fantastic hike through Oak Creek, featuring 13 river crossings, a subway tunnel climax and a fraction of the crowds found on other popular hikes in Sedona.
Is it worth taking time from your Sedona itinerary to include a lesser known hike in a hard to reach area?
West Fork of Oak Creek Trail is best hiked on the way into or out of Sedona because it is over 10 miles north of the small desert city. If you have 3 days or more available to plan your Sedona itinerary and prefer to stay clear of the biggest crowds, add West Fork to your hiking wishlist.
In this guide we will show you:
Where to park for West Fork Trailhead
Fees you must pay to park
Complete hiking walkthrough
Photos of the trail
Let's hike West Fork Trail in Sedona Arizona!
Hiking Statistics + Trail Description
Trail Distance: 6.6 miles roundtrip
Elevation Gain: 500 feet
Hike Difficulty: Easy / Moderate
Time Required: 3-4 hours
West Fork Trail is an easy to moderately difficult hike. The maintained path is mostly flat and undulating as it passes through a stunning landscape in Coconino National Forest.
A total of 13 river crossings require the use of stepping stones and there is a small chance you will get your feet wet. The scenery is best enjoyed by looking up at towering red rocks flanking Oak Creek river.
Have you heard of The Subway Cave in Sedona? Or Zion National Park's Subway Hike?
Both climax at spectacular and exceptionally photogenic tunnel-like geological formations.
Well, West Fork Trail also ends at a subway tunnel-like formation, not to the same scale, but it is still incredibly beautiful.
Looking for hiking inspiration? Read our popular guide to the 50 best hikes in the USA next!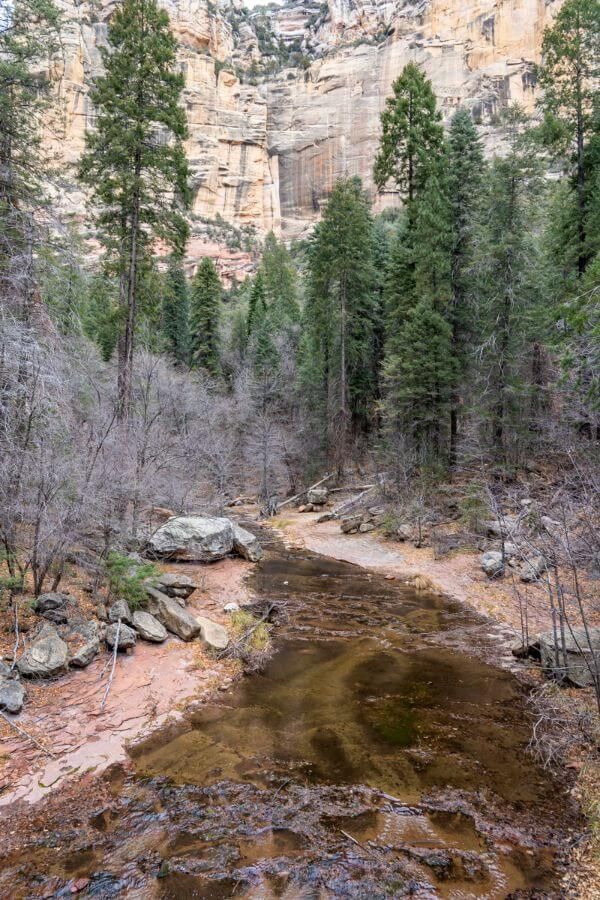 Standard Hike Or Wilderness Hike?
West Fork Trail goes far beyond the standard 3.3 miles one way (6.6 miles roundtrip) that 99% of hikers will take on. The adventurous hiker may want to consider continuing beyond the subway tunnel.
In total, you can hike West Fork Trail 14 miles one way for a total of 28 miles round trip into Red Rock Wilderness through Oak Creek.
This should only be attempted by experienced hikers who are comfortable with a little bouldering, scrambling and even swimming.
You would also need to have plenty of time on your Sedona itinerary to attempt the longer version as it would take one long day or even 2 days to complete.
If you're looking for adventure, instead of hiking the longer version of West Fork Trail, hike to the 7 best caves in Sedona instead.
Where To Park For Hiking West Fork Trail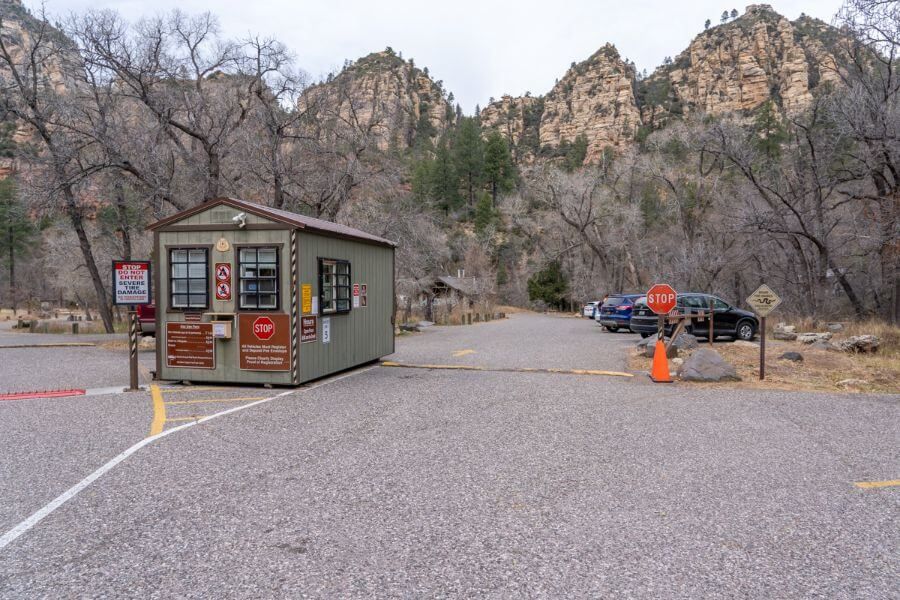 West Fork Trail has its own dedicated parking lot around 10 miles north of Sedona on AZ-89A. This is the major road in and out of Sedona from Flagstaff and Grand Canyon South Rim.
Set your Google Maps or Apple Maps to "West Fork Oak Creek Trailhead" or "Call of the Canyon Picnic Site". Both are in the same lot and require entrance fees to access the parking area.
There are no alternative parking areas and despite being quieter compared to the major trails in town, it is all relative and West Fork of Oak Creek is still a popular hiking area.
Here's what you can do to give yourself the best chance of getting a parking space:
Arrive early or late in the day (open 8am – dusk)
Hike on a weekday and avoid weekends
Visit Sedona during off season (Summer and Winter)
Do You Need A Pass To Hike West Fork Trail In Sedona?
No, you do not need a typical pass to hike West Fork Trail but you do have to pay entry fees. We will get to the costs after a little background because West Fork is in a gray area.
Sedona is like a theme park for hikers and it is one of our favorite places in the US to visit.
But there are a handful of frustrations for locals and visitors alike. Namely, getting parked at trailheads, congestion and parking passes.
Are you planning to hike other trails before or after West Fork Trail?
See this list of places in Sedona requiring a pass to be displayed in your vehicle for the duration of your hike.
The two main passes you can use in Sedona are the Red Rock Pass and America the Beautiful interagency annual pass.
Let's take a brief look at both.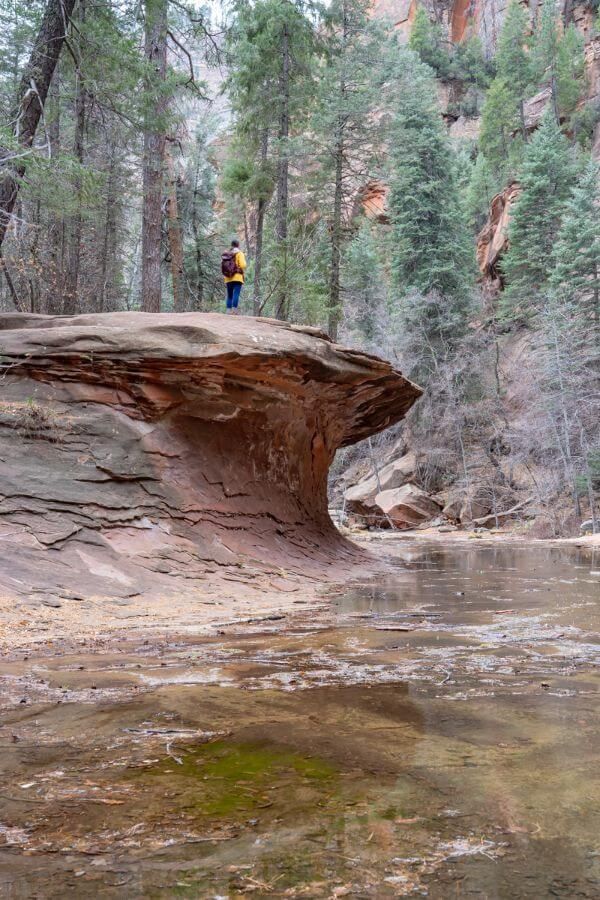 Red Rock Pass
You can buy a Red Rock Pass at this specific recreation.gov site in advance, or you can buy one at a ticket machine when you arrive in person at either parking lot listed further in this guide.
Red Rock Pass options include:
1 Day Red Rock Pass – $5
7 Day Red Rock Pass – $15
Red Rock Annual Pass – $20
Grand Annual Red Rock Pass – $40
If you plan to hike more trails around Sedona over a period of 2 – 7 days, you should buy the 7 day pass because you will need it at many other trailheads in the area.
America The Beautiful Pass
Are you a regular visitor to US National Parks and Monuments?
It's highly likely you already have an annual National Parks pass, which is also known as America the Beautiful or the Interagency Pass.
Don't have one yet?
Read our guide on why America the Beautiful national parks pass is one of the best things you can buy if you plan to visit multiple parks in the next year.
Instead of buying a Red Rock Pass you can simply display your America the Beautiful Pass at trailheads throughout Sedona.
West Fork Of Oak Creek Fees
West Fork Trail is among a very small collection of privately owned areas within the Sedona area, which means they have different entry requirements to almost all other hikes in the region.
You must pay $11 per vehicle to park in the West Fork Trailhead parking lot. This covers up to 5 people in one vehicle for one day.
The only discounted exception is the Access Interagency Pass for people with disabilities who can receive 50% off the $11 fee, for an entry cost of $5.50.
No Red Rock Pass works for West Fork Trail, with the exception of the Grand Annual Red Rock Pass which costs $40 for 12 months.
Tip: Are you planning to visit Crescent Moon Picnic Area to see Cathedral Rock from the river crossing? This parking area has the exact same fees set up at West Fork Trailhead.
Map Of The West Fork Trail In Sedona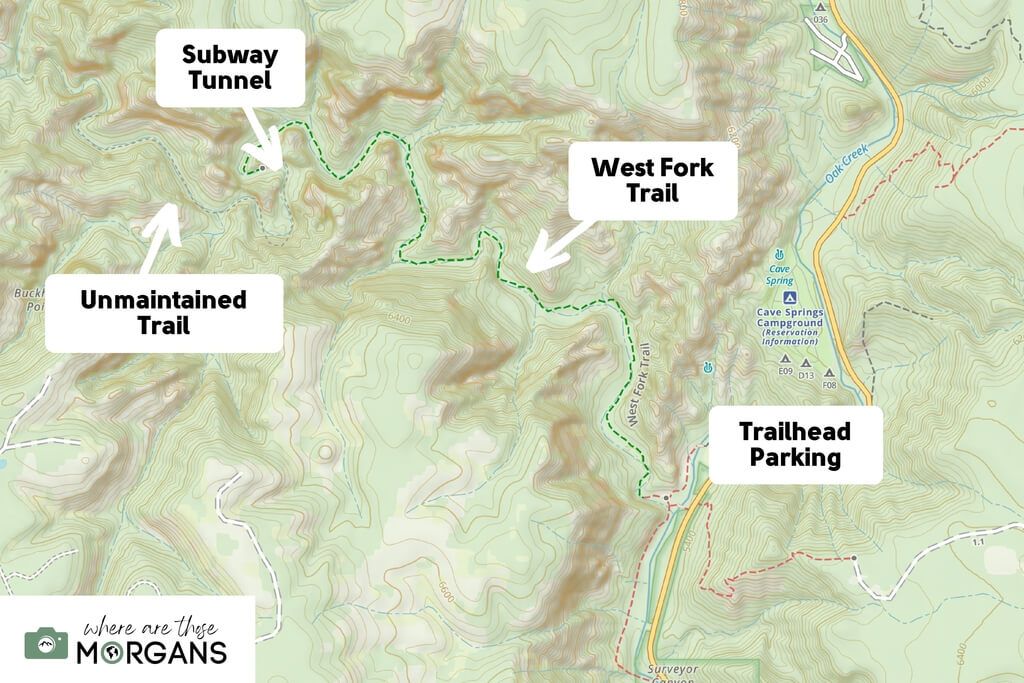 The map above shows exactly what you can expect when hiking West Fork Trail in Sedona, Arizona. It is a straight forward hike with no alternative routes or parking areas to consider.
Map key:
Red Line – Call of the Canyon Trail
Green Line – West Fork Trail
Gray Line – Unmaintained Trail
Hiking Apps
Do you use any of the best hiking apps for offline maps?
We always download offline maps onto our premium Gaia GPS app so we can keep track of our location on hiking trails. All Trails has a similar app but we have found Gaia to be excellent for navigation.
We used our offline maps to hike West Fork Trail as far as the subway tunnel ending, so we could track our time, distance and elevation profiles.
If you are interested in tracking your own hikes, you can sign up to Gaia GPS premium with our exclusive 20% discount link.
West Fork Trail Walkthrough
Hiking is among the best things to do in Sedona and West Fork Trail offers a unique experience away from the overcrowded hikes closer to town.
Let's get into the West Fork Trail hiking walkthrough, including photos for every step so you know exactly what to expect.
Pay And Park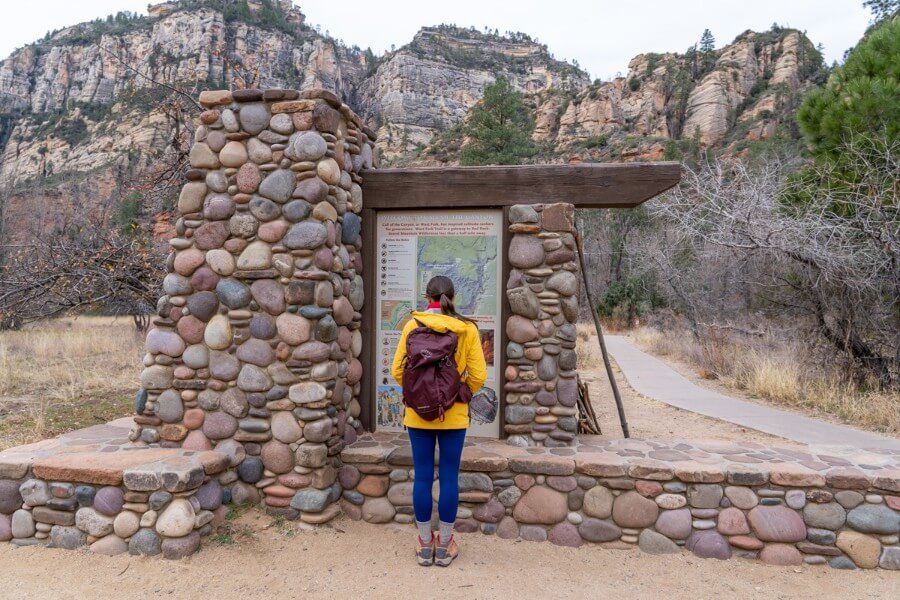 Arrive early morning or late afternoon for best hiking conditions with fewer crowds on the trail. You will pay a person in a kiosk to gain access to the parking lot. We paid by credit card.
There are toilets and picnic tables for use within the parking area.
Cross The Bridge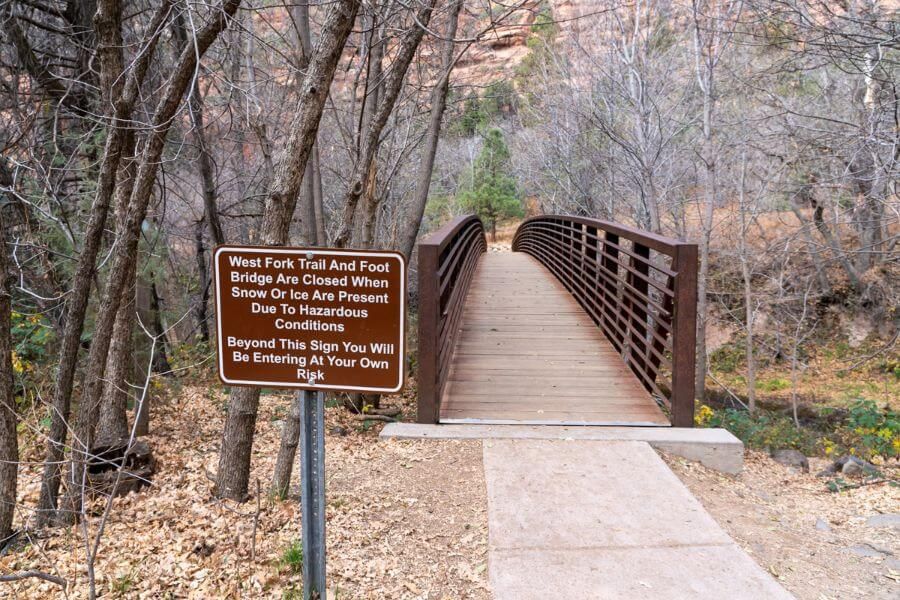 Leave the parking lot via the far back side after entering to join Call of the Canyon Trail, a narrow paved and accessible path.
This path leads to an attractive bridge crossing Oak Creek. Turn left and follow the riverside until reaching a series of old ruins that can be explored quickly.
Call of the Canyon Trail transitions into West Fork Trail and joins Oak Creek. This is where you will begin the hike proper.
Multiple River Crossings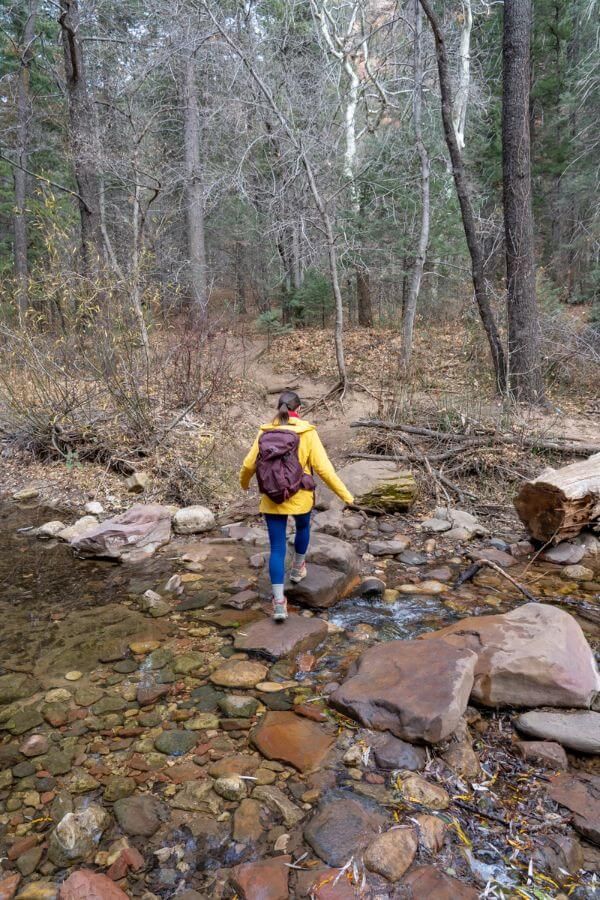 Thirteen river crossings await hikers over the next 3 miles. The scenery is wonderful and you may encounter wildlife along your hike.
Use the stepping stones and larger rocks to help with river crossings.
Heavy rainfall or snowmelt can cause water levels to rise slightly but mostly the water levels will be very shallow.
Towering Cliffs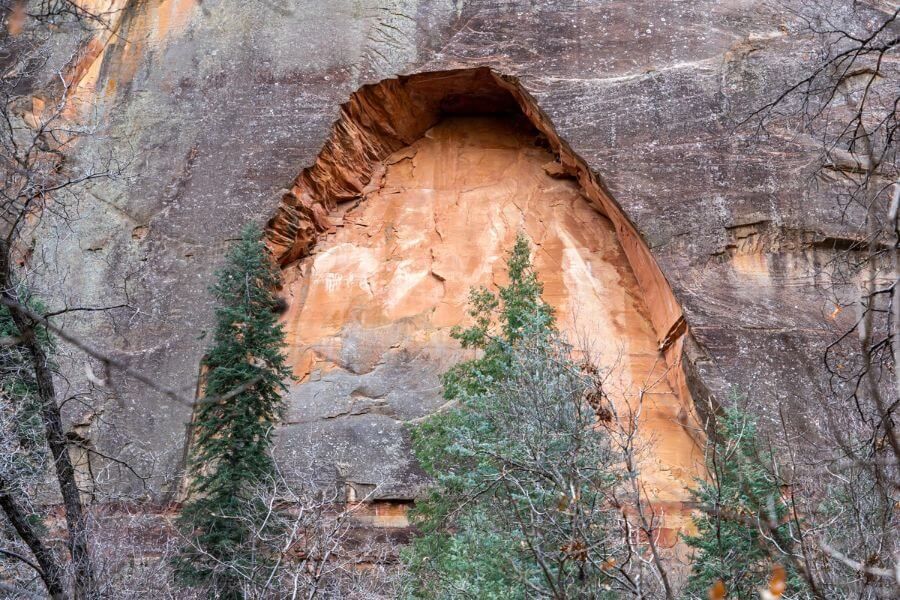 Don't forget to look up throughout your hike. Enormous towering red rock cliffs appear at intervals during the upstream walk.
Look for picturesque arches in the cliff faces and look for smooth semi-subway tunnels forged into the lower rock faces next to Oak Creek.
Subway Tunnel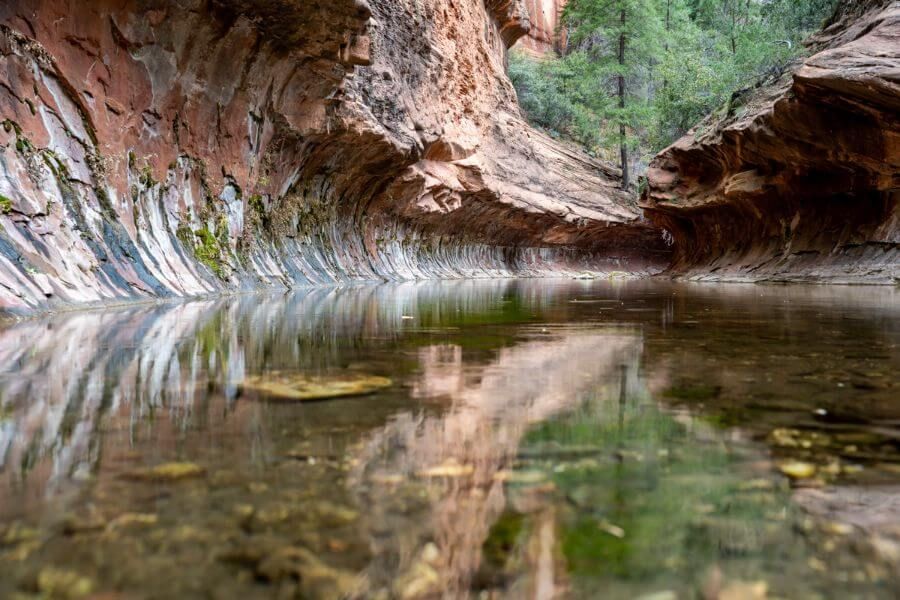 You will know you have reached the very end of West Fork Trail when you arrive at a point in which the water suddenly becomes deeper.
The water here is not passable without submerging shin deep.
You can continue the hike further by wading into the water and entering the subway-like tunnel you can see ahead.
The tunnel bends slightly to the right like a fade in golf.
It isn't close to being as striking as The Subway in Zion, but it is still a hugely impressive formation.
Head Back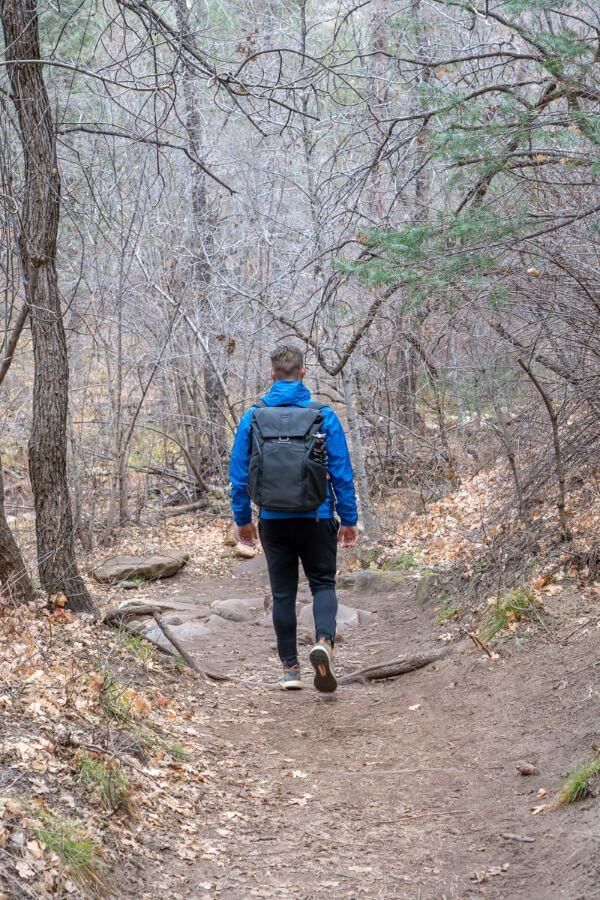 Grab a snack or a spot of lunch at the end of trail area before turning around to head back the exact same way. You can relax and take it easy knowing exactly what you can expect on the return leg.
If you're a quick hiker you can probably do West Fork Trail in 2 hours 30 minutes.
But most people will take it slow and enjoy the surroundings, which will more likely lead to a hiking time of 3-4 hours.
West Fork Trail Pros And Cons
Pros:
Easy flat hike suitable for all levels
Quieter than hikes in town
Peaceful and attractive scenery with wildlife
Cons:
Pay for parking individually
Long way out of Sedona vs other popular hikes
Not the most exhilarating hike in Sedona
Best Time To Hike West Fork Trail
Season
If you visit Sedona in Spring or Fall when it is at peak tourist season, you simply have to be out early at trailheads or you'll have problems getting parked.
Winter and Summer offer quieter periods in Sedona, which means you have more chance getting parked up without issue. It's less about temperatures and busy trails, more about finding free parking spots in Sedona.
No matter which season you visit, try to avoid weekends and holidays.
Time Of Day
The best time of day to hike West Fork Trail is early morning or late afternoon for quieter and cooler conditions.
However, most of the hike is covered by forest which helps with avoiding the sun if you do hike during the hotter parts of the day.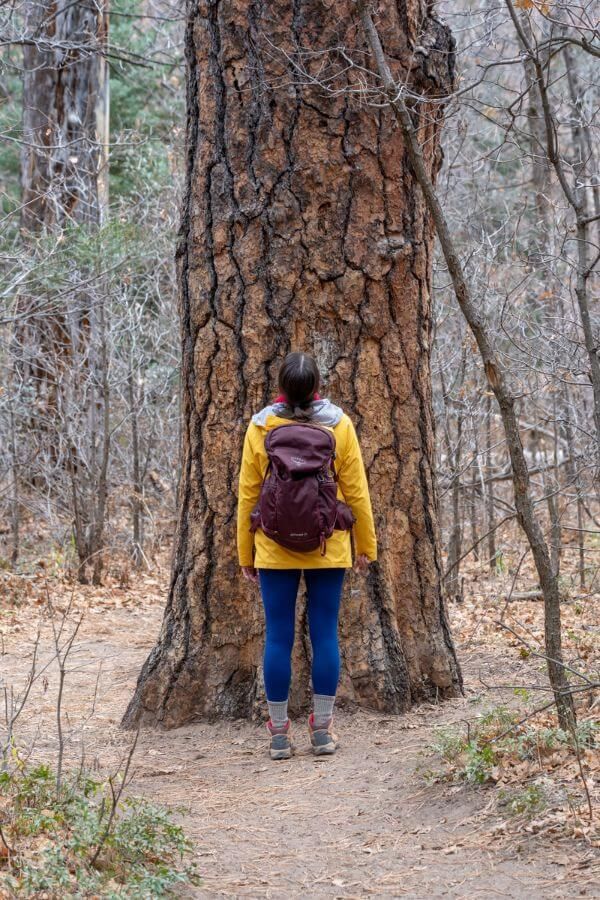 What To Pack For Hiking West Fork Trail
Footwear – Footwear with good grips and traction will help with navigating the several river crossings along Oak Creek.
Water – You'll be out hiking for anywhere between 2-3 hours on the West Fork Trail, which means you'll need to carry water. Summer months require more water and even electrolyte drinks.
Sun protection – Sunglasses, sun hats, long layers and sunscreen are vital if you are visiting Sedona in Summer. Most of the West Fork Trail is shaded by trees but the sun will still break through in periods.
Winter – Early starts and late finishes can be cold in Sedona during Winter. Visiting Sedona in December meant we had to wear long pants with light coats throughout our hike along West Fork Trail.
Sedona Arizona Visitor Summary
How to get around – Sedona is small but you'll need a car to access the best hikes to the north and south of town. If you want to get to the hard to reach places, you should hire a jeep.

When to visit – Spring and Fall are the best seasons to visit Sedona, but they come with a higher price tag and more crowds. Winter is a fantastic time to avoid both.

Where to stay in – Accommodation is expensive in Sedona, but there are plenty of very high quality places to stay including Matterhorn Inn, Lantern Light Inn, Arabella Hotel, Whispering Creek B&B and The Suites at Sedona.

Popular things to do – Sedona is one of the best places to hike in the US, but it is also a wonderful place to get off-road in a jeep, shoot stunning photography, visit historic sites and drink wine.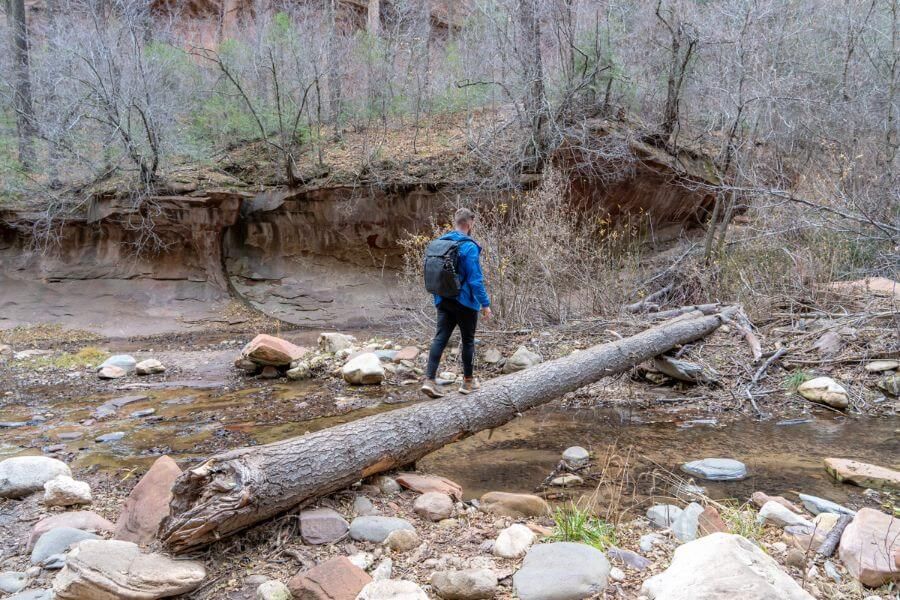 Is West Fork Of Oak Creek Trail Worth It?
West Fork Trail is a hugely popular and revered hike in Sedona, almost to a cult classic level. It offers a wonderful escape from the chaotic hikes closer to town but it does require more effort to reach.
Sedona is among the best places to visit in Arizona and West Fork is a great trail for families, couples or solo hikers searching for a little tranquility.
Here's who we think should include West Fork Trail on a visit to Sedona:
Anyone visiting Sedona for a second or third time who has already hike the major hikes like Devils Bridge Trail and Cathedral Rock Trail.
Those who will be driving into or out of Sedona on AZ-89 via Flagstaff or Grand Canyon.
Anyone looking for quieter trails to hike in Sedona.
Our personal opinion is that West Fork of Oak Creek is an excellent hike.
However, there are more exciting hikes for first time visitors to get stuck into closer to town. We also found it frustrating having to pay an individual parking fee of $11 to hike West Fork Trail.
West Fork Trail FAQ's
Let's finish by taking a look at some of the most asked questions about hiking West Fork Trail in Sedona, Arizona.
How Difficult Is West Fork Trail In Sedona?
West Fork of Oak Cree Trail in Sedona is a relatively easy and flat hike suitable for all hikers, including families and beginners. It is a relaxing, slow paced trail with plenty to see along the way.
Is West Fork Trail Dog Friendly?
Yes, West Fork of Oak Creek Trail is a dog friendly hike in Sedona. Dogs must be kept on a short leash at all times but they are permitted to explore all areas around Oak Creek.
More From Sedona
Cathedral Rock – Sedona is filled with amazing hikes but Cathedral Rock Trail is one of the most iconic. If you're short on time, this is the adventure hike for you.
Bell Rock – Hike the Bell Rock Courthouse Butte Loop Trail for stunning Sedona views, a fun slick rock climb and our hidden loop half way up the formation.
Boynton Canyon – Exactly how to find the famous Subway Cave on Boynton Canyon Trail, the most photographed cave in Sedona.
Birthing Cave – The easiest cave to reach in Sedona is Birthing Cave on Long Canyon Trail, ending with amazing views and a crowd free climax.
Soldier Pass – Hike to Devils Kitchen and Seven Sacred Pools before climbing into Soldier Pass Cave on the family friendly Solider Pass Trail in Sedona.
Keyhole Cave – Go off trail for an amazing adventure hike in Sedona, find and climb into the impressive Keyhole Cave for stunning views.
More From The Southwest
Zion National Park – Zion is an adventure playground for adults, find the very best hikes in Zion and choose between 5 ways you can spend a one day in Zion itinerary.
Grand Canyon – Just 2 hours from Sedona is the incredible Grand Canyon South Rim, create your wishlist from the best hikes at Grand Canyon South Rim.
Las Vegas – Vegas is a popular starting or ending point for southwest adventures. Here are our popular guides to the 40 best things to do in Las Vegas and the 10 best hikes in Red Rock Canyon nearby.
Want more Arizona content? Head over to our Arizona travel guides to explore the best of Grand Canyon, Sedona and beyond.
---
We hope this hiking guide for the fun West Fork Trail helps with planning your visit to Sedona, Arizona!
Please let us know if you have any questions about hiking West Fork Trail or your visit to Sedona in the comments below.
Happy Hiking,
Mark and Kristen
Was This Post Helpful? Pin It For Your Hike!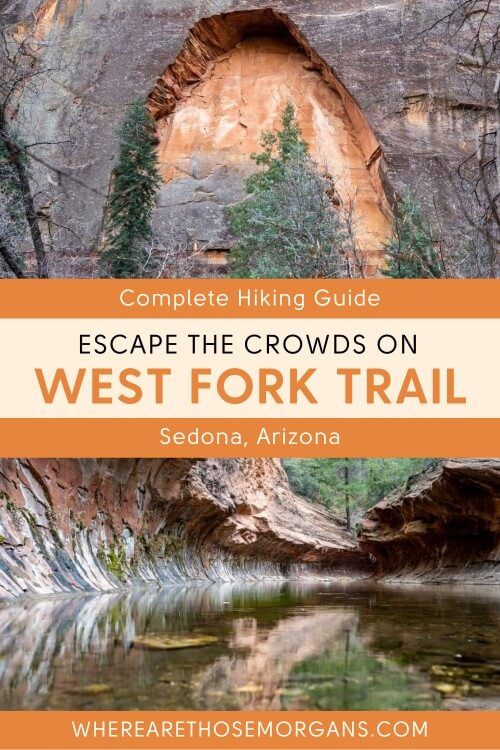 Note: This article contains affiliate links. When you make a purchase using one of these affiliate links, we may earn a small commission at no extra cost to you.
All Rights Reserved © Where Are Those Morgans, LLC. Republishing this article and/or any of its contents (text, photography, maps, graphics, etc.) in whole or in part is strictly prohibited.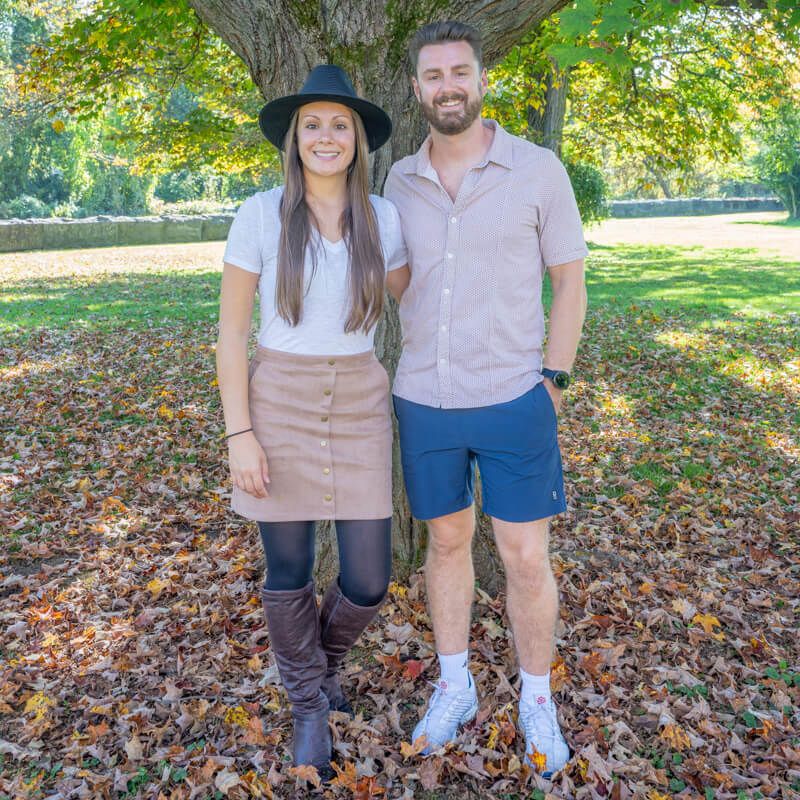 Mark and Kristen Morgan are travel, hiking and photography experts. Over the last 6 years traveling full time, they have explored more than 40 countries and 30 US states.
Their work has been featured in USA Today, Gestalten, Get Your Guide, CityPASS and Condé Nast Traveler along with various other publications.