Sedona View Trail is a short, easy and direct hike connecting Airport Mesa vortex site and Sedona airport vista overlook. Both ends of the hike offer stunning views, especially at sunset when Airport Mesa becomes the most in-demand sunset photography spot in Sedona.
What is Airport Mesa in Sedona and why is it so popular?
A mesa is essentially a flat topped ridge or hill with steep drops to each side. Sedona's regional airport is built on top of a mesa and so you have Sedona Airport Mesa. It is popular because of its elevated vantage point and central location providing spectacular vistas over the red rock landscape.
In this guide we will cover:
Where to park for the vortex site, scenic lookout and hike
Fees to pay for parking
Sedona View Trail hiking walkthrough
Stunning Sedona sunset photography
Let's hike and photograph Airport Mesa in Sedona Arizona!
*Please note this post may contain affiliate links. If you click on one, we may earn a small commission at no extra cost to you! Read more in our disclosure policy.*
Sedona View Trail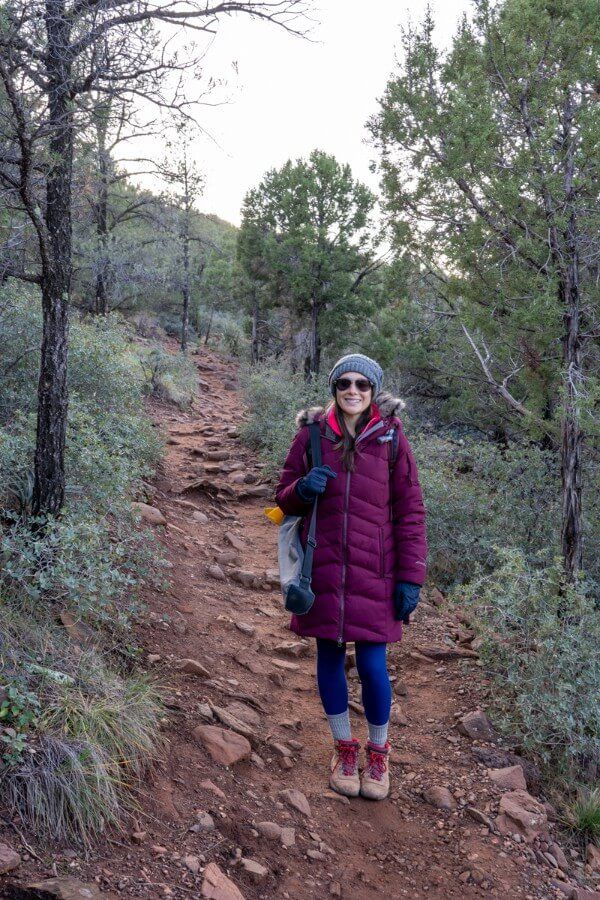 Sedona View Trail runs almost exactly east to west, with the vortex site on the east end and the scenic sunset vista on the west end. We consider View Trail to be one of the best easy hikes in Sedona because it is short and leads to two fantastic photography locations.
The hike is exclusively downhill from the west side (scenic vista) to the east side (vortex site) with excellent views throughout. However, the gradient isn't too steep and the trail is short enough for almost all visitors to handle.
The whole trail is packed dirt and small to large stones. Specialist shoes are not required but be prepared for navigating sections of large and sharp rocks. You will also have a short climb up slick rock in order to access the Airport Mesa vortex site.
Trail Distance: 1.4 miles roundtrip
Elevation Gain: 250 feet
Hike Difficulty: Easy / Moderate
Time Required: 1 hour
Looking for hiking inspiration? Read our popular guide to the 50 best hikes in the USA next!
Airport Mesa Vortex Site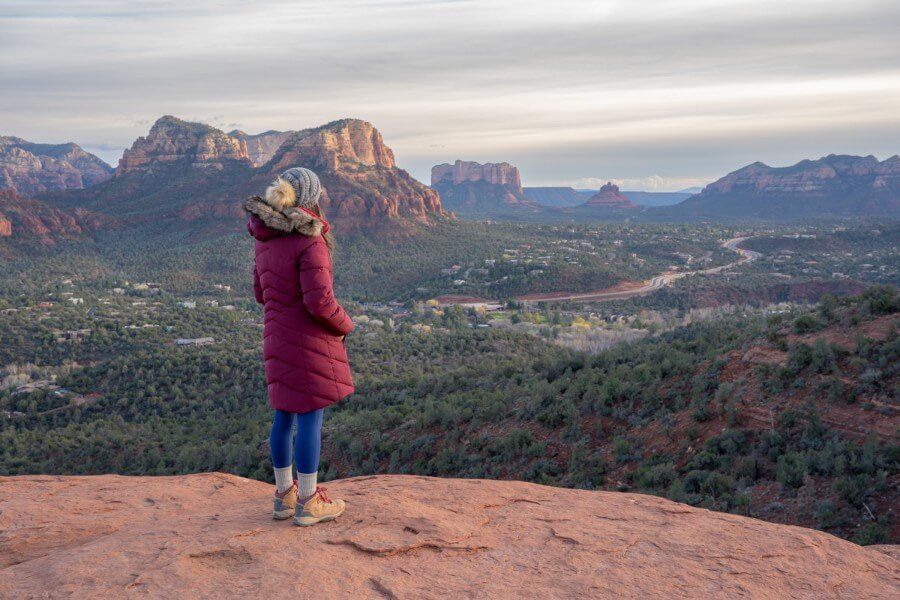 Sedona's Airport Mesa vortex site sits atop a flat table-top red rock formation. The energy radiating vantage point offers stunning views over much of Sedona, including a south facing vista over both Cathedral Rock and Bell Rock.
Airport Mesa is one of the 4 major Sedona vortexes, along with Boynton Canyon, Cathedral Rock and Bell Rock.
Energy aside, gorgeous views in all directions make this east end of the Sedona View Trail an unmissable stop on your visit to this remarkable landscape.
Airport Mesa Sedona Vista Overlook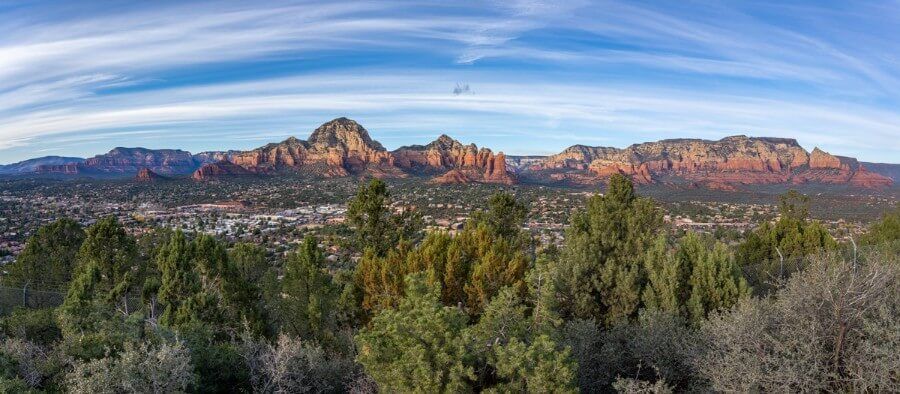 If you're wondering what all the fuss is about surrounding the view from Airport Mesa, take a look at the pano we stitched together in the photo above.
You have almost 180 degrees of Sedona views to soak up from the scenic overlook vista. That includes the entire inhabited area of downtown, plus some of the region's most impressive red rock formations in the background.
The Airport Mesa vista is busier and more popular at sunset because of its higher elevation and ease of access. Expect to share a small viewing area with plenty of pro photographers and instagrammers!
Sedona Airport Mesa Parking And Fees
There are two places you can park when visiting Sedona Airport Mesa. The vortex site and the vista overlook offer separate parking areas along Airport Road.
Let's take a look at both parking options.
Parking At Sedona Airport Mesa Vortex Site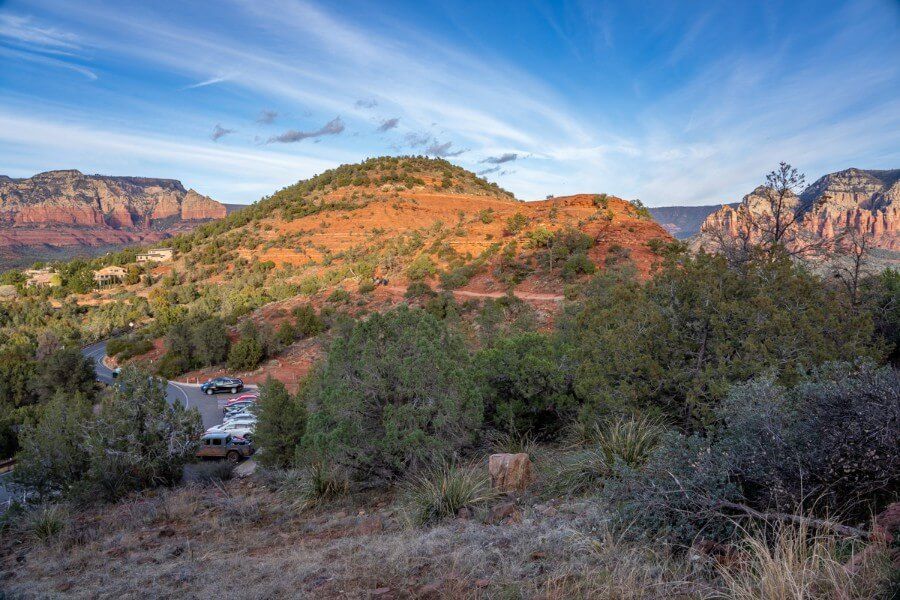 Sedona Airport Mesa vortex site parking is free of charge but spaces are limited to around 10. You can just about make out some cars parked in the left side of the photo above.
Parking here would mean you can access the vortex site with its amazing views easily. You would then hike up Sedona View Trail to reach the scenic vista point, before returning downhill to reach your car.
Here's the exact Google Maps GPS location you need to use for parking at the Airport Mesa vortex site.
Parking At Sedona Airport Vista Overlook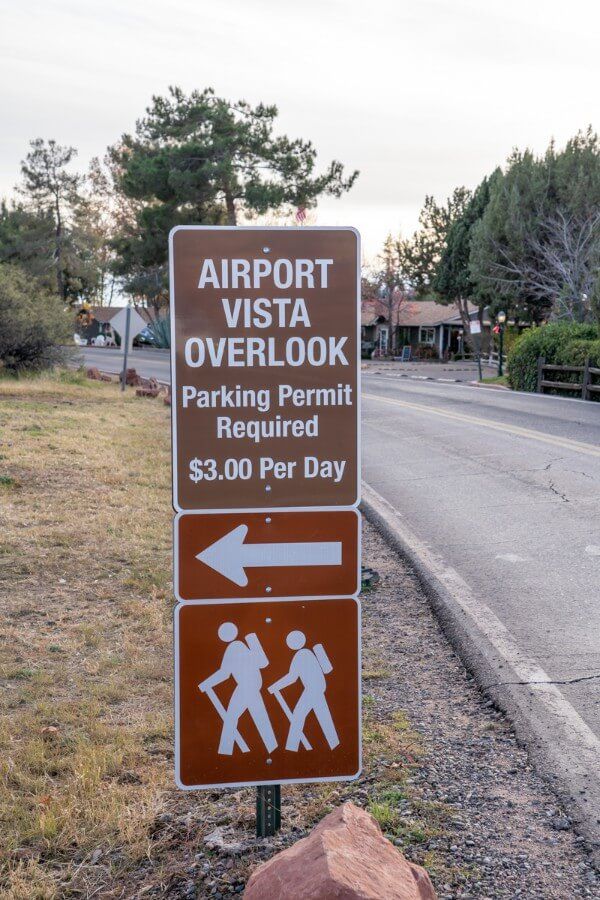 If the vortex site lot is full, or you just want to see the Sedona scenic vista, continue driving up Airport Road as it gains elevation at a fairly steep gradient.
After half a mile you will reach a pedestrian crossing with a sign guiding you into a left turn. This left turn will take you into a much larger parking lot suited to such a popular sunset location.
You must pay $3 to park in this lot. As you enter the lot you will be funneled to a kiosk and pay for a parking permit.
Here's the exact Google Maps GPS location you need to use for parking at Airport Mesa vista.
Parking here means you can hike downhill to the vortex site, before hiking back up Sedona View Trail to watch sunset over town.
We parked in the paid lot so we could hike the trail, see the views from the vortex site, and then be back in time to shoot sunset and night shots of Sedona.
Airport Loop Trail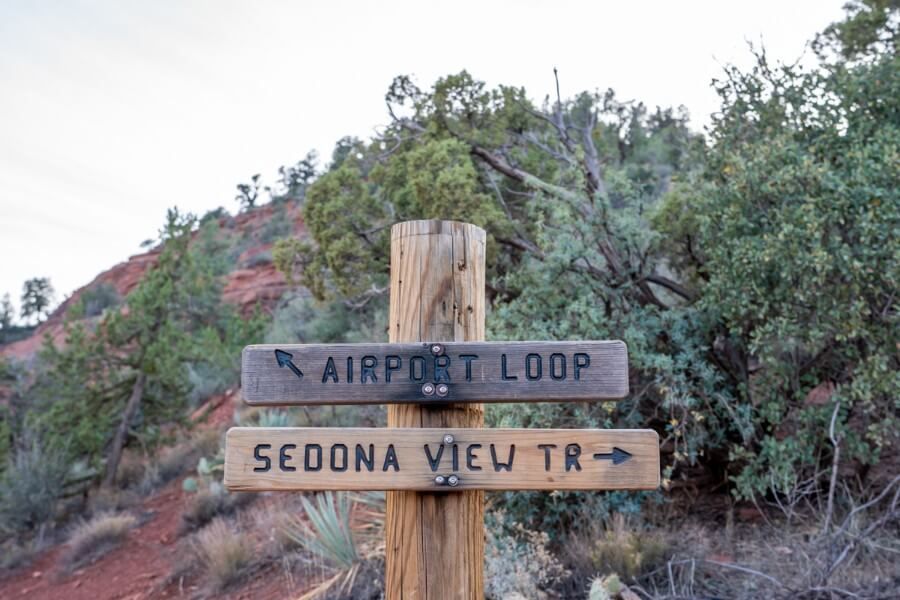 Airport Loop Trail is a separate hike to Sedona View Trail. The view trail is out and back, simply connecting the vista to the vortex site, whereas the loop trail encircles the airport and it begins/ends at the vortex site parking lot.
With so few spaces available at the vortex site parking lot, many hikers wishing to take on the full Airport Loop are forced to park in the paid parking lot and adding on Sedona View Trail.
Airport Loop is a very rocky 3.5 mile loop trail with spectacular views throughout. If you have plenty of time on your Sedona itinerary, we would recommend including the full Airport Loop to your agenda.
Map Of The Sedona View Trail Hike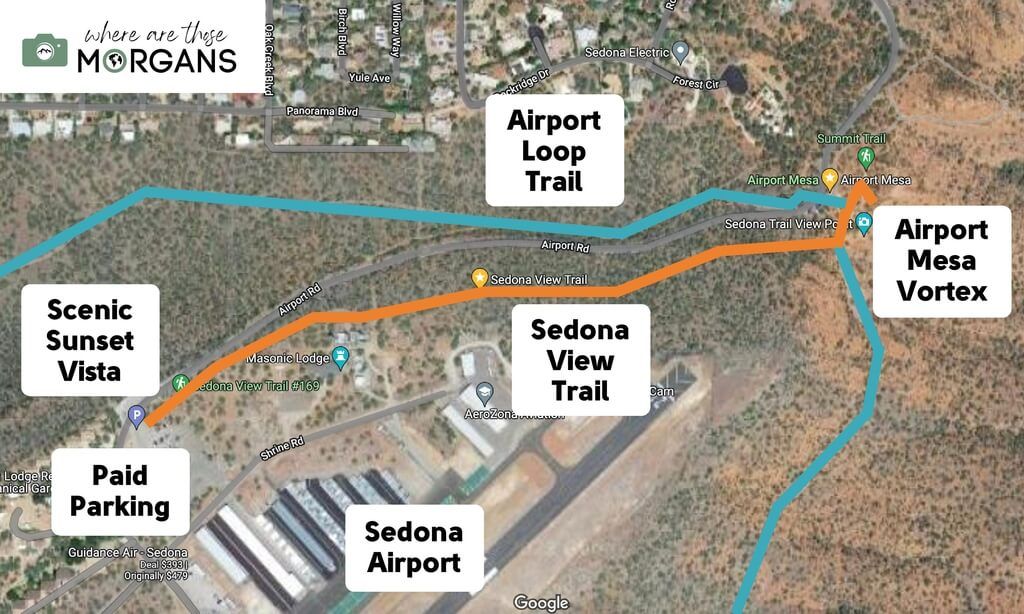 The map above shows what you can expect around the Sedona Airport Mesa area. Free parking is at Airport Mesa Vortex and paid parking is up next to the Scenic Sunset Vista as shown on the map.
Map key:
Orange Line – Sedona View Trail from vista to vortex
Blue Line – Airport Loop Trail circling the airport
Sedona View Trail Walkthrough
Let's get into the Sedona View Trail hiking walkthrough, including photos for every step.
Park At The Airport Vista Overlook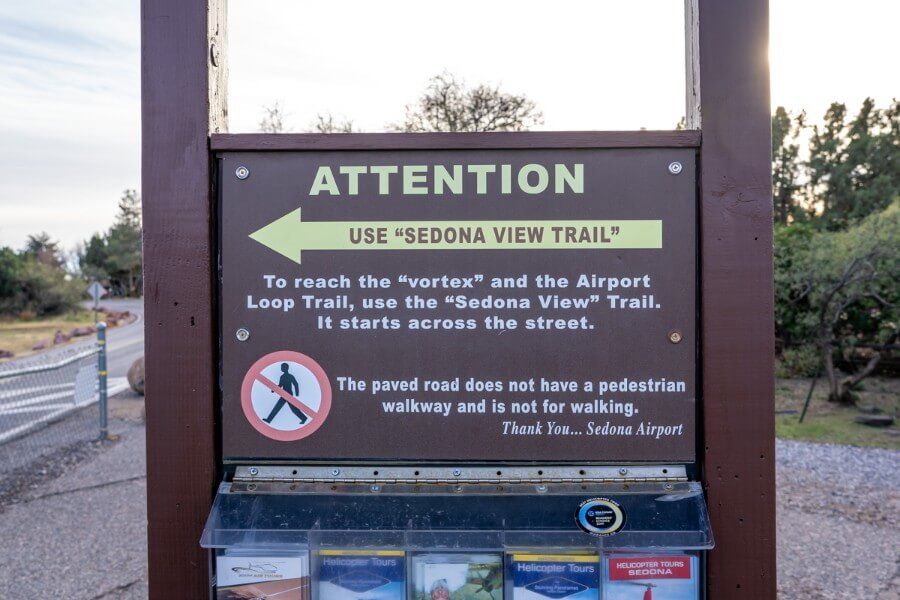 Park at the paid parking lot at the top of the hill around 1 hour 30 minutes before sunset. Check sunset times in Sedona here.
Choosing this lot means you can walk down Sedona View Trail and return in time to watch sunset over the town. You won't be able to see the sun setting from the vortex site.
Hike Down Sedona View Trail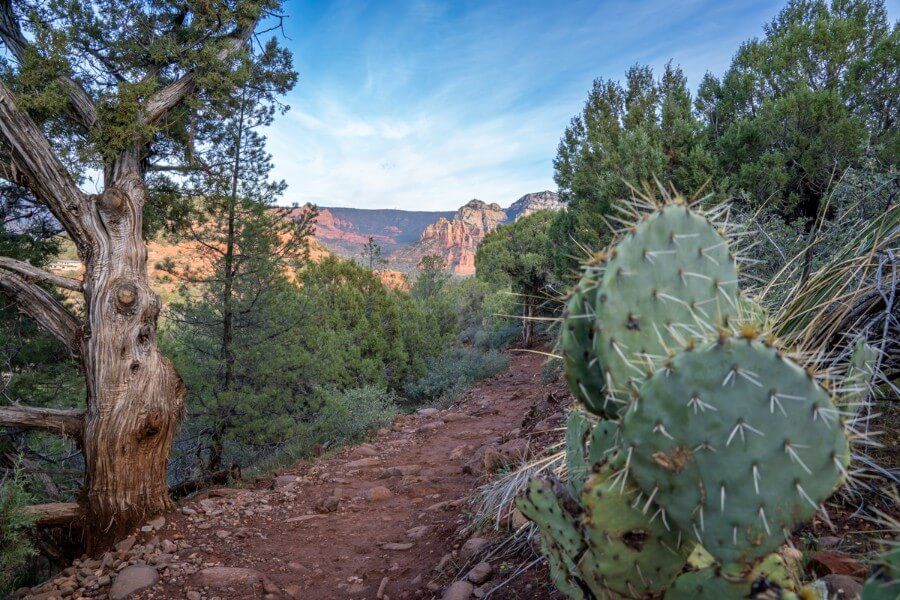 Follow the signs and head out of the parking lot toward Sedona View Trail. You will pass through a fence and must remember to close the gate to prevent deer from running onto the airport runway.
Descend on the narrow rocky path, looking left at residential Sedona with a backdrop of towering red rocks.
After 0.6 miles you will reach a fork in the path. Right would lead you onto Airport Loop Trail but you want to stay left leading to a small mound.
Climb Up To Airport Mesa Vortex Site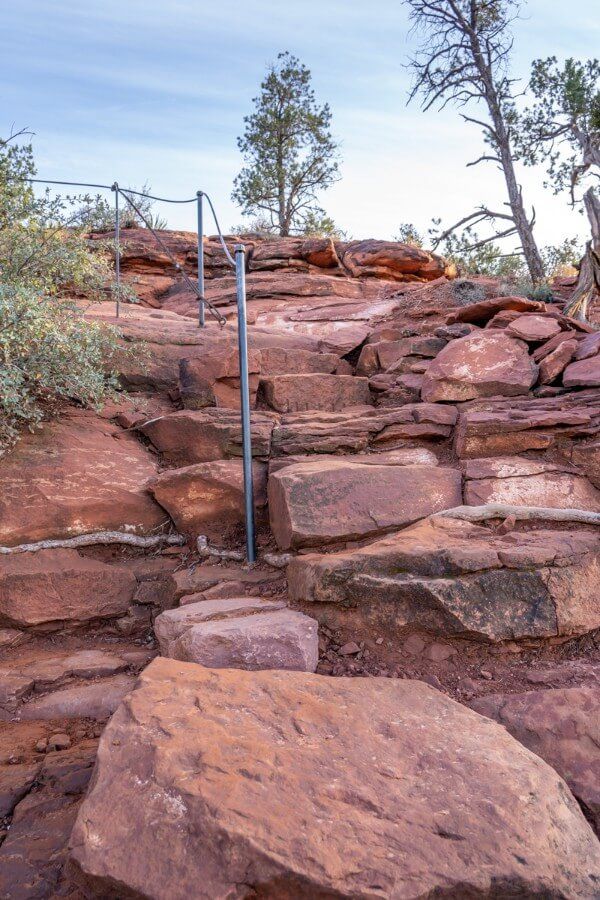 Follow a roped trail until it bends right and climbs up uneven rocks to a flat summit. You will pass by the free parking lot and a path leading further left which marks the other side of the Airport Loop.
This short but steep climb is easy enough for most hikers but may not be suitable for some. The rocks here can become very slippery after or during rainfall.
Photograph Stunning Views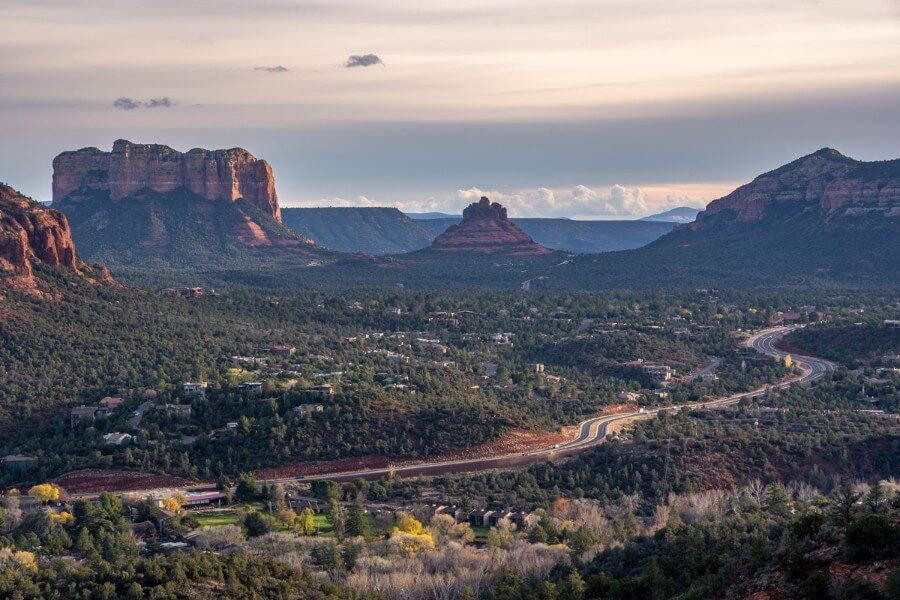 Once you summit and reach the flat topped red rock, you are in for a scenic treat.
You can look northwest toward the city of Sedona, but that view is similar to what you have been looking at as you hiked down the trail and you are now at a lower elevation. You can get a better version of that view later when you're back at the scenic vista.
For now, we suggest you spend your time here at the Airport Mesa vortex site looking instead to the southeast.
You can see the famous Sedona Jeep trail Broken Arrow with submarine rock a standout formation. Further to the right you can see AZ-179 cutting through the stunning Sedona landscape toward Village of Oak Creek.
Behind the road you will be treated to staggering views over Bell Rock and Courthouse Butte as pictured above.
Hike Back Up Sedona View Trail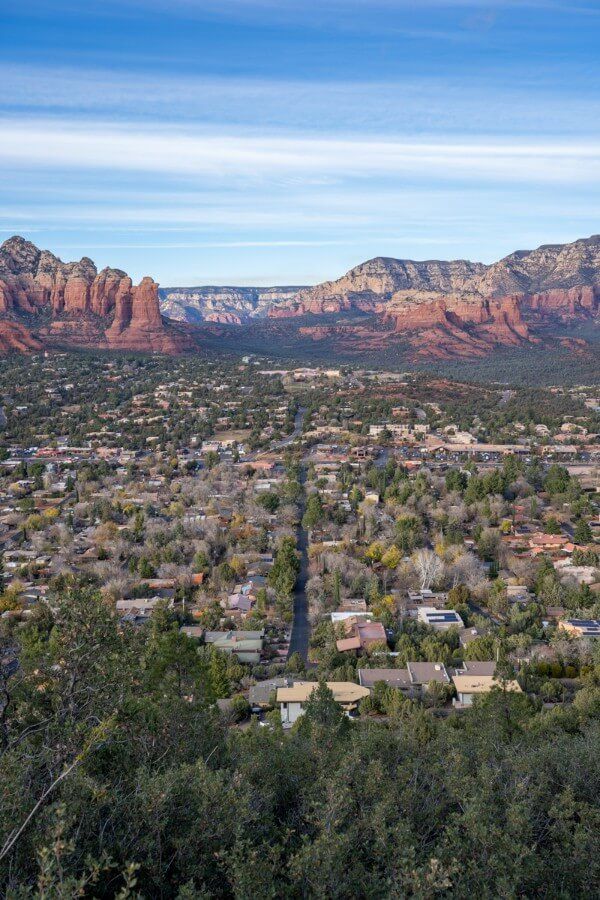 Head back onto Sedona View Trail once you've soaked up enough of the Airport Mesa vortex site view.
Remember, you will be gaining 250 ft elevation continuously on the way back up to the vista. Just keep looking right and it will be over in no time!
Photograph Sunset Over Sedona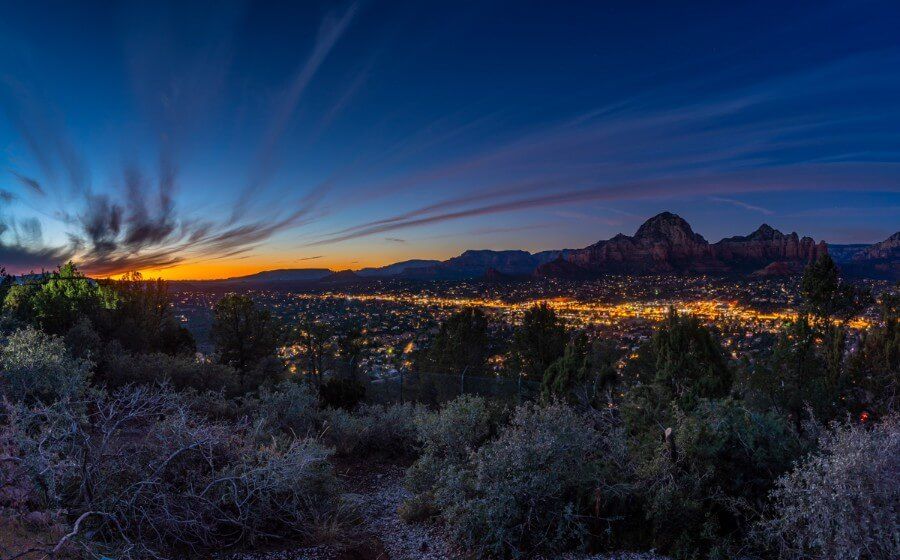 It's worth the effort of hiking down Sedona View Trail so you can enjoy the best views on both sides.
Walk over the pedestrian crossing next to the parking lot and you will enter a small graveled viewing area. It is likely to be busy, but you can find a spot to stand and watch or set up your tripod.
From here you can have the highest elevation viewpoint looking west at the sun and north at downtown Sedona. Watching the sunset at Airport Mesa is one of the best things to do in Sedona.
Airport Mesa is enormously popular during sunset for a reason. It is easy to access and it is a beautiful vista as you can see in the photo above.
Sedona Airport Mesa Sunset Photography Tips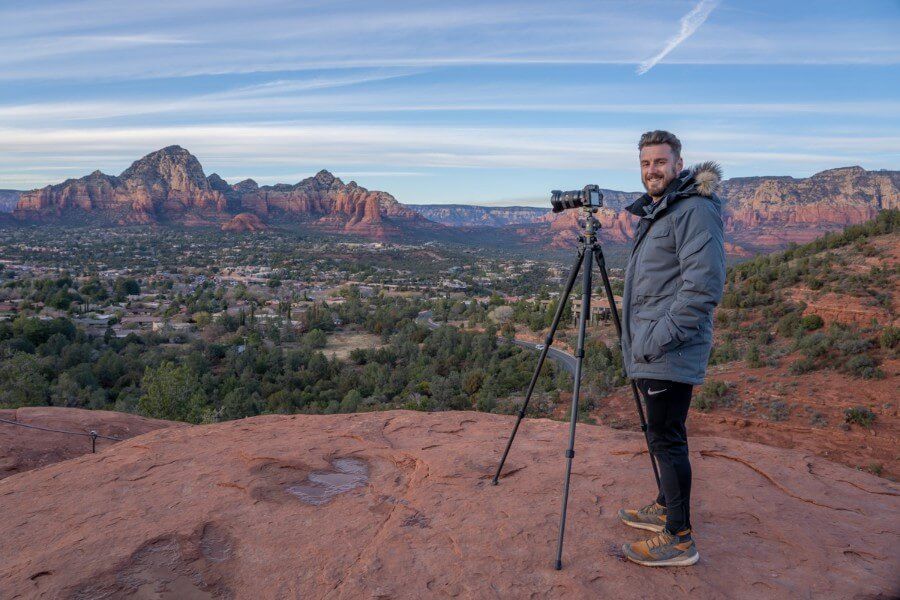 If you want to get the best photos of Sedona from Airport Mesa, make sure you hike Sedona View Trail so you can shoot both ends.
With that said, you could just park at both parking lots and cut out the hike entirely if you really don't want to walk it.
A tripod will help with keeping your ISO down during low light shots as the sun sets.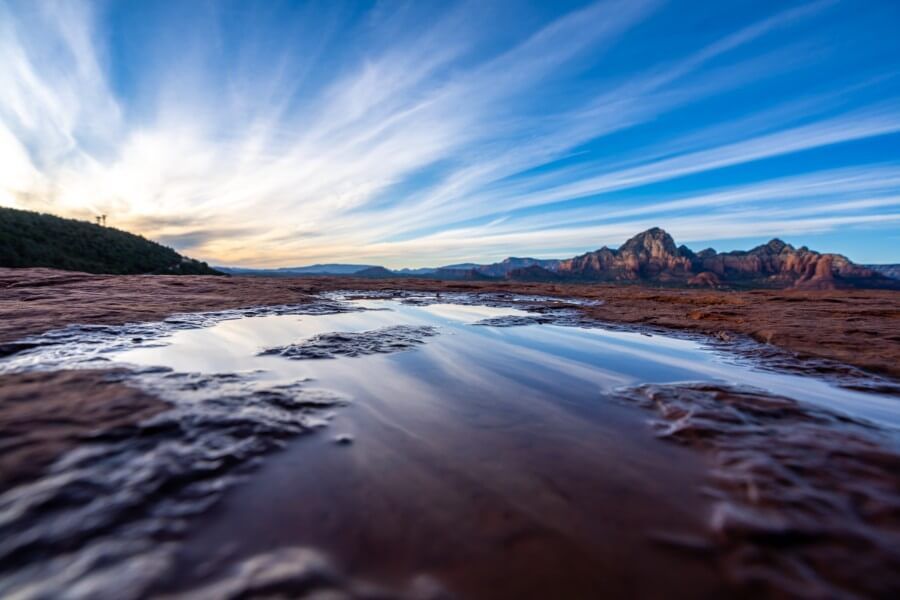 You will find there's a lot more room on the vortex site summit than expected. Be sure to walk all around the area to find the best place to frame and expose your photos.
Look for tiny puddles remaining from recent rainfall. There are loads of small depressions on the flat top at the vortex site and you can create interesting images with reflections if you get low enough.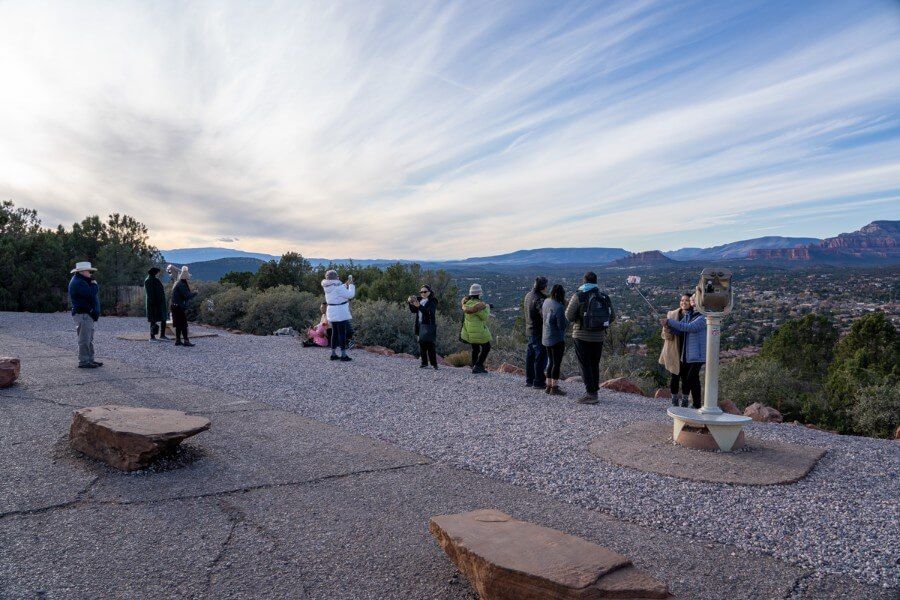 The graveled area at Sedona Airport Mesa vista point is small and fills right before sunset. Arrive early to secure the perfect angle before too many tripods are in this same space.
Trees and a metal fence will both inevitably be prominent in your foreground from this vista as you look over Sedona.
Sedona View Trail Pros And Cons
Very short hike connecting two popular vistas
Excellent views throughout the hike
Vista is incredibly easy to access by car
Trail is sharp and rocky in sections
Not close to being the most exciting hike in Sedona
Very busy during peak times
Best Time To Visit Airport Mesa In Sedona
Time Of Day
We hiked Sedona View Trail around 1 hour before sunset, which led to beautiful views in soft light at both ends but it was very busy. Staying after sunset for night views over Sedona is highly recommended.
If you want to avoid the crowds, why not hike Sedona View Trail at sunrise? You'll benefit from similar stunning soft light photography opportunities but you won't have to deal with the crowds.
We're big advocates of being out early in Sedona!
Season
You can expect Sedona Airport Mesa to be at its busiest on weekends, holidays and during Spring or Fall when temperatures at most comfortable.
Summer sees a slight decrease in visitors due to the Arizona heat, but Winter sees a more significant drop in tourist numbers.
We visited Sedona in Winter and it was still extremely crowded at parking lots and on hiking trails. It's hard to imagine what it would be like during peak times!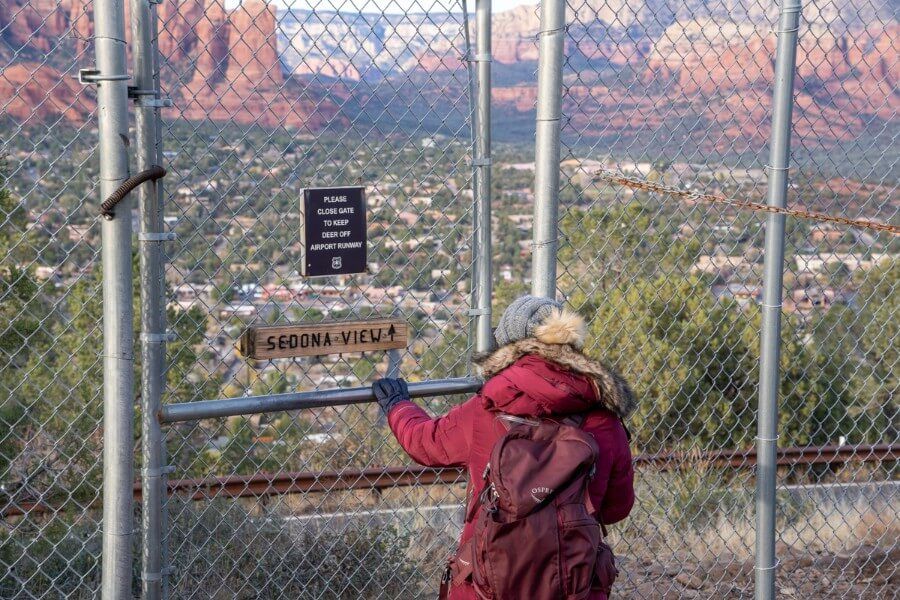 What To Pack For Hiking Sedona View Trail
Footwear – Footwear with good grips and traction are not essential but they will help with traction on the slick rock and with sharp rocks hurting your feet.
Water – If you visit in Summer, you need to carry water even on the shortest of trails in Sedona. The good news is you will never be too far away from your car.
Sun protection – Sunglasses, sun hats, long layers and sunscreen are vital if you are visiting Sedona in Summer. Both the scenic vista and vortex site are completely exposed.
Winter – Early starts and late finishes are cold in Sedona during Winter. Even on sunny mornings or evenings you will need coats, gloves and hats.
Camera – Airport Mesa is one of the most popular photography locations in Sedona at sunset. Don't forget your tripod for low light and wide angle lens for landscape shots.
Sedona Arizona Visitor Summary
How to get around – Sedona is small but you'll need a car to access the best hikes to the north and south of town. If you want to get to the hard to reach places, you should hire a jeep.

When to visit – Spring and Fall are the best seasons to visit Sedona, but they come with a higher price tag and more crowds. Winter is a fantastic time to avoid both.

Where to stay in – Accommodation is expensive in Sedona, but there are plenty of very high quality places to stay including Matterhorn Inn, Lantern Light Inn, Arabella Hotel, Whispering Creek B&B and The Suites at Sedona.

Popular things to do – Sedona is one of the best places to hike in the US, but it is also a wonderful place to get off-road in a jeep, shoot stunning photography, visit historic sites and drink wine.
Sedona View Trail FAQ's
Let's take a look at some of the most asked questions about hiking Sedona View Trail in Sedona.
Is Sedona View Trail Easy?
Sedona View Trail is short but relatively steep and surprisingly rocky. It could be rated as easy by some hikers but to others it will be rated as moderate.
The good news is there are wonderful views over Sedona for the duration of the hike.
Is Sedona View Trail Dog Friendly?
Yes Sedona View Trail is a dog friendly hike in Sedona. Dogs must be kept on a short leash at all times but they are permitted to explore all areas around Airport Mesa, including the vortex site and scenic vista.
Just be sure to pick up after your pooch, none of us want to have a surprise on the trail!
Is Sedona View Trail Worth It?
Sedona View Trail is less a traditional hike and more of a connecting path between two popular scenic vista points. Both points of interest are worth seeing, which means Sedona View Trail is worth hiking.
Airport Mesa at sunset is one thing you shouldn't miss from your Sedona itinerary.
More From Sedona
More From The Southwest
---
We hope this hiking and photography guide to the Airport Mesa Sedona View Trail helps with planning your visit to northern Arizona!
Please let us know if you have any questions about hiking Airport Mesa Sedona View Trail or your visit to Sedona in the comments below.
Happy Travels,
Mark and Kristen
Was This Post Helpful? Pin It For Your Hike!