You can hike to a handful of striking secret caves in Sedona but none are as short, easy and simple to reach as the Birthing Cave on Long Canyon Trail.
Birthing Cave is a comparatively lesser known cave, which means you won't have to contend with the same enormous crowds you'll find inside the nearby Subway Cave.
In this guide we'll explain everything you need to know about the Birthing Cave hike, including where to park and where to turn off Long Canyon for the Birthing Cave Trail.
Let's begin.
Our Birthing Cave Experience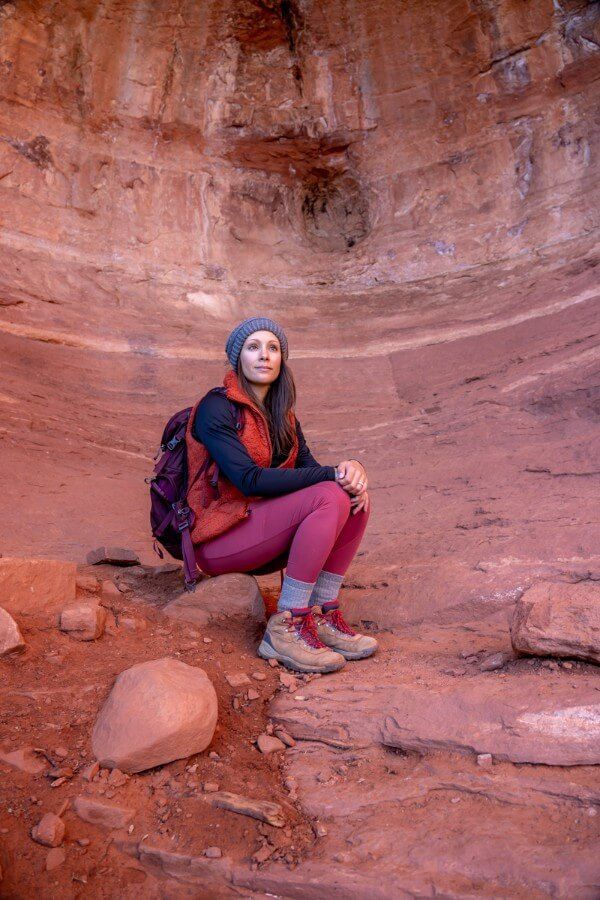 We hiked Long Canyon to the Birthing Cave during our week long visit to Sedona at the end of 2021. It was one of our favorite hikes in Sedona because it was quiet, quick and incredibly picturesque at the cave.
Visiting Sedona in December during the low season meant we had the entire Birthing Cave to ourselves for the 30 minutes we spent inside.
Hiking Statistics
Trail Distance: 1.8 miles roundtrip out and back
Elevation Gain: 270 feet
Hike Difficulty: Easy but a moderate climb into cave
Time Required: 1.5 hours
Trailhead: Long Canyon Trailhead
Best Time: Mid afternoon for best light
Birthing Cave Trail Map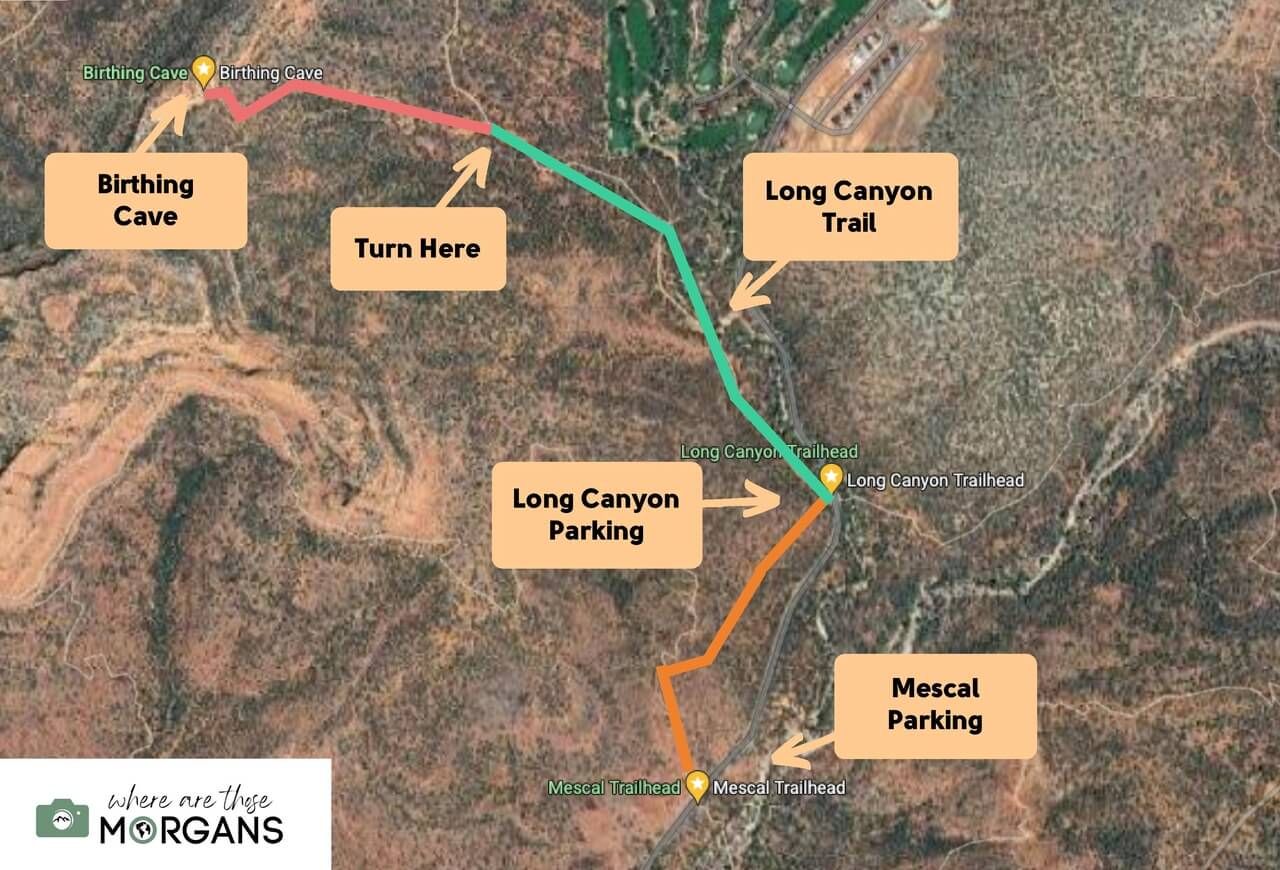 The map above shows your options for accessing the Birthing Cave from Long Canyon Trail. Simply follow the green and red lines to reach the cave.
We recommend parking at Long Canyon Trailhead if you can find a free space. Otherwise park at Mescal Trailhead and walk the connecting trail to Long Canyon (orange line above).
Map key:
Green Line – Long Canyon Trail
Red Line – Birthing Cave Trail
Orange Line – Access path from Mescal trailhead to Long Canyon trailhead
How Do You Get To The Birthing Cave From Long Canyon Trail?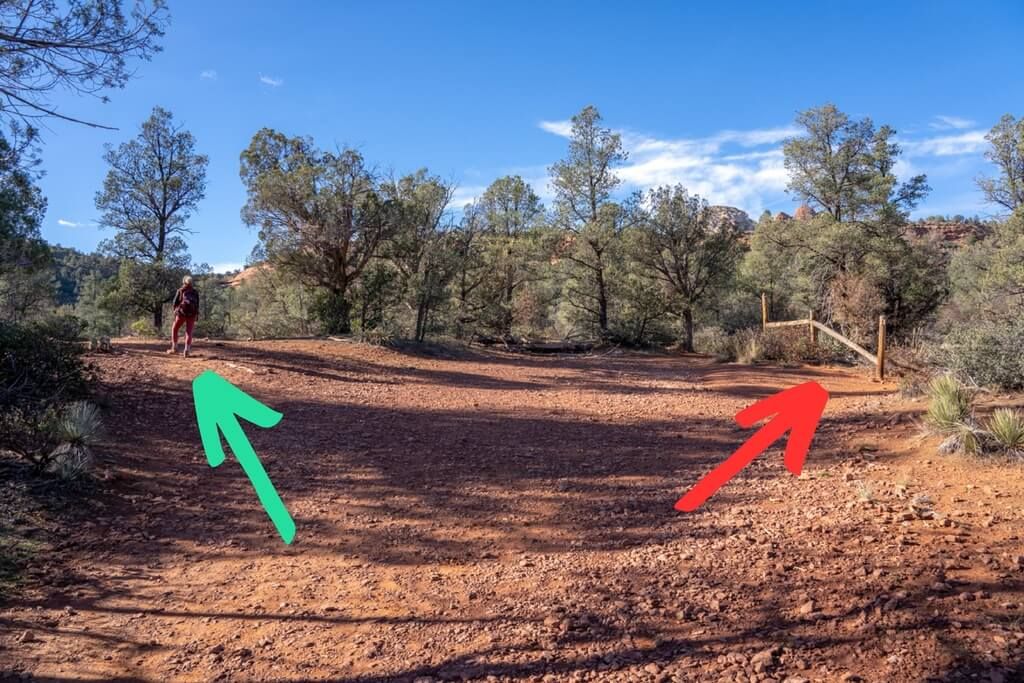 Sedona's Birthing Cave is easy to find once you begin hiking Long Canyon Trail. You will follow a very clear and obvious trail until you see a wooden fence with three posts. At the fence you will take a left turn onto Birthing Cave Trail.
Using our photo above for reference, you will follow the green arrow and walk in the direction you can see Kristen standing. Following the red arrow instead would keep you on Long Canyon Trail.
Hiking Tip: When exploring outdoors, be sure to always practice the seven principles of Leave No Trace to preserve natural beauty so others can enjoy the same environments.
Birthing Cave Hike Walkthrough
Let's get into the Long Canyon and Sedona Birthing Cave hiking walkthrough. We are going to show you the entire trail step-by-step so you know exactly what to expect.
Don't forget you can use our photos below throughout your hike to the Sedona Birthing Cave to help with navigation.
1. Park At Long Canyon Trailhead
Find a parking spot on the roadside around Long Canyon Trailhead. It is important to know there are some spaces hidden away in the trees that can be hard to see from the road.
Arrive early to give yourself the best chance at getting a free space or wait until later in the afternoon when the midday rush has passed.
2. Begin Hiking Long Canyon Trail
You need to be on the west side of the road for the Long Canyon Trailhead. Don't take Chuck Wagon Trail on the east side of the road otherwise you will end up at Devils Bridge Trail instead.
Almost immediately after leaving the parking area you will see a huge information board with maps and details about Red Rock Secret Mountain wilderness area.
3. Mescal Trail Joins Long Canyon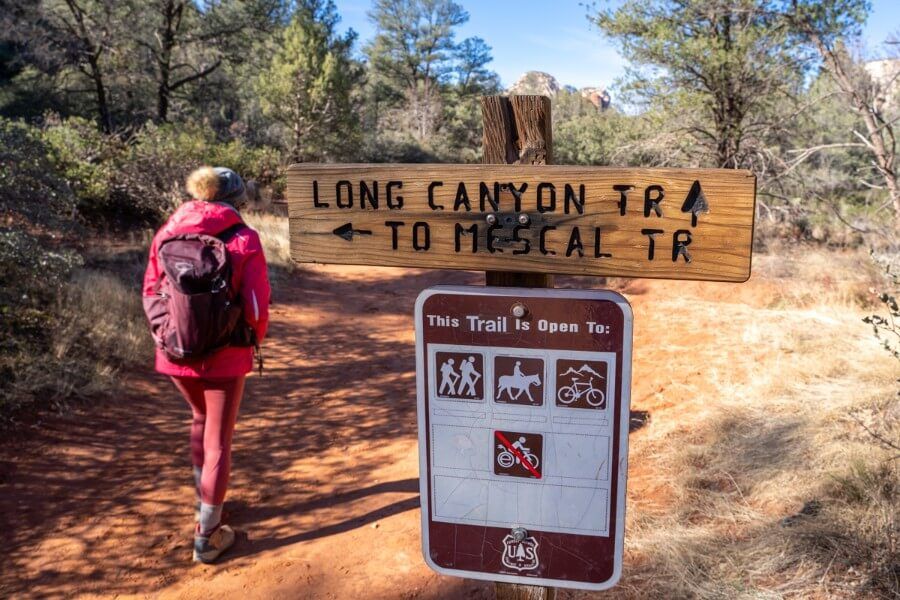 Next, you will pass the intersection of Long Canyon and Mescal. This is where you will join the trail to Birthing Cave if you had to park at Mescal Trailhead.
Be aware that walking the Mescal connecting trail to Birthing Cave will result in an additional 0.8 miles roundtrip to your hike.
4. Walk The Flat And Easy Path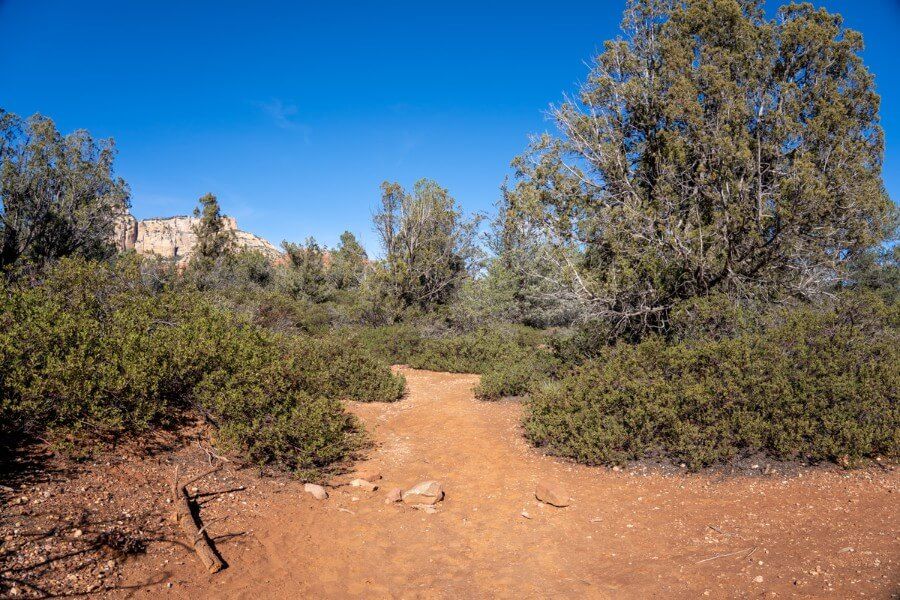 This portion of Long Canyon Trail is flat, easy and soft underfoot. You'll pass between rough desert vegetation as the path narrows and widens.
This is a nice start to a very relaxing hike.
5. Pass Seven Canyons Golf Course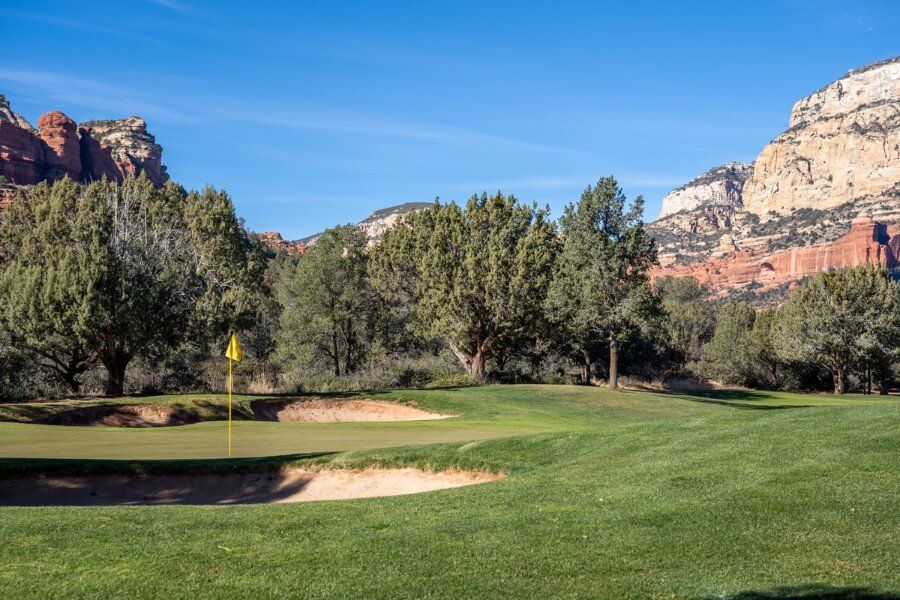 Around half a mile into the Sedona Birthing Cave hike you will pass by the southwest edge of Seven Canyons golf course. You could stop for a few minutes to see if any golfers are playing the hole.
Keep the manicured greens and fairways to your right side and continue as the trail curves around to the left.
6. Take A Left At The Wooden Fence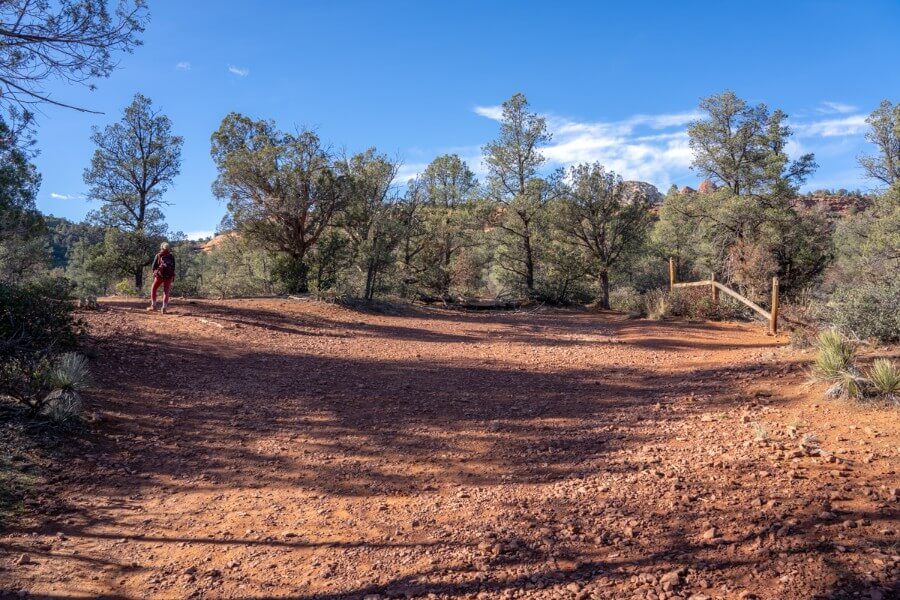 You must take a left turn once you see the uneven wooden fence. This is the most important part of the hike to Birthing Cave in Sedona.
There are two trails running to either side of the wooden fence but you need to completely ignore both. Instead, look to the left side and find the large dirt path opening. Use Kristen's position in the photo above as a guide.
After taking the left turn here you will see a narrow beaten path entering trees and curving around to the left. Next, you will continue following the only clear path leading you in a southwest direction.
7. Climb A Short But Steep Hill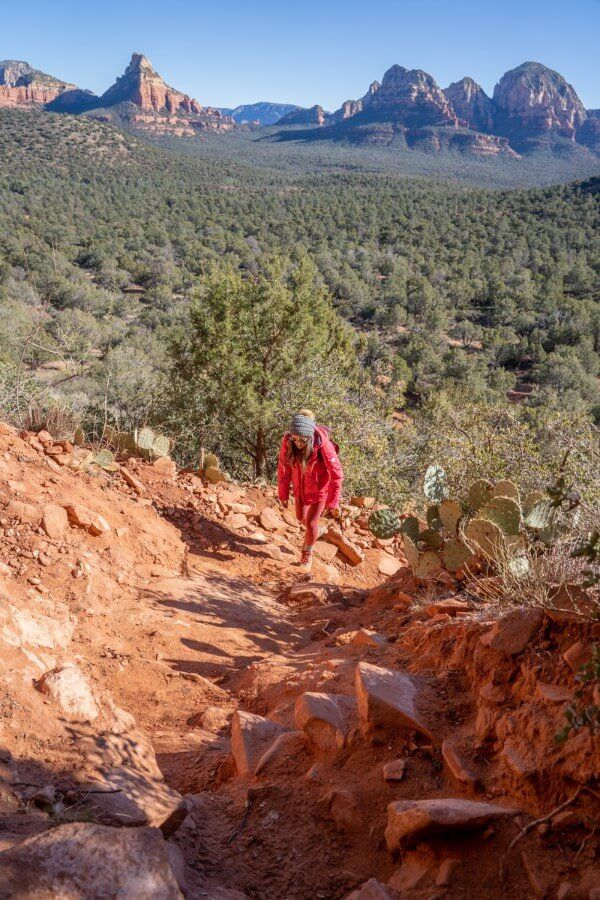 After just a few minutes you will reach the bottom of a short but steep climb. This 0.3 miles section of the Birthing Cave Trail is very rocky with loose gravel and sand so you need to take extra care here.
Do you prefer to go up or go down steep trail sections when hiking? We found it more difficult to go down this steep section of the hike after leaving Birthing Cave.
8. Enter Birthing Cave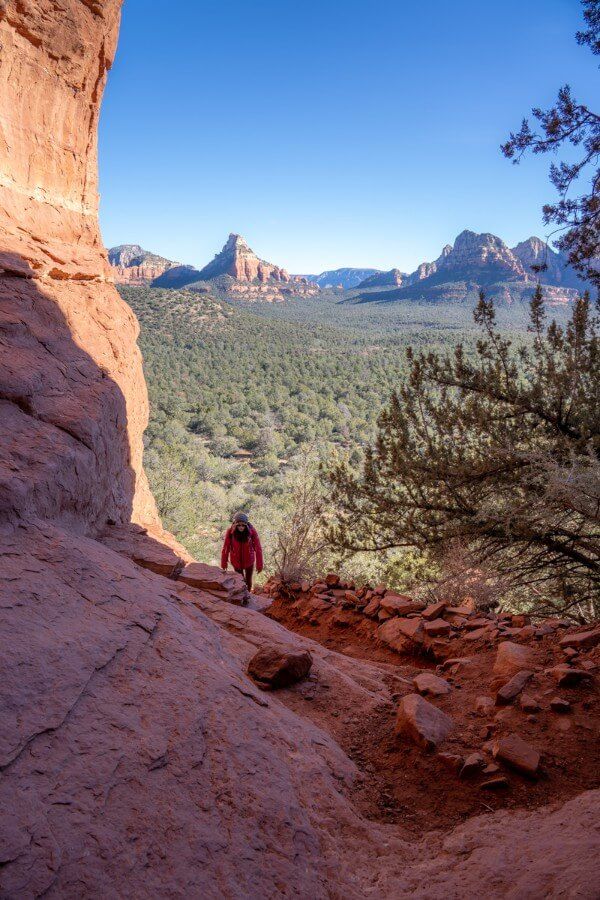 As you approach the top of the climb you will struggle to see how the Birthing Cave is actually a cave because it is not enclosed. But you will see soon enough!
Don't forget to look behind as you climb because the views get better with every foot of elevation you gain.
The hiking trail ends at the bottom center of Birthing Cave. So you don't have to climb any large boulders or use ropes to get inside the cave.
9. Climb Into The Hole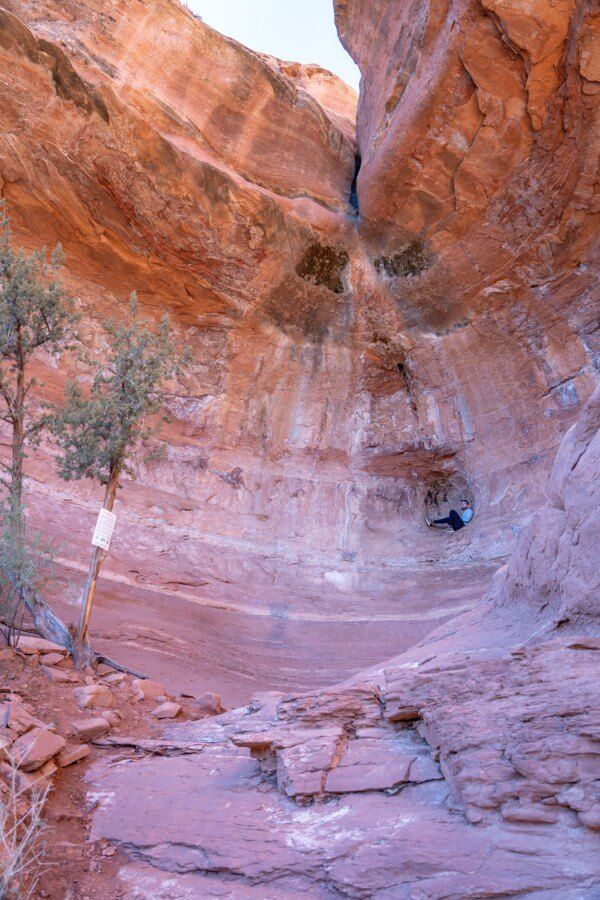 Once you enter the Sedona Birthing Cave you will quickly realize that you are going to have to climb up steep slick rock in order to sit inside the circular indent at the back.
The half-sphere inside the Birthing Cave is like a tennis ball sliced in half. And the rounded smooth rocks leading up to the sphere can be very slippery and hard to climb.
Mark found it easier to forge a path by zig-zagging slightly and then walking across a narrow ledge to get inside the sphere.
Important – Do not use poles or anything else as support because you would risk damaging the Birthing Cave. Remember the principles of leave no trace.
10. Enjoy The View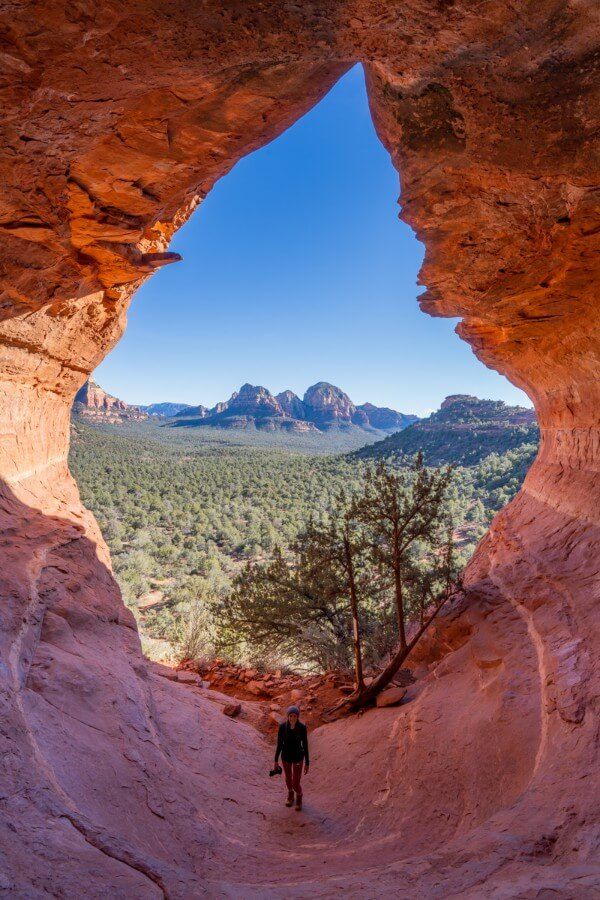 Looking out from the back of the Birthing Cave you will now see that the entrance is shaped very much like how we typically draw the shape of a flame or a teardrop.
The views from here are simply amazing. You can walk out on a narrow ledge to the left side for a fun perspective photo as you look out at the ocean of trees and red rocks.
Remember to take care as you descend out of Birthing Cave. It should take no longer than 30 minutes to get back to Long Canyon Trailhead.
Birthing Cave Trail Pros And Cons
Pros:
Much quieter than other caves and hikes in Sedona
Very quick and easy to access Birthing Cave
Stunning views from the very back of the cave
Cons:
Parking is extremely limited
Getting into the sphere is difficult
Not the most exciting trail in Sedona
Birthing Cave Trailhead Parking
Parking at Long Canyon Trailhead for the Birthing Cave hike is unusual for Sedona. Instead of a designated parking lot, you have to find free space on the roadside or inside a grouping of trees.
Here's the Google Maps location for the Long Canyon trailhead parking area. You will find space for around 15 cars in total on both sides of the road.
Birthing Cave is a much quieter hike than the likes of Devils Bridge and Cathedral Rock but it can still be a challenge to park because there are so few spaces.
Alternate Parking Options
If you can't get parked up in the wooded area or on the immediate roadside at Long Canyon Trailhead, turn around and head back down Long Canyon Road.
You can park in a dirt packed pullout around 0.2 miles back down the road towards Sedona. It has space for another 3 cars.
Finally, if the small pullover is also full you will need to continue down the road a further 0.2 miles until you reach Mescal Trailhead, which has space for around 20 cars
Best Time To Hike Long Canyon Trail To Birthing Cave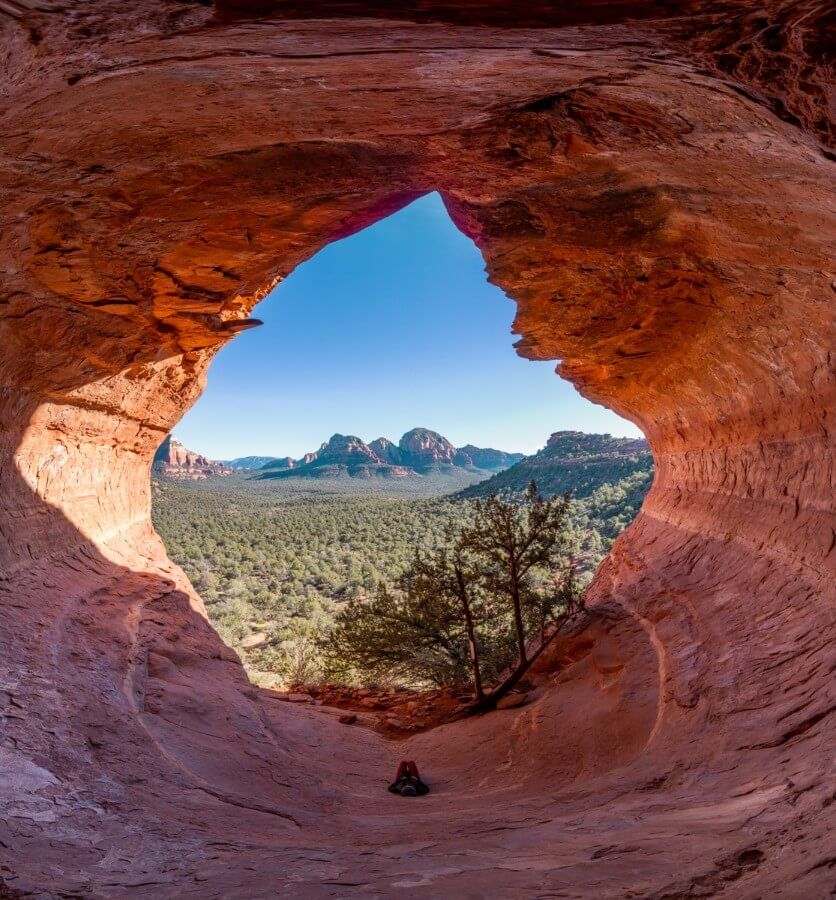 The ideal time to hike Long Canyon Trail to Birthing Cave in Sedona would be on a weekday afternoon in spring or fall so you can benefit from perfect hiking and light conditions.
Best Season
Spring and fall are the two best seasons to visit Sedona and hike the multitude of amazing trails including Birthing Cave. However, Sedona is so incredibly busy during these peak months that parking at trailheads can be near impossible at times.
Winter and summer to a certain extent offer quieter periods in Sedona, which means you have more chance getting parked at trailheads. It's less about temperatures and busy hiking trails, more about finding free parking spots.
No matter which season you hike Birthing Cave Trail, try to avoid weekends, holidays and the 10:00am to 2:00pm rush.
Best Time Of Day
The best time of day to hike the Sedona Birthing Cave Trail is mid-afternoon between 2:00pm to 4:00pm.
Birthing Cave is east facing, which means it will fill with light in the morning and you'll be looking out directly into the sun. By late afternoon the sun will have moved so far around to the southwest that the cave will be in deep shadow and you will have a clearer view looking out over Sedona.
Looking for hiking inspiration? Read our popular guide to the 50 best hikes in America next!
What To Pack For Hiking To Birthing Cave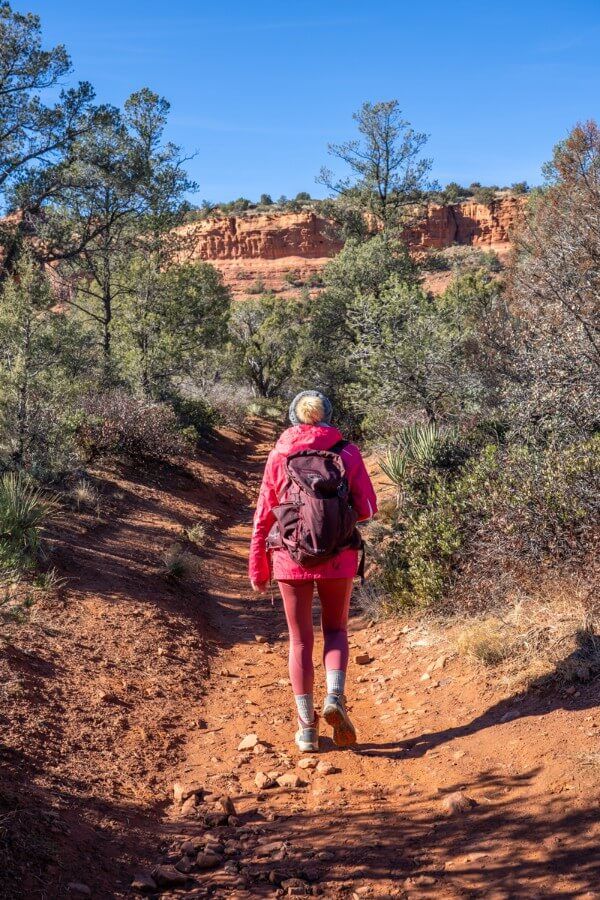 Footwear – Footwear with good grips and traction are going to help you climb up steep banks and reduce slipping on sandy rocks accessing the Birthing Cave. Once you're inside the cave you won't make it into the sphere without grippy shoe soles.
Water – The hike to Birthing Cave is short but it is exposed, which means you'll need to take water. Summer months require more water and even electrolyte drinks.
Sun protection – Sunglasses, sun hats, long layers and sunscreen are vital if you are visiting Sedona in spring, summer and fall.
5 Things You Need To Know
Birthing Cave Trail is a dog friendly hike
The Birthing Cave is a vortex but it is not one of the 4 most powerful vortex sites in Sedona
You do not need to display a parking pass to hike Birthing Cave Trail
Birthing Cave is definitely worth including on your Sedona itinerary
This is one of the best bang for your buck hikes in the city
Our Top 5 Tips For The Sedona Birthing Cave Hike
Park at Mescal if Long Canyon parking area is full

Don't miss the left turn at the fence for Birthing Cave

Wear shoes with excellent grip so you can get into the sphere

Mid-afternoon or even near sunset will give you the best light

Use a wide angle lens to capture the entire cave

entrance
Track Your Hike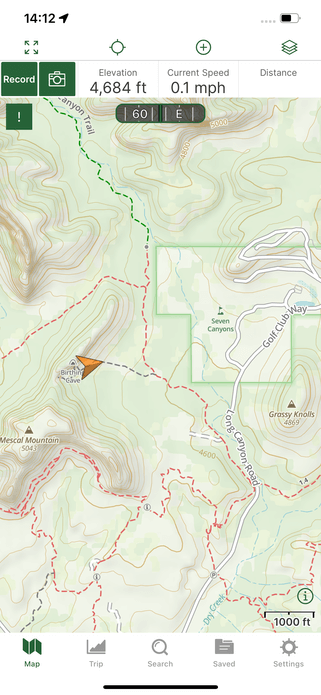 Do you use any of the best hiking apps to track your hikes?
We followed our live location marker on our Gaia GPS app as we took the turn from Long Canyon onto Birthing Cave to make sure we were on the right trail and minimize our impact on the environment.
Use our exclusive 20% discount link if you would like to join Gaia GPS Premium and track your future hikes.
Is Birthing Cave Worth It?
Yes! All things considered we think Birthing Cave is one of the best hikes in Sedona. It's one of the quieter and easier cave trails you can hike around the area, and you get a really photogenic view at the end.
More Sedona Hikes
More From Sedona
Want more Arizona content? Head over to our Arizona travel guides to explore the best of Grand Canyon, Sedona and beyond.
---
We hope this guide to hiking Long Canyon Trail to the Birthing Cave helps with planning your visit to Sedona, Arizona!
Please let us know if you have any questions about the Birthing Cave Trail or your visit to Sedona in the comments below.
Happy Hiking,
Mark and Kristen
Was This Hiking Guide Helpful? Pin It For Your Visit To Sedona!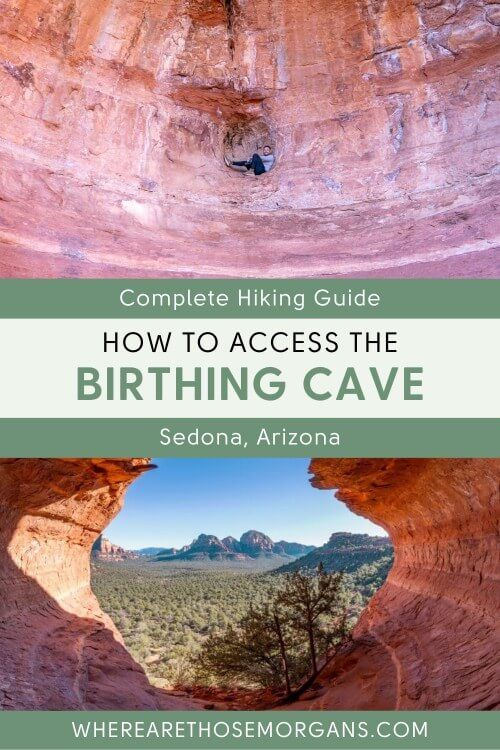 Note: This article contains affiliate links. When you make a purchase using one of these affiliate links, we may earn a small commission at no extra cost to you.
All Rights Reserved © Where Are Those Morgans, LLC. Republishing this article and/or any of its contents (text, photography, maps, graphics, etc.) in whole or in part is strictly prohibited.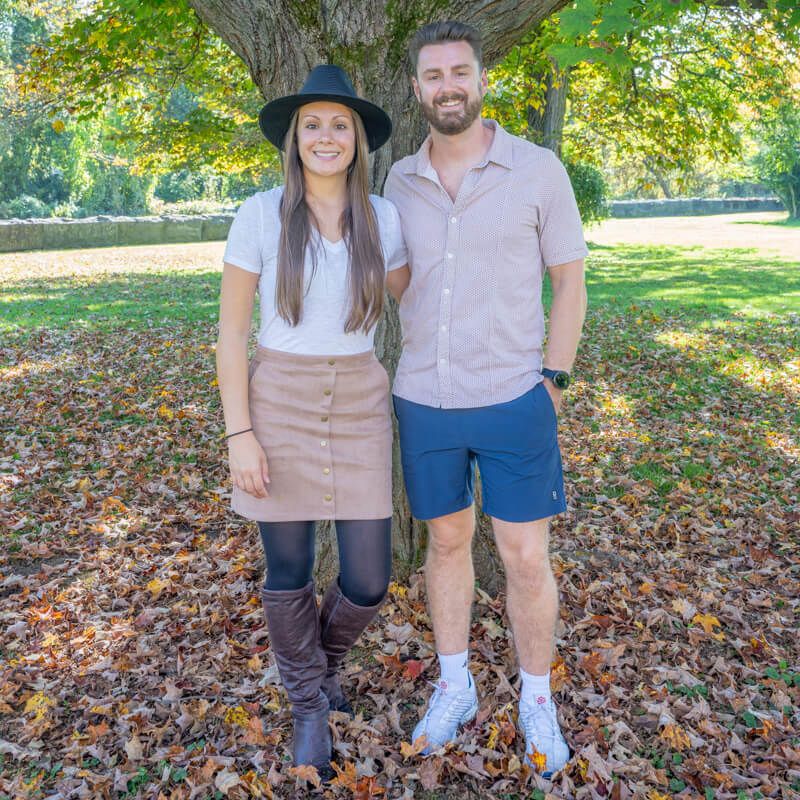 Mark and Kristen Morgan are travel, hiking and photography experts. Over the last 6 years traveling full time, they have explored more than 40 countries and 30 US states.
Their work has been featured in USA Today, Gestalten, Get Your Guide, CityPASS and Condé Nast Traveler along with various other publications.