You can hike to a handful of striking secret caves in Sedona but none are as short, easy and simple to reach as Birthing Cave on Long Canyon Trail.
The best part?
Birthing Cave is a comparatively lesser known cave, which means you won't have to contend with the same enormous crowds you'll find inside nearby Subway Cave on Boynton Canyon.
In this guide we will show you:
Where to park for hiking Long Canyon Trail to Birthing Cave
The exact path you need to follow and turn to take
Photos from the entire trail so you can see the hike and Birthing Cave
Tips and best time to hike
Let's hike to the quiet and relaxing Birthing Cave on Long Canyon Trail in Sedona, Arizona!
*Please note this post may contain affiliate links. If you click on one, we may earn a small commission at no extra cost to you. Thank you for supporting the free content we provide! Read more in our disclosure policy.*
Hiking Statistics
Trail Distance: 1.8 miles roundtrip out and back
Elevation Gain: 270 feet
Hike Difficulty: Easy until moderate climb into cave
Time Required: 1.5 hours
Trailhead: Long Canyon Trailhead
Best Time: Mid afternoon for best light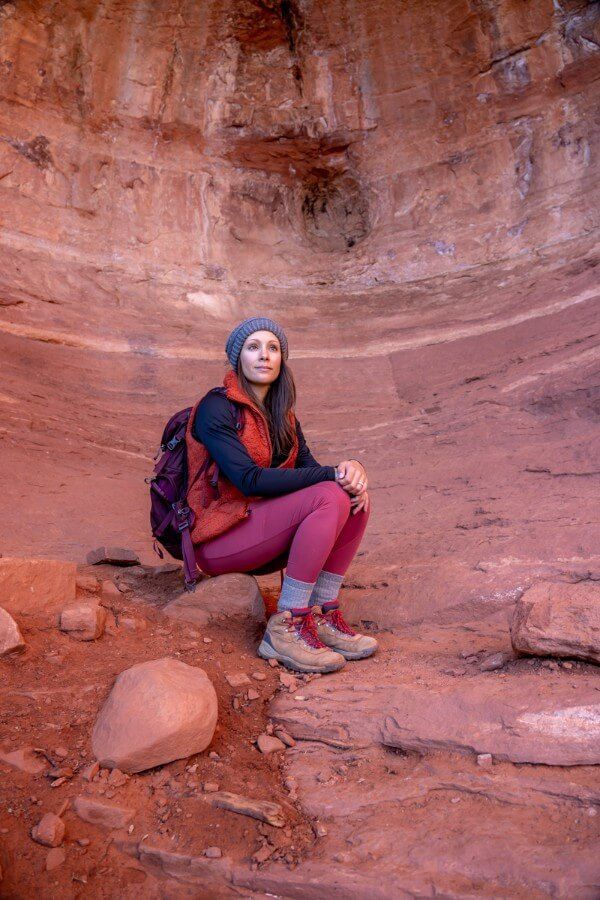 Long Canyon Trail
Birthing Cave is accessed via an unmarked turn off 0.6 miles along Long Canyon Trail in the Red Rock Secret Mountain Wilderness area North of downtown Sedona.
Long Canyon Trail is an extremely quiet hike if you continue beyond the turn off for Birthing Cave. Long Canyon to Birthing Cave features in our popular roundup of the 20 best hikes in Sedona.
We don't recommend you hike the full length of Long Canyon unless you have plenty of time on your Sedona itinerary or you are looking for an escape from overcrowded trails.
Popular nearby hikes include the always busy Devils Bridge Trail, Boynton Canyon Trail, Fay Canyon Trail and Doe Mountain Trail.
How Long Is The Long Canyon Trail?
Long Canyon Trail is a 7 mile round trip out and back hike with 820 feet elevation gain.
Is Long Canyon Trail Easy?
Long Canyon Trail is an easy hike to begin but increases to a moderate difficulty gradual climb near the end.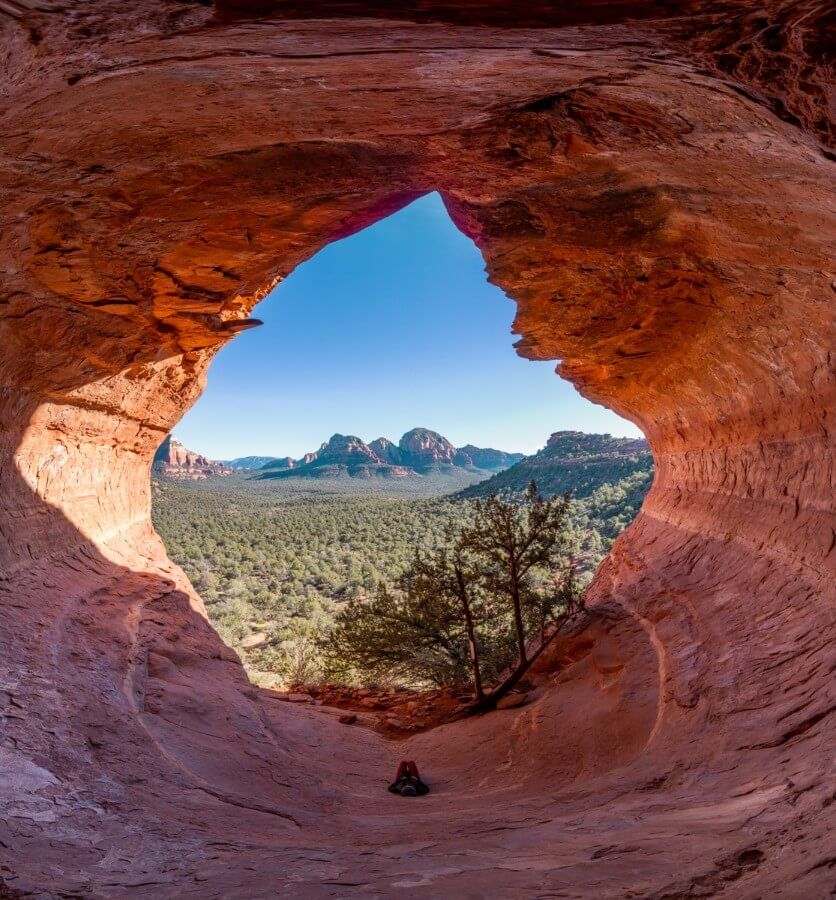 Birthing Cave
Birthing Cave is a more of a diamond or flame shaped concave formation in the side of a red rock mountain than a traditional cave. Inside the concave formation is a small indented spherical hole shaped exactly like half a tennis ball.
You have to get right up inside Birthing Cave to fully appreciate the formation and be able to see the flame shaped outline.
The only place you can truly appreciate Birthing Cave and its spectacular view is from inside the sphere.
Despite being less famous than other caves in Sedona, you may still find a lot of people inside. This is a hugely popular place to visit year round and exploring caves is one of the best things to do in Sedona.
In the photo above we stitched 3 images together at 16mm wide which stretches out the cave entrance but gives a great perspective of the inside of Birthing Cave.
Why Is It Called Birthing Cave?
You must be wondering why it is called the Birthing Cave?!
Well, there are 2 popular theories:
Indigenous Hopi Indians who inhabited the area many years ago would send women to the Birthing Cave right before they gave birth to their children.
The cave shape and formation strongly resembles the female reproductive organ, and as a result was named the birthing cave.
We like the idea of it being the first theory but the second theory is hard to ignore!
How Long Is The Hike To Birthing Cave In Sedona?
Birthing Cave is a 1.8 mile roundtrip out and back hike with just 270 feet elevation gain to climb. This makes it one of the easiest and quickest caves to access in Sedona.
Is Birthing Cave An Easy Hike?
Birthing Cave is a very easy trail to begin but there is a moderately difficult hill to climb in order to access the cave. The climb is short at around 0.3 miles but it steep.
Access to Birthing Cave is similar in difficulty to Solider Pass Cave and Subway Cave, but not as difficult as the mighty Keyhole Cave in Sedona.
You will need good traction on your footwear for the climb and inside Birthing Cave. If you usually hike with trekking poles, take them along for support as you climb into Birthing Cave.
Is Birthing Cave A Sedona Vortex?
The 4 most powerful Sedona vortexes are Boynton Canyon, Cathedral Rock, Bell Rock and Airport Mesa on the eastern side of Sedona View Trail.
But the entirety of Sedona is considered one great big vortex. Birthing Cave is regarded as a place of healing and energy, as well as being a site of cultural significance to the indigenous Hopi people.
So in essence, yes the Birthing Cave is a Sedona vortex but it is not one of the 4 most powerfully concentrated areas of energy.
Do You Need A Pass To Hike Birthing Cave Trail In Sedona?
You do not need to display a Red Rock Pass or America the Beautiful annual pass to hike Long Canyon Trail and Birthing Cave. There are no ticket machines at the parking area.
Unlike many of the popular trails around Sedona, the Long Canyon Trail can be accessed without any parking pass.
For those planning to hike more trails in the area, you will need either a Red Rock Pass (or America the Beautiful Pass) to access this list of places in Sedona.
We'll list instructions below on what you need to display in case you do hike other trails in Sedona.
Red Rock Pass
You can buy a Red Rock Pass at this specific recreation.gov site in advance, or you can buy one at a ticket machine when you arrive in person at either parking lot listed further in this guide.
Red Rock Pass options include:
1 Day Red Rock Pass – $5
7 Day Red Rock Pass – $15
Red Rock Annual Pass – $20
If you plan to hike more trails around Sedona over a period of 2 – 7 days, you should buy the 7 day pass because you will need it at many other trailheads in the area.
America The Beautiful Pass
Are you a regular visitor to US National Parks and Monuments?
It's highly likely you already have an annual National Parks pass, which is also known as America the Beautiful or the Interagency Pass.
Don't have one yet?
Read our guide on why America the Beautiful national parks pass is one of the best things you can buy if you plan to visit multiple parks in the next year.
Instead of buying a Red Rock Pass you can simply display your America the Beautiful Pass.
Where To Park For Hiking To The Birthing Cave
Parking for hiking Long Canyon Trail to Birthing Cave is hit or miss. The parking area isn't a designated tarmac lot like most hikes in the area. Instead you can park on the roadside or right off the road inside a group of trees.
Here are your options.
Long Canyon And Chuck Wagon Trailhead
Take Dry Creek Road (which transitions into Boynton Pass Road)
Take a right turn off Boynton Canyon road when you reach Long Canyon road
Follow Long Canyon rd for 0.6 miles until you see a dirt track turn off to the left
Here's the Google Maps location of the Long Canyon trailhead parking area
There are very few spaces at the trailhead for Long Canyon, maybe 5-10 total depending on how each cars parks.
An enormous puddle frequently stagnates right around the entrance to the wooded area, which makes parking difficult.
On the opposite side of the road there are around 6-10 spaces but they are also for hikers who want to walk the Chuck Wagon Trail which eventually leads to Devils Bridge.
Despite being comparatively quiet compared with other hikes, this small parking area fills very quickly year round because there are so few spaces.
Alternative Parking Options
If you can't get parked up in the wooded area or on the immediate roadside, turn around and head back down Long Canyon Road:
You can park in a dirt packed pullout around 0.2 miles down the road, which has space for another 3 cars
If that is full continue down a further 0.2 miles until you reach Mescal Trailhead, which has space for around 20 cars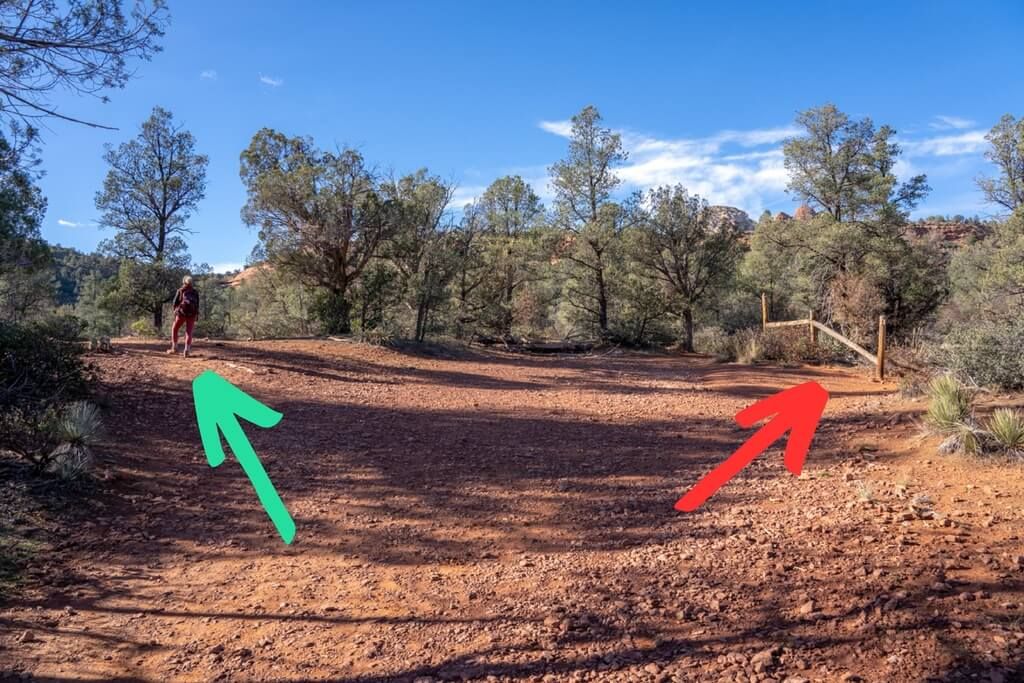 How Do You Get To Birthing Cave From Long Canyon Trail?
Birthing Cave is easy to find with a very obvious landmark you can use as a point of turning off Long Canyon Trail and onto the trail leading into Birthing Cave.
A fence with 3 posts marks the turning point for Birthing Cave. Do not walk near the fence, instead turn left following the green arrow as in the photo above.
If you follow the red arrow in the image above, you will continue hiking on Long Canyon Trail.
Hiking Map Of Long Canyon Trail And Birthing Cave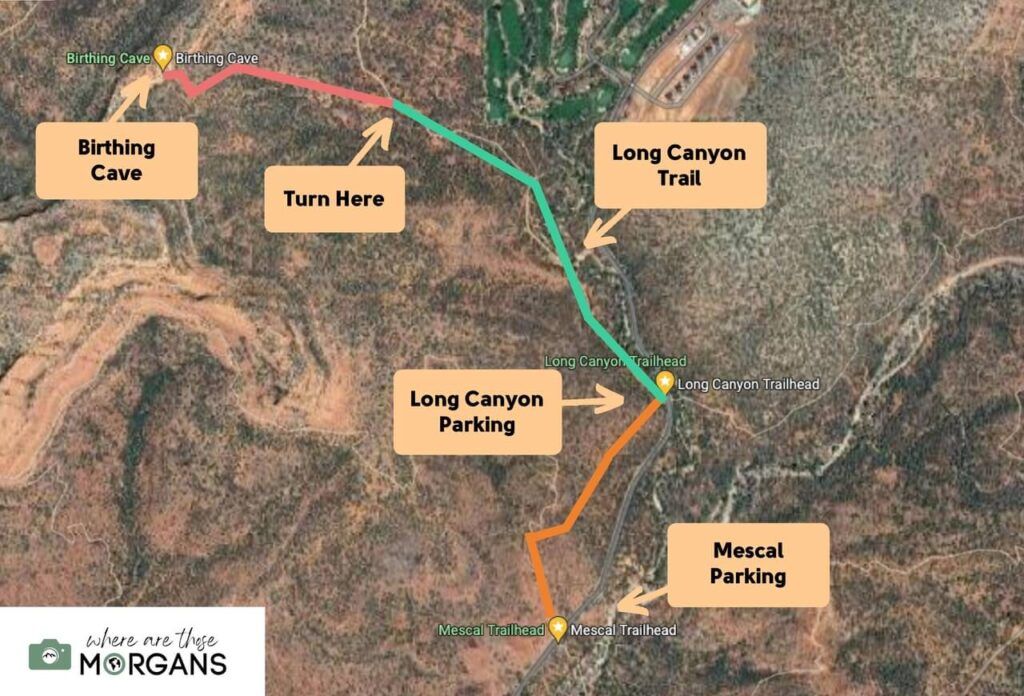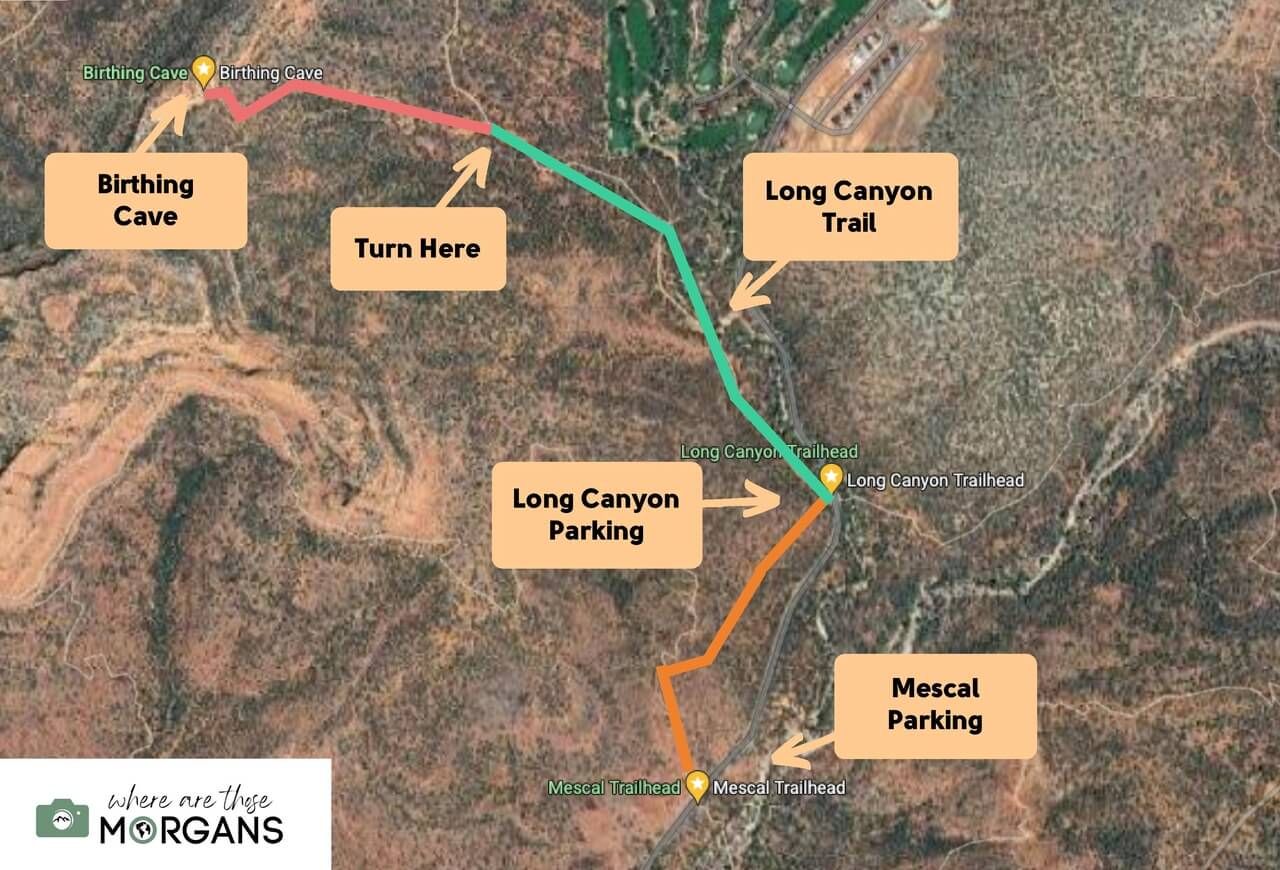 The map above shows exactly what you can expect when hiking Long Canyon Trail to the Birthing Cave. A short hike leading to a turn off point and a very short spur trail leading to the cave.
Nice and straight forward!
This is a very easy cave to access and the hike is just 1 mile each way for a total of 2 miles roundtrip from Long Canyon trailhead.
Map key:
Orange Line – Access trail from Mescal trailhead to Long Canyon trailhead
Green Line – Long Canyon Trail
Red Line – Spur trail to Birthing Cave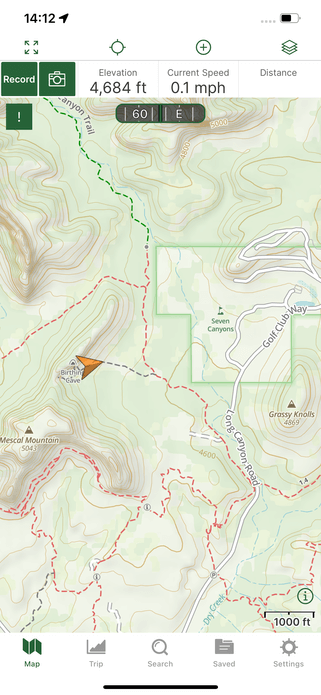 Hiking Apps
Do you use any of the best hiking apps when hitting new trails around the United States?
Personally we use Gaia GPS Premium and we always download offline maps onto our Gaia GPS app so we can track our location and statistics on a trail without internet access.
We followed our live location marker as we took the turn for Birthing Cave and made sure we were on the right path. It also came in very handy for most other hikes in Sedona, where cell phone signal is spotty.
Notice on our screenshot that Birthing Cave is located at 4,684 ft elevation and we were inside the cave at 2.12pm for best light.
Where Are Those Morgans has an exclusive 20% off link if you would like to join Gaia GPS Premium to track your hikes.
Looking for hiking inspiration? Read our popular guide to the 50 best hikes in America next!
Birthing Cave Hike Walkthrough
Let's get into the Long Canyon and Birthing Cave hiking walkthrough.
Amazing trails like Birthing Cave are part of the reason for Sedona being one of the best places to visit in Arizona and we hope you enjoy your hike!
Park Up
Find a Long Canyon parking spot in the wooded area or roadside, or park at Mescal Trailhead if it is full.
Arrive early to give yourself the best chance at getting a free space or wait until later in the afternoon when the midday rush has passed.
Take Long Canyon Trail Heading West
Stick to the West side and head for the Sedona Long Canyon Trail. Don't take the path on the East side of the road for Chuck Wagon Trail.
You will pass a huge information board with maps and details about Red Rock Secret Mountain wilderness area.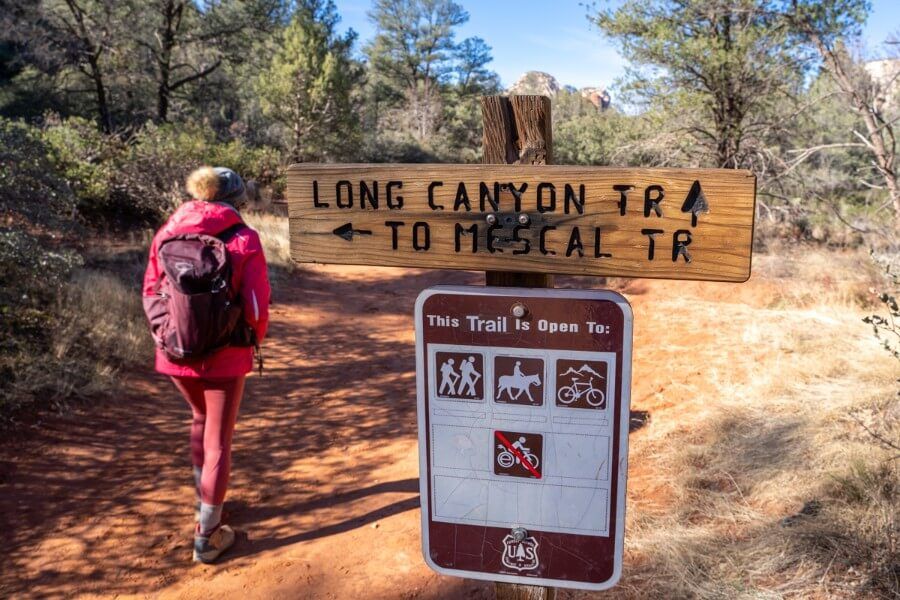 Mescal Trail Joins Long Canyon
If you had to park down at Mescal Trailhead you can take a connecting path which joins with Long Canyon right at the beginning of the hike.
You would add on around 0.8 miles total to your hike if you walk from Mescal Trailhead to Birthing Cave and back.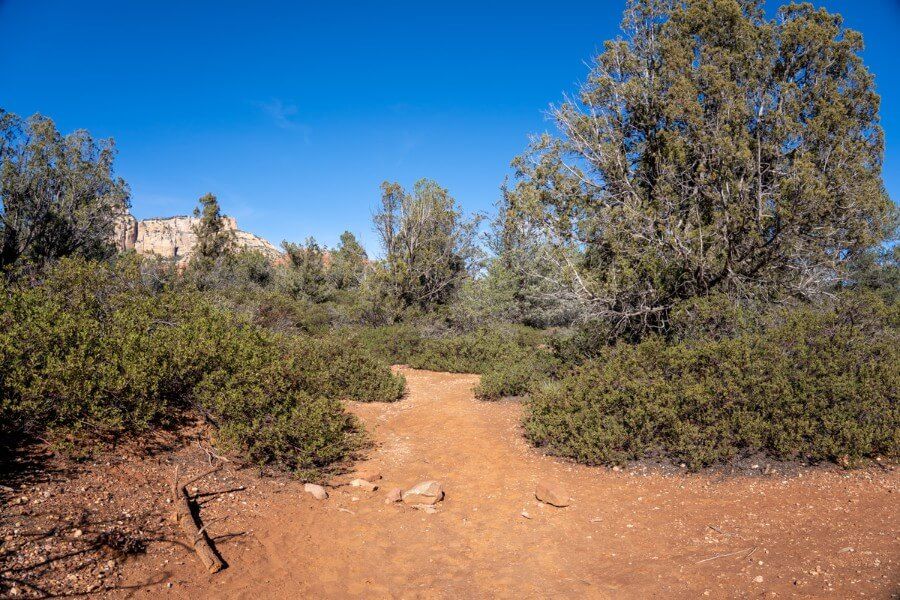 Walk The Flat And Easy Path
The trail is flat, easy and soft underfoot with some sections of deeper sand.
You will begin by walking Northwest, and you'll pass through desert vegetation as the path narrows and widens.
This is a nice start to an overall very relaxing hike.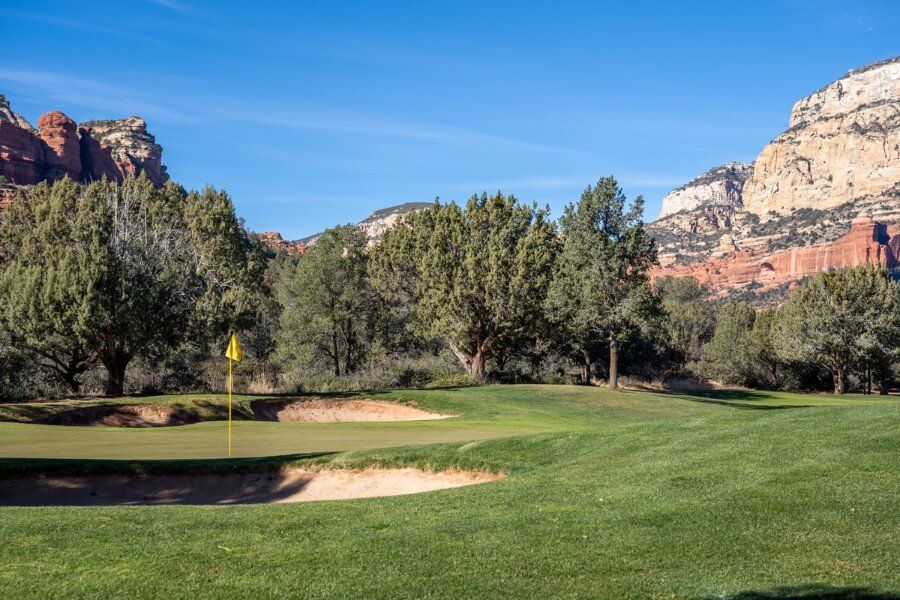 Pass Seven Canyons Golf Course
Around half a mile into the hike you will pass by Seven Canyons golf course.
Keep the manicured greens and fairways to your right side and continue as the trail turns West.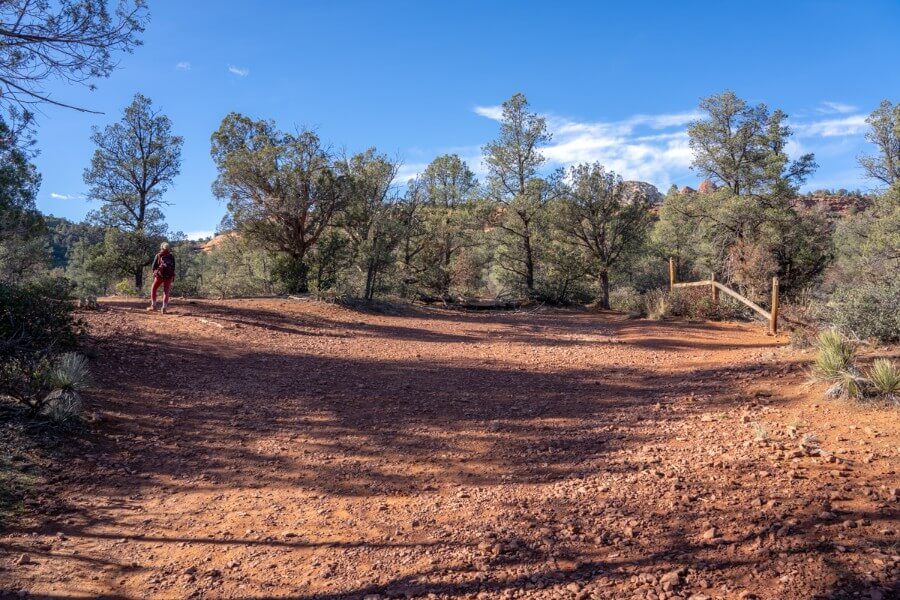 Take A Left At The Wooden Fence
This is the most important part of the hike to Birthing Cave in Sedona and the only place you can get it wrong if you're not careful.
Just 0.1 of a mile after the golf course you will reach a wooden fence with 3 wooden posts covering half of the trail. There are two very obvious trails running to either side of the wooden fence.
You want to completely avoid both of those trails, and instead look to the left side for tree branches on the ground.
Beyond the tree branches you can see a beaten path entering trees and curving round to the left.
Further to the left is a wider and larger opening. Take either of the two trails heading Southwest in order to reach Birthing Cave.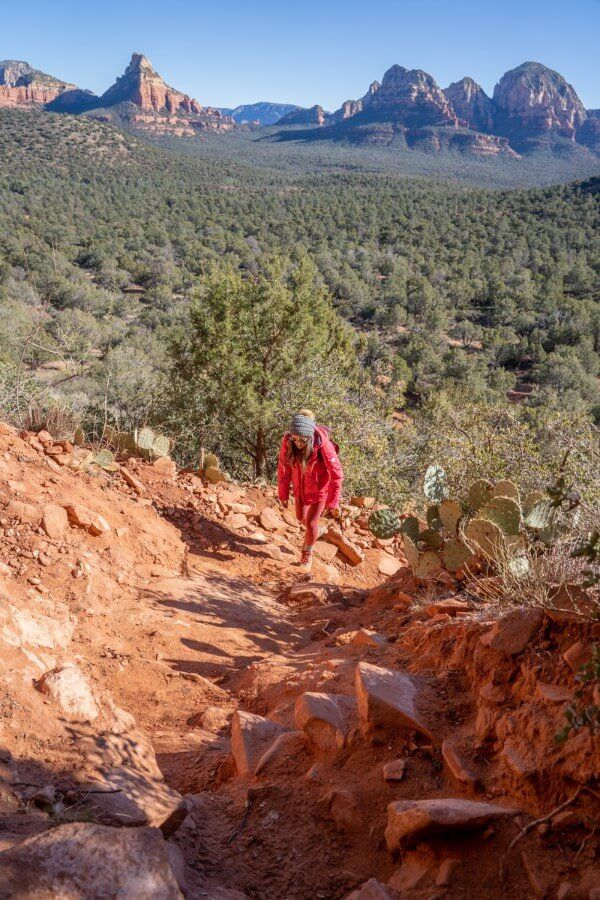 Climb A Short But Steep Hill
After taking the turn, you will head Southwest for a short period before beginning to climb for a total of 0.3 miles on the spur trail to Birthing Cave.
The only part of the trail to challenge you will be this short but steep and rocky climb up into Birthing Cave, and then again on the way back down again.
Take care with foot placements and look out for larger rocks sticking out of the trail. This is where poles may come in handy.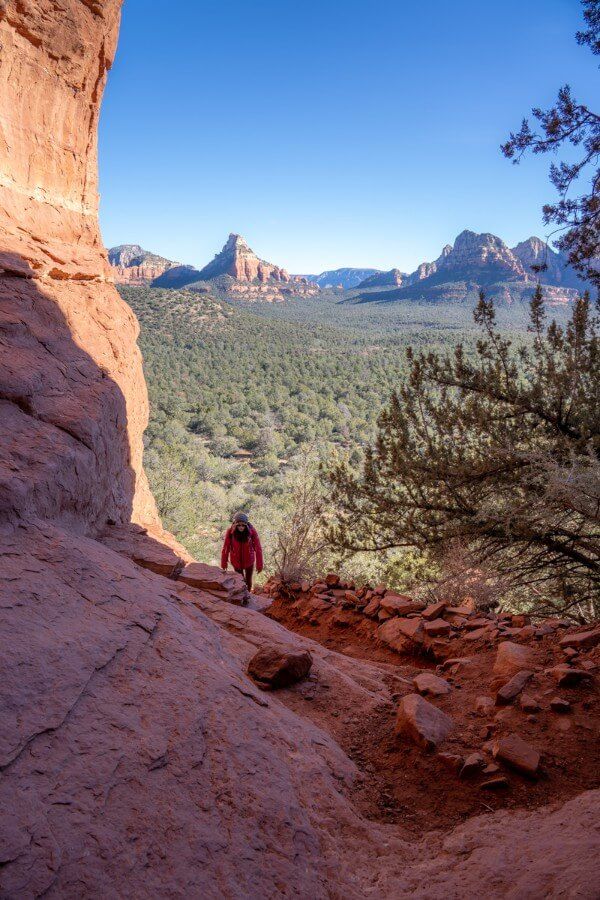 Enter Birthing Cave
Views behind you begin to dramatically improve with every foot of elevation you gain on the way into Birthing Cave.
As you approach the top you will begin to notice that the cave shape is very much like a female reproductive organ and the name will begin to make more sense.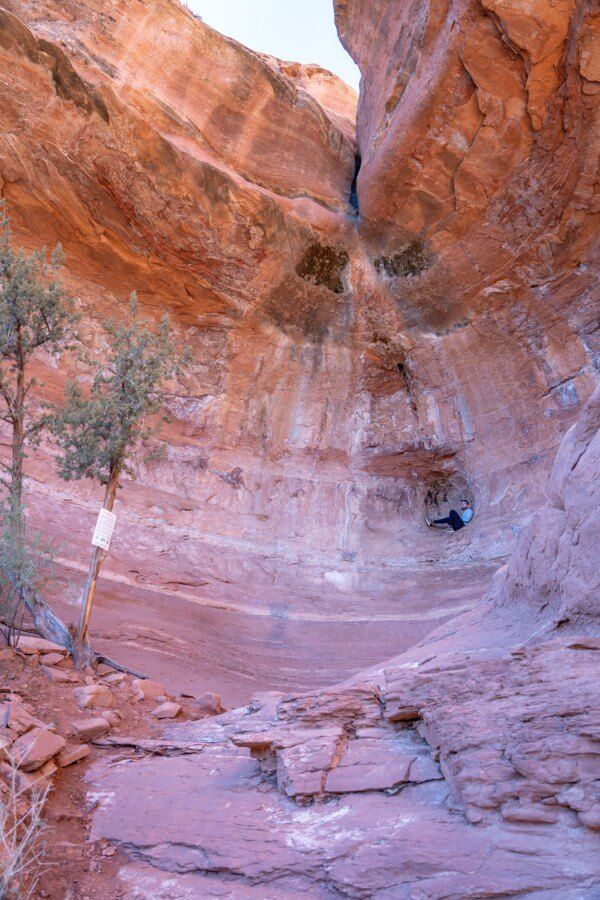 Climb Into The Hole
Once you enter Birthing Cave you will quickly realize that in order to sit inside the small sphere, you are going to have to climb up steep slick rock.
The rounded smooth rocks can be very slippery and hard to climb. If you do try to get inside the sphere, you have to forge a path by zig-zagging slightly and then walking a narrow ledge.
The good news is you can get inside with a solid pair of shoes and excellent grip. There's no drop off below if you don't make it in.
The bad news is it takes a bit of effort and some careful foot placements in order to get close enough to actually make the jump inside.
Important – Do not use poles or anything else as support or you risk damaging the cave. Remember the principles of leave no trace.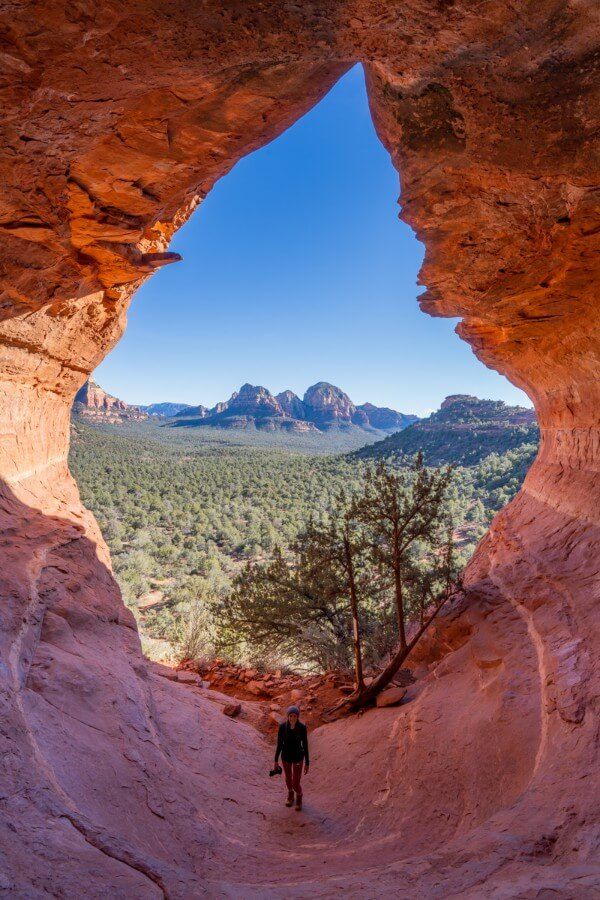 Enjoy The View
Once you make it into the spherical shaped Birthing Cave hole, you can soak up spectacular views over an ocean of trees backed by mighty red rocks and an endless sky.
Birthing Cave doesn't actually look like a cave until you are standing right up here at the very back. The outline of its entrance looks just like a teardrop or flame.
Water and fire shapes in the Earth. Throw in a slight breeze and you've got the elements of matter.
Sounds very much like energy and vortex, right?!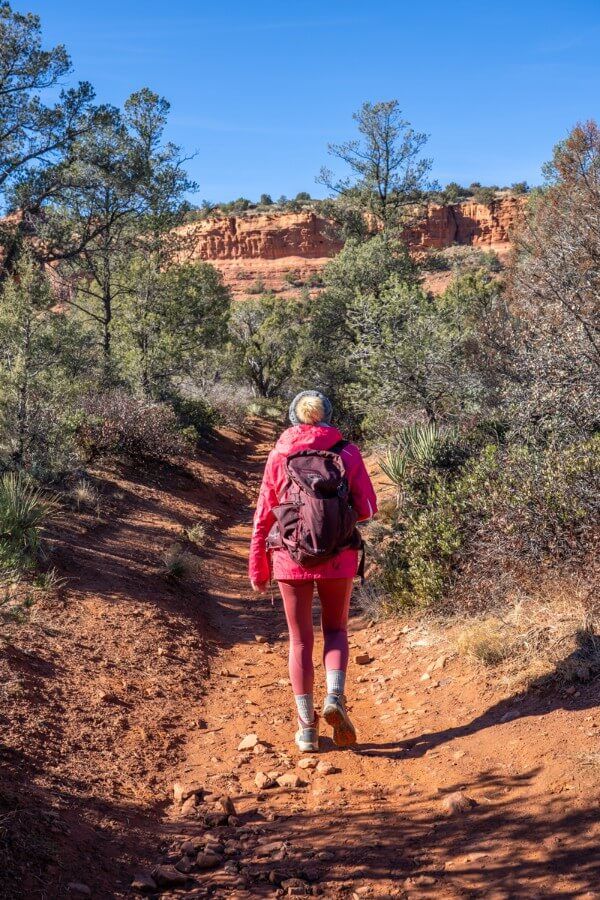 Hike Back To The Trailhead
Birthing Cave may or may not be busy when you arrive. If it is busy, be prepared to wait 10-20 minutes for a clear shot of the entrance.
Early risers stand a better chance of peace and solitude inside this Sedona cave but even if it is busy, most people are courteous.
Take care on the way back down the steep bank. It should take no more than 20 minutes to reach the Long Canyon trailhead or 30 minutes to reach Mescal Trailhead.
Time to move onto your next cave or hike in Sedona!
Birthing Cave Trail Pros And Cons
Pros:
Much quieter than other caves and hikes in Sedona
Very quick and easy to access Birthing Cave
Stunning views from the very back of the cave
Cons:
Parking is extremely limited
Getting into the sphere is difficult
Not the most exciting trail in Sedona
Best Time To Hike Long Canyon Trail To Birthing Cave
The ideal time to hike Long Canyon Trail to Birthing Cave in Sedona would be on a weekday afternoon in Spring or Fall so you can benefit from perfect hiking and light conditions.
Season
If you visit Sedona in Spring or Fall when it is at peak tourist season, we would always recommend getting out as early as possible to get a parking spot.
Winter and Summer offer quieter periods in Sedona, which means you have more chance getting parked up without issue. It's less about temperatures and busy trails, more about finding free parking spots.
No matter which season you visit, try to avoid weekends, holidays and the 10am-2pm rush.
Time Of Day
The best time of day to hike the Sedona Birthing Cave Trail is mid afternoon around 2-4pm because the cave is East facing, which means the cave will fill with light in the morning and you'll be looking directly into the sun.
By late afternoon the sun will have moved so far around to the South that the cave will be in deep shadow and you will have a better view looking out over Sedona.
For reference, we were inside Birthing Cave at around 2pm during our visit to Sedona in December.
What To Pack For Hiking To Birthing Cave
Footwear – Footwear with good grips and traction are going to help you climb up steep banks and reduce slipping on sandy rocks accessing the Birthing Cave. Once you're inside the cave you won't make it into the sphere without grippy shoe soles.
Water – The hike to Birthing Cave is short but it is exposed, which means you'll need to take water. Summer months require more water and even electrolyte drinks.
Sun protection – Sunglasses, sun hats, long layers and sunscreen are vital if you are visiting Sedona in Summer.
5 Tips For The Birthing Cave Hike
Park at Mescal if the Long Canyon parking area is full

Take the left turn at the fence for Birthing Cave

Wear shoes with the best grip so you can get into the sphere

Mid afternoon or even later near sunset will give you best light

Take a wide angle lens so you get the full cave outline in frame
Sedona Arizona Visitor Summary
How to get around – Sedona is small but you'll need a car to access the best hikes to the north and south of town. If you want to get to the hard to reach places, you should hire a jeep.

When to visit – Spring and Fall are the best seasons to visit Sedona, but they come with a higher price tag and more crowds. Winter is a fantastic time to avoid both.

Where to stay in – Accommodation is expensive in Sedona, but there are plenty of very high quality places to stay including Matterhorn Inn, Lantern Light Inn, Arabella Hotel, Whispering Creek B&B and The Suites at Sedona.

Popular things to do – Sedona is one of the best places to hike in the US, but it is also a wonderful place to get off-road in a jeep, shoot stunning photography, visit historic sites and drink wine.
Sedona Birthing Cave FAQ's
Let's take a look at some of the most asked questions about the hike to Birthing Cave in Sedona.
Is Birthing Cave Dog Friendly?
Yes Birthing Cave and Long Canyon Trail are dog friendly hiking paths in Sedona. Dogs must be kept on a short leash at all times but they are permitted to join you into the cave.
Just be sure to pick up after your pooch, none of us want to have a surprise on the trail! Fines are huge for anyone who gets caught with a dog not on leash so don't take any chances.
Is The Birthing Cave Hike Worth It?
Hiking to the Birthing Cave on the Long Canyon Trail is definitely worth including on your Sedona itinerary.
We would not recommend hiking the full Long Canyon Trail though because there are several awesome hikes you should do instead with your limited time in Sedona.
More From Sedona
Cathedral Rock – Short but steep adventure hike Cathedral Rock Trail is one of the most sought after hikes in all of Sedona.
Bell Rock – Main vortex site, fun climb, easy loop hike and our hidden elevated adventure loop await you on the popular Bell Rock Courthouse Butte Loop Trail in southern Sedona.
Boynton Canyon – Exactly how to find and access the famous Subway Cave on Boynton Canyon Trail.
Soldier Pass – How to hike Soldier Pass Trail to find the Sedona Soldier Pass Cave via Seven Sacred Pools and Devils Kitchen.
Hideout Cave – Hike Robbers Roost Trail to Hideout Cave in the far northwest of Sedona for the quietest and most secluded cave in town.
More From The Southwest
Zion National Park – Zion is an adventure playground for adults, find the very best hikes in Zion and choose between 5 ways you can spend a one day in Zion itinerary.
Grand Canyon – Just 2 hours from Sedona is the incredible Grand Canyon South Rim, create your wishlist from the best hikes at Grand Canyon South Rim.
Las Vegas – Heading to Vegas on your Southwest adventure? Here are the 40 best things to do on and off the Las Vegas strip and the 15 best things to do in Valley of Fire State Park.
Want more Arizona content? Head over to our Arizona travel guides to explore the best of Grand Canyon, Sedona and beyond.
---
We hope this guide on hiking to the Birthing Cave on Long Canyon Trail helps with planning your visit to Sedona, Arizona!
Please let us know if you have any questions about the Birthing Cave Trail or your visit to Sedona in the comments below.
Happy Hiking,
Mark and Kristen
Was This Post Helpful? Pin It For Your Hike!