Montezuma Castle National Monument offers some of the best-preserved cliff dwellings found in the American Southwest and is arguably the most important of the historic ruins near Sedona. It was one of the first four national monuments created through the Antiquities Act of 1906.
This historical site provides an incredible view into history of the ancient farmers from the Verde Valley. It has been monumental in teaching us about prehistoric cultures, especially how humans have adapted to harsh desert climates.
So who were these ancient people and why was Montezuma Castle so important?
This is exactly what we will cover in this guide, including:
What makes up Montezuma Castle National Monument
Directions and entry requirements
Details about Montezuma Castle
Details about Montezuma Well
What to expect for your visit
Let's explore these prehistoric cliff dwellings near Sedona, Arizona!
*Please note this post may contain affiliate links. If you click on one, we may earn a small commission at no extra cost to you. Thank you for supporting the free content we provide! Read more in our disclosure policy.*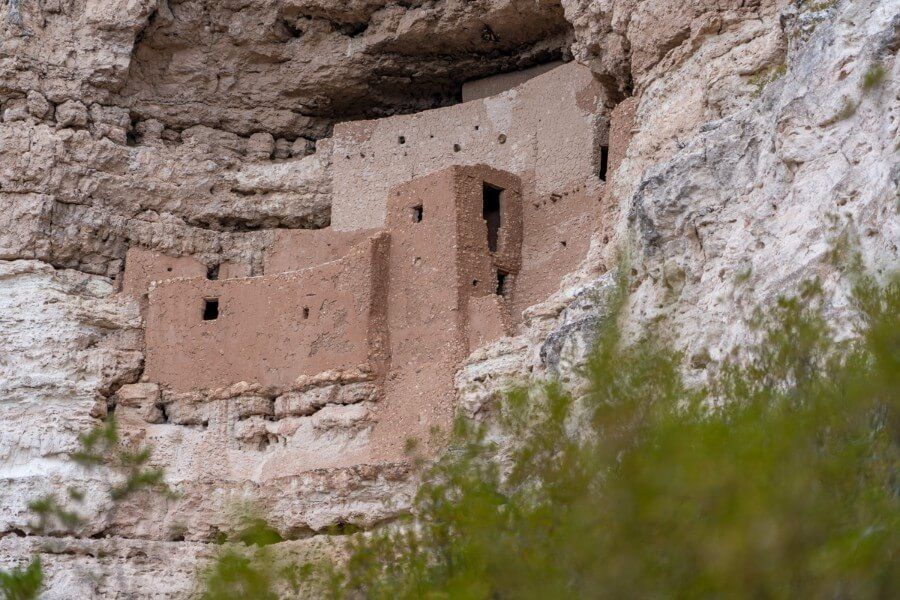 What Is Montezuma Castle National Monument?
Montezuma Castle National Monument was created in 1906 by President Theodore Roosevelt in order to protect several historic cave dwellings and Native American culture. The national monument is located near Camp Verde, Arizona about 20 miles southeast of the extremely popular tourist destination Sedona.
Today, Montezuma Castle National Monument has two individual locations, Montezuma Castle and Montezuma Well. But these historic sites are relatively close together and separated by about 11 miles.
Montezuma Castle and Well can be easily visited in one day. So if you have some extra time in your Sedona itinerary, we would highly recommend visiting both sites to witness this precious slice of history.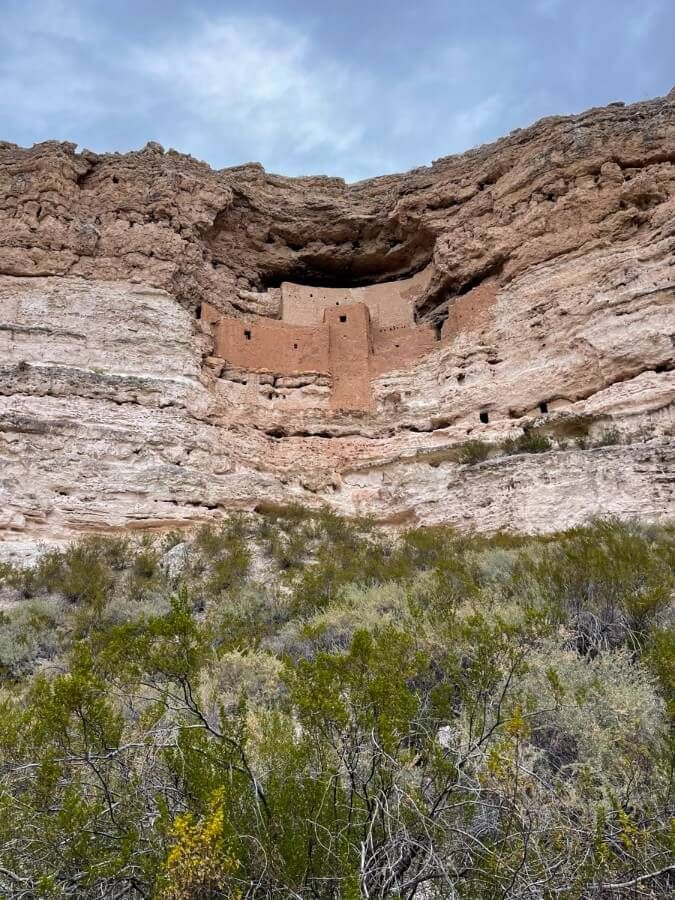 Why Visit Montezuma Castle National Monument?
Montezuma Castle National Monument is worth visiting because the area is considered to have some of the most well-preserved cliff dwellings ever found in Arizona.
These homes were built recessed into naturally occuring limestone caves helping to protect the structures from the harsh desert elements. The high elevation of the dwellings also helped to avoid the annual flooding of Beaver Creek.
The cliff dwelling found at Montezuma Castle is large and extremely impressive. But smaller pueblos and an irrigation ditch, which is still in use today, can be found at Montezuma Well.
Each historical site offers a different glimpse into the life of the local Native cultures and should not be missed.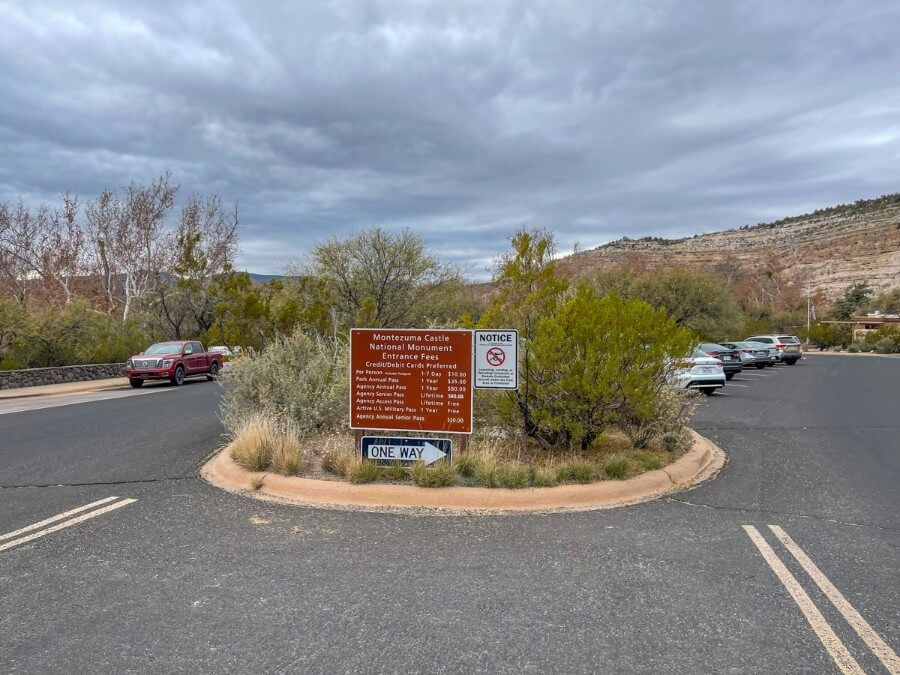 Where Is Montezuma Castle National Monument?
Montezuma Castle National Monument is located about 1.5 hours north of Phoenix and about 50 minutes south of Flagstaff.
Many people visit this historical site as a day trip from Sedona because it is about 25 miles south and just a few minutes off the I-17 making it easily accessible.
Entry Fee For Montezuma Castle National Monument
In order to enter the park, you will need a Montezuma Castle National Monument seven day pass. The cost is $10 per adult but anyone who is age 15 or younger is free.
This pass will give you entry in both Montezuma Castle and nearby Tuzigoot National Monument. Be sure to save your receipts if you plan to visit both areas. The pass is valid for seven consecutive days.
But if you have an America the Beautiful Pass, entry is free for both Montezuma Castle and Tuzigoot National Monument.
Similar to entry of the National Parks, you just have to show your signed pass for entry.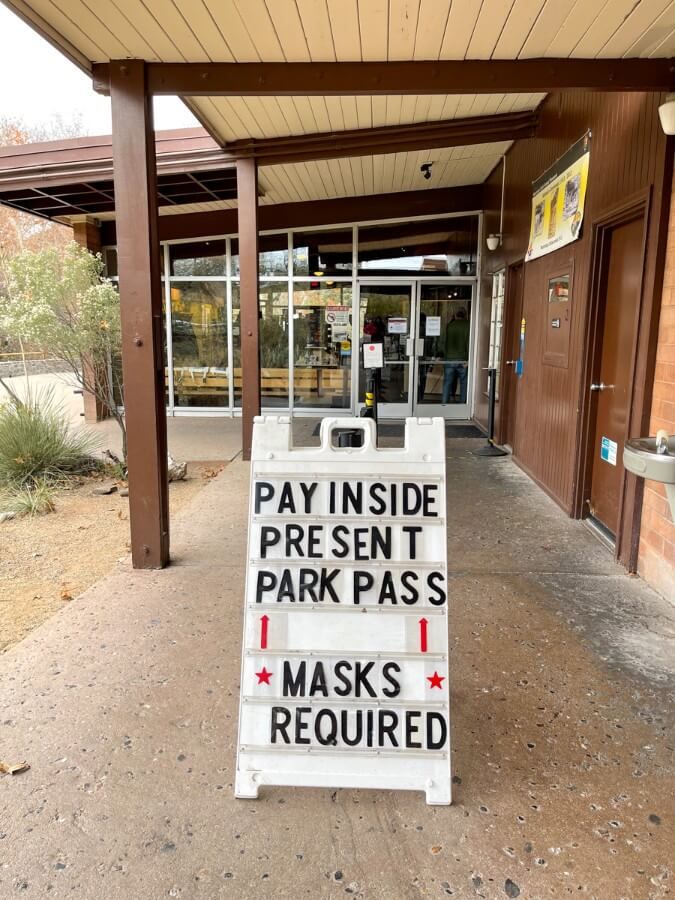 Best Time To Visit Montezuma Castle National Monument
The National Monument is open year round. We visited Sedona in December and the weather was perfect for hiking at about 60°F. Visiting in the off season also meant fewer crowds.
Arizona summer days are extremely hot ranging anywhere from 95°F to 110°F. Very heavy rains, known as monsoons, are common late June to early August during the early afternoon.
Winter days in Arizona tend to have an average temp of around 60°F with lows commonly in the teens. Snowfall is rare but is possible.
Be sure to check the weather forecast when you visit and plan appropriately. It is important to drink plenty of water and hydrate properly, especially in the summer months.
What Is Montezuma Castle?
Montezuma Castle is one of the best-preserved ancient dwellings in North Central Arizona. The Castle comprises of a five-story dwelling carved into a white limestone cliff made up of about twenty rooms.
The dwelling sits at an impressive 100 feet above Beaver Creek in the Verde Valley.
When early American settlers first found the dwelling in the 1860s, they mistakenly assumed the structure was Aztec in origin, naming it Montezuma Castle.
This nomenclature was proven to be incorrect by archeological studies as the dwelling was built by the Sinagua people.
However, the name has remained even though there is no connection to the famous Aztec emperor Montezuma.
Montezuma Castle Visitor Summary
Visitor Center Information – Open daily 8am – 5pm with last vehicle entry at 4:45pm. The park is open seven days a week, but closed on Christmas and New Years Day. It also closes at 2:00pm on Thanksgiving and Christmas Eve.

Address – 2800 Montezuma Castle Road, Camp Verde, AZ 86322

What To Do – Ranger led programs run late morning / early afternoon (currently postponed)

Museum – Includes exhibits and artifacts involving the lifestyle of the Sinaguan people

Available Services – Bookstore, restrooms, and picnic area

Montezuma Castle NPS Website – Click Here
Parking and Directions
Follow highway I-17 to exit 289 for Middle Verde Rd then drive east (straight through two traffic circles) for about 0.5 miles to the blinking red light.
Take the next left to Montezuma Castle Road and follow for about 2.0 miles. This road will terminate in the parking lot for the national monument.
When Was Montezuma Castle Built And Who Lived There?
Archaeological research has shown us Montezuma Castle was built by the Sinagua people between 1100 and 1300 AD. The residence was inhabited by the Sinagua people for about 300 years until their abandonment around 1450 AD.
It is still a mystery as to why the Sinagua people migrated away from their dwellings in the mid-1400s. But this period also marked a collapse of the major civilizations in the Southwest.
Perhaps it was overpopulation, depletion of resources, conflicts between groups, disease, spiritual beliefs or climate change which caused the Sinagua to migrate northward to other pueblo villages.
Can You Go Inside Montezuma Castle?
No, you can no longer go inside montezuma Castle.
Shortly after becoming a national monument, the National Park Service undertook several major stabilization projects to help repair almost a century of looting and digging damage by treasure hunters.
Tourists were allowed to enter the ruins via a series of wooden ladders until 1951 when the structure was deemed too unstable. Access inside the ruins today is only for official reasons.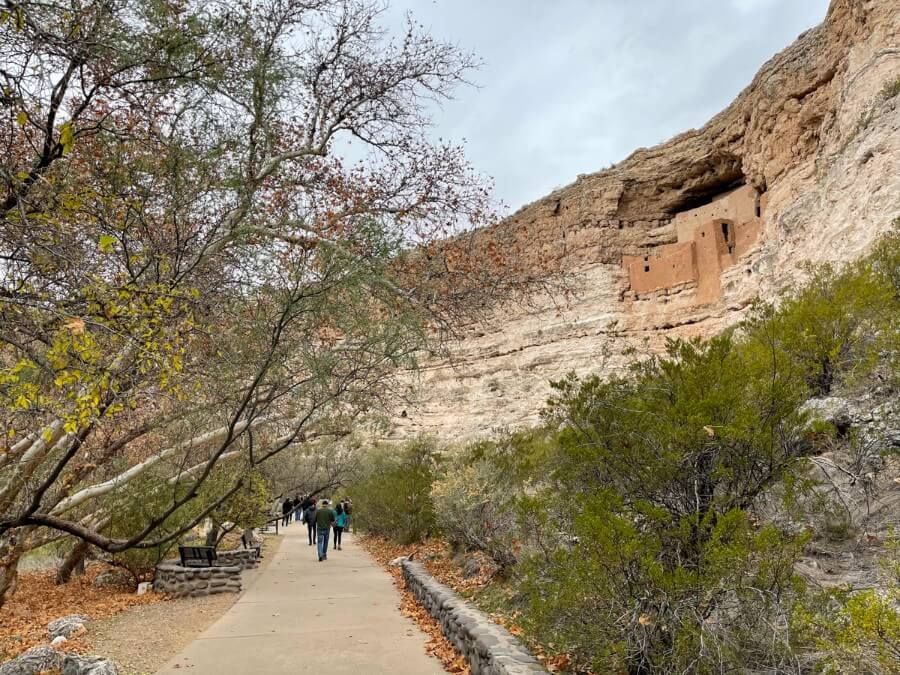 What To Expect For Your Visit?
Once you arrive at the Montezuma Castle parking area, the castle itself is only a short 2-minute walk along an easy 1/3 mile paved ADA accessible road.
The paved nature trail leads past the ruins and then loops back along Beaver Creek.
As you first walk through the path, you are surrounded by white-barked Arizona sycamore trees. Several exhibits explaining over 900 years of ancient Sinagua culture are also on display.
After a short distance from the visitor center, Montezuma Castle slowly reveals itself. It's extremely impressive when you lay eyes on it for the first time.
Be sure to keep an eye out for lizards, song birds and rock squirrels. These animals are often found along the trail.
Or take a moment to find some shade in the large sycamore trees and have a picnic as you take in cliff dwelling.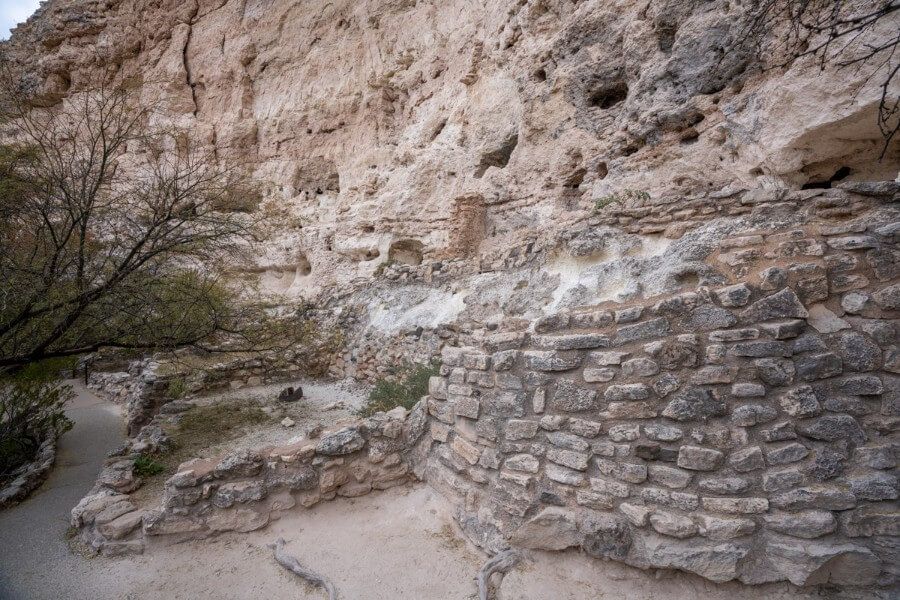 Castle A
Don't miss the smaller much less preserved complex known as Castle A about 50 ft west of the main dwelling. The paved path terminates at this location before looping around so it is easy to find.
This ruin is believed by archaeologists to be larger than the original dwelling with a whopping 45 rooms. Castle A was also constructed up the face of the cliff in a series of terraces.
Unfortunately, Castle A was not as well protected from the elements like the main dwelling so it has secum to erosion. Archaeologists also suggest historical evidence of a fire.
The remains of Castle A include an outline of foundations surrounded by cacti and local plants. Be sure to take note of the additional walled-off alcoves further on the cliff face.
It is fascinating to think about how these Castles were built around the same time, yet the main dwelling has remained so much more intact.
What Is Montezuma's Well?
Montezuma's Well is a subunit of the Montezuma Castle National Monument. It is a natural limestone sinkhole located about 11 miles northeast of Montezuma Castle.
The well measures 386 feet in diameter when measured rim to rim. Astonishingly, it also contains over 15 million gallons of water!
For years, this water oasis in the desert was a mystery because this area receives less than 13 inches of water a year.
But in 2011, the mystery was solved thanks to the discovery of an underground spring.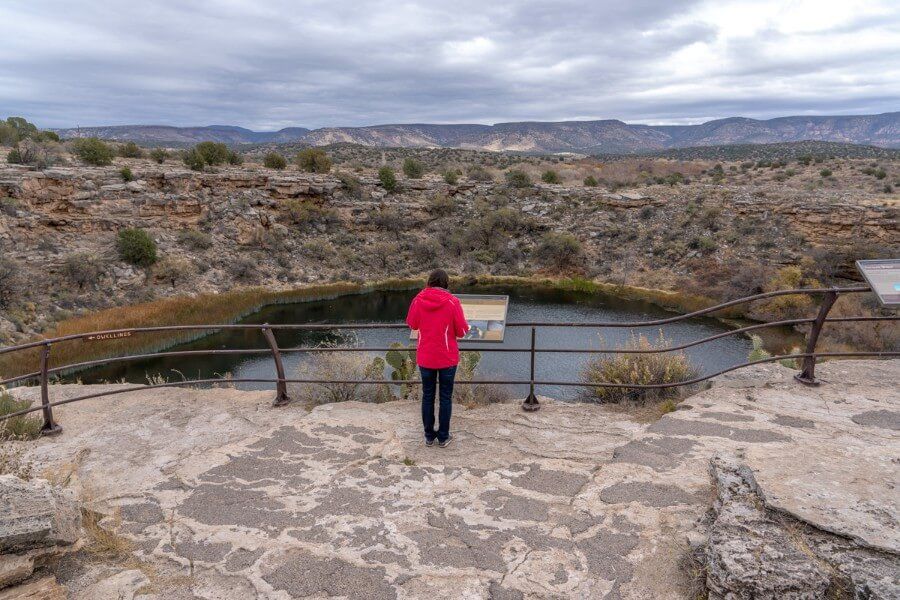 The spring is continuously fed by water runoff from rain and melted snow along the Mogollon Rim. The water then trickles down to a wall of volcanic basalt which acts like a dam and then forces the water back to the surface of the well.
Every day, the well is replenished with about 1.5 million gallons of water even in the times of drought.
But as this water runoff runs through all those layers of rock, there is a significant chemical signature creating a very unique ecosystem within the well.
Montezuma Well Visitor Summary
Main Well Trail – Open daily 8am – 5pm with last vehicle entry at 4:45pm. The park is open seven days a week, but closed on Christmas and New Years Day. It also closes at 2:00pm on Thanksgiving and Christmas Eve.

Picnic Area – Open daily 8am – 4pm

Address – Forest Service Rd 618, Rimrock, AZ 86335, United States

What To Do – Ranger led programs, walking trails, gift shop, picnic area, contact station

Available Services – Pit toilets and flush toilets available in picnic area. No water available at the main loop trail, but a water refill station is available at the picnic area.

Montezuma Well NPS Website – Click Here
Parking and Directions
Follow I-17 to exit 293 for AZ-179 N towards Sedona (north of the exit for Montezuma Castle). In about 4.0 miles, turn left onto AZ-179 S.
Continue onto Forest Service Rd 618 for about 0.5 miles. Then turn right onto Montezuma Well Rd and follow this road for about 3.0 miles until you reach the parking lot.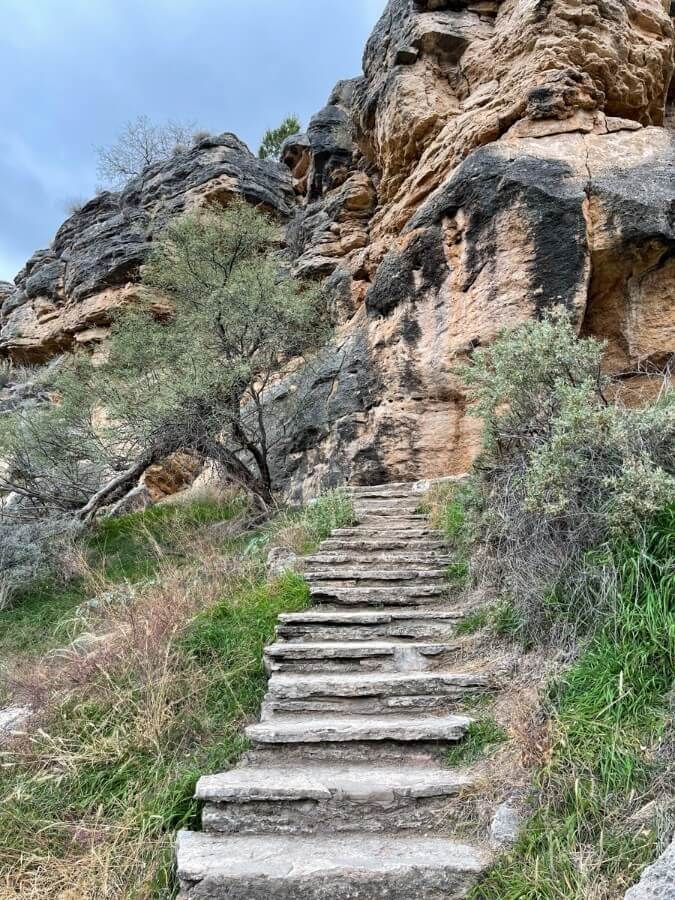 What Lives At Montezuma's Well?
The water at Montezuma's Well is highly carbonated. It contains high levels of both arsenic and carbon dioxide. There are no fish living in the well because they can not breathe in these harsh conditions.
But these extreme conditions provide the perfect environment to five endemic species that have evolved in Montezuma Well.
These species include a water scorpion, a springsnail, a diatom, an amphipod and a new species of leech.
Montezuma's well and outflow tunnel is the only place on the planet to support these five endemic species.
How Deep Is Montezuma's Well?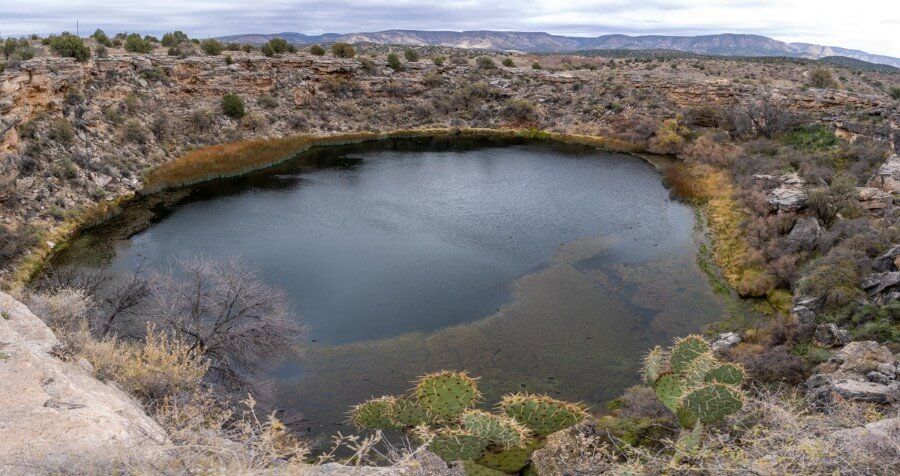 The water of Montezuma's Well is only about 55 feet deep with an average temperature of around 70°F.
Can You Swim At Montezuma's Well?
While the Well seems to be a peaceful pond, there are many dangers lurking beneath the surface. You would not want to swim in the well due to high levels of arsenic and numerous leeches.
The NPS showcases a dive video and personal accounts from some of the very first divers in history to explore Montezuma's well. Check it out here.
How Old Is Montezuma's Well?
The Montezuma Well has been an attracting settlers for hundreds of years. Maybe even thousands of years as we have learned from archaeological studies.
Similar to Montezuma Castle, permanent settlements were built into the rocks. But there is also evidence of multiple cultures living symbiotically while harnessing the power of the water from the well.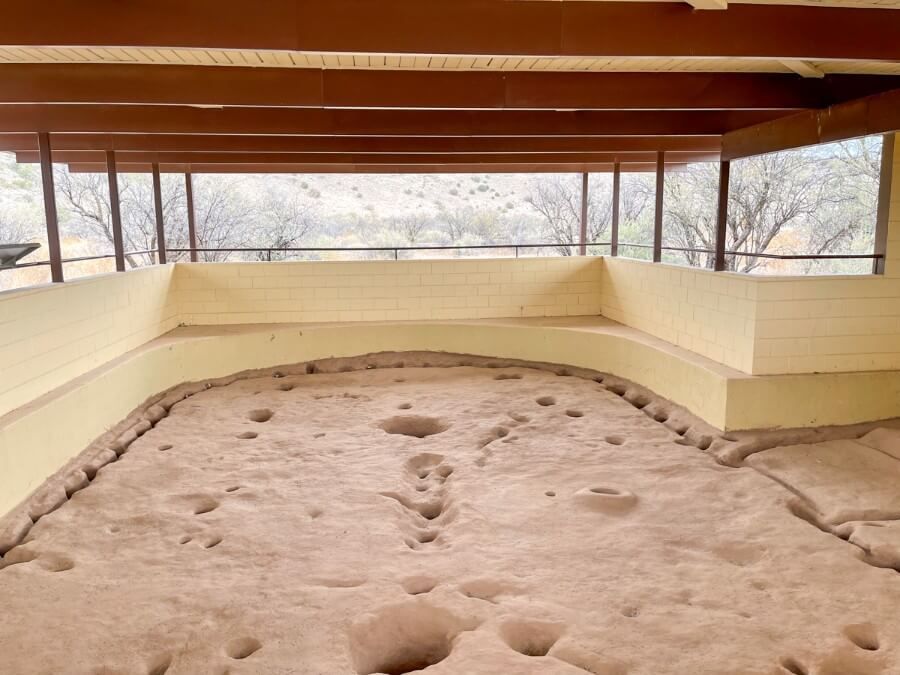 Before you reach the main parking lot, be sure to take a detour to the pithouse along Montezuma Well Rd. The pithouse which dates back to 1050 AD is an exemplary example of Hohokam architecture.
The people of the Hohokam channeled the water that leaves the well into a canal.
This system ran for miles and irrigated crops such as corn, beans and squash. It is believed the Hohokam lived with other cultures who had inhabited the Verde Valley.
By the 1100s, the people of the Sinagua culture also began building small structures into the cliffs surrounding the well with more than 30 rooms along the rim.
There were about 40 to 60 villages dotting the banks of the waterways.
By 1425, most people had migrated onto other areas for an unknown reason. But the Hopi, Zuni, Yavapai and Western Apache all describe oral histories of ancestors living here.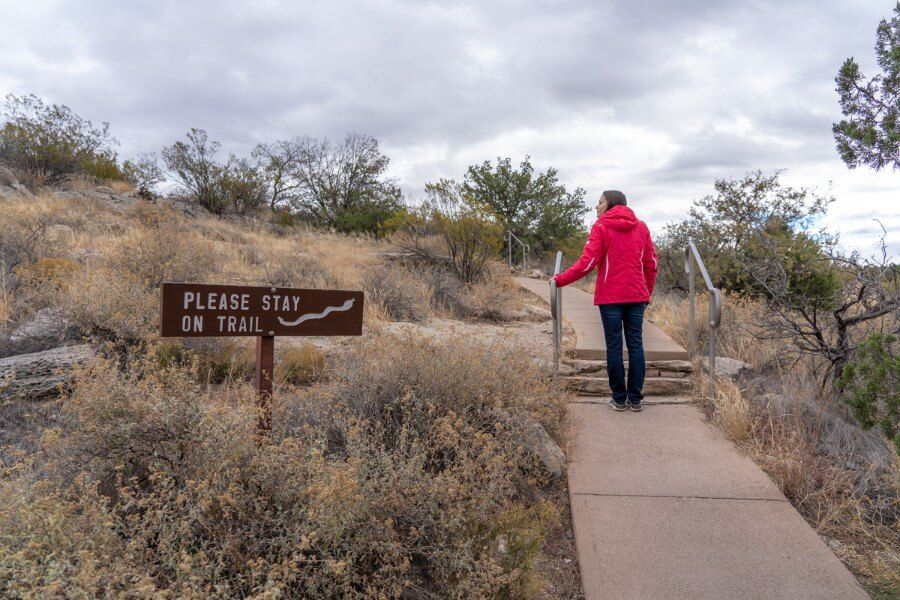 The Trails At Montezuma's Well
The trails around Montezuma's Well are easy, short and paved. Unfortunately, several hills and many stairs prevent this park from wheelchair accessibility.
As we mentioned earlier in this blog post, the phenomenon of Montezuma's well provides a unique landscape. But it is home to a variety of wildlife including 100 species of birds, snakes, mammals, lizards and insects.
When we visited, there were several professional photographers taking photos of the wildlife so be mindful of both photographers and critters as you explore the park.
Once in the main parking lot, you will see the contact station for the national monument.
The main loop trails starts just past this building. Be sure to stop by and visit the ranger before starting on the trail to learn about the Well.
The Rim Trail
The rim trail at Montezuma Well is a 1/3 mile well marked paved trail. After walking up a small hill for about 85 yards, you will be rewarded with a great view overlooking the entire well and a prehistoric cliff dwelling to your left.
When you are standing at the rim, it is easy to see why so many cultures flocked to this oasis in the desert and called it home for so many years.
Along the trail, there are plenty of signs discussing the history and how plants were used in each culture. Rangers often walk the trails answering any question you may have as well.
You can then choose to walk the 1/3 mile paved loop trail which will bring you back to your car. Or you can choose to continue along the other short trails past other ruins and the irrigation channels.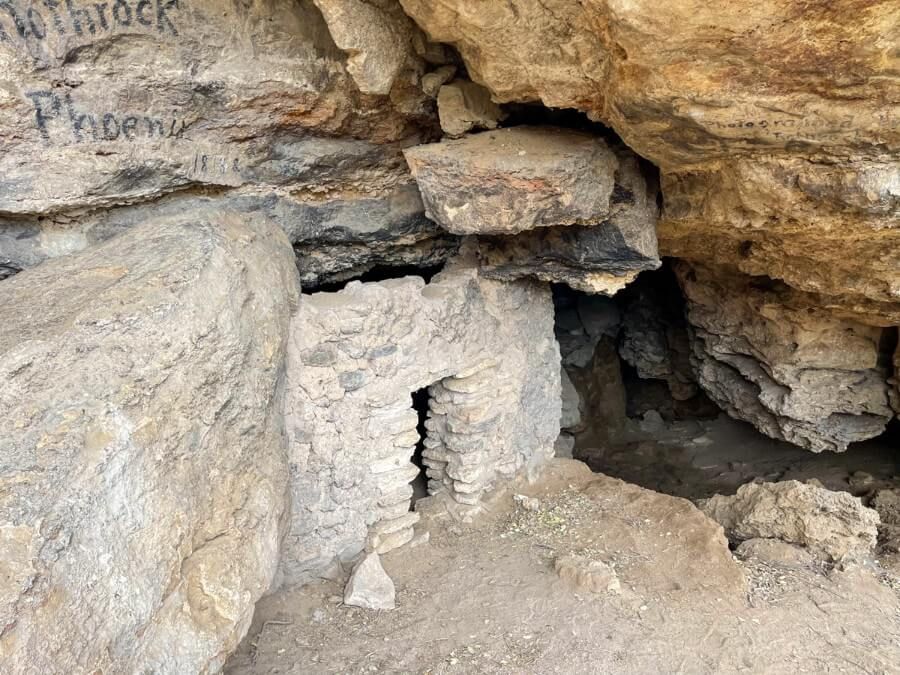 Down To The Swallet Cave Ruins
After you walk to the rim, don't miss the optional trail down to the Swallet ruins. This short trail will descend about 120 steps closer to both the water and some Swallet Cave Ruins.
It is also a great way to escape some of the hot Arizona heat due to the lush vegetation. However, be sure to stay on the trail and watch for snakes.
At the end of this trail, you will terminate at the Swallet cave ruins. They were inhabited between 1100 and 1425 AD. It's impressive to see these ruins go back into the limestone about 30 meters for protection.
If you continue left a little further, you will see the Swallet of the well. This is the exact location where the waters exits the main sinkhole out to the irrigation systems on the other side of the well.
Now you will have to turn around and climb back up those 120 steps to rejoin the main loop.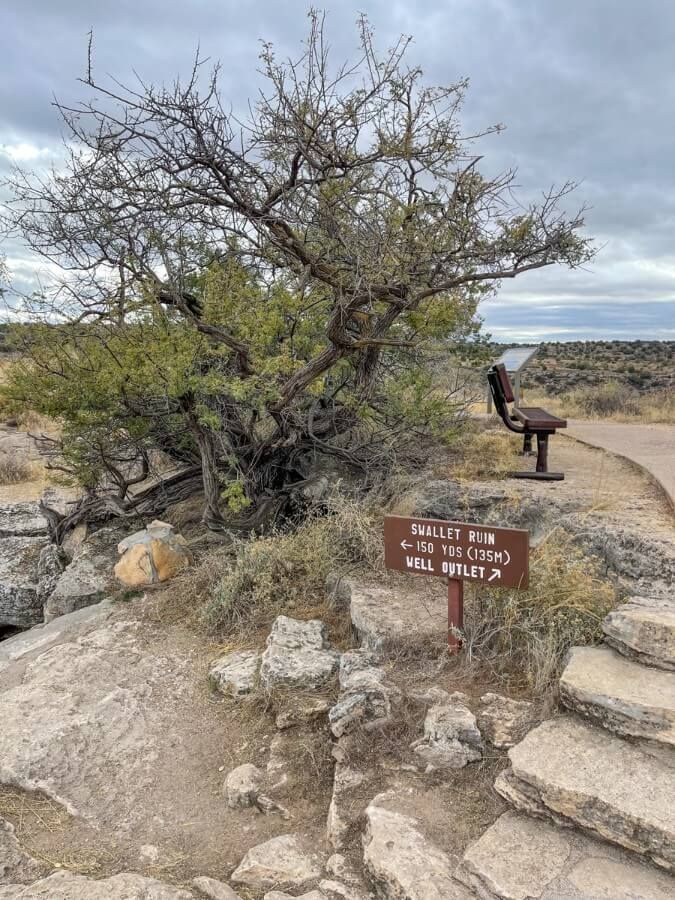 Water Outlet And Beaver Creek
Back on the rim, the trail continues towards a water outlet with more ruins running along the top. Here there is another side trail (to the west) which will lead you down to the water outlet with about 50 steps.
Montezuma's Well has provided a steady outflow that has been used for irrigation purposes dating back to the 8th century. It is here where you will be able to witness this prehistoric canal dug by the Sinagua.
This canal still carries over a million and a half gallons of water a day. It is amazing to see how this canal is still functional just as it was when the Sinagua relied on it to irrigate their fields.
You can also see Beaver Creek which provided a decent source of water and fish for the Singua.
As you head south, there are grand cottonwood and sycamore trees that line Beaver Creek. This is a great area to have a picnic with the family.
Don't miss the new trail at the back of the picnic area and take a walk through the newly revegetated area filled with native plant species.
From here, you can go back to the main loop which will take you back to the parking lot.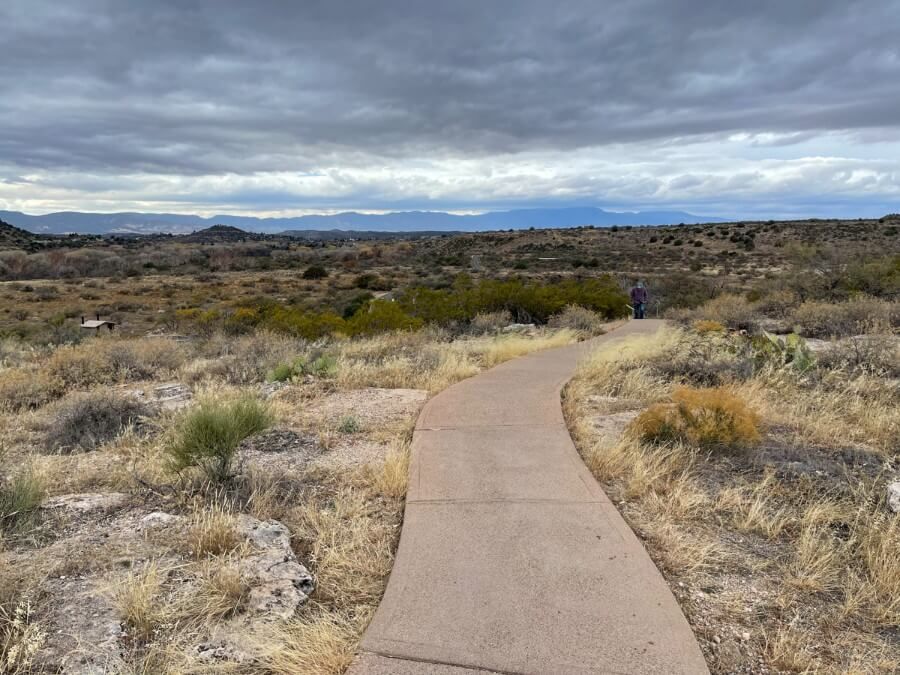 5 Tips For Visiting Montezuma Castle National Monument
Take your time when visiting both sites to fully appreciate the ancient history
Be sure to read the displays found along the hiking trails
Rangers along the trails will answer any questions so be sure to ask
Don't miss all of the short hiking trails at Montezuma's Well
Visit early in the day to avoid the heat
Our top tip for your visit:
Start by visiting the Montezuma Well first and then loop around to Montezuma Castle. From the Castle, you can then easily go on to visit Tuzigoot National Monument or some of Sedona's popular wineries.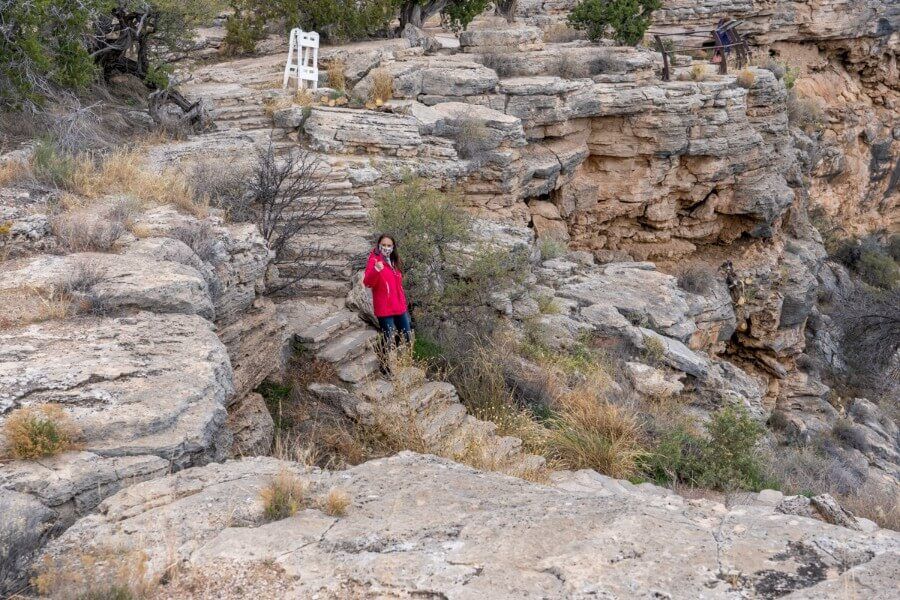 Montezuma Castle National Monument FAQ's
Let's take a look at some of the most frequently asked questions regarding Montezuma Castle and Well.
Is Montezuma Castle and Well Worth Seeing?
Yes, both Montezuma Castle and Well are worth seeing. These dwellings and pueblos are some of the best preserved historical sites ever found in the state of Arizona and the entire American Southwest.
How Old Is Montezuma Castle National Monument?
The construction of Montezuma Castle began around 900 years ago. However, it was later abandoned for unknown reasons about 300 years later in 1450 AD.
How Much Does It Cost To Visit Montezuma Castle National Monument?
It costs $10 per adult to visit Montezuma Castle National Monument, but it is free entry with an America the Beautiful Interagency Pass.
Are Dogs Allowed At Montezuma Castle National Monument?
Yes, dogs are allowed at Montezuma Castle National Monument, but must remain on a leash no longer than six feet. Please pick up after your pet and mindful of the warm temperatures if you are planning to leave your dog in the car.
More Historic Sites In Sedona
Want more Arizona content? Head over to our Arizona travel guides to explore the best of Grand Canyon, Sedona and beyond.
We hope this guide to Montezuma National Monument helps with planning your visit to Monument Castle and/or Well!
Please let us know if you have any questions about Montezuma National Monument or your visit to Sedona in the comments below.
Happy Travels,
Mark and Kristen
Enjoy This Montezuma Castle Guide? Pin It For Your Visit!