Fay Canyon Trail is one of the best short hikes in Sedona, featuring a striking hidden arch and optional rock scramble leading to spectacular canyon views. Even the simplest form of hiking Fay Canyon without taking on the arch or scramble is picturesque and well worth including on your Sedona itinerary.
Is the popular Fay Canyon Arch worth the steep climb?
Yes! Fay Canyon Arch doesn't look like much from the main trail, but once you're standing underneath the enormous curving red rock formation you will be glad you made the effort. It has a similar wow-factor to the hidden caves in Sedona.
In this guide we will show you:
Where to park to hike Fay Canyon Trail
Which pass you need to display
How to find Fay Canyon Arch
Complete Fay Canyon Trail walkthrough
Photos of the trail, arch and rock scramble
Let's hike the fun Fay Canyon Trail in Sedona Arizona!
*Please note this post may contain affiliate links. If you click on one, we may earn a small commission at no extra cost to you. Thank you for supporting the free content we provide! Read more in our disclosure policy.*
Hiking Statistics
You can hike Fay Canyon Trail in a handful of different ways, either by itself or including Fay Canyon Arch and a rock scramble beyond an 'end of trail' sign.
There are two separate ascents at the end of Fay Canyon Trail called West Ascent and East Ascent. We personally took West Ascent and will show you how to do the same in this guide.
Let's take a quick look at trail distance, elevation gain, hike difficulty and time required statistics for three typical hiking options you have on Fay Canyon Trail in Sedona.
1. Fay Canyon Trail Only (Without The Arch Or West Ascent)
Trail Distance: 2 miles roundtrip
Elevation Gain: 150 feet
Hike Difficulty: Easy
Time Required: 1.5 hours
Trail Distance: 2.2 miles
Elevation Gain: 400 feet
Hike Difficulty: Moderate
Time Required: 2.5 hours
Trail Distance: 2.4 miles
Elevation Gain: 600 feet
Hike Difficulty: Moderate / Hard
Time Required: 3.5 hours
Hiking Fay Canyon Trail
Fay Canyon Trail itself is very easy, flat, sandy and shaded from the sun. You will barely notice the very slight elevation gain required to reach the 'end of trail' sign after 1 mile.
If you choose to only hike Fay Canyon, you will be able to see Fay Canyon Arch from the trail and you can look up at the looming rock formation summited via West Ascent at the end.
Looking for hiking inspiration? Read our popular guide to the 50 best hikes in the US next!
Fay Canyon Arch
Fay Canyon Arch is a hugely popular landmark in Sedona. It is equally as impressive as some of Sedona's sought after caves but has barely any of the crowds.
The reach Fay Canyon Arch you will have to climb almost directly up a steep bank but the short burst is more than worth the effort.
We recommend including a hike to Fay Canyon Arch for every first time Sedona itinerary.
End Of Trail Ascent (West)
A mile into Fay Canyon Trail you will reach a tree displaying an 'end of trail' sign. Beyond the tree, hikers can climb a scramble trail either to the West or East.
The West Ascent is a rock scramble following a narrow and unmaintained trail to reach the top of a protruding formation.
This scramble should only be taken on by experienced hikers who do not have a fear of heights.
Fay Canyon Trailhead Parking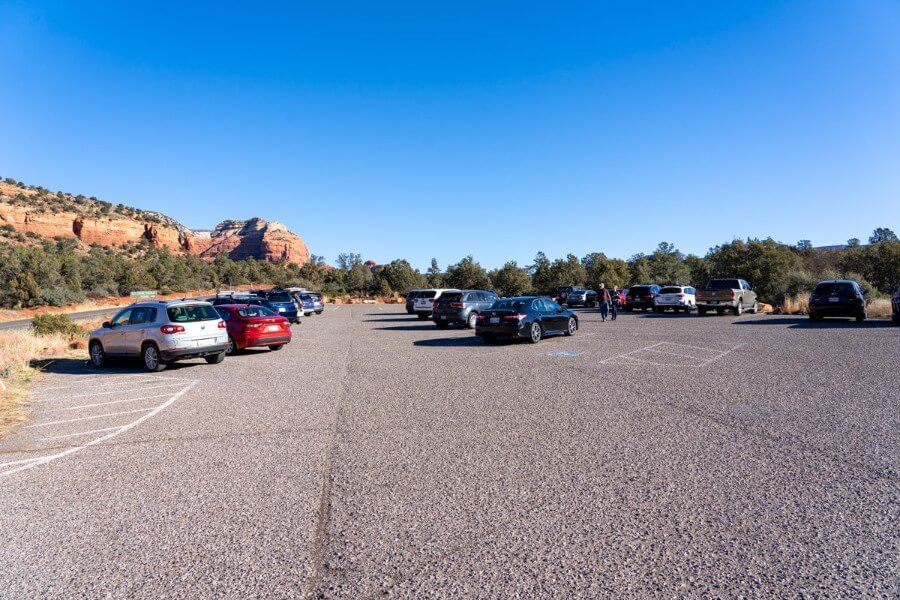 Fay Canyon Trail has its own designated parking lot and trailhead on Boynton Pass Road. The parking area is larger than average for Sedona but it fills very quickly year round.
Here's how to reach Fay Canyon Trailhead parking lot from Sedona:
Take Dry Creek Road (which transitions into Boynton Pass Road)
Follow the road for 5 miles
Turn left into Fay Canyon Trailhead parking lot
Hiking is one of the most popular things to do in Sedona and as a result parking at trailheads is renowned for being almost impossible unless you start very early or arrive much later in the day.
Arrive to Fay Canyon as early as possible to stand the best chance of getting a parking spot. Alternatively, visit in Summer or particularly Winter when Sedona is a little less crowded.
Alternative Parking Areas
If Fay Canyon Trailhead parking lot is full, try parking at nearby Doe Mountain or Boynton Canyon. Doe Mountain is your best bet as Boynton Canyon is extremely popular and has limited parking.
You can hike Aerie Trail from both Doe Mountain trailhead and Boynton Canyon trailhead to join Fay Canyon Trail:
Doe Mountain to Fay Canyon Trailhead is 1.5 miles one way
Boynton Canyon to Fay Canyon Trailhead is 1.2 miles one way
There are places you can park on the roadside near Fay Canyon parking area, just make sure your vehicle is completely off the main road.
Do You Need A Pass To Hike Fay Canyon Trail In Sedona?
You need to display either a Red Rock Pass or America the Beautiful Interagency Pass on your vehicle dashboard for certain hikes in Sedona.
Fay Canyon Trailhead parking does not require you to display a pass. See this list of places in Sedona requiring a pass to be displayed for more information.
Note: Nearby Doe Mountain and Boynton Canyon parking lots do require a pass to be displayed.
Are you planning to hike more trails in Sedona? Here's the important information you need to know about passes.
Red Rock Pass
You can buy a Red Rock Pass at this specific recreation.gov site in advance, or you can buy one at a ticket machine when you arrive in person at either parking lot listed further in this guide.
Red Rock Pass options include:
1 Day Red Rock Pass – $5
7 Day Red Rock Pass – $15
Red Rock Annual Pass – $20
If you plan to hike more trails around Sedona over a period of 2 – 7 days, you should buy the 7 day pass because you will need it at many other trailheads in the area.
America The Beautiful Pass
Are you a regular visitor to US National Parks and Monuments?
It's highly likely you already have an annual National Parks pass, which is also known as America the Beautiful or the Interagency Pass.
Don't have one yet?
Read our guide on why America the Beautiful national parks pass is one of the best things you can buy if you plan to visit multiple parks in the next year.
Instead of buying a Red Rock Pass you can simply display your America the Beautiful Pass at trailheads throughout Sedona.
Map Of The Fay Canyon Trail In Sedona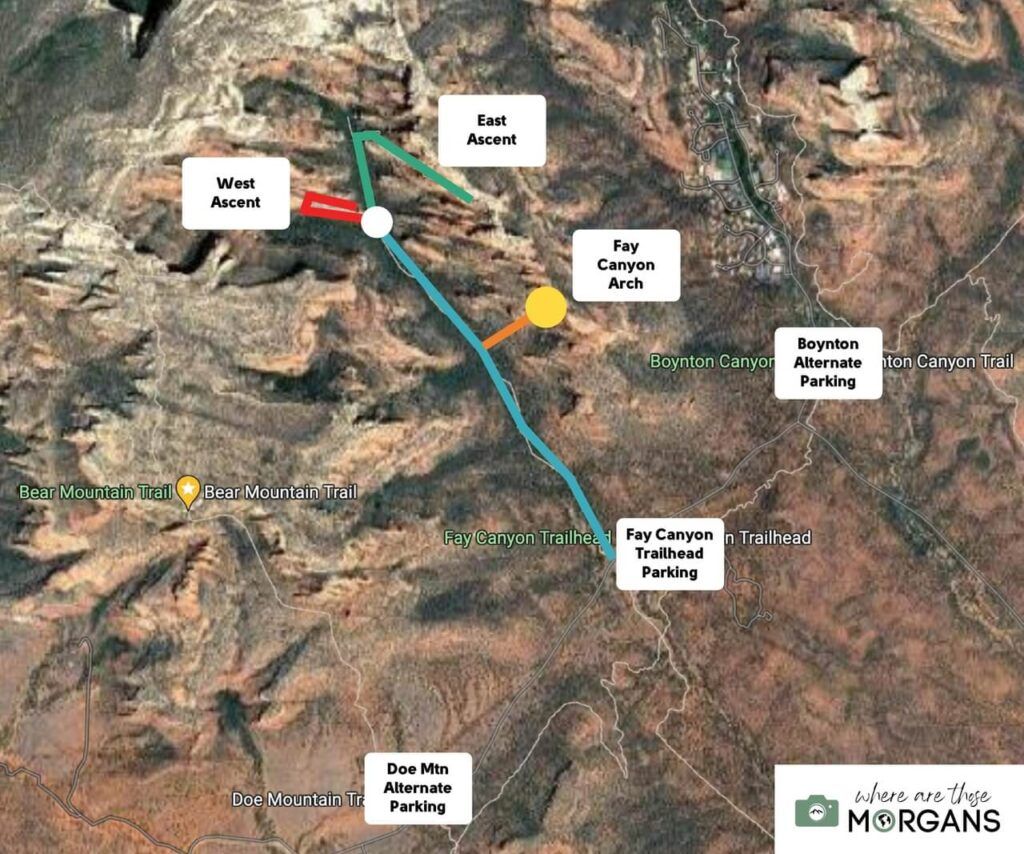 The map above shows exactly what you can expect when hiking Fay Canyon to the hidden arch and West Ascent rock scramble at the end of trail.
Map key:
Blue Line – Fay Canyon Trail to 'End of Trail' sign
Orange Line – Spur Trail to Fay Canyon Arch
Yellow Circle – Fay Canyon Arch
White Circle – End of maintained trail
Red Line – West Ascent Trail
Green Line – East Ascent Trail
Hiking Apps
Do you use any hiking apps for offline maps?
We always download offline maps onto our premium Gaia GPS app so we can keep track of our location on hiking trails. All Trails has a similar app but we have found Gaia to be excellent for navigation.
Our offline map app was great for finding Fay Canyon Arch and making sure we were on the right path during our scramble ascent at the end.
If you are interested, you can sign up to Gaia GPS premium with our exclusive 20% discount link.
Fay Canyon Trail Walkthrough
Let's get into the Fay Canyon Trail hiking walkthrough, including photos for every step.
1. Park At Fay Canyon Trailhead And Get Right Into The Hike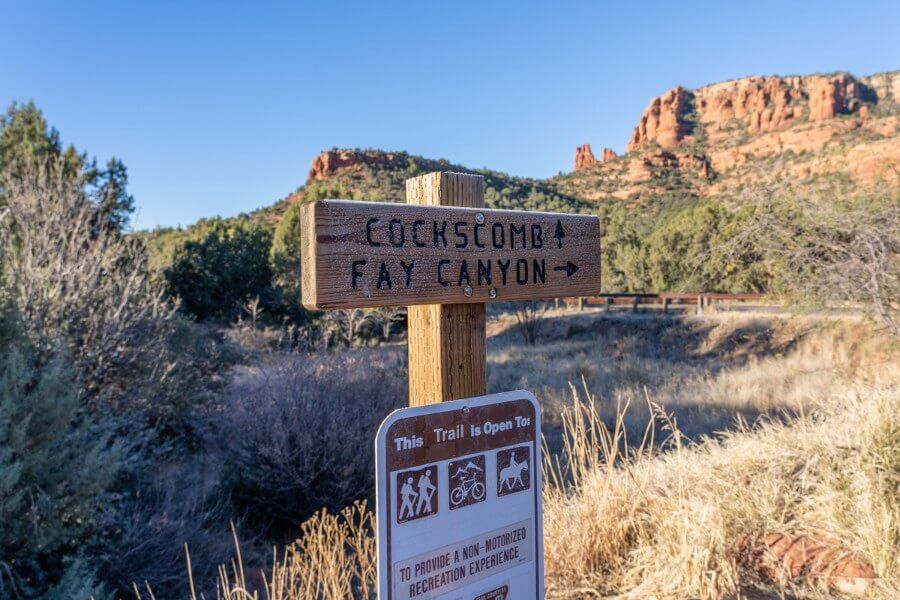 Arrive early morning or late afternoon for best light and hiking conditions with fewer crowds on the trail. You need to cross Boynton Pass Road from the parking area to begin hiking into the canyon.
On the southern end of Fay Canyon Trailhead parking lot you will find restrooms and a sign for Cockscomb Trail straight ahead, Fay Canyon to the right.
Following the right turn will lead you across the main road and into Red Rock Secret Mountain Wilderness.
2. Follow Fay Canyon Trail For Half A Mile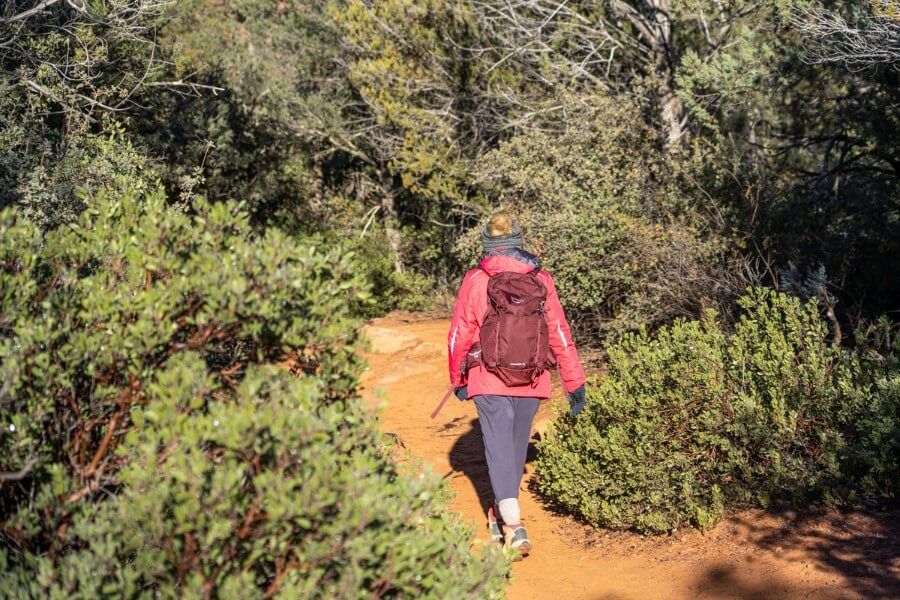 Fay Canyon Trail is a nice and easy dirt packed path with sandy spots in places. You will walk through picturesque desert vegetation and juniper trees on the lightly undulating hike into the canyon.
Keep your eyes on the red rocks to your right side. Look for an arch shaped hole where rock meets the top of a steep bank.
3. Right Spur To Fay Canyon Arch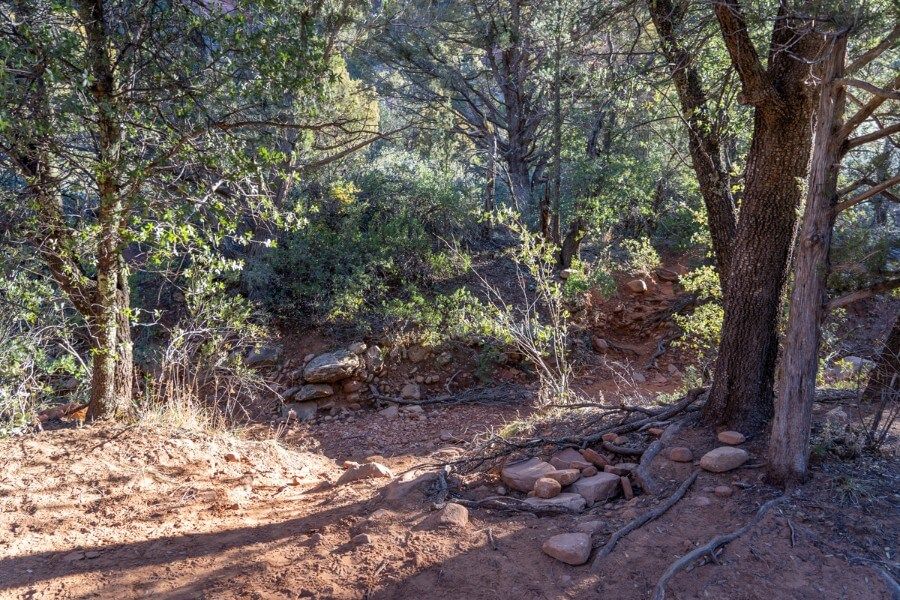 The photo above shows the exact point you take a right spur trail leading away from Fay Canyon and up a steep bank.
Only take the spur trail if you are comfortable with a steep climb and have robust shoes on for the ascent.
Cut between the trees and over the dry Fay Canyon creek bed. Take the dirt and rock path leading out of the wash to the right side and look for the arch formation at the top of the bank.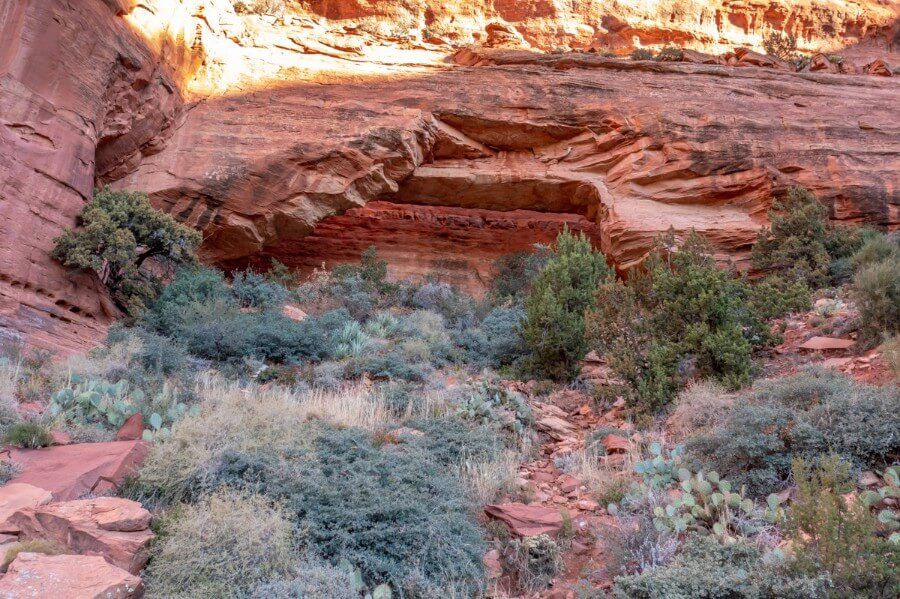 There are multiple trails you can take to gain elevation up the steep bank. Follow whichever you prefer but try to walk as directly as possible toward the arch.
Around two thirds of the way up the bank, you can clearly see Fay Canyon Arch and climb becomes even steeper.
You will encounter plenty of loose and sandy rocks throughout the climb, which require careful foot placements to minimize the risk of slipping.
4. Walk Behind Fay Canyon Arch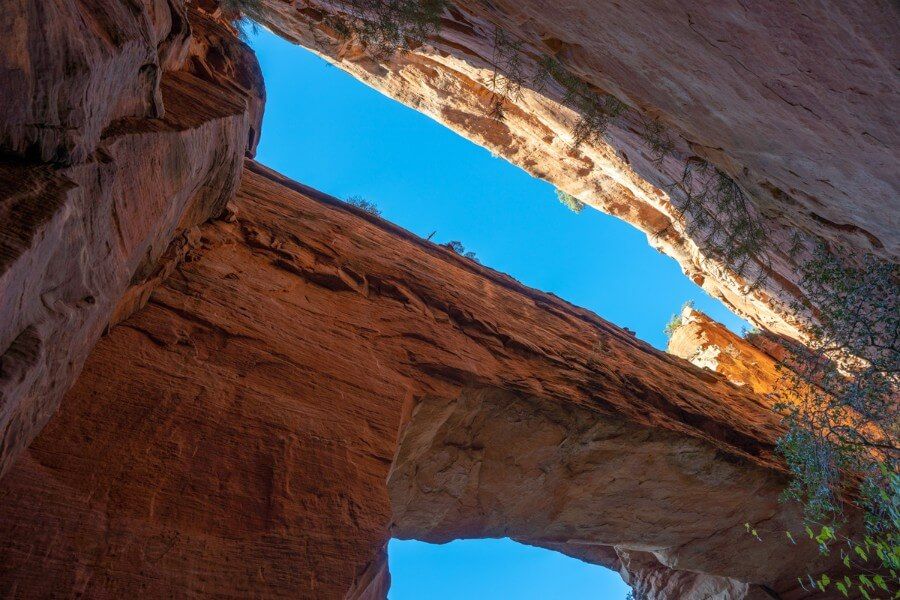 Once you summit the bank, continue to walk directly underneath Fay Canyon Arch. Look up to see a surprisingly wide gap between the arch and the main red rock cliff wall behind.
The reverse face of Fay Canyon Arch is almost perfectly flat, as though it was sliced with a knife.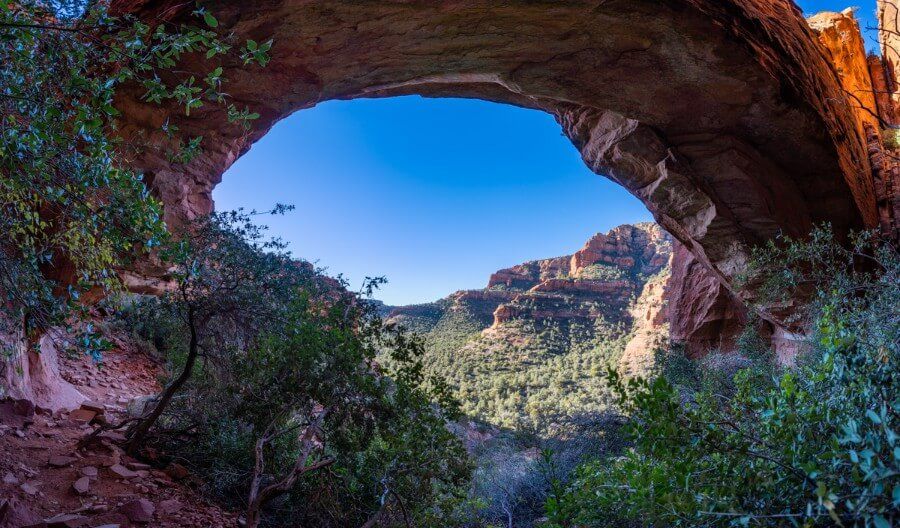 There is a little more space to walk behind the formation until it reaches a dead end at the cliff.
With a wide angle lens you can take 3 vertical photos and stitch them together to create a pano fitting the entire Fay Canyon Arch in one image.
The sun will be illuminating almost the whole view through Fay Canyon Arch to the southwest by mid morning.
5. Continue To 'End Of Trail'
Carefully descend the steep bank taking care with the loose stones.
Turn right once you are back on Fay Canyon Trail and head for the tree with 'end of trail' sign as shown above.
If you didn't climb up to the Arch and don't intend to rock scramble, you can stop here and turn back for a very easy and quick hike into Fay Canyon.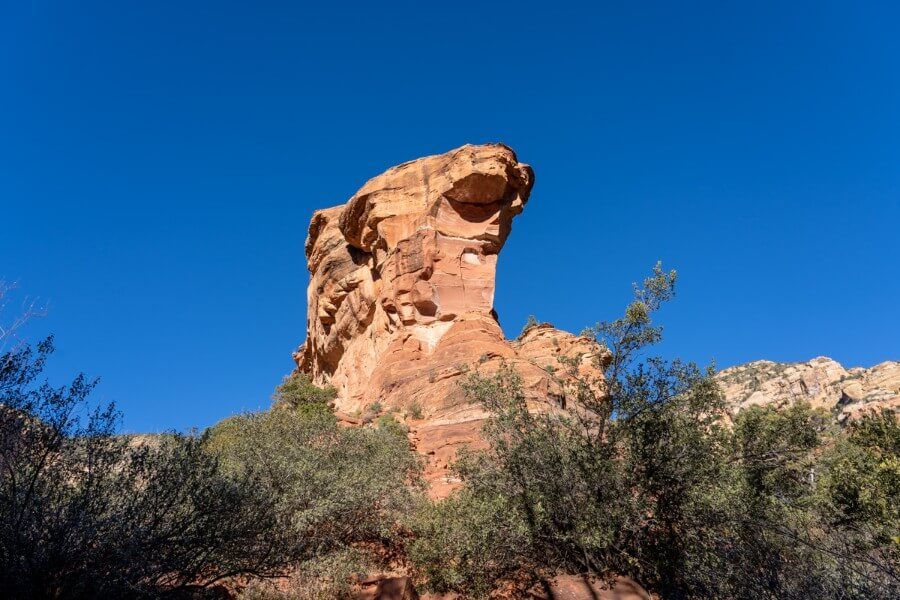 Otherwise, continue beyond the sign to include either the East or West Ascent Trail for a scramble and striking views over Fay Canyon.
From just a few feet past the end of trail sign you will leave the tree coverage and open up a line of sight to the top of a massive single rock sticking out into the canyon.
6. Optional Scramble For Views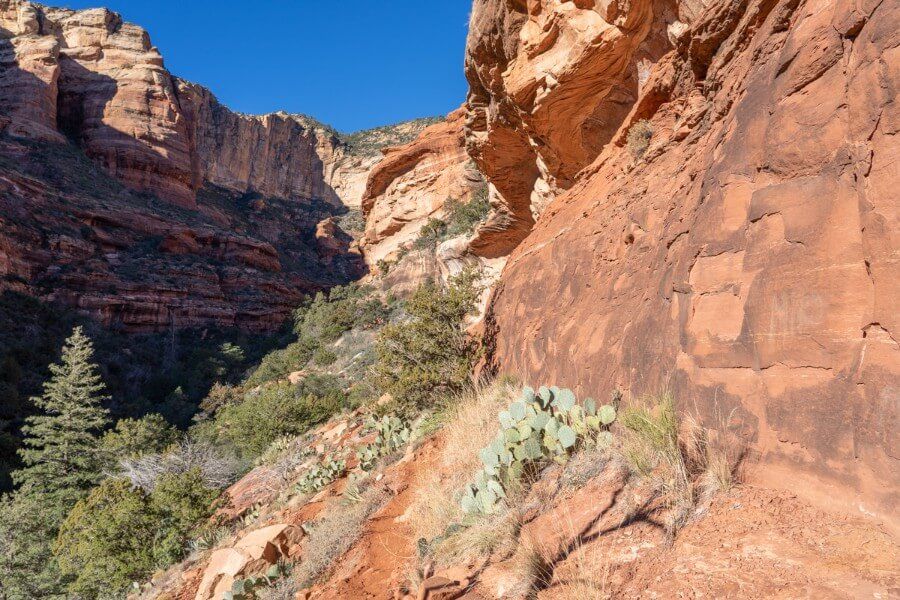 The path forks after the end of trail sign. You can take the right fork and walk 0.2 miles to climb the East Ascent Trail or take the left fork and climb the West Ascent Trail.
Only the West Ascent Trail leads to the top of the huge lone rock formation.
You begin by climbing slick rock and following small sections of dirt that have collected in pockets of eroded rock.
Keep the cliff to your right side and hug the inside edge tightly.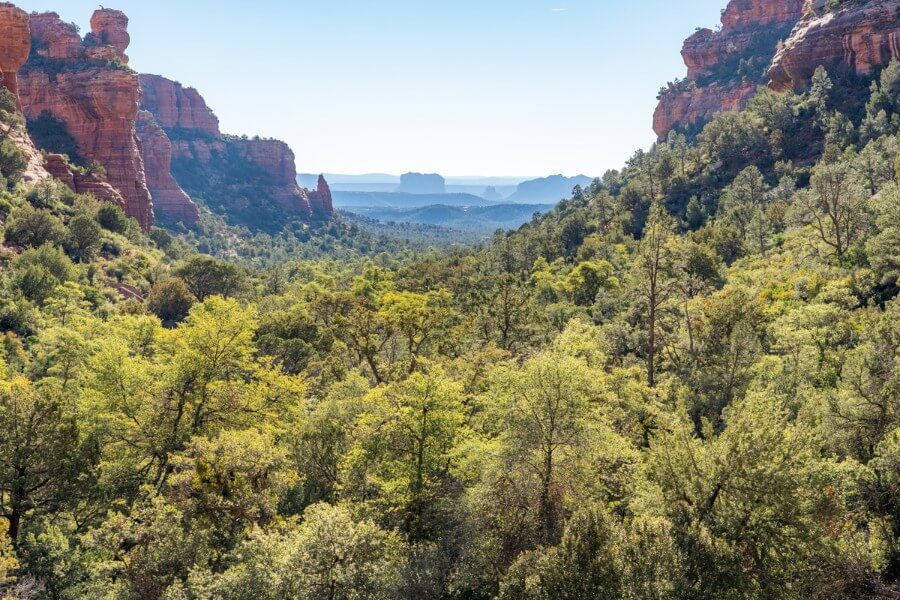 You will walk 0.2 miles forging your own path with fairly significant drop offs to the side, before turning 180 degrees to the right and back on yourself.
The top of the rock is a flat table or shelf like formation but don't get too close to the edge in case of wind gusts.
Top tip for the hike – You only have to climb up the very first part of West Ascent Trail to get above the tree line and open up spectacular canyon views as shown in the photo above.
You can just about make out Bell Rock and Courthouse Butte formations in the far distance.
7. Head Back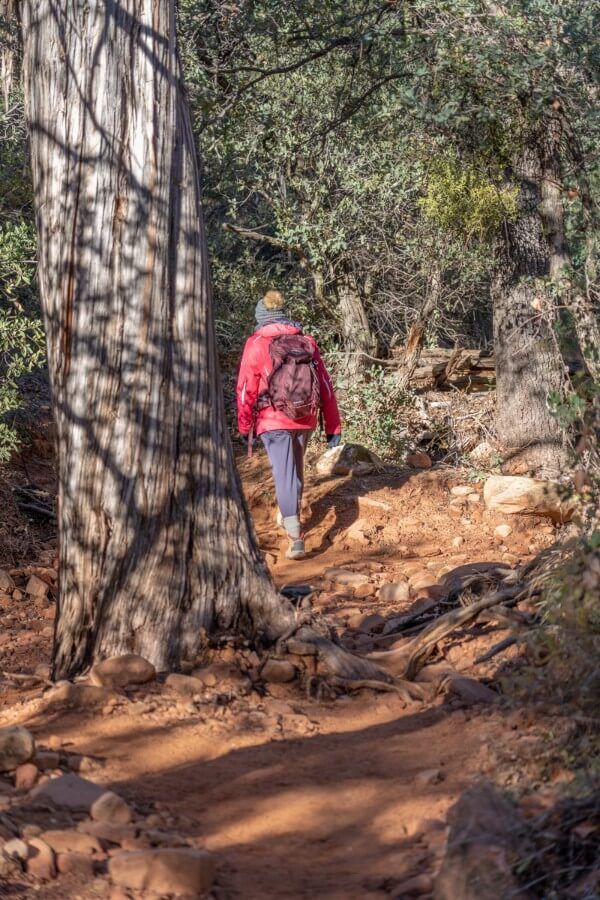 Once you're all done with the amazing views over Fay Canyon, it's time to head back to the parking lot.
The return leg will take no time at all, unless you hike back up to see Fay Canyon Arch one final time!
Fay Canyon Trail Pros And Cons
Pros:
Easy flat hike with optional adventure elements
Much larger parking lot than average for Sedona
Perfectly located for hiking more nearby trails
Cons:
Both the arch and end ascent are steep paths
Not the most exciting hike if don't include the arch or ascent
Very busy trail from mid morning to mid afternoon
Best Time To Hike Fay Canyon Trail
The ideal to hike Fay Canyon Trail would be early morning or late afternoon on a weekday in Spring or Fall so you can benefit from perfect hiking and light conditions with limited crowds.
Season
If you visit Sedona in Spring or Fall when it is at peak tourist season, you simply have to be out early at trailheads or you'll have problems getting parked.
Winter and Summer offer quieter periods in Sedona, which means you have more chance getting parked up without issue.
We hiked Fay Canyon during our trip to Sedona in Winter and it was fairly quiet at the parking lot until around 10am.
No matter which season you visit, try to avoid weekends, holidays and the 10am-3pm rush.
Time Of Day
The best time of day to hike Fay Canyon is early morning or late afternoon.
Mid morning through early afternoon is hotter, busier and you will be looking directly into the sun from the West Ascent viewpoint looking down canyon.
Early morning will be quieter, cooler and the sun won't ruin your photographs. Late afternoon will be warmer but better for photography as the sun moves further west in the sky.
Fay Canyon Arch and the valley view from west summit are both fantastic Sedona photography locations.
What To Pack For Hiking Fay Canyon Trail
Footwear – Footwear with good grips and traction are essential for climbing the steep bank to Fay Canyon Arch but more importantly for the rock scramble ascent at the end.
Water – You'll be out hiking for anywhere between 1.5 – 3.5 hours in Fay Canyon, which means you'll need to carry water. Summer months require more water and even electrolyte drinks.
Sun protection – Sunglasses, sun hats, long layers and sunscreen are vital if you are visiting Sedona in Summer. Mot of the Fay Canyon Trail is shaded by trees but Fay Canyon Arch and the West Ascent climb are completely exposed.
Winter – Early starts are cold in Sedona during Winter. Even on sunny mornings like we had, coats, gloves and hats were required until temperatures warmed around mid morning.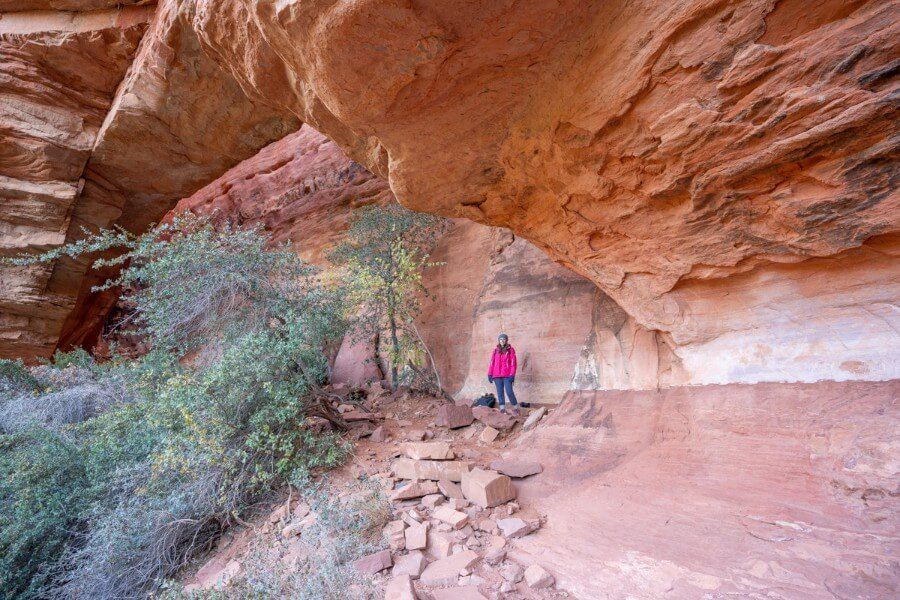 5 Tips For Hiking Fay Canyon Trail
Leave your car at Fay Canyon to hike Doe Mountain or Boynton Canyon to avoid parking issues

Keep your eyes peeled for that right spur trail leading to Fay Canyon Arch

You don't need to climb the whole West Ascent to get those awesome canyon views
Set off early to beat the crowds for a more relaxing hike
Use one of the best hiking apps like Gaia GPS offline maps for navigation
Sedona Arizona Visitor Summary
How to get around – Sedona is small but you'll need a car to access the best hikes to the north and south of town. If you want to get to the hard to reach places, you should hire a jeep.

When to visit – Spring and Fall are the best seasons to visit Sedona, but they come with a higher price tag and more crowds. Winter is a fantastic time to avoid both.

Where to stay in – Accommodation is expensive in Sedona, but there are plenty of very high quality places to stay including Matterhorn Inn, Lantern Light Inn, Arabella Hotel, Whispering Creek B&B and The Suites at Sedona.

Popular things to do – Sedona is one of the best places to hike in the US, but it is also a wonderful place to get off-road in a jeep, shoot stunning photography, visit historic sites and drink wine.
Is Fay Canyon A Vortex?
No, Fay Canyon is not one of the 4 major vortex sites in Sedona. You will find the popular Sedona Vortexes at Bell Rock, Cathedral Rock, Boynton Canyon and Airport Mesa.
Is Fay Canyon Dog Friendly?
Yes Fay Canyon Trail is a dog friendly hike in Sedona. Dogs must be kept on a short leash at all times but they are permitted to explore all areas around Fay Canyon, including Fay Canyon Arch and either ascent at the end.
Just be sure to pick up after your pooch, none of us want to have a surprise on the trail!
Is Fay Canyon Trail Worth It?
Yes! Fay Canyon is a quintessential hike in Sedona and shouldn't be missed during your visit to northern Arizona. It can easily be sandwiched between hiking Doe Mountain Trail and Boynton Canyon Trail for a triple header lasting around 6 or 7 hours.
Cathedral Rock Trail and Devils Bridge Trail are arguably the two most popular hikes in Sedona. But if you're looking for a quieter walk to escape the crowds and benefit from two fun climbs to great viewpoints, hike Fay Canyon instead.
Fay Canyon Trail FAQ's
Let's take a look at some of the most asked questions about hiking Fay Canyon Trail in Sedona.
Is Fay Canyon Trail Easy?
Fay Canyon Trail is easy if hiked without including Fay Canyon Arch and West or East Ascent rock scramble at the end of the maintained path. Adding on either the scramble or Fay Canyon Arch will increase the difficulty level of Fay Canyon trail to moderate.
How Do You Get To The Hidden Arch On Fay Canyon Trail?
Half a mile into Fay Canyon Trail, a right spur path leads through a dry creek bed and up a steep bank to the impressive Fay Canyon Arch. It is easy to spot from the trail and easy to find when climbing, despite the steep gradient to reach the formation.
More From Sedona
Cathedral Rock – Sedona is filled with amazing hikes but Cathedral Rock Trail is one of the most iconic. If you're short on time, this is the adventure hike for you.
Bell Rock – Hike the Bell Rock Courthouse Butte Loop Trail for stunning Sedona views, a fun slick rock climb and our hidden loop half way up the formation.
Boynton Canyon – Exactly how to find the famous Subway Cave on Boynton Canyon Trail, the most photographed cave in Sedona.
Birthing Cave – The easiest cave to reach in Sedona is Birthing Cave on Long Canyon Trail, ending with amazing views and a crowd free climax.
Soldier Pass – Hike to Devils Kitchen and Seven Sacred Pools before climbing into Soldier Pass Cave on the family friendly Solider Pass Trail in Sedona.
More From The Southwest
Zion National Park – Zion is an adventure playground for adults, find the very best hikes in Zion and choose between 5 ways you can spend a one day in Zion itinerary.
Grand Canyon – Just 2 hours from Sedona is the incredible Grand Canyon South Rim, create your wishlist from the best hikes at Grand Canyon South Rim.
Las Vegas – Heading to Vegas on your Southwest adventure? Here are the 10 best day trips from Las Vegas and the 40 best things to do in Las Vegas.
Want more Arizona content? Head over to our Arizona travel guides to explore the best of Grand Canyon, Sedona and beyond.
---
We hope this hiking guide for the fun Fay Canyon Trail helps with planning your visit to Sedona, Arizona!
Please let us know if you have any questions about hiking Fay Canyon Trail or your visit to Sedona in the comments below.
Happy Hiking,
Mark and Kristen
Was This Post Helpful? Pin It For Your Hike!