Shaman's Cave, otherwise known as Hideout Cave, is a secret cave accessed by hiking Robbers Roost Trail in the far northwest of Sedona. This is one of the quietest Sedona caves because it's so far out of the traditional touristy area that very few people make the journey out here.
In this guide, we'll explain everything you need to know about hiking Robbers Roost Trail and show you exactly how to get into the photogenic Shamans Cave based on our own experiences.
Let's begin.
Our Shaman's Cave Experience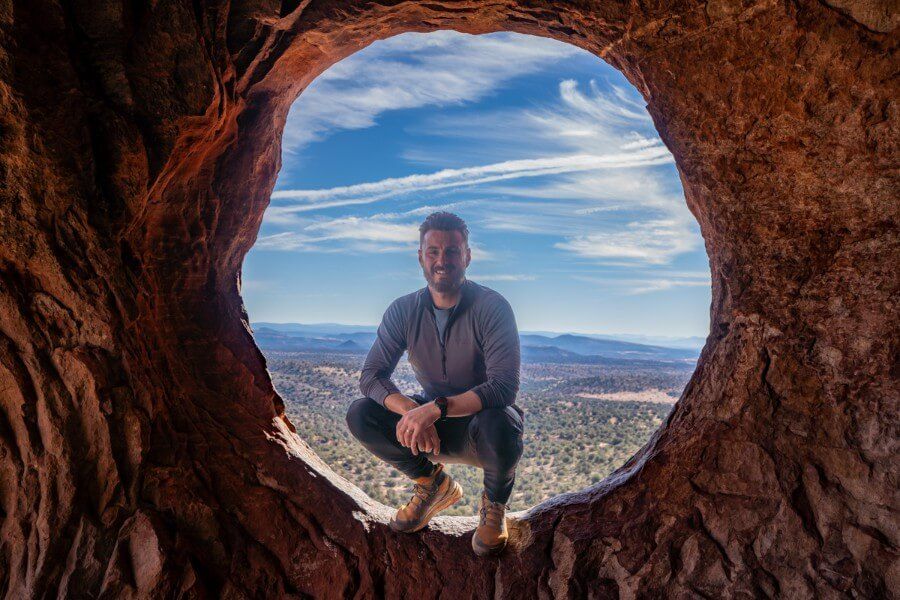 We hiked Robbers Roost Trail and explored Shaman's Cave during our week long visit to Sedona at the end of 2021. After driving our rented Jeep to a closer parking area, we took the shorter trail to reach the cave and enjoyed it's spectacular views in perfect solitude.
What we can tell you after taking on most of the best hikes in Sedona is that Robbers Roost Trail is a fantastic hike for those who want a break from the overcrowded trails. However, it is a long way out of town and will eat up valuable time on your itinerary.
Hiking Tip: When exploring outdoors, be sure to always practice the seven principles of Leave No Trace to preserve natural beauty so others can enjoy the same environments.
Hiking Statistics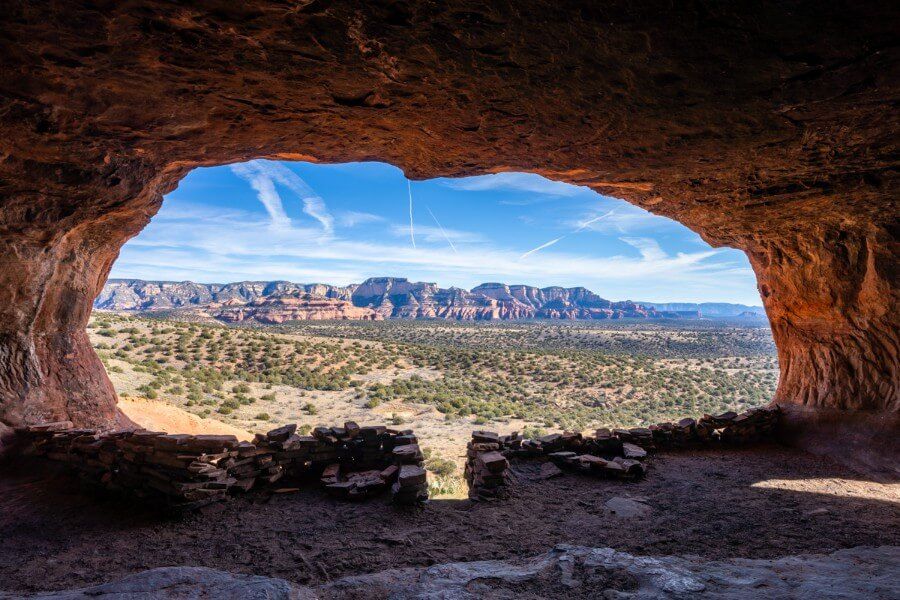 The two different ways you can hike Robbers Roost Trail to the Shaman Cave are based entirely on the type of vehicle you are driving in Sedona.
In a normal 2WD vehicle you will have to park further from Shaman's Cave. But if you own or rent a 4WD vehicle like a Jeep you can get much closer to the cave, which will result in less distance hiking along Robbers Roost Trail.
Here are the hiking statistics for both options:
With 2WD Vehicle
Trail Distance: 3 miles round trip
Elevation Gain: 450 ft
Hike Difficulty: Moderate
Time Required: 2.5 hours
Trailhead: Parking at FR 525C / FR 9530
Parking: Google Maps
With 4WD Vehicle
Trail Distance: 1 mile round trip
Elevation Gain: 200 ft
Hike Difficulty: Moderate
Time Required: 1.5 hours
Trailhead: 4WD Parking at Hide Out Trailhead
Parking: Google Maps
Robbers Roost Sedona Map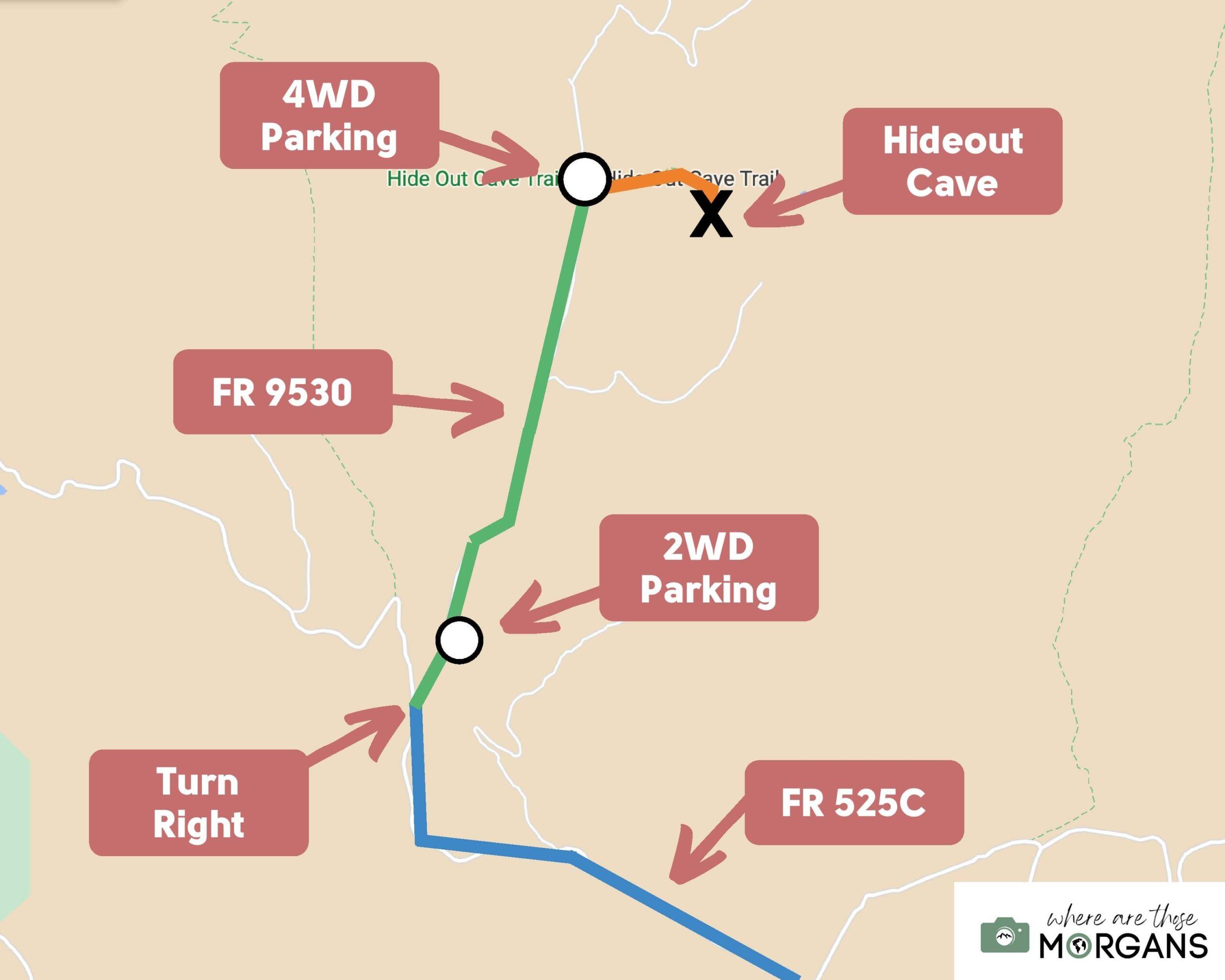 The map we created above shows parking areas and route options for hiking Robbers Roost Trail to Shamans Cave in Sedona.
You will have to hike FR9530 if you don't have access to a 4WD vehicle in Sedona.
Map key:
Blue Line – Forest Road 525C
Green Line – Forest Road 9530
Orange Line – Robbers Roost Trail
Black X – Hideout Cave Location
Hiking Walkthrough
Let's get into the Sedona Robbers Roost Trail walkthrough. We are going to show you the entire hike step-by-step so you know exactly what to expect.
Don't forget you can use our photos below throughout your hike to keep track of where you are.
1. Drive The Forest Roads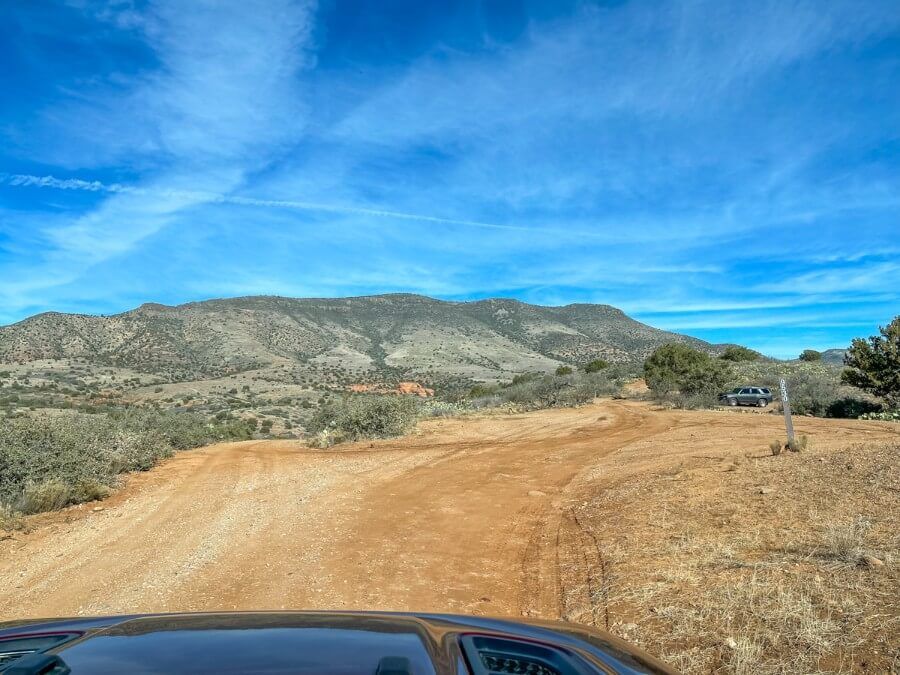 We recommend getting an early start and setting off from Sedona at first light. This way you'll beat the crowds and avoid ATV's on the gravel roads.
Take it easy and stick to low speeds on the gravel roads leading to FR 9530. Park at the fork if you have a 2WD car and begin walking up FR 9530, which is the start of Robbers Roost Trail for you.
Hiking tip – You do not need to display a parking pass to hike Robbers Roost Trail to Shaman's Cave.
2. Hike Or Drive FR 9530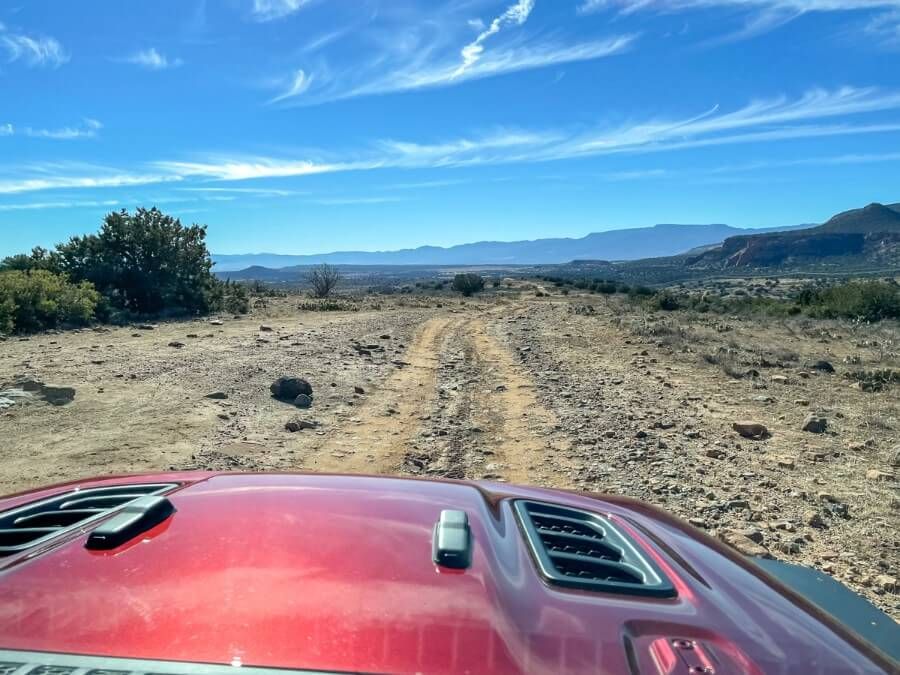 If you are driving a 4WD vehicle you can continue straight up FR 9530 until you reach an unmarked but obvious parking area.
Otherwise, you must hike 1 mile with 200 ft elevation gain along a boring and exposed rocky trail before you reach Robbers Roost Trail.
3. Begin Hiking Robbers Roost Trail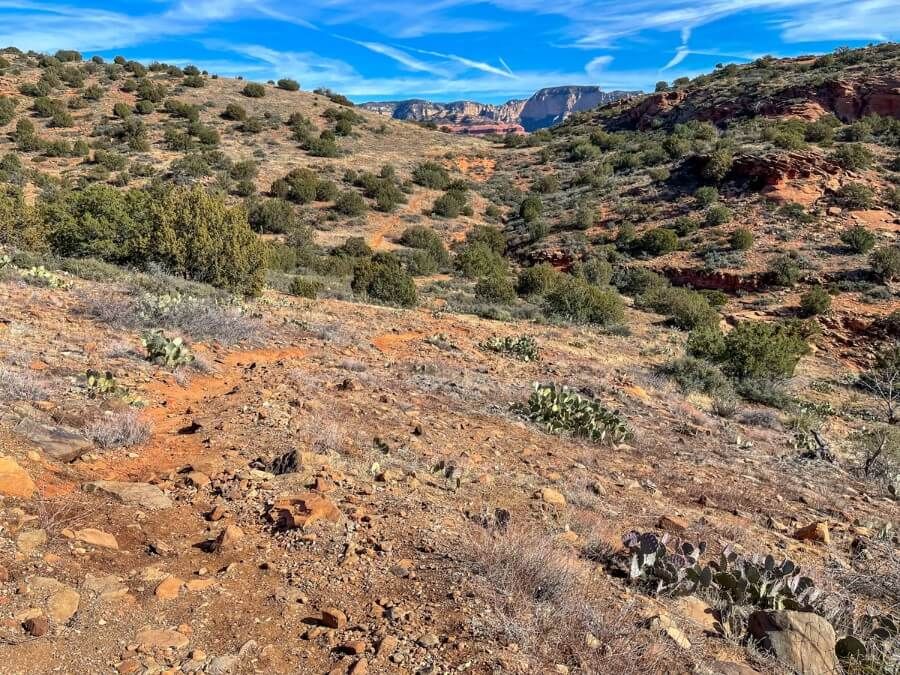 Whether you drove or walked FR 9530, you will begin your hike to Hideout Cave on Robbers Roost Trail. This will be a 1 mile round trip walk if you follow the lightly beaten path directly.
You can just about see the narrow trail running downhill and then back up hill in our photo above. The gradient is relatively steep and it's also quite rocky.
Robbers Roost runs east from the trailhead and eventually accesses Hideout Cave from the north. Stick to the main trail on your way out and back again to avoid damaging the natural environment.
4. Arrive At Shaman's Cave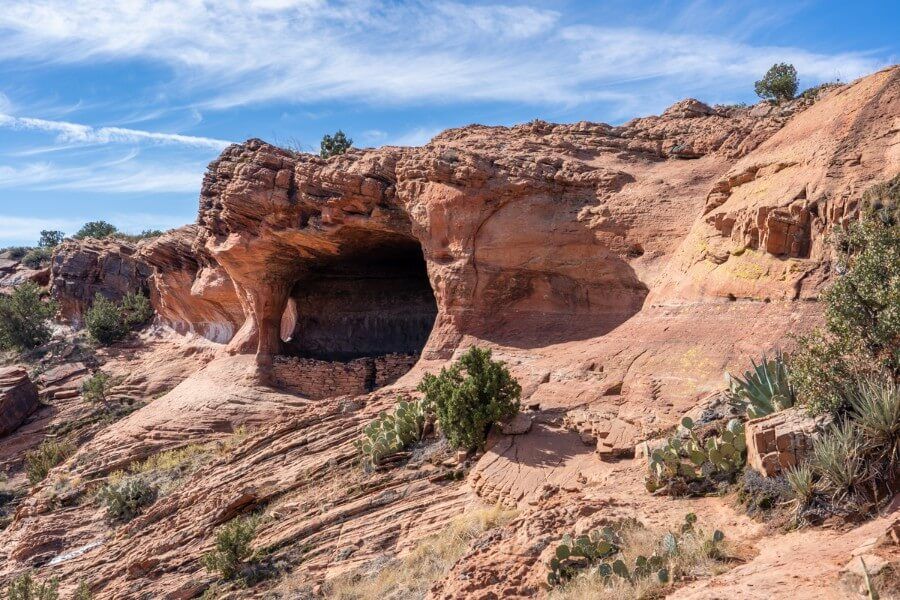 Robbers Roost begins by dropping 60 ft down into a V shaped depression. Once you reach the bottom, you have to climb back up 60 ft to reach a split in the trail.
You need to turn left at the fork. This left turn leads clockwise around a rock formation and eventually you will circle round to your first view of Shaman's Cave.
Getting to the cave entrance requires crossing narrow slick rock which could be treacherous if wet. The drop off is significant but the crossing is wide enough to safely navigate if you are careful.
Take your time and wear shoes with good traction.
5. Enjoy The Shaman's Cave View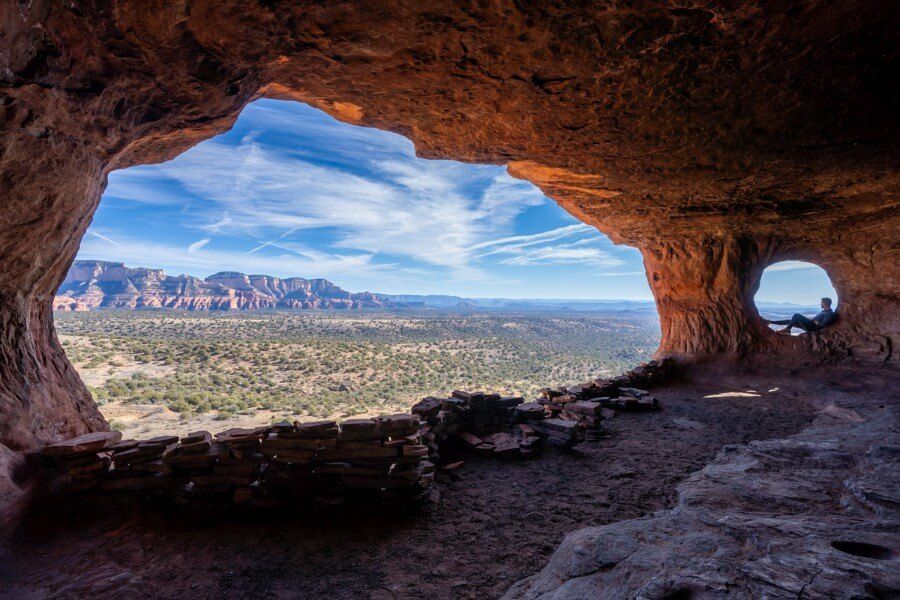 Shaman's Cave has one huge oval shaped opening and one small circular shaped opening like two windows.
From inside the cave you can enjoy spectacular views over Sedona's wild and unspoiled landscape below. Red rocks, desert vegetation and blue skies make up the quintessential Sedona image.
Your reward for the early start is Shaman's Cave east facing chamber filled with sunlight and nobody else in sight.
6. Head Back To Your Car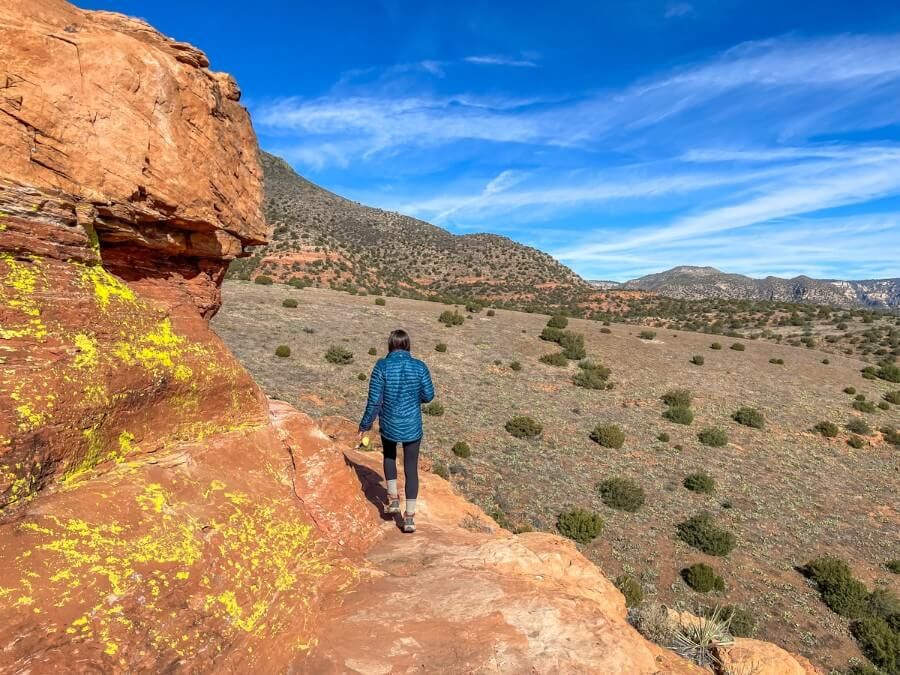 Once you've had enough of those views, head back to your car the same way you entered. Take care on the narrow ledge and rocky paths.
Hiking Robbers Roost early in the day means you can go straight on to visit nearby ruins or drive Jeep trails in the area before they become too busy with ATV's and other Jeeps.
Looking for hiking inspiration? Read our popular guide to the 50 best hikes in the USA next!
Hideout Cave Trail Pros And Cons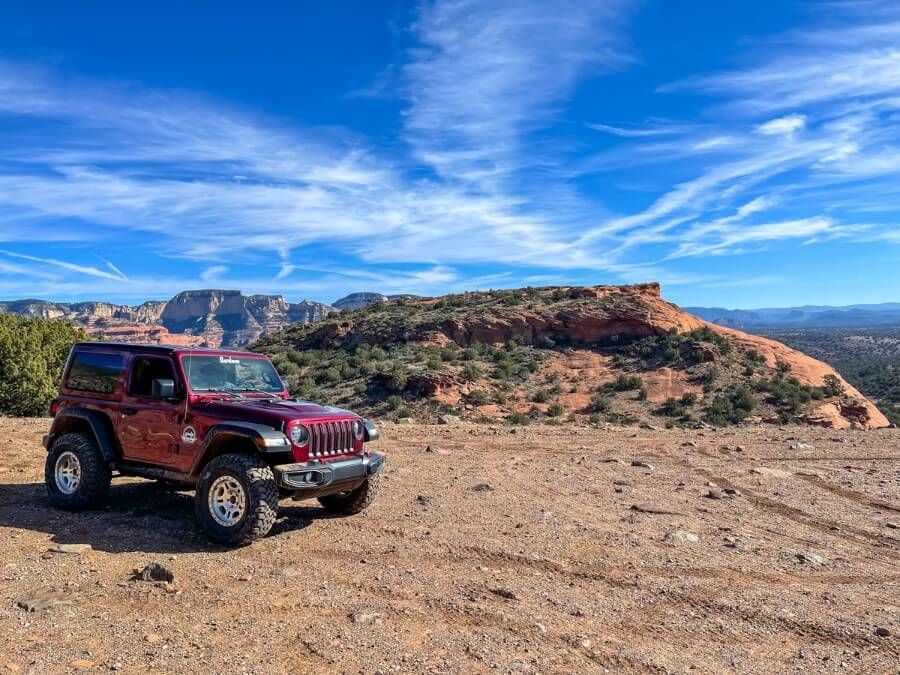 Pros:
One of the quietest caves you can visit in Sedona
Stunning views from inside the cave
Easy short hike with 4WD vehicle
Cons:
Long way out of Sedona
Accessing the cave can be a little tricky
Longer hike without 4WD
Where Is Robbers Roost In Sedona?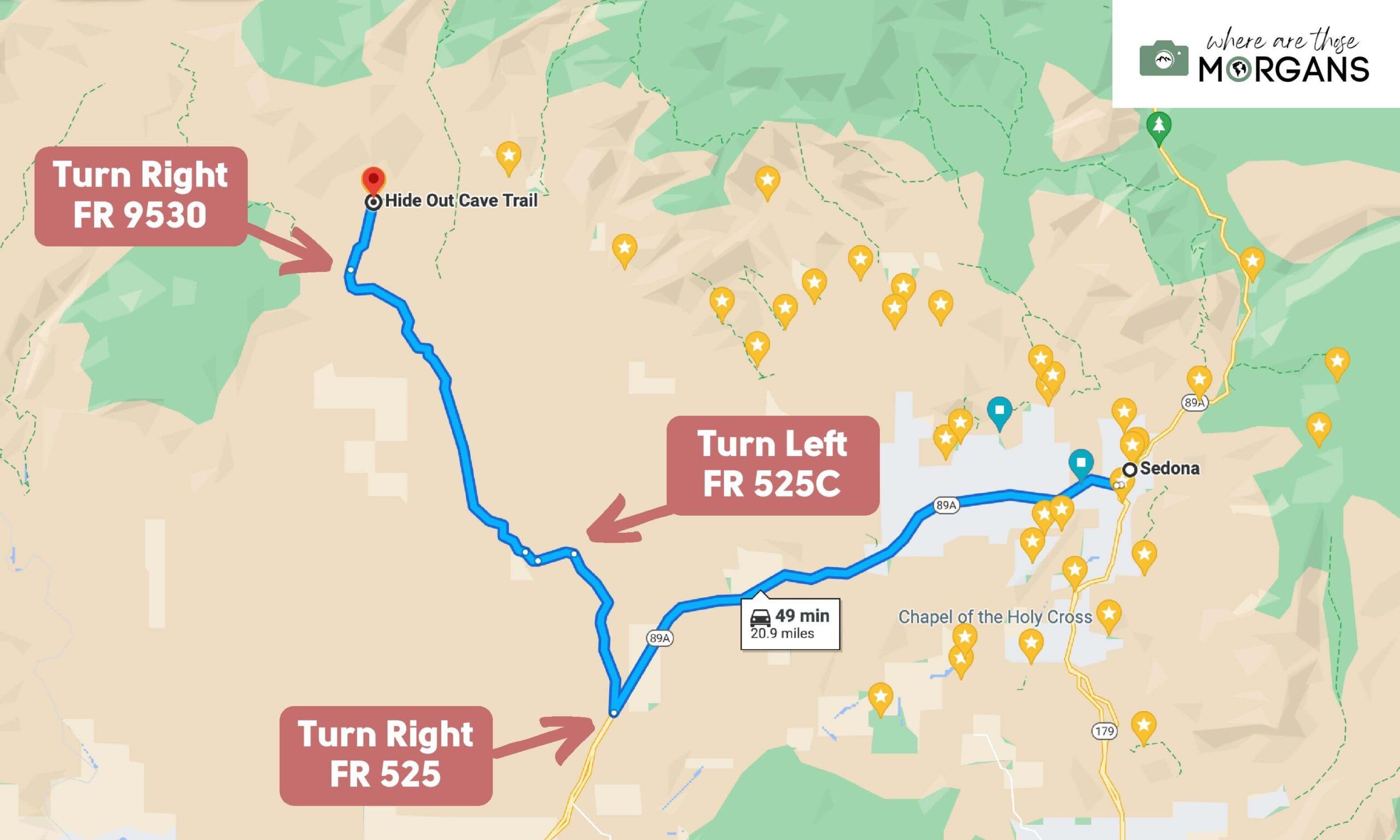 Robbers Roost Trail is one of the furthest out and hardest to access hikes in Sedona. You will find the Hide Out Cave Trailhead 21 miles northwest of downtown Sedona on Forest Road 525C.
Both FR 525C and FR 9530 are comprised mostly of gravel, sand and stones. This means a bit of bouncing, twisting and loose stones being kicked up.
Best Time To Hike Robbers Roost Trail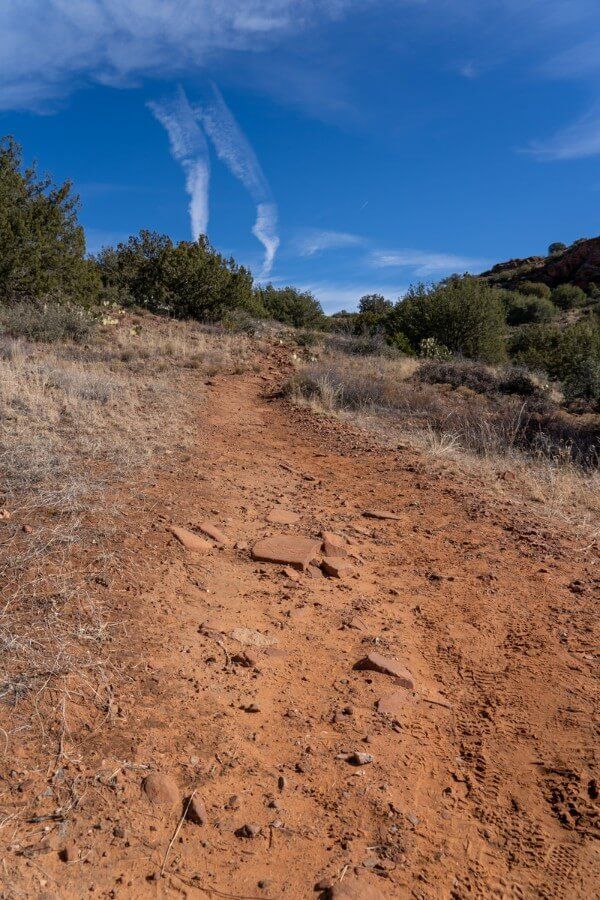 The ideal time to hike Robbers Roost Trail to Shaman's Cave would be early morning on a weekday in spring or fall so you can benefit from perfect hiking and light conditions.
Unlike most hikes and caves in Sedona, Robbers Roost Trail is exceptionally quiet and crowd free. You can visit the cave any time of day and enjoy a relaxing experience.
But here's a little more information about when to visit Shaman's Cave.
Best Season
Spring and fall represent the busiest tourist periods in Sedona. Hideout Cave is relatively unknown but the odds of sharing the cave with other hikers will increase during April, May, June, September and October.
Winter and summer to a lesser extent are quieter periods in Sedona, which means you have a better chance of being alone in Hideout Cave during November, December, January, February, March, July and August.
No matter which season you visit Sedona, try to avoid weekends and holidays.
Best Time Of Day
The best time of day to hike Robbers Roost Trail to Hideout Cave is early morning because the cave is east facing, which means it will illuminate with golden yellow and deep orange light right after sunrise.
From midday onward the cave will be in deep and dark shadow as the sun moves around to the south. There will be a short period when the smaller window inside Hideout Cave has a direct hit from the sun.
We were inside Hideout Cave at 11:30am during our visit to Sedona in December for reference.
How To Include Hideout Cave In Your Sedona Itinerary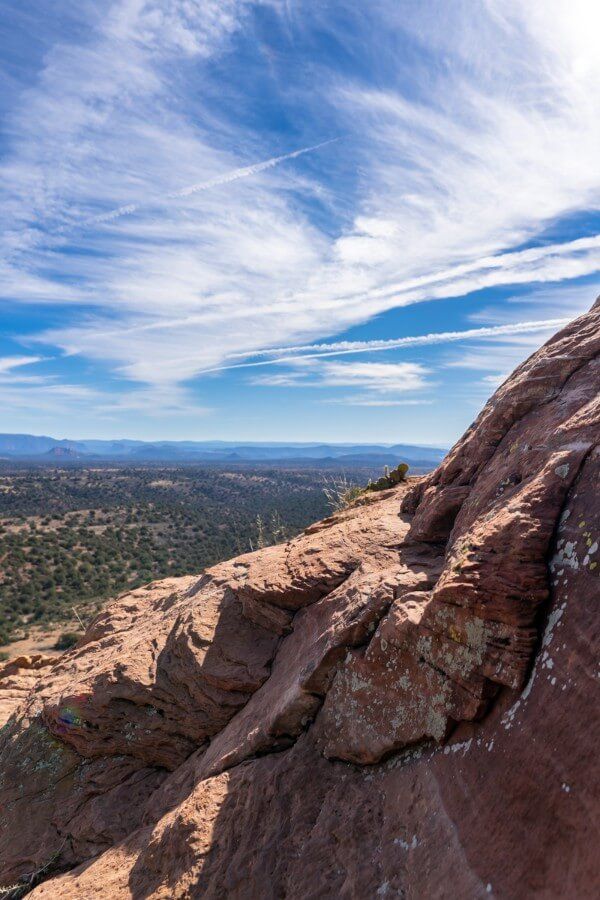 The best way to include Shaman's Cave into one of your days in Sedona is to begin hiking Robbers Roost early in the morning, then immediately afterwards you can stop at Honanki Heritage Site and Palatki Heritage Site, before driving Outlaw and Diamondback Gulch 4WD Jeep Trails.
What To Pack For The Hike
Footwear – Footwear with good grips and traction will help access Hideout Cave via the narrow ledge. If it has rained recently, don't try to enter the cave with running shoes or flip flops.
Water – Carrying plenty of water is essential. Summer months require more water and even electrolyte drinks.
Sun protection – Sunglasses, sun hats, long layers and sunscreen are vital if you are visiting Sedona in summer. Almost all of Robbers Roost Trail is open and exposed.
Our Top 5 Tips For Hiking Robbers Roost Trail
Hire a Jeep so you can park much closer to Hideout Cave
Visit the cave early for the best lighting
Wear robust shoes with good traction for the ledge
Take a wide angle lens and stick to the back of the cave to capture the whole scene in one frame
Use one of the best hiking apps like Gaia GPS or All Trails offline maps for navigation
Why Is It Called Robbers Roost Trail?
Hideout or Shaman's Cave is located on the southeast side of Robbers Roost Butte, named because (allegedly!) bootleggers, rustlers and robbers would steal cattle or other animals and hide here.
A small rounded window on the south side of Hideout Cave is where the thieves would supposedly look out to see if ranchers were chasing them.
Is Robbers Roost Trail Worth It?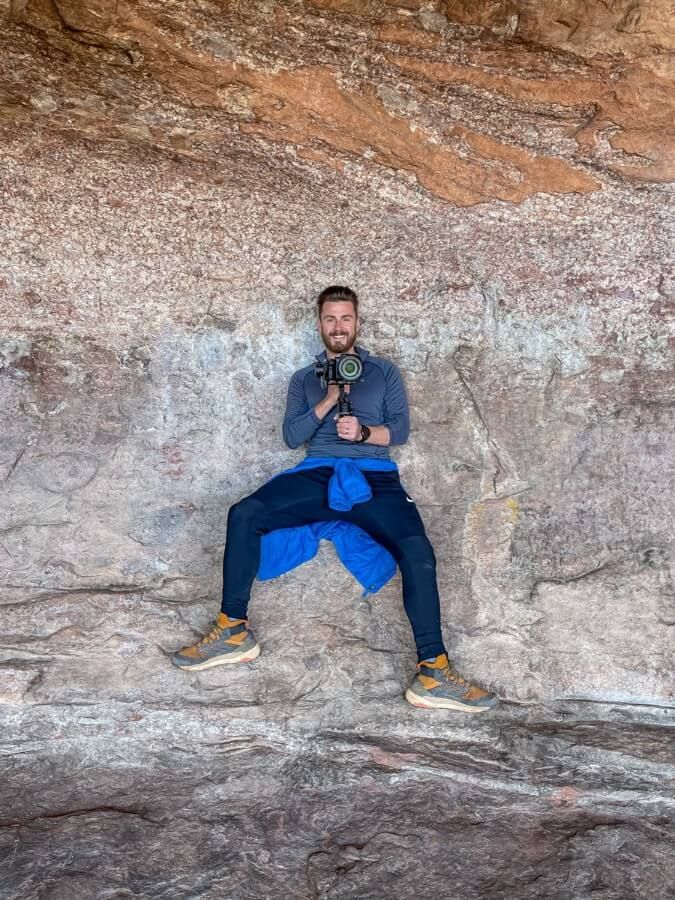 All things considered we think Robbers Roost Trail is worth it as long as you have plenty of time spare on your Sedona itinerary and you have a 4WD vehicle. We really enjoyed being completely alone inside Shaman's Cave.
However, without a 4WD vehicle you won't be able to access other nearby attractions and it's a long way out just for a short hike to a cave. Even with a 4WD vehicle, we would still prioritize other hikes and caves that are much closer to Sedona.
More Sedona Hikes
More From Sedona
Want more Arizona content? Head over to our Arizona Travel Guides to explore the best of Grand Canyon, Sedona and beyond.
---
We hope this guide to hiking Robbers Roost Trail helps with planning your visit to Sedona, Arizona!
Please let us know if you have any questions about how to find the Shaman's Cave in the comments below.
Happy Hiking,
Mark and Kristen
Was This Hiking Guide Helpful? Pin It For Your Visit To Sedona!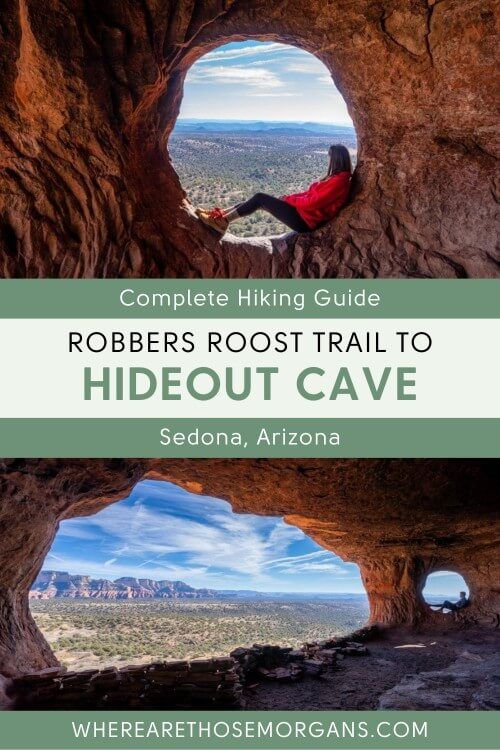 Note: This article contains affiliate links. When you make a purchase using one of these affiliate links, we may earn a small commission at no extra cost to you.
All Rights Reserved © Where Are Those Morgans, LLC. Republishing this article and/or any of its contents (text, photography, maps, graphics, etc.) in whole or in part is strictly prohibited.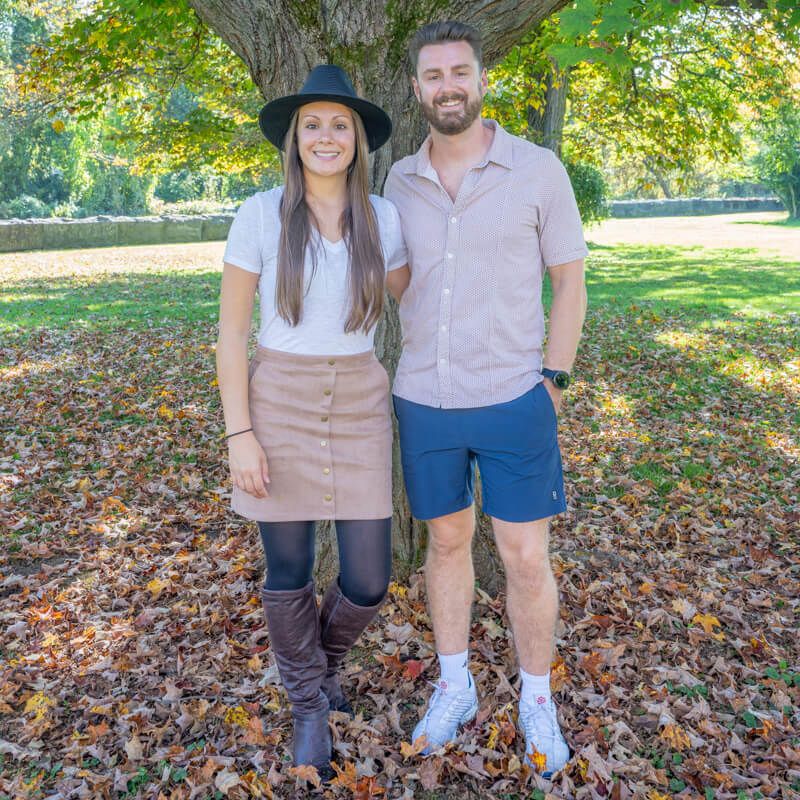 Mark and Kristen Morgan are travel, hiking and photography experts. Over the last 6 years traveling full time, they have explored more than 40 countries and 30 US states.
Their work has been featured in USA Today, Gestalten, Get Your Guide, CityPASS and Condé Nast Traveler along with various other publications.