The exceptionally popular Broken Arrow Jeep trail in Sedona, Arizona is a uniquely technical and exciting 4×4 off-road drive leading to Submarine Rock and Chicken Point Overlook via adrenaline pumping obstacles such as "the traffic circle", "the slide" and "the stairs".
Is Sedona's famous Broken Arrow Jeep trail hard to drive?
Well, Broken Arrow is a short Jeep trail at just 4 miles in total length. But those 4 miles are filled with challenging adventure elements that will put your Jeep's capabilities and your driving skills firmly to the test.
After driving 9 Jeep trails in Sedona, we would rate Broken Arrow as our personal favorite by a distance. It's cliche to go for the obvious choice but Broken Arrow takes off road driving to another level.
In this guide we will cover:
Hiring a Jeep in Sedona vs taking a Jeep tour
Complete Broken Arrow Jeep trail walkthrough
Each technical section broken down
Photos from the entire drive including viewpoints
Let's drive Broken Arrow, the best and most famous Jeep Trail in Sedona, Arizona!
*Please note this post may contain affiliate links. If you click on one, we may earn a small commission at no extra cost to you. Thank you for supporting the free content we provide! Read more in our disclosure policy.*
Broken Arrow Jeep Trail Details
Trail Distance: 4 miles roundtrip
Elevation Gain: 220 feet
Trail Difficulty: Challenging
Time Required: 2 hours
Broken Arrow is the only Jeep trail in Sedona involving serious technical driving and it is not to be taken lightly. If you have never driven a Jeep off road before, we highly recommend you drive other trails in Sedona before taking on Broken Arrow.
Start with Schnebly Hill Road and Dry Creek Basin, then advance to Diamondback Gulch so you can get a good feel for the Jeep. Once you are happy with driving the Jeep around Sedona, it's time to take on Broken Arrow trail.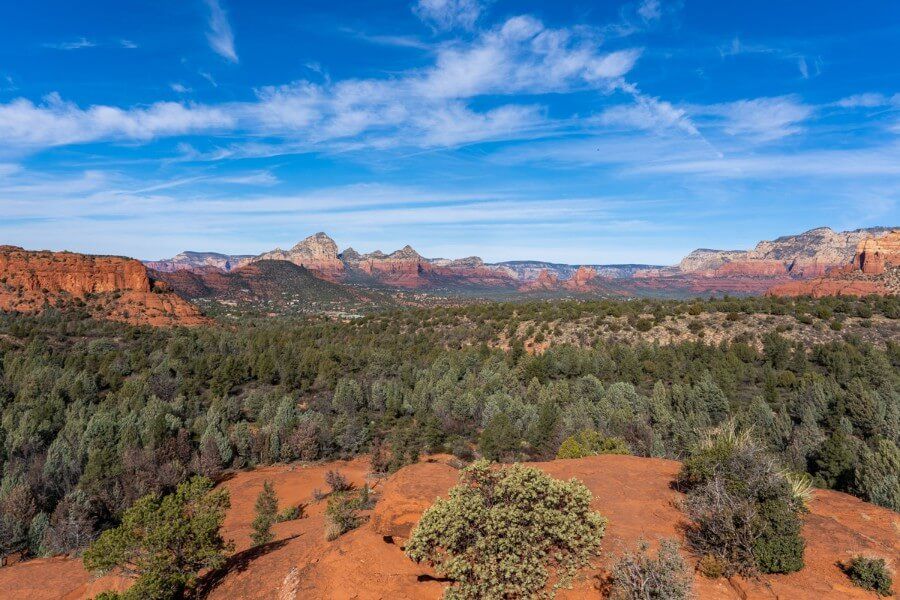 Tips For Driving Broken Arrow Trail In Sedona
Broken Arrow is by far the most heavily trafficked Jeep trail in Sedona because it is widely regarded as one of the best things to do in Sedona.
You will be sharing the trail with other people who have hired Jeeps in Sedona, constantly circling Jeep tour groups and even people who have driven their own 4WD vehicles to Sedona.
Let's take a quick look at some useful tips to consider:
Take things slowly and err on the side of caution
Be confident and decisive but respectful of others
Always pull over to let tour groups pass because they are on the clock
Consult the trail instructions provided upon hiring your Jeep
Plan to walk around both Submarine Rock and Chicken Point Overlook
Hiring A Jeep In Sedona
Sedona is one of our favorite places to visit in the US. The magnificent red rock landscape is a paradise for hikers, photographers and outdoor enthusiasts like ourselves.
Hiring a Jeep during your visit to Sedona is going to cost you a small fortune, but it will be one of the best decisions you make on your visit to northern Arizona.
Renting a Jeep for 3 days allowed us to really explore the hidden gems of Sedona, getting away from the crowds and taking on some amazing off roading trails.
After reading reviews and window shopping around town, we decided to go with Sedona Jeep Rentals by Barlow Adventures. They had extremely positive reviews and the Jeeps on show looked spotless.
Our experience with Barlow?
Well, we can't recommend Barlow highly enough. From start to finish we were very impressed with the entire service, from customer service and professionalism to help with planning the perfect Jeep trail itinerary.
It is important you shop around and find the best service for your needs. But if you are still undecided on which Jeep company to use in Sedona, go down and speak to the team at Barlow.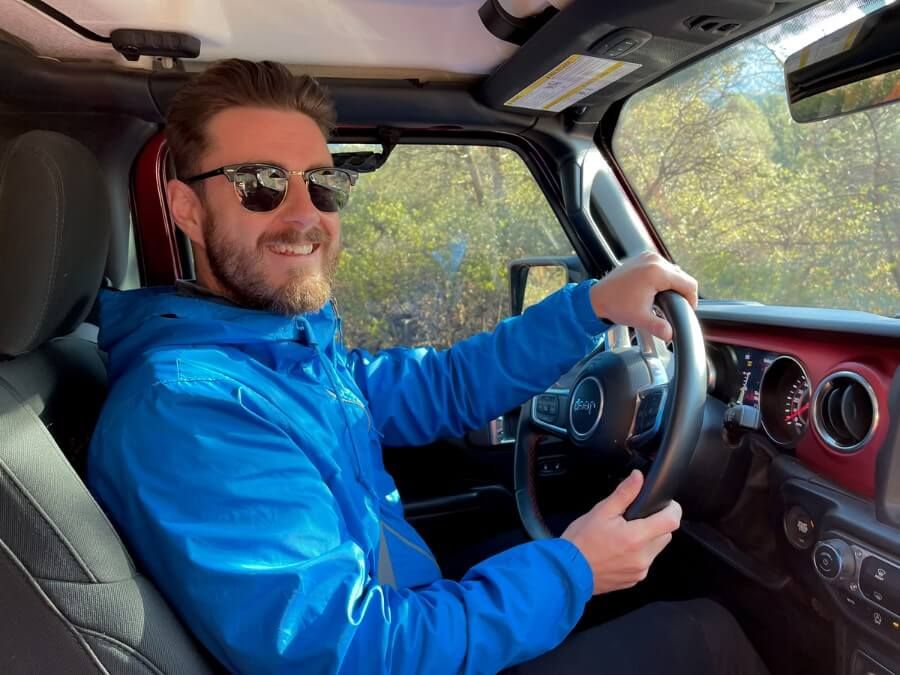 Broken Arrow Jeep Tour
An alternative way of experiencing the most popular Jeep trails in Sedona is to take a Jeep tour. We don't often recommend tours but off road Jeep tours are a big deal in Sedona. In fact, if you hire a Jeep, you will pass by far more tour groups than you will other hired Jeeps.
Broken Arrow is by far the most popular Jeep tour in Sedona. Taking a tour allows those who aren't confident of driving the trail themselves the chance to have an awesome off roading experience. It is also much cheaper overall to tour one Jeep trail than it is to hire a multi-day Jeep.
Check out reviews of Broken Arrow trail on Tripadvisor and compare prices on Pink Jeep Tours.
Sedona Tours: We have rounded up the 18 best tours in Sedona to help you find the perfect excursion for your visit to northern Arizona.
Driving Your Jeep In Sedona
Sedona's off roading 4WD trails are awesome. But they are different to driving your every day car and there are a few things you need to know:
On Jeep trails in Sedona you will frequently shift into 4L and / or 4H gear. Instructions on which gears to use on specific trails will be given to you upon hiring the vehicle and it is important to follow them.
You must respect the Jeep, the trails and other drivers on the trails. Enjoy driving but be courteous and considerate.
Watch out for ATV's flying by and kicking back loose stones which might hit your Jeep windshield. There's not much you can do, just pull over to the side and let them pass.
You will get mud and dust on your Jeep. The key is to have a blast but at the same time be safe and respectful of the vehicle. The place you rent from will know how you treat the Jeep with one look.
Broken Arrow Jeep Trail Walkthrough
Let's get stuck into a full walkthrough of driving Broken Arrow trail in Sedona, Arizona. This is the one Jeep trail you have to include in your Sedona itinerary.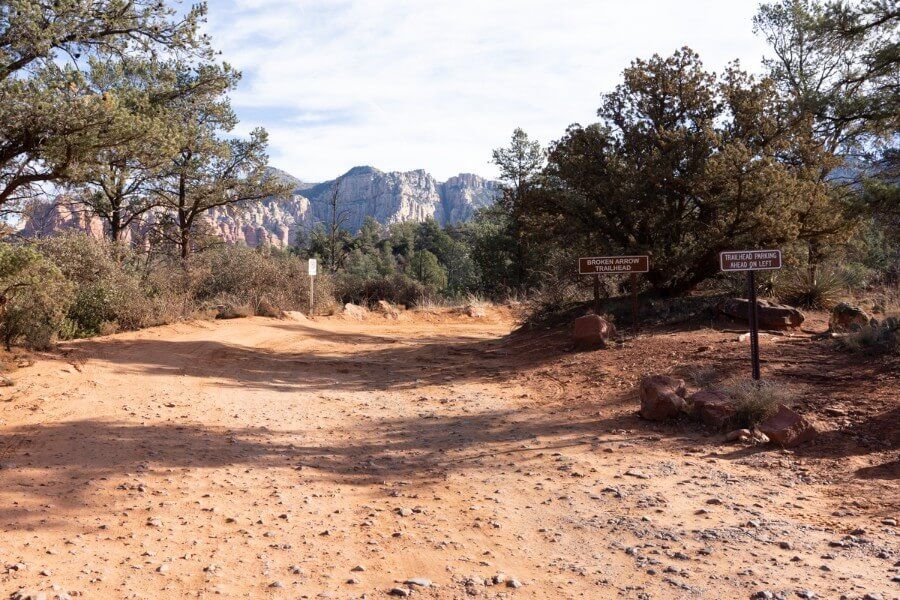 Broken Arrow Jeep trail is located just to the south of downtown Sedona. It only takes around 7 or 8 minutes to drive from town to the off road trailhead.
Here's the exact Google Maps location for Broken Arrow Jeep trailhead so you can see where the off-roading section starts.
From downtown Sedona, head south on AZ-179 and turn left at the third roundabout onto Morgan Road. You will arrive at the 4WD trail after half a mile.
Morgan Road is a residential area within Sedona so you must drive slowly and quietly, especially if you do Broken Arrow early in the morning or later in the day.
Speedbump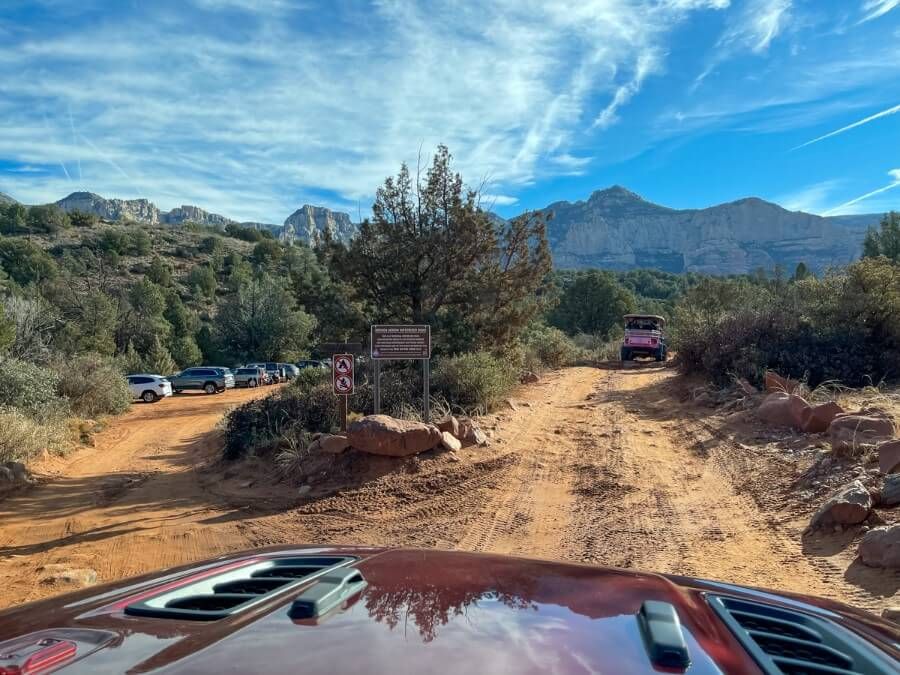 Before you even start the Broken Arrow trail proper, you have to get the Jeep over a fairly sizable speedbump, which doubles as a road block to stop other vehicles entering.
Stop the Jeep, reset the trip odometer to 0.0 and shift into 4L right before you go over the speedbump. Take it at walking speed and let the Jeep pull you over.
You'll be in 4L the entire way around Broken Arrow trail.
Princess Rock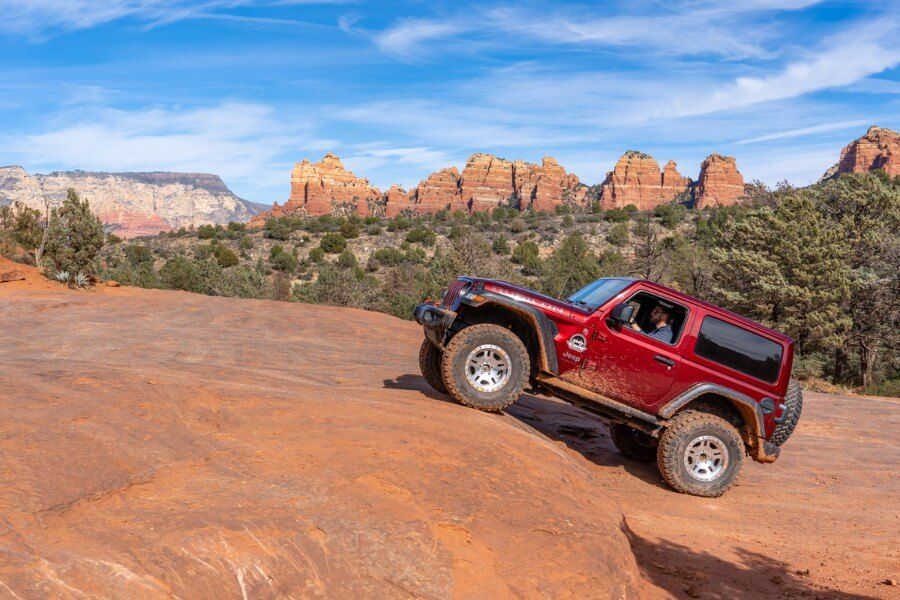 After the speedbump you will drive 0.2 miles on a flat but very tight and narrow two way road leading to the beginning of Broken Arrow's technical track. There are spots to allow other Jeeps and tour groups to pass.
You will know you are at the start of the trail when you turn right and see a steep gradient rock blocking your path. This is your last chance to turn around if you do not feel comfortable and confident with driving Broken Arrow trail.
Slowly approach the rock and let the front wheels pull you up until you can see clear blue sky through the windshield. The back wheels will follow and you are officially driving the awesome Broken Arrow trail in Sedona.
Devil's Dining Room Sinkhole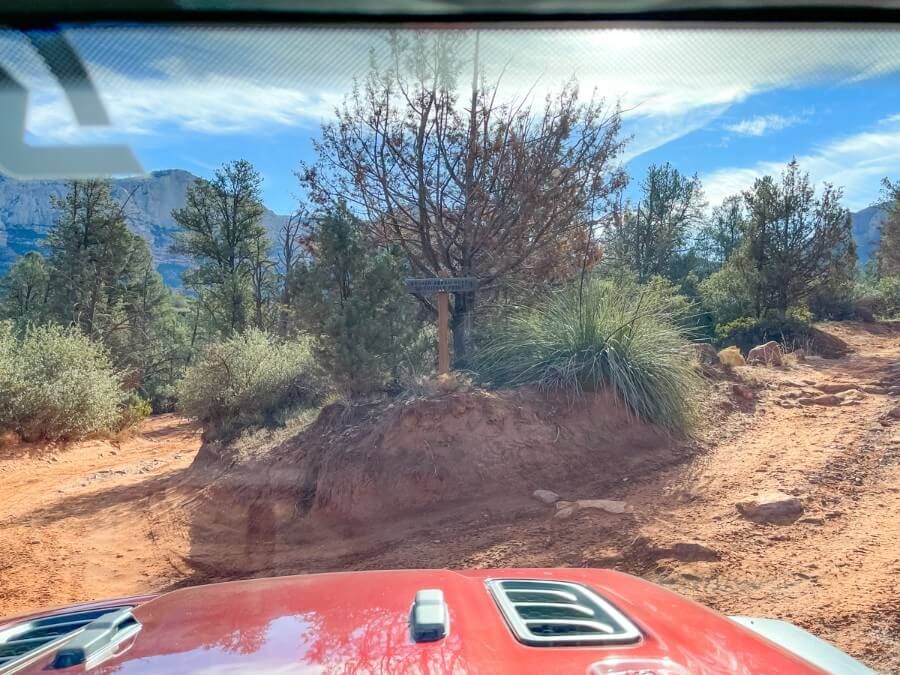 Drive across the long and slightly arching boulders, taking care with low gaps in between. After 0.1 miles you will reach a split in the trail with a sign showing straight ahead to Chicken Point but no direction for turning right.
Take the right turn leading to Devils Dining Room Sinkhole, which is similar to Devils Kitchen Sinkhole on the Soldier Pass Cave hiking trail but much smaller and less impressive.
This short spur trail is a dead end and you'll need to quickly spin the Jeep around 180 degrees to head back out onto the main trail.
One Way Section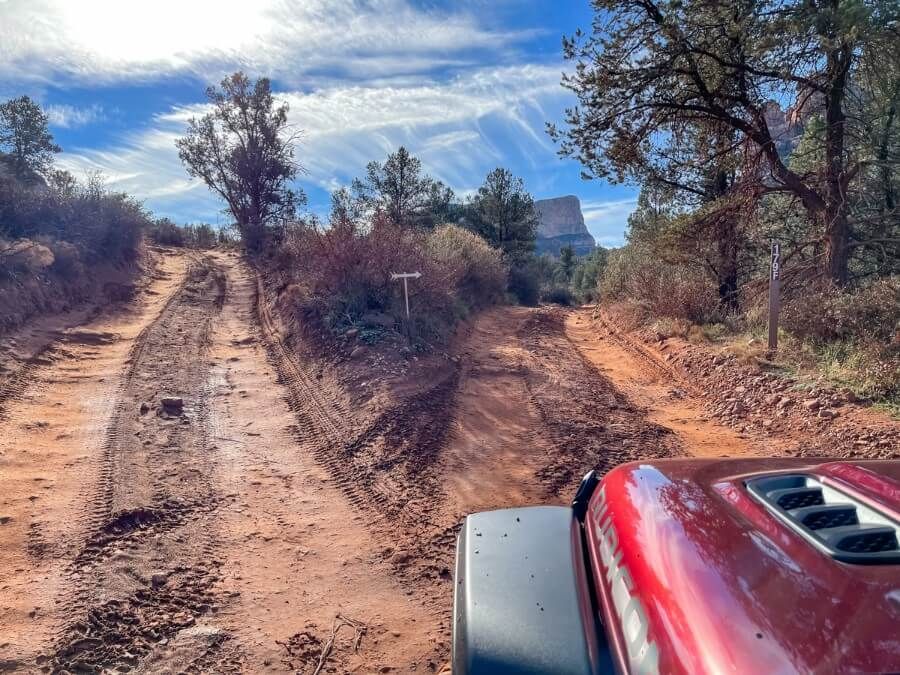 Turn right after Devils Dining Room to rejoin the trail. You will drive a narrow, winding and muddy track for 0.3 miles before reaching a one-way split.
Stay right at the split, following the small brown sign with a white arrow pointing right. This quickly rejoins the main narrow trail which is two-way for a further 0.4 miles. Use pullovers if necessary.
At the next split you must stay straight, as opposed to turning right. The right turn would lead you to the bottom of "the stairs" but you are only permitted to go down the stairs.
Submarine Rock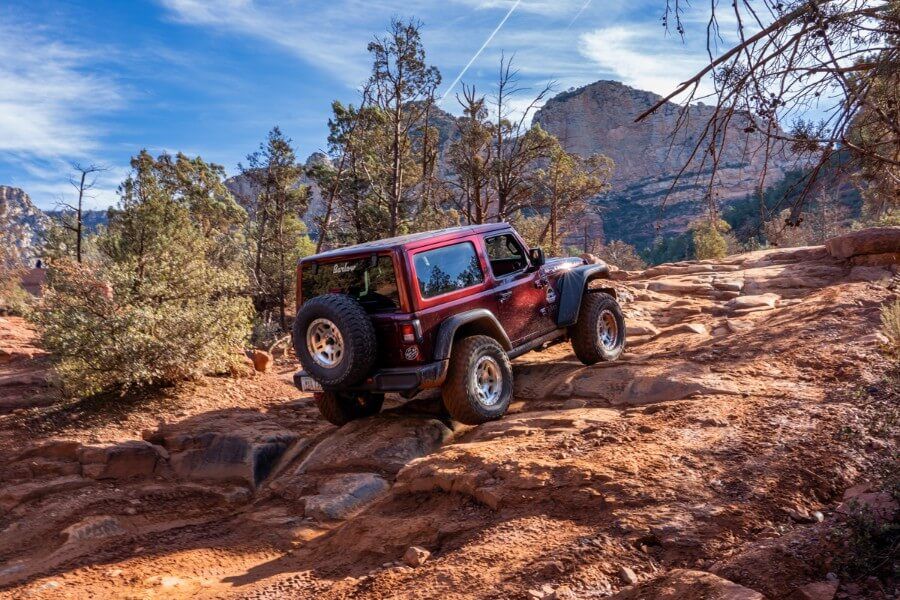 Very soon after you will reach another split. This time take the left turn onto road 9868 and drop down to a flat section of trail at the base of a steep hill.
Climbing up the extremely uneven and rocky hill is a lot of fun, but take it slowly and let the Jeep crawl up. Use grooves in the road for direction and enjoy the feedback. Park at the top and prepare to stretch your legs.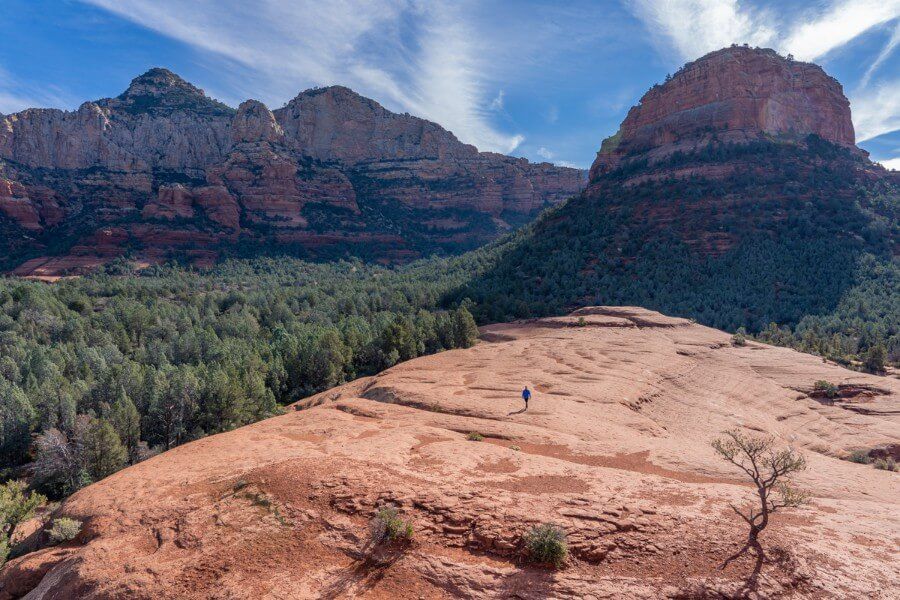 Submarine Rock is the best overlook and viewpoint over Sedona on the Broken Arrow trail.
Take time to walk out to a cone shaped rock in the distance. Climb the formation carefully to reveal truly striking 360 degree views.
Chicken Point Overlook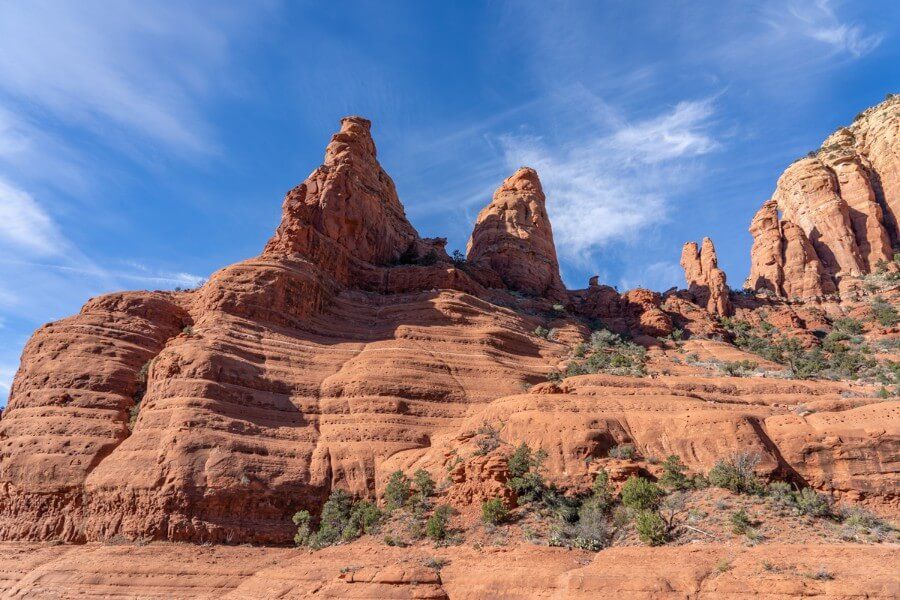 Rejoin the main trail and it's a straight shot drive directly up to Chicken Point heading due southwest. There are plenty of short but sharp turns on this narrow section, so be aware of other vehicles coming in the opposite direction.
Chicken Point is a flat shelf-like expanse with close up views of Christianity Spire and Praying Sisters rock formations towering into the sky directly ahead.
Look closely along a high up contour of the formation on the left side to find a white line running left to right. This insanely narrow ledge is in fact a mountain bike trail and we hope you get to see a biker riding the perilous ledge.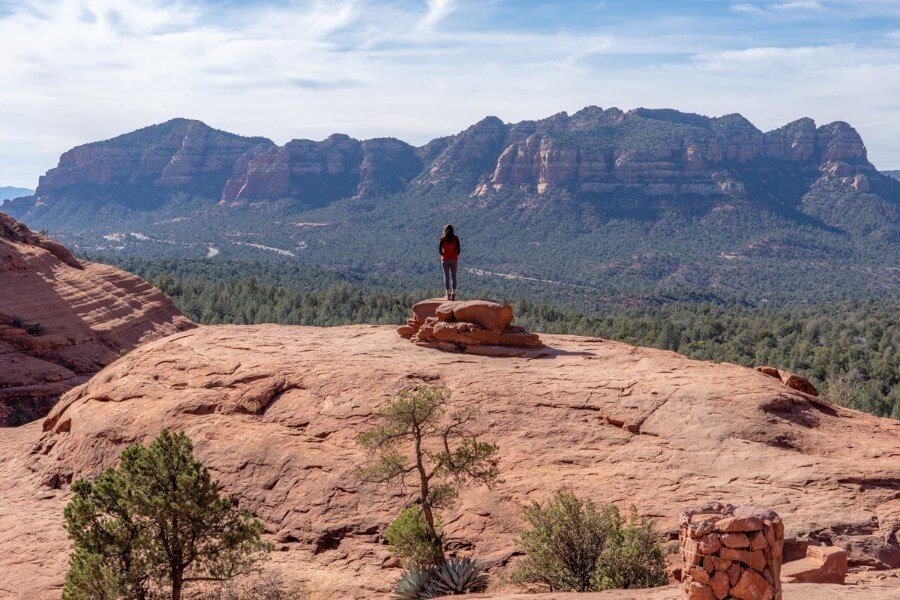 There's plenty of space to walk around up here and the view from Chicken Point Overlook is awesome. Walk all the way out to the end of Chicken Point for the best and most far reaching views of red rocks and green desert vegetation.
Don't forget to grab your camera from the Jeep!
Traffic Circle
This is where the real fun begins. You do not have to drive the one-way loop connector but it does contain the three most exciting elements on the Broken Arrow trail.
If you do not feel up to it, drive back down towards Submarine Rock the same way you went up to Chicken Point. But if you're ready for adventure, turn left onto the loop around half way back down.
You will instantly notice an obvious change in the topography.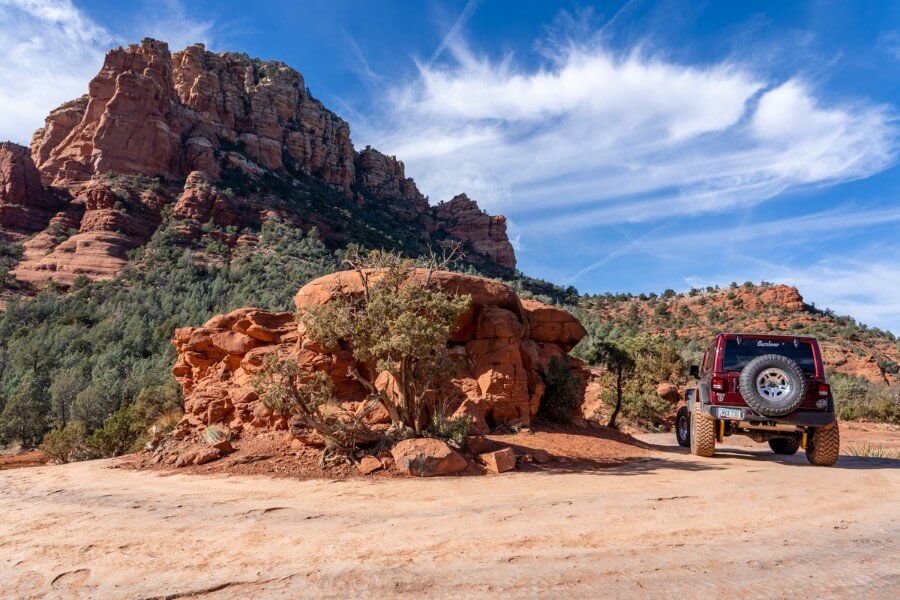 First up on this new terrain is the traffic circle, a mushroom shaped rock formation with steep drop offs around three quarters of its circular shape.
You need to crawl up the rocks leading to the mushroom rock, before driving slowly around the circle to the right (anti-clockwise). Stay close to the rock but not so close that you risk scraping the Jeep.
The Slide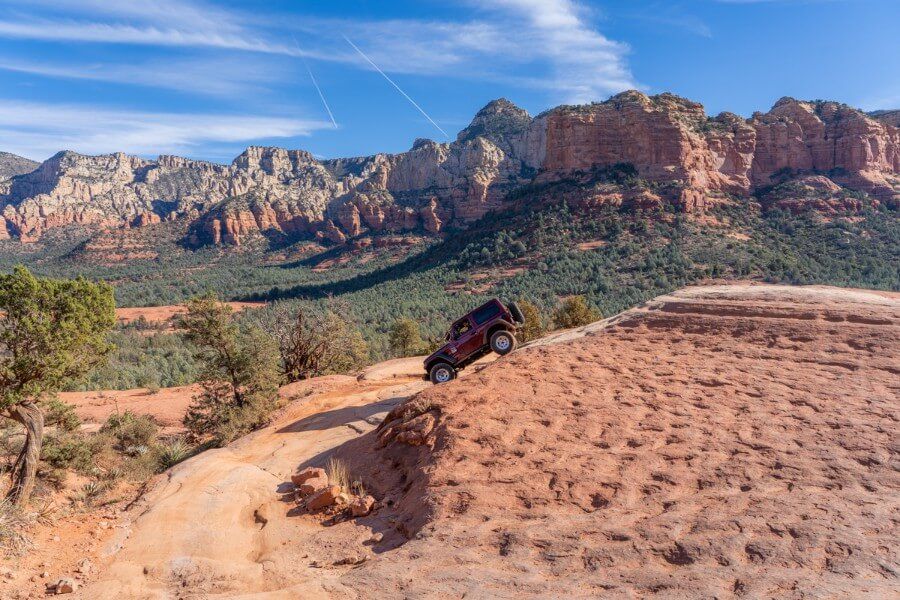 Just seconds after leaving the traffic circle with your heart in your stomach, you will drive straight, up slightly and around to the left. Stop here and look behind you to reveal the slide. Feel your heart drop for a second time in quick succession!
It is impossible to miss the slide because you can clearly see a gradual approach to the right of a lone rock and a steep drop to the left side of the same lone rock.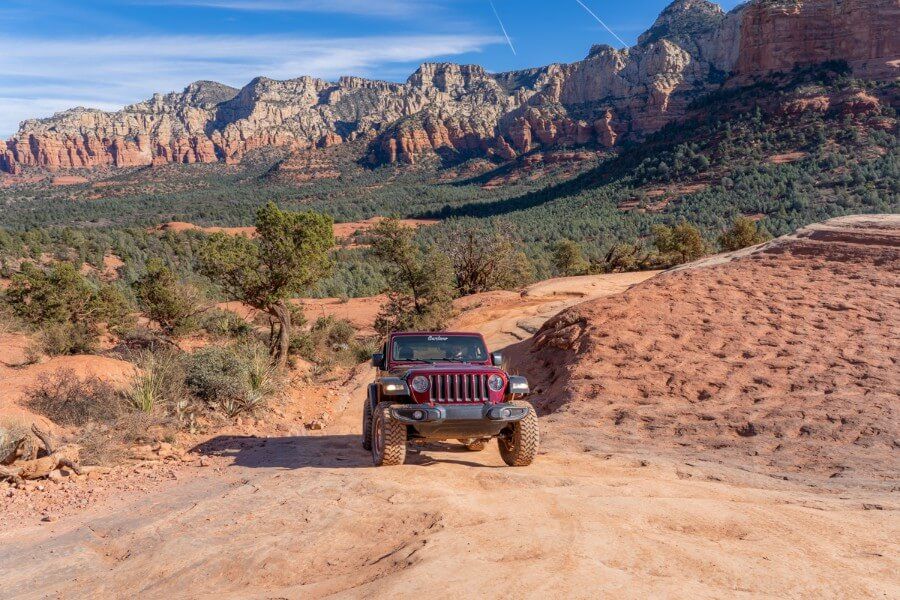 The slide is of course totally optional but you have to try it to fully experience what makes Broken Arrow the most popular Jeep trail in Sedona.
Drive up slowly and break as you approach the point of tipping forward. Very slowly let off the breaks and allow the Jeep to point 45 degrees down the steep descent. You're going to love this one!
Panorama Point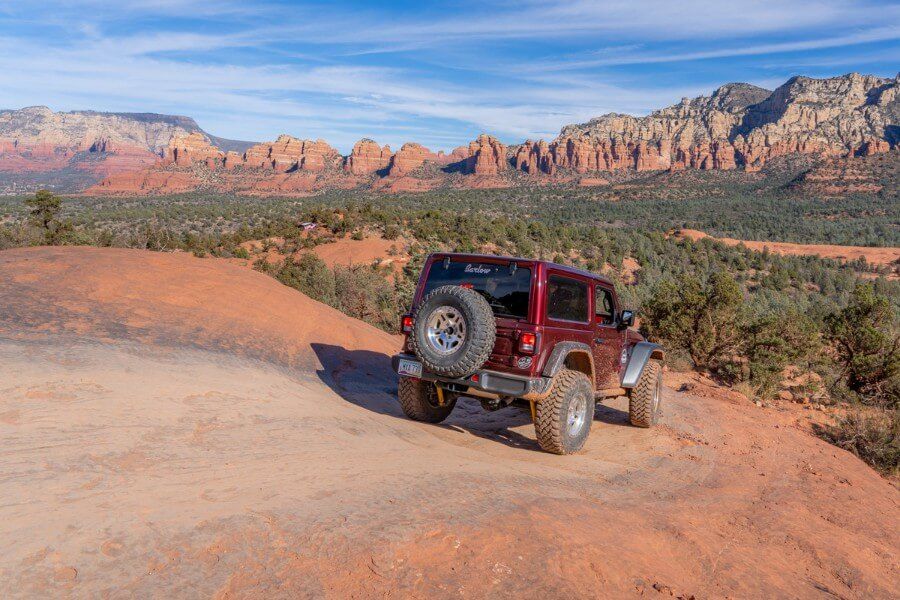 Feel free to drive the slide in circles as many times as you want before moving on with the one-way route. We did it 3 times the first time we drove the one way Broken Arrow loop trail.
From here it becomes hard to follow the trail. The rocky expanse is open and exposed with plenty of room for moving but you might lose track of direction. Head as straight as you can before veering off to the right side.
You can of course jump out of the Jeep to soak up the views from Panorama Point. But in truth it isn't as scenic as Submarine Rock and the driving is too much fun here to stop.
Tip – If you have no idea where to go, play it safe by stopping and waiting for another Jeep or tour to drive past. You can follow them.
The Stairs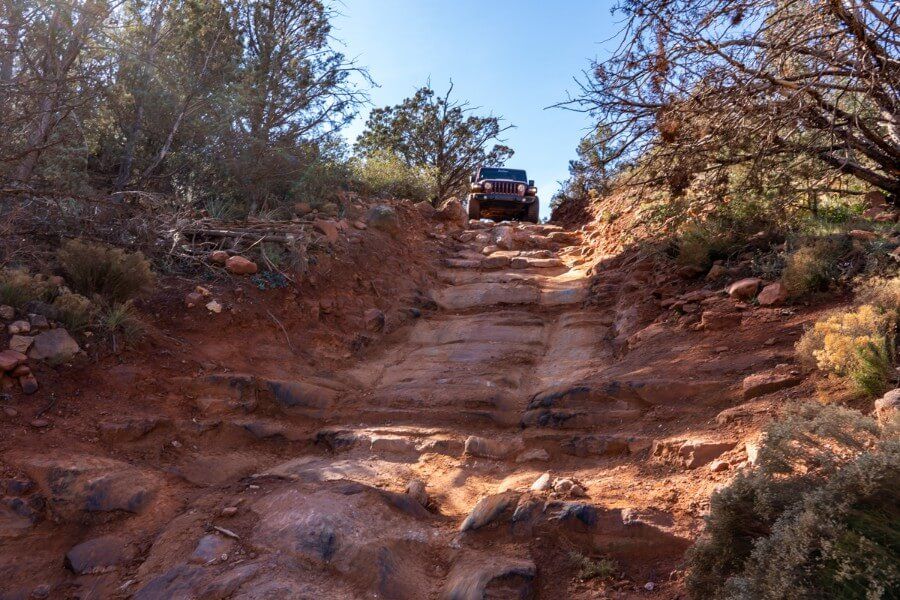 The next 0.3 miles are relatively uneventful and you will enjoy a brief respite from oddly shaped rock formations. However, this is still a really fun section to navigate and navigate.
Are you ready for the grand finale?
The stairs is a thrill seekers dream come true. You will know you have arrived at the top when the trail all of a sudden disappears and drops significantly downhill.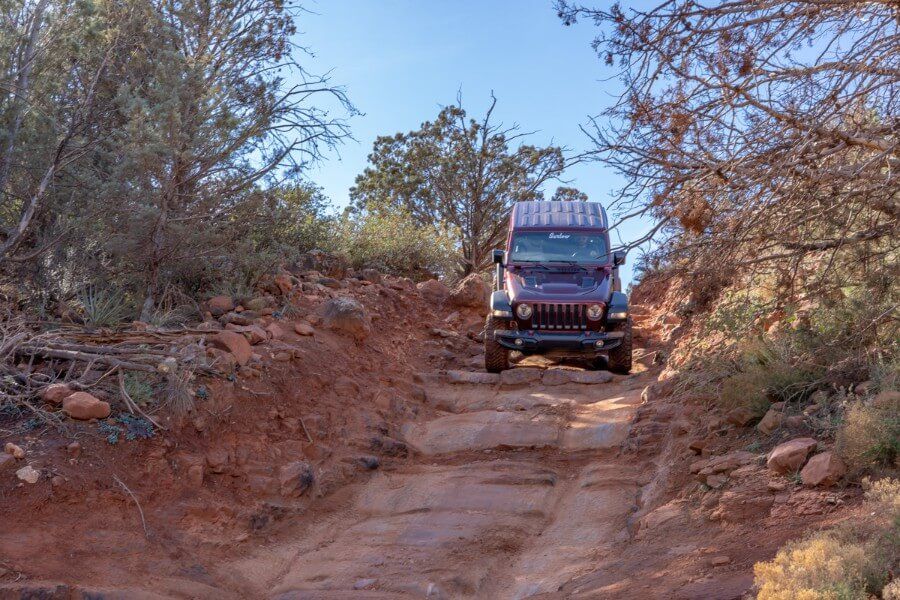 Stop at the top, slowly creep over to tip the Jeep and ease down gently. The Jeep will naturally slide into smooth grooves at for a split second you might lose control of the Jeep as it slips a few feet.
Take it slowly and respectfully but this is the time you can really enjoy spending all that money on hiring a Jeep in Sedona!
Tip – Passengers who aren't quite sure about going down should try to stay in the Jeep. The stairs are steep, uneven and extremely slippery, so chances of a fall are very high.
Go Around Broken Arrow Trail Again Or Return To Sedona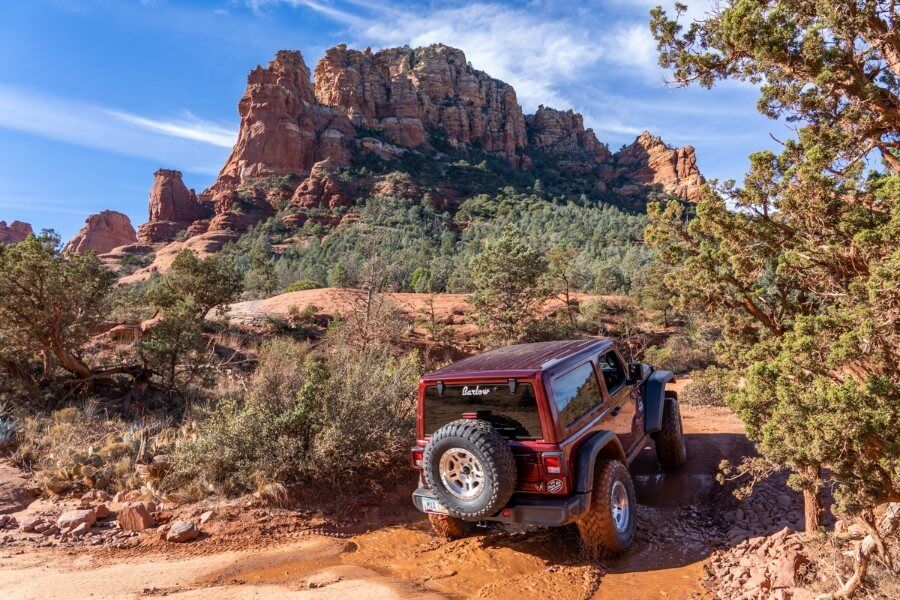 Right at the bottom of the stairs you will rejoin the main trail. You can either turn right to go round the one-way loop again or you can turn left to head back into Sedona.
No matter how many times you loop the Broken Arrow trail, you are eventually going to turn left to exit the route. Remember to stay right at the short one-way section before Devils Dining Room and allow others to pass in the narrow sections.
Don't forget to grab a few photos of your Jeep on Princess Rock right before leaving Broken Arrow trail!
Broken Arrow Jeep Trail Pros And Cons
Very close to downtown Sedona
Short, sweet and packed full of adventure
Excellent viewpoints along the route
Very busy trail with lots of tours
Certain parts may be intimidating
Trail can be hard to follow around Panorama Point
Map Of Broken Arrow Jeep Trail In Sedona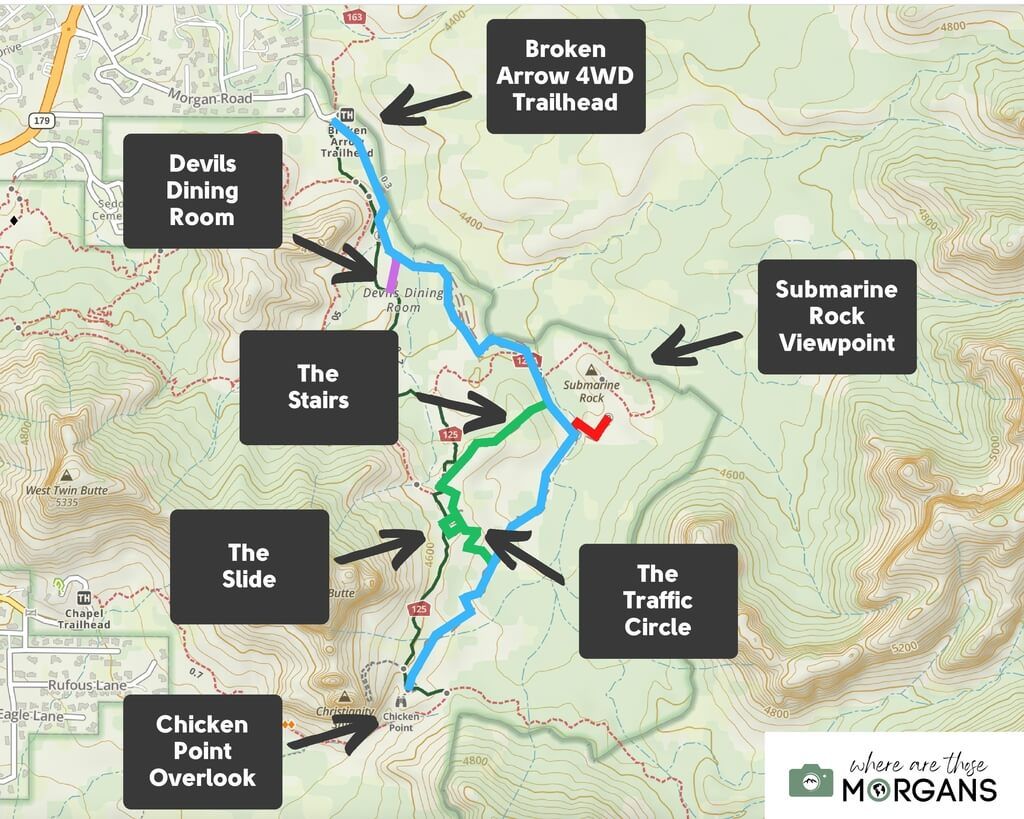 The map above shows what you can expect when driving the Broken Arrow Jeep trail in Sedona. Note how the adventure elements are all on the one-way loop road (green line).
Map key:
Blue Line – Broken Arrow Jeep Trail from trailhead to Chicken Point Overlook
Purple Line – Spur trail to Devils Dining Room
Red Line – Spur trail to Submarine Rock Viewpoint
Green Line – One way adventure section of Broken Arrow
Sedona Arizona Visitor Summary
How to get around – Sedona is small but you'll need a car to access the best hikes to the north and south of town. If you want to get to the hard to reach places, you should hire a jeep.

When to visit – Spring and Fall are the best seasons to visit Sedona, but they come with a higher price tag and more crowds. Winter is a fantastic time to avoid both.

Where to stay in – Accommodation is expensive in Sedona, but there are plenty of very high quality places to stay including Matterhorn Inn, Lantern Light Inn, Arabella Hotel, Whispering Creek B&B and The Suites at Sedona.

Popular things to do – Sedona is one of the best places to hike in the US, but it is also a wonderful place to get off-road in a jeep, shoot stunning photography, visit historic sites and drink wine.
Best Time To Drive Broken Arrow Trail
Time Of Day
We began driving Broken Arrow trail from around 10.00am right after hiking Devils Bridge at sunrise. By that time there were already plenty of Jeep tours entering and leaving the Broken Arrow trailhead area.
Try arriving right after sunrise or much later in the day once the tours have mostly ended if you want the best chance of Broken Arrow trail being quiet. This is particularly good advice if you visit Sedona during peak times.
Tip – If you want to watch a stunning sunrise in total solitude, drive the first portion of Broken Arrow to Submarine Rock and walk out to the viewpoint in time for first light.
Season
Spring and Fall are the two busiest seasons in Sedona. More people in town means more Jeeps and more tours on the trails. Plus, prices for Jeeps are going to be at peak.
Summer is slightly quieter and Winter is a much quieter time to visit Sedona. There are very few instances during the calendar year in which Jeep prices are temporarily slashed to accommodate for short 'low season' periods, but if you can catch one you will save a lot of money.
We drove Broken Arrow trail on a Monday morning during our visit to Sedona in December and there were several tour groups charging around. Spring and Fall seasons, weekends and holidays will be even busier.
Broken Arrow Jeep Trail FAQ's
Let's finish with some of the most asked questions about driving the Broken Arrow jeep trail in Sedona.
How Difficult Is Broken Arrow Jeep Trail Sedona?
Broken Arrow Trail is the most technical off-roading jeep trail in Sedona. It is a short circuit but it is filled with difficult driving elements. Only experienced or confident drivers with no fear of heights should attempt to drive Broken Arrow Trail.
How Long Does It Take To Do Broken Arrow Jeep Trail?
Broken Arrow Jeep Trail in Sedona takes around 2 hours to complete. That includes time to stop and walk around at various landmarks along the route, plus it allows for a second lap around the most fun driving elements including The Stairs and Merry Go Round.
More From Sedona
Jeep Trails – Comprehensive guide to the 9 best Jeep trails in Sedona Arizona, including both popular and hidden gem off road routes.
Hiking – Start planning your hiking itinerary with our popular guide to the 20 best hikes in Sedona, including easy to hard trails, cave hikes and hidden gems.
Ruins – Read an overview about the 5 famous ruins near Sedona, including national monuments and heritage sites.
Photography – Our collection of the 15 best sunrise and sunset photography locations in Sedona includes the perfect mixture of iconic and secret spots.
Want more Arizona content? Head over to our Arizona travel guides to explore the best of Grand Canyon, Sedona and beyond.
We hope this guide to driving the exhilarating Broken Arrow Jeep trail helps with planning your visit to Sedona, Arizona!
Please let us know if you have any questions about Broken Arrow or off-roading in Sedona in the comments below.
Happy Driving,
Mark and Kristen
Was This Post Helpful? Pin It For Your Hike!