Schnebly Hill Road is one of the most popular 4×4 off roading Jeep trails in Sedona. The bumpy road gradually climbs for 5.7 miles until it reaches a spectacular viewpoint overlooking Sedona and Oak Creek Canyon.
How hard is the Schnebly Hill Road trail in Sedona?
Well, the drive up Schnebly Hill Road is officially rated as easy in technical difficulty. But although it is not advanced technically – like Sedona's famous Broken Arrow Trail – Schnebly Hill Road is long, bouncy and very slow going.
After driving 9 Jeep trails in Sedona, we would personally rate Schnebly Hill Road as fun and scenic, but definitely moderate in overall difficulty.
In this guide we will cover:
Hiring a Jeep in Sedona vs taking a Jeep tour
Complete Schnebly Hill Road Jeep trail walkthrough
Photos from the drive, plus optional hiking trails and viewpoints
Let's drive high up into the eastern mountains of Sedona, Arizona on the Schnebly Hill Road Jeep trail!
Schnebly Hill Road Jeep Trail Details
Road: Forest Road (FR) 153
Trail Distance: 11.4 miles roundtrip
Elevation Gain: 1,800 feet
Trail Difficulty: Easy / Moderate
Time Required: 3 hours
Optional: Volcanic Rim Loop
Schnebly Hill Road is the only Jeep trail in Sedona on which you gain significant elevation to reach an end of trail turnaround point. You can optionally continue beyond Schnebly Hill vista overlook to drive Volcanic Rim Loop, which we will discuss later in the guide.
The suggested time of 3 hours will vary depending on how much hiking and photography you intend to do outside of driving your Jeep up the hill.
Hiring A Jeep In Sedona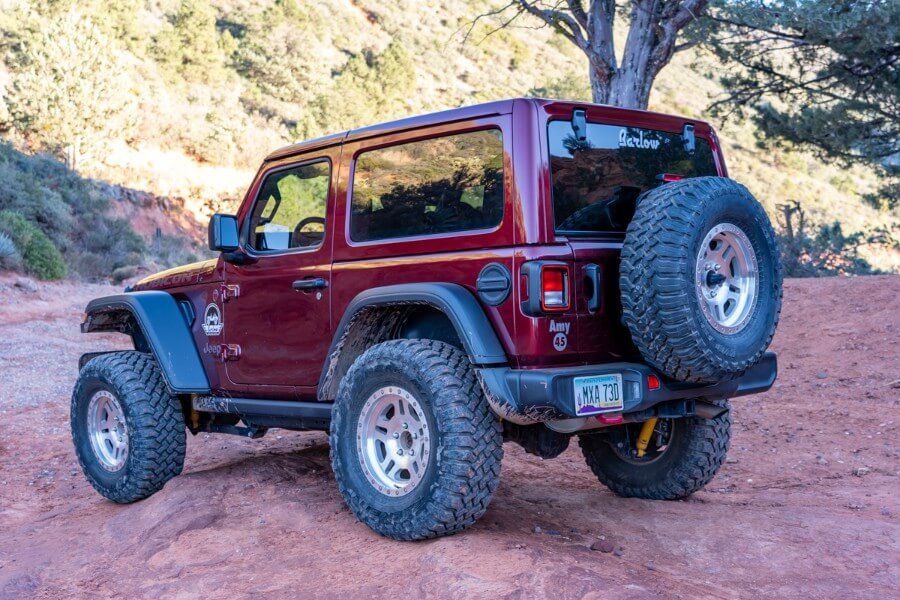 Sedona is one of our favorite places to visit in the US. The magnificent red rock landscape is a paradise for hikers, photographers and outdoor enthusiasts like ourselves.
Hiring a Jeep during your visit to Sedona is going to cost you a small fortune, but it will be one of the best decisions you make on your visit to northern Arizona. We have included driving off road Jeep trails in our popular list of the best things to do in Sedona.
Renting a Jeep for 3 days allowed us to really explore the hidden gems of Sedona, getting away from the crowds and taking on some amazing off roading trails.
After reading reviews and window shopping around town, we decided to go with Sedona Jeep Rentals by Barlow Adventures. They had extremely positive reviews and the Jeeps on show looked spotless.
Our experience with Barlow?
Well, we can't recommend Barlow highly enough. From start to finish we were very impressed with the entire service, from customer service and professionalism to help with planning the perfect Jeep trail itinerary.
It is important you shop around and find the best service for your needs. But if you are still undecided on which Jeep company to use in Sedona, go down and speak to the team at Barlow.
Schnebly Hill Road Scenic Rim Jeep Tour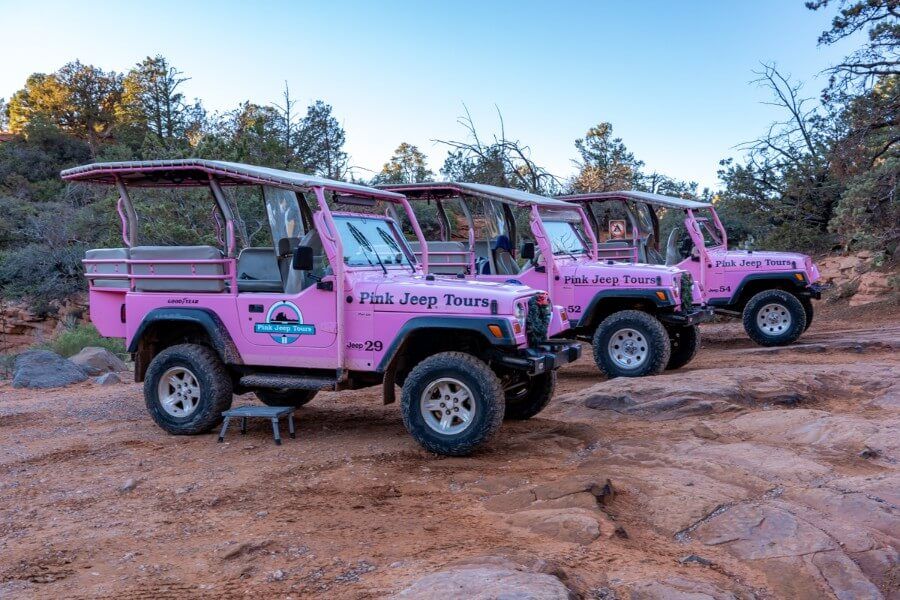 An alternative way of experiencing the most popular Jeep trails in Sedona including Schnebly Hill Road is to take a Jeep tour. We don't often recommend tours but off road Jeep tours are a big deal in Sedona. In fact, if you hire a Jeep, you will pass by far more tour groups than you will other hired Jeeps.
Schnebly Hill is one of the better trails to take a tour because it leads up into towering mountains to the east of Sedona. As the view opens up, those on tours can sit back, relax and soak up the vistas as someone else drives the rough road.
Take a look at this Scenic Rim Tour and this private Old Bear Wallow tour to see more information, read previous reviews and check prices. Both tours are centered around driving up Schnebly Hill Road.
Sedona Tours: We have rounded up the 18 best tours in Sedona to help you find the perfect excursion for your visit to northern Arizona.
Driving Your Jeep In Sedona
Sedona's off road 4WD trails are awesome. But they are different to driving your every day car and there are a few things you need to know:
On Jeep trails in Sedona you will frequently shift into 4L and / or 4H gear. Instructions on which gears to use on specific trails will be given to you upon hiring the vehicle and it is important to follow them.
You must respect the Jeep, the trails and other drivers on the trails. Enjoy driving but be courteous and considerate.
Watch out for ATV's flying by and kicking back loose stones which might hit your Jeep windshield. There's not much you can do, just pull over to the side and let them pass.
You will get mud and dust on your Jeep. The key is to have a blast but at the same time be safe and respectful of the vehicle. The place you rent from will know how you treat the Jeep with one look.
Schnebly Hill Jeep Trail Walkthrough
Let's get stuck into a full walkthrough of the drive up Schnebly Hill Road. The summit viewpoint is something you shouldn't miss out from your Sedona itinerary.
The beginning of off road driving on Schnebly Hill is at Munds Wagon hiking trailhead. Cars can park in a lot at the trailhead but only 4WD vehicles should attempt going further up Schnebly Hill beyond this point.
Here's the exact Google Maps location for Munds Wagon trailhead so you can see where the off roading section starts.
From downtown Sedona, head south on AZ-179 and turn left at the first roundabout onto Schnebly Hill Road. You will arrive at the 4×4 road after 1 mile.
Reset your trip odometer to 0 and and shift into 4H. You only need 4H for Schnebly Hill because it is reasonably flat with no large boulders or technical aspects to consider.
The Bouncing Begins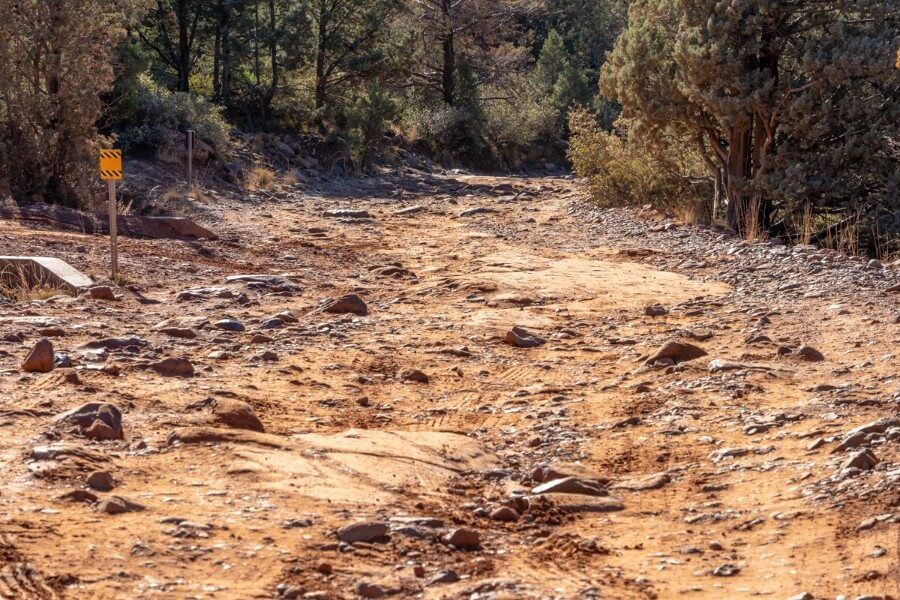 You will realize quickly that this is going to be a bumpy ride. The trail gradually gains elevation as it twists, turns and bounces relentlessly.
Keep your speed below 10mph and watch for drivers on the wrong side of the road. Take things easier on narrower sections and sharp corners in case you have to stop to let another vehicle pass.
Cow Pies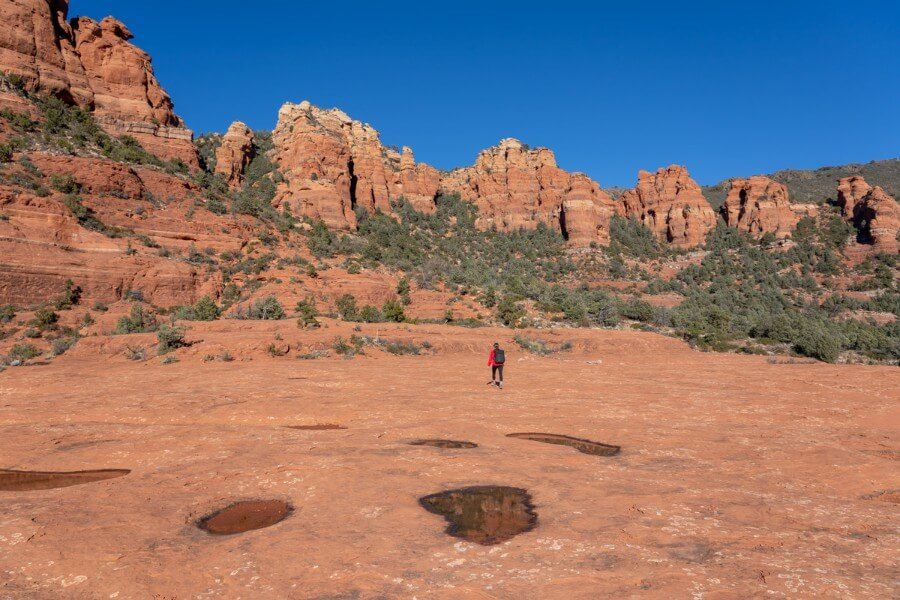 Look to your right at 2.6 miles to see if you can spot Rock Art on a canyon wall located just before a U bend in the road. At 2.8 miles you will reach a parking area on the right side of the road.
Park up and jump out of the Jeep, cross the road and take Cow Pies trail. Take a left turn up and onto a huge flat expanse made up of large circular red rock formations.
Keep an eye out for groups of small black stones, which are actually shards of lava. You could hike a longer loop trail including Hangover Trail if you have plenty of time, otherwise head back to the Jeep.
Note: If you park the Jeep and leave it to hike a trail, you need to display a Red Rock Pass or America the Beautiful Pass.
Merry Go Round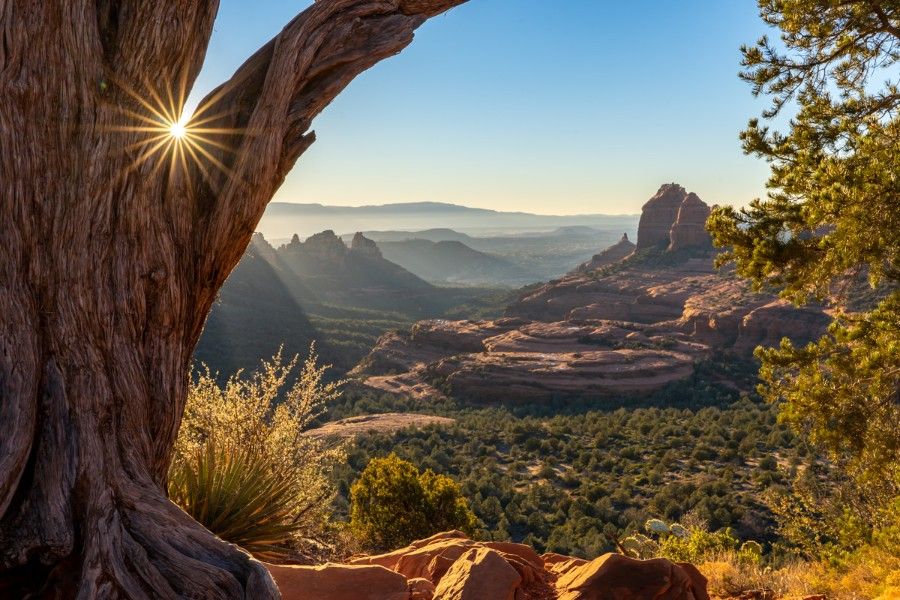 Merry Go Round at 4 miles exactly is a tour favorite stop to make on the drive up Schnebly Hill Road. Chances are high there will be a few groups already at Merry Go Round when you arrive.
Park on the left side of the road which can fit around 3 vehicles, or park in a single space on the right if those spaces are full.
Walk out onto a cone shaped rock formation for fantastic views looking down over Sedona. Wedding shoots are popular here close to sunset when light is soft.
Schnebly Hill Vista Overlook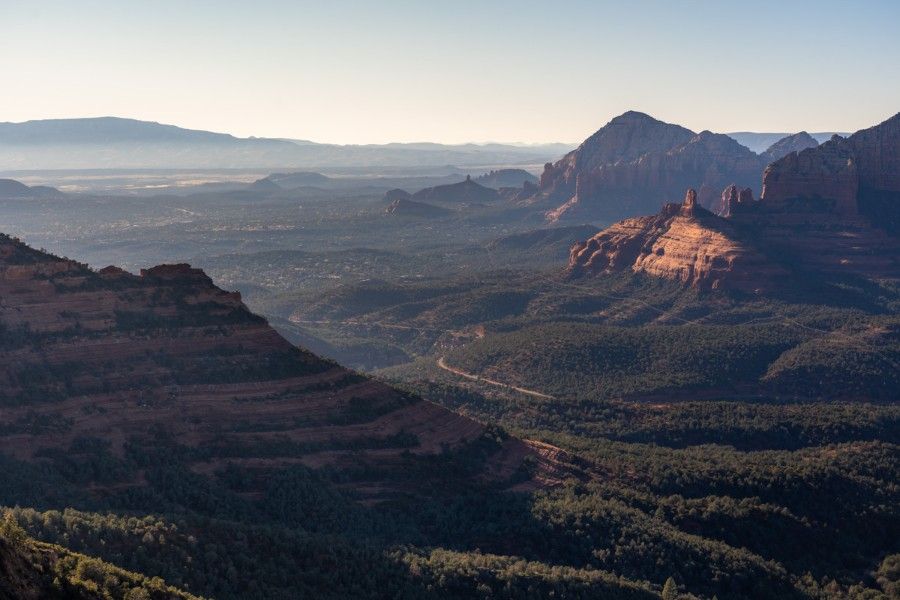 The road turns rougher and even more bouncy between Merry Go Round and Schnebly Hill Road vista overlook. You won't need 4L but prepare to be rocked about in the Jeep.
Another thing to note here is the drop off on your left side becomes more significant and there are no barriers for protection. Drive slowly and safely, especially if passing.
A small parking are awaits once the road flattens. You will see a sign for Schnebly Hill vista and the view is exceptional.
Optional Extra And Return Journey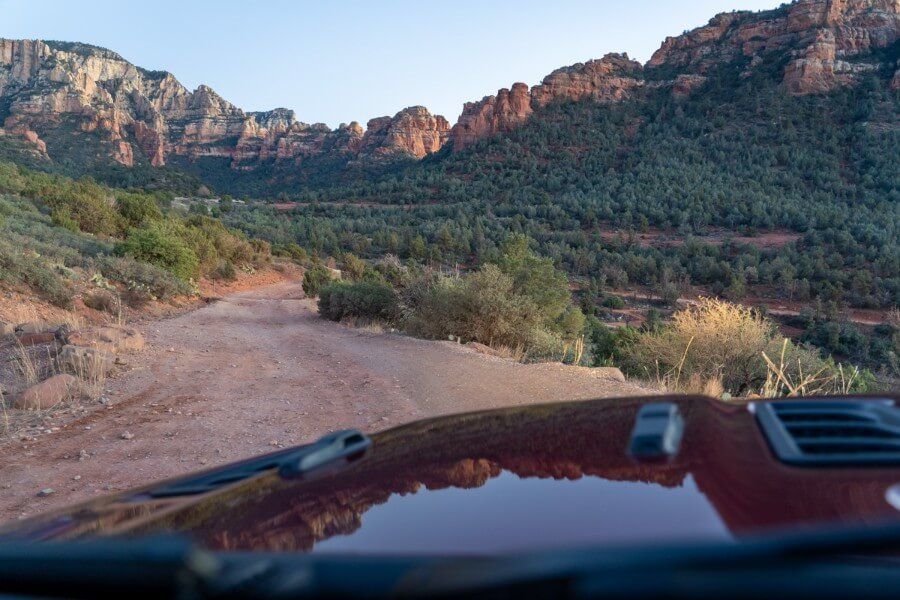 You have two decisions to make once you summit the hill.
Do you want to take on Volcanic Rim Loop, a very rough 3 mile loop requiring use of 4L. It is slow going and adds on a ton of time but the scenery is even better.
Do you want to drive back down Schnebly Hill or take a less bouncy and headache inducing route?
Whether or not you drive Volcanic Rim Loop (closed Dec 15 – Apr 1), you will still have to decide on descending via Schnebly Hill or driving an easy gravel road for 6 miles to reach I-17.
They will both take a similar amount of time, so it depends on your time of day and how you feel about driving the constant rocking side to side.
Schnebly Hill Road Jeep Trail Pros And Cons
Sensational vista from the top
Good starter trail to learn the Jeep
Great for hikers and photographers
Exceptionally bouncy trail
Lots of tours passing and stopping
Not the most adventurous Jeep trail in Sedona
Map Of Schnebly Hill Road Jeep Trail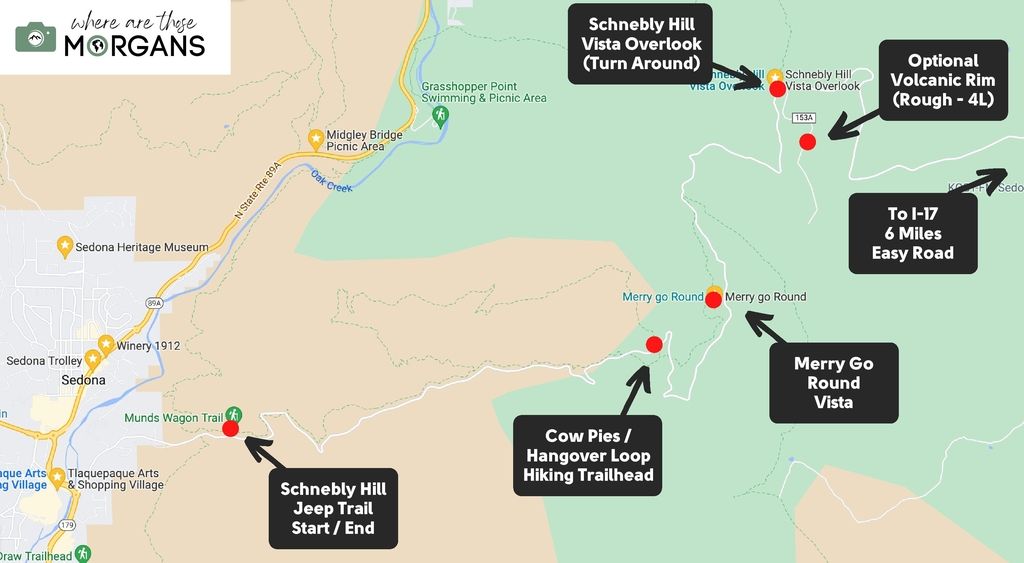 The map above shows what you can expect on the Schnebly Hill Road Jeep trail in Sedona. Red dots mark important points along the route, including trailhead and viewpoint locations.
Sedona Arizona Visitor Summary
How to get around – Sedona is small but you'll need a car to access the best hikes to the north and south of town. If you want to get to the hard to reach places, you should hire a jeep.

When to visit – Spring and Fall are the best seasons to visit Sedona, but they come with a higher price tag and more crowds. Winter is a fantastic time to avoid both.

Where to stay in – Accommodation is expensive in Sedona, but there are plenty of very high quality places to stay including Matterhorn Inn, Lantern Light Inn, Arabella Hotel, Whispering Creek B&B and The Suites at Sedona.

Popular things to do – Sedona is one of the best places to hike in the US, but it is also a wonderful place to get off-road in a jeep, shoot stunning photography, visit historic sites and drink wine.
Best Time To Drive Schnebly Hill Road
Time Of Day
We drove Schnebly Hill Road in late afternoon right after picking up our Jeep. We hiked Cow Pies and Hangover Loop, stopped to photograph Merry Go Round and ended at Schnebly Hill vista overloook.
By the time we were descending, the sun was beginning to set because we visited Sedona in December. It was just about getting to dusk as we arrived back onto paved road at Munds Wagon trailhead.
Soft light pouring over Sedona below was a wonderful sight but it made photography difficult as we were shooting into the sun.
Sunrise would be the perfect time to drive Schnebly Hill Road. The tour groups won't arrive until mid morning and you can look down over Sedona as it fills with light as the sun rises behind you.
Season
Spring and Fall are the two busiest seasons in Sedona. More people in town means more Jeeps and more tours on the trails. Plus, prices for Jeeps are going to be at peak.
Summer is slightly quieter and Winter is a much quieter time to visit Sedona. There are very few instances during the calendar year in which Jeep prices are temporarily slashed to accommodate for short 'low season' periods, but if you can catch one you will save a lot of money.
Considering we drove Schnebly Hill Road on a weekday afternoon during our visit to Sedona in December, we were surprised at how many tour groups we saw. The Spring and Fall seasons will be even busier.
More Sedona Jeep Trails
Best Jeep Trails – Comprehensive guide to the 9 best Jeep trails in Sedona Arizona, including both popular and hidden gem off road routes.
Broken Arrow – Complete guide to driving Broken Arrow Jeep trail, the most popular off-roading route in Sedona.
Diamondback Gulch – Complete guide to driving the adventurous Diamondback Gulch Jeep trail with huge ravine to navigate.
More From Sedona
Hiking – Start planning your hiking itinerary with our popular guide to the 20 best hikes in Sedona, including easy to hard trails, cave hikes and hidden gems.
Ruins – Read an overview about the 5 famous ruins near Sedona, including national monuments and heritage sites.
Photography – Our collection of the 15 best sunrise and sunset photography locations in Sedona includes the perfect mixture of iconic and secret spots.
Want more Arizona content? Head over to our Arizona travel guides to explore the best of Grand Canyon, Sedona and beyond.
---
We hope this hiking guide to driving up Schnebly Hill Road Jeep trail helps with planning your visit to Sedona, Arizona!
Please let us know if you have any questions about driving Schnebly Hill Road or off-roading in Sedona in the comments below.
Happy Driving,
Mark and Kristen
Was This Post Helpful? Pin It For Your Hike!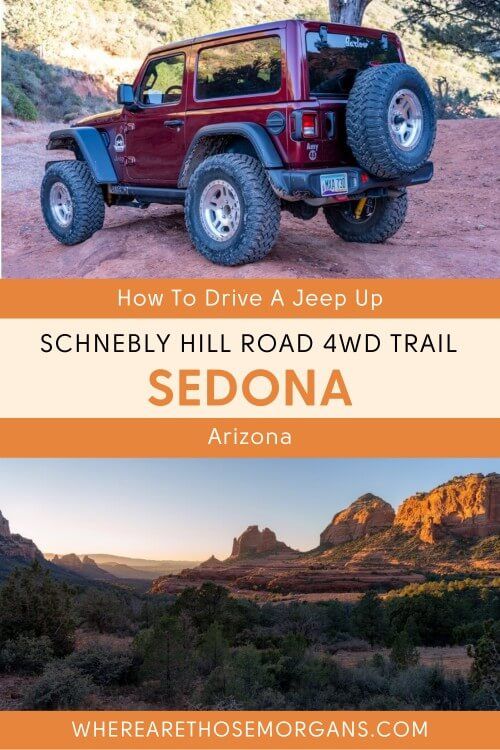 Note: This article contains affiliate links. When you make a purchase using one of these affiliate links, we may earn a small commission at no extra cost to you.
All Rights Reserved © Where Are Those Morgans, LLC. Republishing this article and/or any of its contents (text, photography, maps, graphics, etc.) in whole or in part is strictly prohibited.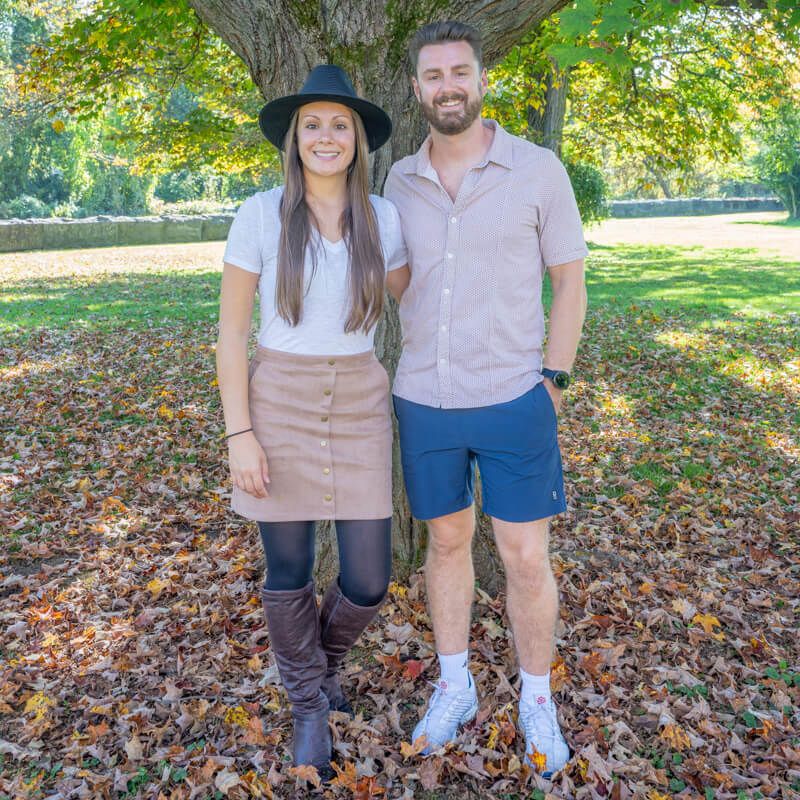 Mark and Kristen Morgan are travel, hiking and photography experts. Over the last 6 years traveling full time, they have explored more than 40 countries and 30 US states.
Their work has been featured in USA Today, Gestalten, Get Your Guide, CityPASS and Condé Nast Traveler along with various other publications.