Did you know there are many ancient ruins in and near Sedona just waiting to be explored? In fact, Sedona has an incredibly strong indigenous and Native American influence.
This indigenous history is why Sedona is considered to be culturally rich and diverse. A visit to this popular and beautiful city is a great way to learn about the civilizations that lived before us.
So who exactly were these people and what did they leave behind?
This is what we will cover in this blog post, including:
History about the indigenous tribes near Sedona
5 of the best ruins found near Sedona
Best time to visit these ruins
How to get to each ruin
Some etiquette tips for your visit
Let's explore some ancient ruins in Sedona!
*Please note this post may contain affiliate links. If you click on one, we may earn a small commission at no extra cost to you. Thank you for supporting the free content we provide! Read more in our disclosure policy.*
What Native American Tribes Are In Sedona?
If you have ever visited Sedona, you know that it is truly a special place. The harmonious atmosphere is easy to feel as soon as you arrive.
So if you haven't visited, we recommend you start planning your visit to this beautiful city soon.
We will never forget the first time we drove into Sedona and saw the large looming red rocks for the first time. Sedona is a place that stops you in your tracks and immediately takes your breathe away.
It should come as no surprise many people and cultures have called Sedona home for centuries. But due to a lack of written history, there is little known about the early people who inhabited this region.
Most of what we have learned about Sedona's early culture has been due to archeological discovery. Many of these ancient ruins have given us a glimpse into the life of these indigenous cultures.
But no matter who was calling Sedona home, this area has always been regarded as extremely sacred. For centuries, many people have been taken with its beautiful scenery and inspirational energy.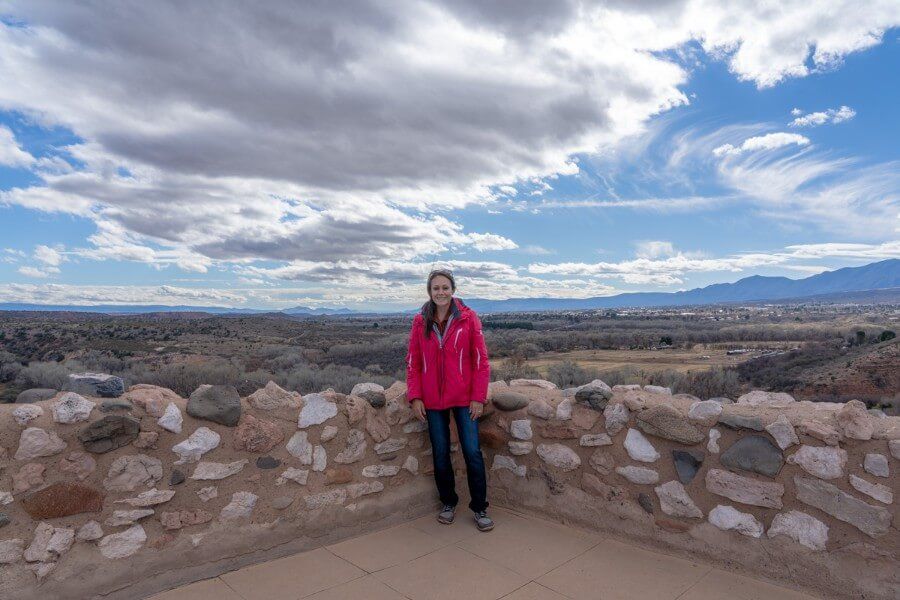 Who Were The Sinagua?
All of the ruins listed in this guide were once inhabited by the Sinagua people. They arrived around 650 AD and are believed to have spread throughout the entire Verde Valley during their time.
Originally hunters and gatherers, the Sinagua pushed the boundaries when they started to experiment with agriculture as they settled into the region.
They used a method of dry farming which led to their name of Sinagua, meaning "without water" in Spanish.
After becoming successful with this agricultural technique, they expanded on their traditional housing methods. The Sinagua made pit houses with grass thatched roofs for shelter.
You can see the remains of a pit house if you visit Montezuma Well which we will discuss later in this post.
The Sinagua's success as farmers fueled development for large pueblos as well as created an influx of people into the Verde Valley area.
In addition to pit houses, they also built large dwellings with several rooms able to house hundreds of people. Sections of these ancients pueblos are still standing today.
Archeologists discovered many trade artifacts at these ancient ruins near Sedona. Some of these items included expertly-woven cotton and red clay pottery from Mexico and the Pacific Coast.
These robust trade routes connected the Sinagua with the Anasazi to the north as well as the Hohokam to the south.
From all of this archeological evidence, it was easy to see just how extensive the Sinagua's trade routes expanded when they were at their peak.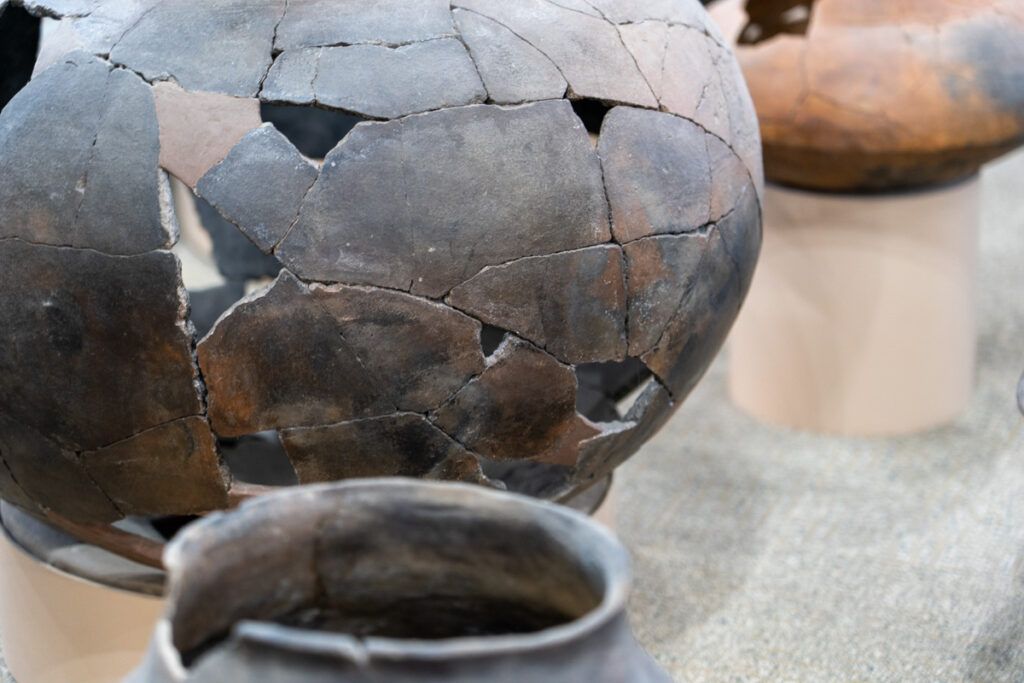 Where Did The Sinagua Go?
A little more than a century after they first inhabited the area, the Sinagua mysteriously disappeared. This is still one of the biggest mysteries of the Southwest.
There are many theories as to why the Sinagua up and left this prosperous area abruptly. Maybe it was overpopulation or depletion of resources?
Some even believe the Sinagua headed north to the Hopi Mesas in order to join other ancestral puebloan cultures. Whatever the reasoning, this is still a modern day mystery.
Now, all we have left are many ancient ruins filled with secrets. These ruins are certainly worth a visit if you ever find yourself traveling to Sedona.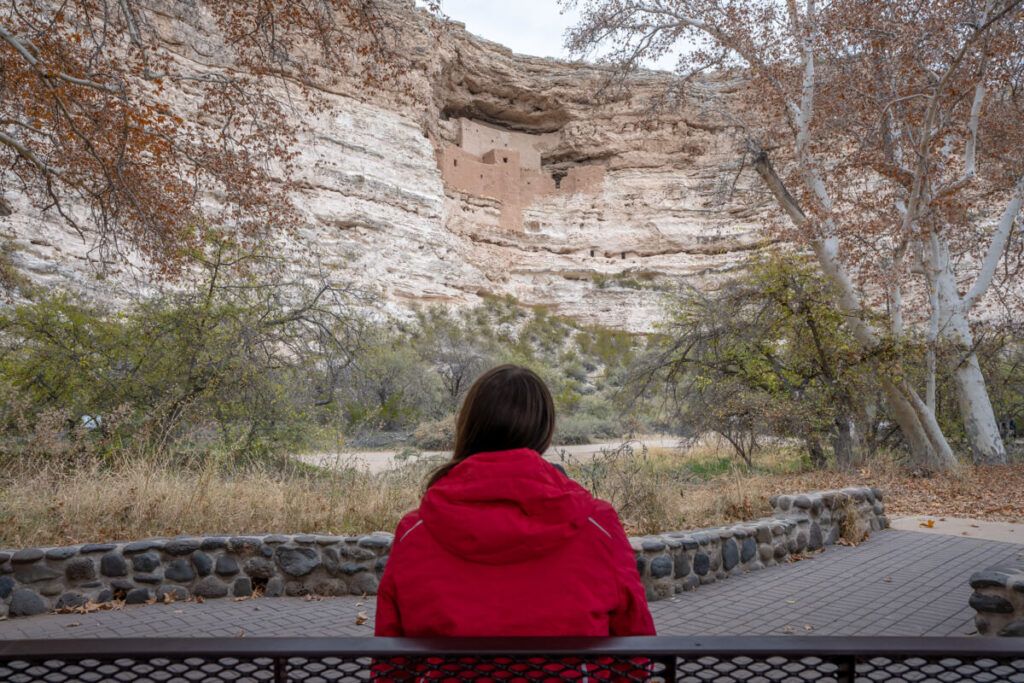 Montezuma Castle (And Well) National Monument: Most Popular
In 1906, President Theodore Roosevelt created Montezuma Castle National Monument to help preserve Native American history and culture.
The National Monument is composed of two individual locations, Montezuma Castle and Montezuma Well. These two sites, however, are only about 11 miles apart and can be easily visited on the same day.
Montezuma Castle is one of the most well-preserved cliff dwellings ever found in Arizona. The entire complex of homes was built into a naturally occurring limestone cliff.
Because of the location inside the cliff, Montezuma Castle has been able to withstand the test of time. It has given archeologists precious and invaluable information about previous ancient civilizations.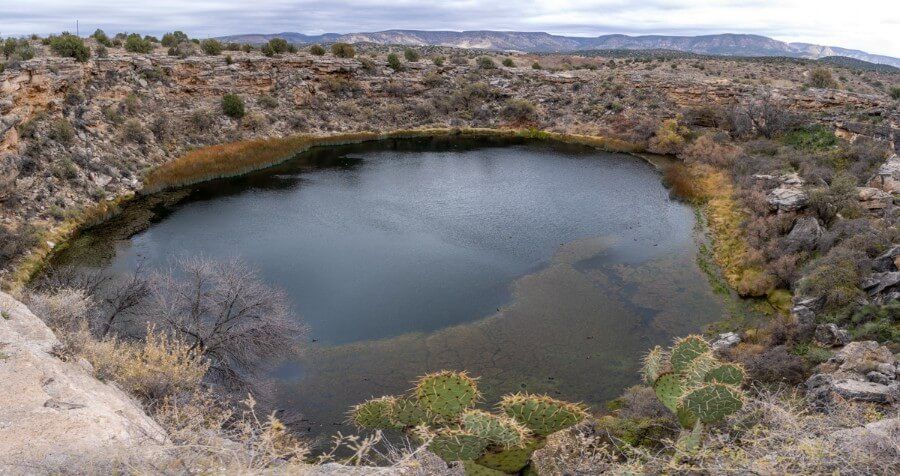 Montezuma Well is the other subunit of Montezuma Castle National Monument. The well is a natural limestone sinkhole containing over 15 million gallons of water.
This area was a mystery for years because it was such a reliable water source in the middle of the desert. Where could the water be water coming from?
Don't miss the pithouse located very near to Montezuma Well. This is a circular structure that was built into the ground for shelter.
Further Reading: Complete Guide To Montezuma Castle National Monument (and well)
Tuzigoot National Monument: Most Exposed
Tuzigoot National Monument is an extremely large pueblo ruin built by the Sinagua people. Its location high above Arizona's Verde River was essential for the people who once lived here.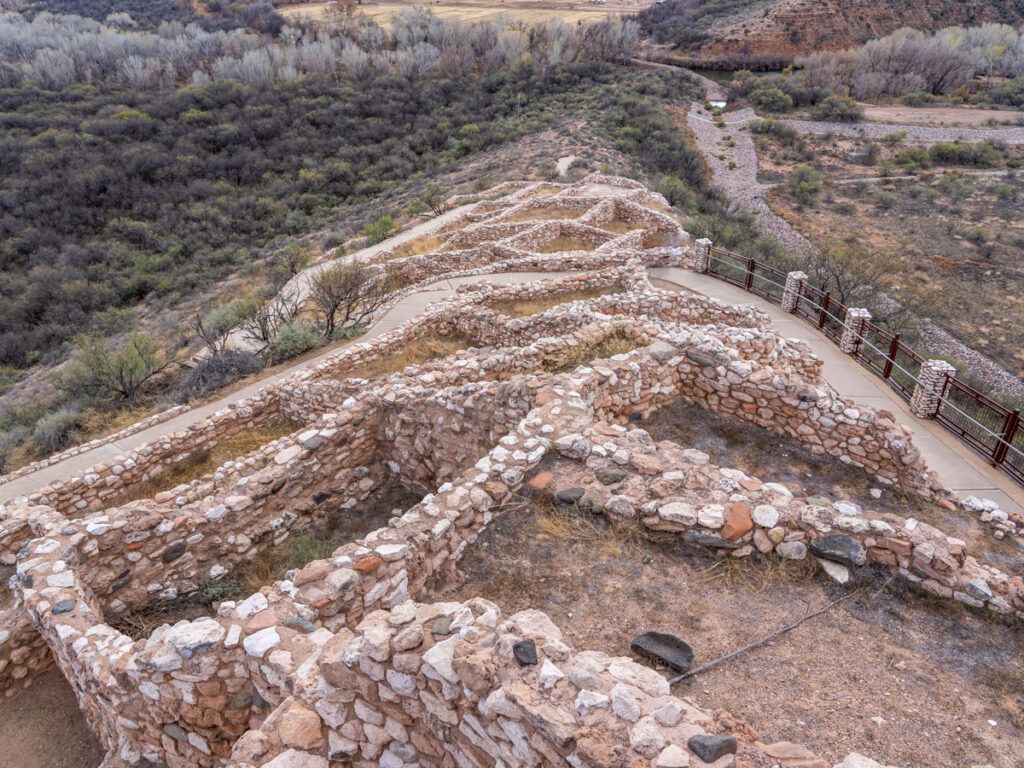 The entire complex consists of at least 97 ground level rooms. But there is also a smaller second story which you can explore on your own.
A visit to Tuzigoot National Monument will not be easily forgotten. You can walk the entire perimeter of the pueblo as well as explore some small hiking trails nearby.
As you stand on top of the ancient pueblo, be sure to take in the beautiful views of the surrounding Verde Valley.
Looking for a tour option to Tuzigoot? Check out this tour here!
Further Reading: Complete Guide To Tuzigoot National Monument
Palatki Heritage Site: Most Educational
The Palatki Heritage Site along with its sister site, Honanki, is a large collection of cliff dwellings, pictographs and petroglyphs. Archeologists believe this was one of the Sinagua's largest and most important communities.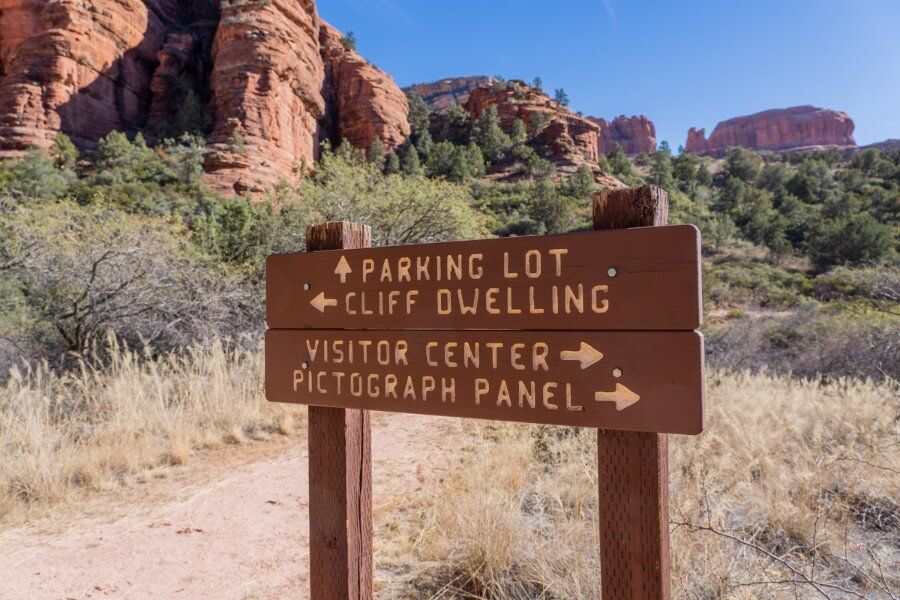 There are two short hiking trails featuring a sacred grotto area as well as several cliff dwellings. However, a tour reservation is required when visiting the Palatki Heritage Site.
Reservations can be made on Recreation.gov and cost $1.00 each. Space is extremely limited at this Heritage Site so we would recommend you book a tour as soon as you know the date you plan to visit.
Further Reading: How To Visit The Palatki Heritage Site
Honanki Heritage Site: Most Isolated
The Honanki Heritage Site is another large collection of well preserved cliff dwellings featuring rock art discovered within an isolated canyon northwest of Sedona.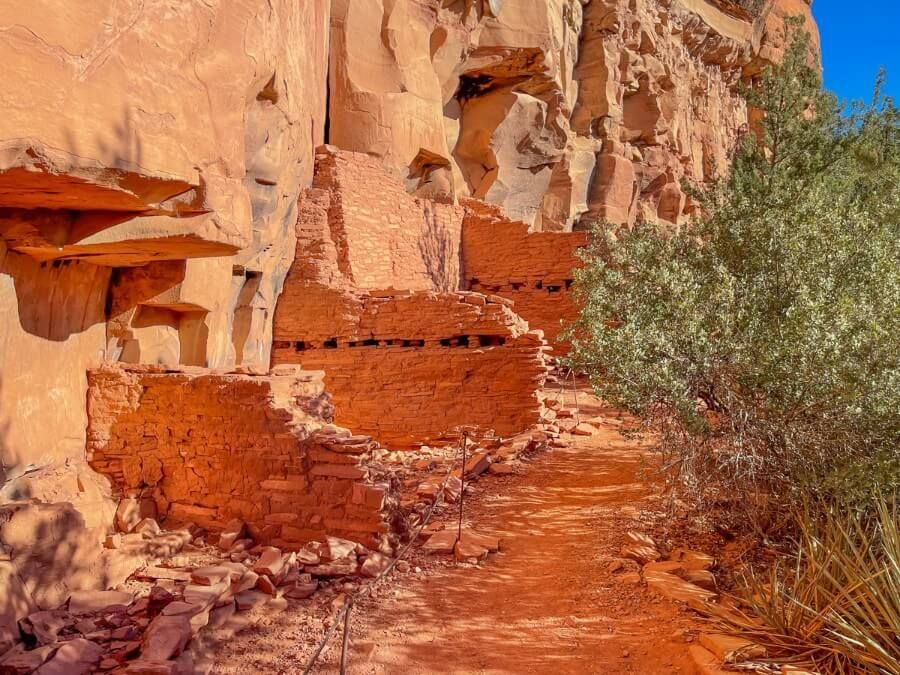 It is extremely similar to its sister site, Palatki. But what makes this location unique is the fact the dwellings were built directly underneath a cliff overhang.
However, Honanki Heritage Site is difficult to visit because it requires a high clearance vehicle with 4×4. If you want to visit, but don't have a 4×4 vehicle, we recommend you book a tour here.
Further Reading: How To Visit The Honanki Heritage Site
V-Bar-V Heritage Site: Most Petroglyphs
The V-Bar-B Heritage Site is the largest known petroglyph site in the Verde Valley. It was acquired by the Coconino National Forest in 1994 and strives to help others learn about national cultural heritage.
The petroglyphs (otherwise known as rock art) at V-Bar-V are rock engravings carved into rocks. But they are not to be confused with pictographs which are images painted on the rocks surface.
V-Bar-V is only open Friday to Monday from 9:30am to 3:00pm. It is located less than 6.0 miles from Montezuma Well.
We visited Montezuma Well on a day when V-Bar-V was closed. In hindsight, we would have arranged our itinerary so we could have visited this amazing site as well.
Looks like we will just have to visit once we are back in Sedona!
Entry Requirements To The Ruins In Sedona
If you have an America the Beautiful Interagency Pass, the good news is your pass will give you free entry into all of the ruins near Sedona we discussed in this post.
However, you will still have to pay the $1.00 reservation fee if you visit the Palatki Heritage Site.
But if you do not have an America the Beautiful Interagency pass, you will have to purchase either a Montezuma Castle and Tuzigoot Pass or a Red Rock Pass depending on where you plan to visit.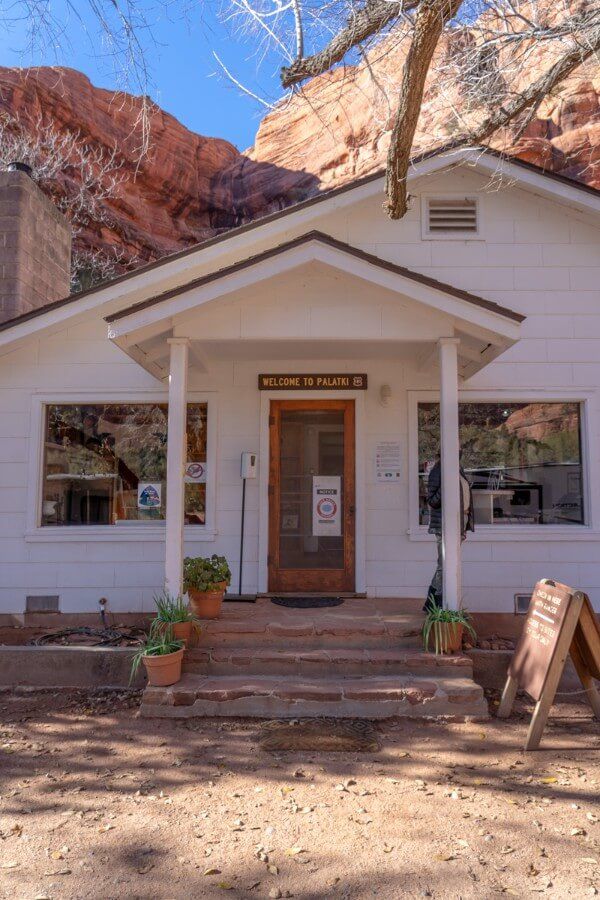 Let's take a quick look at which pass you need and where:
Montezuma Castle National Monument – Montezuma Castle and Tuzigoot Pass 7-Day Individual Entry Pass OR America The Beautiful Interagency Pass
Tuzigoot National Monument – Montezuma Castle and Tuzigoot Pass 7-Day Individual Entry Pass OR America The Beautiful Interagency Pass
Palatki Heritage Site – Red Rock Pass OR America The Beautiful Interagency Pass as well as a reservation for a tour.
Honanki Heritage Site – Red Rock Pass OR America The Beautiful Interagency Pass
V-Bar-V heritage Site – Red Rock Pass OR America The Beautiful Interagency Pass
Don't have a Parks Pass? See if the popular America the Beautiful Pass could save you money at US National Parks!
Best Time To Visit The Ruins Near Sedona
All of these National Monuments and Heritage Sites are open year round. We visited Sedona in December and the weather was perfect for hiking at about 60°F. Visiting in the off season also means fewer crowds.
Arizona summer days are extremely hot ranging anywhere from 95°F to 110°F. Very heavy rains, known as monsoons, are common late June to early August during the early afternoon.
Winter days in Arizona tend to have an average temp of around 60°F with lows commonly in the teens. Snowfall is rare but is possible.
It is important to drink plenty of water and hydrate properly, especially in the summer months.
Forest Rd 525
If you plan to visit Palatki or Honanki along Forest Rd 525, the road may be impassible in bad weather. Be sure to check the weather forecast when you visit and plan appropriately.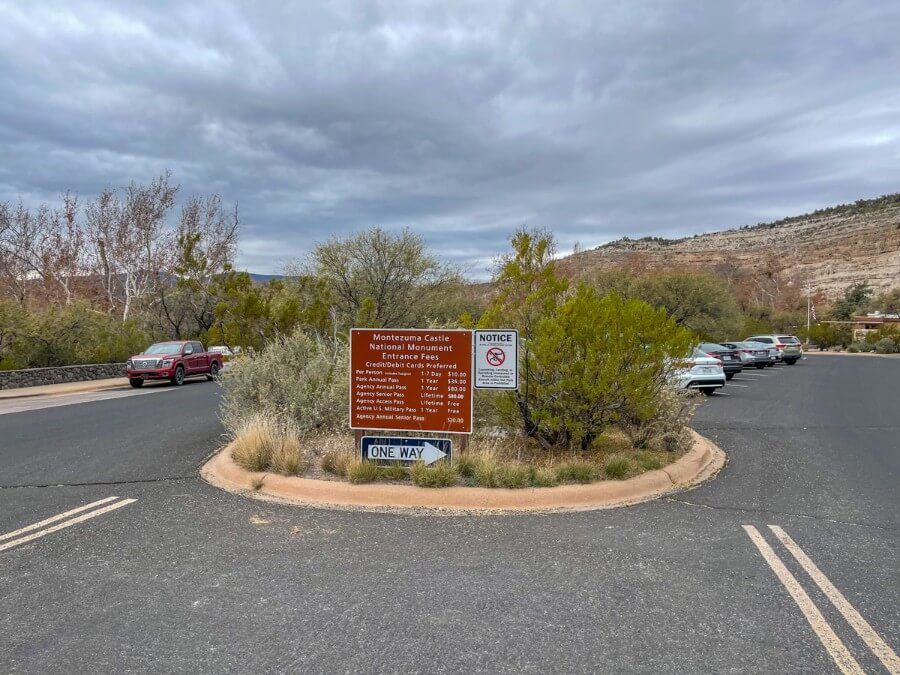 How Do You Get To The Ancient Ruins Near Sedona?
You will need a vehicle or rental car to visit the ruins in and around Sedona. Most of these places are easily accessible with a standard car with the exception of one, the Honanki Heritage Site.
You will be okay visiting Montezuma Castle, Tuzigoot and V-Bar-V in a standard vehicle.
Forest Road 525 is very bumpy and rough. However, we did see standard vehicles driving to the Palatki Heritage Site, but a 4×4 is required to visit the Honanki Heritage Site.
We rented a 4×4 Jeep for all of our excursions in Sedona including our visit to Honanki. We would recommend you book a tour if you do not have access to a 4×4 vehicle.
Looking for an adventure and a visit to the ancient ruins all in one?
Check out this ancient ruins & Diamondback Gulch off road tour!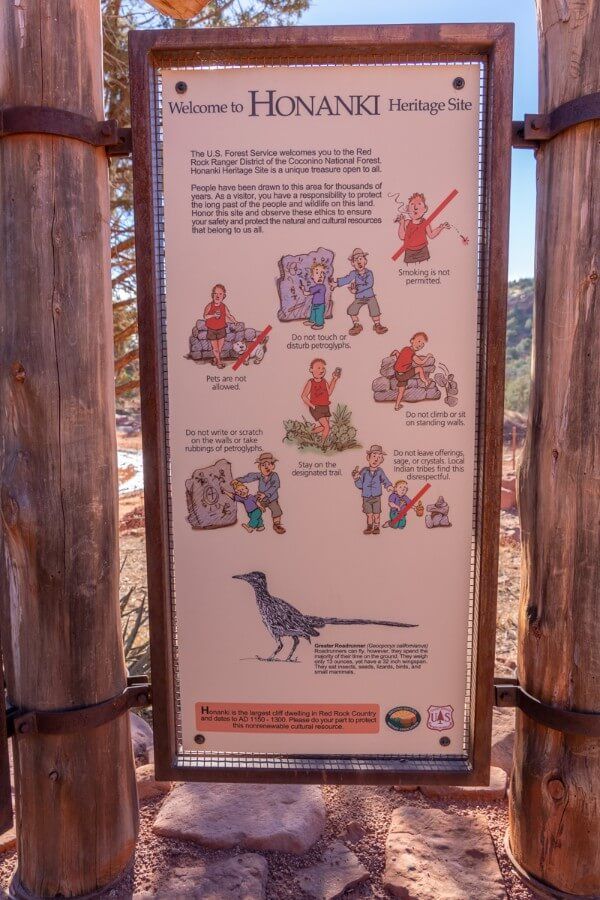 5 Etiquette Tips For Visiting the Ruins In Sedona
Over the years, we have lost much of these precious areas due to human recklessness. It is important to leave all things as you find them so future generations can also enjoy this beautiful history.
Here are a few things to consider for your visit:
There is no sitting, climbing or standing on ruins or dwelling walls. Ruins are fragile and any of these actions will compromise the historical site.
Never pick an artifact up off the ground. These are important items that should remain exactly where they are located.
There is no camping at near most of these Historical Sites. Fires can destroy prehistoric organic materials and also covers the rock art with soot. Check out the DYRT PRO for nearby camping options.
Desert plants are fragile. Please stay on marked trails and do not venture off these trails.
There is absolutely no graffiti. This destroys rock art and is extremely disrespectful to the cultures who created these wonderful images.
Our top tip for visiting the Ruins In Sedona:
Arrive early in the day to beat the heat and the crowds. This will make for a much more comfortable visit.
Best Of Sedona
What To Do – Our extremely popular guide on the best things to do in Sedona will help you figure out exactly what to do during your visit.
Hiking – Start planning your hiking wish list with our comprehensive guide to the 20 best hikes in Sedona, including easy to hard trails, cave hikes and hidden gems.
Itinerary – Here's our popular guide on exactly how you can plan the perfect Sedona itinerary lasting from 1 to 7 days.
Photography – Our collection of the 15 best sunrise and sunset photography locations in Sedona includes the perfect mixture of iconic and secret spots.
Jeep Trails – Our comprehensive guide to the 9 best Jeep trails in Sedona Arizona, including both popular and hidden gem off road routes.
Caves – How to find and access each of the 7 hidden caves in Sedona with full walkthrough steps and photos.
Hotels – Our popular guide on exactly where to stay in Sedona will help you find the perfect hotel in the right area for your budget.
More From The American Southwest
Zion National Park – Zion is an adventure playground for adults, find the very best hikes in Zion and choose between 5 ways you can spend a one day in Zion itinerary.
Grand Canyon – Just 2 hours from Sedona is the incredible Grand Canyon South Rim, create your wishlist from the best hikes at Grand Canyon South Rim.
Las Vegas – The most popular place to start or end a US southwest road trip, here's our guides to the 40 best things to do in Las Vegas and the 10 best day trips from Las Vegas.
Want more Arizona content? Head over to our Arizona travel guides to explore the best of Grand Canyon, Sedona and beyond.
---
We hope this guide to the ancient ruins helps with planning your visit to Sedona!
Please let us know if you have any questions about any of the sites listed in this post or your visit to Sedona in the comments below.
Happy Travels,
Mark and Kristen
Was This Post Helpful? Pin It For Your Visit!