Summiting Doe Mountain Trail at sunrise epitomizes the unrivaled beauty of hiking in Sedona. But you can climb 400 ft to summit the Doe Mountain mesa any time of day to enjoy one of the very best views over Sedona's remarkable landscape.
What makes sunrise such a sought after time of day to hike Doe Mountain Trail in Sedona?
Hot air balloons!
If you hike to the summit mesa at Doe Mountain Trail in time for sunrise, you will see hot air balloons taking flight from the immense and unspoiled valley below. Doe Mountain definitely has one of the very best sunrise spots in Sedona.
In this guide we will show you:
Where to park to hike Doe Mountain Trail
Which pass you need to display
Exactly how to hike Doe Mountain Trail
Why it is worth hiking Doe Mountain Trail for sunrise
Plenty of photos for inspiration
Let's hike the awesome Doe Mountain Trail to a stunning sunrise in Sedona Arizona!
*Please note this post may contain affiliate links. If you click on one, we may earn a small commission at no extra cost to you. Thank you for supporting the free content we provide! Read more in our disclosure policy.*
Doe Mountain Hiking Statistics
Trail Distance: 1.5 miles roundtrip
Elevation Gain: 400 feet
Hike Difficulty: Moderate
Time Required: 2 hours
Trailhead: Bear Mountain / Doe Mountain Trailhead
Doe Mountain is a very short hike with a very big reward. At just 1.5 miles roundtrip and with just 400 ft elevation gain, you are getting far reaching and expansive views for very little effort.
The elevation gain turns steep at points and there are some narrow sections of trail, which means the hike is rated as moderately difficult.
Near the top you will have to climb up some uneven rock using both hands and feet but it isn't difficult and there are no drop offs to worry about.
The average hiker will be up for sunrise and back down again before the parking lot fills with the morning rush. Plan for 2 hours but quicker hikers can be down in 1 hour 30 minutes.
Looking for more top hikes? Read our popular guide to the 50 best hiking trails in the US next!
Doe Mountain At Sunrise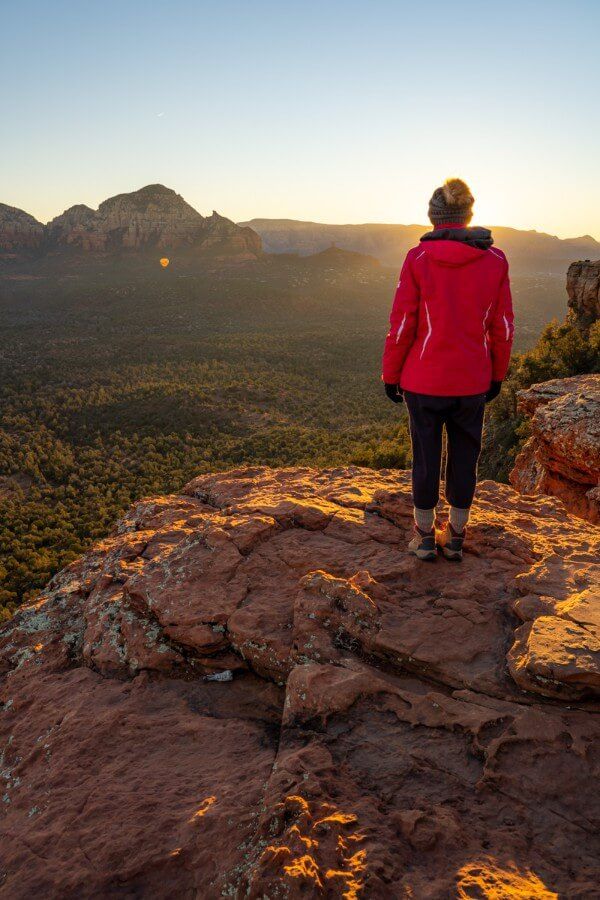 Watching the sunrise from Doe Mountain is one of the best things to do in Sedona.
The summit mesa at Doe Mountain has expansive views over an exceptionally picturesque desert landscape. Watch in awe as the entire valley ahead illuminates with yellow light at dawn.
Sunrise is the best time to hike Doe Mountain Trail for a multitude of reasons:
Parking won't be an issue
You will hike before the hotter part of the day from Spring through Fall
You can watch hot air balloons glow and rise from below you as the sun begins to illuminate Sedona's mountain wilderness areas
Check sunrise times in Sedona and aim to be at the parking lot 1 hour before sunrise.
We arrived to Doe Mountain Trailhead at 6.30am, summited around 7am and waited for the sun to rise around 7.20am in December 2021.
Remember, if you visit Sedona in Summer you are going to need an earlier start.
We hiked the incredibly popular Devils Bridge Trail at sunrise but much preferred Doe Mountain at dawn. Devils Bridge is stunning but it far too overcrowded, whereas we had Doe Mountain almost completely to ourselves.
Another amazing Sedona sunrise hike to strongly consider is the wonderful Chimney Rock and Little Sugarloaf Loop Trail.
Hot Air Balloons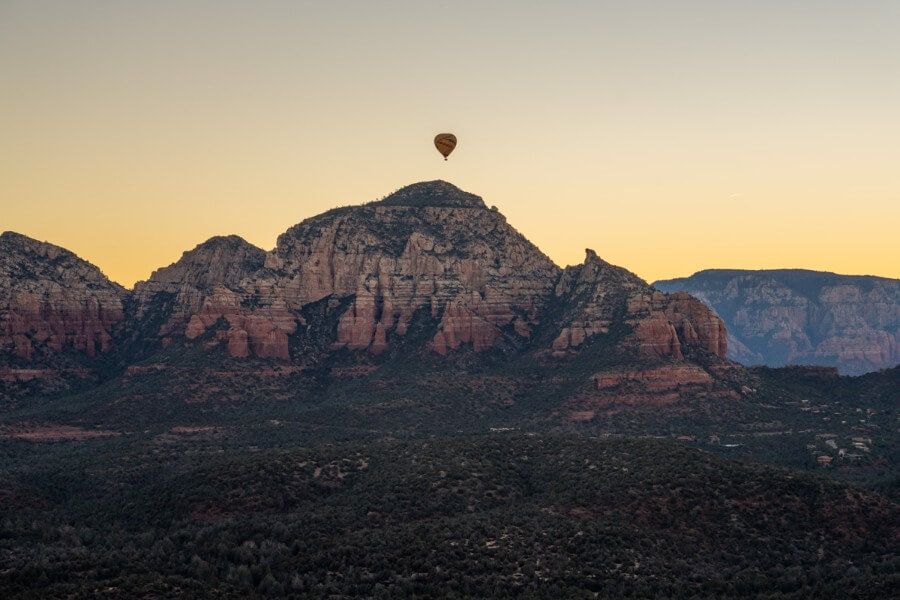 Every morning you will notice clusters of hot air balloons take to the sky at sunrise in Sedona.
There are a handful of fantastic Sedona sunrise spots you can watch the hot air balloons take off, but Doe Mountain summit might just about be the best.
You will be higher up in elevation than the hot air balloons which begin in the valley below. They follow the same path each morning and that path leads right into the sunrise from your position on the mesa at Doe Mountain.
Avid hikers and photographers shouldn't miss Doe Mountain at sunrise on a first time visit to Sedona itinerary.
Do You Need A Pass To Hike Doe Mountain Trail In Sedona?
Yes, you need to display either a Red Rock Pass or America the Beautiful Interagency Pass on your vehicle dashboard for the duration of your hike up Doe Mountain Trail in Sedona.
Red Rock Pass
You can buy a Red Rock Pass at this specific recreation.gov site in advance, or you can buy one at a ticket machine when you arrive in person at either parking lot listed further in this guide.
Red Rock Pass options include:
1 Day Red Rock Pass – $5
7 Day Red Rock Pass – $15
Red Rock Annual Pass – $20
If you plan to hike more trails around Sedona over a period of 2 – 7 days, you should buy the 7 day pass because you will need it at many other trailheads in the area.
America The Beautiful Pass
Are you a regular visitor to US National Parks and Monuments?
It's highly likely you already have an annual National Parks pass, which is also known as America the Beautiful or the Interagency Pass.
Don't have one yet?
Read our guide on why America the Beautiful national parks pass is one of the best things you can buy if you plan to visit multiple parks in the next year.
Instead of buying a Red Rock Pass you can simply display your America the Beautiful Pass.
For those planning to hike more trails in the area, you will need either a Red Rock Pass (or America the Beautiful Pass) to access this list of places in Sedona.
Doe Mountain Trailhead Parking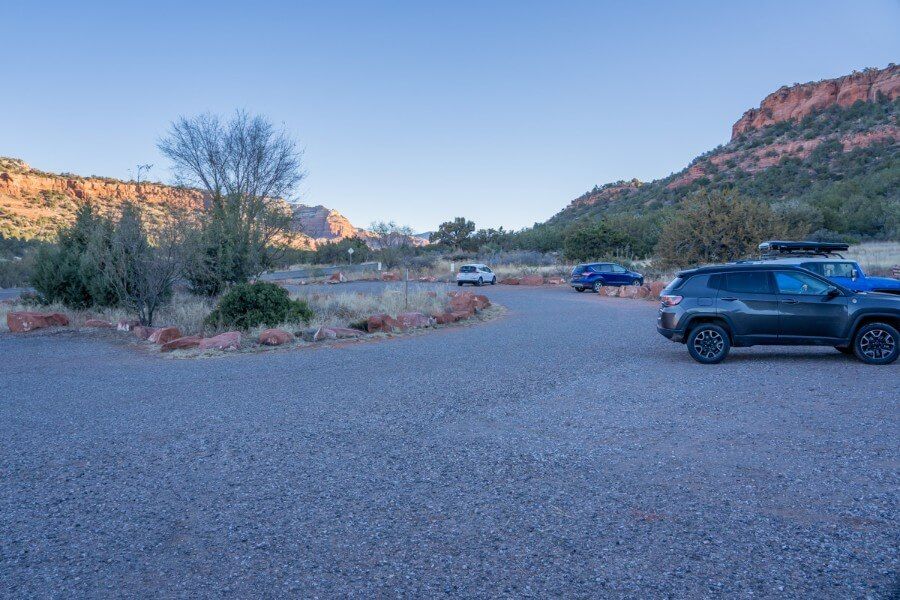 Doe Mountain Trail shares a parking lot with Bear Mountain Trail on Boynton Pass Road in the northwest of Sedona. The lot is shaped like a horseshoe and is larger than average for typical parking areas at Sedona trailheads.
Here's how to reach Doe Mountain Trailhead from downtown Sedona:
Set your Google Maps for "Doe Mountain Trailhead" or click this link for the exact Google Maps location
Take Dry Creek Road (which transitions into Boynton Pass Road) 4.6 miles from of downtown Sedona
Turn left onto Boynton Canyon Roa and drive past Fay Canyon Trailhead
Just 1.3 miles later turn left into Bear Mountain / Doe Mountain Trailhead parking area
Parking for hikes in Sedona is renowned as being almost impossible unless you start very early or arrive much later in the day.
Therefore by hiking Doe Mountain Trail at sunrise you are already getting ahead of the morning rush.
Visiting Sedona at peak times between Spring and Fall may result in parking lots filling earlier. We would suggest starting 10 to 15 minutes earlier than usual if Sedona is especially busy.
Alternative Parking
You might struggle with parking if you decide to hike Doe Mountain during the day in peak season. Fay Canyon Trailhead is your best alternative parking area.
Fay Canyon Trail also makes for a great hike immediately after finishing Doe Mountain at sunrise.
Take Cockscomb Trail out of Fay Canyon parking area, turn right onto Aerie Trail and after 1.2 miles you will reach Doe Mountain Trail.
If Fay Canyon is also full, drive to Aerie Trailhead and walk 1 mile on Aerie Trail to rejoin Doe Mountain Trail.
Note: Hiking to caves in Sedona is extremely popular. However, there are no caves on the Doe Mountain Trail which makes for a much quieter hike and fewer people trying to park at the trailhead.
Map Of Doe Mountain Trail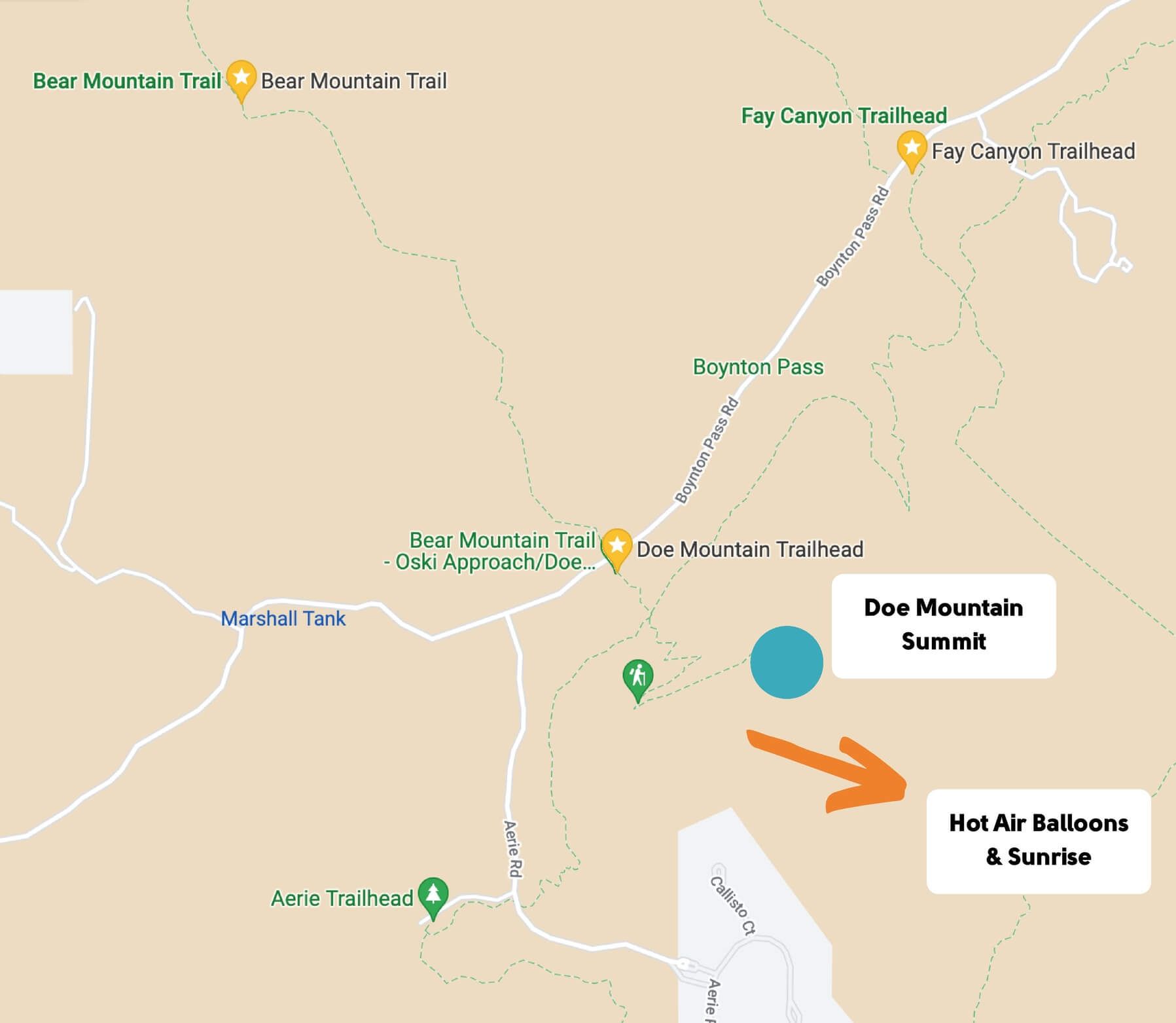 The map above shows exactly what you can expect when hiking Doe Mountain Trail. This is one of the easiest hikes in Sedona to plan.
You can see Doe Mountain Trailhead with Aerie Trailhead and Fay Canyon Trailhead as backup parking options. Note Bear Mountain Trail starting at the same place as Doe Mountain Trail.
Map key:
Blue Circle – Doe Mountain Summit
Orange Line – Direction from summit for watching balloons take off and sunrise
Doe Mountain Trail Sunrise Hike Walkthrough
Let's get stuck into the walkthrough for hiking Doe Mountain Trail to a stunning sunrise in Sedona.
1. Park At Doe Mountain Trailhead And Display Or Buy A Pass
Park at Doe Mountain Trailhead parking lot. You should have no problems finding a space if you arrive during twilight before sunrise.
Once you're parked, don't forget to display your America the Beautiful pass or Red Rock Pass.
If you don't have either, buy a 1 day or 7 day pass at the ticket machine or online at recreation.gov.
2. Begin The Climb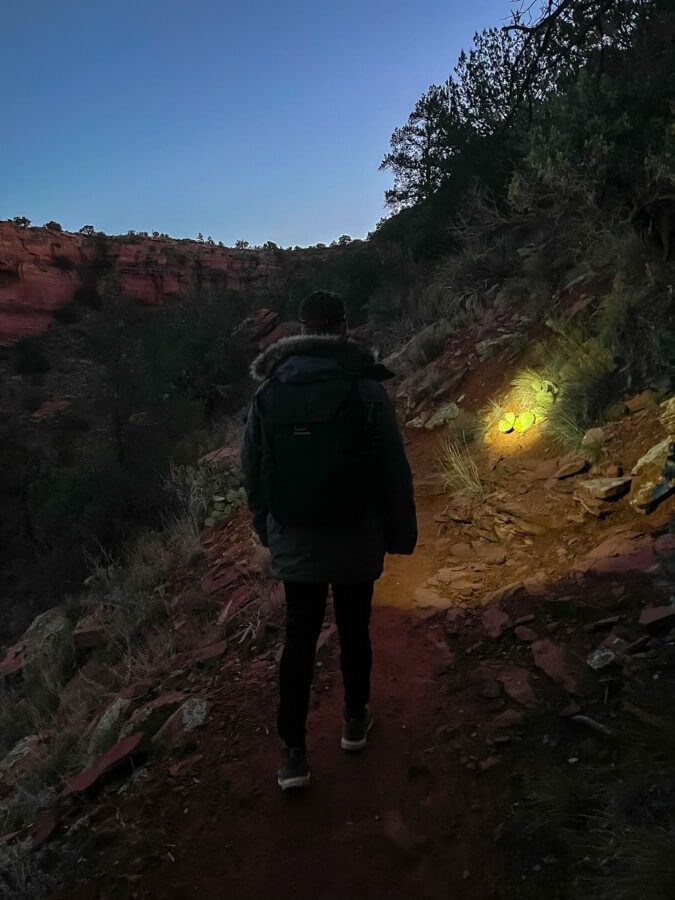 Follow the very obvious trail right out the parking lot heading for what looks like a looming rock formation protruding out to the left side.
Grab your headlamp and turn it on bright so you can see the path ahead when hiking in darkness for sunrise.
Do not cross the road because that trail leads to Bear Mountain, which is one of the hardest hikes in Sedona.
Experienced hikers might want to consider taking on Bear Mountain right after Doe Mountain.
3. Zig Zag Switchbacks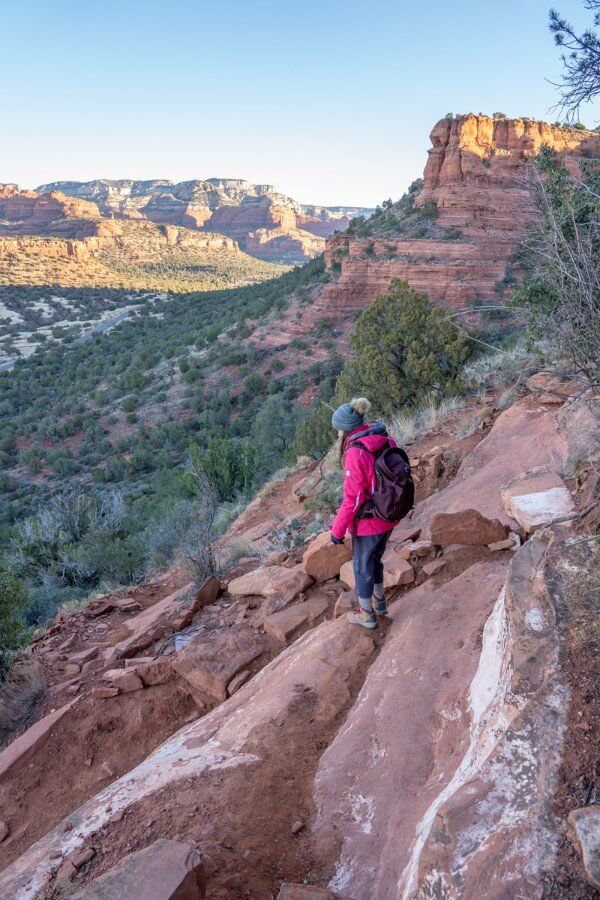 The trail hits a crossroads with the interconnecting Aerie Trail.
Don't turn left or right here, instead continue straight ahead aiming straight at the towering formation.
You will begin to gain elevation through switchbacks.
Most of the trail is easy enough to follow but it is narrow in places and you will walk on rocks which can be slippery after rain or under icy conditions.
4. Long Straight And Narrow Section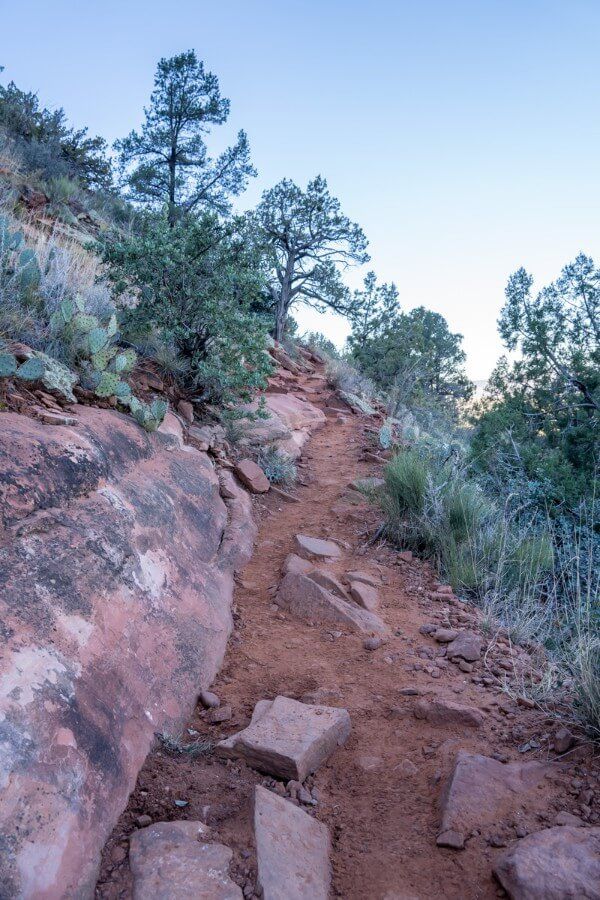 Each switchback is longer than the last and after 5 or 6 sharp turns you will reach a long and direct section of trail.
This part of the hike is narrow but safe enough.
Views to your left side are opening up nicely and you can see Bear Mountain in the distance dominating the skyline.
5. Light Scramble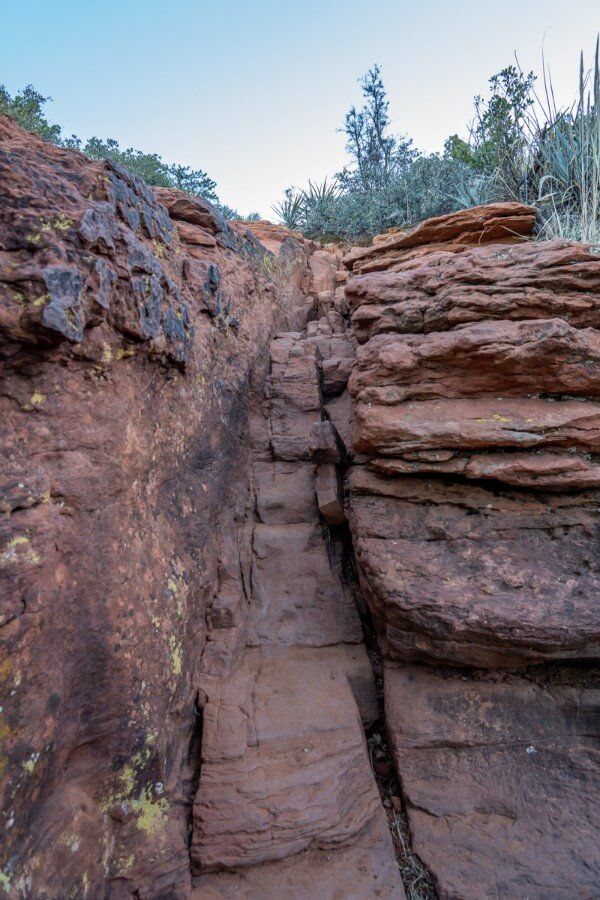 Keep walking straight until you reach a sharp bend to the right. This turn leads to uneven rock ledges and a narrow gulley-like climb.
Use your shoes to grip onto solid foot placements and use your hands to pull yourself up if necessary.
This really isn't as challenging as it sounds but under wet or icy conditions this section could be difficult to navigate.
6. Summit The Doe Mountain Trail Mesa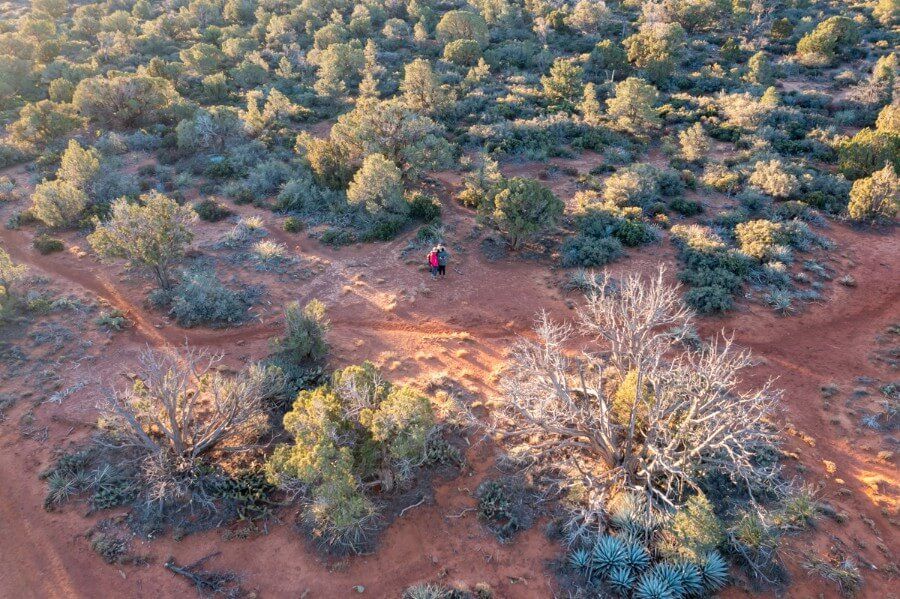 After a very short and light scramble you will summit onto a flat plateau expanse.
You are not interested in turning left and standing on the edge of the protruding rock formation you have been looking at since beginning the hike.
Instead, you walk in the exact opposite direction, which is south / southeast as you look at a map.
Continue to walk on a flat and narrow dirt path until you finally reach a cliff edge with significant drop offs.
You can't miss the vista point and you can walk along the cliff edge for a quiet spot if other groups are already at the summit.
7. Watch Hot Air Balloons Take Off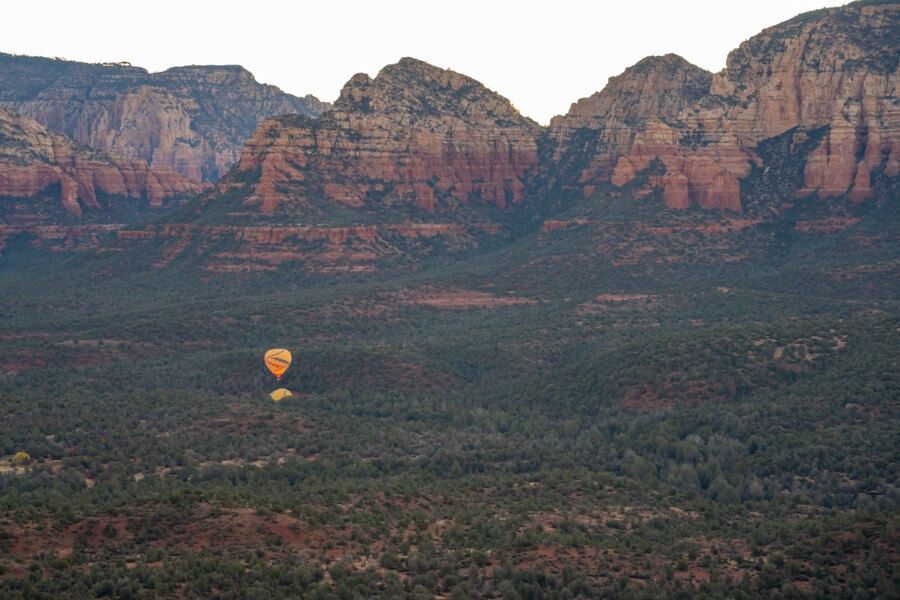 If watching a stunning sunrise over Sedona from this elevated vantage point isn't enough, you have to wait at the summit for hot air balloons to emerge from out of a green tree canopy below.
Views are simply spectacular, with trees and red rocks as far as the eye can see beginning to glow under sunlight at dawn.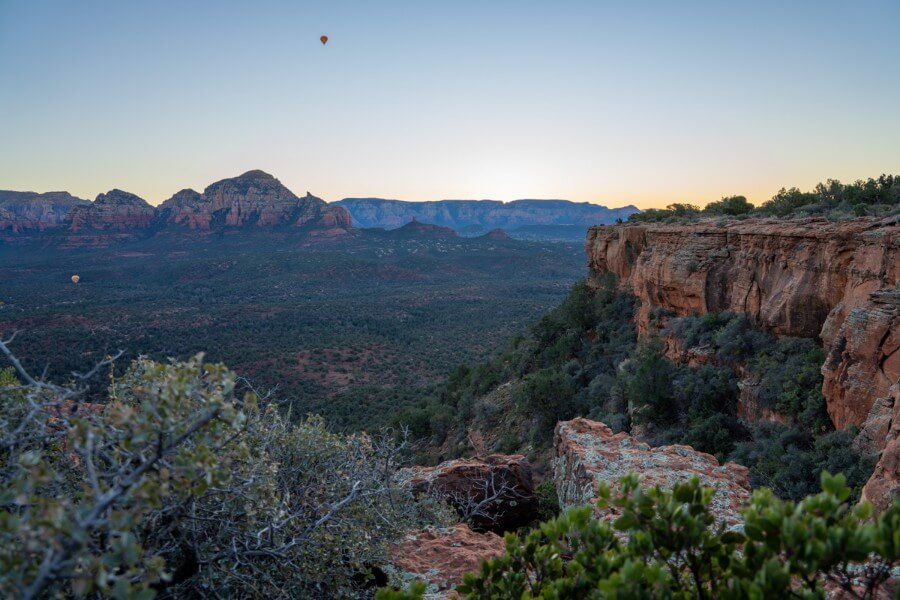 You will see a handful of bright yellow balloons gradually floating out from below you and into the sky.
And you will hear the sound of flames bursting as the hot air balloons rise higher and higher.
In the center of the photo above you can just about make out the tiny looking spires of Chimney Rock and to the right you can see the faint ridge of Sedona Airport Mesa.
The summit of Doe Mountain Trail at sunrise is one of the most peaceful and relaxing places in Sedona.
8. Hike Back Down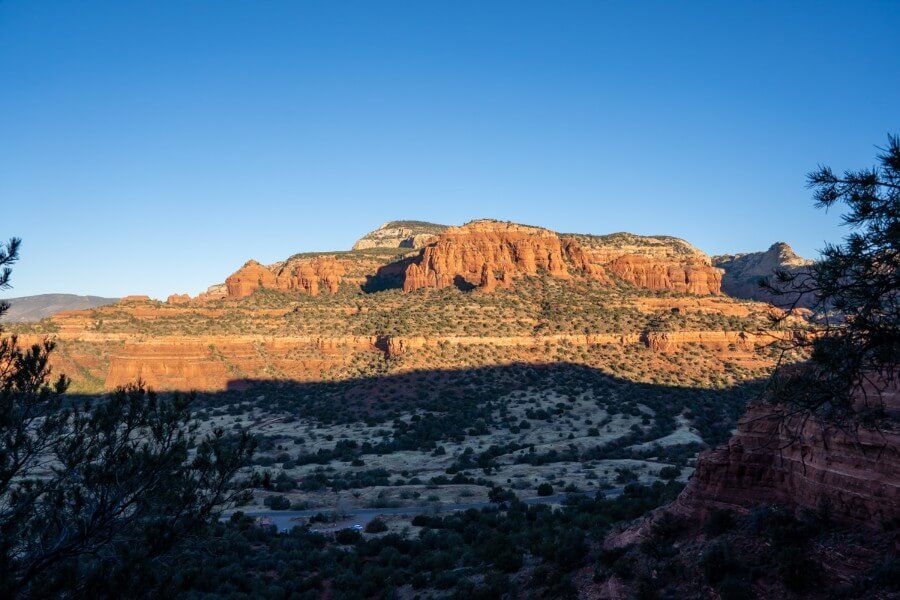 Once you're done with sunrise and the balloons are way off in the distance, it's time to head back down the switchbacks.
The descent is much quicker than the ascent.
You will go back into shadow for most of the hike down, but if you look out toward Bear Mountain in the distance, it will be glowing under intense sunlight after sunrise.
Consider hiking Bear Mountain, or instead drive to Fay Canyon or Boynton Canyon before the parking lots fill in mid morning.
Doe Mountain Trail Pros And Cons
Pros:
Spectacular sunrise vista
Very quiet trail comparatively
Short hike with huge reward
Cons:
Not as special if hiked in middle of the day
Climb is steep in parts with one light scramble
Not the most exciting trail until reach the summit
Best Time To Hike Doe Mountain Trail
The best time to hike Doe Mountain Trail is for sunrise between Spring and Fall when temperatures are comfortable for hiking at dawn.
Season
Sedona is busiest in Spring and Fall, which could lead to the Doe Mountain parking lot filling before sunrise as hikers climb to the mesa for one of the best sunrises in town.
Summer and in particular Winter are quieter periods in Sedona, which means you have more chance getting parked up at the trailhead without issue.
Time Of Day
Sunrise is the best time to hike Doe Mountain for beautiful views into the rising sun and hot air balloons taking flight add to the spectacle.
However, sunset is another popular time to hike Doe Mountain. It isn't quite as special but if it fits better into your Sedona itinerary, consider hiking for sunset instead.
The stunning views are still there from mid morning to late afternoon, but it is all about the lighting around dawn and dusk for maximizing your experience on this hike.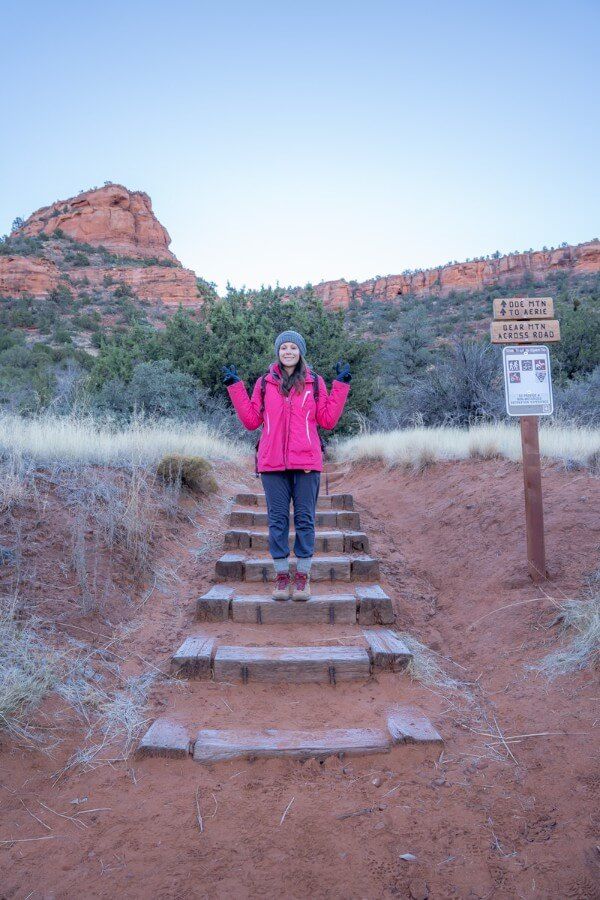 What To Pack For Hiking Doe Mountain Trail
Footwear – Footwear with good grips and traction are going to help you climb up steep banks and reduce slipping on light scrambling sections near the top.
Water – Hiking at sunrise means you can take less water than you would during the day. But the climb is steep and tiring, especially on warmer mornings. It's better to be safe than sorry, so take at least 1 full reusable water bottle per person. If hiking later in the day you'll need to carry more water.
Sun protection – Sunglasses, sun hats, long layers and sunscreen are vital if you are visiting Sedona in Summer. However, if you hike Doe Mountain at sunrise, you will be in the shade for almost the entire trail. The only time you will be in the sun is at the summit when the sun rises.
Winter – We hiked Doe Mountain for sunrise during our visit to Sedona in December. You'll need to start in coats, gloves and hats to begin but take a backpack for storage once you get sweaty on the ascent!
5 Tips For Hiking Doe Mountain Trail
Pack a headlamp to use for light when ascending before sunrise
Park at either Fay Canyon or Aerie Trailhead if Doe Mountain is full
Set off on the hike around 1 hour before sunrise so you don't miss the spectacle
Don't forget your camera and tripod for low light sunrise photography
Hike Bear Mountain straight afterwards so you don't have to park here again
Sedona Arizona Visitor Summary
How to get around – Sedona is small but you'll need a car to access the best hikes to the north and south of town. If you want to get to the hard to reach places, you should hire a jeep.

When to visit – Spring and Fall are the best seasons to visit Sedona, but they come with a higher price tag and more crowds. Winter is a fantastic time to avoid both.

Where to stay in – Accommodation is expensive in Sedona, but there are plenty of very high quality places to stay including Matterhorn Inn, Lantern Light Inn, Arabella Hotel, Whispering Creek B&B and The Suites at Sedona.

Popular things to do – Sedona is one of the best places to hike in the US, but it is also a wonderful place to get off-road in a jeep, shoot stunning photography, visit historic sites and drink wine.
Is Doe Mountain Trail Worth It?
Doe Mountain is one of the best places to watch sunrise in Sedona. It is definitely worth including on your Sedona itinerary, especially if you have more than 2 or 3 days in town.
This is the perfect sunrise hike for anyone looking to escape the crowds in caves or red rock formations suffering from instagram fame!
Doe Mountain Trail FAQ's
Let's take a look at some of the most asked questions about hiking Doe Mountain Trail in Sedona.
Is Doe Mountain Trail An Easy Hike?
Doe Mountain Trail is a moderately difficult hike. The trail is short but steep and has very light scrambling elements. Those with a fear of heights may not enjoy some narrower sections of trail and the flat mesa summit leads to vertical drop offs.
Is Doe Mountain Trail Dog Friendly?
Yes Doe Mountain Trail is a dog friendly hike in Sedona. Dogs must be kept on a short leash at all times but they are permitted to explore all areas around the Doe Mountain summit mesa at sunrise or any time of day.
More From Sedona
Cathedral Rock – Sedona is filled with amazing hikes but Cathedral Rock Trail is one of the most iconic. If you're short on time, this is the adventure hike for you.
Bell Rock – Hike the Bell Rock Courthouse Butte Loop Trail for stunning Sedona views, a fun slick rock climb and our hidden loop half way up the formation.
Boynton Canyon – Exactly how to find the famous Subway Cave on Boynton Canyon Trail, the most photographed cave in Sedona.
Birthing Cave – The easiest cave to reach in Sedona is Birthing Cave on Long Canyon Trail, ending with amazing views and a crowd free climax.
Soldier Pass – Hike to Devils Kitchen and Seven Sacred Pools before climbing into Soldier Pass Cave on the family friendly Soldier Pass Trail in Sedona.
Keyhole Cave – Go off trail into Sedona Wilderness and climb into Keyhole Cave, the biggest and most impressive cave in the area.
More From The Southwest
Zion National Park – Zion is an adventure playground for adults, find the very best hikes in Zion and choose between 5 ways you can spend a one day in Zion itinerary.
Grand Canyon – Just 2 hours from Sedona is the incredible Grand Canyon South Rim, create your wishlist from the best hikes at Grand Canyon South Rim.
Las Vegas – Heading to Vegas on your Southwest adventure? Here are the 10 best day trips from Las Vegas and the 40 best things to do in Las Vegas.
Want more Arizona content? Head over to our Arizona travel guides to explore the best of Grand Canyon, Sedona and beyond.
---
We hope this guide on hiking the Doe Mountain Trail at sunrise helps with planning your visit to Sedona, Arizona!
Please let us know if you have any questions about hiking Doe Mountain Trail or your visit to Sedona in the comments below.
Happy Hiking,
Mark and Kristen
Was This Post Helpful? Pin It For Your Hike!