Doe Mountain Trail is one of our favorite sunrise hikes in Sedona. It's a short but steep hike leading to a flat tabletop mesa with staggering east facing views over the red rock landscape. You can of course hike Doe Mountain any time of day but you're in for a real treat if you make it up for sunrise.
In this guide, we'll explain everything you need to know about hiking Doe Mountain Trail in Sedona.
Let's begin.
Our Doe Mountain Experience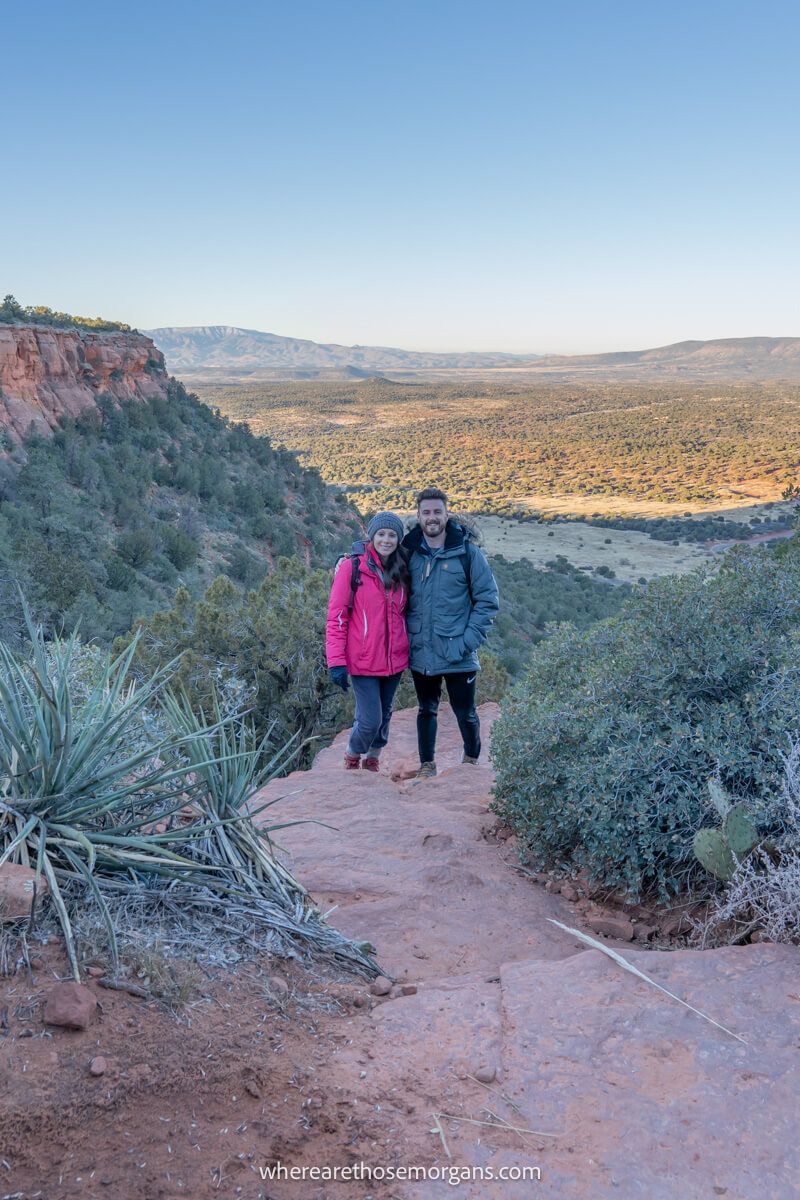 We hiked to Doe Mountain in time for sunrise during our week long visit to Sedona at the end of 2021. Devils Bridge and Cathedral Rock were our top two sunrise hike priorities, but we are so glad we included Doe Mountain to our list because it turned out to be a truly unforgettable experience.
Visiting Sedona in December during the low season meant we had the entire Doe Mountain summit to ourselves for sunrise. We sat huddled up in our winter coats with a hot coffee as the sun burst into the sky from behind Sedona's famous red rocks. And we would do it again in a heartbeat!
Hiking Statistics
Trail Distance: 1.5 miles roundtrip
Elevation Gain: 400 feet
Hike Difficulty: Moderate
Time Required: 2 hours
Trailhead: Bear Mountain / Doe Mountain
Best Time: Sunrise
Doe Mountain Sunrise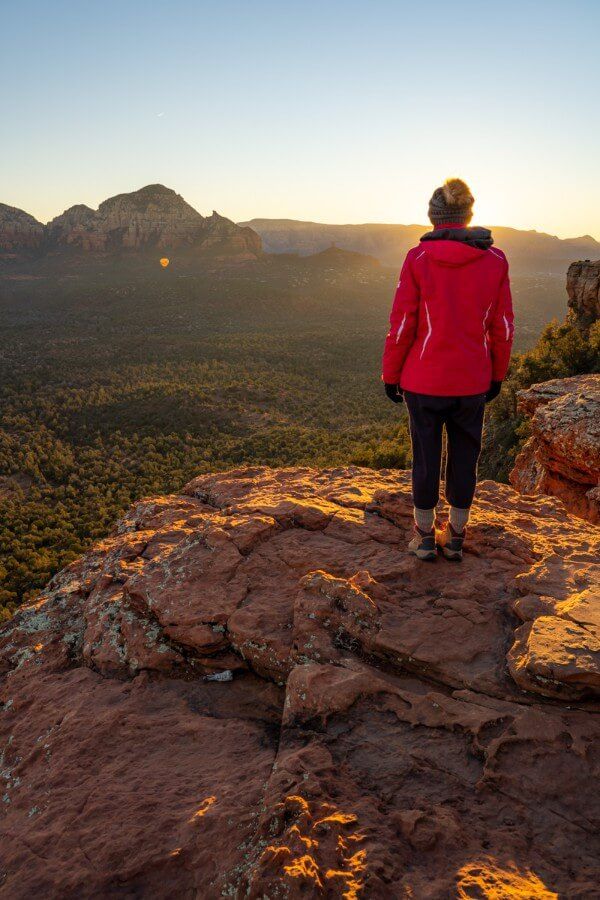 Is it worth making the effort to wake up early and hike in the dark to reach Doe Mountain summit for sunrise?
Yes! Watching the sunrise from Doe Mountain was definitely one of our favorite things to do in Sedona. The hike is easy with a headlamp, and it really is worth it to sit on the edge of the mesa and watch hot air balloons taking off from the valley below as the sun rises.
Check sunrise times and aim to be at the parking lot 1 hour before sunrise. We arrived to Doe Mountain Trailhead at 6:30am, summited at 7:00am and waited for the sun to rise at around 7:20am.
Hiking Tip: When exploring outdoors, be sure to always practice the seven principles of Leave No Trace to preserve natural beauty so others can enjoy the same environments.
Doe Mountain Trail Map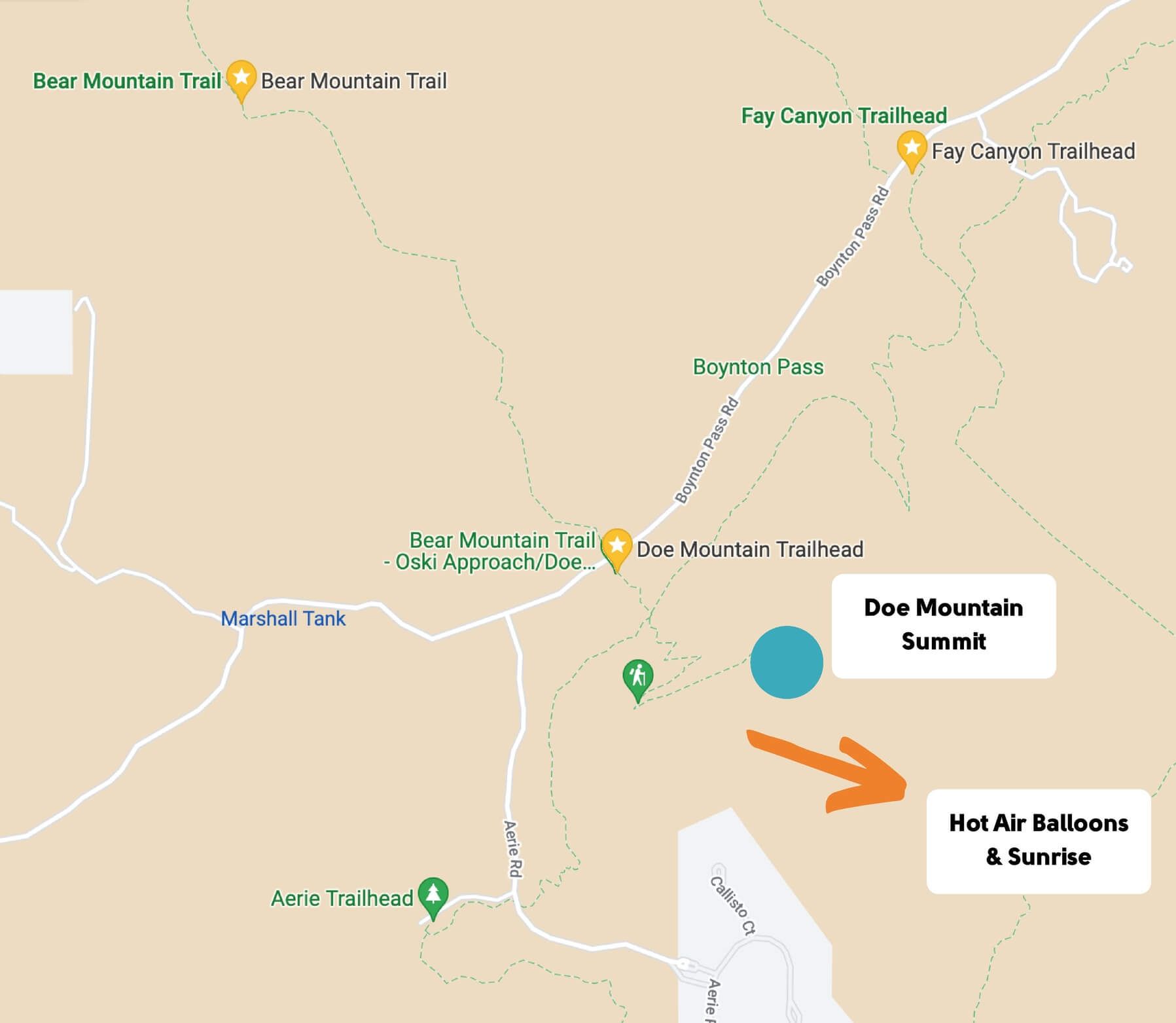 In our photo above you can see Doe Mountain Trailhead, the switchbacks leading to the summit and the direction you will be looking from the top.
Map key:
Blue Circle – Doe Mountain summit
Orange Line – Direction of the summit views
Further Reading: 50 amazing hiking trails in the US
Doe Mountain Trail Walkthrough
Let's get into the Doe Mountain hiking walkthrough. We are going to show you the entire trail step-by-step so you know exactly what to expect.
Don't forget you can use our photos below throughout your hike to Doe Mountain to help with navigation.
1. Park At Doe Mountain Trailhead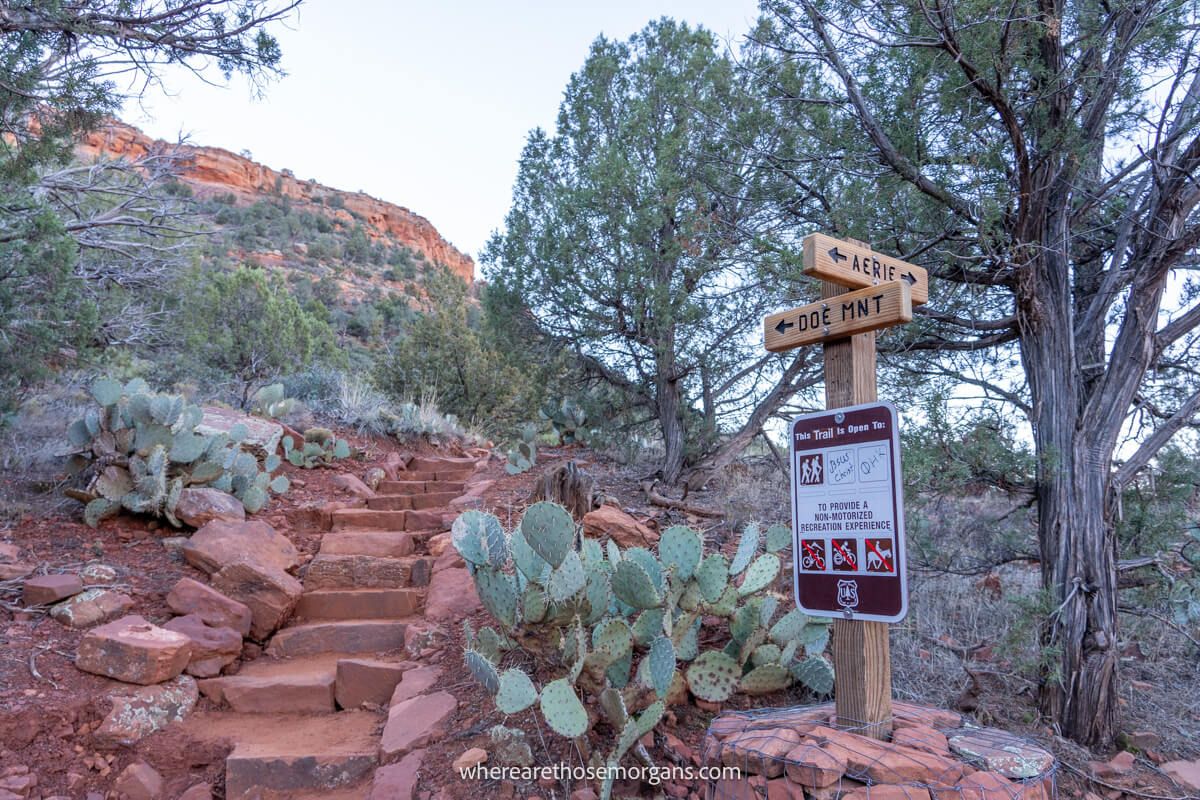 Doe Mountain Trailhead parking lot has plenty of spaces but it also serves as the trailhead for Bear Mountain so it can get busy.
Once you're parked, don't forget to display a Red Rock Pass or America The Beautiful Pass on your dashboard. If you don't have either, buy a 1 day or 7 day pass at the ticket machine in the parking lot or online at recreation.gov.
2. Begin The Climb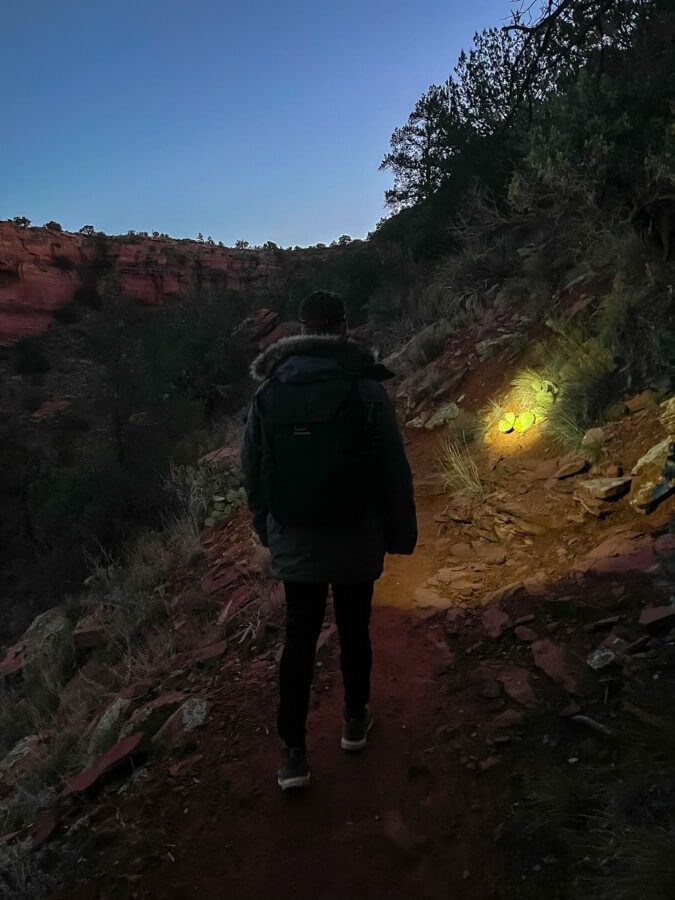 Follow the very obvious trail directly from the parking lot. If you are hiking for sunrise like we did, don't forget to grab your headlamp and turn it on bright so you can see the path ahead.
Don't cross to the opposite side of the road from the parking lot because that trail leads to Bear Mountain, which is one of the hardest hikes in Sedona. Experienced hikers might want to consider taking on Bear Mountain right after Doe Mountain.
3. Zig-Zag The Switchbacks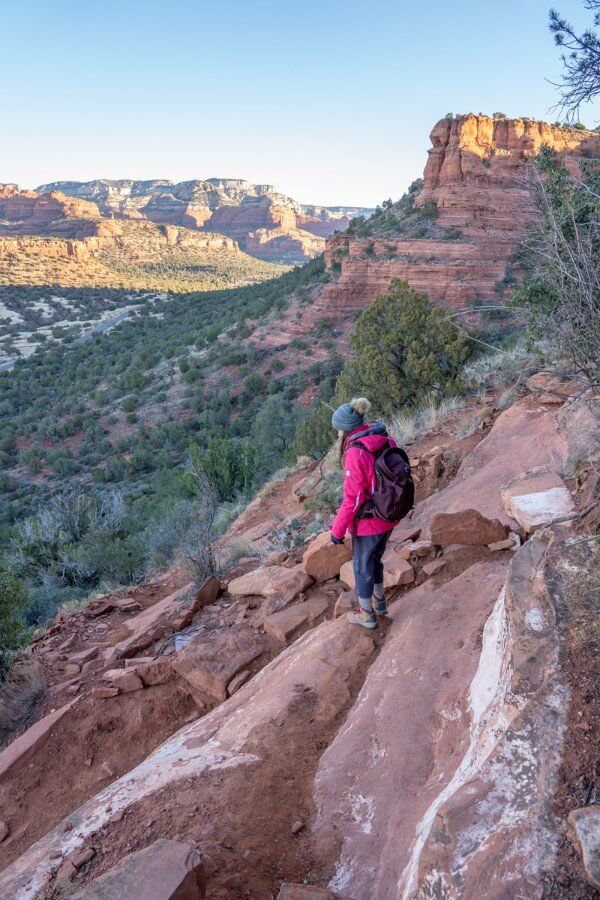 Almost immediately the trail hits a crossroads with the interconnecting Aerie Trail. Don't turn left or right here, instead continue straight ahead aiming directly for the towering rock formation ahead.
You will begin to gain elevation by zig-zagging up a series of switchbacks. The trail is easy enough to follow for the most part, but it narrows in places and you will walk on rocks which can be slippery after rain or under icy conditions.
4. Follow The Narrow Trail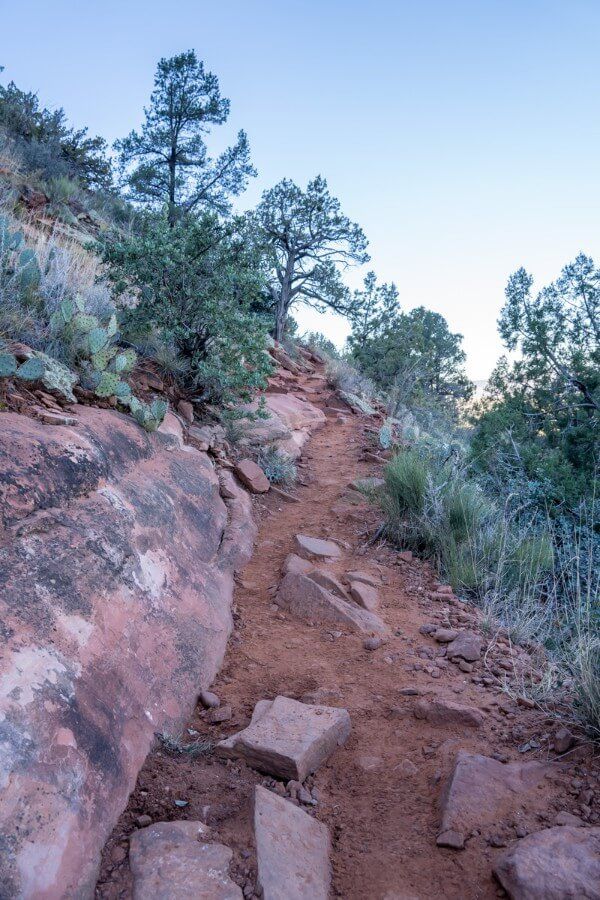 Each switchback is longer than the last and after 5 or 6 sharp turns you will reach a long and narrow section of trail. Views to your left side are opening up nicely and you can see Bear Mountain in the distance dominating the skyline.
Continue to slowly and gradually gain elevation on this narrow part of the hike until you reach a very obvious rocky section.
5. Scramble Up The Rocks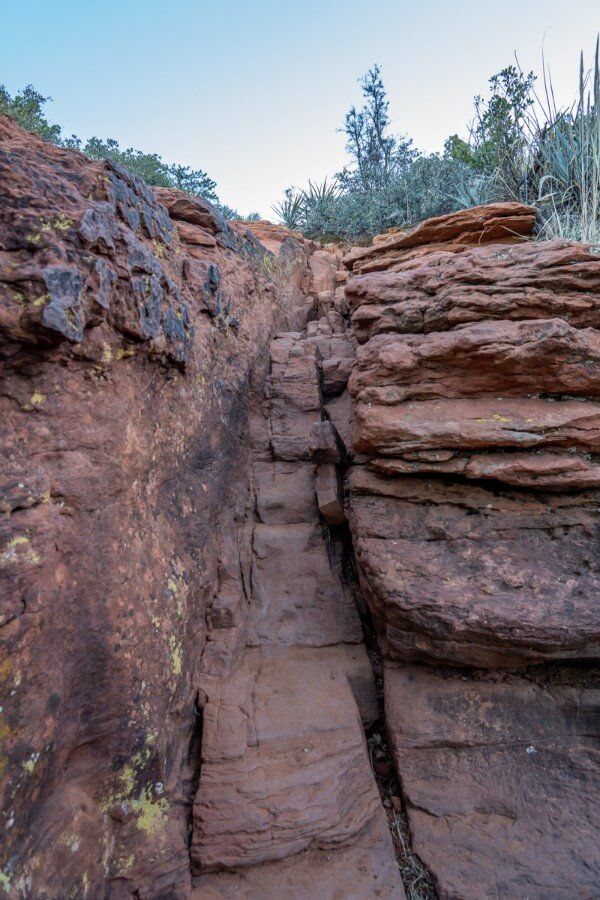 After taking a sharp right turn you will see a section of uneven rock ledges and a narrow gulley. The photo above makes it look worse than it is in reality. You might need to use your hands at times, but this light scramble is easy enough.
We recommend wearing shoes with good grips to hike Doe Mountain because of this section in particular. If it has rained or it's icy, you must take extra care here.
6. Summit Doe Mountain Trail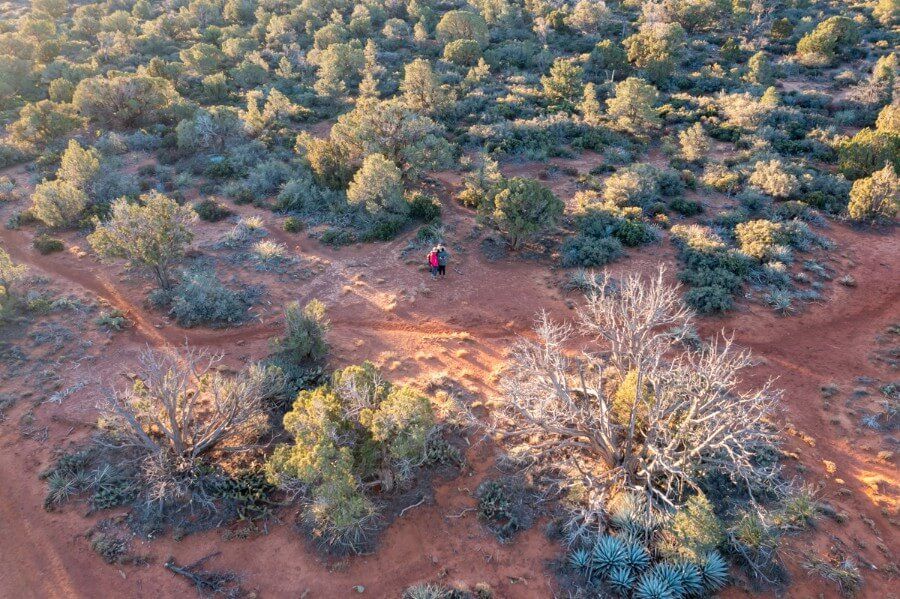 After a very short and light scramble you will summit onto a flat tabletop mesa. It's larger than we expected and there's still a little bit to go in order to reach the viewpoint.
Don't turn left towards the protruding rock formation you have been looking at since beginning the hike, which seems like the logical place to go.
Instead, walk in the exact opposite direction towards the southeast. You can follow cairns or simply follow the light source if you are hiking for sunrise.
7. Reach The Viewpoint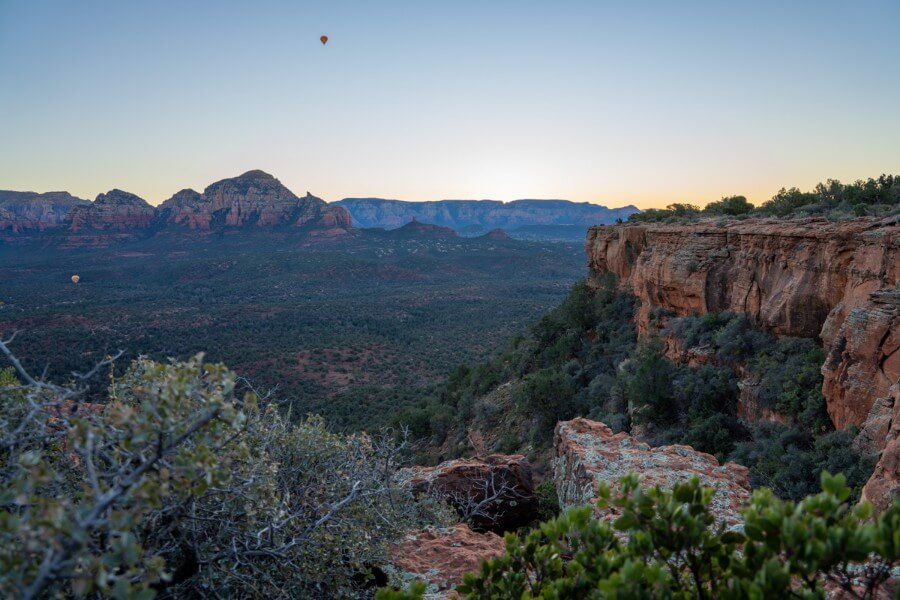 After just a few minutes you will reach the edge of the mesa which has significant drop offs. It also has sensational views over the unspoiled valley below and distant red rock formations. Walk long the edge and find a quiet spot to sit back, relax, sip a hot coffee and watch a magical sunrise.
In the center of the photo above you can just about make out the tiny looking spire of Chimney Rock. And to the right you can see the faint ridge of Sedona Airport Mesa.
8. Watch Hot Air Balloons Take Off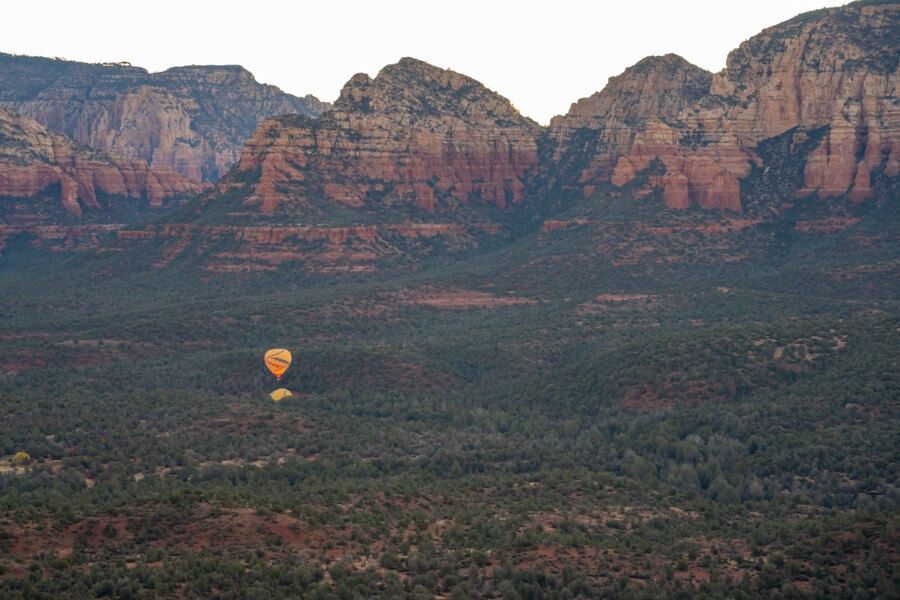 If you summit early enough you can watch as bright yellow hot air balloons emerge from the ocean of green trees below about 30 minutes before sunrise. You'll see plenty of balloons soaring high above distant rock formations in time for the sun rising.
We didn't make it up in a balloon but we're sure it would be well worth the early start!
9. Enjoy The Sunrise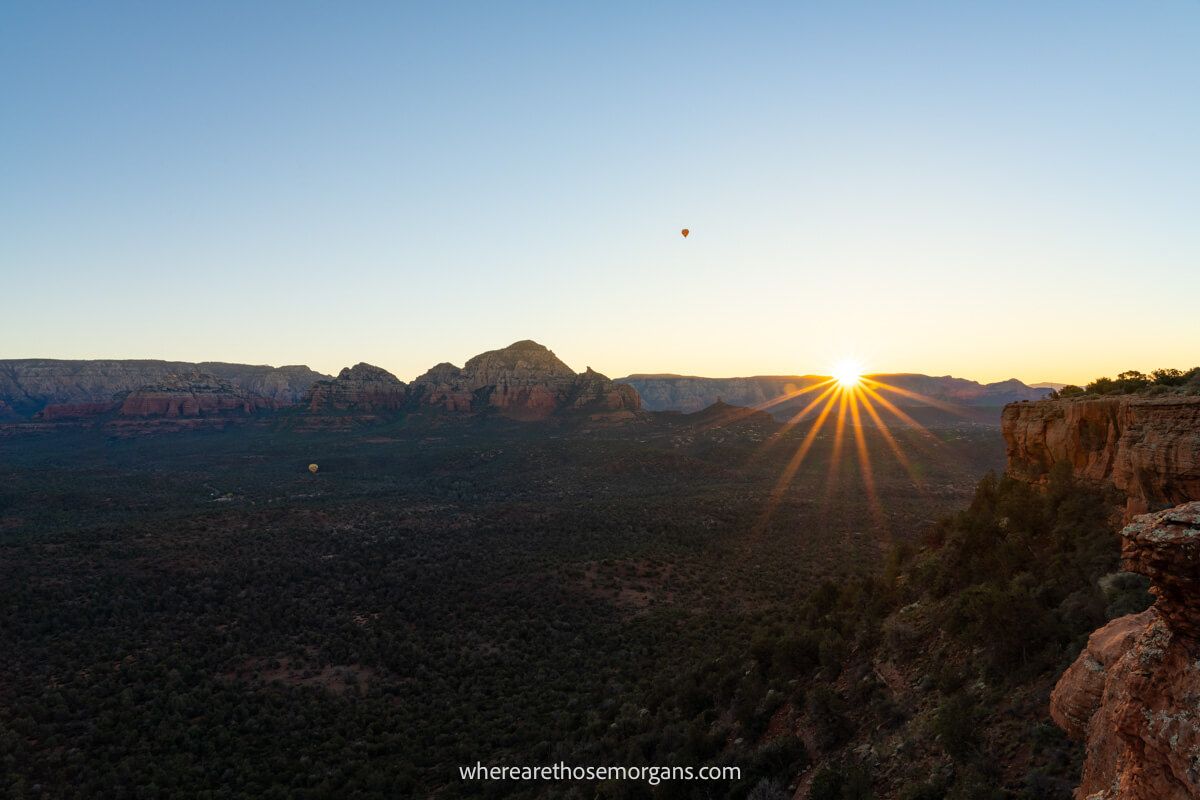 The sunrise from Doe Mountain summit is spectacular. You can enjoy unobstructed views across the valley below all the way to the sun bursting out from behind distant red rock formations to the southeast.
Once you're done with sunrise and the hot air balloons are way off in the distance, it's time to head back down the switchbacks.
10. Hike Back Down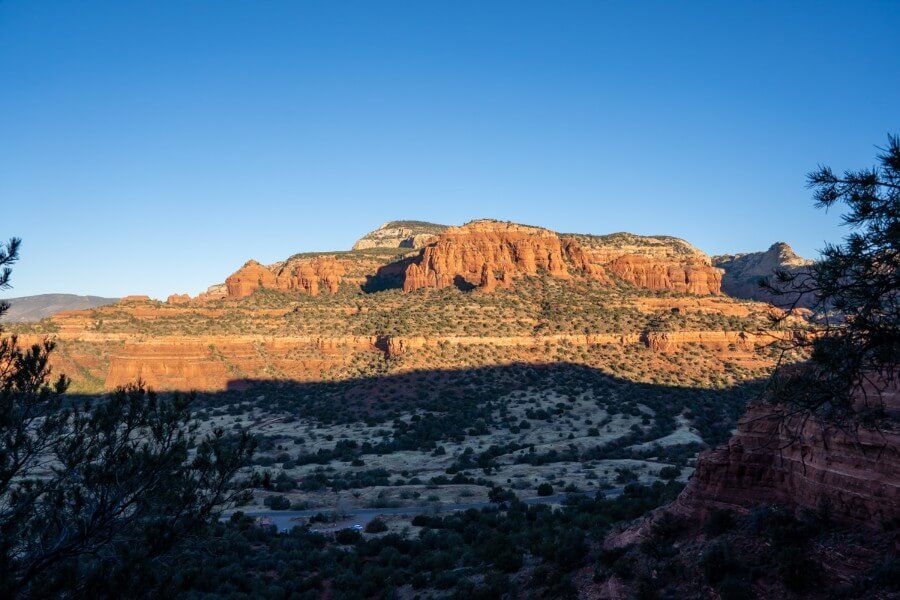 The descent is much quicker than the ascent. You will go back into shadow for most of the hike down, but if you look out toward Bear Mountain in the distance, it will be glowing under intense sunlight after sunrise.
Consider hiking Bear Mountain next if you want the challenge. Otherwise, drive straight to nearby Fay Canyon or Boynton Canyon for more amazing hikes before the parking lots fill with the morning rush.
Doe Mountain Trail Pros And Cons
Pros:
Spectacular sunrise views
Very quiet trail comparatively
Short hike with huge reward
Cons:
Not as special if hiked in the middle of the day
Climb is steep in parts with one light scramble
Not the most exciting trail until reaching the summit
Doe Mountain Trailhead Parking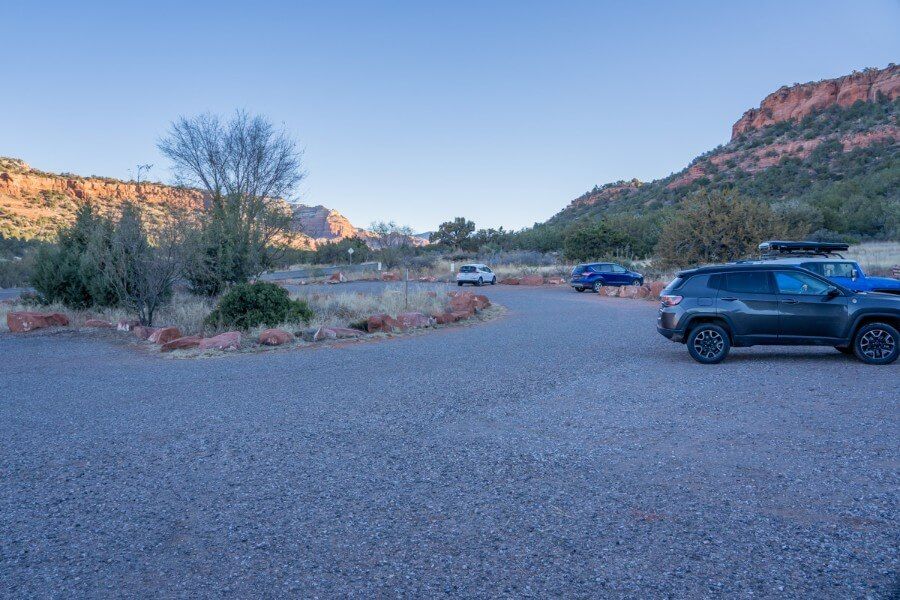 Doe Mountain Trailhead shares a parking lot with Bear Mountain Trailhead on Boynton Pass Road in the northwest of Sedona. The lot is shaped like a horseshoe and is larger than average for typical parking lots at Sedona trailheads.
Here's the Google Maps location for Doe Mountain Trailhead.
We recommend hiking for sunrise because you will guarantee a parking spot at Doe Mountain, see a stunning sunrise and then be able to park at a nearby lot before it fills.
Alternate Parking Options
If you arrive at Doe Mountain during a busy period and can't get parked, try parking at Fay Canyon Trailhead instead. Here's the Google Maps location.
You can hike Aerie Trail from Fay Canyon to Doe Mountain. Plus, Fay Canyon Trail makes for a great hike immediately after finishing Doe Mountain at sunrise.
Do You Need A Parking Pass?
Yes, you need to display either a Red Rock Pass or America the Beautiful Interagency Pass on your vehicle dashboard to park at Doe Mountain Trailhead in Sedona.
You can buy a Red Rock Pass at this recreation.gov page in advance, or you can buy a pass at a ticket machine when you arrive in person.
Red Rock Pass options include:
1 Day Red Rock Pass – $5
7 Day Red Rock Pass – $15
Red Rock Annual Pass – $20
Do you have an America the Beautiful National Parks Pass? You can use it instead of a Red Rock Pass at these trailheads, which includes Doe Mountain.
Best Time To Hike Doe Mountain Trail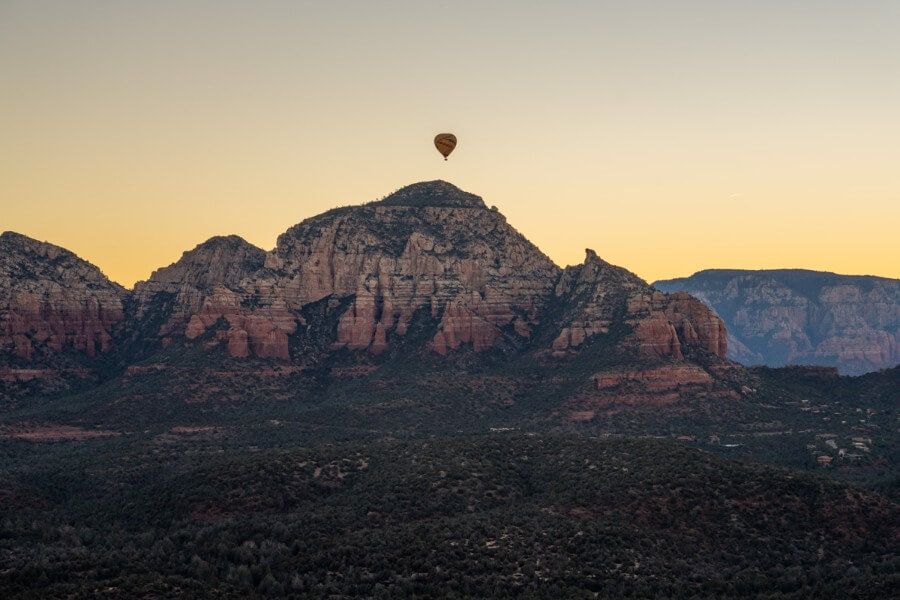 The best time to hike Doe Mountain Trail is for sunrise on a weekday in spring or fall when temperatures are comfortable for hiking at dawn.
Best Season
Sedona is busiest in spring and fall, which could lead to the Doe Mountain parking lot filling before sunrise as hikers climb to the mesa for one of the best sunrises in town.
Summer and in particular winter are quieter periods in Sedona, which means you have more chance getting parked up at the trailhead without issue.
Best Time Of Day
Sunrise is the best time of day to hike Doe Mountain. You will benefit from beautiful views directly into the rising sun with hot air balloons taking flight below.
However, sunset is another popular time to hike Doe Mountain. It isn't quite as special but if it fits better into your Sedona itinerary, consider hiking for sunset instead.
The stunning views are still there from mid morning to late afternoon, but it's all about the soft lighting around dawn and dusk on this hike.
What To Pack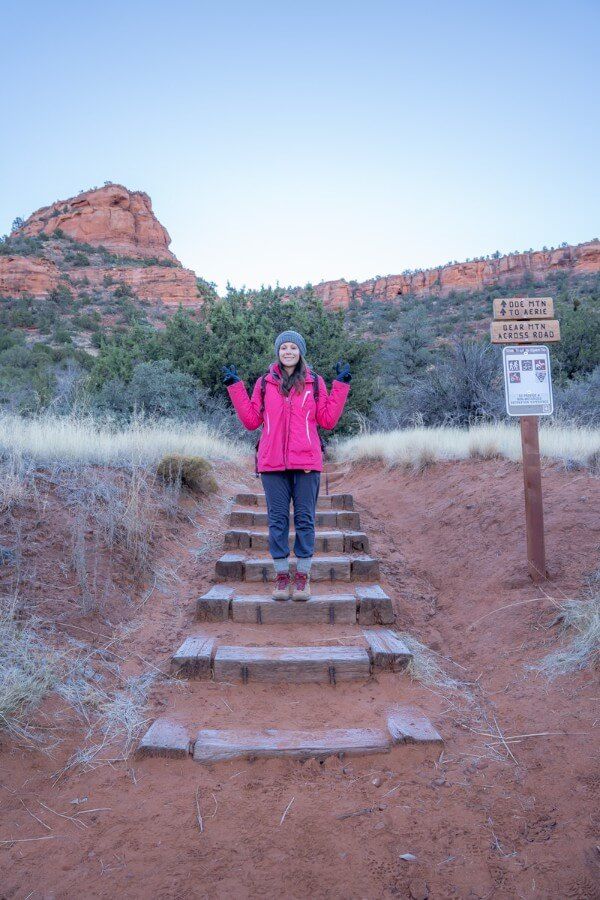 Footwear – Footwear with good grips and traction are going to help you climb up steep banks and reduce slipping on light scrambling sections near the top.
Water – Hiking at sunrise means you can take less water than you would during the day. But the climb is steep and tiring, especially on warmer mornings. It's better to be safe than sorry, so take at least 1 full reusable water bottle per person. If hiking later in the day you'll need to carry more water.
Sun protection – Sunglasses, sun hats, long layers and sunscreen are vital if you are visiting Sedona in summer. However, if you hike Doe Mountain at sunrise, you will be in the shade for almost the entire trail. The only time you will be in the sun is at the summit when the sun rises.
Winter – We hiked Doe Mountain for sunrise in winter. You'll need to start in coats, gloves and hats to begin but take a backpack for storage once you get sweaty on the ascent. Don't forget a coffee and you'll definitely need to put your coat back on at the summit!
Our Top 5 Tips
Pack a headlamp to use for light if hiking for sunrise
Park at either Fay Canyon or Aerie Trailhead if Doe Mountain is full
Set off on the hike around 1 hour before sunrise so you don't miss the spectacle
Don't forget your camera and tripod for low light sunrise photography
Hike Bear Mountain straight afterwards so you don't have to park here again
Is Doe Mountain Trail Worth It?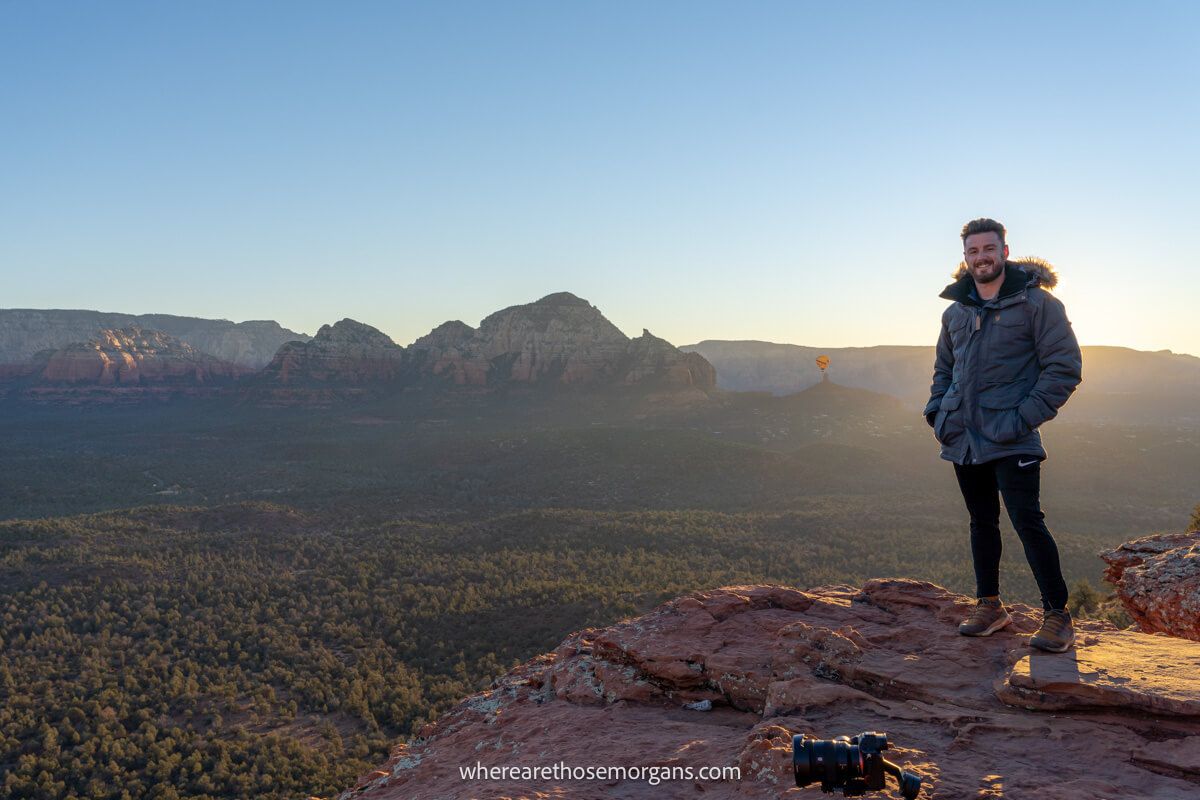 Yes! Doe Mountain is one of the best places to watch sunrise in Sedona. It's definitely worth including on your Sedona itinerary, especially if you have more than 2 or 3 days in town. You will find the summit more relaxing when compared to the likes of Cathedral Rock and Devils Bridge at sunrise.
More Sedona Hikes
More From Sedona
Want more Arizona content? Head over to our Arizona travel guides to explore the best of Grand Canyon, Sedona and beyond.
---
We hope this guide to hiking Doe Mountain Trail helps with planning your visit to Sedona, Arizona!
Please let us know if you have any questions about the Doe Mountain hike or your visit to Sedona in the comments below.
Happy Hiking,
Mark and Kristen
Was This Hiking Guide Helpful? Pin It For Your Visit To Sedona!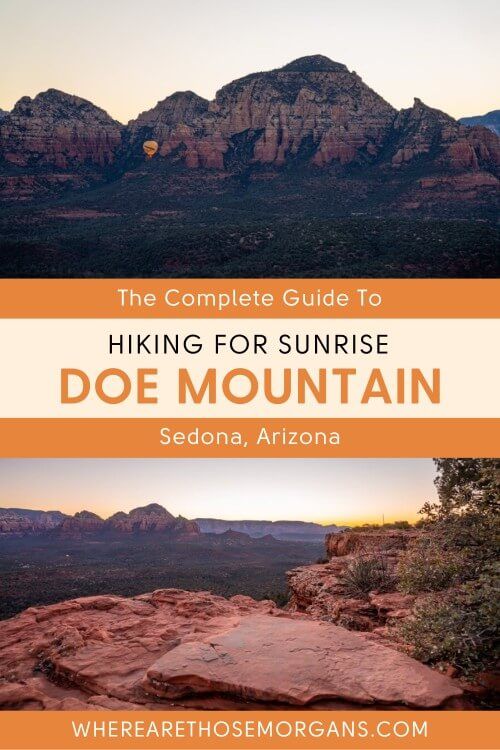 Note: This article contains affiliate links. When you make a purchase using one of these affiliate links, we may earn a small commission at no extra cost to you.
All Rights Reserved © Where Are Those Morgans, LLC. Republishing this article and/or any of its contents (text, photography, maps, graphics, etc.) in whole or in part is strictly prohibited.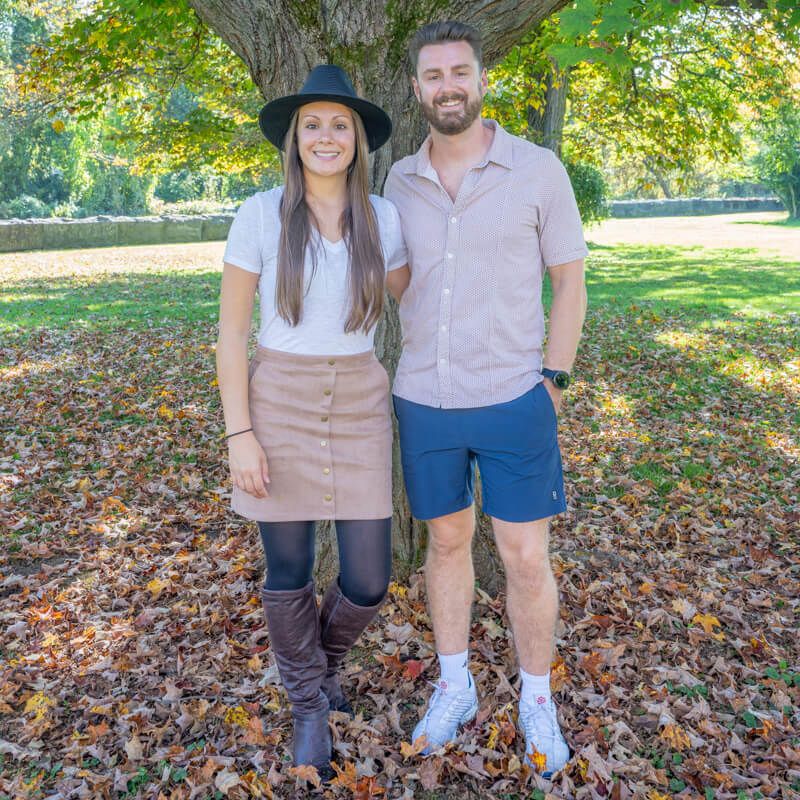 Mark and Kristen Morgan are travel, hiking and photography experts. Over the last 6 years traveling full time, they have explored more than 40 countries and 30 US states.
Their work has been featured in USA Today, Gestalten, Get Your Guide, CityPASS and Condé Nast Traveler along with various other publications.