Renting a Jeep was the best decision we made during our visit to Sedona in December 2021. We drove all 9 Sedona Jeep trails you will find in this guide and we had a blast.
There are some serious advantages for accessing many of the most popular hikes in Sedona by Jeep, so keep an eye out for bonus tips within each trail description.
Let's buckle up and drive the best off road Jeep Trails in Sedona, Arizona!
Our Sedona Jeep Trails Experience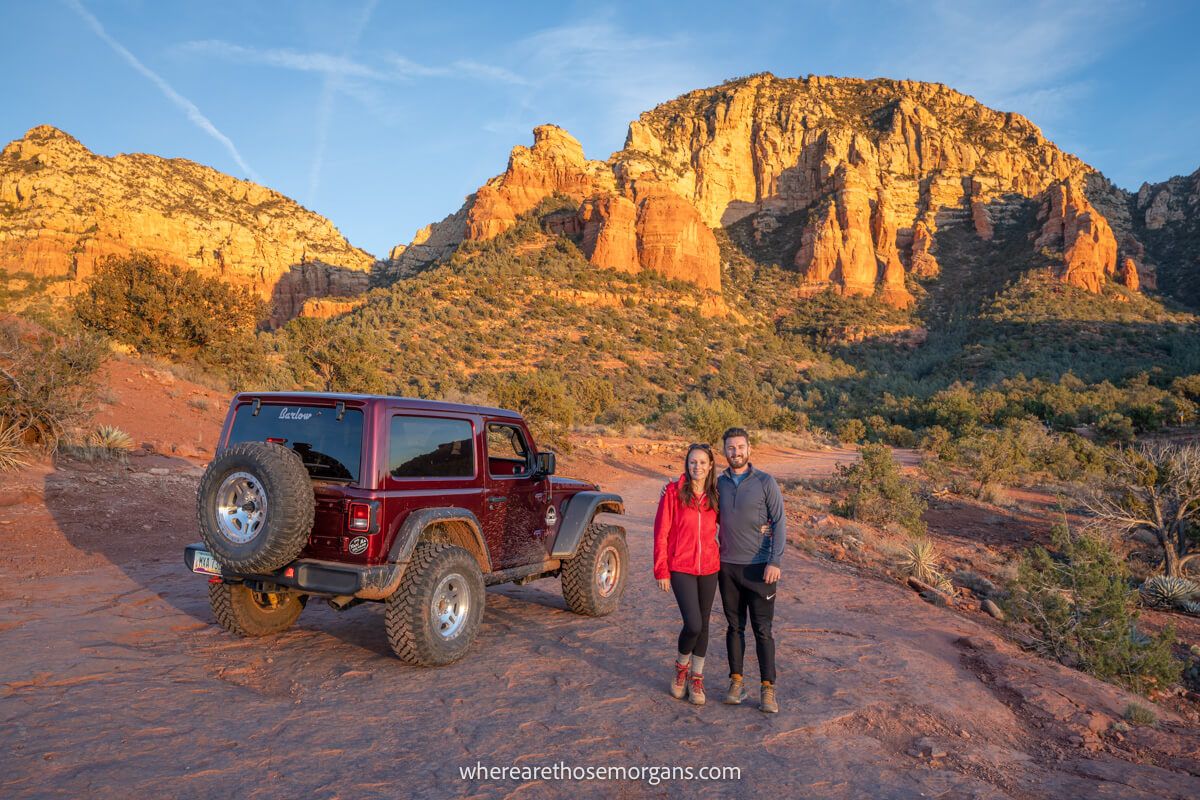 Hiking and photography were our two major priorities during our 8 day stay in Sedona but we also wanted to do something a little different, so we decided to splurge on renting a Jeep.
We had never attempted driving off road in a Jeep Rubicon before we visited Sedona. It was so much fun. Plus, the Jeep allowed us to reach hidden trailheads and photo spots.
Mark couldn't get enough of the technical Broken Arrow Trail and Kristen enjoyed Outlaw the most. We completed every route in this guide, which you will see in the photos we took on each trail.
Driving Jeep trails was one of the first activities we included in our guide to the best things to do in Sedona.
9 Unmissable Sedona Jeep Trails
This list of best Sedona jeep trails is ordered by difficulty, starting with the easiest trails and ending with the hardest trails.
Last in the list is the legendary Broken Arrow trail, which will not only test your driving skills, but also your nerve.
For now, let's start with the easiest Jeep trails in Sedona, Arizona!
1. Mystic Vista Trail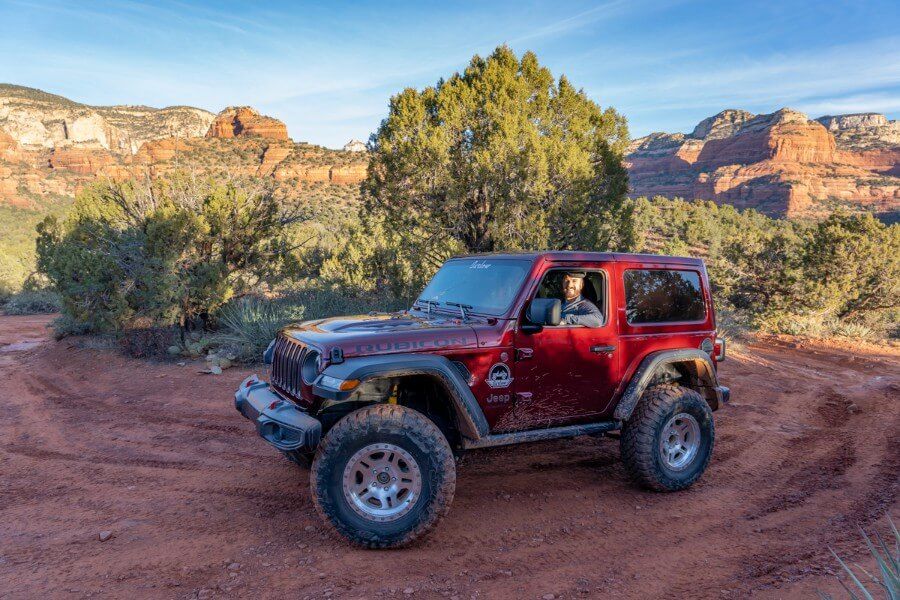 Mystic Vista Summary
Despite being the shortest and easiest Jeep trail in Sedona, Mystic Vista is one place you can't afford to miss on your Jeeping itinerary.
Why?
Because there's a hidden viewpoint at the end of Mystic Vista (get the name now?!) that very few people know about when visiting Sedona.
Follow a short, narrow and twisting road leading to a loop. At the very back of the loop you can park your Jeep, scale a short mound and summit onto a flat topped rock formation just above the canopy with astounding views over Sedona.
Location: Mystic Vista is also known as Forest Road 9587 and can be accessed via Boynton Pass Road close to Fay Canyon Trail.
Mystic Vista Trail Details
Trail Distance: 1 mile roundtrip
Elevation Gain: 20 feet
Trail Difficulty: Very Easy
Time Required: 30 minutes (longer at sunrise)
Gears: 4H only
Tips For Driving Mystic Vista Jeep Trail In Sedona
Drive the short trail before first light to watch a stunning sunrise from a secret vista point at the end.
Nearby Doe Mountain Trail is a very popular sunrise hike because you can watch hot air balloons taking off at dawn. Well, you get the same view but without the climb from Mystic Vista.
Do not forget your camera if you drive to Mystic Vista for sunrise or sunset.
Nobody knows about this Sedona Jeep trail so you'll likely have it to yourself.
Mystic Vista is a great trail to drive right after hiring your Jeep and it is directly on the way to other Jeep trails to the west of Sedona.
Important: The trail is within a residential area, so you must be respectful and keep noise to a minimum at all times.
Pros And Cons To Driving Mystic Vista
Pros:
Spectacular hidden gem sunrise location
Very easy trail perfect for beginner drivers
Takes less than 30 minutes
Cons:
Not an adventurous drive
Inside a residential area
Easy to miss as not signposted
2. Ranch Loop Trail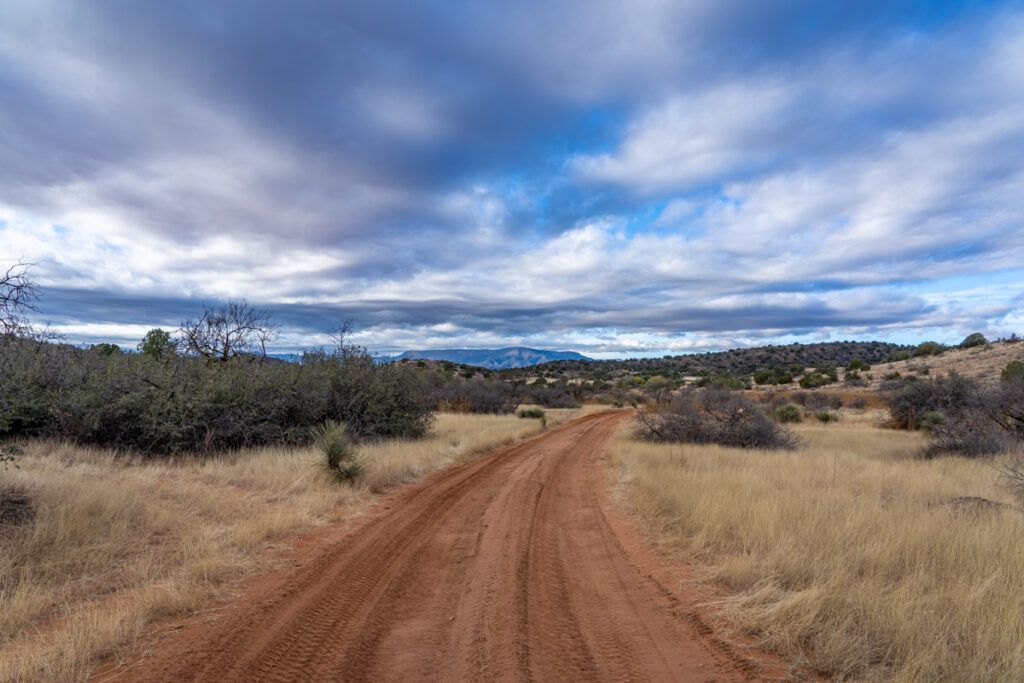 Ranch Loop Summary
Are you feeling a little nervous about driving your Jeep in Sedona? Conquer those butterflies by heading over to Ranch Loop and easing your way nicely into the process.
Ranch Loop is a fantastic introductory Jeep trail easily accessed from the main highway running out of Sedona. You can glide around in 4H on mostly flat dirt track with just a few stones and rocks to navigate.
You will breeze through gorgeous rural countryside and the best part is you will barely see another vehicle.
Location: Ranch Loop trail consists of FR 525A and FR 761B. Both roads are connected in a loop by FR525 with a short stretch on N Bill Gray Rd to the west.
Ranch Loop Trail Details
Trail Distance: 8 miles roundtrip
Elevation Gain: 300 feet
Trail Difficulty: Easy
Time Required: 1 hour
Gears: 4H only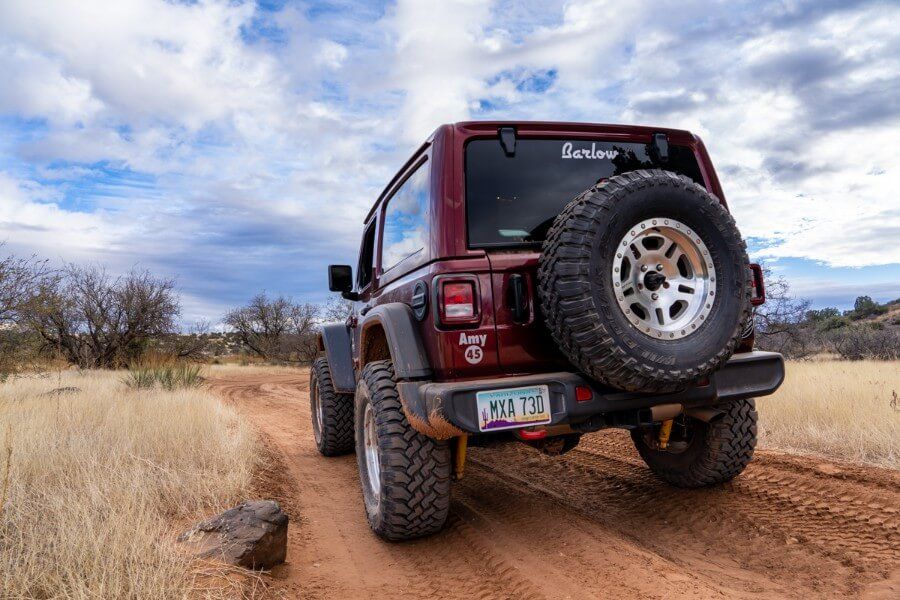 Tips For Driving Ranch Loop Jeep Trail In Sedona
Start the loop on the north side and drive anti-clockwise to transition from very easy to easy going.
Always quiet so time of day won't matter.
Excellent trail for gaining confidence if there are multiple drivers in your Jeep.
Combine with Diamondback Gulch for a 3 hour double
Pros And Cons To Driving Ranch Loop
Pros:
Located close to the highway
Very flat and easy Jeep trail
Perfect for harder trail preparation
Cons:
Not very adventurous
Least exciting of the longer Jeep trail in Sedona
Not one to drive if you're short on time
3. Robbers Roost Trail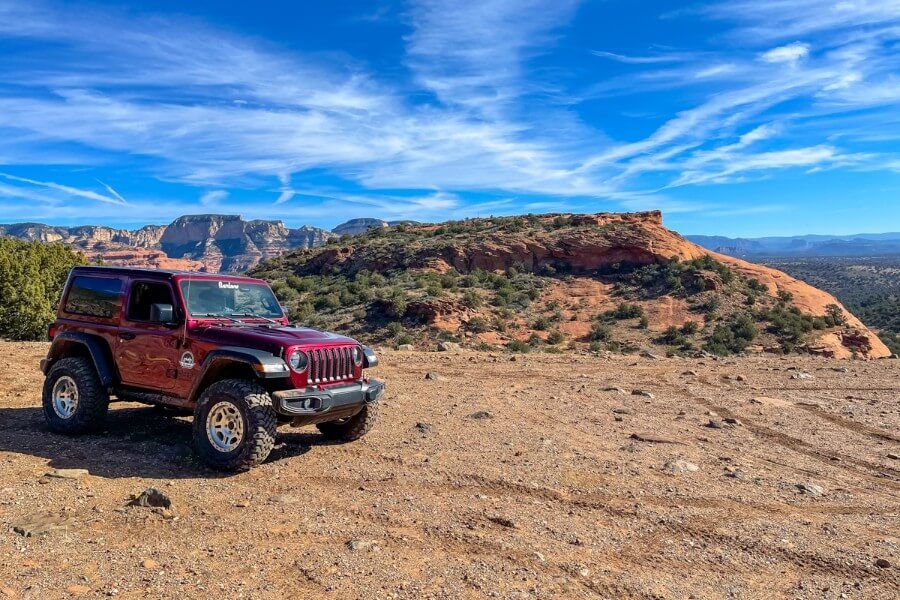 Robbers Roost Summary
How do you like the idea of driving a Jeep to within 10 minutes walk of a hidden cave in Sedona?
Head far out to the northwest of Sedona on gravel roads before transitioning onto a high clearance only road and parking at Robbers Roost Trailhead.
A quick 10 minute walk later and you can step inside Hideout Cave (sometimes called Shaman's Cave) which features 2 windows with striking views over Sedona's desert landscape.
Robbers Roost Jeep trail is slow going and rocky, but it is easy enough. This one is suitable for beginner drivers or those looking to build confidence for the adventure trails you will find later in this guide.
Location: Robbers Roost trail is also known as Forest Road 9530, which can be accessed via FR 525C in the northwest of Sedona.
Robbers Roost Trail Details
Trail Distance: 2.4 miles roundtrip
Elevation Gain: 200 feet
Trail Difficulty: Easy
Time Required: 1.5 hours with hiking
Gears: 4H and 4L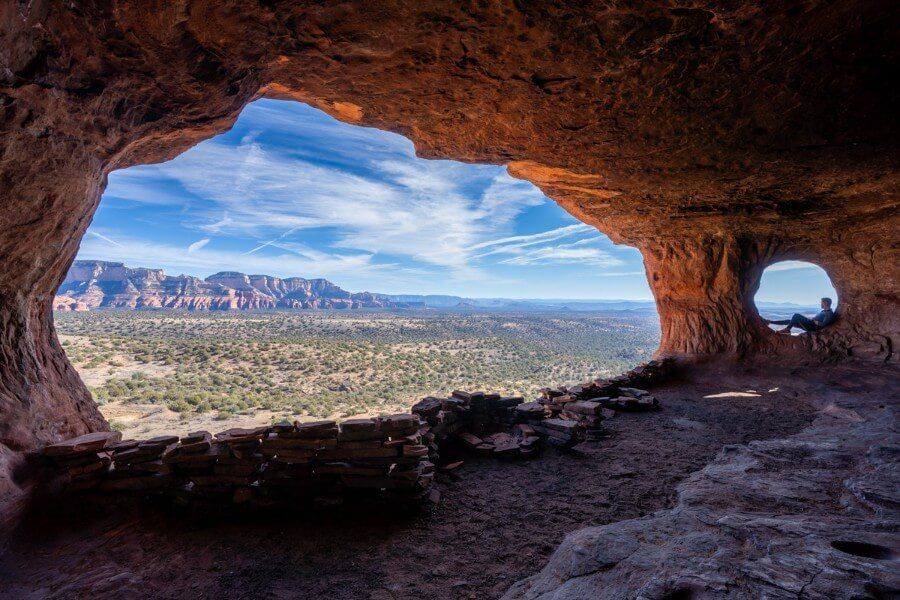 Tips For Driving Robbers Roost Jeep Trail In Sedona
Time of day doesn't matter here because it is always quiet
Hideout Cave windows face east
Easy to combine with nearby trails and ancient ruins
Shift into 4L when the trail turns rocky
Avoid the bigger stones for a more comfortable drive
Pros And Cons To Driving Robbers Roost
Pros:
Extremely quiet Jeep trail
Cave with amazing view within 10 minutes walk
Easy trail for beginners
Cons:
Out of the way
Not an adventurous Jeep trail
Hard to find compared to other trails
4. Outlaw Trail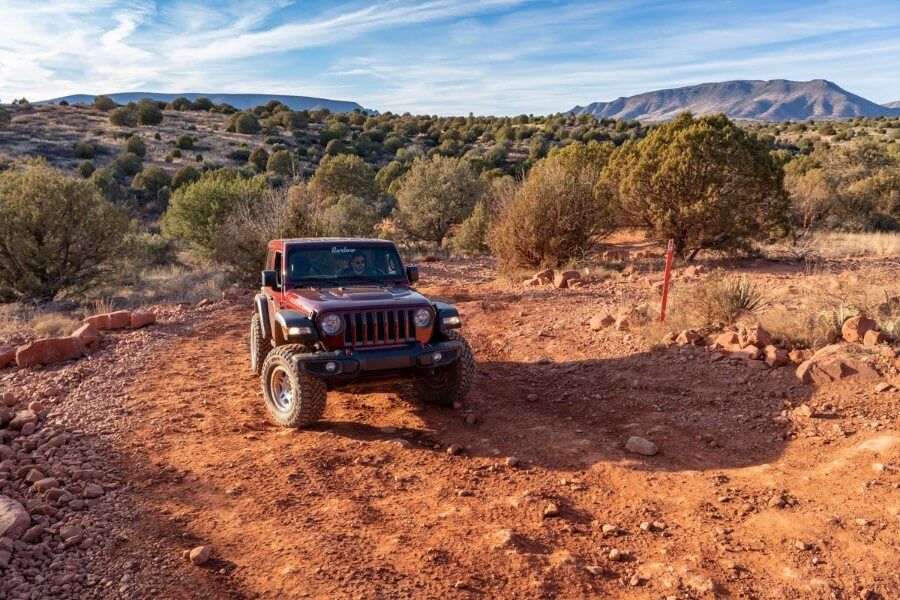 Outlaw Summary
This is where we begin to take things up a notch. Outlaw is a very popular 4WD off roading trail in Sedona because you get a longer drive with some light adventure elements thrown in for good measure.
Outlaw combines moderately challenging driving in 4L with plenty of space to maneuver. The major downside is sharing Outlaw with loads of ATV's.
You will pass through multiple washes and navigate bigger rocks on this trail. It is important not to get overexcited on the flatter and more open stretches because pot holes and large rocks appear out of nowhere.
Driving Outlaw trail allows Jeep drivers to advance into the next band of difficulty and provides the option to visit some of the most important ruins in Sedona.
You can easily access both Honanki Heritage Site and Palatki Heritage Site.
Location: Outlaw trail is the furthest Jeep track outside of Sedona. You need to drive all the way to the end of FR 525 to access the trailhead opposite Honanki ruins.
Outlaw Trail Details
Trail Distance: 4 miles roundtrip
Elevation Gain: 220 feet
Trail Difficulty: Moderate
Time Required: 2 hours (longer with ruins)
Gears: Mostly 4L
Tips For Driving Outlaw Jeep Trail In Sedona
Stay under 10mph and err on the side of caution.
Be confident and decisive but respectful of others.
Always pull over to let ATV's pass.
Consult the trail instructions provided throughout.
Make sure you are in 4L for a wash crossing at 5 miles.
Drive Outlaw early in the morning or late in the afternoon to avoid crowds.
Pros And Cons To Driving Outlaw
Pros:
Perfect middle difficulty Jeep trail
Long open drive with light adventure elements
Easy to combine driving with nearby ancient ruins
Cons:
Very busy trail with lots of ATV's
Not quite as exciting as Diamondback Gulch
Long way out from Sedona
5. Dry Creek Basin Trail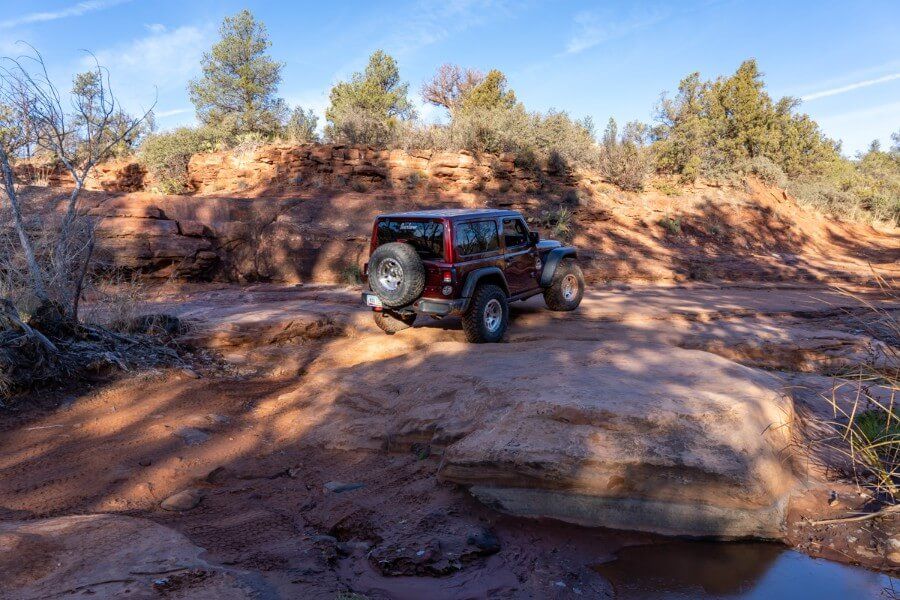 Dry Creek Basin Summary
Dry Creek Basin is definitely one of the most underrated Sedona Jeep trails.
Have you heard of the Devils Bridge hike? Well, getting parked to hike Devils Bridge is always a problem. But renting a Jeep means you can drive Dry Creek beyond the traditional parking lot and park right at the Devils Bridge trailhead.
So what happens is everyone in a Jeep takes advantage of this huge benefit by parking at the trailhead (we did it and hiked Devils Bridge for sunrise), but then they forget Dry Creek is a fun Jeep trail of its own accord and they leave after the hike.
You should continue beyond Devils Bridge to Van Deren Cabin and even Vultee Arch hiking trail. Using 4L for almost all of the Dry Creek Basin Jeep trail, you will navigate S bends through creeks, drive over significant rocky sections and even through shallow water at times.
Location: Dry Creek Basin Jeep trail begins at Dry Creek Vista trailhead parking lot. Instead of turning left into the lot, continue straight ahead and pass over boulders to start.
Dry Creek Basin Trail Details
Trail Distance: 10.4 miles roundtrip
Elevation Gain: 200 feet
Trail Difficulty: Moderate
Time Required: 2 hours (longer with hike to Devils Bridge)
Gears: Mostly 4L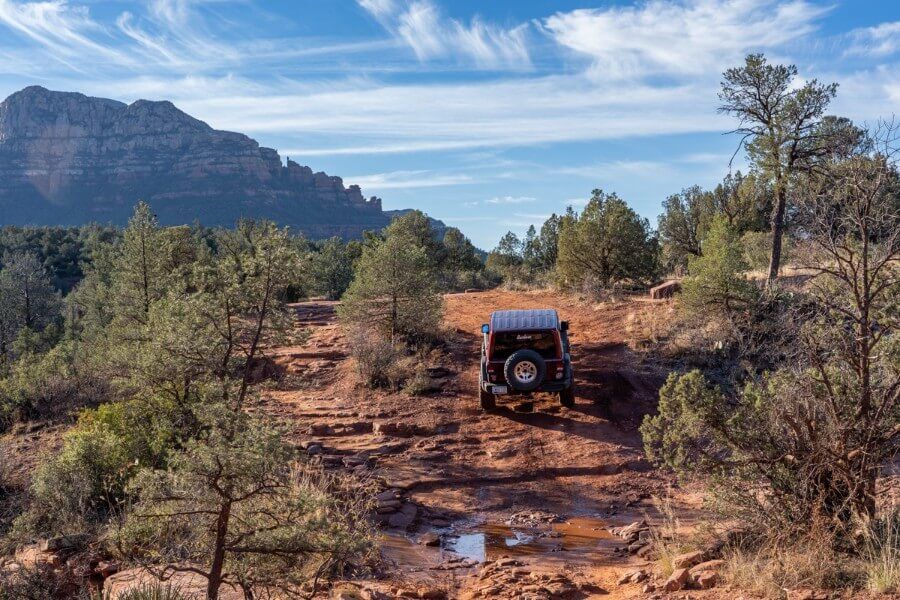 Tips For Driving Dry Creek Basin Jeep Trail In Sedona
Watch for hikers who are walking along Dry Creek Basin both ways
Take things slowly if you drive in the dark to hike Devils Bridge for sunrise
Parking for 4WD vehicles at Devils Bridge is limited
Don't miss Van Deren Cabin and Vultee Arch for a second hike on this road
At the end once back at Dry Creek trailhead, drive through the parking lot and over more boulders to enter a secret area very few know about. This hidden area is included in our guide to the best Sedona sunset photo spots.
Pros And Cons To Driving Dry Creek Basin
Pros:
Access to Devils Bridge trailhead which is a huge bonus
The Jeep trail itself is really fun to drive
Vultee Arch hiking trail at the end of Dry Creek Basin is very secluded
Cons:
This is a busy trail with Jeep tours
Lots of hikers who aren't happy about you being in a Jeep!
Dry Creek at 2.9 miles may not be passable after heavy rainfall
6. Schnebly Hill Road Trail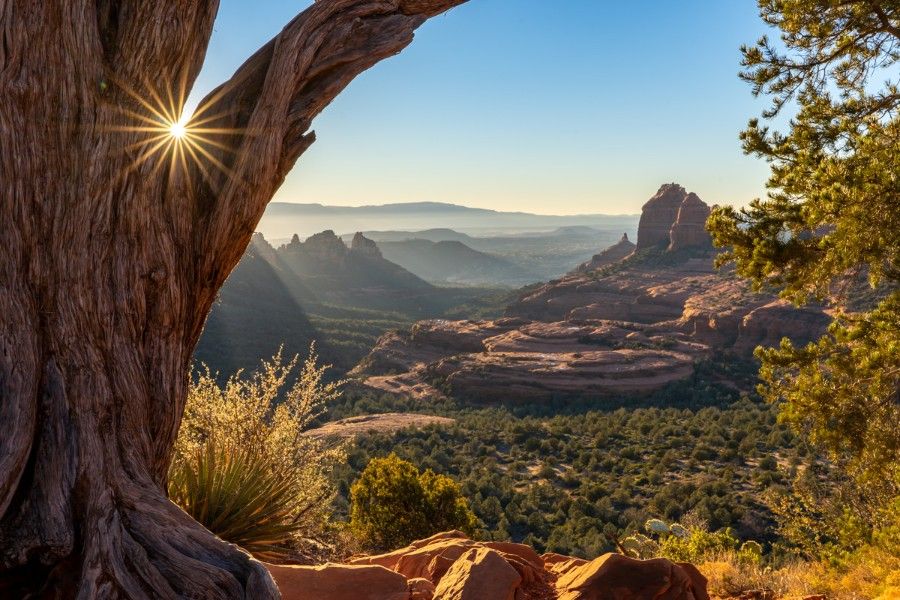 Schnebly Hill Road Summary
Although Schnebly Hill Road is rated as easy in technical difficulty, we think this popular Sedona Jeep trail should be categorized as moderately difficult overall. The drive up to Schnebly Hill Vista Overlook is extremely bouncy, slow and busy with tours.
Schnebly Hill is one of those unmissable Jeep trails that you have to drive, but only drive it once! There are three places you should stop to make the most of this trail.
The first is Cow Pies for a short and flat hike out onto circular rock formations. Second is a formation called Merry Go Round which is a popular wedding photography spot with stunning views. Finally, the vista at the top of Schnebly Hill is magnificent and well worth the drive up.
At the top you can optionally drive Volcanic Rim Loop, a very rough trail with excellent views. We didn't drive the additional loop. You will more than likely have a headache by the time you arrive back at the trailhead, even without the extra rough loop!
Location: Schebly Hill Road Jeep trail begins at Munds Wagon hiking trailhead, just 1 mile off highway 179 near downtown Sedona.
Schnebly Hill Road Trail Details
Trail Distance: 11.4 miles roundtrip
Elevation Gain: 1,800 feet
Trail Difficulty: Easy / Moderate
Time Required: 3 hours
Gears: Mostly 4H
Read: Our complete guide to driving Schnebly Hill Road Trail in Sedona for a full walkthrough.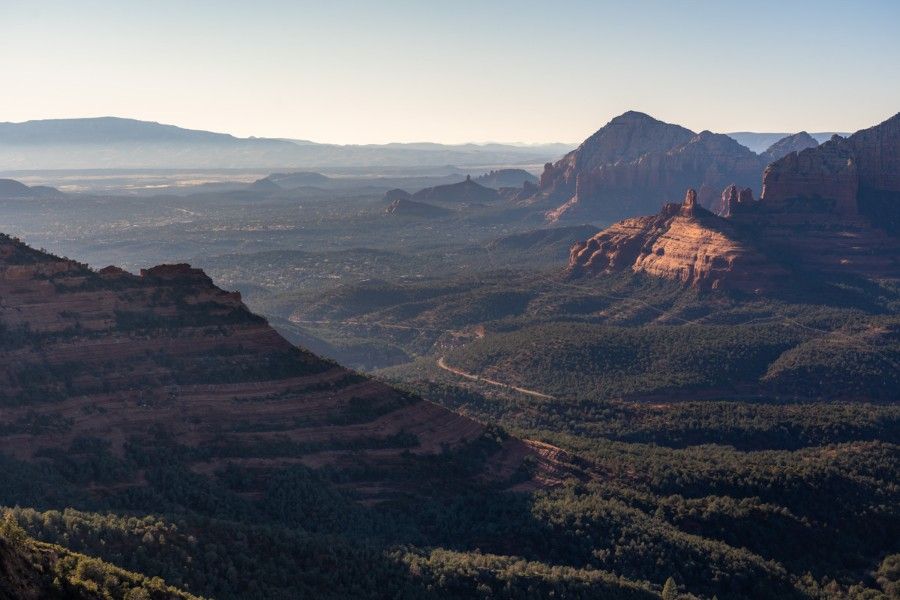 Tips For Driving Schnebly Hill Road Jeep Trail In Sedona
Take care near the top with drops to the side of narrow roads.
Pull over for tour groups as they are on a time schedule.
Look out for drivers on the wrong side of the road.
Prepare to bounce around constantly for a long period.
Don't forget your camera for the high up viewpoints.
Drive as close to sunrise as possible so views are away from the sun.
Pros And Cons To Driving Schnebly Hill Road
Pros:
Very close to downtown Sedona
Gain 1,800 ft in 5.7 miles to reach amazing views over Oak Creek Canyon
Great for hikers and photographers to reach quieter locations
Cons:
By far the bounciest of all Sedona Jeep trails
Lots of tours passing by and stopping on the road
Not the most thrilling Jeep trail in Sedona
7. Diamondback Gulch Trail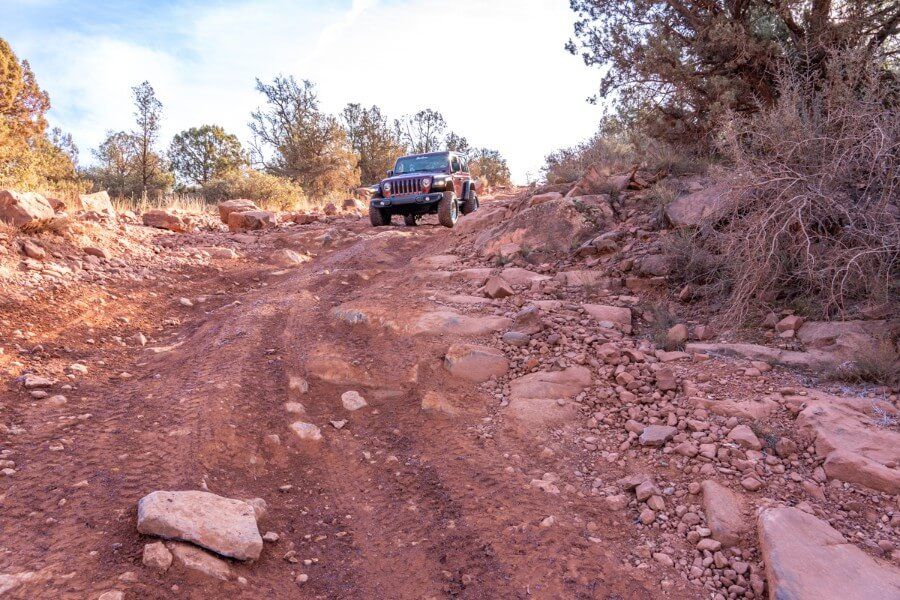 Diamondback Gulch Summary
The thoroughly enjoyable Diamondback Gulch Jeep trail is arguably the most diverse off roading route in Sedona. You will drive in 4H and 4L, navigate a gigantic V shaped ravine, glide through dirt packed turns and cross sharp rocks at a snails pace.
Diamondback Gulch was the first trail we went back for a second run at after completing each of the 9 routes in this guide. The gulch itself is a 300 ft steep drop followed immediately by a 400 ft steep climb right back out.
Despite being one of the most popular Sedona Jeep trails, we saw no other Jeeps or tours either time we drove Diamondback Gulch. This is the perfect trail to hone your off roading skills and it gives any nervous drivers in your party a great opportunity to try out a more challenging route without the crowds.
Location: Diamondback Gulch Jeep trail is west of downtown Sedona, not far from the popular hiking trails along Boynton Canyon Road. Access either via Boynton Canyon or highway 89A and FR 525.
Diamondback Gulch Trail Details
Trail Distance: 6.7 miles point to point
Elevation Gain: 400 feet
Trail Difficulty: Moderate / Hard
Time Required: 2 hours
Gears: 4H and 4L
Read: Our complete guide to driving Diamondback Gulch Trail in Sedona for a full walkthrough.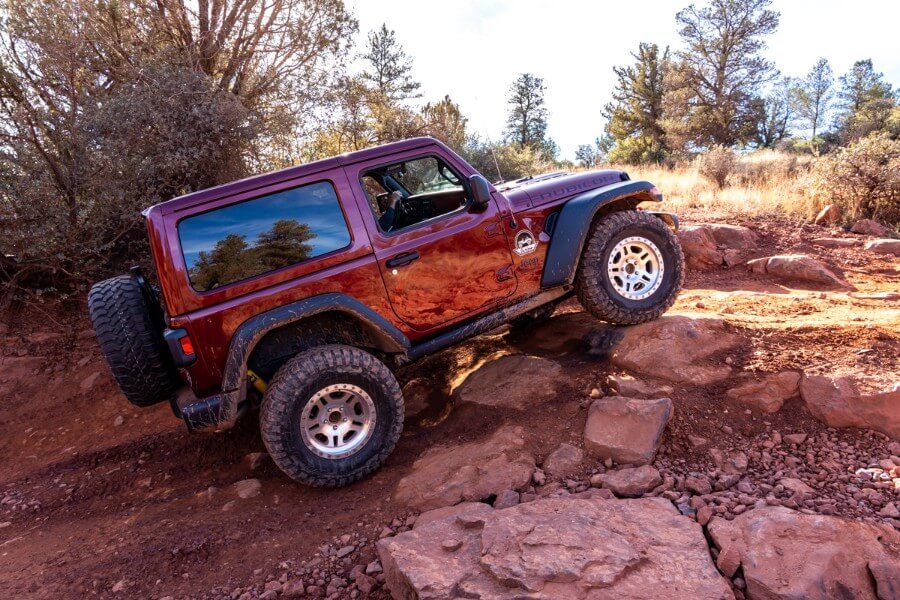 Tips For Driving Diamondback Gulch Jeep Trail In Sedona
Start in 4H but shift into 4L around 1 mile in.
Take the gulch slowly but enjoy the challenge.
Let others pass so you can take Diamondback Gulch at your own pace.
Consult the instructions provided as you drive the trail.
Drive anti-clockwise for the traditional route through Diamondback Gulch.
Pros And Cons To Driving Diamondback Gulch
Pros:
Driving the gulch is fantastic in a Jeep
Much quieter than other moderate and hard Jeep trails in Sedona
Fun and exciting drive without too much bouncing
Cons:
Not as adrenaline pumping as Broken Arrow
Lacks optional viewpoints or side hiking trails
The gulch is quite intimidating for any nervous drivers
8. Soldier Pass Trail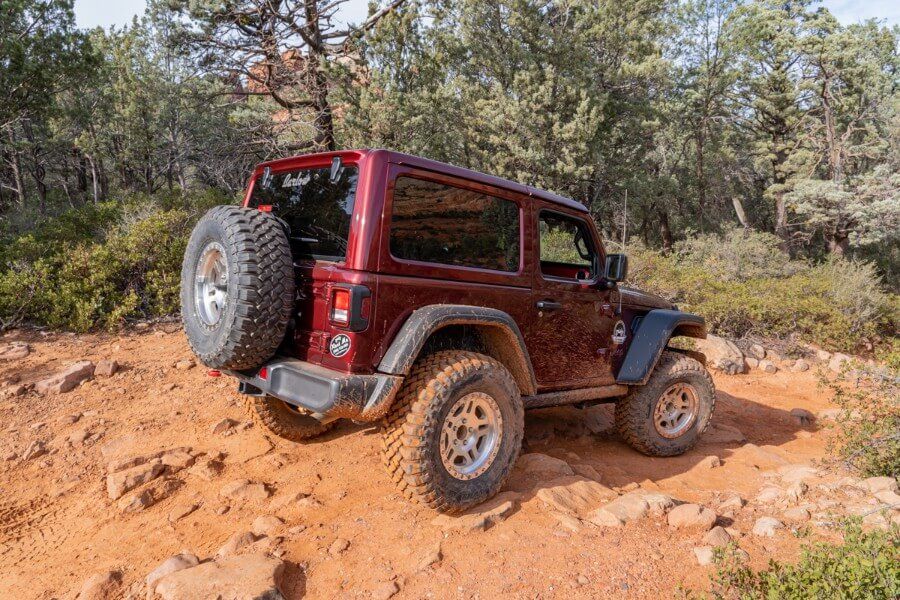 Soldier Pass Summary
The only Jeep trail in Sedona even remotely close to giving Broken Arrow a run for its money in terms of technical difficulty is Soldier Pass trail. The multi-faceted Soldier Pass 4WD road was one of our favorite drives in the Rubicon.
Important: You must apply for a motorized use permit to drive Soldier Pass 4WD off road trail. You cannot access the road without a code to unlock the gate.
Soldier Pass is a hugely popular hiking trail leading to Devils Kitchen, Seven Sacred Pools and Soldier Pass Cave. Trailhead parking is impossible with just 14 spaces, but in your Jeep you can drive straight through the tiny parking lot and beyond the gate to access the off road trail.
The 4L Soldier Pass trail itself is fantastic and testing with narrow, twisting and technical roads leading you directly to Devils Kitchen and Seven Sacred Pools in the Jeep.
Follow the road to the end, park under cover of trees and hike a short distance to enter the famous Soldier Pass cave.
Location: Soldier Pass Jeep trail (FR 9904) is located at the back of Soldier Pass trailhead. There may be cars waiting in line to enter the parking area, take care when passing cars and hikers in the parking lot.
Soldier Pass Trail Details
Trail Distance: 3 miles roundtrip
Elevation Gain: 50 feet
Trail Difficulty: Moderate / Adventurous
Time Required: 1-3 hours depending on hiking
Gears: Mostly 4L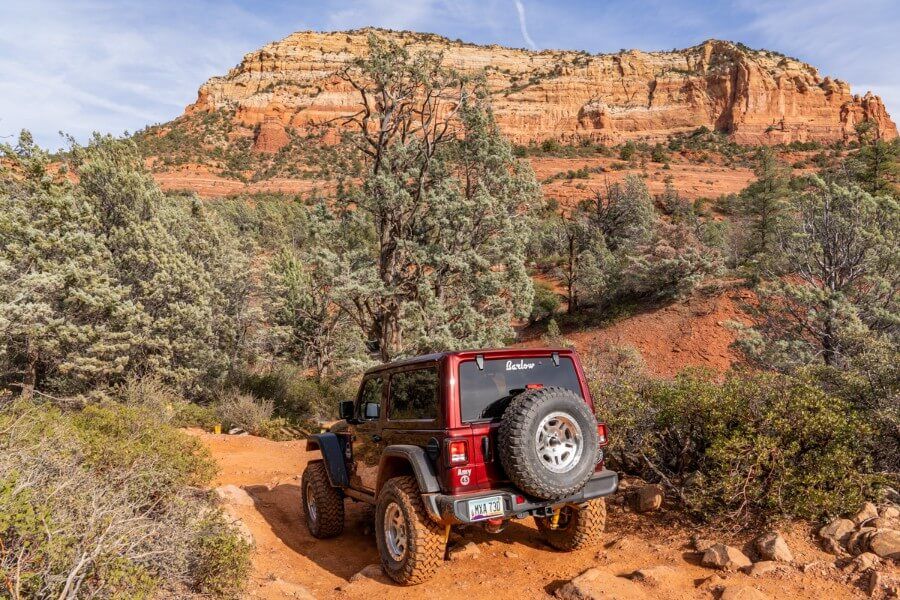 Tips For Driving Soldier Pass Jeep Trail In Sedona
Permit requirement means Soldier Pass trail is limited to less than 10 Jeeps per day.
Expect envious eyes from people trying to park as you drive through the parking lot and enter.
Don't forget to drive the spur trails leading to Devils Kitchen and Seven Sacred Pools.
Both spur trails are technical and narrow so don't start with this trail, build up to it.
Park right at the very end of the road and climb up to Soldier Pass cave.
Pros And Cons To Driving Soldier Pass
Pros:
Short but very technical and one of the more diverse Sedona Jeep trails
Leads to 3 popular natural landmarks
Guarantees you access to Soldier Pass hiking trail
Cons:
Requires permit to drive
Narrow and technical which may not suit all drivers
Have to be aware of hikers
9. Broken Arrow Trail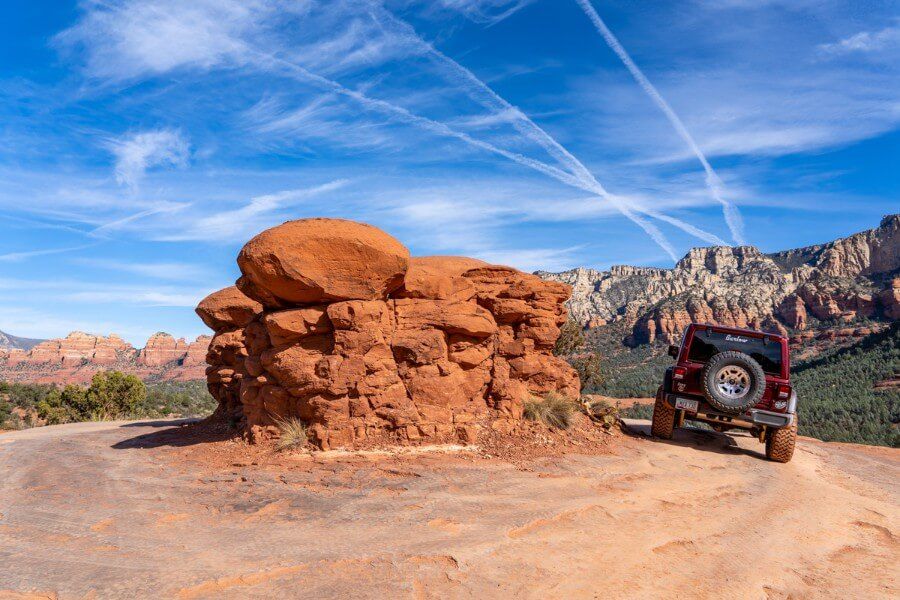 Broken Arrow Summary
Completing our list of best Jeep trails in Sedona is the legendary Broken Arrow.
We tried hard not to go with the consensus but it is impossible not to love this trail. After driving it 3 times, we have to agree that Broken Arrow is the best Jeep trail in Sedona.
Broken Arrow is all action, thrill and adrenaline. You will drive to stunning viewpoints and take on challenging obstacles that will blow your resting heart-rate into the stratosphere. Just be aware you are going to share Broken Arrow with a lot of other Jeep rentals and Jeep tours.
Chicken Point overlook is a fantastic viewpoint, but we think Submarine Rock is even better, so do not miss the short spur trail leading to the 360 degree vista point.
Back in the Jeep, you are going to enjoy "the traffic circle", "the slide" and "the steps" so much that you will go straight back around the loop.
Location: Broken Arrow is located at the end of Morgan Road off highway 179 just south of downtown Sedona. Pass over large rocks to enter the 4WD off road section.
Broken Arrow Trail Details
Trail Distance: 4 miles roundtrip
Elevation Gain: 220 feet
Trail Difficulty: Challenging
Time Required: 2 hours
Gears: Almost all 4L
Read: Our complete guide to driving Broken Arrow Trail in Sedona for a full walkthrough.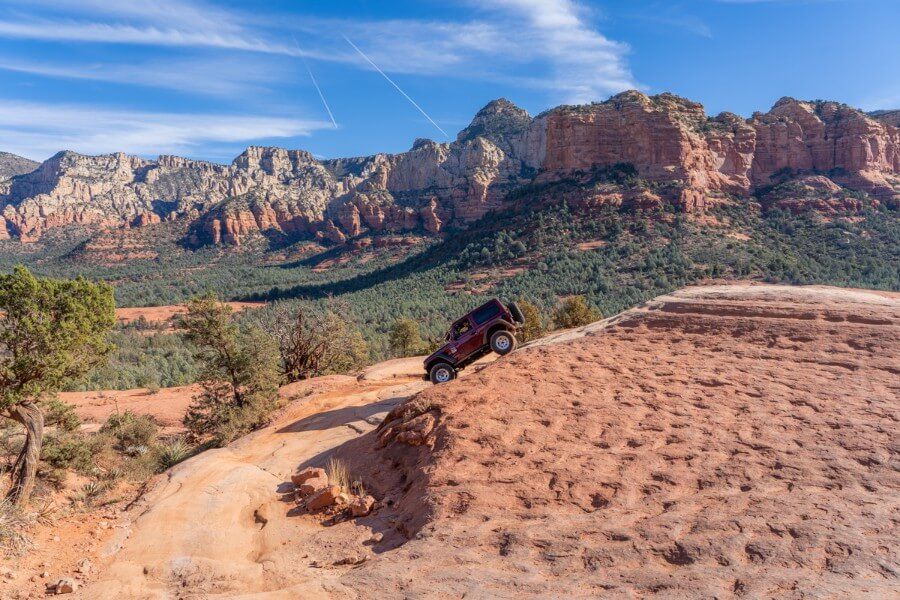 Tips For Driving Broken Arrow Jeep Trail In Sedona
Broken Arrow is by far the most heavily trafficked Jeep trail in Sedona.
You will be sharing the trail with other Jeep rentals, personal 4WD vehicles and tours.
Take things slowly and err on the side of caution.
Be confident and decisive but respectful of others.
Always pull over to let tour groups pass because they are on the clock.
Consult the trail instructions provided upon hiring your Jeep.
Plan to walk around both Submarine Rock and Chicken Point Overlook.
Pros And Cons To Driving Broken Arrow
Pros:
Very close to downtown Sedona
Short, sweet and packed full of adventure
Excellent viewpoints along the route
Cons:
Very busy trail with lots of tours
Certain parts may be intimidating
Trail can be hard to follow around Panorama Point
Sedona Jeep Trails Map
Here's a link to our Google Map showing the locations of all 9 Sedona AZ Jeep trails listed in this guide. We have included trail start and end points with a line showing the directions to follow.
You can move around the map, zoom in and out, orientate yourself with the locations of all Sedona Jeep Trails and get an idea about which routes you can combine.
Map key:
Green Icon – Jeep trail start points
Red Icon – Jeep trail end points
Blue Line – Direction to follow off road trails
Sedona Jeep Trails Itinerary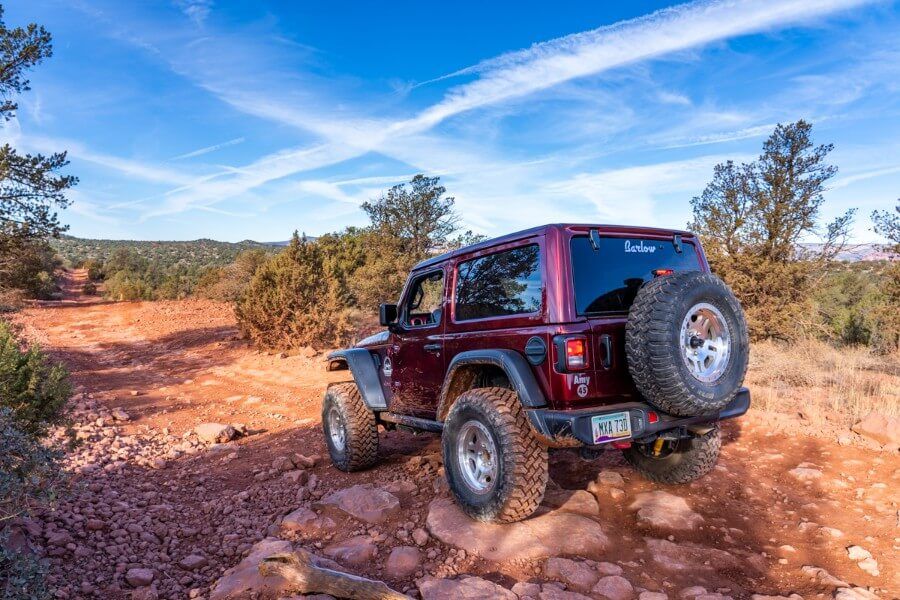 Let's take a quick look at the best way to combine Sedona's off road Jeep trails into your Sedona itinerary.
Here are some options for splitting the trails up:
Easy to Hard – 1 Day
Split the trails into difficulty and start with the easiest to build confidence, which works better for beginners.
Start in the morning with Ranch Loop, then drive Outlaw and move onto Diamondback Gulch.
In the afternoon move onto Soldier Pass and Broken Arrow.
East vs West – 2 Days
Split the trails by geography and spend 2 full days off roading in Sedona. This works better for confident and experienced drivers.
Starting on the east side of Sedona you could do Dry Creek Basin to hike Devils Bridge for sunrise, then drive Soldier Pass, before moving onto Schnebly Hill and ending with Broken Arrow.
Head west the next day starting with Mystic Vista for sunrise, then drive Diamondback Gulch, Ranch Loop, Outlaw and Robbers Roost.
Jeep, Hike and Sightsee – 3 Days
Take things easy and combine the Jeep trails with hiking in Sedona. This is better if you have plenty of time during your visit to northern Arizona.
1st Day – Start with Dry Creek Basin to hike Devils Bridge, then drive Soldier Pass and hike to Soldier Pass Cave before finishing with Schnebly Hill and hiking Cow Pies / Hangover Loop.
2nd Day – Start with Mystic Vista for sunrise, hike nearby Fay Canyon trail or Doe Mountain trail, drive to Palatki Ruins and Honanki Ruins, drive Outlaw and Robbers Roost to hike Hideout Cave.
3rd Day – Drive Ranch Loop, then drive Diamondback Gulch before heading over to Broken Arrow to drive a few loops around the technical obstacles.
Should You Rent A Jeep In Sedona?
In short, yes you should definitely consider renting a Jeep in Sedona if you have a healthy travel budget and at least 3 or 4 days in your itinerary.
Sedona is famous for its spectacular red rock landscape in which you will find a maze of fantastic hiking trails, mountain biking trails and stunning photography locations. There are even secret caves to explore in Sedona, hidden away within the rugged sandstone formations.
But not everyone knows about the collection of exciting 4×4 off roading Jeep trails in Sedona, all scattered around the edges of the small adobe city.
The best part is that the average everyday visitor like you (and us!) can rent a Jeep in Sedona and there is no better place for a first time off roading experience. It really is one of the most fun things to do in Arizona.
Jeep Rental Pros And Cons
Let's start with the benefits:
You get to drive amazing Sedona off road trails in a Jeep Rubicon. That alone is a pretty cool reason to rent a Jeep!
The Jeep will let you see several areas of Sedona you otherwise would not be able to visit. That includes ancient heritage sites, caves and miles of rural countryside.
A Jeep will give you a huge advantage over the crowds on popular hiking trails like Devils Bridge and Soldier Pass. Plus, it gives you access to other hard to reach trailheads.
Here are the obvious downsides to renting a Jeep in Sedona:
Jeep rentals in Sedona cost a small fortune and will more than likely eat into a huge chunk of your overall travel budget.
You will use up a significant portion of time in your Sedona itinerary and you might not want to lose an entire day or two days from your trip.
We think Sedona is one of the very best vacation spots in the US and this unique offering in such a remarkable setting is something you shouldn't pass up lightly.
If you are still undecided, go down and speak to a few Jeep companies in town to help make your mind up one way or the other.
Should You Rent A Jeep Or ATV For Off Roading In Sedona?
You do have an option to rent an ATV instead of a Jeep in Sedona. However, we strongly recommend choosing a Jeep and here's why:
Jeeps are fully enclosed so you are protected from the elements whether that be sun, wind or rain.
You will wear goggles, helmets and neck buffs in an ATV whereas you can take it easy in a Jeep.
Stones can kick back on busy gravel roads and off road trails, in a Jeep you are protected.
You can use the Jeep in place of your personal vehicle for driving around Sedona all day and night.
You will be provided with a cool box for the back of the Jeep so you can carry food and drinks.
There's plenty of storage in the back of the Jeep for warm clothes or hiking and photography gear.
ATV's are limited to certain trail types in Sedona, we never saw any on the harder trails.
Jeeps are far more comfortable to ride and they have air conditioning.
And ATV's are similarly priced to Jeeps, so it's a no brainer.
Sedona Jeep Rental Companies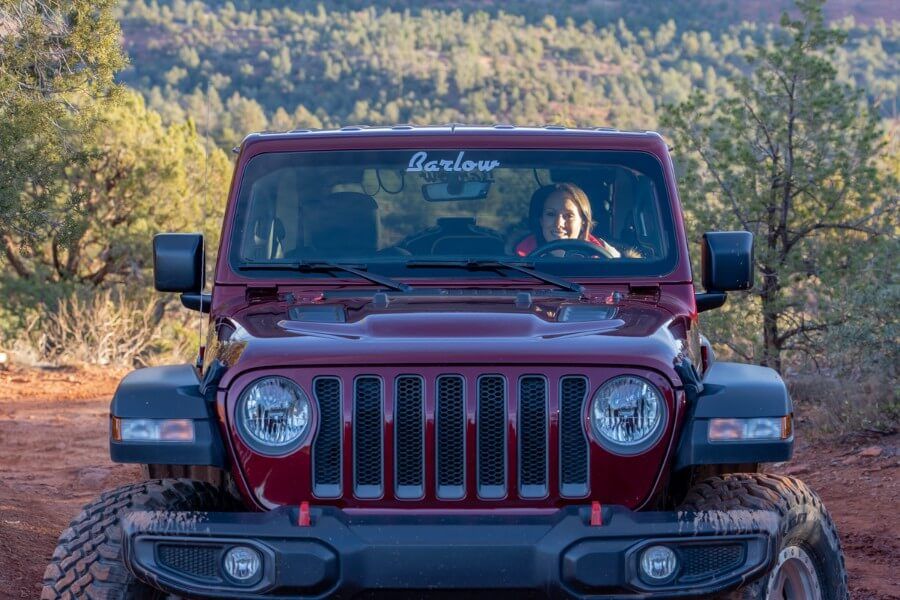 There are a handful of official companies operating Jeep rentals in Sedona. You can and should compare prices and reach out to any you like the look of for more information.
Here are the companies you can check out:
After reading reviews and window shopping around town, we decided to go with Sedona Jeep Rentals by Barlow Adventures. They had extremely positive reviews and the Jeeps on display looked spotless.
Our experience with Barlow
We can't recommend Barlow highly enough. From start to finish we were very impressed with the entire operation, from top notch customer service and professionalism to in depth help with planning the perfect Sedona Jeep trail itinerary.
We found a fantastic price point for a 3 day Jeep rental with Barlow. The timeframe and total cost worked perfectly for us.
We 100% recommend Barlow, but it is important you shop around and find the best service for your needs.
Sedona Jeep Tours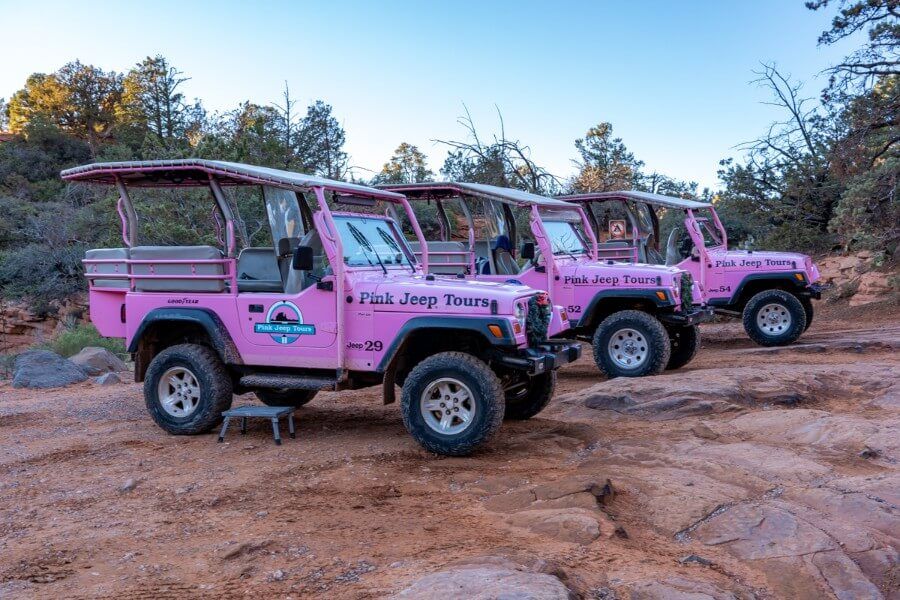 An alternative way of experiencing the most popular Jeep trails in Sedona is to take a Jeep tour. You will see loads of Pink Jeep Tours, Red Rock Tours and similar cruising around town throughout your stay.
Take a look at all Sedona Jeep tour options with Viator and Get Your Guide. In fact, if you hire a Jeep, you will pass by far more tour groups than you will other hired Jeeps.
If you are only interested in one specific trail such as Broken Arrow or you are unsure about the cost, you might be better suited to a Jeep tour experience instead.
Here are popular jeep tours in Sedona:
Sedona Tours: We have rounded up the best tours in Sedona to help you find the top options available for your visit to northern Arizona.
Driving Your Jeep In Sedona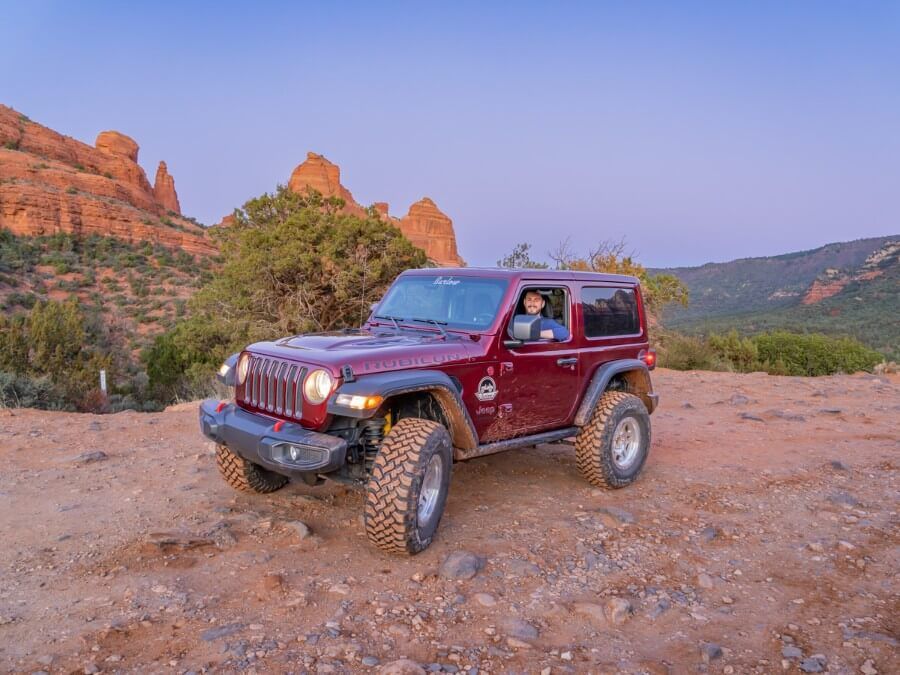 Off roading trails in Sedona are awesome, but they are different to driving your every day car and there are a few things you need to know:
On Jeep trails in Sedona you will frequently shift into 4H and / or 4L gear. Instructions on which gears to use on specific trails will be given to you upon hiring the vehicle and it is important to follow them.
You must respect the Jeep, the trails and other drivers on the trails. Enjoy driving but be courteous and considerate. Allow vehicles coming uphill the right of way.
Watch out for ATV's flying by and kicking back loose stones which might hit your Jeep windshield. There's not much you can do, just pull over to the side and let them pass.
You will get mud and dust on your Jeep. The key is to have fun but at the same time be safe and respectful of the vehicle. The place you rent from will know how you treat the Jeep with one look.
Best Time To Drive Jeep Trails In Sedona
Let's take a quick look at the best times of day and seasons to take on the best Sedona Jeep trails:
Time Of Day
You can drive any of the best Jeep trails in Sedona at any time of day and you are going to have a fantastic experience.
However, if you want to try avoiding crowds, we would suggest staying away from Broken Arrow, Diamondback Gulch, Outlaw and Schnebly Hill in the middle of the day.
If you are interested in sunrises or photography, you should consider driving Broken Arrow or Schnebly Hill at dawn or dusk. West facing views from elevated viewpoints are spectacular at sunrise and sunset.
Here's when we would suggest driving each Sedona Jeep Trail:
Mystic Vista – Sunrise is amazing from the viewpoint.
Ranch Loop – Any time of day the trail will be quiet.
Robbers Roost – Any time of day, but combine with Outlaw and ancient ruins.
Outlaw – Any time but busiest mid morning to mid afternoon.
Dry Creek – Before sunrise to make the most of parking for Devils Bridge hike.
Schnebly Hill – Sunrise and sunset for best light and to avoid tours.
Diamondback Gulch – Any time of day.
Soldier Pass – Any time of day but the hike and cave will be busiest midday.
Broken Arrow – Early morning or early evening for best light and avoiding tours.
Season
Spring and Fall are the two busiest seasons in Sedona. More people in town means more Jeeps and more tours on the trails. Plus, prices for Jeeps are going to be at peak.
Summer is slightly quieter and Winter is a much quieter time to visit Sedona. There are very few instances during the calendar year in which Jeep prices are temporarily slashed to accommodate for temporary low season periods, but if you can catch one you will save a lot of money.
During our visit to Sedona in December we were fortunate enough to be in town during one of the few periods when Jeep rentals are discounted.
More From Sedona
More From The Southwest
Want more Arizona content? Head over to our Arizona travel guides to explore the best of Grand Canyon, Sedona and beyond.
---
We hope this comprehensive guide to the best Sedona Jeep trails helps with planning your visit to Arizona!
Please let us know if you have any questions about hiring a Jeep or off roading in Sedona in the comments below.
Happy Driving,
Mark and Kristen
Enjoy This Sedona Jeep Guide? Pin It For Your Visit!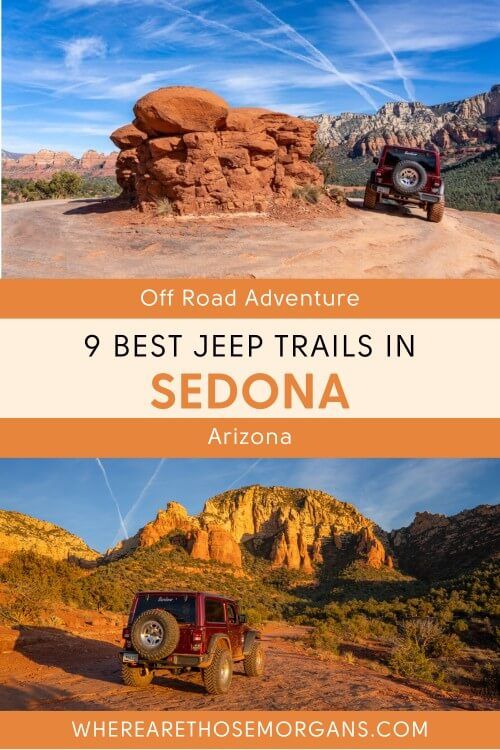 Note: This article contains affiliate links. When you make a purchase using one of these affiliate links, we may earn a small commission at no extra cost to you.
All Rights Reserved © Where Are Those Morgans, LLC. Republishing this article and/or any of its contents (text, photography, maps, graphics, etc.) in whole or in part is strictly prohibited.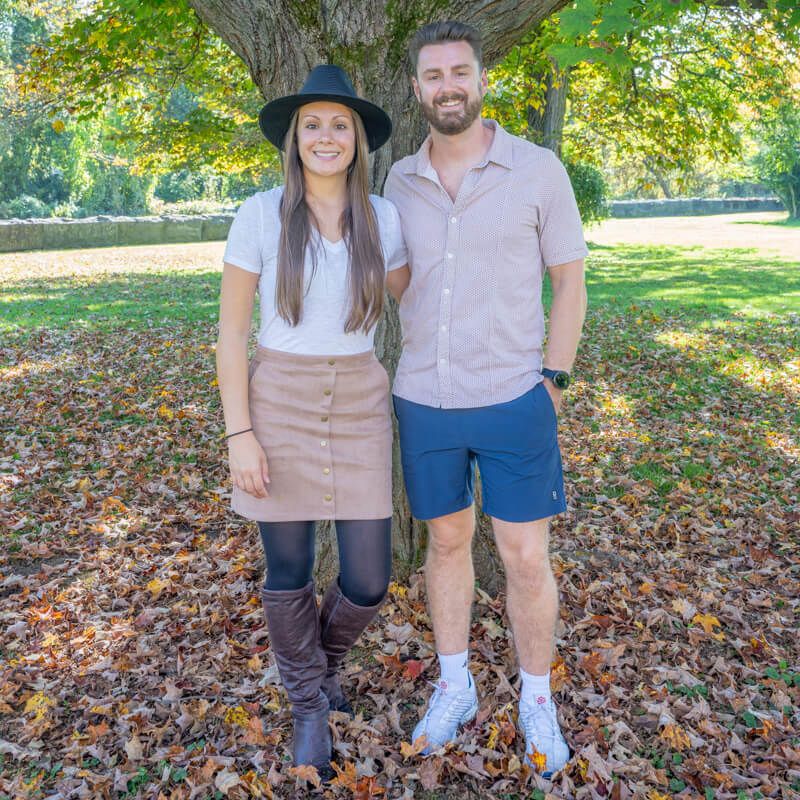 Mark and Kristen Morgan are travel, hiking and photography experts. Over the last 6 years traveling full time, they have explored more than 40 countries and 30 US states.
Their work has been featured in USA Today, Gestalten, Get Your Guide, CityPASS and Condé Nast Traveler along with various other publications.