The vortexes in Sedona have been a huge allure for tourists throughout the decades. There is no denying Sedona has a powerful aura that sets it apart from other popular travel destinations.
So where are the Sedona vortexes and how can you find them?
Sedona has eight vortex sites with energy that have been reported to exist within many visitors. For years, this vortex energy has made Sedona a hot spot for healing, meditation and positive thinking.
In this sedona vortex guide, we will show you:
The energy differences in a vortex
The history of the Sedona vortexes
Where the Sedona vortexes are located
Each Sedona vortex explained with parking information
Some tips for your visit
Let's find the vortexes in Sedona!
*Please note this post may contain affiliate links. If you click on one, we may earn a small commission at no extra cost to you. Thank you for supporting the free content we provide! Read more in our disclosure policy.*
What Is A Vortex?
A vortex is an invisible spot on earth with a whirling and vibrating center of energy. These are places where many people believe the earth is alive with power helping to promote healing and self-exploration through meditation.
After visiting a vortex site, many people feel inspired, uplifted and even recharged due to this dynamic energy. The energy of a vortex site is directly related to the strength and concentration of energy it emits.
The vortexes in Sedona produce either upward flowing energy or downward inward energy. It should come as no surprise, the most powerful sites in Sedona produce a combination of both upward and inward energies.
The Juniper trees in Sedona are a great example of powerful vortex energy. These trees are pretty much the only physical evidence we have of these vortex sites.
The energy found at the Sedona vortexes are powerful enough to severely twist the branches and trunks of the Juniper trees. Many believe the Juniper trees have no choice but to react by twisting and bending away from the overwhelming energy.
If you look closely, these Juniper trees also lay next to perfectly straight trees. So the mystery remains as to why only some of these trees are affected.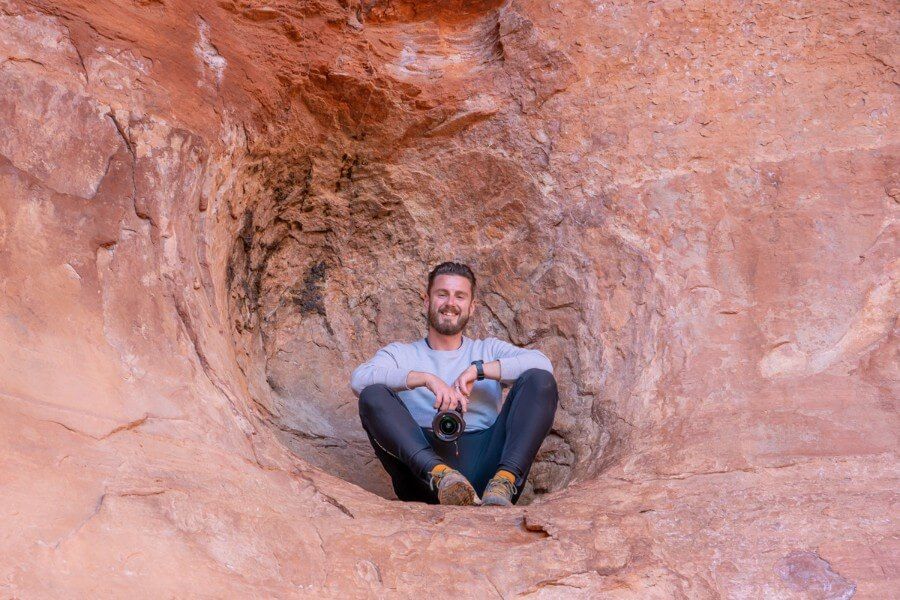 Upward Flowing (Upflow) Energy
Upflowing energy from a vortex is often known to be masculine or electric energy. This type of energy helps you reflect on a higher perspective and greater oneness.
At upflow sites, you may find answers to a problem with an expanded or outside of the box mindset. A feeling of being one with the universe and aligning your faiths view of the Infinite are common.
Physical attributes of upflow sites are stress reduction and lower blood pressure. Upflow vortexes are found at higher elevations such as mountains and mesa tops.
Popular vortex sites in Sedona with upward flowing energy include Airport Mesa and Bell Rock.
Downward Flowing (Inward) Energy
Downward flowing energy from a vortex is known as feminine or magnetic energy. This type of energy is helps you look within towards introspective prayer and meditation.
At inward sites, you can release old hurts to nurture new growths. Many people visit inward sites to help heal scars from the past to help them move forward with the future.
Popular vortex sites in Sedona with downward flowing energy are Red Rock Crossing and West Fork.
Combination Energy Sites
These are more powerful vortex sites which often combine the upflowing and downward flowing energies. Combination energy sites lead to a practice of more advanced spiritual, mind and body skills.
Popular vortex sites in Sedona with combination energy are Cathedral Rock and Boynton Canyon.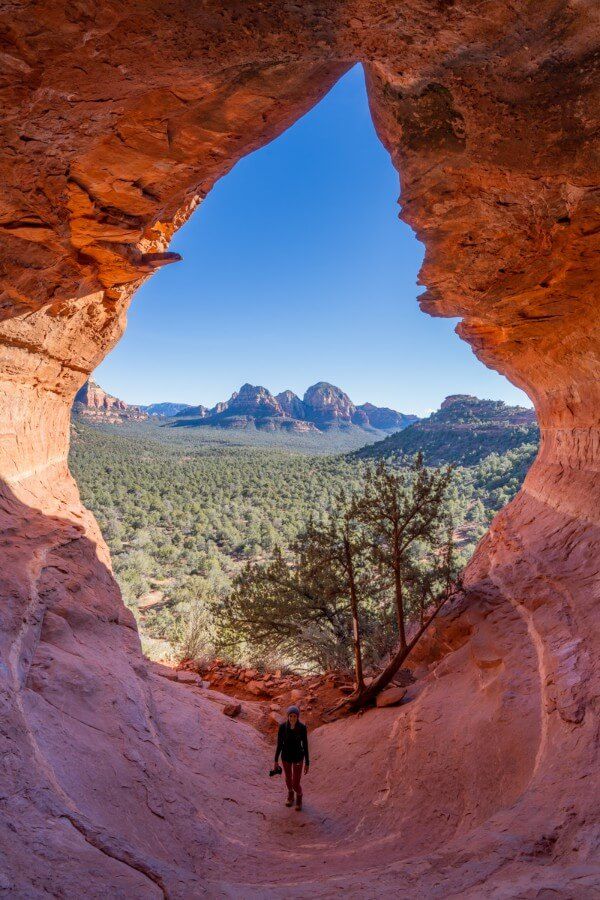 History Of Sedona Vortexes
Indigenous tribes have long regarded the area around Sedona as incredibly sacred. The Yavapai-Apache still hold a spring ceremony at Boynton Canyon where it is believe Great Spirit Mother gave birth to the human race.
In 1980, Page Bryant, a psychic, referred to four of Sedona's most popular meditation spots which immediately spiraled into the popularity we see today. Bryant used celestial connections to explain the vortex phonenomena.
Pete Sanders, a MIT biochemical chemistry graduate, also aimed to connect spirituality with science and believes the therapeutic benefits are related to the physical attributes of Sedona.
Scientifically, there has been no measured magnetism or energy at these vortex sites. But many studies have correlated being outdoors with immense immune-boosting and mood-altering benefits.
So maybe the answer is simple and the Sedona vortexes are just a positive way our bodies respond to the breathtaking beauty of red rock country?
But no matter what you believe, there is no argument Sedona is truly a special place.
How Many Vortexes Are In Sedona?
According to some believers, Sedona sits on one big vortex. And some would go as far to say Sedona has hundreds of individual vortex sites spread throughout the entire region.
Depending on who you ask, these energy vortex fields can even be felt from up to a half-mile away. For this reason, Sedona has been widely regarded as a sacred and powerful place.
There are four main vortex sites in addition to four lesser known vortex sites in Sedona. However, there are many other sites in and around Sedona which are also associated with energy.
In this guide, we will focus on the eight major and lesser known Sedona vortex sites.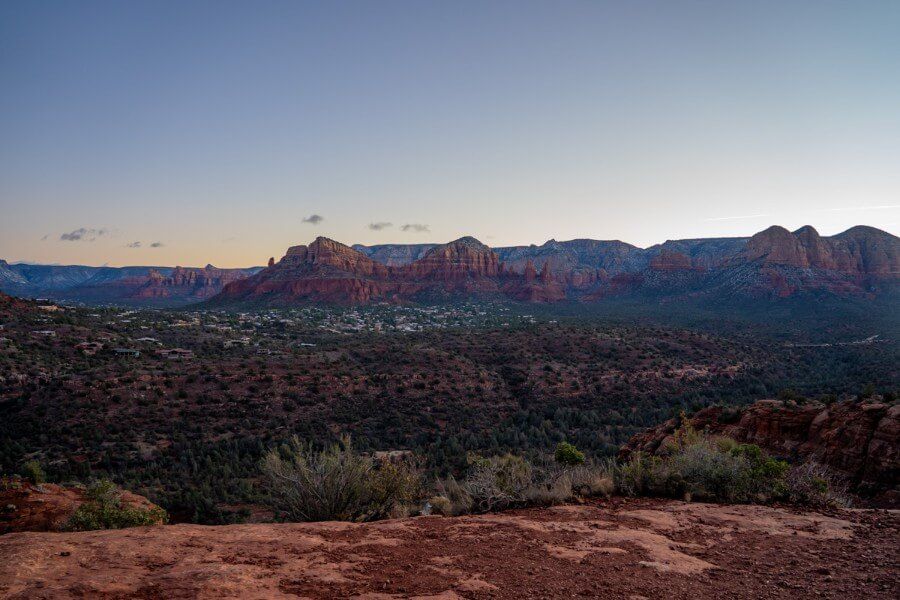 Where Are The Vortexes In Sedona?
The four main vortex sites in Sedona are Cathedral Rock, Airport Mesa, Bell Rock and Boynton Canyon. The four lesser known vortex sites include Chapel Of The Holy Cross, Red Rock Crossing, Schnebly Hill and West Fork.
Is it common to see many people practicing meditation or yoga at these vortex sites. Many of Sedona's vortex sites are located directly next to some of the best scenic spots in the region.
Visiting all of the Sedona vortexes is on many people's wishlist of best things to do in Sedona, AZ.
Sedona Vortex Map
Five out of eight of these vortex sites are located south of Sedona with the remaining three independently scattered to the north, east and west.
See a map of all Sedona vortex site locations here.
How Do You Get To The Vortexes In Sedona?
You can get to all the vortexes sites in Sedona with a combination of driving and hiking. Some of the vortexes on this list will require a strenuous hike while some vortexes can be easily reached with a short walk.
When we visited Sedona in December of 2021, we stayed for 8 amazing days. This was enough time to visit all the vortex sites and experience all of the hikes.
However, if you are short on time or you would prefer someone else to do the driving, a Sedona vortex tour would be a great option. We will discuss tour options later in this article.
List Of Sedona Vortexes Explained
Without further ado, we will get into the the four main vortex sites in Sedona including:
Airport Mesa
Bell Rock
Boynton Canyon
Bell Rock
Then we will discuss what you can expect at the lesser known Sedona Vortex sites including:
Chapel of the Holy Cross
Red Rock Crossing
Schnebly Hill
West Fork Trail
We also listed the parking information for each Sedona vortex site. Please note there are different pass requirements depending which vortex you plan to visit.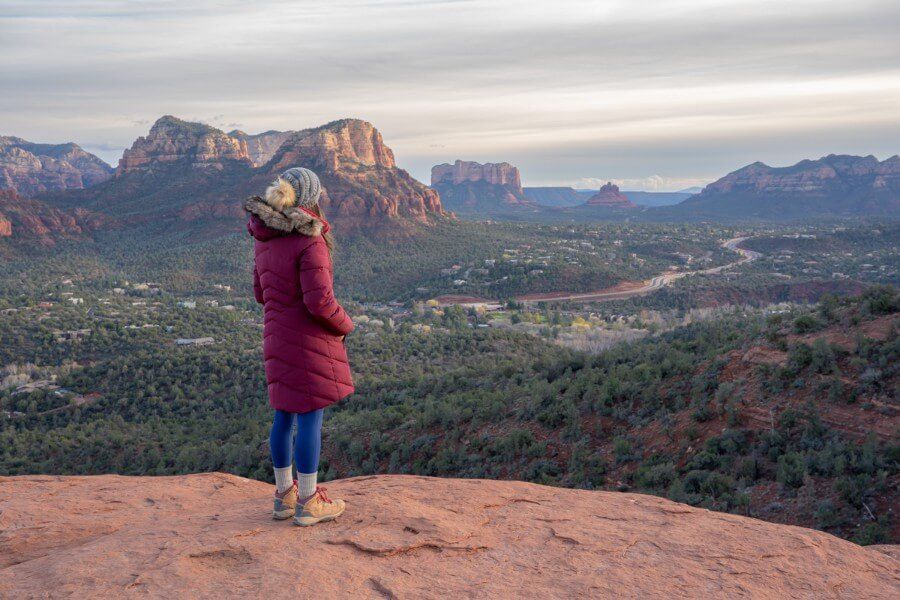 Airport Mesa Vortex (Upflow Energy) – Most Well Known
Airport Mesa is probably the most well known vortex site in all of Sedona. It is also the most accessible vortex which makes it one of the most trafficked sites.
The Airport mesa vortex is an electromagnetic vortex with a masculine energy. The site features a 360-degree view of Sedona's breathtaking surroundings making it the perfect spot to visit for sunrise or sunset.
The masculine energy found here helps to align your self worth. This energy strengthens the internal spirit while encouraging visitors to take charge of their own life by fostering confidence in both life and relationships.
Parking Pass required: No parking pass required if in the small lot along Airport Rd (about 10 cars) or $3.00 to park at Sedona Airport Vista Overlook
Further Reading: Complete Guide To Hiking Airport Mesa At Sunset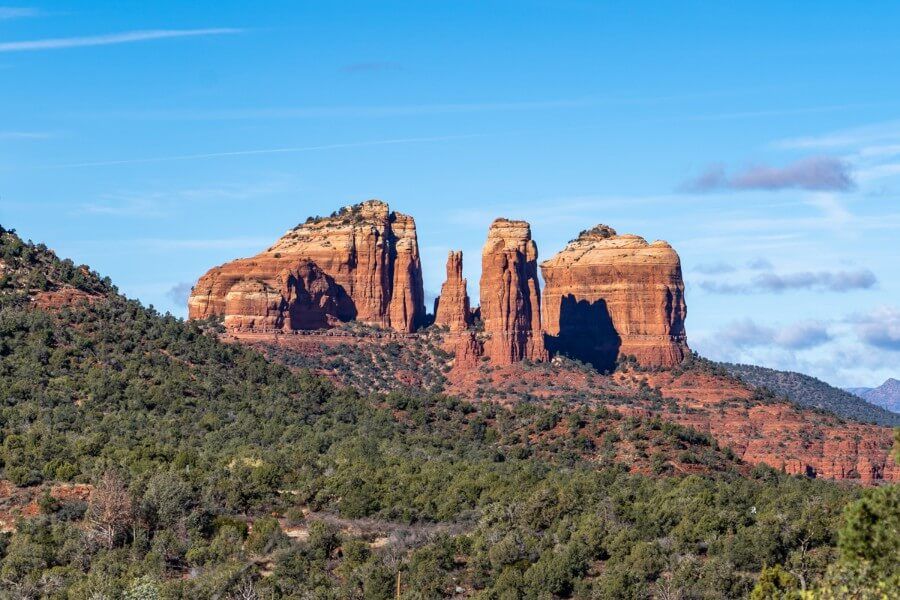 Bell Rock Vortex (Upflow Energy) – Most Recognizable
Bell Rock is one of the most recognizable formations in Sedona because it looks like a large standing bell. This vortex site is also easily accessible compared to some of the others.
The energy found here is very intense with many reports of strong vibrations coming from the north side. This vortex site continuously helps one find serenity and solve problems usually through a higher perspective.
Many visit the Bell Rock vortex to inspire and enhance the spirit from within. This energy increases self awareness by balancing the mind, body and soul through reflection.
Parking Pass Required: Red Rock Pass OR America the Beautiful
Further Reading: Complete Guide To Hiking Bell Rock and Courthouse Butte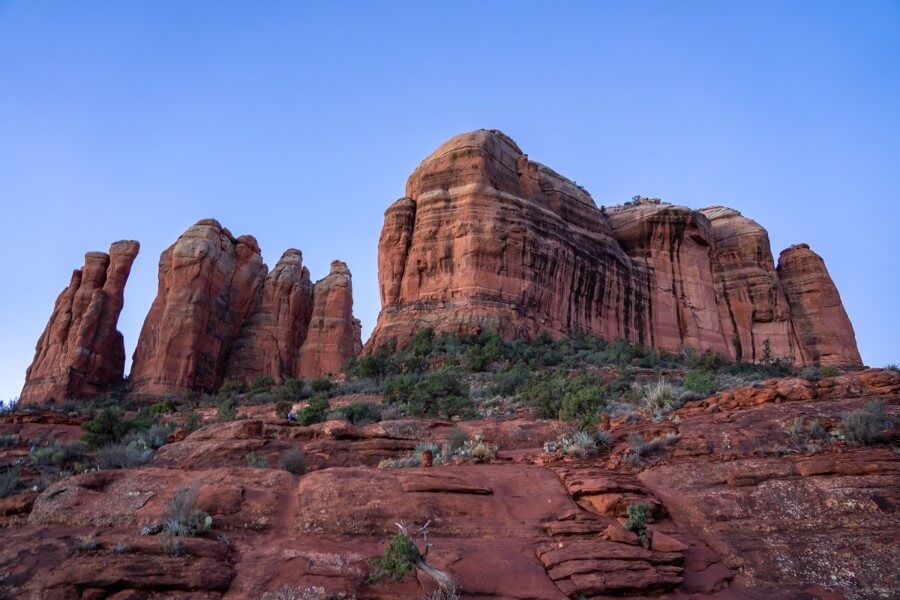 Cathedral Rock Vortex (Inflow Energy) – Most Powerful
This the only main vortex sit with inflow energy. This feminine energy helps both mind and body for a complete cleansing effect. It is a very popular spot for meditation.
The Cathedral Rock vortex is the strongest vortex in Sedona. Many people have reported that deep meditation here helps one to connect with the earth's energy and those around you.
This energy will positively affect your ability to communicate and connect to your feminine side. To feel the strongest energy, you will need to hike to top saddles between the spire.
Parking Pass Required: Red Rock Pass OR America the Beautiful
Further Reading: Complete Guide To Hiking Cathedral Rock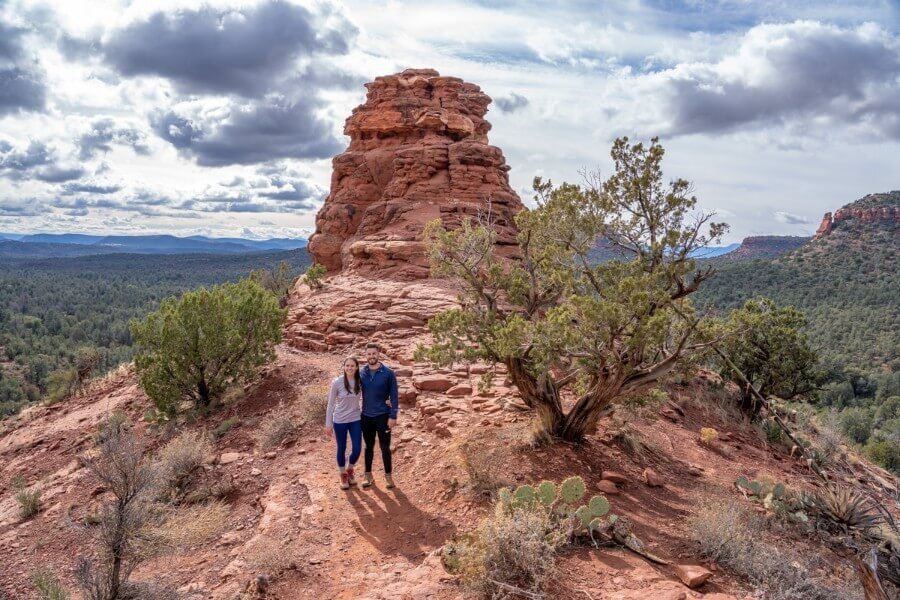 Boynton Canyon Vortex (Combination Energy) – Most Sacred
The Boynton Canyon vortex is sometimes also known as the Kachina Woman vortex site. This vortex emits a combination of energy and is one of the most sacred locations on this list.
This has been a very sacred place for the native Yavapai-Apache. In ancient times, they would not enter Boynton Canyon without first purifying themselves by fasting or meditating.
You can access the Boynton Canyon Vortex from the Boynton Canyon Trail by following the signs for Vista Trail.
At the end of the trail you will see both the Kachina woman (feminine vortex) and the knoll (masculine vortex) where the energy is the strongest.
Many people report being both grounded, uplifted and recharged. The energy here is also balanced between masculine and feminine similar to a yin and yang effect.
Similar to Cathedral Rock, the energy at this vortex strengthens all three parts of the spiritual being. This can benefit relationships by building intimacy, openness and honesty.
Parking Pass Required: Red Rock Pass OR America the Beautiful
Further Reading: How To Find The Subway Cave Along Boynton Canyon Trail
---
Chapel Of The Holy Cross – Combination Energy
The Chapel of the Holy Cross might just be the most interesting building in all of Sedona. It was originally inspired by Marguerite Brunswig Staude's first visit to the Empire State Building.
The large chapel is built directly into the red rocks and looms over Sedona. It is easy to see why this location is said to be filled with energy.
During your visit, look for an eagle carved into the rock perched high above the chapel. This eagle is rumored to protect the chapel from evil.
Many people report a feeling of inspiration and joy which aims to make a deep connection to the spirit. The energy of this vortex also emits love, harmony and oneness to unify all that visit.
Parking Pass Required: None, but parking is extremely limited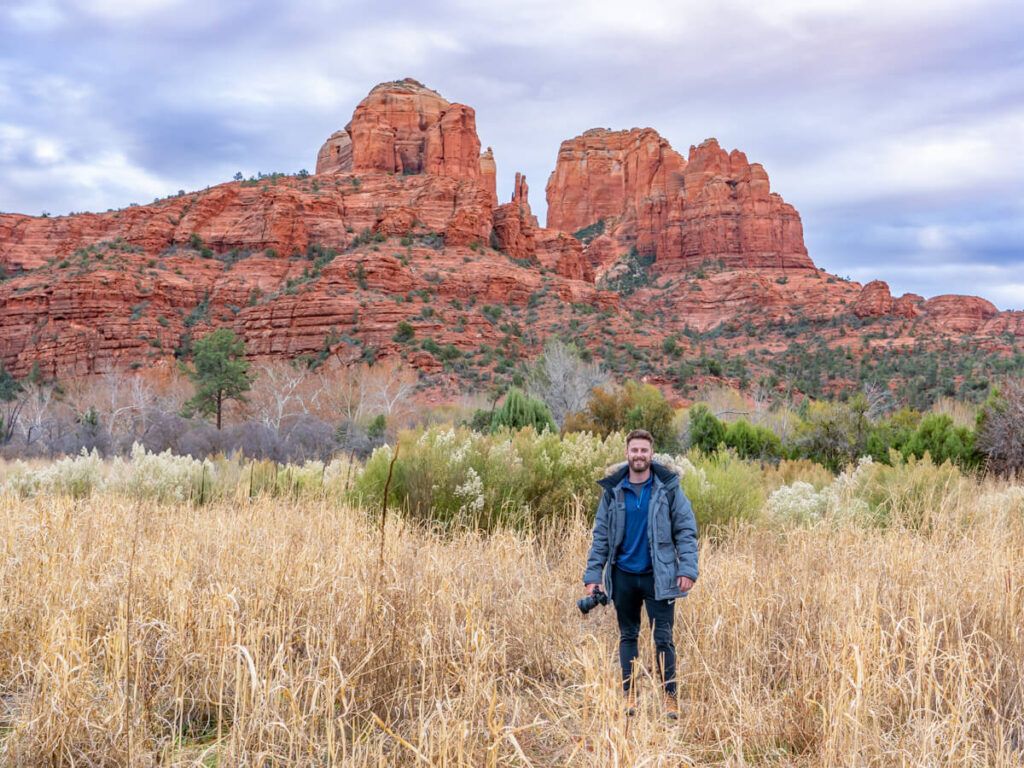 Red Rock Crossing – Inflow Energy
The Red Rock Crossing (or Crescent Moon Ranch) vortex site is not to be confused with the Cathedral Rock vortex. Red Rock Crossing is a stunning photography spot in Sedona which features Cathedral Rock in the distance.
At this beautiful location, Oak Creek seems to flow right out of Cathedral Rock with the right perspective. When water levels are high, this is also a popular swimming or fishing spot.
Red Rock Crossing is a great place for families to escape some of the Sedona crowds. But this area is not included in the Red Rock pass system so you will have to pay an extra fee.
Parking Pass Required: None, but $11 vehicle fee required (includes West Fork Trail)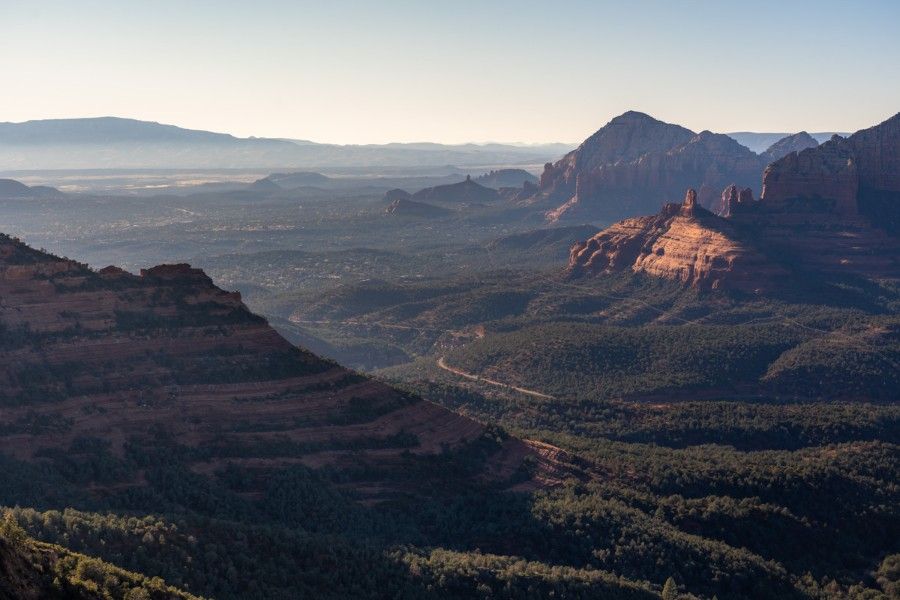 Schnebly Hill (Oak Creek Canyon Overlook) – Combination Energy
The Schnebly Hill vortex is one for those wishing to explore off the beaten path. In order to reach this vortex, you will need an off road vehicle.
This vortex is full of strong energy helping to cleanse and purify as well as balance and align the spirit. It is a great place for those who want to let go of old negative patterns.
A trip to the top of the Schnebly Hill vortex might just be one of your best adventures in Sedona. You will be rewarded with amazing views overlooking the city of Sedona and Oak Creek Canyon.
Parking Pass Required: None, but 4×4 vehicle required on Schnebly Road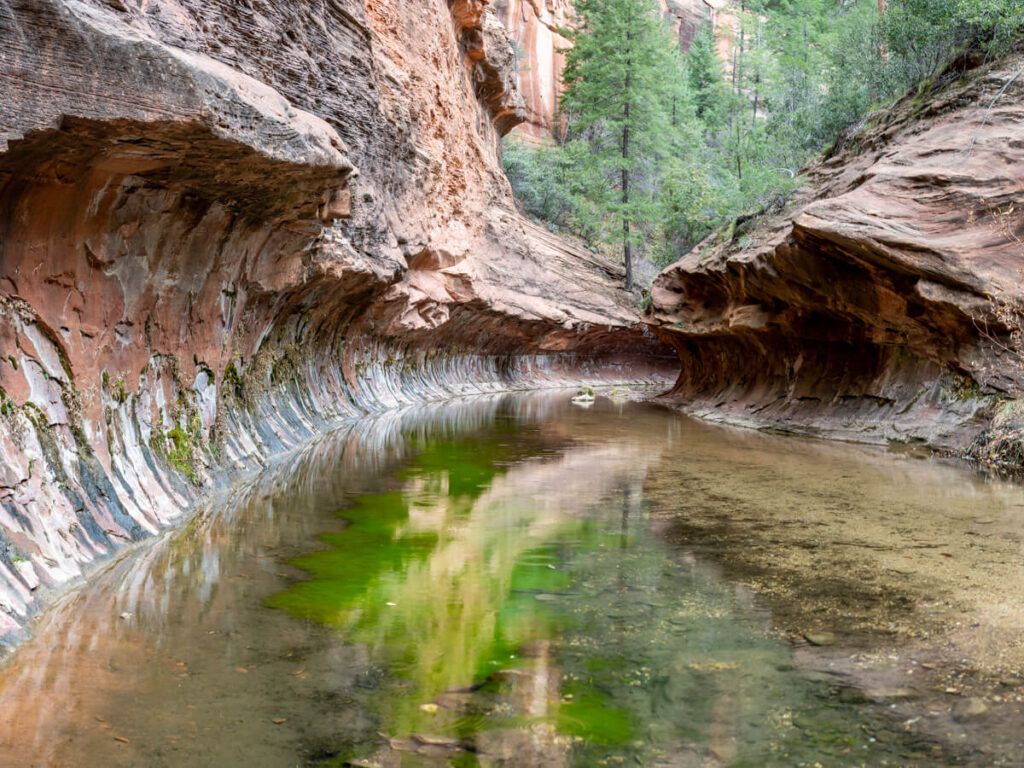 West Fork Trail – Combination Energy
The West Fork Trail vortex can be found along the West Fork Trail which is about 10 miles north of Sedona. This trails features 13 river crossings and a subway tunnel climax.
However, one of the best parts about this vortex site is that you will experience fewer crowds. This area is said to have combination energy and many report a strong energy with both upflow and inward experiences.
Parking Pass Required: None, but $11 vehicle fee required (includes Red Rock Crossing)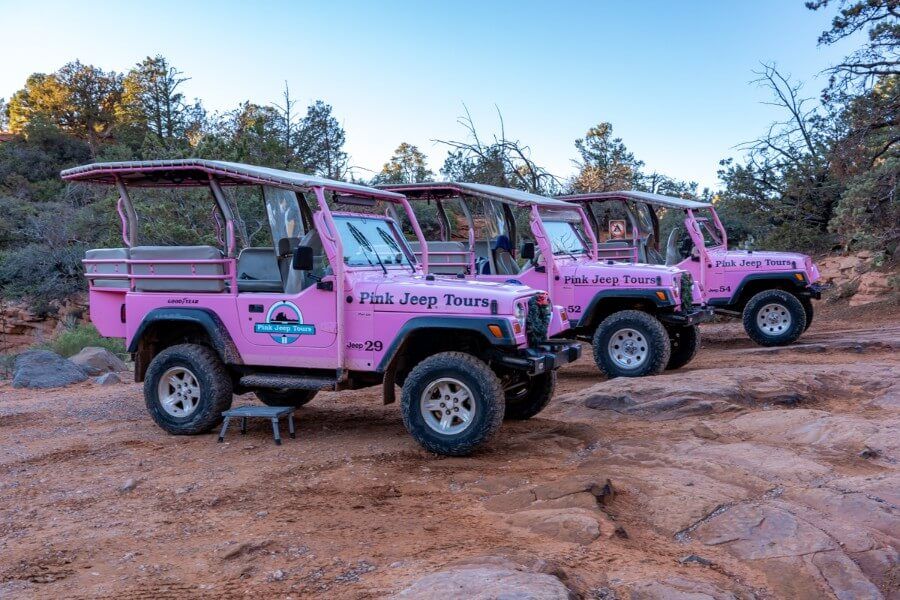 Vortex Tours In Sedona
Vortex tours in Sedona are very popular. This is a great way to learn about the history from a local guide while not having to worry about knowing where to go or parking.
Check out some of Sedona's top rated vortex tours below:
More Tours: We have rounded up the 18 top rated Sedona Tours to help you find the best options available for your visit to northern Arizona.
Are The Vortexes In Sedona Real?
During our time in Sedona, we asked this same question to many hikers we passed on the trails. We would estimate about half believed the vortexes were real and the half thought the vortexes were total BS.
But unfortunately, the answer to this question is one you have to conclude on your own. There is no denying Sedona is an incredible place of natural beauty that many cultures throughout hundreds of years have appreciated.
We felt completely at peace when we visited Sedona and we even extended our stay because we loved it so much. After visiting 40 countries, we have never extended a stay ANYWHERE so clearly something had a hold of us at Sedona.
If you have never visited Sedona, we highly recommend you make this incredible place your next vacation Spot. When you visit, you will just have to decide for yourself if you believe in the Sedona vortexes.
What Do The Sedona Vortexes Feel Like?
Everyone has different experiences at the Sedona vortexes. Many people report a tingling sensation on exposed skin.
Some people have even mentioned vibrations coming from the ground once they have entered the vortex. Others have felt a palpable sensation across the back of the next and across the shoulder blades.
Once you enter a vortex, keep breathing and try to notice any difference in how you feel. Vortexes are said to have effects on sensitive people the most.
Best Time To Visit The Vortexes In Sedona
All of these vortex sites and hiking trails are open year round. We visited in December and the weather was perfect for hiking at about 60°F. Visiting in the off season also means fewer crowds.
Arizona summer days are extremely hot ranging anywhere from 95°F to 110°F. Very heavy rains, known as monsoons, are common late June to early August during the early afternoon.
Winter days in Arizona tend to have an average temp of around 60°F with lows commonly in the teens. Snowfall is rare but is possible.
It is important to drink plenty of water and hydrate properly, especially in the summer months.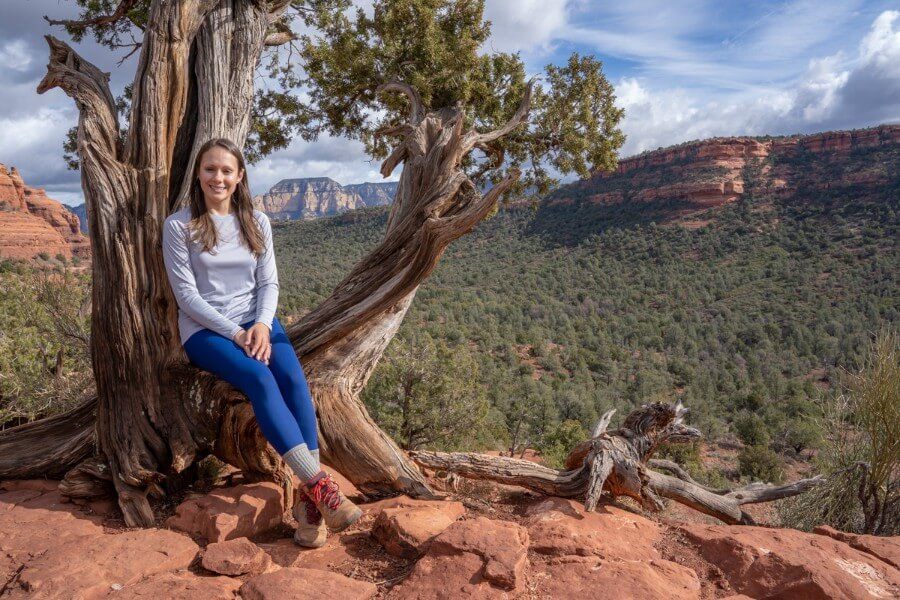 5 Tips For Visiting The Sedona Vortexes
Arrive early in the day to avoid the crowds and the heat

Be patient as these vortex sites can be very busy
Respect the land and leave no trace
Don't forget the water and sunscreen
Have a plan B if you can't get parked
Our top tip for the Sedona Vortexes
Most popular places in Sedona a parking pass. But confusingly these parking passes are not all the same.
We have listed what passes you need under each specific vortex so be sure you have what you need when you visit.
Sedona Vortex FAQ's
Let's take a look at some of the most frequently asked questions regarding the vortexes in Sedona.
What Are The Best Vortex Hikes In Sedona?
The best Sedona vortex hikes are Cathedral Rock, Airport Mesa, Bell Rock and Boynton Canyon.
What Is The Most Powerful Vortex In Sedona?
The most powerful vortex in Sedona is Cathedral Rock. In order to experience this vortex at its strongest, you will have to hike up to the Saddle of Cathedral Rock.
What Is The Best Sedona Vortex?
The best vortex in Sedona is Bell Rock and this viewpoint is incredibly stunning as well as peaceful. We hiked Bell Rock first thing in the morning and we had most of the area to ourselves.

Airport Mesa, Cathedral Rock and Schnebly Hill are also close contenders for the best vortex in Sedona. But keep in mind, these locations will be extremely busy.
What Is The Easiest Vortex To Get To In Sedona?
The easiest vortex to get to is Airport Mesa. This vortex only requires a drive followed by an extremely short hike.
Which Vortex Should I Visit In Sedona?
We would recommend you visit all of the vortexes in Sedona. But if you want to visit just one, we would recommend visiting the Cathedral Rock or Airport Mesa for the true Sedona experience.
Can We Do All The Vortexes In One Day?
If you timed it right, you could visit the four main vortexes of Airport Mesa, Cathedral Rock, Bell Rock and Boynton Canyon in one day.

However, this would make for a very busy day. If your Sedona itinerary allows, we would recommend visiting two or three of the Sedona vortexes sites in one day for a comfortable experience.

Use our Sedona vortex map from above to see if some of the vortex sites correlate with any of the hikes you plan to do.
Best Of Sedona
Hiking – Start planning your hiking itinerary with our popular guide to the 20 best hikes in Sedona, including easy to hard trails, cave hikes and hidden gems.
Ruins – Read an overview about the 5 famous ruins near Sedona, including national monuments and heritage sites.
Photography – Our collection of the 15 best sunrise and sunset photography locations in Sedona includes the perfect mixture of iconic and secret spots.
Jeep Trails – How to rent a Jeep and drive the 9 best Jeep trails in Sedona, Arizona with trail descriptions, maps and photos.
Caves – How to find and access each of the 7 hidden caves in Sedona with full walkthrough steps and photos.
Hotels – Our popular guide on exactly where to stay in Sedona will help you find the perfect hotel in the right area for your budget.
More From The US Southwest
Zion National Park – Zion is an adventure playground for adults, find the very best hikes in Zion and choose between 5 ways you can spend a one day in Zion itinerary.
Las Vegas – Popular starting and ending point for US southwest road trips, here are our guides to the best things to do in Las Vegas and the best shows in Las Vegas.
Grand Canyon – Just 2 hours from Sedona is the incredible Grand Canyon South Rim, create your wishlist from the best hikes at Grand Canyon South Rim.
---
We hope this guide detailed guide to the Sedona vortexes helps with planning your visit!
Please let us know if you have any questions about the vortexes in Sedona in the comments below.
Happy Travels,
Mark and Kristen
Enjoy This Sedona Vortex Guide? Pin It For Your Visit!