Pyramid and Scorpion Loop Trail is one of the best hikes in Sedona if you're looking to get off the beaten path. We were determined to find a true hidden gem trail on our most recent visit to Sedona, and we found it on Pyramid Mountain.
What qualifies Pyramid and Scorpion Trail as a hidden gem hike?
Well, almost all of Sedona's hiking trails are overcrowded. But the Pyramid and Scorpion Loop Trail is almost unheard-of, so you can enjoy an extremely picturesque hike with spectacular views and most importantly, none of the crowds.
In this guide, we will show you:
Where to park for hiking Pyramid and Scorpion Trails
A complete hiking walkthrough
Photos of the trail and wonderful views
Let's hike the scenic Pyramid and Scorpion Loop Trail in Sedona, Arizona!
*Please note this post may contain affiliate links. If you click on one, we may earn a small commission at no extra cost to you. Thank you for supporting the free content we provide! Read more in our disclosure policy.*
Trail Versions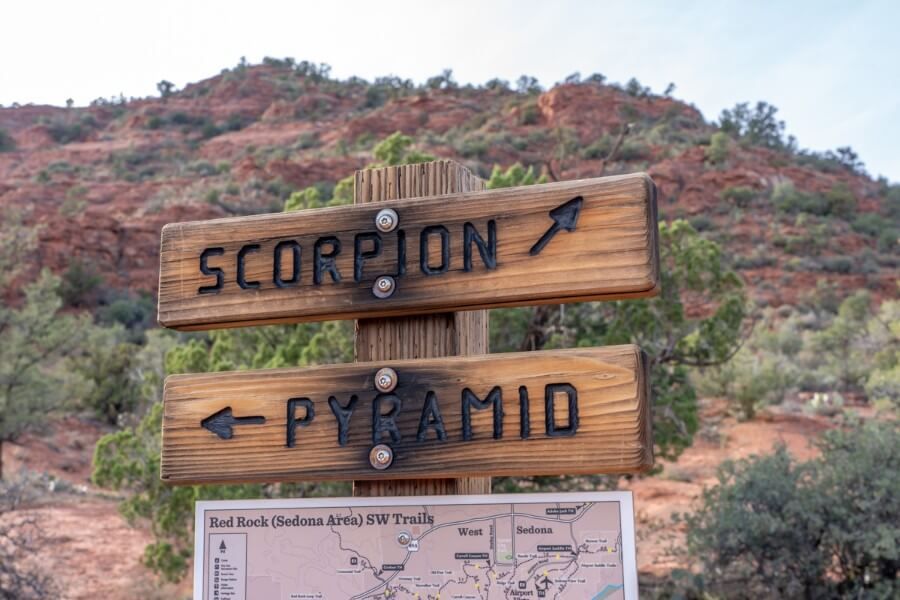 Pyramid and Scorpion Trails are located to the southwest of downtown Sedona. There are very few other top attractions nearby, which helps keep these two trails quiet. Most visitors are hiking on the more popular trails to the north and southeast of town.
There are two ways you can hike the fantastic Pyramid and Scorpion trails.
Park at Pyramid Trailhead and only hike the loop
Park at Scorpion Trailhead and hike a longer out and back trail leading to the loop
Both versions of the hike are extremely picturesque. The longer version including the entirety of Scorpion Trail is more challenging because it has more elevation gain and distance.
Let's take a look at both options:
Pyramid And Scorpion Trail Loop (Shorter)
Trail Distance: 2 miles roundtrip
Elevation Gain: 350 feet
Hike Difficulty: Moderate
Time Required: 1.5 hours
The shorter loop only version is perfect if you're shorter on time in Sedona and you want to get as many hikes in as possible.
The name is confusing because half of the loop is on Scorpion Trail and the other half is on Pyramid Trail. But this shorter loop encircles Pyramid Mountain and might be better called Pyramid Loop Trail.
We highly recommend hiking the loop counter-clockwise for the best views of Cathedral Rock throughout.
Scorpion Trail Loop (Longer)
Trail Distance: 4 miles roundtrip
Elevation Gain: 500 feet
Hike Difficulty: Moderate
Time Required: 3 hours
Scorpion Trail is technically an out and back hike beginning near Sedona high school and ending at Pyramid Mountain Trailhead, which includes half of the aforementioned loop.
An easier way to look at Scorpion Trail is to imagine it is a connecting trail joining with Pyramid Loop Trail.
If you choose this longer version you will effectively walk downhill, hike the loop counter-clockwise and then walk back uphill to the trailhead.
We recommend hiking the longer version if you have plenty of time free in your Sedona itinerary.
Where To Park For Hiking Pyramid And Scorpion Trail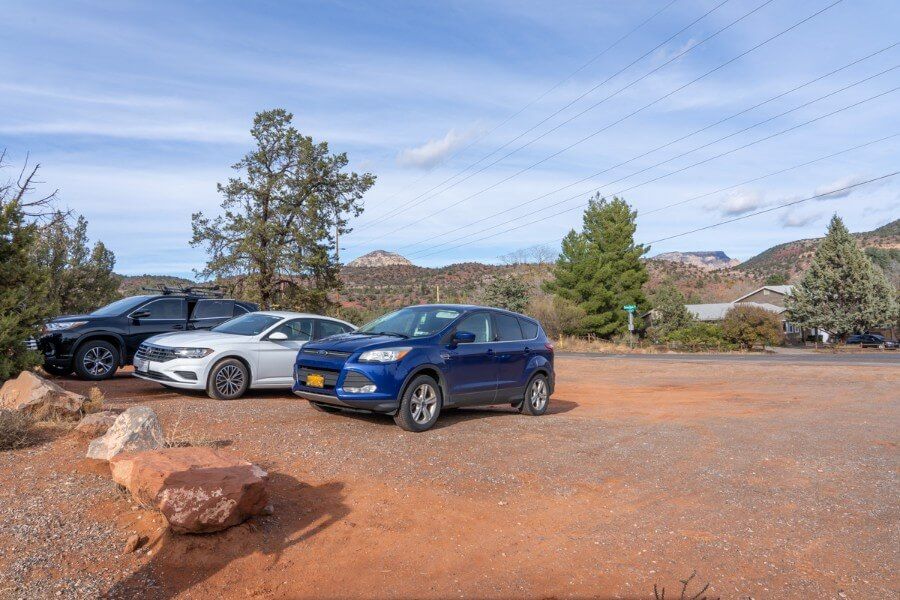 The beauty of hiking Pyramid and Scorpion Trails in Sedona lies in the fact that you stand a very good chance of getting parked up any time of day.
Once you've been to Sedona and tried parking at popular trailheads you will know why that is such a valuable attribute!
Pyramid Trailhead Parking
The dirt packed and gravel roadside parking lot for Pyramid Loop Trail is very small. A maximum of maybe 6 or 7 cars will fit in the parking area, but very few know about this hike so you should have no problems getting a space.
How to reach Pyramid Mountain Trailhead:
Drive west out of Sedona on AZ-89A
Turn left onto Red Rock Loop Road
After 1.8 miles turn right into the parking lot
Here's the Google Maps GPS location for Pyramid Mountain Trailhead.
Scorpion Trailhead Parking
To access Scorpion Trail you will park behind Sedona high school or on Red Rock Loop Road opposite the turning for the school.
The parking area is actually called Schuerman Mountain Trailhead. You will walk for 1 minute on Schuerman before turning left onto Scorpion Trail.
You will find far more parking spaces at this trailhead versus Pyramid Mountain Trailhead. So if Pyramid is full, you can double back up to Schuerman Trailhead and hike the full version.
How to reach Schuerman Trailhead:
Drive west out of Sedona on AZ-89A
Turn left onto Red Rock Loop Road
After 0.2 miles turn right into the parking lot or left to roadside parking
Here's the Google Maps GPS location for Schuerman Mountain Trailhead.
Do You Need A Pass To Hike Pyramid And Scorpion Trail In Sedona?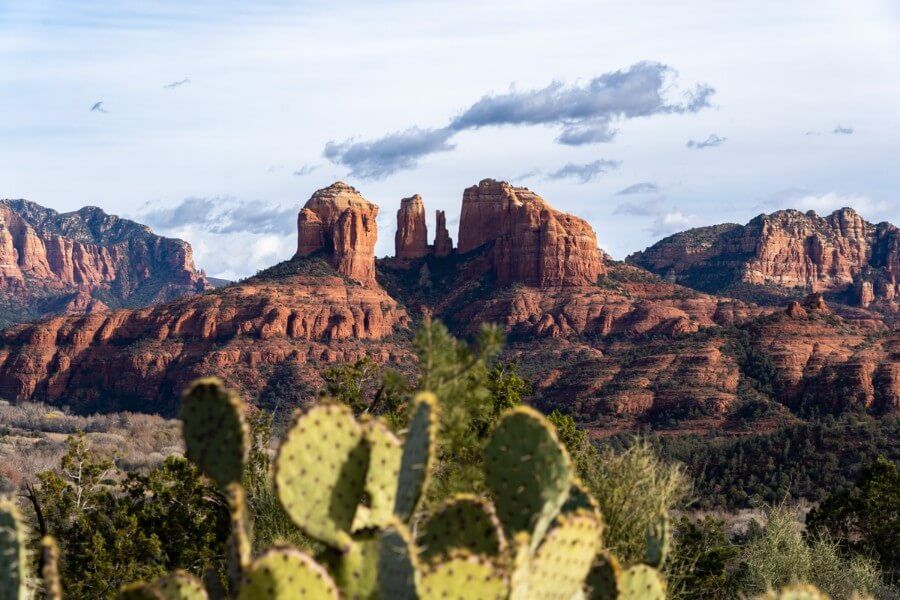 No, you do not need any type of pass to hike Pyramid or Scorpion Trail.
Are you planning to hike other trails before or after the Pyramid Scorpion Loop Trail? See this list of places in Sedona requiring a pass to be displayed in your vehicle for the duration of your hike.
The two main passes you can use in Sedona are the Red Rock Pass and America the Beautiful interagency annual pass.
Even though you don't need either for Pyramid or Scorpion, chances are high you will be hiking other trails in Sedona, so let's take a brief look at both passes.
Red Rock Pass
You can buy a Red Rock Pass at this specific recreation.gov site in advance, or you can buy one at a ticket machine when you arrive in person at either parking lot listed further in this guide.
Red Rock Pass options include:
1 Day Red Rock Pass – $5
7 Day Red Rock Pass – $15
Red Rock Annual Pass – $20
Grand Annual Red Rock Pass – $40
If you plan to hike more trails around Sedona over a period of 2 – 7 days, you should buy the 7 day pass because you will need it at many other trailheads in the area.
America The Beautiful Pass
Are you a regular visitor to US National Parks and Monuments?
It's highly likely you already have an annual National Parks pass, which is also known as America the Beautiful or the Interagency Pass.
Don't have one yet?
Read our guide on why America the Beautiful national parks pass is one of the best things you can buy if you plan to visit multiple parks in the next year.
Instead of buying a Red Rock Pass you can simply display your America the Beautiful Pass at trailheads throughout Sedona.
Map Of Pyramid And Scorpion Loop Trail In Sedona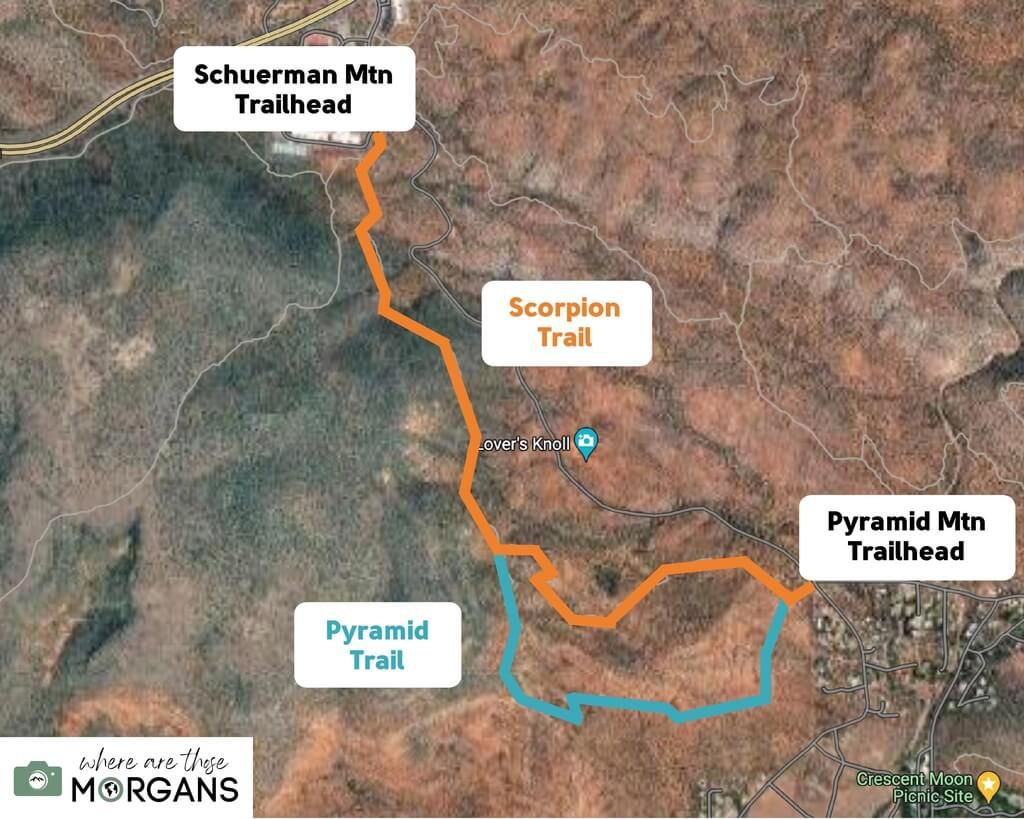 The map above shows exactly what you can expect when hiking Pyramid and Scorpion Loop Trail in Sedona, Arizona.
You can begin and end the hike either at Pyramid Mountain Trailhead or Schuerman Mountain Trailhead.
Map key:
Orange Line – Scorpion Trail
Blue Line – Pyramid Trail
Hiking Apps
Do you use any of the best hiking apps for offline maps?
We always download offline maps onto our premium Gaia GPS app so we can keep track of our location on trails and follow our hiking statistics.
You won't have any cell service or internet connection on most of Pyramid and Scorpion. Having access to an offline map gives us peace of mind on every hike.
All Trails has a similar app and we're sure it is great, but we have found Gaia to be outstanding for navigation.
If you are interested in tracking your own hikes, you can sign up to Gaia GPS premium with our exclusive 20% discount link.
Pyramid And Scorpion Loop Trail Walkthrough
Let's get stuck into the Pyramid and Scorpion Loop Trail hiking walkthrough. Finding off the beaten path trails is fantastic and this one is easily among the best things to do in Sedona.
We chose to hike the shorter version from Pyramid Mountain Trailhead because we had every other hike in Sedona on our wishlist and there's never enough time!
However, we will begin and end the hike at Schuerman Mountain Trailhead to include the full trail.
Park At Sedona High School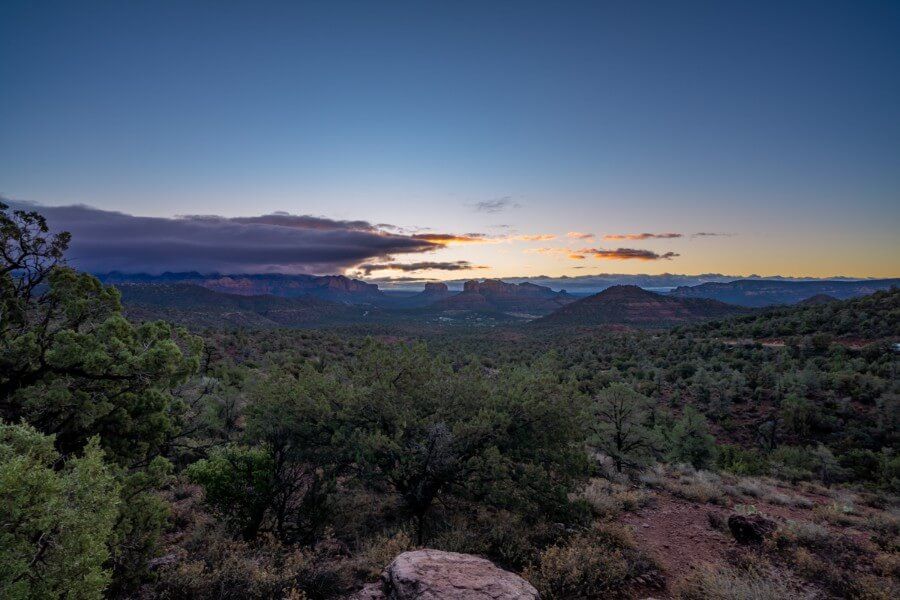 To take on the longer version you will park at Sedona high school. Find a space either right at Schuerman Mountain trailhead or on the side of Red Rock Loop Road.
Begin the hike by taking Schuerman Mountain Trail and take the first left at the fork to begin Scorpion Trail.
Unobstructed views to the left overlook the famous Cathedral Rock and much of southern Sedona's magnificent red rock landscape.
We took the photo above near the trailhead at sunrise the morning after we hiked Pyramid Loop Trail. This same view will be similar to your view as soon you begin Scorpion Trail.
Hike Scorpion Trail Downhill
You will follow a ridge for 1 mile until you reach the loop. The first half mile on the ridge is very gradual but the second half does descend more steeply to join Pyramid.
Wide open panoramas to the left remain stunning for most of the downhill section, but those views will deteriorate slightly as you drop 150 ft in elevation moments before joining the loop.
Join The Loop Trail Counter-Clockwise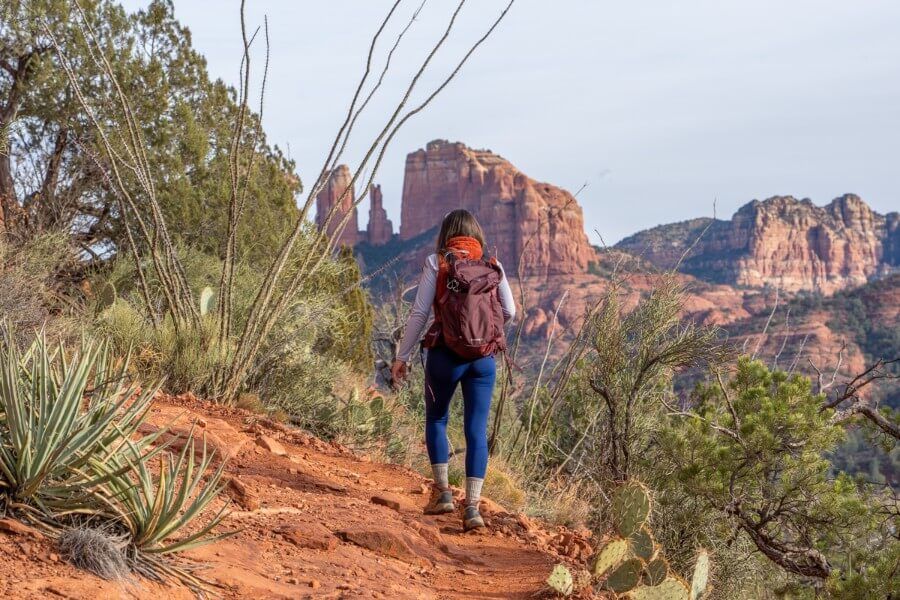 As you reach the loop you can choose to hike clockwise or counter-clockwise.
We strongly recommend the latter because it has much better views over Cathedral Rock as you transition into the east facing portion of the loop.
Not only is the continuous vista overlooking Cathedral Rock as good as it gets in Sedona, but the trail itself is fun to hike.
Circle Pyramid Mountain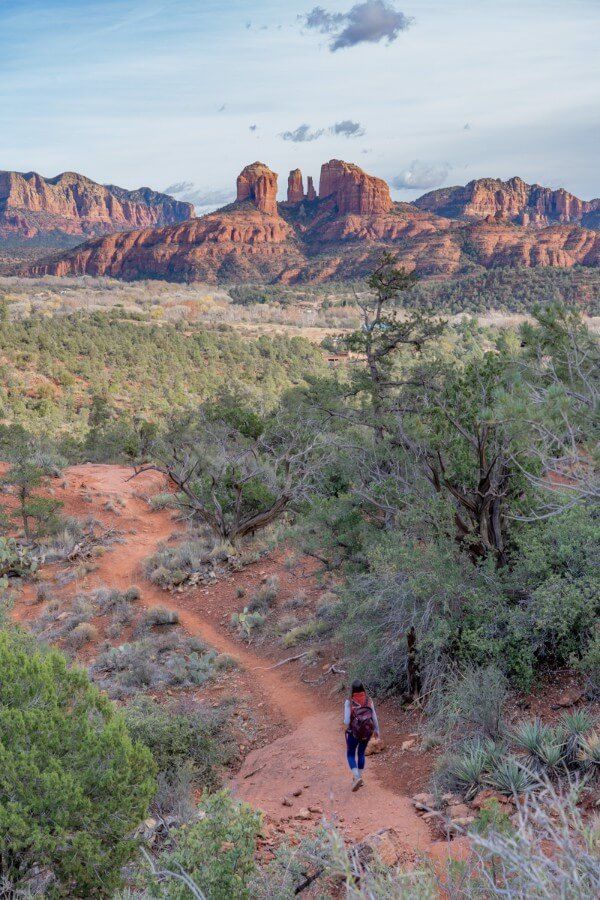 You will completely encircle Pyramid Mountain for 2 miles, gaining and losing approximately 250 ft in elevation.
Emerald green desert vegetation like cacti and juniper trees are in abundance throughout the hike, contrasting beautifully against dusty orange and red rocks.
The conical shape of Pyramid Mountain becomes clearer as you begin to circle the base and lines of sight leading to Cathedral Rock flicker in and out of view.
Hike Back Up Scorpion Trail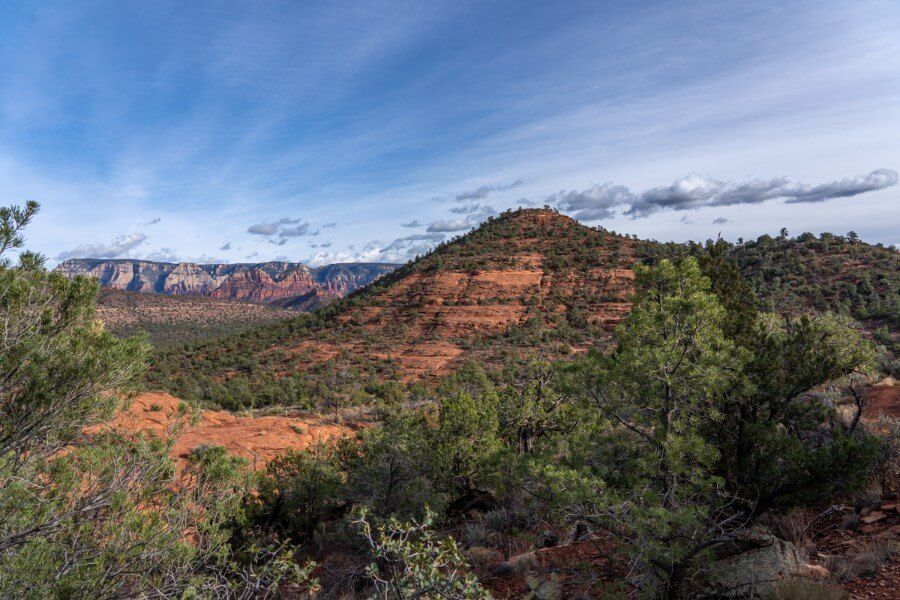 Look out for a small cave and take care on certain narrow sections of slick rock, particularly during or after any rainfall.
You will pass by a spur trail to the right leading to Pyramid Mountain Trailhead and the smaller parking area. This is where you will begin if you choose to hike the shorter 2 mile round trip version.
Continue to follow the loop around until you rejoin the trail leading up Scorpion Trail and back to Schuerman Mountain trailhead.
You will climb a fairly steep 250 ft in elevation before it flattens out for the last half mile. The climb is a double edged sword, you won't want the ascent but you will want the elevated views you get afterward.
Pyramid And Scorpion Trail Pros And Cons
Pros:
Genuine hidden gem hike in Sedona
Exceptionally quiet trail
Incredibly picturesque with amazing view of Cathedral Rock
Cons:
Steep section if take on the longer Scorpion Trail version
Long way out of Sedona versus other hikes
Trails are shared with mountain bikers
Best Time To Hike Pyramid And Scorpion Loop Trail
Time Of Day
Typically in Sedona you have to be at trailheads around sunrise to stand a chance of getting parked. That same rule doesn't apply to Pyramid and Scorpion Loop Trail because it is relatively unknown.
The hike is very open and exposed so if you are visiting Sedona during a hotter part of the year, you should avoid the middle of the day.
Sunrise and sunset are by far the most special times of day to be out and about in Sedona. Soft light and colorful clouds only enhance the beauty of an already remarkable landscape.
We think Pyramid Mountain offers one of the best photography locations in Sedona.
At sunrise you can watch the sun rise from behind the eastern mountains and Cathedral Rock. At sunset you can watch Cathedral Rock and those same eastern mountains glowing as you look directly eastward.
Season
Spring and Fall are the two busiest seasons in Sedona. Although these trails are almost unknown to visitors, the chances of arriving to a full parking lot are higher during peak times.
Summer is slightly quieter and Winter is much quieter. You'll have a better chance of getting parked on a weekday in Summer or particularly in Winter.
We hiked Pyramid Loop Trail during our trip to Sedona in December and saw just one other couple, plus a group of mountain bikers.
Looking for more hiking trails? Check out our popular guide to the 50 best hikes in the US for inspiration!
What To Pack For Hiking Pyramid And Scorpion Trail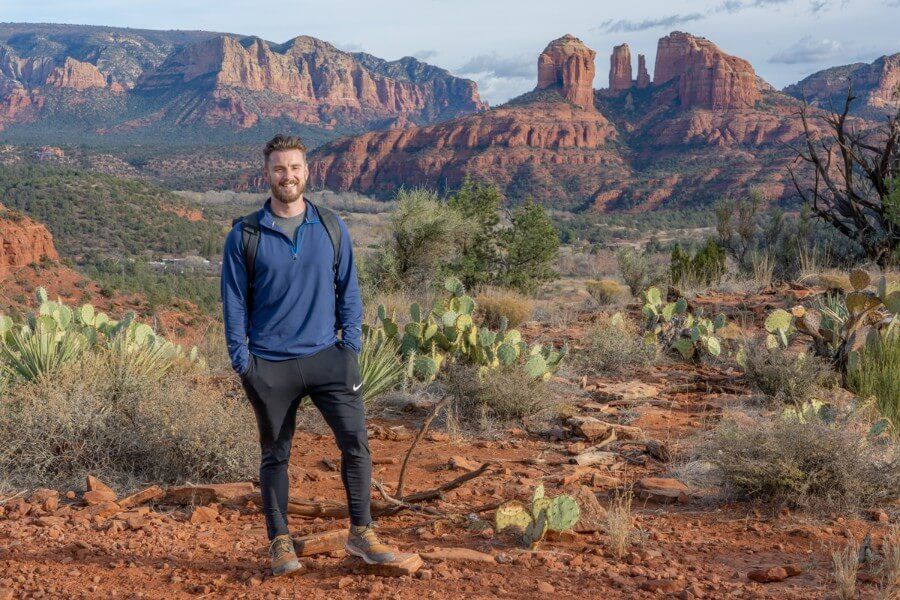 Footwear – Footwear with good grips and traction will help with navigating sections of slick rock and soft dirt packed trail. The steeper section of Scorpion has some sharp rocks.
Water – You'll be out hiking for anywhere between 1.5-3 hours on the Pyramid and Scorpion Loop Trail, which means you'll need to carry water. Summer months require more water and even electrolyte drinks.
Sun protection – Sunglasses, sun hats, long layers and sunscreen are vital if you are visiting Sedona in Summer. Most of the Pyramid and Scorpion Trail is open and exposed.
Winter – Early starts and late finishes can be cold in Sedona during Winter. We hiked Pyramid Loop Trail in late afternoon in December and each wore lightweight longer layers.
Sedona Arizona Visitor Summary
How to get around – Sedona is small but you'll need a car to access the best hikes to the north and south of town. If you want to get to the hard to reach places, you should hire a jeep.

When to visit – Spring and Fall are the best seasons to visit Sedona, but they come with a higher price tag and more crowds. Winter is a fantastic time to avoid both.

Where to stay in – Accommodation is expensive in Sedona, but there are plenty of very high quality places to stay including Matterhorn Inn, Lantern Light Inn, Arabella Hotel, Whispering Creek B&B and The Suites at Sedona.

Popular things to do – Sedona is one of the best places to hike in the US, but it is also a wonderful place to get off-road in a jeep, shoot stunning photography, visit historic sites and drink wine.
Pyramid And Scorpion Loop Trail FAQ's
Let's take a look at some of the most asked questions about hiking Pyramid and Scorpion Loop Trail in Sedona, Arizona.
How Long Is The Pyramid Hike In Sedona?
You can choose either a 2 mile or 4 mile version of hiking around Pyramid Mountain in Sedona.
Hike only the short 2 mile loop from Pyramid Mountain Trailhead or hike the longer 4 mile trail including Scorpion Trail beginning at Schuerman Mountain Trailhead.
Is Pyramid And Scorpion Loop A Mountain Bike Trail?
Yes hikers will share Pyramid and Scorpion Trail with mountain bikers. Keep your eyes and ears open for bikers as they can come out of nowhere!
Is Pyramid And Scorpion Loop Trail Dog Friendly?
Yes both Pyramid and Scorpion Trails are dog friendly hikes in Sedona. Dogs must be kept on a short leash at all times but they are permitted to explore all areas around these trails on the southwest side of Sedona.
Just be sure to pick up after your pooch, no hiker or biker wants to have a surprise on the trail!
Is Pyramid And Scorpion Trail Worth It?
After hiking all of the popular trails in Sedona, we were blown away by how easy, quiet and relaxing the Pyramid Loop Trail was in comparison.
We had no issues with parking or trails being overcrowded, which even for December was a welcome relief.
Pyramid and Scorpion Trails offer a peaceful Sedona hiking experience with exceptional views over Cathedral Rock throughout and we can't recommend it highly enough.
More Sedona Hikes
Cathedral Rock – Sedona is filled with amazing hikes but Cathedral Rock Trail is one of the most iconic. If you're short on time, this is the adventure hike for you.
Bell Rock – Hike the Bell Rock Courthouse Butte Loop Trail for stunning Sedona views, a fun slick rock climb and our hidden loop half way up the formation.
Boynton Canyon – Exactly how to find the famous Subway Cave on Boynton Canyon Trail, the most photographed cave in Sedona.
Birthing Cave – The easiest cave to reach in Sedona is Birthing Cave on Long Canyon Trail, ending with amazing views and a crowd free climax.
Soldier Pass – Hike to Devils Kitchen and Seven Sacred Pools before climbing into Soldier Pass Cave on the family friendly Solider Pass Trail in Sedona.
Keyhole Cave – Go off trail for an amazing adventure hike in Sedona, find and climb into the impressive Keyhole Cave for stunning views.
More From The Southwest
Zion National Park – Zion is an adventure playground for adults, find the very best hikes in Zion and choose between 5 ways you can spend a one day in Zion itinerary.
Grand Canyon – Just 2 hours from Sedona is the incredible Grand Canyon South Rim, create your wishlist from the best hikes at Grand Canyon South Rim.
Las Vegas – Using Vegas as a start or end point on your Southwest adventure? Here are the best things to do in Las Vegas and the best things to do in Valley of Fire near Las Vegas.
Want more Arizona content? Head over to our Arizona travel guides to explore the best of Grand Canyon, Sedona and beyond.
---
Please let us know if you have any questions about hiking Pyramid and Scorpion Trails or your visit to Sedona in the comments below.
Happy Hiking,
Mark and Kristen
Was This Post Helpful? Pin It For Your Hike!