Tuzigoot National Monument is a fascinating ancient multi-room pueblo that is architecturally similar to many other pueblos established in the Verde Valley region. The people who lived here were part of a thriving community and today Tuzigoot is one of the best ruins to visit in Sedona.
So who were these ancient people and why was this pueblo so important?
Research has shown us Tuzigoot was built in a prime location with easy to access water and bountiful floodplains which helped to produce water-intensive crops like cotton.
This area in Northern Central Arizona also connected many trade routes reaching the top of the Colorado Plateau and extended all the way to Central America as well as the Pacific Coast.
In this guide, we will show you:
What makes up Tuzigoot National Monument
Directions and entry requirements
A little bit of history regarding the Sinagua
Details about the hiking trails
What to expect for your visit
Let's explore the prehistoric pueblo of Tuzigoot National Monument!
*Please note this post may contain affiliate links. If you click on one, we may earn a small commission at no extra cost to you. Thank you for supporting the free content we provide! Read more in our disclosure policy.*
What Is Tuzigoot National Monument?
Tuzigoot national monument is one of the largest remaining pueblos built by the Sinagua people. It is situated high above Arizona's Verde River which has been essential for both ancient and present day cultures.
The pueblo is estimated by archeologists to have been constructed between 1100 and 1450 AD consisting of at least 97 ground level rooms. There is also a second story consisting of another 10 rooms.
The name Tuzigoot originates from the Apache word Tú Digiz meaning "crooked water." It was given to the historical site in 1934 by Ben Lewis, an Apache man who helped with the excavation.
How Do You Pronounce Tuzigoot?
Tuzigoot is often mispronounced, but this is an easy mistake. It's pronounced too-zee-goot.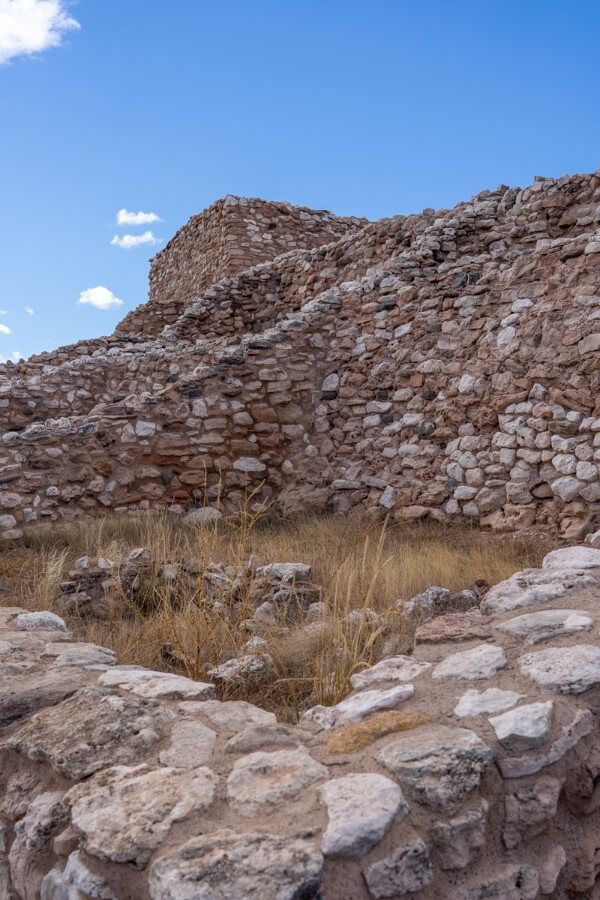 Tuzigoot Visitor Summary
Visitor Center Information – Open daily 8am – 5pm with last vehicle entry at 4:45pm. The park is open seven days a week, but closed on Christmas and New Years Day. It also closes at 2:00pm on Thanksgiving and Christmas Eve. All visitors must check in at the Visitor Center.

Address – 25 Tuzigoot Rd, Clarkdale, AZ 86324, United States

What To Do – Two hour informal guided walks through the Tavasci Marsh daily

Museum – Includes exhibits and artifacts involving the lifestyle of the Sinaguan people

Available Services – Bookstore, restrooms, and 3 walking trails

Tuzigoot NPS Website – Click Here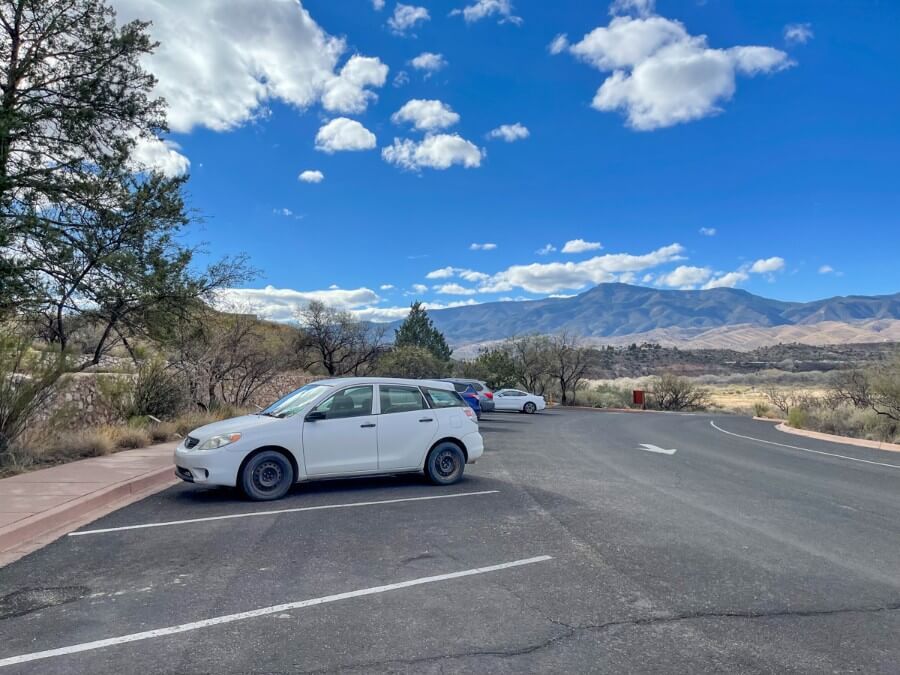 Where Is Tuzigoot Castle National Monument?
Tuzigoot National Monument is located about 2 hours north of Phoenix and about 1.5 hours south of Flagstaff.
Many people visit this historical site as a day trip from Sedona because it is about 30 miles southwest of town, just a few minutes off the 89A which makes it easily accessible.
If coming from Sedona, follow highway 89A west for about 17 miles to E Mingus Ave just before Cottonwood. Turn right onto E Mingus Ave for 2.0 miles and make a right onto N Main Street.
After about 1.1 miles, N Main Street will turn into S Broadway. Turn right onto Tuzigoot Rd after 1.0 mile and the right hand turn for the Visitor Center will be about 1.0 miles down this road.
We highly recommend you combine Tuzigoot with a ride on the nearby Verde Canyon Railroad.
Entry Fee For Tuzigoot National Monument
In order to enter the park, you will need to purchase a seven day pass giving you access to both Tuzigoot National Monument and Montezuma Castle National Monument. The cost is $10 per adult but anyone who is age 15 or younger is free.
This pass will give you entry into both Tuzigoot and Montezuma Castle National Monument. Be sure to save your receipts if you plan to visit both areas. The pass is valid for seven consecutive days.
But if you have an America the Beautiful Pass, entry is free for both Tuzigoot and Montezuma Castle National Monument.
Similar to entry of the National Parks, you just have to show your signed pass for entry.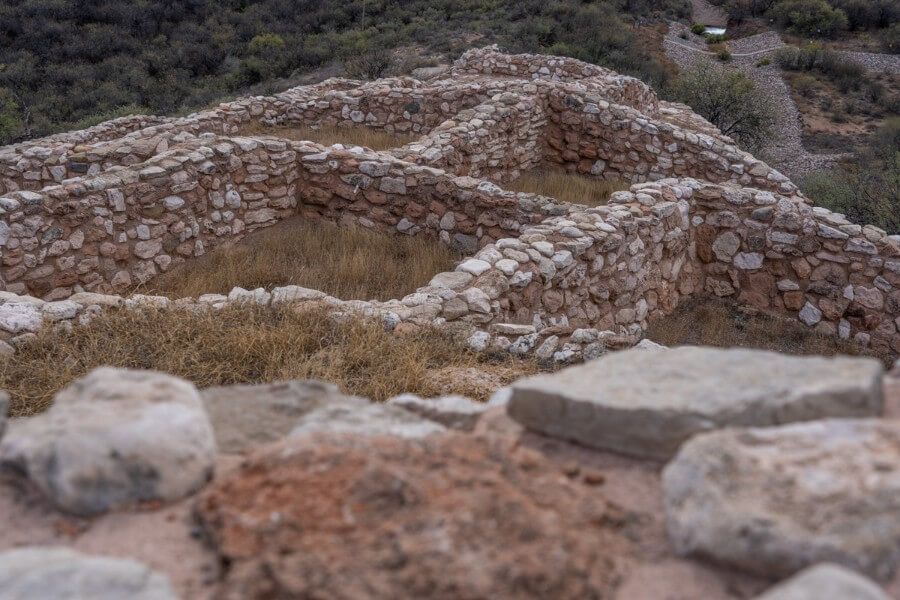 When Was Tuzigoot Built And Who Lived There?
Archeological research has shown the earliest rooms at Tuzigoot were built around 1000 years ago by the Sinagua. While modern tribal divisions are hard to apply, the Sinagua are ancestors of the Hopi, Navajo, Yavapai, and Apache tribes.
It is estimated that about 250 people lived in this complex. The ground rooms were equipped with hatchways leading to the roofs with ladders. The upper rooms of the dwelling also had doorways leading through the side.
The Sinagua moved out of Tuzigoot in the mid-1400's for unknown reasons.
There is evidence of overpopulation, depletion of resources, conflicts between groups, disease, spiritual beliefs and / or climate change causing the tribe to migrate northward towards other pueblo villages.
Can You Go Inside Tuzigoot National Monument?
Yes, you can go inside Tuzigoot and explore some of the rooms of this ancient pueblo. The pueblo trail will lead you to the Citadel room which overlooks the entire ruin from the second story.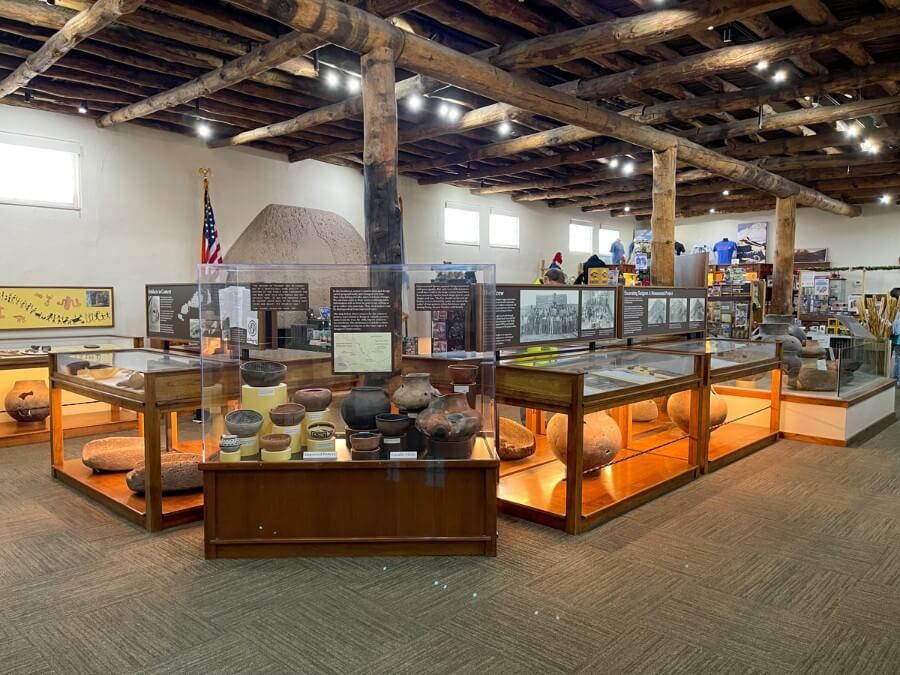 The Museum
If you are interested in learning more about the Sinagua or this region is generally, stop by the museum located in the visitor center.
Here, you will find many artifacts which were dug up during the excavation of the Tuzigoot pueblo. These 3,158 artifacts helped researchers learn about the thriving trade culture of these ancient times.
Don't miss the woven baskets, beautiful jewelry, sea-shells from far away oceans, exotic minerals or the feathers of the Macaws which exist only in Mexico and South America.
There are several informative plaques and exhibits to help you understand the people who built the Tuzigoot pueblo nearly a thousand years ago.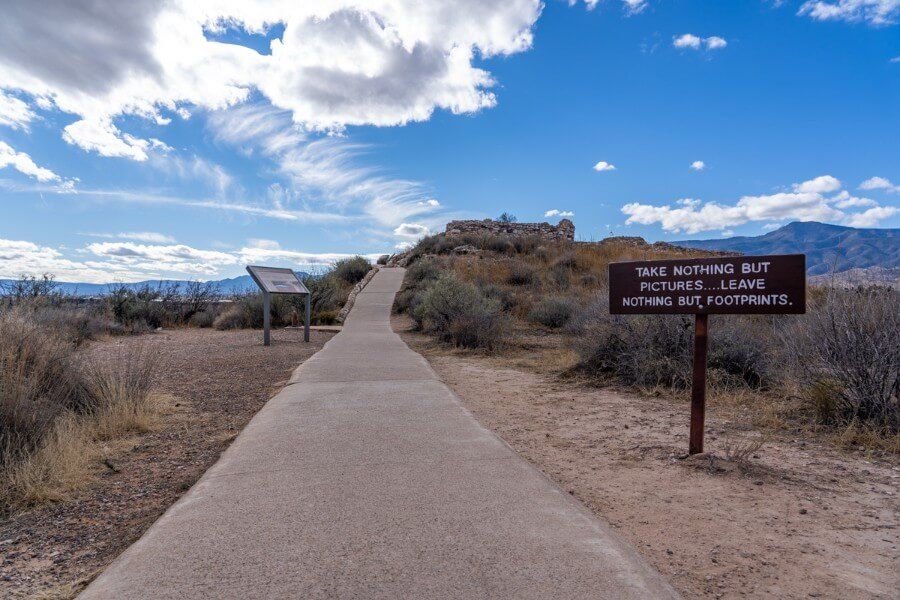 Three Trails At Tuzigoot
There are three main self-guided trails found within Tuzigoot national monument including a pueblo trail, a marsh trail and a river trail.
Below is a description of each trail.
The Pueblo Trail
The Pueblo trail is a paved 1/3 mile trail that leads to the Citadel room. This trail will lead you around the circumference of the pueblo with the option to visit the Citadel room overlooking the entire ruin on the second story.
As you enter the pueblo on the far side, the path guides you through a few rooms and requires the use of some stairs to reach the Citadel room.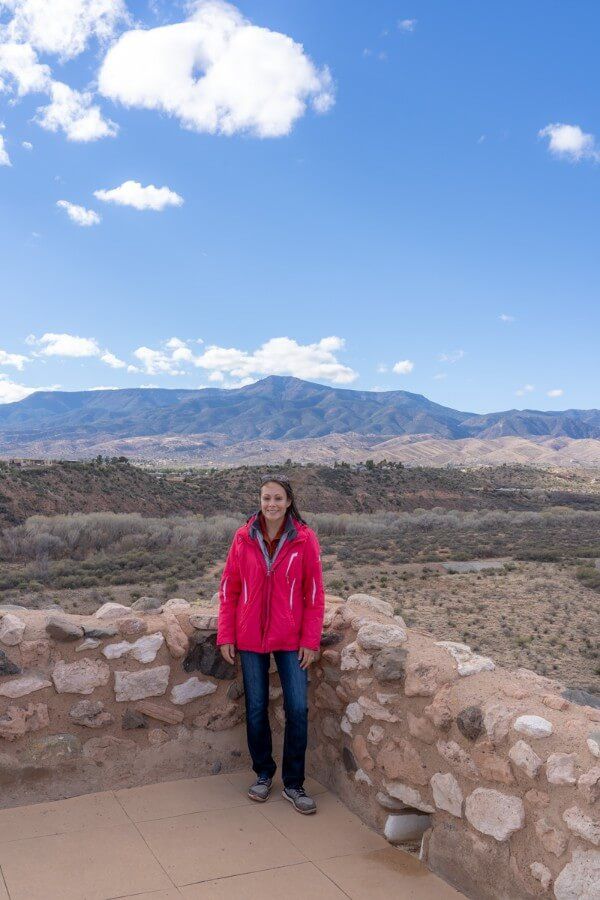 The Marsh Trail
The Marsh trail is made up of loose gravel and is 0.7 miles one way. If you head towards the Marsh, just remember the site closes at 5:00pm and the entrance gate will be locked after this time.
There is also a separate 0.4 mile Marsh Overlook trail which is all paved and gently sloped. This would be a great option for wheelchairs or strollers.
The Verde River Trail
There are two short trails located next to the Verde River including a 0.6 mile loop or a 0.75 one-way trail running parallel to the Verde River.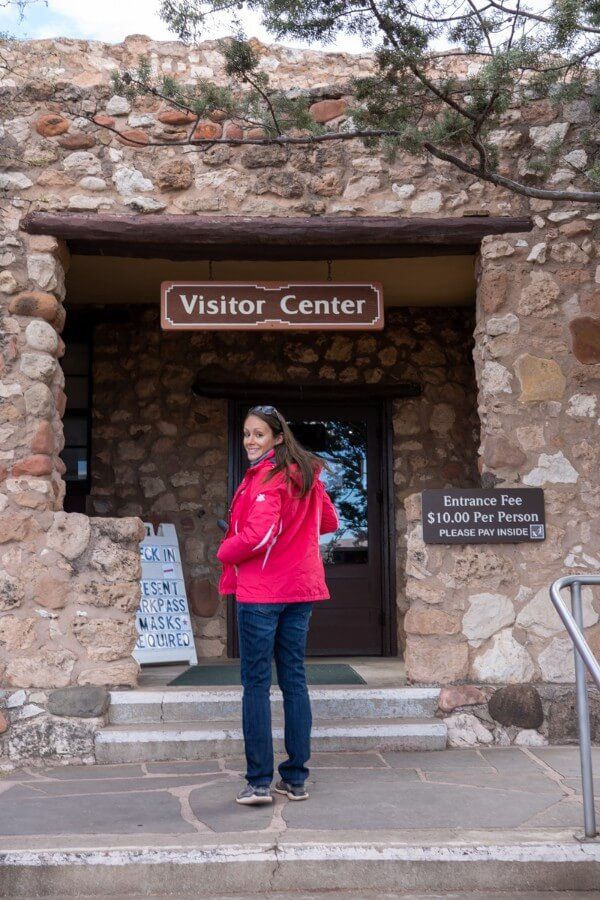 Best Time To Visit Tuzigoot National Monument
The National Monument is open year round. We visited in December and the weather was perfect for hiking at about 60°F. Visiting in the off season also meant fewer crowds.
Arizona summer days are extremely hot ranging anywhere from 95°F to 110°F. Very heavy rains, known as monsoons, are common late June to early August during the early afternoon.
Winter days in Arizona tend to have an average temp of around 60°F with lows commonly in the teens. Snowfall is rare but is possible.
Be sure to check the weather forecast when you visit and plan appropriately. It is important to drink plenty of water and hydrate properly, especially in the summer months.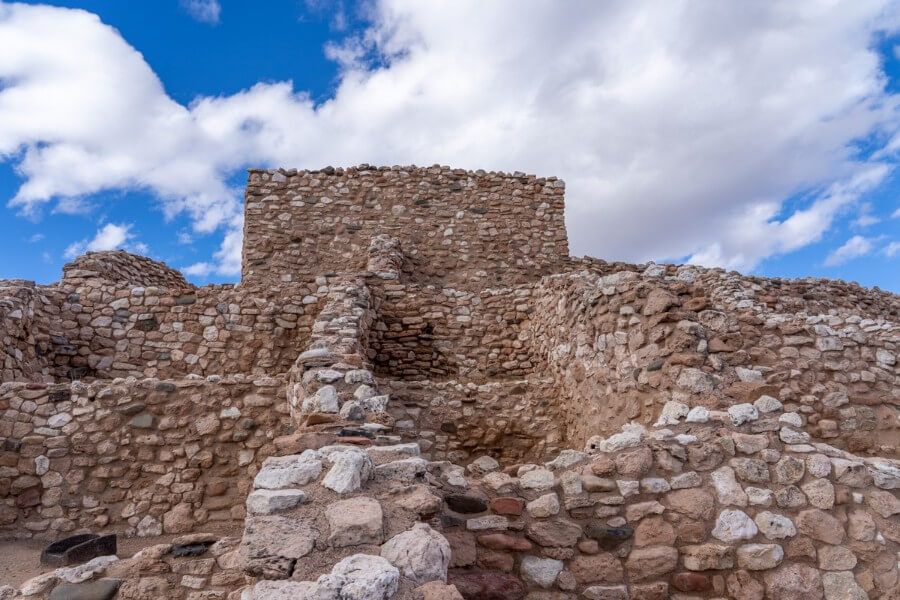 5 Tips For Visiting Tuzigoot National Monument
Take your time when visiting to fully appreciate the ancient history
Be sure to read the informational exhibits found on the hiking trails
Rangers are sometimes stationed along the trail to answer any questions you may have
Don't miss all three short hiking trails
Visit early in the day to avoid the heat
Our top tip for your visit:
We would recommend visiting both Tuzigoot and both sections of Montezuma Castle national monument. It is possible to visit all three one day.
Start by visiting the Montezuma Well first and then loop around to Montezuma Castle. From the Castle, you can then go on to visit Tuzigoot National Monument or some of Sedona's popular wineries.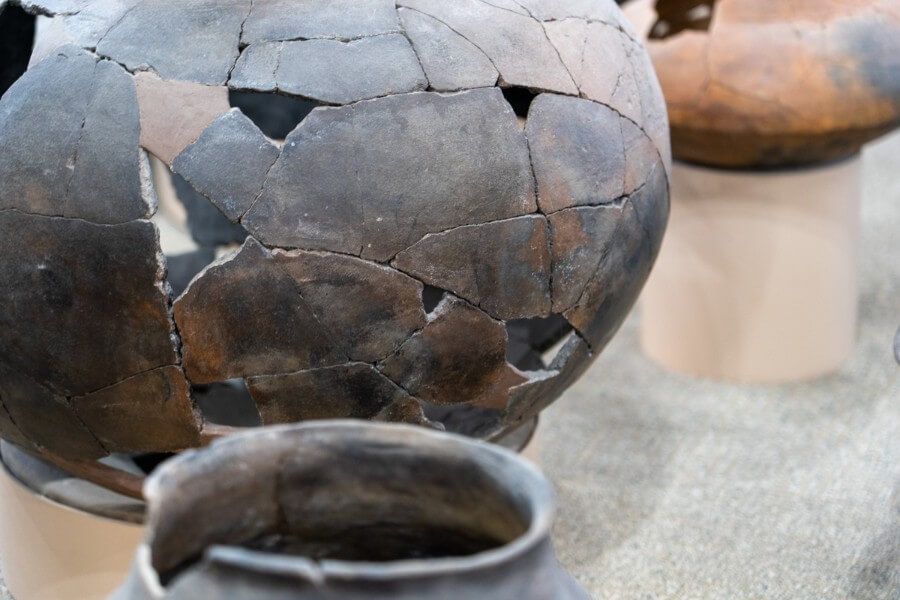 Tuzigoot National Monument FAQ's
Let's take a look at some of the most frequently asked questions regarding Tuzigoot National Monument.
Is Tuzigoot Worth Seeing?
Yes, Tuzigoot National Monument is worth seeing. If you have spare time in your Sedona itinerary, don't miss a visit to Tuzigoot, Montezuma Castle and the Verde Canyon Railroad, which are all located to the southwest of town.

This multi-room pueblo at Tuzigoot National Monument is one of the best preserved historical sites found within the state of Arizona and one of the best things to do on a visit to Sedona. It is fascinating to see and learn how many cultures have thrived in this region.
How Much Does It Cost To Visit Tuzigoot National Monument?
It costs $10 per adult to visit Tuzigoot National Monument, but you will receive free entry with an America the Beautiful Interagency Pass.
Are Dogs Allowed At Tuzigoot National Monument?
Yes, dogs are allowed at Tuzigoot National Monument, but must remain on a leash no longer than fix feet. Please pick up after your pet and mindful of the warm temperatures if you are planning to leave your dog in the car.
More Historic Sites In Sedona
Want more Arizona content? Head over to our Arizona travel guides to explore the best of Grand Canyon, Sedona and beyond.
---
We hope this guide to Tuzigoot National Monument helps with planning your visit to Sedona!
Please let us know if you have any questions about Tuzigoot National Monument or your visit to Sedona in the comments below.
Happy Travels,
Mark and Kristen
Enjoy This Tuzigoot Monument Guide? Pin It For Your Visit!