Intriguing natural landmarks like Soldier Pass Cave, Devil's Kitchen and Seven Sacred Pools make Solider Pass Trail one of the most popular hikes in Sedona.
In this guide we are going to walk you through the entire Soldiers Pass Trail with tips on parking and how to find the not-so-hidden Soldier Pass Cave.
Let's begin.
Our Soldier Pass Trail Experience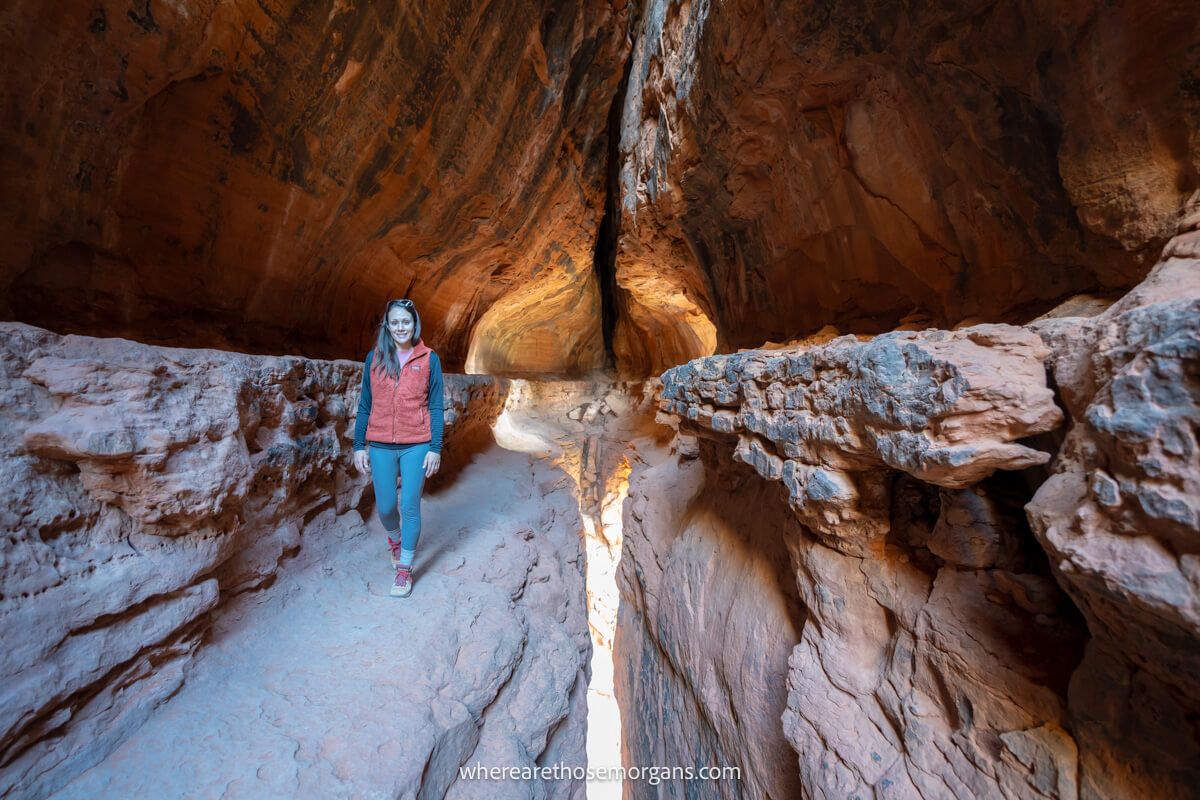 We hiked Soldier Pass Trail and climbed inside Soldier Pass Cave during our week long visit to Sedona at the end of 2021. This is definitely one of our favorite Sedona trails because it's packed full with photogenic rock formations.
Visiting Sedona in December during the low season usually meant we benefited from quiet trails but Solider Pass Trail was surprisingly busy. Luckily, we'd hired a Jeep so we could escape from the notorious trailhead parking problems and access the hiking trail from the nearby 4×4 road instead.
Hiking Statistics
Trail Distance: 4.2 miles roundtrip
Elevation Gain: 750 feet
Hike Difficulty: Moderate
Time Required: 3 hours
Trailhead: Soldier Pass Trailhead (trail no. 66)
Best Time: Afternoon
Soldier Pass Trail Map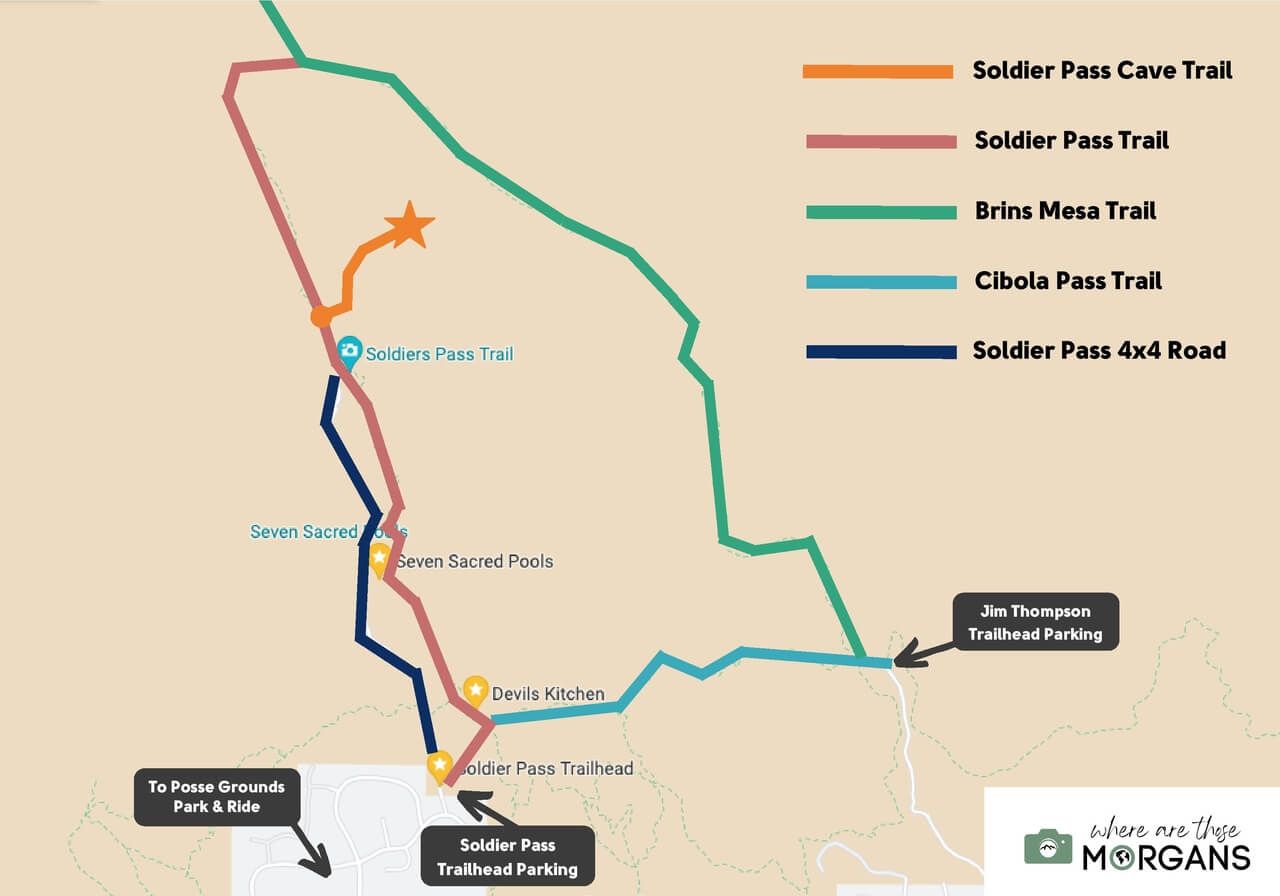 Map key:
Orange Line – Soldier Pass Cave Trail
Orange Star – Soldier Pass Cave Location
Red Line – Soldier Pass Trail
Green Line – Brins Mesa Trail
Light Blue Line – Cibola Pass Trail
Dark Blue Line – Soldier Pass 4×4 Road
The map above shows the two major parking locations for accessing the hike, as well as the various trails you can hike around Soldiers Pass. We'll explain your parking options in detail later in the guide.
How Do You Get To The Secret Soldier Pass Cave?
To get to the hidden Soldier Pass Cave you need to take a right turn at a very obvious fork in the trail around 1.3 miles from Soldier Pass Trailhead. Is it 1 mile north of Devil's Kitchen sinkhole for reference.
Use the photo above to see how Solider Pass Trail splits. Heading left leads you to Brins Mesa Trail and heading right up the small hill leads you to Soldier Pass Cave.
Look for the white Wilderness sign posted on a tree immediately after taking the right fork.
Hiking Tip: When exploring outdoors, be sure to always practice the seven principles of Leave No Trace to preserve natural beauty so others can enjoy the same environments.
Soldier Pass Trail Hike Walkthrough
Let's get into the Soldier Pass Trail hiking walkthrough. We are going to show you the entire trail step-by-step so you know exactly what to expect.
Don't forget you can use our photos below throughout your hike on Soldier Pass Trail to help with navigation and landmarks.
1. Devils Kitchen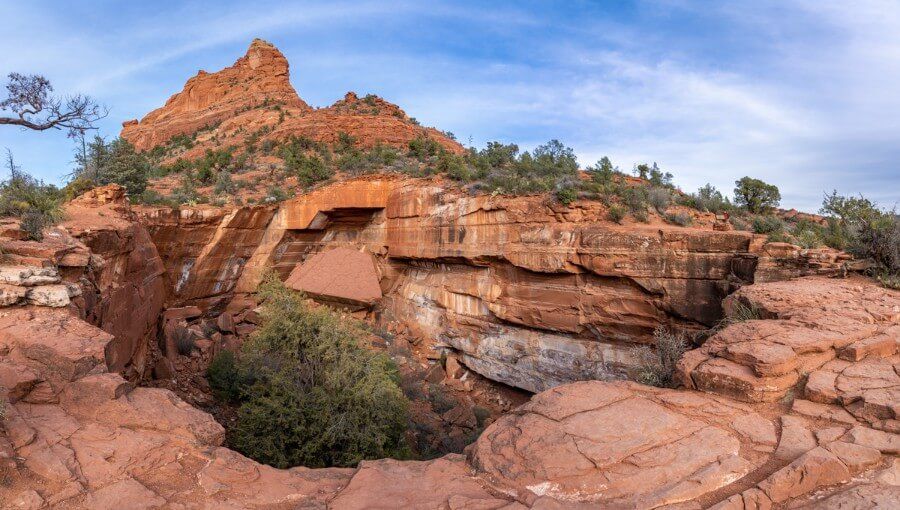 The first stop on Soldier Pass Trail arrives just 0.2 miles into the hike. You can't miss the enormous gaping hole in the ground, known as Devils Kitchen sinkhole.
Expansive underground limestone caverns collapsed in the 1880's and created this huge depression in the red rock formations. Don't miss the information board to learn more about geological processes causing sinkholes.
Take extra care around the edges of the sinkhole if you are hiking with your kids. There is no protection of any kind around the perimeter.
2. Seven Sacred Pools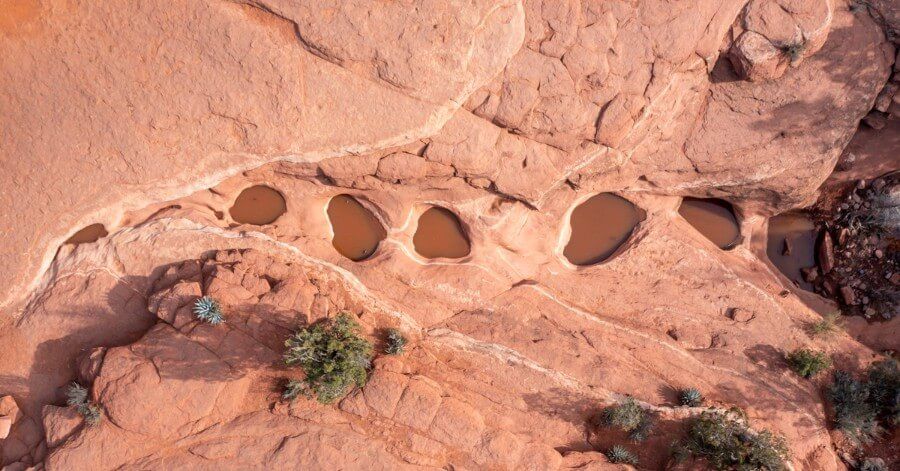 Follow a nice and easy dirt trail through green juniper trees for a little less than half a mile. This will lead you directly to Seven Sacred Pools, which is one of the most photogenic natural areas in Sedona.
We took the photo above with our drone in December when the pools were almost dry and stagnant with dirty looking water. But if you visit Sedona when a seasonal spring feeds the pools, this scene looks like something out of Middle Earth or Narnia.
3. Soldier Pass Trail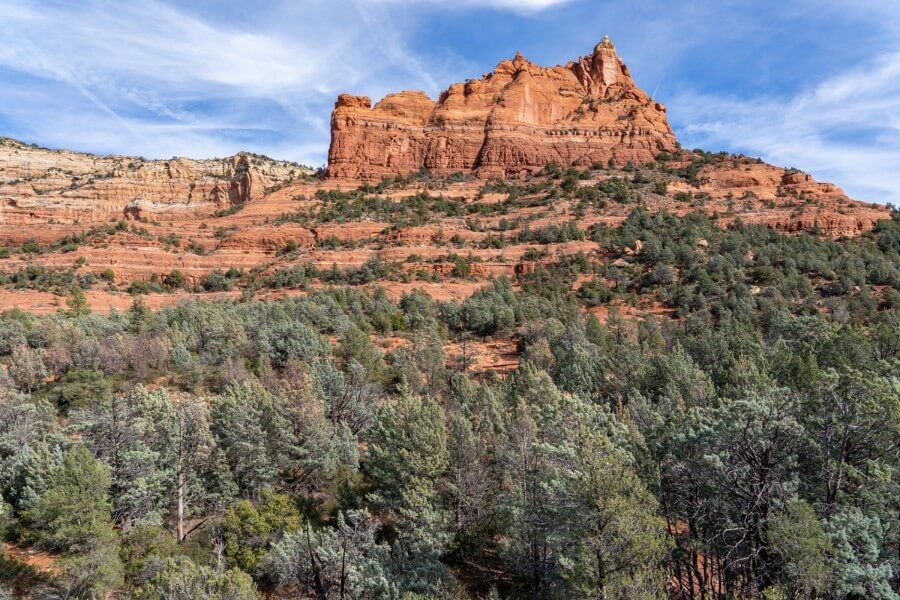 Continue heading north from Seven Sacred Pools for 0.7 miles. The trail is almost perfectly flat, well beaten and very easy to follow.
Look left and right as you walk to soak up Sedona's beautiful red rock landscape. You will pass through the deep Soldier wash which is where the Soldier Pass 4×4 road ends.
4. Turn Right At The Split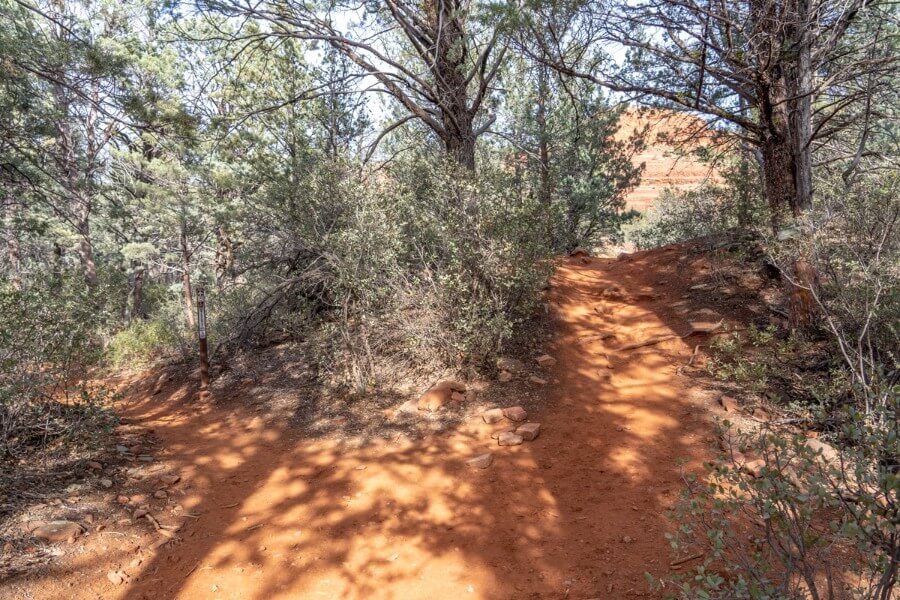 Continue to follow the cairns and wilderness signs through the wash. Eventually you will reach a very obvious fork in the path.
This is the most important part of the trail. You must turn right here at the fork if you want to climb inside Soldier Pass Cave.
5. Look For The Wilderness Sign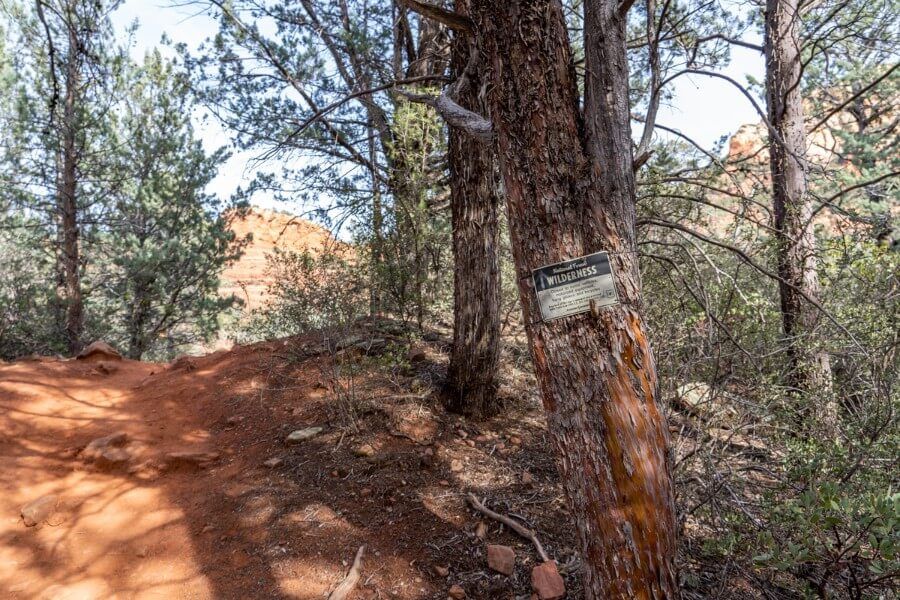 Moments after taking the right fork you will see a Coconino National Forest wilderness sign posted on a tree trunk like you can see in the photo above.
Exploring Sedona's hidden caves and fantastic hiking trails should not to be taken for granted. We all have to be responsible and treat the stunning natural environment here with respect.
Remember the principles of leave no trace and be considerate when you enter this wilderness area along Soldier Pass Trail.
6. Gain Elevation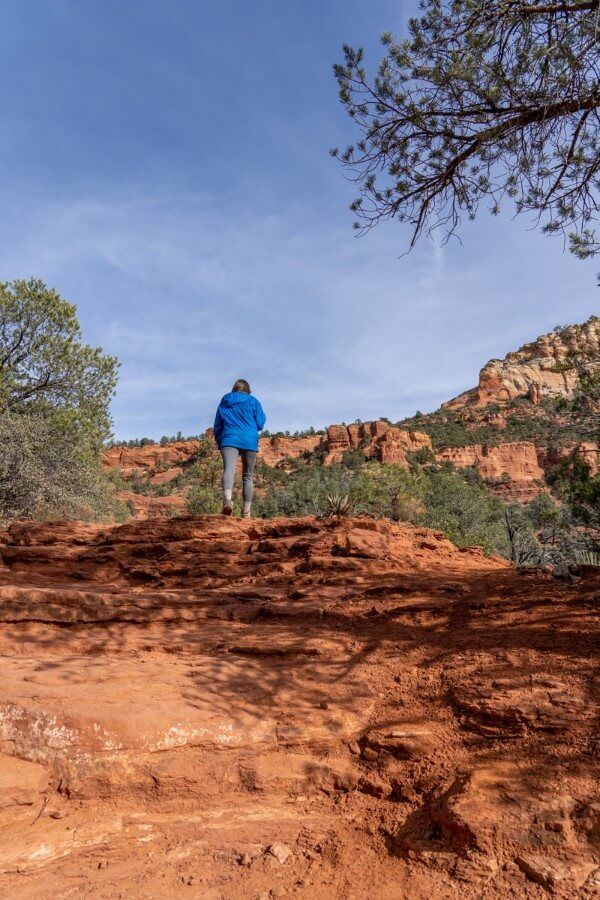 You will slowly begin to gain elevation on Sedona's quintessential dusty red rocks. Your calves will start to burn pretty quickly!
It is important you wear shoes with good grips from here as you ascend to the entrance of Soldier Pass Cave because the trail can be slippery.
7. Cross The Flat Rocks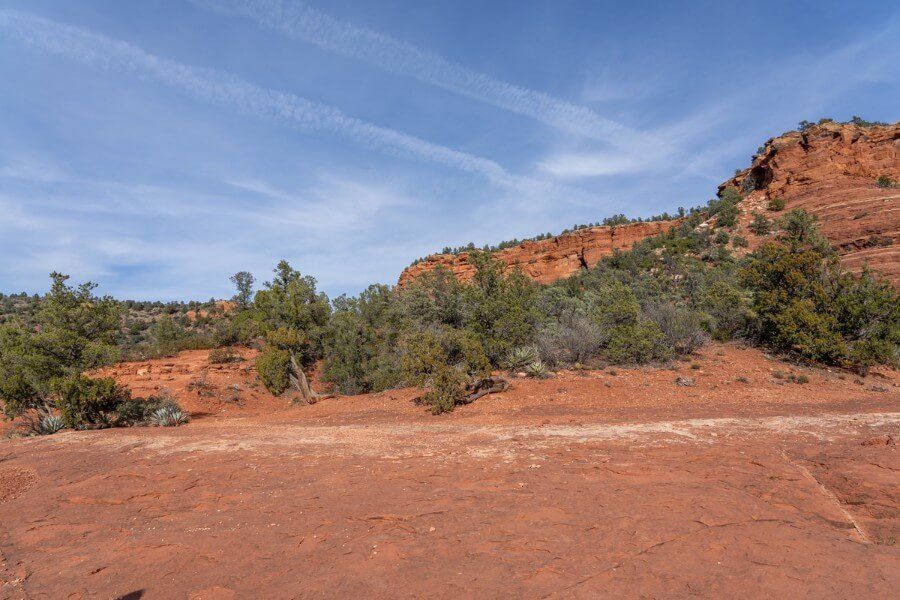 Next, you will cross straight over a wide open flat rock sticking to the left hand side. The trail isn't marked or obvious, but you can just about make out a path on the opposite side of the rock.
Do not go directly toward to taller red rocks or attempt to gain elevation here. Keep left and stay flat in order to re-join the trail.
8. Steep Ascent To Reach Soldier Pass Cave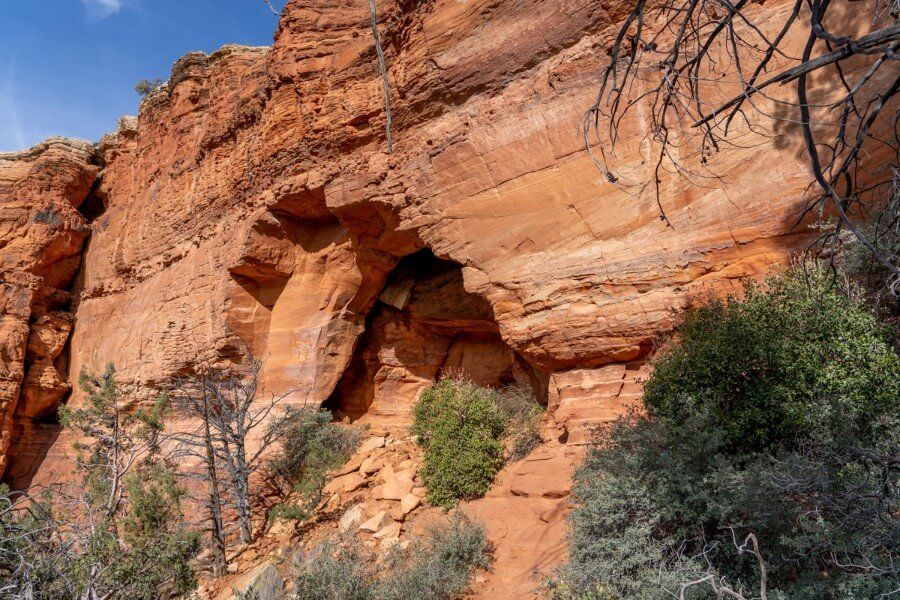 The climb to reach the outside of Soldier Pass Cave is steep and a bit of a slog. We think the trail difficulty transitions from easy to medium throughout the ascent.
From the outside Soldier Pass Cave looks more like an arch leading into a small depression with several layers like an onion. And that is exactly what it is, but there's also a gap in one of the onion layers that you can climb into.
9. Climb Into Soldier Pass Cave
Enter the arch and you will notice a very narrow but tall gap directly behind the entrance on the right side as you walk in.
You have to climb the rocks to gain access to Soldier Pass Cave. The climb inside can be quite challenging. Even if you are a strong hiker you will still need to use your hands and feet.
Previous hikers sometimes leave ropes attached to rocks at the top of caves in Sedona so that other hikers can use them to gain entry. However, you should not rely on ropes being in place. If you think you'll need the use of a rope, take your own.
Want a more challenging cave? How to hike the Sedona Keyhole Cave.
10. Enjoy The Views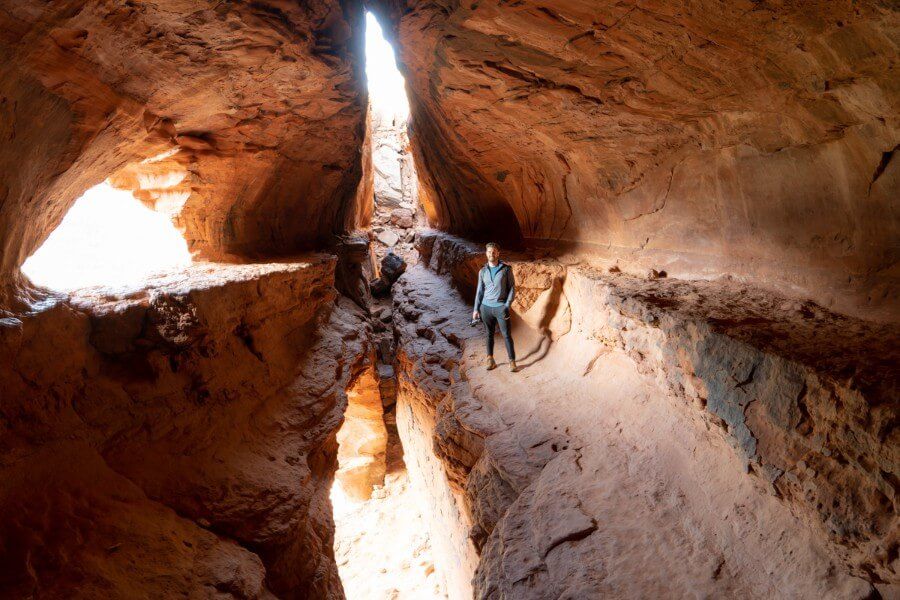 Climb up the rocks and you are rewarded with an incredible cave illuminating under three separate narrow light sources from the bottom side and back.
Take care when walking along the narrow ledges as you explore Soldier Pass Cave. It's not very wide and it can become overcrowded with other hikers inside the small space.
Walk to the opposite side of the upper chamber and look back for a striking view of Soldier Pass Cave.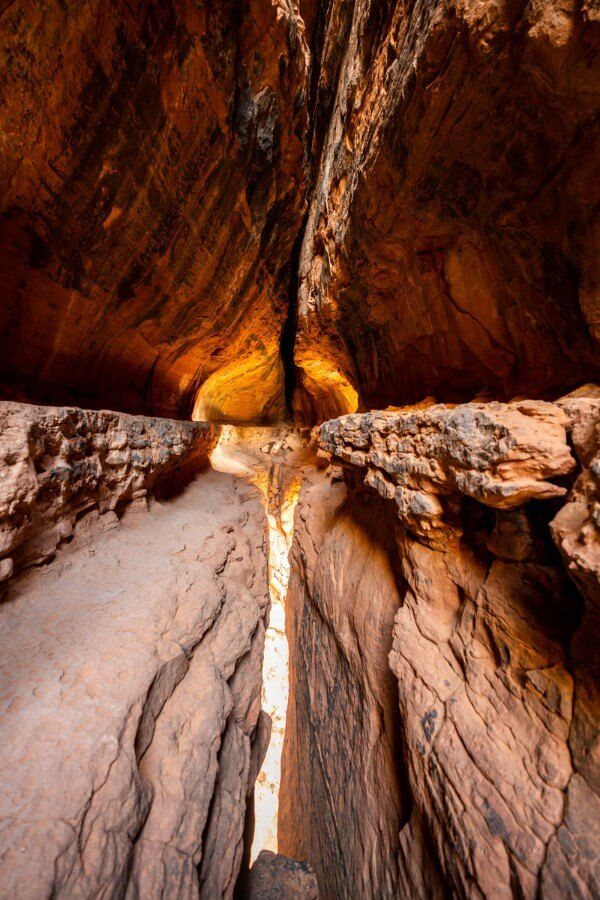 The photo above was our favorite point of view inside the cave. You can climb up the back side of Soldier Pass Cave but it is very steep and requires a scramble. The climb leads to the top of the arch as you see it from the outside.
We chose not to climb up the back section of the alcove during our hike because we could hear at least 2 or 3 big and loud groups up there.
But if it is quiet when you visit Soldier Pass Cave and you are an experienced hiker, carefully climb the back part for elevated views over the spectacular landscape below.
11. Hike Back To The Trailhead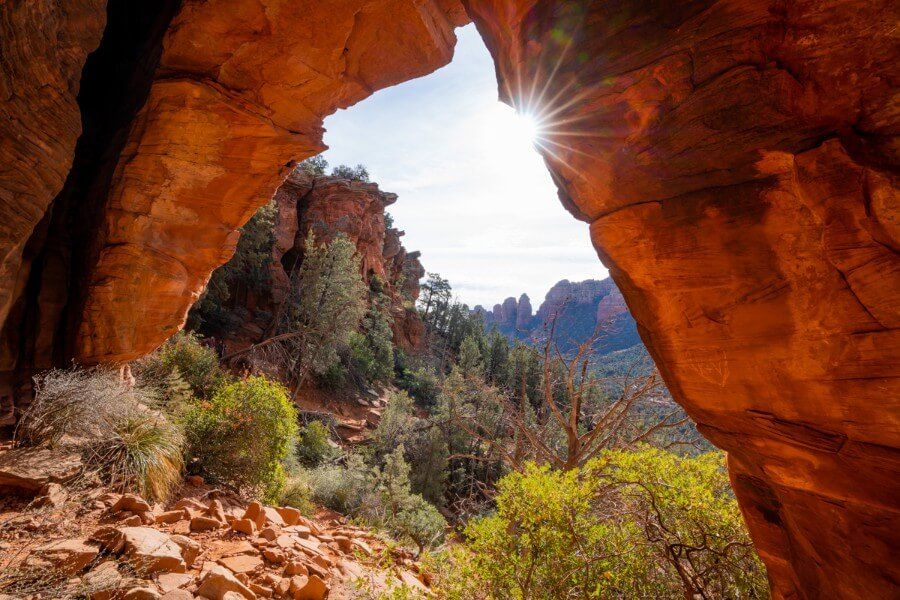 Once you're done in Soldier Pass Cave, head back down the same way to rejoin Soldier Pass Trail.
Turn left to go back past Seven Sacred Pools and Devils Kitchen to the trailhead, or turn right to loop around on Brins Mesa trail. If you take Brins Mesa trail, we highly recommend you climb the spur trail to a fantastic overlook.
Our advice is to hike Brins Mesa only if you have plenty time on your Sedona itinerary. If you are short on time, there are plenty of better hikes and caves to explore in Sedona.
Soldier Pass Cave Trail Pros And Cons
Pros:
Soldier Pass Cave is unique and photogenic
Devils Kitchen and Seven Sacred Pools are fantastic landmarks
Family friendly and great for teens
Cons:
Very popular trail means it is always busy
The cave is a little tricky to climb into
Parking at the trailhead is near impossible
Soldier Pass Trailhead Parking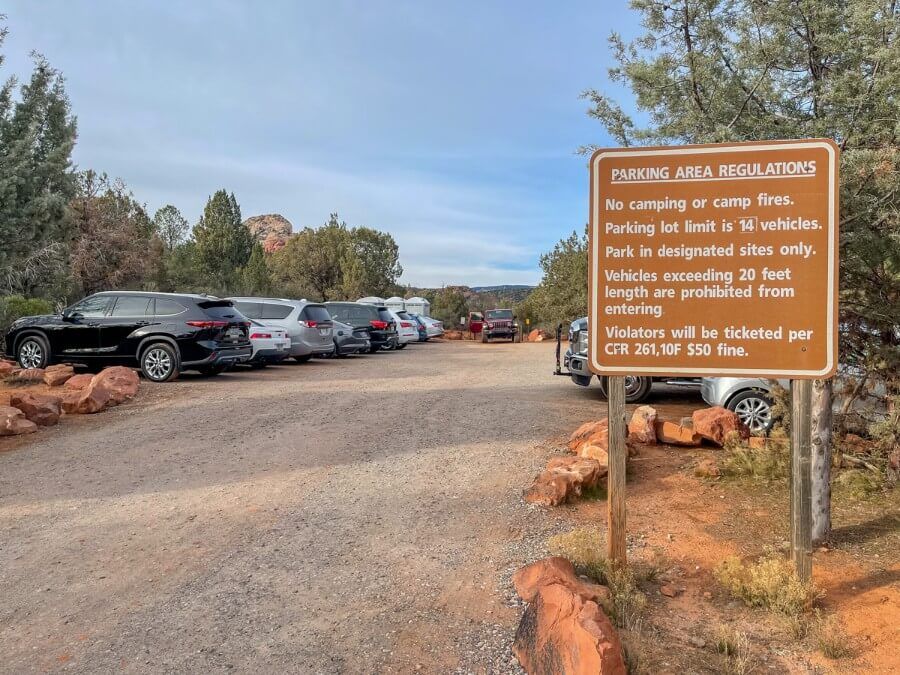 Soldier Pass Trailhead parking lot is one of the hardest places to park in Sedona because it's limited to just 14 vehicles and this is a hugely popular hike.
Every morning hikers drive to the trailhead hoping for a coveted spot only to find the line is already 20-30 cars long.
It's important to know that Soldier Pass Trailhead is located in a residential area. Long lines of frustrated drivers lining up isn't much fun for the locals who live in this part of Sedona.
Here's the Google Maps location for Soldier Pass Trailhead. Only cars up to 20 feet in length are permitted to park in the trailhead lot, so don't turn up in an RV.
When To Arrive
Soldier Pass Trailhead parking lot is open from 8:00am to 6:00pm daily. You can arrive anytime to get in line, but even a 7:00am arrival may be too late. It depends on the season and how busy Sedona is during your visit.
Cars will be in and out of the lot all day so you can get a spot if you arrive later, but expect to wait in a long line.
Important – If your car is still in the Soldier Pass Trailhead parking lot at 6.01pm, it's staying there all night. The gates will be locked and you will be without your car, so make sure you are well out of the way in good time.
Alternate Parking Options
Chances are very high you will need to consider parking somewhere else for this hike in Sedona.
Here are your alternate options for accessing Soldier Pass Trail:
1. Posse Grounds Park & Ride
You can park at Posse Grounds park and ride to take the Sedona Shuttle right to Soldier Pass Trailhead. Here's the Google Maps location for Posse Grounds park and ride.
Look for the green shuttle bus #14 for Soldier Pass Trail, which takes just 6 minutes.
The Sedona shuttle only runs during peak times. Here's the timetable with buses starting at 8:00am and finishing at 5:51pm.
2. Jim Thompson Trailhead (Cibola Pass Trail)
Jim Thompson Trailhead parking offers the perfect alternative to stressful overcrowding at Soldier Pass Trailhead.
Here's the Google Maps location for Jim Thompson parking lot.
If you park at Jim Thompson Trailhead, you can walk 1 mile along Cibola Pass Trail to reach Devil's Kitchen sinkhole directly.
Hiking tip – Jim Thompson is a better place to park if you want to hike the full Soldier Pass and Brins Mesa loop.
Do You Need A Pass To Hike Soldier Pass Trail In Sedona?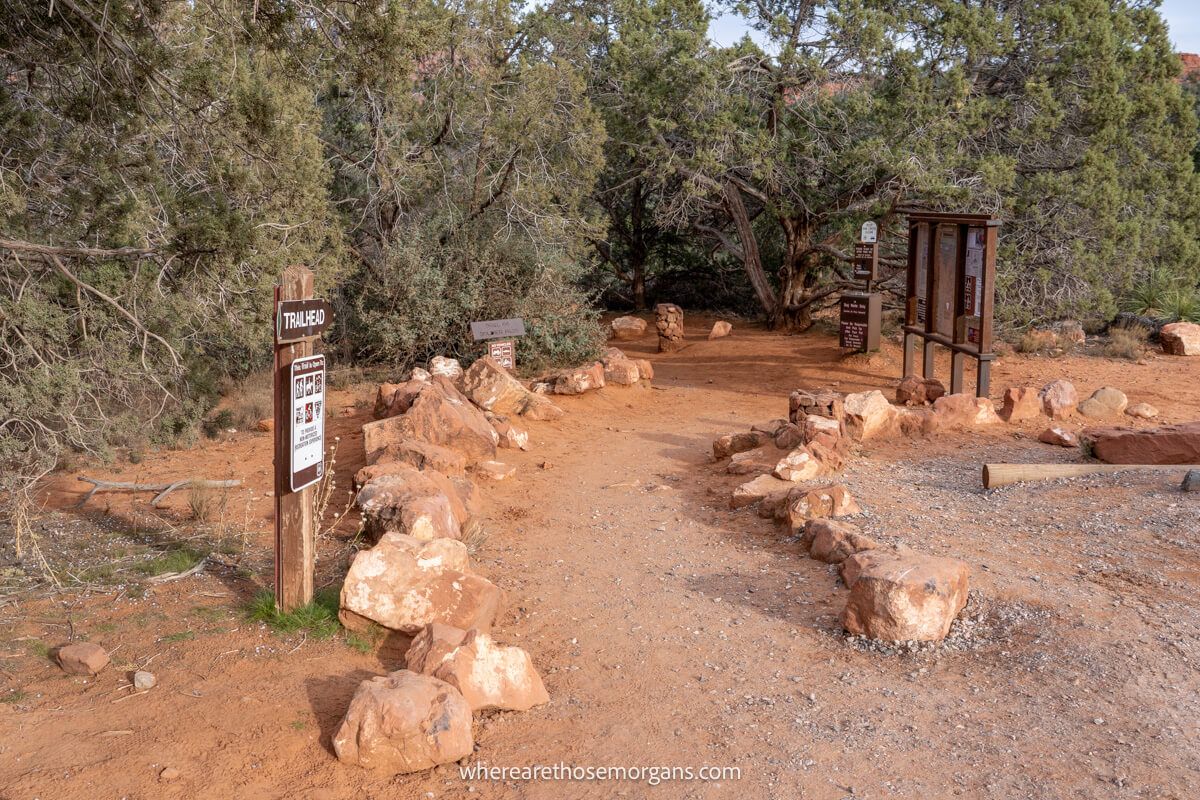 Soldier Pass Trailhead and Posse Grounds park and ride do not require a pass to park. However, you will need to display either a Red Rock Pass or America the Beautiful Pass if you park at Jim Thompson Trailhead.
You can buy a Red Rock Pass at this recreation.gov page in advance, or you can buy a pass at a ticket machine when you arrive in person.
Red Rock Pass options include:
1 Day Red Rock Pass – $5
7 Day Red Rock Pass – $15
Red Rock Annual Pass – $20
Do you have an America the Beautiful National Parks Pass? You can use it instead of a Red Rock Pass at these trailheads in Sedona.
Soldier Pass 4×4 Road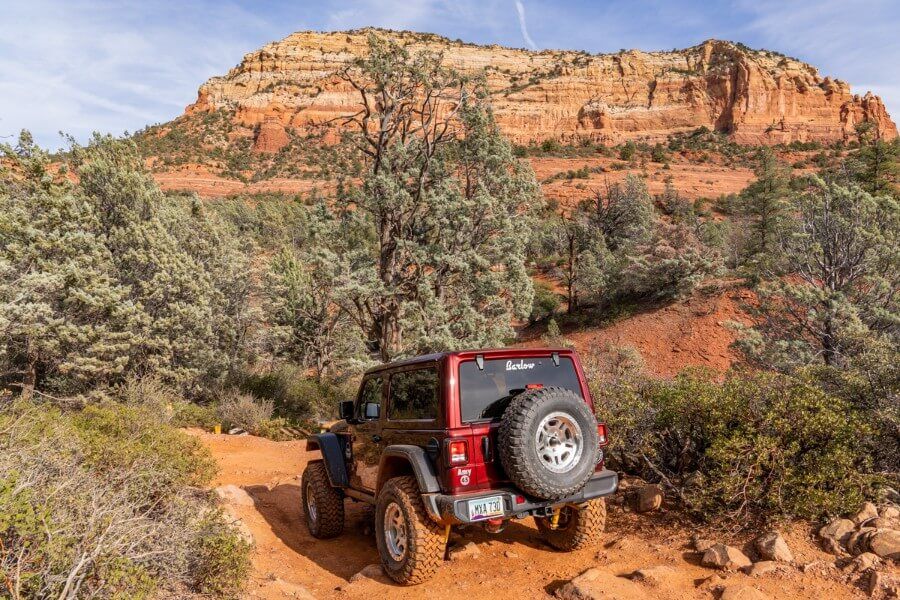 Here's a unique but expensive trick you can use to avoid parking problems for hiking Soldier Pass Trail.
If you hire a Jeep for a few days, not only can you drive the best Jeep trails in Sedona but you can also drive straight through Soldier Pass Trailhead parking lot beyond a metal gate and onto Forest Service Pass 9904 Road.
You can't access Soldier Pass 4×4 road in an ATV. Only a Jeep with configured high clearance will get over the huge boulders at the road entrance.
Not having to think about parking when we hiked Soldier Pass Trail was a huge relief for us. We drove right up to Devils Kitchen and Seven Sacred Pools on fun off-road trails, before parking at Soldier Wash to hike up to the cave.
Important – This is the only Sedona off road trail you have to purchase a permit to drive. Permits can be reserved here at reservation.org.
Best Time To Hike Soldier Pass Trail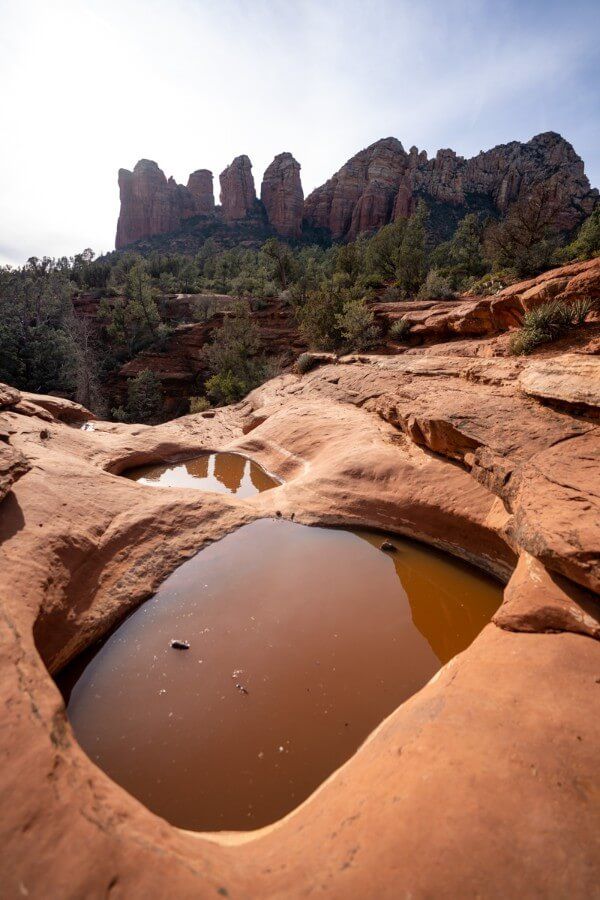 The ideal time to hike Soldier Pass Trail is mid-afternoon on a weekday in spring or fall to benefit from perfect hiking and light conditions.
Best Season
Spring and fall are the two best seasons to visit Sedona and hike Soldier Pass Trail. But because it is so busy, you will struggle to get parked and the trails will be even more crowded than usual.
Winter and summer to a certain extent offer slightly quieter periods in Sedona, which means you have more chance getting parked at trailheads. However, it can be very hot in summer and very cold in winter.
No matter which season you hike Soldier Pass Trail, try to avoid weekends, holidays and the 10:00am to 2:00pm rush.
Best Time Of Day
Mid-afternoon is the best time of day to hike Soldier Pass Cave Trail to benefit from the best lighting inside Soldier Pass Cave, which is west facing.
However, it might be worth waiting until a little later in the afternoon in the hope that the trail will be less busy if you visit Sedona during peak season.
Looking for hiking inspiration? Read our popular guide to the 50 best hikes in the US next.
What To Pack For Hiking Soldier Pass Trail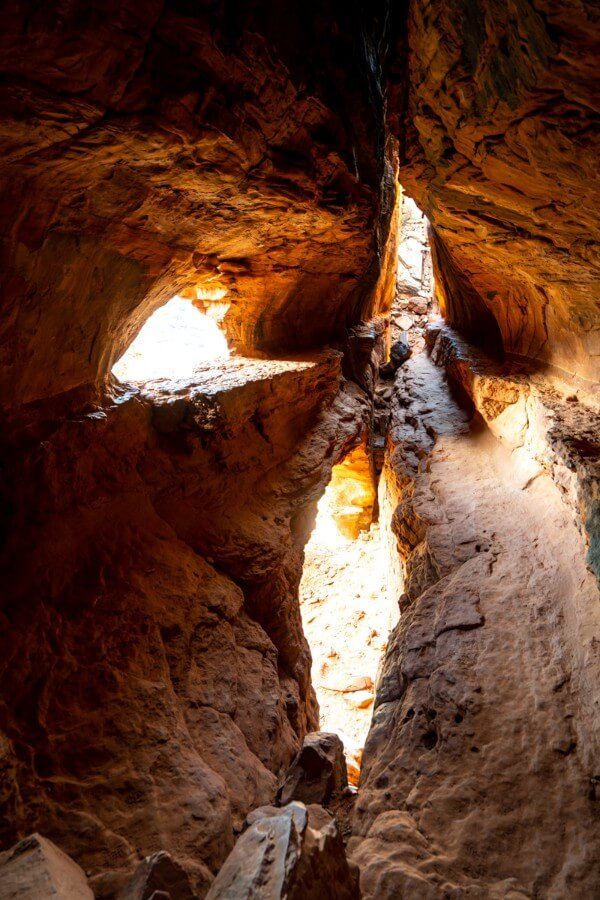 Footwear – Footwear with good grips and traction are going to help you climb up the steep approach and reduce slipping on sandy rocks when accessing Soldier Pass Cave.
Water – Soldier Pass Trail is open and exposed, which means you'll need to take water. Summer months require more water and even electrolyte drinks.
Sun protection – Sunglasses, sun hats, long layers and sunscreen are vital if you're visiting Sedona in summer, especially on an exposed hike like this one to Soldier Pass Cave.
Our Top 5 Tips For Hiking Soldier Pass Trail
Take the Sedona shuttle or park at Jim Thompson Trailhead
Hike in spring to see Seven Sacred Pools at its best
Turn right at the trail split so you don't miss the cave
Climb inside the cave around mid-afternoon for the best light
Hire a Jeep so you can drive right up to the trail highlights
Track Your Hike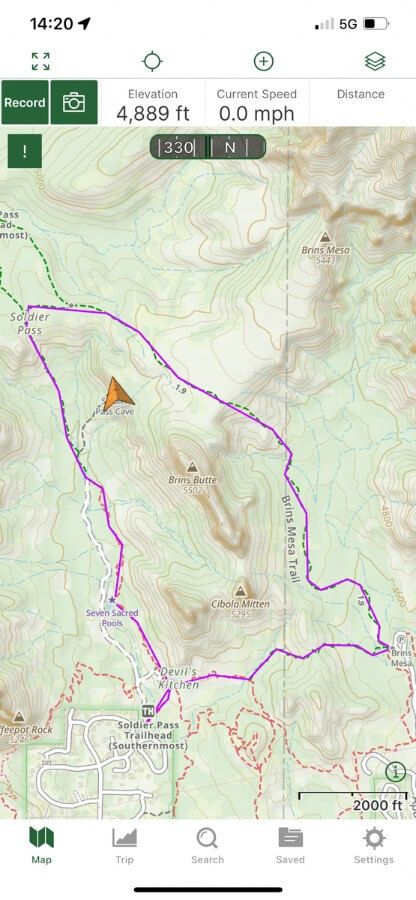 Do you use any of the best hiking apps to track your hikes?
We followed our live location marker on our Gaia GPS app to make sure we were heading in the right direction for accessing Soldier Pass Cave.
Use our exclusive 20% discount link if you would like to join Gaia GPS Premium and track your future hikes.
Is Soldier Pass Trail Worth It?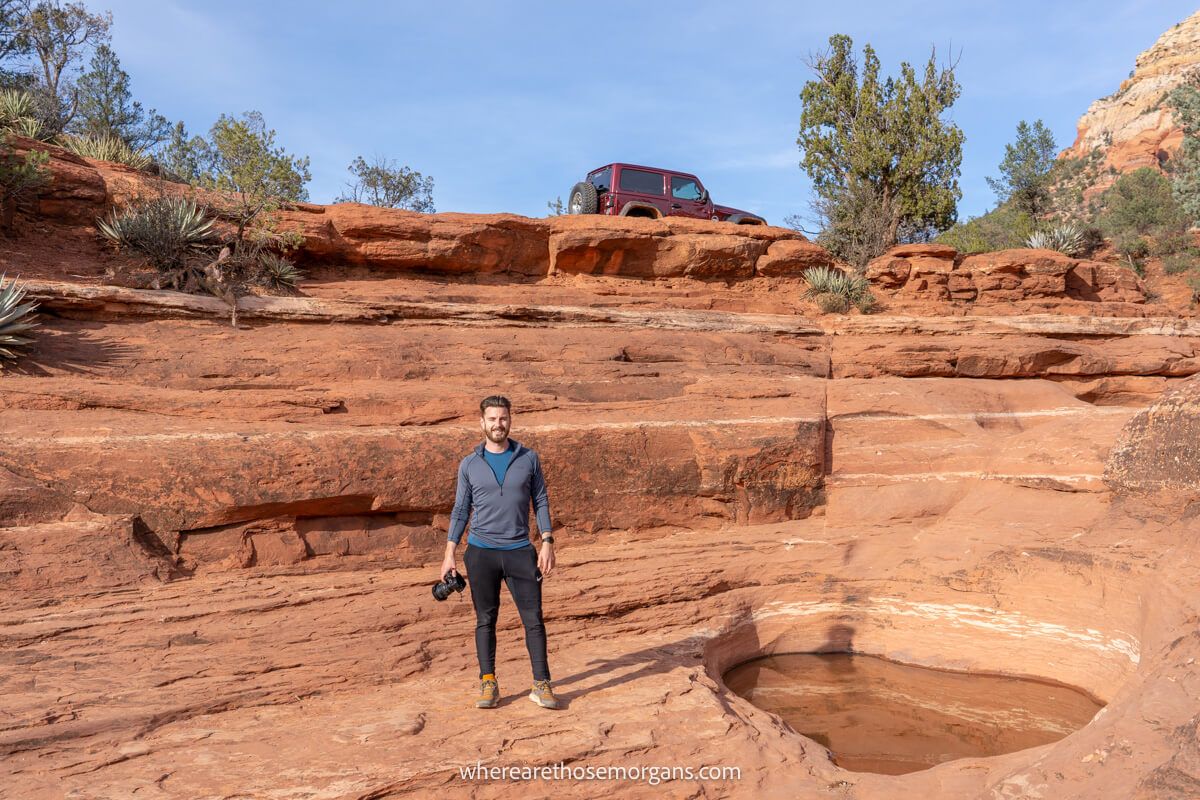 Yes! All things considered we think Soldier Pass is one of the best hiking trails in Sedona. It's the perfect hike for families with older kids and teens because it has plenty of landmarks to stop at along the way, including a scramble into a cave.
This is a hike you should definitely include on your Sedona itinerary.
More Sedona Hikes
More From Sedona
Want more Arizona content? Head over to our Arizona travel guides to explore the best of Grand Canyon, Sedona and beyond.
---
We hope this guide to hiking Soldier Pass Trail helps with planning your visit to Sedona, Arizona!
Please let us know if you have any questions about hiking Soldiers Pass Trail or your visit to Sedona in the comments below.
Happy Hiking,
Mark and Kristen
Was This Hiking Guide Helpful? Pin It For Your Visit To Sedona!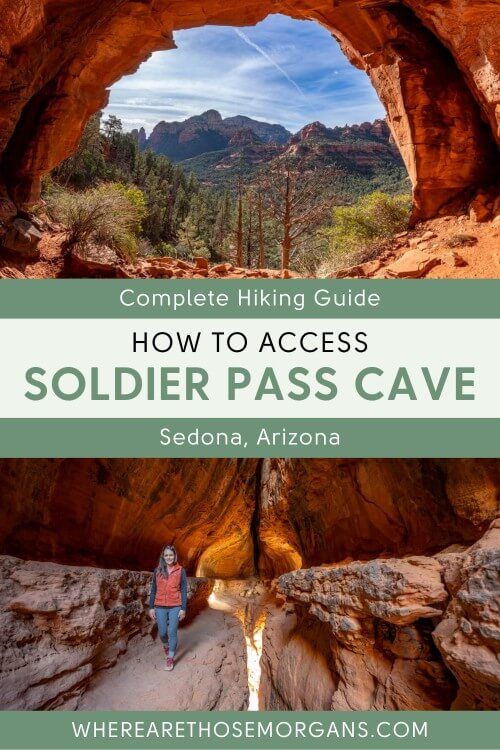 Note: This article contains affiliate links. When you make a purchase using one of these affiliate links, we may earn a small commission at no extra cost to you.
All Rights Reserved © Where Are Those Morgans, LLC. Republishing this article and/or any of its contents (text, photography, maps, graphics, etc.) in whole or in part is strictly prohibited.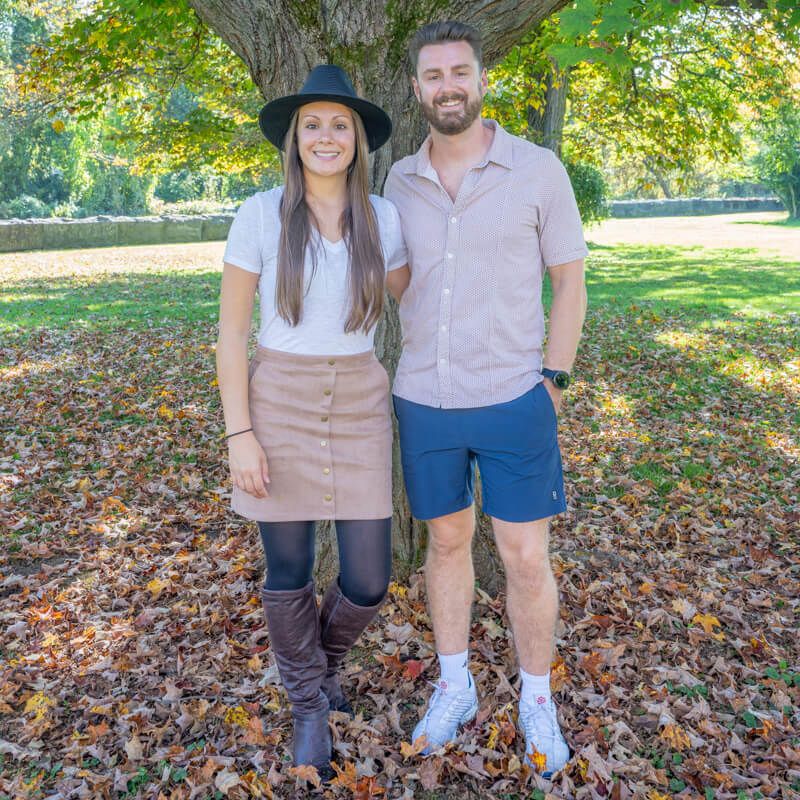 Mark and Kristen Morgan are travel, hiking and photography experts. Over the last 6 years traveling full time, they have explored more than 40 countries and 30 US states.
Their work has been featured in USA Today, Gestalten, Get Your Guide, CityPASS and Condé Nast Traveler along with various other publications.