Soldier Pass Trail is a short but fun Sedona hike filled with intriguing landmarks such as the Devil's Kitchen, Seven Sacred Pools and of course the 'hidden' Soldier Pass Cave. We are going to walk you through everything you need to know about hiking Soldiers Pass Trail and climbing into the secret cave.
How difficult is the hike along Soldiers Pass Trail to reach Soldier Pass Cave?
Most of Soldier Pass Trail is easy and relatively flat, but once you turn onto the spur for Soldier Pass Cave you will gain elevation and it becomes steep during the final approach. You will also need to climb into one of the popular Sedona caves, which can be tricky when wet.
In this guide we will show you:
Soldier Pass Trailhead parking options
Where to park when the main lot is full
Which pass you need to display
Soldiers Pass Trail hiking walkthrough to all landmarks
Plenty of our photos so you can see the trail
A trick you can use to avoid parking and crowd issues
Let's hike to the impressive Soldier Pass Cave on the fun Soldier Pass Trail in Sedona, Arizona!
*Please note this post may contain affiliate links. If you click on one, we may earn a small commission at no extra cost to you. Thank you for supporting the free content we provide! Read more in our disclosure policy.*
Hiking Statistics
Trail Distance: 4.2 miles roundtrip
Elevation Gain: 750 feet
Hike Difficulty: Moderate
Time Required: 3 hours
Trailhead: Soldier Pass Trailhead (trail no. 66)
Best Time: Afternoon
At just over 4 miles round trip, Solider Pass Trail is a great medium length hike in Sedona. Elevation is mostly gained during the climb up to Soldier Pass Cave but the rest of the hike is flat.
The best thing about hiking Soldier Pass Trail is the diversity of landmarks along the path. Devils Kitchen and Seven Sacred Pools are excellent natural formations to check out on the way to the cave.
This is definitely one of the top hikes in Sedona, so you can expect it to be busy!
Soldier Pass Trailhead Parking
Parking at Soldier Pass Trailhead is incredibly problematic and it will be the most challenging aspect of your hike to the cave.
You will quickly realize that hiking is among the most popular things to do in Sedona and that there are not enough parking lot spaces at trailheads to accommodate the enormous volume of hikers.
Soldier Pass Trailhead parking lot is one of the hardest places to park in Sedona. But there are one or two useful alternatives which we will cover below.
We will get you get on the trail one way or another!
Soldier Pass Trailhead Parking Lot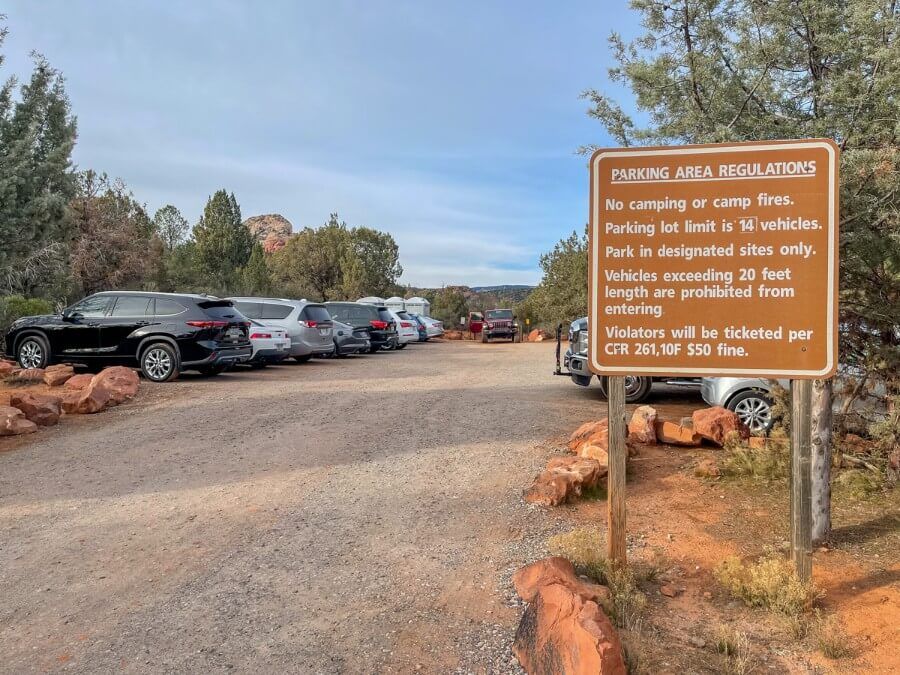 Let's start with the designated parking lot at Soldier Pass Trailhead. This tiny lot doesn't even get close to supplying enough spaces for the huge demand for one of Sedona's most popular hikes.
Every morning hikers drive to the lot hoping for a coveted spot only to find the line is already 20-30 cars long.
The problem is that Soldier Pass Trailhead is located in a residential area. Long lines of frustrated hikers lining up when you're trying to leave for work isn't much fun for the locals who live in this part of Sedona.
When To Arrive
Soldier Pass Trailhead parking lot is open 8am-6pm daily. You can arrive anytime to get in line, but even a 7am arrival may be too late. It depends on the season and how busy Sedona is during your visit.
Cars will be in and out of the lot all day so you can get a spot if you arrive later, but expect to wait in a long line.
Important – If your car is still in the Soldier Pass Trailhead parking lot at 6.01pm, it is staying there all night. The gates will be locked and you will be without your car, so make sure you are well out of the way in good time.
How many parking spots are at Soldier Pass Trailhead?
Soldier Pass Trailhead parking lot is limited to just 14 vehicles. The day we hiked in December 2021 there were 16 cars in the lot, so the cars must have squeezed together.
Nevertheless, that number is a tiny fraction of total hikers here for the day.
Here's the Google Maps location for the main Soldier Pass Trailhead parking lot. Only cars up to 20 feet in length are permitted to park in the trailhead lot, so don't turn up in an RV.
Important – Soldier Pass Trailhead parking lot is closed for 2 full weeks in April 2022 due to Spring Break crowds and may not open again.
Alternative Parking Options
Chances are very high you will need to consider parking somewhere else for this hike in Sedona.
Fortunately, you have alternative options:
1. Dog Park And Posse Grounds Park & Ride Sedona Shuttle
Sedona Dog Park has long been a well known alternative place to park for hiking Soldier Pass Trail.
But now there's a new Sedona Shuttle you can take from Posse Grounds Park & Ride which is just a few hundred feet from the dog park.
Here's the Google Maps location for Posse Grounds Park & Ride.
Look for Green shuttle bus #14 for Soldier Pass Trail. Shuttles only take 6 minutes and here's the timetable with buses starting at 8am and finishing at 5.51pm.
Important – The shuttle website says it only runs Thursday through Sunday but we're convinced it is running every day.
2. Jim Thompson Trailhead (Cibola Pass Trail)
Jim Thompson Trailhead offers the perfect alternative to stressful overcrowding at the main trailhead. Parking at Jim Thompson is plentiful so you shouldn't have any problems finding a free space.
However, you do need to display a Red Rock Pass or America the Beautiful Pass in Jim Thompson lot (see more in passes later).
Here's the Google Maps location for Jim Thompson parking lot.
If you park here, you can walk 1 mile along Cibola Pass Trail to reach Devil's Kitchen sinkhole directly. Cibola Pass is a very attractive trail passing through desert vegetation and plenty of red rock formations.
Add 20 minutes each way to your Soldier Pass Cave out and back hike to cover Cibola Pass if you park in this lot.
Important – If you plan to hike the full Soldier Pass / Brins Mesa Trail, this larger parking lot is the most logical place to start and end.
Do You Need A Red Rock Pass To Hike Soldier Pass Trail In Sedona?
Certain hiking trailheads in Sedona require you to display either a Red Rock Pass or America the Beautiful Interagency Pass on your vehicle dashboard before setting off to hike.
Here are the parking areas you may use for this trail:
Soldier Pass Trailhead does NOT require a pass
Posse grounds park and ride does NOT require a pass
Jim Thompson trailhead does require a pass
Are you planning to hike more trails in the Sedona area?
You will need to display either a Red Rock Pass or America the Beautiful Pass at this list of places in Sedona.
Red Rock Pass
You can buy a Red Rock Pass at this specific recreation.gov site in advance, or you can buy one at a ticket machine when you arrive in person at either parking lot listed further in this guide.
Red Rock Pass options include:
1 Day Red Rock Pass – $5
7 Day Red Rock Pass – $15
Red Rock Annual Pass – $20
If you plan to hike more trails around Sedona over a period of 2 – 7 days, you should buy the 7 day pass because you will need it at many other trailheads in the area.
America The Beautiful Pass
Are you a regular visitor to US National Parks and Monuments?
It's highly likely you already have an annual National Parks pass, which is also known as America the Beautiful or the Interagency Pass.
Don't have one yet?
Read our guide on why America the Beautiful national parks pass is one of the best things you can buy if you plan to visit multiple parks in the next year.
Instead of buying a Red Rock Pass you can simply display your America the Beautiful Pass.
Soldier Pass Off Road 4×4 Jeep Trail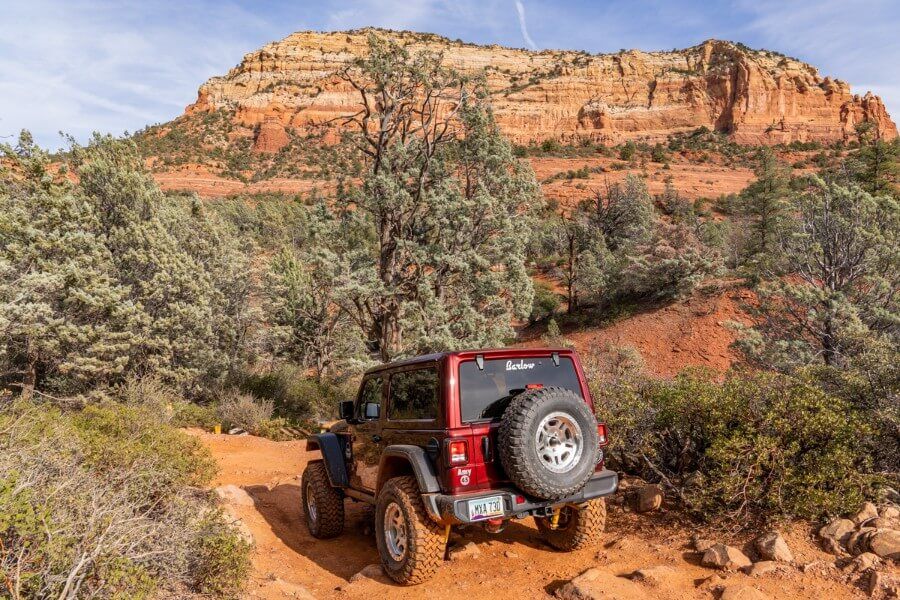 Here's a nice but expensive trick you can use to avoid all the drama of parking at trailheads for hiking Soldier Pass Trail.
If you hire a 4×4 off road Jeep, not only can you drive the best off road adventure Jeep trails in Sedona, but you can also drive it through the Soldier Pass parking lot beyond a metal gate and onto Forest Service Pass 9904 Road.
You cannot access this road in an ATV, only a Jeep with configured high clearance will get over huge stones at the road trailhead.
We have to admit we felt relieved not having to think about parking when we hiked Soldier Pass Trail.
In a Jeep, you can drive right up to Devils Kitchen and Seven Sacred Pools via road trails, and the end of the driving road is 0.5 miles from the cave.
That means you could see all 3 highlights in just a 1 mile roundtrip hike.
After cruising into the parking lot around 1pm, we simply opened the gate (padlocked with a code you get with a permit) and parked up to hike Soldier Pass Cave.
Important – This is the only Sedona off road trail you have to purchase a permit to drive. Permits can be reserved here at reservation.org.
How Do You Get To The Secret Soldier Pass Cave?
In order to reach the secret Soldier Pass Cave you need to take a right turn at a very obvious fork in the trail around 1.3 miles from Soldier Pass Trailhead (1 mile North of Devil's Kitchen sinkhole).
The photo above shows the trail split.
Turn right and pass by a white Wilderness sign posted on a tree to begin climbing to Soldier Pass Cave.
Soldier Pass Cave Trail Map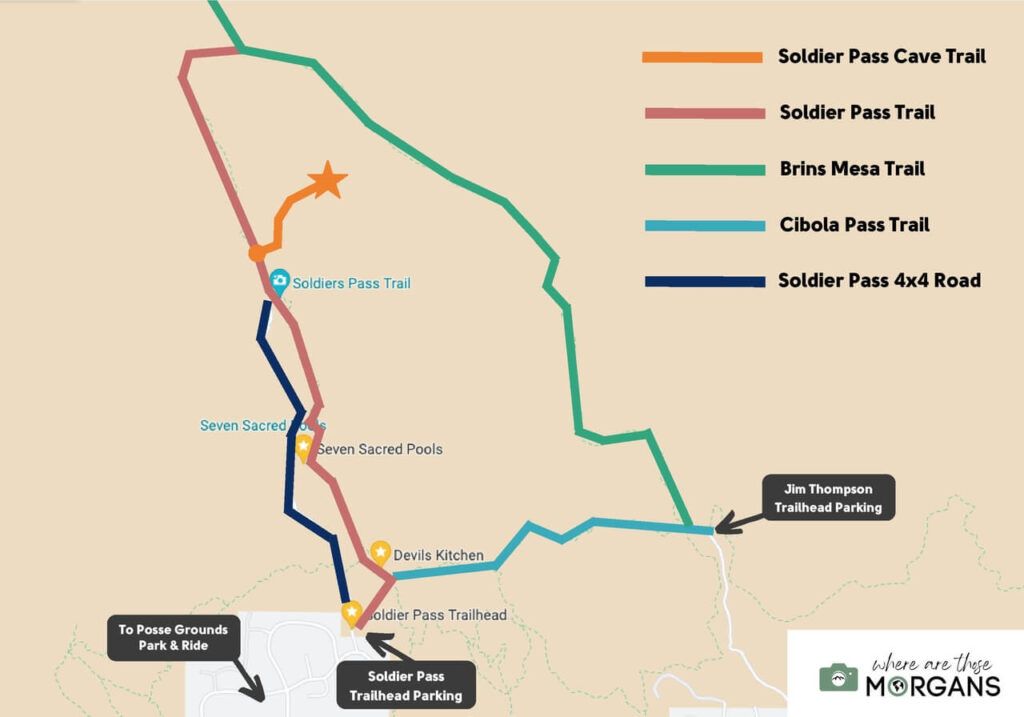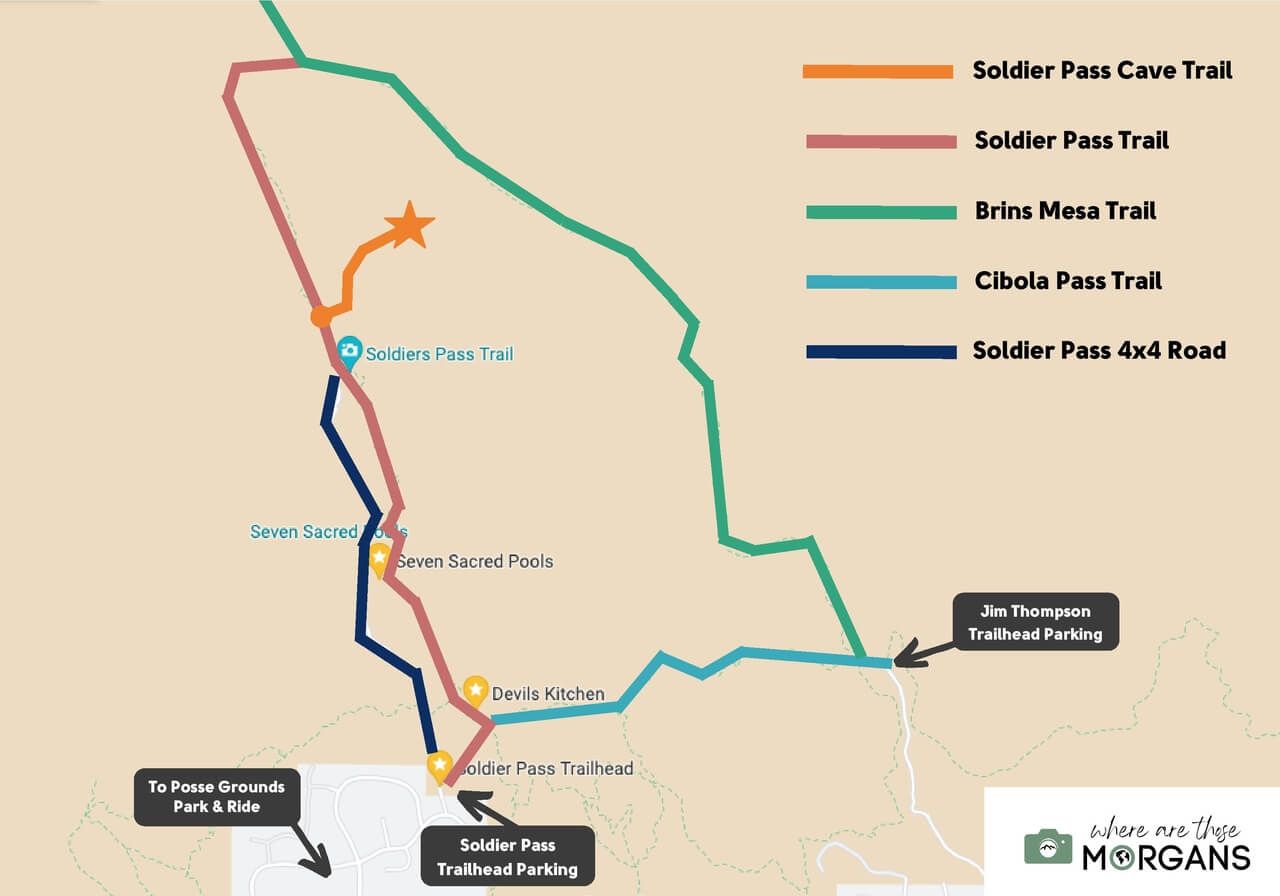 Map key:
Orange Line – Soldier Pass Cave Trail
Orange Star – Soldier Pass Cave Location
Red Line – Soldier Pass Trail
Green Line – Brins Mesa Trail
Light Blue Line – Cibola Pass Trail
Dark Blue Line – Soldier Pass 4×4 Road
The map above shows parking locations and all trails leading to Soldier Pass Cave.
You can see Devils Kitchen and Seven Sacred Pools right on the Soldier Pass Trail leading to the hidden cave.
Important – Do not walk straight through the parking lot and beyond the locked gate if you are hiking.
That is the 4×4 Jeep road shown in dark blue above. Instead use the trailhead and follow the red line as shown above for the proper hiking path.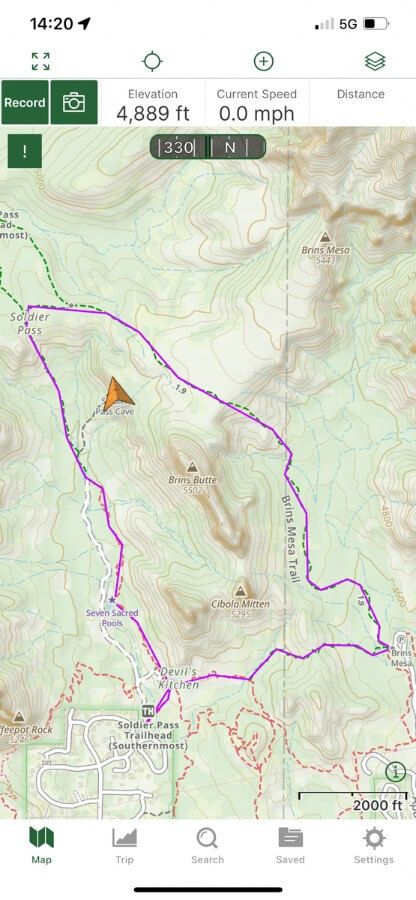 Do you use any of the popular hiking apps on the market like Gaia or All Trails?
We always download offline maps onto Gaia GPS so we can track our location on a trail. It worked perfectly for hiking Soldier Pass Trail and finding the cave.
You can see our red arrow locator right at Soldier Pass Cave at 4,889 feet elevation. Google Maps does not show the spur trail leading to Soldier Pass Cave, whereas Gaia GPS does show the trail.
We met hikers who said they couldn't find the cave and GPS signals were all over the place despite having intermittent internet access.
You can sign up to Gaia GPS premium with Where Are Those Morgans exclusive 20% discount link.
Looking for hiking inspiration? Read our popular guide to the 50 best hikes in the US next.
Soldier Pass Cave Trail Hiking Walkthrough
Now you're all set with parking options and maps, let's get stuck into the Soldier Pass Trail hike.
We will begin the walkthrough as though you took the shuttle to Soldier Pass Trailhead, or you hiked Cibola Pass Trail from Jim Thompson to Devils Kitchen.
1. Devils Kitchen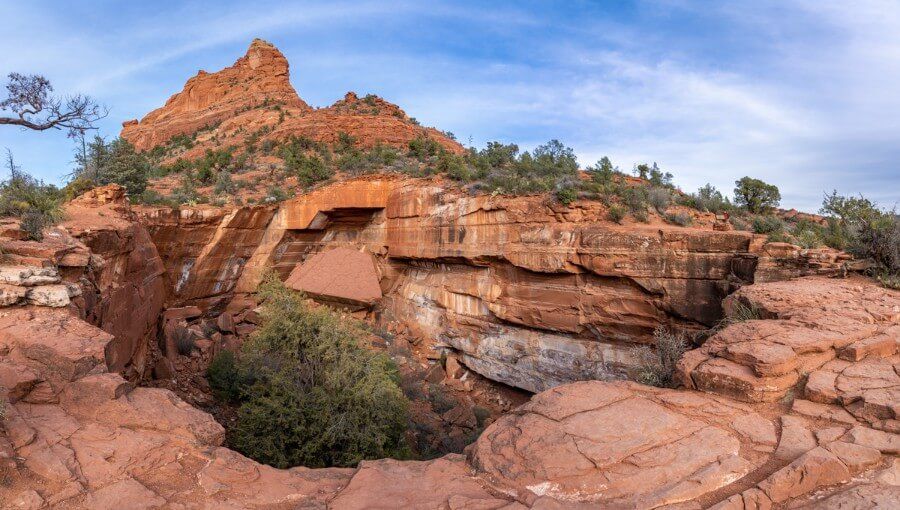 The first stop on Soldier Pass Trail arrives just 0.2 miles into the hike from the main trailhead or 1 mile from Jim Thompson trailhead.
You can't miss the enormous gaping hole in the ground, known as Devils Kitchen sinkhole.
Expansive underground limestone caverns collapsed in the 1880's and created this huge depression in the red rock formation.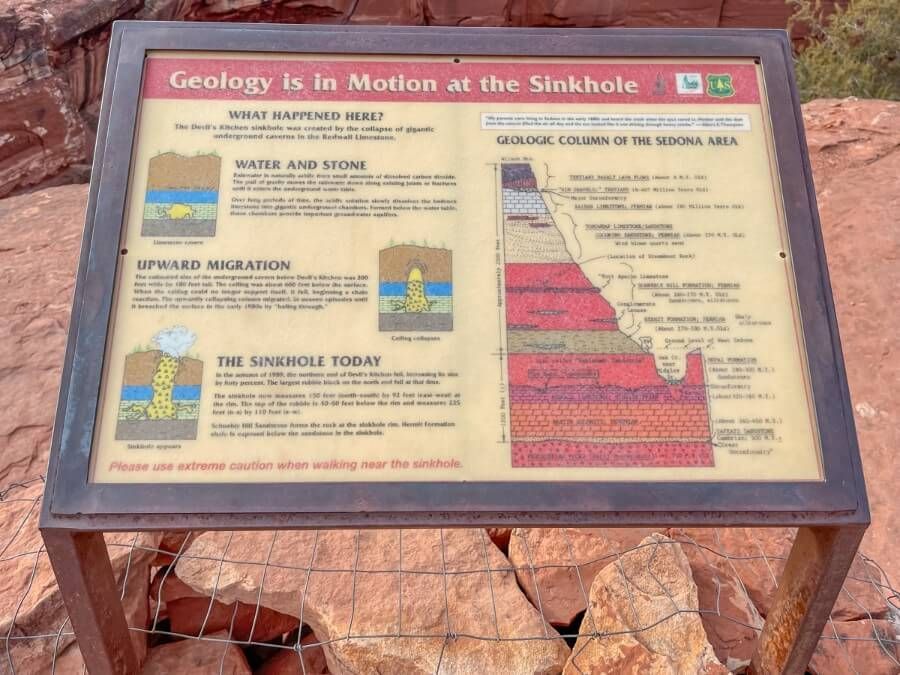 Don't miss the information sign on the right side of Devil's Kitchen to learn more about geological processes causing sinkholes.
The hole is much bigger in person than it appears in our photo above, we took 3 vertical images and stitched them together so we could get the sinkhole into one image.
Take care around the edges as there is no protection, particularly families with younger children on the hike.
2. Seven Sacred Pools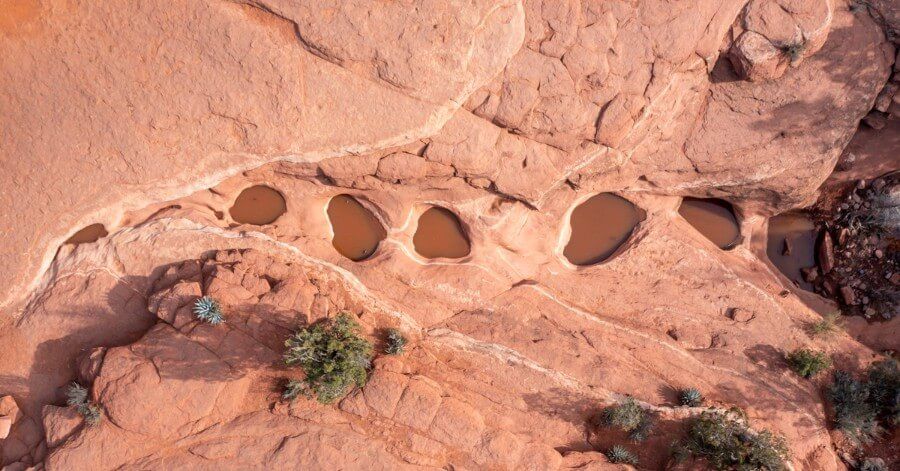 Following a nice flat and easy dirt trail through green juniper trees for a little less than half a mile will lead you to Seven Sacred Pools, which is one of the most unique and photogenic scenes in all of Red Rock Secret Mountain Wilderness.
We took the photo from above with a drone during our trip to Sedona in December when the pools were almost dry and stagnant with dirty looking water.
But if you visit Sedona when a seasonal spring feeds the naturally carved pools, you will be in for a treat.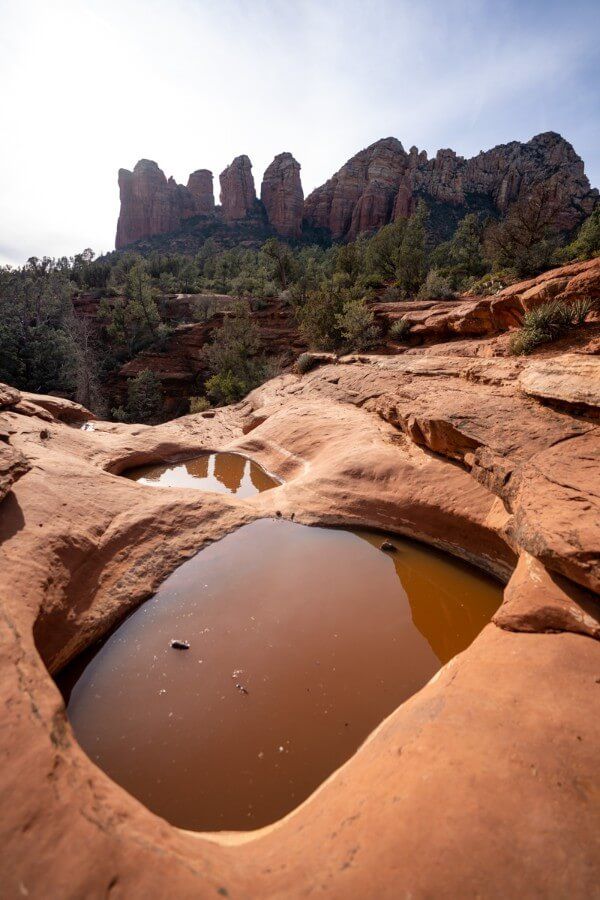 The series of natural pools lies between mountains and Soldier Wash, which splits the hiking path and Jeep road.
When fresh and clear water is flowing down each of the Seven Sacred Pools, this area looks like something out of Middle Earth or Narnia.
3. Soldier Pass Trail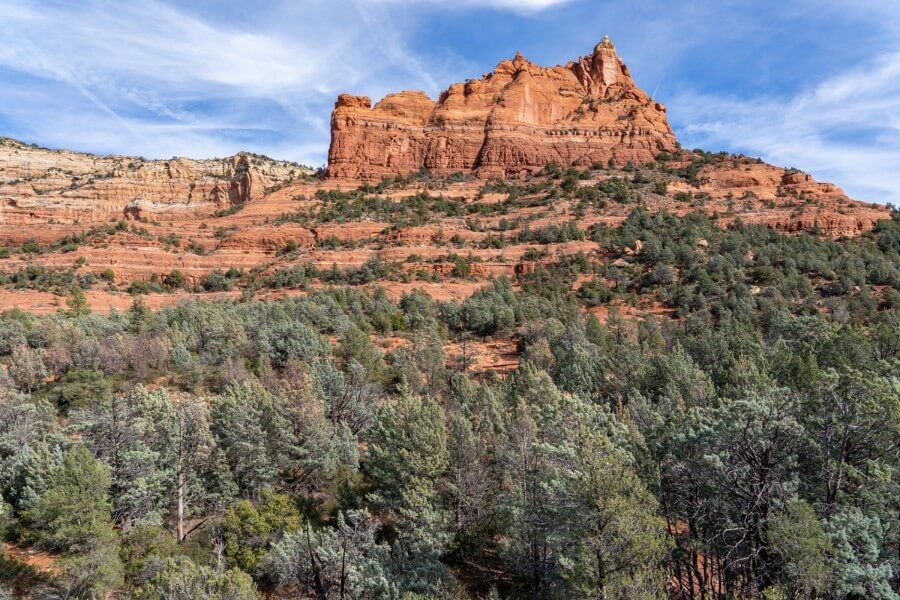 Continue heading North from Seven Sacred Pools for 0.7 miles. The trail is almost perfectly flat and very easy to follow as it is well beaten.
Look left and right as you walk to soak up Sedona's beautiful red rock landscape.
4. Turn Right At The Split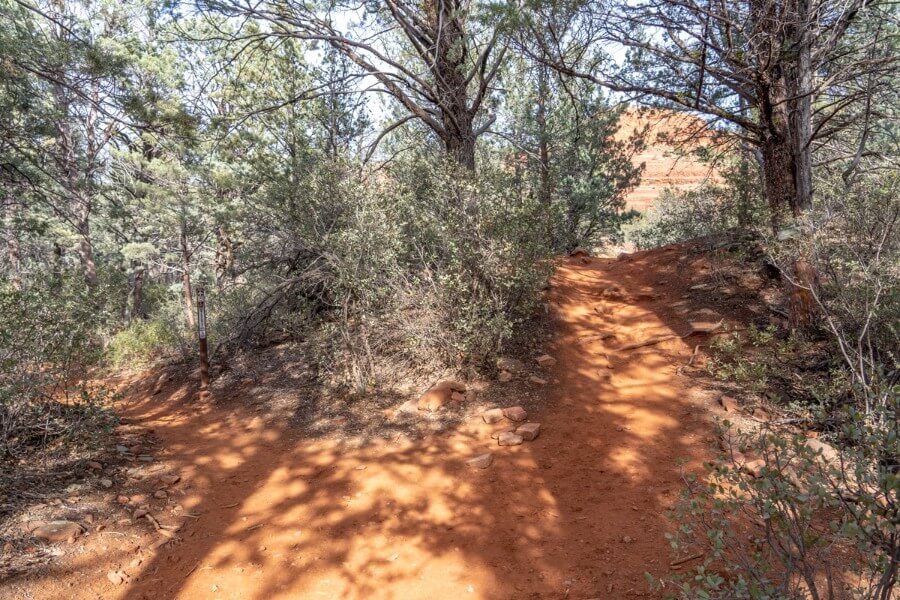 Soldier Pass hiking trail connects with the end of Soldier Pass Jeep road in Soldier Wash.
That's a lot of Soldiers!
Follow cairns and wilderness signs through the wash until you reach a very obvious split in the path. You must turn right here if you want to reach Soldier Pass Cave.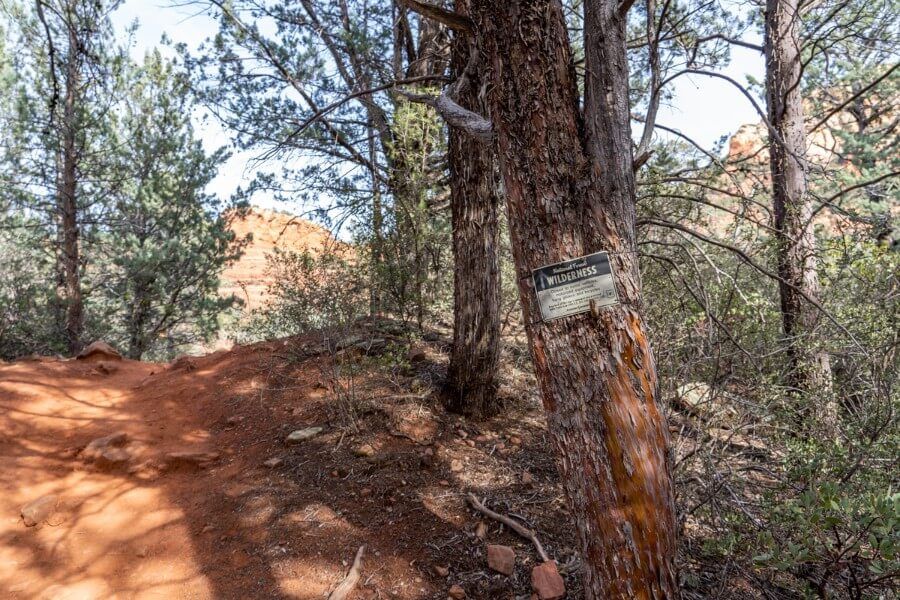 Moments after taking the right fork you will see a Coconino National Forest wilderness sign posted on a tree trunk.
Exploring Sedona's hidden caves and fantastic hiking trails is not to be taken for granted. We all have to be responsible and treat the natural environment here with respect.
Remember the principles of leave no trace and be considerate when you enter this wilderness area.
5. Gain Elevation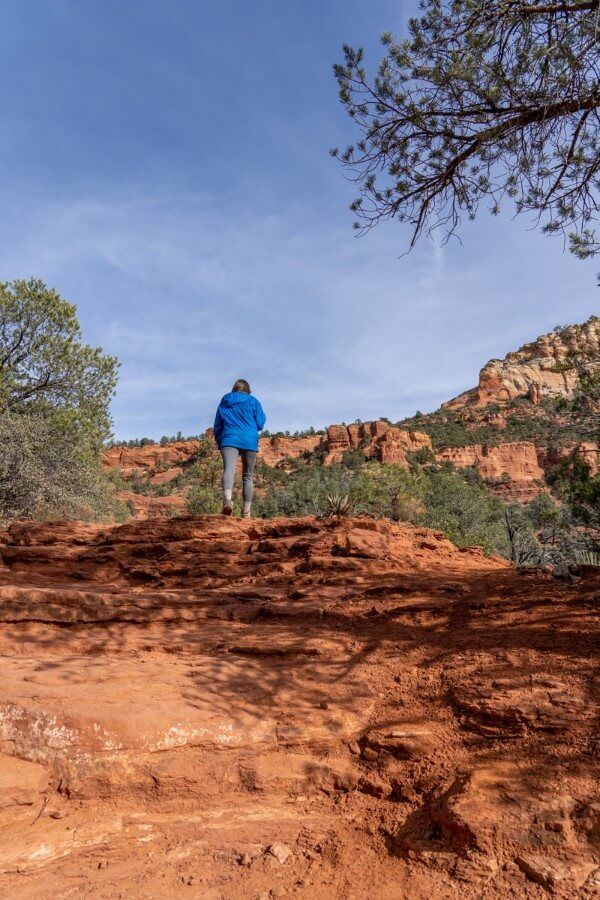 You will slowly begin to gain elevation on Sedona's quintessential red rock covered in dirt and surrounded by junipers.
Shoes with good grips are highly recommended for the ascent into Soldier Pass Cave because the trail can be slippery.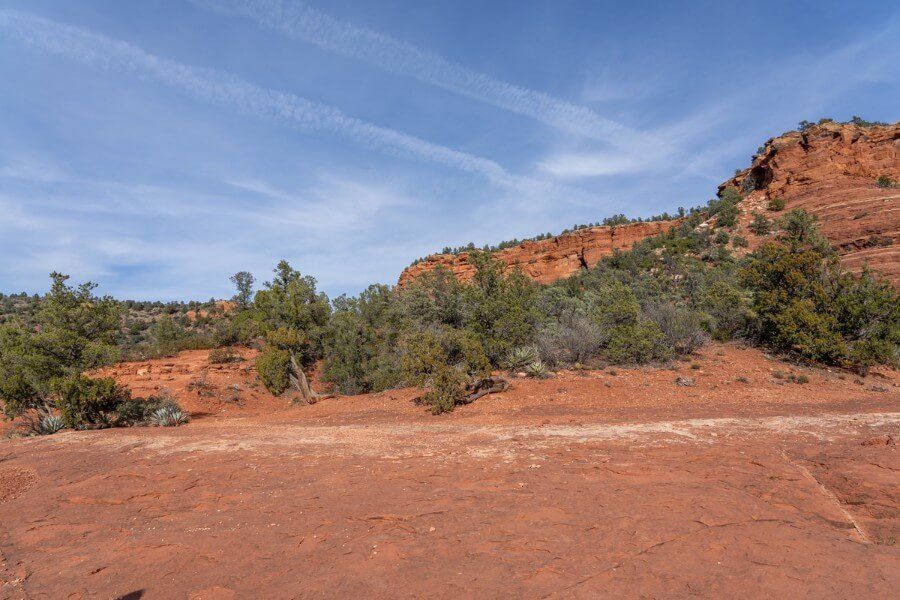 Next, you will cross a huge and flat rock sticking to the left side.
The trail isn't marked or obvious, so you will either have to find the path on the other side yourself or look for other hikers.
The key is not to go directly toward to taller red rocks, but to stay left on the slab in order to re-join the trail.
6. Steep Ascent To Reach Soldier Pass Cave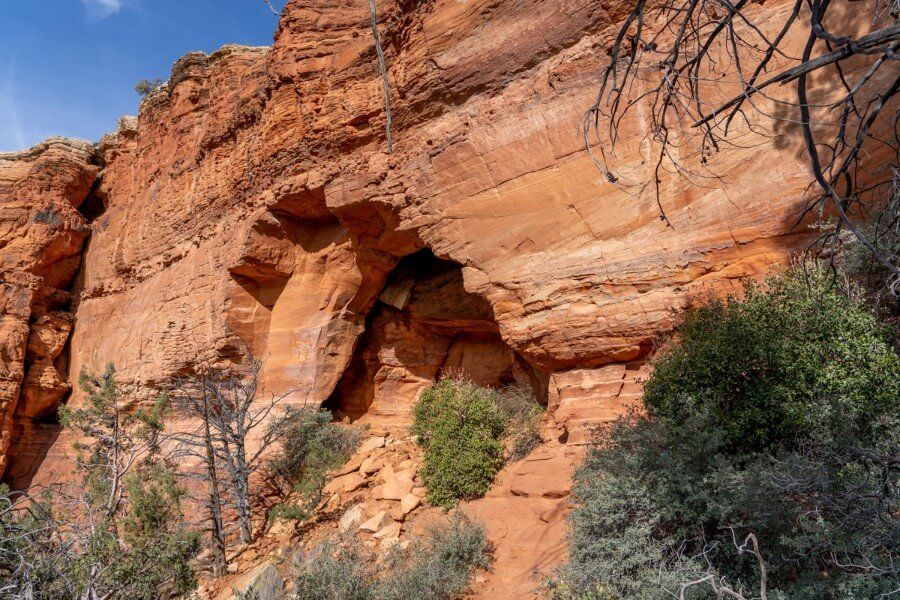 The ascent to reach the outside of Soldier Pass Cave is steep and a bit of a slog. Trail difficulty transitions from easy to medium on the approach.
From the exterior, Soldier Pass Cave looks more like an arch leading into a small onion shaped hole.
That is exactly what it is, but there's a gap in one of the onion layers that you can climb into.
7. Climb Into Soldier Pass Cave
Once you enter the arch exterior you will notice a very narrow but tall gap directly behind the entrance to the right side as you walk in.
You have to climb the rocks to gain access to Soldier Pass Cave. It's not too hard of a climb but you will need to use hands and feet.
Hikers sometimes leave ropes attached to rocks at the top so other hikers can use it to gain entry, but the ropes are removed so there may or may not be a rope for you to use.
If you think you'll need the use of a rope, take your own to be sure.
Most will be able to able to access Soldier Pass Cave easily enough, it's not as steep or intimidating a climb as accessing the awesome Keyhole Cave.
8. Enjoy The Views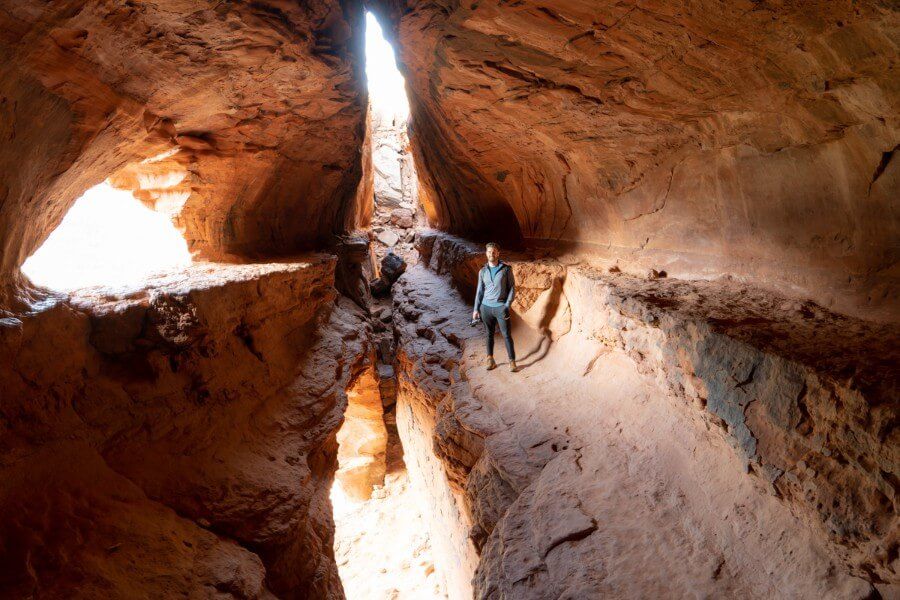 Once you climb up the rocks you are rewarded with an incredible cave illuminating under three separate narrow light sources from the bottom side and back.
Take care when walking along the ledge as you explore Soldier Pass Cave, it isn't very wide and it can become overcrowded inside the small space during peak times.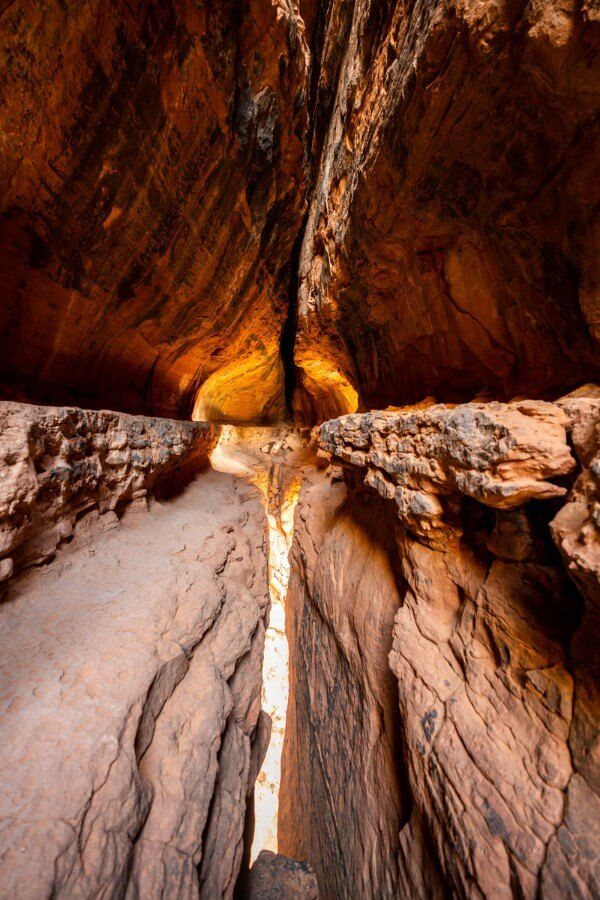 Walk to the opposite side of the upper chamber you entered and look back for a striking view of Soldier Pass Cave.
The photo above was our favorite point of view inside the cave, with the light painting an orange scepter.
You can climb up the back side of Soldier Pass Cave but it is steep and made of loose rocks. The climb leads to the top of the arch as you see it from the outside.
We chose not to climb up the back section of the alcove during our hike because we could hear at least 2 or 3 big and loud groups up there.
If it is quiet when you visit Soldier Pass Cave, carefully climb the back part for elevated views over the landscape below.
9. Hike Back To The Trailhead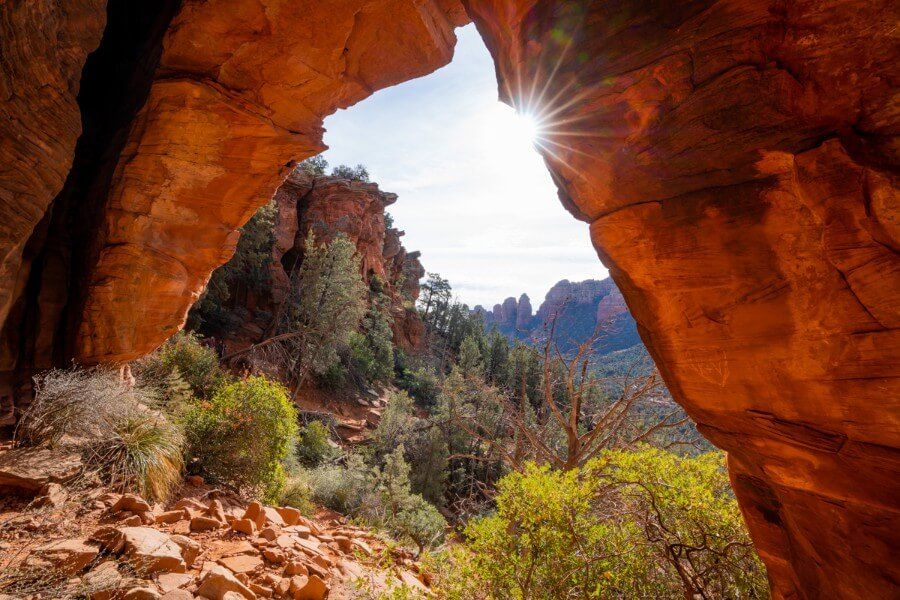 Once you're done in Soldier Pass Cave, head back down the same way to rejoin Soldier Pass Trail.
You can either turn left to go back past Seven Sacred Pools and Devils Kitchen or turn right to loop around on Brins Mesa trail.
Brins Mesa features a spur trail climb to an overlook.
We would suggest including Brins Mesa only if you have enough time on your Sedona itinerary. There are plenty of other iconic and amazing hikes or caves to explore in Sedona.
Soldier Pass Cave Trail Pros And Cons
Let's take a quick look at the pros and cons for hiking Soldiers Pass Trail in Sedona.
Pros:
Soldier Pass Cave is uniquely formed
Devil's Kitchen and Seven Sacred Pools are fantastic additions to the hike
The new shuttle should significantly improve parking issues
Cons:
Very popular trail means it is always busy
The cave is a little tricky to climb into
There's not a lot of room inside the cave if it is busy
Best Time To Hike Soldier Pass Trail
The ideal to hike Soldier Pass Cave Trail would be mid afternoon on a weekday in Spring or Fall so you can benefit from perfect hiking and light conditions.
Season
If you visit Sedona in Spring or Fall when it is peak tourist season, hiking trails are going to be busy all day.
Winter and Summer offer quieter periods in Sedona, which means you have more chance getting parked up at trailheads without issue.
In Sedona your priorities are less about ideal temperatures and crowd free trails, but more about finding free parking spots to hike at all.
No matter which season you visit, try to avoid weekends, holidays and the 10am-1pm rush.
Time Of Day
The best time of day to hike Soldier Pass Cave Trail is mid afternoon to benefit from the best lighting inside the cave, which is West facing.
Early morning you won't get much light inside the cave because the sun is blocked by the red rocks in which the cave sits.
But that entirely contradicts our advice for hiking in Sedona, which is to get parked up at trailheads as early as possible.
The good news is you can now take a park and ride Sedona shuttle any time of day without worrying about getting parked at a trailhead.
If you're on a Sedona cave hunt, we would suggest you do Subway Cave on Boynton Canyon Trail in the morning and then do Soldier Pass Cave later after lunch.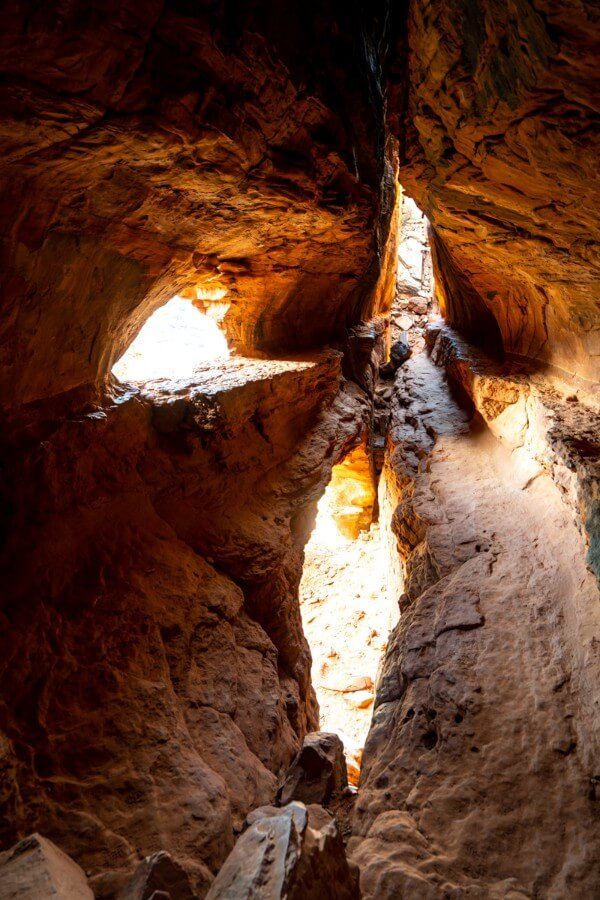 What To Pack For Hiking Soldier Pass Cave Trail
Let's take a quick look at a very basic packing list for the hike.
Footwear – Footwear with good grips and traction are going to help you climb up the steep approach and reduce slipping on sandy rocks when accessing Soldier Pass Cave.
Water – The hike to Soldier Pass Cave is open and exposed, which means you'll need to take water. Summer months require more water and even electrolyte drinks.
Sun protection – Sunglasses, sun hats, long layers and sunscreen are vital if you are visiting Sedona in Summer. Especially on an exposed hike like this one to Soldier Pass Cave.
5 Tips For Hiking Soldier Pass Trail
Here are our top tips for the hike to Soldier Pass Cave.
Take the Sedona shuttle or park at Jim Thompson to save disappointment
Visit in Spring to see Seven Sacred Pools at its best
Turn right at the trail split so you don't miss the cave
Climb inside the cave around mid afternoon for the best light
Hire a Jeep so you can drive the road to all trail highlights
Sedona Arizona Visitor Summary
How to get around – Sedona is small but you'll need a car to access the best hikes to the north and south of town. If you want to get to the hard to reach places, you should hire a jeep.

When to visit – Spring and Fall are the best seasons to visit Sedona, but they come with a higher price tag and more crowds. Winter is a fantastic time to avoid both.

Where to stay in – Accommodation is expensive in Sedona, but there are plenty of very high quality places to stay including Matterhorn Inn, Lantern Light Inn, Arabella Hotel, Whispering Creek B&B and The Suites at Sedona.

Popular things to do – Sedona is one of the best places to hike in the US, but it is also a wonderful place to get off-road in a jeep, shoot stunning photography, visit historic sites and drink wine.
Is Soldier Pass Cave Trail Worth It?
Soldier Pass Cave Trail is a short, easy and family friendly hike perfect for any Sedona itinerary. The introduction of a shuttle should alleviate some of the pressure with parking and make for a more enjoyable experience for visitors.
Similarly to the extremely popular Devils Bridge Trail, you can expect Soldier Pass Trail to be busy but well worth hiking.
Soldier Pass Trail FAQ's
Let's finish with some of the most asked questions about hiking Soldier Pass Cave Trail in Sedona.
How Long Does It Take To Hike Soldiers Pass?
Hikers in Sedona should plan for around 3 hours to hike Soldier Pass Trail to Solider Pass Cave and back to the trailhead. Add more time if you plan to summit nearby Brins Mesa.
Is Soldier Pass Dog Friendly?
Yes, Soldier Pass Trail is a dog friendly hike in Sedona. Dogs must be kept on a short leash at all times but they are permitted to explore all areas along the Soldier Pass Trail including the cave.
More From Sedona
Cathedral Rock – Sedona is filled with amazing hikes but Cathedral Rock Trail is one of the most iconic. If you're short on time, this is the adventure hike for you.
Bell Rock – Hike the Bell Rock Courthouse Butte Loop Trail for scenery, climbing, views and our hidden loop adventure path.
Boynton Canyon – Exactly how to find the famous Sedona Subway Cave on Boynton Canyon Trail.
Birthing Cave – Complete hiking guide for the Long Canyon Trail to the Sedona Birthing Cave.
Hideout Cave – Hike Robbers Roost Trail to Hideout Cave in the far northwest of Sedona for the quietest and most secluded cave in town.
More From The Southwest
Zion National Park – Zion is an adventure playground for adults, find the very best hikes in Zion and choose between 5 ways you can spend a one day in Zion itinerary.
Grand Canyon – Just 2 hours from Sedona is the incredible Grand Canyon South Rim, create your wishlist from the best hikes at Grand Canyon South Rim.
Las Vegas – Heading to Vegas on your Southwest adventure? Here are the 40 best things to do on and off the Las Vegas strip and the 15 best things to do in Valley of Fire State Park nearby.
Want more Arizona content? Head over to our Arizona travel guides to explore the best of Grand Canyon, Sedona and beyond.
---
We hope this guide on how to hike the Soldier Pass Cave Trail helps with planning your visit to Sedona, Arizona!
Please let us know if you have any questions about hiking Soldier Pass Trail or your visit to Sedona in the comments below.
Happy Hiking,
Mark and Kristen
Was This Post Helpful? Pin It For Your Hike!