Hiking the iconic Cathedral Rock Trail is an experience you can't miss on a first visit to Sedona, Arizona. We're going to walk you through everything you need to know about the short but steep hike to Cathedral Rock summit, including the most important things you need to know before arriving.
Cathedral Rock Trail is one of the most popular hikes in Sedona, which means you need to be organized and even have backup plans for accessing the trail during busier periods.
We will cover:
Which forest or agency pass you need to display
The 5 trails connecting to Cathedral Rock
Your parking options (where to go when the main lot is full)
The best time to hike Cathedral Rock Trail
Loads of photos so you can see the entire trail start to finish
Let's hike the awesome Cathedral Rock Trail in Sedona Arizona!
*Please note this post may contain affiliate links. If you click on one, we may earn a small commission at no extra cost to you! Read more in our disclosure policy.*
What Is Cathedral Rock In Sedona?
Cathedral Rock is the most famous formation among an ocean of red rocks in Sedona and one of the best hikes in the USA. The formation is located in Cococino National Forest and it is easily identifiable along the Sedona skyline with its needle like spires.
Sunrise and sunset are the two most popular times of day to hike Cathedral Rock, with summit views from the saddle being among the very best photography locations in Sedona.
However, we suggest you also try to capture the towering spires of Cathedral Rock silhouetting against the sky from afar as its red rocks glow at both dawn and dusk. Red Rock Crossing, Chapel of the Holy Cross, Pyramid Mountain and Bell Rock all provide excellent vantage points over Cathedral Rock.
Prioritize Cathedral Rock along with Bell Rock and Devils Bridge Trail if you're short on time and want to hit the most iconic hikes in Sedona.
Where Is Cathedral Rock In Sedona?
Cathedral Rock trailhead is 4 miles drive South on highway 179 from the center of downtown Sedona. It only takes around 10 minutes to access the trail.
Sedona's hiking areas can be split into two portions, the South side and the North side of town. Cathedral Rock is positioned centrally among the formations and hikes on the South side of town.
Why Hike Cathedral Rock Trail In Sedona?
Cathedral Rock is a classic hike for first time visitors to Sedona and summiting the trail is one of the best things to do in Sedona. It is the quintessential trail for solo hikers, couples and families alike to ascend for spectacular views over the stunning Sedona landscape.
The Cathedral Rock Trail is rated as a moderate hike in difficulty but it is steep and technical at times. You are going to need good shoes with excellent grips and it can be dangerous during or after heavy rainfall.
Summit views are ample reward for a slightly suspect slick rock trail ascent and we highly recommend you add Cathedral Rock to the top of your Sedona itinerary plans.
Cathedral Rock is also one of the most prominent Sedona vortex locations. Thousands of visitors each year are said to connect with powerful energy flows here.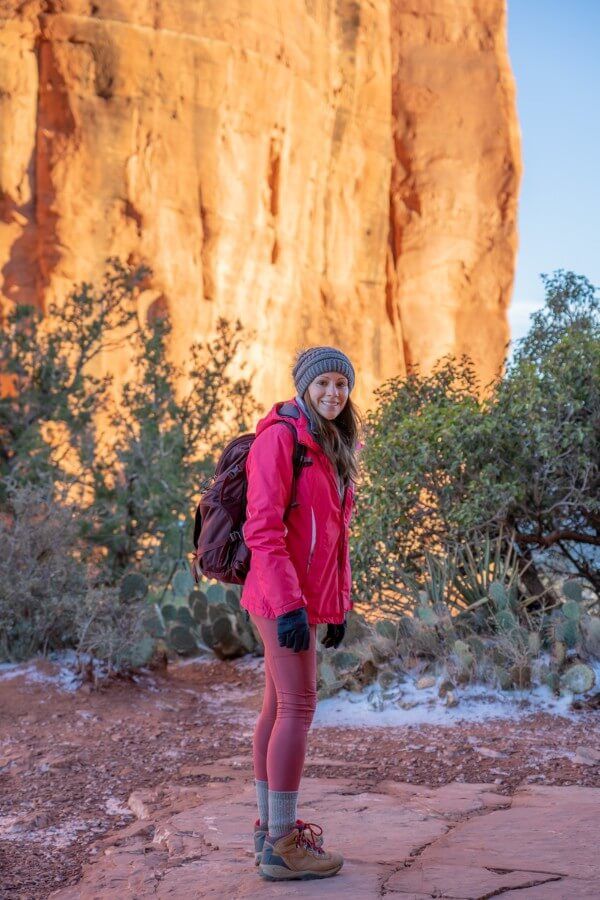 Do You Need A Pass To Hike Cathedral Rock?
Yes, you need to display either a Red Rock Pass or America the Beautiful Interagency Pass on your vehicle dashboard for the duration of your hike to Cathedral Rock in Sedona.
Red Rock Pass
You can buy a Red Rock Pass at this specific recreation.gov site in advance, or you can buy one at a ticket machine when you arrive in person.
Red Rock Pass options include:
1 Day Red Rock Pass – $5
7 Day Red Rock Pass – $15
Red Rock Annual Pass – $20
If you plan to hike more trails around Sedona over a period of 2 – 7 days, you should buy the 7 day pass because you will need it at many other trailheads in the area.
America The Beautiful Pass
Are you a regular visitor to US National Parks and Monuments?
It's highly likely you already have an annual National Parks pass, which is also known as America the Beautiful or the Interagency Pass.
Don't have one yet?
Read our guide on why America the Beautiful national parks pass is one of the best things you can buy if you plan to visit multiple parks in the next year.
Instead of buying a Red Rock Pass you can simply display your America the Beautiful Pass.
For those planning to hike more trails in the area, you will need either a Red Rock Pass (or America the Beautiful Pass) to access this list of places in Sedona.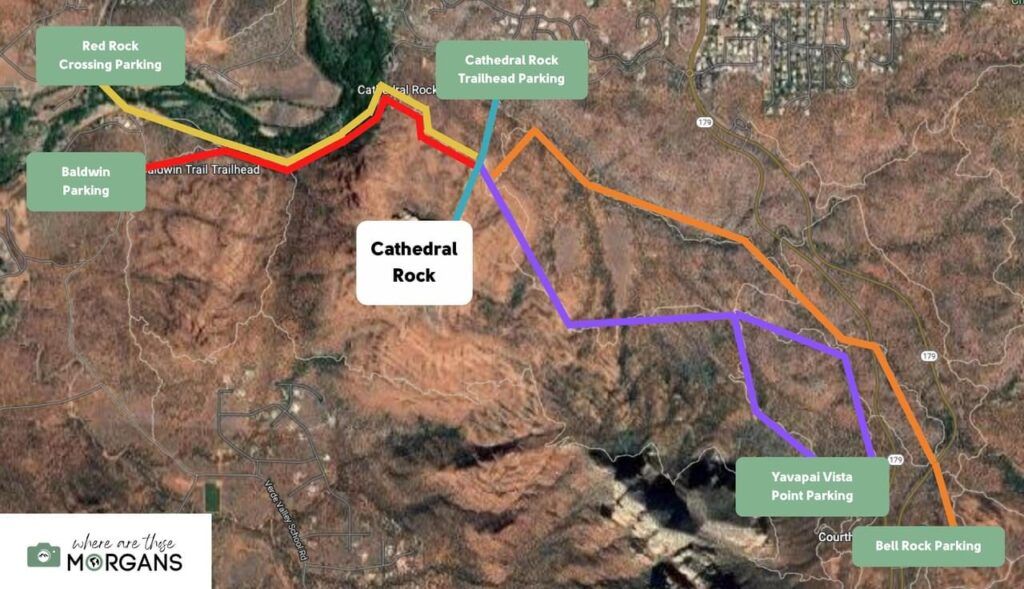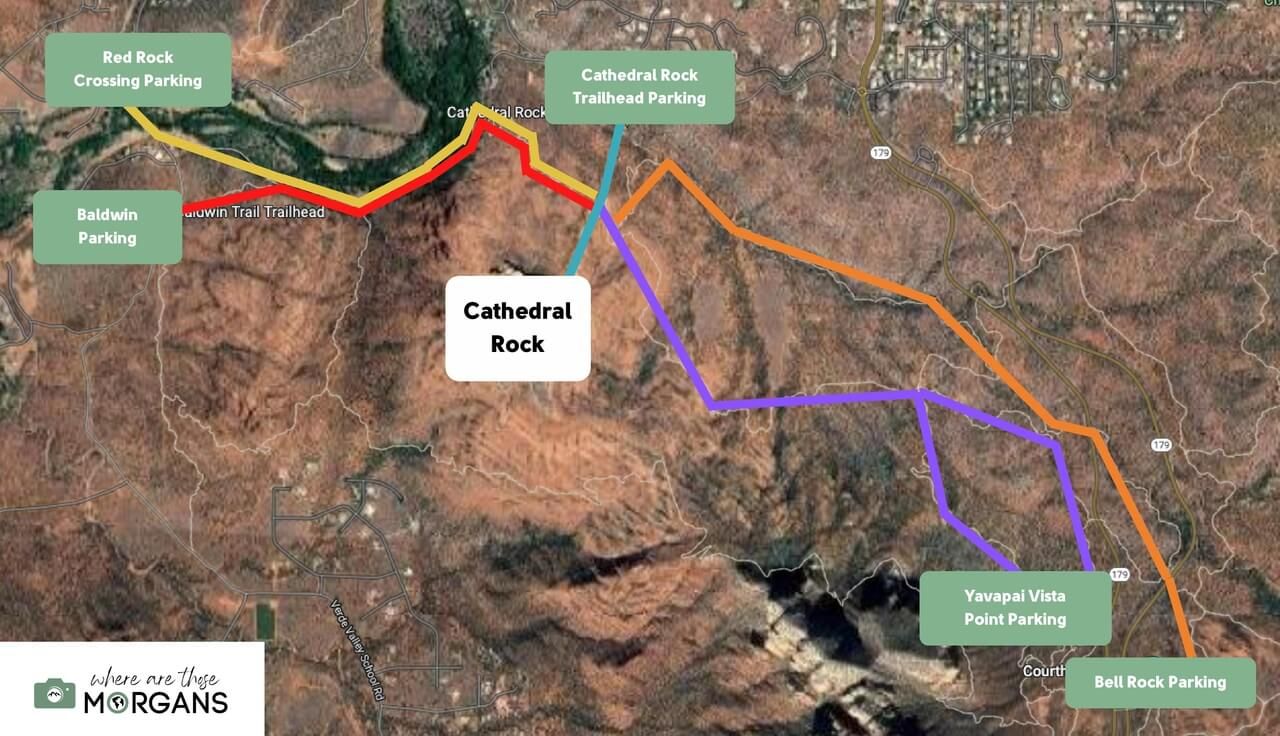 5 Trails To Hike Cathedral Rock
Sedona hiking trails are intertwined like a spider's web and there are multiple trails leading to Cathedral Rock. Depending on the season and time of day you visit Sedona, you may have to use any one of 5 trails to hike Cathedral Rock.
Looking at the map above, here are the 5 trails:
Cathedral Rock Trail – Blue line from Cathedral Rock Trailhead Parking
Templeton Trail – Purple line either via Slim Shady (left arm) or Hermit (right arm) from Yavapai Vista Point Parking
Easy Breezy Trail – Orange line from Bell Rock Parking
Red Rock Crossing Trail – Gold line from Red Rock Crossing Parking in Crescent Moon Picnic Area
Baldwin Trail – Red line from Baldwin Trailhead Parking
All of the trails listed above lead to a crossroads marking the beginning of the climb to summit Cathedral Rock. You can access these trails from various parts of Sedona.
Despite the trailheads appearing close to one another, you may have to drive right around Sedona to access another lot, which can take up to 30 or 40 minutes during busy periods.
Taking Alternative Trails
Why would you not just take the easiest and quickest route up via Cathedral Rock trailhead?
Well, getting parked in one of the very limited Cathedral Rock trailhead parking spaces is close to impossible. Therefore, not everyone is going to be able to take the more popular (and shorter) Cathedral Rock Trail.
Where Do You Park To Hike Cathedral Rock?
Cathedral Rock Trailhead is located on Back O Beyond Road in southern Sedona, but as shown in the map above, there are various alternative parking lots you can use in combination with the trails listed above in order to access Cathedral Rock.
Consider each of the alternative parking and hiking options in case you can't get parked at Cathedral Rock Trailhead on back o' beyond road.
Let's take a look at all available trails you can hike along with respective parking lots around Sedona.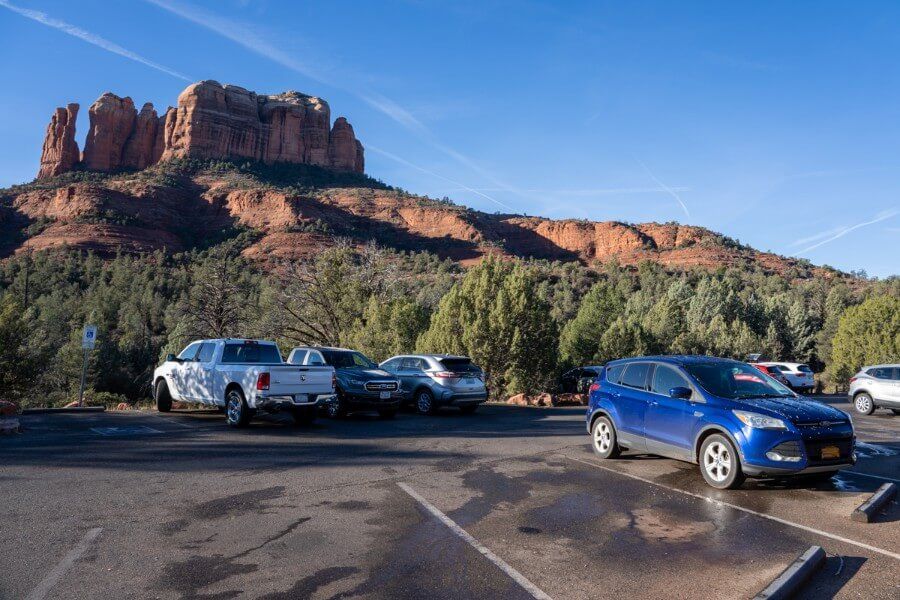 1. Cathedral Rock Trail – Best Option
Distance: 1.2 miles roundtrip
Elevation: 700 ft
Trailhead: Cathedral Rock Trailhead
Location: Back O' Beyond Road
Map: Google Maps location
Cathedral Rock Trail is the shorter trail and the most iconic route to use for ascending Cathedral Rock. At just 1.2 miles roundtrip, this is a short hike but it is relatively steep from the start.
You will have the most direct hike when compared to all other route options. As a result, you can be up at the summit in no time. This is perfect for sunrise hikers or hikers who want to watch the sunset from the top of Cathedral Rock before descending in twilight.
This is the route we will use later in our full walkthrough of the Cathedral Rock hike.
Cathedral Rock Trailhead Parking
Back o Beyond Road on the South side of Sedona hosts the main Cathedral Rock trailhead parking lot and overflow lot. Parking in either of these two lots to hike Cathedral Rock trail is difficult year round due to enormous demand for approximately 50 parking spaces in total.
Sunrise
If you want to get a coveted parking spot at the main trailhead to hike Cathedral Rock for sunrise, you have to arrive agonizingly early.
How early should you arrive to Cathedral Rock trailhead? We would advise arriving to the trailhead parking lot before first light if you want a realistic chance at getting a spot.
About two hours after sunrise, the lot will free up when sunrise hikers return. But the window is small and by 10am the lot here is full all day with lines of cars waiting to swoop.
Are you interested in more sunrise hikes? We think the Chimney Rock Little Sugarloaf Loop Trail and Doe Mountain Trail are two of the best sunrise hikes in Sedona.
Sunset
We tried to park at Cathedral Rock Trail for a sunset hike at around 3pm during our visit to Sedona in December. Back O Beyond road was essentially a long snaking line of traffic and we gave it 10 minutes to see if it would move.
Before we had chance to decide, a police car arrived and ushered the entire line of traffic off the road.
If you want to hike Cathedral Rock for sunset, you either have to arrive here around 2pm and hope a space frees up, or use one of the other trailheads listed below.
2. Templeton Trail (East)
Distance: 6 miles roundtrip
Elevation: 1100 ft
Trailhead: Yavapai Vista Point
Location: Highway 179
Map: Google Maps location
Drive: 3 miles from Back O Beyond road
Templeton Trail begins at Yavapai Vista Point parking lot to the East of Cathedral Rock. The trail runs for around 3.5 miles in total, passing Cathedral Rock Trail to the North and continuing West until it ends where Red Rock Crossing Trail and Baldwin Trail meet.
From Yavapai Vista, you can take either Slim Shady or Hermit to join Templeton Trail and head West to Cathedral Rock. Slim Shady has slightly more elevation compared with Hermit.
An early morning hike from here would be better to benefit from the early morning sun glowing on Cathedral Rock's eastern face.
Yavapai Vista Point Parking
Yavapai Vista Point parking lot is an option for Cathedral Rock but it is primarily an overflow parking area for Bell Rock and Courthouse Butte Trail.
On busy days in Sedona, you may also struggle to get parked up in this lot.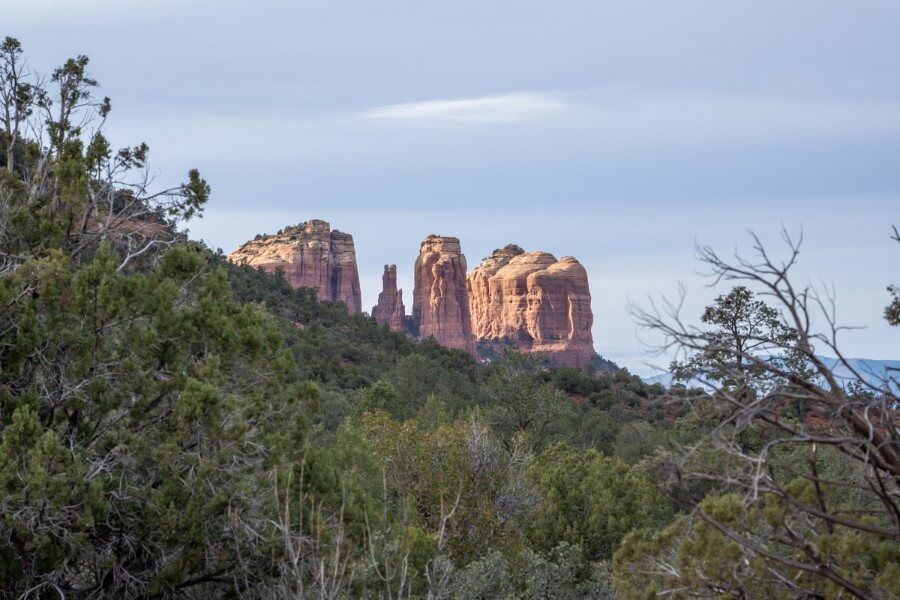 3. Easy Breezy Trail (East)
Distance: 6.5 miles roundtrip
Elevation: 900 ft
Trailhead: Bell Rock Trailhead
Location: Highway 179
Map: Google Maps location
Drive: 3 miles from Back O Beyond road
Easy Breezy Trail is exactly what it says, an easy trail. Starting at Bell Rock Trail parking lot, you can walk along Phone Trail, Bell Rock Trail and Templeton Trail for a combined 0.5 miles, before starting on Easy Breezy Trail which goes all the way to Cathedral Rock Trailhead.
This hike is flat and easy, offering the perfect solution to hikers who want to do both Cathedral Rock and Bell Rock without having to worry about parking twice.
Bell Rock Parking
Bell Rock and Courthouse Butte Loop Trail is another very popular hike in Sedona, but it is easier to park here versus Cathedral Rock trailhead.
Try to arrive early to give yourself the best chance at getting a spot here.
4. Red Rock Crossing Trail (West)
Distance: 4 miles roundtrip
Elevation: 1000 ft
Trailhead: Crescent Moon Picnic Site
Location: Red Rock Crossing Road
Map: Google Maps location
Drive: 11 miles from Back O Beyond road
Red Rock Crossing Trail is unique in that you will need to cross through Oak Creek to access the West side of Templeton Trail. This shouldn't be a problem if you're visiting Sedona when the weather is warm but we wouldn't want to get knee deep in water throughout Winter.
The hike from here is flat and picturesque until you reach the crossroads and climb up Cathedral Rock Trail.
Late afternoon is the best time to hike from Crescent Moon as the sun will be setting and illuminating the West face of Cathedral Rock.
An iconic scene of Oak Creek in the foreground with Cathedral Rock in the background is one of the best photography locations in Sedona.
Important: You need a separate pass called Big Three Pass to enter Crescent Moon Picnic Site. It is not part of the Red Rock Pass or the America the Beautiful Interagency Pass. You must pay at a kiosk upon entry to Crescent Moon.
Here's more information from Coconino National Forest about Crescent Moon.
If you plan to hike West Fork Trail just north of Sedona, you can use the same Big Three Pass for Crescent Moon.
Crescent Moon Picnic Site Parking
This parking lot offers one of your better chances of getting a space, even on the busier days in Sedona. There are dozens of spots available.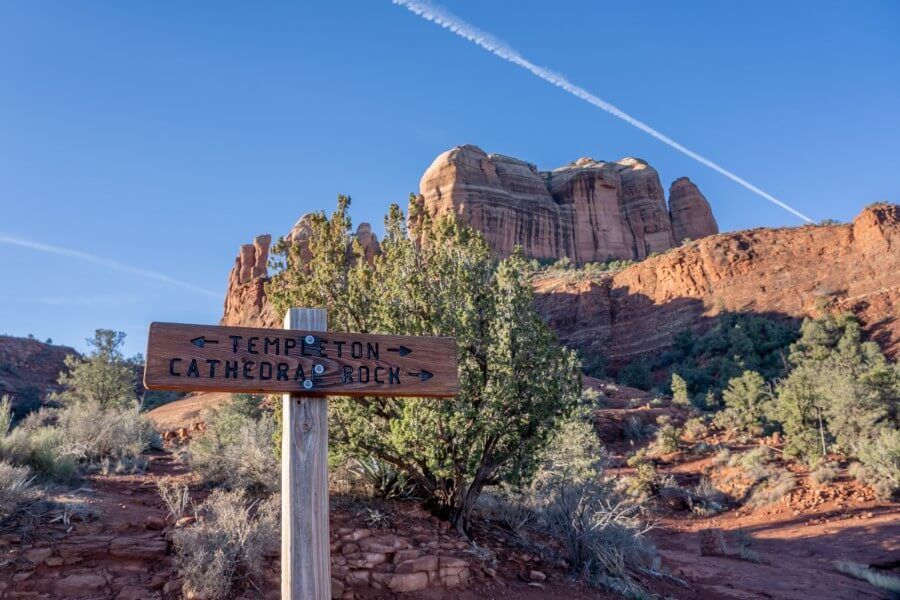 5. Baldwin Trail (West) – Best Alternative
Distance: 4 miles roundtrip
Elevation: 1000 ft
Trailhead: Baldwin Trailhead
Location: Verde Valley School Road
Map: Google Maps location
Drive: 8.8 miles from Back O Beyond road lot
Baldwin Trail is the second best option to hike Cathedral Rock after the main trailhead location. It is the same distance and elevation as Crescent Moon but you don't have to cross a creek and get wet.
In addition, there's plenty of parking and you can use the same Red Rock or America the Beautiful Pass as most other hikes in Sedona. That means you won't have to purchase an additional pass like at Crescent Moon.
Again, the trail is flat and easy until you reach the climb for Cathedral Rock. Late afternoon and just before sunset offer the most picturesque views from the West side.
Baldwin Trail Parking
Verde Valley School Road turns into a dirt road but it is perfectly accessible for all vehicles.
The parking lot has room for around 40 or so cars and there is a ticket machine if you have just arrived in Sedona and need to purchase a Red Rock Pass.
Sedona Shuttle
Sedona shuttle park and ride between North SR-179 and Cathedral Rock trailhead provides the perfect solution for hikers visiting Sedona between Thursday and Sunday throughout peak season.
Bus number 15 or the Orange line runs every 15 minutes from 8am through 5.30pm heading to Cathedral Rock. The trip takes 10 minutes and the bus returns to the park and ride after each run.
The final trip back from Cathedral Rock trailhead to North SR-179 park and ride parking lot is at 6.20pm.
This is perfect for anyone who wants to hike the shorter route up Cathedral Rock but avoid all of the drama with parking.
Walkthrough Of The Cathedral Rock Hike In Sedona
Now that you know about each of the various routes you can take to reach Cathedral Rock Trail, let's get into the hiking trail walkthrough. The climb to Cathedral Rock summit is one of the best things to do in Arizona and it is among our top Sedona recommendations for first time visitors.
Important: If you have to take any of the alternative routes, they all converge at the same point around 0.3 miles into the Cathedral Rock Trail. The rest of the hike (up to the summit) is the same for all trail options.
We will walk through the hike as though you were able to park at Cathedral Rock Trailhead.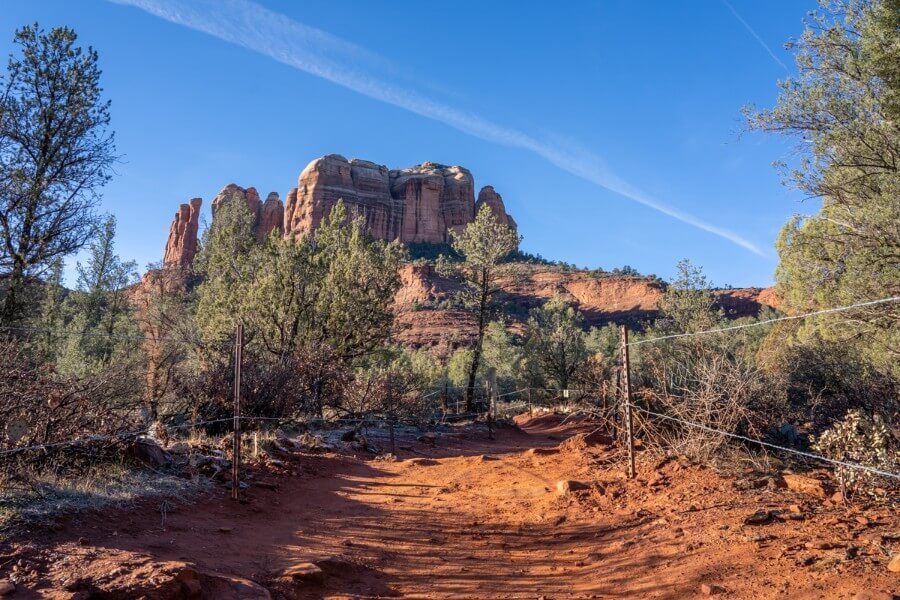 Park Up And Walk To The Trail Junction
Park up in the main Cathedral Rock Trailhead parking lot or the overflow lot just a few meters further down Back O Beyond road.
There are vault toilets and a ticket machine you can use to purchase a Red Rock Pass if you need one.
Head onto the trail and you will pass through a dry bed creek. When we hiked Cathedral Rock Trail in December there was a thin film of ice covering the creek. But this won't be an issue if you visit in the warmer seasons.
Continue up along a dirt track with fences running on either side, as you can see in the photo above.
At the end of this gradually inclining dirt path, you will reach the crossroads or trail junction connecting with Templeton, Easy Breezy, Red Rock Crossing and Baldwin.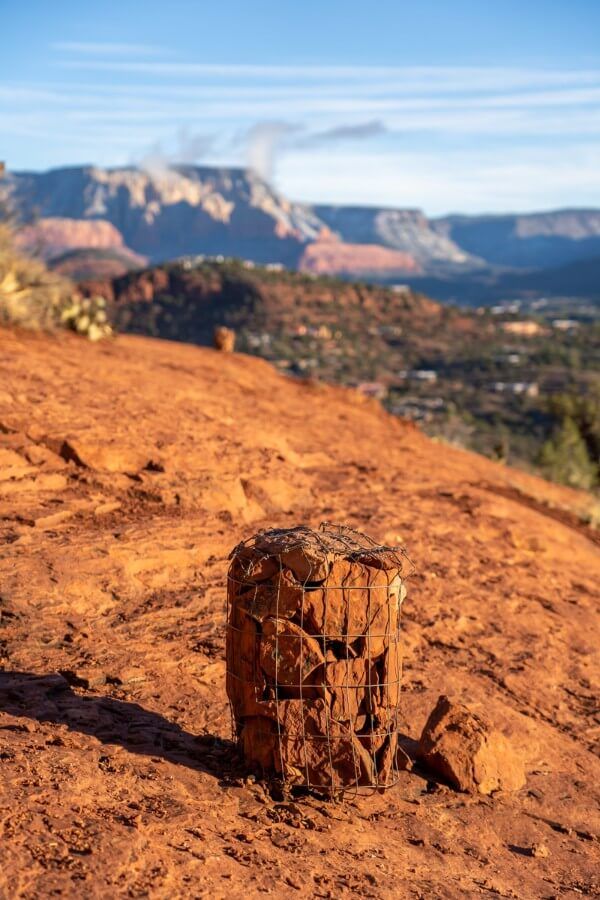 Follow The Basket Cairns
From the trail meeting point located on a rocky shelf-like plateau you will begin to gain elevation and move around to the Eastern face of Cathedral Rock.
The trail is open but easy to follow by looking for basket cairns and making sure you stay close to each cairn. This lower portion of Cathedral Rock Trail is easier going, but it is about to get interesting.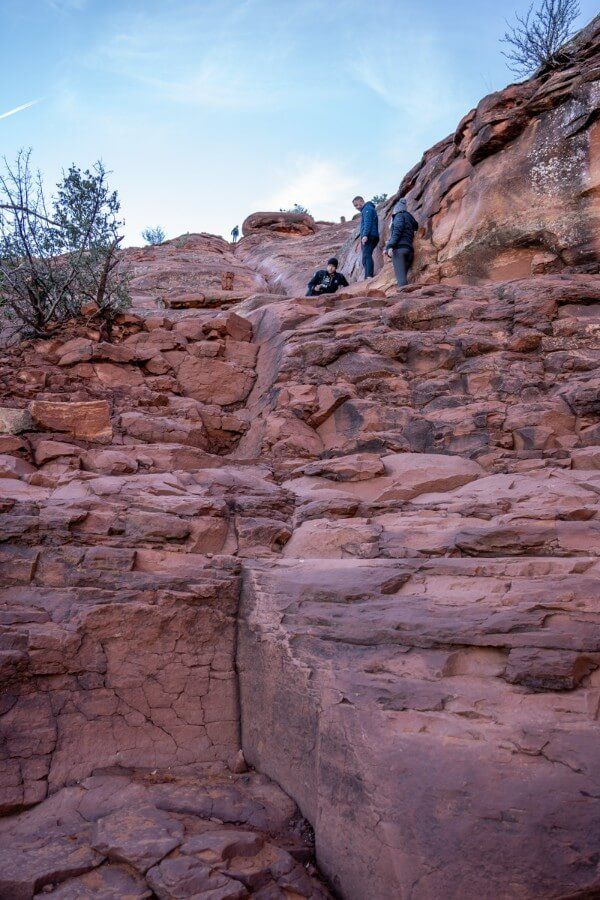 Time To Scramble
Before long you will reach the hardest part of the trail which requires some technical scrambling. This short climb up smooth rock can be very slippery when wet or icy so it is vital you have quality footwear for this section.
Be aware of any loose rocks falling from above as others climb, and even the possibility of large rocks falling or cascading down the steep rock face.
The best way up the steep terrain is to use your hands and feet so you have 4 points of contact and can distribute your weight around evenly.
Water erosion has carved a narrow gulley-like indent into the rock, which you can use to wedge your feet and create extra friction. It is a steep climb but it doesn't last long and once you're up this part, it is back to normal hiking.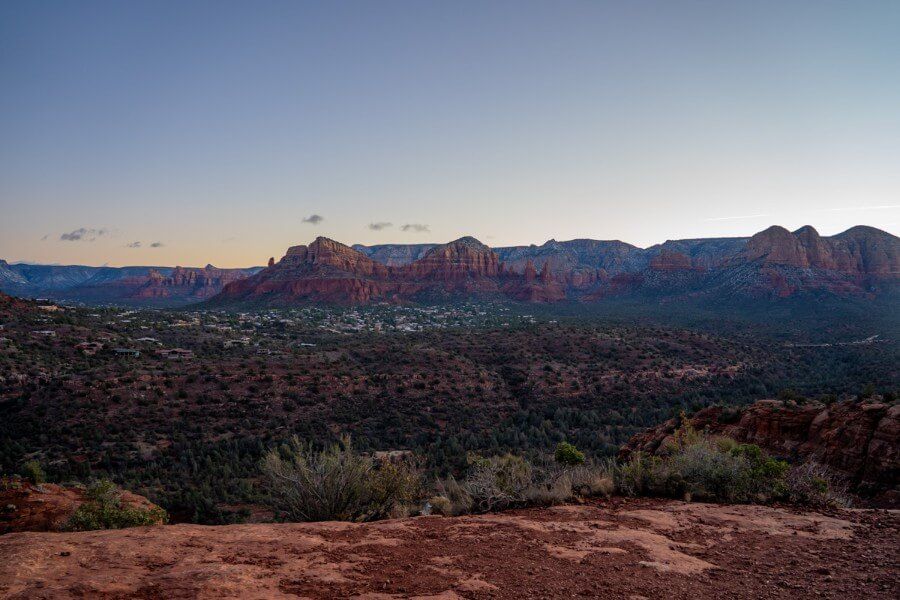 Views Opening Up Over Sedona
The rewards for successfully completing the scramble are scenic views over Sedona beginning to open up. The photo above was taken at dawn before sunrise as we were racing up to beat the sun rising.
But we had to stop for a moment to admire the incredible landscape revealing itself to us. In the distance is popular Broken Arrow off-road Jeep trail and the taller cliffs of Schnebly Hill Road Jeep trail to the east of Sedona tower up high into the sky behind.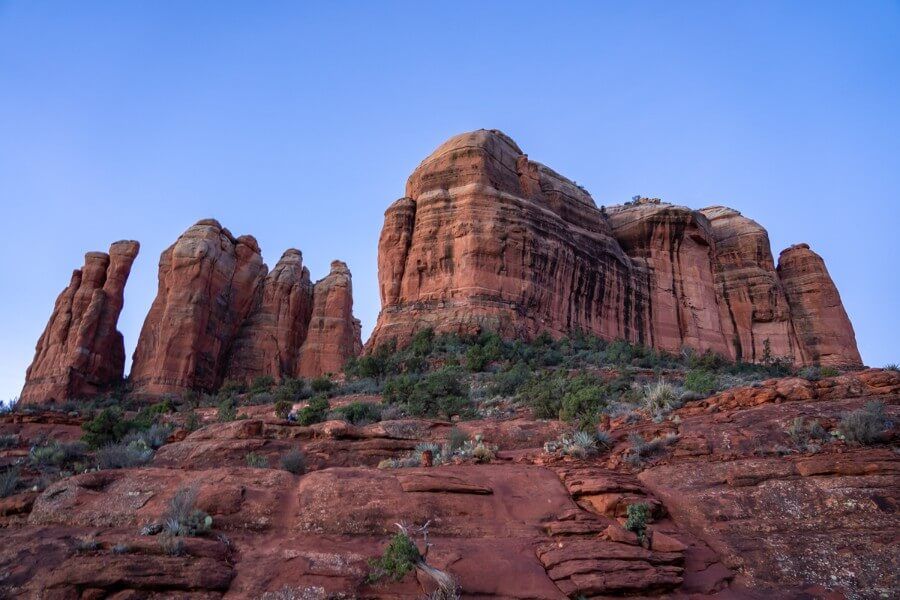 Over Half Way
Back onto the trail, you are over half way at this point and just need to scale the final section to reach the summit. Continue following the cairns but enjoy being able to forge your own path.
You are aiming for the gap between the continuous formation to the right and the second set of needle-like rocks to the left in the photo above.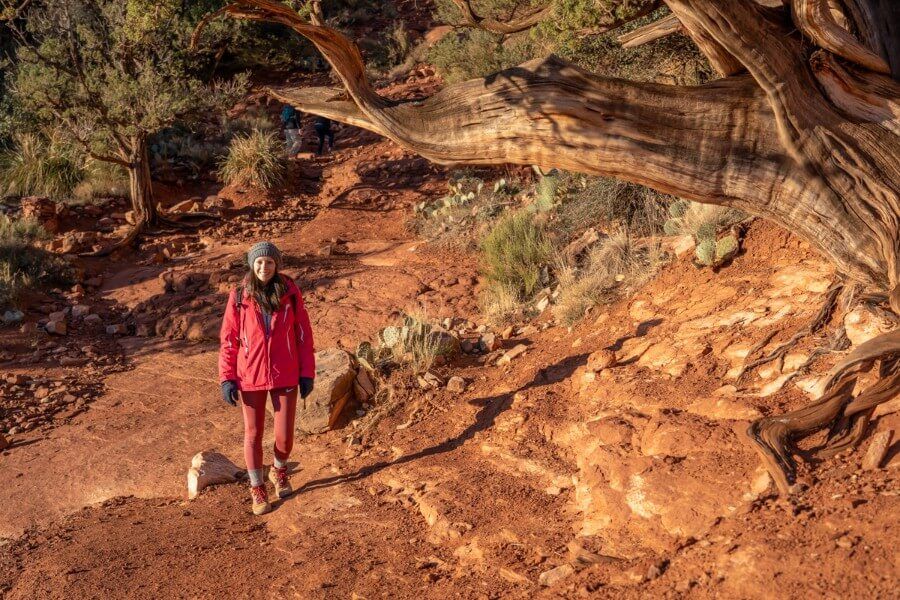 Juniper Trees And Zig Zags
The final ascent zig zags up a steep rock face with a lot of loose sand and stones. Try to stick to the parts of rock clear of dirt and gravel to make it easier on yourself.
Look out for enormous Juniper trees scattered all across the trail close to the top. You will know you're almost at the summit as you approach a flat horizon flanked by huge rocks.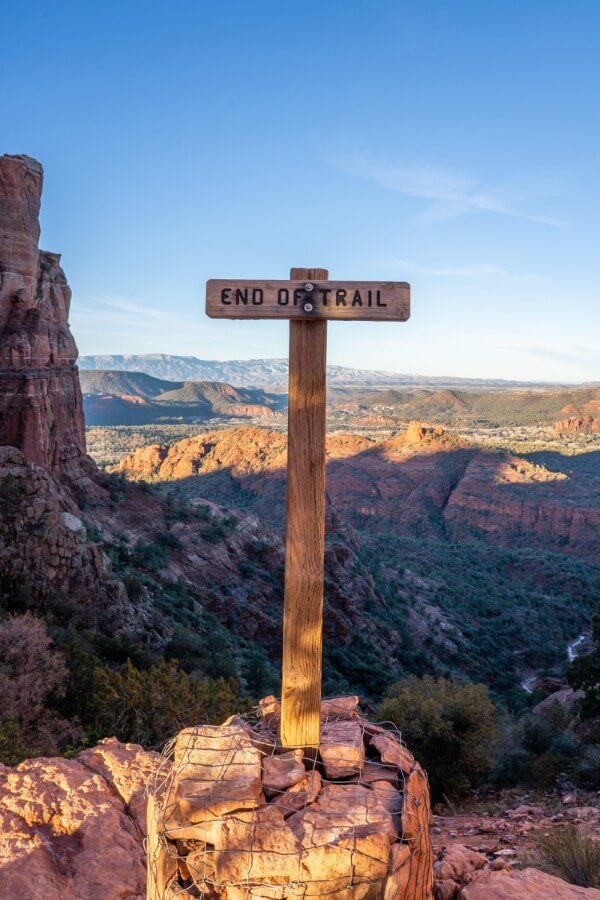 End Of Trail
What awaits you as you reach that flat horizon? An end of trail sign at the top of a wide saddle like plateau. But don't worry, this is not the end of the trail.
You have reached the saddle of Cathedral Rock, which has opened up views looking to the West that had been blocked since you gained significant elevation.
Left Turn On The Saddle Of Cathedral Rock
As you approach the end of trail sign on the saddle, turn left (South) and pass behind the rock on a narrow trail.
In the photo above we were on the way back to the end of trail sign so you would be heading in the opposite direction here.
Walk just a very short distance and you find another left turn leading to steep slopes climbing to another summit.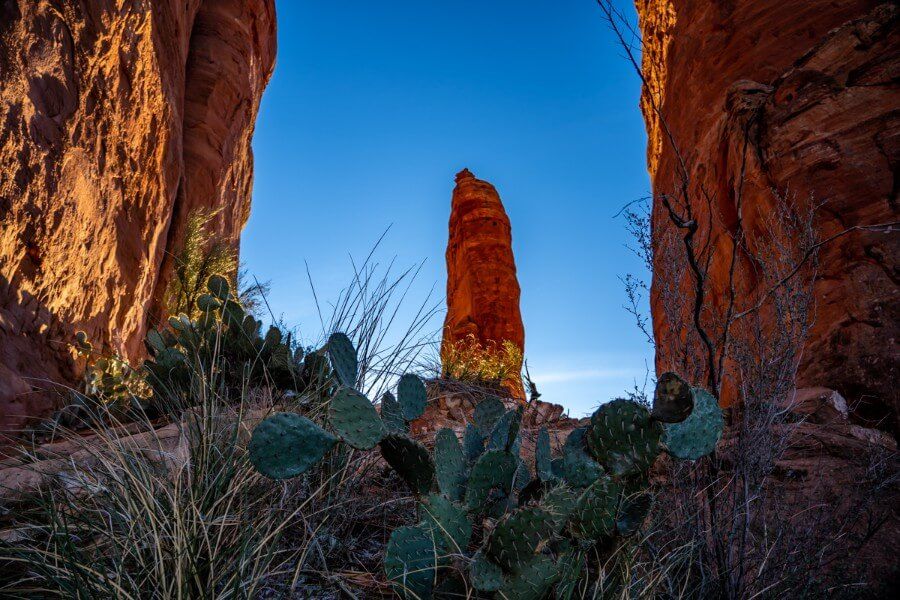 This final rock climb to a hidden second summit is steep and you will have to use your hands. Take your time and find the safest path up to the top.
It is a really fun part of the trail with huge rock walls to either side as you climb toward a single needle-like rock tower.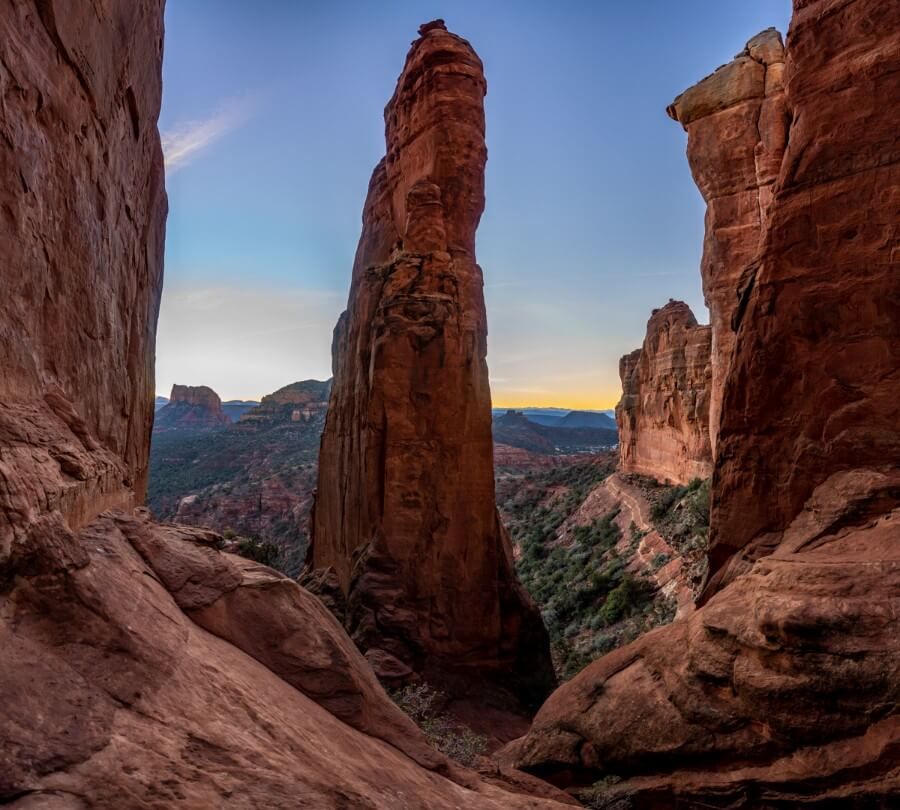 Views From Second Summit
Enjoy amazing views from the true top of Cathedral Rock.
You have the one enormous rock tower directly ahead, the continuation of Cathedral Rock to both sides and then all of eastern Sedona in your middle and background.
Not a bad way to end a short but fun hike!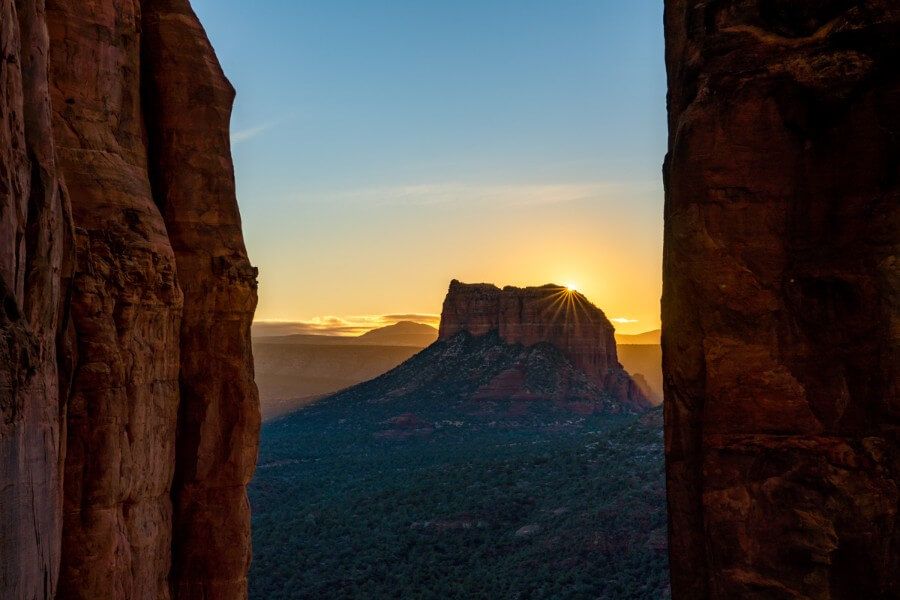 Sunrise Behind Courthouse Butte
If you hike Cathedral Rock for sunrise as we did, you might be able to capture the sun rising beautifully behind Courthouse Butte like in the photo above.
Along with one other hiker, the three of us were the only people at the top of Cathedral Rock for sunrise.
It's well worth making the effort to get up here for sunrise, firstly because it is gorgeous and secondly because it means you don't have to worry about parking later.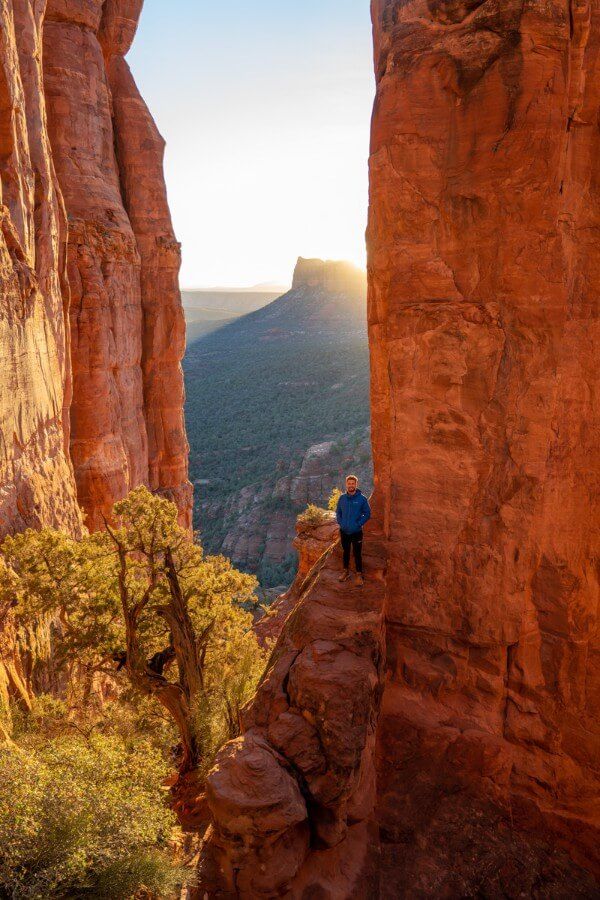 Photo Op
If you climb down a short way over the other side of this second plateau you can jump up onto a ridge and get quite a way up the formation in front.
It's one of the best photo spots on the Cathedral Rock Trail.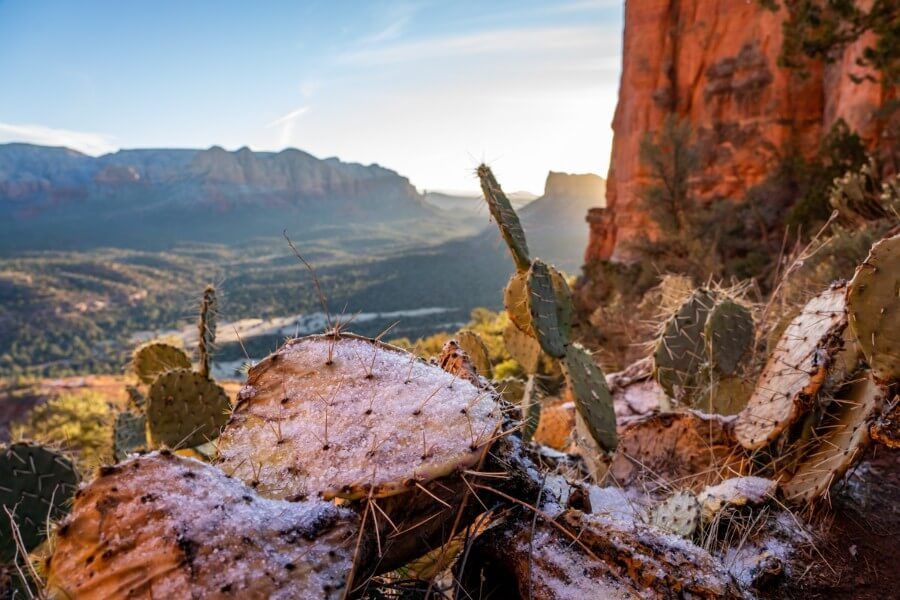 Frozen Cactus
As the sun began to climb higher we found this cactus plant still in shadow covered in ice not far from the end of trail sign.
This upper portion of Cathedral Rock Trail remains completely hidden to the sun until it works around to the West later in the day.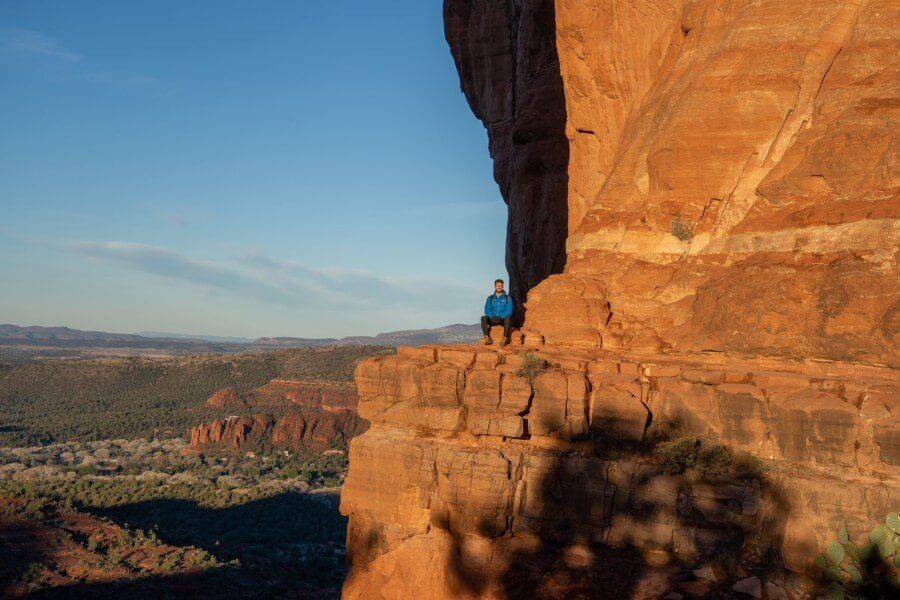 One Last Photo
To the right side of the end of trail side you can walk along the saddle and around a left turn which leads out to a viewpoint via a very narrow trail.
Take care when walking out here and when at the viewpoint. There are significant drop offs and there's still a lot more of Sedona to explore yet!
This is another of the top photo ops on the Cathedral Rock Trail. Don't forget your camera!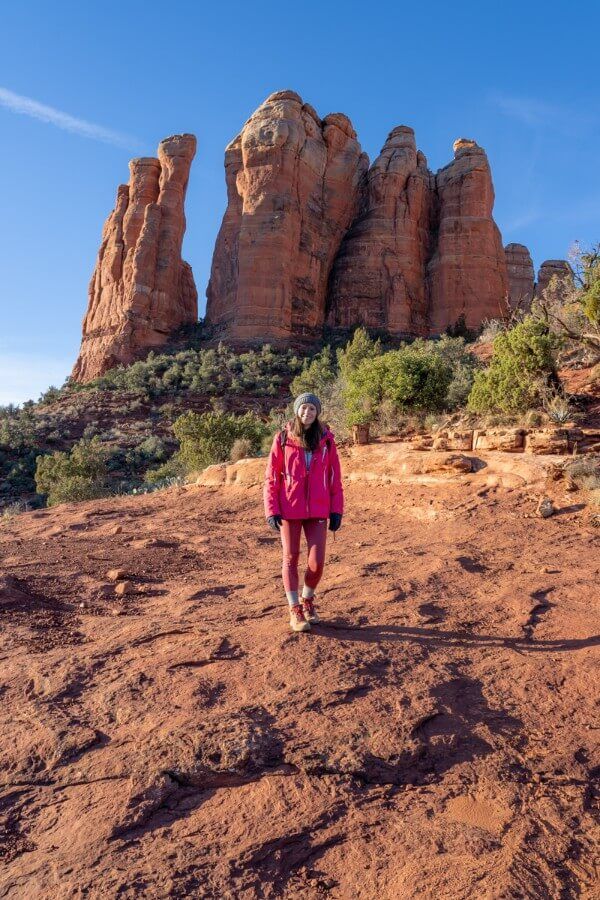 The Way Down
The way back down is much more pleasant. The zig zags are easy to navigate but you do need to avoid the loose gravel and dirt to prevent slipping.
Keep an eye out for the cairn baskets to follow on your descent, or look for the never-ending stream of hikers going up and down for direction.
Don't forget to look back up at the rock formations as they dance under sunlight and shadow.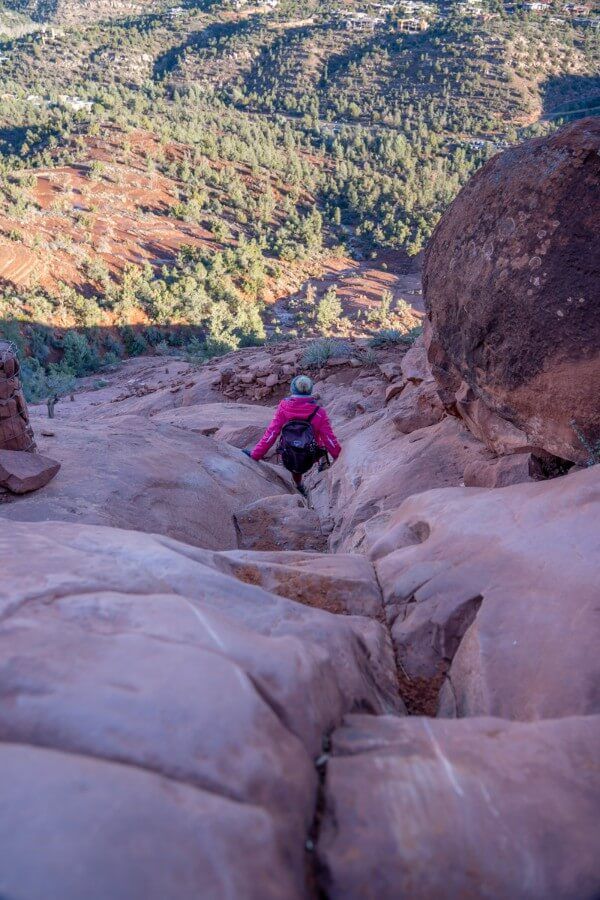 Hands And Feet
The challenging scramble section of the Cathedral Rock trail ascent is equally as difficult on the way down.
Use your hands and feet for balance, weight distribution and wedging your shoes into cracks for maximum grip. This is the easiest way to descend safely.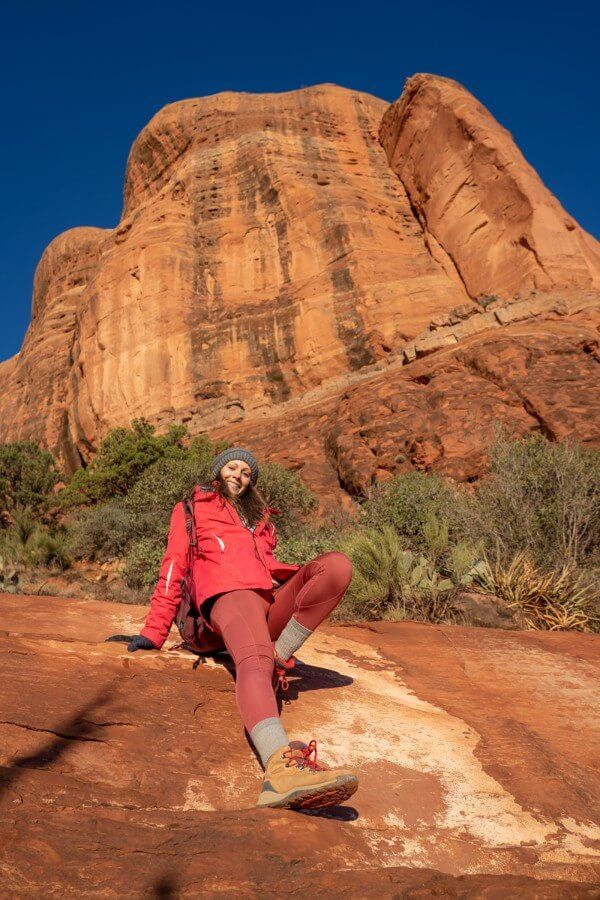 Slide Into The Descent
If there's a section of the rock that is too big a step down to find the next ledge for your feet, you can always just take a slide down.
We saw plenty of people sliding on rocks throughout our hike to Cathedral Rock.
If you are hiking to the best hidden caves in Sedona, you will have to do a bit of hands and feet climbing to get in and out of caves. Cathedral Rock is the perfect warm up for getting used to the rocks and surfaces.
Keyhole Cave is the hardest cave to access in Sedona so leave that one for last.
Pros and Cons
One of the most iconic hikes in Sedona
Short if starting at Cathedral Rock trailhead
Stunning views in all directions
Excellent sunrise and sunset location
One of the most popular Sedona hikes means it is always busy
Getting parked is a real challenge
Steep and often slippery sections of rock
Not much room at the summit
Best Time To Hike Cathedral Rock In Sedona
The best time to hike Cathedral Rock Trail in Sedona is for sunrise or sunset in Spring or Fall when the temperatures are perfect for hiking.
However, you would need to strike it very lucky to get parked up at Cathedral Rock trailhead for a sunset hike in Spring or Fall.
Here are some tips:
You should arrive just before first light to get a parking spot for sunrise
Arrive at least 3 hours before sunset to wait for a parking spot or choose another place to park in Sedona
Winter offers the perfect opportunity for getting a parking spot in Cathedral Rock trailhead and experience a much quieter hike
Hike less popular trails on weekends and hike Cathedral Rock on a weekday during your Sedona itinerary
What To Pack For Hiking Cathedral Rock
Cathedral Rock Trail is a short hike that will take around 1-2 hours to hike so you don't need to carry a big backpack full of gear.
Here are our top recommendations for what to wear and take along:
Footwear – Good shoes are essential for hiking to Cathedral Rock. Without a decent grip on your sole, you will slip and slide all over the rocks.
Water – This is a short hike but it is completely open, exposed and steep to climb so you'll need plenty of water to hydrate at the summit. Summer months require more water and even electrolyte drinks.
Sun protection – Sunglasses, sun hats, long layers and sunscreen are vital if you are visiting Sedona in Summer.
5 Tips For Hiking Cathedral Rock
Use Baldwin Trail if you can't get parked at Cathedral Rock Trailhead
Wear the pair of shoes you know has the best grip
If hiking in Winter you will need layers, hats and gloves for sunrise or sunset
Renting a jeep or ATV won't get you to any secret parking areas for this hike
The end of trail sign is not the end of the trail
Do you like to track your hikes using any of the best hiking apps?
We always use Gaia GPS offline maps for navigation and tracking our speed, elevation, time etc on hikes. If you've been thinking about getting a hike tracker, here's a link to Gaia with our exclusive 20% discount.
Best Views Of Cathedral Rock From Around Sedona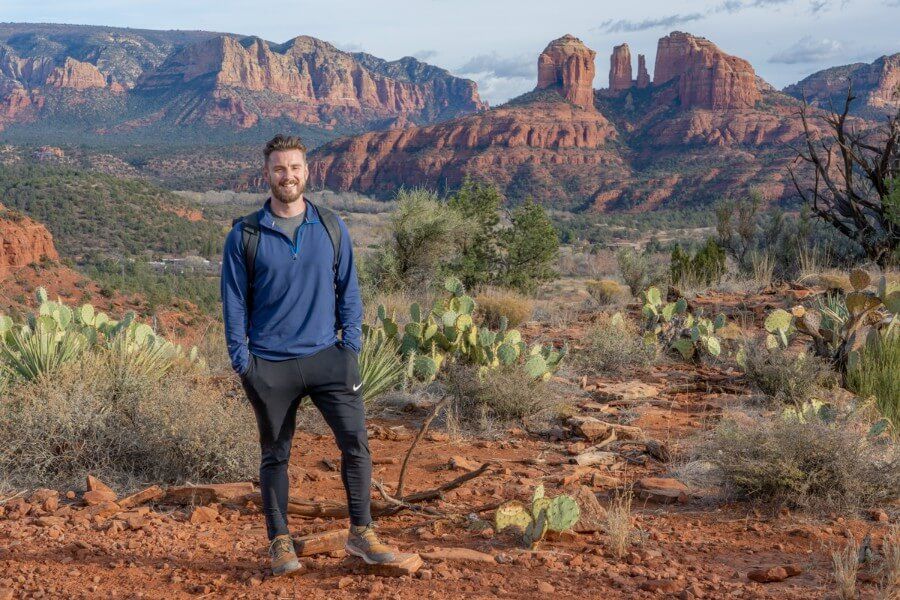 You can find beautiful views of Cathedral Rock from many areas on the Southern side of downtown Sedona.
The photo above is from the Pyramid Mountain Trail hike on the West side of Sedona looking Southeast. The West side of town isn't built up and you have plenty of great spots with unobstructed views over Cathedral Rock.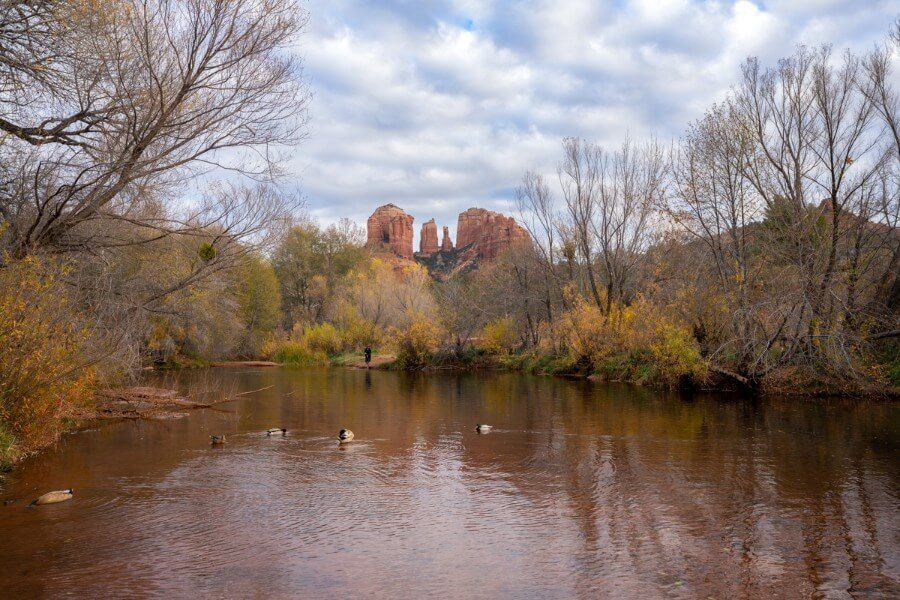 One of the most popular photos of Cathedral Rock is in Crescent Moon Picnic Site. We took the photo above in late afternoon on a cloudy day overlooking Oak Creek with Cathedral Rock in the background.
This is where Red Rock Crossing trail begins and you have to walk through the water here to access Templeton Trail. But nice views along the creek aren't much of a hardship now, are they?!
Sedona Arizona Visitor Summary
How to get around – Sedona is small but you'll need a car to access the best hikes to the north and south of town. If you want to get to the hard to reach places, you should hire a jeep.

When to visit – Spring and Fall are the best seasons to visit Sedona, but they come with a higher price tag and more crowds. Winter is a fantastic time to avoid both.

Where to stay in – Accommodation is expensive in Sedona, but there are plenty of very high quality places to stay including Matterhorn Inn, Lantern Light Inn, Arabella Hotel, Whispering Creek B&B and The Suites at Sedona.

Popular things to do – Sedona is one of the best places to hike in the US, but it is also a wonderful place to get off-road in a jeep, shoot stunning photography, visit historic sites and drink wine.
Cathedral Rock Trail Sedona Arizona FAQ's
Let's take a look at some of the most asked questions about hiking Cathedral Rock in Sedona.
Is Cathedral Rock Trail Hard?
Cathedral Rock is a moderate hike with a steep incline gradient and some scrambling elements. It is very short at just 1.2 miles round trip but it is not suitable for all hikers due to its open slick rock hiking section.
Try hiking Soldier Pass Trail to Soldier Pass Cave or Long Canyon Trail to Birthing Cave for easier hikes leading to stunning cave formations in Sedona.
What Is The Elevation Of Cathedral Rock?
The elevation of Cathedral Rock summit is 4,980 ft above sea level and the elevation of Sedona is 4,350 ft. Therefore the Cathedral Rock Trail hike has 630 ft elevation gain.
Is Cathedral Rock A Vortex?
Yes, Cathedral Rock is considered an upflow vortex because of its higher elevation with views over Sedona.
Is Cathedral Rock Hike Dog Friendly?
Yes dogs are welcome on the Cathedral Rock Trail hike in Sedona. Dogs must be kept on a short leash and be able to climb steep rock scramble sections along the route.
Cathedral Rock is a great hike if your dog is agile and loves to jump around rocks!
More From Sedona
More From The Southwest
---
We hope this guide to hiking Cathedral Rock Trail helps with planning your visit to Sedona, Arizona!
Please let us know if you have any questions about hiking Cathedral Rock Trail or your visit to Sedona in the comments below.
Happy Hiking,
Mark and Kristen
Was This Post Helpful? Pin It For Your Hike!