Devils Bridge Trail is one of the most heavily trafficked hikes in Sedona thanks to the meteoric rise of social media. We personally think there are better hiking trails in Sedona, but we have to admit Devils Bridge is a fantastic photo spot and especially at sunrise.
In this guide, we'll explain everything you need to know about hiking Devils Bridge Trail in Sedona.
Let's begin.
Our Devils Bridge Experience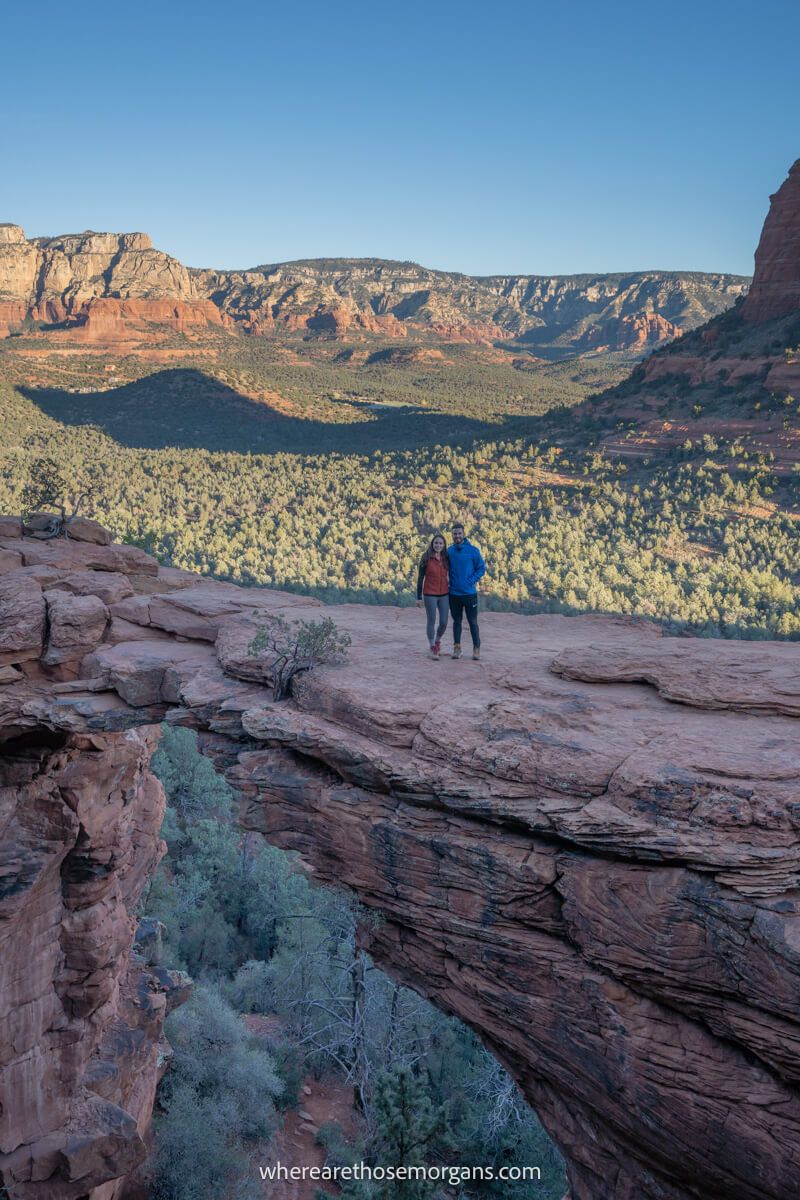 We hiked to Devils Bridge for sunrise during our week long visit to Sedona at the end of 2021. But instead of hiking from the busy Dry Creek Trailhead or Mescal Trailhead, we drove our rented Jeep all the way up Dry Creek Road to Devils Bridge Trailhead.
Admittedly, we expected to be first at Devils Bridge because we visited Sedona in December during the low season. But despite arriving well before sunrise, there were already 5 groups ahead of us. We can only imagine what the line would be like in peak season!
Hiking Statistics
There are three trailheads you can use to hike Devils Bridge Trail:
Devils Bridge Trailhead (4WD required)
Dry Creek Trailhead to Devils Bridge
Mescal Trailhead to Devils Bridge
Let's take a look at the hiking statistics from each trailhead.
1. Devils Bridge Trailhead (4WD Only)
Trail Distance: 1.8 miles roundtrip
Elevation Gain: 400 feet
Hike Difficulty: Moderate
Time Required: 1.5 – 2 hours
2. Dry Creek Trailhead To Devils Bridge
Trail Distance: 4 miles roundtrip
Elevation Gain: 450 feet
Hike Difficulty: Moderate
Time Required: 3 hours
3. Mescal Trailhead To Devils Bridge
Trail Distance: 4 miles roundtrip
Elevation Gain: 500 feet
Hike Difficulty: Moderate
Time Required: 3 hours
Devils Bridge Trail Map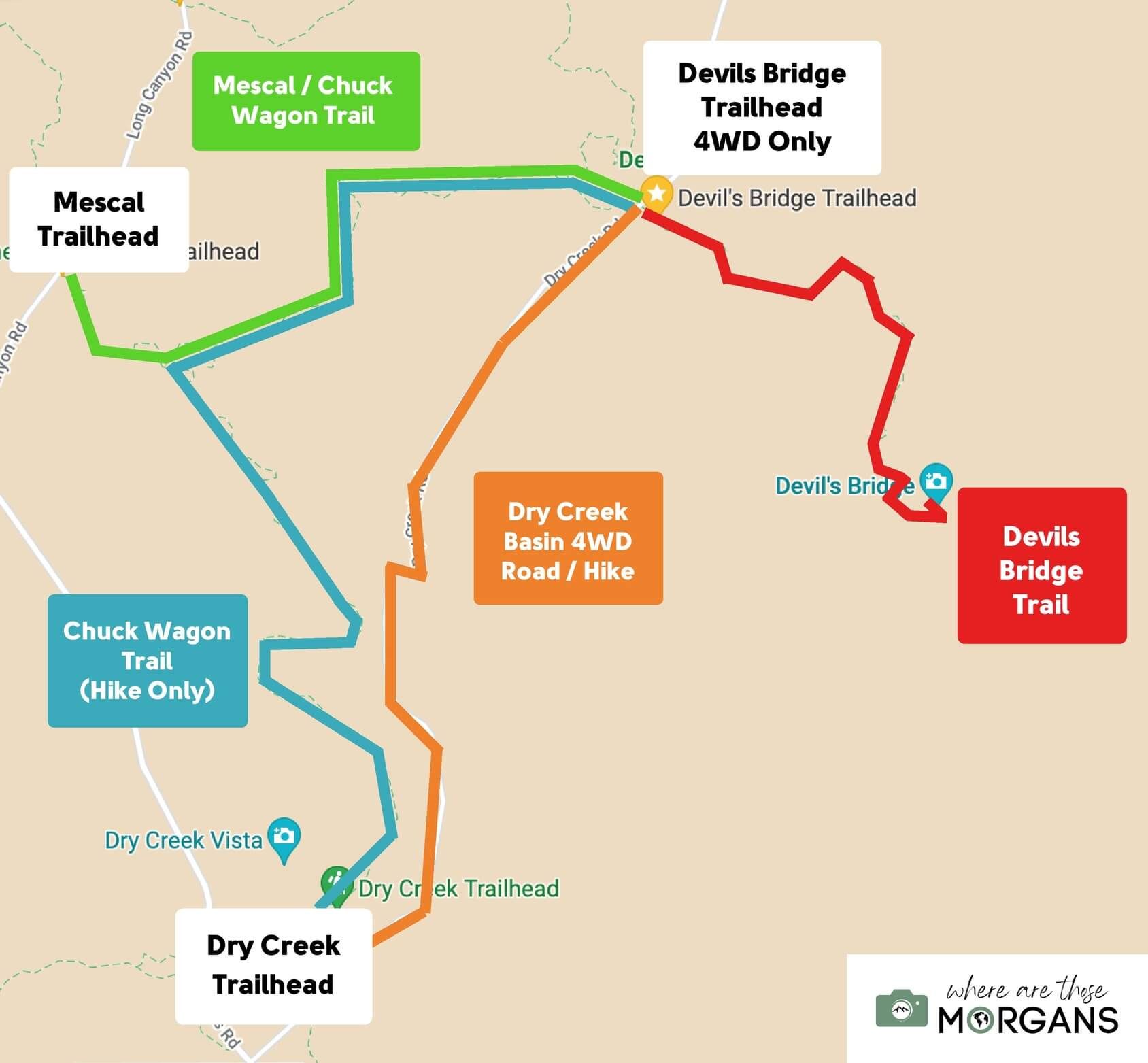 The map we created above shows the various trailheads and routes you can use to reach Devils Bridge Trail in Sedona.
Map key:
Orange Line – Dry Creek Basin 4WD only road
Blue Line – Chuck Wagon Trail from Dry Creek Trailhead
Green Line – Mescal Trail from Mescal Trailhead
Red Line – Devils Bridge Trail
Devils Bridge Trail Walkthrough
Let's get into the Devils Bridge hiking walkthrough. We are going to show you the entire trail step-by-step so you know exactly what to expect.
Don't forget you can use our photos below throughout your hike to Devils Bridge to help with navigation.
1. Find A Parking Space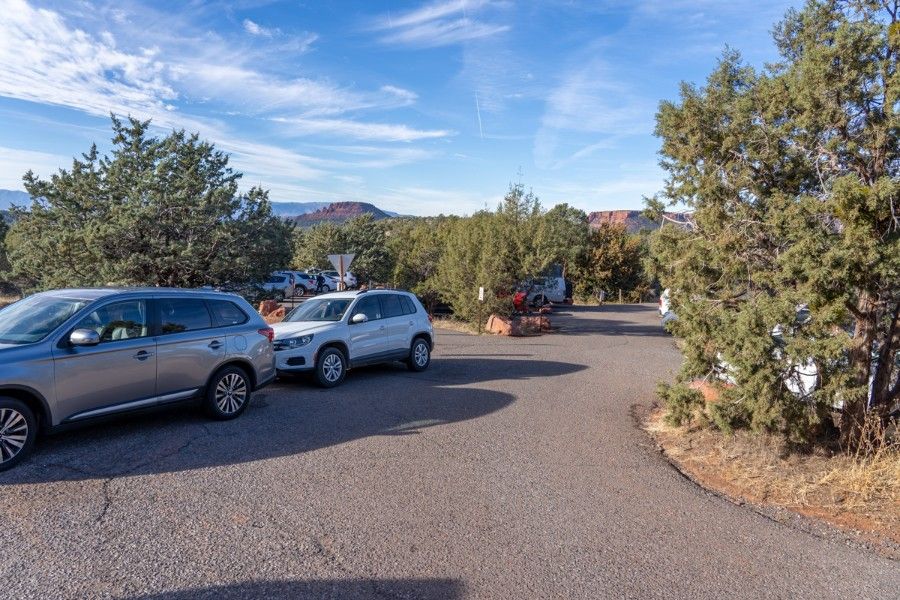 Park at either Mescal Trailhead or Dry Creek Trailhead. If you have a Jeep or 4WD vehicle you can park at Devils Bridge Trailhead.
We took the photo above of Dry Creek Trailhead parking lot after we'd finished hiking Devils Bridge around 9:00am. It was already full on a weekday morning in December.
2. Hike (Or Drive) To Devils Bridge Trailhead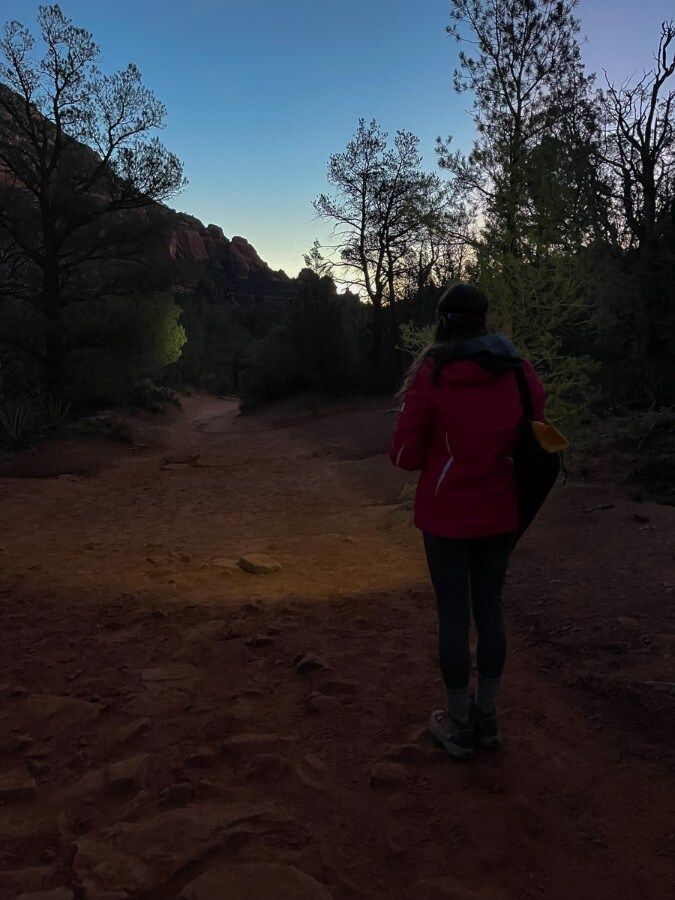 Getting to Devils Bridge Trail is going to be the most challenging part of your hike, unless you have a 4WD vehicle which means you can drive straight to Devils Bridge Trailhead.
Even once you've found a space at Dry Creek or Mescal parking lots, you still need to hike a connecting trail which eventually joins with Devils Bridge Trail.
Here are your options:
Mescal Trailhead – Hike Mescal to Chuck Wagon and Devils Bridge
Dry Creek Trailhead – Hike Chuck Wagon to Devils Bridge
Dry Creek Trailhead – Hike Dry Creek Basin 4WD road
After driving Dry Creek Basin 4WD road in our Jeep, we highly recommend you avoid hiking the 4WD road from Dry Creek Trailhead. The road is rough, muddy and you'll share it with Jeeps.
Instead, you should hike Chuck Wagon Trail from Dry Creek. Or better yet, park at Mescal Trailhead because the connecting path is shorter.
3. Join Devils Bridge Trail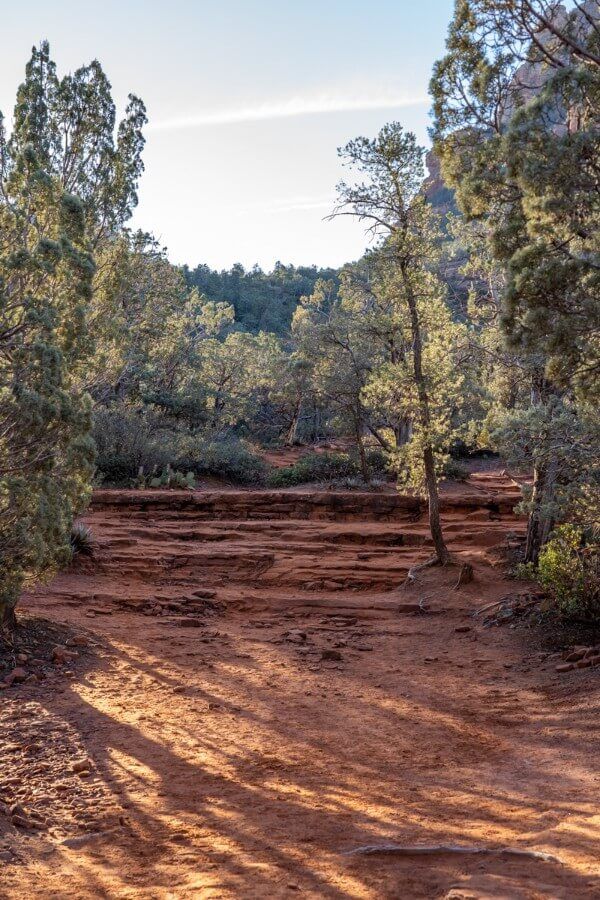 The hard part is over as soon as you reach Devils Bridge Trail. From here it's much more enjoyable and picturesque. You'll begin on a really easy and flat dirt packed path leading into trees.
Follow the wide and heavily beaten path for a little over half a mile before gradually beginning to gain elevation.
4. Climb The Rocky Steps
The first major trail change arrives after 0.7 miles. You'll reach a very light scramble up a series of uneven rocks as you can see in our photo above. Luckily, the rocks are shaped just like steps.
This section of the hike is narrow and you may have to allow other hikers to pass up or down if the trail is busy when you visit.
5. Take A Sharp Left Turn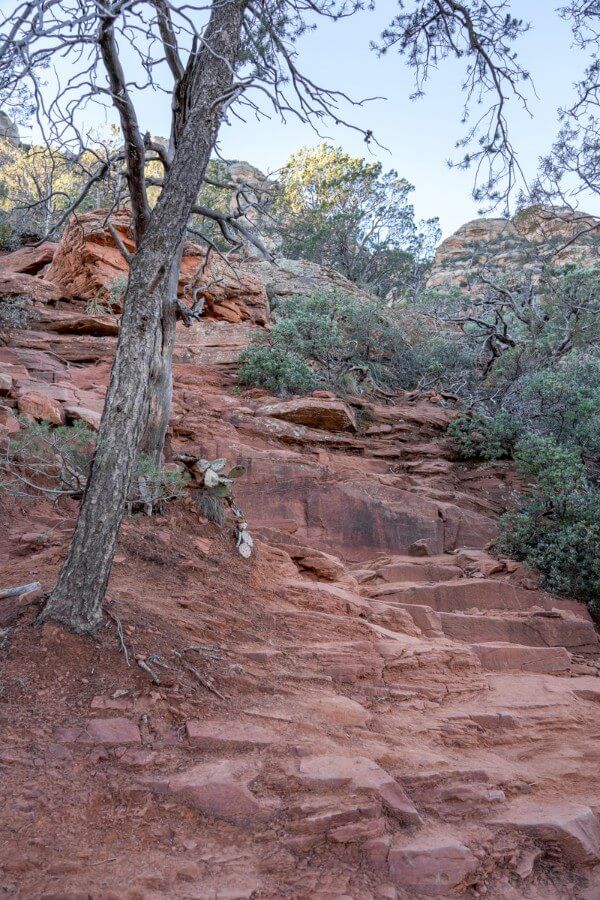 After scrambling up the uneven rocks, you will spiral around a sharp left turn onto another rock staircase. This section is also steep and it can be easy to trip so take extra care here.
Once you summit the rocky sections, you will be level with Devils Bridge. All you need to do now is walk 100 yards along a ridge for your first glimpse of the bridge.
6. Arrive At Devils Bridge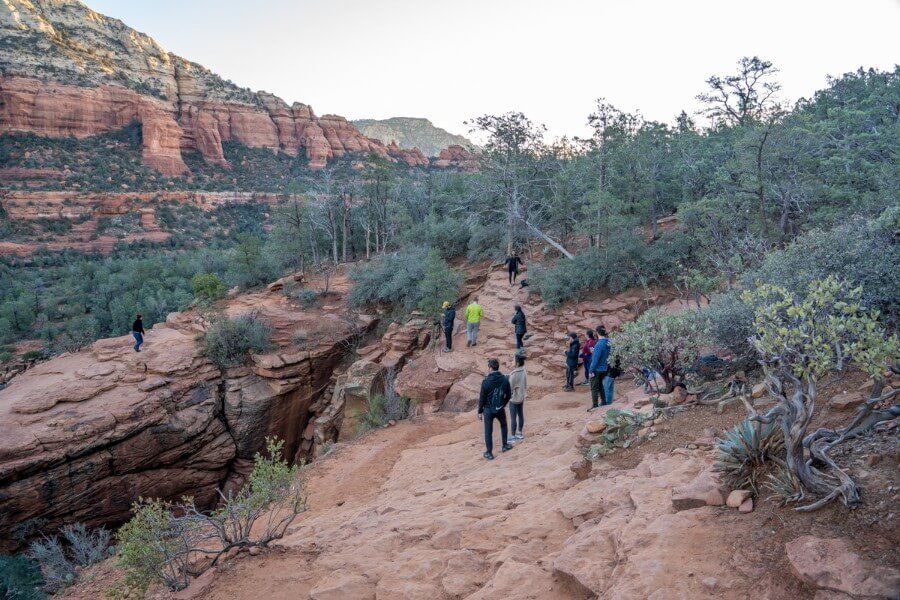 As you approach Devils Bridge, you will arrive from the opposite side of the access point and classic photo spot. You can instantly see how narrow the bridge is, as well as the drop offs and the eroded arch below.
Continue walking around the rocks in a crescent moon arc and you will reach the line of hikers waiting for a photo on the bridge.
7. Wait For Your Turn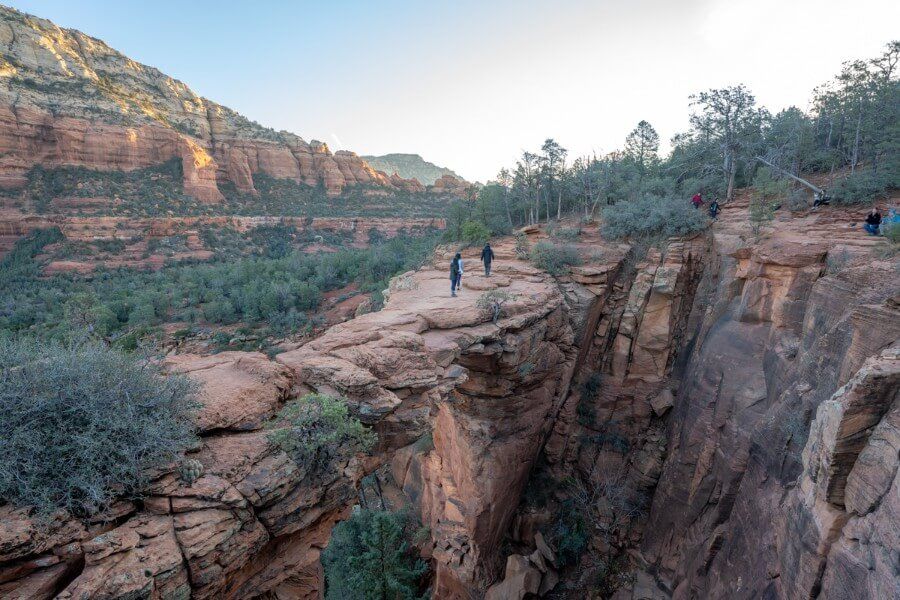 Now, it's time to wait your turn to walk out onto the bridge for a photo. The earlier you arrive the better chance you have of being closer to the front of this line.
We took the photo above as we were leaving. It was 30 minutes after sunrise and there were around 15 other people in total so not too bad. But remember, this was a weekday in December so it will be much busier in peak season.
8. Walk Out On To The Bridge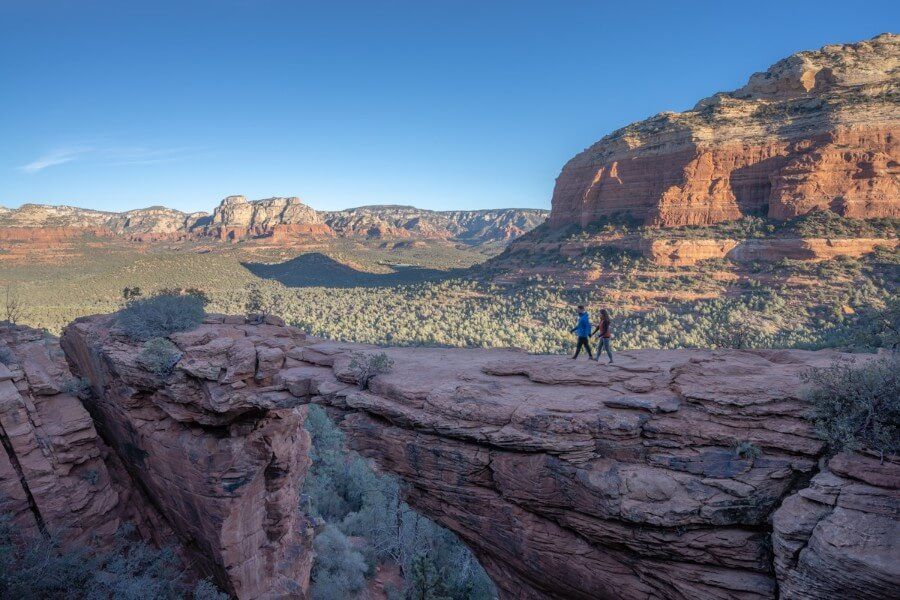 Act fast when it's your turn to walk out onto the bridge. There will be loads of others waiting and watching so don't be shy about it, just get out there and get your photo.
By the time our turn came around, the sun had already risen and the light was making its way slowly towards the Devils Bridge area. At least while waiting we were able to enjoy the sunrise!
Our advice is to strike up conversation with other hikers who will take your photo if you take theirs in return. Almost everyone will be respectful and friendly, especially around sunrise.
9. Brave The Narrow Section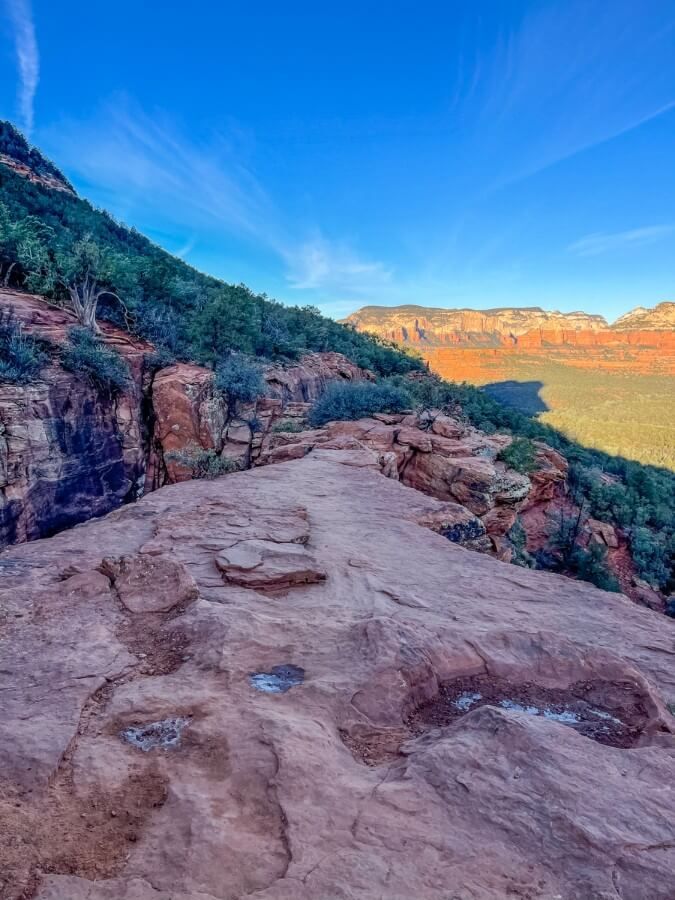 As you walk out onto the constantly narrowing Devils Bridge, you will become more acutely aware of the significant drop offs to both sides. Devils Bridge is 50 feet long but it's only 6 feet wide at its narrowest point in the center.
The worst part isn't how narrow the bridge is or how far the drop is, but how long it takes to actually reach the photo spot in the middle with everyone impatiently watching and waiting!
10. Quickly Snap Loads Of Photos
This is one of those times where you have to get your photos but you also have to be aware that others are also waiting. Get busy on the camera shutter snapping photos of the walk out, the poses and the walk back.
It wasn't too busy when we were at Devils Bridge, so we went out onto the bridge once before the sunrise and then again around 25 minutes after sunrise. The second time we had someone take our photos for us.
Overall we enjoyed taking photos at Devils Bridge, but we think there are better sunrise and sunset photo spots in Sedona.
11. Hike Back To Your Car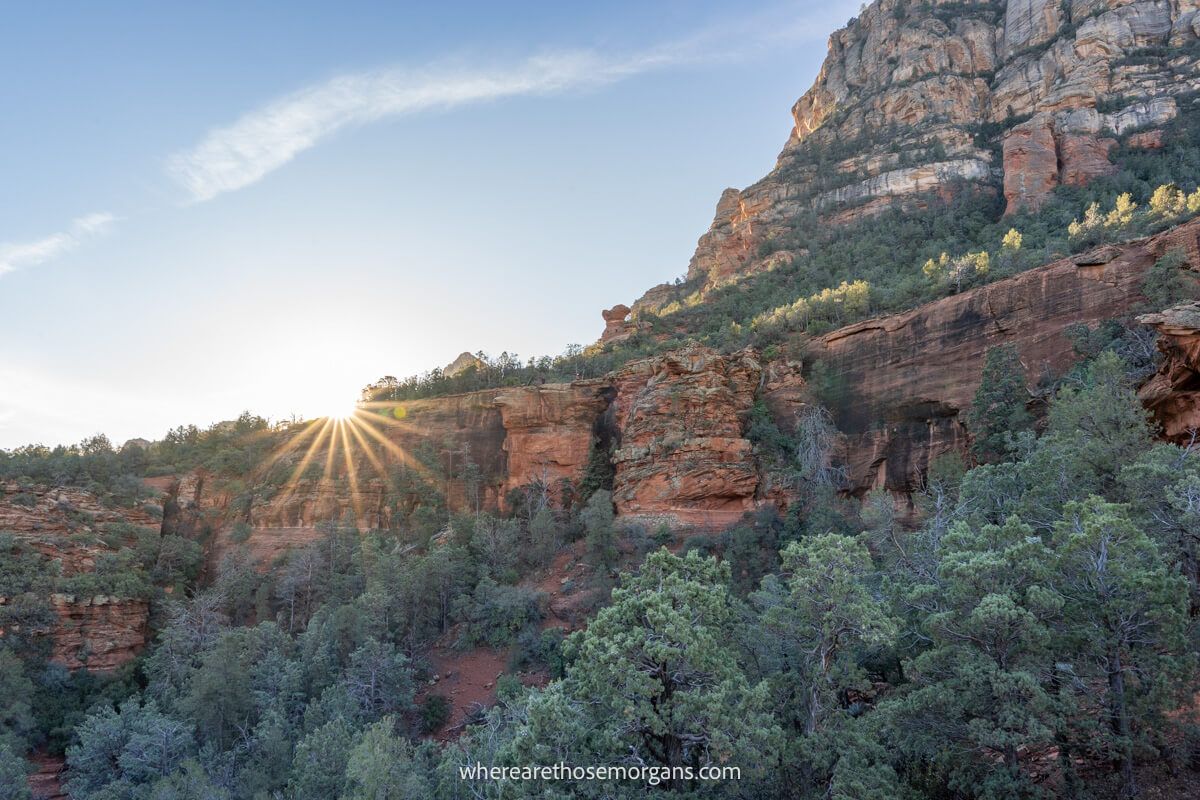 After getting your photos, it's time to head back to your car. But there's one more stop on the way down.
Once you're down the rocky scramble section, look for a spur trail leading out out a few feet to the right. You'll end up at a huge flat rock with fantastic views looking back up at the arch underneath Devils Bridge.
Devils Bridge Trail Pros And Cons
Pros:
Devils Bridge is incredibly photogenic
Fun to watch people at the bridge
Sunrise hike beats the crowds
Cons:
Extremely popular and busy trail
Parking is always problematic
Long line for the classic bridge photo
Devils Bridge Trailhead Parking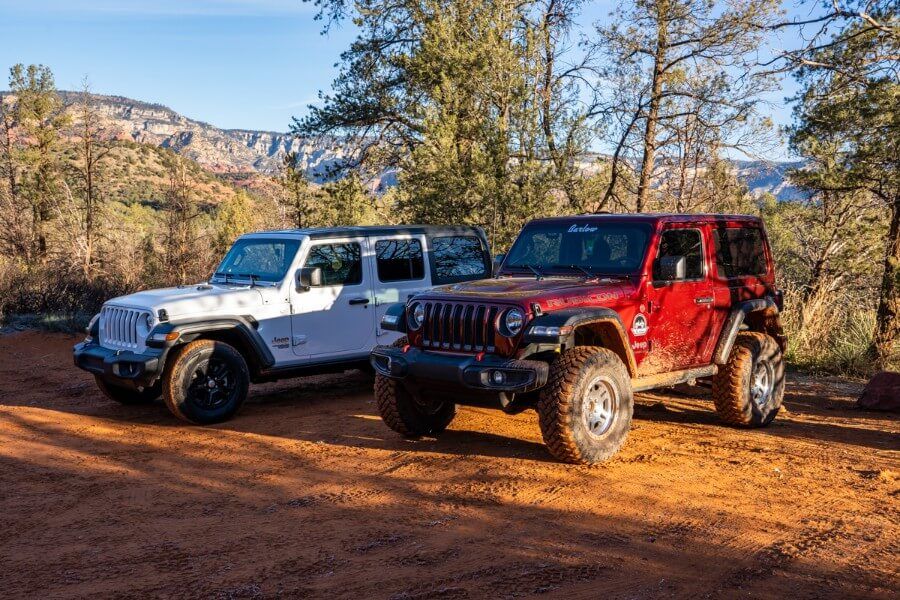 Dry Creek Trailhead and Mescal Trailhead are the two traditional places to park for hiking Devils Bridge in Sedona. Almost all hikers will park at one of these two trailheads. The only way to park directly at Devils Bridge Trailhead is by driving a 4WD vehicle up Dry Creek Road.
Assuming you are driving a 2WD, arrive early to give yourself the best chance at getting a space. Once all the spaces at Dry Creek and Mescal are taken, you can join the dozens of cars parked along the main road.
Here are the Google Maps parking locations:
Travel tip: We rented a Jeep to drive to the best Jeep trails in Sedona, but it also came in handy for hiking Devils Bridge and Soldier Pass Trail because we could access areas most others couldn't. What do you think to hiring a Jeep during your trip to Sedona?
Sedona Shuttle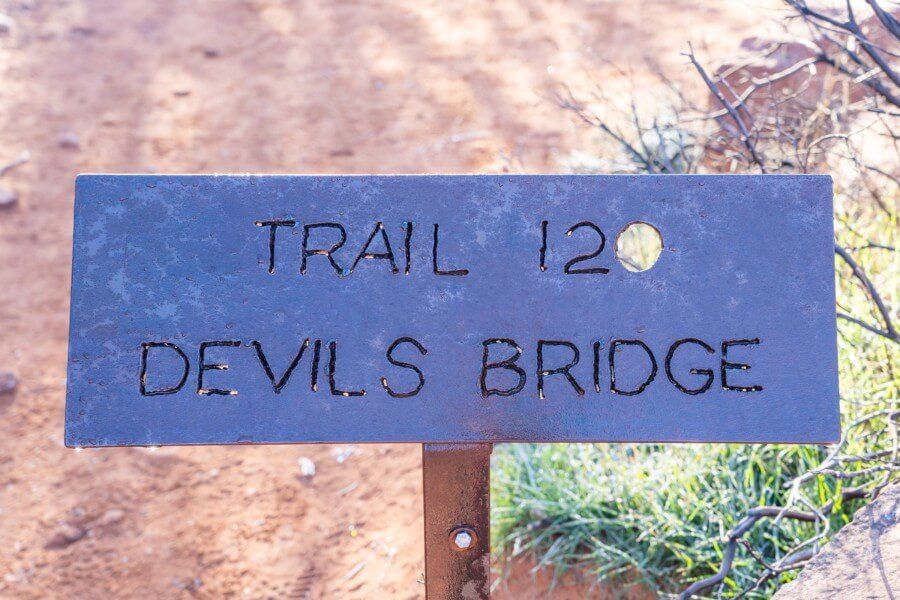 If you don't intend to hike Devils Bridge Trail at sunrise, we highly recommend you consider taking the Sedona shuttle later in the morning to avoid the stress of finding a parking spot during the day.
You can park for free at Posse Grounds park and ride, jump on the #12 Dry Creek shuttle and relax. Here's more information about the shuttle.
Best Time To Hike Devils Bridge Trail In Sedona
The best time to hike Devils Bridge Trail is for sunrise on a weekday in spring or fall when temperatures are comfortable for hiking at dawn.
Best Season
Sedona is busiest in spring and fall when temperatures are perfect for hiking. However, this also means that parking options for the hike fill very early. If you visit Sedona in peak season we recommend arriving before sunrise or using the Sedona shuttle to avoid a chaotic parking experience.
Summer and in particular winter are quieter periods in Sedona, which means you have more chance getting parked at the trailheads without issue. The tradeoff is very hot summers and very cold winters.
Best Time Of Day
Sunrise is the best time of day to hike Devils Bridge Trail in Sedona. Not only do you avoid parking issues and the hottest part of the day, but you also stand a better chance of getting the iconic Devils Bridge photo without having to wait in a long line.
If you're not overly concerned about getting the photo on the bridge, we recommend hiking Devils Bridge later in the afternoon or early evening when it should be getting quieter.
Further Reading: The 50 best US hikes
Devils Bridge At Sunrise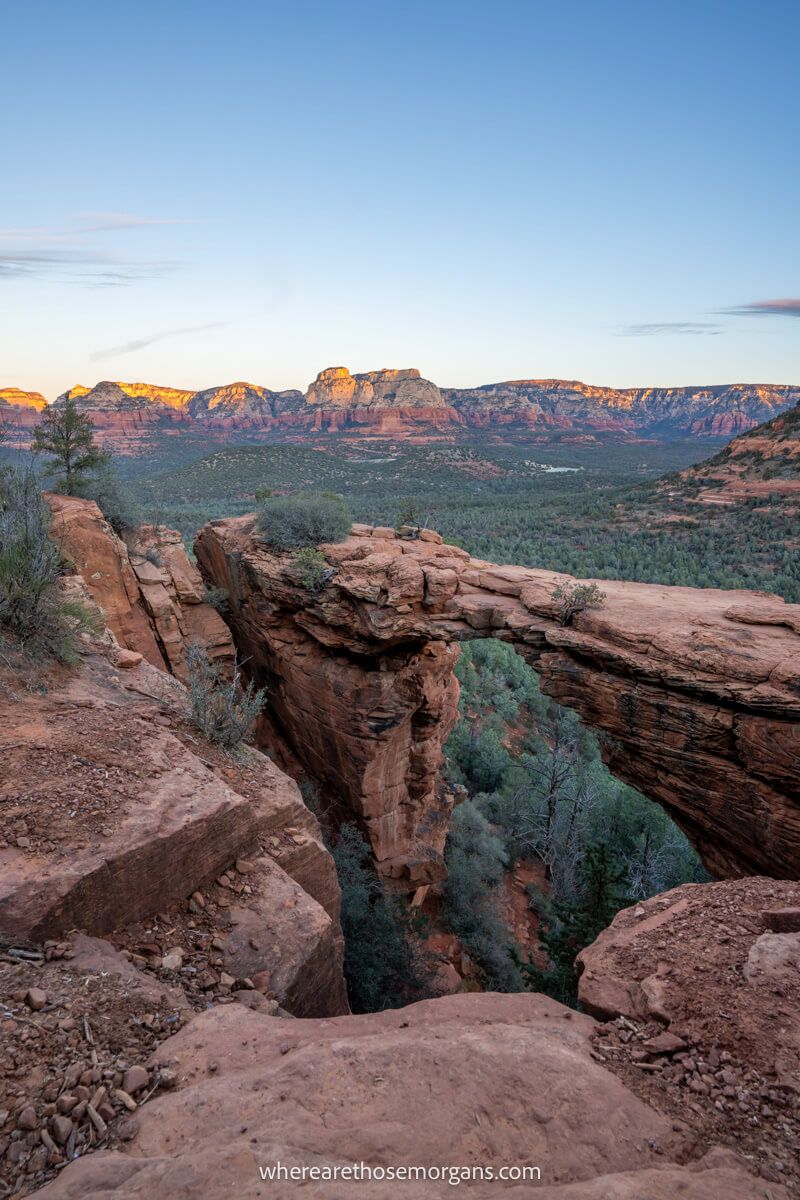 You can hike Devils Bridge Trail any time of day but the best piece of advice we can offer you is to get this one out of the way first thing in the morning. From mid-morning through late afternoon the bridge is relentlessly packed full of people wanting to take photos.
By arriving early you will avoid parking issues and overcrowding at the bridge. And you get to watch the distant red rock formations light up as the sun rises from behind you.
Check sunrise times the night before you plan to hike Devils Bridge Trail. Aim to arrive at the summit around 30 minutes before the sunrise time.
Hiking tip: Two other amazing hikes to consider for sunrise in Sedona are Doe Mountain Trail and Chimney Rock Little Sugarloaf Loop Trail.
What To Pack
Footwear – Footwear with good grips and traction will help with the rocky steep section and give you more confidence when walking out onto the bridge. If it has rained your shoes may get dirty and wet.
Water – Hiking at sunrise means you can take less water than you would during the day. However, it's important to remember this is a 4 mile roundtrip trail and if you're hiking later in the day you'll need to carry more water.
Sun protection – Sunglasses, sun hats, long layers and sunscreen are vital if you are visiting Sedona in summer. However, you will be protected from the sun for the vast majority of the hike to Devils Bridge if you hike for sunrise. Later in the day you will need sun protection.
Winter – We hiked Devils Bridge Trail for sunrise during winter in Sedona. You might need to start in coats, gloves and hats to begin but take a backpack for storage once the morning warms.
Our Top 5 Tips
Don't forget to pack a headlamp if you hike for sunrise
Park on the roadside near Dry Creek Trailhead if you arrive late and lots are full
Use one of the best hiking apps for offline navigation
Don't forget your camera and tripod for low light sunrise photography
Rent a Jeep so you can park at Devils Bridge Trailhead
Further Reading: The 20 best places to visit in Arizona
Is Devils Bridge Trail Worth It?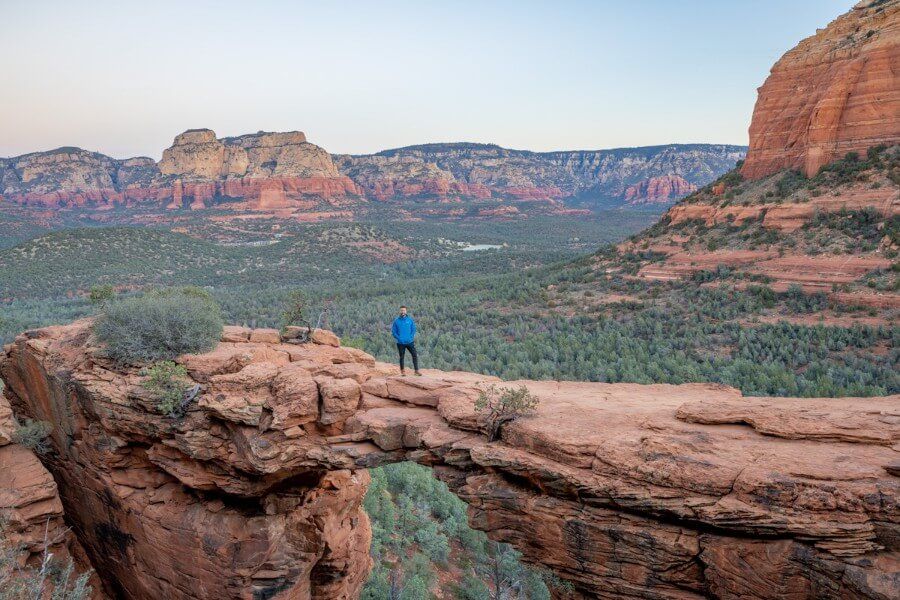 We have mixed feelings about Devils Bridge Trail. On one hand we love the unique bridge photo, but on the other hand we think the trail is massively overrated. The parking situation is terrible and the hike itself isn't great, then you have to stand in a long line to get a photo.
We've hiked all the popular trails in Sedona and we would put Devils Bridge somewhere in the middle of the pack. If parking was easier and the trail was less crowded we would be more inclined to move it closer to the top, but that isn't going to happen any time soon.
Our advice is to hike Devils Bridge only if you really want to get that famous instagram photo. You'll see what we mean when you're in Sedona!
More Sedona Hikes
More From Sedona
Want more Arizona content? Head over to our Arizona travel guides to explore the best of Grand Canyon, Sedona and beyond.
---
We hope this guide to hiking Devils Bridge Trail helps with planning your visit to Sedona, Arizona!
Please let us know if you have any questions about the Devils Bridge hike or your visit to Sedona in the comments below.
Happy Hiking,
Mark and Kristen
Was This Hiking Guide Helpful? Pin It For Your Visit To Sedona!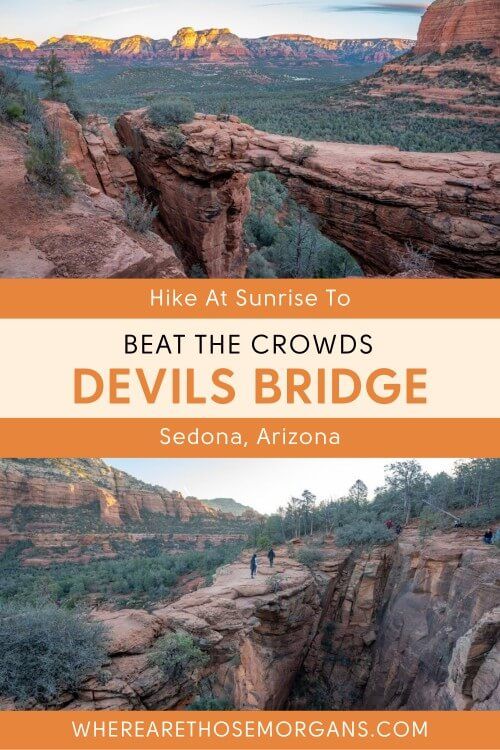 Note: This article contains affiliate links. When you make a purchase using one of these affiliate links, we may earn a small commission at no extra cost to you.
All Rights Reserved © Where Are Those Morgans, LLC. Republishing this article and/or any of its contents (text, photography, maps, graphics, etc.) in whole or in part is strictly prohibited.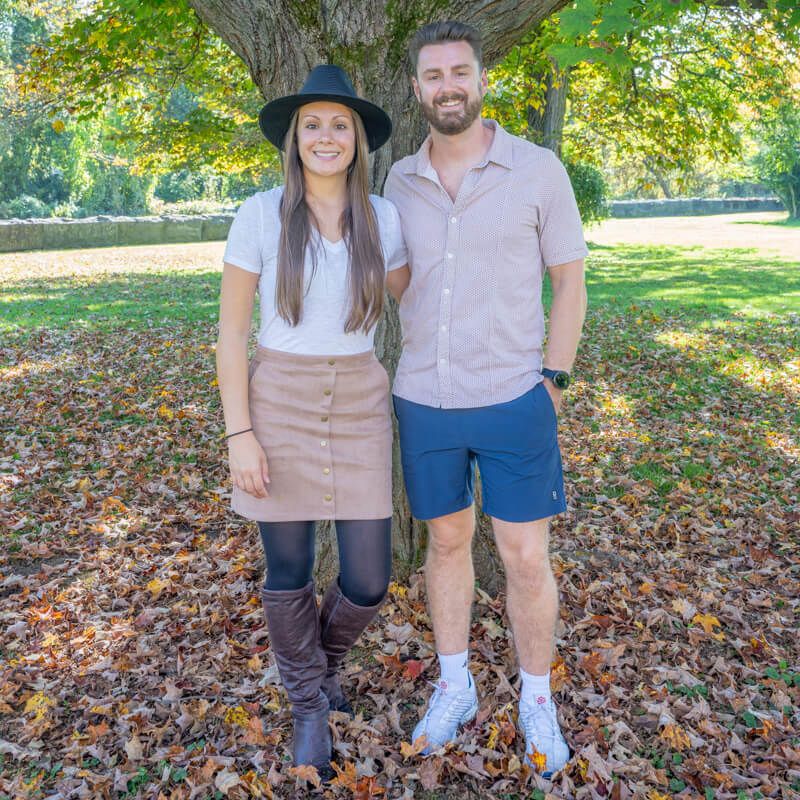 Mark and Kristen Morgan are travel, hiking and photography experts. Over the last 6 years traveling full time, they have explored more than 40 countries and 30 US states.
Their work has been featured in USA Today, Gestalten, Get Your Guide, CityPASS and Condé Nast Traveler along with various other publications.