Devils Bridge Trail is one of the most heavily trafficked hikes in Sedona thanks to the meteoric rise of social media. We personally think there are better hikes in Sedona, but we have to admit Devils Bridge is a fantastic photography spot, especially at sunrise.
Why should you wake up agonizingly early to hike Devils Bridge Trail for sunrise?
Well, a pre-dawn start towards Devils Bridge means you will avoid an excruciatingly long line to grab a photo of yourself standing on the bridge shaped sandstone formation. Plus, you benefit from soft light and cooler hiking temperatures.
In this guide we will show you:
Multiple parking options
Which pass you need to display
Exactly how to hike Devils Bridge Trail at sunrise
Photography tips
Plenty of photos for inspiration
Let's hike the famous Devils Bridge Trail for sunrise in Sedona Arizona!
*Please note this post may contain affiliate links. If you click on one, we may earn a small commission at no extra cost to you. Thank you for supporting the free content we provide! Read more in our disclosure policy.*
Devils Bridge Trail Summary
Devils Bridge Trail is a short and easy hike on hard packed dirt with one tricky and rocky staircase section to navigate.
You will begin at a similar altitude to the base of Devils Bridge and start out flat, before gaining elevation and curving around to stand on top of the bridge formation.
From the true Devils Bridge Trailhead to the bridge formation summit you will hike 0.9 miles one way, for a roundtrip hike of around 1.8 miles total.
However, the only way you can park at Devils Bridge Trailhead is if you own a high clearance 4WD vehicle, or you rent a Jeep in Sedona.
As a result, this hike requires anyone without access to a 4WD vehicle to combine another parking lot and another trail with Devils Bridge Trail in order to reach the bridge.
Hiking is one of the most popular things to do in Sedona and Devils Bridge is probably the busiest hike in town. It pays to wake up early and grab an elusive parking space before the morning rush.
We will discuss all of your parking options with connecting hiking trails later in this guide.
Looking for hiking inspiration? Read our popular guide to the 50 best hikes in the USA next!
Devils Bridge At Sunrise
Sunrise is the best time to hike Devils Bridge Trail in Sedona.
You will stand a better chance of getting a coveted parking spot, enjoy a relatively crowd free hike and be part of a very small group of likeminded people taking photographs at the bridge.
You can hike Devils Bridge any time of day and enjoy the trail. But the problem isn't the trail, it is lack of parking and excessive crowds during the day.
Take overcrowding on hiking trails into consideration when planning your Sedona itinerary.
Check sunrise times in Sedona the night before you plan to hike Devils Bridge Trail for sunrise. We will discuss parking options shortly, but you should aim to arrive at a parking area before first light.
Two other amazing hikes to consider for sunrise in Sedona are Doe Mountain Trail and Chimney Rock / Little Sugarloaf Loop Trail.
Devils Bridge Sedona Photography
Devils Bridge is a wildly popular pro photographers and instagrammers spot in Sedona, Arizona. You will find the bridge all over instagram and other photo or video based social media channels.
You might be surprised by what you find in reality based on what you may have seen online.
The naturally formed bridge is a spectacular and photogenic landmark, but the whole area is much smaller than we imagined.
Perspective is the key.
Photographers should be positioned at an acute angle looking toward the subject standing on the bridge to obtain the classic 'long, narrow and scary bridge' effect.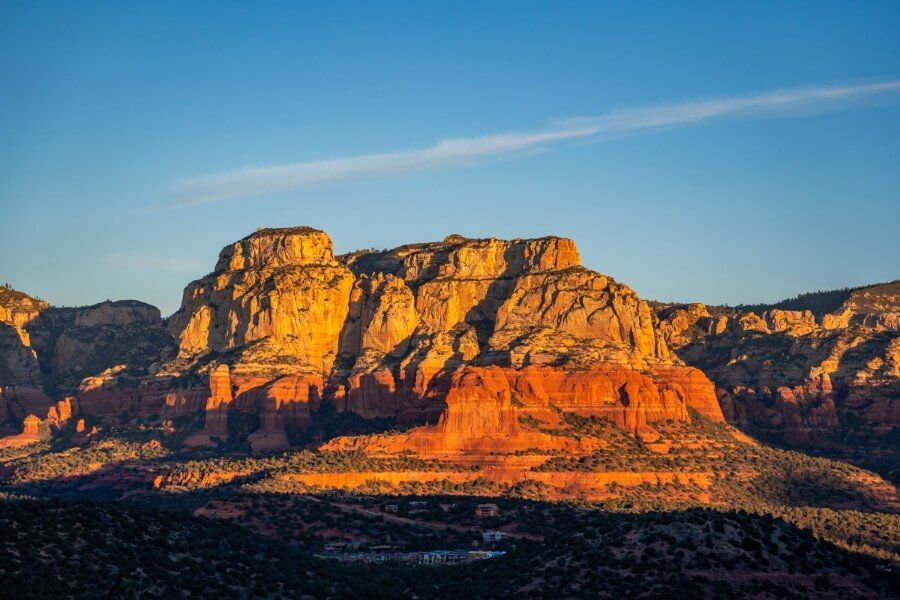 Devils Bridge Sunrise Photography
The Devils Bridge arena is relaxing, tranquil and stress free at dawn. We shared the bridge area with around 10 others in the 30 minutes we were on site after arriving at first light.
Everyone else was there to beat the crowds and grab a photo before it turned into a free-for-all.
Sunlight takes a long time to hit Devils Bridge after sunrise.
The sun has to rise from behind a taller rock formation to the southeast, which means the bridge remains shadow free for quite some time after first light.
In truth, there are more impressive sunrise photography spots in Sedona. But you're not at Devils Bridge for the actual sunrise, you're here at this time to beat the army of hikers coming later.
Parking To Hike Devils Bridge Trail In Sedona Arizona
Parking for Devils Bridge Trail in Sedona is extremely challenging year round, unless you have access to a 4WD vehicle. Most hikers will either aim to arrive as early as possible to beat the rush or accept that parking is going to be problematic.
If the parking areas listed below are full, you will find cars parked on roadsides and hikers walking along the road to reach trailheads leading to Devils Bridge.
Make sure you car is completely off the main road and take care when walking. We noticed quite a lot of frustrated drivers speeding around corners trying to find spaces.
There are 3 main parking options for hiking Devils Bridge.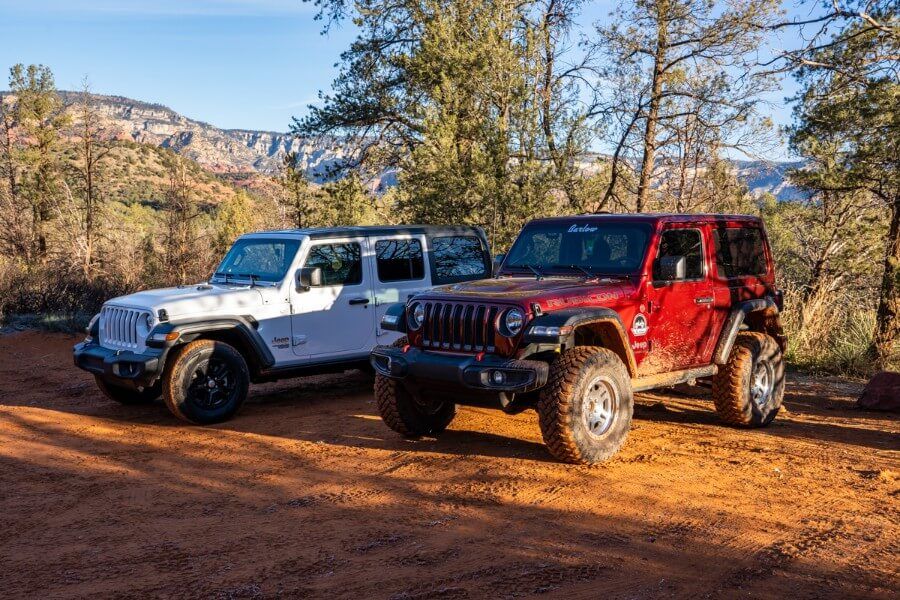 1. Devils Bridge Trailhead (4WD Only)
If you rent a Jeep in Sedona or you drive your own 4WD high clearance vehicle into town, you are in a very strong position for accessing not just Devils Bridge, but almost every attraction in the area.
A Jeep allows you to drive all the way to the very beginning of Devils Bridge hiking trail via Dry Creek 4WD trail.
This gives you an even greater chance of arriving for sunrise and beating any other early risers.
Here's how to reach Devils Bridge Trailhead in a 4WD vehicle:
Drive out of downtown Sedona on Dry Creek Road for 2 miles.
The road naturally transitions into Boynton Pass Road, but you will turn right onto a narrow paved road to stay on Dry Creek Road.
After 0.2 miles you will pass by Dry Creek Trailhead and begin driving on "Vultee OHV Trail" as you enter Dry Creek Basin. This is only suitable for high clearance vehicles.
Follow OHV 4×4 road for a further 1.1 miles until you reach a small lot on the right side at Devils Bridge Trailhead.
Hiking From Devils Bridge Trailhead To Devils Bridge
Trail Distance: 1.8 miles roundtrip
Elevation Gain: 400 feet
Hike Difficulty: Moderate
Time Required: 1.5 – 2 hours
2. Dry Creek Trailhead
Dry Creek Trailhead is the first of two parking options if you are visiting Sedona with a 2WD vehicle. It is slightly closer to downtown Sedona and has a similar hiking distance to starting at Mescal Trailhead.
If you're hiking Devils Bridge Trail for sunrise, you shouldn't have a problem getting parked here. There are quite a few spaces in the one way system parking lot but they fill very quickly later in the morning.
You can either hike 1.2 miles one way on Dry Creek Road (Vultee OHV Trail into Dry Creek Basin) or hike 2 miles one way on Chuck Wagon Trail.
The road isn't nice to hike and you'll have to share it with 4WD vehicles but it is much more direct.
Here's how to reach Dry Creek Trailhead:
Drive out of downtown Sedona on Dry Creek Road for 2 miles.
The road naturally transitions into Boynton Pass Road, but you will turn right onto a narrow paved road to stay on Dry Creek Road.
After 0.2 miles you will arrive at Dry Creek Trailhead.
Hiking From Dry Creek Trailhead To Devils Bridge On Vultee OHV Road
Trail Distance: 4 miles roundtrip
Elevation Gain: 450 feet
Hike Difficulty: Moderate
Time Required: 3 hours
3. Mescal Trailhead
Mescal Trailhead is the better option if you are looking for a more scenic hike to reach Devils Bridge Trail. It is only slightly further out from downtown Sedona vs Dry Creek.
This parking lot is also a backup option for hiking Long Canyon Trail to Birthing Cave but mostly it is used for accessing Devils Bridge.
There are around 20 parking spaces in this lot and they will also fill quickly after sunrise.
Note: If you park at Mescal Trailhead, you will hike 1.2 miles one way on Mescal Trail and Chuck Wagon Trail until your reach Devils Bridge Trail.
Here's how to reach Mescal Trailhead:
Drive out of downtown Sedona on Dry Creek Road / Boynton Pass Road for 3 miles until you reach a T junction.
Turn right and follow Long Canyon Road for 0.3 miles until you arrive at Mescal Trailhead on the right side.
Hiking From Mescal Trailhead To Devils Bridge
Trail Distance: 4 miles roundtrip
Elevation Gain: 500 feet
Hike Difficulty: Moderate
Time Required: 3 hours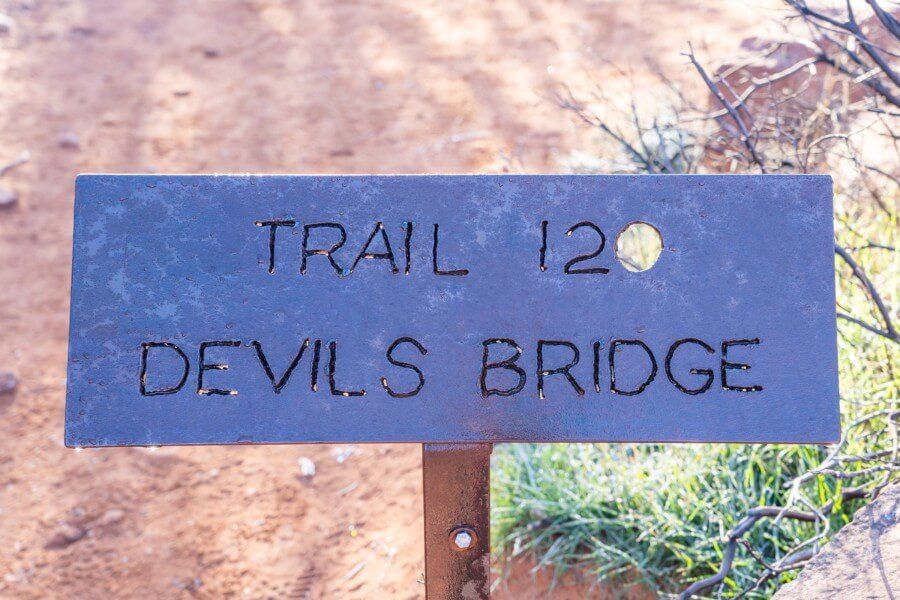 Sedona Shuttle
If you are not intending to hike Devils Bridge Trail at sunrise, we highly recommend you consider taking the Sedona shuttle to avoid the stress of finding a parking spot during the day.
You can park for free at Posse Grounds park and ride, jump on the #12 Dry Creek shuttle and relax. Here's more information about the shuttle.
Remember, Sedona is one of the best places to visit in Arizona and Devils Bridge is among the most popular things to do in town. The shuttle might save you time and energy.
Here's what you need to know about the Sedona shuttle:
The shuttle runs from Thursday through Sunday to cover the busiest periods
Check to see if the shuttle is running Monday through Wednesday just in case
The first shuttle leaves Posse Grounds at 8.12am and the last shuttle back leaves Dry Creek at 6.11pm
Total journey time is 14 minutes each way
The shuttle is completely free to ride to any of the major trailheads in Sedona
Note: If you are hiking Devils Bridge at sunrise you will have to drive because the shuttle won't be running until after sunrise.
Do You Need A Pass To Hike Devils Bridge Trail In Sedona AZ?
No, you do not need to display either a Red Rock Pass or America the Beautiful Interagency Pass on your vehicle dashboard at any of the trailheads for hiking Devils Bridge Trail.
However, if you do plan to hike any other trails in Sedona, you are likely going to need either a Red Rock Pass or America the Beautiful Pass, so we will explain both below.
Note: You will need a pass to park at any of these trailheads in Sedona.
Red Rock Pass
You can buy a Red Rock Pass at this specific recreation.gov site in advance, or you can buy one at a ticket machine when you arrive in person at either parking lot listed further in this guide.
Red Rock Pass options include:
1 Day Red Rock Pass – $5
7 Day Red Rock Pass – $15
Red Rock Annual Pass – $20
If you plan to hike more trails around Sedona over a period of 2 – 7 days, you should buy the 7 day pass because you will need it at many other trailheads in the area.
America The Beautiful Pass
Are you a regular visitor to US National Parks and Monuments?
It's highly likely you already have an annual National Parks pass, which is also known as America the Beautiful or the Interagency Pass.
Don't have one yet?
Read our guide on why America the Beautiful national parks pass is one of the best things you can buy if you plan to visit multiple parks in the next year.
Instead of buying a Red Rock Pass you can simply display your America the Beautiful Pass.
Map Of The Devils Bridge Trail In Sedona Arizona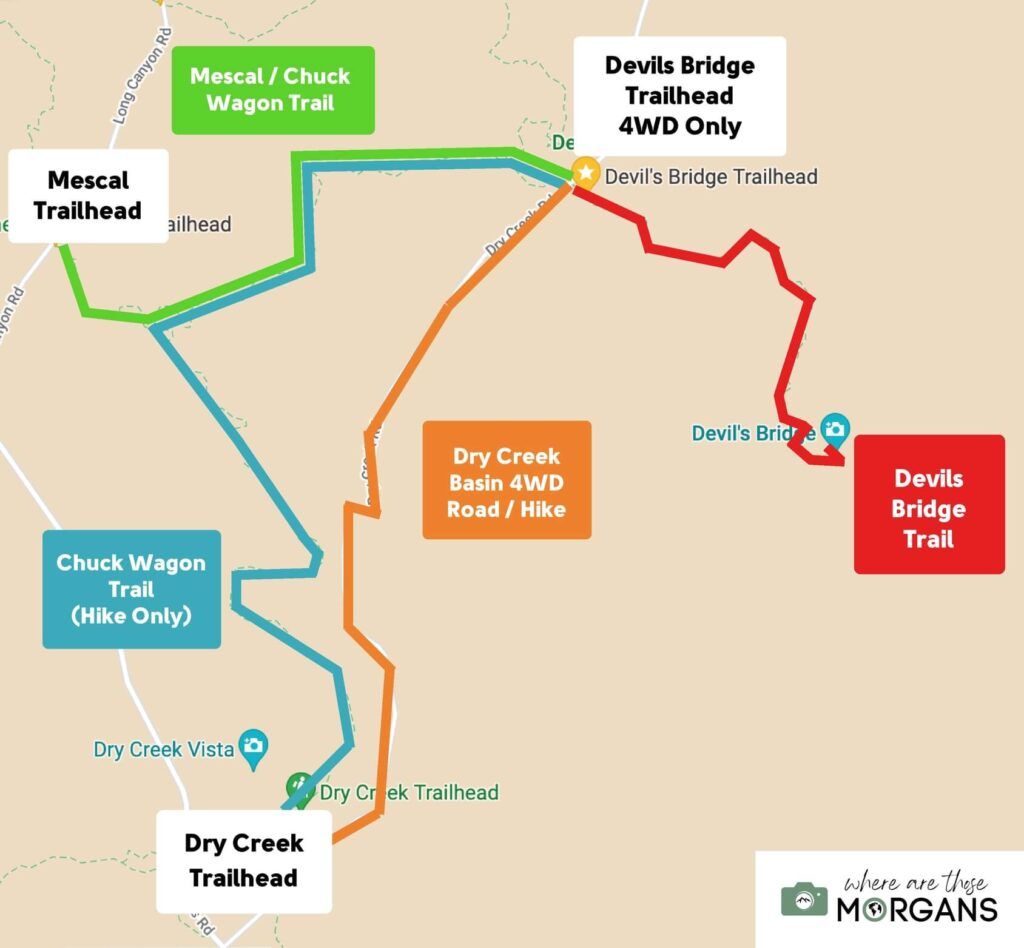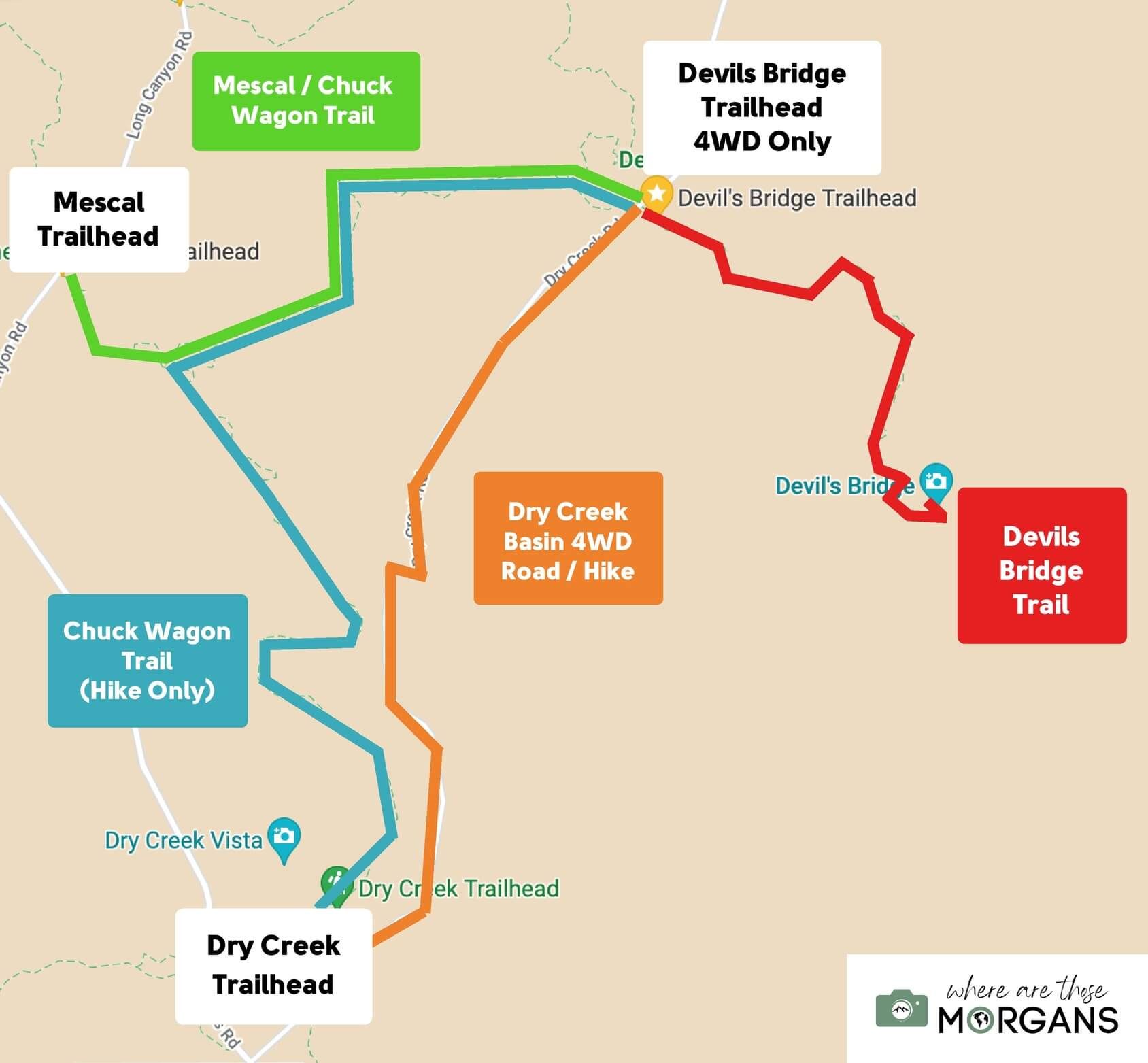 The map above shows exactly what you can expect when hiking Devils Bridge Trail in Sedona, including each parking area and trails you can take to reach the bridge.
Map key:
Orange Line – Dry Creek Basin / Vultee OHV 4WD road (most direct from Dry Creek Trailhead)
Blue Line – Chuck Wagon Trail from Dry Creek Trailhead (Longer but more relaxing)
Green Line – Mescal Trail leading into Chuck Wagon Trail from Mescal Trailhead
Red Line – Devils Bridge Trail from trailhead to bridge
Devils Bridge Trail Sunrise Hike Walkthrough
Now the hard part is out of the way, let's get into the fun part – hiking to Devils Bridge for sunrise!
We hired a Jeep for 3 days when we first visited Sedona, which meant we were able to park at Devils Bridge Trailhead and get a good head start on other sunrise hikers.
Here's a walkthrough of exactly what you can expect with photos at every step:
Early Start And Get Parked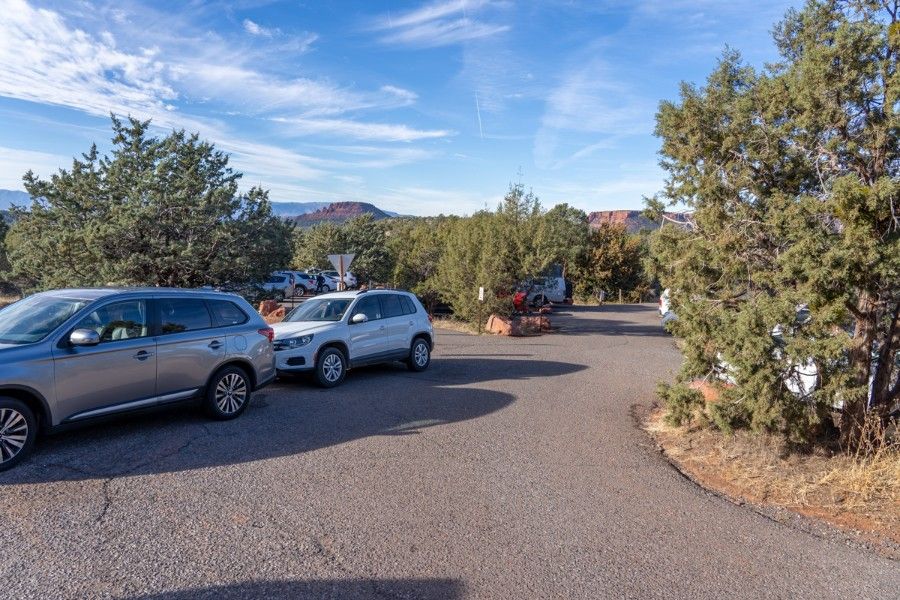 Start as early as you possibly can to get the best advantage over crowds and light.
Park at either Mescal Trailhead, Devils Bridge Trailhead with 4WD high clearance or Dry Creek Trailhead which is shown above.
We took the photo of the parking lot after we had finished the hike around mid morning.
As you can see, Dry Creek is not a traditional parking area with marked spaces, but more of a 'park where you can find a space' lot.
If you arrive before sunrise, you should have no problems getting parked at Dry Creek.
Hike (Or Drive) To Devils Bridge Trailhead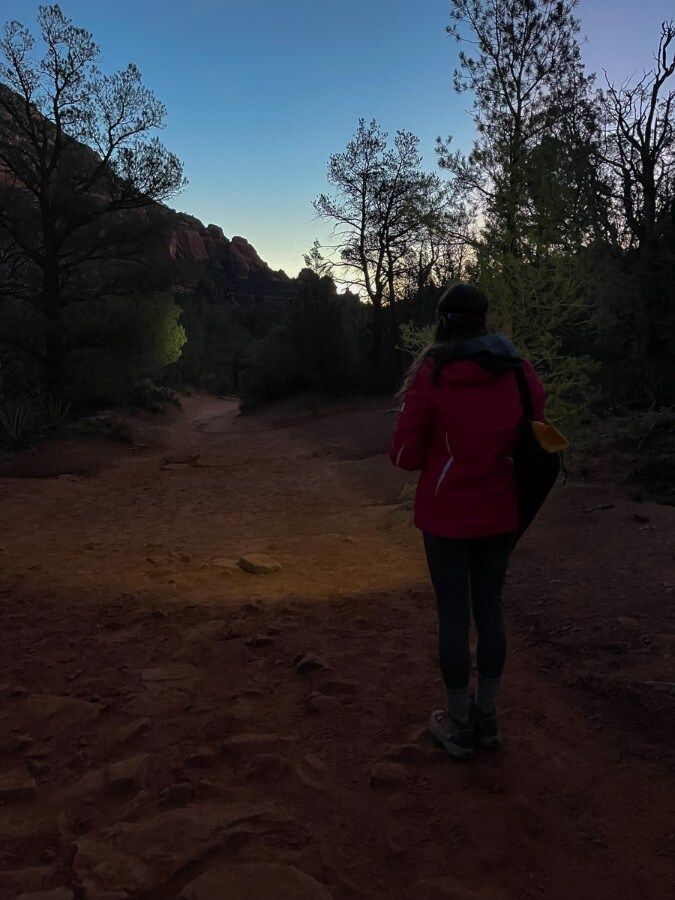 If you have a 4WD vehicle, you can blow right by Dry Creek and park at Devils Bridge Trailhead.
However, the vast majority of hikers to Devils Bridge will not have access to a high clearance vehicle.
You will need to hike either Chuck Wagon Trail or Vultee OHV road from Dry Creek, or hike Mescal and Chuck Wagon Trails to Devils Bridge Trailhead.
Follow The Easy Dirt Path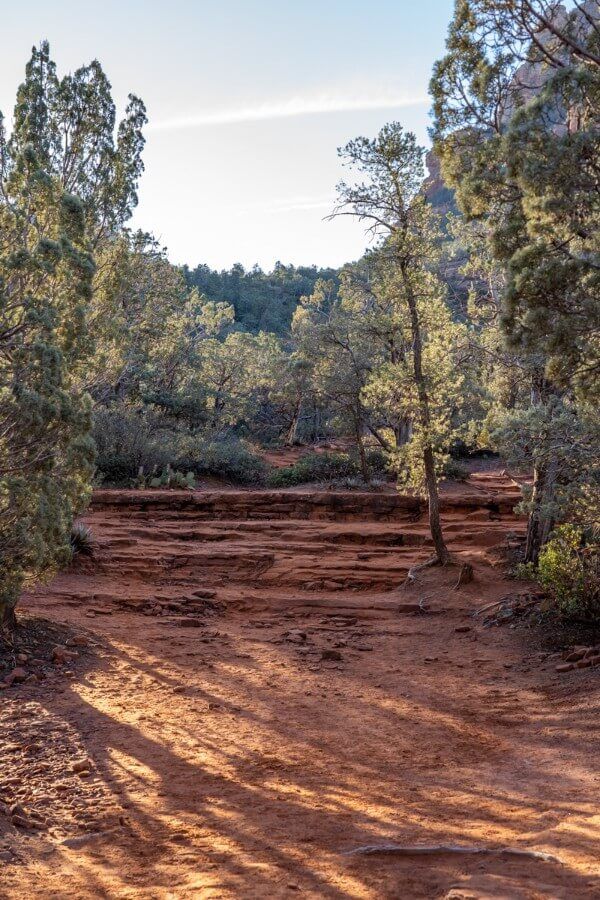 Once you reach Devils Bridge Trail, the path is easy and flat on a dirt packed path leading into trees.
There are a handful of easily navigable rock steps and ledges but the going remains fairly flat for half a mile, before you begin to gain elevation gradually.
Climb The Rocky Steps
After 0.7 miles along Devils Bridge Trail, you will reach the only moderately challenging part of the hike which is a light scramble up a series of uneven rocks as shown above.
This section is narrow and you may have to allow other hikers to pass up or down depending on how busy the trail is when you visit.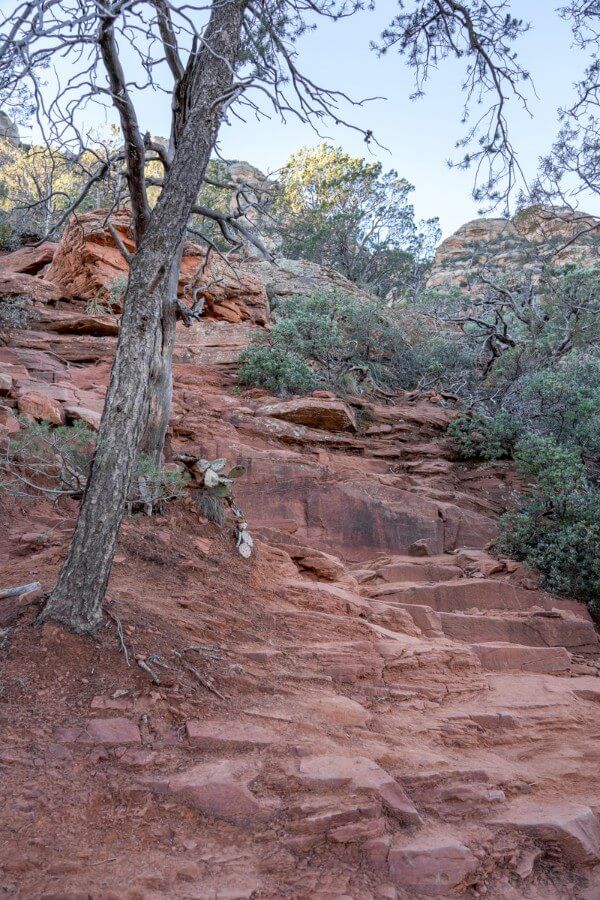 After climbing the rough rocks, you will bend to the left and spiral up an easier rock staircase. This section is steep and it can be easy to trip on the uneven rocks.
Once you summit both of these short rocky stairs, you will be level with the top of Devils Bridge. All you need to do now is walk 100 yards or so along a ridge for your first glimpse of the bridge.
Arrive At Devils Bridge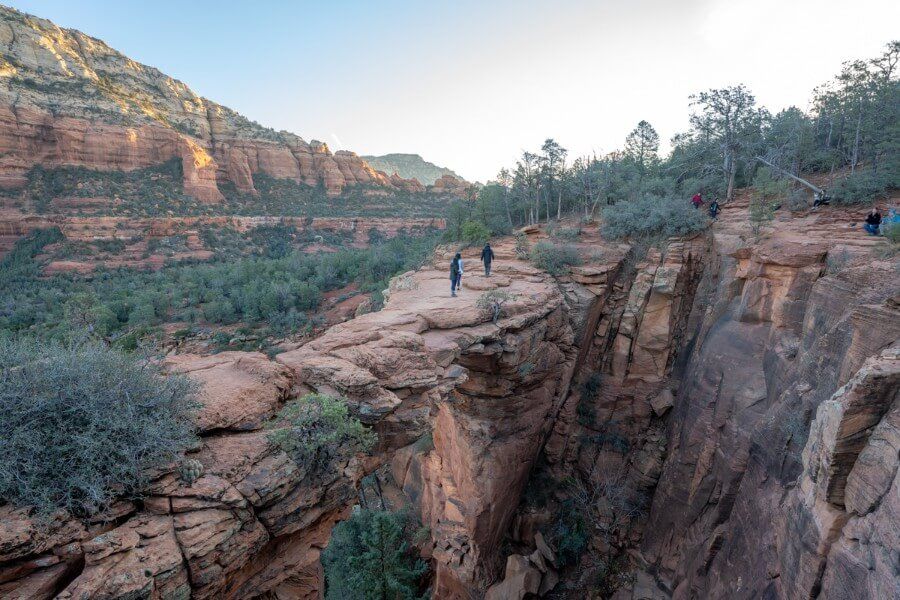 As you approach Devils Bridge, you will arrive from the 'other side' or the back side of the classic photo.
You can instantly see how wide the bridge is at its center, the drop off and the eroded arch.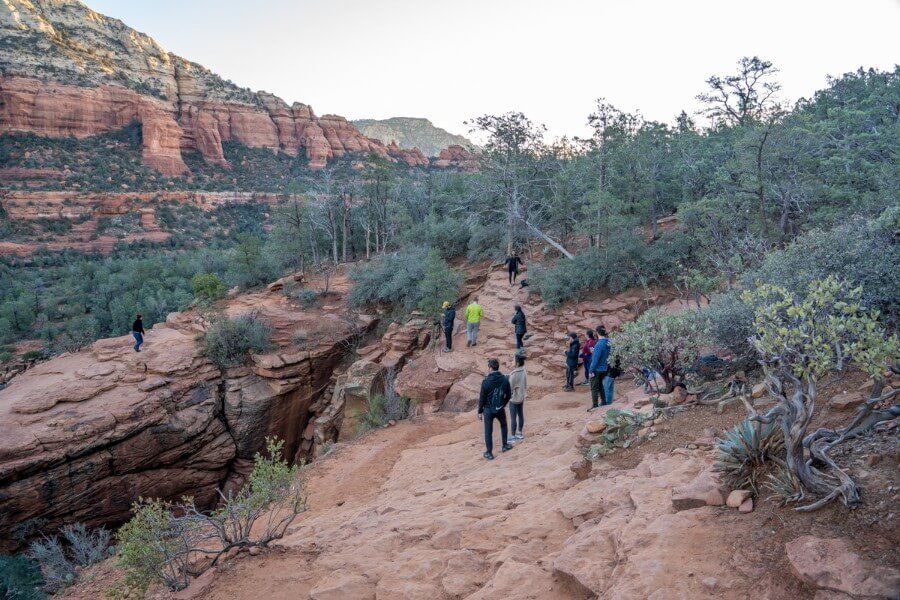 Continue walking around to the right side in a crescent moon arc and you will reach the line of hikers waiting for a photo on the bridge.
The earlier you arrive the better chance you have of being closer to the front of this line.
We took the photo above as we were leaving the bridge area around 30 minutes after arriving and there were maybe 15 other people in total.
Note: We visited Sedona in December, it won't be this quiet if you visit in Spring or Fall!
Walk Out On To The Bridge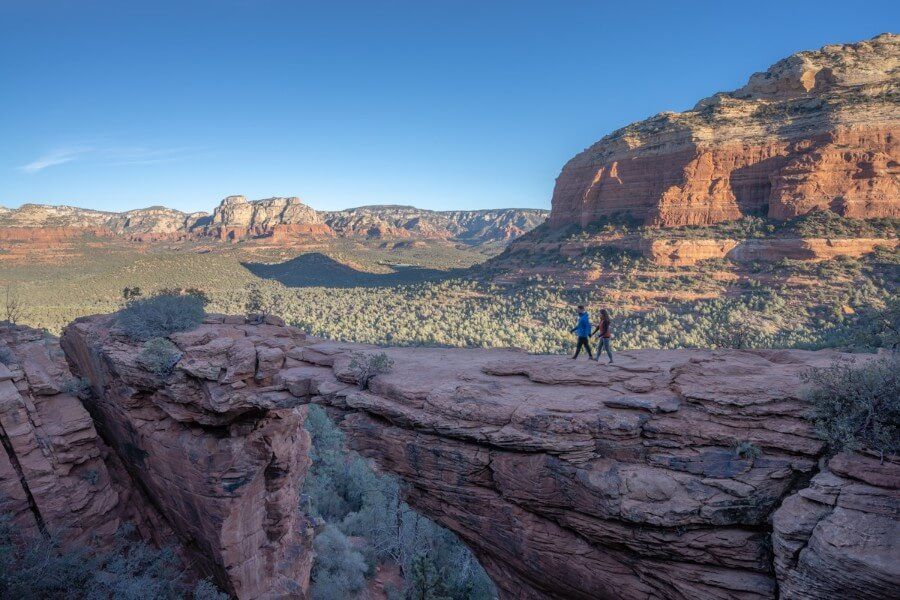 Act fast when it's your turn to walk out onto the bridge.
There will be plenty of others waiting and watching so you don't be shy about it, just get out there and get your photo.
The photo above was taken by a photographer we met at the top, right before we left the bridge. By this point the sun was well up and slowly making its way to the bridge.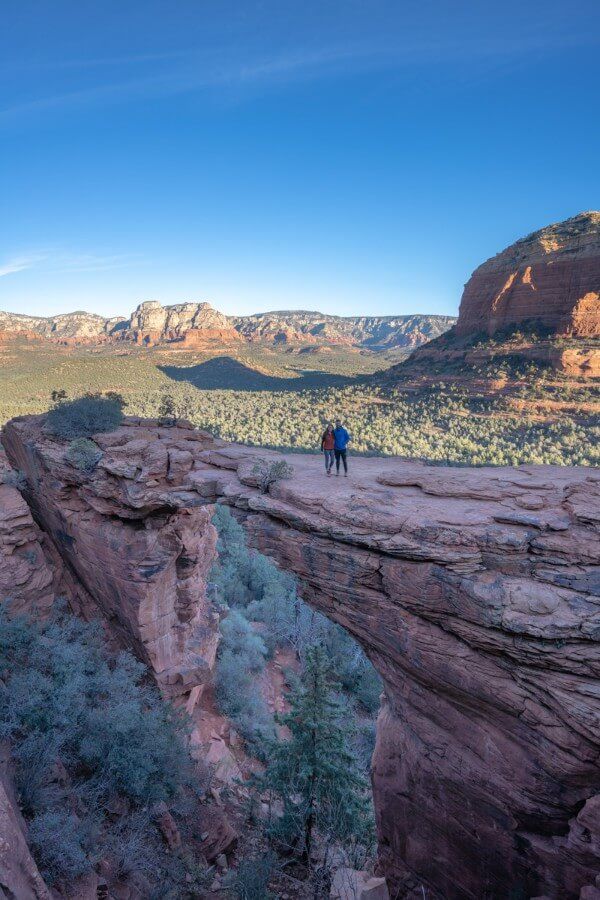 Ideally you will meet another hiker, couple or family who will take your photo if you take theirs in return.
Almost everyone will be respectful and friendly, especially around sunrise.
How Wide Is Devils Bridge In Sedona?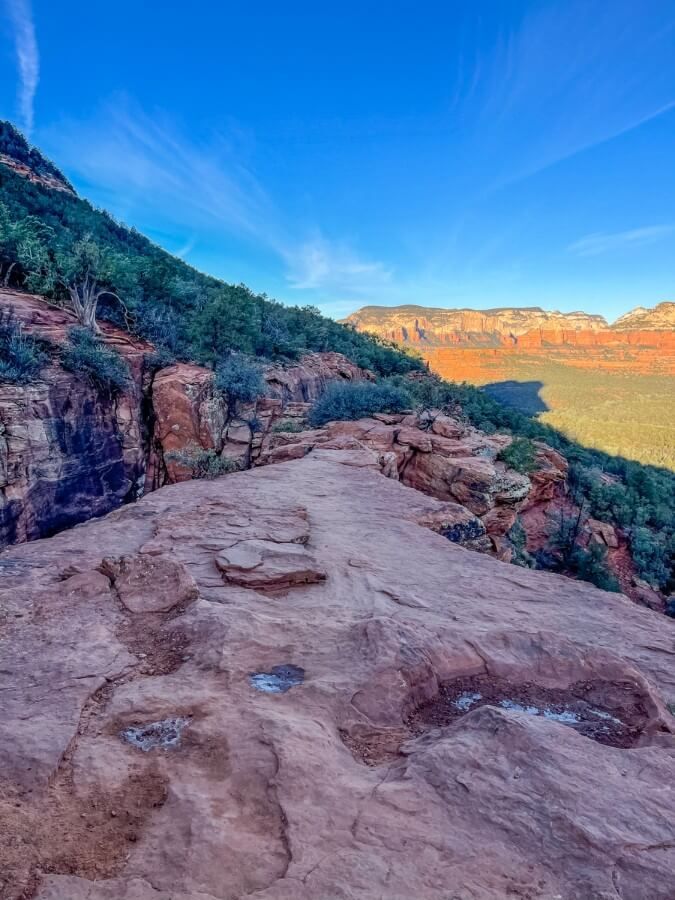 Devils Bridge in Sedona is around 6 feet wide at its narrowest point in the center. The length of the bridge is close to 50 feet and the drop off is also around 50 feet.
In the photo above you can see how the bridge narrows gradually but we were surprised at how wide it was, even right in the middle.
The worst part isn't how narrow the bridge is or how far the drop is, but how long it takes to actually reach the quintessential photo spot in the middle with everyone watching!
Photography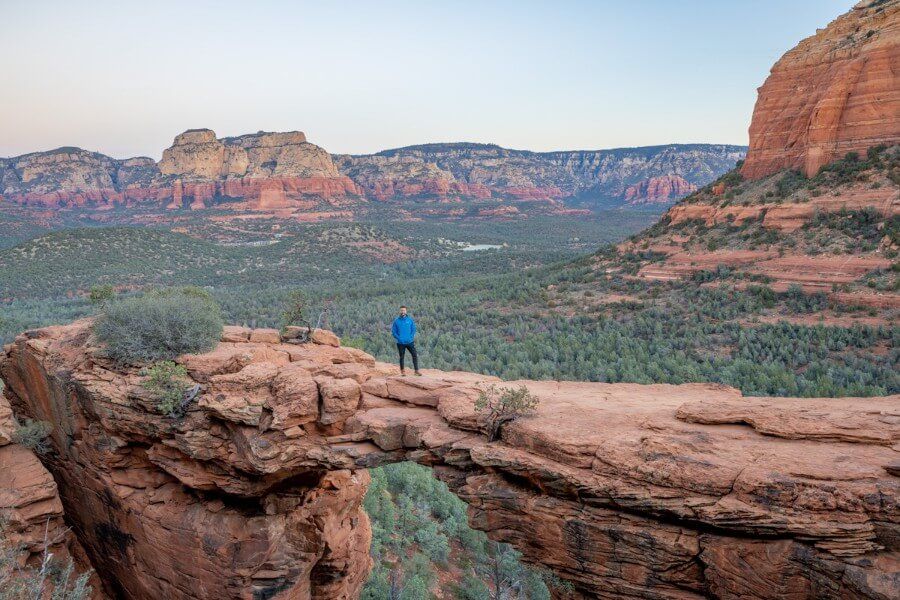 Mark is standing in the exact spot at the narrowest part of Devils Bridge for the classic perspective photo.
It looks like a death defying experience but it really isn't so bad once you arrive.
The sun still hadn't reach those huge distant red rocks by this point because it was hidden behind an even taller rock face directly behind where this photo was taken from.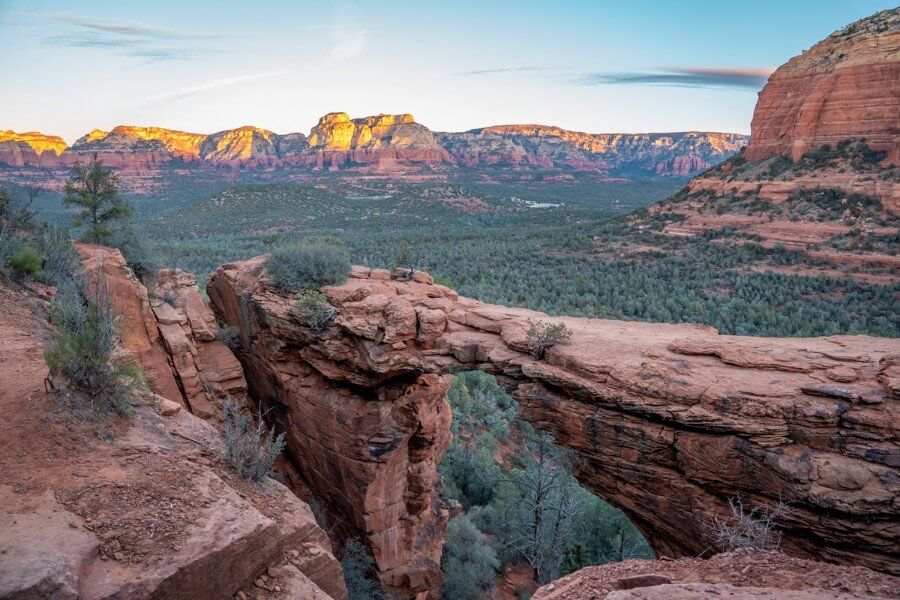 We waited for the sun to kiss the tops of the distant red rocks and went back out for a second walk once the sun had filled the valley below.
The wide angle photo above shows more of the surrounding bridge area to give you an idea about how small it actually is when you are on site.
Hike Back Down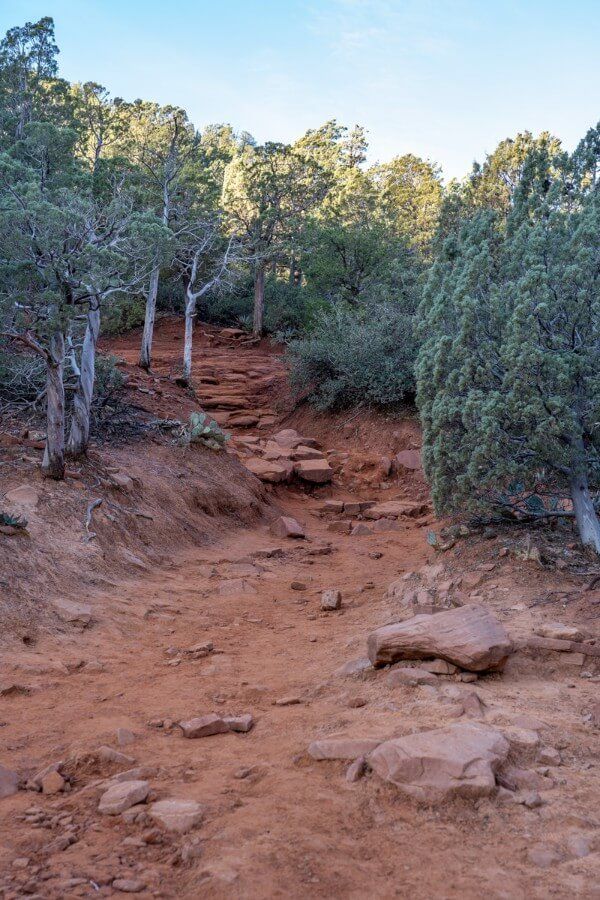 Once you've grabbed your photo and enjoyed people watching for long enough, it's time to head back down.
If you hiked for sunrise, chances are you missed seeing the arch shaped formation from below and now is your chance to get a new perspective on Devils Bridge.
Find a huge, flat and obvious rock and look back up at the arch.
You'll be back at the trailhead in no time, then you just have to hike back to whichever parking lot you began early in the morning.
Devils Bridge Trail Pros And Cons
Pros:
Devils Bridge is incredibly photogenic
Fun to watch people at the bridge
Sunrise hike beats the crowds
Cons:
Extremely popular and busy trail
Parking is always problematic
Long line for the classic bridge photo
Best Time To Hike Devils Bridge Trail In Sedona
The best time to hike Devils Bridge Trail is for sunrise year round. Arriving early will allow you to avoid the inevitable crowds and skip the bridge photo line at the summit.
Sedona is busiest in Spring and Fall, which could lead to Dry Creek Trailhead and Mescal Trailhead parking lots filling earlier.
Summer and in particular Winter are quieter periods in Sedona. During these seasons you have more chance getting parked up at the trailhead without issue, even if you are a little after sunrise.
What To Pack For Hiking Devils Bridge Trail
Footwear – Footwear with good grips and traction will help with the rocky steep section and give you more confidence when walking out onto the bridge. If it has rained your shoes may get dirty and wet.
Water – Hiking at sunrise means you can take less water than you would during the day. However, it is important to remember this is a 4 mile roundtrip trail and if hiking later in the day you'll need to carry more water.
Sun protection – Sunglasses, sun hats, long layers and sunscreen are vital if you are visiting Sedona in Summer. However, you will be protected from the sun for the vast majority of the hike to Devils Bridge if you hike for sunrise. Later in the day you will need sun protection.
Winter – We hiked Devils Bridge Trail for sunrise during Winter in Sedona. You might need to start in coats, gloves and hats to begin but take a backpack for storage once the morning warms.
5 Tips For Hiking Devils Bridge Trail, Sedona AZ
Pack a headlamp to use for light when hiking before sunrise
Park on the roadside near Dry Creek Trailhead if you arrive late and lots are full
Set off on the hike during civil twilight so you beat most of the morning crowds
Don't forget your camera and tripod for low light sunrise photography
Rent a Jeep so you can park at Devils Bridge Trailhead
Sedona Arizona Visitor Summary
How to get around – Sedona is small but you'll need a car to access the best hikes to the north and south of town. If you want to get to the hard to reach places, you should hire a jeep.

When to visit – Spring and Fall are the best seasons to visit Sedona, but they come with a higher price tag and more crowds. Winter is a fantastic time to avoid both.

Where to stay in – Accommodation is expensive in Sedona, but there are plenty of very high quality places to stay including Matterhorn Inn, Lantern Light Inn, Arabella Hotel, Whispering Creek B&B and The Suites at Sedona.

Popular things to do – Sedona is one of the best places to hike in the US, but it is also a wonderful place to get off-road in a jeep, shoot stunning photography, visit historic sites and drink wine.
Devils Bridge Trail FAQ's
Let's take a look at some of the most asked questions about hiking Devils Bridge Trail in Sedona.
Is Devils Bridge Trail Easy?
Devils Bridge Trail is on the easy side of moderately difficult to hike. No matter which trailhead you use, most of the hike is flat with just one significant rocky staircase to navigate.
The hike is made easier with access to a 4WD high clearance vehicle, which effectively cuts the overall hiking distance by more than half.
Is Devils Bridge Trail Dog Friendly?
Yes, Devils Bridge Trail is a dog friendly hike in Sedona. The one steep and rocky staircase section might not be suitable for some dogs, but any experienced hiking dogs will be fine.
Dogs must be kept on a short leash at all times but they are permitted to explore all areas around the Devils Bridge formation in Red Rock Secret Mountain Wilderness and the Coconino National Forest.
Just be sure to pick up after your pooch, none of us want to have a surprise on the trail!
Is Devils Bridge Trail Worth It?
Devils Bridge is worth seeing on your visit to Sedona but don't prioritize this trail over some of the other popular hikes, unless you are specifically here for the quintessential bridge photo.
We have to be honest and say that we think Devils Bridge is overrated and there are much more exciting trails to hike in Sedona.
From a photography perspective we can see why Devils Bridge is popular, but the hike itself isn't much fun and waiting in line for a photo is very New York City, not Sedona wilderness.
Personally, we would re-hike the awesome cave trails, Bell Rock and Cathedral Rock over Devils Bridge on our next visit to Sedona.
More From Sedona
Cathedral Rock – Sedona is filled with amazing hikes but Cathedral Rock Trail is one of the most iconic. If you're short on time, this is the adventure hike for you.
Bell Rock – Hike the Bell Rock Courthouse Butte Loop Trail for stunning Sedona views, a fun slick rock climb and our hidden loop half way up the formation.
Boynton Canyon – Exactly how to find the famous Subway Cave on Boynton Canyon Trail, the most photographed cave in Sedona.
Birthing Cave – The easiest cave to reach in Sedona is Birthing Cave on Long Canyon Trail, ending with amazing views and a crowd free climax.
Soldier Pass – Hike to Devils Kitchen and Seven Sacred Pools before climbing into Soldier Pass Cave on the family friendly Solider Pass Trail in Sedona.
Keyhole Cave – Fun off-trail hike leading to the impressive Keyhole Cave, Sedona's biggest and hardest to access cave.
More From The Southwest
Zion National Park – Zion is an adventure playground for adults, find the very best hikes in Zion and choose between 5 ways you can spend a one day in Zion itinerary.
Grand Canyon – Just 2 hours from Sedona is the incredible Grand Canyon South Rim, create your wishlist from the best hikes at Grand Canyon South Rim.
Las Vegas – Heading to Vegas when you're in the Southwest? Here are the 40 best things to do on and off the Las Vegas strip and the top 10 day trips from Las Vegas.
Want more Arizona content? Head over to our Arizona travel guides to explore the best of Grand Canyon, Sedona and beyond.
---
We hope this guide on hiking the Devils Bridge Trail at sunrise helps with planning your visit to Sedona, Arizona!
Please let us know if you have any questions about hiking Devil's Bridge Trail or your visit to Sedona in the comments below.
Happy Hiking,
Mark and Kristen
Was This Post Helpful? Pin It For Your Hike!