San Diego is an outdoors-orientated, laid back and trendy city boasting the best tacos in America. You're in the perfect place to plan your first time San Diego vacation itinerary, we'll show you the best things to do in just three days.
San Diego has an enormous amount of fantastic things to do for first time visitors, from beaches to museums and from the zoo to awesome photography locations.
It's a place you visit on vacation, fall in love with and begin planning your move to Southern California.
Three days is the perfect timeframe for a first time visit to San Diego but you will also find a modified one and/or two day San Diego itinerary in case you have less time available.
To help you plan your entire San Diego vacation efficiently, we will cover the 4 major aspects of planning: how you get there, the best things to do, where you should eat and where you should stay.
In addition, you will discover all of the top photography locations around San Diego.
(We promise not to quote the entirety of Anchorman – that would be very Veronica 'Corny' stone of us)
Let's get planning your San Diego vacation itinerary!
*Please note this post may contain affiliate links. If you click on one, we may earn a small commission at no extra cost to you. Thank you for supporting the free content we provide! Read more in our disclosure policy.*
Get To Know San Diego
Before we dive into the itinerary, here's a roundup of what you can expect from your San Diego adventure, featuring key information, top reasons to visit San Diego and some fun facts!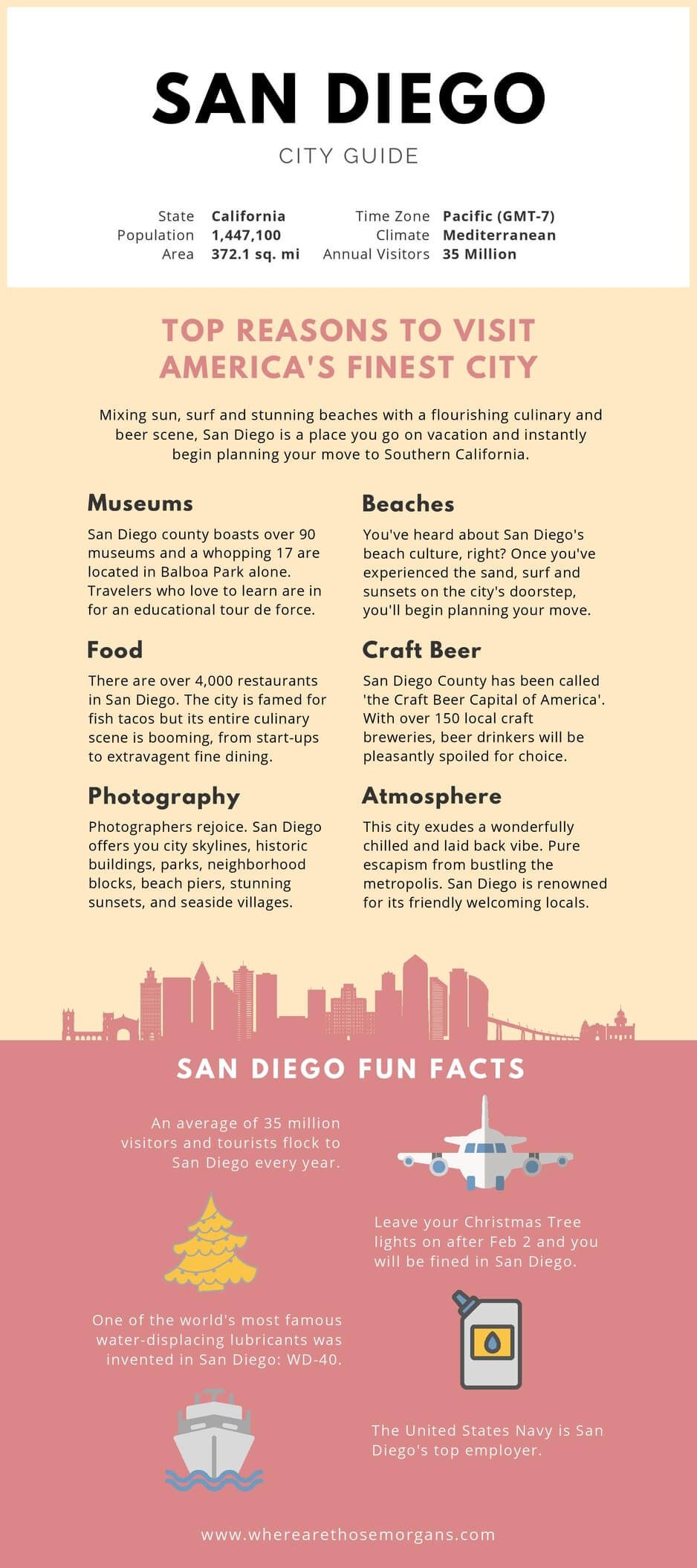 Driving the Pacific Coast Highway? Don't miss our popular guide to the 23 best places to visit on the drive from San Diego to San Francisco along Highway 1.
How To Get To San Diego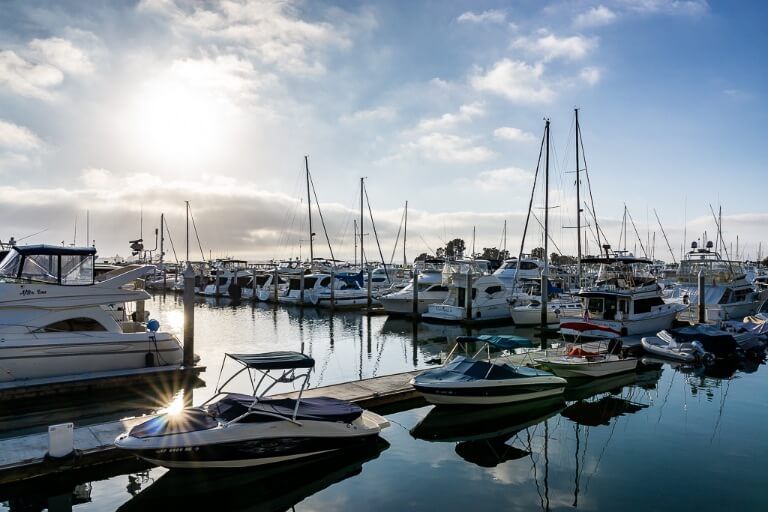 Flights To San Diego
Flights to San Diego International Airport – You can fly direct into San Diego from many parts of the US.
Internationally (outside of continental North America) you can fly direct to/from Zurich, Frankfurt, London and Tokyo. See map of direct flights in/out of San Diego
Flights to Los Angeles – We highly recommend checking prices for flying to LA, hiring a car and driving to San Diego.
It is very likely international travelers to San Diego will find better value for money in this option. Plus, you'll need a car in San Diego to hit the highlights so you've ticked that box with a hire car.
If you're flying into San Diego or Los Angeles, search for flights with Skyscanner for best value and most options, remembering that if you are budget conscious it could be cheaper with a change of airport on the way.
Afterward compare prices for a hire car with Rental Cars and check value against other car hire companies to see if you can find a better price.
Read: Our 15 money saving booking flights tips every time you travel.
Driving To San Diego
Downtown Los Angeles to San Diego
Take I-5 South for 120 miles all the way down to San Diego. It doesn't get much easier!
Without incident or worse than usual traffic, the drive should take around 2 hours. However, be prepared for a much longer journey.
We got stuck in a very slow moving traffic jam the entire way and it took closer to 4 hours.
LAX to San Diego
Los Angeles airport isn't far from Santa Monica and you have 2 choices to get to San Diego. You need to get onto the I-5, so you can either:
Head East towards Anaheim to join I-5

Or take I-405 South to join the I-5 just past Newport Beach
Journey time and distance are similar (125 miles / just under 2 hours), it could come down to potluck of traffic on the day.
Other Notable Driving Times
Las Vegas is around 5 hours drive

Joshua Tree National Park is 2 hours 45 minutes away

Phoenix is 5 hours 30 minutes drive

San Francisco is 8 hours 30 minutes drive
Getting Around in San Diego
San Diego has a very walkable downtown, particularly around Gaslamp and Embarcadero along the harbor front. However, you will need a vehicle to access many of the best bits outside of town.
Public transport is a little slow in San Diego and most people drive here. There are a lot of one way roads downtown, so make sure your GPS is up to date!
Use Uber if you don't have a car and need to travel across town.
Even though we had a car, we left it parked at the hotel and took an Uber from Balboa Park to Embarcadero -more on these places below.
San Diego's climate is perfect for exploring, it rarely gets too hot like Death Valley – or too cold like Yosemite in Winter brrrrrr!
9 Best Things To Do On Your San Diego Itinerary
San Diego is overflowing with awesome things to do for first time visitors. But there are some things you simply can't miss.
This is one of the best places to visit in the USA and we want to help you plan the perfect vacation.
You will find the top things to do below but there will be more included in your San Diego itinerary later.
1. Balboa Park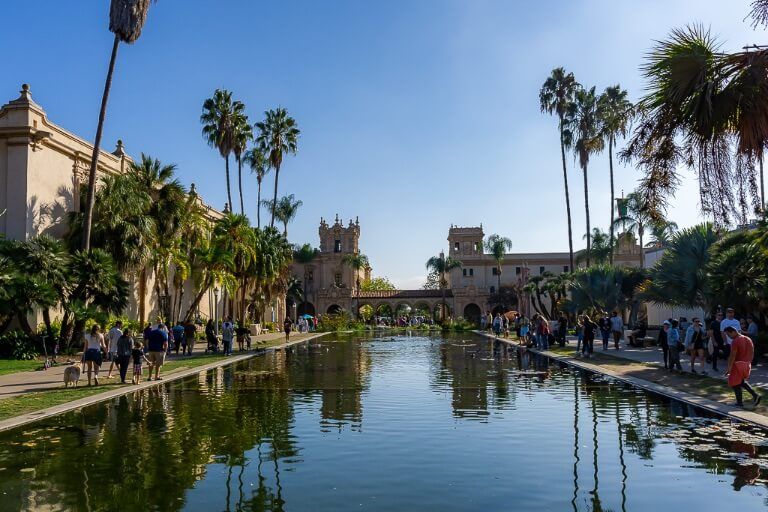 What Is Balboa Park?
Balboa Park is not just a park with grass, dog walkers and early morning joggers. No, this is San Diego's sparkling inner-city cultural diamond.
Balboa Park is a 2,000 acre sprawling urban park containing beautiful gardens, performing arts and more museums than you can shake a stick at.
Why Visit Balboa Park?
Balboa Park is the perfect family day. You could spend an entire day here and still not explore every museum, garden and arts center!
There are walking trails if you're an early bird staying close by and one of San Diego's best photography locations is right in Balboa Park (more later).
Oh, and the world famous San Diego zoo is here too!
Let's take a look at some of the most popular places to visit for you to consider adding to your itinerary:
San Diego Air and Space Museum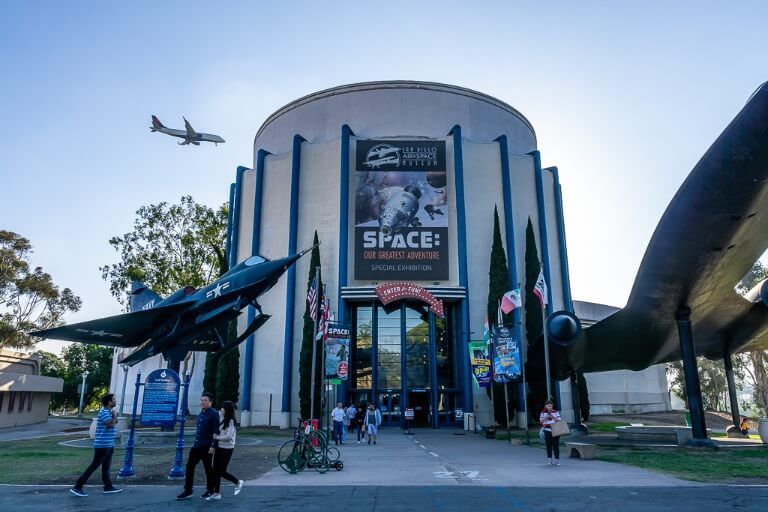 San Diego air and space museum features collection from the early gliders and hot air balloons to jets and helicopters from the world wars.
Opening Hours: 10.00am – 4.30pm
Tickets: US$ 19.95 adult
Balboa Park Alcazar Gardens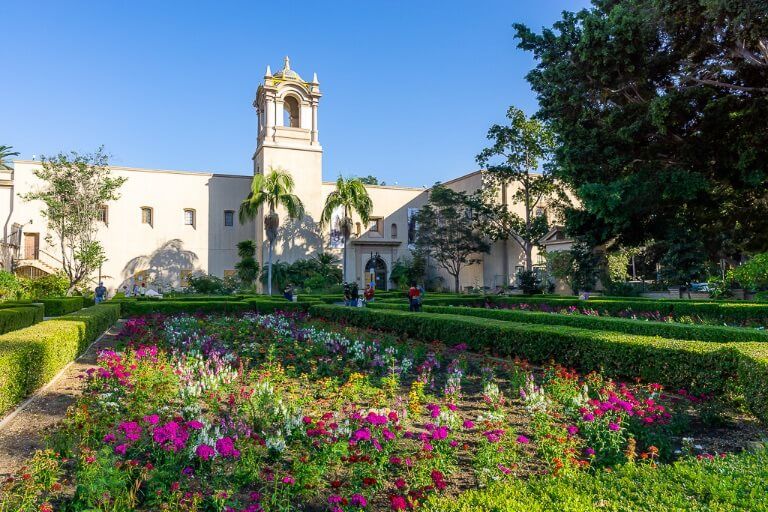 Alcazar gardens design and pattern is a replica of the gardens of Alcazar Castle in Seville, Spain from 1935.
You will find manicured gardens filled with vibrant flowers, ornate fountains and colorful Moorish tiles.
Opening Hours: 6.00am – 10.00pm
Tickets: Free
Botanical Building and Lily Pond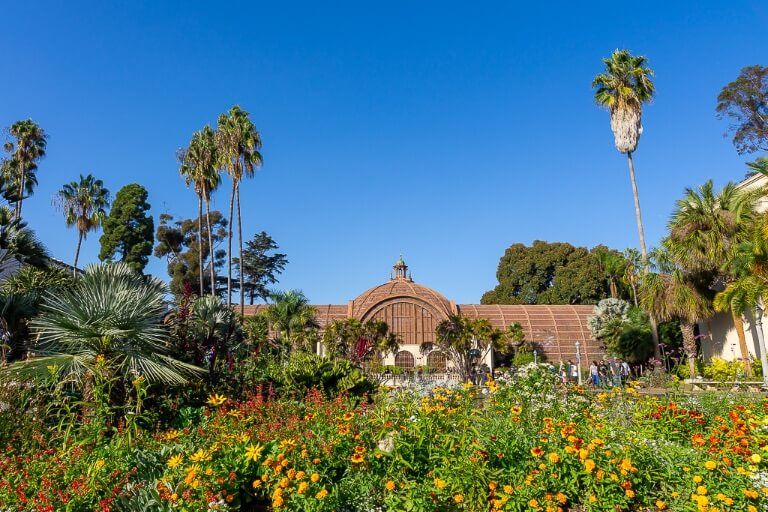 A gorgeous, calming lily pond sitting in front of the Botanical Building and forms one of Balboa Park's most iconic photographs.
Inside, the Botanical Building features more than 2,000 permanent plants and beautiful seasonal flowers.
Opening Hours: 10.00am – 4.00pm, Fri – Wed (closed Thur)
Tickets: Free
Spreckels Organ Pavillion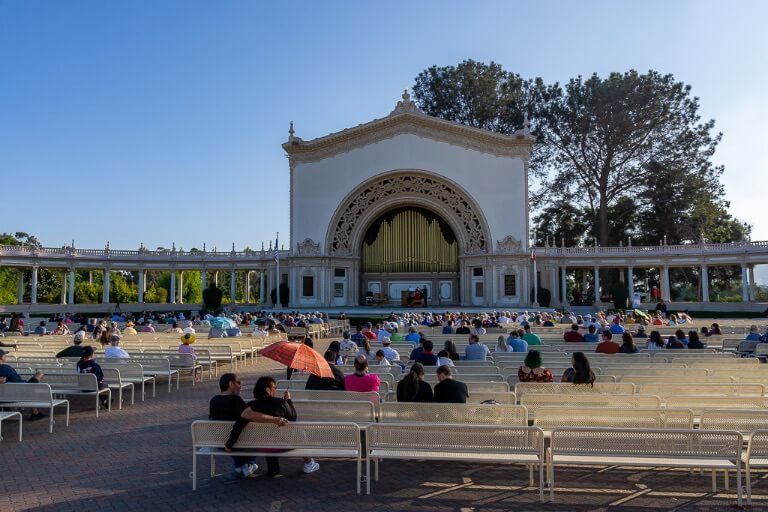 The Spreckels organ contains more than 5,000 pipes, ranging in length from minuscule to gigantic. Think a few inches to over 30 feet!
This is the largest outdoor organ in the world and if you time it right on a Sunday at 2pm (no matter the weather), you will be able to watch a 1 hour free concert.
Opening Hours: Always open
Tickets: Free
San Diego Museum of Art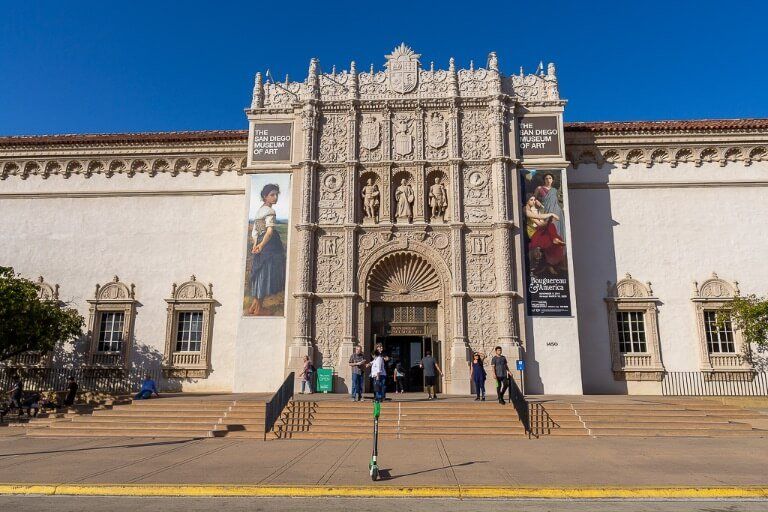 You can find over 20,000 objects dating from as far back as 3,000BC at the San Diego Museum of Art.
The museum holds Spanish, Latin American, Asian and European art from Renaissance and Baroque to Modern and Contemporary.
A must for art lovers visiting San Diego!
Opening Hours: Mon, Tues, Thurs & Sat – 10.00am – 5.00pm; Weds – Closed, Fri – 10.00am – 8.00pm, Sun – 12.00pm – 5.00pm
Tickets: US$ 15.00 adult
The Old Globe Theater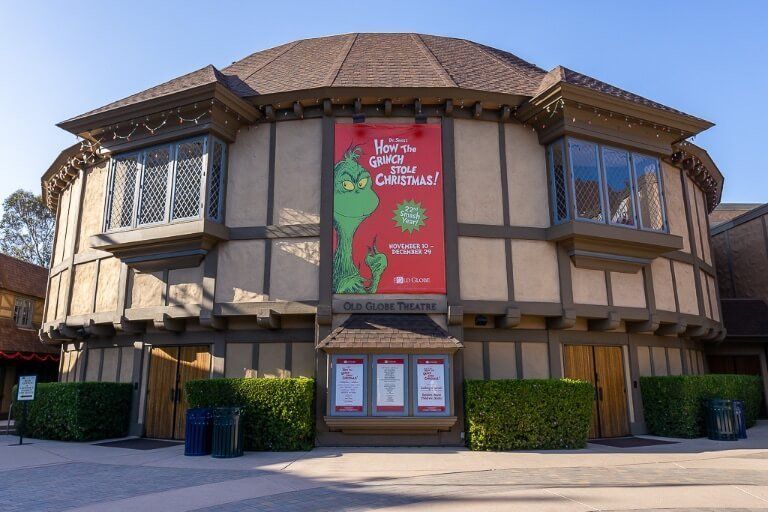 You may have heard of the old globe before but most likely associated with Shakespeare's old globe in London.
Well, San Diego modeled their performing arts theater on the very same one right inside Balboa Park way back in 1935.
More than 250,000 people attend a variety of shows at the Old Globe and as you can see from our photo above one of those is Dr. Seuss' How The Grinch Stole Christmas, which is performed each year before Christmas.
Coming from England and New York respectively, it is surreal to consider Christmas while wearing shorts on a beautiful sunny day!
Opening Hours: Varied
Tickets: Varied
Japanese Friendship Garden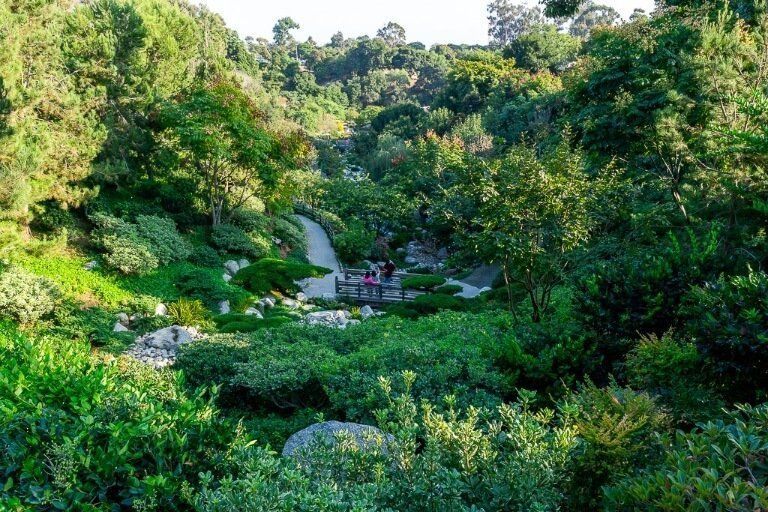 The Japanese Friendship Garden of was 1991 as an expression of friendship between San Diego and its sister city Yokohama in Japan.
Beautifully curated and manicured gardens are extremely popular in Japan and here you have the chance to immerse yourself into Japanese culture of serenity.
The 12 acre plot of land is filled with flora, arranged stones and water features to resemble a traditional Japanese garden but has been adapted to suit San Diego's climate.
Over 250,000 tourists visit the garden each year.
Opening Hours: 10am – 6.00pm
Tickets: US$ 12.00 adult
San Diego Museum of Man and California Tower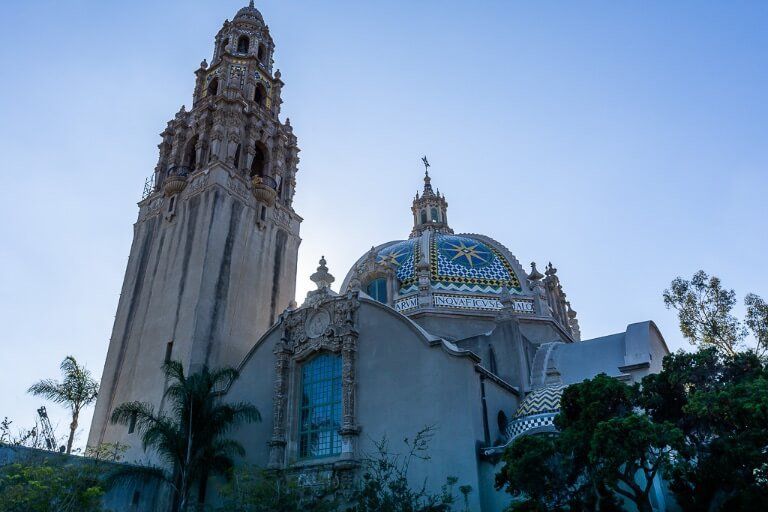 San Diego's Museum of Man (recently rebranded to Museum of Us) features a weird and wonderful collection of, well, almost anything you can think of!
From human relationships, connections and self-reflection to the history of beer, monsters and even cannibalism. Like we said, weird but maybe wonderful?!
The iconic California Tower is almost 200 feet tall and can be seen from across Balboa Park. The finely intricate tower can be toured as part of the Museum of Us.
Opening Hours: 10.00am – 5.00pm
Tickets: Museum – US$ 13 adult, Museum & Tower – US$ 23
Spanish Art Village Center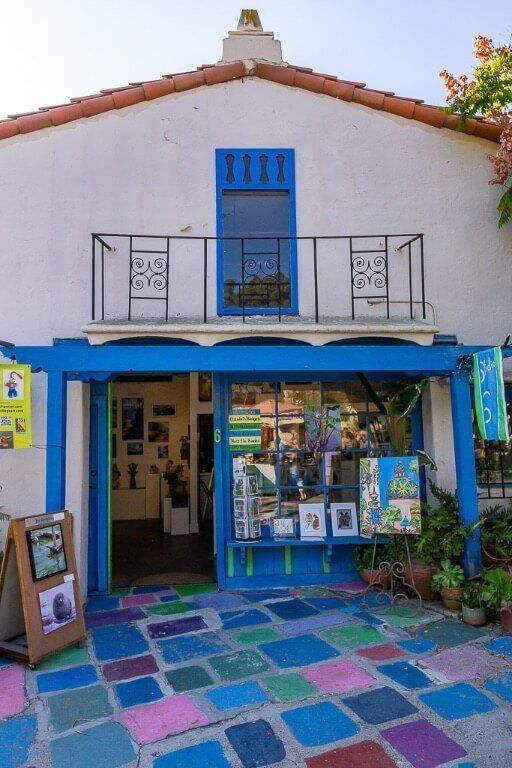 In a Spanish Village with traditional Spanish building and tiled floors you will find over 200 working artists creating art year round.
Walk among painters, sculptors, glass, enamel and clay artists to appreciate the craft and observe the processes taking place.
Opening Hours: 11.00am – 4.00pm
Tickets: Free
2. San Diego Zoo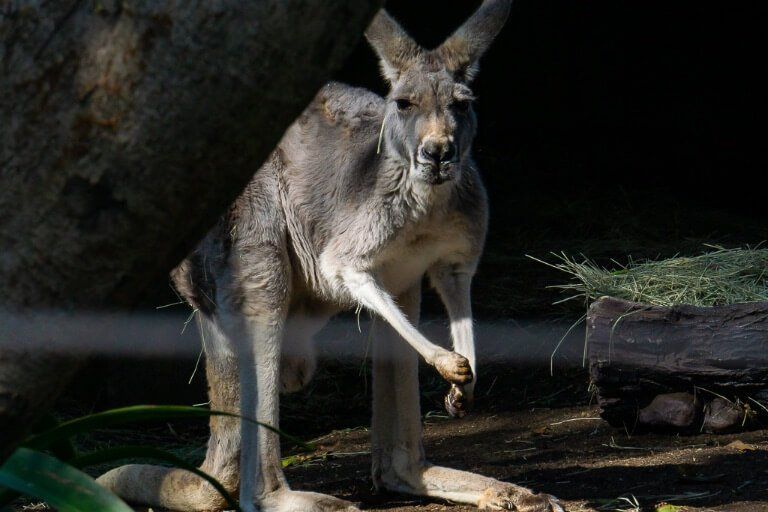 What is the San Diego Zoo?
San Diego zoo is one of the most famous and revered zoo's in the US, receiving a staggering 4 million visitors each year.
It was one of the pioneers for creating open air natural habitats for many of its resident animals and houses over 3,000 animals.
The zoo's most iconic animals were giant pandas who were repatriated to China in 2019.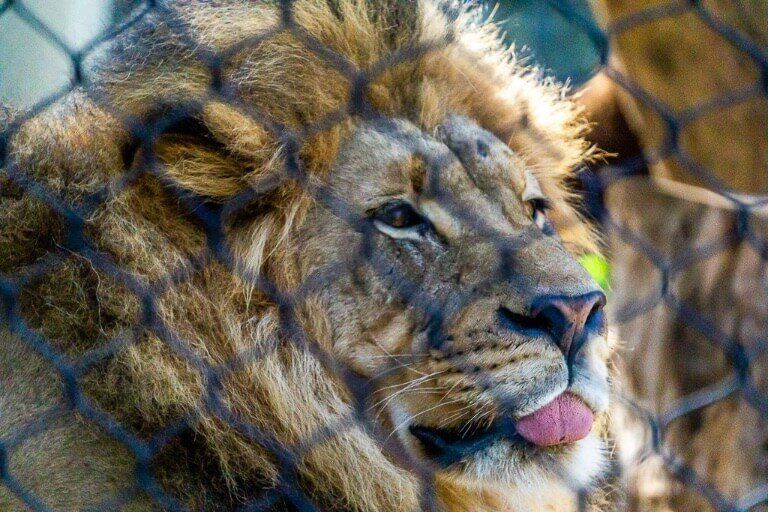 Why visit the San Diego Zoo?
It doesn't get much better if you are traveling to San Diego as a family with children but you don't need to have kids to enjoy this mammoth sized zoo.
You will lose a lot of time but it is one of the best zoo's you're likely to visit.
You can take a tourist double decker bus around the entire zoo or walk from one area to the next, including Australian Outback and Africa Rocks.
Opening Hours: Weekdays – 9.00am – 6.00pm, Weekends – 9.00am – 7.00pm
Tickets: US$ 65 adult | Buy tickets here
3. Gaslamp Quarter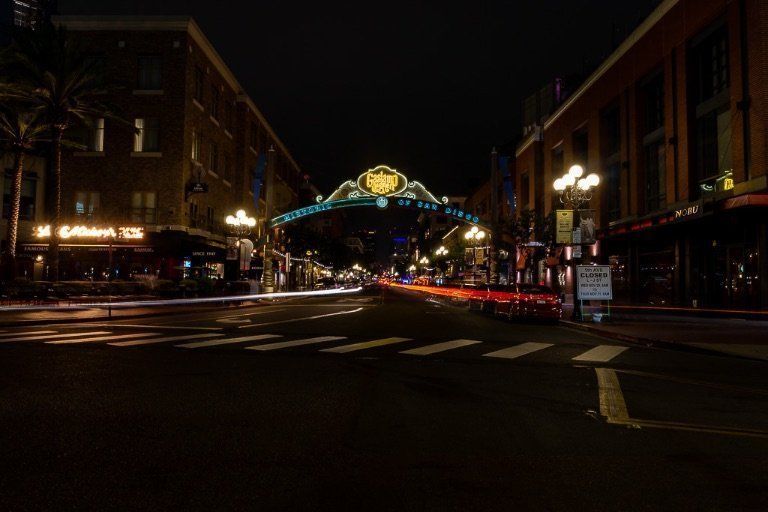 What is the Gaslamp Quarter?
Gaslamp is the 16 square block beating heart of San Diego, the focal point drawing tourists in like an unstoppable gravitational force.
It is here you will find over 100 restaurants, bars, nightclubs, comedy clubs, cafes, rooftops and live music venues.
The name derives from gas lamp street lights and the neighborhood retains its Victorian-era feel while modernizing with skyscrapers.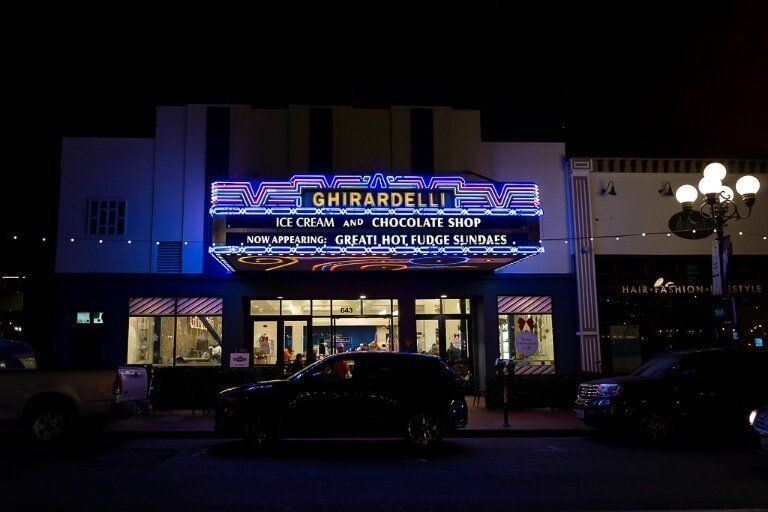 Why visit the Gaslamp Quarter?
This is the place to be see and be seen, the place to eat and the place to party in San Diego.
During the day you can find artisan markets and boutique shops running the length of the street.
The street often closes to traffic and restaurants open up outdoor seating spilling into the road, creating an electric but chilled atmosphere.
Try out a rooftop bar, taste some craft beers or treat yourself to some fine dining.
We loved Gaslamp Quarter, even if it is a little touristy.
4. USS Midway Museum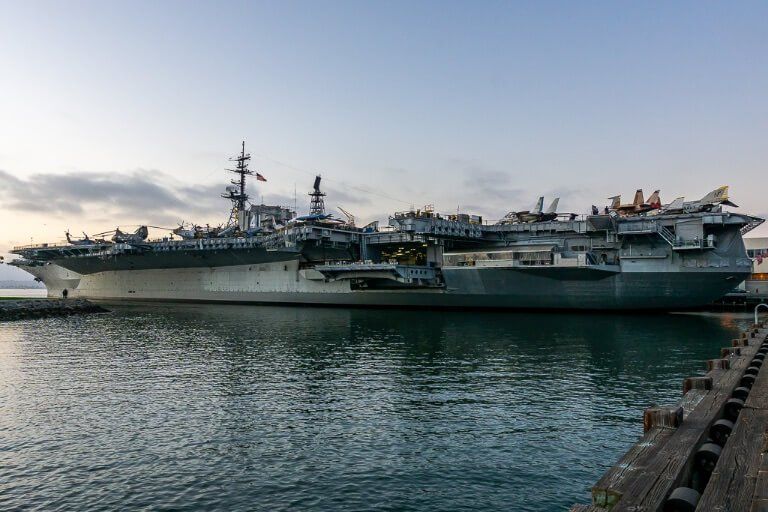 What is the USS Midway?
The USS Midway was the longest serving Aircraft Carrier in the 20th century before its decommission in San Diego, 1992.
Among the Midways achievements are first carrier to extensively operate in Sub-Arctic waters, first landing of a jet with autopilot, Vietnam war pilots shooting down MiG's, evacuation of Saigon and Persian Gulf flagship.
It has been a museum since 2004, receiving around 1 million visitors each year.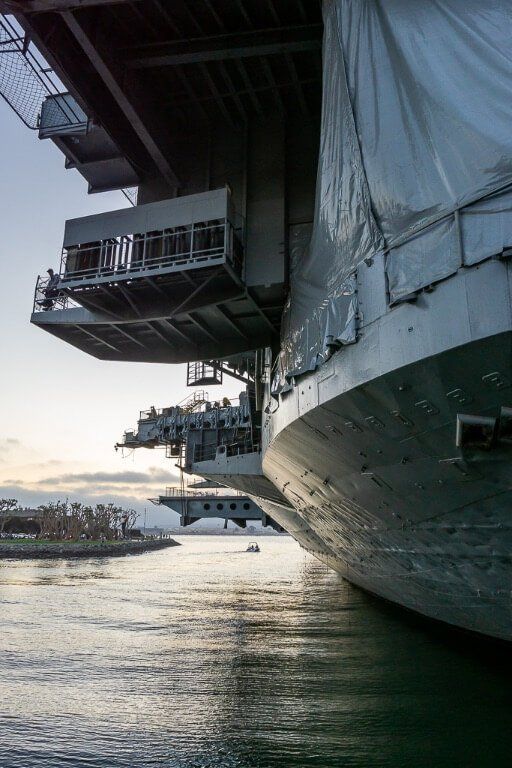 Why visit the USS Midway?
The Midway has over 10 acres worth of exhibits to explore through the hangar, flight deck and below deck.
Plus, you can discover over 30 restored aircraft and helicopters, including the F-14 Tomcat made famous by the 80's movie Top Gun.
You will also find simulators, programs and theaters discussing all things aircraft carrier. USS Midway is perfect for families and anyone interested in seeing the vast inside of a decorated Naval ship.
Opening Hours: Everyday 10.00am – 5.00pm
Tickets: US$ 26 adult | Buy tickets here
5. Embarcadero (Bayfront)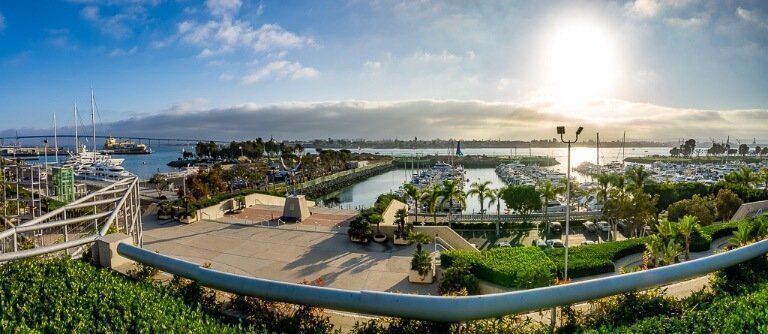 What is the Embarcadero?
Embarcadero is a popular promenade style walking area hugging San Diego bay.
You will find marinas, seal watching tours, USS Midway, seafood restaurants, international cruise ship terminal, Maritime Museum and the Star of India Museum.
The area is an L shape following the curve of San Diego bay, right behind the convention center close to Gaslamp.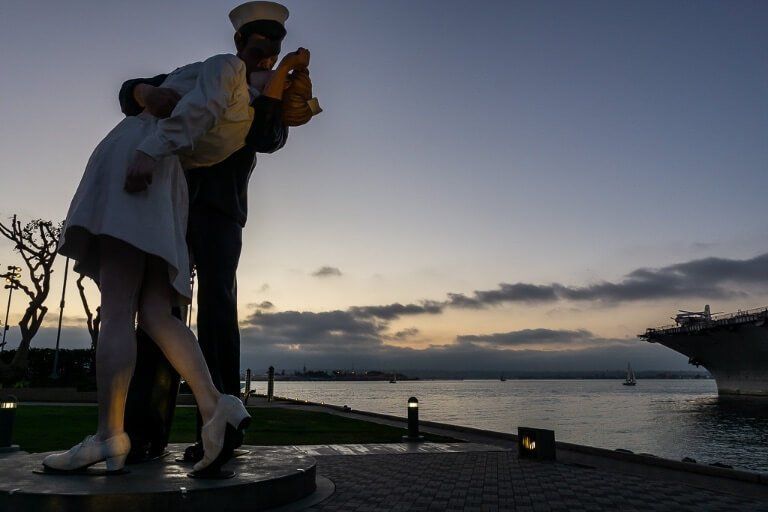 Why visit the Embarcadero?
You will naturally find you are drawn towards the bay after dinner in Gaslamp, this is the perfect area to wander slowly during the evening.
Don't miss the statue of unconditional surrender which is surrounded by Joshua Trees, Star of India sailing ship museum and you can even look inside submarines at the maritime museum.
A great way to see the Embarcadero from the bay is by taking this popular San Diego harbor cruise tour.
6. La Jolla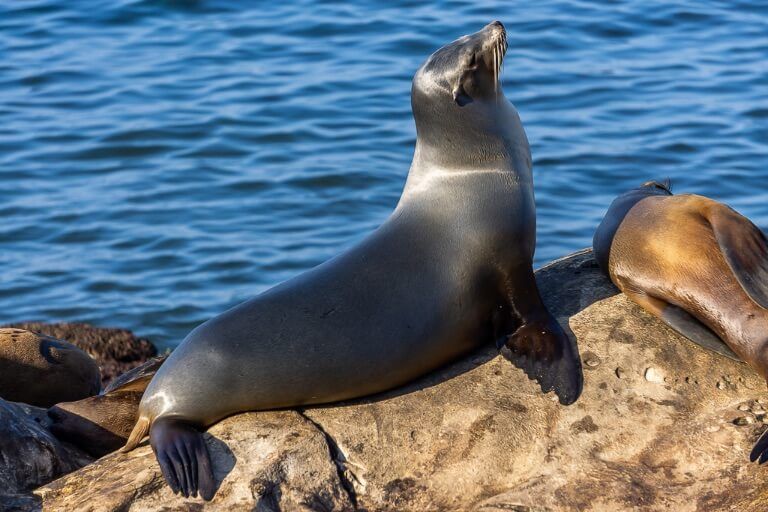 What is La Jolla?
La Jolla (pronounced La Hoya) is a very popular upmarket village-like neighborhood in Northwest San Diego, renowned for its fine dining and upscale village atmosphere.
San Diego's crown jewel is surrounded on three sides by ocean but stretches 7 miles up the coast to encompass Torrey Pines (think best golf courses) and many educational institutes.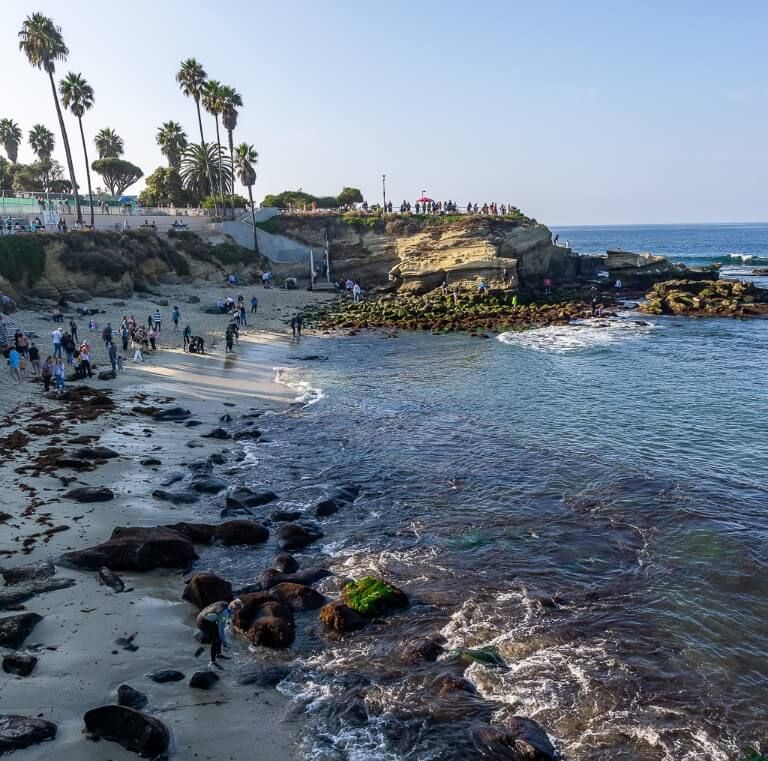 Why visit La Jolla?
Many people stay in La Jolla and day trip into San Diego, making their itinerary more of a beach vacation.
You can surf, scuba dive and kayak around headland coves, or watch seals and sea lions playing on rocks and beaches.
Photographers can explore the dramatic coastline shooting amazing piers and be part of a chilled community.
7. San Diego Beaches / Coastline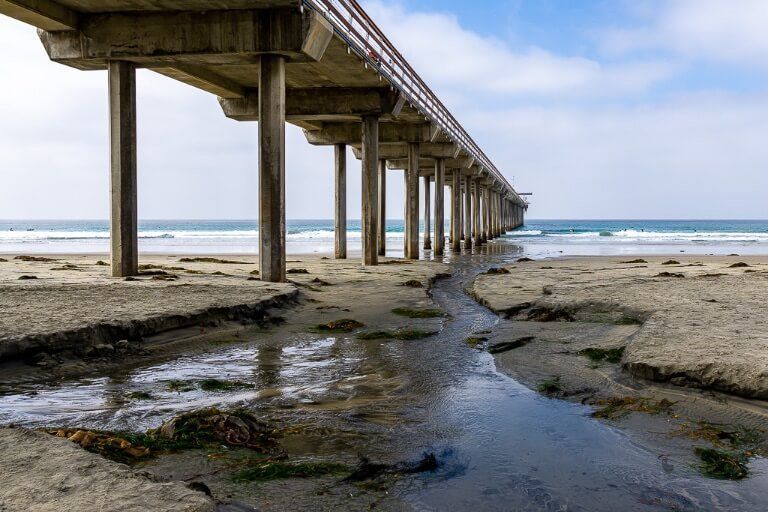 What is the San Diego Coastline?
As a run on from La Jolla which is on the coastline, San Diego is famed for its chilled beach culture and on a first time visit to the area, you can't leave the coastline off your itinerary.
Each beach area / neighborhood offers its own atmosphere and audience.
Why visit the San Diego Coastline?
You can't visit San Diego and not go beach hunting!
Jump in your car and spend an afternoon / early evening driving from one beach to the next from Black's Beach near Torrey Pines, down to Sunset Cliffs.
Let's take a look at some of the most popular beaches and coastline attractions from North to South.
Torrey Pines & Black's Beach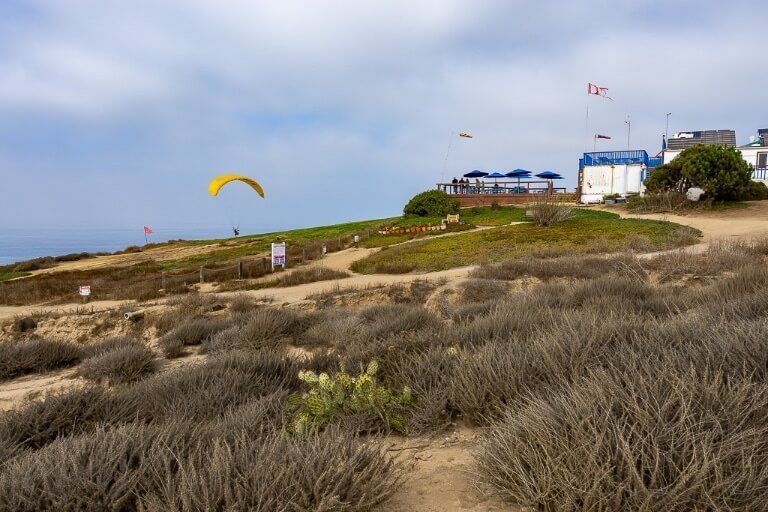 Torrey Pines is best known for hosting the Farmers Insurance Open on the PGA Tour each Winter. But just to the South of the famed gold club, you can find Torrey Pines Gliderport and Black's Beach.
The Gliderport is a cool place to watch members running down a hill and leaping off the cliff edge!
Plus, views over Black's Beach are exceptional from the Gliderport, in case you don't have time to venture down to the beach.
Also in the area is Salk Institute for Biological Research and the University of California San Diego.
Ellen Browning Memorial Pier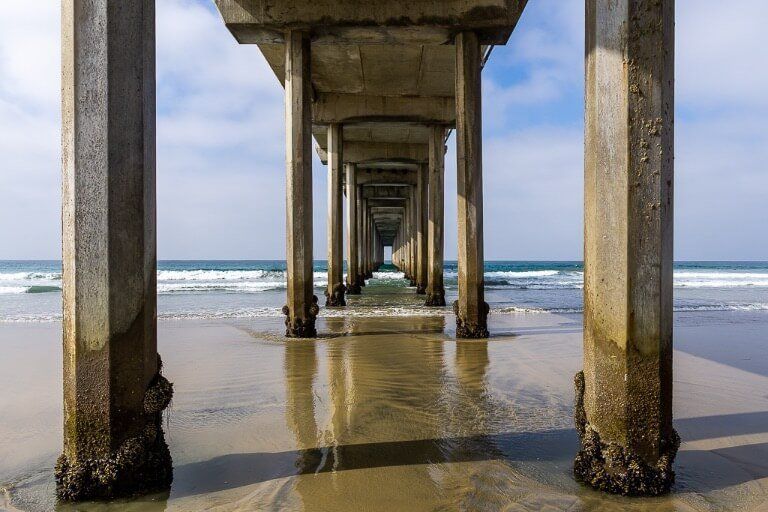 Just a few minutes drive South you will find Scripps institution of Oceanography which hosts Birch Aquarium and a mesmerizing pier on its beachfront.
The Ellen Browning Scripps Memorial Pier is one of the most photogenic piers you are likely to see and the beach area here is extremely sparse compared to the more popular trendy beaches closer to San Diego.
Ocean Beach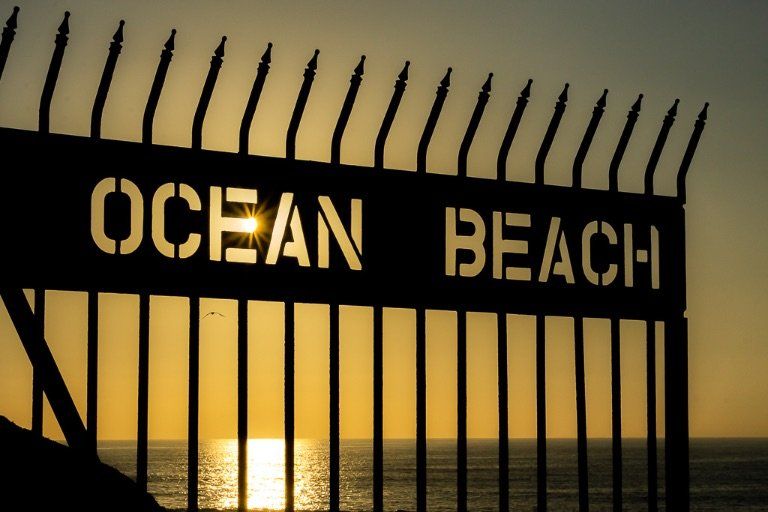 Ocean Beach is the artsy, hippy, bohemian, class SoCal beach in San Diego with an awesome pier, hundreds of surfers and a fantastically laid back vibe.
Many locals visit this beach because it is quieter than touristy Mission Beach and Pacific Beach (between La Jolla and Ocean Beach).
Newport Avenue close to the pier is filled with boutiques, antiques and restaurants.
Ocean Beach stretches from Newport Ave popular with surfers, up to Dog Beach where a ton of dogs are running riot!
Visit this beach to mix with the locals, surf, eat burgers, see art, check out the long pier and experience the different vibe to downtown San Diego.
Note: Mission Beach just to the North has a huge beach, Belmont amusement park and Sea World San Diego. If traveling with kids, Mission is a better fit than Ocean Beach.
Sunset Cliffs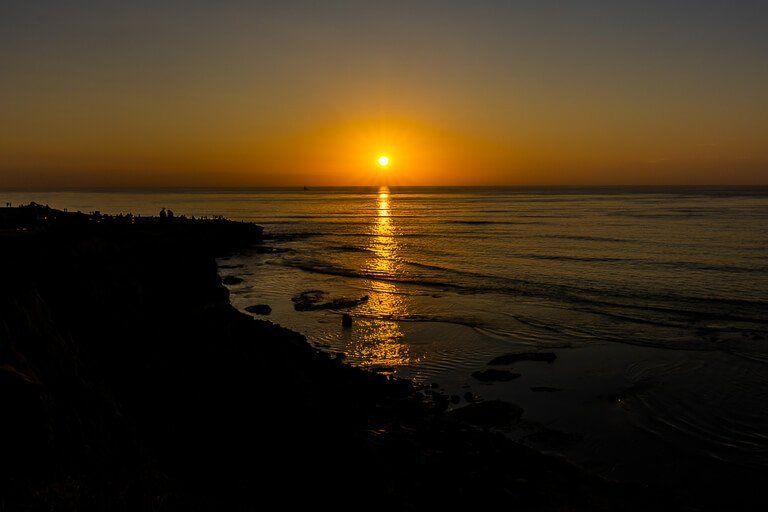 Just over a mile to the South of Ocean Beach Pier, you will find dozens of cars driving in the same direction as daylight comes to a close.
They are all heading to Sunset Cliffs to watch a stunning Californian sunset over the Pacific Ocean.
This has to be on your San Diego itinerary, particularly if you're not from the West and don't get to see these sunsets often.
Sunset cliffs headland edges will begin to fill up and you will have a hard time finding a parking space but all you need to do is drive up a residential street and park – not obstructing drive ways!
You won't be there long, just enough time to watch the sky illuminate deep orange before fading into darkness.
8. Coronado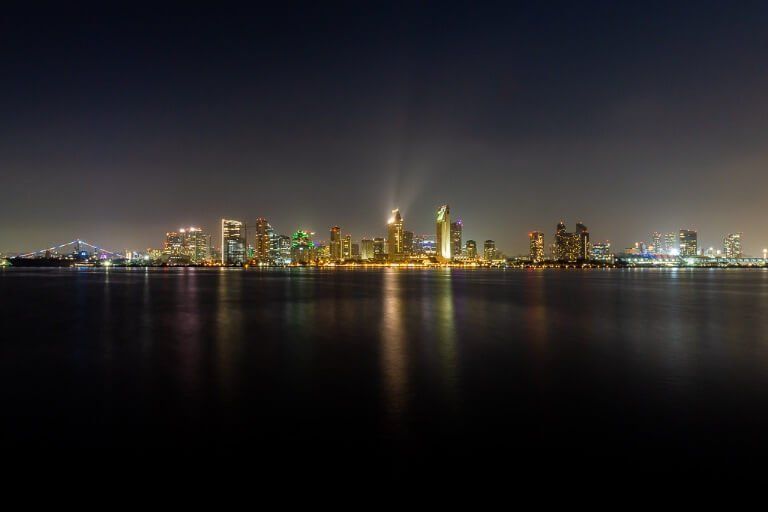 What is Coronado?
Coronado is a peninsula in San Diego bay, accessible by a magnificent 2.1 mile long curving bridge crossing the bay not far from Embarcadero and Gaslamp Quarter.
Ronald Reagan was the first person to drive across the bridge when it opened in 1969.
Alternatively, you can take a short ferry directly from the Convention Center / Broadway Pier (next to USS Midway) to Coronado Ferry center, a shopping mall on the waterfront.
Coronado is a popular resort town famous for its grand Victorian Hotel del Coronado, surfing and of course its beach. Nearby Coronado has a resort town center with cafes and bars.
Why visit Coronado?
Coronado is easy to access from Gaslamp and Downtown, even without a car, which means almost all tourists can visit the peninsula.
But the main reason to visit is to get the best San Diego night views across the bay from Centennial Park (more later in best photography locations).
9. Old Town San Diego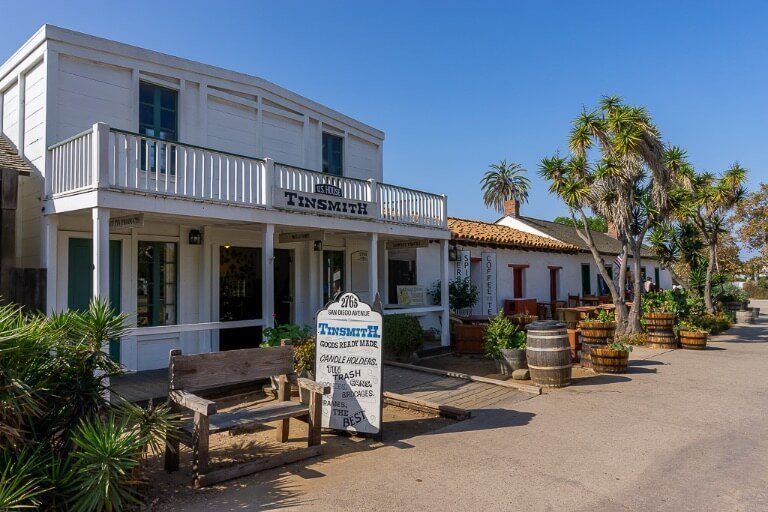 What is Old Town San Diego?
Old Town was created as a settlement back in 1769 and Old Town San Diego State Historic Park is the birthplace of California dating back to the 1820's.
You will find 19th century homes and businesses maintained to allow an insight into colonial living, plus dozens of restaurants, shopping, entertainment and hotel options.
Why visit Old Town San Diego?
Learn about the Mexican-American history of San Diego, visit over 100 speciality shops, wander around Fiesta de Reyes (check events calendar) and eat excellent Mexican food with a cocktail.
Another place to visit in Old Town is the Whaley House Museum, the most haunted house in America. Not one for us!
San Diego Pass
It is definitely worth considering buying a San Diego Pass if you're the type of traveler who loves to see and do everything in a new place.
You can choose between two San Diego attractions pass options.
We always recommend (and use ourselves!) attractions passes when visiting cities with tons of fun things to do.
These passes allow you to visit more attractions at a lower overall cost. It really is that simple.
In San Diego you can choose between the following:
Go City San Diego Pass
San Diego CityPASS
Go City San Diego Pass
The Go City San Diego Pass features over 50 fun attractions ranging from SeaWorld and Legoland to kayaking and whale watching. The San Diego Zoo is of course included, as are most of the places inside Balboa Park.
The Go City San Diego Pass comes with two very different options for visitors, which gives more flexibility to the user.
You can either buy an attractions based pass or a day based pass.
The attractions pass allows you to choose a specific amount of attractions you would like to see from 2 – 7 attractions.
The day based pass allows you to choose a specific amount of days you would like to have access to all 55+ San Diego attractions from 1 – 7 days.
We would recommend an attractions based Go City San Diego Pass to anyone who just wants to see a few very select attractions in San Diego and save money. This pass is better for solo travelers.
However, we would definitely recommend the day based Go City San Diego Pass to anyone who wants to spend a few days experiencing as much as possible in San Diego. This pass is better for couples and families.
>> Head over to the Go City San Diego Pass official website for more information on both pass types.
San Diego CityPASS
Alternatively, you can buy a San Diego CityPASS, which only offers a handful of pre-selected attractions at a set price point.
You can choose either SeaWorld or Legoland, or you can choose both of those two top attractions. After that you can select three more top attractions from a total of six.
CityPASS typically only give the most popular tourist attractions as options to keep it nice, easy and simple.
This pass is best suited to solo travelers, couples who just want to see the top sights and families who don't want to be rushing around trying to tick off as many attractions as possible.
>> Head over to the San Diego CityPASS official site for more information.
Best Photography Locations In San Diego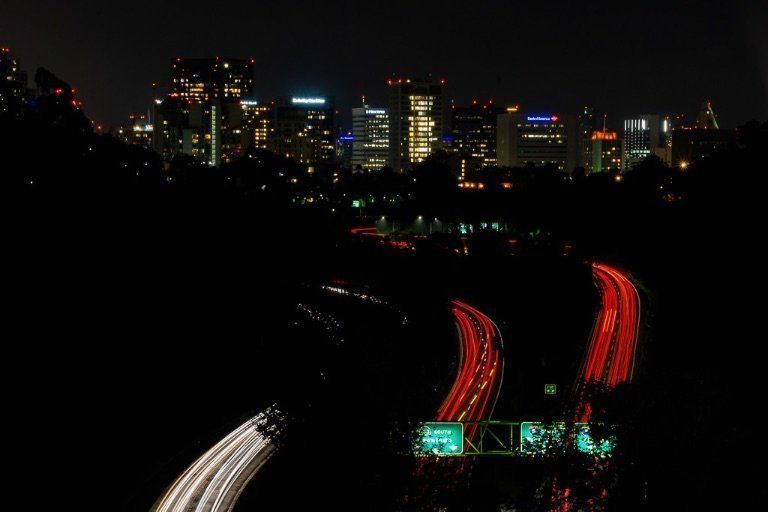 One of the biggest surprises for us was how photogenic San Diego and its surrounding areas are. You will find a list of the best photography locations below so you can shoot the most awesome spots in the city.
Cabrillo Bridge – Located in Balboa Park close to Museum of Us, visit the bridge at night to shoot downtown San Diego from above I-5 to get the car lights blur with long exposures.
Sunset Cliffs – As mentioned above, this is the best place to photograph sunset.
Coronado Bridge – You'll need to gain elevation for sunrise and the enormous bridge crossing San Diego bay is your perfect sunrise photography location.
Scripps Pier – Again, we've mentioned this above, the pier offers a phenomenal tunnel-like image that appears as though it could be a portal to another dimension!
Salk Institute of Biological Sciences – Ahh the pain we feel. There's an awesome symmetrical photograph to be taken inside the research facilities grounds, however, it's not particularly easy to get inside. When we tried to enter the grounds we were stopped by security. After explaining we just wanted to take a photograph, they wouldn't allow us to go in. Sigh.
Coronado – For awesome night photography of the San Diego skyline and USS Midway, simply head over Coronado bridge to Centennial Park. You can set up in a quaint small park with unobstructed views across the bay. Plenty of room to go around.
3 Days in San Diego Itinerary
Now you know the best things San Diego has on offer for first time visitors, you can begin to construct a day by day itinerary for your visit.
But to give you a helping hand, here's an example of how we would spend 3 days in San Diego most efficiently:
Day 1 – Balboa Park, Old Town and Little Italy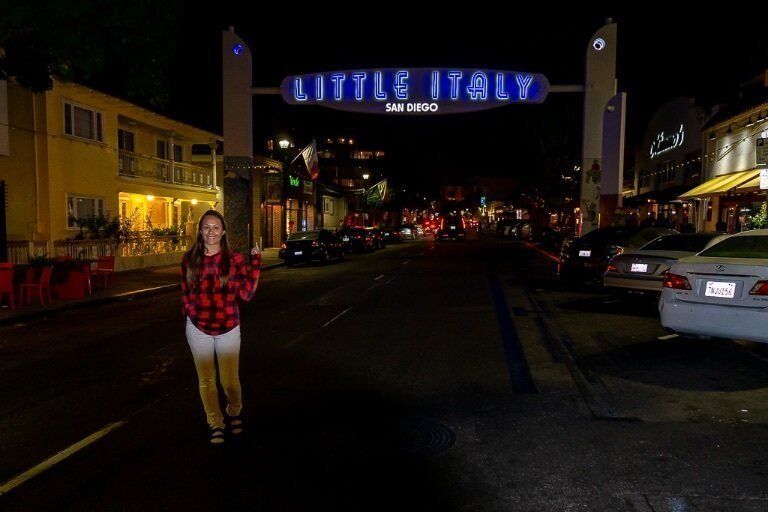 Balboa Park
Begin your day at the famous San Diego Zoo. It opens at 9 so you can get a good early start.
There are plenty of parking lots throughout Balboa Park. If the zoo parking lot is full, find another nearby, you'll be walking around Balboa Park for hours anyway!
The zoo is huge so you'll need a few hours here, especially if traveling as a family.
After the zoo, explore Balboa Park and its numerous museums, gardens and attractions.
Here are the museums you can choose between: Air & Space Museum, Automotive Museum, Comic-Con Museum, Fleet Science Center, Natural History Museum, Model Railroad Museum, Museum of Photographic Arts, Mingei International Museum, Museum of Man / Us and Museum of Art.
Phew! You are not short of options but isn't it great to have such a diverse group of museums in one small space?
Don't forget to explore the Alcazar and Japanese friendship gardens and check out the Spanish Village Art Center. If you're visiting on a Sunday, stay for the 2pm Organ concert.
If there are any theater performances during your San Diego itinerary, book a show at the Old Globe.
Old Town
In the mid afternoon once you can't take in anymore educational museums, drive just 6 miles to San Diego Old Town.
Old Town will take far less time to explore than Balboa Park.
Spend the late afternoon walking around Fiesta de Reyes, Plaza de las Armas and the old town colonial buildings.
Little Italy
If you haven't gotten 'lost' in an Old Town cocktail bar, drive to Little Italy (or back to your hotel and walk / Uber to Little Italy).
This famous neighborhood comes alive in the evening, with a ton of restaurants and wine bars to choose between (see where to eat below for options).
If you want to walk off dinner and wine afterwards, you're just a block or two away from the North end of Embarcadero and the bay front.
Or if you're into photography, drive just a few miles back to Balboa Park where you can photograph cars entering / leaving San Diego on I-5 with the city skyline behind.
Day 2 – Embarcadero, USS Midway, Coronado & Gaslamp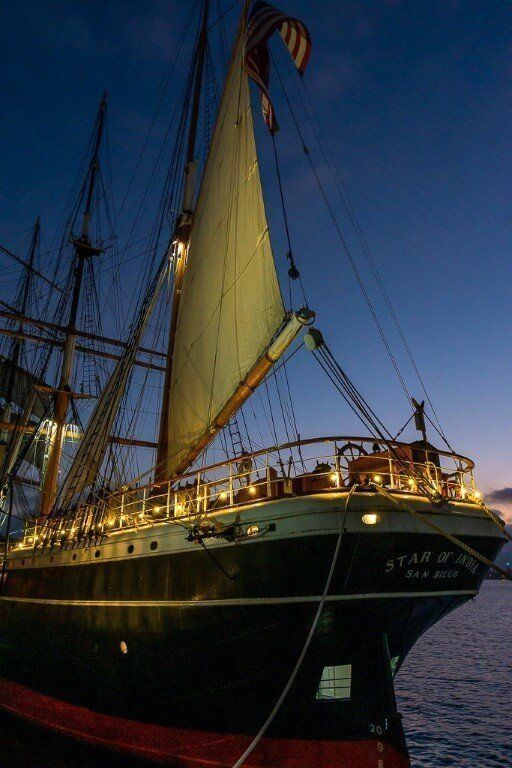 Gaslamp District (Part 1)
Begin with breakfast (breakfast republic is great) in Gaslamp, check out the shops and artisan market on Sundays.
Stop at Ghirardelli's for hot chocolate … and actual chocolate!
Head South to the Convention Center but walk around / over it to the marina. When we visited San Diego, America's got Talent were holding auditions inside and there were security guards posted all around the building.
Embarcadero
From Embarcadero Marina South, walk Northwest along the bay front.
Crowds will begin to grow as you approach USS Midway. Before you go to the museum, check out the statue of unconditional surrender. This sailor kissing a woman statue can be found in multiple locations around the world and is based on a photograph of this very scene from Times Square on V-J day in 1945.
Time to hit the decks on the USS Midway and spend the next few hours learning about its service, plus checking out jets!
If you're interested in military or maritime history, you can't miss the Star of India and Maritime Museum just a little further up from Midway.
This area does have a slight 'theme park' feel because it is touristy but its your first visit to San Diego and you should embrace it!
Coronado
With Car – Jump in your car and drive over the impressive and curving Coronado Bridge. Park up near the beach, take a walk along the coast, spot the famed Hotel del Coronado and stay here for sunset.
After sunset, drive 1.5 miles up to Centennial Park to see the San Diego skyline at night across the bay.
Without Car – If you don't have a car or don't want to move it from your hotel (we hear you!), simply take the ferry from Embarcadero South Marina to Coronado Ferry Center. You can take bus #904 from close to Ferry Center to the beach and hotel area or walk 1.5 miles (under 30 minutes walk).
Take the bus or walk back to Ferry Center but before you get the ferry across to Embarcadero, be sure to check out the San Diego skyline from Centennial Park.
Gaslamp (part 2)
Walk back around Convention Center to Gaslamp or drive back to your hotel, drop the car off and walk / Uber to Gaslamp.
You're in the liveliest part of town at night, choose the right place to eat (use our suggestions later) to avoid tourist traps.
Restaurants here open out into the streets and you will discover a chilled but fun vibe with plenty of places to drink beer and cocktails.
Day 3 – San Diego Coast, La Jolla, Ocean Beach & Sunset Cliffs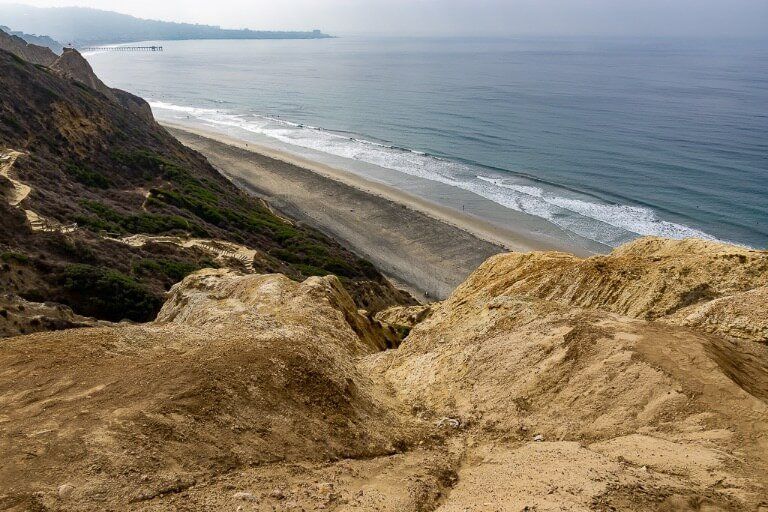 Torrey Pines
After 2 days in the city it's time to get some fresh coastal air and some exercise!
Drive up to Torrey Pines Gliderport and park right on the cliff edge. Try to get a photograph at Salk Institute (unless they have some top secret research going on … yes, we're still bitter!) and watch as people run off the edge of the cliff to take off.
You can walk down paths to the beach but they are fairly steep and will take up a good chunk of your morning. Views over the beach from the top are awesome.
If you're into golf, you can't miss Torrey Pines right next to the Gliderport. See if you can have a walk around the clubhouse area. If you're a San Diego resident a round will cost US$ 63, if not you're looking at an eye watering US$ 202.
Just a few miles South you can't miss Scripps Pier, make sure you get right in the center of it and take a ton of photographs. It almost looks like an optical illusion.
Plus the beach here is quiet, so now is the time for a brisk walk if you need the exercise.
La Jolla
Grab lunch with sea views in La Jolla (see options later).
Walk around La Jolla Cove, watching seals and sea lions playing or sunbathing! Try a kayak tour or even scuba diving from the cove beach area, you'll see plenty of others doing just that.
Check out La Jolla boutique stores and take a leisurely stroll around the area.
This is a lovely part of San Diego so take your time.
Ocean Beach / Mission Bay
If you have kids with you on your San Diego itinerary, your next stop could be Belmont Amusement Park or SeaWorld San Diego just South in Mission Bay.
Otherwise, head to Ocean Beach to check out the pier, different culture and surfers.
Walk up Newport Avenue, grab a beer in a seafront bar and choose a spot for dinner (see options later).
After an early dinner, head down to Sunset Cliffs to watch a beautiful orange sun setting across the Pacific Ocean with hundreds of others lining the headland.
If you're visiting San Diego in Summer, sunset will be later than in Winter, so you might want to watch the sunset first and then go back for dinner afterwards. Check sunset times here.
2 Days in San Diego Itinerary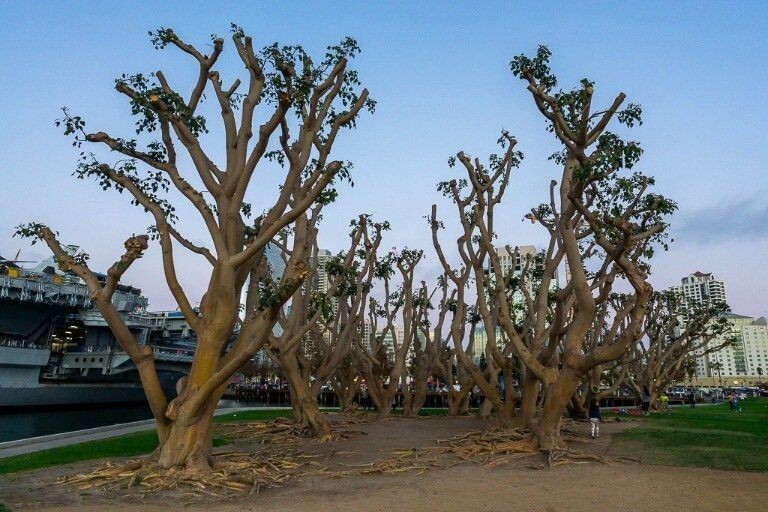 If you're planning a 2 days in San Diego itinerary, you have plenty of options that don't involve missing too much of the action.
Our 3 day example above is a slow relaxing chilled pace, you could simply quicken the pace.
Here's how you can merge some of the major neighborhoods into 2 days:
Day 1
Balboa Park – Begin your first day here but spend less time at the zoo / go into fewer museums and generally be more selective about which attractions you visit.
Little Italy – Instead of dinner, stop in Little Italy for brunch / lunch (see options below).
Embarcadero – Walk along the bay front, quick visit to USS Midway, take the ferry / drive to Coronado.
Coronado – Walk along the beach or Ferry Center shopping mall area, be sure to check out San Diego skyline.
Gaslamp – Ferry back / drive back to your hotel, spend the evening in Gaslamp with dinner and drinks.
Day 2
Old Town – Spend the morning walking around Old Town and Fiesta de Reyes.
Torrey Pines – Drive up to the Gliderport and work your way down past Scripps Pier to La Jolla.
La Jolla – Spend the early afternoon walking around the cove and headland, grab lunch (see options below).
Ocean Beach – Continue down through Mission Bay to OB, see the pier, Newport Ave and surfers.
Sunset Cliffs – Watch the sunset at the aptly named best place in San Diego.
Gaslamp/Old Town/ Little Italy – Choose whichever is more convenient for dinner.
One Day San Diego Itinerary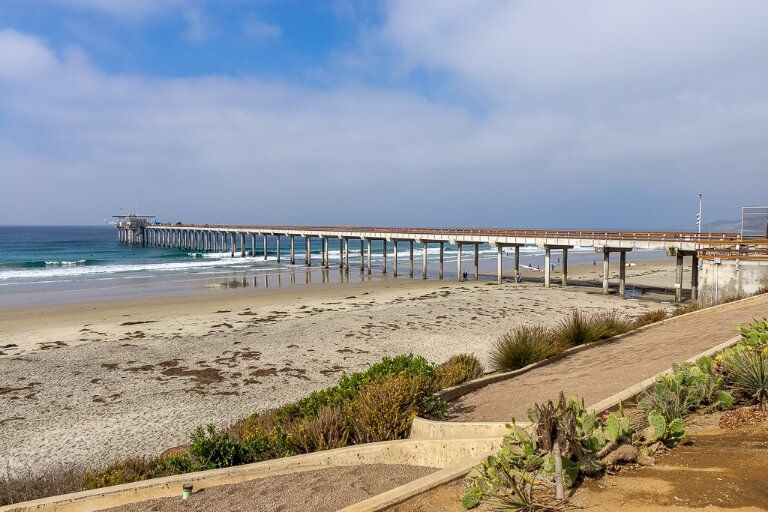 Ok, we'll admit one day in San Diego is not going to allow you to plan the perfect itinerary. You're going to have to compromise and leave a couple areas out.
Here are some of the most efficient ways to hit some of San Diego's highlights in one day:
1 – Downtown Day: Spend the entire day walking around Gaslamp, Downtown, Little Italy and Embarcadero (in no particular order).
2 – Coastal Day: Spend the morning at old town and along the coast / La Jolla, drop the car off at your hotel and spend the evening in Gaslamp / Little Italy.
3 – Museum Day: Spend the whole day at Balboa Park ending at Little Italy or Gaslamp.
4 – Maritime Day: USS Midway, ferry to Coronado, Maritime Museum, eat along Embarcadero.
Where To Eat In San Diego
Did you know San Diego is known as the craft beer capital of America?
If you're a fan of beer (who isn't?!) and fantastic food including the best tacos in the country, you're in for a real treat.
Gaslamp isn't the only neighborhood to look at for food options. In fact, Little Italy, La Jolla, Ocean Beach and Old Town are less touristy and in some cases more authentic.
Here are some of our top recommendations for you to consider:
Gaslamp
The Lion's Share – Less common meat selection and fantastic cocktail list | Menu
Taka – Popular Sushi Japanese restaurant using fresh fish flown in from Japan | Menu
Lola 55 – Contender for the best Tacos in San Diego (up for debate!) | Menu
Meze – Awesome Greek restaurant with relaxing vibe and fantastic food | Menu
La Jolla
Duke's La Jolla – Hawaiian food with stunning sea views | Menu
Catania – Excellent Italian food with rooftop views | Menu
Bistro Du Marche – French bistro gastronomy fusion | Menu
Nine-Ten – Award winning fine dining (looks amazing) | Menu
Ocean Beach
Hodad's OB – Extremely popular burger joint | Menu
Wonderland Ocean Pub – Beach side beer grub and sports | Menu
Bo-Beau's – French comfort food bistro (lovely inside) | Menu
OB Noodle House – One of San Diego's best Asian fusion | Menu
Little Italy
The Crack Shack – Amazing Southern Fried Chicken and Eggs | Menu
Kettner Exchange – Popular brunch, lounge and dinner American food | Menu
Juniper & Ivy – Award winning fine dining not for those on a budget | Menu
Old Town
Tahona Bar – Classy Tacos and Cocktails | Menu
Pizza Bella – Highly rated pizza restaurant | Menu
Harney Sushi – Trendy Sushi restaurant with happy hour | Menu
Where To Stay In San Diego
With over 30 million tourists visiting each year, there is no shortage of hotel rooms in San Diego.
We have narrowed down hundreds of hotel options into just 20 top picks in our helpful guide to the best hotels in San Diego, which breaks down the popular neighborhoods and lists only the top rated hotels for every budget.
Always shop around and dig for the best prices, but if you're in a hurry, here are just some of the top rated hotels by previous guests visiting San Diego:
For first time visitors planning a San Diego itinerary, consider which district you would prefer to set up base.
We suggest you look at Gaslamp, La Jolla, Pacific Beach or Downtown San Diego as the best places to search for hotels. Families might also want to consider Coronado and resorts around SeaWorld.
Gaslamp – In the heart of San Diego, easy access to bars, restaurants & walks along the bay.
La Jolla – Perfect for those who prefer a relaxing base next to the beach & drive into town.
Downtown – Bulk of hotels with cheaper options between Gaslamp and Little Italy districts.
Choose the district first and the perfect hotel will follow!
Read: Our 15 travel savvy ways to save money when booking hotels.
San Diego Itinerary Map
Click into this interactive map, zoom in / out, scroll around and click on any icon to see details of everything we mention in the itinerary.
Spending just a few minutes working out where things are really helps when you arrive.
---
We hope this guide helped with planning your San Diego itinerary!
Please let us know if you have any questions or need any help with your planning.
You Stay Classy, Planet Earth,
Mark and Kristen
Was This Post Helpful? Pin It For Your Visit to San Diego!