Timber Creek Overlook Trail is a very short and easy hike leading to spectacular far reaching views in the Kolob Canyon area of Zion National Park. We're going to show you the trail in photos and explain everything you need to know about the hike.
Zion is like an adventure playground for active adults, but hikes in Kolob Canyon are a little more inclusive and easy going. Timber Creek Overlook Trail is just 1 mile roundtrip, with only 100 ft elevation gain to its crescendo.
We think Timber Creek Overlook Trail is one of the best hikes in Zion in pure terms of hike difficulty to view quality. The overlook provides almost 360 degree views over the desolate but beautiful Kolob Canyon area.
Let's take a look at everything you need to know about hiking the Timber Creek Overlook Trail!
*Please note this post may contain affiliate links. If you click on one, we may earn a small commission at no extra cost to you. Thank you for supporting the free content we provide! Read more in our disclosure policy.*
Timber Creek Overlook Trail Zion National Park Hiking Details
Trail Distance: 1 mile roundtrip
Type of Trail: Out and Back
Trail Difficulty: Very easy
Time Required: 30 minutes – 1 hour
Elevation Gain: 100 ft
Trailhead: End of E Kolob Canyon Rd
Zion Timber Creek Overlook Trail FAQ's
So, what do you need to know about the hike? In truth, not much and that's the beauty of this trail!
But we'll quickly dig into some questions you might have about hiking to Timber Creek Overlook.
How Hard Is The Timber Creek Overlook Trail In Zion National Park?
Timber Creek Overlook Trail is the easiest hike in Kolob Canyon and one of the easiest hikes in Zion National Park.
You can easily include this hike as part of a half day visit to Kolob Canyons on your overall Zion National Park itinerary.
This is the perfect hike for younger children and the elderly to take things slowly, not be rushed by other hikers and get a taste of what makes Zion so popular – views over those intimidating and powerful orange canyon walls.
For reference, if you have already visited the main Zion canyon you can compare to the following hikes:
You will find Timber Creek Overlook Trail to be easier than all of the hikes in Zion's main canyon. There are just a few steps and uneven rocky sections to navigate.
How Long Does It Take To Hike Timber Creek Overlook Trail In Zion?
At just 1 mile roundtrip, a strong hiker could easily knock this trail out in 20 minutes. But most people in Kolob Canyon are looking for a quieter and more relaxing visit to Zion.
Plan for Timber Creek Overlook Trail to take around 1 hour with plenty of time for taking photos at the viewpoint.
It took us around 15 minutes to reach the viewpoint, we spent a good half hour soaking up those canyon views and we quickly hoofed it back to the parking lot in 10 minutes downhill.
Is It Worth Hiking Timber Creek Overlook Trail?
If you decide to visit the Kolob Canyon area of Zion National Park, you should definitely take the time to hike Timber Creek Overlook Trail.
There's not a great deal to do in order to completely fill a day in this area, unless you day hike La Verkin Trail.
Very few do take on the longest trail in Kolob Canyon, so you're more likely to do Taylor Creek Trail and Timber Creek Overlook Trail. That combination is arguably the best way to spend a day in this region.
If you're not a strong hiker, Timber Creek Overlook Trail begins right at the end of the one-way road in Kolob Canyon and offers amazing views at very little effort. We would suggest you make this hike your main goal for the day.
Looking for hiking inspiration? Check out our popular guide to the 50 best hikes in the US next!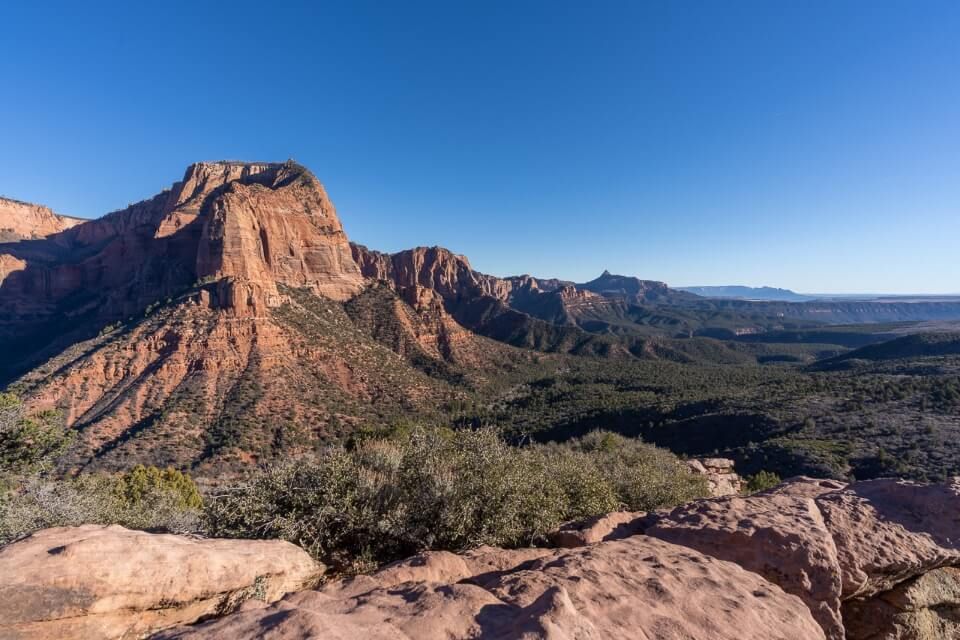 How To Get To The Timber Creek Overlook Trail In Zion National Park
Timber Creek Overlook Trail is located at the furthest point you can access by vehicle within the Kolob Canyon area of Zion National Park.
The trailhead is 5.3 miles from Kolob Canyon visitor center and will take around 10-15 minutes to drive. It is a fairly steep approach, particularly the final few hundred meters.
There are around 20 or so designated parking spots on a circular shaped dead end turnaround.
You might be able to squeeze a few extra cars along the roadside in this circle, but this lot will only fill up on weekends and holidays in peak season.
Tips For The Hike
Parking is rarely an issue but arriving early or later will help

The trail is very open and exposed so prepare accordingly on a hot day in Summer

You won't need any technical hiking gear or footwear

Timber Creek Overlook Trail is NOT dog friendly

You will be looking directly into the sun around midday
Our top tip for the Timber Creek Overlook Trail hike:
Timber Creek Overlook is located on a spit sticking out to the South with open views to the East and huge canyon walls to the West. Those three ingredients are the perfect recipe for a stunning sunset location.
Need a hand organizing your visit to Zion?

Our popular 40+ page Zion National Park Guidebook can help you with planning every aspect of your trip.
Timber Creek Overlook Trail Walkthrough
This really is a short and easy hike.
We usually go into a lot of detail with our hiking guides but we'll just cover the basics for the Timber Creek Overlook Trail.
Start At The Visitor Center
After passing through the park visitor entrance and paying $35 or displaying your America the Beautiful Annual National Parks Pass, check out the visitor center to see if all roads and trails are open.
If you plan to hike multiple trails in Kolob Canyon, you might want to start with Taylor Creek Trail or South Fork Trail, before driving up to Timber Creek Overlook Trail.
Our advice is to start with Timber Creek Overlook if you arrive early in the morning. Catch the views here in soft low light and then stop at the other hikes on the way back to the entrance.
By then the temperature will have warmed and be more comfortable for hiking. Plus, those other trails are far more shaded for hiding away on a hot Summer's day.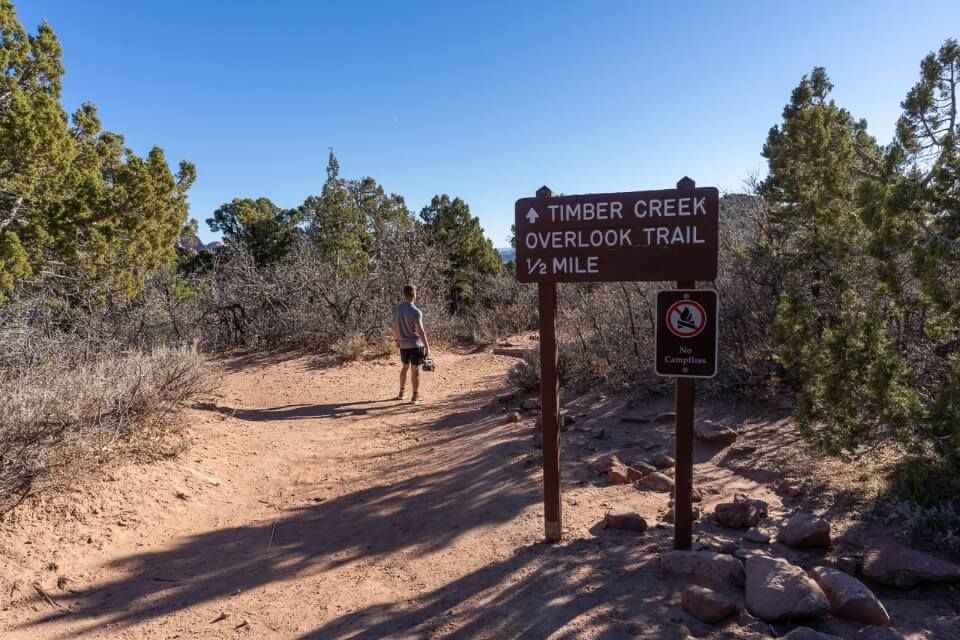 Hike To The Overlook
Find a parking spot, read all of the information boards and head over to the trail to the left side of the lot as you approach.
The trail begins by following a raised wooden path packed with dirt cutting through a lightly forested area. This soon opens up into a very flat table-like hilltop.
During Spring and early Summer you may see vibrant desert wildflowers, but you can expect the trail to be muddy if visiting after rainfall or snow in Winter.
You will now be walking on packed dirt and views to your left side will become better and better with each step toward to the overlook.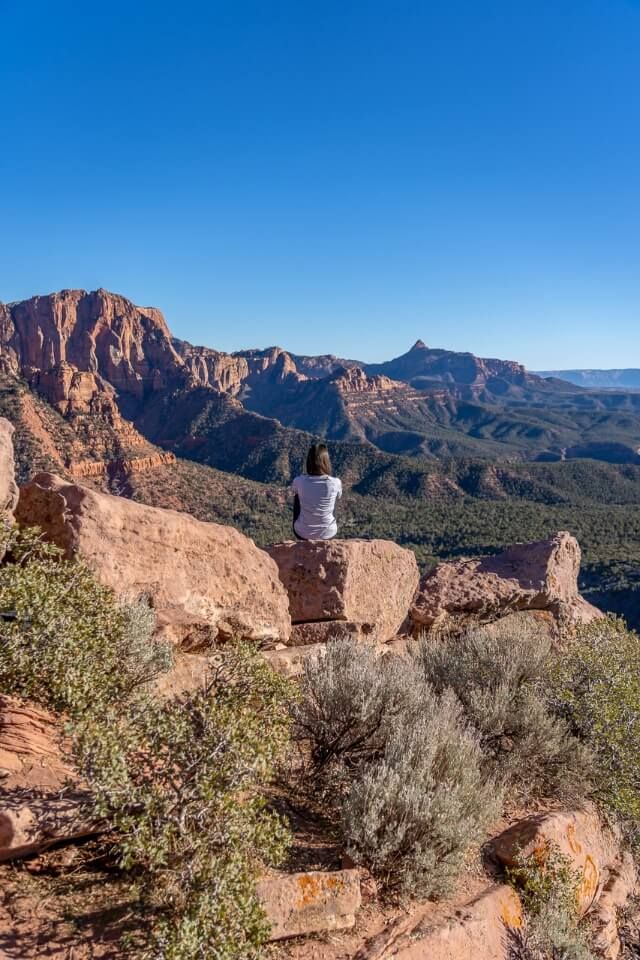 Enjoy The View
There are a handful of times on the narrow dirt path trail that you will have to look out for uneven soccer-ball sized stones or rocks.
The last section of the climb does get a little steeper but if you take your time and take breaks as needed, you'll be up in no time. Once it flattens out, you just walk along the ridge until you reach a very obvious end of trail point.
As you walk up those final few steps of the trail to sit on larger boulders at Timber Creek Overlook, you will be rewarded with spectacular unobstructed views to the West, South and East.
You are now looking over Kolob Canyon, Kolob Terrace and the Pine Valley Mountains.
Those enormous mountains to your left are comprised of ~ 8,000 ft tall peaks such as Shuntavi Butte, Timber Top Mountain and Nagunt Mesa.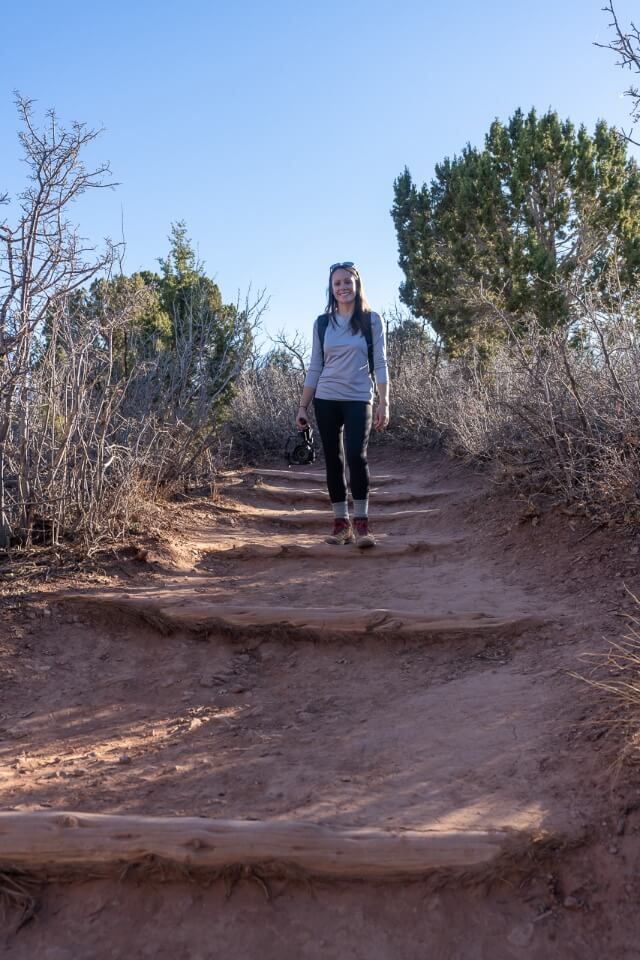 Short Hike Back
Down below cutting through the valley is La Verkin Creek Trail, you might even see tiny ant-sized hikers on the trail. That's a strenuous hike and only for strong hikers.
Once you've taken in the views, maybe grabbed a little breakfast or lunch, heck maybe even a glass of wine, it's time to hike back down Timber Creek Overlook Trail and jump in the car.
The return leg will be so quick you will barely notice the time. It's lightly downhill all the way back to the parking lot.
Always check live and current hiking trail information at Zion before planning your hike.
Trails are renowned for closing at short notice throughout the year and it would be a shame to drive all the way up there if the hike is closed!
Pros To Hiking Timber Creek Trail
Very easy hike with easy access
Stellar Zion views from the viewpoint
Suitable for almost all visitors to Zion
Very quiet compared to the main canyon
Cons To Hiking Timber Creek Trail
Not a challenging or adventurous Zion trail
Kolob Canyon is a bit out the way
Out and back means seeing the same things twice
Open and exposed to the elements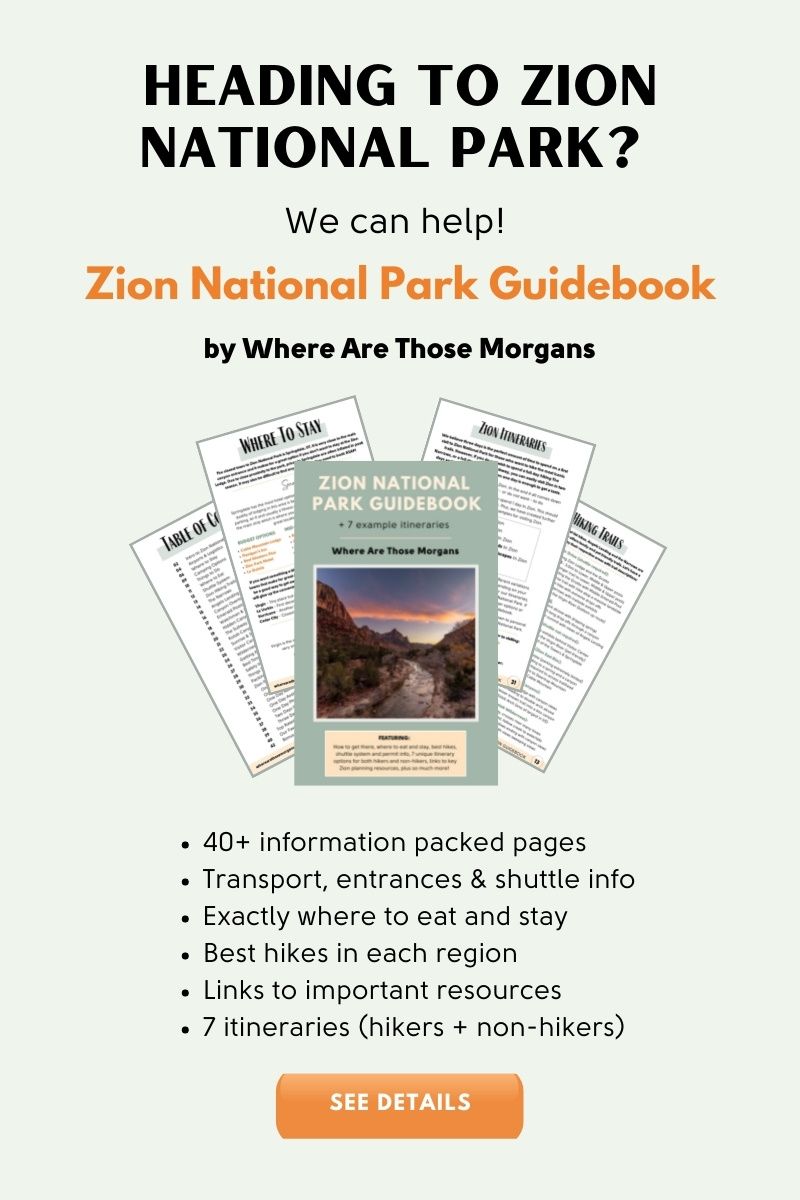 Our Popular Zion National Park Guides
More Zion Hiking Guides
Want more Utah content? Head over to our Utah Travel Guides to explore the Mighty Five National Parks and beyond.
---
We hope this guide to hiking The Timber Creek Overlook Trail helps with planning your visit to Zion National Park!
Please let us know if you have any questions about this hike, Zion National Park or your visit to Utah in the comments below.
Happy Hiking,
Mark and Kristen
Enjoy This Guide? Pin It For Your Hike!