San Francisco is a beautiful city bursting at the seams with incredible things to do for first time visitors, but with so much on offer, how do you choose what to do and what to cut from your travel itinerary?
When planning our first extensive USA road trip itinerary, San Francisco was the one city marker on the map consistently giving us pangs of excitement.
The problem with high expectations is setting yourself up for disappointment, right?
Not in San Francisco. Here, anticlimaxes don't exist.
Three days is the perfect timeframe on a first time visit to 'Fog City' for those looking to hit the major tourist highlights.
You won't be able to see everything … but then you have the perfect excuse to visit again.
Let's get planning your perfect San Francisco itinerary!
*Please note this post may contain affiliate links. If you click on one, we may earn a small commission at no extra cost to you!*
What Can You Expect From This Guide?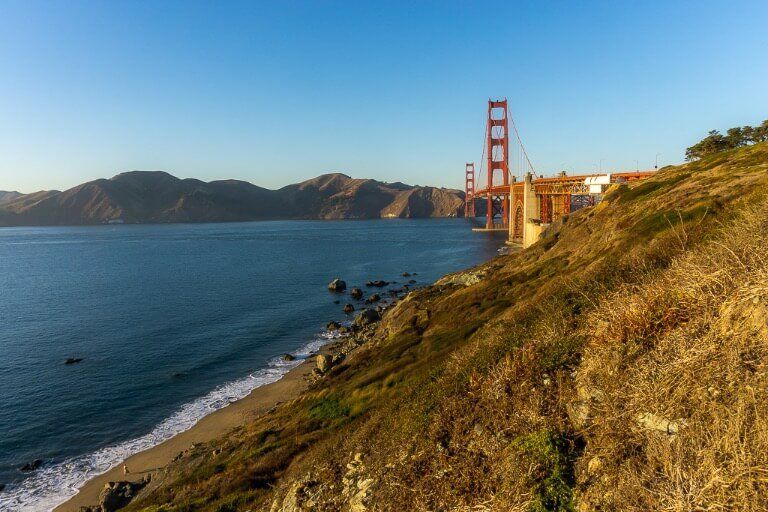 We know from first hand experience what you can't miss on your first visit to San Francisco and what you can leave for next time.
San Francisco is among the most popular USA vacation spots and our goal is to help you make the most of your time in this awesome city.
We're going to show you 15 of the best things to do on your first trip to San Francisco and how you can efficiently fit them all into 3 amazing days.
You will find restaurant recommendations, hotel recommendations and of course a complete 3 day walkthrough hitting the top city highlights.
Are you planning to drive the Pacific Coast Highway? Don't miss our popular guide on the 23 best places to visit on the drive from San Francisco to San Diego along Highway 1.
San Francisco Factfile
City: San Francisco
State: California

Nicknames: Fog City, Golden Gate City, The City, SF, San Fran, Frisco

Population: 4.7 million (metropolitan) / 881,549 (city)
Locals Known As: San Franciscans

Famous For: Golden Gate Bridge, Alcatraz, Silicon Valley, Fog, Steep Hills, Cable Car
Body of Water: Pacific Ocean

Annual visitors: 26 million
How To Get To San Francisco
Let's take a quick look at transport and logistics for getting into and around San Francisco.
Flights To San Francisco
San Francisco International Airport (SFO) is a major tourist hub on the West coast. You will have no trouble finding multiple flight time options per day domestically in the US.
Read our 15 travel savvy tips on saving money when booking flights.

Almost all major International airports around the world will fly to SFO. Airport information.

Don't forget Oakland International Airport (OAK) is the perfect alternative airport if flights to San Francisco International don't work for time or value.

You can use the Bay Area Rapid Transit (BART) to get right into Union Square from both SFO and OAK.
Search for flights with Skyscanner to get the best value and flight options. For the budget conscious – it could be cheaper with a change of airport on the way, Skyscanner will list your options.
Hire a vehicle with Rental Cars for best value. Do you need a 4WD or is a smaller car ok? SFO and OAK have plenty of hire cars available.

For cheapest prices, search by month and be flexible with your travel dates.
Driving To San

Francisco
Los Angeles to San Francisco
Driving California Highway 1 is an amazing experience and is easily one of the most popular road trip routes in America.
Take at least 3 days to explore the best things to do on the central coast of California, including Santa Barbara, Solvang, Big Sur, Carmel-by-the-sea and Monterey.
If you don't have time to stop, the drive up CA-1/US-101 will take around 8 hours, but you can shorten the time to 6 hours by taking I-5.
San Diego to San Francisco
Spend a few days stopping along the coast if possible. Popular stops between San Diego and LA include Carlsbad / Oceanside, Dana Point, Laguna Beach and Newport Beach.
However, your quickest route is I-5 with a drive time of around 8 hours.
Other Notable Driving Distances
Getting Around in San

Francisco
If exploring new cities by foot is your preference, you will be happy to know San Francisco is an extremely walkable city. You won't need to do legs day at the gym once those hills are done with you!
Most of the popular tourist hotspots can be walked in SF. However, be aware there are a few areas you might need to take an Uber or Lyft to reach, such as Golden Gate Bridge and Twin Peaks.
If you prefer to take public transport, you can choose between a light rail Metro, trolley coaches or iconic (but touristy) cable cars. More information on SF public transport.
Do you have your own car for your San Francisco itinerary?
Make sure your GPS is up to date! It is not easy to drive around the city, especially if you're not familiar with the roads. Your best bet could be to park at the hotel garage and leave it for the duration of your stay.
15 Amazing Things To Do On Your San Francisco Itinerary
One of San Francisco's greatest assets as a tourist destination is the diversity of its attractions. There are so many fantastic things to do in SF to keep every type of traveler happy.
The key to an efficient first visit is to know what you can't miss and what you can leave until your next trip.
Below you will find what we would consider the must visit attractions on a first visit to San Francisco. Yes, they are mostly touristy but isn't that how first visits go?!
1. Shop At Union Square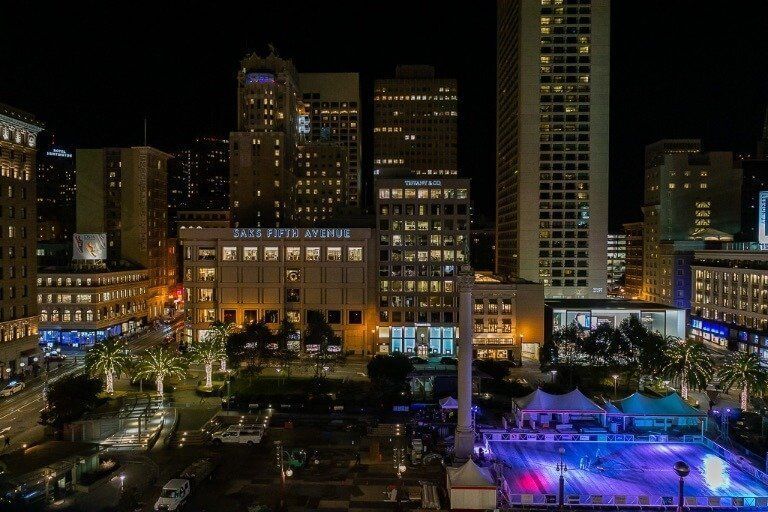 What Is Union Square?
Union Square is the central hotel, theater and shopping district in which most first time visitors to San Francisco will book accommodation. Popular districts such as Chinatown and Embarcadero are within walking distance of Union Square.
Why Visit Union Square?
If you're staying in Union Square you will find countless shops, restaurants, bars and theaters locally. For those who decide to set up base in another part of town, visit Union Square for the biggest and best department stores, art galleries and boutique outlets.
Cable Car runs along

Powell Street (hop on at Post or Geary)
2. Explore Touristy Fisherman's Wharf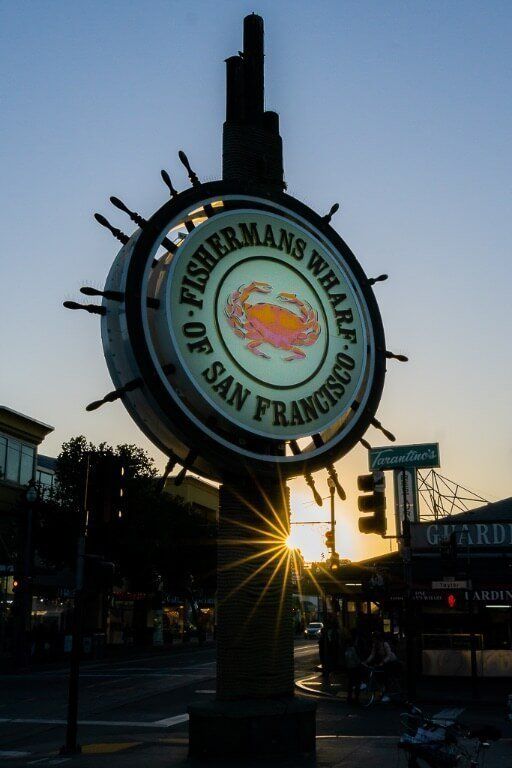 What Is Fisherman's Wharf?
Fisherman's Wharf is an ultra touristy district on San Francisco's northern waterfront. Stretching roughly one mile, Fisherman's Wharf encompasses the famous PIER 39, Ghirardelli Square, a colony of sea lions and the typical tourist traps you find in the big city.
Why Visit Fisherman's Wharf?
Although uber touristy, there are stacks of things to do in Fisherman's Wharf, particularly for the kids. Shopping, aquatic park, bike rental, a ton of snack kiosks and restaurants will keep you busy.
Let's take a look at some of the better (less gimmicky!) things to do in Fisherman's Wharf.
3. Watch and Listen to the Playful Sea Lions at Pier 39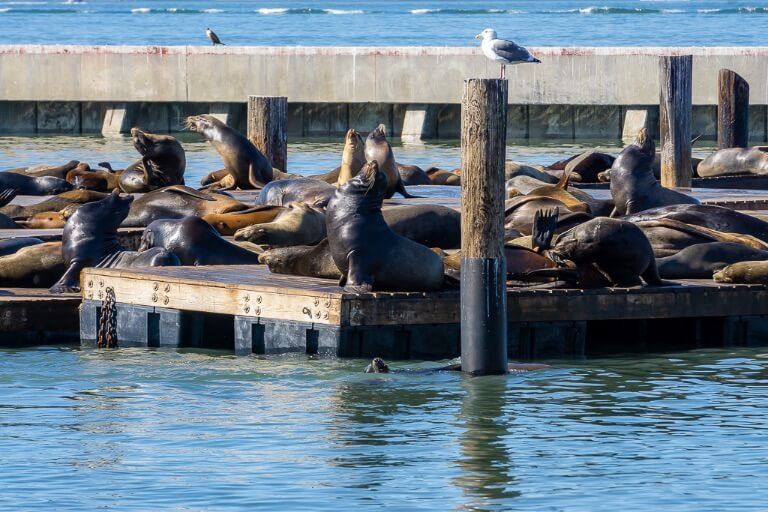 San Francisco's colony of barking sea lions have become so popular, they feature on every first visitor's itinerary. California's sea lions are among the world's most vocal of all mammals, so it's like listening to a marine life orchestra.
You will find dozens of sea lions basking, hauling out, play fighting and sleeping on the docks around Pier 39.
4. Satiate your Sweet Tooth at Ghirardelli Square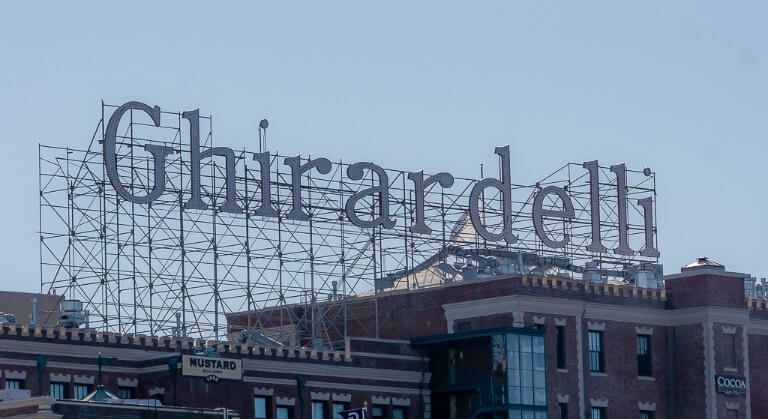 Featuring repurposed 19th century brick buildings, a clear view of Alcatraz Island and Ghirardelli's chocolate in abundance, this square is not to be missed on your San Francisco itinerary.
The quaint and charming square with shops and restaurants surrounds a mermaid fountain focal point.
Italian Domenico Ghirardelli landed in SF via Peru in 1849 and opened his chocolate company in 1952. It remains the oldest operating chocolate producer in the US.
Ghirardelli Square is significantly less busy than Pier 39 at the opposite end of Fisherman's Wharf.
5. Eat Your Body Weight In Delicious Sourdough Bread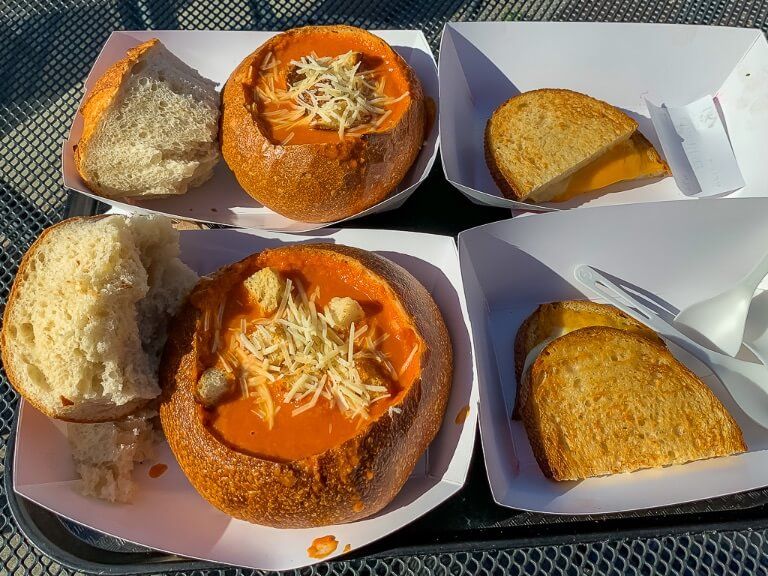 San Francisco is regarded as the best place in the US for eating amazing bread, thanks to French influence dating back to the Gold Rush era.
Natural yeasts and bacteria found in the SF air are used for fermentation of dough which creates the sourdough taste and texture.
With many fantastic bakers in the city, it is difficult to know where to find the best bread but in Fisherman's Wharf there can be only one winner.
Boudin is the original creator and oldest of all San Francisco sourdough bakers. A popular lunch time special is soup eaten out of a round bread roll, with tomato and clam chowder the best sellers.
You can even buy holiday season bread sculptures!
6. Walk (or Drive) Down Lombard Street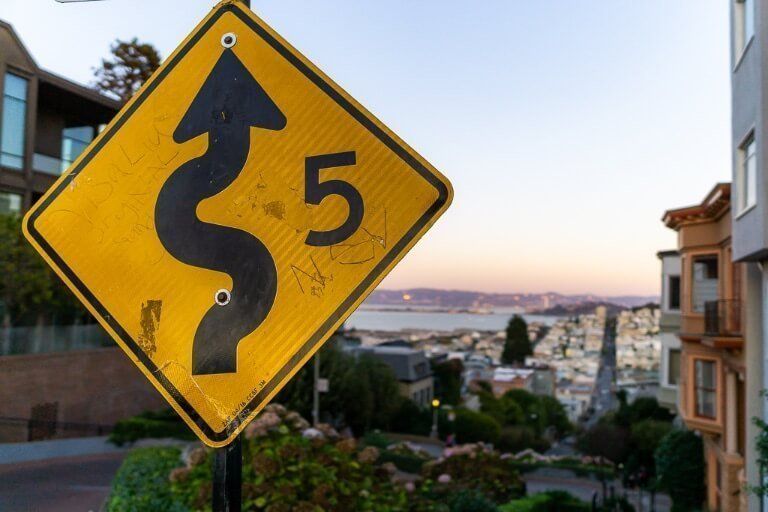 What Is Lombard Street?
Lombard Street is a San Francisco landmark famous for its one block downhill section of road containing 8 hairpin bends. In between bends are beautifully manicured gardens which adds to the aura.
With a tagline of 'the crookedest street in the world' and the fact it looks exactly like a long slithering snake from above, there's no wonder this street can receive upwards of 15,000 visitors a day at weekends!
Why Visit Lombard Street?
Over 2 million excitable tourists drive down Lombard Street's meandering cobbled stones each year. If you have a vehicle for your visit, you can't miss this iconic SF landmark. Just don't expect the fun to last long!
Without a car, expect the top to be a hive of selfie activity thanks to its picturesque view of Coit Tower in the distance.
Note: Watch your speed, there's a strict 5mph limit enforced as you take on the hairpins.
7. Educate Yourself At San Francisco's Exploratorium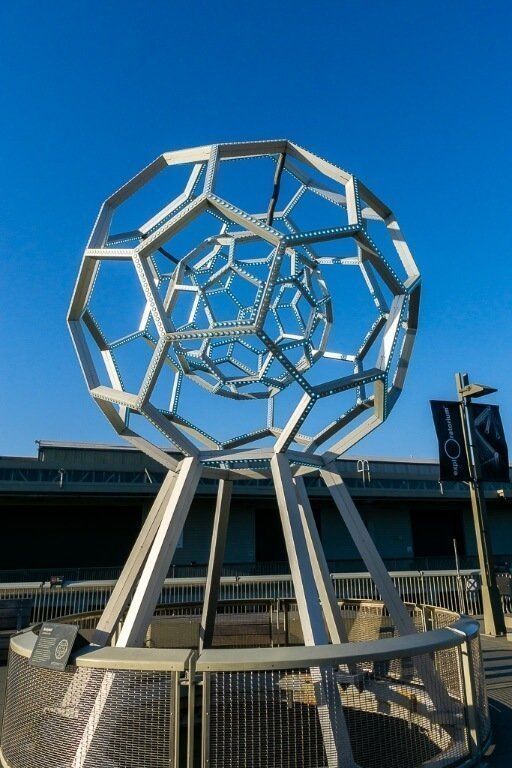 What Is The Exploratorium?
The Exploratorium is a museum of science, technology and arts. It is located on Piers 15 and 17 along San Francisco's Embarcadero.
Founded by physicist Frank Oppenheimer – who worked on the Manhattan Project to produce the world's first nuclear weapon – the exploratorium is a learning center with over 650 hands on exhibits including 'human behavior, seeing and listening, living systems and tinkering'.
Why Visit The Exploratorium?
You can step inside a tornado, cross a fog bridge, turn upside down in a gigantic mirror and check your body heat in a thermal imaging camera.
This is a perfect one for families thanks to interactive learning exhibits suitable for all ages. Basically what that means is adults can use their kids as an excuse to play with cool stuff!
Opening Hours: 10.00am – 5.00pm
Tickets: US$ 29.95 adult
Cable Car Drumm & Market
8. Check Out Ferry Building Marketplace
What Is The Ferry Building Marketplace?
Built in 1898 and also located on San Francisco's Embarcadero, the Ferry Building is a terminal for Bay crossing ferries, a shopping center, an artisan culinary hotspot and a historic landmark.
Adjacent to the Ferry Building is a quality farmers market where local vendors sell fresh vegetables and produce to many of San Francisco's top chefs.
Why Visit The Ferry Building Marketplace?
This popular hub for foodies is also a beautiful historic building featuring a 75 meter clock tower. You can dine out at a tranquil Bayfront artisan restaurant with Oakland bridge views.
Farmers market hours are Tuesday, Thursday 10am-2pm and Saturday 8am-2pm
9. Get Lost In Chinatown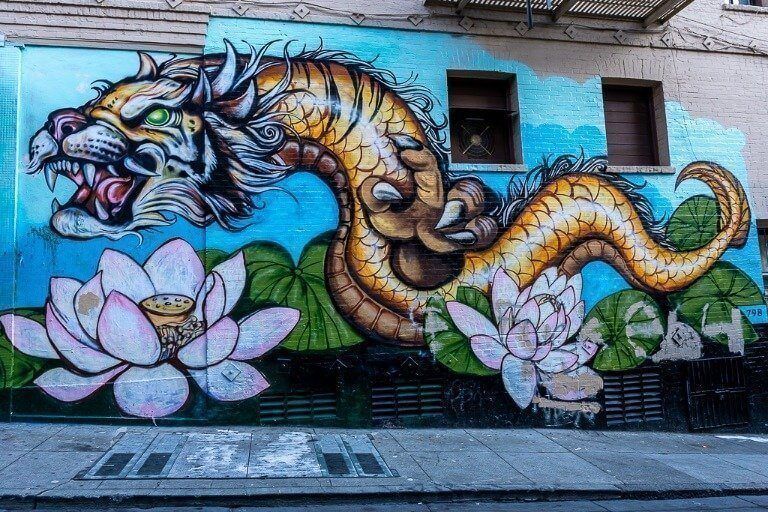 What Is Chinatown?
Established in 1848, San Francisco's Chinatown has developed into the largest Chinese enclave outside of Asia.
The district consists over 20 blocks of bustling maze-like streets, dim sum restaurants, market places, colorful adornments and karaoke bars.
Why Visit Is Chinatown?
Chinatown is one of the most walkable neighborhoods in San Francisco as you pass through colorful alleyways adorned with street art and vibrant marketplaces.
Chinatown's famous gate at Bush & Grant marks the beginning of the main thoroughfare of rich Chinese culture in SF.
China Live is one of the more popular eateries in Chinatown
Cable car California & Stockton
10. 360 Degree View From Coit Tower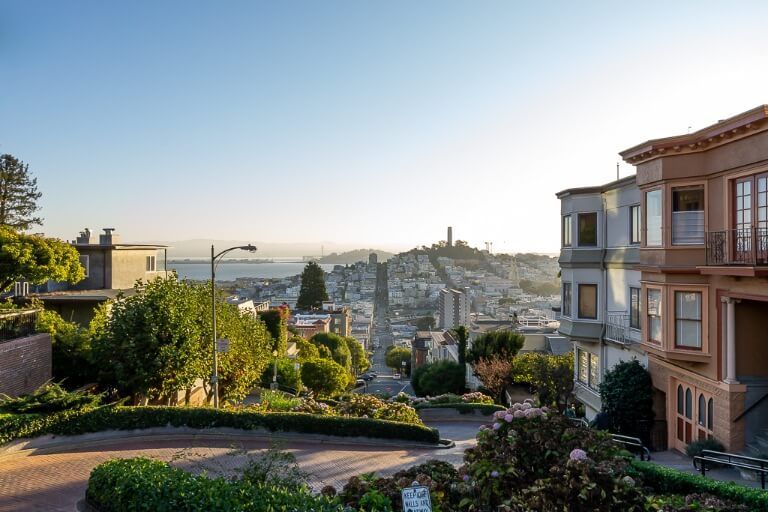 What Is Coit Tower?
Almost a hundred years ago San Francisco was in need of a panoramic viewing point to look out over the bay. In 1932, Telegraph Hill was selected as the perfect place to build Coit Tower to serve that exact purpose.
This 64 meter tall reinforced concrete tower contains fresco murals and is dedicated to all of San Francisco's fallen firemen from its 5 great fires.
Why Visit Coit Tower?
Climb the tower for some of the best 360 degree views in San Francisco. It's free to walk around the lower level which contains colorful murals of industrialization. However, there is a fee to take an elevator to the lookout platform.
Opening Hours: 10am – 5pm
Tickets: US$ 9
11. Ride The Iconic

San Francisco

Cable Car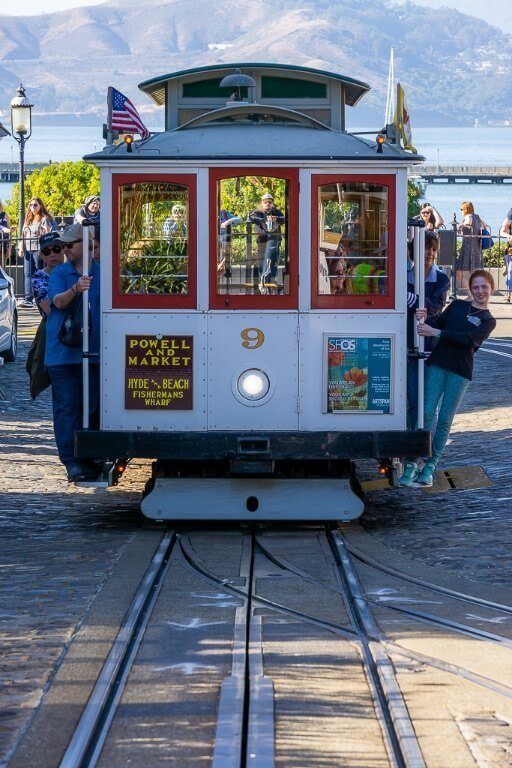 What Is The SF Cable Car?
San Francisco's symbolic cable car system was built in 1873 and today it is the last manually operated cable car system in the world. With a top speed of 9.5mph, you're not going to get anywhere fast, but that's not why you take a ride on SF's most treasured method of transport.
Only 3 lines remain (59, 60, 61) and you can easily queue over an hour if you time it wrong, thanks to 7 million annual tourists who simply can't forgo a ride this famous cable car.
Why Ride The SF Cable Car?
How could you miss a ride on San Francisco's cable car?!
If nothing else, it saves you walking up MORE hills as you explore the city! The cable car carries over 20,000 people per day from Union Square to Fisherman's Wharf.
Opening Hours: Everyday 6.30am – 12.00am
Tickets: US$ 8 adult
12. For a Complete City View Head to Twin Peaks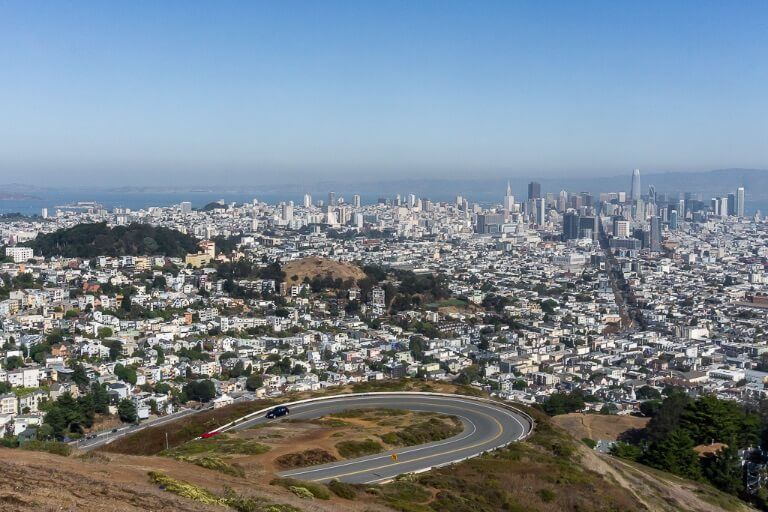 What Is Twin Peaks?
Twin Peaks is a hugely popular tourist and locals spot to take in 360 views of San Francisco. These two hills rising almost 1000 feet above the city house San Francisco's communications, radio and tv towers.
Parking can be a problem but once you do find a spot, there are steps to the top of each peak (take the one to the South for best views).
Why Visit Twin Peaks?
Twin Peaks is one of the best free things you can do in SF. From the summit you can see much more than just the Bay Area – including Golden Gate Park, the Pacific Ocean, Oakland and the entirety of downtown SF. On a clear day you will even see distant mountains.
Try to arrive early for fewer crowds but research weather in advance. Don't bother up here if fog is forecast!
Car, public transport or Uber / Lyft required.
13. Snap a Photograph of the Painted Ladies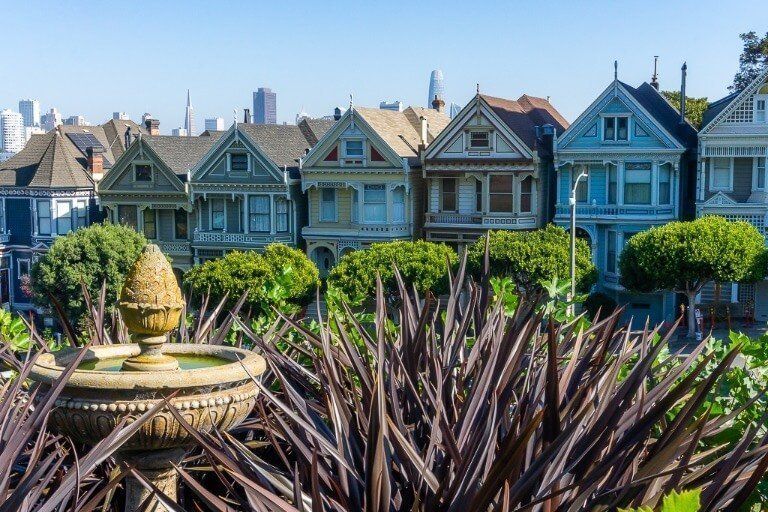 What Are The Painted Ladies?
San Francisco's painted ladies are houses of Victorian and Edwardian origin but with a twist. Following WW1 and WW2 many houses were painted battleship grey but in the 1960's residents began painting their houses multiple colors to enhance structural details.
This became known as the colorist movement and these houses have been featured in various forms among popular American culture outlets, most famously the tv show Full House. The houses from Full House are located opposite Alamo Park and today they are the go to houses for painted ladies selfies in SF!
Why Visit The Painted Ladies?
Alamo Park is a small and busy green park filled with tourists snapping endless selfies with the painted ladies but is does have a strangely relaxing atmosphere.
If you're from America, how could you miss the houses from the opening credits of Full House on your San Francisco itinerary?!
At 2 miles Southwest from Union Square, it might be worth taking an Uber / Lyft if you don't have a vehicle. This is roughly half way to Twin Peaks and it makes sense to do both at once.
14. Tour Infamous Alcatraz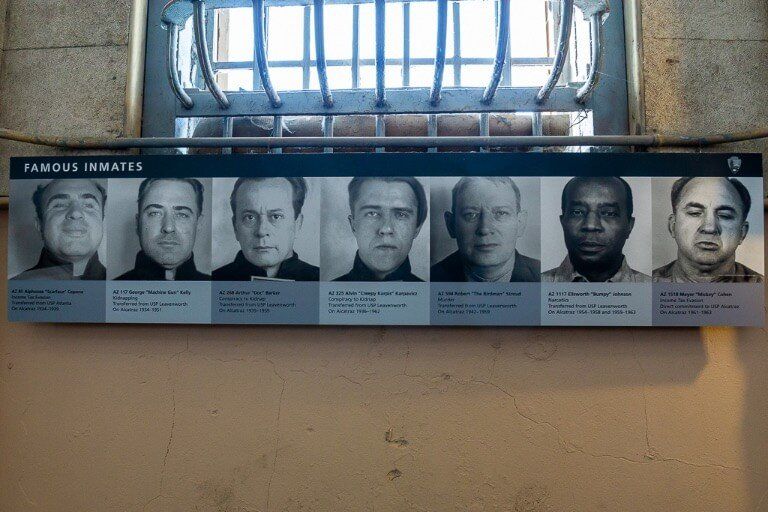 What Is Alcatraz?
The notorious prison on Alcatraz Island needs no introduction! It sits isolated out in San Francisco Bay and relentlessly draws your attention when walking around the city. There's a creepily inescapable, mysterious and unnerving feeling every time you lay eyes upon it.
Today it is a museum and we have to admit the National Park Recreation Service have done a stellar job. Alcatraz museum is definitely worth visiting.
It goes without saying that Alcatraz is the most popular paid thing to do in SF but you can choose between Day Tour, Behind the Scenes Tour, Night Tour and Package Tour including Angel Island.
Why Visit Alcatraz?
If you're going to pay for only one thing in SF, make sure it is the ferry and entrance ticket to Alcatraz. Take the ferry from Pier 33, 15 minutes later you have an introduction and will learn about which featured talks are running for that particular day.
Don't miss the prison cell opening / closing talk and you're in for a treat if the escape attempts talk is scheduled. The audio tour is put together excellently and covers everything you've ever wanted to know about Alcatraz.
Just try not to spend too much time attempting to locate the positions of the VX poison gas from 'The Rock'!
Departures: Normally 15 between 8.45am – 3.50pm (Day Tour) / 11am – 3pm hourly (COVID)
Tickets: From US$ 40 Adult
15. Marvel at the World Famous Golden Gate Bridge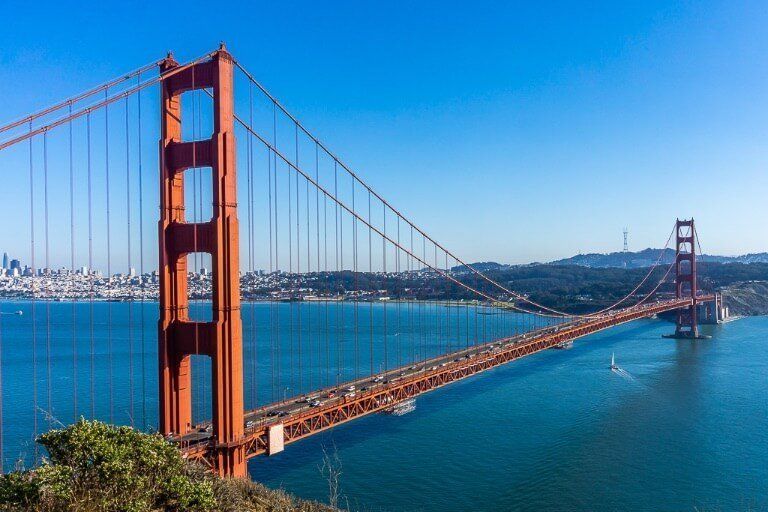 What Is The Golden Gate Bridge?
What can we tell you about the Golden Gate Bridge that you don't already know?! It is magnificent, alluring, iconic, symbolic and the only real unmissable part of your San Francisco itinerary.
If you want to discover the best view points and photography locations, plus learn some fun facts and history of the bridge, you'll definitely want to read our 5 Best Golden Gate Bridge Viewpoints article before you visit!
Why Visit The Golden Gate Bridge?
Grab your camera and spend a whole morning or late afternoon into evening admiring the world famous bridge crossing Golden Gate Straight.
Yes it is just a bridge but they don't come any more photogenic than this one.
It can be a bit of a pain to get to the bridge, either walk a few miles, take an Uber / Lyft or drive to Vista View parking lot.
Another great way to see the bridge is by sailing underneath it as part of this popular Golden Gate Bay Cruise, which also passes by Alcatraz.
Best Photography Locations In San Francisco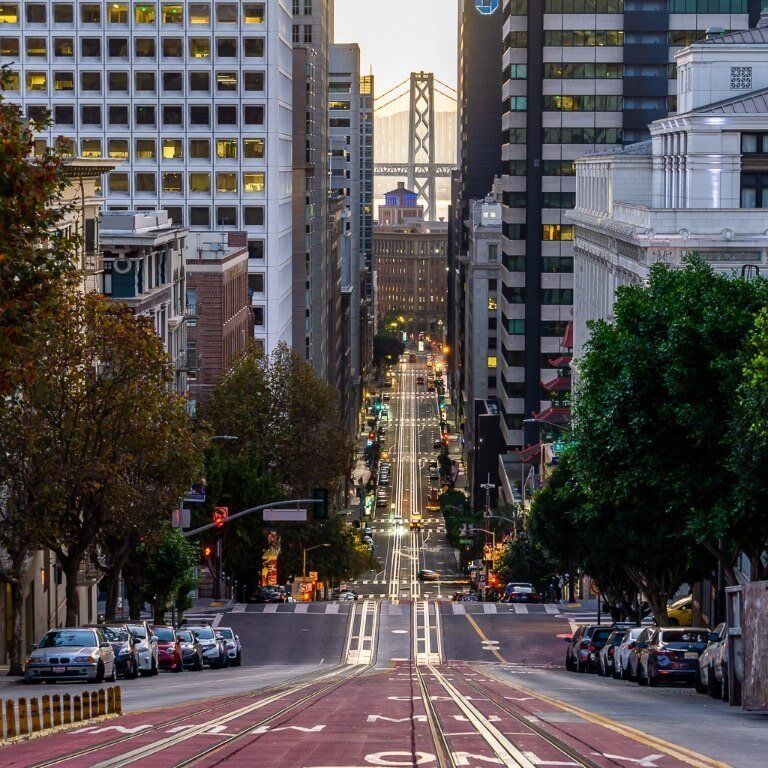 San Francisco is a photographers playground but it can be difficult to know exactly where to put yourself to get the best possible images.
Here's a quick list of the best spots to shoot some of the most awesome photographs in the city:
Golden Gate Bridge – Battery Spencer, Vista View, East Battery, Presidio Battery and on the Bridge.
Iconic Cable Car Image – You need to position yourself at the top of a hill where a cable car runs round a bend and down that hill. Try California and Powell just after sunrise and you can get the Oakland bridge in the distance.
Oakland Bridge – No better place than the ferry building at Pier 1 or Exploratorium along Embarcadero.
Alcatraz – Anywhere along Fisherman's Wharf but also any of the roads running uphill away from Alcatraz such as Leavenworth and Hyde Street (as long as you have a telephoto lens).
Palace of Fine Arts –

A very picturesque columned theater with a reflection in a large pond can be found between Fisherman's Wharf and the Golden Gate Bridge.
3 Days in San Francisco Itinerary
Okay, you know the best things San Francisco has on offer for first time visitors and you can begin to formulate a rough itinerary.
But to give you a helping hand, below you will find an example of how to best spend your first 3 days in San Francisco.
These days can easily be changed around to suit weather conditions, vehicle access and your interests.
You could decide to forgo the touristy attractions entirely and spend time exploring gentrified Mission District and vibrant The Castro neighborhoods. We'd suggest saving those for your second visit but it depends on your travel style.
Let's assume you book a hotel in Union Square for this example San Francisco itinerary (more on hotels later). At the end of each day you will find recommended places to eat breakfast, lunch and dinner.
Day 1 – Cable Car, Lombard Street, Fisherman's Wharf, Union Square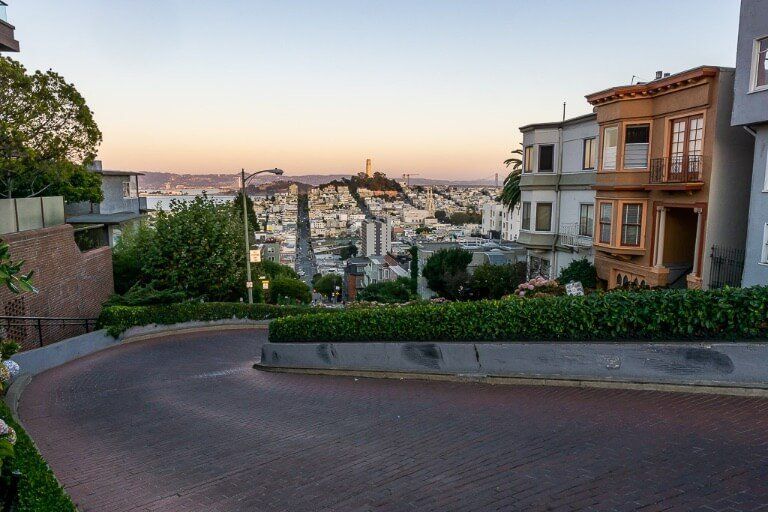 Cable Car & Lombard Street
Start your first day off with a hearty breakfast at Taylor Street Coffee Shop on Taylor & O'Farrell.

Walk to Powell & Post and hop on one of San Francisco's famous cable cars.

Ride the cable car almost the entire way to Hyde & Beach but get off a few stops before at Hyde & Lombard.

Looking down Lombard street you can see Coit Tower in the distance on a small summit. You'll be going up the tower tomorrow!

Snap some photos of Lombard street and take your time walking down to enjoy gorgeous gardens displayed by local residents.

Walk the few blocks down Leavenworth towards Alcatraz Island which can be seen clearly out in the bay.
Fisherman's Wharf
Continue until you reach the bay front and head East on Jefferson.

Take things slowly, grab a fresh crab sandwich at one of many food trucks and keep walking until you reach Pier 39.

Spend some time walking around Pier 39, inside boutique stores and don't miss the Sea Lions!

Grab lunch at Boudin sourdough bread bakery (or see alternate recommendations below) and walk back along the harbor until you reach Ghirardelli Square.

Walk around the numerous chocolate shops before hopping back on a cable car at Hyde & Beach.
Union Square
Take the cable car all the way back to Union Square, getting off at Powell & Geary.

It's time to indulge in some San Francisco shopping! Spend the rest of the late afternoon and early evening weaving around the high end shopping streets of Union Square district.

Even if you don't go inside any shops, this is the best way to orientate yourself with SF's commercial center and you need to explore this area to feel like you've seen the city.

Head back to your hotel to change before choosing a place for dinner to suit your budget (see options below).

You won't struggle to find bars and clubs around Union Square if you're into the nightlife scene. For a classier evening after dinner, sip a cocktail at Cityscape Rooftop Bar (opposite Taylor's breakfast place).
Where To Eat on Day 1
Day 2 – Embarcadero, Alcatraz, Coit Tower, Chinatown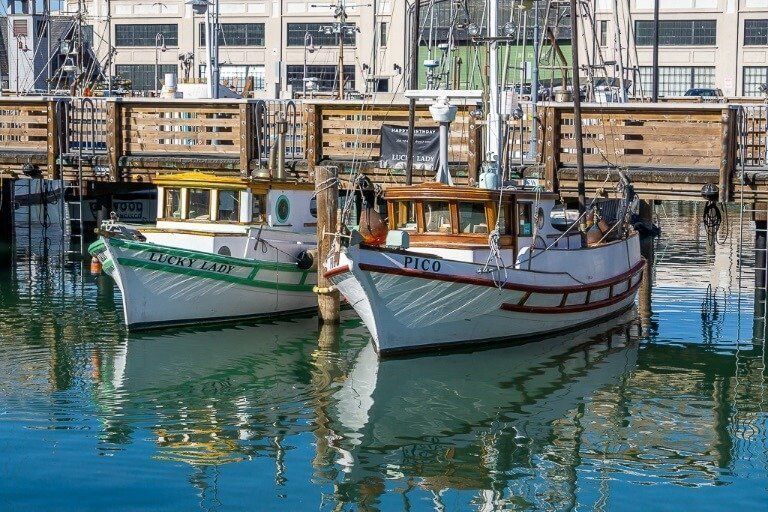 Embarcadero
Today involves a fair bit of walking but it's definitely the best way to see the city.

Walk from Union Square to Market Street and follow this road all the way to Ferry Building at Pier 1.

Wait until you get to Ferry Building for plenty of breakfast options, our recommendation is Blue Bottle Coffee.

Walk around the historic landmark both inside and outside. Check out the farmers market if you are there on a Tuesday, Thursday or Saturday.

Head North up Embarcadero (away from Oakland Bridge) until you reach the Exploratorium. Spend the rest of your morning learning through interactive exhibits.

Continue up Embarcadero towards Pier 33 and Alcatraz departure. If you want to eat before setting sail, try Hillstone opposite Pier 33.
Alcatraz
One of the biggest highlights on your San Francisco itinerary will be touring Alcatraz Island prison.

Pre-book this tour before you visit to avoid disappointment on the day. You will join a line at your designated time slot and expect to spend 2-3 hours before returning to Pier 33.

Be sure to check out the special programs on your day of visit. Pick up your audio headset and enjoy the awesome tour of Alcatraz!
Coit Tower
Once you're safely back ashore, walk to Coit Tower via the Filbert Street Stairs.

It should be late afternoon by now and slightly less busy than around midday. Admire murals depicting the Industrialization period before taking the elevator up to the viewing platform.

You will be able to see all around San Francisco Bay on a clear day or if you strike it lucky with dense fog, you'll have prime time elevated views over the Golden Gate Bridge. Don't forget your camera and telephoto lens!
Chinatown
Walk from Coit Tower to Chinatown to explore the largest Chinese enclave outside of Asia.

The labyrinthine streets of Chinatown are adorned with colorful lanterns and artwork.

When you get hungry, choose between China Live and Mr. Jiu's for dinner.

After dinner it's just a few blocks back down to Union Square but be sure to stop off at Dragon's Gate.
Where To Eat on Day 2
Breakfast at Ferry Building: Blue Bottle Coffee.
Lunch near Alcatraz Pier 33: Hillstone (American).
Dinner in Chinatown: China Live or Mr. Jiu's.
Day 3 – Golden Gate Bridge, Painted Ladies, Twin Peaks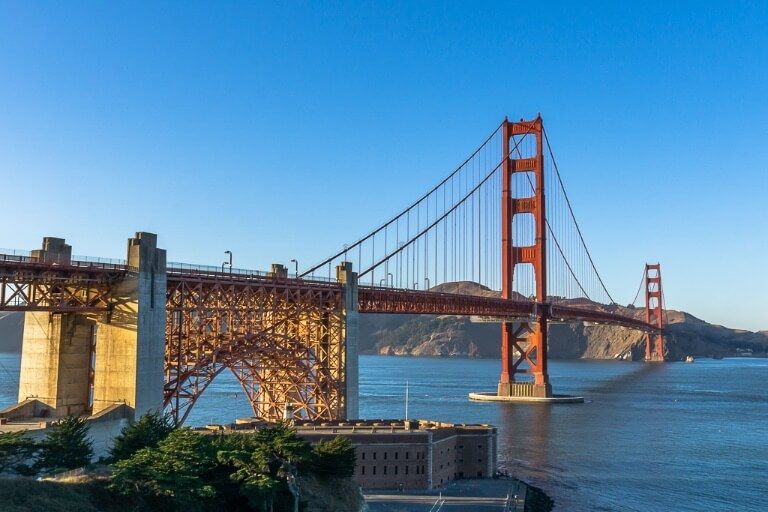 Golden Gate Bridge
Begin this day early, we're talking before sunrise. Leave your hotel and walk up Powell until you reach California.

Looking down California, you have cable car tracks in the center of the road as a foreground, huge city towers in the middle ground and the Oakland bridge as your background. Remember you are facing East so the sun will rise behind the bridge and illuminate it perfectly. The sun itself will be hidden behind tall buildings.

Now, you can walk the entire way to the Golden Gate Bridge (passing Palace of Fine Arts for an awesome photograph) but it will take around 1 hour 30 minutes. It's easier to jump in a Lyft or Uber at this point and get out at East Battery.

This is the best place to be early morning as the sun will light up the East side of the bridge.

Walk over the bridge to Vista View and Battery Spencer, before crossing back on the opposite side of the bridge and walking to Battery West (Presidio).

If you're doing well for time, scramble down the cliff path to Marshall's Beach for an amazing view of the bridge.
*Alternatively, drive your car to Vista View at the far side of Golden Gate Bridge, walk up to Battery Spencer, then across the bridge to East and West Battery before returning across the bridge.
Painted Ladies
After walking across the bridge twice, you're going to need to take a Lyft or Uber to the Painted Ladies, unless of course you are driving your own vehicle.

There are parking spots around Alamo Park but they are few and far between. You may have to circle a few times and wait for one to open up.

If the morning's hard work has developed an appetite, walk one block West to Divisadero street where you will find a dozen fantastic eateries from Pizza and American to Sushi and Mexican.

Spending an hour or so on Alamo Park relaxing in the chilled vibes and photographing the famous houses

This is a great place to people watch. See who has the best insta-game!
Twin Peaks
Jump back in the car and drive or order another Uber / Grab to Twin Peaks. It's just a few miles but you'll have already put a lot of steps on your smartwatch this morning.

The 360 panoramic view from Twin Peaks is excellent and in late afternoon it should be less busy.

Don't forget you can walk up steps to the peak summits for even better sweeping views.

Consider staying for sunset or head back to Union Square when you've seen enough.

If you have onward travel today you should still have enough time to get on the road before it gets too late. For example, Monterrey is just a 2 hour drive from Twin Peaks.
Note: You'll either have to drive around SF or spend a bit on Grab/Uber for this day. Both have their pros and cons, you'll need to decide which one is the lesser of two evils!
Of course, if you do have onward travel, it makes sense to check out of your hotel and drive this entire day before leaving SF after Twin Peaks.
Where To Eat on Day 3
Breakfast on way to Powell & California: Lori's Diner or Beanstalk Cafe.
Lunch near Alamo Park & Painted Ladies: Any of a dozen along Divisadero Street.
Dinner: Either back in Union Square or wherever your next destination is if you traveled onwards.
2 Days in San Francisco Itinerary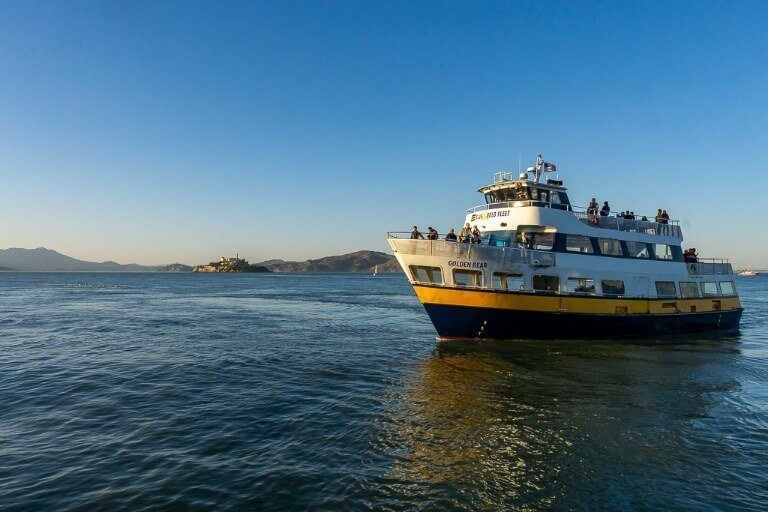 You can easily adapt the above itinerary into 2 days without missing too much of the action in San Francisco.
Our 3 day example above is aimed at a slow and relaxing pace but you could simply quicken the pace. Here are a two ways you can easily merge 3 days of attractions into 2 days:
Option

1

– Merge days 1 and 2 in the above itinerary, for example Embarcadero – Alcatraz – Fisherman's Wharf – Lombard Street – Chinatown – Union Street. Potentially skip Exploratorium or Coit Tower to save time.

Option

2

– Skip Painted Ladies and Twin Peaks on Day 3, which leaves the Golden Gate Bridge to add to either Day 1 or Day 2 as listed above. Sunset and nighttime are also fantastic times to see the bridge.
One Day San Francisco Itinerary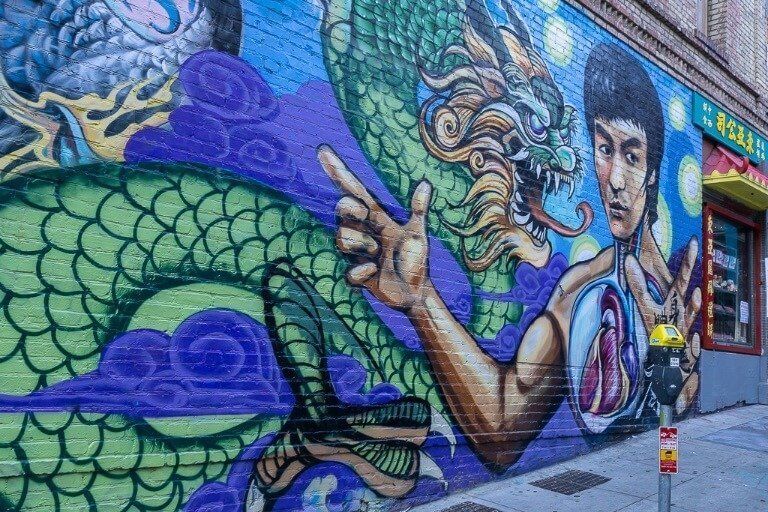 One day in San Francisco is not going to allow you to plan the perfect itinerary. You're going to have to compromise and leave a couple areas out.
Here are two efficient ways to hit San Francisco's major highlights in one day:
Option

1

– Head straight to Golden Gate Bridge but stay on the South side stopping at Battery West (Presidio) and East Battery. Drive/Grab/Uber to Pier 33 for the Alcatraz tour before exploring Chinatown and Union Square.

Option

2

– Walk along Embarcadero to Pier 33 for Alcatraz, continue through Fisherman's Wharf and all the way to Golden Gate Bridge.
Basically work out a plan of action that involves both Alcatraz and the Golden Gate Bridge!
Where To Stay In San Francisco
With over 26 million tourists visiting San Francisco in 2019, as you can imagine, there is no shortage of hotel rooms.
For first time visitors, we recommend booking a hotel in or around Union Square / Nob Hill.
Yes, we know it is touristy and there's not a huge amount of soul like the trendy hip louder neighborhoods to the South but it is central and the best base to hit the major tourist attractions in SF.
Stay clear of Tenderloin to the Southwest of Union Square on your first visit. It's not as bad as it is made out but there a lot of homeless people who might make you feel a little uneasy (from experience).
You're better off on the North side of Union Square. If your budget can stretch a little further, stay closer to Nob Hill for an even better location.
Shop around and hunt for the best prices. We always look at user reviews and go for a hotel that falls in our budget range with the best possible user rating.
Here's a list of the best rated hotels around Union Square for you to consider. Click each hotel to check prices:
Related: Learn about how to find the cheapest hotels with our 15 budget saving hotel booking tips.
Budget Hotels In San Francisco
1. Handlery Union Square – Central location, offsite fitness center, onsite sauna, outdoor pool, excellent value.
2. Beresford Arms – 5 minute walk to Union Square, historic Victorian charm, low end budget.
3. Hotel des Arts – Excellent location between Union Sq and Chinatown, artsy, budget.
Mid Range Budget Hotels In San Francisco
1. Hotel Nikko – Central location, indoor pool, sauna, steam room, huge fitness center, top end of mid range.
2. Chancellor Hotel (where we stayed) – Right on Union Square, affordable, boutique touches.
3. Hotel G – Union Square location, oyster bar, on the lower end of mid range.
4. Grand Hyatt – Chinatown side of Union Square, fitness center, city views from upper floors.
Luxury Hotels In San Francisco
1. Fairmont Ghirardelli Square – San Francisco Bay views, rooftop terraces, luxury apartments.
2. Four Seasons San Francisco – Embarcadero hotel with city views, high end services.
3. Taj Campton Place (affordable) – Union Square, rooftop gym, Michelin star restaurant.
When booking accommodation, be sure to check if a cleaning fee is additional, as well as how much tax will be added for various services. Expect a city tax to be added when planning your San Francisco itinerary.
Be as flexible as possible when booking your San Francisco hotel. You will find prices fluctuate enormously just by selecting the day before or after.
Looking for the perfect SF hotel? Read our complete guide to the 20 best hotels in San Francisco on our hotels site Best Hotels Anywhere.
San Francisco Itinerary Map
Click into this interactive map, zoom in / out and move around to find everything discussed in this San Francisco itinerary guide and orientate yourself with the city.
You will find the following:
Yellow markers – The best things to do on your visit as listed above.

Green

markers – All of the restaurants referenced throughout the itinerary.

Purple

markers – Locations around Union Square of all hotels mentioned above.

Maroon

markers – Cable Car stops to jump on and off in this itinerary.

Black

markers – Represents each of the major neighborhoods to visit.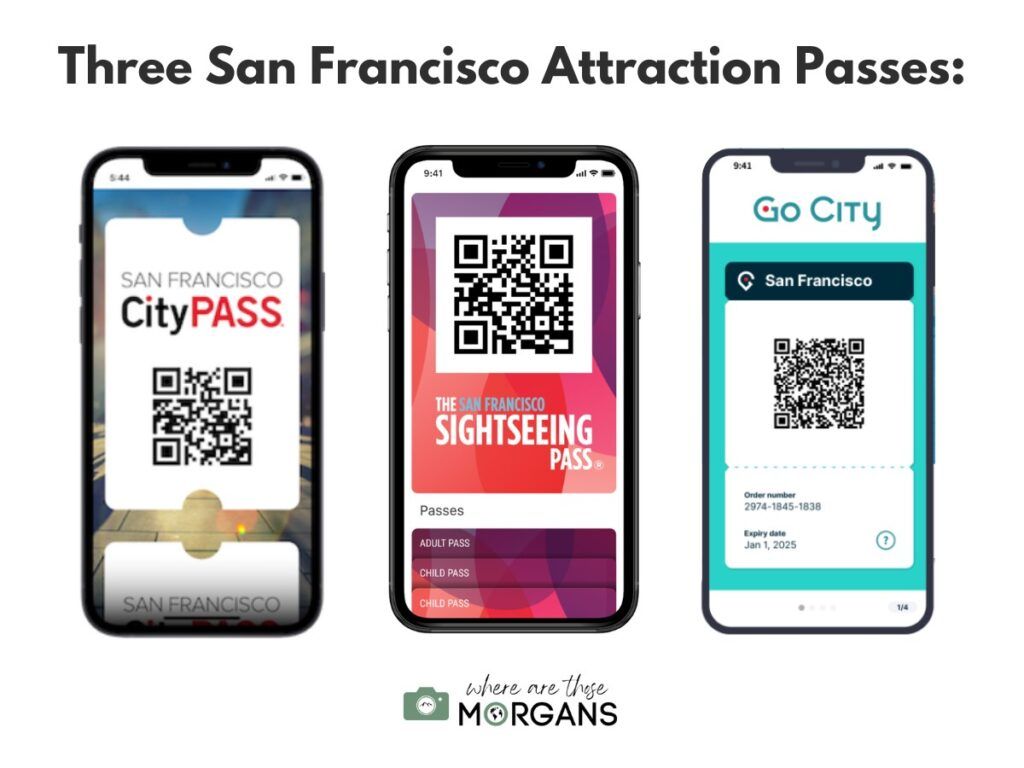 If this is your first visit to SF and you are planning to visit the top attractions in San Francisco, we recommend you purchase one of the three San Francisco attraction passes.
The idea is simple with these attractions passes because the more attractions you visit, the more money you will save.
Having personally used each of the attractions passes in cities around the world including SF, it is safe to say we are experts in this field. We can offer advice from our first hand experience.
Explore our resources below to help decide which is the perfect pass for your visit to San Francisco:
Our Popular San Francisco Guides
More California Guides
Want more California content? Head to our California Travel Guides to explore National Parks, popular road trips and things to do in major cities of the sunshine state.
---
We hope this guide helps with planning your San Francisco itinerary!
Please let us know if you have any questions about this itinerary or San Francisco in the comments below.
Don't forget you can look at all our USA specific travel guides to help plan your next trip!
Happy Travels,
Mark and Kristen
Enjoy This Guide? Pin This SF Itinerary For Your Visit!