Planning the perfect first time trip to NYC begins with one very important question: Should you map out a New York City itinerary for 3, 4 or 5 days? Well, we're here to show you why 4 days is the magic number. We have condensed the very best things to do in New York City into an action packed, fun filled and unforgettable 4 day NYC itinerary.
After heavily exploring New York City for 3 non-stop months in early 2021, we have crafted the perfect 4 days itinerary blueprint for first time visitors to one of the world's greatest cities.
If you follow this itinerary exactly, you will see all of the top rated paid attractions, walk around the cool and edgy neighborhoods and of course hit the best free things to do in NYC.
Remember, you can always use this example itinerary as a starting point and tailor it to suit your travel style and preferences.
Let's break the iconic landmarks and neighborhoods of New York City up into 4 memorable days!
*Please note this post may contain affiliate links. If you click on one, we may earn a small commission at no extra cost to you. Thank you for supporting the free content we provide! Read more in our disclosure policy.*
Why 4 Days?
We thought long and hard about 3, 4 and 5 days for the perfect amount of time for a first time visitor to explore NYC.
New York City is one of the best places to visit in the USA but it is not a cheap place to take a vacation. Hotels, food, attractions and transport add up quickly.
However, there are so many awesome things to do in the city, so it's important to get the balance right.
With just 3 days, you will be seriously cramming things in and you will have to cut one or two 'big' attractions or neighborhoods from your itinerary.
If you stay in the city for 5 days, you might find you have unexpected 'dead' time. Plus it starts to get really expensive.
Therefore, 4 days strikes the perfect balance between cost, time and making the most of your trip to NYC.
Getting Into NYC
Let's take a quick look into basic travel logistics and useful tips for getting into the city. All transport terminals can be found on the map located at the end of the NYC itinerary:
Driving
Remember if you drive to the city, you will have to pay additional fees for hotel parking. There are tolls to pay as you cross bridges and tunnels, plus traffic is going to cost you time.
We highly recommend leaving your car in the hotel parking lot and using subways to get around once in the city.
Train
The major Amtrak station in New York City is newly built Moynihan Hall, opposite Penn Station (which serves as one combined entity).
Bus
Greyhound bus terminal in NYC is at Port Authority, 8th ave and 40th-42nd street. Times Square and Penn Station are within walking distance.
Flying
International visitors will land at JFK or Newark, but domestic US travelers could also land at La Guardia. Here's how to get into the city from each airport:
JFK to Manhattan – Take the air train to Jamaica Station and then the LIRR to Penn Station. The LIRR is much easier than taking the subway, especially if you have larger suitcases.
Newark to Manhattan – The Newark Airport 'AirTrain' will transport you from airport terminal to airport train station. Take the NJ Transit train or Amtrak train directly from Newark Airport station to Penn Station. Easier and quicker than JFK.
La Guardia to Manhattan – No direct train links. Take a bus to a subway line or take a taxi, private bus, or private car into Manhattan.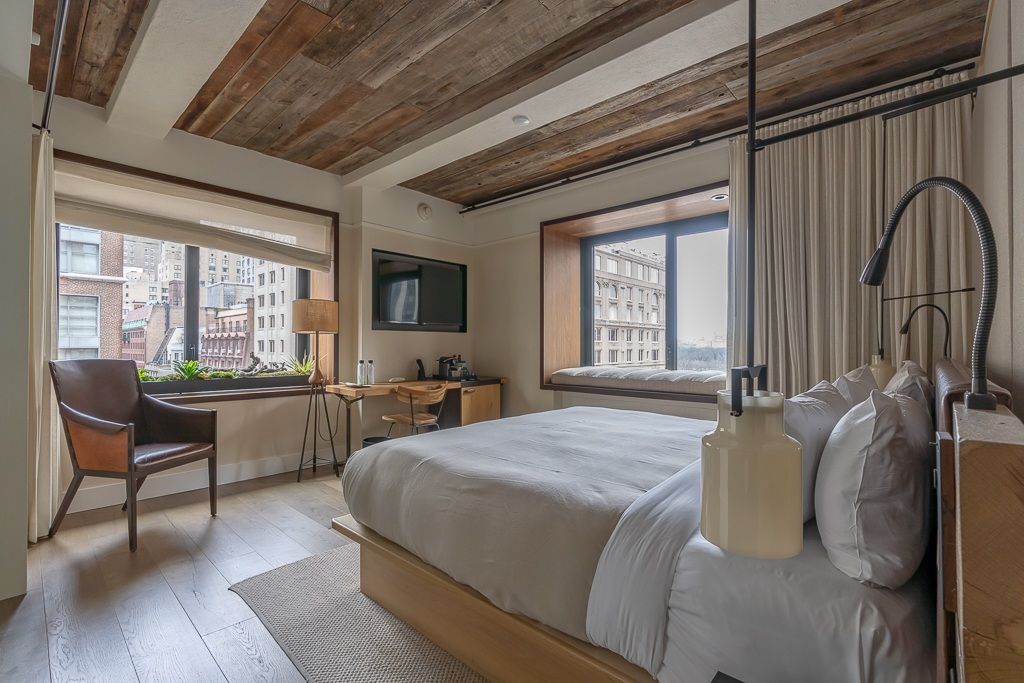 Where To Stay In NYC
The hotel you decide to book will play an important role in the success and enjoyment of your visit to the city.
Our top tip is to book a hotel near a subway station. If you can help it, you don't want a 5 or 10 minute walk each time you want to go anywhere in the city and the same back again later that night.
We won't get into hotels in a big way in this 4 days New York City itinerary. Instead we will list just a handful of the top rated hotels in the most popular centrally located areas for first time visitors.
Read our comprehensive Where to Stay in New York City guide to find the perfect hotel for your travel style and preferences. It is a very detailed roundup of the top rated hotels in each of the 6 most popular NYC areas.
Important: A high proportion of first time visitors to New York will book a hotel near Times Square. Therefore, for the purposes of this 4 days in New York City itinerary, we will use Times Square as our home base.
Each hotel listed below has a rating out of 10 as per Booking.com included for reference. We have included the popular areas of Central Park, Times Square and Midtown South.
Click on any hotel name to see the prices for your dates:
Budget
Mid Range
Luxury
NYC Itinerary Tips
Spend as much time as possible exploring each day and night. You can sleep after your trip!
Depending on season, you might have one or two days of bad weather forecast. If there's going to be a rainy day, switch up the itinerary to make sure you spend as much time inside as possible.
Book every single attraction you want to do in advance, whether it's a museum, observation deck, cruise and even lunch or dinner if it's somewhere popular. With just 4 days you can't afford to lose time standing in lines or being on a waiting list.
Purchase a NYC attraction pass to save money when visiting many of the top attractions in the city. We will cover everything you need to know towards the end of this guide after the itinerary.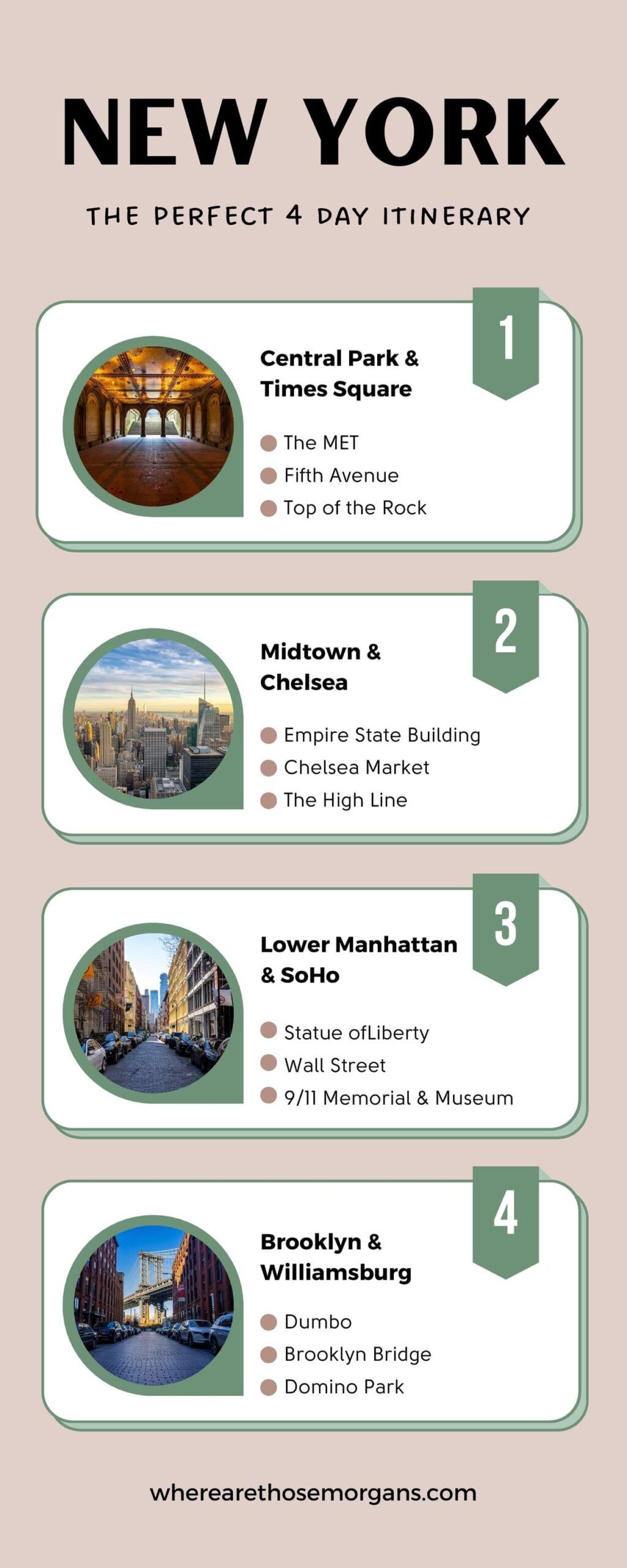 Day 1 New York City Itinerary – Central Park, North Midtown & Times Square
Let's kick things off on Day 1 with an iconic park, world famous art museums, shopping and the first of many observation decks.
Remember, the summer months of June, July and August are peak season in NYC. If you want to avoid the crowds but still have comfortable weather, consider visiting New York in April or another shoulder season month.
Central Park and North Midtown are overflowing with must-visit sights. It will be a busy first day with a lot of walking.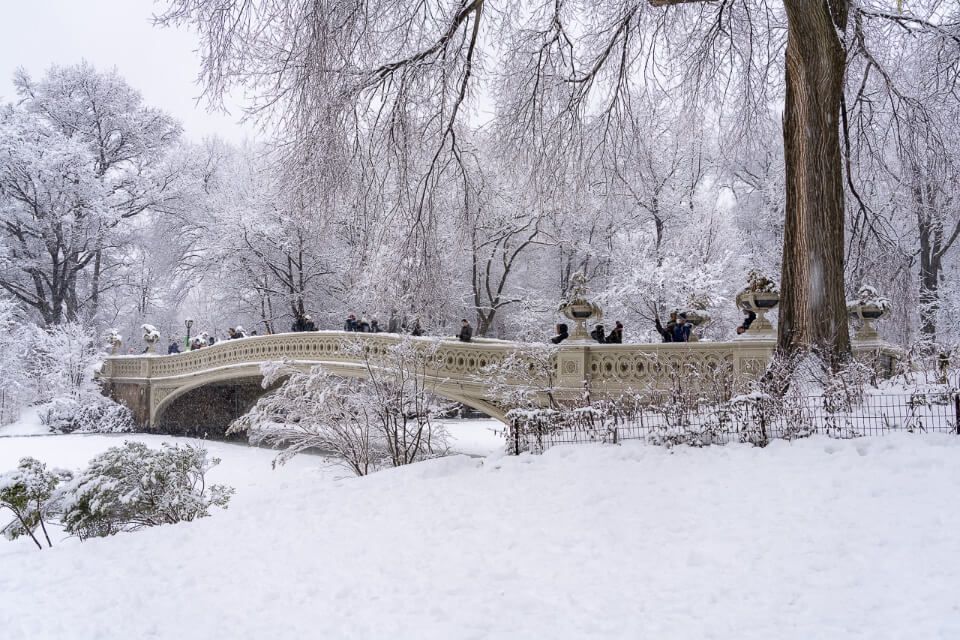 Morning – Central Park
There are two awesome NYC bagel joints near Penn Station on 35th street between 7th and 8th avenue: Liberty Bagels Midtown and Best Bagel & Coffee. Either will set up you perfectly for the day ahead.
After breakfast, walk up 7th avenue from Times Square to Central Park or take the Yellow subway line from Times Sq 42 St to 5 Avenue on the Southeast corner of Central Park.
One of our top tips for your 4 days in New York City itinerary is to walk through Times Square before (or during) sunrise. It's almost as crazy to see it empty as it to see it buzzing at night.
Central Park is a stunning part of the city you just can't miss on a first visit to NYC. Walking through the park is up there with the very best free things to do in New York.
It's also a 4 season urban oasis:
Once in Central Park, follow this exact path:
The Pond -> Gapstow Bridge -> Wollman Ice Rink -> The Mall -> Bethesda Terrace -> Bow Bridge (but don't cross it) -> Cherry Hill -> Wagner Cove -> Strawberry Fields -> Ramble Stone Arch -> The Ramble -> Belvedere Castle and finish at The MET.
The MET (Metropolitan Museum of Art) is our top pick for the best NYC museums. If you are only going to do one, make it this one. We spent 5 hours inside and left feeling like we'd missed a few important exhibits.
It is huge!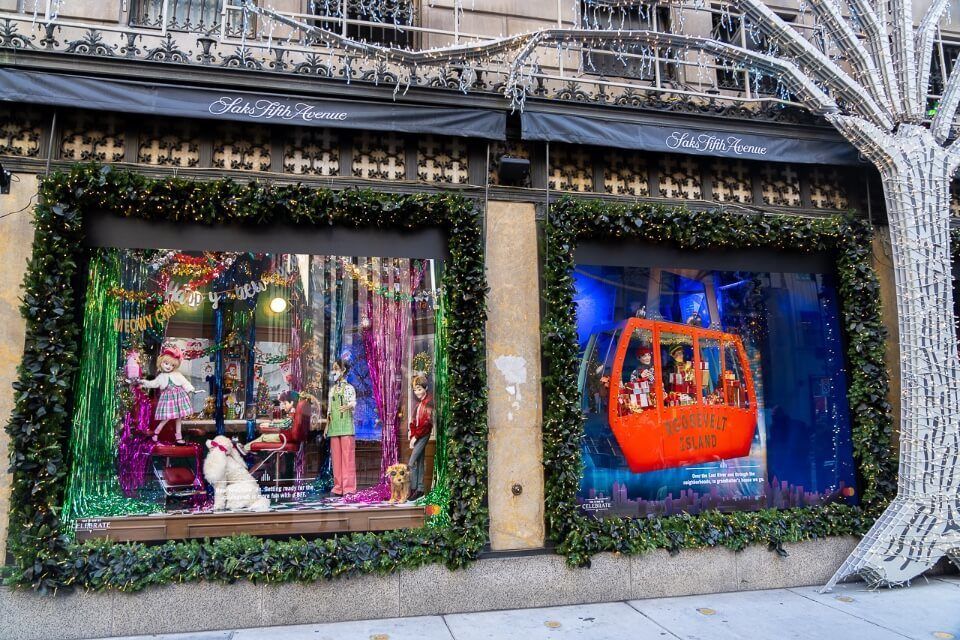 Afternoon – North Midtown
Once you manage to tear yourself away from The MET, either walk back through Central Park sticking close to the boundary with 5th avenue or walk on 5th avenue itself.
The park is more attractive but the luxury buildings of Upper East Side are impressive and intriguing.
When you reach the corner of 59th street and 5th avenue – where the Plaza Hotel from Home Alone 2 is located – you will begin walking down the world's most expensive shopping street: Upper Fifth Avenue.
If shopping isn't your cup of tea, why not go for a 'proper brew' with afternoon tea at The Whitby Hotel?
Sandwiches, scones and desserts at one of the top rated hotels in NYC is a luxurious and relaxing way to refuel after standing for hours.
Alternatively, if you love art and can't wait to travel forward in time from The MET, spend the next few hours perusing New York's premier Modern Art display inside MoMA.
However you decide to spend the afternoon in North Midtown, be sure to walk by St Patrick's Cathedral, Atlas, Saks Fifth Avenue and Rockefeller Center.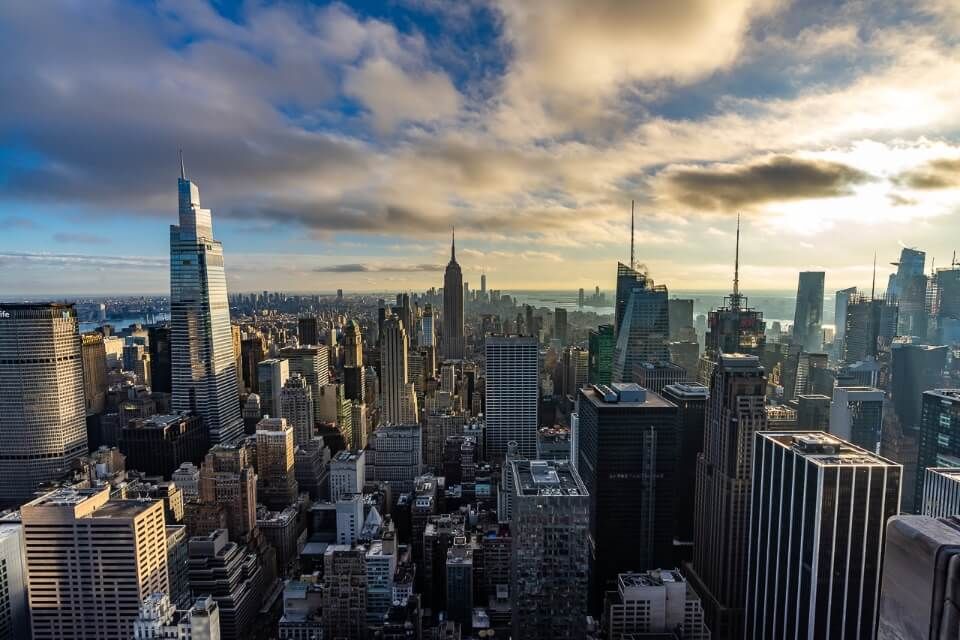 Evening – Times Square
After looking up at the impressive Rockefeller Center, there's only one thing to do – stand on its roof. Walk the red carpet entrance on W 50th street, check out the exhibits and take the elevator up to Top of the Rock.
Pre-book your time slot for Top of the Rock and go for the hour before sunset. That way you can watch as Midtown and Downtown turn a golden yellow and orange as the city buildings cast huge deep shadows from block to block.
From Top of the Rock you have awesome views over Central Park, Edge and particularly the Empire State Building, which lights up at night.
Once you've seen enough and day has transitioned into night, it's time to immerse yourself into the eccentric chaos that is Times Square. Even if you know you're not going to like Times Square, you should at least walk through it one time to experience the electric atmosphere.
Look for the red staircase and take a seat to soak up the sensory overload scenes unfolding in front of you.
The time will come when you can't take it anymore. At that point, make your way to Refinery Rooftop for a late dinner and cocktail or beer.
Views of the Empire State Building are great but you will need to book in advance.
Day 1 NYC Attractions Summary
If you want to keep track of any attractions you will visit on this 4 days in New York City itinerary, we will list major and minor attractions at the end of each day.
Major
Central Park

The MET

Fifth Avenue

MoMA

Top of the Rock

Times Square
Minor
St Patrick's Cathedral

Atlas

Saks Department Store

Rockefeller Center

Times Square

NYC Rooftop Bar
Do you need help planning your visit to New York City?

Our popular 40 + page NYC Guidebook & Itinerary covers every aspect of planning a trip to New York including hotels, restaurants, getting around, things to do, example itineraries and so much more!
Day 2 New York City Itinerary – South Midtown, Chelsea & Central Midtown
Day 2 gets you stuck into the meat of Manhattan, New York. The route is a nice, easy to follow square shaped loop and is best achieved by walking.
There are fewer 'top attractions' but more chance to walk through some of the residential areas in Manhattan.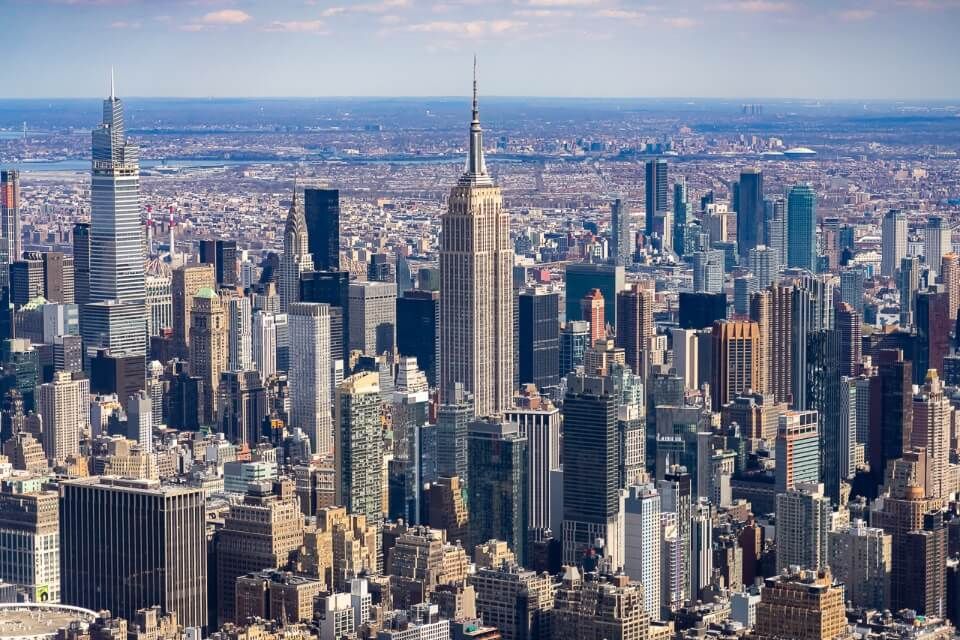 Morning – South Midtown
Start the day with a visit to the 86th floor of New York's most iconic building of all – the Empire State Building. There are 50 tickets per day for sunrise but they are expensive.
So if you're on a lower budget, we'd suggest waiting until right after the sunrise time slot.
Views circling 360 degrees consist of enormous skyscrapers and concrete towers bursting high above the streets of NYC. The exhibits are interesting and you can also pay more to visit the 102nd floor but be aware that floor is indoors.
Take Broadway as far as the Flatiron Building to gaze upon the famous narrowly rounded front edge.
Continue down Broadway passing through Union Square until you reach the incredibly popular and independent Strand Book Store.
By now there are likely to be lines to get in but it's worth waiting around a few minutes to get inside.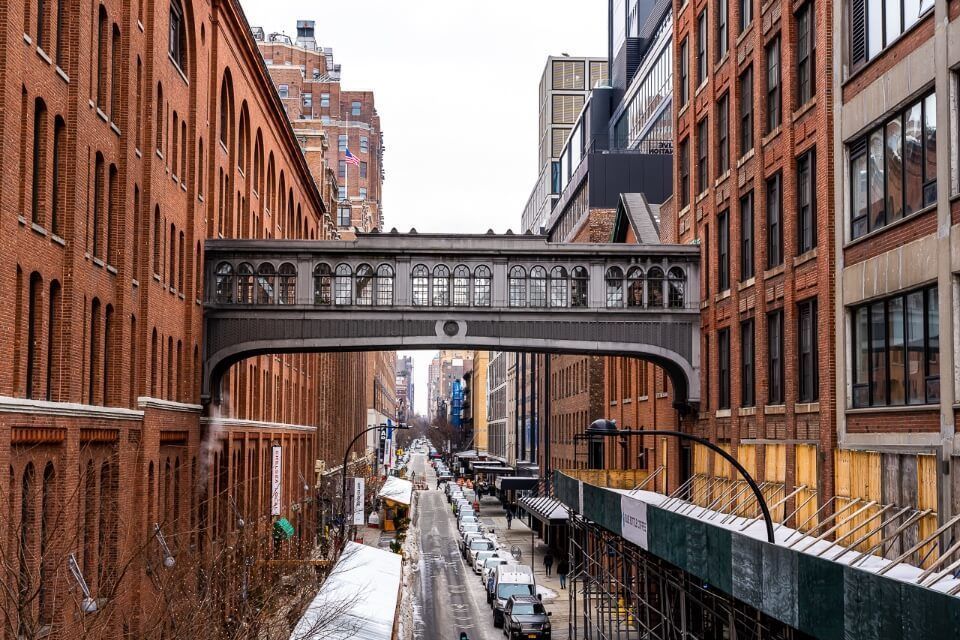 Afternoon – Chelsea
Next up is a 6 block walk along W 14th street as far as Chelsea Market.
Spend a few hours exploring Chelsea Market, find a great spot (such as Los Tacos) for a quick take out lunch and enjoy the atmosphere.
Walk around Chelsea and the Meatpacking District for another hour or so, there are dozens of trendy bars and restaurants here to grab lunch if nothing takes your fancy inside Chelsea Market.
You will find The High Line starts just a few blocks South of the market and that's where you'll be heading next, right on the corner of Gansevoort and Washington.
The High Line is a peaceful and relaxing escape from crosswalks and relentless traffic. An old railroad line transformed into a 1.5 mile long garden oasis elevated above street level is as awesome as it sounds.
This place does get busy in Summer and on warm Spring or Fall days. But by late afternoon it should be beginning to get quieter after the midday rush.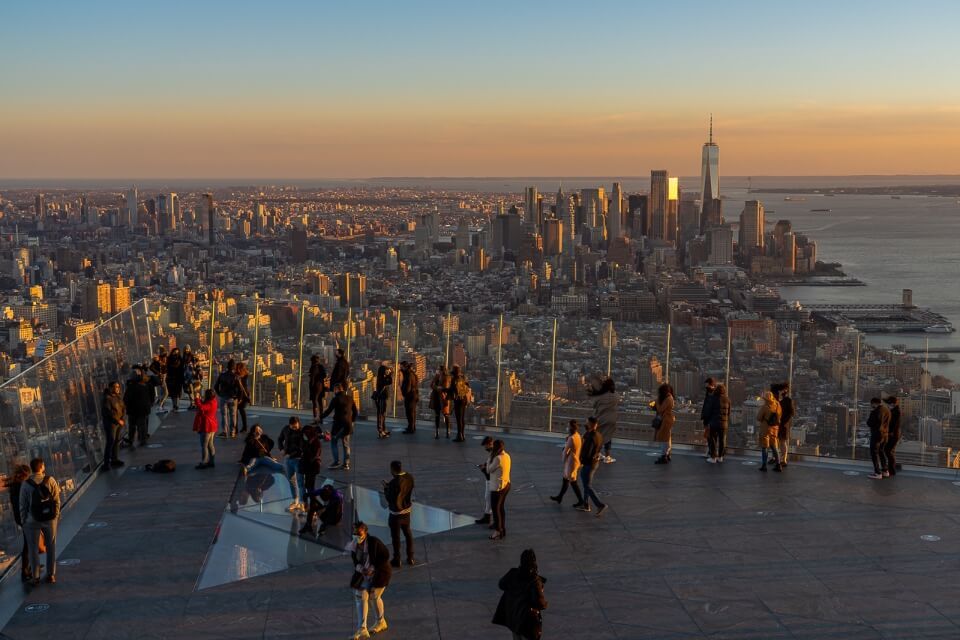 Evening – Central Midtown
As you walk North, you will see an eye-catching glass building with strange triangular shaped platform jutting out at the top. That is Edge at Hudson Yards and you will be standing on that very platform shortly.
Undergoing significant redevelopment, Hudson Yards has become a modern and futuristic looking area to enjoy. The High Line ends right at the Hudson Yards complex.
Start with Vessel, one of the most unique and awesome pieces of architecture in the city. Next to it is The Shed, a cultural center with retractable shell.
Move inside the main shopping mall at Hudson Yards. It reminded us of a mall in Dubai or Singapore with its pristine finish and upmarket feel. On the 4th floor you will find the entrance to Edge.
Spend time walking around the cool exhibits, explaining how renewable energy, waste and air filtration works in conjunction with the building.
The elevator ride from floor 4 to 100 is our favorite elevator in New York City. You will know why when you're floating upward.
Views over NYC from Edge at sunset are astounding. We highly recommend this one.
When you're ready, head up 34th street, passing Penn Station as far as Macy's. You simply can't miss one of the world's most popular department stores on your first trip to NYC.
If you bought a New York CityPASS, you will have a 'free' second visit to the Empire State Building after 7pm. So if you're not observation-decked-out, head back up to floor 82 to see New York shimmering at night.
Day 2 NYC Attractions Summary
Here are the top NYC attractions you have ticked off on day 2:
Major
Empire State Building

Edge

Macy's

Chelsea Market

The High Line
Minor
Strand Book Store

Flatiron Building

Vessel

Meatpacking District

Penn Station
Day 3 New York City Itinerary – Lower Manhattan & SoHo
Days 1 and 2 have been action packed but day 3 takes things up a notch. Lots of coffee in the morning is a must!
Lower Manhattan is home to an overwhelming amount of touristy things to do in New York. However, with just one day to see it all, we're going to prioritize only the most unmissable.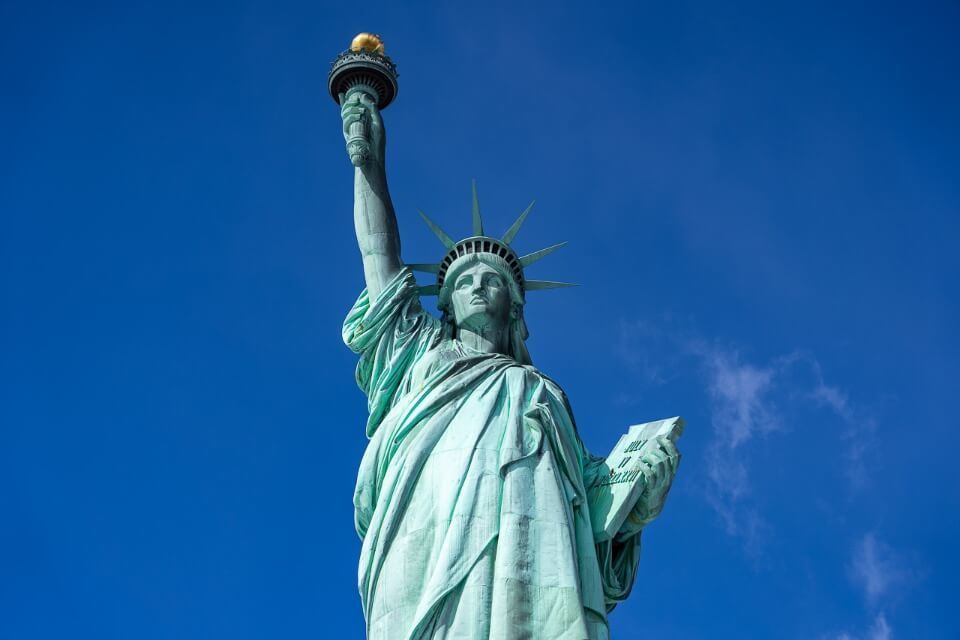 Morning – Lower Manhattan Part 1
Take the red subway line from Times Square 42 St to the South Ferry terminal in time to jump on the very first ferry of the day to Liberty Island.
Again, you will need to book this in advance and we highly recommend you do make the first ferry. That way you get a good start on a long day and you also get Liberty Island to just the one group.
The ferry leaves from behind Castle Clinton in The Battery on Manhattan's Southern tip.
Visiting the Statue of Liberty is one of the top bucket list activities on your 4 days in New York, and this is the only way you can actually step foot on Liberty Island.
The ferry leaves Liberty Island and makes a stop at Ellis Island before heading back to Manhattan. We thoroughly enjoyed and highly recommend getting off at Ellis Island to take the tour inside the National Museum of Immigration.
However, only do this if you either have a lot of interest in this museum or you are a quick explorer because there's a lot more to get through today.
Once back in Manhattan, it's time to explore the maze-like street of the Financial District. Start with Stone Street, Broad Street and William Street before reaching Wall Street.
Check out the Trump Building, Federal Hall, Trinity Church and NYSE with the Fearless Girl statue. Consider taking this popular walking tour of Wall Street and the Financial District.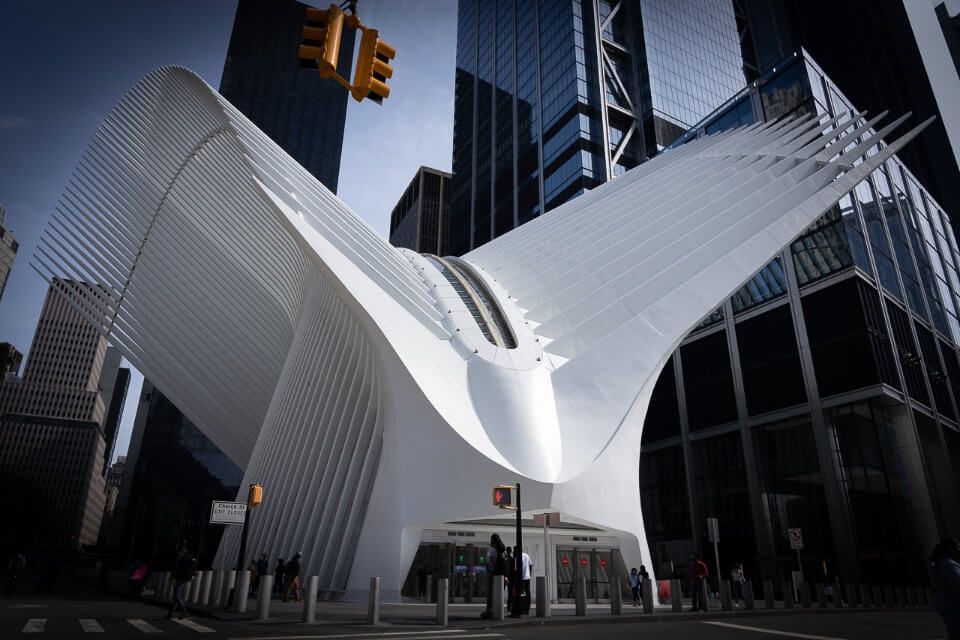 Afternoon – Lower Manhattan Part 2
Around 12pm – 1pm is the perfect time of day if you're planning to take a luxury helicopter tour over NYC for a special occasion. We'd recommend waiting on lunch until after the flight!
If a helicopter ride isn't on your radar, head straight up to Oculus at the World Trade Center complex. Oculus is one of our favorite buildings in New York.
It looks like a bright white winged dove from the outside and opens up into a vast and cavernous grand hall.
If you want to complete the set of observation decks, One World Observatory is the highest platform in the Western Hemisphere. It offers a unique city view, including Statue of Liberty and Brooklyn Bridge.
Otherwise, it's time for a harrowing but unmissable part of your 4 days in New York itinerary – the 9/11 museum. Spend a few minutes walking around the memorial pools before heading inside.
Allow at least 2-3 hours the museum. It's so sad but engaging and gripping. A timeline of events unfolding almost feels like a tense movie script, but it was a tragic reality.
The museum does a fantastic job of immersing you into the events.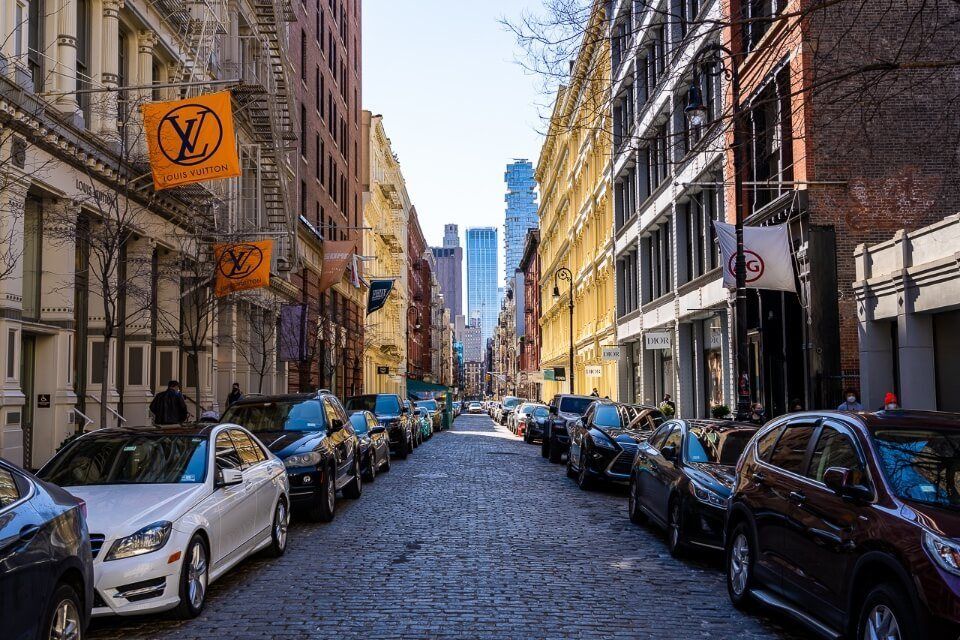 Evening – SoHo
Emotions will be running high but you'll need to shake it off as you walk North up W Broadway through Tribeca and into SoHo.
SoHo is a ritzy residential / high end shopping area in which you can enjoy some of the best people watching in the city. Walk up and down the quaint grid-style cobblestoned streets, stopping to admire the rows of houses and shops.
If you fancy a sweet treat, don't miss Dominique Ansel bakery and its legendary Cronut – a croissant / donut hybrid.
Still feeling like walking and exploring at this point? Continue on to Greenwich Village and West Village for more of the same picturesque residential rows.
If not, stick around in SoHo, find a posh place for dinner and relax.
Day 3 NYC Attractions Summary
Here are the top NYC attractions you have ticked off on day 3:
Major
Statue of Liberty

Wall Street

One World Observatory

9/11 Memorial & Museum

SoHo
Minor
Ellis Island

NYSE

Trinity Church

Helicopter Ride

Oculus
Day 4 New York City Itinerary – Brooklyn & Williamsburg
The last day of your 4 days in New York City itinerary is centered around crossing the East River into Brooklyn and back again into Manhattan. Maybe more than once!
One day is doing Brooklyn a disservice. But on a first visit to NYC, there are just so many places in Manhattan you can't miss.
Let's take a look at an efficient way to see some of the best bits in Brooklyn in one day.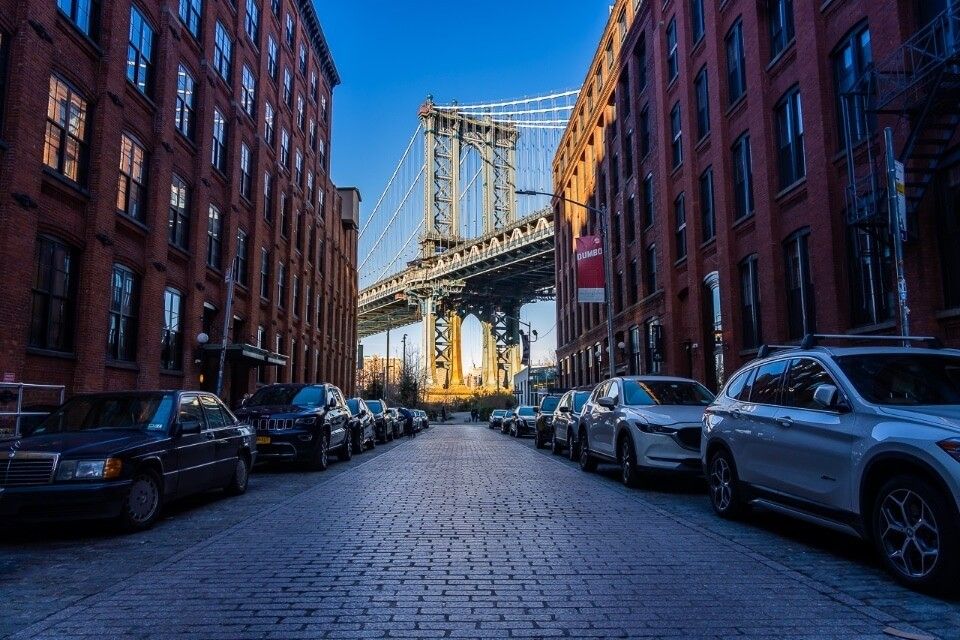 Morning – Dumbo
If you don't mind an early start, we highly recommend waking up before sunrise and making your way down to Brooklyn Bridge / City Hall on the green subway line.
Walking over the iconic Brooklyn Bridge at sunrise is one of the best free things you can do in New York. You will have the bridge almost entirely to yourself, perfect for snapping some selfies.
Serious photographers should try to be at Pier 17 during civil twilight. The sun rises behind Williamsburg and Pier 17 has one of the top places to watch sunrise in NYC.
Cross the bridge and once you reach Brooklyn, take the staircase and turn left. Walk 3 blocks straight down Washington Street and you'll see the mighty Manhattan Bridge dominating the skyline through a tunnel of narrow buildings.
Early morning gives you a better chance of getting a selfie without dozens of others, plus the bridge will be glowing just after sunrise.
This unique spot in Dumbo is one of the best photography and instagram locations in NYC.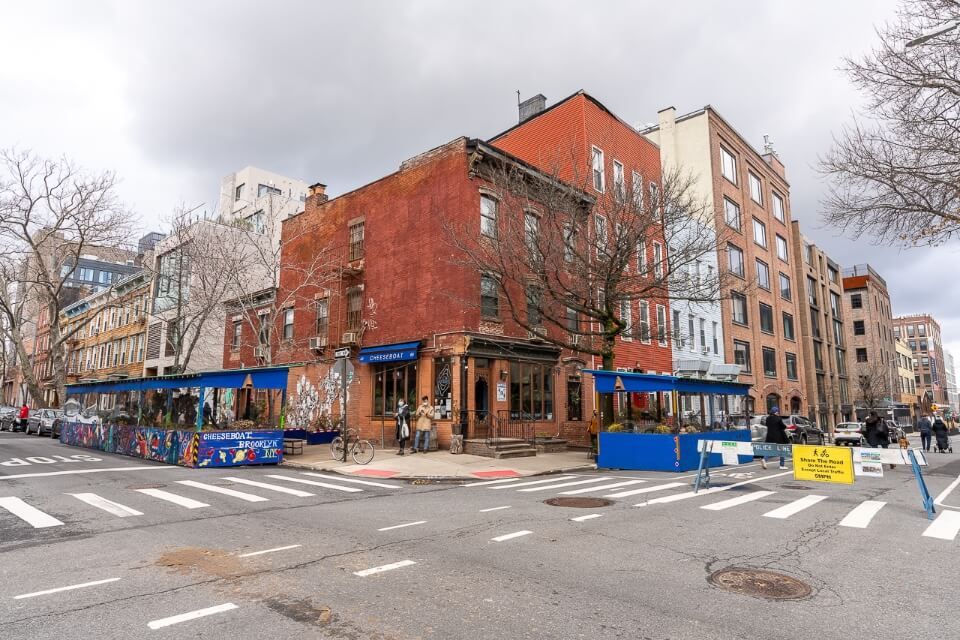 Afternoon – Williamsburg
You have so many options for places to explore in Brooklyn.
Prospect Park, Greenwood Cemetery, Red Hook, walk around downtown Brooklyn, pick any of the residential neighborhoods to see those typical Brooklyn houses with wide set steps at the entrance and the list goes on.
However, for the purpose of keeping things broader and to give you more of a complete visit to NYC, we recommend you jump on the light green line at Hoyt-Schermerhorn and get off at Metropolitan Ave in Williamsburg.
Trendy hipster Williamsburg is a cool residential neighborhood with tons of bars and restaurants spilling out into the streets centered around Bedford Avenue and Berry Street.
Start at Domino Park and walk all the way up Berry St / Bedford Av to really immerse yourself into Williamsburg around midday. Stop in for lunch and a beer at one of many awesome looking places.
If you're into street art, make the extra effort to reach the Bushwick Collective. You can jump on the grey line at Bedford Av station and get off at Jefferson St to see entire streets covered in wall art.
Top tip: If you're trying out pizza slices in each area of NYC, you can't miss highly rated and always busy L'industrie pizzeria in Williamsburg.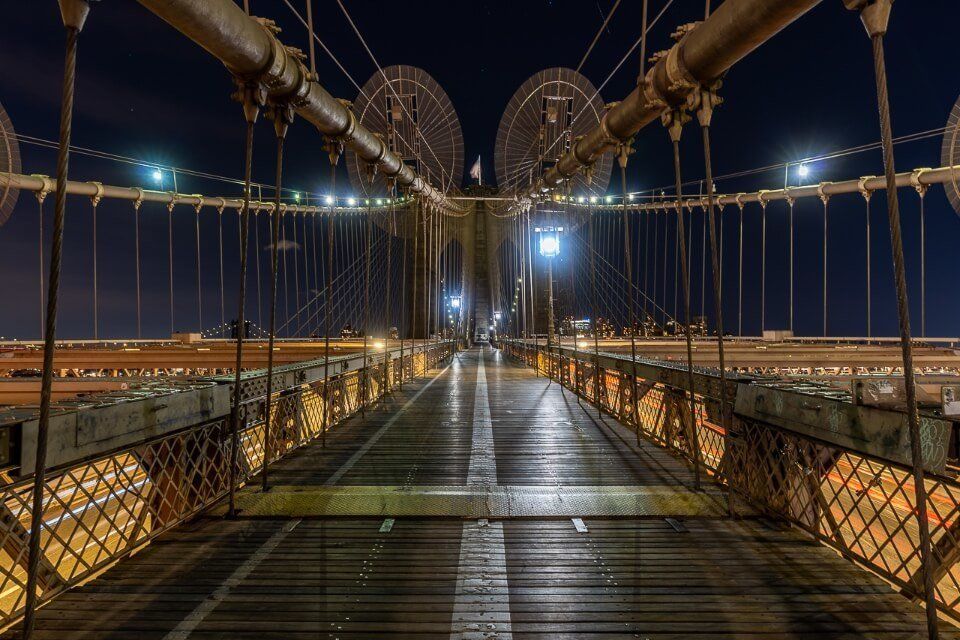 Evening – Brooklyn
Tear yourself away from the pubs in Williamsburg and head back to Hoyt-Schermerhorn St in Brooklyn.
Make your way over to Montague Street and walk as far as Brooklyn Heights promenade for your first of many Lower Manhattan skyline views. Turn right and follow this all the way around until you're standing underneath Brooklyn Bridge.
Continue along Water Street and enter Time Out Market. On the river side of the market, you will be able to see the classic Brooklyn Bridge view. Take a ton of photographs from Jane's Carousel, Pebble Beach and on top of Time Out Market.
Sunset is awesome from anywhere in this area. Grab dinner at a riverside restaurant in Time Out Market, then head back to the other side of Brooklyn Bridge again.
Follow the waterfront Pier 1 promenade until you reach Old Pier 1 for another unique but amazing view of Manhattan.
Finally, take one of the most unforgettable walks in New York City by crossing the Brooklyn Bridge at night when Manhattan begins to sparkle.
Day 4 NYC Attractions Summary
Here are the top NYC attractions you have ticked off on day 4:
Major
Dumbo

Brooklyn

Williamsburg

Brooklyn Bridge
Minor
Manhattan Bridge

Bushwick Collective

Domino Park

Brooklyn Bridge Park

Old Pier 1
4 Days In New York City Neighborhood Itinerary
Does the itinerary above sound a little too touristy for your taste?
If you're visiting New York City to see the good, the bad and the gritty, spend your days walking around neighborhoods instead of attractions.
Here's an example of how you could spend 4 days in New York City:
1 – West Village, Greenwich Village and Chelsea

2 – Tribeca, Chinatown, Little Italy, Nolita and SoHo

3 – Bowery, East Village and Lower East Side

4 – Brooklyn and Williamsburg
4 Days In New York Itinerary Map
We have created a 4 Days NYC Itinerary Map for you to use as a reference. Each day is numbered by attraction or activity as listed in the itinerary above.
Click or touch your screen to activate the map.
Scroll around, zoom in and out, get to know the area and click on each icon to see how the 4 days New York City itinerary will work.
Understanding the geography of NYC will significantly help you get around and save time once you arrive.
Red icons = Day 1
Green icons = Day 2

Purple

icons = Day 3

Blue

icons = Day 4

Orange

icons = Transport Hubs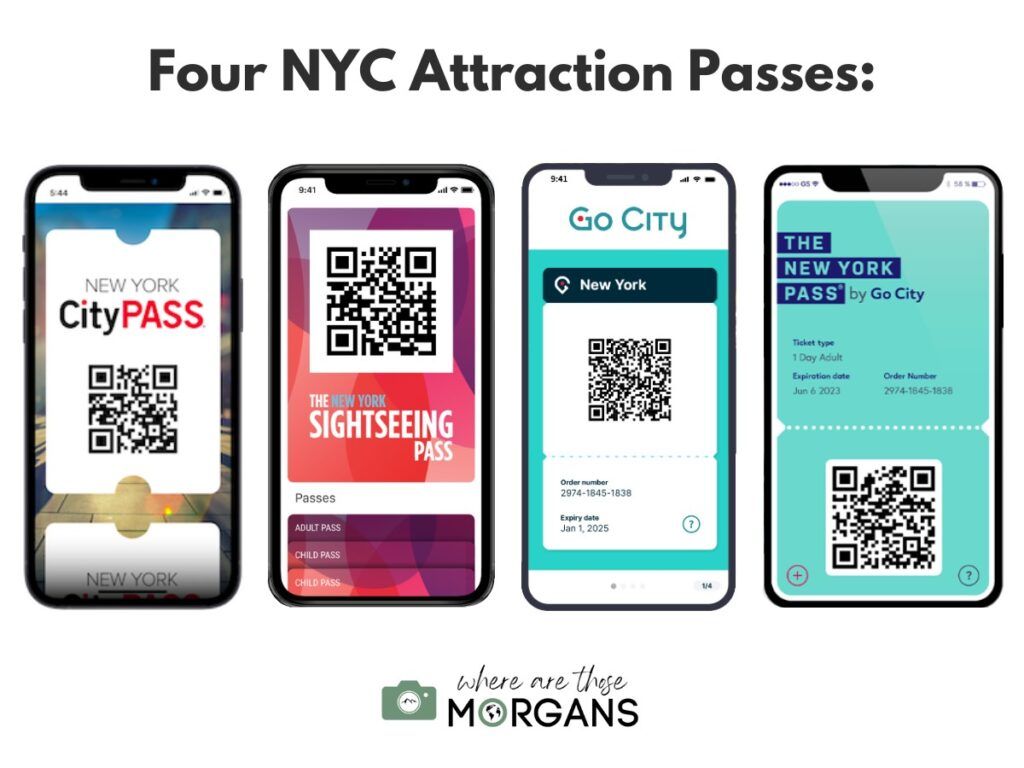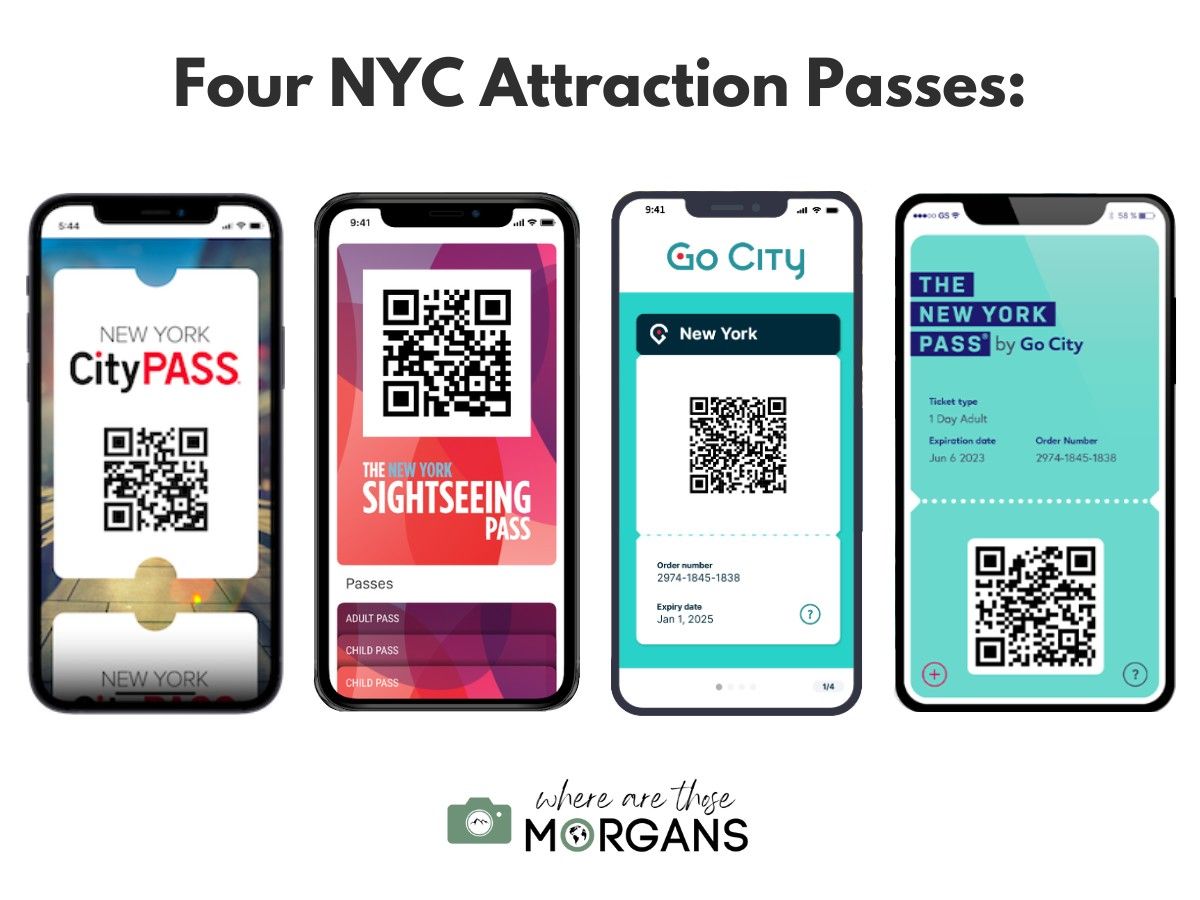 New York City Attraction Passes
If you are planning to visit the top attractions in New York, we recommend you purchase a New York City attraction pass.
The idea is simple with these attractions passes; the more attractions you visit, the more money you will save.
Having used the NYC attraction passes ourselves when we lived in New York, we recommend the New York Sightseeing Pass because its extremely easy to use while offering both flexibility and big savings.
Many of the attractions on this New York Itinerary are included with the NY Sightseeing Pass and we have an exclusive 10% discount just for our readers.
Want To Save Money In NYC?
Use the button below to claim 10% off any NY Sightseeing Pass.
You can also read our guides below to help decide which is the perfect pass for your visit to New York:
Travel Tip: If you have a New York attractions pass, you will not have to pay the extra fee for a sunset time slot at the any of the NYC observation decks when you reserve your timed entry ticket online.
Need Help Planning Your Visit To New York City?
NYC is a vacation planning beast and it can be overwhelming trying to get every aspect right. Trust us, we know!
After living in New York City, we created a comprehensive NYC travel guidebook & itineraries that will answer every question you have about where to stay, what to do, where to eat and how to get around the city.
Click see details below to read more about how we can help you plan your dream trip to New York City!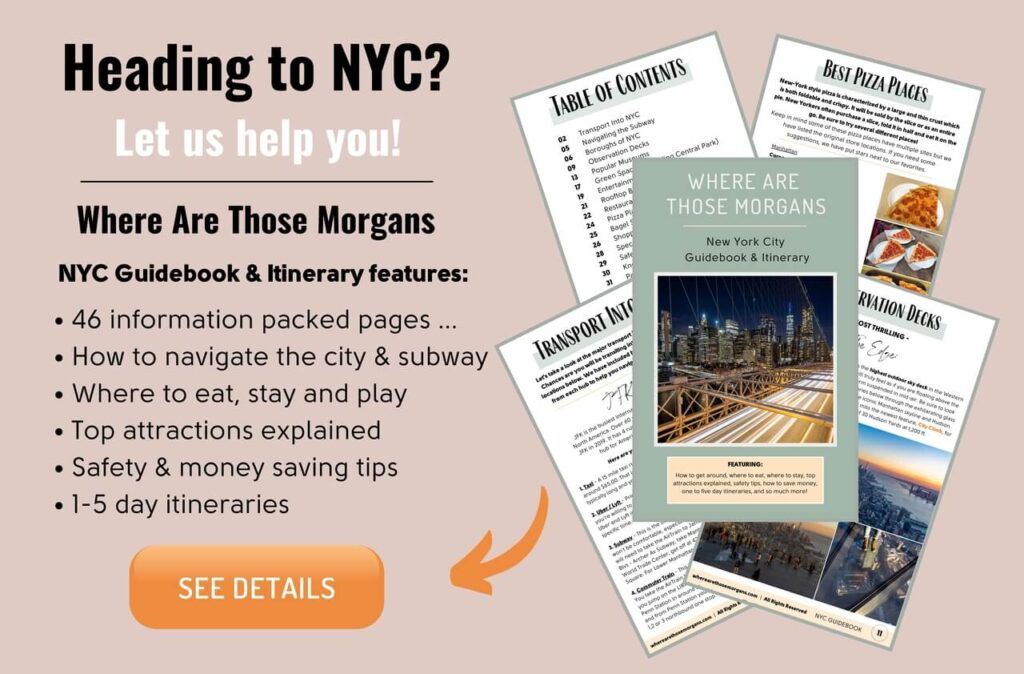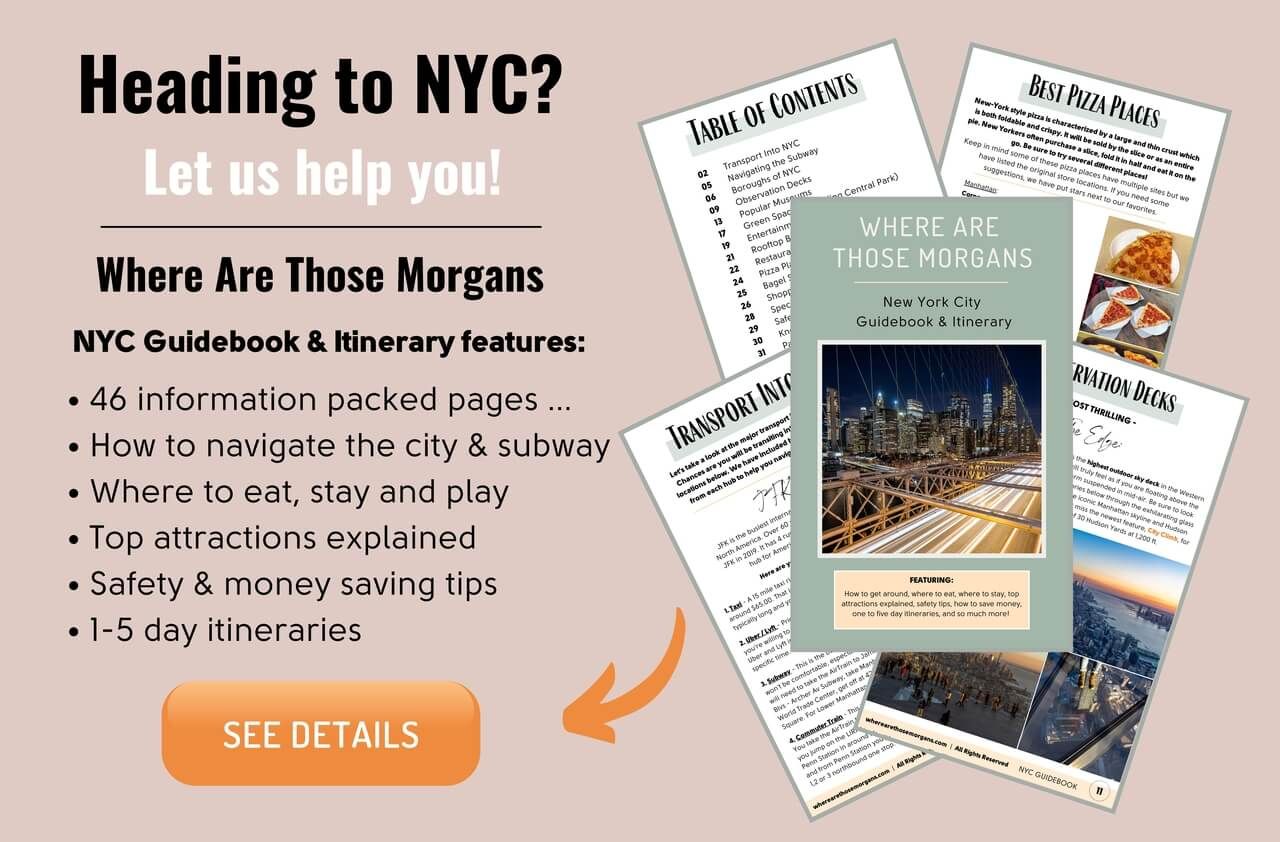 Our Popular NYC Guides
Best Of New York City
Want more New York City content? Head to our New York Travel Guides to explore more from the Big Apple as well as beautiful upstate NY.
---
We hope this New York City itinerary helps with planning the most amazing 4 days NYC trip!
Please let us know if you have any questions about planning your 4 day itinerary or New York City on the comments below.
Happy Planning,
Mark and Kristen
Enjoy This NYC Guide? Pin If For Your Visit!