Taylor Creek Trail is a peaceful 5 miles roundtrip hike to Double Arch Alcove in the Kolob Canyon hiking area of Zion National Park. Also known as the Middle Fork of Taylor Creek Trail, this moderately rated hike is a family friendly escape from overcrowded trails in the main Zion canyon.
But are you sacrificing hike quality or trail views by choosing Kolob Canyon? Absolutely not.
Taylor Creek Trail constantly crisscrosses a lightly flowing tributary as you hike upstream to a surprisingly impressive climax at a huge concave formation called Double Arch Alcove.
This is not one of those legendary Zion upstream hikes like The Narrows or The Subway, in fact unless you visit in Spring after heavy snowmelt, you won't get your feet wet at all. Unless of course you want to cool down on a hot Summer's day.
We're going to walk you through exactly what to expect when hiking the tranquil Taylor Creek Trail in Zion National Park's quieter side. Yes, there is such a place, it does exist.
Let's get stuck into multiple river crossings, stunning log cabin homesteads and a gigantic sandstone abyss that very few visitors to Zion ever see!
Taylor Creek Trail Zion National Park Hiking Details
Trail Distance: 5 miles roundtrip
Type of Trail: Out and Back
Trail Difficulty: Moderate
Time Required: 2-4 hours
Elevation Gain: 450 ft
Trailhead: E Kolob Canyon Rd
Zion Taylor Creek Trail FAQ's
You might not have heard about Taylor Creek Trail before, so let's take a quick look at some commonly asked questions regarding the hike.
How Hard Is The Taylor Creek Trail In Zion National Park?
The hike is rated as moderate but we have to say it is on the easier side of moderate. With just 450 ft elevation gain spread out over 2.5 miles as you walk upstream, there are no significant climbs.
You do not need to be in amazing shape to hike Taylor Creek Trail. We saw loads of younger kids who appeared to be in better shape than most adults!
There are no technical elements to consider but you will cross the river multiple times hiking both ways. You can use stones and rocks to cross the shallow water.
Looking for hiking inspiration? Check out our popular guide to the 50 best hikes in the US next!
How Long Does It Take To Hike Taylor Creek Trail In Zion?
Hiking Taylor Creek Trail to Double Arch Alcove and back should take you anywhere between 2-4 hours. It depends on how strong a hiker you are, who you are hiking with and whether you're in a rush or not.
We hiked this trail in just over 2 hours with stops for photos and snacks, but we were shifting at a fairly good pace.
You could add Taylor Creek Trail into a half day visit to Kolob Canyon, which you could tie-in with half a day in the main canyon on a Zion National Park day trip itinerary.
Is It Worth Hiking Taylor Creek Trail In Zion?
Kolob Canyon offers hikers a peaceful retreat when compared to the incredibly crowded main Zion canyon hikes like The Narrows, Angels Landing, Zion Canyon Overlook and Emerald Pools Trail.
There are no 'popular' hikes in Kolob Canyon because even the busiest trail doesn't come close to the quietest trail in the main canyon in terms of average daily foot traffic.
However, Taylor Creek Trail is arguably the most 'popular' hike that is on the map in Kolob Canyon. Timber Creek Overlook Trail at the end of Kolob Canyon road provides spectacular views but the hike is very easy and short.
So if you're looking for a very quiet Zion hike that will give you a decent workout, but also a chance to experience those towering orange Navajo sandstone walls up close, Taylor Creek Trail is your answer.
Is it worth hiking? We would say without question add it to your Zion National Park hiking list.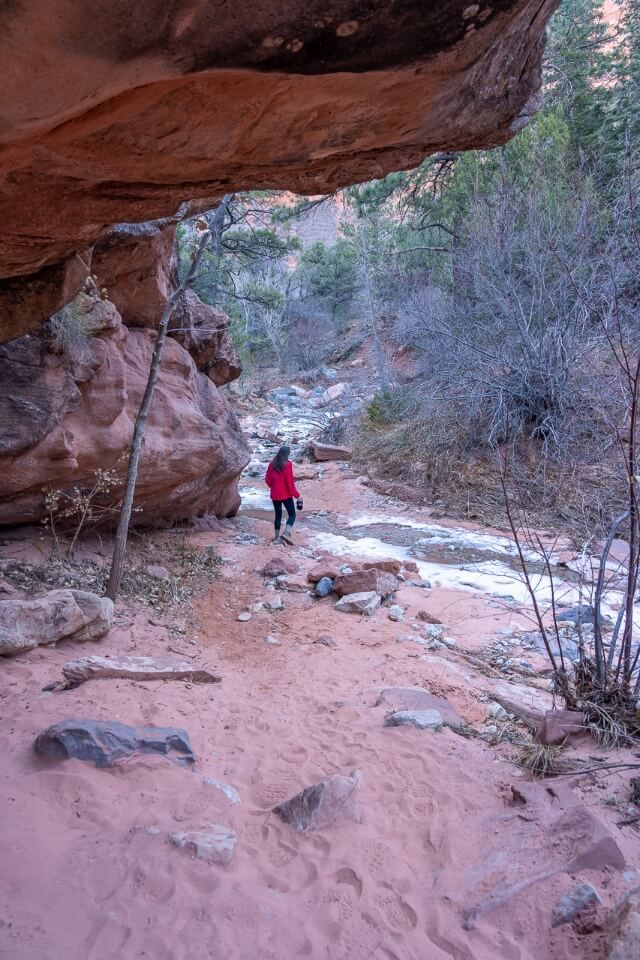 How To Get To The Taylor Creek Trail In Zion National Park
Taylor Creek Trailhead is located just 2 miles from the Kolob Canyon visitor center and entrance. It is the very first parking area you reach on E Kolob Canyon road.
There are enough parking spots for around 20 cars and a handful of RV's. That's not a huge amount, but it's because Kolob Canyon only receives a fraction of the tourists the main canyon gets.
Still, you will stand a better chance of getting parked up early in the morning or later in the afternoon. Something to consider if you visit on a weekend or holiday in peak season between May and September.
Kolob Canyon visitor center is 39 miles from the main canyon visitor center in Springdale. It will take you around 45 minutes to drive between the two Zion regions.
Tips For The Hike
To avoid issues with parking in peak season you need to arrive early
The trail is shaded and rarely exposed
It can be cold early in the morning if you visit Zion in the Winter months

Taylor Creek Trail is NOT dog friendly

You do not need neoprene socks or shoes for the river crossings
Use one of the top hiking apps on the market to track your hike
Our top tip for the Taylor Creek Trail Zion hike:
The Middle Fork tributary runs East to West as you look at a map. You will be hiking East on the way out and West back.
Gigantic orange walls block sunlight to the South, but late afternoon hikers will get the best sunlight lighting up canyon walls and sand.
Need a hand organizing your visit to Zion?

Our popular 40+ page Zion National Park Guidebook can help you with planning every aspect of your trip.
Taylor Creek Trail Walkthrough
Let's get stuck into the trail itself now.
This is a family friendly hike with a very obvious and maintained path throughout. Be prepared for multiple river crossings using stones and rocks.
Park At The First Lot
Start by paying your $35 entrance fee to enter Zion National Park or display your America the Beautiful annual national parks pass in your car.
Check out the visitor center to see if there are any trail closures or notices for the day. If all looks good, park up at the first lot you see at around the 2 mile marker.
There are two vault toilets here. If you've been to a national park before you know what to expect!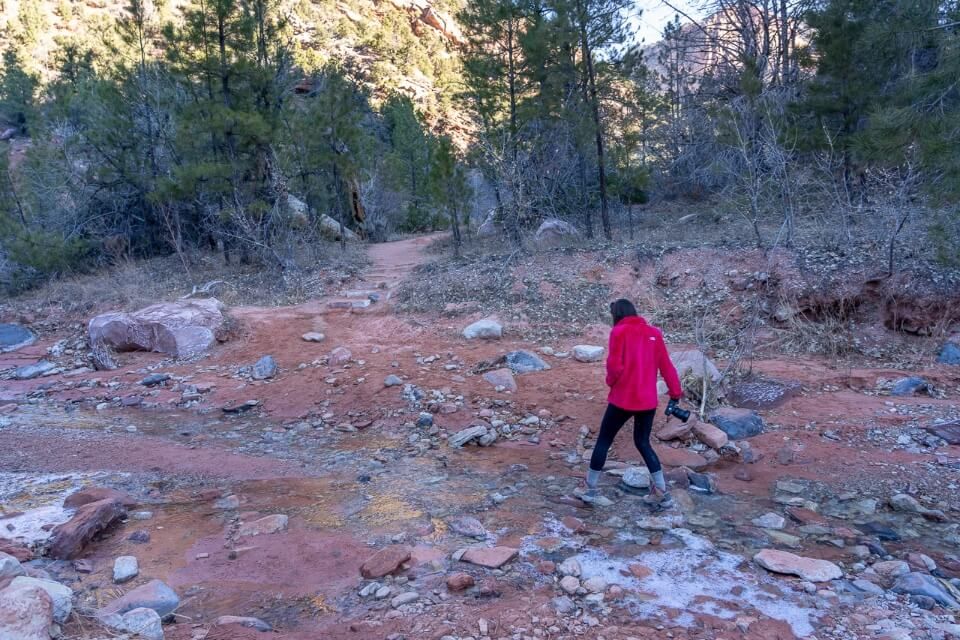 Hike Down To The River
The trail begins by hiking down to the Middle Fork of Taylor Creek.
The morning we hiked in December was cold and there was a thin film of ice on top of the shallow tributary. If you do the same just be careful of slippery stones when crossing.
If you set off early as we did, you're going to spend most of your hike in deep shadows followed by sections in the sun. Layers are key!
The hike is almost exclusively hard packed dirt trail, but there are sandy sections and a handful of times you will walk up dry riverbeds. To start, you will be walking on an easy and flat path.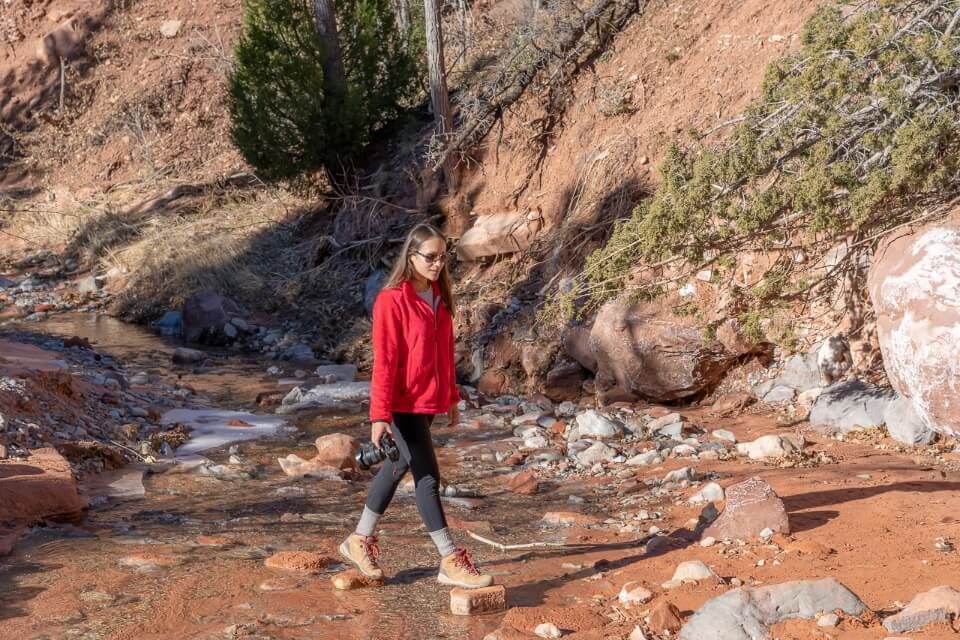 Middle Fork River Crossings
The thing you will remember most about hiking the Taylor Creek Trail is how many times you had to cross the Middle Fork river. We can't tell you the exact number, but it's a lot of crossings!
Just like in the photo above, each river crossing has small stones or rocks to use so you shouldn't get your feet wet on the hike.
As you very gradually climb upstream through the narrow box canyon toward Double Arch Alcove, you will be constantly zig zagging from left to right side of the river.
As mentioned above, certain sections of the hike will require you walk on sand. But the sand here in Kolob Canyon is a beautiful deep pink color, and it looks even more radiant when under direct sunlight.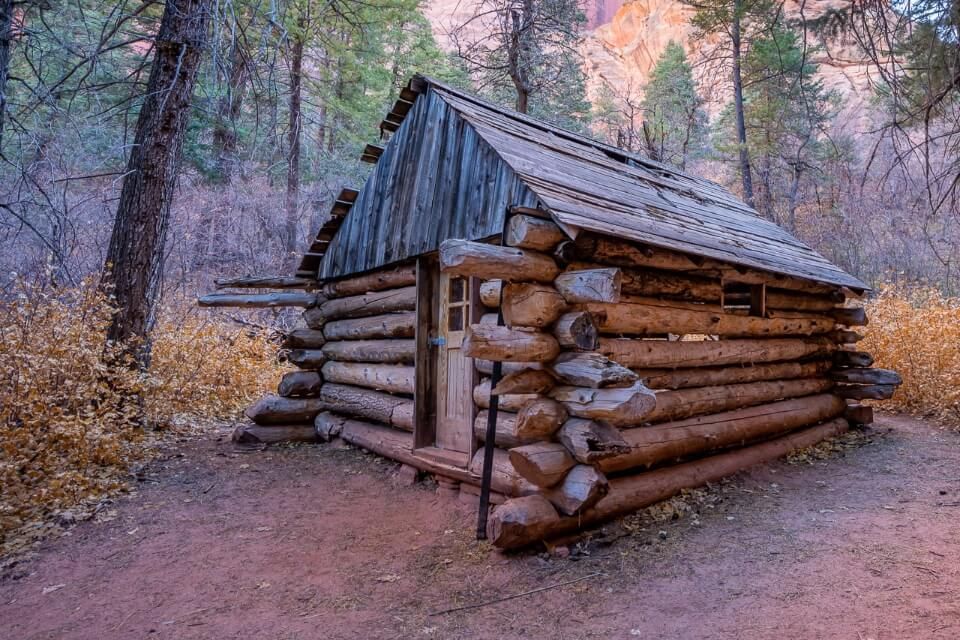 Two Wooden Lodges
Aside from Double Arch Alcove, there are two other landmarks you can't miss when hiking the Taylor Creek Trail. They are two historic homestead log cabins built way back in the early 1930's by early settlers.
These cabins long pre-date the time in which the Kolob Canyon area was absorbed by Zion national park boundaries. Both are in excellent condition but the second cabin (pictured above) has the prettiest surroundings.
We were late in the season by December, but if you visit in September through November you will see far more vibrant yellow leaves around the cabin.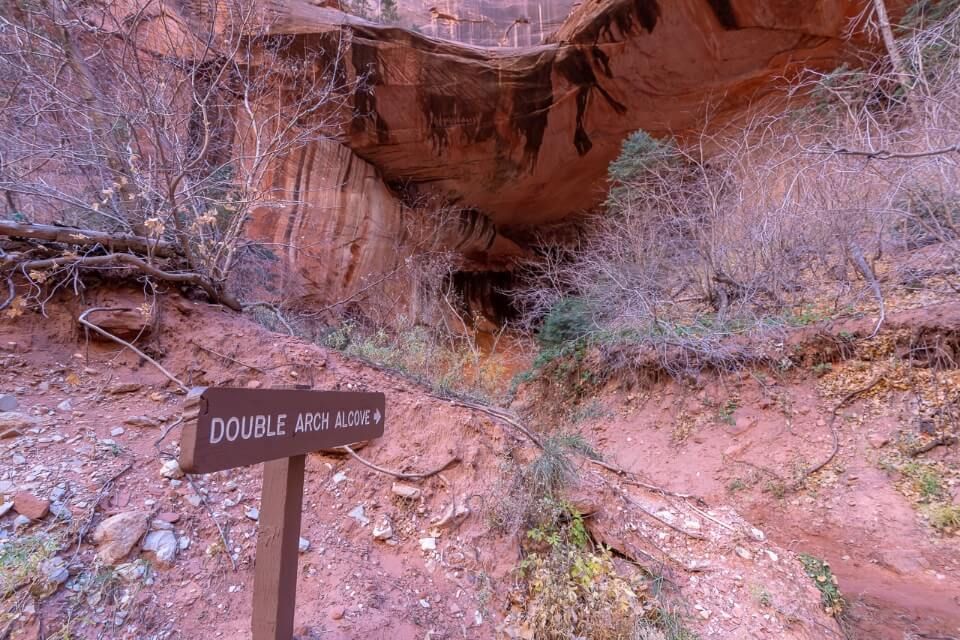 Double Arch Alcove
After 2.5 miles you will finally reach a brown sign showing you the way to Double Arch Alcove. Although, you will know you're getting close when the canyon begins to narrow.
You will notice how those tall sandstone walls appear to be closing up. Right before that point you can take a right turn and expose a huge concave formation adorned with colorful patterns.
This is where you'll need to get your camera out and start snapping. The alcove is enormous and you won't be able to get it all in one shot, so try taking multiple images and stitch them together later in post editing.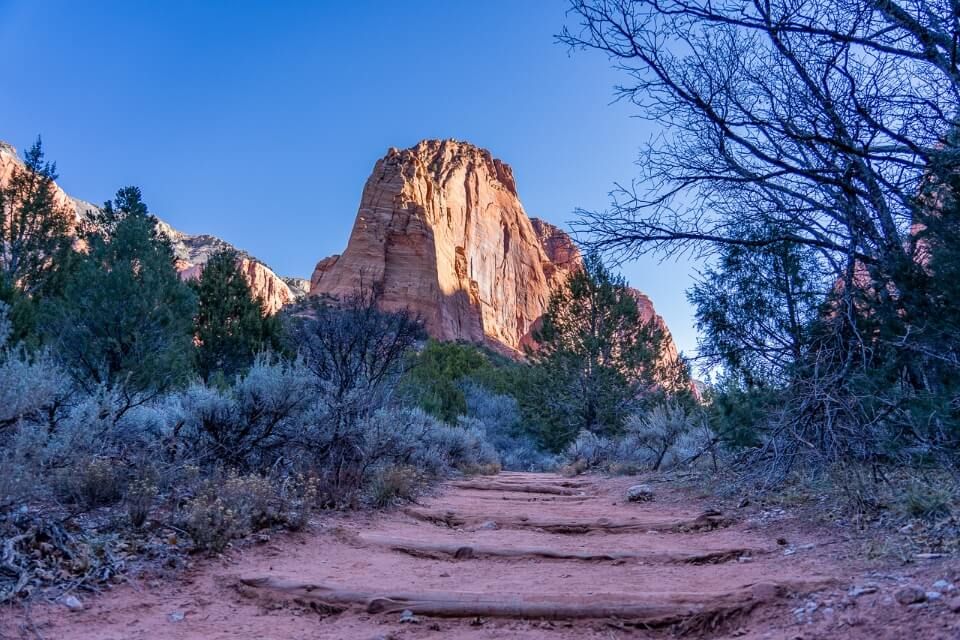 Hike Back To The Trailhead
Once you've stopped looking up at the gaping expanse in the sandstone at Double Arch Alcove, it's time to turn around and walk the exact same way back to your car.
You can technically continue walking past Double Arch Alcove, but it is not recommended. There is no maintained trail, it doesn't go a huge amount further and you will have to climb boulders to progress into the box canyon.
The way back is slightly easier as you will descend 450 ft over 2.5 miles, plus the sun will cover more of the trail as it swings around to the South and West later in the day.
Check live and current hiking trail information at Zion before planning your hike. Trails are renowned for closing at short notice throughout the year.
And that's all there is to a hike up Taylor Creek to Double Arch Alcove. This really is a nice easy trail for the whole family to enjoy with a wonderful climax. The kids will love never-ending river crossings!
Pros To Hiking Taylor Creek Trail
Very peaceful and relaxing hike for Zion
Stunning canyon views throughout
Multiple river crossing to keep the kids entertained
Cons To Hiking Taylor Creek Trail
Not a challenging or adventurous Zion trail
No elevated views over canyon floors
Out and back means seeing the same things twice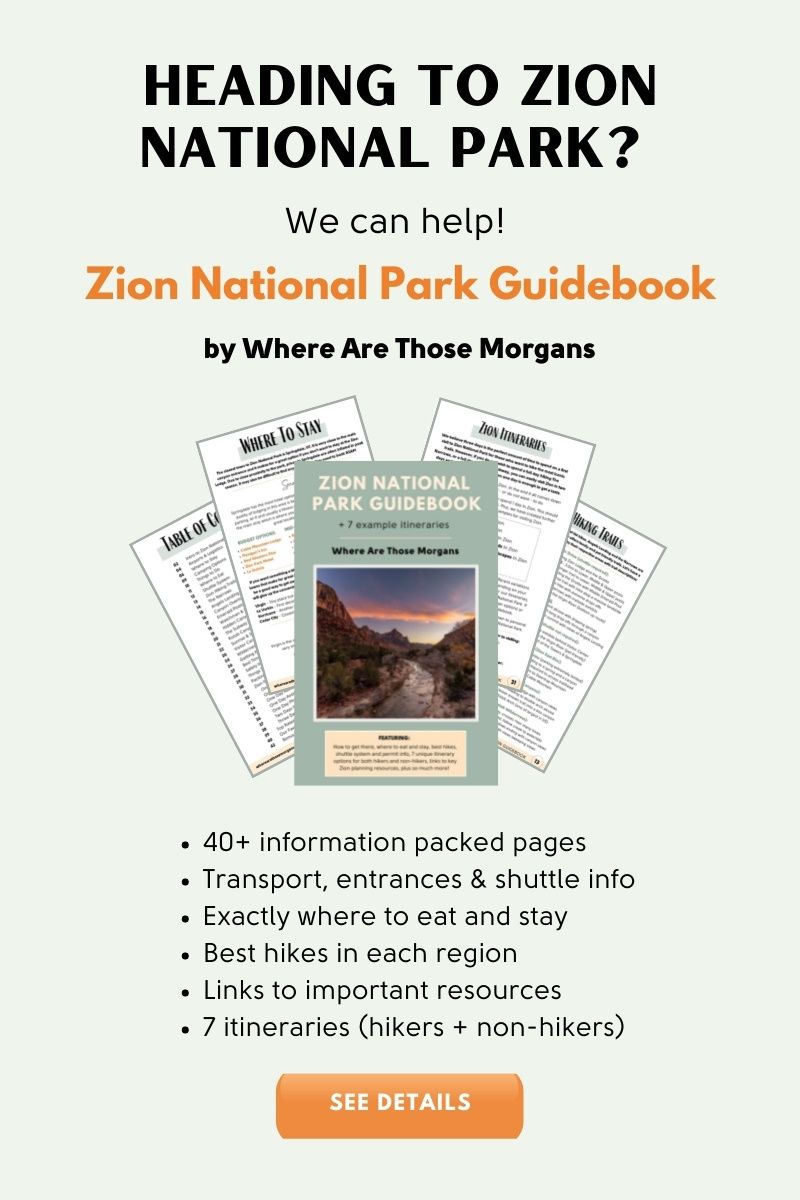 Our Popular Zion National Park Guides
More Zion Hiking Guides
Want more Utah content? Head over to our Utah Travel Guides to explore the Mighty Five National Parks and beyond.
---
We hope this guide to hiking The Taylor Creek Trail helps with planning your visit to Zion National Park!
Please let us know if you have any questions about The Taylor Creek Trail hike, Zion National Park or your visit to Utah in the comments below.
Happy Hiking,
Mark and Kristen
Enjoy This Guide? Pin It For Your Hike!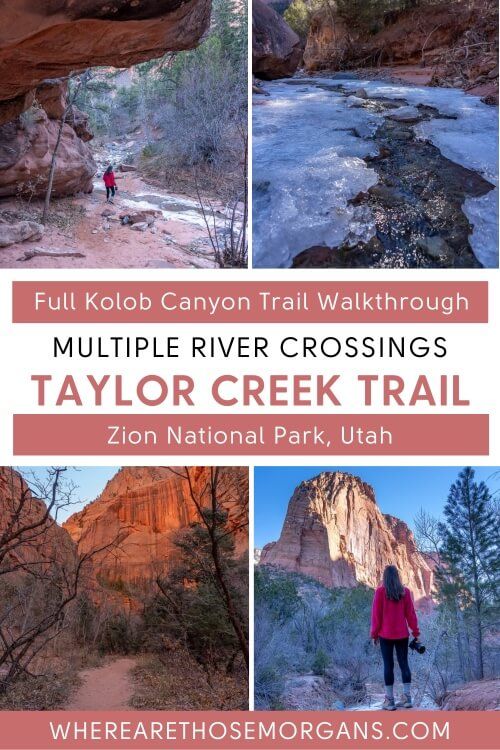 Note: This article contains affiliate links. When you make a purchase using one of these affiliate links, we may earn a small commission at no extra cost to you.
All Rights Reserved © Where Are Those Morgans, LLC. Republishing this article and/or any of its contents (text, photography, maps, graphics, etc.) in whole or in part is strictly prohibited.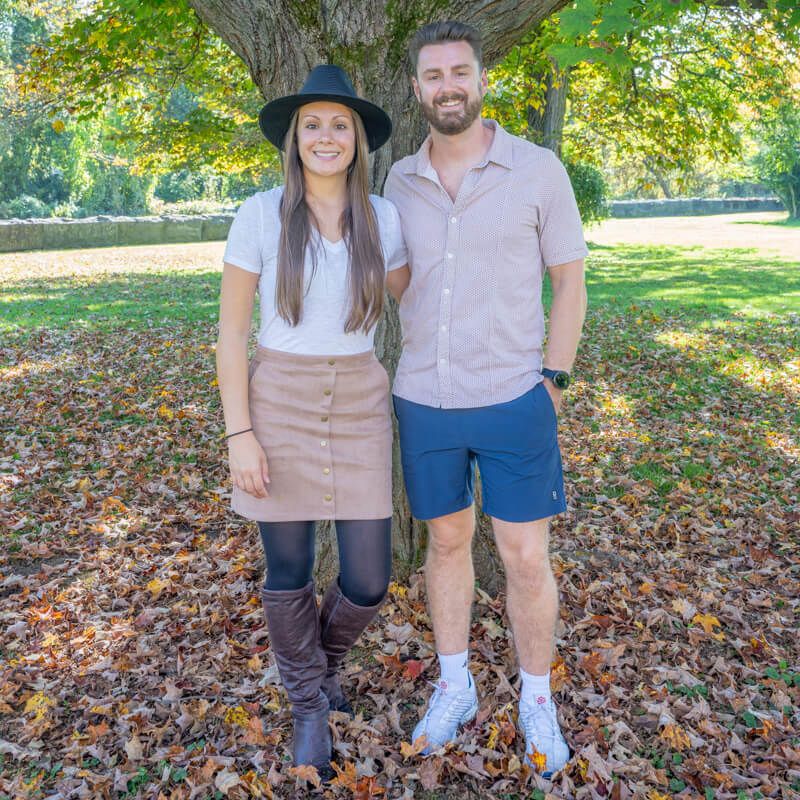 Mark and Kristen Morgan are travel, hiking and photography experts. Over the last 6 years traveling full time, they have explored more than 40 countries and 30 US states.
Their work has been featured in USA Today, Gestalten, Get Your Guide, CityPASS and Condé Nast Traveler along with various other publications.