Hikers can be picky about their gear because they often need specialized equipment. Unfortunately, this can make finding the best hiking gifts for him or her an extremely daunting task.
Luckily, we are here to help you find that special something for this holiday season. As avid hikers ourselves, we have personally hand picked every item on this hiking gift list.
We want your hiking present to be something the hiker in your life can actually use on the trails. In order to make your gift selection easier than ever, we have broken down this guide into specific categories.
You can shop our best gifts for hikers list by the following sections:
Hiking safety accessories
Best subscriptions for hikers
Clothing gift ideas for hiking lovers
Best gifts for mountain hikers
Unique and thoughtful hiking gift ideas
Luxurious hiking items
Best hiking books
Cheap hiking gifts under $25
This thoughtful hiking gift list includes ideas for both men and women as well as new or seasoned hikers. Feel free to jump to certain sections of this guide using the table of contents below.
Now, let's shop the best gifts for hikers!
Our Hiking Experience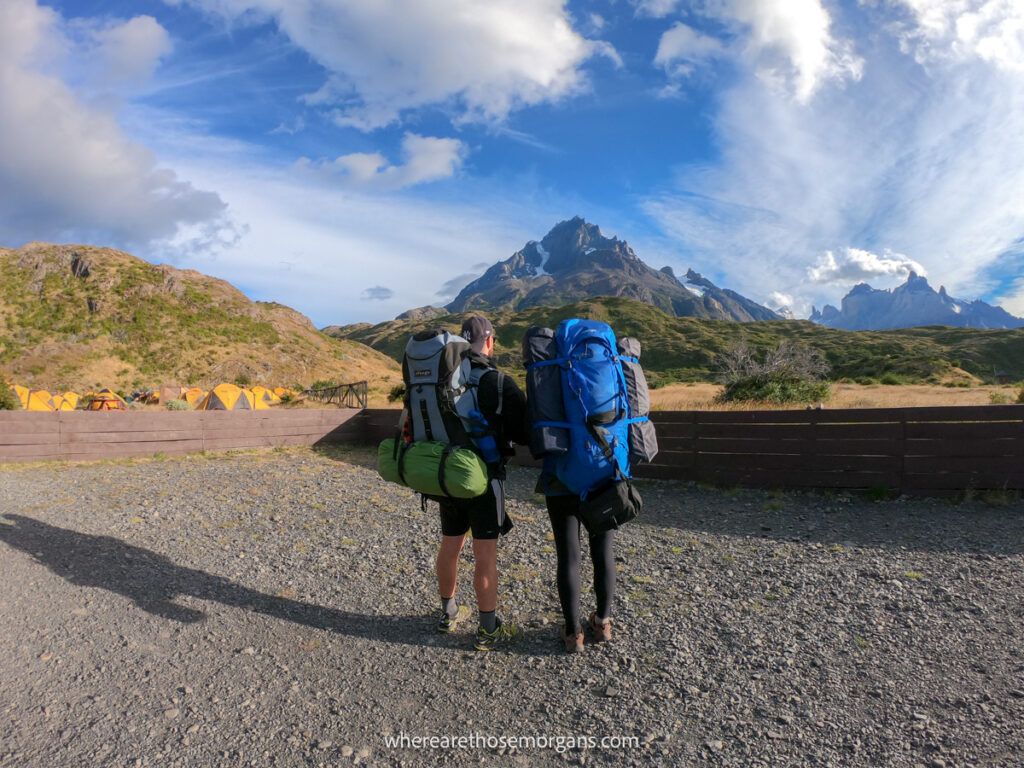 As a popular hiking blog, we love to write about our experience from hiking trails both in the US and around the world.
We have completed some pretty epic trails including Tour du Mont Blanc, the W-Trek in Chile and the Inca Trail to Machu Picchu.
Once Mark officially immigrated to the US in 2019, we spent the next several years road tripping around the country checking off the best hiking trails in the United States.
Our main goal in this best gifts for hikers guide is to help you pick out the perfect present for your hiking loved one featuring items we use on the trails everyday.
Where Should You Buy Hiking Gifts?
Before we get into the meat and potatoes of this best hiking gifts list, it's important to note that it has taken us years to accumulate all of our hiking equipment.
We have an REI Membership which gives us 10% off most items and we always recommend REI when purchasing new hiking gear.
However, you can sometimes find amazing deals during the holidays on official websites or Amazon so it's best to shop around for the best price.
We have included links to everything you need to make this a wonderful shopping experience! Now, let's find that special gift for the hiker in your life…
Best Hiking Gift Safety Accessories
The first section on our hiking gift list features important safety gadgets that can help your hiker stay safe at all times no matter where they roam.
All hikers should always carry the 10 hiking essentials even on day hikes. Safety is one of the best hiking gifts you can give your loved one.
Anything can happen on the trails, especially in the remote backcountry so these hiking gift options will help to give you a piece of mind when they are out on the trails.
---
---
---
---
---
---
---
New to the outdoors? You might like to read our popular guide featuring hiking tips for beginners.
---
---
---
---
---
Hiking Tip: If tackling a long day hike such as the Enchantments in Washington, be sure to use a water reservoir in addition to the LifeStraw. We love these Osprey hydration reservoirs.
---
---
---
---
Subscriptions Every Hiker Should Have
Next up on this guide featuring the best gifts for hiking lovers, we have included important subscriptions every hiker should consider.
This includes our favorite apps for hiking as well as memberships that can seriously help your hiker save money next time they camp, visit a US National Park or need to purchase hiking gear.
Interested in outdoor apps? Be sure to read about our recommended hiking apps for your next adventure.
---
---
---
---
---
Want to know more about the National Park Pass? Read our detailed guide about an America the Beautiful Pass to see exactly where your hiker will receive free entry.
---
Best Clothing Gifts For Hiking Lovers
There is a good chance your hiking lover already owns many of the hiking clothes they need to hit the trails. But there are a few items which always come in handy and make for great hiking gifts.
Here are a few hiking gift ideas we personally would love to receive under the tree this year so we have a feeling they will as well.
---
---
---
---
---
---
Gift Ideas For Campers And Hikers
Everyone has that friend or loved one who is always posting photos on social media of their recent hike or camping trip.
But the questions is, what do you get for someone who probably has thought of everything outdoor related already?
Well, this next section on our best gifts for hikers list includes specialized hiking gear and camping options to help make their time in the outdoors a bit comfortable.
We hope to help you find a few cool hiking gear gifts they can't wait to bring on their next outdoor adventure.
Is your hiker also an avid camper? Check out the best gifts for camping next!
---
---
Is your hiker heading to Zion? They might be interested in our Zion Travel Guidebook featuring seven example itineraries for both hikers and non-hikers.
---
---
---
---
---
---
---
---
---
---
Interested in Osprey Backpacks? Don't miss our detailed review featuring the Osprey Farpoint 40 which we used to backpack around the world.
---
Hiking Tip: This Kula Cloth has been one of the newest editions to our hiking gear arsenal. Its not fun to drip dry during a long hike and this product is life changing when used properly.
---
---
---
Thoughtful And Unique Hiking Gifts
This next section of our best gifts for hikers guide includes unique hiking gift ideas. We hope you can find something special for the hiker in your life here.
We have personally gifted or received all of the hiking gadgets listed below. This thoughtful list will make the perfect gifts for hiking lovers so you can surprise them this holiday season.
---
---
Hiking Tip: Never solely rely on apps and just your phone to navigate while hiking. Be sure to study your route before hitting the trail and have a copy of a paper map in your backpack.
---
Enjoy photography? You might like our Photography Guides from around the world.
---
Want to hike the Wave? Don't miss our popular guide featuring a walkthrough of The Wave hike.
---
---
---
Interested in these passports? Here is everything you need to know about National Park Passports.
---
---
---
---
Luxurious Hiking Gifts For Him And Her
Of course, this extensive list featuring the best gifts for hikers had to include a few luxurious options.
Hiking gear can be expensive. We understand it's not possible to buy everything at once. Remember, it's taken us several years to purchase our hiking equipment and we still don't have everything we need.
But you can certainly start chipping away at some of those items on your hikers wish list today!
---
---
---
---
---
---
Hiking Books For Outdoor Lovers
The best gift for a hiker doesn't have to be technical gear, it can be something much more simple.
A book is a great option if you are looking for a hiking gift for a couple or group of people. Whether you are looking for a new coffee table book or a fun story about an epic adventure, we have you covered.
Love reading about hiking? You might like our inspirational hiking quotes.
---
Looking for more USA content? Don't miss our popular guide featuring the 30 best USA road trips.
---
---
---
---
---
Stocking Stuffer Hiking Gifts Under $25
The best gifts for hikers don't always have to be the most expensive options. Sometimes, the most memorable gifts are the small items your hiker can pull out of their bag every time they hit the trails.
We like these cheap hiking gifts because most of them involve an element of safety which can seriously help your hiker if they get into trouble outdoors.
If you haven't found a present yet, buy a few of these gifts for hikers under $25 and add all these items to a hiking gift basket to give them something unique this year.
These last few minute gift ideas for hikers are a meaningful way to show them how much you truly care about their adventures.
---
---
---
---
---
---
---
---
---
---
---
Conclusion For Best Hiking Gifts
If you have made it to the end, congrats because this is a very extensive hiking gift list. However, we have put a lot of time and energy into it so we hope you found exactly what you needed.
But if you are still on the fence about a few products, here are the overall 10 best gifts for hikers:
Nalgene Wide-Mouth Water Bottle
Gear Aid Tenacious Tape
REI Membership
Darn Tough Hiker Micro Crew Cushion Socks
Black Diamond LED Headlamp
Gaia GPS Hiking App
Patagonia Better Sweater
Osprey Hydration Backpack
America the Beautiful National Park Pass
Energy Bars
Any of these products are great hiking gifts for men and women because these are things we can't live without!
Best Gifts For Hikers FAQ's
Let's take a look at the some of the most frequently asked questions about hiking gifts and accessories.
Our Popular Gift Guides
More Hiking Inspiration
Looking for another gift? Head to our Gift Guides or Product and Tour Reviews to find something truly unique.
---
We hope this thoughtful list helped you pick out the best gifts all of those adventurous hikers in your life!
Please let us know if you have any questions about any of the best gifts for hikers or hiking in general in the comments below.
If you aren't exactly sure which gift your hiker would life, send them this webpage so they can choose for themselves!
Happy Shopping,
Mark and Kristen
Enjoy This Best Gifts For Hikers Guide? Pin It For Later!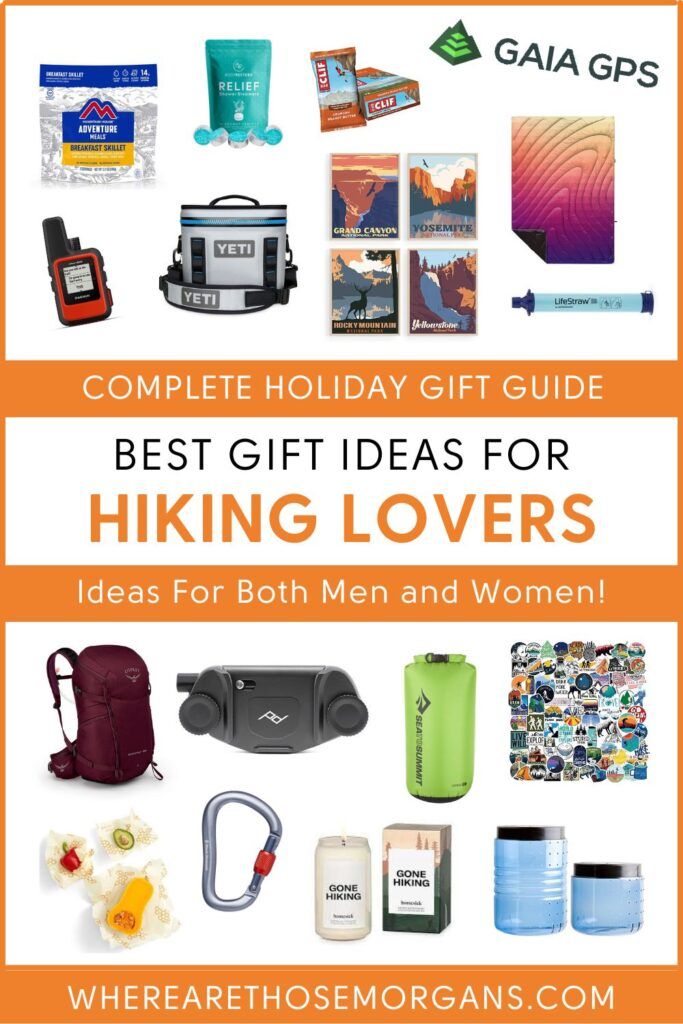 Note: This article contains affiliate links. When you make a purchase using one of these affiliate links, we may earn a small commission at no extra cost to you.
All Rights Reserved © Where Are Those Morgans, LLC. Republishing this article and/or any of its contents (text, photography, maps, graphics, etc.) in whole or in part is strictly prohibited.