Mt Pilchuck Trail is an extremely popular moderately difficult hike near Granite Falls in northwest Washington State. This complete trail walkthrough will explain everything you need to know about the awesome hike to Mount Pilchuck fire lookout tower in Mt Pilchuck State Park, WA.
Is hiking Mount Pilchuck Trail worth it?
Yes! A short but steep and scenic trail leads hikers to utterly mesmerizing views over Mount Baker, Mount Rainier, the Olympics and endless miles of Washington from the historic Mt Pilchuck lookout tower.
Here's what we will show you:
Mount Pilchuck trail length, elevation and time
Where Mt Pilchuck is and how to get there
Passes you need to park
Full walkthrough of Mt Pilchuck Trail with photos
Pros and cons
Let's hike the amazing Mt Pilchuck Trail to Mount Pilchuck fire lookout tower in Washington!
*Please note this post may contain affiliate links. If you click on one, we may earn a small commission at no extra cost to you. Thank you for supporting the free content we provide! Read more in our disclosure policy.*
Our Experience Hiking Mt Pilchuck Trail
We spent 6 months living near Seattle, Washington and fell in love with the Pacific Northwest.
In addition to visiting the three popular national parks in Washington State, we also wanted to explore the lesser known areas around North Bend, Gold Bar and the Mountain Loop Highway.
Mt Pilchuck was high on our wishlist because we knew it had magnificent summit views.
But after hiking the fantastic nearby Lake 22 Trail in July, we decided to leave Mt Pilchuck until the end of our time in Washington because we knew it would be exceptionally busy during summer.
So, we finally summited Mt Pilchuck lookout tower at around 10:00am on a Tuesday morning in October.
Was it worth the wait?
Oh yes! We had Mount Pilchuck fire lookout tower entirely to ourselves and only passed by a handful of other hikers.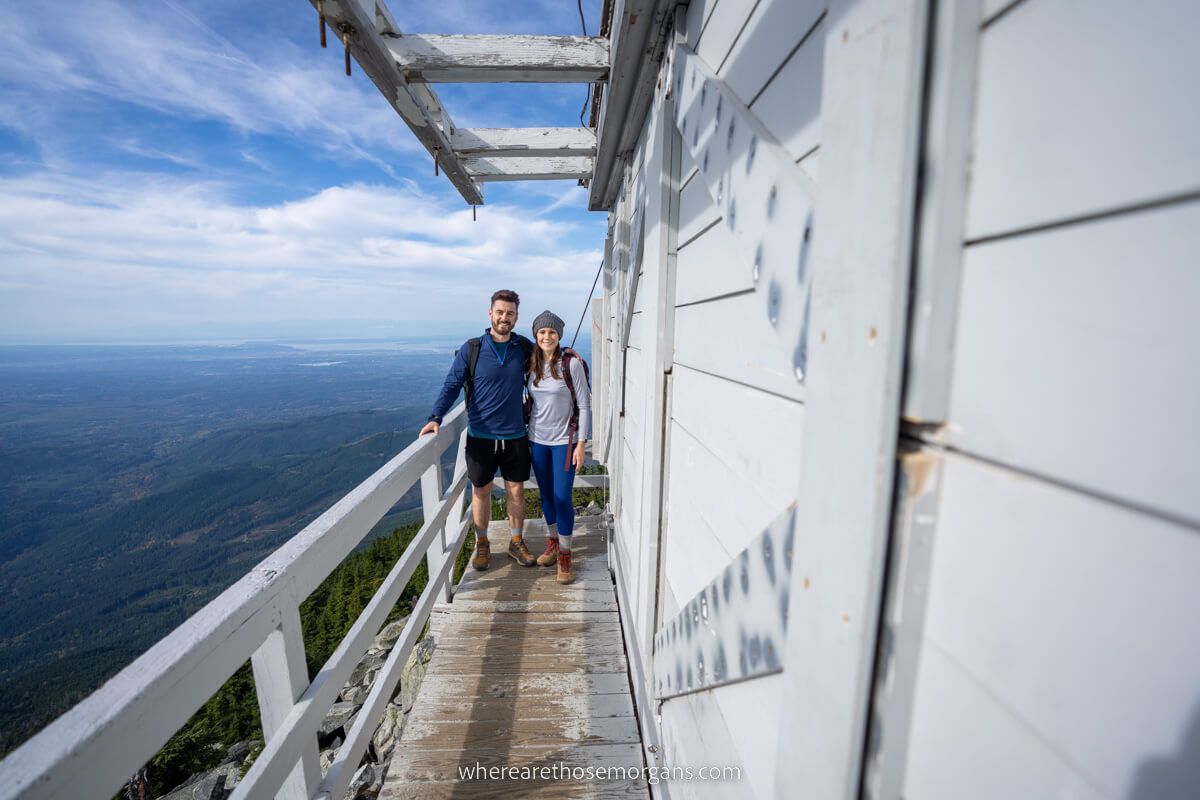 Mt Pilchuck Trail
What exactly can you expect when hiking Mount Pilchuck Trail?
First and foremost, Mt Pilchuck is one of the most popular day hikes in Washington State. So you can expect the trail to be busy if you hike in the warmer summer months when it is snow free and weather conditions are favorable.
The road leading to Mt Pilchuck Trail is renowned for being full of pot holes and essentially a truly awful drive.
It is worth it though, the diverse hike along Mount Pilchuck Trail leads through old growth forest to rocky viewpoints and eventually to magical 360 degree views over volcanoes and mountain peaks.
The popular hike has a 4.7 / 5 score with over 3,000 ratings on All Trails.
Mt Pilchuck Hike Length
Mt Pilchuck Trail is 5.4 miles roundtrip in length. Hikers will climb non-stop for 2.7 miles before descending the same way for a total 5.4 miles out and back trail distance.
What is the elevation gain of Mount Pilchuck Trail?
Hikers will gain around 2,200 feet elevation in just 2.7 miles between Mt Pilchuck Trailhead and Mount Pilchuck lookout tower at the summit.
Trailhead parking for Mount Pilchuck is located at 3,100 ft elevation and Mt Pilchuck fire lookout tower is at 5,327 ft above sea level.
Mount Pilchuck Hike Difficulty
Mount Pilchuck Trail is widely regarded as a moderately challenging hike. All Trails has it down as "hard", whereas WTA has it down as "intermediately difficult".
How hard is the hike to Mt Pilchuck lookout tower?
Having completed many of the best hikes in the US and around the world, we would personally rate Mt Pilchuck Trail as moderately difficult.
The trail is short and steep (especially closer to the summit), but the elevation gain never feels too extreme. With that said, it certainly isn't easy, so we do not recommend this hike for beginners.
As long as you have a good level of hiking experience, you should be fine taking on the calf burner to Mt Pilchuck summit.
How Long Does Mt Pilchuck Take?
Most people hiking Mount Pilchuck Trail take anywhere between 3 hours 30 minutes and 6 hours with stops and a break at the lookout tower.
It took us around 2 hours to reach the summit and 1 hour 45 minutes to descend, but we spent 45 minutes enjoying the views and eating snacks inside Mt Pilchuck lookout tower.
Our total time from trailhead back to trailhead was about 4 hours 30 minutes.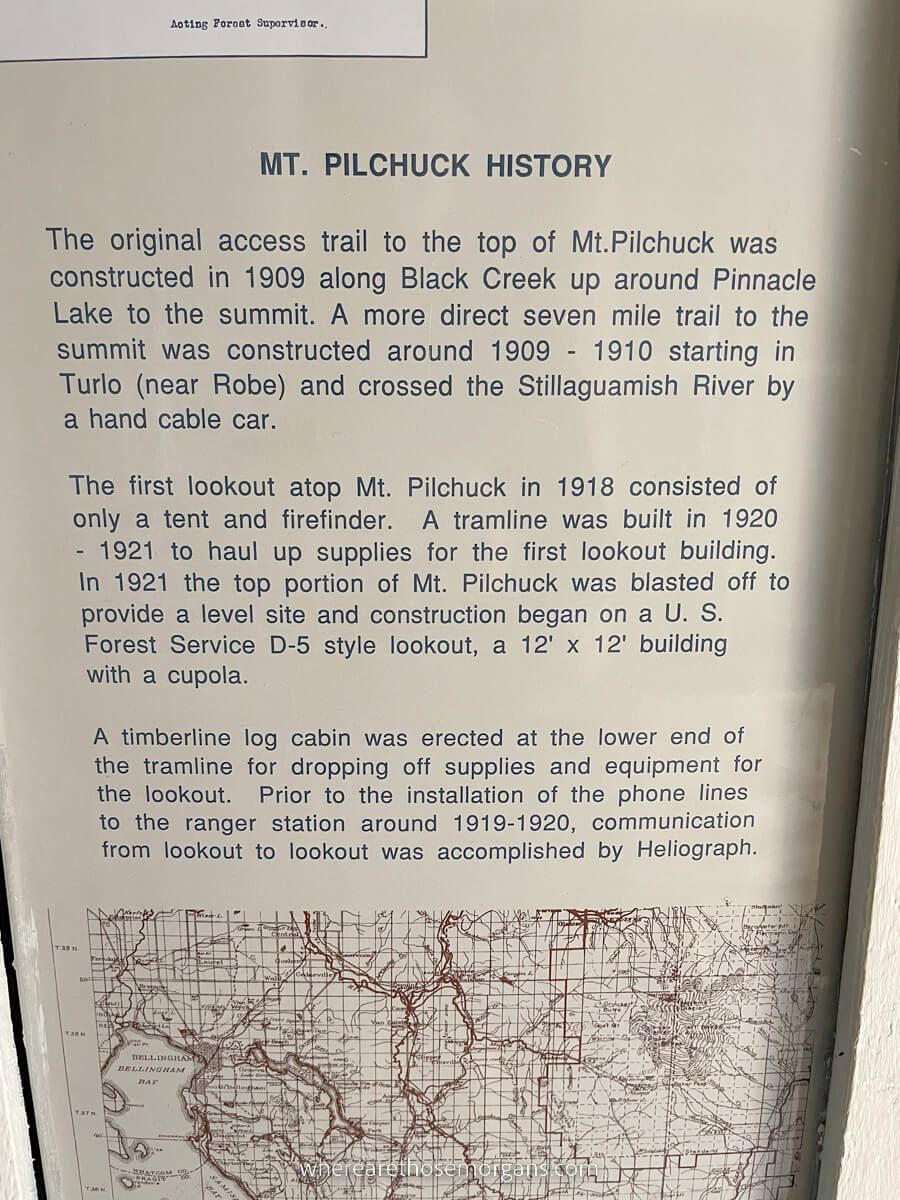 Mt Pilchuck Lookout Tower
Mount Pilchuck lookout was originally built in 1918 for detecting wildfires in Washington. The lookout was later rebuilt in 1990 by the Everett Mountaineers.
What is the lookout tower like?
Well, first of all you have to climb a tall and steep metal ladder to gain access to the white wooden structure.
Looking down through the rungs is enough to bring on a bout of vertigo, so if you have a fear of heights we suggest keeping your head up with the lookout in sight!
A boardwalk wide enough for two people to pass runs around all 4 sides of the square shaped lookout tower. You can soak up sweeping and far reaching views in all directions from the perimeter.
The entrance to Mt Pilchuck lookout tower is through a low doorway near the ladder. You will need to take your backpack off and crawl inside.
Can You Sleep At Mt Pilchuck Fire Lookout Tower?
Yes, you can sleep inside Mount Pilchuck fire lookout tower.
It is first come first served and the lookout tower is extremely popular, so we recommend arriving well in advance of sunset to snag a spot for your sleeping bag.
In summer when the lookout is busier, many people choose to camp wild on a flat spot up against rocks near the lookout instead of being crammed inside the small wooden structure.
Hike Mount Pilchuck early or late in the season if you want to guarantee a space inside the lookout tower for the night. However, be sure to carry lots of warm gear because it gets really cold up there.
You do not need to book or reserve a spot to sleep inside Mount Pilchuck lookout tower.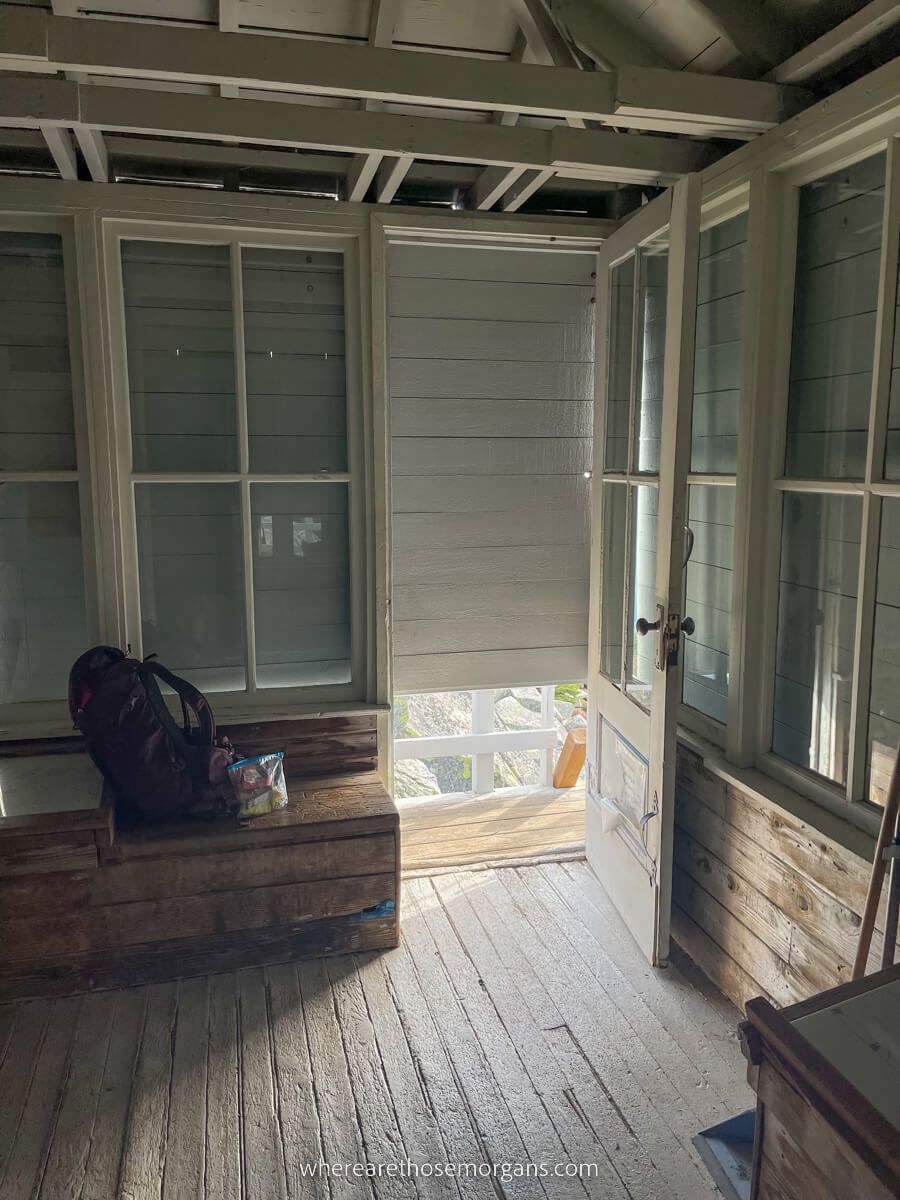 Sunrise + Sunset Hiking
Many visitors to Mount Pilchuck State Park choose to hike the lookout trail for sunrise or sunset. Next time we are in Washington, we fully intend to do one or both ourselves.
If you are planning to hike Mt Pilchuck Trail for sunrise or sunset, you need to prepare correctly with headlamps, warm gear and emergency first aid equipment.
You need to allow at least 2 hours hiking time to summit before sunrise or sunset but we would suggest including a substantial amount of wiggle room.
Check live sunrise and sunset times for Granite Falls here.
One important thing to consider is how long the fabled pot-hole heavy road will take to drive up to Mt Pilchuck Trailhead in the dark either before sunrise or after sunset.
Where Is Mt Pilchuck Located?
Mt Pilchuck is located in Mount Pilchuck State Park in Mount Baker-Snoqualmie National Forest on the west side of the Cascades between Canada and Mount Rainier National Park in northwest Washington State.
Essentially, Mt Pilchuck is surrounded by spectacular Cascade Mountains beauty in the Pacific Northwest!
The nearest small town to Mount Pilchuck is Granite Falls, Washington.
Mt Pilchuck Trailhead Directions
Here's a Google Map showing directions from Seattle to Mount Pilchuck Trailhead.
Click or touch the map above to activate.
If you are not starting your journey in Seattle, click the blue "more options" link to open Google Maps.
Change the origin point to your home address or town and let the map update the best route to Mt Pilchuck Trailhead.
If you use another map or GPS service, input Mt Pilchuck Trailhead or Mount Pilchuck Trailhead. This will lead you all the way up to the parking lot.
The drive is fine until you turn off Mountain Loop Highway onto NF-4220, which is also known as Mt Pilchuck Road. We will cover this road in the next section.
Here are distances and average times from major nearby cities to Mount Pilchuck Trailhead (with no traffic, which is rare in this part of Washington!):
Seattle – 62 miles / 1 hour 30 minutes
Bellevue – 62 miles / 1 hour 30 minutes
Renton – 72 miles / 1 hour 45 minutes
Everett – 34 miles / 1 hour 05 minutes
Tacoma – 95 miles / 2 hours 05 minutes
Driving Mount Pilchuck Road
The hardest part about hiking Mt Pilchuck has nothing to do with the hike itself.
In truth, by far the most challenging aspect of planning a hiking trip to Mount Pilchuck is accessing the trailhead via a dreadful 7 mile road littered with deep pot holes.
Imagine flattening a golf ball, you know those dimples, they are the pot holes for 7 long and slow miles on Mt Pilchuck Road.
Joking aside, this road is not to be taken lightly.
If you read comments on All Trails or WTA, you will see that almost every person doesn't talk much about the hike, they talk about how surprised they were by the road condition.
Let us clarify things:
The drive to Mt Pilchuck Trailhead is horrible!
Do You A Need 4WD Vehicle?
No, technically you do not "need" a high clearance car with 4WD to reach Mount Pilchuck Trailhead.
However, we strongly recommend driving Mt Pilchuck Road in the highest clearance vehicle you have access to. A Jeep Rubicon in 4L would be perfect.
We drove our Ford Escape, which handled the road reasonably well but it was still very bouncy and there were lots of grimaces as we dropped into deep pot holes.
If you are flying into the area and hiring a car with plans to hike Mt Pilchuck, it is worth upgrading to an SUV or Jeep.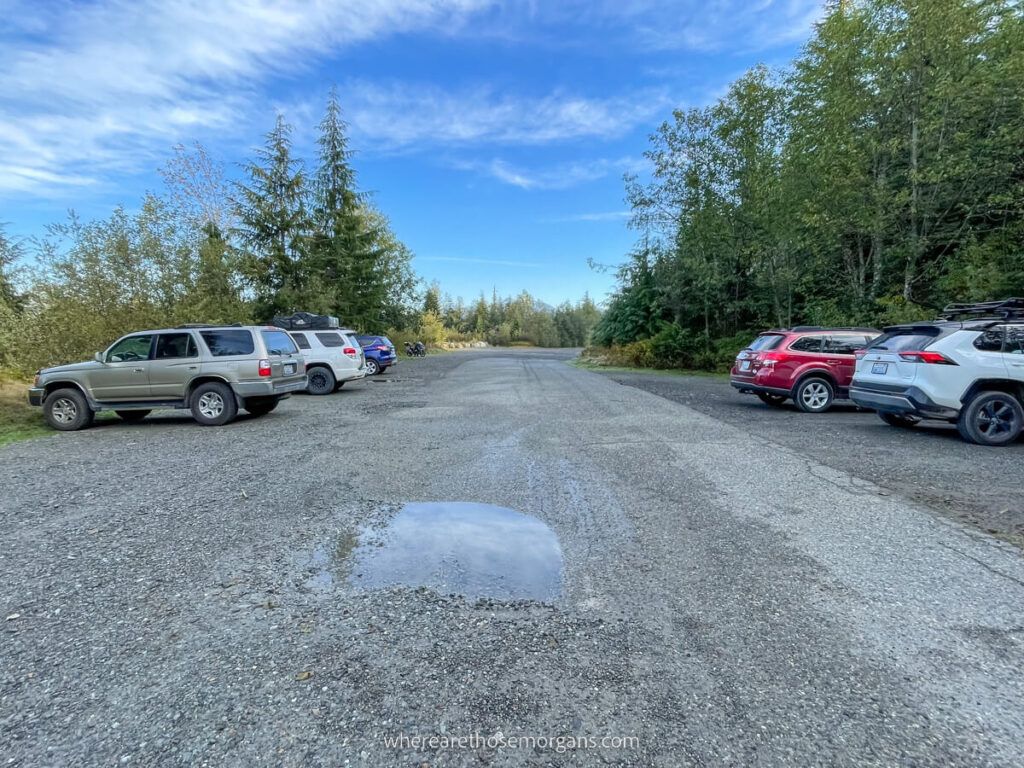 Mount Pilchuck Trailhead Parking
Once you eventually reach Mt Pilchuck Trailhead overcome with relief, you shouldn't have any issues getting parked unless it is a weekend in summer when it the trail is busiest.
Parking spaces are on both sides of the narrow road located at 3,100 ft in elevation. There are plenty of spaces to accommodate hikers most days of the year.
Note: Mt Pilchuck Road closes beyond Heather Lake Trailhead in winter.
Do You Need A Pass For Mount Pilchuck?
Yes, Mt Pilchuck is in National Forest land and as a result you need to display a pass.
The two passes you can display are Northwest Forest Pass or America the Beautiful Pass, otherwise known as Interagency Pass.
Northwest Forest Pass – Includes access to all National Forest land in both Washington and Oregon. You can buy day passes or annual passes.
America the Beautiful Pass – Includes entry to all US national parks, national monuments, national forests and more for 1 year.
Read our popular guide about the pass: Is the America the Beautiful Pass worth it?
Note: We buy a new annual pass each year because we visit several parks and recreational areas covered on the pass.
Top Hiking Tips
Here are our best quick tips for the Mount Pilchuck hike:
Begin very early or much later in the afternoon to avoid crowds
Hike in late spring or fall to avoid the summer rush
Robust shoes are essential to help with gripping on slickrock and boulders
No specialist gear required for this trail in good weather
Don't forget your poles if you typically use them to hike
Can be bad for bugs in summer months so don't forget repellant
Mt Pilchuck is a dog friendly trail
Bring plenty of water and snacks or a light lunch for the lookout tower
Check recent comments about Mt Pilchuck hikers on All Trails
Looking for hiking inspiration? Check out our popular guide to the 50 best hikes in the US next!
Hiking Apps
Just before getting into the hike walkthrough, we wanted to quickly talk about the hiking apps for offline navigation on trails.
The night before we take on any new trail, we always download an offline map of the route we are about to hike. Having access to an offline map allows us to see exactly where we are on any given trail with or without cell phone service.
Mt Pilchuck Trail is easy enough to follow in good weather, but there are several rescues each year for hikers who try to improvise in tough conditions or snow and get lost.
You can use several of the best hiking apps to download offline maps, but our favorite is GAIA GPS. It is the best app for downloading maps and using them during hikes.
We teamed up with GAIA GPS to offer an exclusive 20% GAIA GPS discount for our readers who love to hike.
Hike Walkthrough
Let's get into a breakdown of the hike with photos at the end of each section so you can see exactly what to expect when hiking Mt Pilchuck Trail.
1. Begin The Hike
Park up, double check your gear and walk across the parking area to the trailhead sign. Familiarize yourself with the layout of the mountain and route displayed as a map on the information board.
Begin walking on the rocky path through forest and you will soon reach a fork. Take the right turn and cross a stream using small stones to avoid getting your feet wet.
Look for a sign stating that you are "entering Pilchuck State Park" so you know you are on the correct path.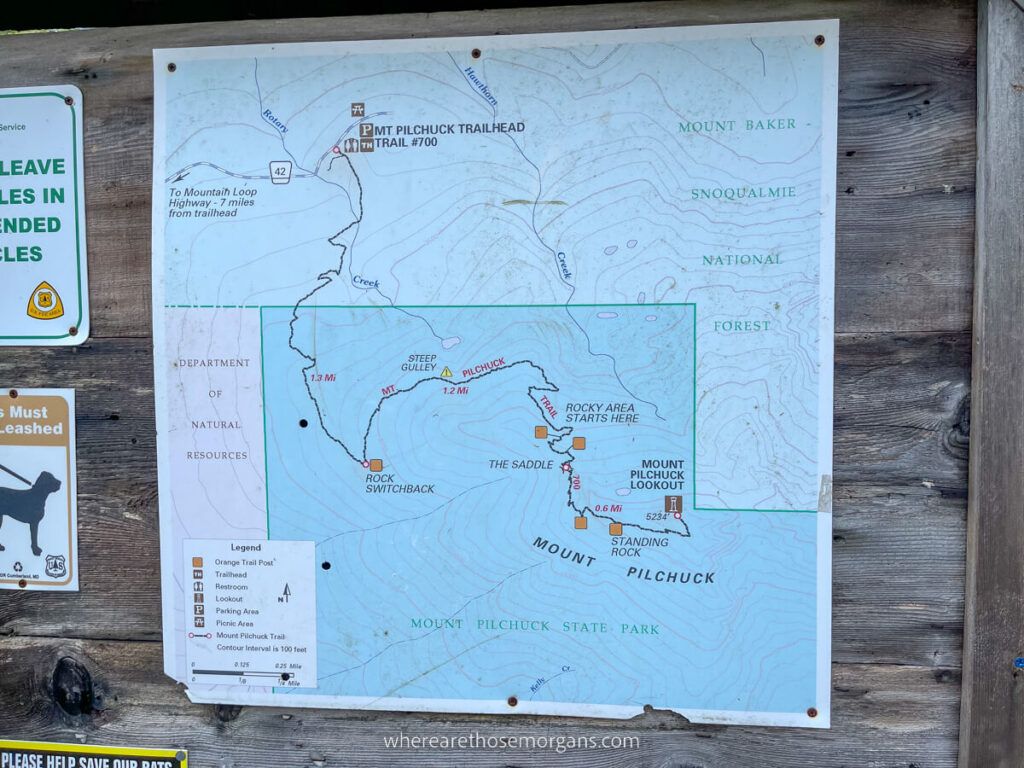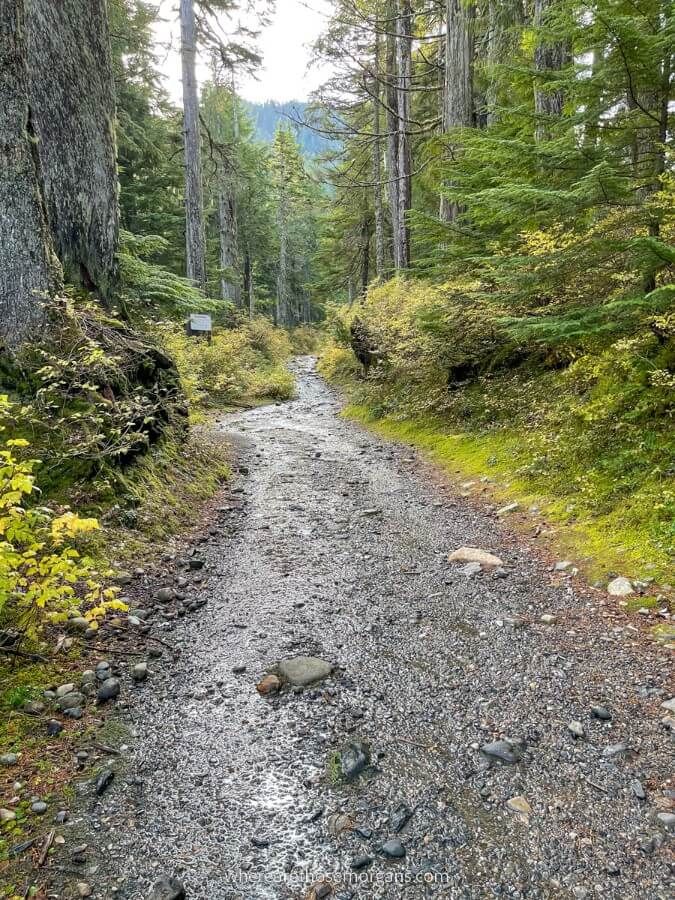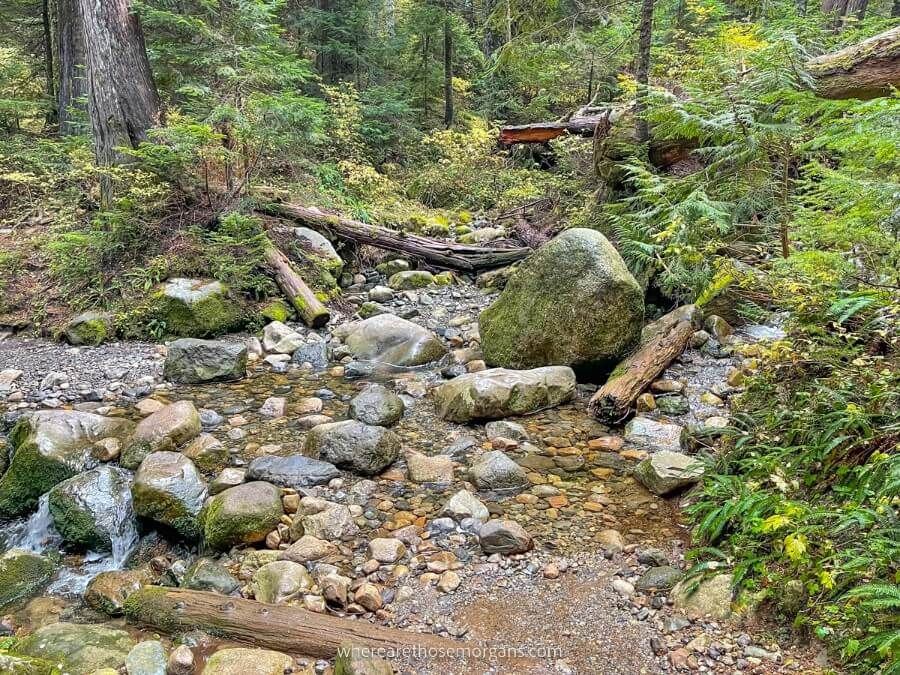 2. Climb Through Old Growth Forest
The trail gains gentle elevation through stunning old growth forest. Use the photogenic puncheon bridges to avoid stepping on fragile vegetation.
When hiking in Washington you will either have a crystal clear day or the forest will feel as though it is shrouded in dense slow moving cloud, which can have a cool eerie effect.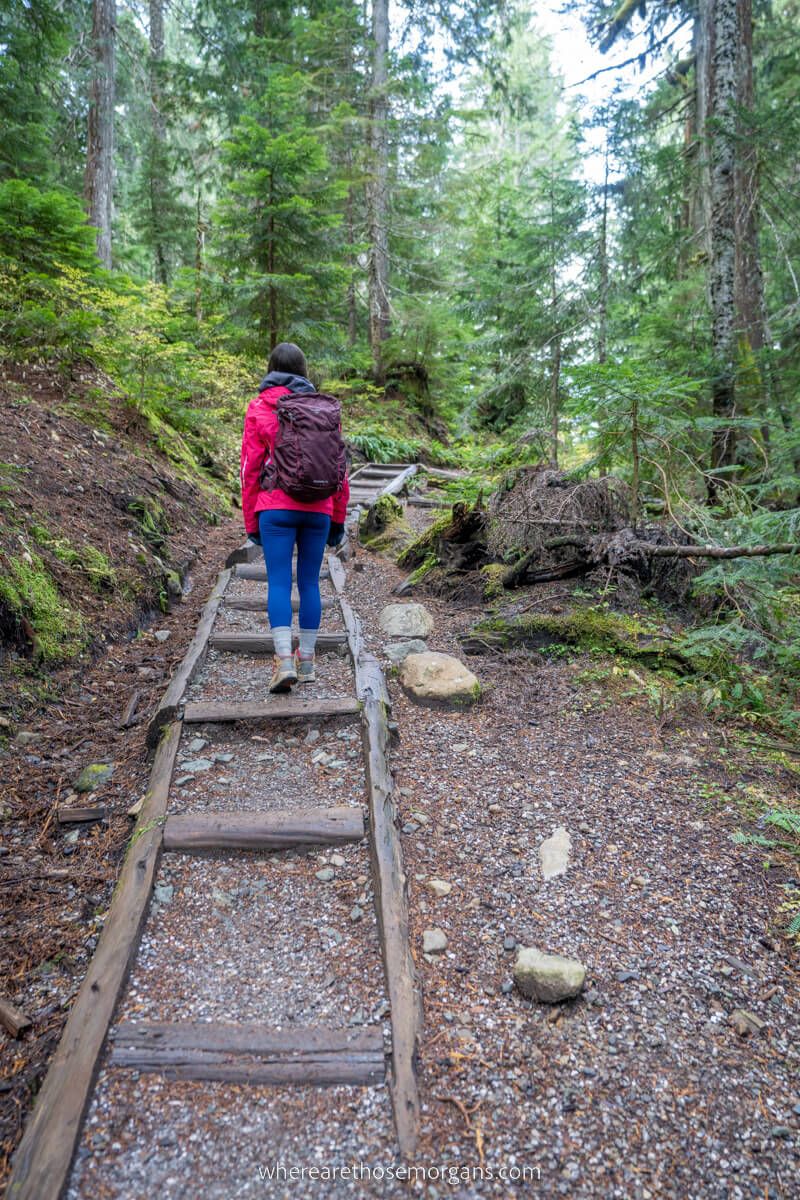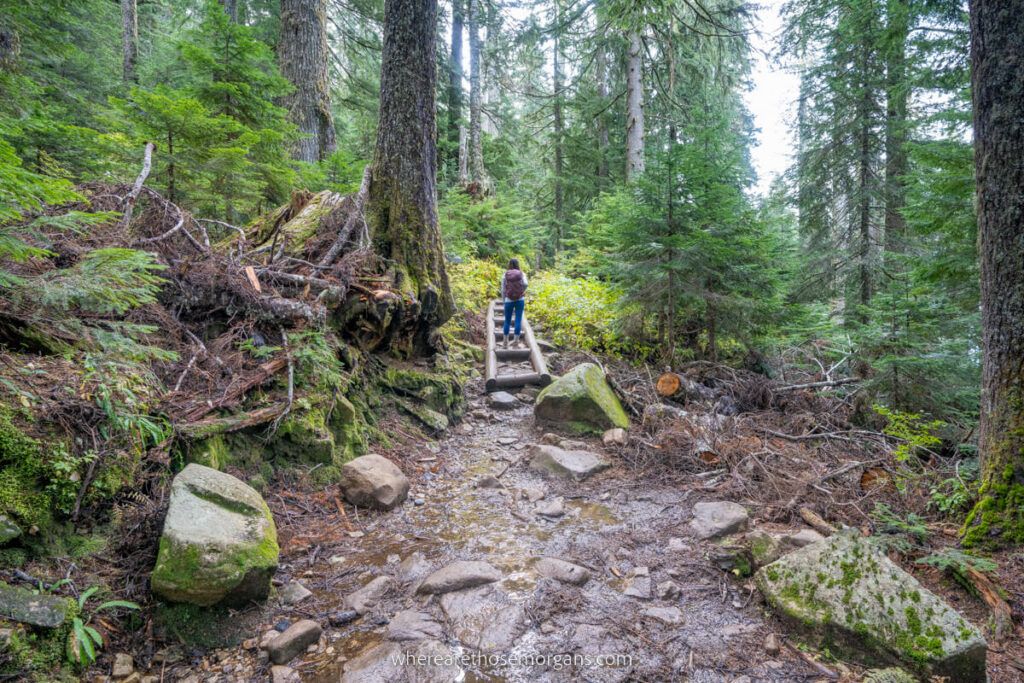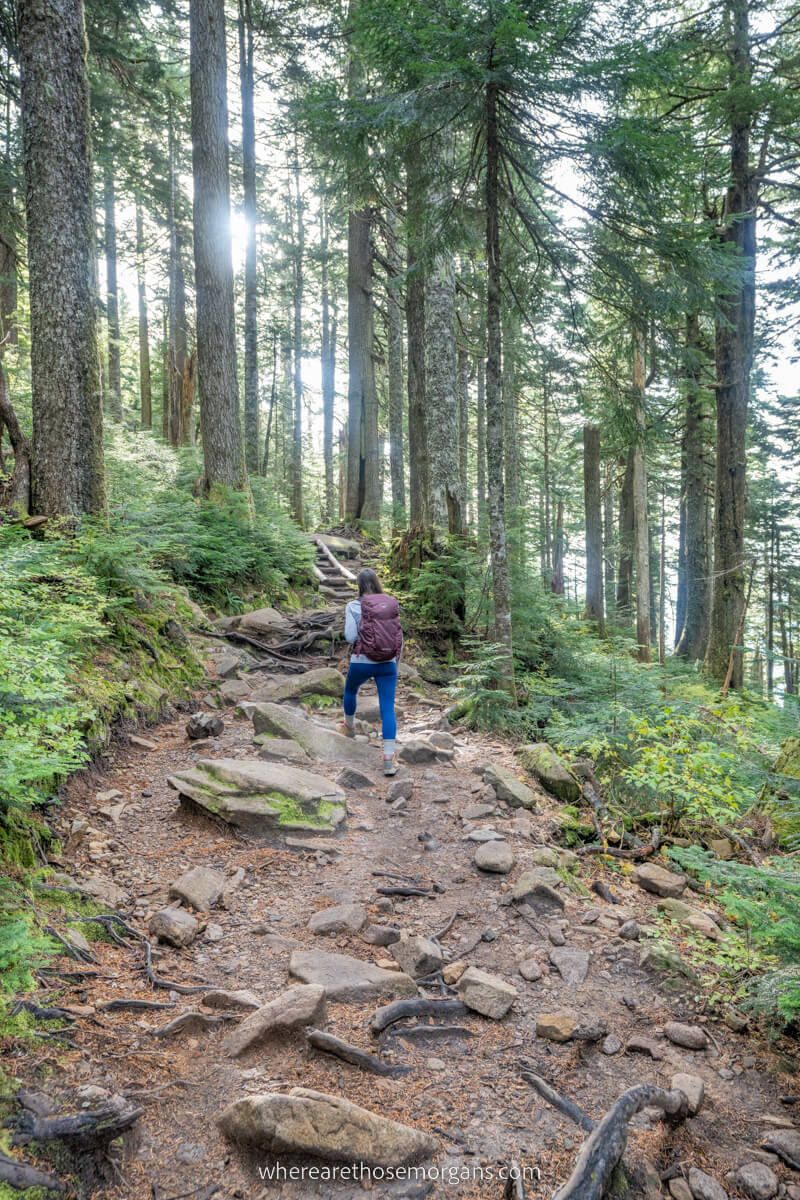 3. Switchback
Around 1 mile into Mt Pilchuck Trail you will reach your first major directional change. As the trail enters a scree slope filled with large boulders, you will see two orange poles with arrows pointing left and right.
You will turn left sharply like a switchback turn. The orange poles show images of a lookout to the left and parking to the right which is where you started.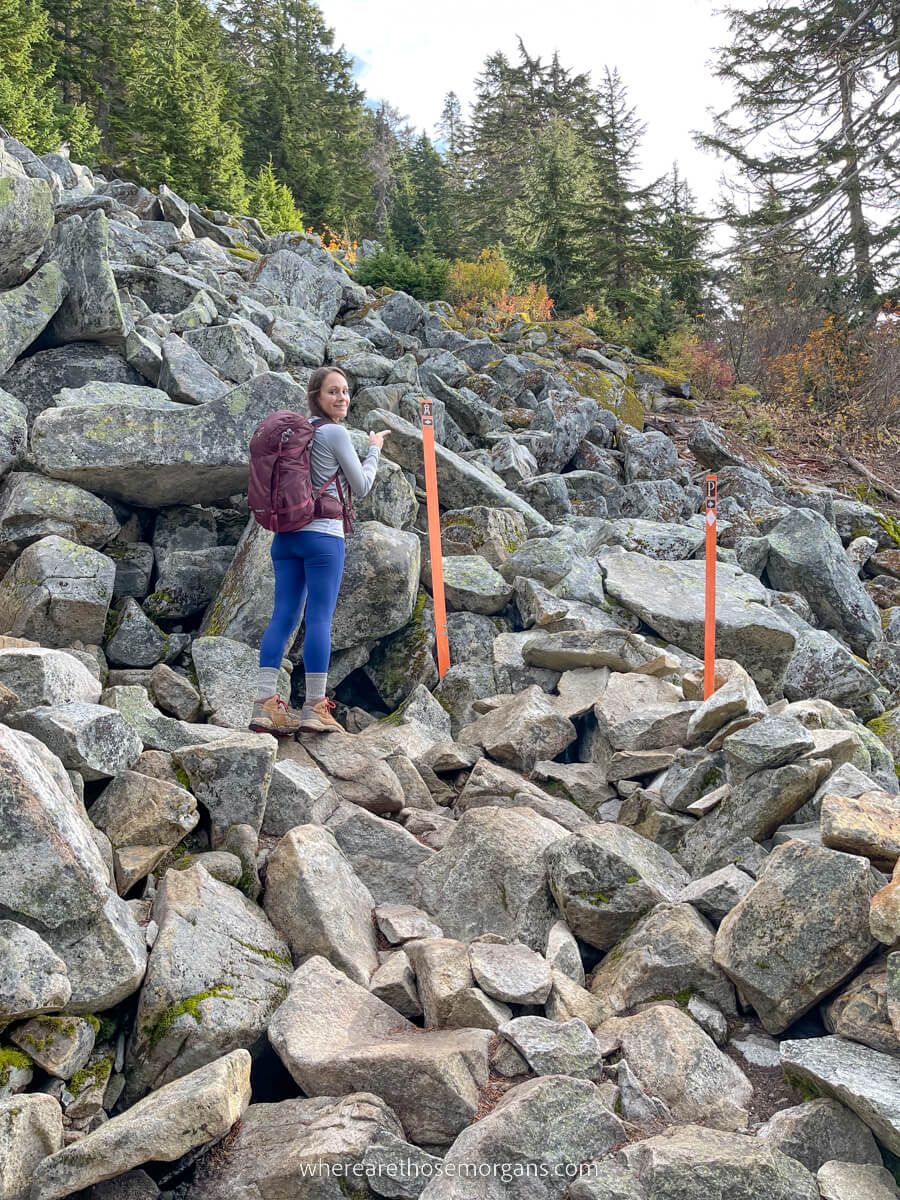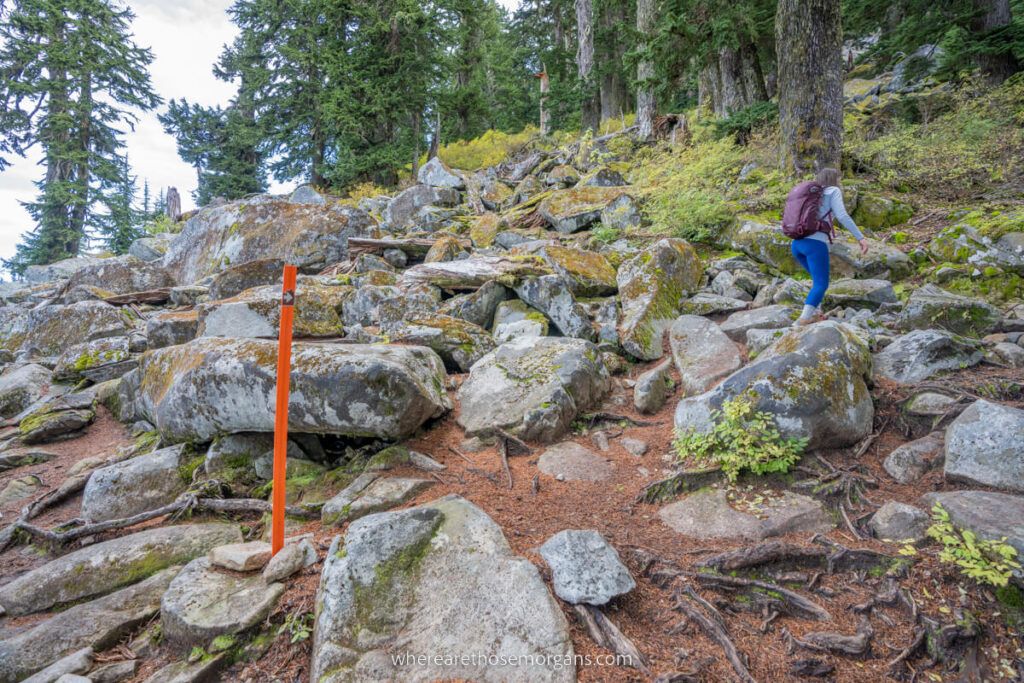 4. Leave The Forest
The trail narrows and becomes steeper as it arcs gently around to the right. After another half mile you will leave the forest entirely and begin to open up amazing views over the valleys below.
You will be able to see the fire lookout perched on the edge of a cliff from this open clearing. Use the position as a marker and continue following the trail, which is now surrounded by beautiful colors.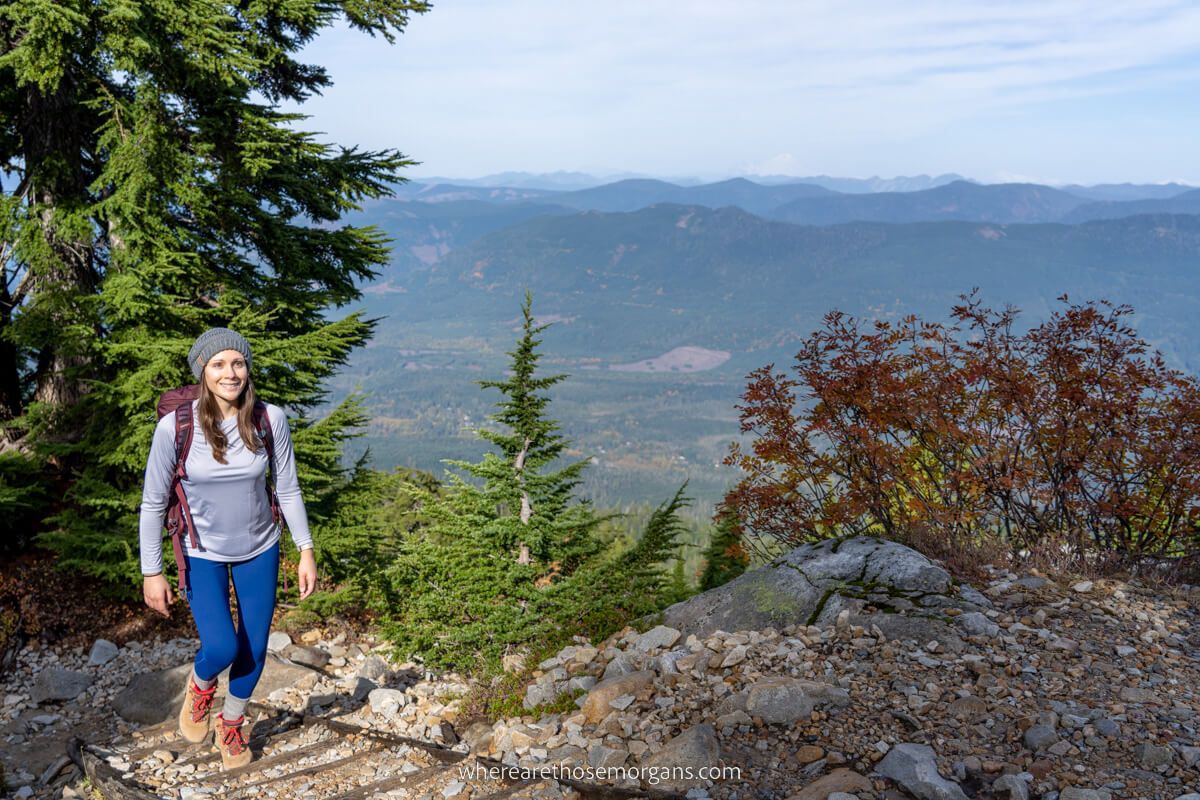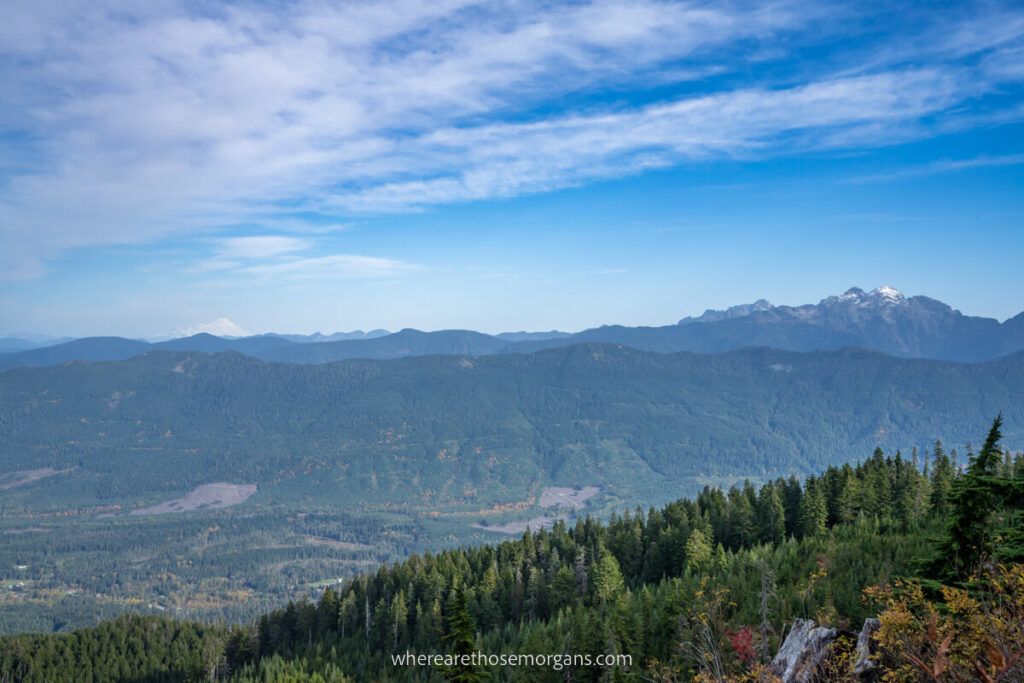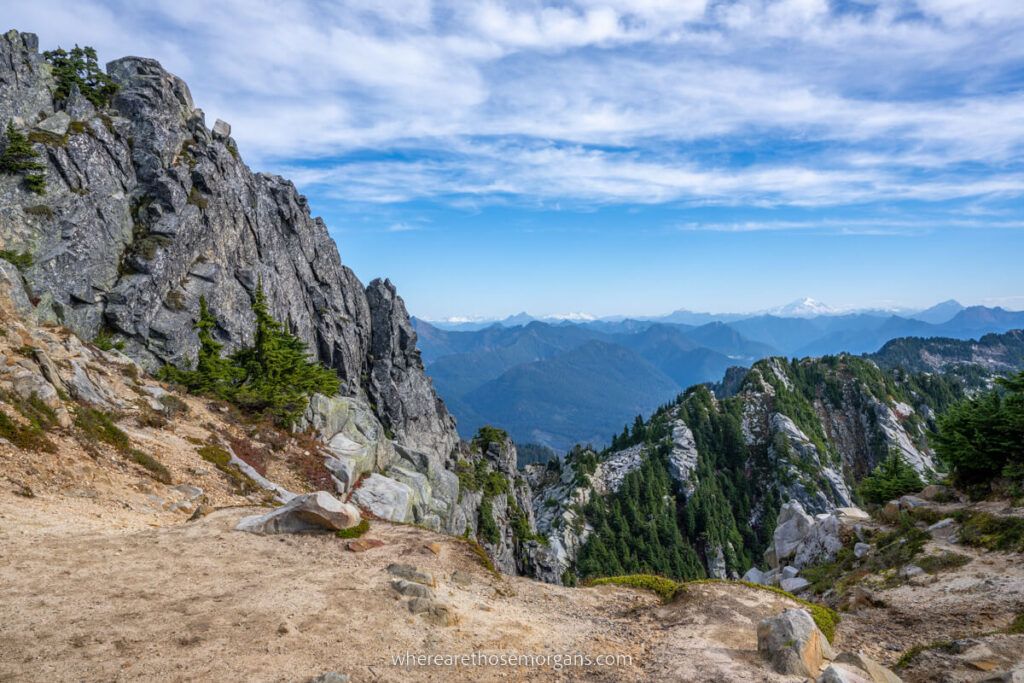 5. Rocky Area
Navigate through a small boulder field with a series of switchbacks to gain elevation and pass by a handful of false summits. The trail is still very attractive and views are getting better by the step.
You will pass over The Saddle and begin a long and gradual curving ascent to reach the lookout tower. This section is slow going and feels like it is never going to end, but trust us it does!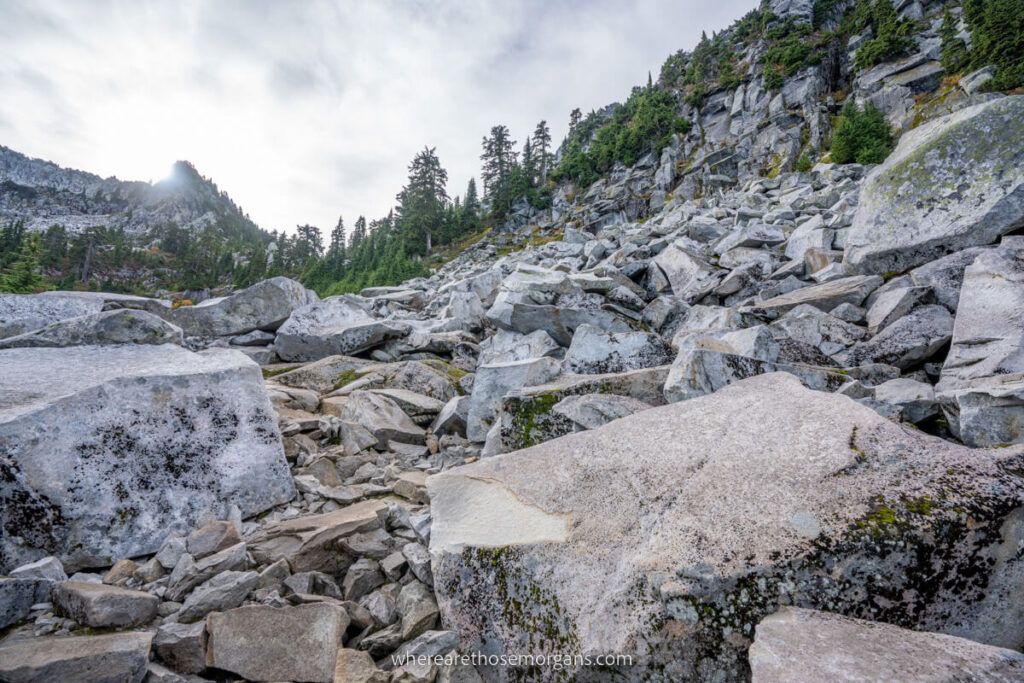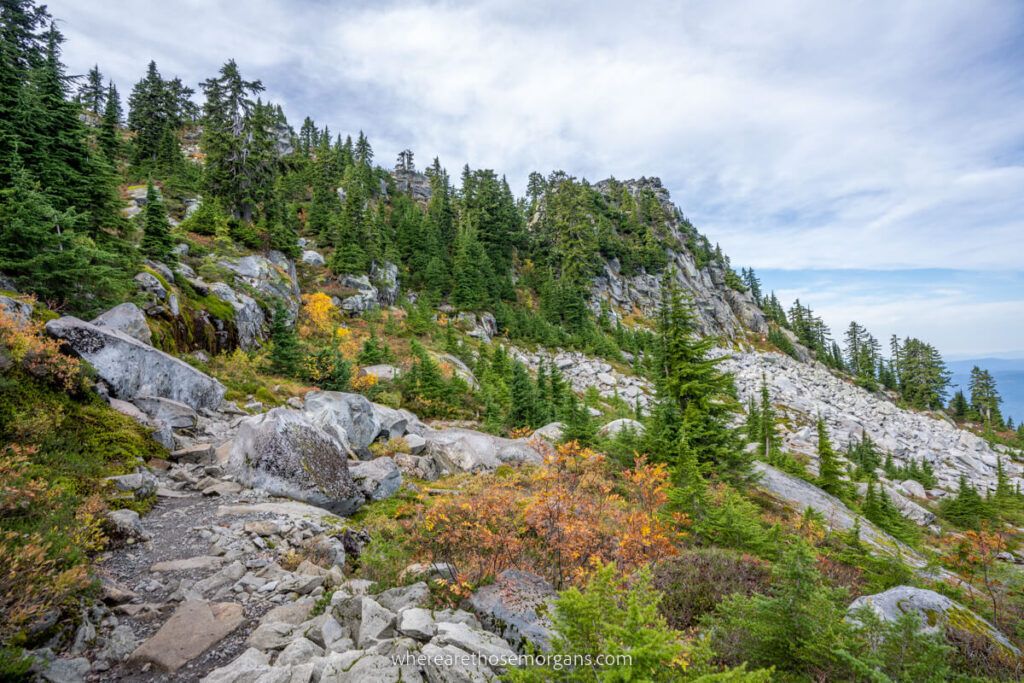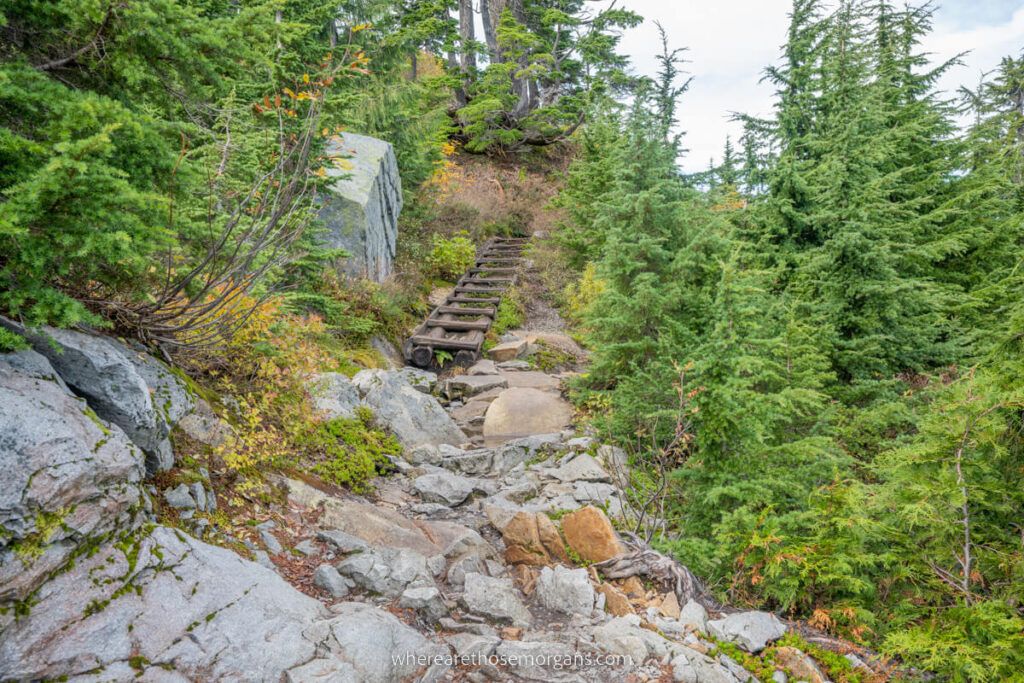 6. Mount Pilchuck Lookout Tower
All of a sudden you will find yourself at the summit. Head left to the ladder and climb up steep bulders to Mount Pilchuck lookout tower. Spend time refueling and enjoying those remarkable views.
Once you are done at the lookout, descend the ladder and head left up to a series of huge boulders. Take care around here as there are drop offs, but this spot gives the best views looking back at the lookout.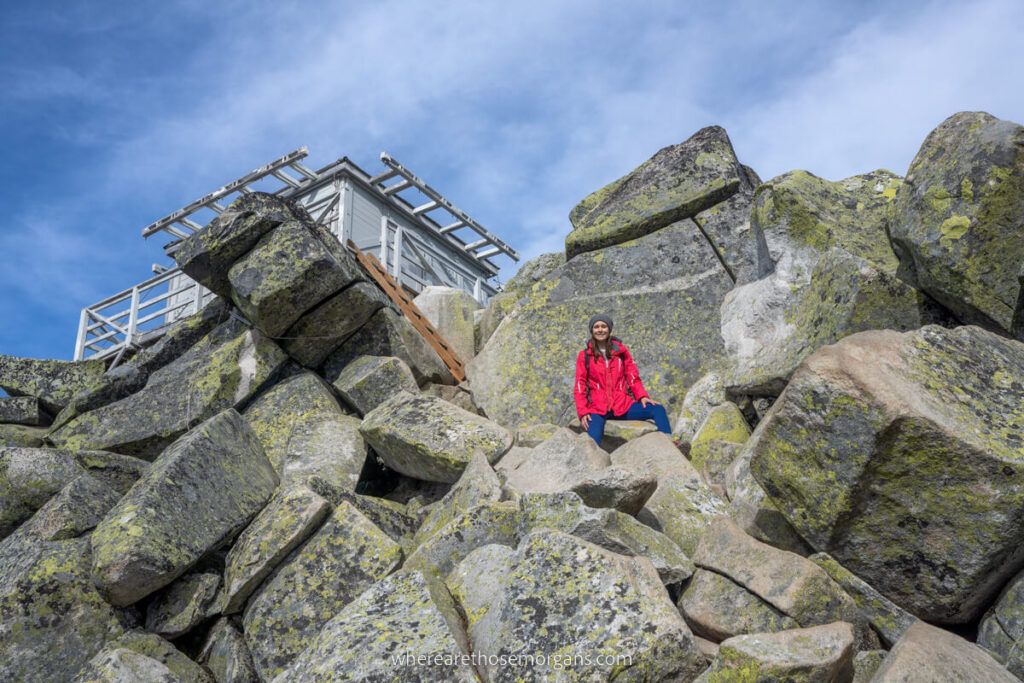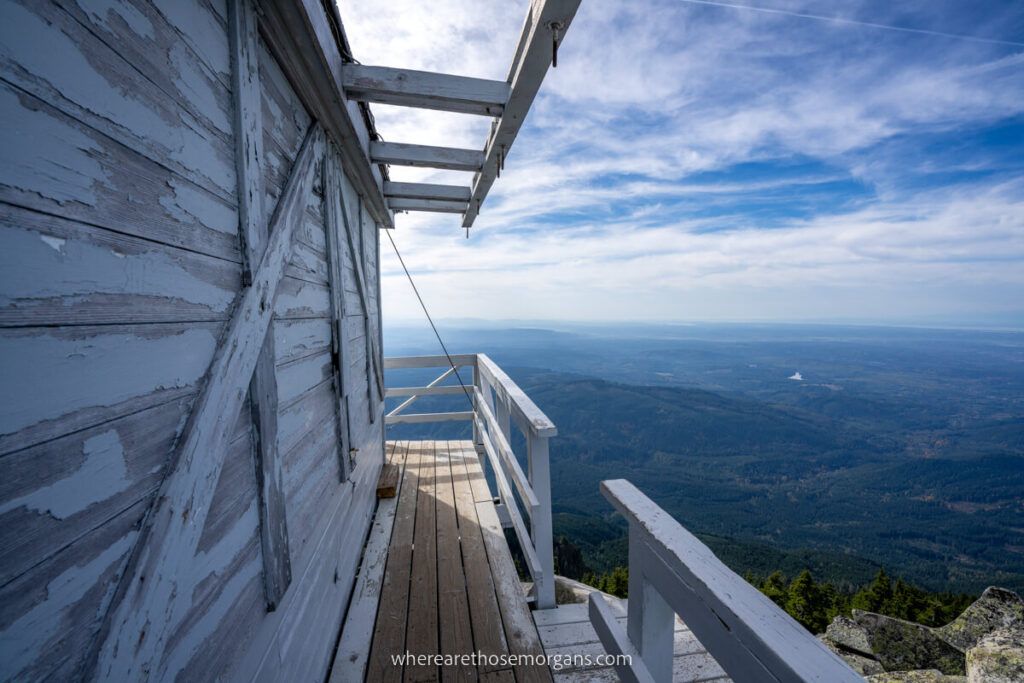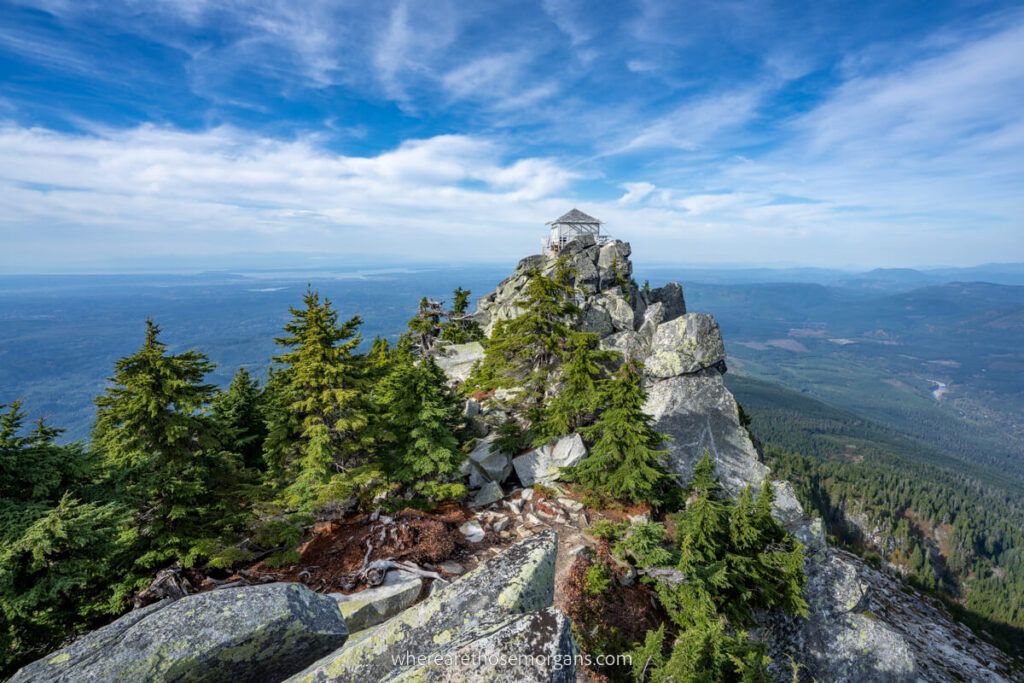 7. Descend Back To The Parking Lot
After you fill your phone or camera memory with photos of the spectacular 360 degree view, it's time to head back down the exact same way to your car.
You will be able to enjoy the views more as you descend. The good news is you change direction often so you get to see in all directions, including Mt Rainier, Mt Baker and Puget Sound.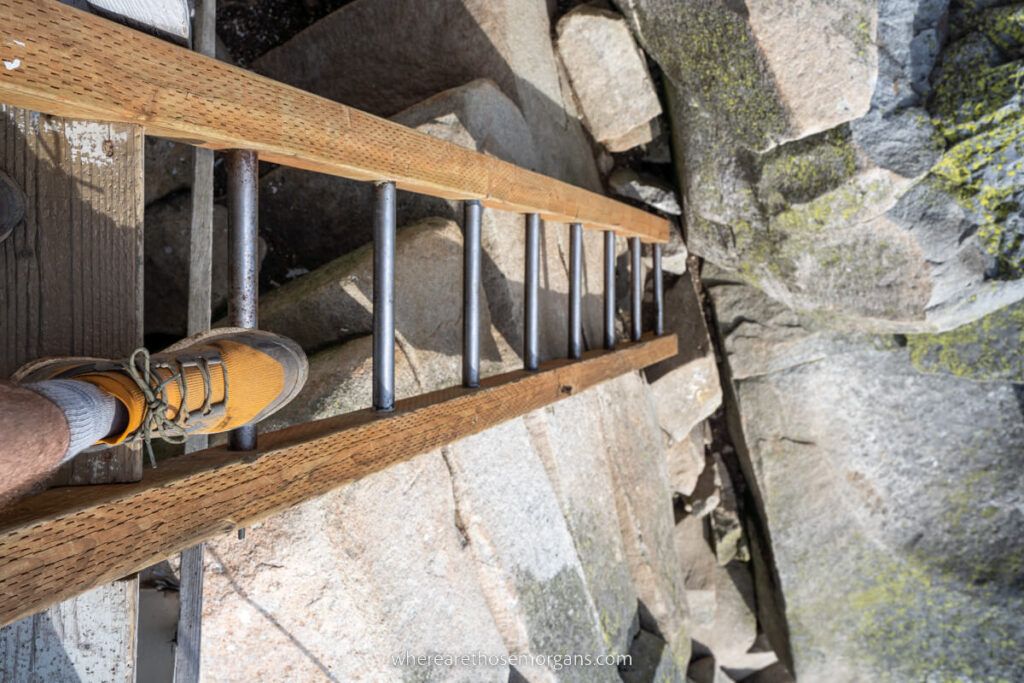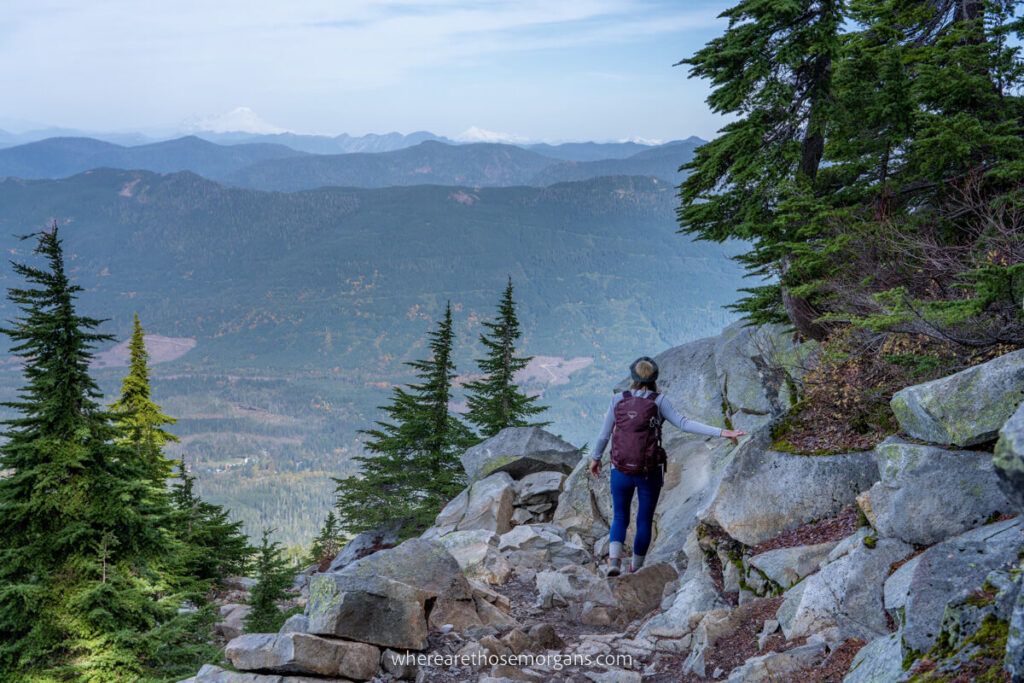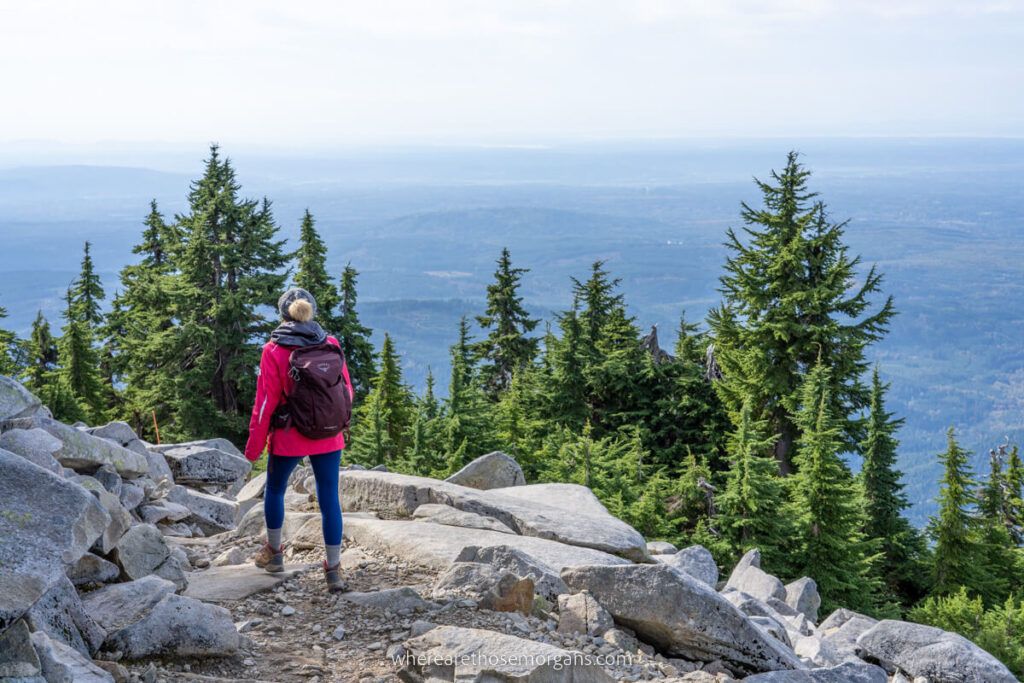 Pros and Cons
Let's take a summarized look at the best and worst aspects of hiking Mt Pilchuck Trail.
Pros
Fun hike with plenty of variety
Mixed terrain trail keeps things interesting
Sensational summit views
Cons
Trail can become extremely crowded in summer and on weekends
Steep gradient with some pathfinding means it is not for beginners
The trailhead road is one of the worst we have ever driven
Mt Pilchuck Photos
Here are more of our favorite photos from this exceptionally picturesque hike in Washington.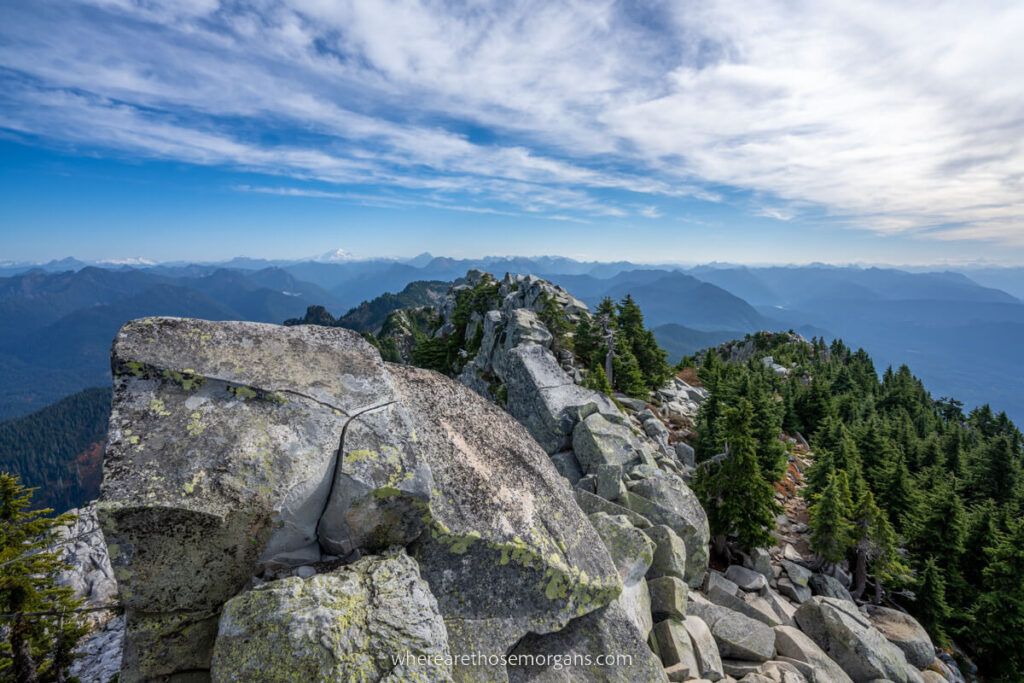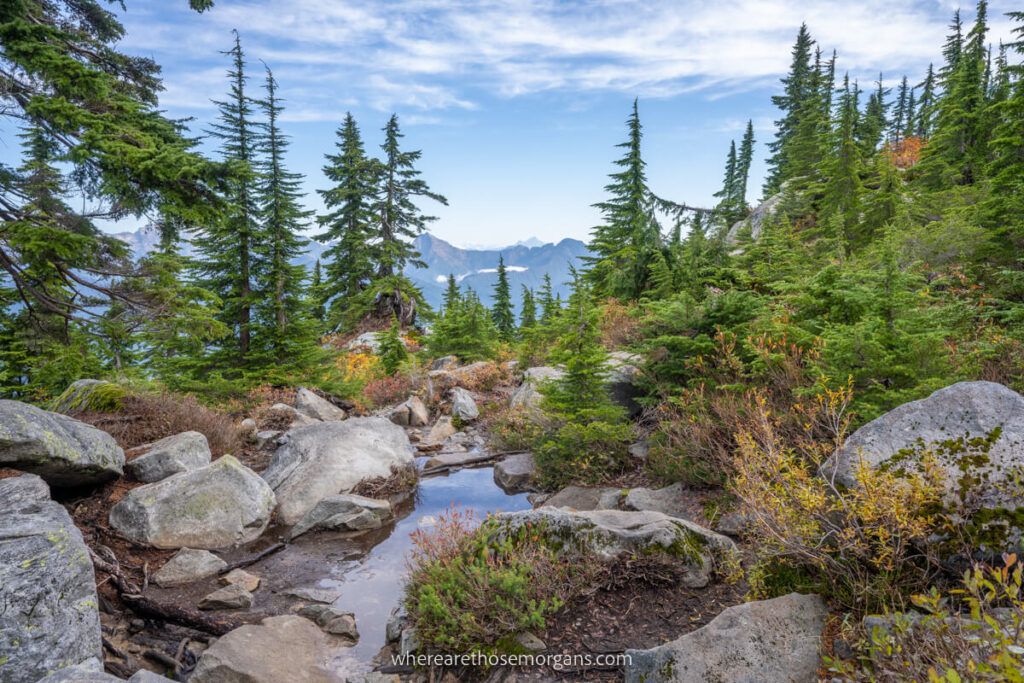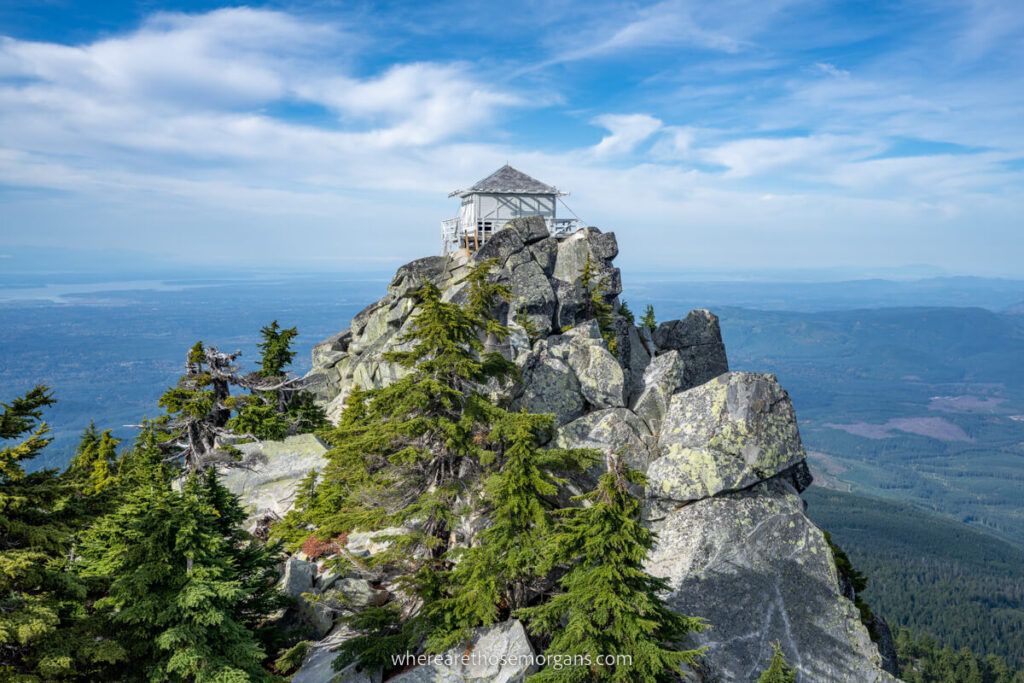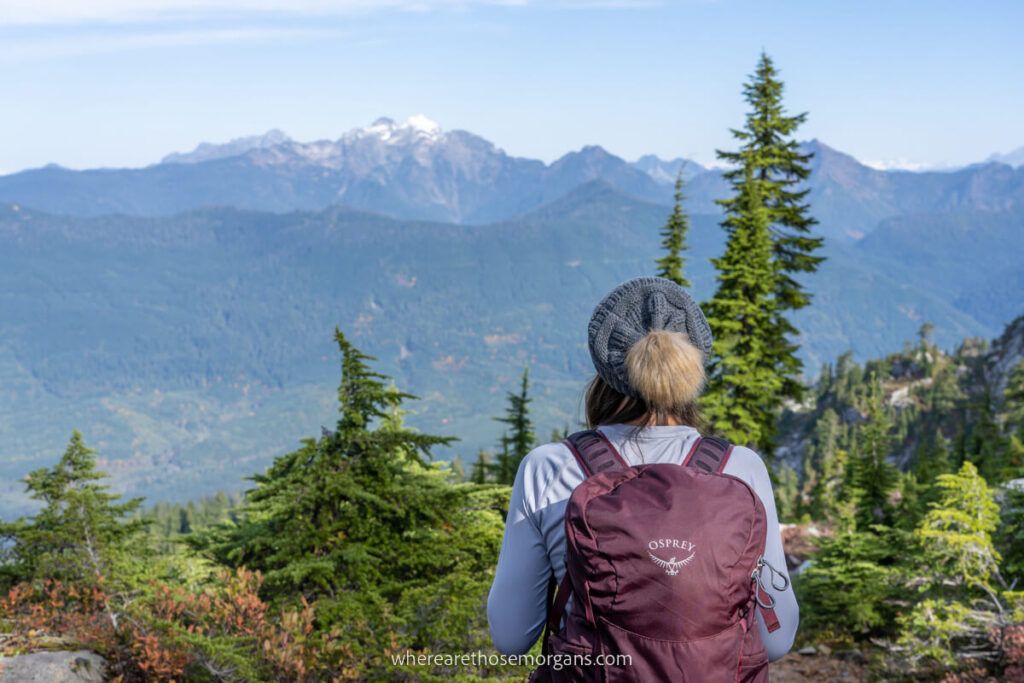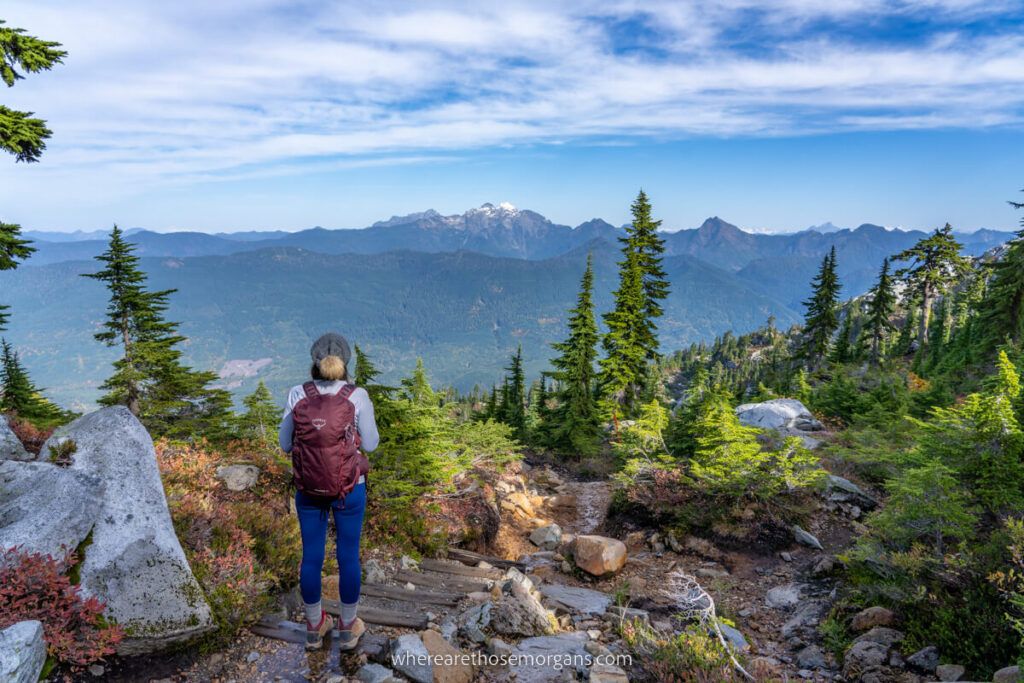 Where To Eat And Stay Nearby
Are you planning a long weekend or midweek break around the Mountain Loop Highway region to take on more hikes?
Well, you will need the best lodging and restaurant recommendations!
The nearest town to Mt Pilchuck is Granite Falls. The small town acts as a gateway to Mt Baker-Snoqualmie National Forest.
Top rated eateries in Granite Falls include:
You'll be fine for eating out but hotels are another story.
Lodging options near and along Mountain Loop Highway are sparse. You can camp, sleep in your car or drive to a nearby town.
Here are the top rated places to stay near Mount Pilchuck Trail (with previous guest ratings on Booking.com):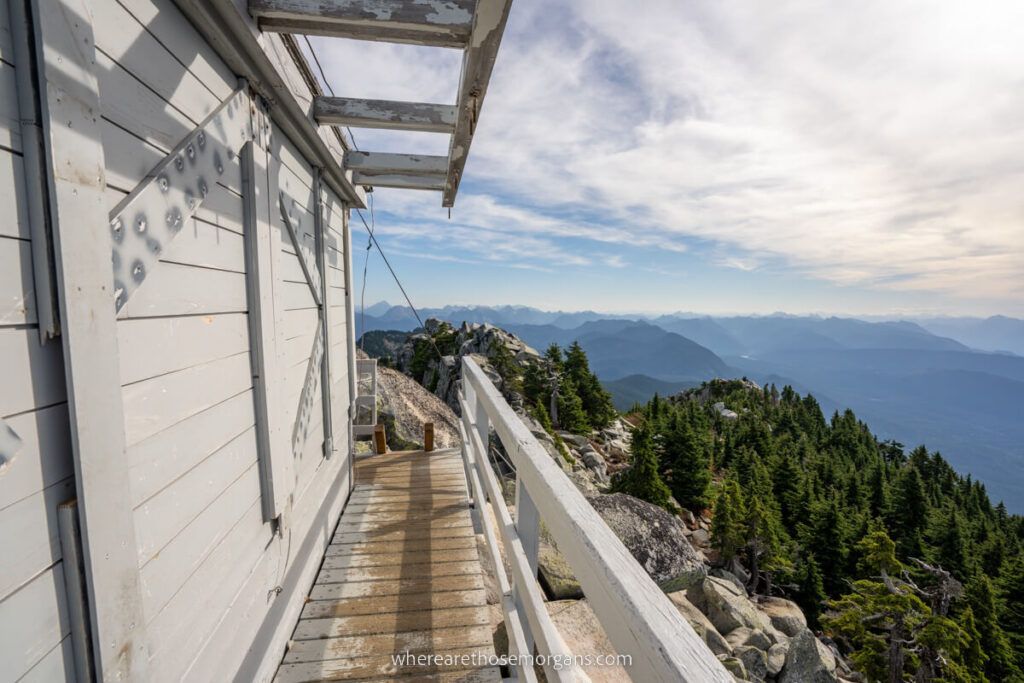 Best Time To Hike Mt Pilchuck Trail
Late spring and early fall are the best times of year to hike Mt Pilchuck Trail in Washington.
When should you hike to Mount Pilchuck lookout tower?
A weekday in June or October will give you the best chance of hiking Mt Pilchuck without the crowds. However, it might be a little risky hiking so close to the snowy season on either side.
The summer months of July and August are naturally going to be busiest on the Mt Pilchuck Trail. This is the time of year most hikers will try to sleep in Mt Pilchuck lookout tower to watch sunset and sunrise.
If possible, you should avoid weekends and especially holiday weekends. It will be too busy.
As mentioned earlier, we hiked Mount Pilchuck on a weekday in October and barely saw another soul, which is rare for a trail this popular.
Hiking Mt Pilchuck in winter is a different beast. You would need appropriate hiking gear, footwear and safety precautions. Check in with rangers and sign the registry if you hike in the snow.
Mt Pilchuck Trail FAQ's
Let's finish with some of the most asked questions about hiking to Mount Pilchuck lookout tower in Washington.
Is it worth hiking to Mount Pilchuck Lookout?
Yes, Mt Pilchuck Trail is definitely one of the best day hikes in Washington State. The trail is short and steep, leading to a historic fire lookout tower and spectacular 360 degree views over volcanoes and mountain peaks.
How bad is the road leading to Mt Pilchuck Trailhead?
The 7 mile stretch of unmaintained road from Heather Lake Trailhead to Mt Pilchuck Trailhead is in extremely poor condition. Countless deep pot holes will cause your car to rock, roll and bounce significantly. It is a good idea to use a vehicle with high clearance and four-wheel drive.
More Day Hikes In Washington
Want more Washington content? Head to our Washington Travel Guides to explore National Parks, popular day hikes and best things to do around Seattle.
---
We hope this Mt Pilchuck Trail hiking guide helps with planning your day hike near Granite Falls in Washington!
Please let us know if you have any questions about the Mount Pilchuck hike or your visit to Washington in the comments below.
Happy Hiking,
Mark and Kristen
Was This Mt Pilchuck Guide Helpful? Pin It For Your Hike!