Spray Park Trail in Mt Rainier National Park is a true hidden gem of a hike. Almost all visitors who brave the awful 17 mile drive up Mowich Lake road in the Carbon River section of the park are hiking to the Tolmie Peak fire lookout tower. That means nearby Spray Park Trail is left only for those hardcore hikers who want to double up on views and experiences.
Sure, you do have to hike the Tolmie Peak Trail, but don't miss out on the tranquility and beauty of Spray Park. You will be rewarded with amazing views over Mt Rainier, an enormous waterfall and postcard perfect meadows bursting with vibrant wildflowers. We even saw a bear casually eating berries in a meadow up on Spray Park.
We're going to explain everything you need to know about Spray Park Trail in the least visited section of Mt Rainier, including tips, the drive, parking and a full hike walkthrough with photos.
Let's hike the peaceful and serene Spray Park Trail!
Spray Park Trail Mt Rainier National Park FAQ's
Is Spray Park Trail Hard?
The majority of Spray Park Trail is easy going, undulating and soft underfoot with dirt packed forest trail.
However, once you pass the waterfall, you do have to take on a series of steep switchbacks to reach Spray Park meadows. We very highly recommend putting in that extra effort, it is worth it once you summit.
Spray Park Trail is one of the best hikes in Mt Rainier for those seeking a challenge but wanting to steer clear of the crowds.
Should You Hike Spray Park Before Or After Tolmie Peak?
This is the one thing we were unsure of when we arrived to the parking area. Both are fantastic hikes in what is one of the best USA national parks, but which trail should we hike first?
Well, we decided to start with Tolmie Peak Trail simply because we knew it would be busier later in the morning. Plus, we wanted to make sure we had enough in the tank to ensure we reached Tolmie Peak fire lookout tower.
If we didn't make it to Spray Park, it wouldn't have been as much of a loss. That was our initial thinking. But once we saw Spray Park, we were glad we did have enough in the tank for both hikes back to back!
Photographers should know that Spray Falls waterfall will have a huge shadow cast in mid afternoon. But the view from Tolmie Peak is also south facing which means shooting directly into the sun in midday. Neither are great unless you visit at sunrise or sunset.
Which Pass Do You Need For Spray Park Trail?
Spray Park Trail is located within the Carbon River / Mowich Lake section of Mt Rainier National Park. Therefore you need to purchase one of three pass types:
Mt Rainier Single Pass – Unlimited entry for 1 vehicle into Mt Rainier for 7 consecutive days, costs $30
Mt Rainier Annual Pass – Unlimited entry for 1 vehicle into Mt rainier for 1 year, costs $55
US National Parks Annual Pass (aka America the Beautiful or Interagency Pass) – Unlimited entry to all US National Park and National Monuments for 1 year, costs $80
Note: We buy a new America the Beautiful annual pass each year and consider it one of the best deals around for outdoor enthusiasts. Read our guide on why it is worth buying an America the Beautiful National Parks Annual Pass.
You can pick up a single entry pass for $30 at Nisqually entrance or Stevens Canyon entrance.
If you only plan to visit the Carbon Road / Mowich Lake section to hike Tolmie Peak and Spray Park Trail, you might be better off pre-purchasing a digital pass on Recreation official site.
How To Get To The Spray Park Trail In Mt Rainier National Park
Click or touch the map above to activate. Zoom in and out, move around the area and orientate yourself with the geography of Mt Rainier.
Spray Park Trail is located at the very end of Mowich Lake Road in the Carbon River / Mowich Lake section of Mount Rainier National Park. Look for the road entering the park to the northwest, WA-165 on Google Maps.
Three miles after you leave Carbonado and not long after crossing Fairfax Bridge, you will reach a fork in the road. Left takes you down Carbon River Rd and right / straight continues on Mowich Lake Rd. Take the right / straight and begin climbing.
After a minute or so, tarmac ends and the road turns to gravel, stones, dust and potholes galore. This rough surface lasts for 16-17 miles of gradual ascent, sharp bends with drop offs and teeth clenching moments as you hit an unavoidable pothole a little too aggressively.
At the risk of sounding over-dramatic, the road isn't impassable but it is no fun either. We have to admit we were shocked at how many cars were at the top once we reached the top.
It took us around 55 minutes to drive the 16-17 mile section on the way up in darkness and around 45 minutes on the way down.
Take things as slowly as you feel comfortable and move over for anyone blowing past.
Important: The road to Tolmie Peak closes in Winter. Check Mt Rainier live road conditions before setting off.
Here are distances and average times from major nearby cities to Spray Park Trail (with no traffic):
Seattle – 70 miles / 2 hours 5 minutes
Bellevue – 69 miles / 2 hours 5 minutes
Renton – 58 miles / 1 hour 50 minutes
Everett – 96 miles / 2 hours 35 minutes
Tacoma – 48 miles / 1 hour 45 minutes
Portland – 186 miles / 3 hours 45 minutes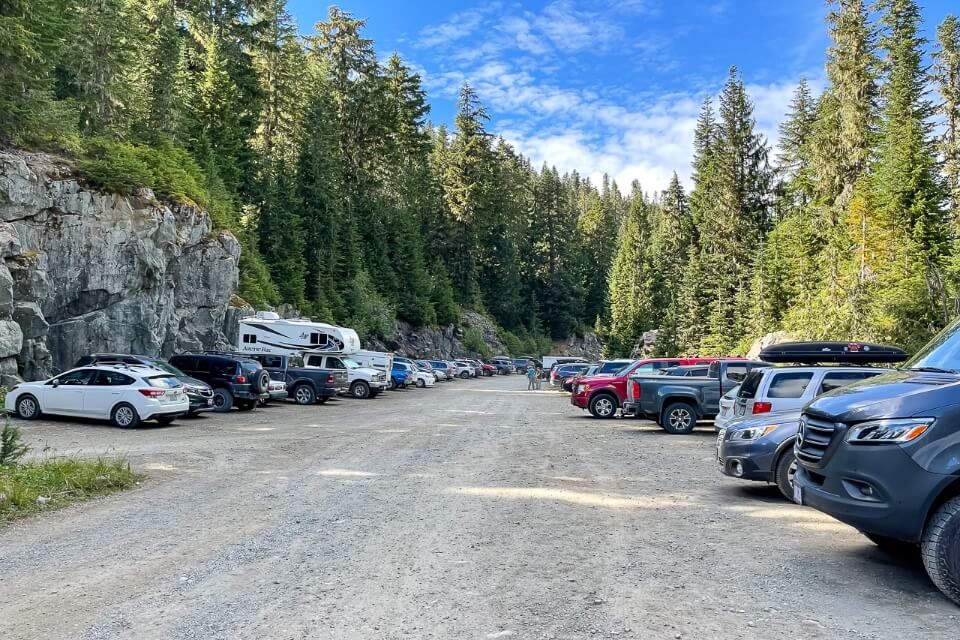 Parking At Spray Park Trail In Northwest Mt Rainier National Park
Parking is a loose term for what awaits you at the top of Mowich Lake road. For Spray Park Trail continue driving as far as you can until the road ends with a makeshift roundabout made of rocks.
Park as close as you can to this point, which is the walk-in campground and trailhead for Spray Park. Tolmie Peak Trail begins around 0.3 miles back down the road.
However, parking in the 'lot' where you will see cars parked either front or back first means you can walk around Mowich Lake to join the trail to Tolmie Peak.
Important: There is a vault toilet open for public use inside the Mowich Lake campground near Spray Park trailhead.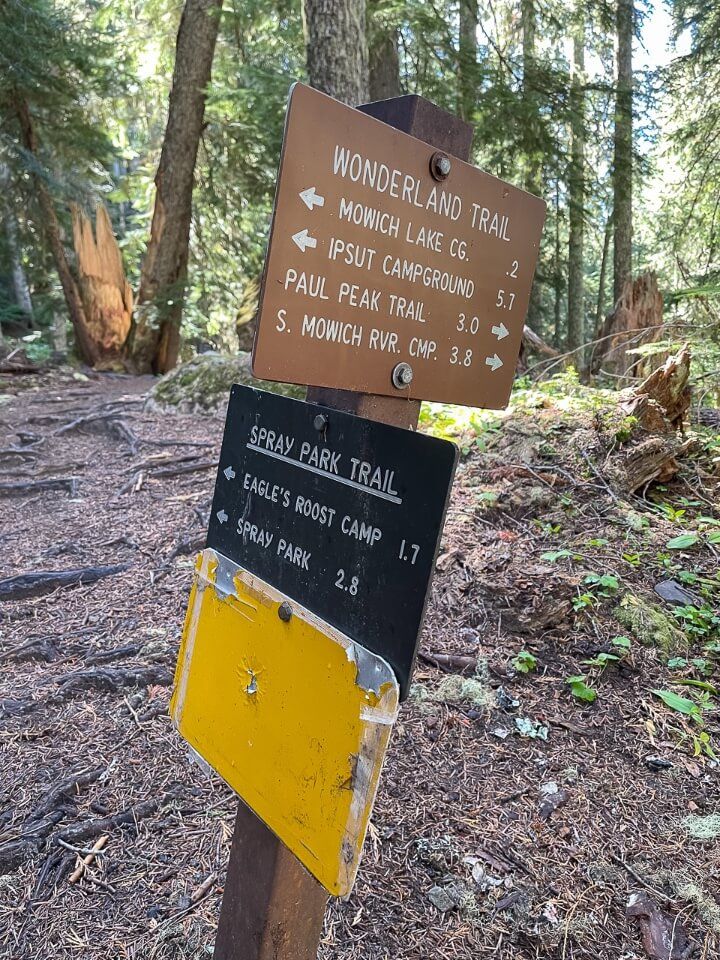 Hiking Details
Trail Distance: 6 – 8 miles roundtrip
Type of Trail: Out and Back
Trail Difficulty: Moderate
Time Required: 3 – 5 hours
Elevation Gain: 1700 ft
Trailhead: Spray Park Trailhead Mowich Lake
Top Tips For The Hike
Plan to arrive early to get a parking spot
Follow your progress with offline maps on a top rated hiking app
Weekends and holidays are going to be busy at Mowich Lake
No technical hiking gear needed here
But strong trail shoes or boots are better for uneven surfaces
Spray Park Trail is NOT a dog friendly hike
Bring plenty of water and snacks to enjoy at the waterfall
Use restrooms at the campground before setting off
Hike Tolmie Peak either before or after Spray Park
You can swim in Mowich Lake after the hike
Check recent comments about conditions from fellow hikers on All Trails
Looking for hiking inspiration? Check out our popular guide to the 50 best hikes in the US next!
Spray Park Trail Walkthrough
We hiked Spray Park after the Tolmie Peak trail, which we think is what many visitors to Mowich Lake will also do. So, we will walk through the trail as though you begin around 11am and end around 3pm.
The key thing to know about hiking Spray Park is that you can decide when to turn around once you reach the meadows. There are a number of landmark points you can use as a turn around marker.
Let's begin the hike to Spray Park!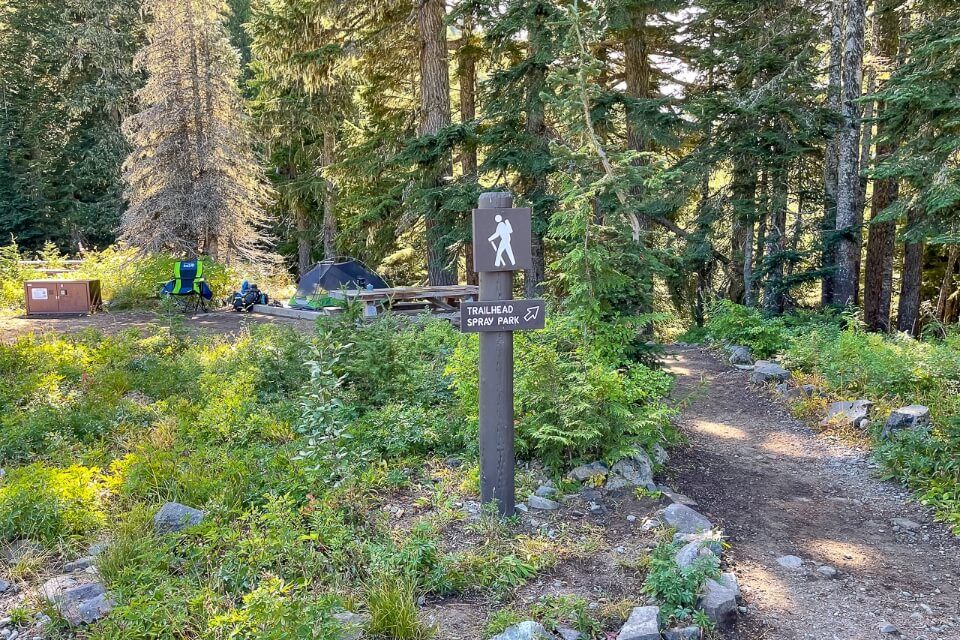 Begin At Mowich Lake Campground
So, you've already hiked to Tolmie Peak fire lookout tower, now it's time to hit the Spray Park trail. Grab a bite to eat before setting off, this is a minimum of 6 miles roundtrip.
Walk into Mowich Lake campground, be sure to use the only restrooms in the area and find the trailhead as pictured above.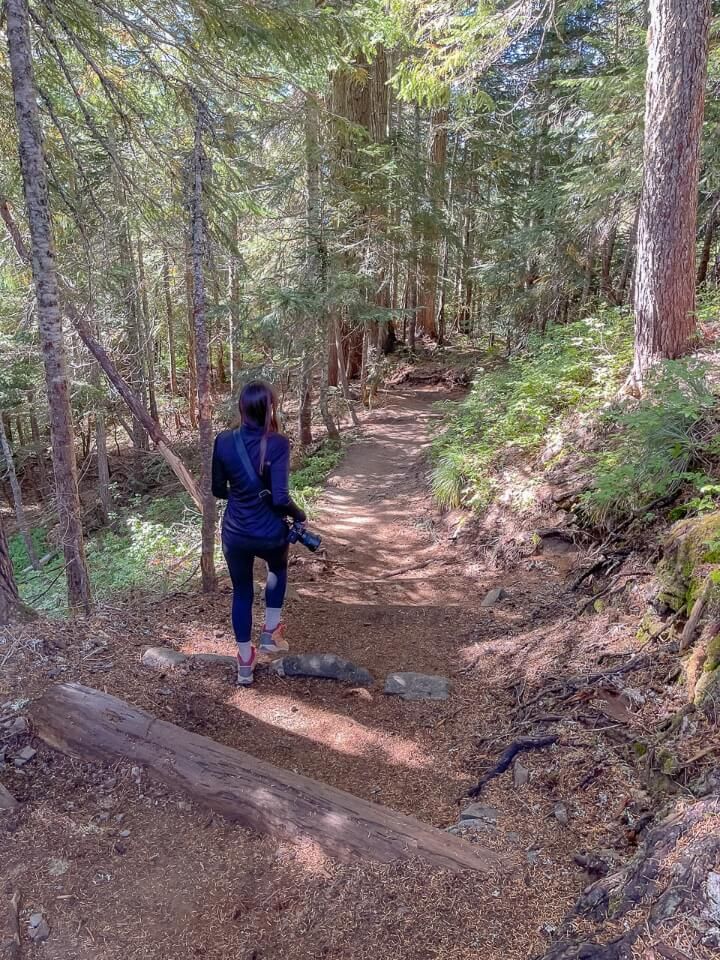 Follow Mt Rainier's Wonderland Trail
There's nothing better on the ankles and knees than a soft and bouncy forest dirt trail. And that's what you'll get for a big part of hiking Spray Park.
For the first 0.3 miles, you will be walking along Mt Rainier's famous Wonderland Trail, which circles the entire park for 93 miles. That would be some hike!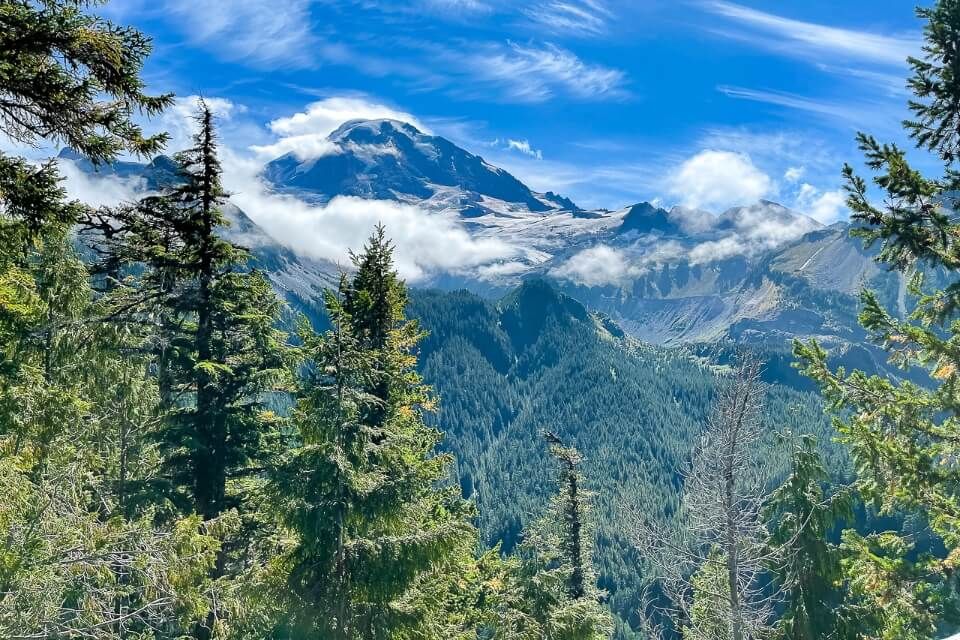 Soak Up Those Mt Rainier Views From Eagle Cliff
Take a left at the sign showing Eagles Roost Camp and Spray Park. The forest trail remains peaceful, easy going and soft underfoot until you reach a very short path to the right.
This leads down to a right-angled viewing point that turns out to be an incredible overlook with Mt Rainier dominating the skyline ahead. Do not miss this viewpoint when hiking Spray Park!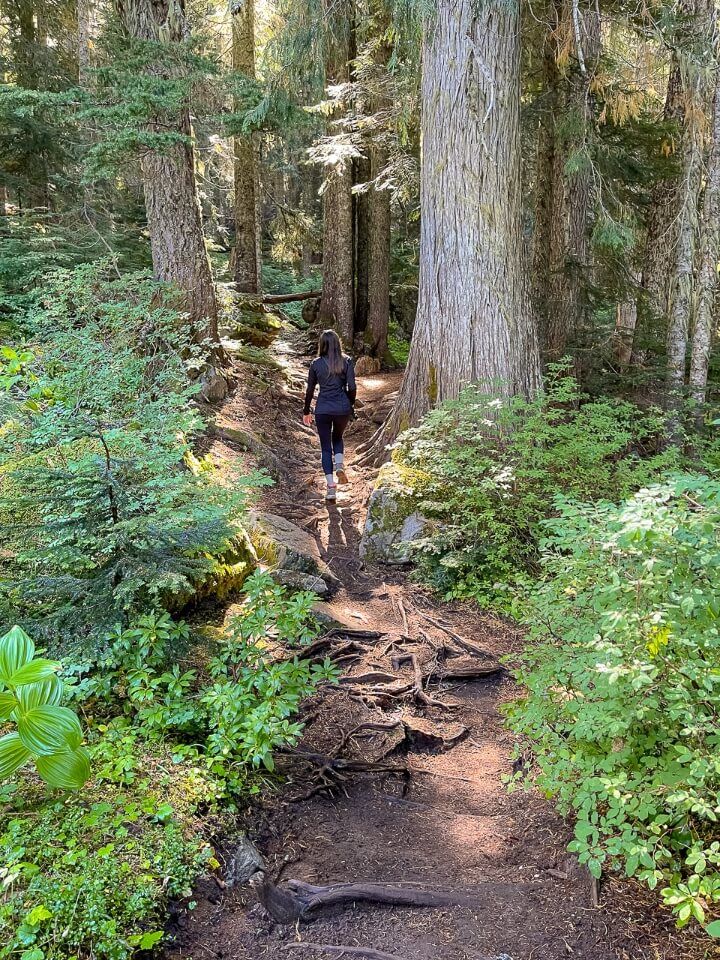 Enjoy The Picturesque Forest Sections
Back into the forest you are following dirt packed paths with tree roots swirling out of the ground and sunlight occasionally breaking through the canopy.
You will open up into a boulder field for maybe a minute but that soon ends and you are back inside covered forest. This part of the hike is well covered and you will not be exposed on a hot day.
After a mile of gentle and undulating hiking, you will reach a fork in the path.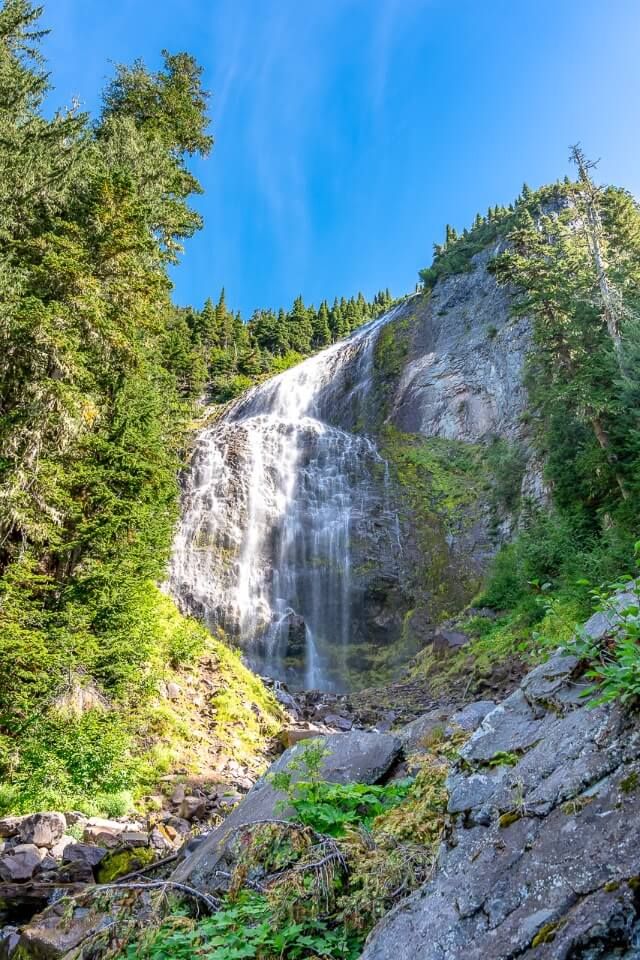 Take The Short Spur Trail To Spray Falls
Left and upward heads directly for Spray Park meadows, but you have to see the impressive see Spray Falls first.
The sign says 0.1 miles to the waterfall, but you have to cross a narrow wooden bridge, plus descend via a relatively steep rocky area.
However, Spray Falls will be a wonderful surprise once you see it spraying over the cliff top high above. You can climb to get a closer vantage point but please take care, it is slippery and steep.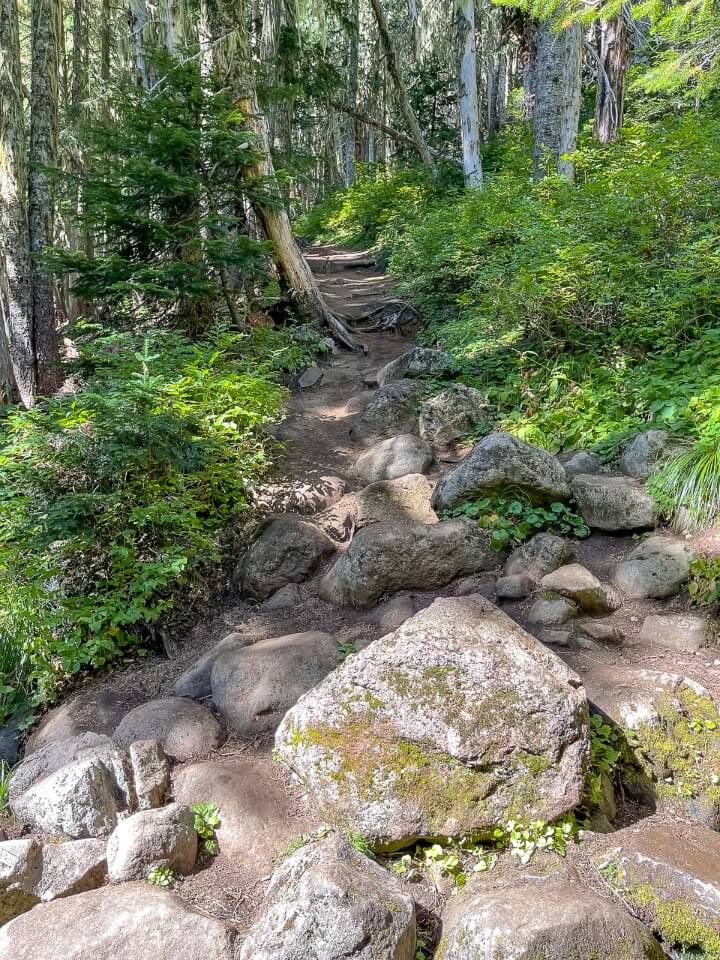 Prepare For Steep Switchbacks
OK, it's time to make a decision. Switchbacks to the meadows or turn back around?
If this is your second hike and you feel tired, dehydrated or hungry, it might be worth making the sensible call at this point.
But if you're raring to go, tackle those steep switchbacks. Personally, we were tired at this point but determination got us through. And we're so glad we persevered.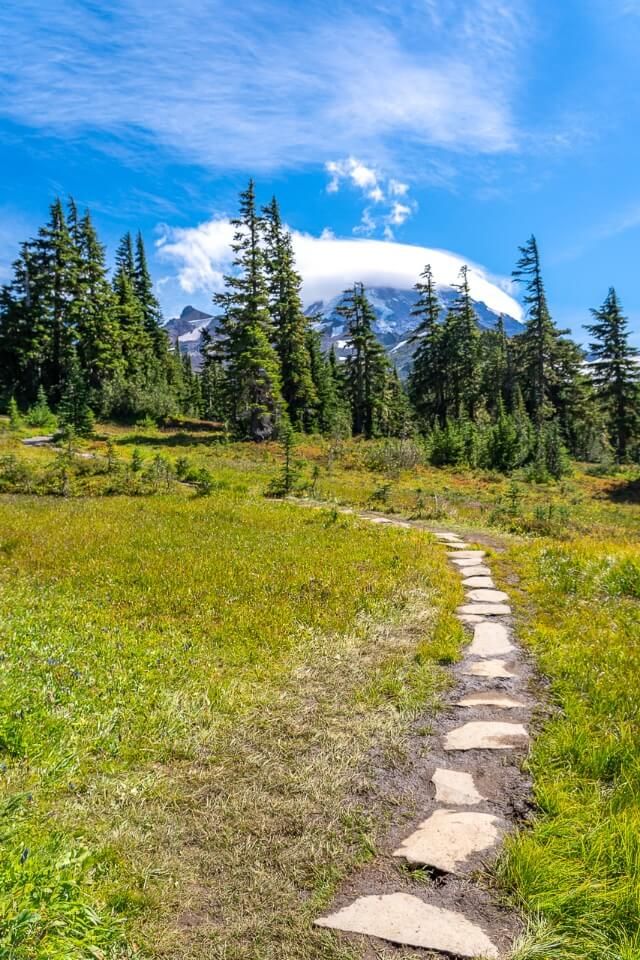 Reap Your Rewards As You Enter Spray Park Meadows
When the climbing stops just a mile later and you see the first lush green meadow, you are summiting at around 5,800 ft above sea level. Immediately after gorgeous Mt Rainier views open up you will be thrilled that you stuck with the switchbacks.
The few people we met on the trail were referring to sections of Spray Park as 'meadow one' or 'meadow two'. A hiker told us she's seen a bear in 'meadow three' maybe 10 or 20 feet from the trail.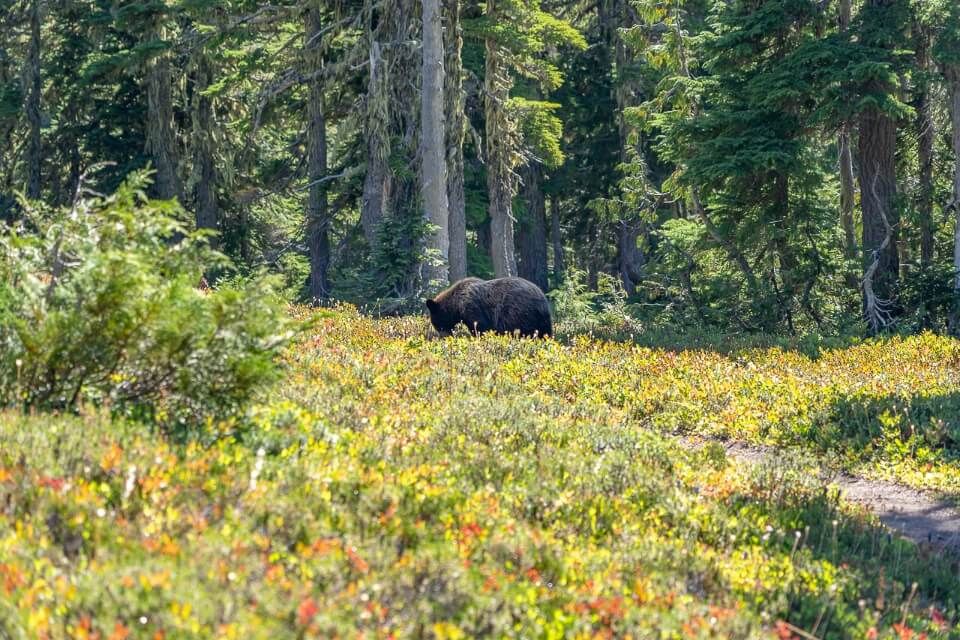 Keep An Eye Out For Bears Eating Berries
By the time we arrived at the third meadow along, the black bear was around 50 ft from the path and we were more than happy to observe from a distance.
Quick switch to our 105mm lens to capture the photo above and on we went towards the next beautifully colorful meadow in Spray Park.
You can either turn around at this point or continue to climb slightly higher. The forest begins to thin and you open up even more majestic views of Mt Rainier to the right.
Most hikers will hike as far as seeing Echo Rock or Observation Rock come into view and call it a day. But for the veteran hikers, you can continue and make a mammoth loop trail by circling Mother Mountain back on the Wonderland Trail.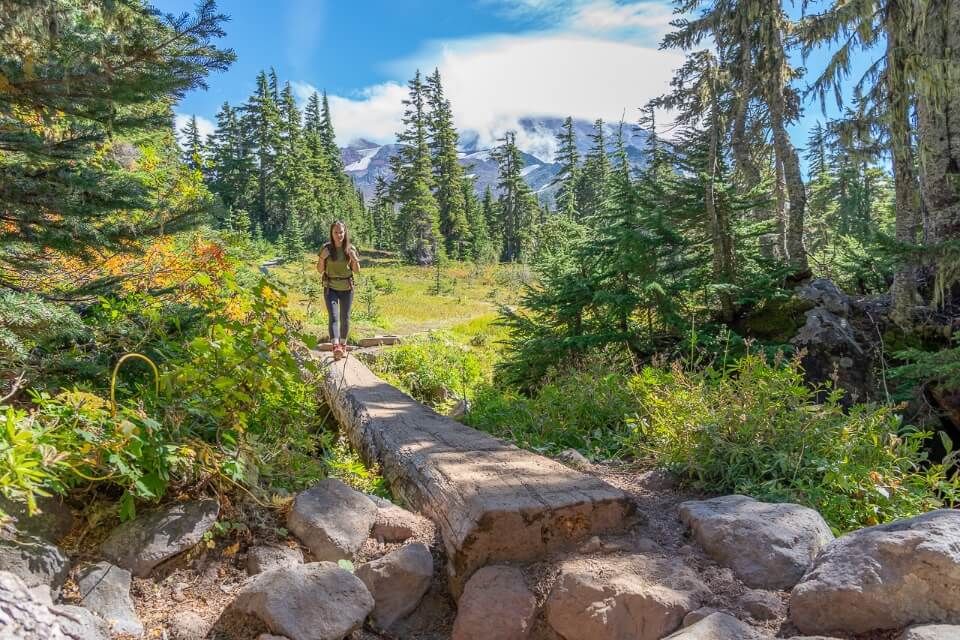 Turn Around And Head Back Down
No matter which point you decide to turn around, take time to really enjoy the stunning meadows filled with radiant wildflowers.
Once you hit those switchbacks, it's downhill and then undulating back as far as the parking lot.
If you haven't yet hiked Tolmie Peak, head up for sunset. But if this is your second hike of the day, congratulations on nailing two awesome trails in one day!
Pros and Cons
Waterfall, meadows and Mt Rainier views
Stunning in wildflower season
Swim in Mowich Lake afterwards
Hike Tolmie Peak for two great hikes in one
The road up is frustrating and slow going
Nothing else to do in area after hiking both trails
Parking can be a problem on weekends and holidays
No amenities or facilities outside of restroom
More Day Hikes In Mt Rainier …
Our in depth roundup of the 23 best hikes in Mount Rainier will help you plan your entire Mt Rainier national park hiking itinerary.
More Day Hikes In Washington …
---
We hope this day hiking guide to the scenic Spray Park Trail helps with planning your visit to Mt Rainier National Park!
Please let us know if you have any questions about the Spray Park Trail hike, Mt Rainier National Park or your visit to Washington in the comments below.
Happy Hiking,
Mark and Kristen
Was This Post Helpful? Pin It For Your Hike!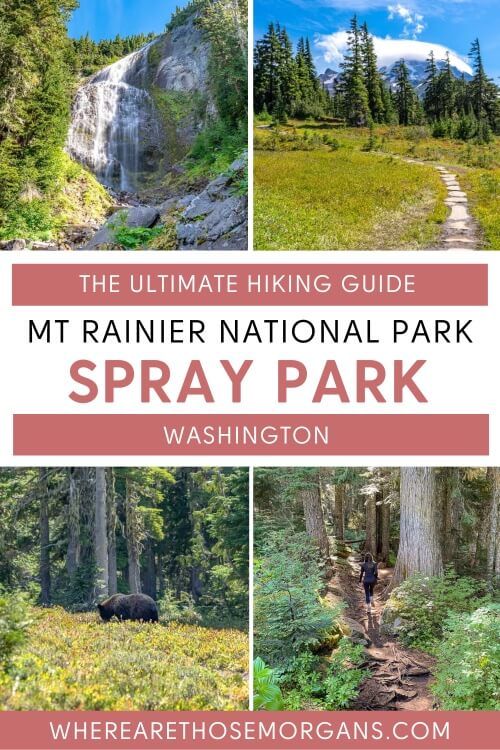 Note: This article contains affiliate links. When you make a purchase using one of these affiliate links, we may earn a small commission at no extra cost to you.
All Rights Reserved © Where Are Those Morgans, LLC. Republishing this article and/or any of its contents (text, photography, maps, graphics, etc.) in whole or in part is strictly prohibited.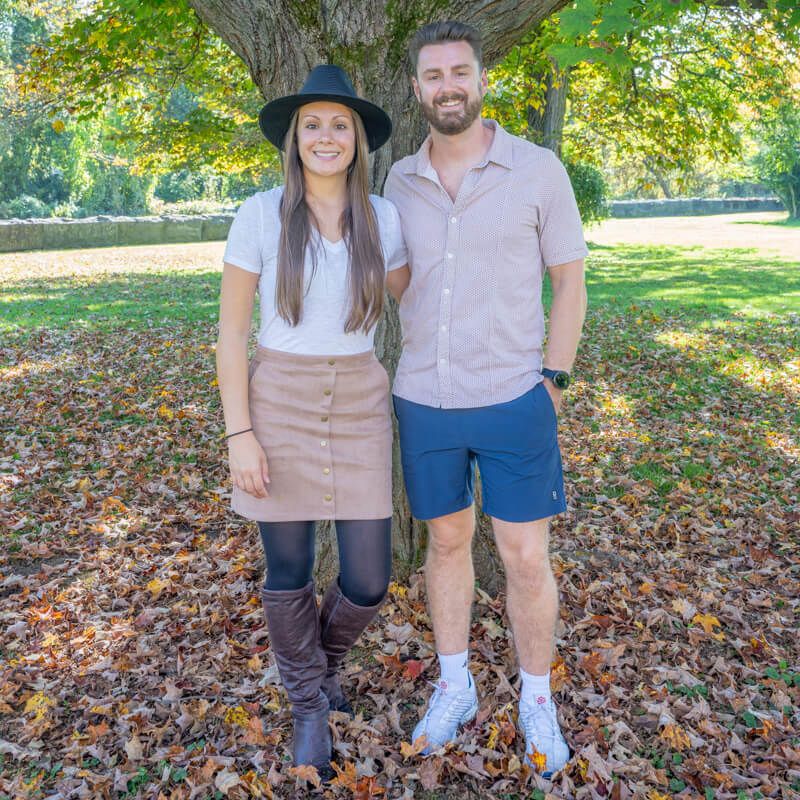 Mark and Kristen Morgan are travel, hiking and photography experts. Over the last 6 years traveling full time, they have explored more than 40 countries and 30 US states.
Their work has been featured in USA Today, Gestalten, Get Your Guide, CityPASS and Condé Nast Traveler along with various other publications.