Lake Serene Trail is an exceptionally popular day hike near Gold Bar in northwest Washington State. This complete trail walkthrough will explain everything you need to know about the challenging but scenic hike to Bridal Veil Falls and Lake Serene in Mt Baker-Snoqualmie National Forest, WA.
Is the Lake Serene hike worth it?
Yes! The hike to Lake Serene and Bridal Veil Falls is steep but extremely rewarding. Your prizes are photogenic waterfalls and a peaceful lake surrounded by towering cliffs, giving new meaning to the word serenity.
Here's what we will show you:
Lake Serene hike length, elevation and time
Where Lake Serene is and how to get there
Passes you need to park
Full walkthrough of Lake Serene Trail with photos
Pros and cons
Let's hike the tough trail to Bridal Veil Falls and Lake Serene in Washington!
Our Experience Hiking To Lake Serene
We spent 6 months living near Seattle, Washington back and fell in love with hiking in the Pacific Northwest.
Trails cutting through old growth forests leading to picturesque lakes and mountain peaks in Washington really is a unique hiking experience.
In addition to visiting the three popular national parks in Washington, we also wanted to explore the lesser known trails around North Bend, Gold Bar and the Mountain Loop Highway.
Lake Serene was high on our wishlist because it had excellent ratings and high praise from local hikers we met on other trails in Washington.
We hiked to Bridal Veil Falls and Lake Serene on a Monday afternoon in October, right after hiking through nearby Wallace Falls State Park.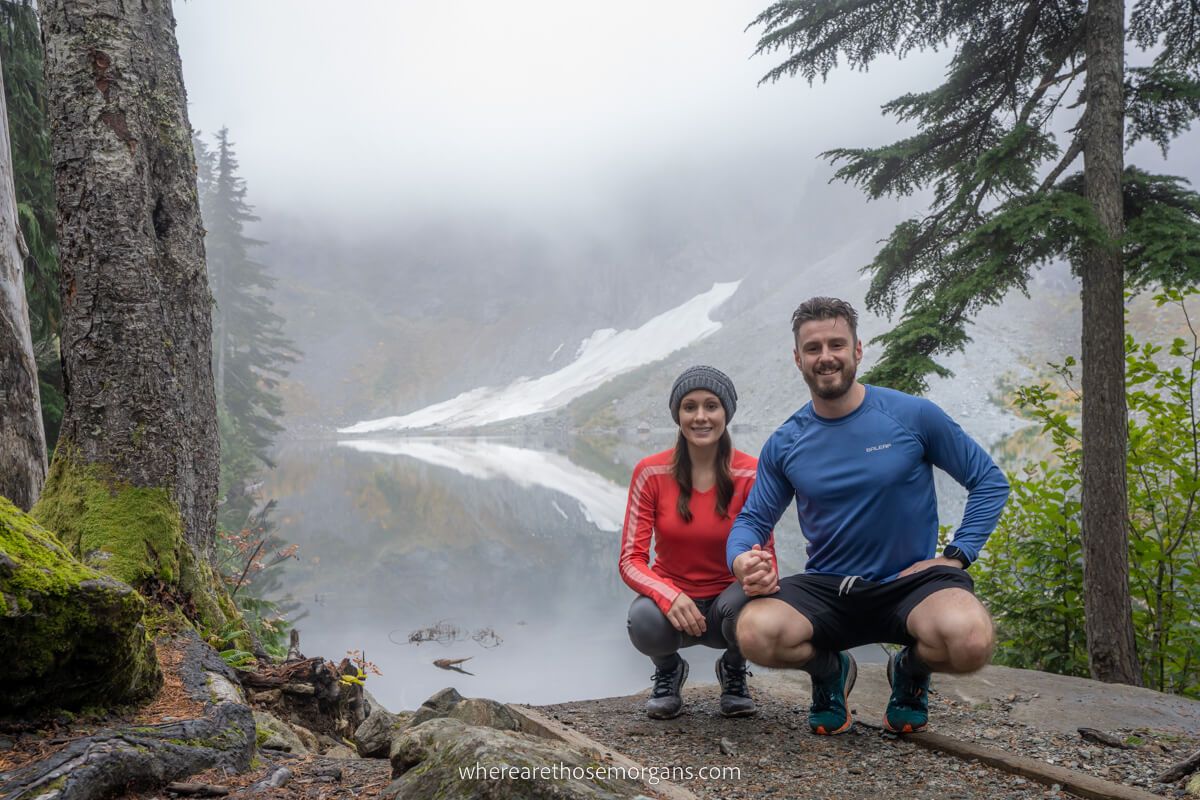 Bridal Veil Falls
Bridal Veil Falls is a series of 4 waterfalls cascading down through Bridal Veil Creek from Lake Serene before emptying into South Fork Skykomish River.
You will only be able to see 2 of the 4 waterfalls from the Bridal Veil Falls viewpoint after hiking an out and back spur trail, which splits off from Lake Serene Trail after 1.5 miles.
However, those 2 waterfalls are Lower and Middle Falls, both of which have a vertical plunge of around 100 ft.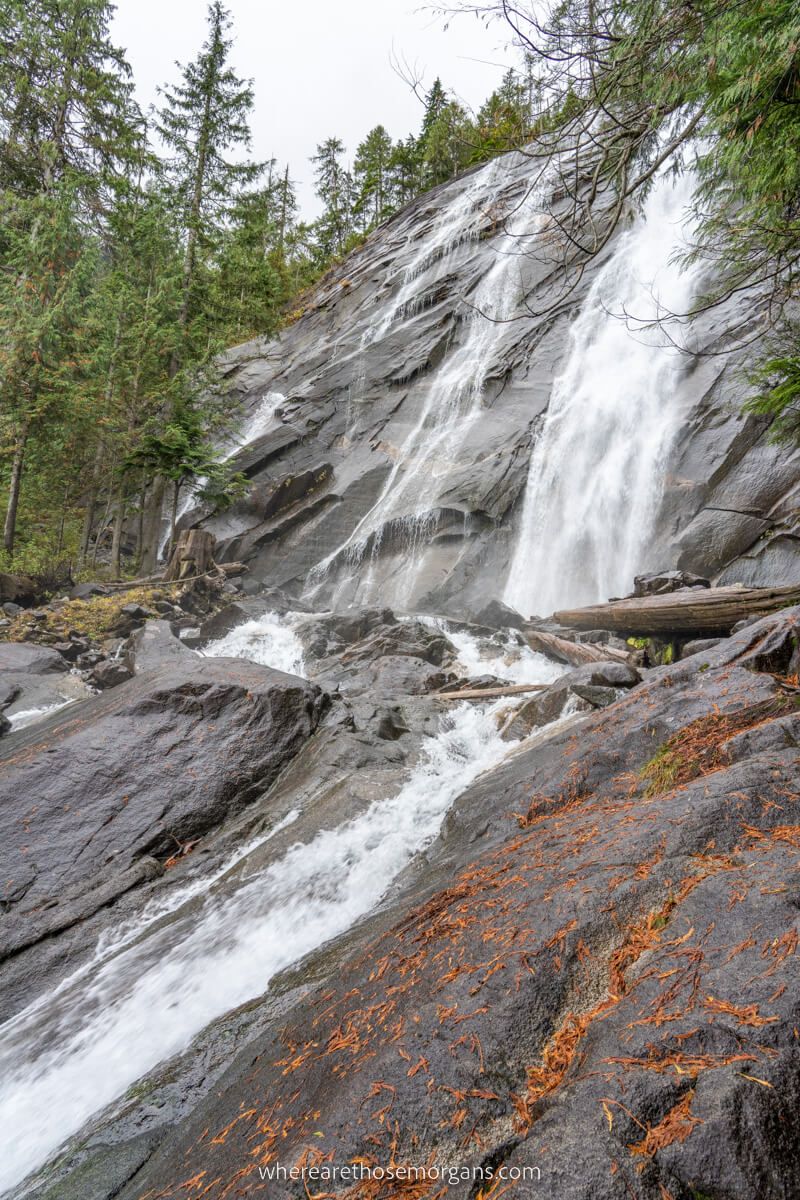 Lake Serene
Lake Serene is a truly stunning cliff-ringed Alpine lake backed by the imposing walls of Mt Index. This 'hidden' lake in the Cascades is one of the most dramatic and visually striking lakes in Washington.
Hikers will jump into the lake and swim during the warmer summer months. Plus, there's a great lunch spot on a smooth rock aptly named 'lunch rock'.
The day we visited Lake Serene we had the lake view completely to ourselves and the water was so still it was like glass.
Really dense and thick clouds were rolling in and out of the lake. But we were able to take plenty of fantastic reflection photos with the eerie low hanging clouds adding a unique element.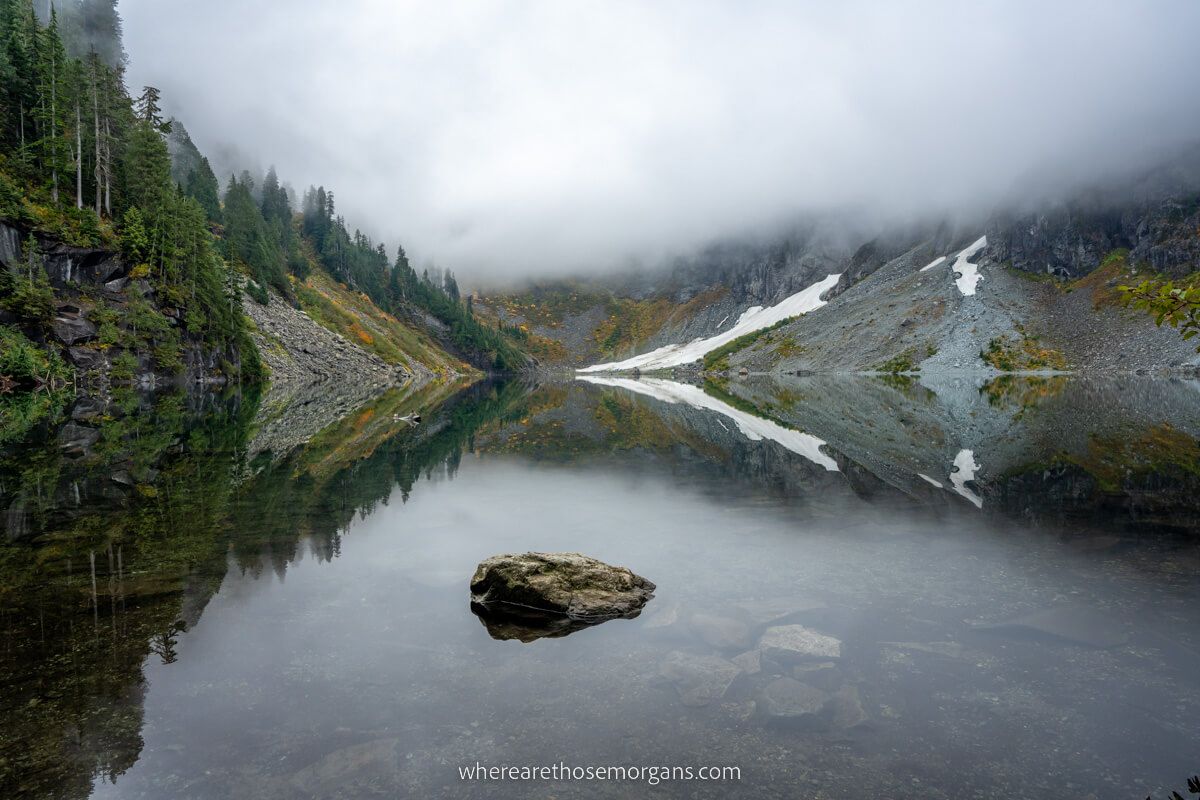 Lake Serene and Bridal Veil Falls Trail Information
There are 3 ways you can hike this trail:
1. Lake Serene only
2. Bridal Veil Falls only
3. Both Bridal Veil Falls and Lake Serene
In this guide we are going to show you how to hike both Bridal Veil Falls and Lake Serene.
So, what exactly can you expect on your hike to Bridal Veil Falls and Lake Serene?
First and foremost, Lake Serene is one of the most popular day hikes in Washington State outside of the national parks. So you can expect the trail to be busy if you hike in the warmer summer months or weekends when it is snow free and weather conditions are favorable.
Fun Fact: The Lake Serene hike has a 4.7 / 5 score with over 7,000 ratings on All Trails.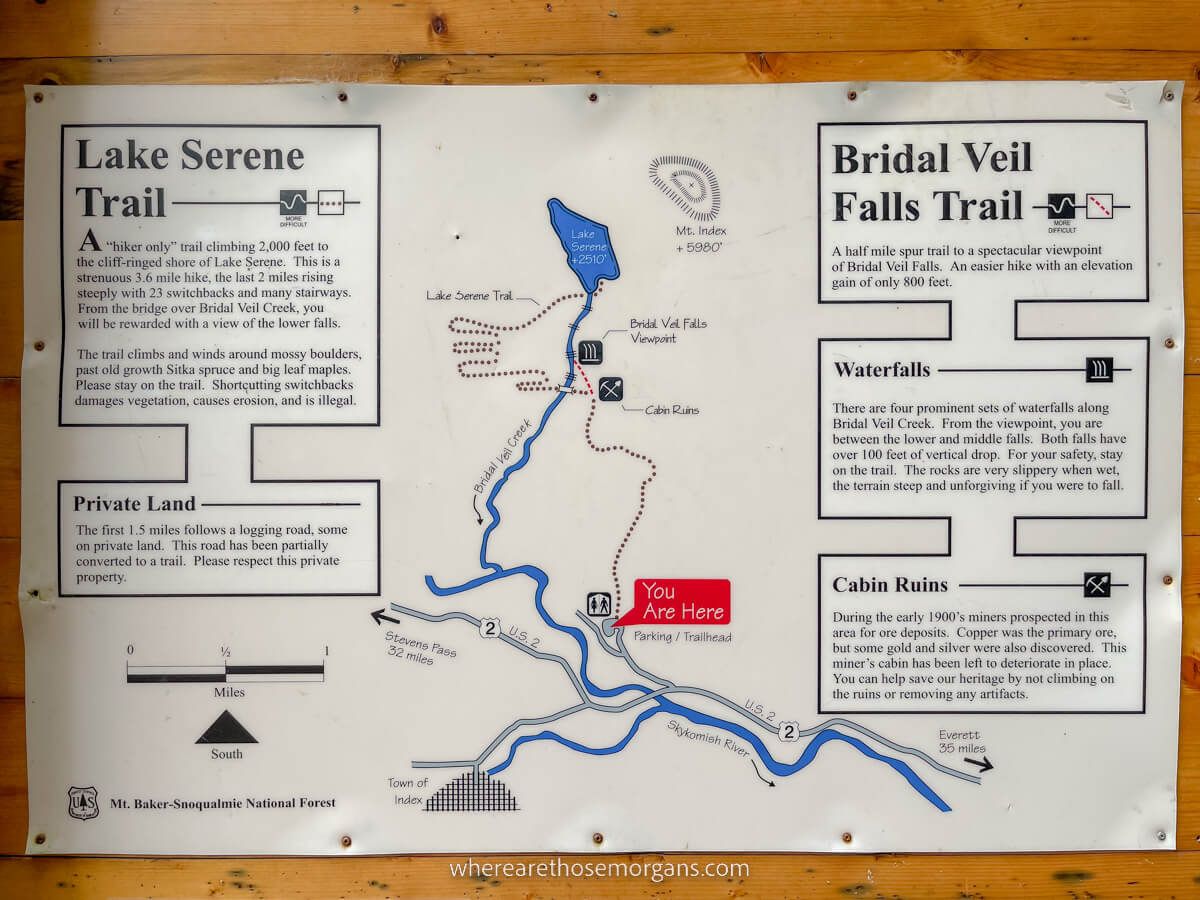 Bridal Veil Falls + Lake Serene Hike Length
Bridal Veil Falls and Lake Serene Trail is 8.2 miles roundtrip in length.
Hikers will gain gradual elevation for 1.6 miles, take a 0.5 miles spur trail to Bridal Veil Falls and then hike 2 miles to reach Lake Serene before returning 3.6 miles to the trailhead for a total of 8.2 miles.
What is the elevation gain of Lake Serene + Bridal Veil Falls Trail?
Hikers will gain around 2,800 feet elevation in 4.1 miles when climbing to both Bridal Veil Falls and Lake Serene.
Lake Serene Trail has 2,000 ft elevation gain and Bridal Veil Falls has a separate 800 ft elevation gain profile.
Bridal Veil Falls + Lake Serene Hike Difficulty
Lake Serene is widely considered as a moderately challenging hike. All Trails has it down as "hard", whereas WTA has it down as "moderate / hard".
Is Lake Serene difficult?
Having completed many of the best hikes in the US and around the world, we would personally rate Lake Serene and Bridal Veil Falls Trail as moderately difficult.
The trail is short and steep (especially closer to the summit), but the elevation gain never feels too extreme. With that said, it certainly isn't easy, so we do not recommend this hike for beginners.
How Long Does The Lake Serene Hike Take?
Most people hiking to both Bridal Veil Falls and Lake Serene take anywhere between 4 hours 30 minutes and 7 hours with stops and a break at the lake.
It took us around 3 hours to reach Bridal Veil Falls and Lake Serene.
We spent maybe 30 minutes at the lake but it was getting late and the clouds were heavy, so we got a shift on during the descent which took around 2 hours 15 minutes.
Our total time from trailhead back to trailhead was about 5 hours 45 minutes.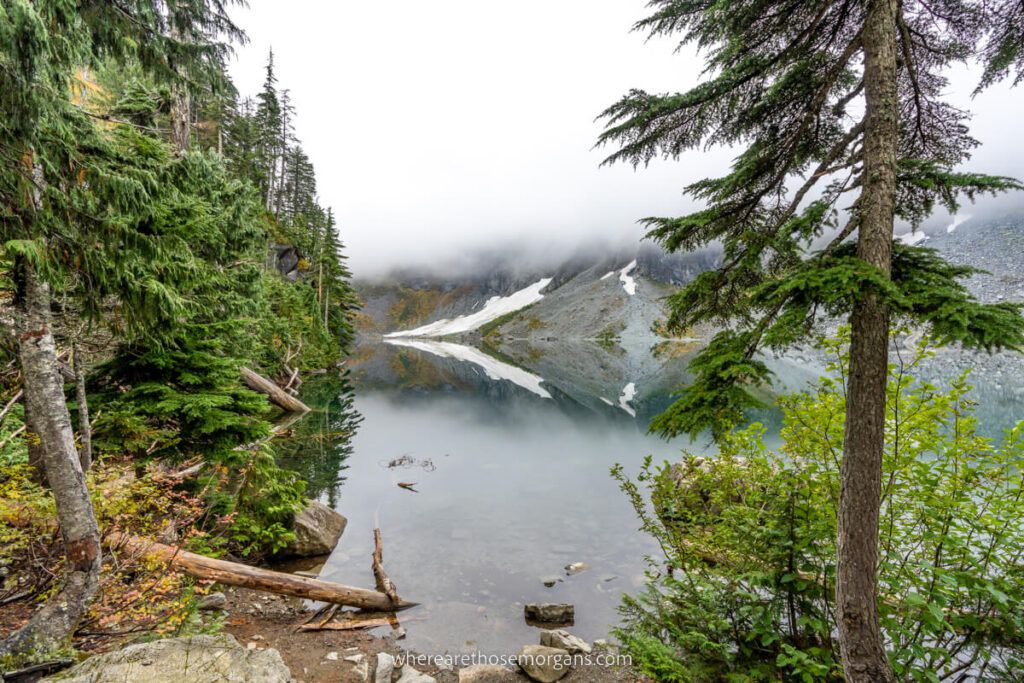 Where Is Lake Serene Located?
Lake Serene is located along U.S. Rte 2 near the small town of Gold Bar in Mount Baker-Snoqualmie National Forest on the west side of the Cascade Mountains in Washington State.
Click here to open the Google Maps location of Lake Serene.
How To Get To Lake Serene + Bridal Veil Falls Trailhead
Lake Serene and Bridal Veil Falls Trailhead parking is located in a small dedicated lot on Mt Index Road, near South Fork Skykomish Bridge in Index, Washington.
If you use Google Maps, set your destination as "Lake Serene & Bridal Veil Falls Trailhead".
Here are distances and average times from major nearby cities to the trailhead:
Seattle – 53 miles / 1 hour 05 minutes
Bellevue – 46 miles / 55 minutes
Renton – 55 miles / 1 hour 05 minutes
Everett – 36 miles / 45 minutes
Tacoma – 80 miles / 1 hour 30 minutes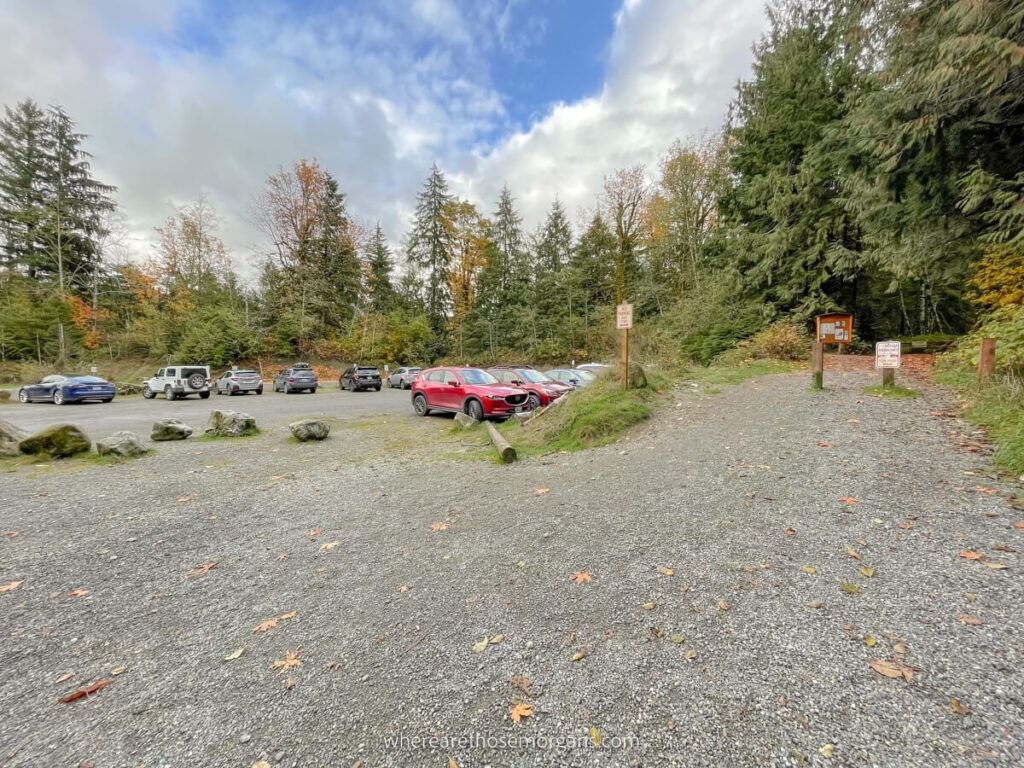 Lake Serene Trailhead Parking
Lake Serene is an extremely popular day hike and parking spaces are limited at the Lake Serene Trailhead. We didn't count, but we would guess at somewhere between 40-60 spaces.
There were around 15 cars parked the day we hiked Lake Serene, but that was a weekday in October when the trail is naturally quieter.
If you hike this trail in summer or on weekends, we strongly recommend you plan to arrive as early as possible so you can get parked up.
There's nothing worse that circling around a tight parking lot with other cars waiting like vultures for a space to open up at hiking trailheads in Washington, trust us, we've been there!
You will find 2 vault toilets and an information board with map at the trailhead.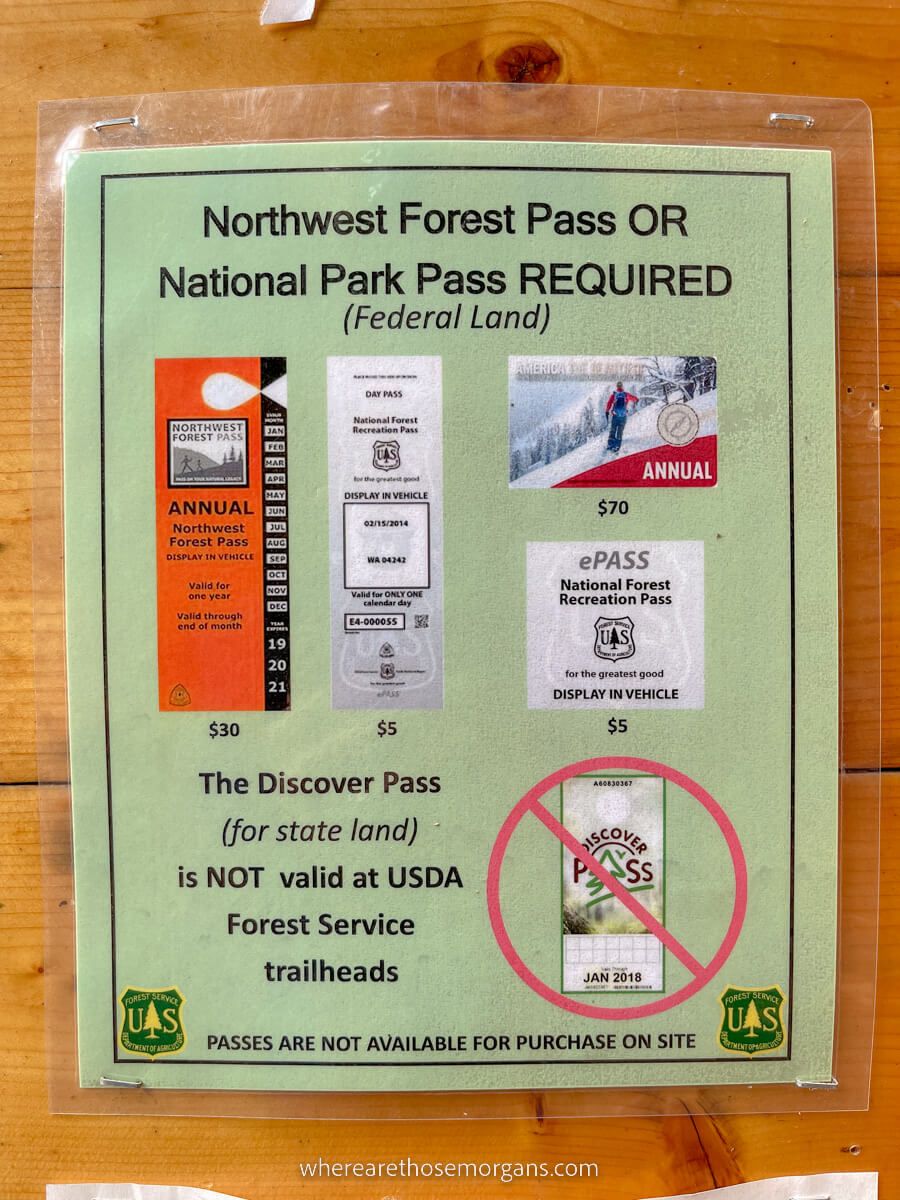 Do You Need A Pass For Lake Serene In Washington?
Yes, Lake Serene is in National Forest land and as a result you need to display a pass.
The two passes you can display are Northwest Forest Pass or America the Beautiful Pass, otherwise known as Interagency Pass.
Northwest Forest Pass – Includes access to all National Forest land in both Washington and Oregon. You can buy day passes or annual passes.
America the Beautiful Pass – Includes entry to all US national parks, national monuments, national forests and more for 1 year.
Read our popular guide about the pass: Is the America the Beautiful Pass worth it?
We buy a new annual pass each year because we visit several parks and recreational areas covered on the pass.
You cannot use a Discover Pass because they are not valid at USDA forest service trailheads.
Hiking Tip: If you forget to buy a Northwest Pass and don't have an America the Beautiful Pass, you can buy an annual Northwest Forest Pass at the General Store in Index.
Can You Swim At Lake Serene?
Yes, you absolutely can take a swim in Lake Serene if you are brave enough to withstand the cold water!
Remember, avalanche snow from Mt Index builds up in the lake during spring and early summer so the water is usually frigid throughout the year.
You could take an inflatable stand up paddleboard (SUP) to Lake Serene, which would be a cool way to explore the area.
Always remember to be considerate, use proper etiquette and be mindful of the important leave no trace principles.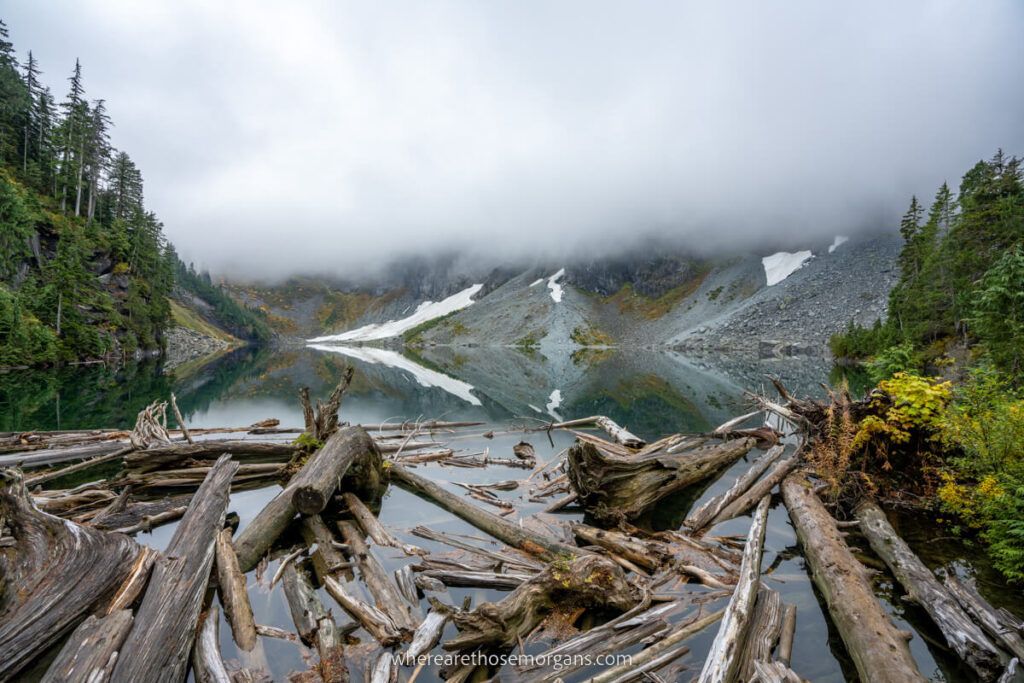 Top Hiking Tips
Here are our best quick tips for the Lake Serene hike:
Begin very early or later in the afternoon to avoid crowds on the trail
Hike in late spring or fall to avoid the summer rush
Robust shoes are essential to help with gripping on slippery surfaces throughout
No specialist gear required for this trail in good weather
Don't forget your poles if you typically use them to hike
Micro spikes are highly recommended for winter hikers
Can be bad for bugs in summer months so don't forget repellant
Lake Serene is a dog friendly trail
Bring plenty of water and lunch for when you are lakeside
Check recent comments from Lake Serene hikers on All Trails
Looking for hiking inspiration? Check out our popular guide to the 50 best hikes in the US next!
Hiking Apps
Just before getting into the hike walkthrough, we wanted to quickly talk about the hiking apps for offline navigation on trails.
The night before we take on any new trail, we always download an offline map of the route we are about to hike. Having access to an offline map allows us to see exactly where we are on any given trail with or without cell phone service.
Lake Serene and Bridal Veil Falls Trail is easy enough to follow but it always helps with sanity when we can see exactly where we are on a hike!
You can use several of the best hiking apps to download offline maps, but our favorite is GAIA GPS. It is the best app for downloading maps and using them during hikes.
We teamed up with GAIA GPS to offer an exclusive 20% GAIA GPS discount for our readers who love to hike.
Hike Walkthrough
Let's get into a breakdown of the hike with photos at the end of each section so you can see exactly what to expect when hiking Lake Serene Trail.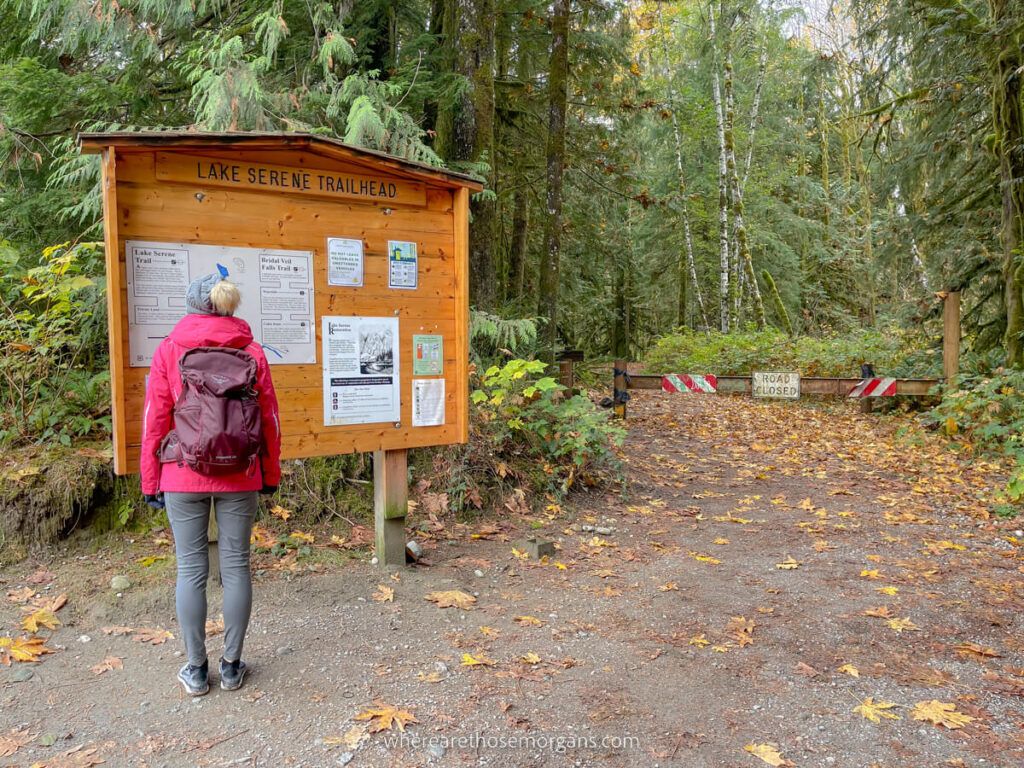 1. Prepare For Your Hike
Park up, don't forget to display your pass, use the restrooms and take some time to check the information board for any pressing issues or warnings.
Take a photo of the map pinned to the trailhead information board so you can refer to it throughout your hike if necessary. Alternatively, keep this guide open on your phone before you lose internet service.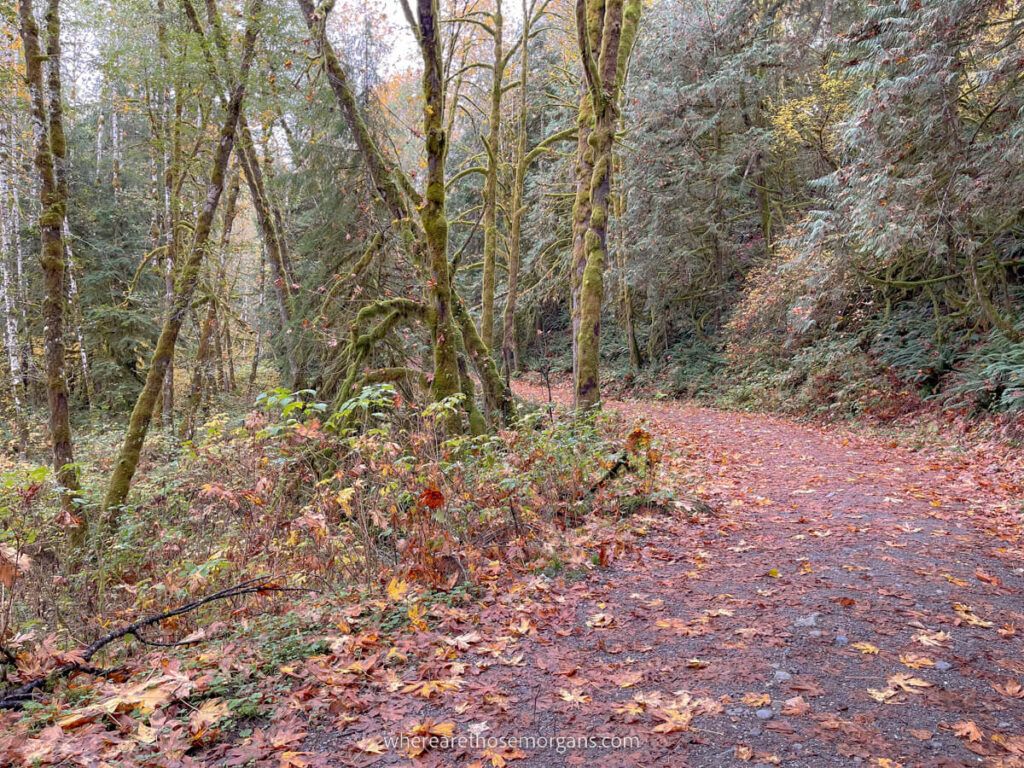 2. Logging Road
The first 1.6 miles of the hike to Lake Serene is actually on a very gradual and curated logging road. This road is private property but it is partially converted to trail and is good to use for hiking.
You will pass by tall trees and bushes which are ripe with berries in June. Use the first part of the hike to set a good pace and get your lungs working.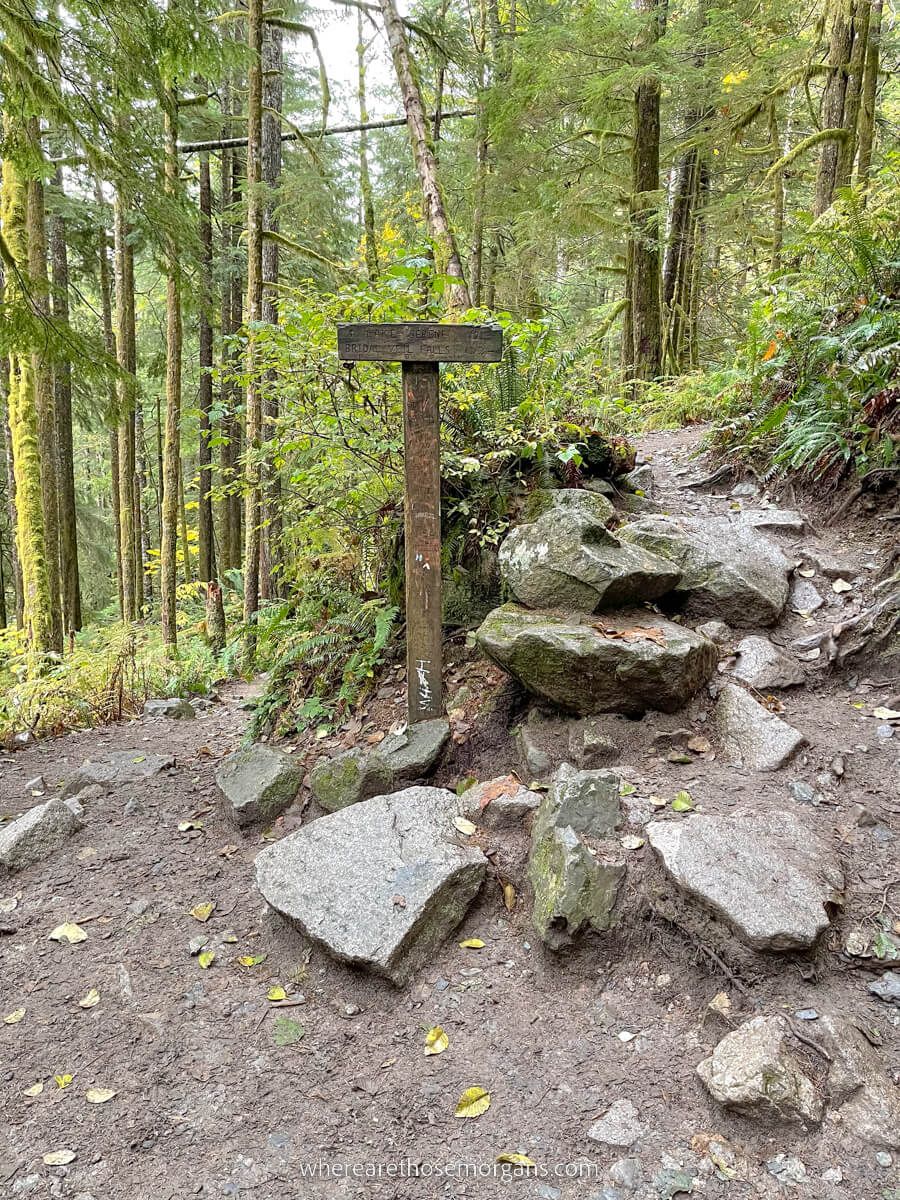 3. Spur Trail To Bridal Veil Falls
At 1.6 miles the trail splits very obviously and you will find a sign with distances; the left fork is for Lake Serene and the right fork is for Bridal Veil Falls.
You will gain 800 ft in half a mile by climbing lots of steep steps, before reaching a small boardwalk loop which takes you to a viewing area overlooking Lower Falls and the powerful Middle Falls.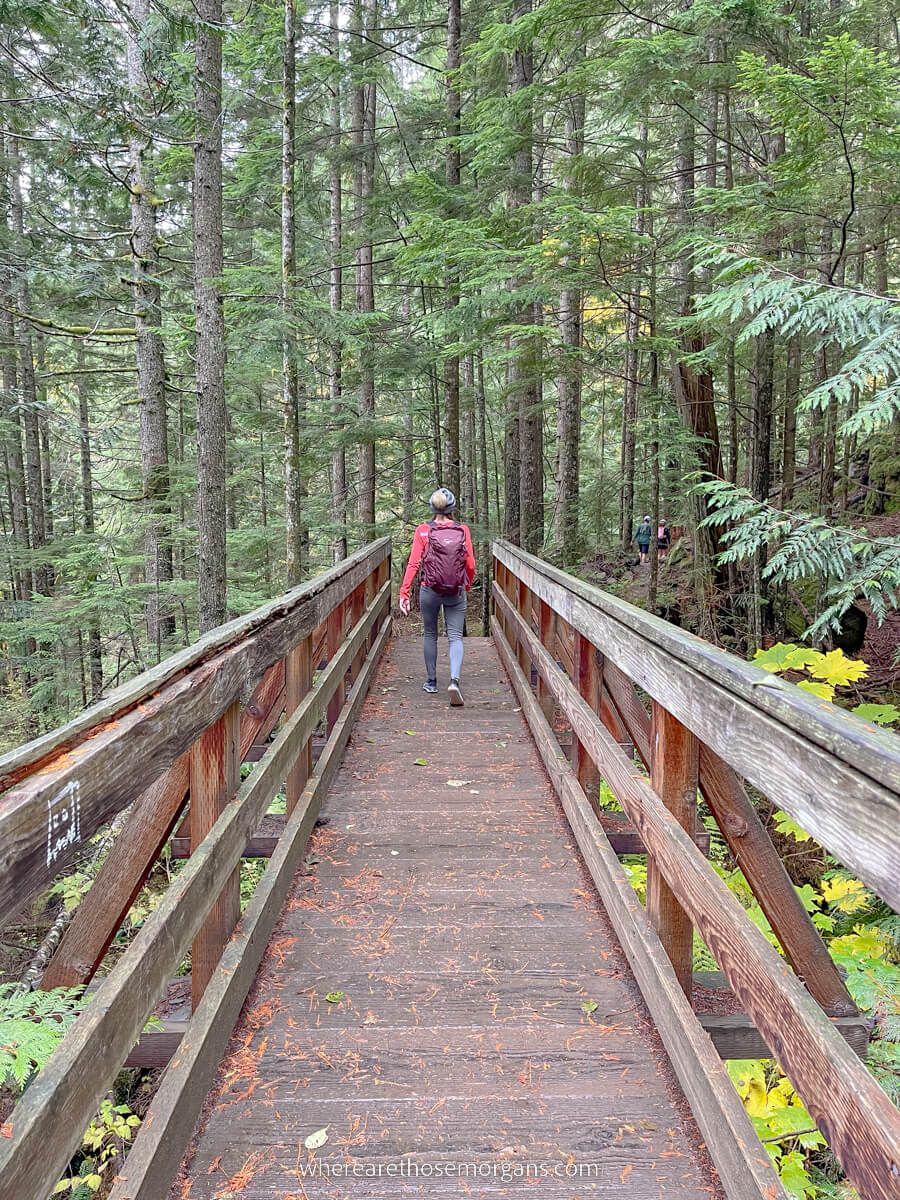 4. Rejoin The Main Trail
Head back down the steep steps for 800 ft elevation loss until you rejoin the trail where it splits. You might notice an old stone ruin, which was once a miner's cabin back in the early 1900's.
Continue toward Lake Serene and cross Bridal Veil Creek where you will see another much smaller waterfall. Look out for big maple leaf and old growth Sitka spruce trees.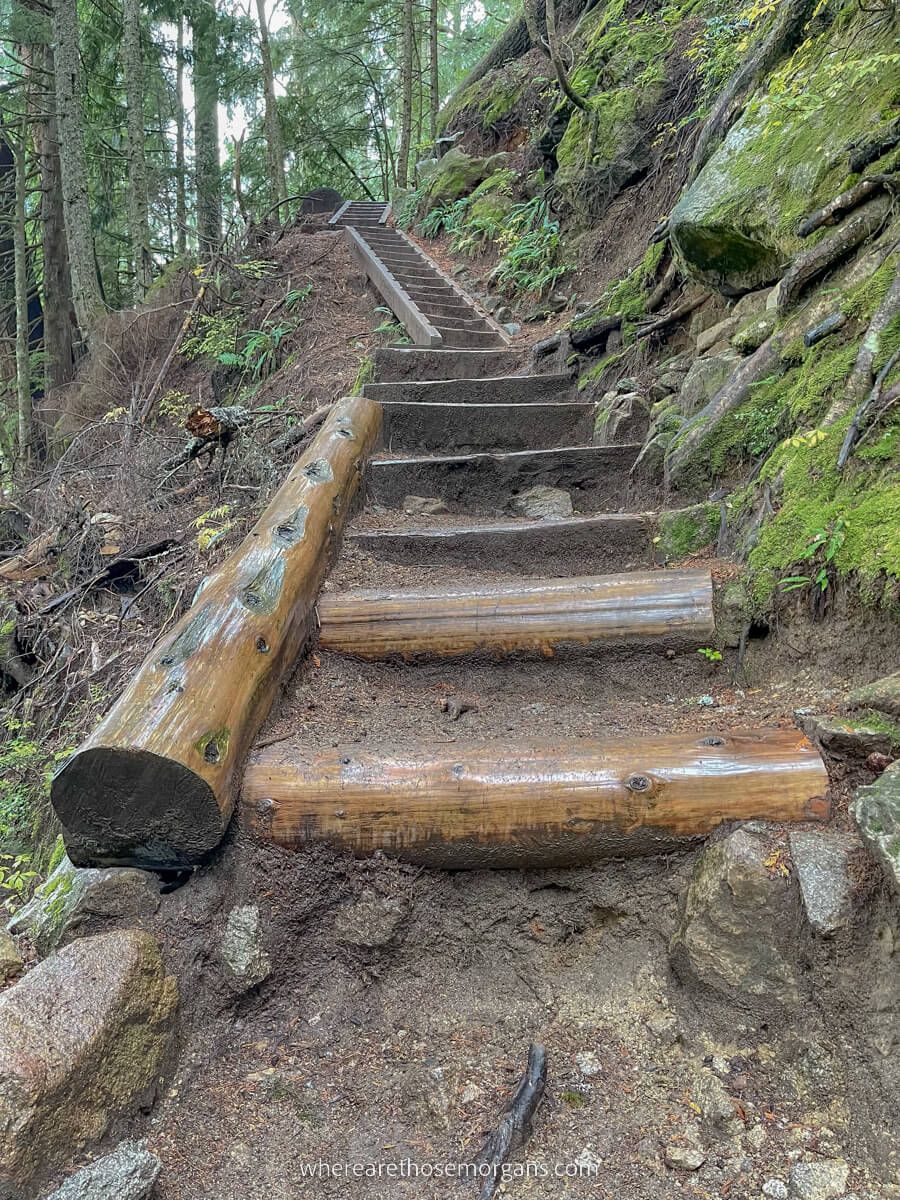 5. Switchbacks
From here it is 2 miles of steep incline, stairways and switchbacks. There are 23 switchbacks in total to navigate between the trail split and Lake Serene.
This section is awesome for those who are looking for a calf burning challenge. Valley views begin to open up behind or you can get your head down and grind it out.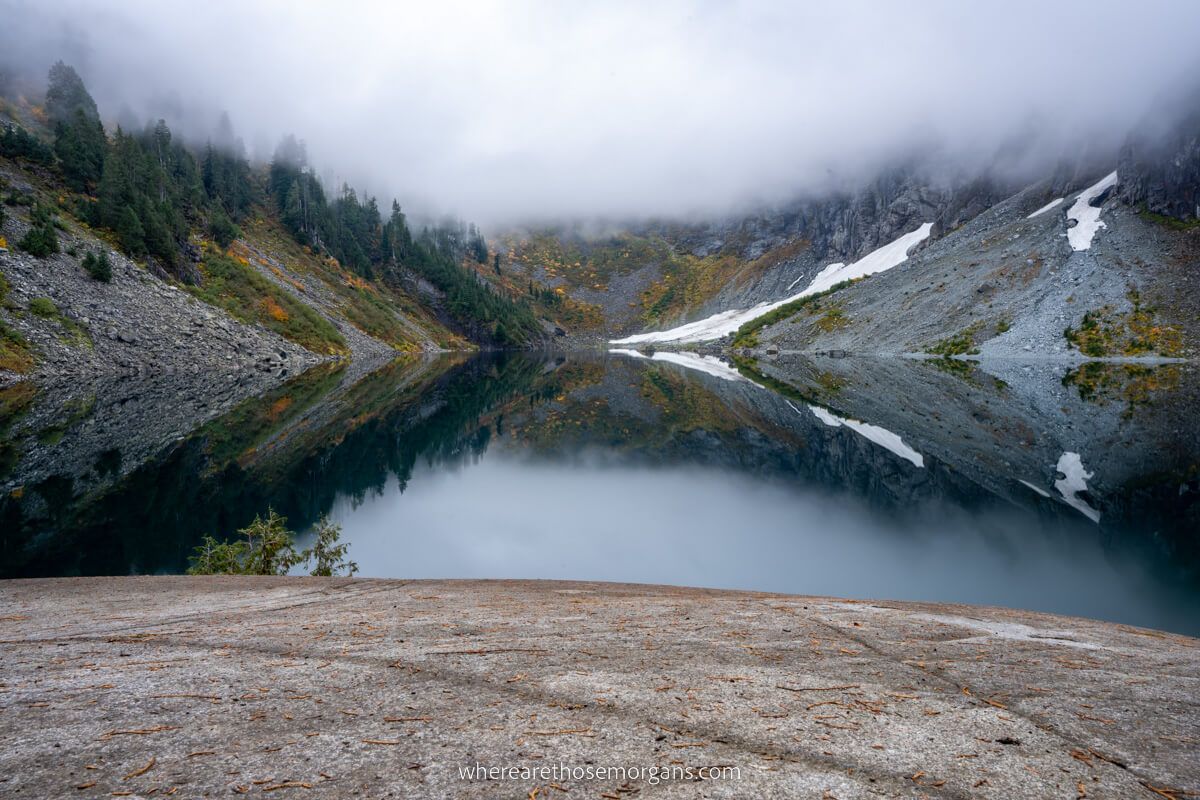 6. Lake Serene
Once you finally summit at Lake Serene you will cross a wooden bridge and see a wooden sign showing straight ahead for lunch rock and turn right for valley view.
We recommend going to lunch rock, grabbing a bite to eat, photographing the remarkably beautiful Lake Serene and then eventually stopping at valley view as you prepare to descend.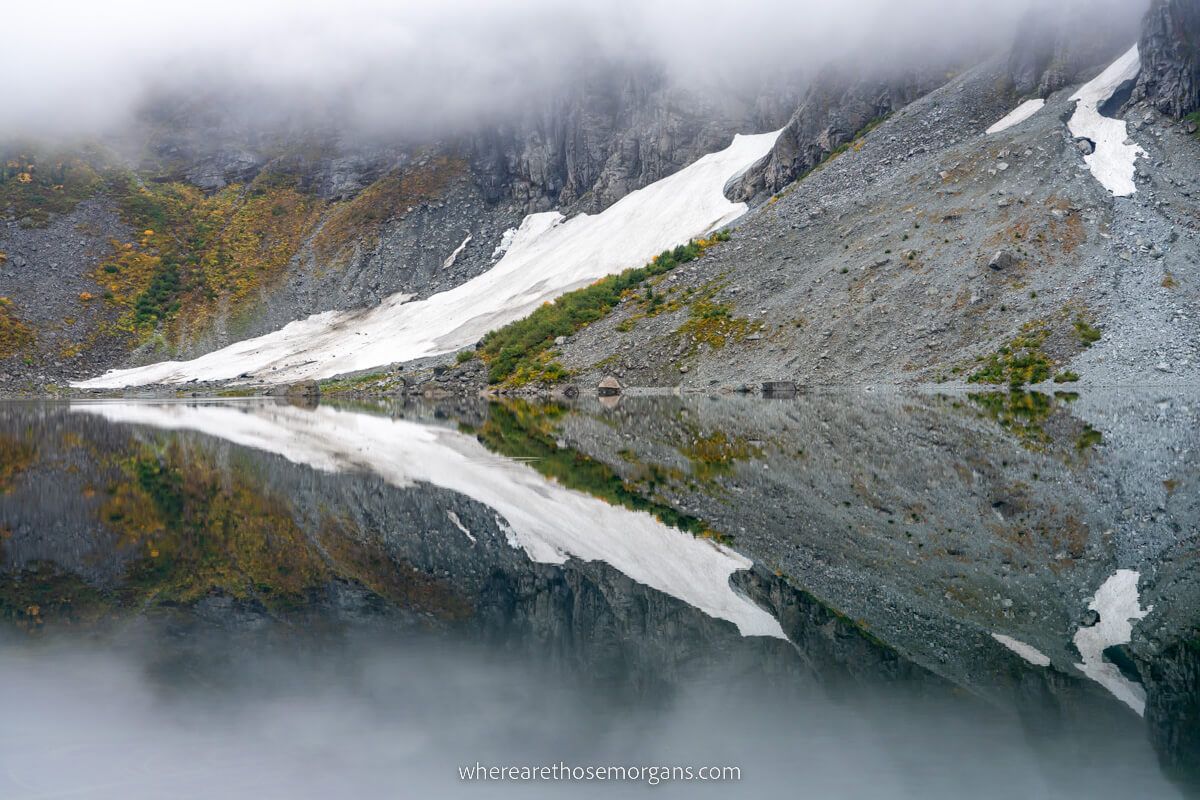 7. Descend Back To The Parking Lot
Hopefully you hike on a clear day and can enjoy views of Lake Serene with Mt Index behind. But even if you hike on a cloudy day like we did, you might get the same eerie and mysterious cloud effect we had.
Once you're ready to leave, it is a case of dropping back down the switchbacks carefully, passing the trail split and walking back down the logging road to your car at the trailhead.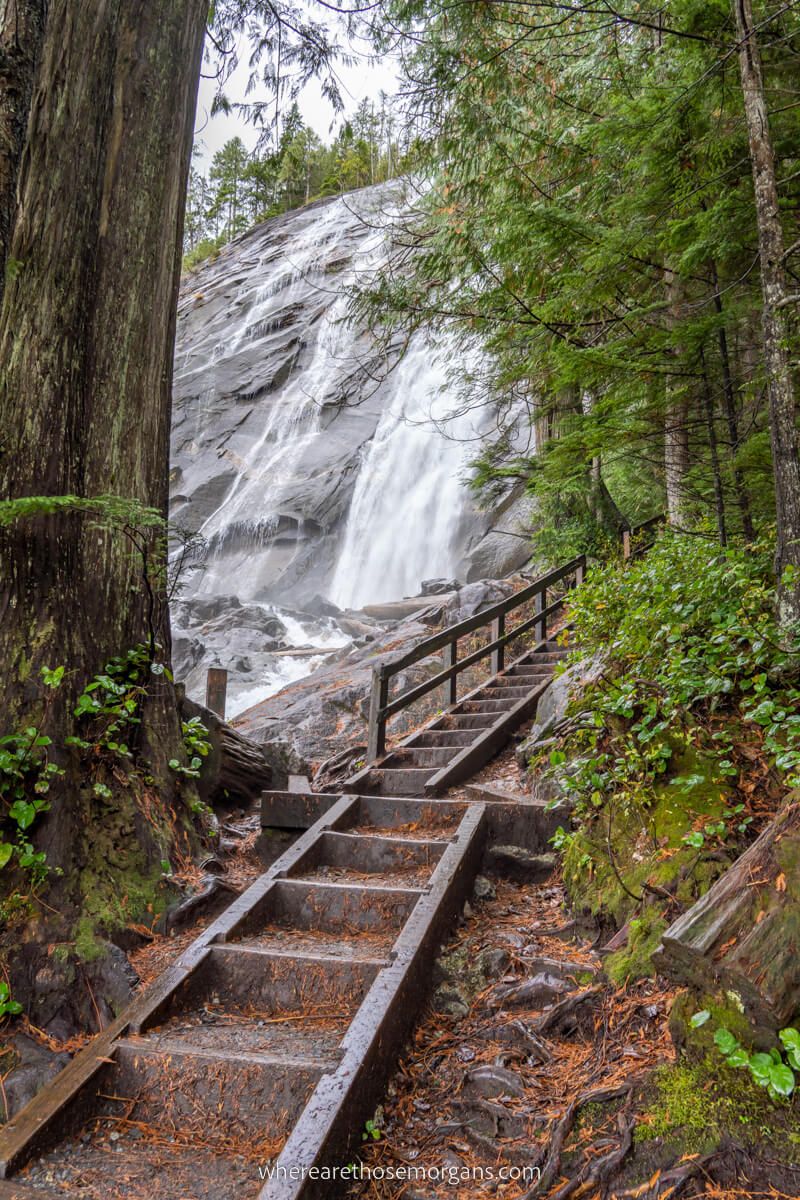 Pros and Cons
Let's take a summarized look at the best and worst aspects of the Lake Serene hike in Washington.
Pros
Leads to waterfall, lake and mountain views
Challenging day hike perfect for blowing off the cobwebs
Trail is mostly in forest and shaded from the sun
Cons
Trail can become extremely crowded in summer and on weekends
Steep gradient to the lake means it is not for beginners
Lake is often shrouded in thick clouds
Where To Eat And Stay Nearby
Are you planning a long weekend or midweek break around the area to take on more hikes?
Well, you will need the best lodging and restaurant recommendations!
The closest places with food and hotels are Gold Bar, Sultan and Monroe.
Top rated eateries in the area include:
If you drive past Gold Bar you will also find plenty more to eat in Sultan and Monroe.
Top rated places to stay near Lake Serene Trail (with previous guest ratings on Booking.com):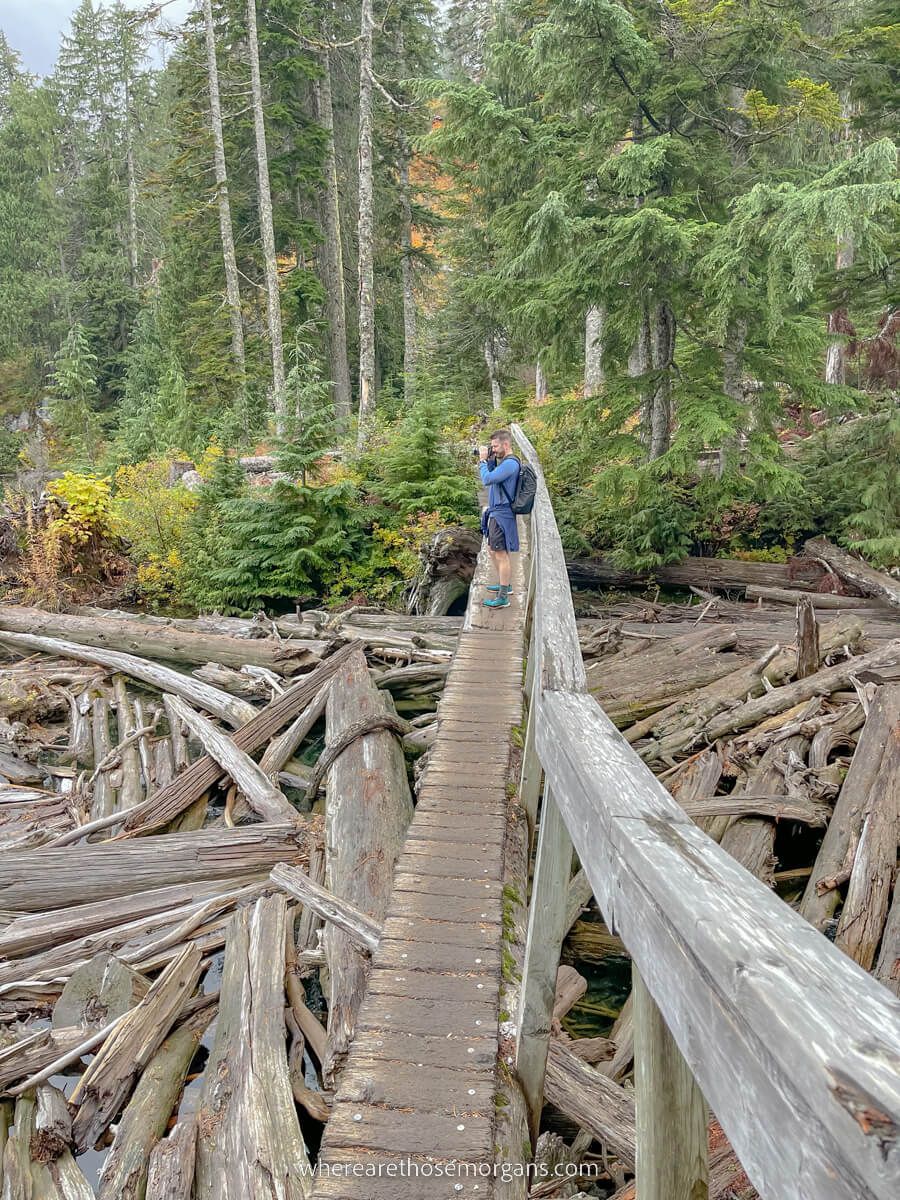 Best Time To Hike Lake Serene Trail
Late spring and early fall are the best times of year to hike Lake Serene and Bridal Veil Falls near Gold Bar in Washington.
When should you hike Lake Serene and Bridal Veil Falls Trail?
A weekday in June or October will give you the best chance of hiking to Lake Serene without the crowds. However, it might be a little risky hiking so close to the snowy season on either side.
The summer months of July and August are naturally going to be busiest on the Lake Serene Trail. Weekends and especially holiday weekends in summer will be severely overcrowded.
Lake Serene Hike FAQ's
Let's finish with some of the most asked questions about the hike to Bridal Veil Falls and Lake Serene in Washington.
Is Lake Serene a popular day hike in Washington?
Yes! The challenging hike to Bridal Veil Falls and Lake Serene is one of the most popular day hikes in Washington, outside of the national parks. Arrive early to get a parking spot and avoid weekends if possible.
It is worth hiking to both Bridal Veil Falls and Lake Serene?
Yes, it is definitely worth including both natural landmarks of Bridal Veil Falls and Lake Serene in your hiking itinerary. However, if you only have time for one, you should skip Bridal Veil Falls and hike directly to Lake Serene.
More Day Hikes In Washington
Want more Washington content? Head to our Washington Travel Guides to explore National Parks, popular day hikes and best things to do around Seattle.
---
We hope this Lake Serene Trail hiking guide helps with planning your day hike near Gold Bar in Washington!
Please let us know if you have any questions about the Lake Serene hike or your visit to Washington in the comments below.
Happy Hiking,
Mark and Kristen
Was This Lake Serene Guide Helpful? Pin It For Your Hike!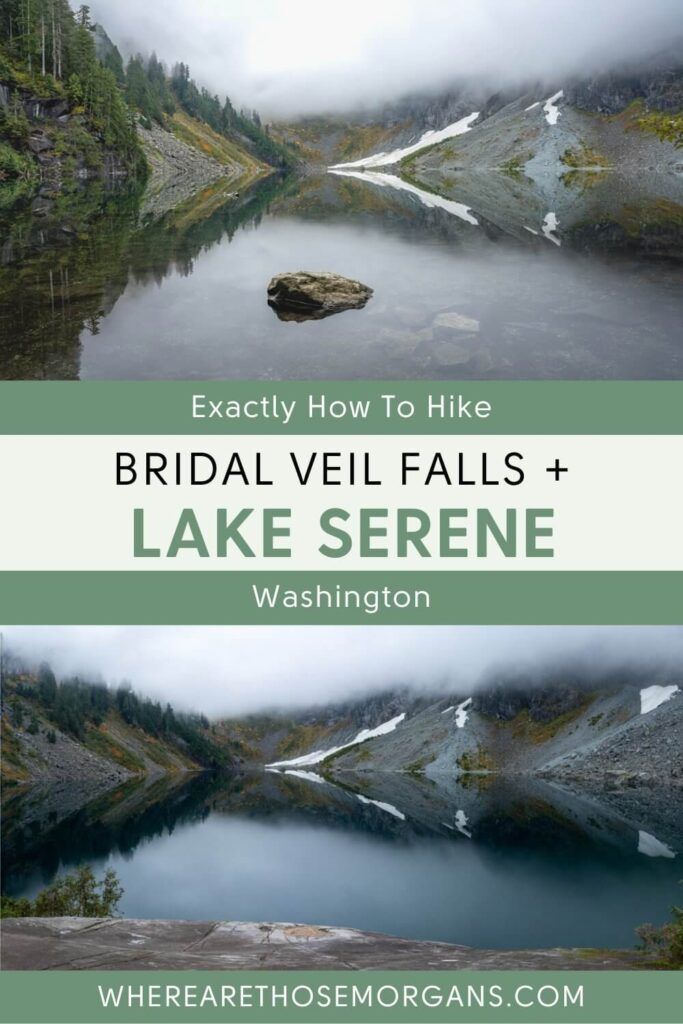 Note: This article contains affiliate links. When you make a purchase using one of these affiliate links, we may earn a small commission at no extra cost to you.
All Rights Reserved © Where Are Those Morgans, LLC. Republishing this article and/or any of its contents (text, photography, maps, graphics, etc.) in whole or in part is strictly prohibited.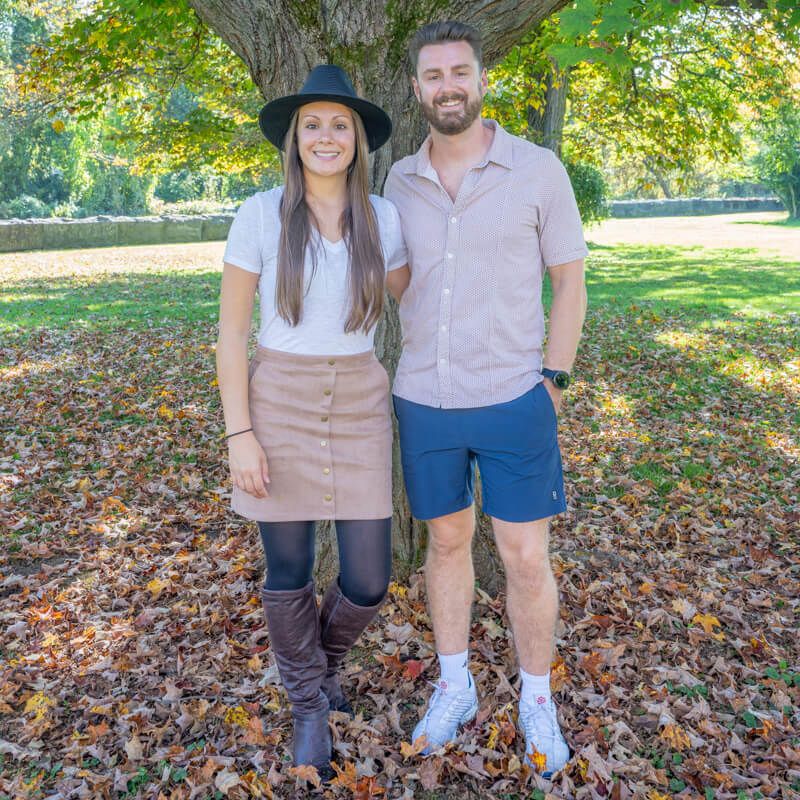 Mark and Kristen Morgan are travel, hiking and photography experts. Over the last 6 years traveling full time, they have explored more than 40 countries and 30 US states.
Their work has been featured in USA Today, Gestalten, Get Your Guide, CityPASS and Condé Nast Traveler along with various other publications.