South Dakota's Badlands is a hostile but remarkable landscape and the easiest way to get among its extraordinary buttes and spires is by taking on the best hikes in Badlands National Park.
It's important to manage your hiking expectations at Badlands. You will not find any adrenaline pumping trails here. Badlands' easy going and family friendly hikes are scenic and interesting but will not leave your heart bursting through your chest!
If you're an avid hiker and want to hit every single trail at Badlands, we would recommend allowing either 1 full day or 2 half days inside the park.
However, if you're only looking for the most popular trails to soak up the very best scenery, you can easily get through the best hikes in Badlands National Park in just a few hours.
We're going to walk you through all of the popular Badlands hiking trails from easy to strenuous and from short to long.
So, let's get right into those trails!
Read next: 18 best things to do in Badlands National Park for more details on scenic overlooks and wildlife spotting.
*Please note this post may contain affiliate links. If you click on one of them, we may earn a small commission at no extra cost to you!*
7 Best Hikes In Badlands National Park
Backcountry hiking is permitted in Badlands, which means you can get off the beaten path with barely another soul in sight. However, most visitors will stick to the easy access trails which all begin on the Badlands loop road.
Here are the 7 popular trails we will cover at Badlands National Park:
Door Trail – Easy

Window Trail – Very Easy

Notch Trail – Moderate

Cliff Shelf – Very Easy

Fossil Exhibit – Very Easy

Castle Trail – Moderate / Strenuous

Medicine Root – Easy / Moderate
After hiking in Badlands on two separate occasions, we think it is one of the best USA national parks to visit for anyone looking to relax and soak up unique views but without the crowds.
Here come the top Badlands hikes.
1. Door Trail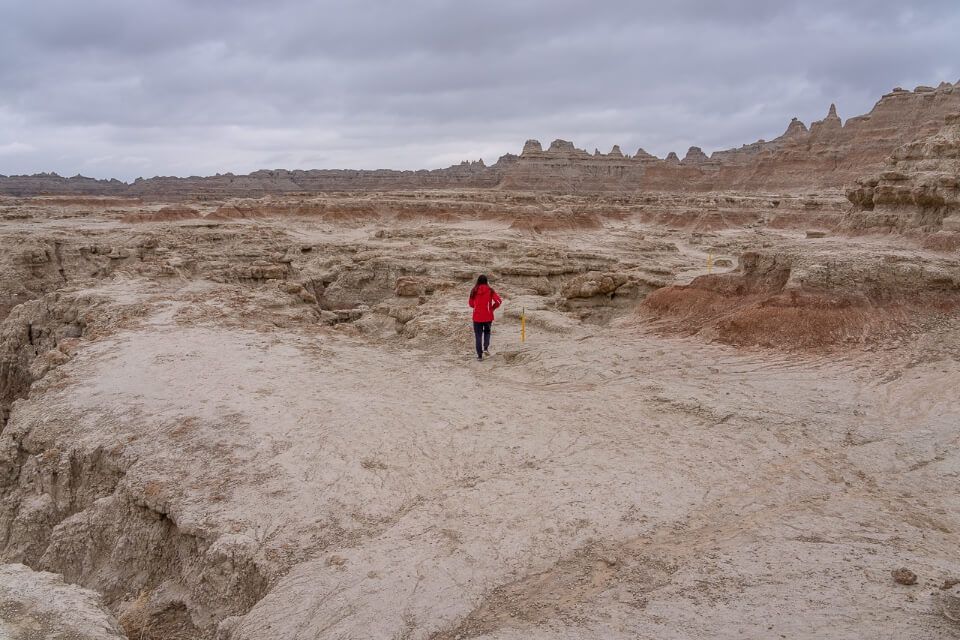 Door trail is the only hike that allows you to go behind the Badlands Wall and look back from a unique perspective. It is probably the best all-around inclusive hike in Badlands National Park.
The trail isn't too long or too short, it has an interpretive element, it's not difficult but it keeps you interested and it offers some of the top viewing in the park.
Door is our top pick for a nice easy hike and getting right among the extra-terrestrial Badlands landscape with strangely shaped buttes and spires.
Follow the boardwalk path at the parking lot and cut through a gap in the Wall to open up an expansive panorama of jagged ravines and unique rock formations.
Short yellow poles with numbers mark a rough guided path, which you can loosely stick to until you reach the 'end of trail' sign.
2. Window Trail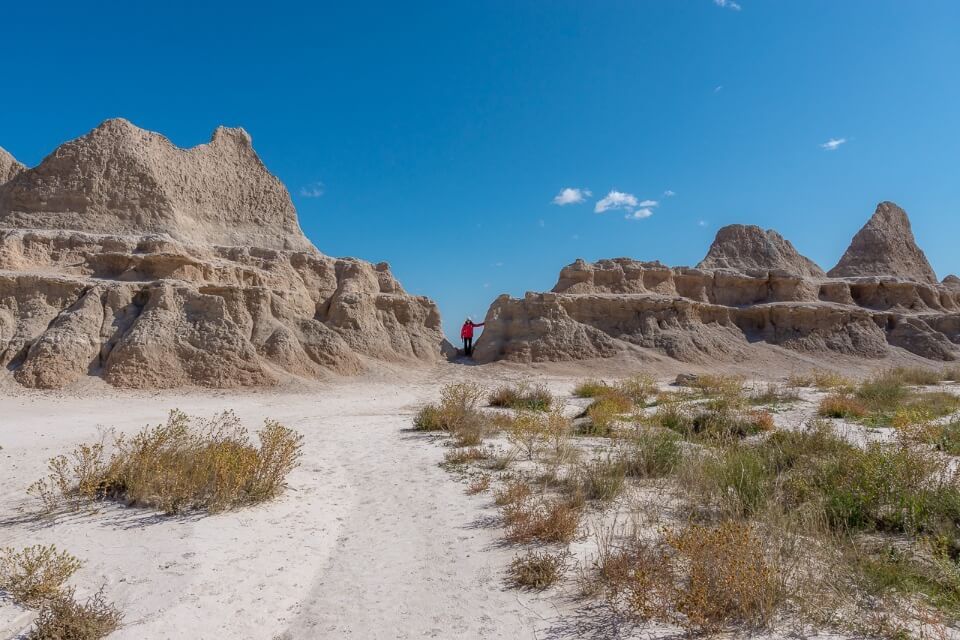 Window is more of a short walk than a hike but it is perfect for those with mobility issues or strollers.
Follow a boardwalk from the parking lot to a 'window' gap in the Badlands Wall, which opens up excellent views of the Wall and Door Trail area.
This trail offers the most bang for your buck in the park. It will take no longer than 15 minutes to walk up, soak up the awesome view and walk back to your car.
3. Notch Trail (Best Hike At Badlands)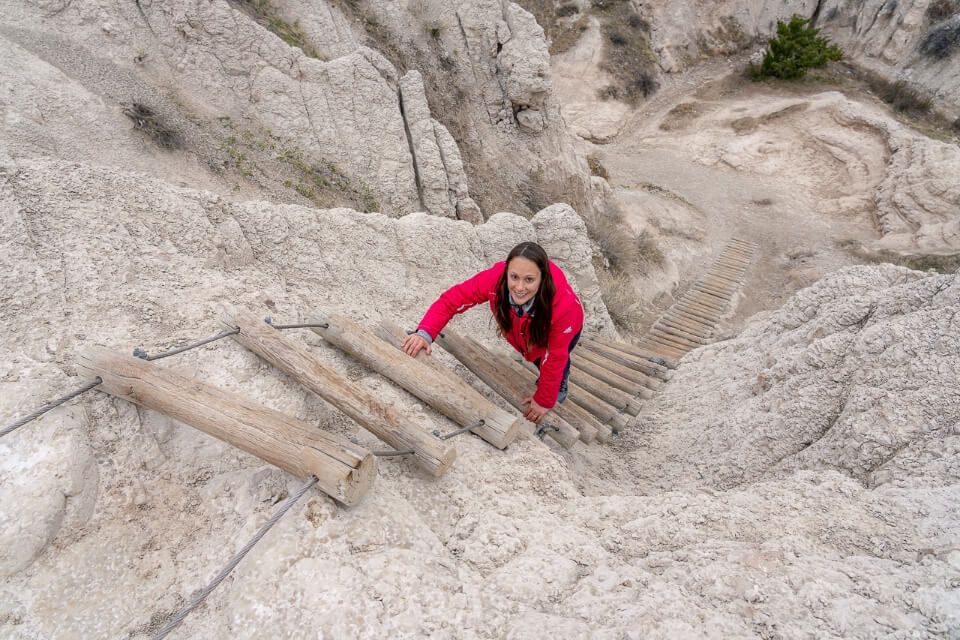 Notch Trail is the most popular and our personal favorite hike in Badlands National Park. We have included Notch Trail in our popular guide to the 50 best hikes in the US.
Adventure seekers won't have many exciting hiking opportunities in Badlands, but Notch Trail does at least provide one exhilarating trail.
A short walk cutting inside a canyon leads to a 50 ft tall steel rope – wooden step ladder. The ladder rungs are tightly packed against the cliff at the bottom but do become more 'bouncy' toward the top section.
Leave enough space between climbers for safety as you enjoy the most unique element to this hike. The path then curves around a steep ledge before opening up as you walk on top of the Badlands Wall.
A right turn leads you to the Notch Trail crescendo – a stunning 180 degree panorama with views stretching as far as the horizon.
Read: How to Hike the Awesome Notch Trail in Badlands National Park
4. Cliff Shelf Nature Trail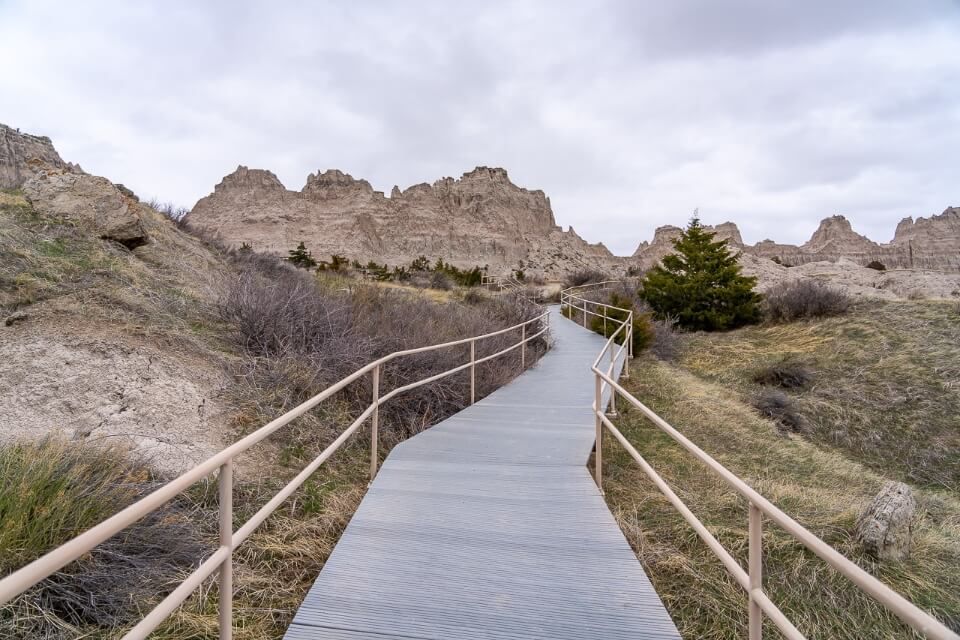 Cliff Shelf Nature Trail is arguably the most underrated hike in Badlands National Park. It isn't really a hike as it is entirely along boardwalks with steps, but it is unlike all other trails in the park.
On Cliff Shelf you will walk through a wooded forest area, be surrounded by the most snake dens and have a good chance of spotting deer and bighorn sheep.
At the end you will find cliffs, views and information boards. This is not an exciting trail but it is a scenic one.
5. Fossil Exhibit Trail
Another of Badlands boardwalk only hikes is Fossil Exhibit Trail. This is short, accessible and perfect for younger kids to explore around for replica fossils.
There are a number of unique rock formations in this area and you can join a ranger led educational talk. Plenty of information boards along the trail explain the fascinating geology of Badlands National Park.
Fossil exhibit trail is not an exciting hike so be sure to manage your expectations here!
6. Castle Trail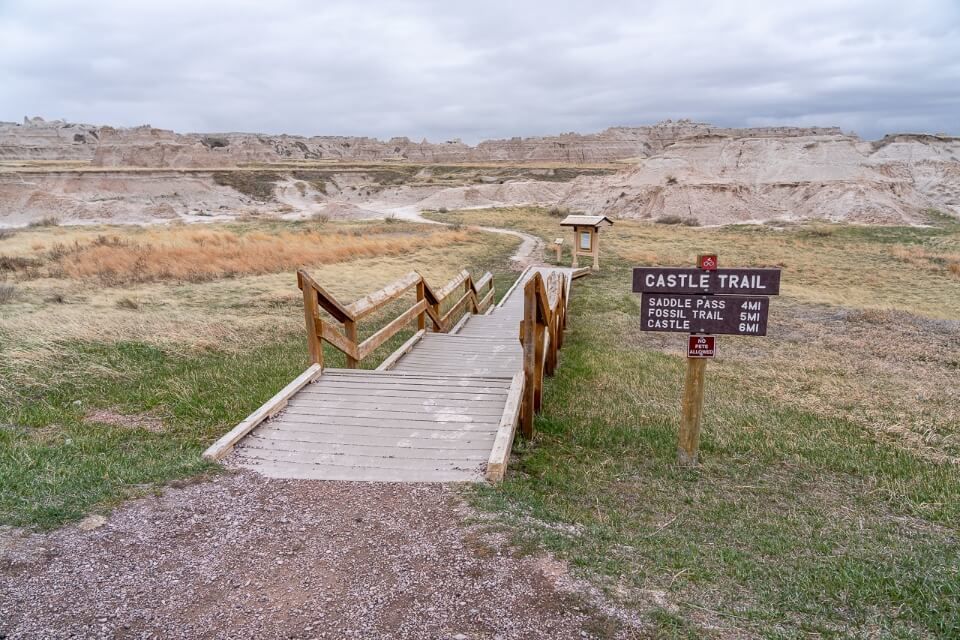 Castle Trail is the longest hike in Badlands National Park. This is an out-and-back with a loop in the middle, so you will walk around one half of the loop on the way out and the other half of the loop on the way back.
On Castle Trail you will begin either in the same parking lot as Door, Window and Notch – or Fossil Exhibit Trail. They are the two ends of the out and back trail, and the central loop is known as Medicine Root Trail which we will cover next.
At over 10 miles roundtrip, Castle is by far the longest maintained hike you can take on inside Badlands. It is a very open and exposed trail which means care should be taken in both bad weather and extreme heat.
Plenty of water, robust footwear and layers are required in both scenarios. Read our guide to the 10 most important things to bring on a day hike for more in depth information about packing for longer trails.
Castle Trail combines Badlands famous rock formations with open prairie over mostly flat ground. Use red marker poles to guide the way if in doubt of the trail markings.
As with most Badlands trails, this is not the most adrenaline pumping hike you will do but it's a great way to see a huge portion of the park with fewer tourists than the likes of Door and Notch.
You might want to track your hike with an offline map using one of the best hiking apps so you can see where you are at all times along the hike.
7. Medicine Root Trail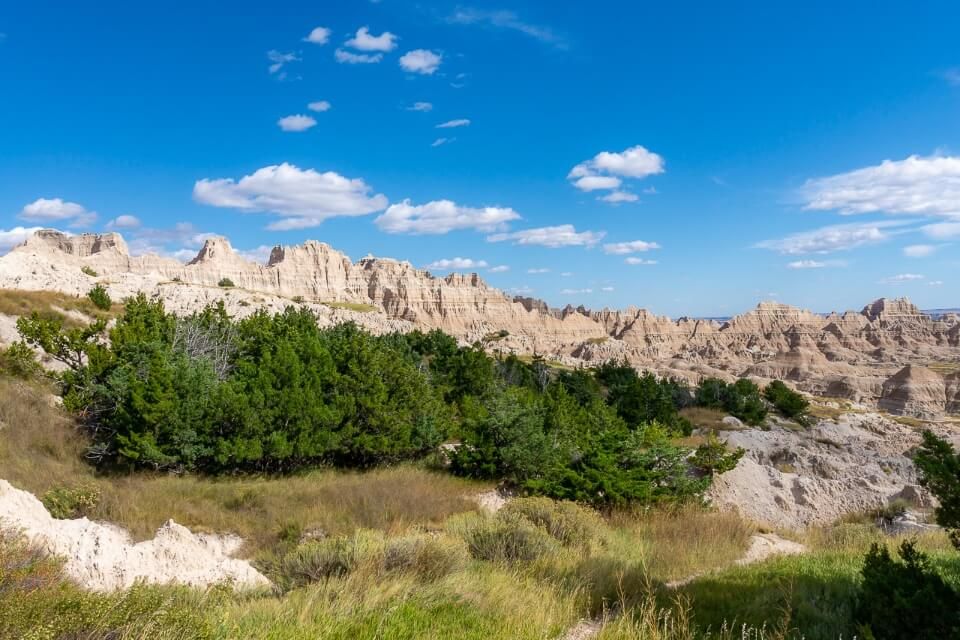 As mentioned above, Medicine Root trail is the loop section within the Castle Trail which takes hikers onto Badlands prairies away from the popular Wall section.
This trail offers hikers the chance to see wildflowers if visiting in Summer and has a higher chance seeing wildlife away from the loop road and fewer tourists.
The hike begins at Saddle Pass trailhead parking lot and quickly turns into a short but very steep path to scramble up. Views at the top of the pass are fantastic, it almost feels as though you are in the center of the park.
The 4 mile loop is easy going but not particularly exciting. It's another great one to blow the cobwebs off without breaking into too much of a sweat.
Map Of The Best Hikes In Badlands National Park
The map above shows locations of each trailhead for the 7 best hikes in Badlands National Park.
Each trail is conveniently located right along Badlands loop road, which adds to the ease and simplicity of hiking in South Dakota's underrated national park.
South Dakota's Black Hills are one of the best places to visit in the USA and a hiking trip to Badlands is one of the highlights. We hope you enjoy your time in this unique and unusual landscape!
More From Badlands …
Use our comprehensive South Dakota Road Trip planner to create your entire itinerary when visiting the beautiful Black Hills region.
Best Hikes In…
---
We hope this guide to the best hikes in Badlands National Park helps you plan your visit to rural South Dakota!
Have you been to Badlands? Which hike was your favorite?
Please let us know if you have any questions or need any help planning your visit.
Happy Hiking,
Mark and Kristen
Was This Post Helpful? Pin It For Your Visit!