Do you have a man in your life who can't get enough of the great outdoors? Well, you have come to the right place because this list of truly helpful gifts for outdoorsy men has been thoughtfully crafted to suit every type of outdoorsman.
We are avid hikers and spend a lot of time outdoors so this list features either items we use ourselves or ideas taken from our own personal wishlist. We can guarantee the outdoorsman of yours will be impressed.
In order to make it easier for you to find exactly what you need, this outdoor gifts for men list is broken down by price. You can shop for outdoorsmen gifts by:
Fun bargains under $50
Outdoorsy gift items ranging from $50 – $100
Luxurious wilderness options above $100
Stocking stuffers for men who love the outdoors
Feel free to jump to specific sections of this gift list to to help stay within your budget or cover any basic needs your outdoorsy boyfriend or guy may need.
Now, let's get tucked into our list of best holiday gifts for the everyday outdoorsman!
Our Outdoors Experience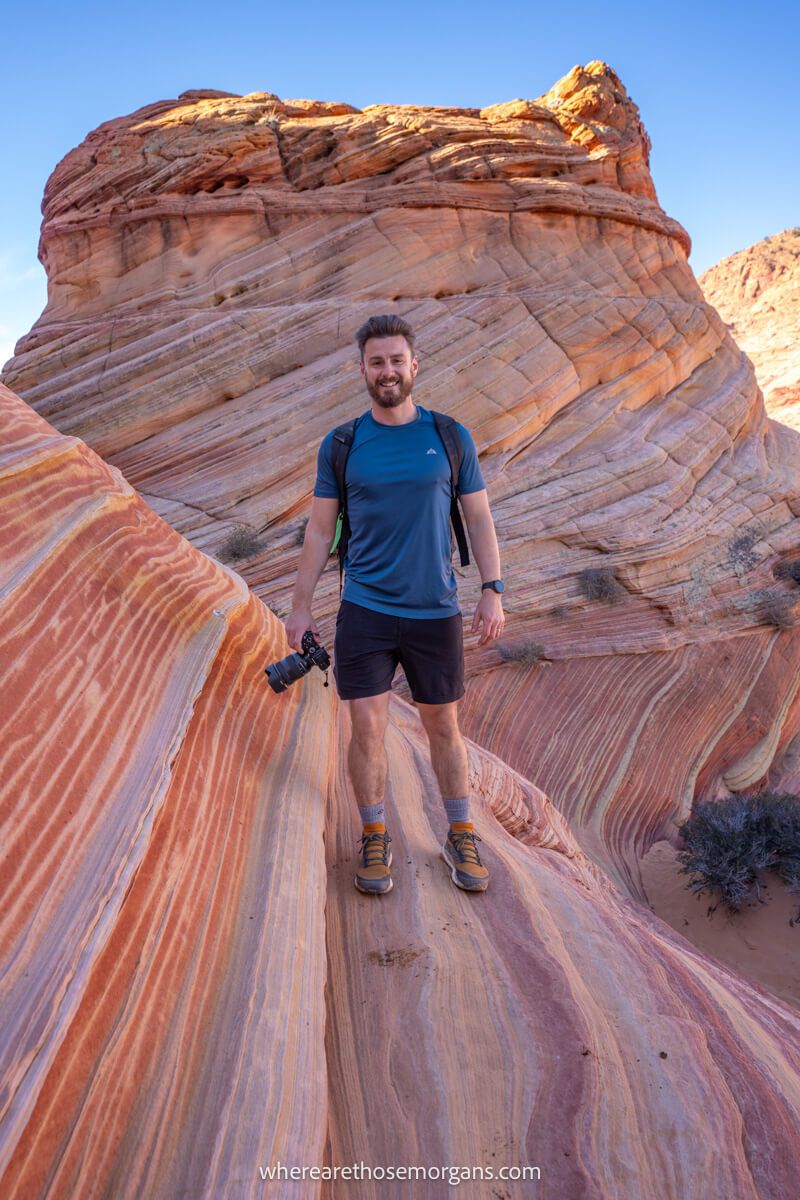 Since 2018, we have been traveling long term conquering epic hikes such as the Inca Trail to Machu Picchu, the W-Trek in Patagonia and Tour du Mont Blanc in Europe.
When Mark officially immigrated to the US in 2019, we spent the next several years driving around the country checking out the best road trips in the United States.
We have hiked thousands of miles and camped in numerous locations around the world so it's safe to say we have learned a thing or two about outdoor gear.
Our main goal in this best gifts for outdoorsy men guide is to help you pick out the perfect present for your adventurer featuring items we depend on for every trip.
Where Should You Buy Outdoor Gifts For Men?
Before we get straight into this outdoorsman gift list, we want to briefly discuss the best places to find outdoor gear.
We have an REI Membership which gives us 10% off most items and we always recommend REI when purchasing new wilderness, hiking or any outdoor gear.
A lifetime membership at REI includes a $30 one time fee and you will probably make that money back on your first purchase!
However, you can also find amazing deals during the holidays on official websites or Amazon Storefronts so it's always worth shopping around for the best price.
We have included links to everything you need to make this a wonderful shopping experience! Now, let's find that special gift idea for that outdoorsman in your life.
Each item in this guide is listed by original price, but keep in mind products go on sale (especially around the holidays) so the prices can change depending on deals.
Best Outdoor Gifts For Men Under $50
First on this list featuring best gift ideas for outdoorsy men, we chose simple but thoughtful options to help make his time in the wilderness more comfortable.
Gifts don't always have to be expensive to mean the most. Spending time together in nature sharing his new outdoor gift might just be exactly what he needs.
Shopping for an outdoorsy woman too? Don't miss our popular guide featuring unique outdoor gifts for her to complete your holiday shopping list.
---
---
---
---
---
---
Hiking Tip: If tackling a long day hike like the Enchantments in Washington, be sure to use a water reservoir in addition to the LifeStraw. We love these Osprey hydration reservoirs for longer hikes.
---
---
---
---
---
---
---
---
---
Want to know more about this passport? Read our detailed guide featuring important things to know about the National Parks Passport.
---
---
---
Planning to visit the US national parks? Check out the best USA national parks to add to your bucket list.
---
---
---
---
Best Gifts For Outdoorsy Men $50 – $100
The next section in this list showcasing gifts for outdoorsy guys includes various outdoor clothing options as well as unique items to make his adventures even more memorable.
We believe quality outdoor clothing is essential. Nothing ruins a good time quicker than the wrong type of gear. Layering properly is also the key to safely protecting himself from the elements.
Personally, we recommend merino wool for base layers followed by an insulated jacket to keep warm. Don't miss our best things to bring on a hike post for more important layering information.
New to hiking? You might like these our popular hiking tip for beginners.
---
---
---
---
Heading to Mt Rainier? Don't miss the best hikes at Mount Rainier national park.
---
---
Want to know more about the national park pass? Read our detailed guide featuring an America the Beautiful Pass to see where you can receive free entry.
---
---
---
---
---
---
Best Gifts For The Outdoorsmen Over $100
Outdoorsy gear can be expensive, but it often pays to splash out on top quality products. While the items below might be a bit more on the pricey side, you can be certain of their durability.
Over the years, we have learned to never skimp on outdoor gear because you get what you pay for. Cheaper gear may work for a short term fix, but eventually you need to find a longer term solution.
The following gift items for the outdoor man have been tried and tested by us personally over hundreds of miles of hiking trails as well as several years of traveling the world.
We have also thrown in a few luxurious outdoor gifts we have added to our wish list this year!
Interested in hiking gear? You might like to browse our hiking gift guide.
---
---
---
Looking for a different kind of duffel? Be sure to check out the Monarc Settra Duffel Backpack made from 50 recycled plastic water bottles.
---
---
---
Interested in Osprey Backpacks? Don't miss our detailed review featuring the Osprey Farpoint 40 which is the perfect carry on size.
---
---
---
---
---
---
---
---
Stocking Stuffers For Outdoorsy Men
Still looking for a last minute Christmas gift for the outdoorsman in your life? These stocking stuffer gift ideas for outdoorsy men are just what you need.
We like the next few items on this list because they consider your mans safety in the outdoors. Just one of these small gift ideas really pack a big punch.
Does you man love the national parks? Don't miss our National Park Gift Guide next.
---
---
---
---
---
---
---
---
---
---
---
Outdoorsy Men Guidebooks And Subscriptions
If you are looking for a unique idea to gift to him this holiday season, maybe you should consider a present he won't have to unwrap.
An ebook or a subscription service is the perfect way to show your guy how much you care.
You can shop our extremely popular Travel Guidebooks featuring major cities and US National Parks.
We use our experience in each destination to tell you everything you need to know including detailed hiking information, where to stay and eat, best things to do and include several example itineraries.
Or Below we have listed our favorite subscriptions when exploring outdoors:
Gaia GPS – This is our favorite hiking app on the market. We have used Gaia for years and wouldn't recommend any other app for hikers. Use our special link to get 20% off your subscription.
Outdoorsy – With Outdoorsy, you can help him find an RV, motorhome, trailer or campervan to rent for his next adventure.
Atlas VPN – This VPN service helps to keep your his data safe especially when surfing on public wifi. You can read our full review about Atlas VPN here.
Outdoorsy Gifts For Him FAQ's
Let's take a closer look at some of the most frequently asked questions regarding the best gifts for outdoorsy men.
Our Popular Gift Guides
Looking for another gift? Head to our Gift Guides or Product and Tour Reviews to find something truly unique.
---
We hope this helped you pick out the best outdoorsy gifts for all of those adventurous men in your life!
Please let us know if you have any questions about these fabulous outdoorsman gifts in the comments below.
If you are not exactly sure which gift your outdoorsy guy would like, send him a link to this webpage and let them choose for himself!
Happy Shopping,
Mark and Kristen
Enjoy This Outdoorsy Man Gift Guide? Pin It For Later!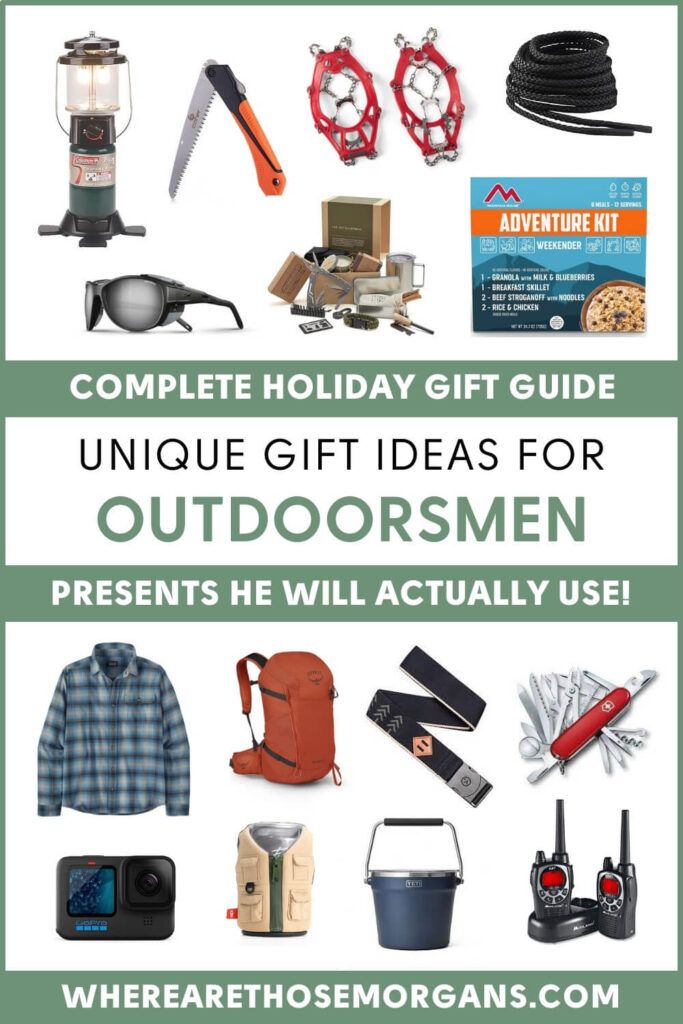 Note: This article contains affiliate links. When you make a purchase using one of these affiliate links, we may earn a small commission at no extra cost to you.
All Rights Reserved © Where Are Those Morgans, LLC. Republishing this article and/or any of its contents (text, photography, maps, graphics, etc.) in whole or in part is strictly prohibited.