The Osprey Farpoint 40 backpack has served us impeccably over the years. In this detailed review, we are going explain why the Osprey Farpoint 40 is the perfect travel backpack.
But it is important to drive home the major limitation of a 40L backpack early on. With this smaller size capacity, you will have to carefully consider what you pack. This is truly a backpack for minimalists.
So if you are still reading because you believe 40L is enough space, we are going to break down this review with several considerations you need to think about before traveling.
This is how we will help you decide if the Osprey Farpoint 40 is right for you:
Who is the Osprey brand with a product overview
Best travel styles for the Osprey Farpoint 40
Our Osprey Farpoint 40 backpack review
Backpack features with detailed descriptions
Information about the Osprey All Mighty Guarantee
Pros and cons to why you should consider an Osprey Farpoint 40
Now, let's shop for a new Osprey Farpoint 40 travel backpack!
*Please note this post may contain affiliate links. If you click on one, we may earn a small commission at no extra cost to you! Read more in our disclosure policy.*
Osprey The Brand
The brand name Osprey packs a lot of punch. You have likely seen countless travelers or hikers wearing and utilizing Osprey products.
Founded in 1974, Osprey has maintained a strong relentless spirit through innovation and quality. This brand has become known for a legacy of meticulous craftsmanship producing quality product after quality product.
Personally, we purchased our first Osprey Farpoint 40 in 2017 as we prepared for our honeymoon around the world. Just on this trip alone, our backpacks trail-blazed through 36 countries across 4 continents in two years.
And since then we have taken the same trusty Osprey backpacks on many additional trips with not one single stitch out of place. Our Osprey backpacks have road tripped around the US as well as hiked around Mont Blanc just to name a few more.
In 2020, the Osprey Farpoint 40 was even named the Best Overall Travel Backpack and you certainly won't find us arguing with the result.
Through the three pillars of sustainability and with bluesign®-approved materials, Osprey continues to create high quality materials with the lowest environmental impact possible.
Looking for a new camera backpack? You might also like our detailed review featuring the Peak Design Everyday Backpack.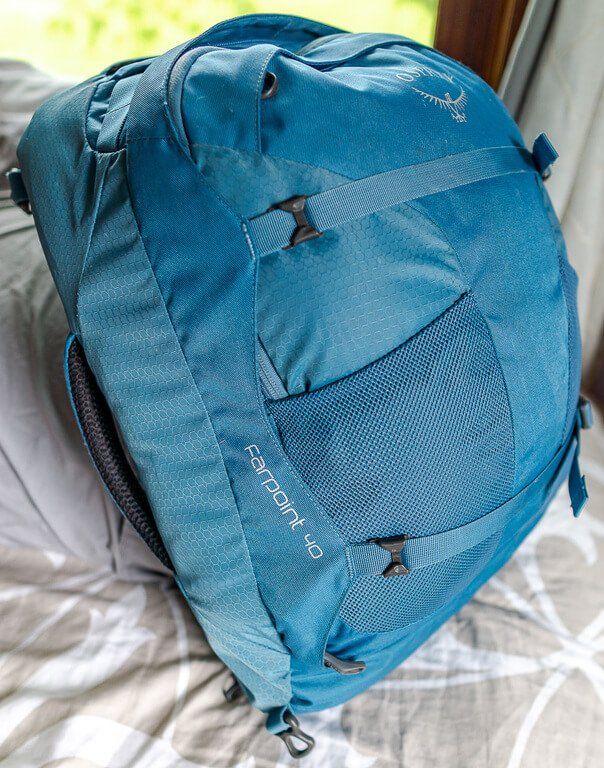 Osprey Product Review
After several decades in business, Osprey's list of products is impressive. You can find everything from hiking packs to child carriers.
Here is a quick overview featuring our favorite Osprey products:
Hydraulics Reservoir – This reservoir easily fits into the back of most Osprey bags and is the perfect way to stay hydrated when on the go for long periods at a time.
Rain Cover – The best part about this rain cover is that it compresses into an extremely small space and gives you waterproof protection anytime you need it.
Packing Cubes – The easiest way to stay organized during any type of trip.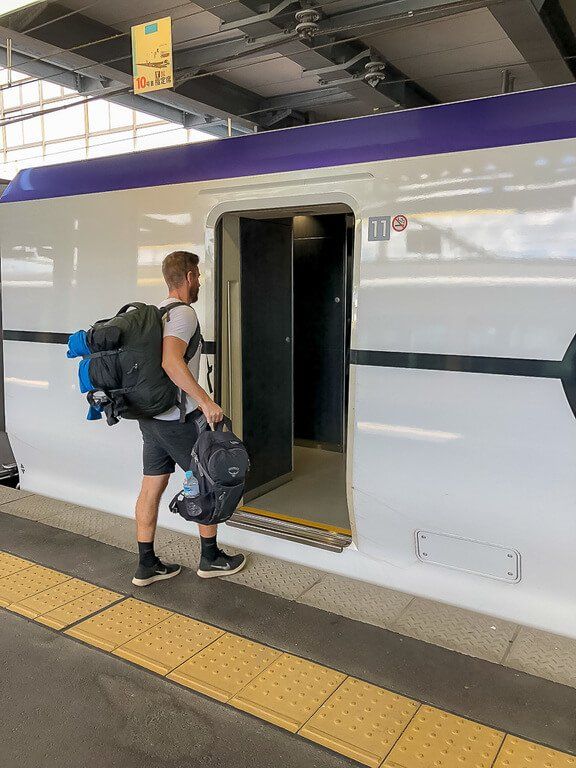 Best Travel Styles For The Osprey Farpoint 40
There are many different types of travel backpacks so it's vital to work out exactly what you will require in a bag.
For example, a travel backpack will be built differently to a mountain climbing backpack. In the climbing backpack, the padding and the weight will be rearranged in a different way to better suit climbing.
The Osprey Farpoint 40 is an incredibly versatile backpack suitable for the vast majority of travelers, but it won't be a perfect fit for everyone. If you prefer to travel with a closet full of clothing or specialist gear, this backpack will not be enough for you.
Let's take a quick look into the most suitable travel styles for this backpack:
Long term traveler who wants to pack extremely light
Digital nomads or remote workers who need a laptop
The perfect bag for the everyday biker or commuter
A short domestic trip giving you plenty of space for clothes and shoes
If you need a large carry on option to help minimize baggage costs
While the Osprey Farpoint 40 is technically not a hiking backpack, we have used ours for many multi-day hikes including the Inca Trail to Machu Picchu, the W-trek in Patagonia as well as circumnavigating Mont Blanc in Europe.
We have since purchased Osprey hiking backpacks, but our point is these bags can sometimes be used interchangeably if needed.
But for the best results, we would recommend you purchase the backpack for your intended activity.
Planning to travel long term? Don't miss our ultimate travel packing list for both vacations or long term trips.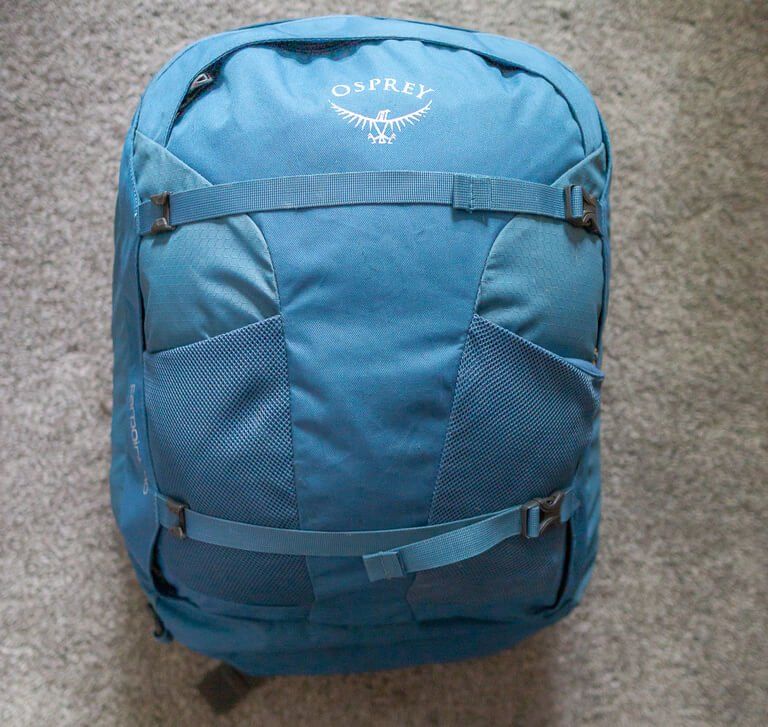 Important Considerations In A Backpack
Before we begin our review, here are a few items you should consider when shopping for a new backpack:
Size – Do you need a backpack that can be easily used as carry on luggage?
Materials – What material is the bag made from? Quality and durable materials work best.
Comfort – Do you need a hip belt, harness or extra padding?
Weight – How much does the backpack itself actually weight? This is crucial if you plan to use it as a carry on.
Design – How do you need the bag to function? Any special requirments?
Price – How much do you want to spend? You often get what you pay for.
There has been a small update to the nomenclature of this backpack since the original time of writing.
The Osprey Farpoint 40L is now called the Osprey Fairview 40L for the women's backpack line. But the backpack has otherwise has remained exactly the same in the men's line.
Men's version = Farpoint 40
Women's version = Fairview 40
Keep in mind there is more to these backpacks than just a gender label. Each backpack is created for either a man or woman's body frame.
For example, a women's backpack will usually have a shorter torso, smaller hip belt, extra padding and curved shoulder straps.
Let's now dig into the technicalities and discover why the Farpoint 40 remains such a popular choice of travel backpack.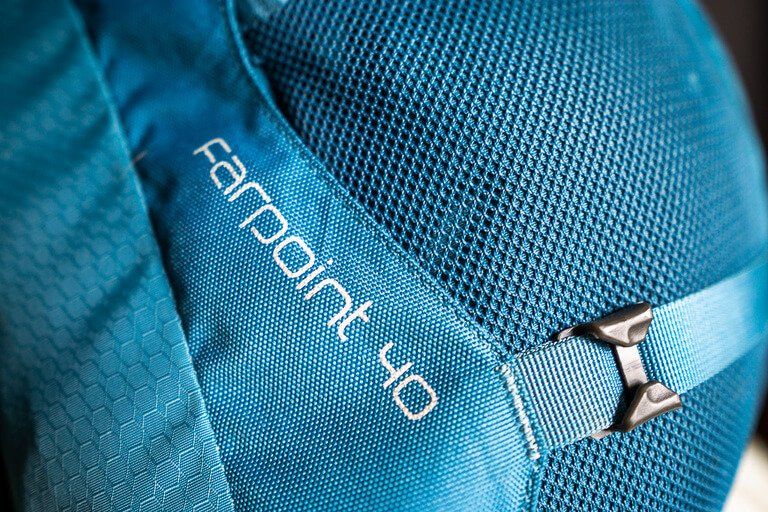 Osprey 40L Backpack Technical Specifications
Volume: 40L
Weight: 3.486 lbs (1.58kg)
Material: Bluesign® approved 450D recycled twist dobby polyester
Laptop capacity: holds up to 16″ laptop
Overall Dimensions:
Our Osprey Farpoint 40 Review
This review will discuss each feature of the Osprey Farpoint 40 (or Fairview 40) in detail while highlighting the best parts of the backpack.
After years on the market, this travel backpack remains an extremely popular choice among travelers of all ages.
We can't help but smile when we arrive to a new destination only to see other travelers with an Osprey strapped to their back.
1). 40L Capacity
When we were starting out as travel bloggers, we were on a very tight budget (you can read our story here) and every penny counted.
So we purchased this backpack with the intention of using it as a carry on for all of our flights. The 40L size saved us hundred of dollars on our 18 month honeymoon around the world.
Not to mention avoiding many hours checking luggage and then waiting at the baggage carousel.
In all honesty, it was difficult traveling with such limited amounts. So if you plan to use this bag alone, you will need to be extremely brutal by bringing only essentials.
However, if you can make it work, traveling with minimal belongings is such a freeing experience.
Unfortunately for us, gone are the days of traveling with smaller amounts thanks to our camera gear. We truly miss those days of easy travel and often comment about the 'good old days' when we just had our Osprey.
But in conclusion, this backpack is perfect for a short term getaway or those who travel as a minimalist with limited gear.
Example Travel Scenario And Size Concern
Just to give you an example of why we love this 40L size.
Train travel is one of the best ways to get around in Europe. Not only are trains environment friendly, but they are incredibly convenient and can save you a ton of time.
We can tell you from years of experience, the compact size of our Osprey Farpoint 40 always fit into the overhead compartments on every single train we have ever taken.
So when other people's larger backpacks or suitcases couldn't be stored on a busy train, leaving them to be stuck in the vestibules, our backpacks fit nicely above our heads by our seats.
Imagine being stuck in the vestibule for hours as the train rumbles through the countryside?
Seriously, sometimes less is more.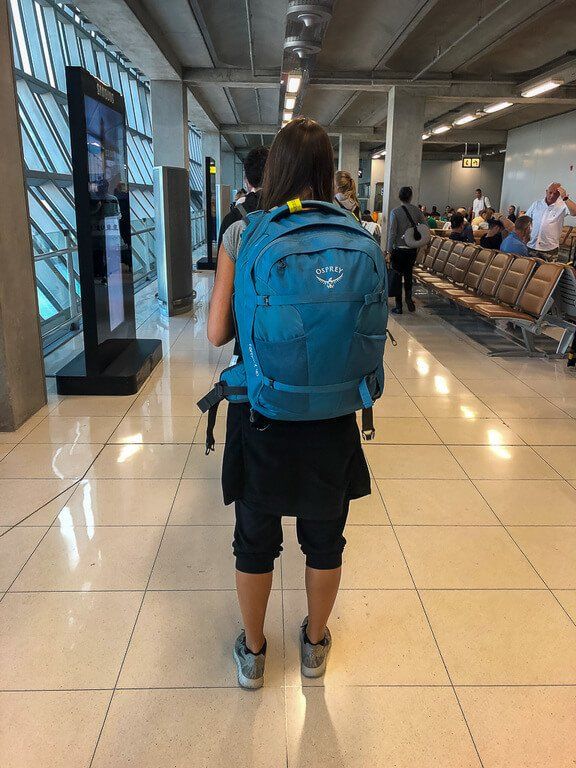 Carry-On Compliance
The Osprey Farpoint 40 fits as a carry on bag for most airlines both domestically and internationally. But this size will not work for the smaller ultra strict European and South American airlines.
This includes airlines such as Ryainair, Easyjet and other airlines similar to these budget companies.
Be sure to check with the specific airline about their baggage size acceptance criteria prior to your flight.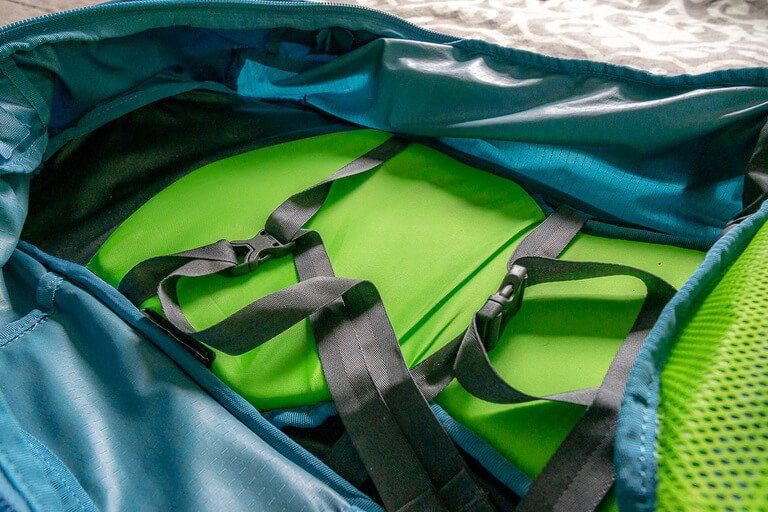 2). Water Resistant Nylon Ripstop Fabric
The Osprey Farpoint 40 is made from nylon ripstop fabric (aka Schwarzenegger strength). This material uses a reinforcing technique that makes the fabric resistant to tearing or ripping.
Interestingly, ripstop fabric was developed in WWII as a replacement for silk in the production of parachutes.
Now, we know you weren't planning to jump out of a plane with your backpack, but we can attest to the durability of this fabric. We haven't had a tear in our backpacks after purchasing them in 2017.
The zippers have also never given us a problem even when we stretched the backpack to the limits.
So that's almost 5 years of wear and tear with these babies still going strong. At this point, you would need to throw the backpack into a lion's den with a steak inside to see a rip appear.
It is important to note this backpack is not completely waterproof. Not to worry though because it is water resistant. Having been caught in some heavy downpours in Asia, we never opened our backpack to damp clothes.
If you are concerned about the contents of your bag getting wet, be sure to pick up a rain cover to protect your gear from the elements.
>>> Shop Rain Covers: Osprey | REI | Amazon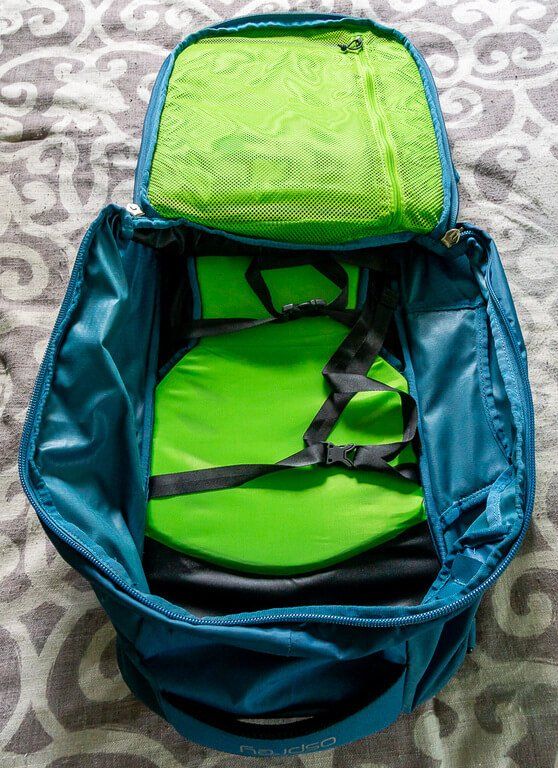 3). Three Main Compartments
Osprey have done a fantastic job maximizing the space in each of the three compartments of the Farpoint 40. Each compartment has been designed perfectly for efficiency.
The entire backpack is simplistic in design. Osprey haven't thrown in an uncontrollable amount of zips or compartments and its very functional.
There are three main compartments in the Osprey Farpoint 40 (or Fairview 40):
Main Internal Compartment: A compartment similar to Hermione Granger's bag from Harry Potter. You will be surprised by how many items you can neatly fit in as the large panel zipper runs the entire way around the bag.
Front Exterior Compartment: This front area contains the padded laptop or tablet sleeve in addition to a small meshed slot with a zipper for documents or paperwork. We often use this area for a raincoat or small amount of dirty washing.
Small Top Compartment: One of the best kept secrets of this backpack. This small pocket is great for things you need to access quickly. We use this compartment for passports, keys and sunglasses.
Because the large main compartment does not have an internal organizational system, packing cubes are just what you need to stay organized.
>> Shop Packing Cubes: Osprey | REI | Amazon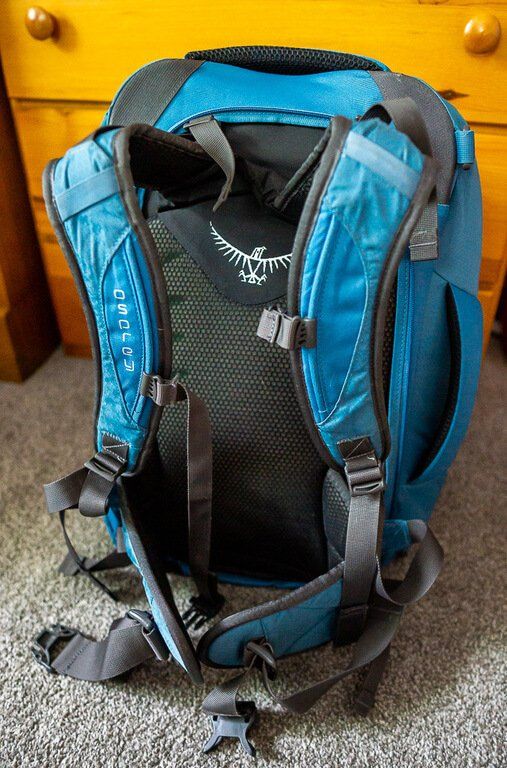 4). A Comfortable Fit
A good backpack will transfer the weight of the backpack to your hips. None of us want to carry around a backpack that rips our shoulders to pieces or use waist straps that have no padding either.
The Osprey Farpoint / Fairview 40L is an exceptionally comfortable backpack to carry around for long hauls. The weight is barely felt on your shoulders or back even the backpack is fully loaded.
With the correct adjustments, the backpack will stick to your back like a straight jacket.
Below we have highlighted the comfort factors of the Farpoint 40:
This backpack includes a 4mm LightWire peripheral frame to effectively transfer weight from the harness to the hipbelt (this will also help to support your back properly)
The Atilton frame sheet spreads the weight load throughout the entire backpanel to peripheral frame
An mesh AirScape® backpanel encourages ventilation to keep you cooler as well as offer additional support for your back
Both the shoulder and waist straps are made from die-cut spacer mesh and take the load without causing any discomfort from friction or rubbing
Osprey also included an adjustable sternum strap with rescue whistle for emergencies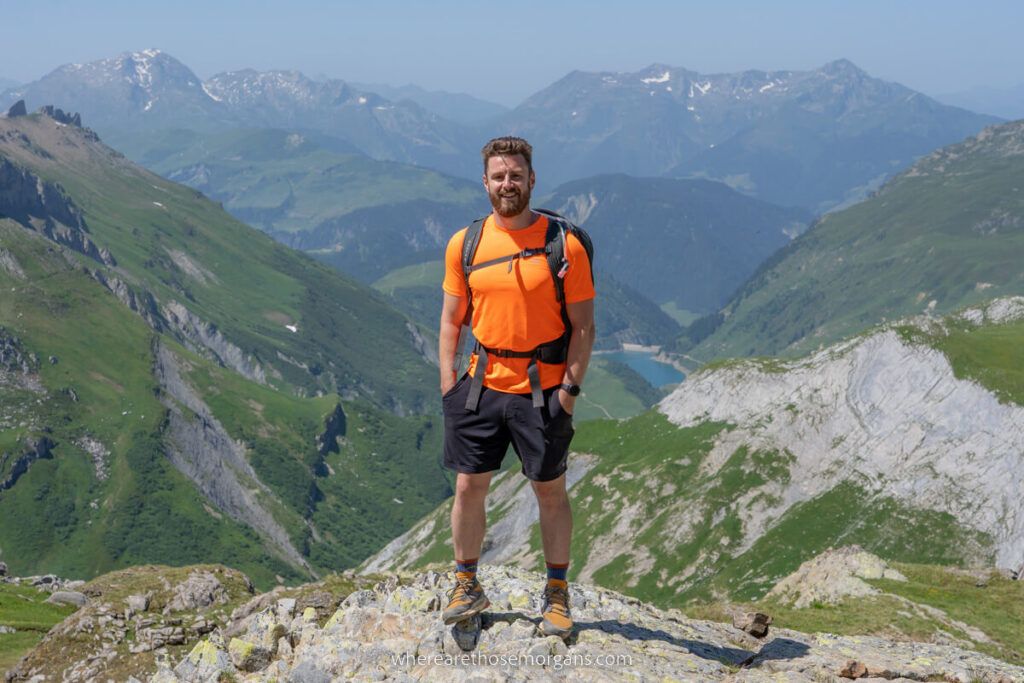 5). Overall Backpack Weight
Most airlines cap weight of carry on luggage at 7kg (about 15 lbs).
If you are planning to have a carry on for your flight, a good rule of thumb is to have a target weight of 2kg for the weight of the backpack alone.
The Osprey Farpoint 40L weighs 3.486 lbs or 1.58kg, but this weight is heavier than some of its competitors. We can attribute this to the extra weight in padding and quality materials.
We never overpacked our backpacks according to this 7kg weight limit when packing clothes, but weight adds up quickly as soon as you include heavy electronic items.
If you aren't planning on flying with this backpack, you do not need to worry about overall backpack weight.
6). Front Exterior Laptop Compartment
The 16″ laptop or tablet sleeve in this backpack surprised us because it is heavily padded. This front pocket is great for quick access as well.
We love not having to rummage through everything if we need our laptop on the go, but at the same time, we also know our computer is well protected when in the backpack.
In this same compartment, there is a large zippered mesh section allowing you to store any loose paperwork or valuables.
However, we have noticed, if you over pack the main compartment, it will be much more difficult to pack a laptop in the laptop sleeve.
Travel Tip: When packing this backpack, we recommend you put your laptop in first and then pack around the computer.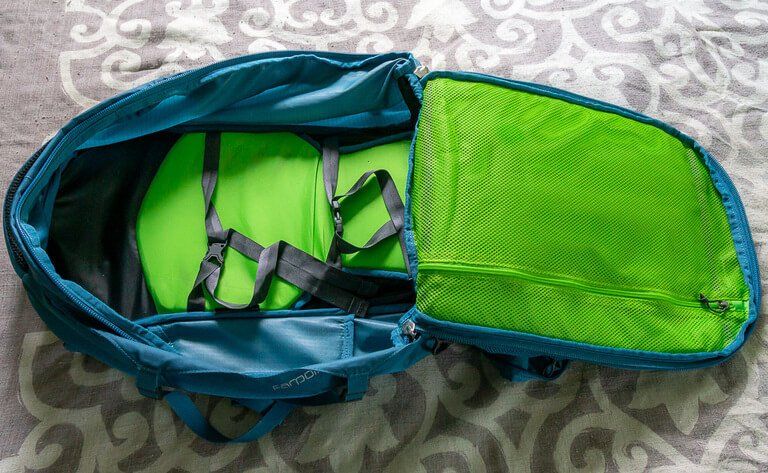 7). Osprey Farpoint 40L Backpack Clam Shell Design
Expect for the 40L capacity, the best aspect of this backpack is the front loading original clam shell design.
What is a clam shell design?
This means the entirety of the backpack opens in a horse shoe shaped action (pictured above) which resembles a clam shell.
Unlike many other travel backpacks, which can only be opened from the top, you won't have to pull everything out if you needed something from the bottom of the bag.
The front loading design is a God send when traveling. This design makes it incredibly easy to access exactly what you need quickly without making a mess.
And just a quick word on color.
Remember bright colors may glisten in the eyes of potential thieves so pick your color carefully.
The design of the Farpoint 40 surpassed our expectations, both inside and out. This backpack is sleek and stylish while retaining a subdued inconspicuous image.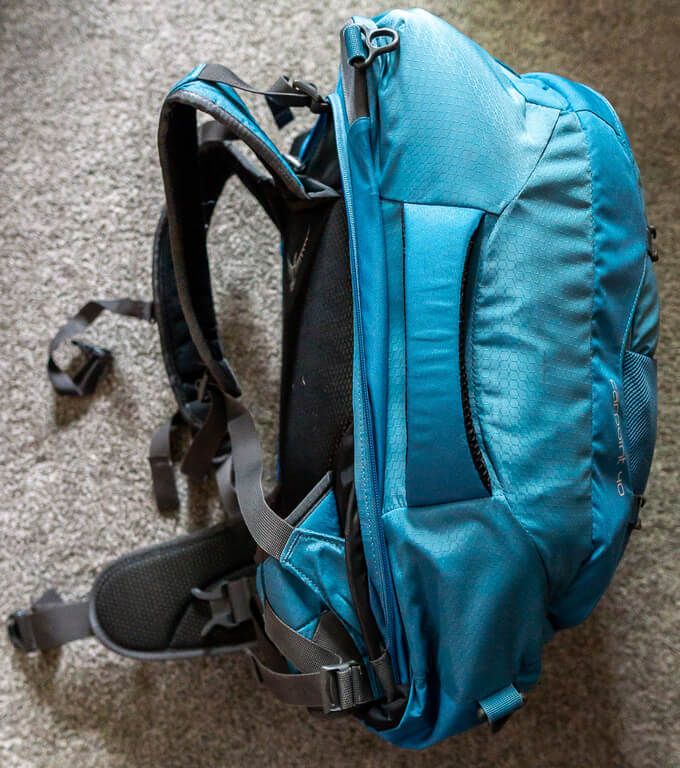 8). Osprey Farpoint (or Fairview) Price
Backpacks or suitcases are one of the most important items you will buy for your trip.
Remember you will get what you paid for and you don't want to have an issue with your backpack half way through your trip.
At just under $200, the Osprey Farpoint 40 is a great mid-range price point.
These backpacks are perfect for those who don't want to compromise on quality, but are still on a budget.
If you need a larger than the 40L backpack, the price will increase the larger the bag you buy.
Another great perk to this backpack is how the back portion can be zipped up and the entire backpack becomes a duffel in just a matter of seconds.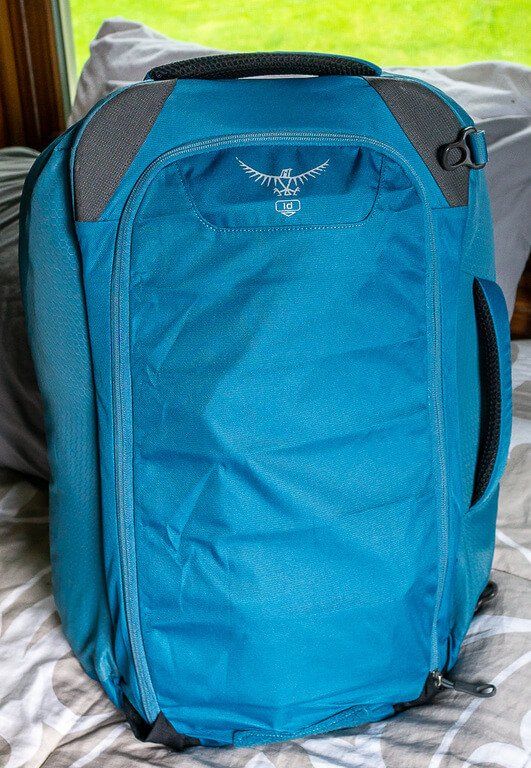 The Osprey All Mighty Guarantee
Osprey is a household name and they have been selling backpack for decades.
But did you know the Fapoint 40 (or Fairview 40) comes with a lifetime warranty?
This is known as the Osprey All Mighty Guarantee.
So if you have a worn zipper or ripped fabric, the repair team is on hand to help you with any problem you encounter.
All you need to do is send back your gear and the Osprey team will resolve it free of charge.
Personally, we believe this says a lot about their confidence in both the products and the company.
Read more about the Osprey Warranty here.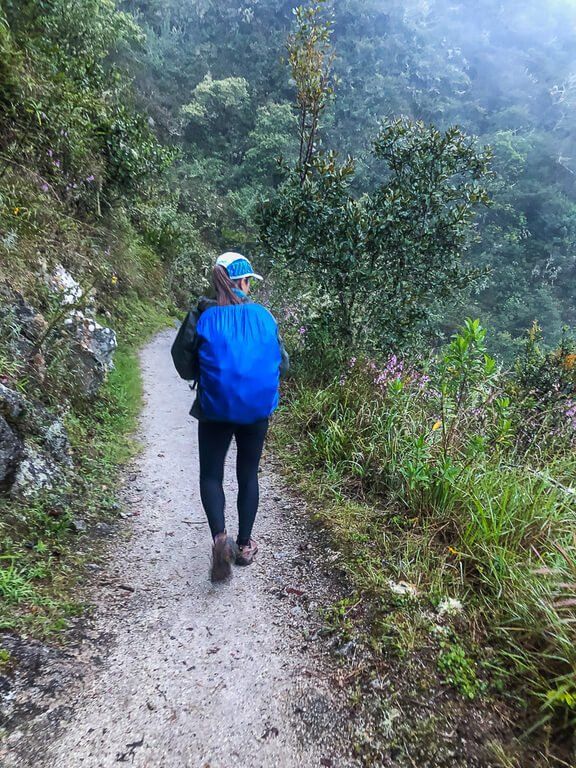 Final Thoughts With Pros And Cons
To this day, the Osprey Farpoint 40L backpack is one of our favorite backpacks, but you will have to pack like a minimalist if taking a longer trip using the 40L size.
Our Farpoint 40's have traveled all around the world and we still use them when we can travel without our bulky camera gear. This bag is strong, durable, compact and of course, carry-on friendly.
Here are a few reasons why you should consider the Osprey Farpoint 40L:
Pros For The Osprey Farpoint (Fairview) 40L Backpack
40L capacity meets most airline carry on size restrictions
Three thoughtful compartments for quick access to items
Internal frame properly distributes weight of the backpack between shoulders and hips
Ability to stow away both the shoulder straps and hip belt when not in use
Extremely competitive price compared to other bags on the market
Built with durable and long lasting materials from high-quality stitching
Can switch from backpack to duffel in a matter of seconds
Backed by Osprey's all mighty guarantee free of charge
Longevity of this backpack is years (and still counting)
And here are a few reasons why the Osprey Farpoint 40L may not be the best option for you:
Cons For The Osprey Farpoint (Fairview) 40L Backpack
The front mesh pocket can be difficult to use if the backpack is full
No internal organization so you many need to buy packing cubes
Laptop sleeve does not sit flat on your back like most backpacks
If planning longer hikes, consider an Osprey hiking backpack instead
The Osprey Farpoint 40L is by no means a new concept or design. It's been around for years and people still buy them as though they are a brand new technology.
So if you are convinced this is the right travel backpack for you, we are confident you won't be disappointed.
The Osprey Farpoint 40L comes in 2 sizes either S/M or M/L. To find the correct size for your body type, simply follow the sizing guide on Ospreys website.
This backpack often goes on sale many times throughout the year. Shop around on multiple platforms to find the best price which can fluctuate from week to week.
And you are on a tight budget, keep in mind sometimes certain colors can be cheaper than others.
>> Shop Men's Osprey Farpoint 40L: Osprey | REI | Amazon
>> Shop Women's Osprey Fairview 40L: Osprey | REI | Amazon
Additional Osprey Products
Maybe you decided the Osprey Farpoint 40L is too small or a hiking backpack would better suit your needs?
Great, because Osprey will have you covered there too.
Head on over to the Osprey website and shop around for yourself.
>> Shop Osprey Products: Osprey | REI | Amazon
FAQs For The Osprey Farpoint 40
Let's take a look at some of the most frequently asked questions about the Osprey Farpoint 40 travel backpack.
Is Osprey Farpoint 40 Carry-On Size?
Yes, the Farpoint 40L travel backpack meets most domestic carry-on requirements. This is the main reason why we chose this model because it's the perfect bag when you want to travel light.
What Is The Difference Between Osprey Farpoint 40 S/M And M/L Size?
According to the Osprey sizing chart, S/M or M/L corresponds to the length of your torso. Measure from your C7 vertebra to your iliac crest to determine torso length and then you can check your measurement with Osprey's Sizing Chart to determine your correct bag size.
Is The Osprey Farpoint Good For Backpacking?
Yes, the Farpoint is the perfect choice for backpacking. We traveled through Europe, Asia, South America and the United States with our farpoints for years with them still going strong.
Is Osprey Farpoint 40 Carry-On Ryanair?
While the Osprey Farpoint 40 easily meets carry on requirements for most standard airlines, unfortunately this backpack is too large for extreme budget airlines such as Ryanair and Easyjet.
Our Popular Reviews
More Travel Planning
Want to read more reviews? Head over to our Travel Product and Tour Reviews to explore everything travel, hiking and photography related.
---
We hope this Osprey Farpoint 40 review helped you decide if this is the best backpack for your upcoming travels!
Please let us know if you have any questions about the Osprey Farpoint 40L or the Fairview 40L in the comments below.
Happy Shopping,
Mark and Kristen
Enjoy This Osprey Farpoint 40 Guide? Pin It For Later!