If you're in the market for a tried and tested, award winning carry on travel backpack with minimalist packing in mind, you can officially end your search now. We genuinely made an attempt to make this review of the Osprey Farpoint 40 backpack bias free, but as you'll find out, we failed.
Osprey's Farpoint 40 backpacks have served us impeccably over the years. Our very own indestructible and money saving beasts of burden.
It is important to drive home the major limitation of a 40L backpack early on. You will have to carefully consider what you pack. If you don't think you can travel with just 40L of space, buy a bigger backpack.
If you're still reading, 40L is enough space for you, as it is for us. We're going to break down the backpack into typical considerations and explain why you should seriously consider buying one for your next travel adventure.
The Osprey Farpoint 40 has been labeled the Best Overall Travel Backpack for 2020 by US News & World Report and you won't find us arguing with the result.
You've likely already seen countless travelers wearing the Farpoint 40 on their backs. Ours have trail-blazed across 36 countries in 4 continents for over 3 years. There's not a single stitch out of place.
Let's dig in to the Osprey Farpoint 40 review!
*Please note this post may contain affiliate links. If you click on one, we may earn a small commission at no extra cost to you!*
Why Do You Need A New Travel Backpack?
Before we jump into the thick of the action, let us ask you first…
You're on the hunt for a new backpack. But why do you need a new one?
If you're shopping for your first backpack or need to replace a beaten up and battered old backpack, that's completely understandable.
But if you do own a perfectly acceptable working order backpack and you're still considering changing, is it due to concerns with any of the following aspects:
A lack of space inside your current backpack?

Your backpack is built with poor quality materials or falls apart easily?

Do the shoulder straps dig in?

What about the design – is there a separate compartment for your laptop?!

Is your current backpack too big, bulky or heavy for your upcoming travel plans?
This review will provide you with solutions to these problems and more, then you can decide if the Osprey Farpoint 40 is the best fit for you.
Camera Backpack: If you're looking for a smaller travel and camera backpack, look further than the versatile and innovative Peak Design Everyday Backpack. The Farpoint 40 and Everyday together make up our go to backpacks for travel.
Will The Osprey Farpoint 40 Suit Your Travel Needs?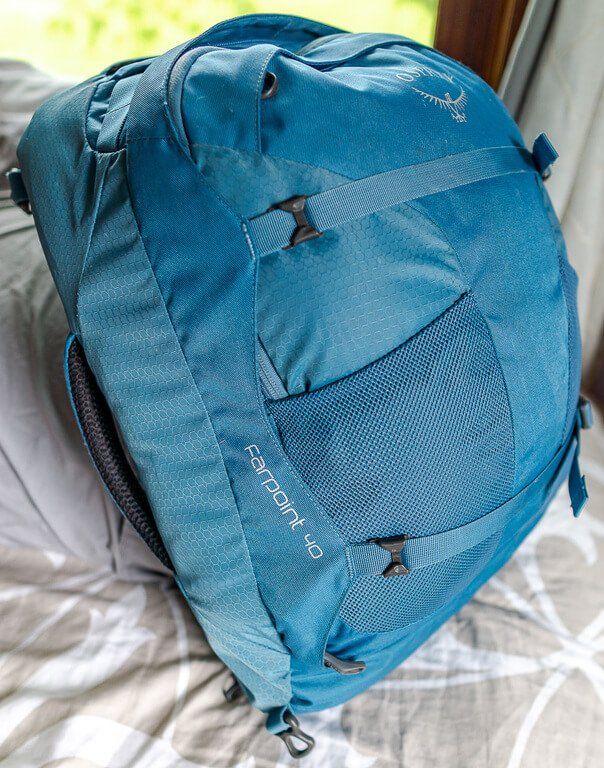 There are many different types of backpack, so it's vital to work out exactly what your travel goals are.
For example, a great travel backpack will be different to a great mountain climbing backpack. A smaller backpack will work for those who prefer minimalist travel but others will require a much larger backpack.
Osprey's Farpoint 40 is an incredibly versatile backpack, suitable for the vast majority of travelers but it won't be the perfect fit for everyone. If you prefer to travel with a closet full of clothing options or specialist gear, this backpack will not be big enough for you.
Let's take a quick look into the most suitable travel styles for owning this backpack:
Weekend Getaway or Short Term Vacations /Road Trips: Stacks of room for clothes/shoes and electronics in separate compartments. You'll be surprised by how much can fit inside.
Domestic Business Trips – The Osprey Farpoint 40 is the perfect backpack for business trips. It is extremely compact, stores easily on trains/planes, has extra padding around the laptop sleeve and plenty of room for binders/documents.
Hiking – Although the Farpoint 40 is not a specialized hiking backpack, we have taken it on many hikes (including Machu Picchu!) and it performs brilliantly. Comfortable and sweat wicking, excellent waist and chest straps.
Long Term Travel – If you don't mind traveling light and want the most portable backpack that you can take on flights as hand luggage (saving a ton of money in the process) there really is no comparison. This is the best backpack on the market that qualifies for hand luggage on flights.
Whether you like the sound of this or not – you will become intimately close with your backpack when traveling long term. Choosing the right backpack for you is critical!
Long Term Travel: If you are planning to travel long term, this HUGE ultimate packing checklist covers everything you could possibly think of to help you pack efficiently – hopefully into your brand new Osprey Farpoint 40!
What You Should Consider When Buying Your Next Travel Backpack
Researching is the key to figuring out exactly which backpack you need for the types of trip you will be taking.
Personally, we read blog posts and reviews for every backpack on the market. Our research didn't last long. The same backpack came up on top of almost every blog post or backpack review we read.
No prizes for guessing! The backpack was of course the Osprey Farpoint 40L.
But how did we decide this backpack was the best fit for us?
Here's what you should consider (and how we made our decision):
Size: How much gear do you intend to pack? Do you need a backpack to fit easily as hand luggage on flights? What about storage on trains and buses?
Comfort : Your backpack has to be comfortable for longer trips. Extra comfort is never a bad thing!
Materials: How important are quality materials to you? You don't want to be forced into buying a new one half way through your trip. You get what you pay for.
Weight: Do you want a smaller and more compact backpack? Is 70L just too big to carry? Consider the weight of the backpack itself, lighter is better as long as quality is not compromised.
Design: How important are aesthetics? Interior design is very important for functionality.
Price: How much do you want to spend? US$ 50, US$ 100, US$ 150?
Although our considerations were primarily targeted towards long term travel, each aspects remain true for short term travel. You just won't have to wear it as much as we did!
Why is the Osprey Farpoint 40 Such a Popular Travel Backpack?
Let's dig into technicalities and discover why the Farpoint 40 is such a popular choice of backpack.
There has been a small update to the nomenclature of this backpack since our original time of writing. The Osprey Farpoint 40L is now called the Osprey Fairview 40L for the women's backpack line. But the bag otherwise has remained exactly the same!
Each section of this review begins with what we were looking for from each of the considerations listed above. We then detail how the Farpoint 40 has performed in each area.
This should help you determine if it is the best fit for your travel style.
Our travel plans consisted of 18 months in 35 countries across 4 continents. We realize not everyone is going to be in the same boat but it does mean we have a lot of useful information for you!
Road Trip Travel: Or are you planning an epic road trip? This in-depth road trip packing guide goes into great detail covering all you need to pack to stay safe on the road.
Osprey Farpoint/Fairview 40L Size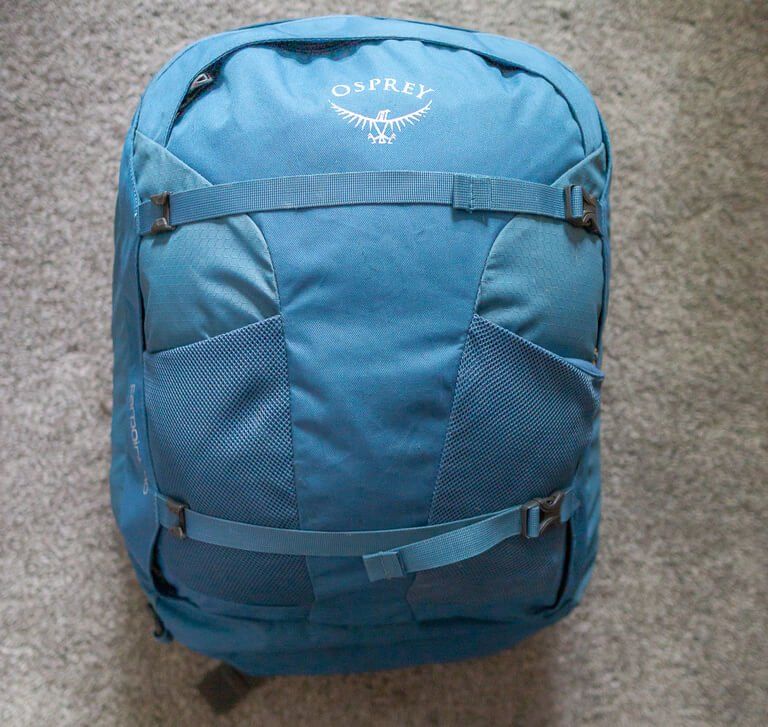 Firstly – and possibly most important of all – how big should we go?
Did we need 40L, 60L, 80L? What would we be doing on our trip? What would the climate be like?
Here's the thing. An 18 month world trip covers various climates and a multitude of activities. It also means we would be flying … a lot!
When researching backpacks, we quickly learned that a 40L size would allow us to take our backpacks onto flights as hand luggage and we were instantly sold.
You know those annoying metal frames they make you stuff your bag into? Yep, we've had our Farpoint 40's in too many to count. Were we ever charged for checked baggage? Nope!
If there's one thing we love when flying anywhere, it is saving hundreds of dollars on checked baggage and hours of time waiting at airport baggage carousels.
But Is 40L Enough?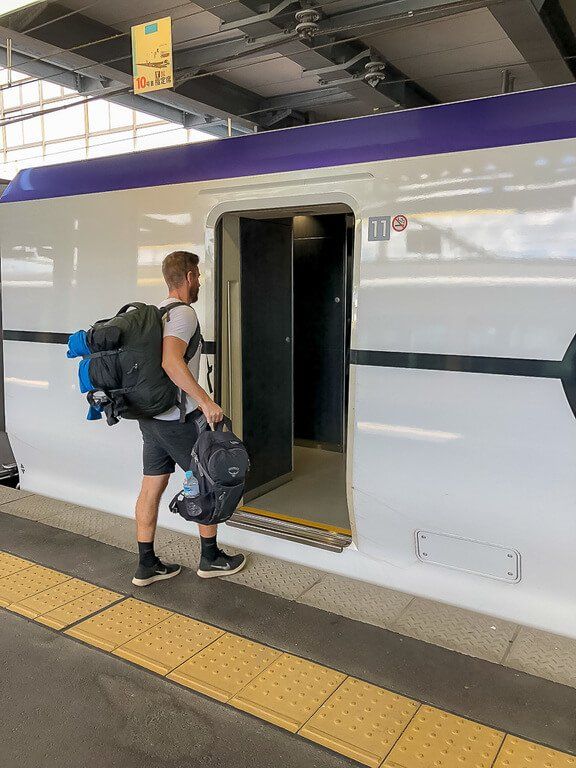 Saving money and time is great but is it worth it for the small amount you can carry in this backpack?
Well, it depends on how you prefer to travel and what type of trip you're taking.
For a short term getaway, 40L is easily enough for the average person.
For long term travel, you do have to be disciplined and extremely careful what you pack. When packing for the first time, you may need to unpack and repack a few times, taking out non-essentials until you're happy with the compromise.
If you're planning a cold weather destination itinerary, or you're on a multi week trekking and camping vacation – no, 40L will probably not be enough.
That being said, we were shocked at how much we could fit into the Osprey Farpoint 40. Personally, we were excited to be traveling light as we left our possessions at home and embraced this new lifestyle.
We bought our Farpoint 40's a few months before leaving for long term travel to give them a test run. We flew back and forth between the UK and US to visit family and never had any problems with the size; in fact, we were delighted at how convenient they made the trips.
Although we own other backpacks, whenever we leave the house with any gear, our first thoughts are – can we use our Osprey Farpoint 40's for this trip?
Example Travel Scenarios And Size Concerns
After 7 months traveling around Europe in (Summer) and Asia (in Fall) by plane, train and bus, the compact size of the Osprey Farpoint 40 saved us from a world inconvenience.
We can't recommend this backpack highly enough for long term travel convenience, thanks to it's carry-on size.
When other people's larger backpacks or suitcases couldn't be stored on a busy train or bus, leaving them to be stuck out in aisles or vestibules, ours fit nicely into overhead storage. We paid no money for hold baggage and lost no time at airports.
We saw many backpackers with hefty 70L backpacks struggling and in truth, we were just plain relieved carrying our lightweight 40L packs.
However!! For our trip to South America – where we would be tackling the amazing W Trek in volatile Patagonia and hiking Machu Picchu among others – we needed more space for serious hiking gear and layers.
Our 40L backpacks wouldn't cut it for this trip … and we sorely missed them.
What About The Space Inside?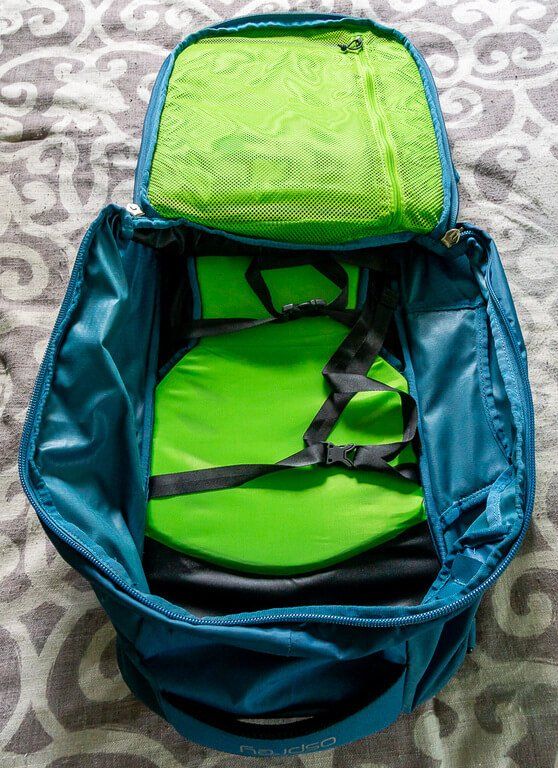 Size is much more than just the overall dimensions of the bag, so let's look at the space inside the backpack.
This is where Osprey have done a fantastic job, maximizing the internal spaces within the Farpoint 40. Each compartment has been designed perfectly for efficiency.
The main compartment is like Hermione Granger's bag from Harry Potter! You will be pleasantly surprised by how many items you can neatly fit in.

The front sided laptop sleeve is nicely padded and doesn't compromise on space for the main compartment. Underneath is a meshed slot with zipper for notebooks or diaries.

To the front, a third compartment will still have room for more belongings, even with a packed out main compartment.
When packing this backpack, we recommend putting your laptop in first and then packing around it.
We often find ourselves wondering if we're forgetting things to take because there is so much room. There hasn't come a time where we've needed more space inside.
Pro-tip: Use packing cubes to organize your belongings neatly before packing the Farpoint/Fairview 40L. This is an amazing time and space saver.
Check price for packing cubes on: Osprey | REI | Amazon
Size score: 10/10 for those who want to travel hand luggage BUT 0/10 for those who need bigger bags!
Osprey Farpoint/Fairview 40L Comfort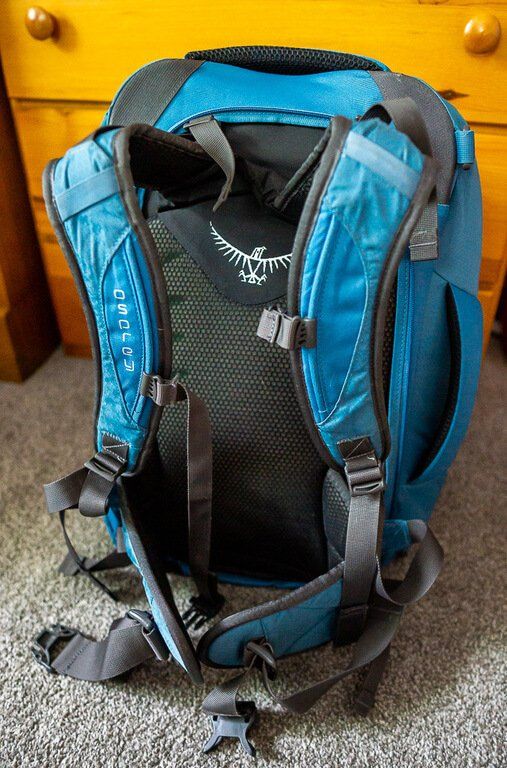 Comfort speaks for itself and we won't ask if you consider this to be an important part of your decision, of course it is.
None of us wants to cart around a backpack that rips our shoulders to pieces or use waist straps that have no padding. Allowing the hips to take the weight from your backpack comfortably is important.
Personally, we knew we would be carrying this backpack A LOT, so comfort was crucial.
The Osprey has padding at the back with a rigid frame to allow the backpack to breath as well as give support to the users' back.

The well made padded shoulder and waist straps are vital for us as they take the load without causing any discomfort – even on long hikes.

Both shoulder and waist straps are made from die-cut spacer mesh, making them soft but rigid and allowing weight to be distributed without causing any friction or rubbing.

The mesh also encourages ventilation, and ventilation in turn leads to less sweat, which is always a wonderful thing!

Weight is barely felt on the shoulders, back and waist – even when the backpack is fully loaded. With the correct adjustments, the backpack will stick to your back like it's a tight jacket!
The Osprey Farpoint/Fairview 40L is truly an exceptionally comfortable backpack to carry around. This was as apparent to us as soon as we tried it and remains true to this day.
Neither of us have ever complained about a lack of comfort from the Farpoint 40.
Comfort score: 9/10
Materials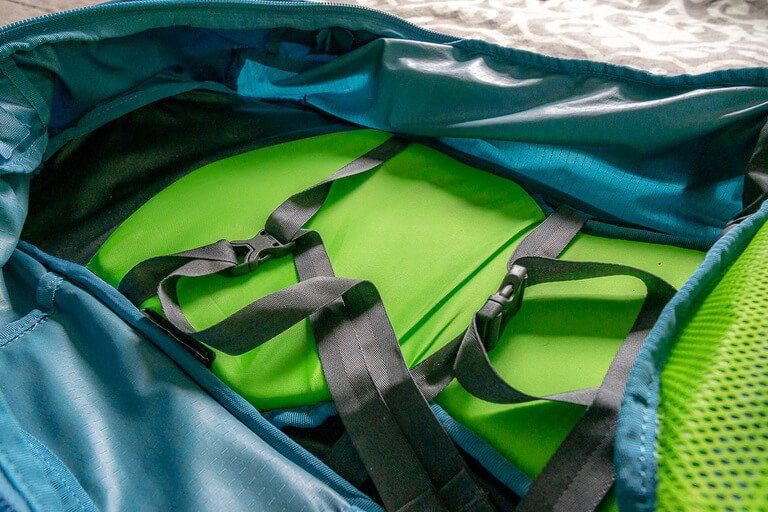 We're certainly not backpack specialists or expert designers but we know enough to expect the following attributes where materials are concerned:
Strong build quality to withstand a beating

Water resistant / proof materials to keep our gear dry

Excellent

zipper quality to avoid any dramas on the road
Our zippers are still as strong as ever, there are no tears along the seams or difficulty zipping at any point.
The backpack is made from nylon ripstop fabric (aka Schwarzenegger strength). It uses a reinforcing technique that makes the fabric resistant to tearing or ripping.
Interesting fact: Ripstop fabric was developed in WWII as a replacement for silk in the production of parachutes.
Now, we weren't expecting to jump out of a plane with the backpacks but we can attest to the durability of this fabric. We haven't had even as much as a slight tear after 2 years of intense use.
You'd need to throw it in a lion's den with a steak inside to see a tear appear!
It is important to note this backpack is not completely waterproof. Not to worry though because it is water resistant. Having been caught in some heavy downpours, we are yet to open our backpacks to damp clothes.
Other travelers we met on the road have said similar things about its resistance to rain. We would not recommend throwing it in a river to test it though!
If you're concerned about the water factor, Osprey sells its own raincovers for their backpacks.
Check price for raincovers on: Osprey | REI | Amazon
Materials score: 9/10
Osprey Farpoint/Fairview 40L Weight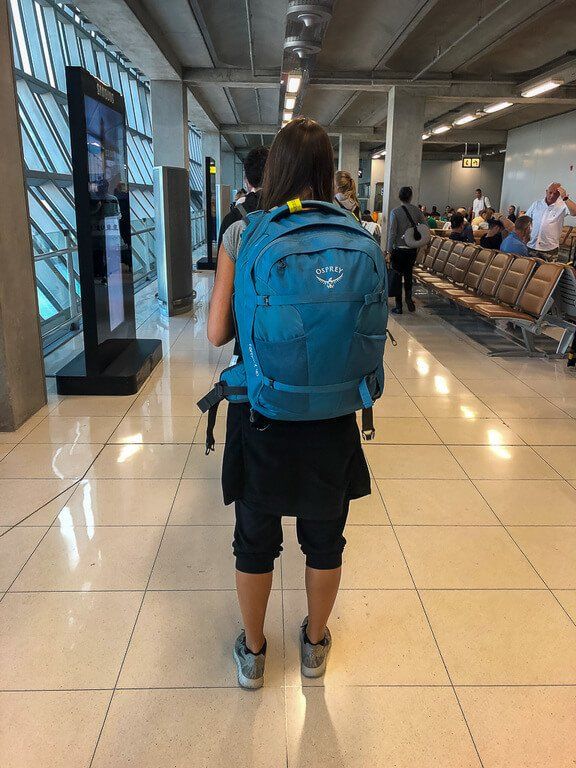 Our research showed most budget airlines cap weight of hand luggage bags at 7kg.
Considering what we would each be packing in the backpack – essentially clothes and a laptop, we set ourselves a target of a maximum of 2kg for the weight of backpack itself; any less would be a bonus.
The Opsrey Farpoint 40 backpack weighs in at 1.44kg which was over half a kilo less than we'd planned for.

It is actually heavier than some of its competitors but that's because of the extra weight in the padding and quality of materials.

We are more than happy to take on the extra weight in the form of support.
We never experienced a scenario where the pack was too heavy, even when we had to lift them above our heads on trains. Just don't fill it with lead bricks and there'll be no issue!
Note: Be careful what you pack, the weight quickly adds up, especially with electronic items. Airlines (in particular budget airlines) will not hesitate to charge a spiked fee for overweight hand luggage bags.
This is the compromise with a smaller backpack. If you're buying a smaller backpack because of the carry-on factor, make sure you don't pack over the airlines weight limits otherwise you'll be better off buying a bigger backpack!!
Weight score: 8/10
Osprey Farpoint/Fairview 40L Design
With backpacks, we're personally more interested in function over fashion but not everyone agrees.
Remember that bright colors may glisten in the eyes of potential thieves so pick your color carefully! Our backpacks are charcoal and blue.
One of our most significant preferences was for a front loading backpack as opposed to top loading.
We wanted to save on rummaging through everything to get to what we needed every time we went in the backpack.
Inside our packs, we wanted compartments for separating electronics and clothes if possible. We also wanted to make sure we could secure our belongings with locks if necessary.
The design of the Farpoint 40 surpassed our expectations, both inside and out. It is sleek and stylish while retaining a subdued inconspicuous image.
Our Favorite Part About The Osprey Farpoint/Fairview 40L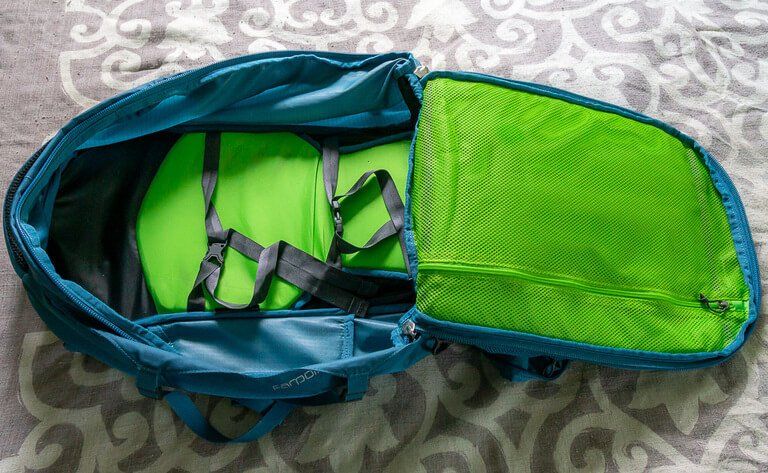 Except for the fact it fits as hand luggage, the best aspect of this backpack is the clam shell design.
This means the entirety of the pack opens in a horse shoe shape action (pictured above in size section).
Front opening is a God send when on the road because we don't have to take out every piece of clothing to get to that one thicker pair of hiking socks at the bottom. Repeat, God send. We'd never go back!
The laptop sleeve is padded and there are a few zipped sections for storing any loose paperwork or valuables. Just remember that if you over pack the main compartment, it will be more difficult to pack a laptop in the laptop sleeve.
The small top compartment is ideal for passport, keys or sunglasses and includes a soft lined material with anti scratch properties.

The front compartment is a decent size but we only use it to separate anything from the main section like a raincoat or dirty washing. It also contains the padded laptop sleeve, which fits up to 15.4 inch laptops.

As we mentioned, the main compartment fits more in than it would appear. Zippers opening ¾ of the way around in the clam shell design make access nice and simple.

In addition, the back portion can be zipped up and the entire backpack can be carried as a duffel bag. A shoulder strap inside the backpack can be used if carrying on the back becomes tiresome or boring!
The backpack is simplistic in design, Osprey haven't thrown in an uncontrollable amount of zips and compartments. It's very functional.
Design score: 8/10 but 9/10 for the newer updated models (slightly sleeker finish)
Osprey Farpoint/Fairview 40L Price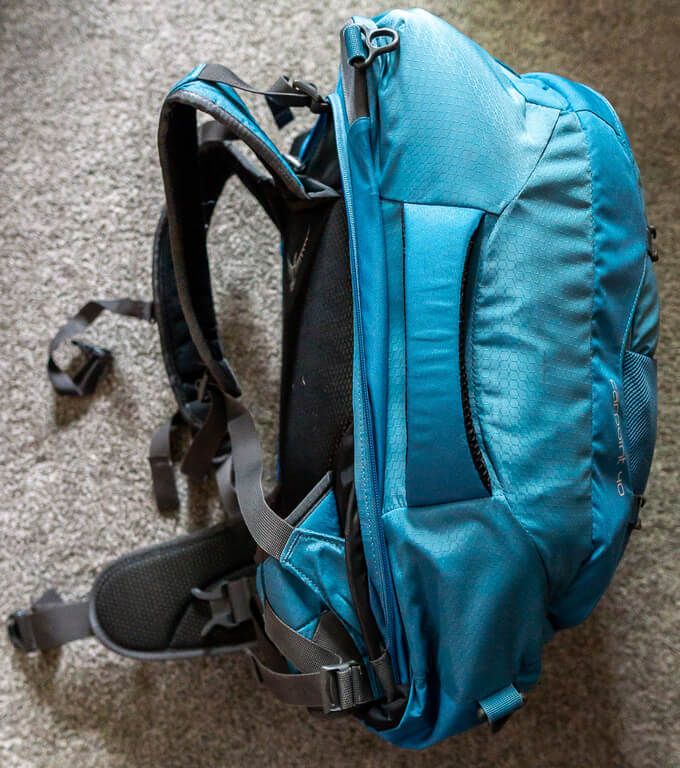 Backpacks are one of the most important items you can buy for any trip of travel where you won't be using a suitcase.
We didn't want to compromise on quality but we had a budget and obviously wanted the best value for money.
So how much should you spend?
When we bought our Osprey Farpoint 40L backpacks, we paid US$ 120 each at the time (2018) on sale at Amazon.
We were happy to pay US$ 120 for an extremely high quality backpack worth far more.
When we were traveling in Europe, roughly 3 in 10 backpackers had the Osprey Farpoint 40 on their backs. Seriously. We started to make a game out of it!
Every person we spoke to about the backpack had nothing but praise. It almost felt like we were part of a club, a universal language where you nod your approval to your fellow Osprey Farpoint 40 carrier.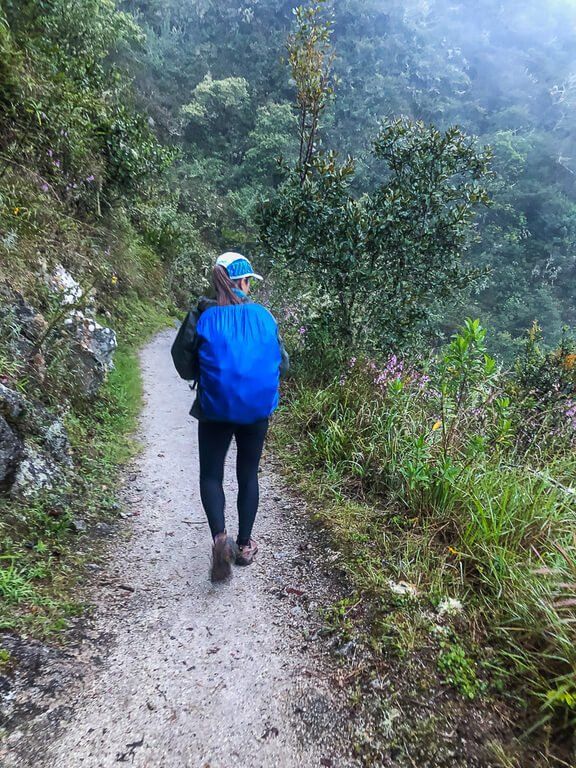 Osprey is a household name and they have been selling backpacks for years.
Did you know the the Farpoint 40 comes with a lifetime warranty (known as the all-mighty guarantee)?
We didn't either. Double bonus! Any problems with the backpack, no matter how major or minor just mail it in to them and they'll resolve it.
Anything to pay for that service? Nope. Free of charge. This says a lot about their confidence in both the product and the company.
Price score: Depends on your budget but 10/10 value for money
Are You Sold on the Osprey Farpoint/Fairview 40L?
The Osprey Farpoint 40 backpack is one of our highest travel essential recommendations. But only if you know you can survive with just 40L of space.
For all types of travel except long term or specialist gear, we can guarantee this backpack will surpass your expectations. The only real cause for concern is for those who need more space for long term travel.
But we are examples of how you can travel long term with these backpacks!
Our Farpoint 40's have been all over the world with us and we still use them as our primary backpacks today. They are strong, durable, compact and carry-on friendly.
We highly recommend you shop around online but Amazon usually have a sale on this backpack. Be sure to select different colors and sizes to see if there's a particular backpack on sale.
Important: The backpack comes in 2 sizes: either S/M or M/L. To get the correct size for your body type, simply follow the sizing guide on Ospreys website.
We also found this useful guide for airlines and their corresponding criteria for hand luggage acceptance.
If there is one piece of advice we could give to anyone in search of a new backpack, it's that the Osprey Farpoint 40 is definitely worth your consideration!
Need help planning a trip? Read our itineraries and popular post featuring how to plan a trip.
Buy Your Osprey Farpoint/Fairview 40L Travel Backpack
Osprey's Farpoint/Fairview 40l is by no means a new concept or design. It's been around for years and people are still buying them as though they're a brand new technology.
Travelers all think the same: If it ain't broke, don't fix it!
If you're convinced this is the right travel backpack for you, we're confident you won't be disappointed. Look around for the best deals, they often change week to week.
Shop Men's Osprey Farpoint 40L: Osprey | REI | Amazon
Shop Women's Osprey Fairview 40L: Osprey | REI | Amazon
Read About More Travel …
---
We hope this Osprey Farpoint 40 review helped you decide if this is the best backpack for your upcoming travels!
This is one seriously versatile backpack.
Please let us know if you need any more information regarding the Farpoint 40L or Fairview 40L and we'll be happy to help.
Happy Backpack Hunting,
Mark and Kristen
Was This Post Helpful? Pin It For Later!