Back in 2017 we bought two brand new Osprey Farpoint 40L backpacks and set off on our 18 month honeymoon around the world. In this review we're going to give you our honest opinion about the Osprey Farpoint 40 after 6 years of heavy use, with pros and cons to using the backpack for travel.
Let's begin.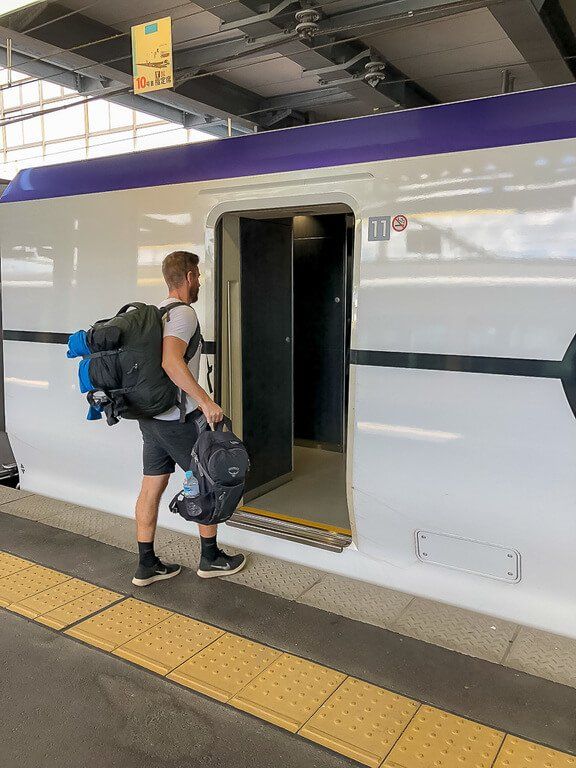 Is Farpoint 40 Carry On Size?
The major advantage Osprey's Farpoint 40 has over other Osprey backpacks and its competitors is that it meets most domestic and international airline carry-on size requirements.
This is the main reason we chose the Farpoint series back in 2017, and it turned out to be the perfect choice for backpacking through Europe, Asia and South America. We were able to book cheap flights with no checked baggage and getting the backpack into overhead storage on trains or buses was easy.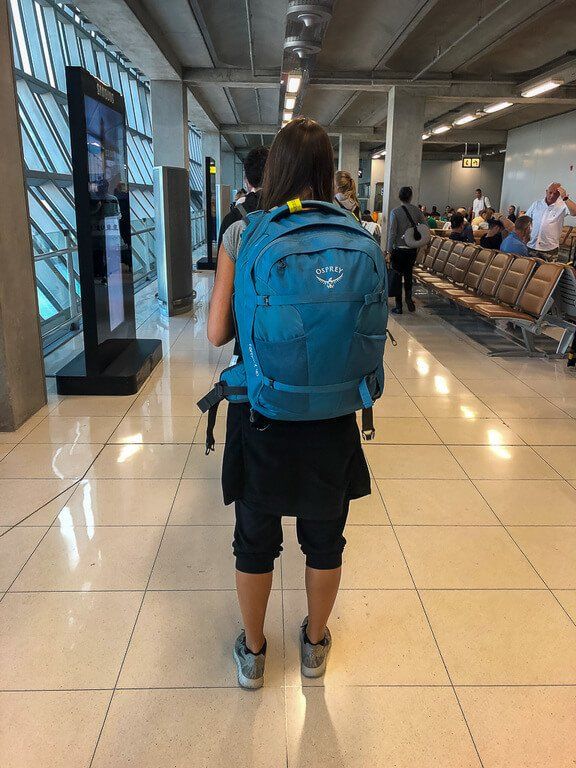 Is The Osprey Farpoint 40 A Good Fit For You?
Let's take a look at the ideal owners for the Farpoint 40 and who should give it a miss:
Who the Osprey Farpoint 40 is perfect for:
Long term travelers who prefer to pack light
Short term weekend breaks or business trips
Budget travelers who want to keep airline costs down
And who the Osprey Farpoint 40L backpack is not for:
Hikers or climbers with specialized gear
Photographers who travel with serious gear
Those who prefer to travel with lots of storage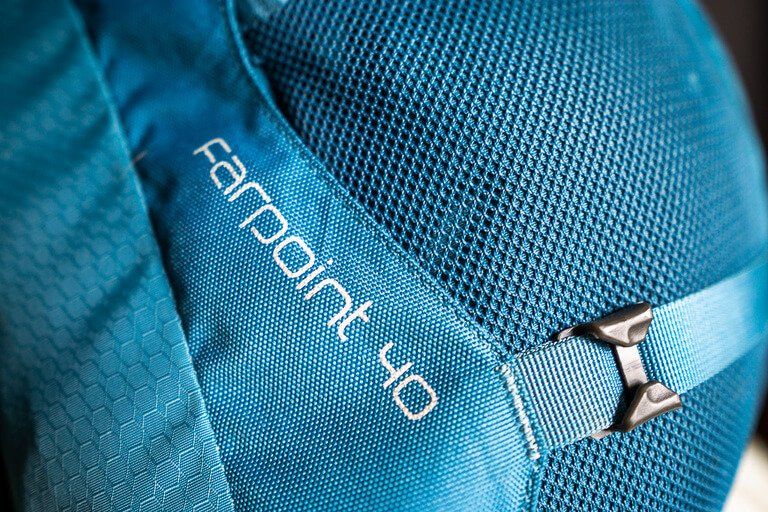 Osprey Farpoint 40L Technical Specifications
Volume: 40L
Weight: 3.486 lbs (1.58kg)
Dimensions: 22h x 14w x 9din
Material: Bluesign® approved 450D recycled twist dobby polyester
Laptop Capacity: holds up to 16″ laptop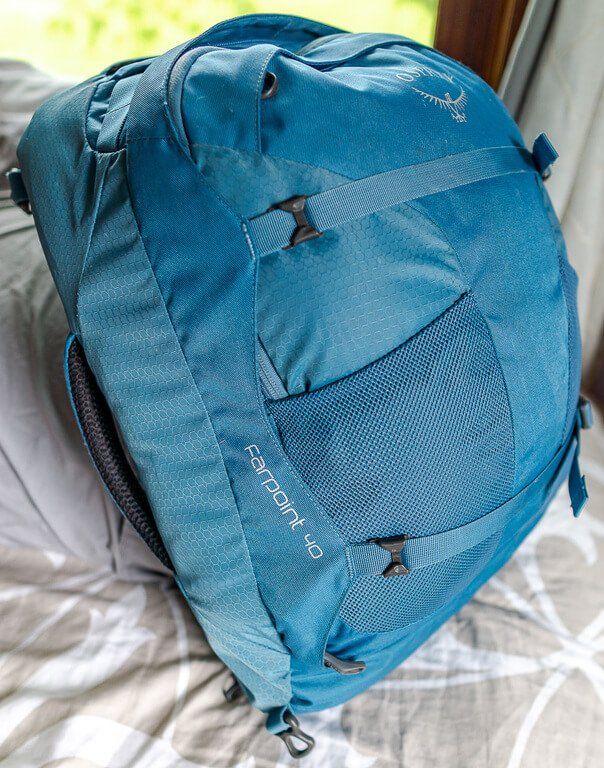 Our Osprey Farpoint 40 Review
Let's dig into the technicalities and discover why the Osprey Farpoint 40L bag remains such a popular travel backpack despite its significant age.
This review is based entirely on our own experiences using these backpacks around the world.
Note: There has been an update to the nomenclature of this backpack since its original release date. The Osprey Farpoint 40L is now called the Osprey Fairview 40L for the women's backpack line.
Men's version – Farpoint 40
Women's version – Fairview 40
However, we will still refer to the backpack as Farpoint 40 throughout this review.
1. Is 40L Enough?
It is important to fully appreciate the major limitation of a 40L backpack. With a small capacity like 40 liters, you have to carefully consider what you pack every time you travel. This really is a backpack for minimalists.
But if you can make the limited size work for your travel needs, the Osprey Farpoint 40 is fantastic because it will save you money when booking flights and it fits into most overhead storage areas.
Our advice is to strongly consider if 40L is enough for your travel style before buying. If you are confident that 40L is enough storage, keep reading to see if this is the backpack for you.
After 6 years of ownership, we still use and adore our weathered grey and blue Osprey 40's!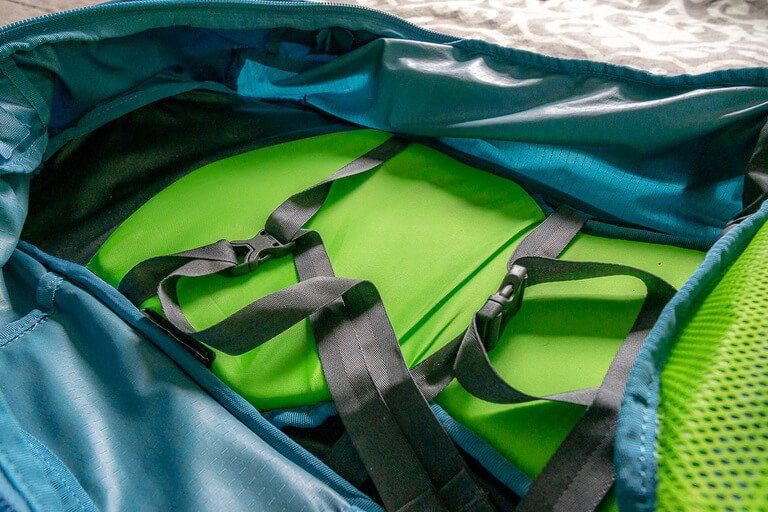 2. Is The Osprey Farpoint 40 Durable?
The Osprey Farpoint 40 is made from a water resistant nylon ripstop fabric. Essentially, this is a reinforcing technique that makes the fabric resistant to tearing and ripping.
We haven't had a single tear in either of our backpacks since buying them in 2017, and the zippers have never given us a problem, even when we filled them to the limit.
It is important to note that the Osprey Farpoint 40 is water resistant but it is not completely waterproof, which does reduce its appeal slightly.
If you are concerned about the contents of your bag getting wet, be sure to pick up a rain cover (Osprey, REI, Amazon) to protect your gear from the elements.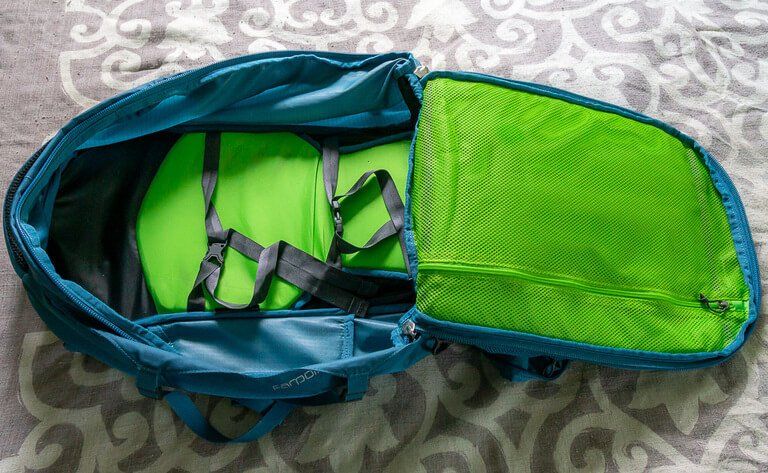 3. Is The Backpack Front Or Top Loading?
The Osprey Farpoint 40 backpack has a front loading clam shell design. Both of the two main compartments have zips running 270 degrees around the outside of the shell.
This means both compartments of the backpack can be opened almost entirely every time you need to access the interior, and you don't need to go digging through clothes to reach something packed at the bottom.
Having a front loading backpack was another important consideration for us when researching which backpack to buy. We prefer front loading packs because we find them to be far more convenient.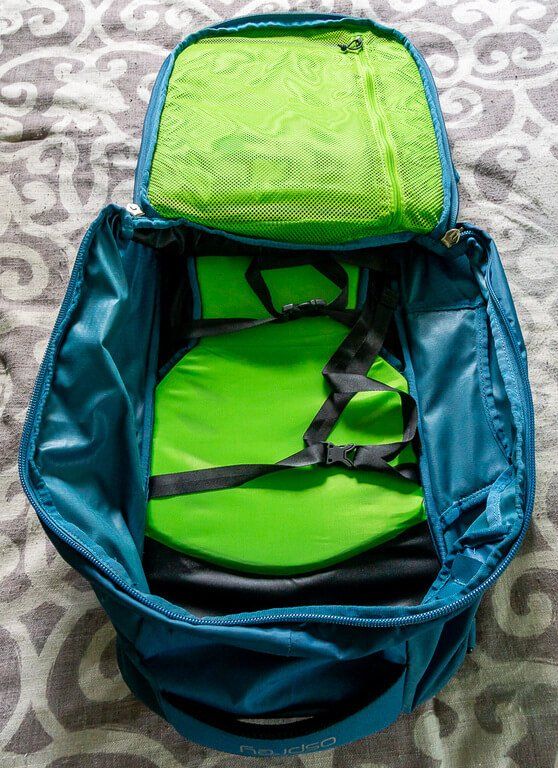 4. Is The Space Used Well?
Osprey have done a fantastic job maximizing the limited space in each of the three compartments available inside the Farpoint 40.
The main compartment is surprisingly spacious and you can get a lot inside if you pack efficiently.
If you prefer to keep things separated, you can use both the main compartment for heavier items and the front compartment for lighter items to keep the balance correct. The laptop sleeve is located in between the two major compartments.
You will also find a small top compartment for passports, keys and sunglasses. In addition, the reverse side of the main compartment has a small slot for paperwork.
The major downside is a lack of separators within the compartments. We always use packing cubes (Osprey, REI, Amazon) to keep things organized.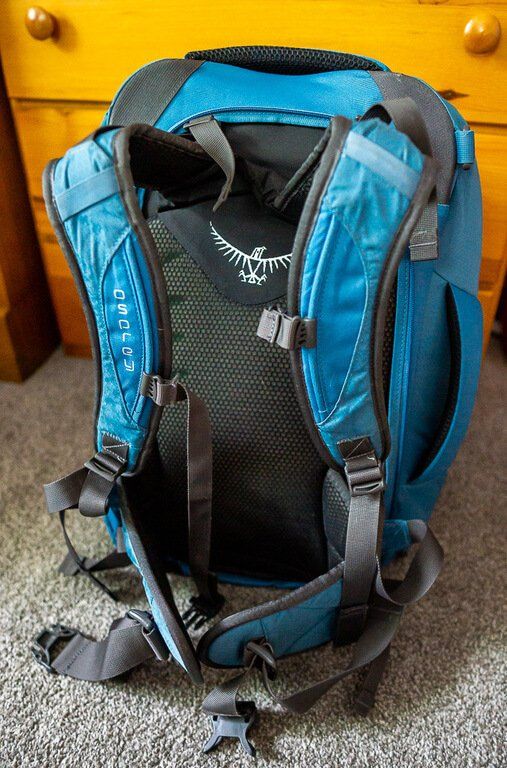 5. Is The Osprey Farpoint 40 Comfortable?
The best travel backpacks simply have to be comfortable, and we can tell you from years of experience that the Osprey Farpoint 40 performs excellently when it comes to comfort.
Each backpack line is created with a typical male or female body frame in mind. So the newer women's Fairview 40 backpack has a smaller hip belt, extra padding and curved shoulder straps allowing the bag to sit higher on a smaller body frame.
When worn with the hip straps, weight can barely be felt on the shoulders or back because the weight is distributed through the pack and down to the hips.
Need proof? We have hiked the Inca Trail in Peru and the Tour du Mont Blanc in Europe wearing Farpoint 40's and they were amazing. And they're not even specialist hiking backpacks!
Learn more about the technical comfort specs at Osprey.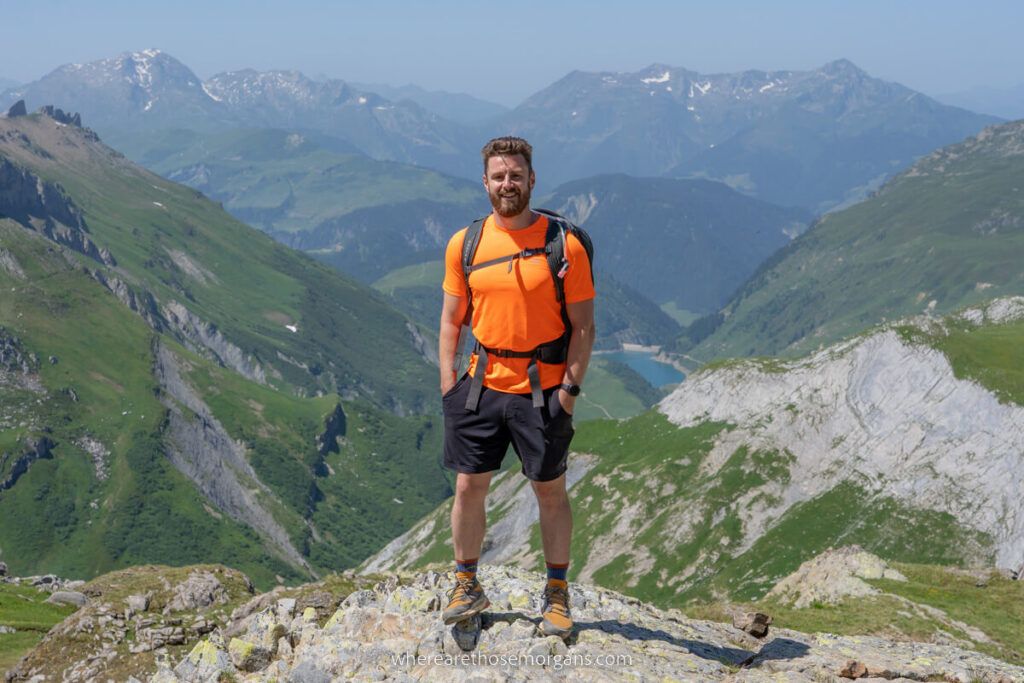 6. How Heavy Is The Osprey Farpoint 40?
The Osprey Farpoint 40L weighs 3.486 lbs (1.58kg).
While it is slightly heavier than some of its competitors, we can attribute this extra weight to superior padding and quality materials.
Let's say that most airlines cap the weight of carry on luggage at 22lbs (10kg). The Farpoint 40 uses up 3.5 lbs, so you have 18.5 lbs free for packing your gear.
Personally, we don't mind compromising on a little weight to know the backpack is secure and robust.
Note: You can stow away the shoulder and hip straps to turn the Farpoint 40 into a duffel bag. This will make the backpack appear more stylish but it will also make the pack heavier to carry by hand.
7. Does The Farpoint 40 Have A Laptop Compartment?
The Osprey Farpoint 40 has a 16″ laptop or tablet sleeve, which can be found inside the front compartment of the backpack.
The laptop sleeve is heavily padded and it is protected on either side by the clothes you pack. It is accessed by a heavy duty velcro tab and will remain secure throughout your journey.
In this same compartment, there is a large zippered mesh section allowing you to store any loose documents or valuables.
Packing a laptop can be challenging if you overpack either of the two main compartments, so we recommend taking care if you plan to travel with a large laptop.
We always pack our laptops first and then pack the rest of the bag around the laptop.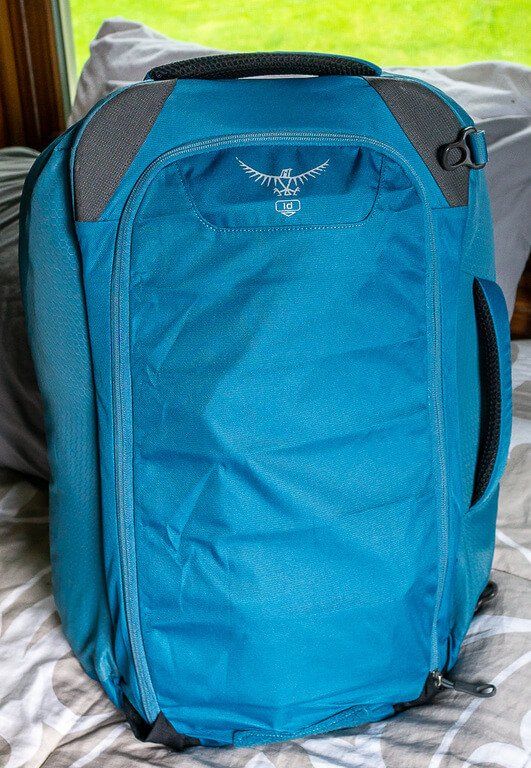 8. How Much Does The Farpoint 40 Cost?
The Osprey Farpoint 40 costs $185.00 (it's the same price for the newer Fairview 40 for women) which makes it a fairly expensive backpack comparatively speaking.
However, Osprey is a premium brand with global renown and their backpacks are high quality. You will also receive the Osprey All Mighty Guarantee when you buy any Farpoint 40 backpack.
So if you have a worn zipper or ripped fabric, all you need to do is send back your gear and the Osprey team will resolve it free of charge.
Personally, we believe this says a lot about their confidence in both the product and the company. Read more about the Osprey Warranty here.
It is important to remember that you get what you pay for. Plus, backpacks are one of the most important bits of travel gear you can own, so it is crucial you choose the right one for you.
Can You Use The Osprey Farpoint 40 For Hiking?
While the Osprey Farpoint 40 is technically not a hiking backpack, we have used ours to hike of the most iconic multi-day trails in the world and they have served us impeccably.
We have since bought hiking specific backpacks from Osprey and we recommend you buy the correct backpack for your intended activity, but what we love about the Farpoint 40 is that it can be used interchangeably if you find yourself in a pinch!
The Farpoint 40 is incredibly versatile and it can be used for much more than just a weekend away.
Planning to travel long term? Don't miss our ultimate travel packing list for both vacations or long term trips.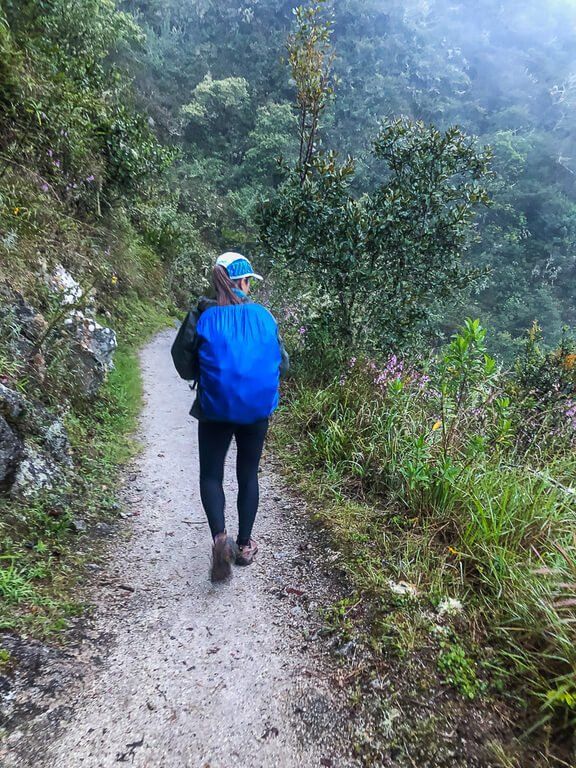 Farpoint 40 Pros And Cons
Let's take a look at our major pros and cons to owning the Osprey Farpoint 40.
Pros
40L capacity meets most airline carry on size restrictions
Three thoughtful compartments for instant access to items
Internal frame properly distributes weight of the backpack between shoulders and hips
Ability to stow away both the shoulder straps and hip belt
Competitive price point for the brand name and overall quality
Built from durable and long lasting materials with high-quality stitching
Can switch from backpack to duffel in a matter of seconds
Backed by Osprey's all mighty guarantee free of charge
Cons
The front mesh pocket can be difficult to use if the backpack is full
No internal organization so you many need to buy packing cubes
Laptop sleeve does not sit flat on your back like most backpacks
If planning longer hikes, consider an Osprey hiking backpack instead
Final Thoughts
In 2020, the Osprey Farpoint 40 was named the best overall travel backpack by US News and you certainly won't hear us argue.
We bought our Osprey Farpoint 40 backpacks in 2017 and they have since traveled with us through 36 countries across 4 continents.
This is a backpack that has been around for years but people still buy them as though they are a brand new arrival each year.
Is the Osprey Farpoint 40 worth it?
Yes! You will see countless travelers wearing the Osprey Farpoint 40 any time you take a vacation or long term trip. They really are as good as they are made out to be.
We can't recommend the Farpoint 40 highly enough for frequent travelers who want to keep costs down and stress levels low.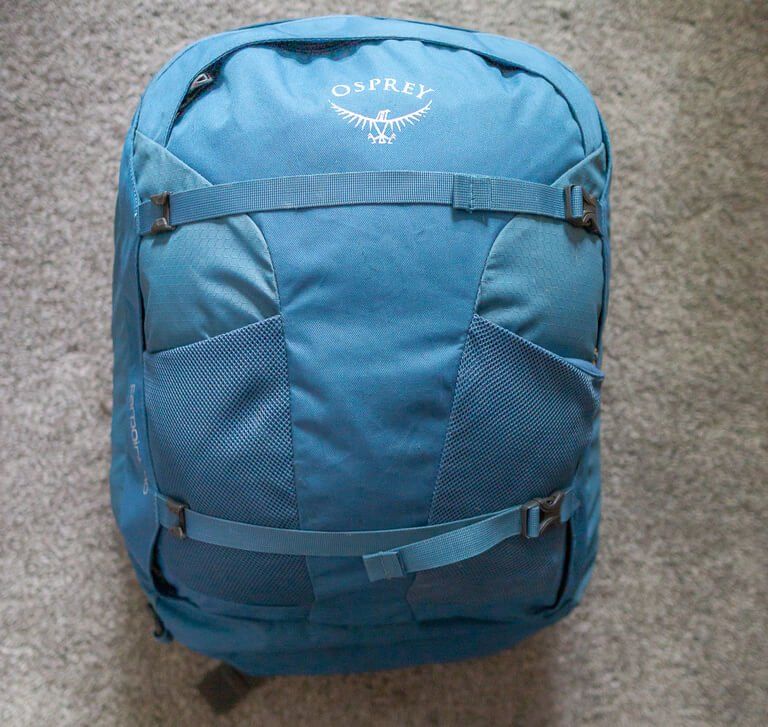 Buy The Osprey Farpoint 40
Are you sold on the Farpoint 40?
Both the Farpoint 40 and Fairview 40 come in 2 sizes; either S/M or M/L. To find the correct size for your body type, simply follow the sizing guide on Ospreys website.
The backpack is typically priced at $185.00, but shop around and keep an eye out for any sales (sometimes certain colors go on sale).
Compare current prices for the backpack below:
>> Shop Men's Osprey Farpoint 40L: Osprey | REI | Amazon
>> Shop Women's Osprey Fairview 40L: Osprey | REI | Amazon
Our Popular Reviews
More Travel Planning
Want to read more reviews? Head over to our Travel Product and Tour Reviews to explore everything travel, hiking and photography related.
---
We hope this Osprey Farpoint 40 review helps you decide if this is the perfect backpack for your upcoming travels!
Please let us know if you have any questions about the backpack in the comments below.
Happy Shopping,
Mark and Kristen
Enjoy This Osprey Farpoint 40 Review? Pin It For Later!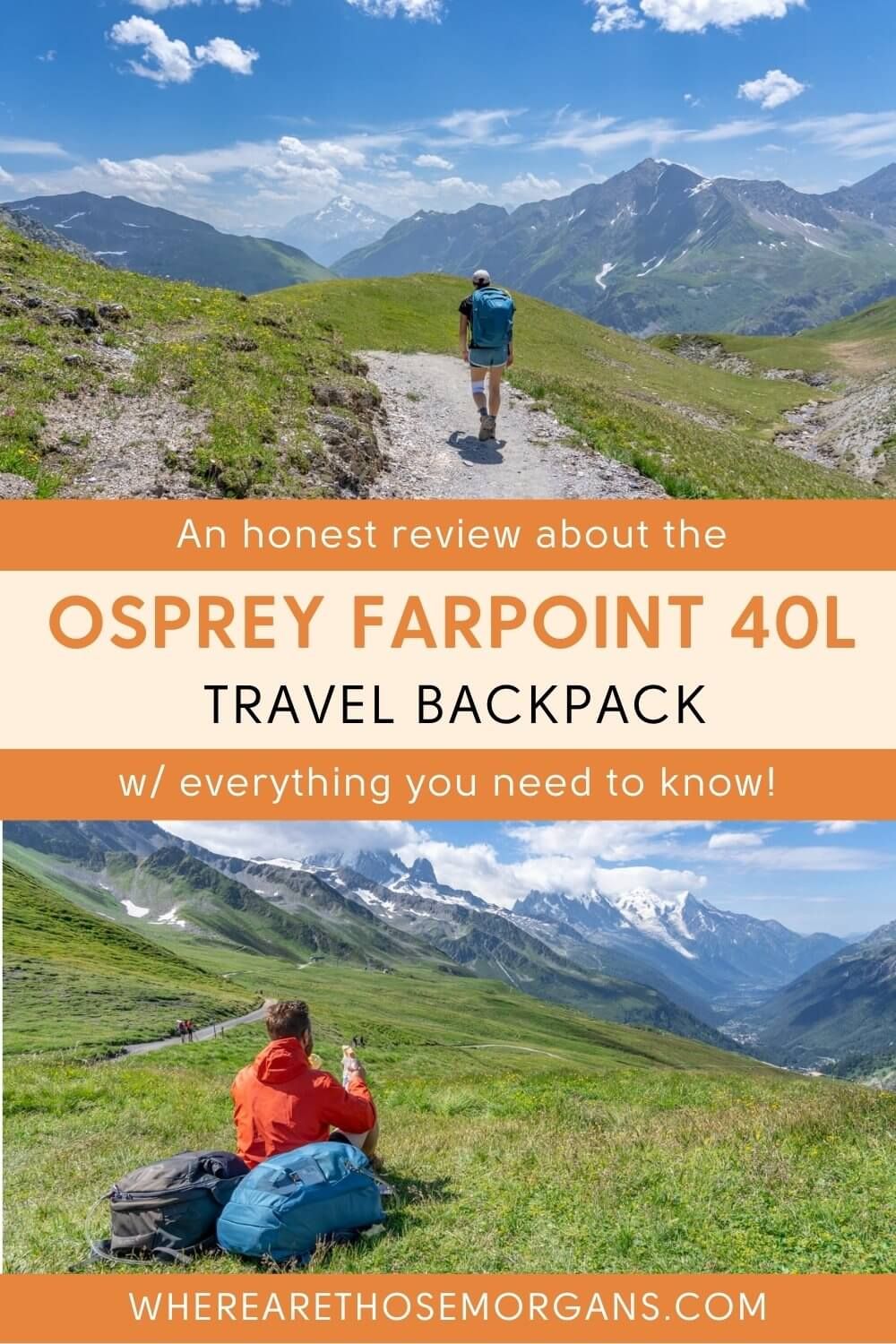 Note: This article contains affiliate links. When you make a purchase using one of these affiliate links, we may earn a small commission at no extra cost to you.
All Rights Reserved © Where Are Those Morgans, LLC. Republishing this article and/or any of its contents (text, photography, maps, graphics, etc.) in whole or in part is strictly prohibited.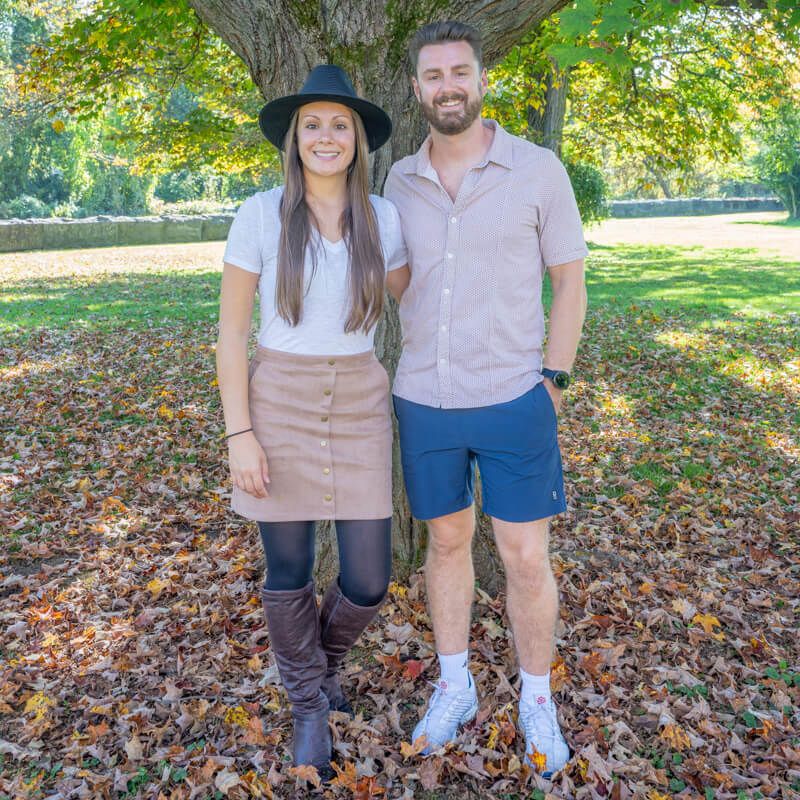 Mark and Kristen Morgan are travel, hiking and photography experts. Over the last 6 years traveling full time, they have explored more than 40 countries and 30 US states.
Their work has been featured in USA Today, Gestalten, Get Your Guide, CityPASS and Condé Nast Traveler along with various other publications.