If you are heading to any of the US National Parks, you should consider purchasing a national parks passport to help document your adventure.
But what is a national parks passport and why should you buy it?
A national parks passport is a great way to support the US National Parks. After you purchase the initial guidebook, its completely free to collect the popular ink stamps at each park you visit.
In this guide, we will cover everything you need to know, including:
What is a national parks passport and cancellation stamp?
Where to buy a national parks passport and accessories
The 4 different types of national parks passports with pros and cons
How to find cancellation stamp locations
Now, let's shop for a national parks passport!
*Please note this post may contain affiliate links. If you click on one, we may earn a small commission at no extra cost to you. Thank you for supporting the free content we provide! Read more in our disclosure policy.*
Disclaimer: We received a National Parks Passport in order to share our opinion about this product but this is not a sponsored post.
What Is A National Parks Passport?
A national parks passport is a small guidebook featuring blank spaces where you can add stamps for each national park visited as well as commemorative stickers issued each year.
If you have a passport to travel internationally, you are already familiar with how a passport system works. The national parks passport system is set up in a similar way, but is not stamped for entry like a regular passport.
In 1986, the non-profit Eastern National, now known as America's National Parks, created the Passport To Your National Parks® program.
Their goal with this program is to help visitors preserve memories and experience the beauty of the US National Parks. This mission also aligns with the "take only pictures, leave only footprints" practice.
The idea of the program is extremely simple. The only cost to you will be the initial cost of the passport book as the stamps are completely free to collect.
However, if you choose to collect the commemorative stamp sets, these will also be a small fee for each new set.
All net proceeds from the passport system are donated back into educational and interpretative programs managed by the National Park Service.
So not only are you able to document your travels to each national park, but you are also supporting the national parks with every purchase.
What Is A Passport Cancellation Stamp?
You are probably familiar with cancellation stamps used by the modern day post office.
A cancellation is a marking applied to the top of a previously used stamp on a piece of mail to signal the stamp has already been used. These cancellation markers can be found on any letter you receive.
The national park cancellation stamps are round 32mm ink-based stamps used in a very similar way to the postal service. These passport cancellation stamps record the name and date of the national park you visited.
What makes national park cancellation stamps unique is they have the park name listed across the top with the park location with city and state along the bottom of the stamp.
You can change the date, which is found in the center of the stamp, to the date of your visit.
To stamp your passport, you need to find the passport stamp cancellation station (which are often near the bookstores). National park cancellation stamps can be found in visitors centers and sometimes in ranger stations.
Looking for National Park inspiration? Don't miss our popular national park quotes guide to inspire your wanderlust.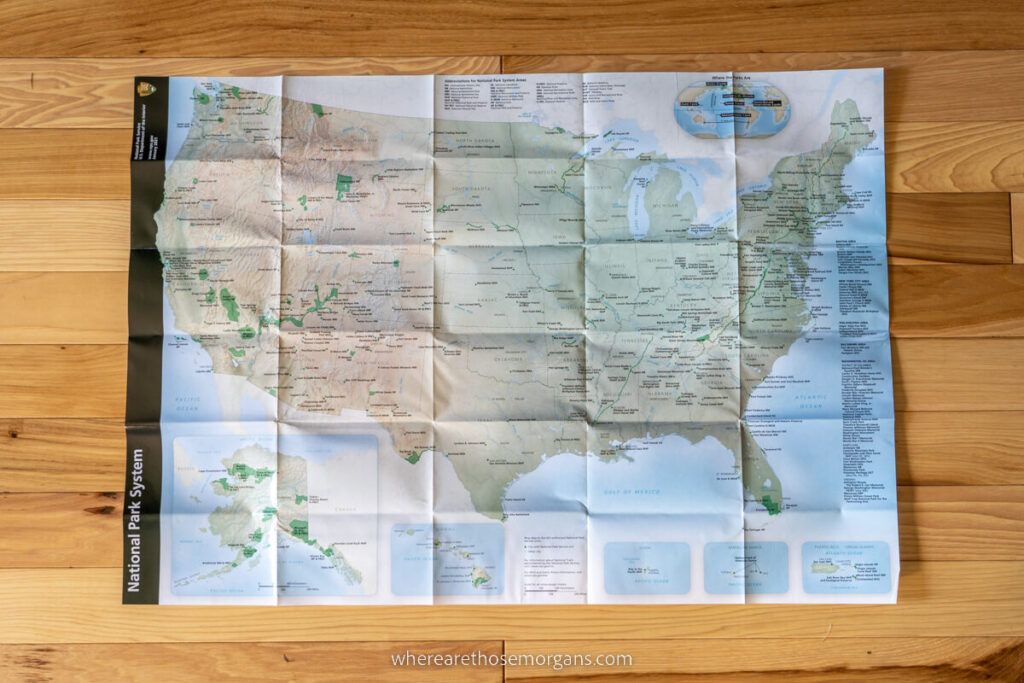 How Many National Park Passport Stamps Are There?
Passport stamps are the perfect souvenir when visiting the nationals parks across the United States. You can collect stamps from over 400 national parks, monuments and historical sites.
Once you purchase a national park passport, you will receive a detailed map showcasing 400+ parks across the entire NPS system. Use this map as a starting point when you begin collecting stamps.
Each visitor center location will have their own unique stamp with other stamps sometimes available. So you can assume each national park will have at least one cancellation stamp.
However, many of the larger national parks have multiple collection stamps at various locations throughout the entire park.
For example, Yellowstone National Park has 15 official stamps along with numerous bonus stamps found in the park.
After researching many databases online, we found varying numbers on how many national park stamps currently exist.
But we can conclude there are over 3,000 official national park cancellation stamps and about 490 anniversary stamps. If you have a Junior Ranger, there are another 485 stamps to collect.
Planning to camp in a National Park? Take advantage of our exclusive 30 day free trial of The Dyrt PRO to snag a reservation at sold out campgrounds by using a fantastic new feature called Dyrt Alerts. These alerts will notify you about cancelations at the most popular US National Park campgrounds. Try it for free today!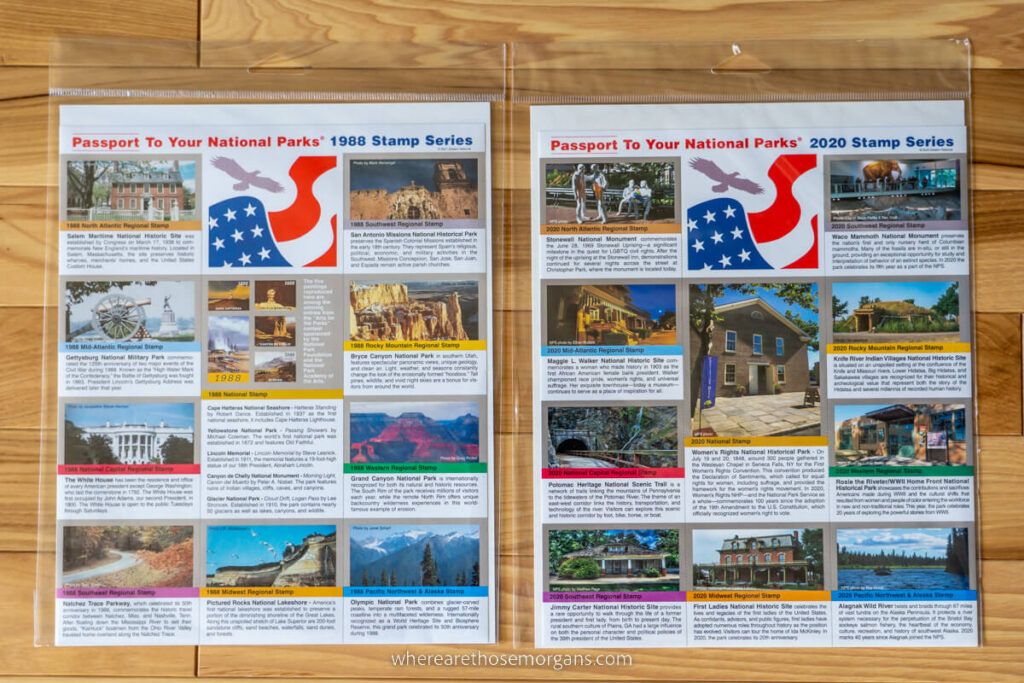 Stamps, Stamp Series And Single Stickers
The verbiage can be confusing because stamps, stamp series and stickers are sometimes used interchangeably. Just to be clear, these are three different items you can collect with your passport.
Cancellation Stamps – These are the free stamps you receive at each visitor center and must be physically stamped into the blank sections of your passport.
Stamp Series – Each year since 1986, a new series of passport stamp set has been released. This annual set includes 10 stamps with one national and nine regional locations all on one sheet.
Single Stickers – These are individual self-adhesive stickers featuring a specific park with additional informational text that is not included in the passport or as part of the stamp sets.
Passport single stickers are $2.95 and currently include the following locations:
Acadia National Park
Blue Ridge Parkway
Cape Hatteras National Seashore
Carlsbad Caverns National Park
Cowpens National Battlefield
Flight 93 National Memorial
Great Sand Dunes National Park & Preserve
Lincoln Memorial
Monocacy National Battlefield
Thomas Edison National Historical Park
Wright Brothers National Memorial
Planning to visit several US National Parks in one year? Purchase an America the Beautiful Pass to save money on entry.
What To Do If You Forgot Your Stamp At The Park
If the visitor center was closed or you couldn't access the stamp station during you visit, you can also access blank cancellation stamps online at the NPS website so you never miss a stamp.
Locate the national park location on the NPS website and head to the stamp page.
Right click the blank image of the stamp
Print the image from the webpage
Add the date of your visit
Cut out the stamp
Tape it into your passport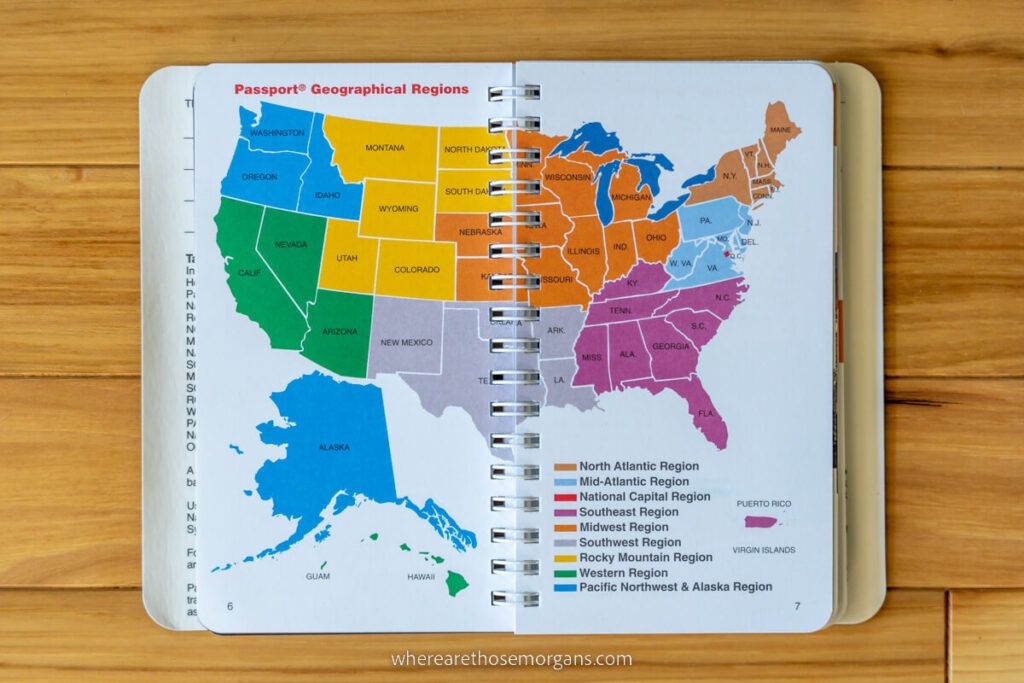 Where To Buy National Park Passports
National park passports can be purchased through America's National Parks store online or onsite at most national park visitor center stores.
We recommend you purchase your national park passport online in advance from America's National Park prior to your trip.
If you wait to purchase your passport at a park, stock may be limited or sold out. So in order to guarantee the edition you want, be sure to buy your passport online.
This way you can also familiarize yourself with the book before heading to any of the national parks.
Travel Tip: Want to save 15% on your first purchase? Use code WELCOME at checkout at the America's National Park store.
4 Different Types Of National Park Passports
There are four different types of national park passports. Depending on how many parks you plan to visit, a different edition may suit your needs.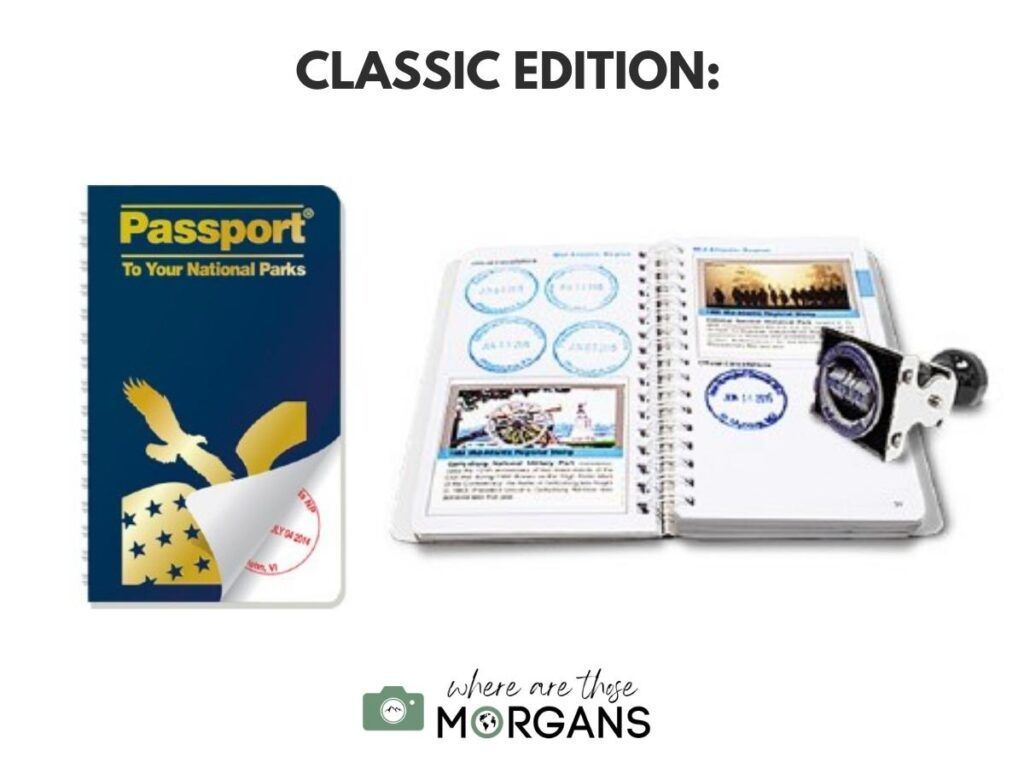 Classic Edition
This is the smallest passport available with 112 pages. But its small size packs a big punch with need to know information about each park and color coded regional maps.
The classic edition is a practical and economical way to get your passport stamps. This edition also comes with an official NPS map featuring all 400+ park sites.
Classic Edition dimensions: 6″ x 4″
Current Price: $12.95
Pros to the classic edition:
Lightweight and postcard size is perfect for travel
The soft cover is durable and pages are firmly attached
Spiral bound spine makes it easy to add extra pages
This is the cheapest edition option
Cons to the classic edition:
112 pages only gives you 4-5 pages for each individual region
Expander packs will be required if visiting many national parks
Would need about 4 books if collecting from every national park
Limited information about the national parks
>> Buy the Classic edition here.
---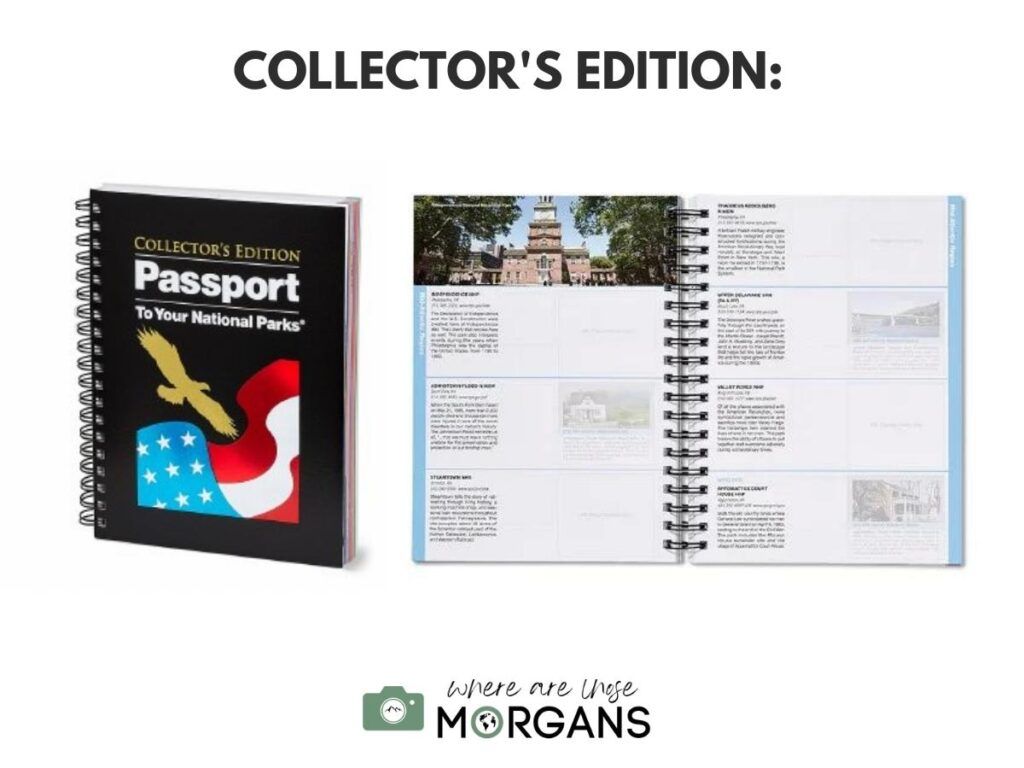 Collector's Edition
The Collector's Edition is a larger passport book with 192 pages and a dedicated space for each national park stamp. This is a great option for those who frequent the national parks.
Similar to the classic edition, a map featuring the 400+ parks is included along with a checklist of all the national parks in each region.
This edition includes official pages for annual National Stamps though 2029 with updated maps, site listings and park designations.
Collector's Edition dimensions: 7.5" W x 10" H
Current Price: $29.95
Pros for the Collector's Edition:
Additional information about each park compared to the Classic Edition
Extra space for cancellation stamps in each region
Dedicated area for each national park stamp
Weather resistant cover makes it durable for travel
Cons for the Collector's Edition:
Bigger and more bulky compared to the Classic Edition
Only room for two stamps and sticker per national park
Will eventually run out of room if planning to visit many parks
Depending on time of publication, this edition may not be up to date
>> Buy the Collector's edition here.
---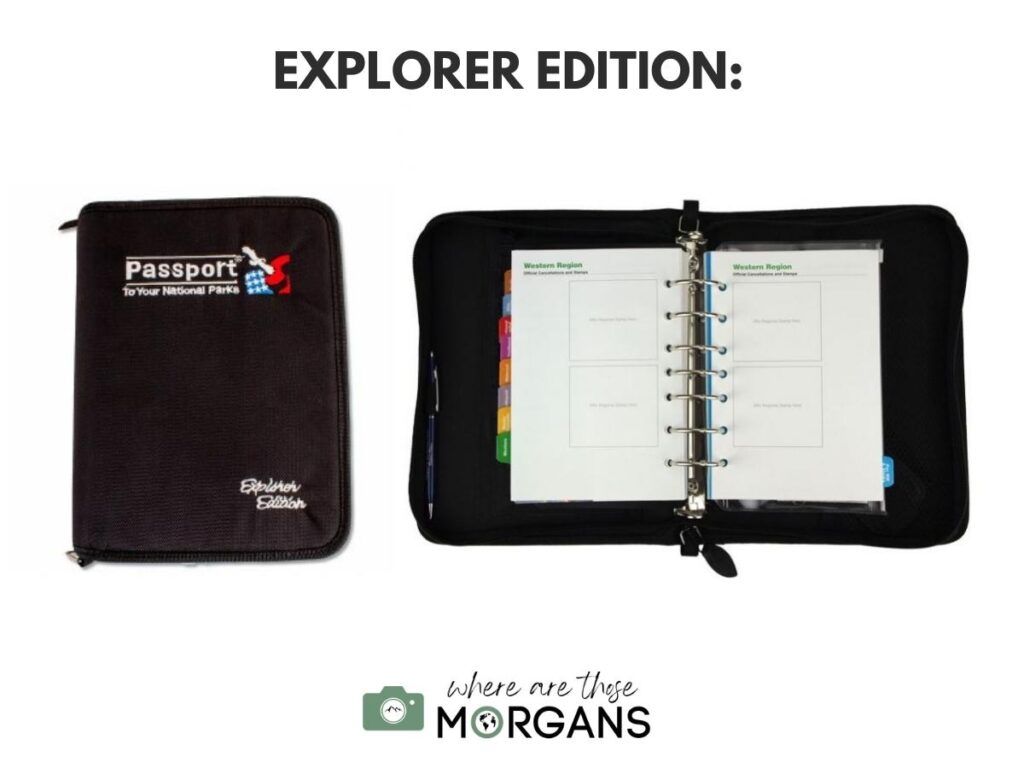 Explorer Edition
The Explorer Edition is best for those who plan to visit many national parks. We like this edition because it is jammed packed with information about each park and allows the most creative freedom.
This edition has a 3 ring binder making it very easy to add and arrange the pages anyway you want. There are also two mesh pockets so you can keep your collectables safe.
Explore Edition dimensions: Portfolio binder with 3 rings about 11'' x 8''
Current Price: $69.95
Pros for the Explorer Edition:
Best for the frequent travelers and road trippers
Extremely durable due to the weatherproof portfolio
Includes space for all 400+ national parks
Extremely customizable
Cons for the Explorer Edition:
Most expensive edition option
Large size is bulky and not as travel friendly compared to other editions
Will still need a few expander packs if visiting all 400+ parks
Can be heavy if loaded with collectables and pages
>> Buy the Explorer edition here.
---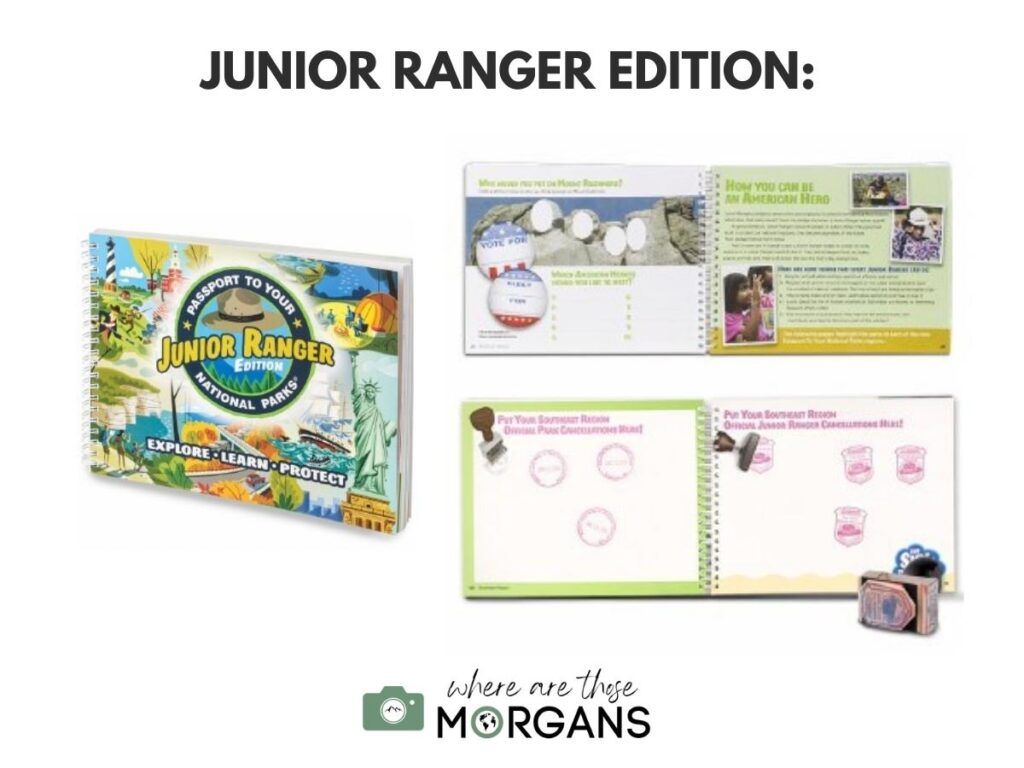 Junior Ranger Edition
The Junior Ranger edition is perfect for your little explorer. This kids passport was designed in collaboration with the National Park Service and is loaded with vibrant illustrations by Dave Klüg.
This edition includes a free set of stickers and blank spaces for specially designed Junior Ranger cancellation stamps which are earned after completing a park's Junior Ranger program.
Junior Ranger Edition dimensions: 9'' x 7''
Current Price: $14.95
Pros for the Junior Ranger edition:
Perfect for kids of all ages
Incudes educational content created just for kids
Passport is small and easy to transport
Great way for kids to learn about US national parks
Cons for the Junior Ranger edition:
Kids may outgrow this edition in time
Does not have room for all 400+ parks
Can be time consuming to collect with Junior Ranger programs
Text may be difficult for younger children
>> Buy a Junior Ranger edition here.
---
How To Get National Park Passport Stamps
Hopefully, we have convinced you to travel with a national parks passport by now. It is the perfect way to share national park experiences with your loved ones.
So what are your next steps?
Purchase the edition of your choice from the America's National Parks online store
Travel to your first national park
Head straight to the visitor center (or ranger station)
Find the cancellation stamp station
Open the page to that specific park
Check the date is correct on the stamp and that the stamp is right side up
Stamp your passport (or participate in the Junior Ranger program)
And then all you need to do is visit another national park, monument or historical site to repeat the process.
If you forget your passport, the stamp station will also have extra pieces of paper for you to stamp. You can then just tape this into your passport when you get home.
National Park Passport Stamp Locations
Let's quickly discuss how to find the specific stamps for each new location you visit.
The best way to find the exact stamp station for each location is the America's National Parks website.
Click here to find Cancellation Stamp locations.
This link will give you the official list to every cancellation stamp supplied by the Passport To Your National Parks® program.
The list is updated every month and new listings are highlighted in red.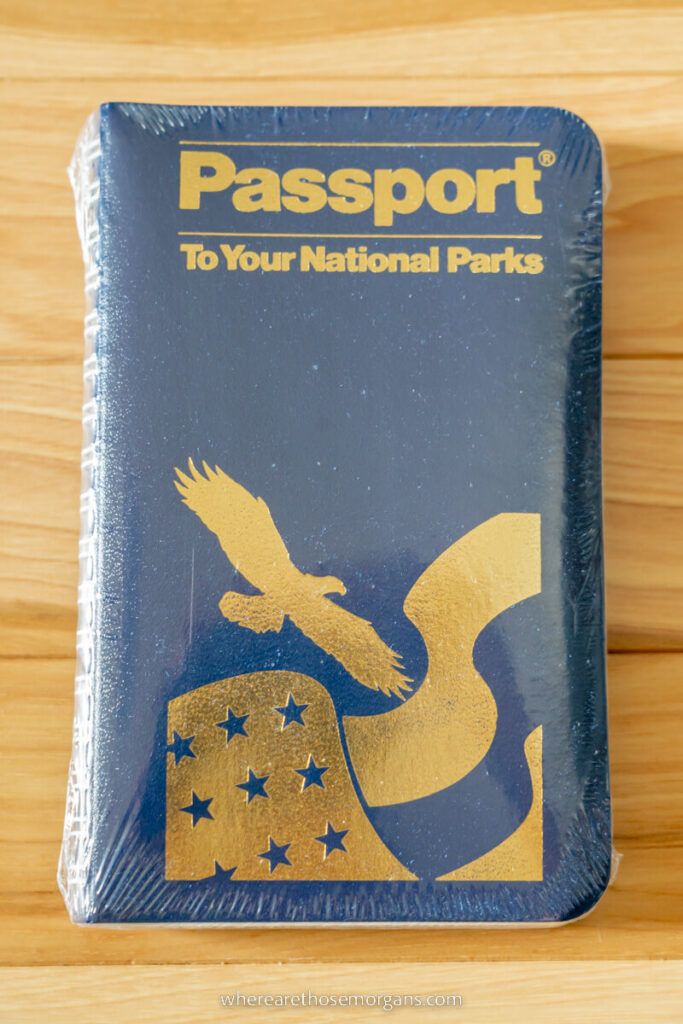 Tips For Stamping Your Passport
Here are a few important tips to consider when collecting your stamps:
Check the information before you stamp – Make sure you have the appropriate stamp and adjust the date as needed.
Complete a test stamp – Before you add the stamp to your passport, utilize the stamp testing area to ensure the stamp and ink are working correctly.
Larger parks have many stamps – If you are visiting a larger park, do your research beforehand so you know exactly where to find all the stamp stations.
Be respectful of others – There may be a small line while other people collect their stamps too. Be patient and take this time to compare stamps with others around you.
Close the ink pad – This way the ink won't dry out for others who visit after you.
Don't know which National Parks you should visit? Check out the 20 best National Parks in the US.
Pros And Cons For Purchasing A National Park Passport
If you are still on the edge, here are a few reasons why you should or shouldn't purchase a passport.
Pros to purchasing a National Park Passport:
Cancellations stamps are completely free to collect
Passports are compact (or you can travel with just a few pages)
Your purchase supports the US national parks
Preserve memories with your loved ones by a chronological record
A passport stamp cuts down on waste of trinket souvenirs
Cons to purchasing a National Park Passport:
Which National Parks Passport Do We Have?
We started visiting the US National Parks in 2019 when Mark immigrated to America and didn't know about the national parks passport system right away.
But we started using the classic edition to collect stamps and stamp sets in our passport in 2021.
However, we have quickly outgrown this edition because we frequently visit the national parks.
So we have just upgraded to the explorer edition at the end of 2022 and look forward to many more years of exploring our national parks.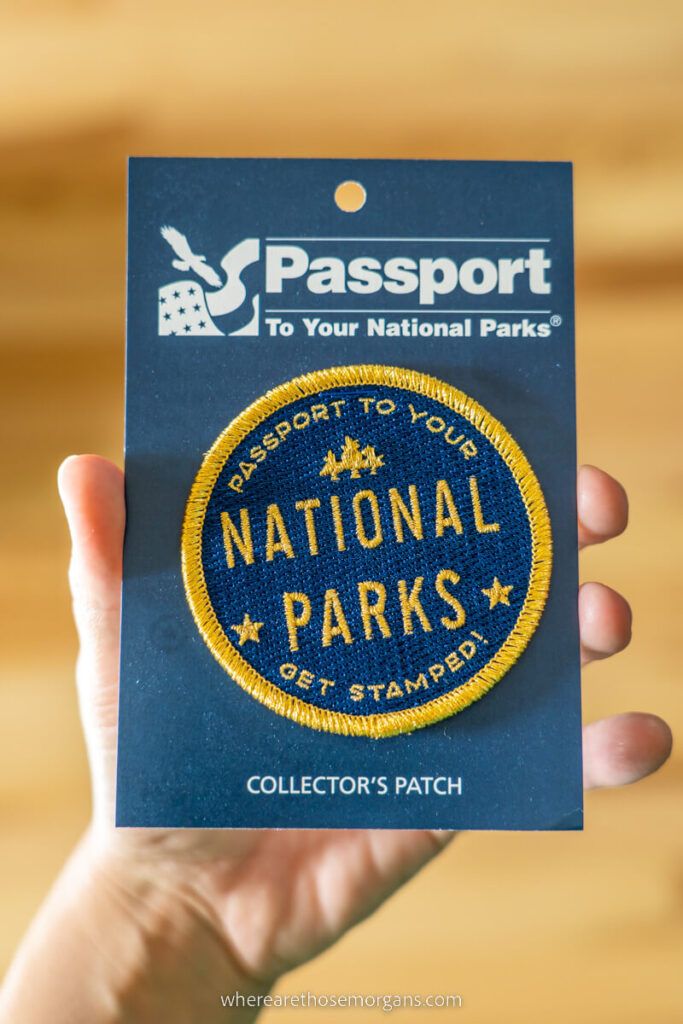 Passport To Your National Parks Accessories
If you want to jazz up your passport with some fun accessories, shop popular options below.
Classic Edition
Classic Expander Pack – 20 additional pages (16 for cancellation stamps, 2 for national stamps and 2 for regional stamps).
Classic Leather Cover – Give your passport some extra protection with this stylish leather cover.
Collector's Ediiton
Explorer Edition
Miscellaneous accessories
Or maybe you are looking for a specific national park? Click here for a complete list of alphabetical park stores.
FAQ's About The National Parks Passport
Let's take a look at some of the frequently asked questions about the national parks passport and stamp sets.
How much is a National Park Passport?
The national parks passport ranges in price from $12.95 to $69.95 depending on the edition purchased.

If you are on a budget, consider the classic edition which costs $12.95. But if you plan to visit many national parks, the explorer edition is what you need which costs $69.95.
How do I get a National Park passport stamp?
You can get a national park passport cancellation stamp at most national park visitor centers. Bring your passport to the stamp station in the visitor center and be sure to check the date on the stamp before placing it in your book.
Can you buy passport stamp books at National Parks?
Yes, you can buy passport stamp books at national parks but we would recommend you purchase your national park passport online in advance from America's National Parks.
Do all National Parks have passport stamps?
Yes, all national parks have at least one cancellation stamp while larger parks have multiple stamps to collect.
Our Popular National Park Guides
National Park Hiking Guides
Want more National Park content? Head over to our US National Parks travel guides to read all about the most popular parks in America.
---
We hope this guide featuring the National Parks Passport helps with planning your visit to the any of the US National Parks!
Please let us know if you have any questions about visiting the US National Parks below in the comments and have a great trip.
Happy Travels,
Mark and Kristen
Enjoy This NP Passport Guide? Pin It For Later!