If you search for the term 'VPN' on any search engine online, you will instantly have access to hundreds of articles written by experts who can discuss various individual VPN services in detail. But our Atlas VPN review will be different.
As full time travelers who are always on the move and who make a living from being online, we knew it was time to protect our privacy and data. So this review will focus on whether you should consider a VPN when traveling.
After much research because we are scientists after all, we settled on a company called Atlas VPN. Founded in 2019, Atlas VPN is currently one of the fastest growing VPNs on the market.
In this detailed Atlas VPN review, we will cover everything below:
What is a VPN and how it works
Advantages and disadvantages to using Atlas VPN
Why to choose Atlas VPN and who its good for
How to purchase, install and use Atlas VPN
Now, let's explore Atlas VPN and help keep your data safe!
*Please note this post may contain affiliate links. If you click on one, we may earn a small commission at no extra cost to you. Thank you for supporting the free content we provide! Read more in our disclosure policy.*
Disclaimer: We received a subscription to Atlas VPN in order to share our opinion about this product but this is not a sponsored post.
What Is A VPN?
VPN stands for Virtual Private Network (VPN). This network providers users with the ability to establish a secure and private connection to the internet by hiding the users IP address.
By using a VPN service, you create an encrypted tunnel around your personal data including physical location, browsing data and online activities so you can safely use public Wifi networks.
In simple terms, a VPN disguises your identity online through an encryption process in real time. This encryption makes it difficult for third parties to steal data and track any of your online activities.
How Does A VPN Work?
The easiest way to understand how a VPN works is to consider a VPN as a extremely fine filter for information. This filter then scrambles information so the data is no longer recognizable.
A VPN uses a specified network to redirect an IP address through a configured remote server run by the host, in this case, Atlas VPN.
With a VPN, your Internet Service Provider (ISP), government agencies and other third parties are unable to see what websites you visit as well as what data you send or receive online.
So when you use the internet after connecting to a VPN, the server of the VPN is now the source of all your data.
6 Advantages For Using Atlas VPN
Now that you know how a VPN works, let's take a look at how you can use a VPN.
As remote work and digital lifestyles become increasingly popular, it is now more than ever important to protect yourself from invasive tracking and public Wifi dangers.
But since this is a review about the Atlas VPN service, we will share a few of the specifics about this product as well.
Here are the 6 advantages to using a VPN: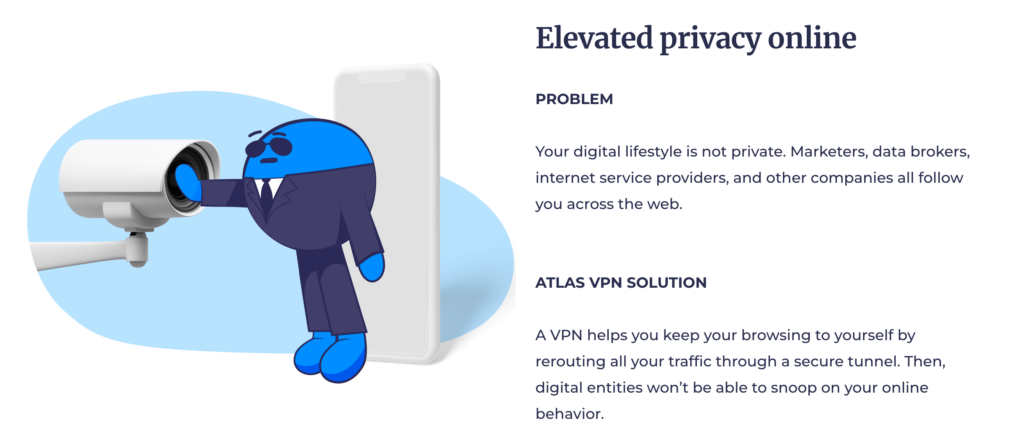 1. Privacy Online
Without a VPN service, both your location and identity can be easily tracked thanks to your to computers IP address. An IP address is a unique set of characters identifying individual computers in a specific location.
The best way to think of an IP address is to consider it similar to a postal code as this address can tell others who and where you are located.
But unfortunately, this IP address is what allows others to track your online behavior. So this is where the VPN comes in because this service masks your IP address which then hides your specific location.
By rerouting digital traffic through a secure encrypted tunnel, online activities can only be tracked to the IP address of the VPN server and not the IP address of the user.
For example, you could be sitting in a cafe in Kuala Lumpur using a VPN connected to a server in the United Kingdom so no one would know where you were actually located.
If you are connected to the VPN, your online activity will no longer be linked to your IP address.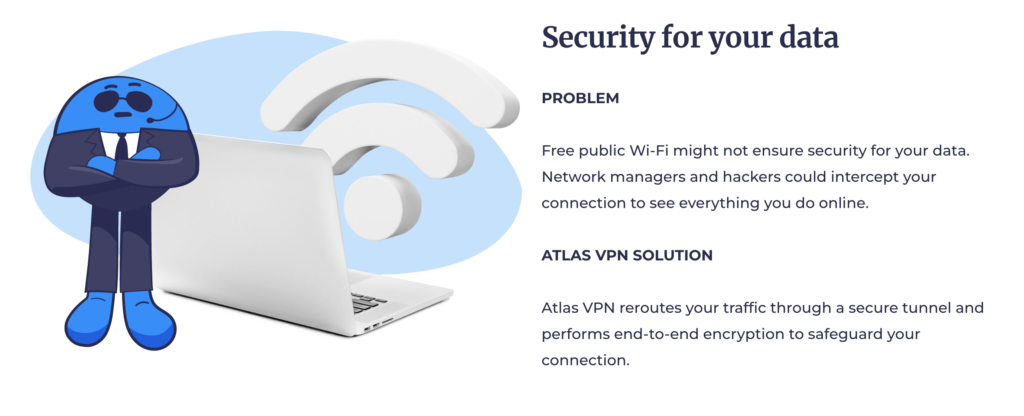 2. Security
Public wifi is risky to use if the network is not secure. When you are connected to an unsecured public wifi, this is how hackers can easily access your personal information and steal important data.
This includes data such as your email login, images as well as credit card and bank information. Now here comes the VPN to the rescue again because it encrypts all of this important information.
If you are using a VPN, a hacker or someone trying to steal your important data will not be able to see the information transmitted on your device because the data will be scrambled making it unreadable.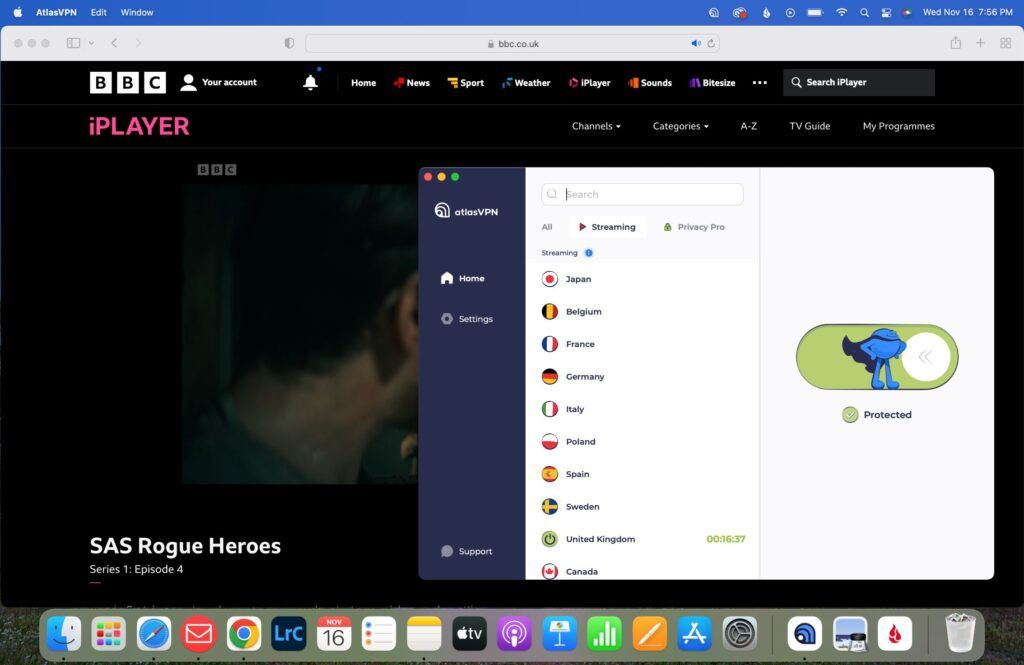 3. Access To Regional Content
It is not uncommon for countries as well as streaming services to restrict access to content in various geographical regions. A restriction occurs with streaming services that have limited broadcasting rights.
But when you are traveling to a new country or you have moved to a new country (aka Mark moving to America), you may not be able to watch your usual shows, play games as well as visit your favorite apps or websites.
However, a VPN will come riding in like a knight on a white horse and connect you to the internet via servers in your home country.
And voila, you can now watch your football team, movie or show without any more problems. You can also surf websites or use apps which might have originally been blocked.
Other than keeping our information safe, access to regional content is our favorite part about using a VPN. When you have access to regional content through a VPN, this is known as location spoofing.
Atlas VPN has been a lifesaver because we never miss a game or show anymore while traveling. It is also nice to have a little slice of home when you need it and still be able to share in those experiences with loved ones back at home.
Keep in mind, this process also works in reverse so if you wanted to gain access to a streaming service from a different country, all you would have to do is connect with a server to that specific country.
After using Atlas VPN, we can confirm connection to these streaming services:
US Amazon Prime, Netflix, Peacock
BBC iPlayer
Access to BBC iPlayer will be critical later this month as we can now watch the World Cup straight from the couch in our apartment abroad. Thank you Atlas VPN!
Additionally, many of the larger VPN services can not unblock BBC iPlayer, but Atlas VPN can which is one of the reasons we chose this particular service.

4. Eliminates Malware
A VPN helps to block websites known for malicious content eliminating your overall risk. This includes websites that can install spyware, ransomware and other harmful programs.
In another attempt to help minimize your risks, a VPN steers you away from websites phishing and other websites created with the intention to scam you.
With Atlas VPN, use the SafeBrowse feature to help eliminate future threats and shield your devices from any remote attacks. The SafeBrowse feature can be toggled on or off in just a few clicks so you can adjust as needed.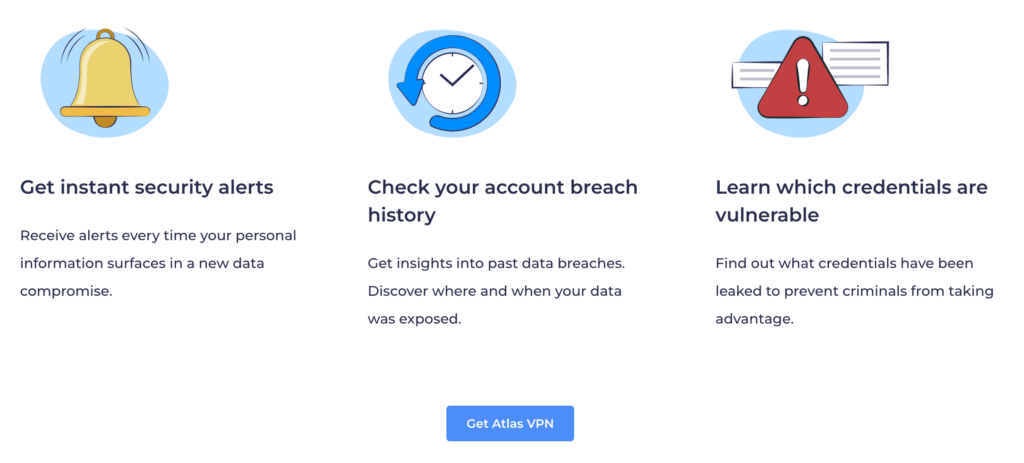 5. Data Breach Monitor
Another great way Atlas VPN keeps you safe online is the data breach monitor. Unfortunately, you probably have experience with your important information being leaked in a data breach at some point.
A breach occurs when sensitive information is accessed and stolen without the knowledge of the original owner. This information can include anything like emails, passwords, addresses, social security numbers, phone numbers, etc.
With your personal information, cyber criminals can apply for a loan or credit card as well as obtain medical services and perform financial transactions in your name.
In some cases, they have even been known to use blackmail in order to achieve financial gain.
Data breaches continue to be an ongoing threat the more active we become online. A VPN can help minimize this risk by continuously scanning all publicly leaked databases.
You will be alerted if credentials connected with information such as your email address have been exposed in a data leak.
This alert will include what credentials have been leaked and where data was exposed. Atlas VPN can also give you insights into past data breaches.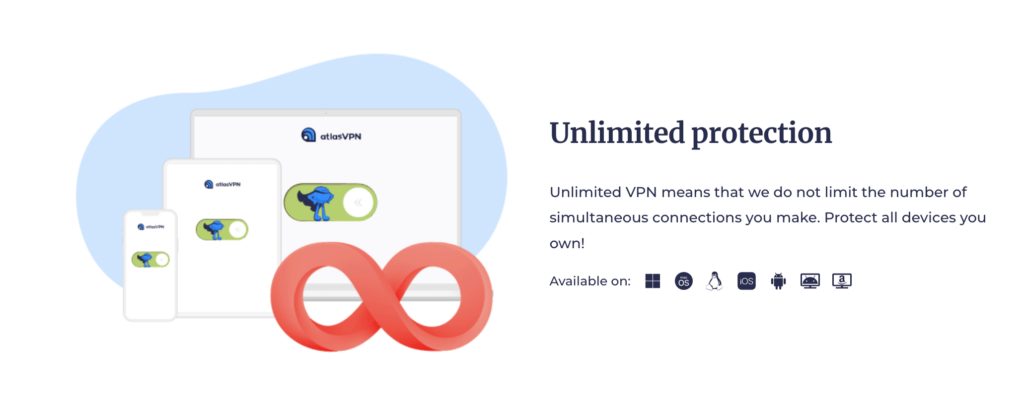 6. Multiple Device Use
Protection from a VPN service can extend beyond just your laptop. Today, we all use multiple devices such as computers, phones and tablets on a daily basis.
While different companies have varying plans when it comes to the number of devices, a good VPN service should cover you for several devices.
We like Atlas VPN because the premium subscription plan includes coverage for multiple devices. We no longer have to worry because all of our devices our instantly protected.
As long term travelers, this was extremely important to us because we needed protection for many devices as we run our business fully online.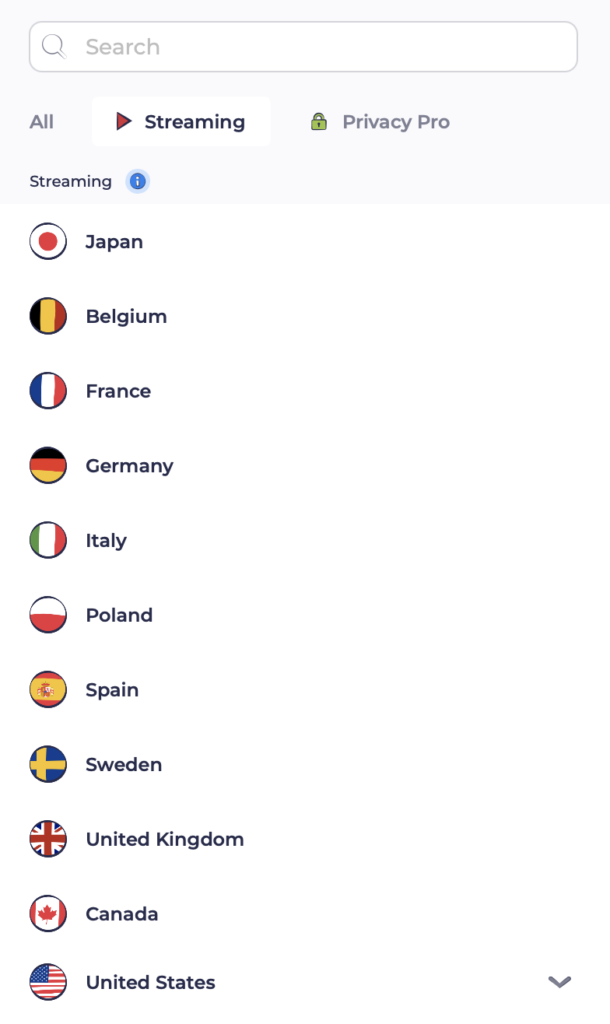 What Are The Disadvantages To Atlas VPN?
While we have covered many advantages to using a VPN, there are a few disadvantages to consider.
First, you can not fully rely on a VPN service to cover all of your security and privacy requirements. In order to browse online safely, you should have other security measures in place as well as clear your cookies regularly.
Second, if you are logged into your Google or Facebook account, these companies may still be able to create a profile of you as a 'user' even if you are on the other side of the world.
For example, if you use Google Maps, you will be required to turn on GPS. All of this search history will then be correlated with that account no matter where your actual IP address is located.
Third, our biggest complaint with Atlas VPN is that using this service can sometimes slow down the internet. But this slowing occurs because the data is being sent through the VPN server which means it has farther to travel which of course, can take a little bit longer.
However, we work on our computer for 8-12 hours a day and can still easily process our workload without it affecting our tasks.
The slower connections often comes when we try to stream multiple devices at one, but we consider a slower connection at times a simple trade off for our data being protected.
Sometimes we also find it difficult to gain access certain websites. Some apps and services will deny you access if using a VPN. However, this is no fault of the VPN, but the website or app in question.
After some trial and error, we found the best way to get around a blocked website or app is to restart the device as well as the VPN. This almost always unblocks the service in question.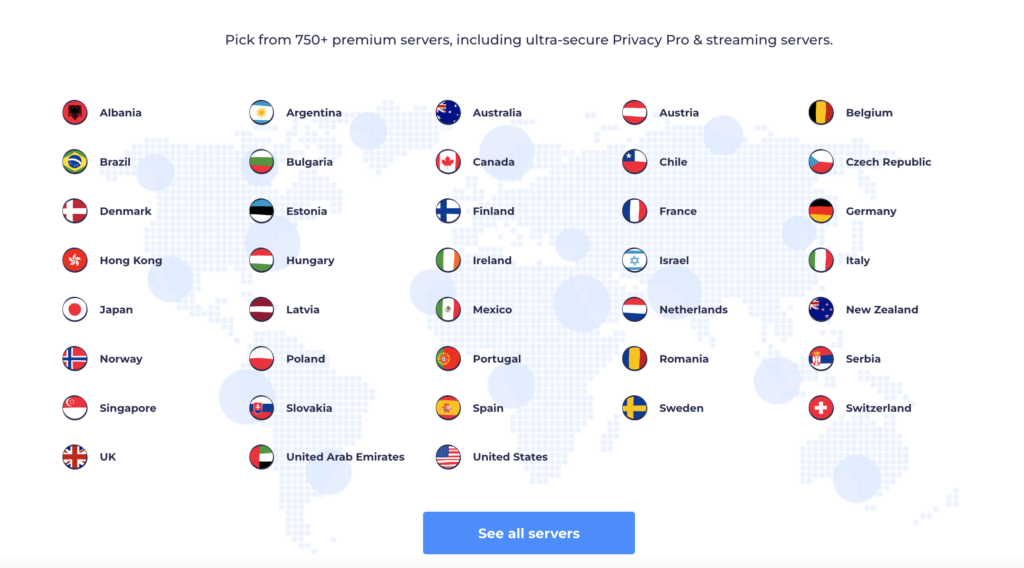 Why Should You Choose Atlas VPN?
Since 2019, Atlas VPN has offered a highly secure freemium VPN service. But in 2021, Atlas VPN became part of Nord Security which has been one of the leading VPN providers for years.
If you are on the fence about purchasing a VPN service, the good news is Atlas VPN offers a free version of their service.
But while this free no registration subscription is a great way to start, we would recommend upgrading to a premium subscription because it goes without saying you always get what you pay for.
With the free subscription, there are a few significant limitations which we ultimately think defeats the purpose of having the VPN.
Let's take a look at the Atlas VPN free version:
Access to 3 locations – Amsterdam, Los Angeles, New York
5GB of monthly data
Military-grade encryption
While this look good on paper, you can get a lot more bang for your buck by upgrading to the premium service for only a small monthly fee.
Remember, you are paying to keep your data protected. How much is that worth to you?
Access to 30 locations (750+ servers)
Data breach monitor
Safeswap servers
SafeBrowse feature and safety check-up
Streaming optimized servers
24/7 customer support via email and live chat
Unlimited number of devices
Unlimited data for browsing
Atlas VPN application access for Android TV and Fire OS
Prior to Atlas VPN, we had never used a VPN service. But now after using one, we would never travel without a VPN again. We sleep much better at night knowing we are always protected.
We have used almost all of the services available on the premium subscription for Atlas VPN and have been impressed with the support offered by this company.
Take a look at the pros and cons to using Atlas VPN below:
Pros To Using Atlas VPN
Free version available

Works with many US streaming services

One of the cheapest VPNs available

Unlimited amount of connected devices

VPN Kill Switch

Decent internet speed
User friendly interface
Cons To Using Atlas VPN
Free version does not work for streaming
Smaller server network compared to competition
Occasional technical issues
Based in the United States (increased regulations)
Who Should Consider Atlas VPN?
Throughout this entire Atlas VPN review, we hope you were checking the boxes to see if a VPN was a service you should be considering.
While a VPN is not for everyone, it certainly is a good idea if you will be traveling or working remotely.
Personally, we use Atlas VPN to keep our data safe as we travel around the world, but we recognize you this might not be the case for everyone.
You should consider Atlas VPN if you fall into one of these categories:
VPN Beginners – Atlas VPN offers a simple and basic service that is great for those who have no prior experience
Those on a budget – Atlas VPN is a great deal when you consider the prices of all the VPNs on the market. This is a good service at an extremely affordable price
Someone who wants a free VPN subscription – Atlas VPN offers a limited free subscription which can be used without entering any payments details (but you will have to provide an email address)

Atlas VPN Subscription Plans
Atlas VPN currently provides 3 subscription plans. Similar to most bundles, the longer the subscription you purchase, the more money you will save.
You can usually find a great deal on Atlas VPN subscriptions which help you save even more. The current black friday deals are amazing so if you were considering a VPN, now is the time.
A 30 day money back guarantee is also included.
1 month = 10.99/mo
1 Year = 3.29/mo – 70% off
2 Years = 1.64/mo (+ 6 additional mo) – 85% off
>> Buy an Atlas VPN Subscription here <<
Be sure to use code 'BLACKFRIDAY' at checkout to receive the discount.
How To Purchase And Install Atlas VPN
We like Atlas VPN because the interface is extremely intuitive and easy to use. Purchasing and downloading Atlas does not take a lot of time and we will walk you through each step individually.
If you are purchasing Atlas VPN because you are traveling or working remotely, we would recommend you purchase and install prior to leaving for your trip.
Atlas VPN offers applications for Mac, Windows, Android, iOS and Linux. However, this VPN also supports Android TV and Amazon Fire Stick as well.
Head to the Atlas VPN website
Click the 'Get Atlas VPN' button on the homepage
Choose your subscription plan (we would recommend the premium service)
If you select the free option, the download will automatically begin for Windows users and Mac users will be redirected to the Mac App Store
If you select the premium option, you will be redirected to the pricing page to select your plan. Once the plan is selected, you will be prompted to enter your email address and payment information
After the payment has completed, you will receive a confirmation email with a prompt to download Atlas VPN
Download the file and use the on screen instructions to install Atlas VPN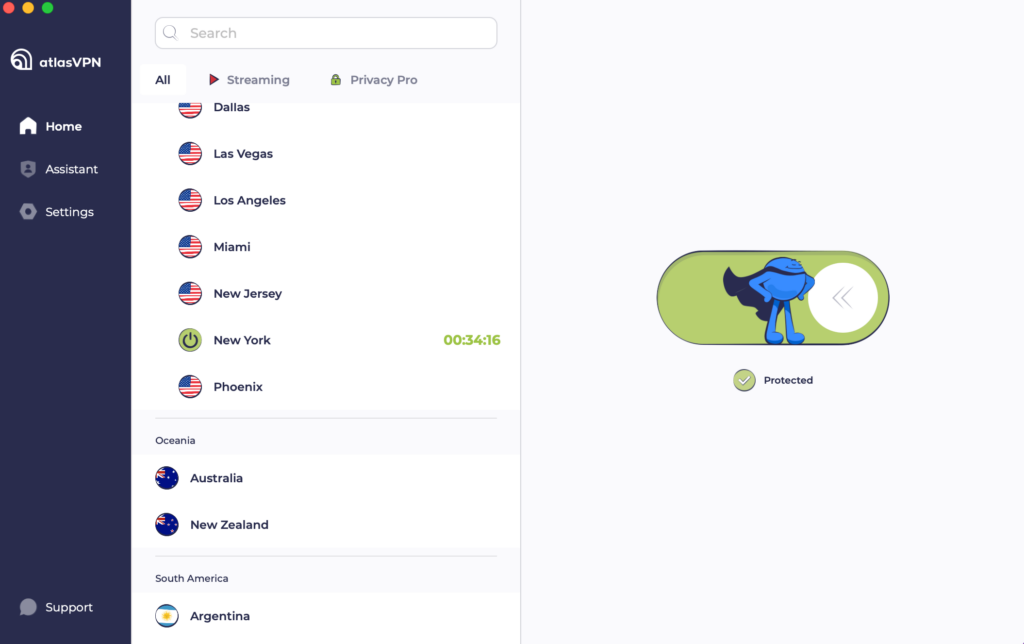 How To Use Atlas VPN
After purchase and installation, using Atlas VPN is extremely easy. Follow these 4 easy steps to get started:
Log into your device and start the Atlas VPN app
Pick the country you want to use as the server
Wait until the VPN shows that your are protected (it will flash green and say protected)
Now you are all set to surf the internet safely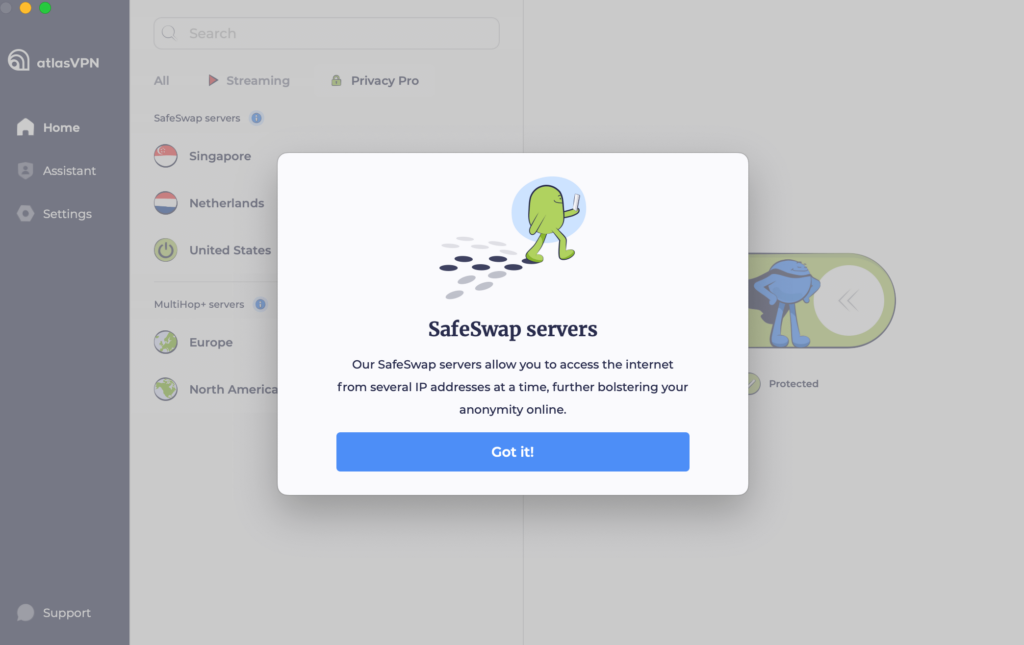 Our Favorite Atlas VPN Feature
Another Atlas VPN feature we would like to point out is SafeSwap.
You can find the SafeSwap feature under the Privacy Pro tab. Once you are connected to SafeSwap, your IP address will be rotated between multiple servers while your using Atlas VPN.
There are 3 SafeSwap locations to choose from in the Netherlands, Singapore and the United States. Each location has a several IP address assigned to it so the IP rotations can not be predicted.
With other VPN providers, you would have to disconnect your VPN then reconnect to a different server to achieve the same effect.
Review Conclusion: Is Atlas VPN Worth It?
Yes, Atlas VPN is absolutely worth it. As long term travelers who live a nomadic lifestyle, it was important for us to keep our information safe and secure.
Overall, we have been impressed with Atlas VPN due to all the features this service offers at such a competitive price point. Our favorite feature is no longer being limited by regional content.
We have high hopes for Atlas in the future as they seem to add more and more features which seriously puts them in the same ranks with the bigger VPN service providers.
So in conclusion, if you want a great product at a fair price point, choose Atlas VPN.
VPN Service FAQ's
Let's take a look at some of the most frequently asked questions about VPN services.
Do I Really Need A VPN At Home?
If you would like to regain some of your privacy, you should consider having a VPN at home. Without A VPN, your Internet Service Provider could be tracking your online behavior as well as selling your data.
Is A VPN Legal?
In most countries a VPN is legal to use, but there are a few countries which do not allow the use of a VPN. You should always check the laws of each country prior to using a VPN service.

It is also important to note that while VPNs are completely legal, you can not engage in an illegal activity while using a VPN. This includes anything that violates your VPN terms of use policy.
Is It Ok To Leave A VPN On All The Time?
Keeping a VPN on all the time is actually recommended. This continuous protection will help to keep your information safe as well as protected from attacks associated with unsecured Wifi.
Our Popular Review Guides
Want to read more reviews? Head over to our Travel Product and Tour Reviews to explore everything travel, hiking and photography related.
---
We hope this detailed review about the Atlas VPN helps you decide if this service is for you!
Please let us know if you have any questions about Atlas VPN or traveling with a VPN in the comments below.
Happy Travels,
Mark and Kristen
Enjoy This VPN Guide? Pin It For Later!