The Monarc brand is relatively new to the luggage scene, but with this Monarc duffel bag review, we aim to show you why this brand quickly caught our eye.
It's no secret we are facing a plastic problem in countries all around the world. We have tried to do our part by limiting our plastic use and participating in beach clean ups in popular tourist locations like Koh Lipe, Thailand.
But what does this have to do with our Monarc duffel bag review?
Well, you will just have to read on to discover:
Who is the Monarc brand?
Our Settra Duffel Backpack review
Backpack features with detailed descriptions
Information about the Monarc warranty
Pros and cons to why you should consider a Monarc duffel
Now, let's shop for a Monarc duffel bag!
*Please note this post may contain affiliate links. If you click on one, we may earn a small commission at no extra cost to you. Thank you for supporting the free content we provide! Read more in our disclosure policy.*
Disclaimer: We received the Monarc Settra Duffel Backpack in order to share our opinion about this product but this is not a sponsored post.
About Monarc The Brand
Monarc was built on sustainability. The founders, Nate and Jesse, became inspired to help solve the plastic problem after working in Asia and witnessing first hand the negative impacts of irresponsible manufacturing.
This story began when two friends set out on a mission to do better when it came to minimizing waste created from making new products.
So Monarc strives to help solve the plastic problem with every product created as the world's first plastic negative bag company.
What Does Plastic Negative Mean?
In simple terms, being plastic negative means for every 1KG of plastic Monarc uses, 2KG of plastic is removed from the environment.
Also, by partnering with rePurpose Global, Monarc is certified to carry a negative plastic footprint and is committed to continuing this practice well into the future.
To take it a step further, rePurpose also helps many workers in waste management from lower income communitiies have better access to healthcare, improved working conditions and gain an overall improved quality of life.
Your purchase with Monarc goes father than the average transaction.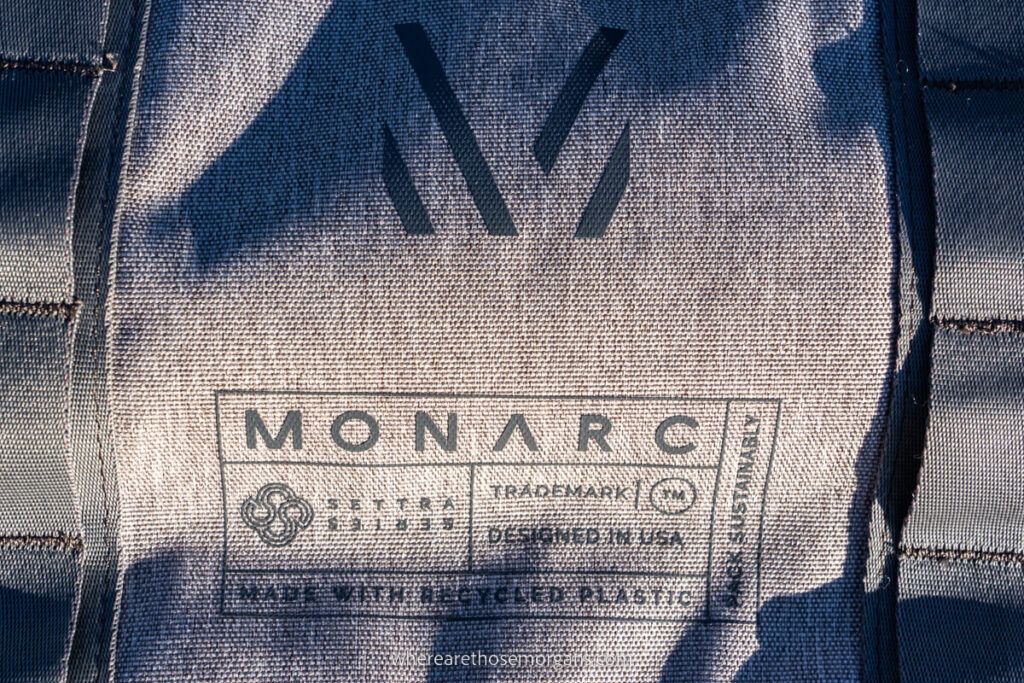 Looking for a new camera backpack? You might like our detailed review for the HEX Misshattan X Backloader camera backpack.
Monarc Product Overview
While the settra duffel backpack is currently Monarc's flagship product, they have a few additional accessories you should consider for your travel needs.
We like these additional products because just like the duffel bags, these products are also made from recycled plastic bottles.
Here is a quick overview of the products you can expect:
Travel Set (made with 29 plastic bottles) – This set features a large and medium compression cube as well as a laundry bag to help keep your dirty clothes separated when on the go.
Tech Pack (made with 8 plastic bottles) – Use this smaller pack to help keep your electronics organized. Fits an iPad Mini or Nintendo Switch.
Camera Cube (made with 13 plastic bottles) – A great way to store multiple lenses and cameras with adjustable dividers.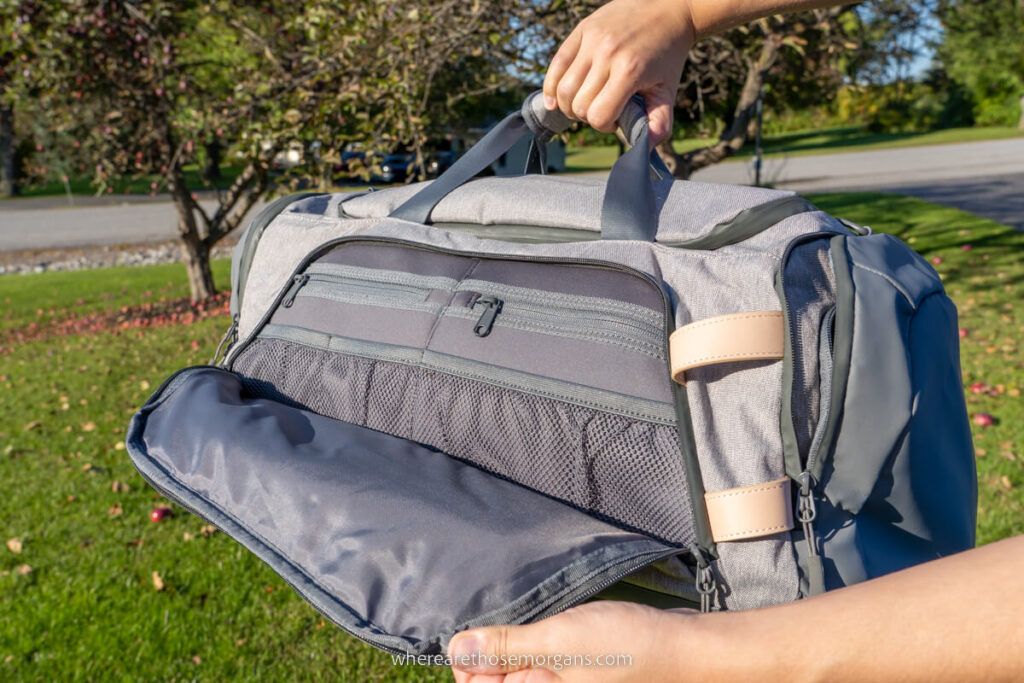 Settra Duffel Backpack Review
This review will discuss the Settra Duffel Backpack in detail while featuring pros and cons at the end to help you decide if this is the bag for you.
When we first received the Monarc Settra Duffel, we were impressed with how durable and strong the materials on the bag seemed to be.
Since we are always on the move, it is important to us to have gear that can withstand a large amount of wear and tear.
We also liked the special qualities thoughtfully placed throughout the entire duffel. These small details can really make a big difference if you live out of your suitcases like we often do as travel bloggers and photographers.
Settra Duffel Backpack Technical Specifications
Volume: 40L
Weight: 4.5lbs
Material: Water / sweat resistant RPET fabric
Laptop Capactiy: Holds up to 17″ laptop
Overall Dimensions:
Shoe Compartment: 15" x 12" x 8"
Shoulder Strap: 59" (Long), 30" (Short)
Backpack Strap: 38" (Long), 20" (Short)
Laptop Pocket: 20" x 11" x 1"
In the market for a new travel backpack?: Don't miss our guide to why the Osprey Farpoint 40 is the perfect backpack for travel.
Monarc Settra Duffel Bag Features
In addition to the eco-friendly properties, there are a few more features which highlight the uniqueness of this backpack. We will go over each feature in detail in the sections below.
1). Dual Function
What gives this duffel an edge over the competition is how easily it can be converted from a duffel bag into a backpack within seconds.
Once you unzip the outer layer away on the bottom of the duffel, you will find removable sternum and wrist straps as well as an air-mesh ventilation lining to give you all the comfort needed when traveling.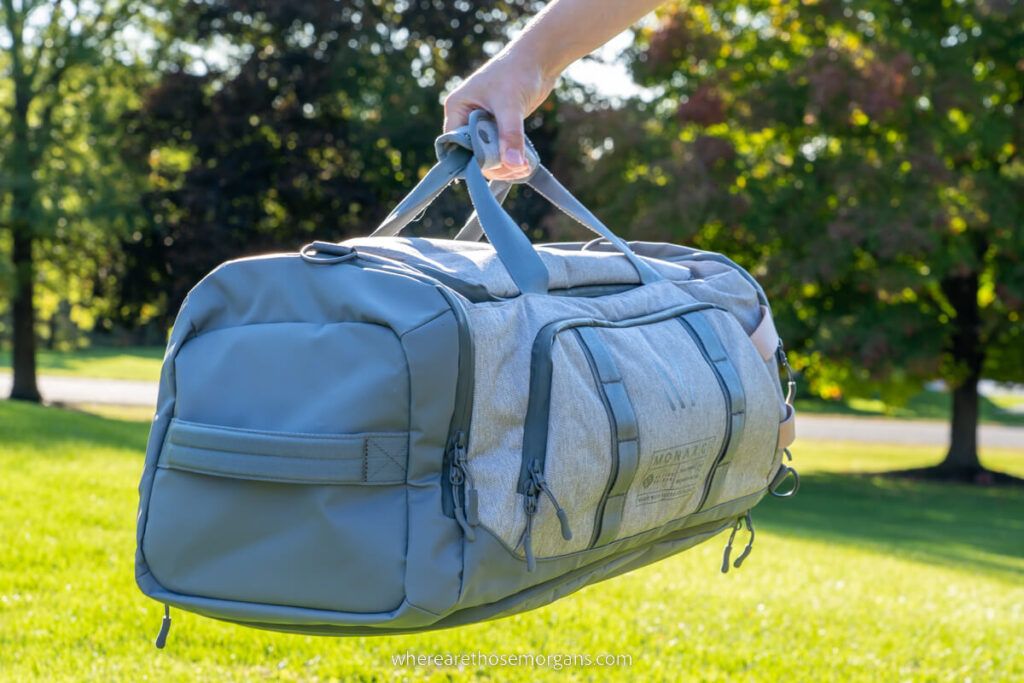 2). Carry On Size
Another great feature is the 40L capacity making it a TSA approved carry-on size.
We used a 40L bag for most of our 18 month honeymoon around the world and love how easy it is to travel with just a carry on bag.
While this smaller size won't meet everyones needs, this is generally the perfect size for a quick weekend away or your everyday items.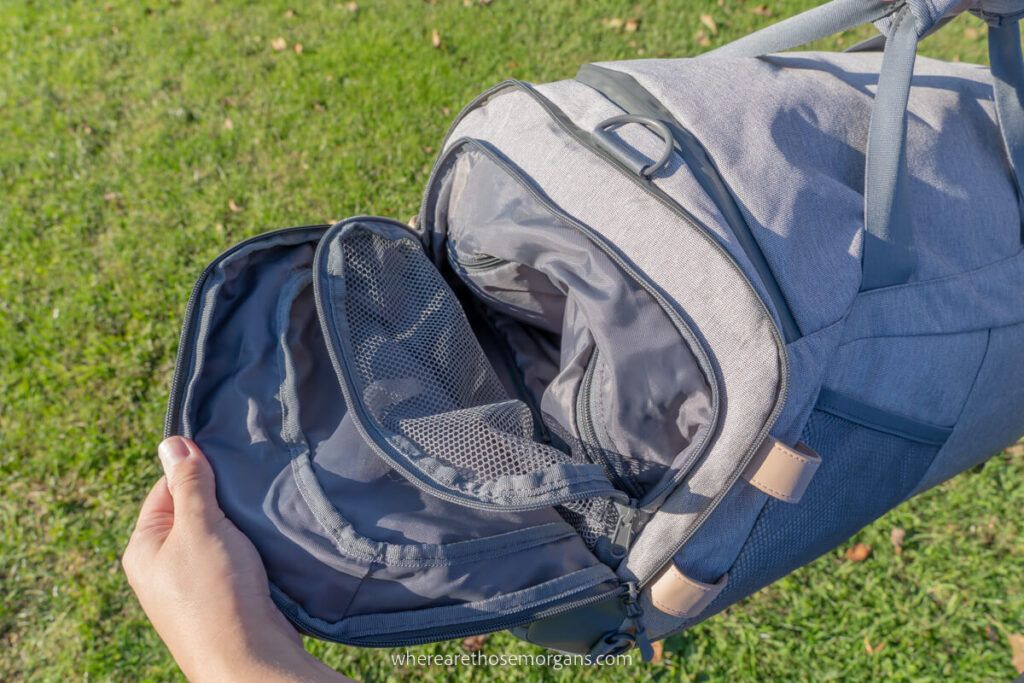 3). Shoe Compartment
Monarc truly thought of everything with this built in ventilated shoe compartment. This is a great way to keep those dirty shoes separated from your clean clothes in the same bag.
But if you need maximum space, this shoe compartment is removable so you can pack as much as possible.
4). High Quality Fabrics
This was the stand out feature for us because as soon as we felt the bag, we knew it was made of a great fabric.
Not only is this duffel strong and durable, but it uses a water resistant fabric to keep your valuables safe from the elements.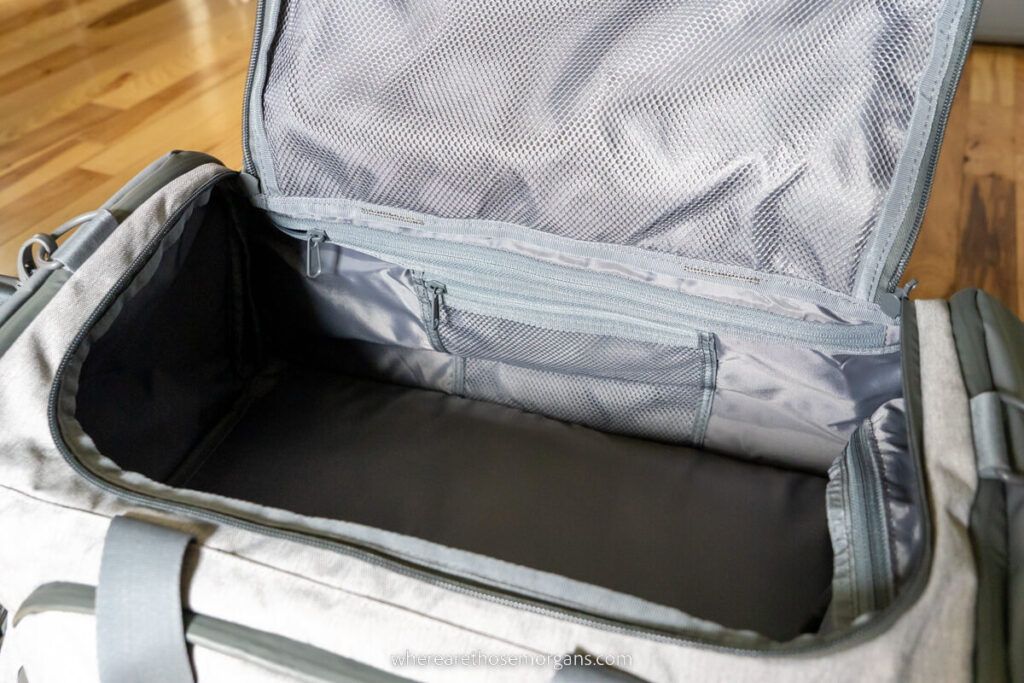 5). 17″ Large Laptop Sleeve
Last but not least, this is one of the largest laptop sleeves we have ever seen in a travel bag. In fact, the laptop sleeve size is the area most travel bags seem to lack.
But not the Monarc Settra Duffel because this bag can fit tup to a 17″ laptop which is perfect for those who work remotely or on the road.
Further Reading: Everything you need to know about Level8 suitcases.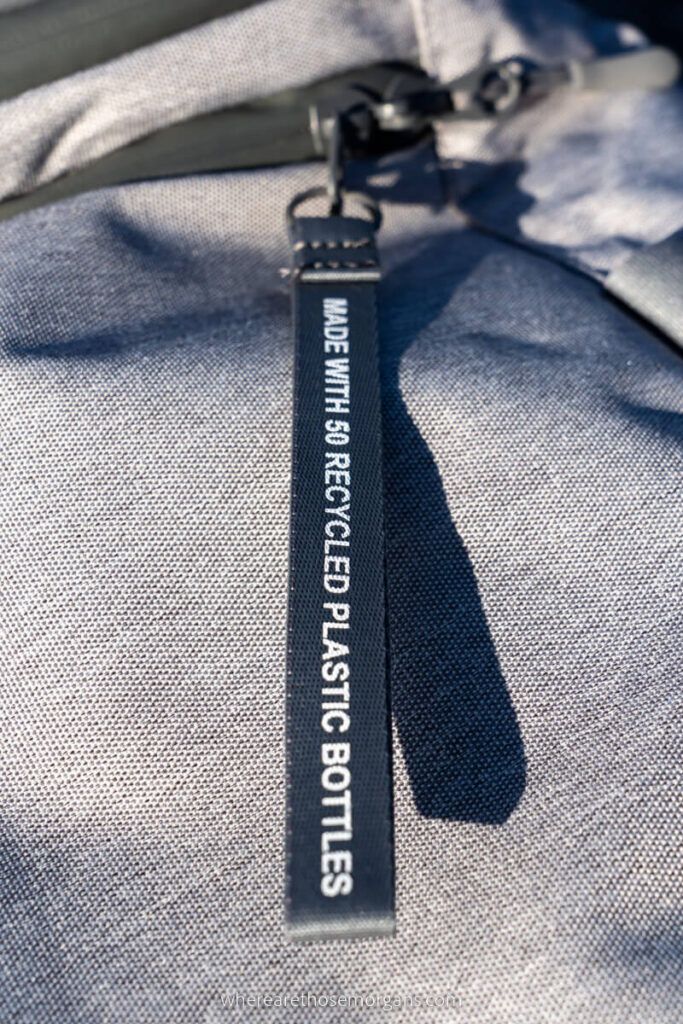 Monarc Brand Warranty
If you are still on the fence about purchasing this duffel backpack, the lifetime warranty may just be what you need to hear to tip the scales.
Monarc offers a lifetime warranty on any of their settra series, which is any of the products discussed in this guide.
As promised on their website, each product is backed by a lifetime warranty if a product fails to perform.
All you need to do is send back the product and Monarc will either replace or repair the item in question.
It is also worth mentioning, Monarc wants to ensure no bags end up in the trash. So if you send back a previously purchased bag, Monarc will take care of properly recycling it as well as give you additional discounts for some new gear.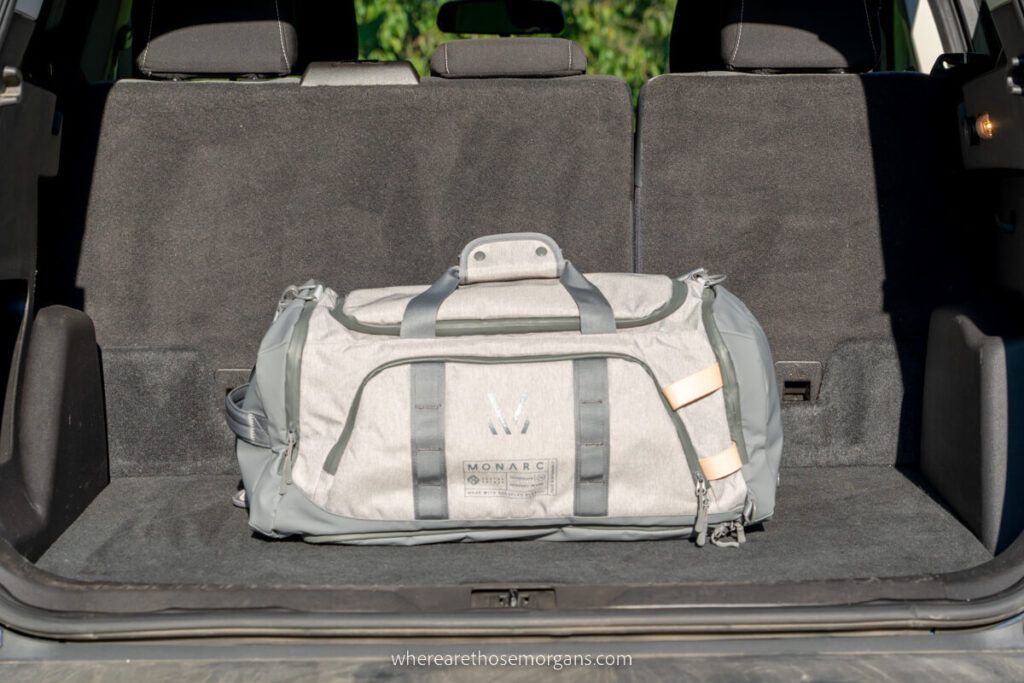 Final Thoughts With Pros And Cons
In conclusion, we love our Monarc bag not only for its environmental impact, but because it is a great bag for shorter trips or weekends away.
As travel bloggers who are always on the move, our gear takes a lot of beating. We need strong durable products which can withstand wear and tear day after day.
We have full confidence in our Monarc bag to last many years as we explore new destinations.
Here are a few reasons why you should consider the Monarc Settra Duffel bag:
Pros For The Monarc Settra Duffel
Duffel and backpack wrapped into one bag
Made from 50 water bottles so its extremely eco-friendly
High quality and durable materials
Many storage compartments throughout entire bag
Large laptop sleeve holds up to 17″ computer
And here are a few reasons why the Monarc Settra Duffel may not be the best option for you:
Cons For The Monarc Settra Duffel
Backpack style not great for long hikes (but good for short trips)
40L size may not be big enough for your travel needs
Duffel weight is heavier than most bags
>> Buy the official Monarc Settra Duffel Backpack here <<
Additional Monarc Products
Maybe you don't need a new duffel bag, but you want some organizational accessories?
Great, because Monarc will have you covered there too.
Head on over to the Monarc website and shop around for yourself.
>> Shop the official Monarc Website here <<
Our Popular Reviews
More Travel Planning
Want to read more reviews? Head over to our Travel Product and Tour Reviews to explore everything travel, hiking and photography related.
---
We hope this review for the Monarc Settra Duffel Backpack helps you find your next travel bag!
Please let us know if you have any questions about Monarc or travel planning in the comments below.
Happy Packing,
Mark and Kristen
Enjoy This Guide? Pin It For Later!